Do you want your celebration to be not usual? Are you tired of annoying white dresses? Black color suits the most courageous and brisk fashionistas. Brave, chic and darling brides choose black wedding dresses for an incredible wedding day. Black hue of a garment goes for a distinctive taste and self-expression. Wearing black for a glans or a wedding signifies a murky style. On the other hand, it associates with a bright and saucy fashion.
Black Wedding Dresses For Alternative Bride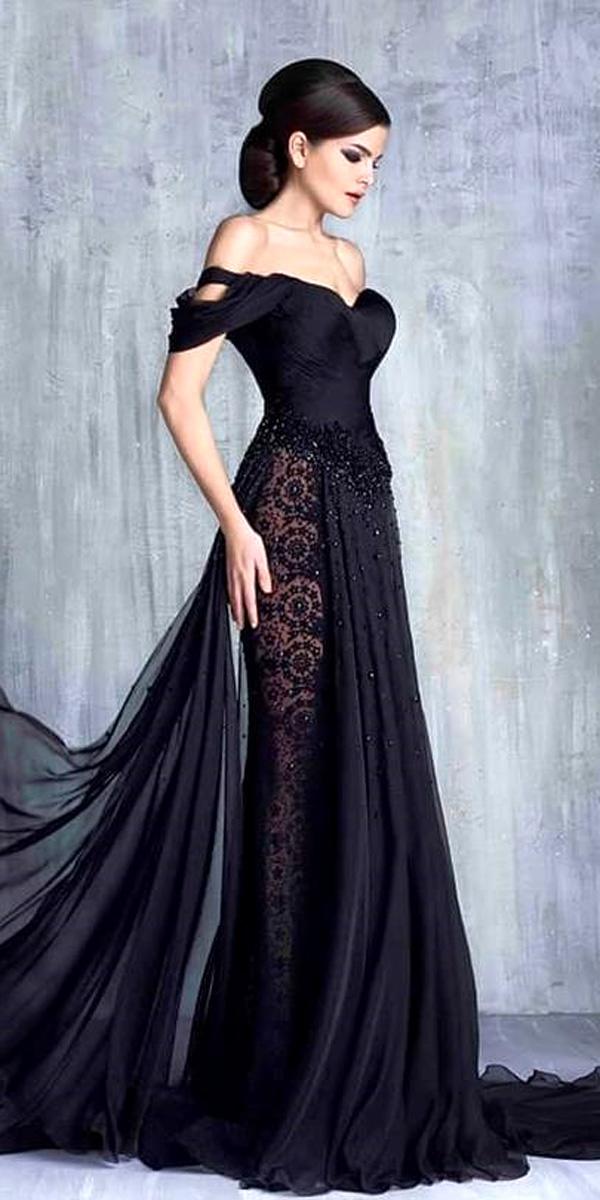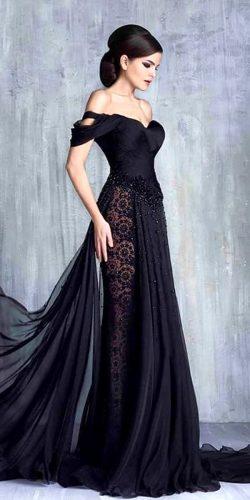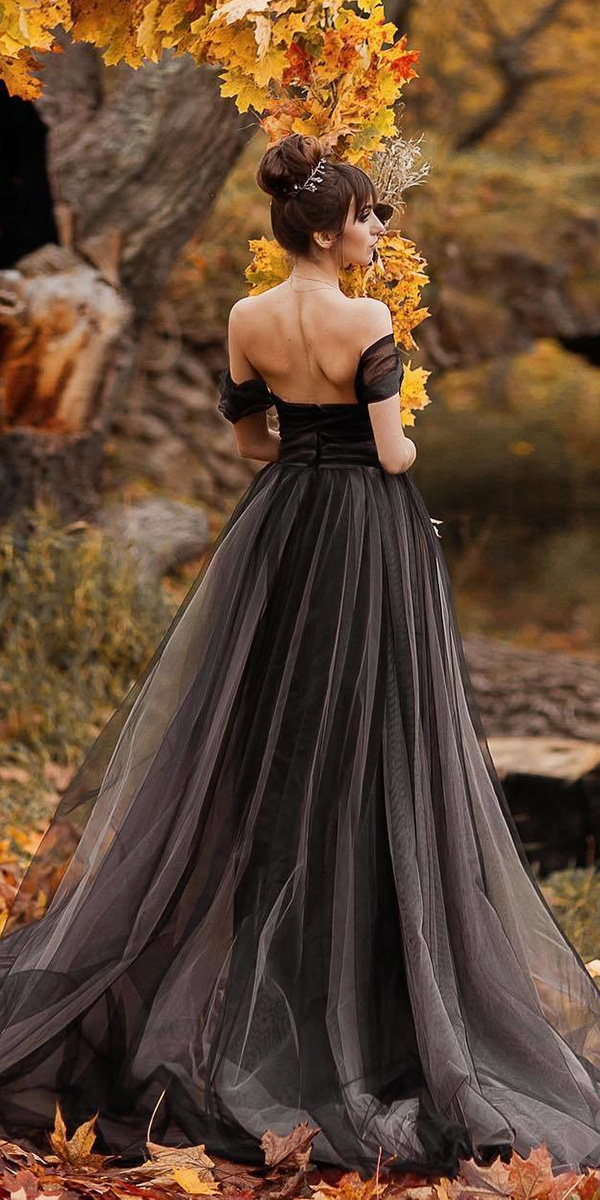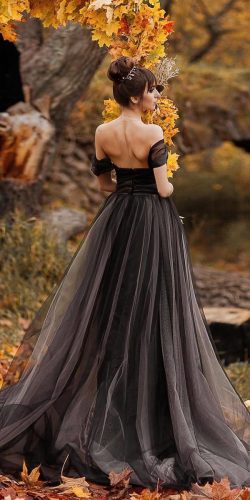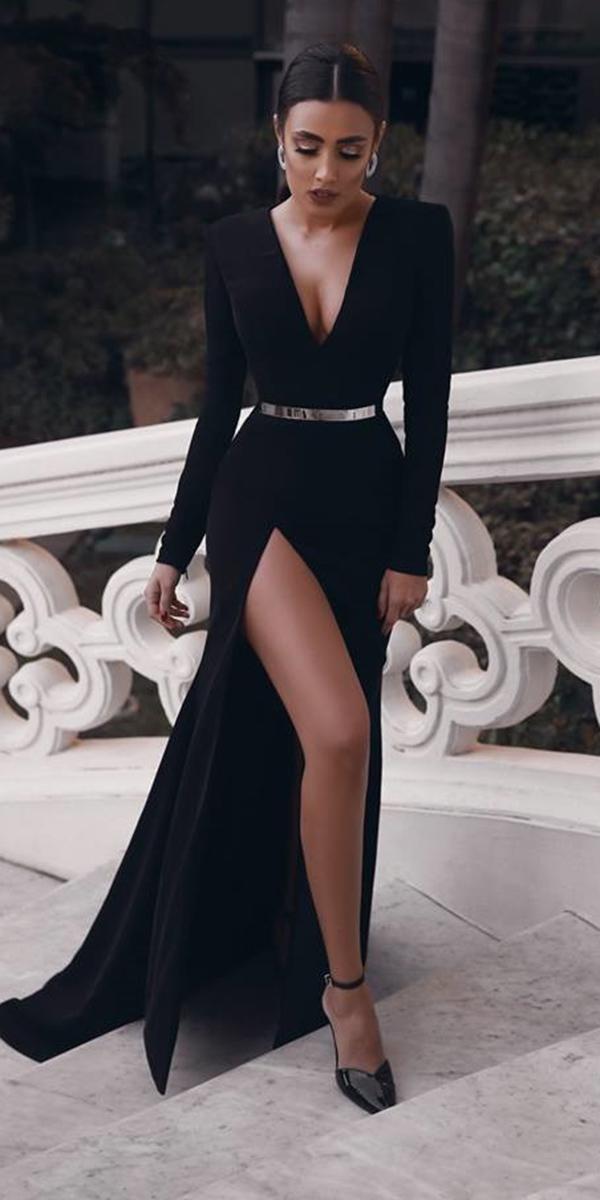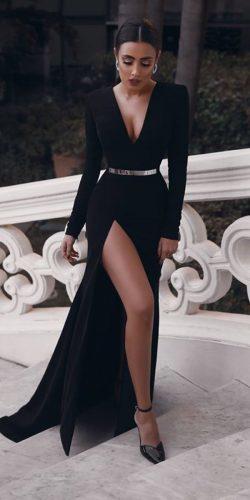 So, what is about the bride who aspires to put on beautiful black wedding dresses for their wedlock? How do they justify such a desire? Won't it carry into a disaster? May that exceptional color seem odd and quaint? What are the best black wedding dresses models taking a fashion world? Look through trendy and inspiring black wedding dresses that are governing a trend.
Timeless Black Wedding Dresses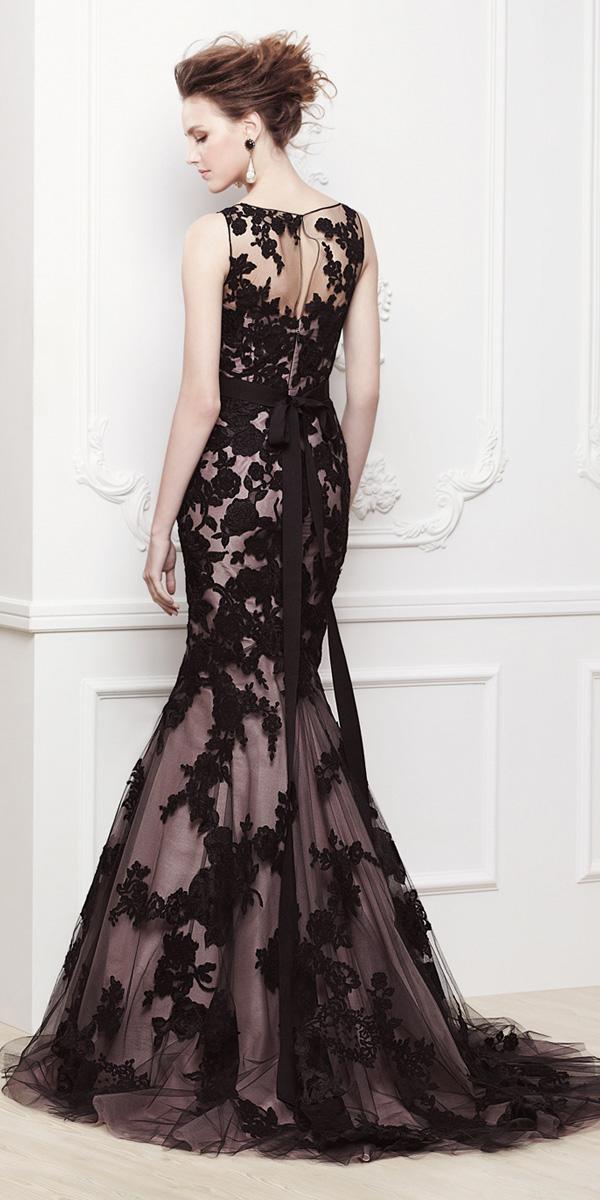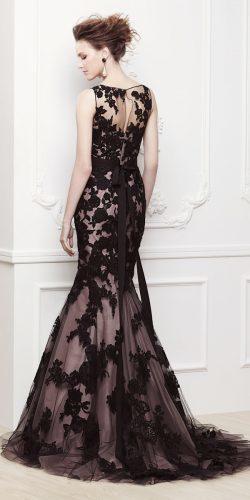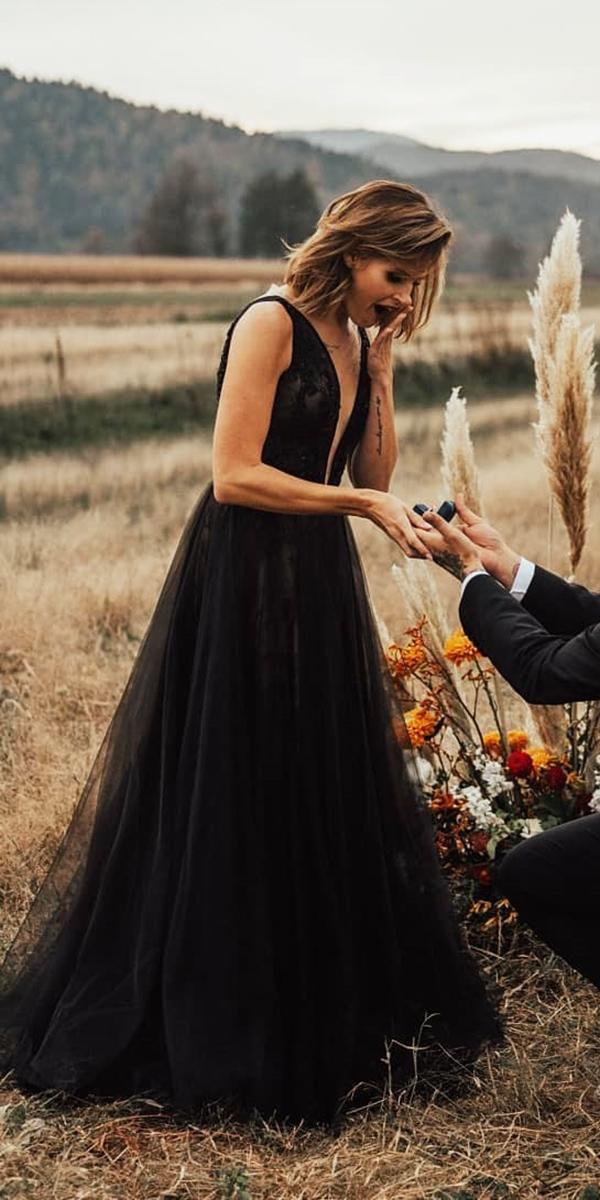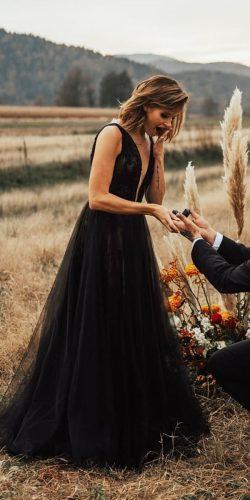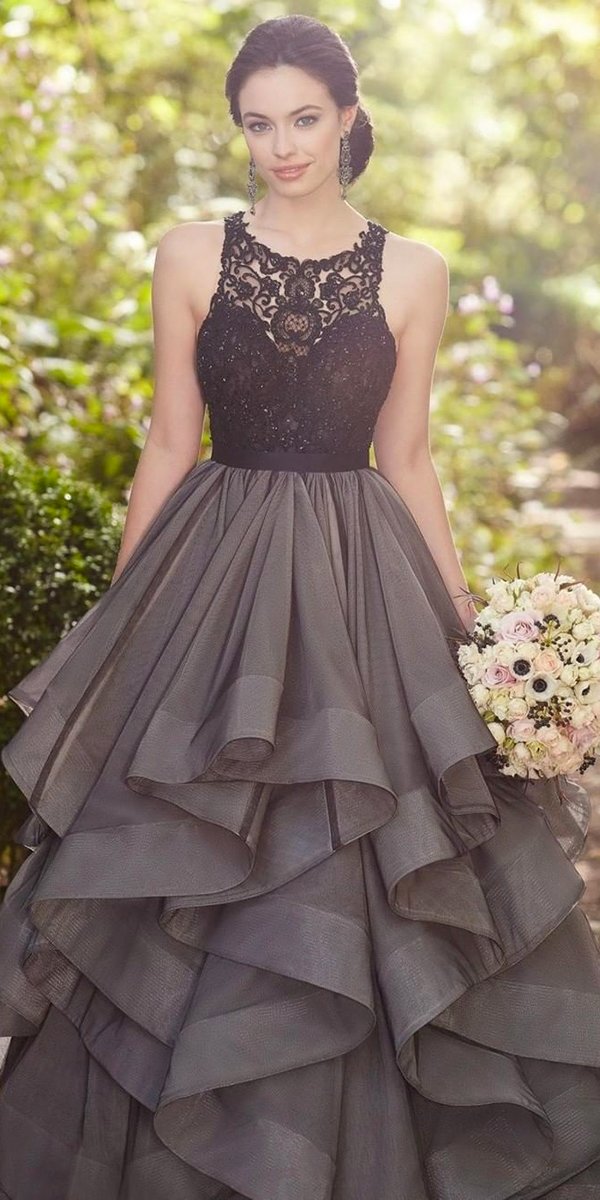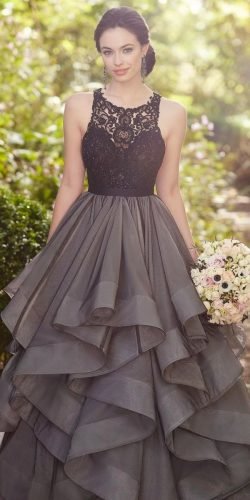 History of black dresses doesn't approve the stereotype that wearing them on a wedding is for a bad luck. Black and white wedding dresses were given with their title already in the time of Queen Victoria, more over than 150 years in a past. In that time, Great Britan conducts marriage ceremonies and blanch nuptial garments from a silk. From old days, the black was a sign of permanence and luxury. For example, in Rome and, Venice only aristocratic people had rights to put it on for their weddings. Beautiful black bridesmaid dresses or glans garbs were also under that rule. All their appearances were notorious and especially stunning.
Black And White Wedding Dresses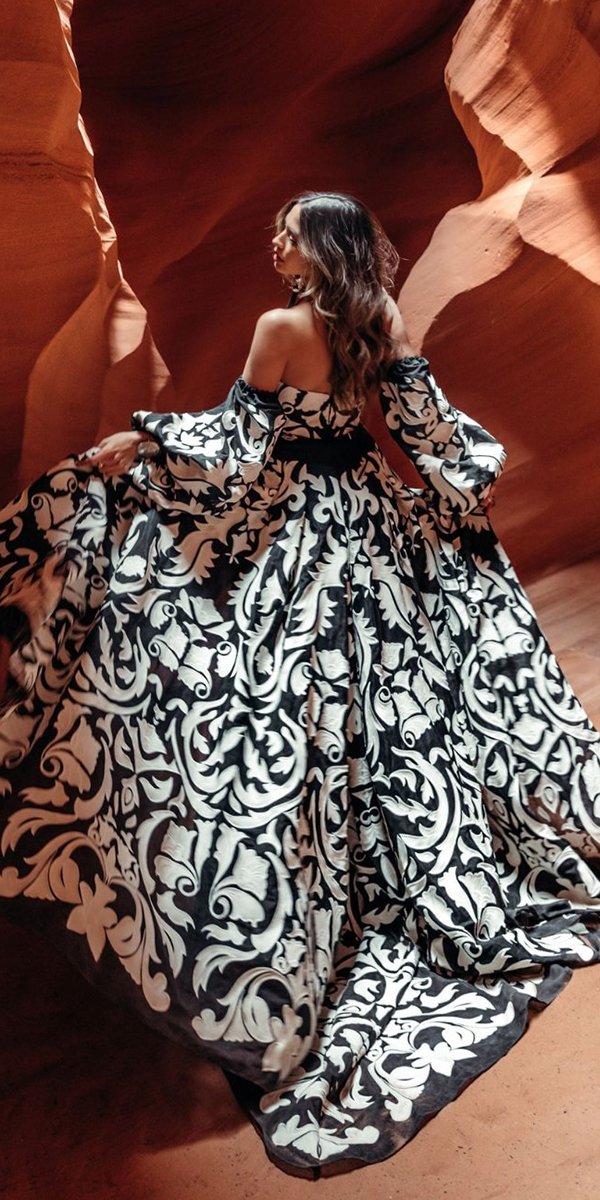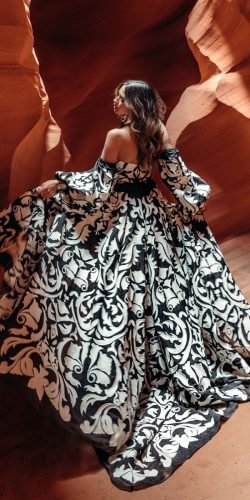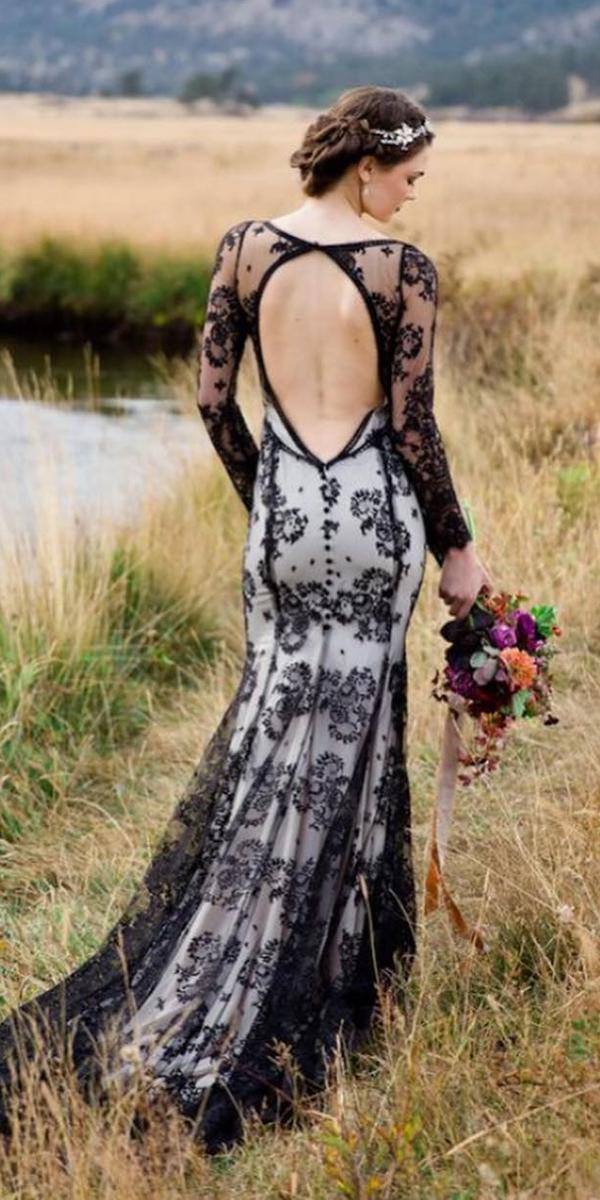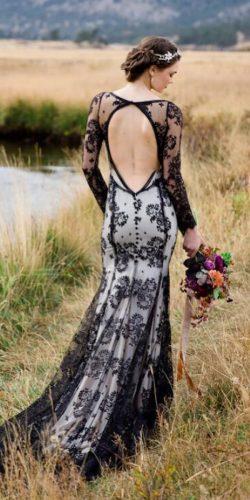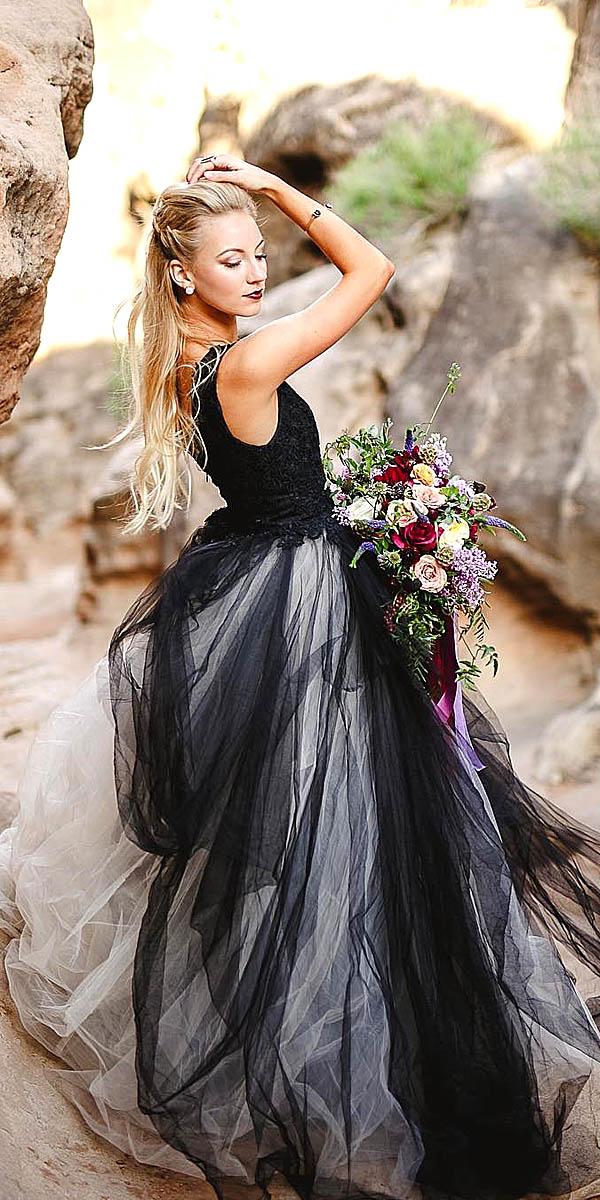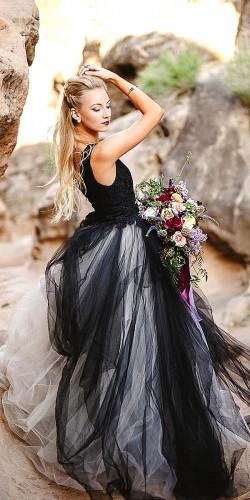 Black wedding dresses from the ancient past suit to the mainly glamorous taste. You have to admit, that the black adds slenderness to any outlook and it affords a dress with elegancy and gracefulness. Have you seen it on pictures? Looking closer, you may notice that the bride from early times seems much more assertive and reputable. This level works somewhere in unconsciousness of the mind telling us that the black is respectful. Would you like to have splendid photos like that?
Black wedding dresses 2018 is a fashionable trend on that season, filling the dress with ravishing delight. An enlarged fashion on a black born from the time of Jessica Parker wedding ceremony. She was the first contemporary lady vestured in a black for a modern nuptial festivity. From the very beginning, designers were shocked after what they liked the style. Why had nobody invited it previously? Fashion designers and modelers started to create collections that became tremendously spread.
Black dress with sleeves for wedding turned to the trend of the modernity. Some of them are leaders of modish thread till now. What a sparkling adornment you see in those models! One of the favorite designers in that style is famous Vera Wang. She is a wedding authority who surprises brides with creative hues for their garments. Glaring samples of which are black and ivory wedding dresses, and you may find them also in purple, navy or emerald hues. Modeler created her snazzy "dark wedding collection" made an outbreak in among fashion shows.
How would you like even more memorable color composition? Black and pink wedding dresses expelled a special charming and mystery. Its conjunction will shiver the skin especially added with creep intercalations. Simmering dress embroidery responds with the gracefulness of black. Brides in dark wedding outfits with headdress details seemed especially notorious, elegantly and sexy. After the seducing presentation of Vera Wang, many girls thought: "Why not?". Black wedding dresses became even more sought-after beyond the occasion. Their visionaries were storming podiums till nowadays.
Ball Gown & A-line Black Wedding Dresses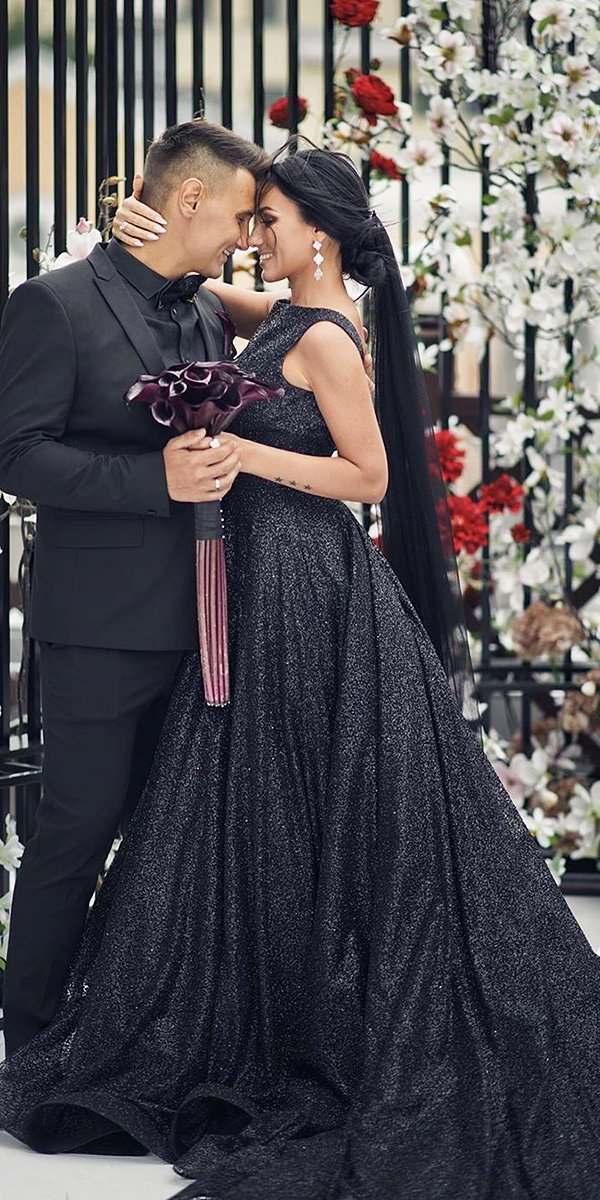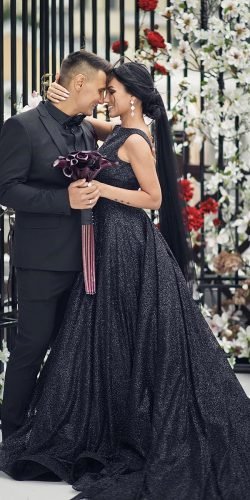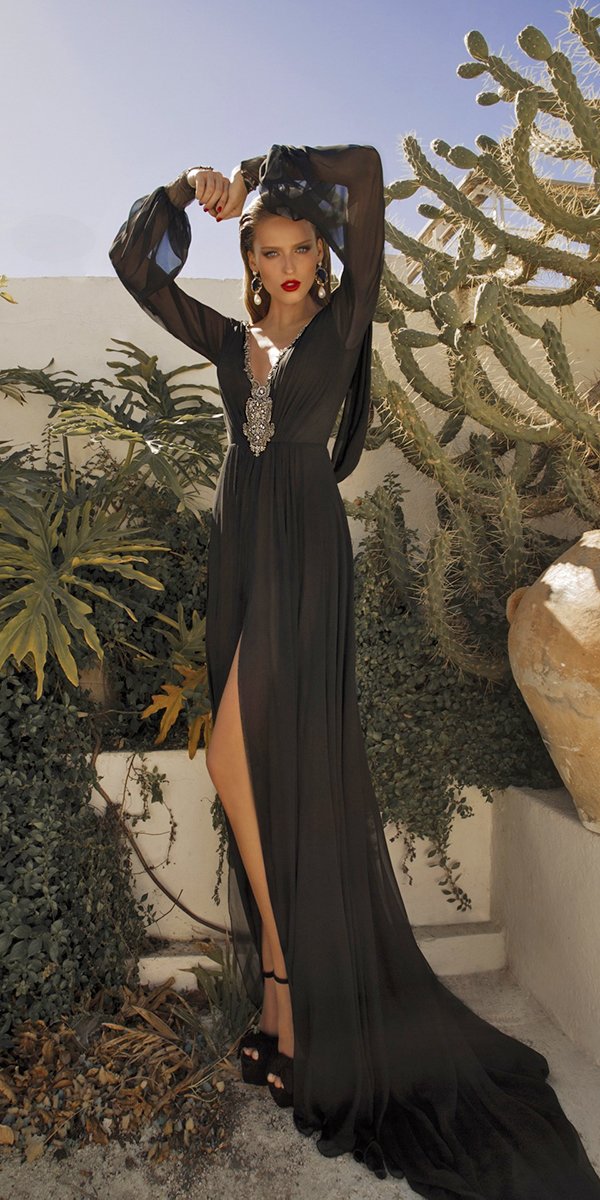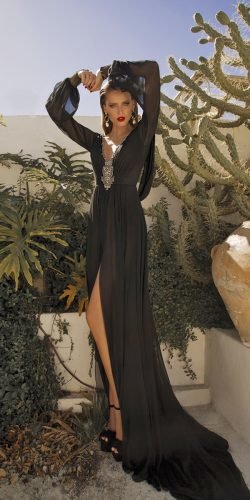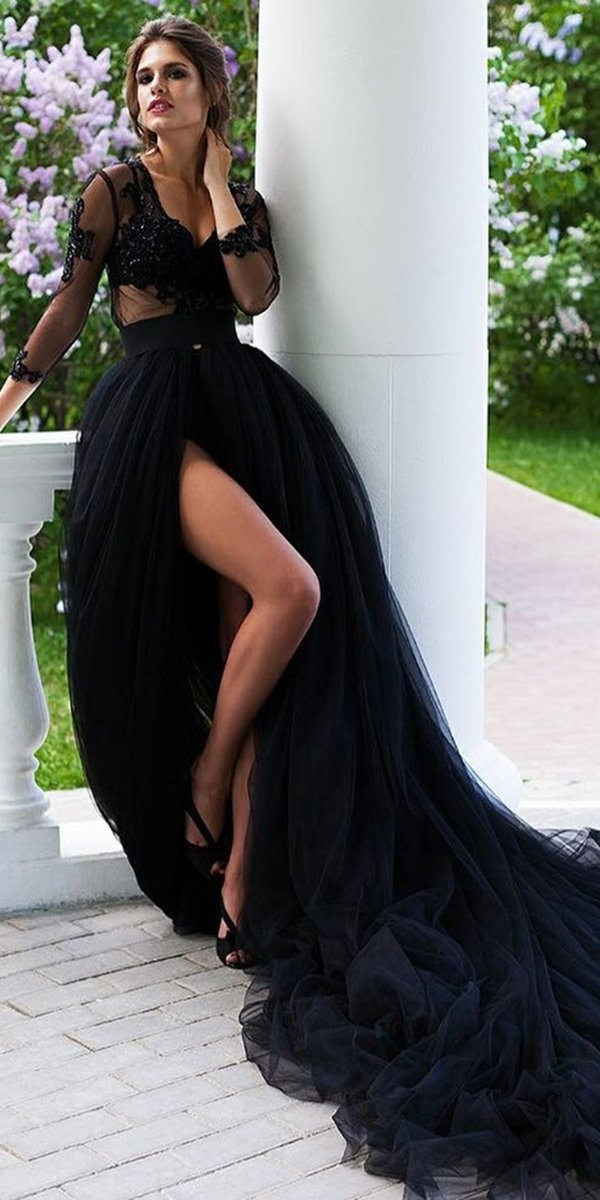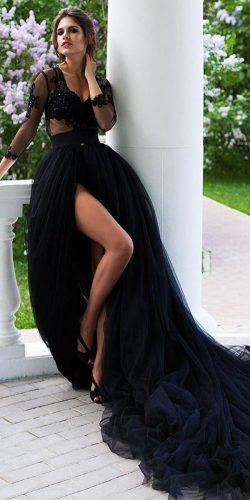 Wear tempting A-line silhouettes by themselves, or cloth those dress forms with opulent ball gowns. Slender and refined sillouhhetes of A-line or Mermaid dresses are even more notorious in dark colors. It is not a secret that black devour a light and makes the bodice slimmer. From the other side, too much of a black can overwhelm girl's sillouhhetes. Absorbing too much light can make your dress looking weirdo. Why you wouldn't try some lighter options?
Black and champagne wedding dresses returned on the fashion route. Many girls started to order stunning shadowy models, and they are popular among such designers as Atelier Aimee, Marchesa or Oscar de laRenta. Gloomy collection of Vera Wang didn't lose its relevancy. It won't be complicated to find gorgeous black gowns for a bride of any sizes. What is more, it is that such bouffant decisions can hide flaws of your stature. Poufy gowns are fascinating and adorable. They mesmerize and enthrall with all those uncountable layers of fabrics. Light and heavy, tulle and organza compiled in a one gown make so tasty feelings.
Admittedly, there is still a choice between a buying or a sewing of unique wedding dresses. Whereas you are possessing a not-standard figure shapes, you will easily find a dark dress with a cropped cutting. For presenters of non-conformist, it is better to utilize service of individual couturiers. Just beforehand of it, brides should carefully think of model and details of black wedding dresses. Matching few details and elements together, you can derive an irresistible and alluring wedding look.
Black elegant wedding dresses sort by facets and material for an attire, ranging from transparent to solid ones. Once you have mindfully planned of models, you can adjunct trendy details. Secret of an ideal wedding dress in black consist in conjunction among a fashion and draperies. Severity and freedom are not the best mates of a dainty bride, so your garb shouldn't be to closed or open and revealing. What are best options for facets? Picking a good fabric is significant a lot for a great dress decoration. Such facets are great at any case:
Elegant silk

Amusing tulle

Gradient organza

Airy lacy materials
Leather wedding gowns will also supplement a chick view. You may give it a choice either. Even thou it is a courageous and brave decision, the leather material provides so much gracefulness. It will pronounce about a strong and severe character and a will of its possessor. However, they are maybe not the best traits and features for a stylish bride, they reflect the vision at different point of view. You will daze everyone on the celebration with such breathtaking and glossy material for a gown. You will receive a classy and forwarded outlook in that cool drapery for a gown. Unique and notorious style suits for the most considerable, intelligent and admirable brides.
Simple black wedding dresses with an obscure trimming look superior. People wanting a dress in a black color may stop on a white dress trimmed with a black lace or furnishing. Abundant black or dark setting will greet guest with extravagancy in the style. Hang on an opulent decoration in black additional florets, lace or bands and narrow goods. Choose a wedding dress with black belt, a braid or a bow. Another variation for conservative brides is whitened dress with allowing of black accessories. Find out an effective black belt or order a veil and a bow in a smutty tint to add it to the garment. A little but suppress fills the appearance with strict bonds of a style.
The most creative young ladies pick out black short wedding dresses. Consequently, they can experiment with white and black accessories for the garb, tending to add more charm and enchanting. Find out exactly yours exclusive and notorious embroidery. Whereas it will be black silk tapes or gloomy belt, match to an ideal dress in white or black. Black wedding dresses will come perfectly with prettification in an obscure stylistic. If you incline to experimentation, combine few elements together. Lacy and waved tapes and trimming on black materials look so amusing and entertaining.
By the way, festive solutions for supplements will fit with Halloween wedding dresses. What a breathtaking combination you may to receive in that case! In order that you match a white upper part and a black hint of a low, you will get an incredible composition. Black corset and ceruse poufy gown seem matching as well. Also, you may choose a vertical dividing with alternated white and black straps. As you will pick something in that outward appearance, you'll posses more glamour side of the style. Whether choosing some cropped and torn hemlines will bring more obscure notes.
Edgy black wedding dress looks amazingly and fresh. As for dress from parget and black lace, they have a majestic outlook on a honky background. Black color of crown feathers amazes on albumen background of a case. Among a band of such fancy decisions, you may find an assortment of stunning cheap black wedding dresses. Those dresses itself won't cost a lot, but they will amaze variabilities of peculiar details. You may a dress under $500 and decorate it with some funny ornamentation. Even thou the dark wedding dress is something outstanding, it will give even more glance with interesting accessories. What is your thing? Ask yourself. Whether it is a headdress, an umbrella or a lush mantle.
Black appliques to a wedding dress is just peak of the trend! Furthermore, they are lucky chances to make an appeal even more fantastic as they slim sillouhhetes of the bodice. So, you should try it for a main costume or for beautiful black bridemaid dresses. Maid of honor wearing such tricky and modish composition will be in the center of general attention. This effective style will distinct the bride from the other guest on the fete as well. You are looking for something that can amuse on a celebration, then wedding dress in black color is exactly the right choice.
Dramatic Black Lace Wedding Dresses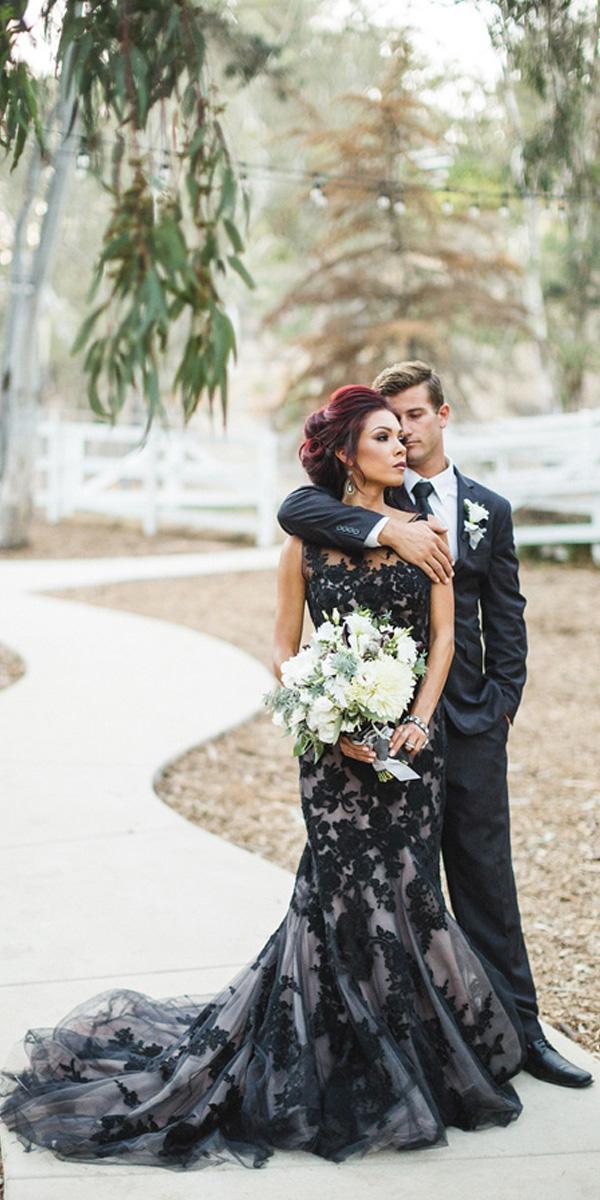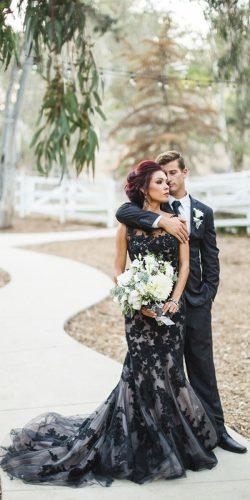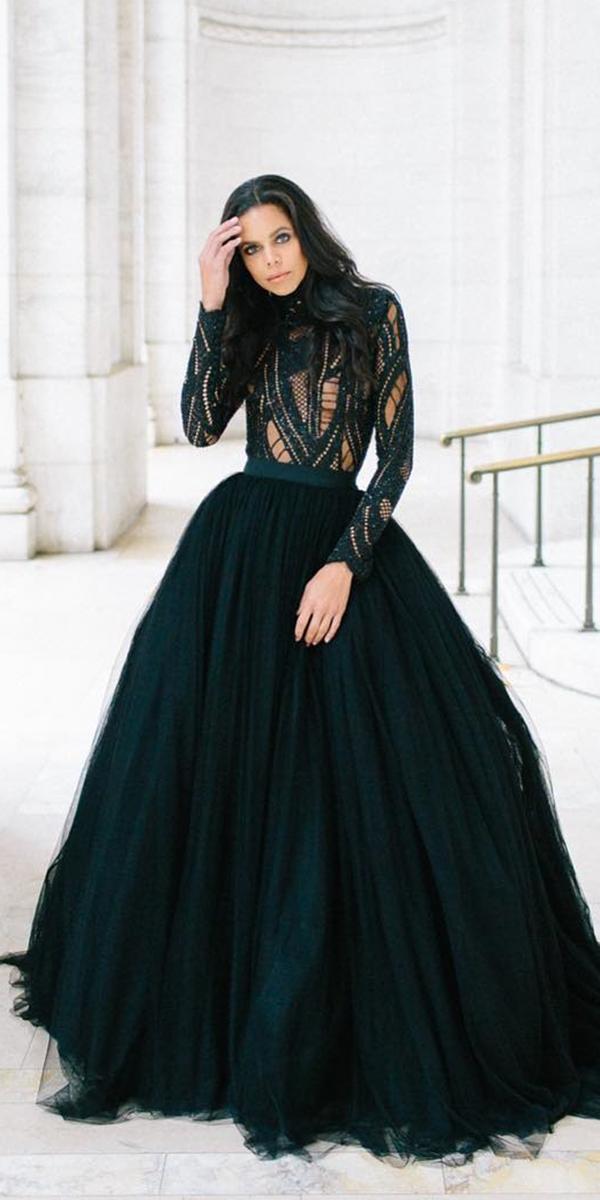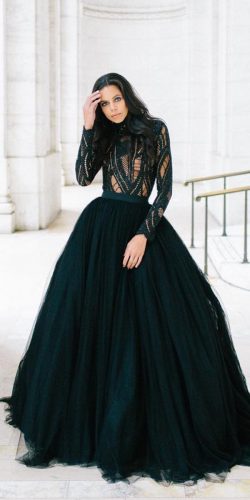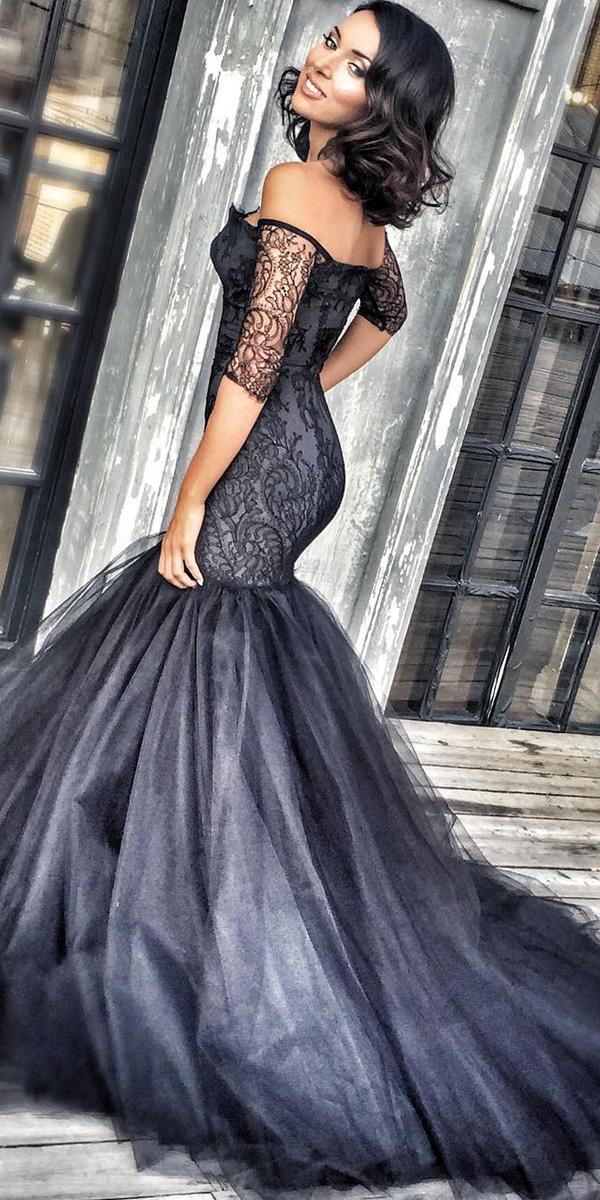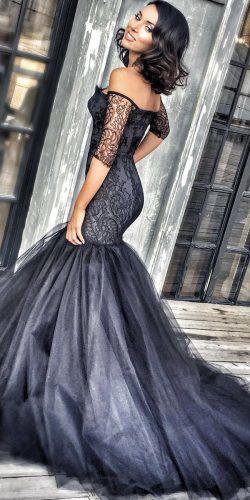 Previously, black lace wedding dresses counted as extraordinary variants. They were shocking and technicolor, but during the time those dresses became popular. In fact, the custom to wear white dresses for a wedding established in the time of Victoria government. From the earliest times, ladies picked the best garbs from their cloakrooms to marry.
Elegant Black Bridal Gowns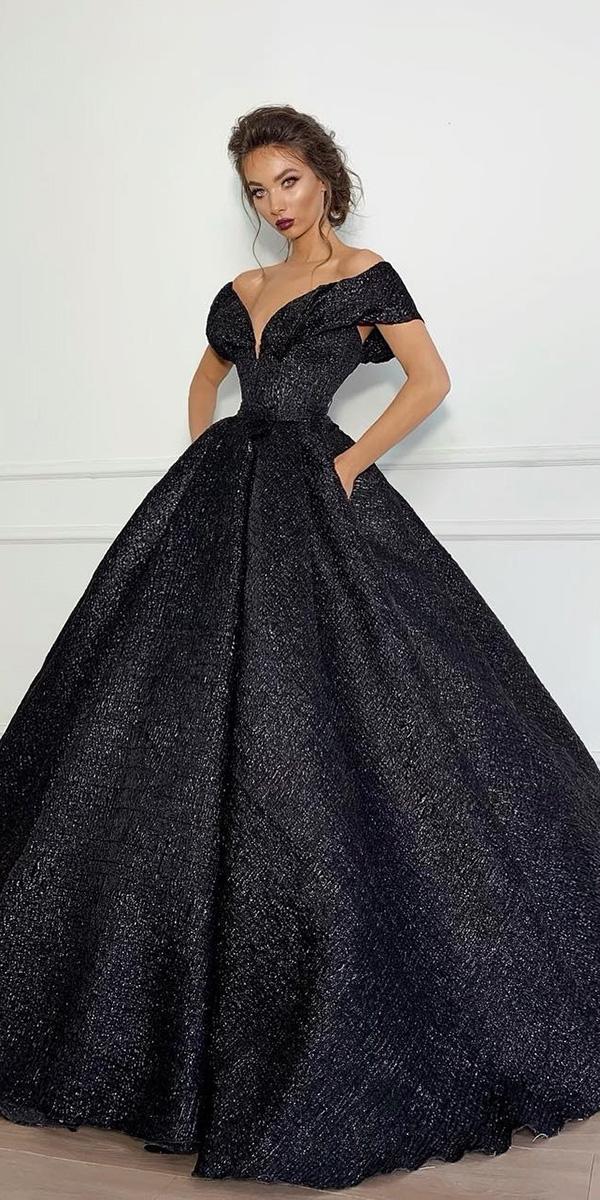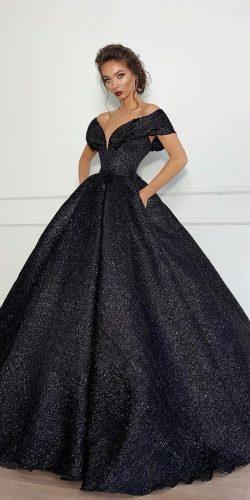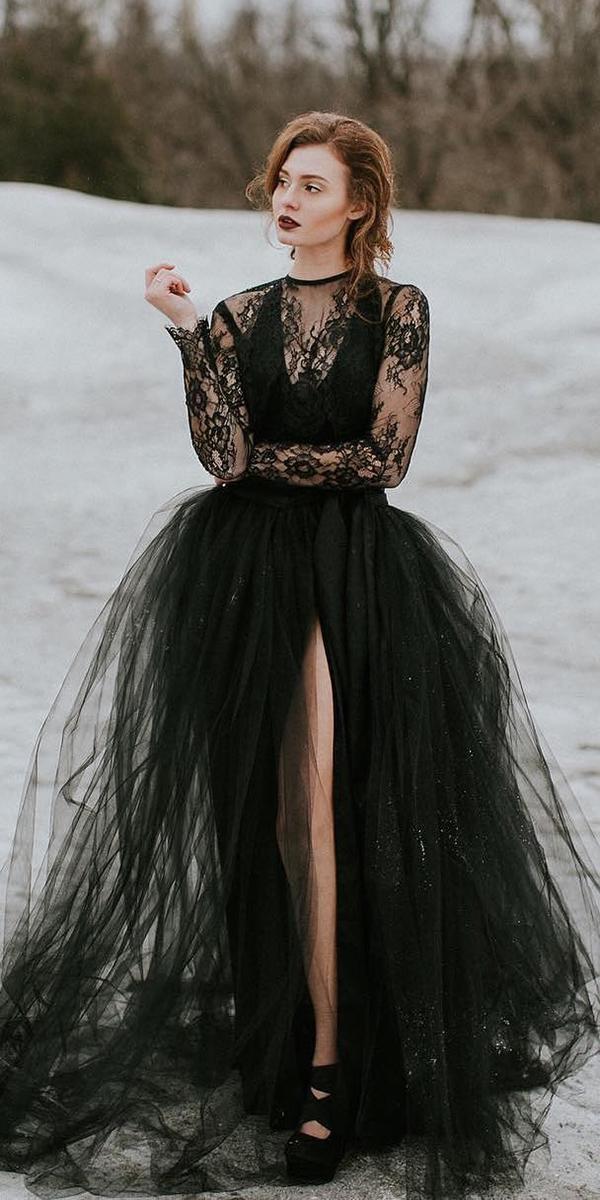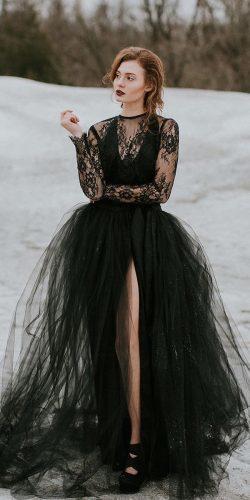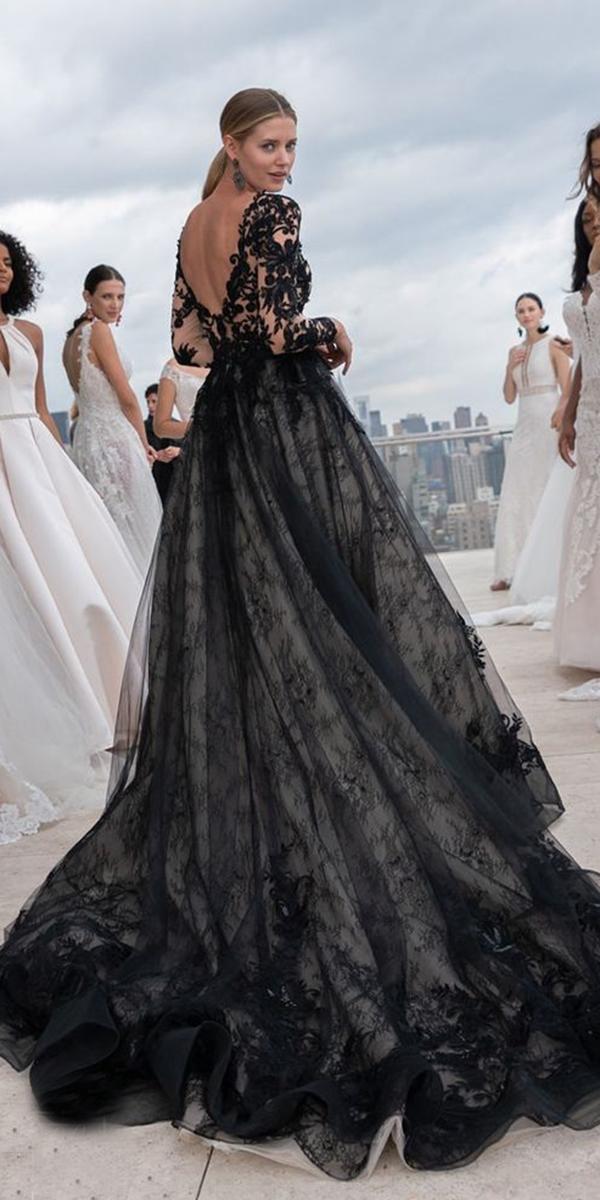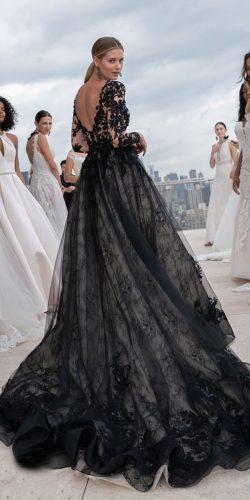 Gorgeous black gowns enchants with their uniqueness. Unique and curved composition of black and white figures and straps are looking starling. Black lace wedding dress with white insertions has a glorious design. On contrary, you may try a white wedding dress ornamented with black gowns or cut parts in black material. Whether you will choose first or second variant, you will be happy with finishing results in style. Light dress with black inlets present a good taste at any case. White and black bridal gowns started to acquire popularity in a nowadays time.
Aspiring to be original is meritorious. However, any bride should pay a bit of attention not only to the fashion model, but also to the coloristic of the wedding. She should think in advance whether bride and groom costumes will match harmoniously. Is it possible that an entire white bride will seem with a groom in a black garment? The following classical variant is open for further experimentation. Keep going and experimenting on colors of dresses for a wedding!
Stunning Black Wedding Dresses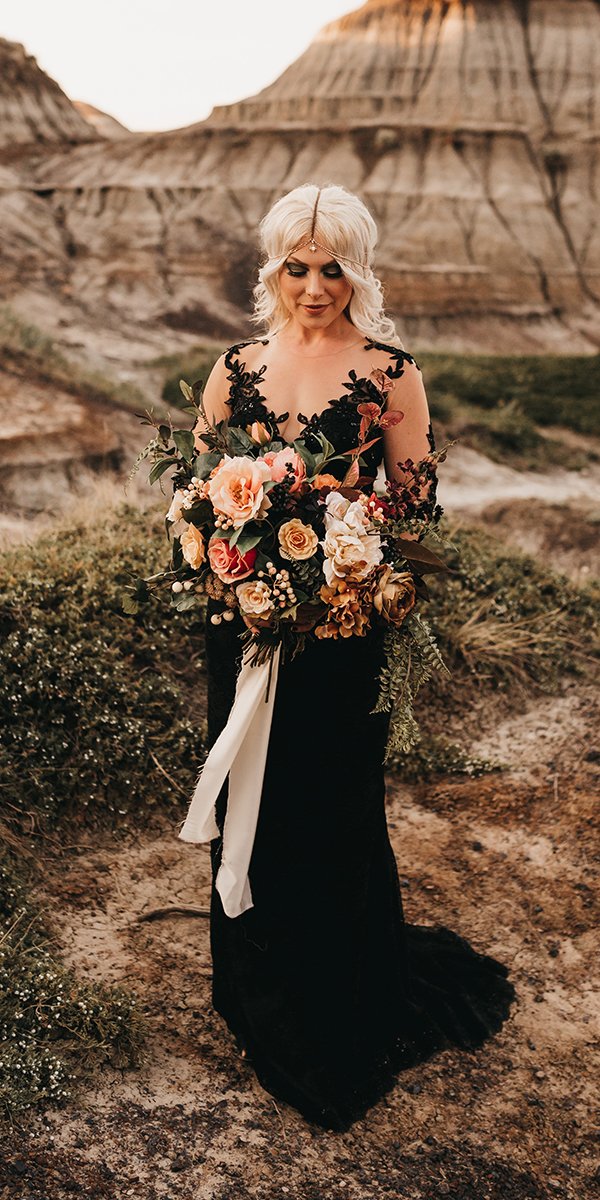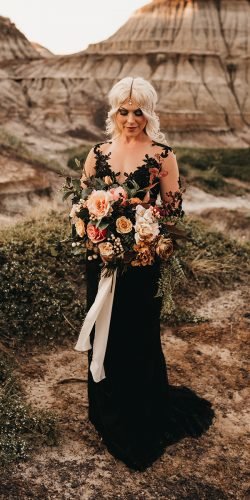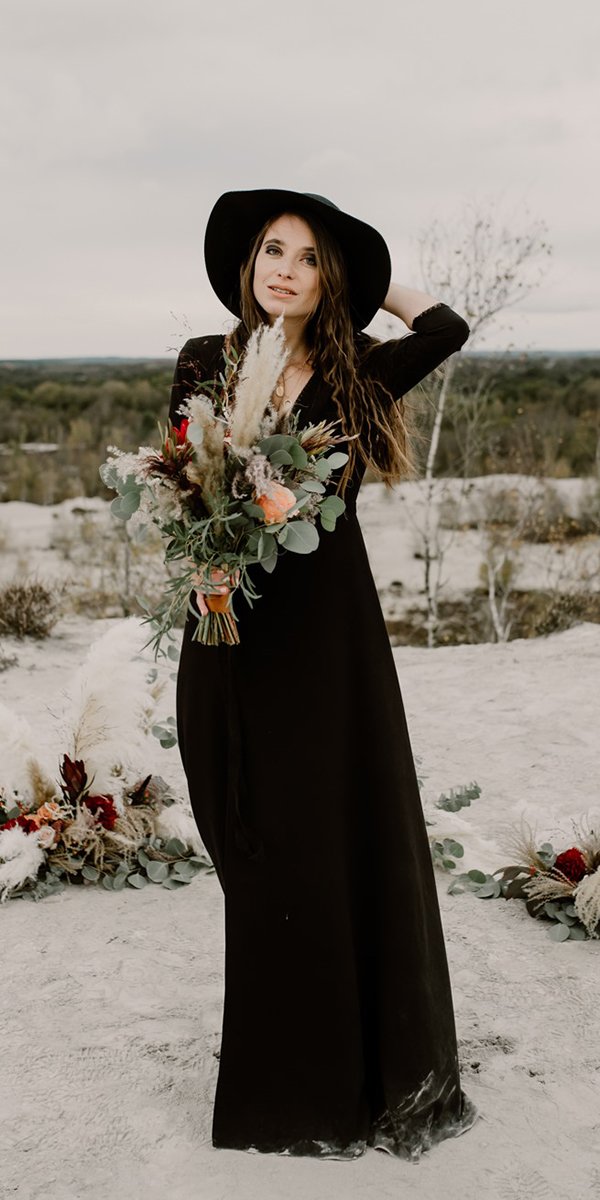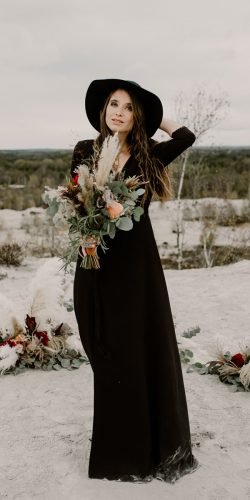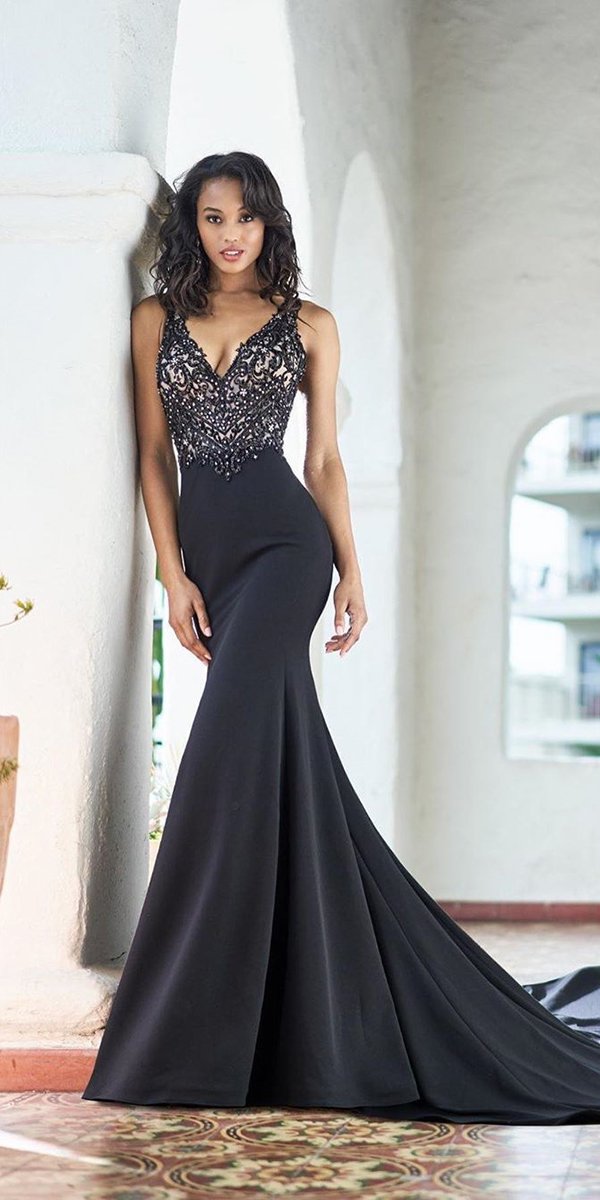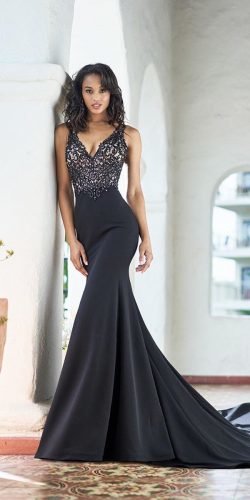 Classic composition of red and black is famous and likeable. Not only that it is bright and notorious, but also such colors speak of passions and deep love, amiable attitude and lovely affection. Those pack of colors will join with the most fascinating dress forms. To express the most artistic and fervent outlook, it is the best variant. Blush gown on a dark dress seems elegant, and on the other side dark and glance black gown matches lovely with a red dress. Bloody red color tempts with its passionate and effective mood. Obscure black makes it even more blushful.