Most brides going through the variants of bridal hairstyles have probably discovered how many more options are available for long hair. And there is no doubt as to the reasons for such popularity of wedding hairstyles for long hair. Hardly any other style will give a bride such an ultra-feminine, tender look.
Poets and writers across centuries paid tribute to long flowing locks, that enchant men. Stunning loose waves or intricate updos, romantic braids or fishtail – all these styles look simply amazing on long hair. Thus, take a look at our gallery and see for yourself! What if your current day-to-day is a pixie short? You may want to reconsider your hairstyle choice after seeing our collection of best bridal hairstyles for long hair. After all, hair extensions are not so hard to get! Browse our gallery, get inspired and pin the best hairstyles for your big day!
Photo 1-3: Favorite Wedding Hairstyles For Long Hair You Will Love
In order to help narrow down the options, consider your gown, your theme, and your venue. Classic and modern, indoor and outdoor – all demand their own special treatment. And knowing your overall theme and style will help you determine what hairstyle will work best.
Expert tips:
1) Don't forget to consult your hairdresser! In fact, your stylist knows your hair and can give you a tip on which wedding hairstyles for long hair will look best
1) If you want to grow your hair longer getting regular trims is important! Although contrary to the popular belief, it won't make your hair grow faster, it will make hair tips look healthy. It is also important to prevent splits from working their way up strands.
Thus, use hair conditioner to grow longer and healthier hair. In addition, hair conditioner helps prevent damage.
In general, hair is an important part of your image, and you want to look your best on your special day.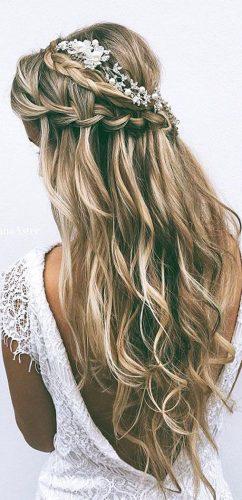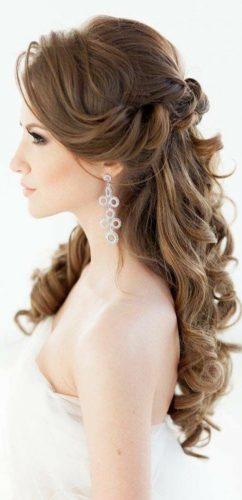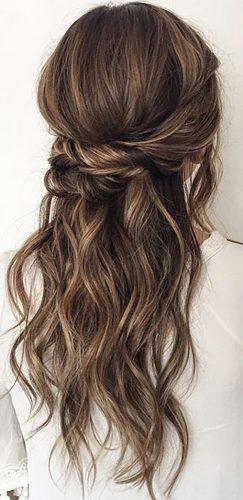 Photo 4-6: Stunning Fishtails
Simply stated, long hair is a favorite among brides because of its versatility. Full-length braids, fishtails, and half-up half-down looks are merely the beginning of the hairstyles that are long hair options. Long haired brides love the flexibility, but it's tough to know where to start. A fishtail braid has an inverted pattern that looks quite complicated but is actually very simple to weave. It might require some practice, though.
Expert tips:
1) Looser and more relaxed fishtails look more romantic. To get that relaxed, but stylish look, vary the size of strands while braiding.
2) To make your tight braid look glamorously messy simply stretch your braid apart with your fingers. Another way to make it look looser is to pull out occasional strands.
3) To weave in your hair accessory simply add it to one (or two) of your sections of hair while braiding.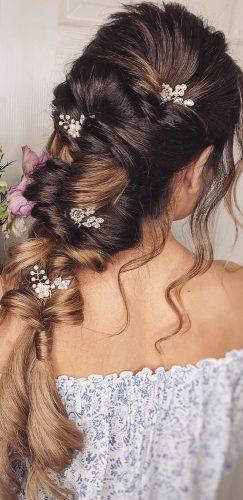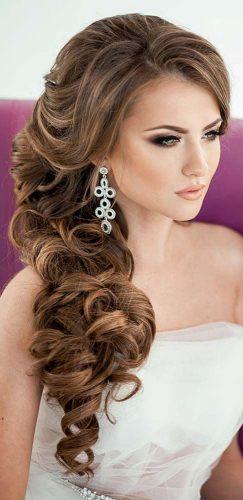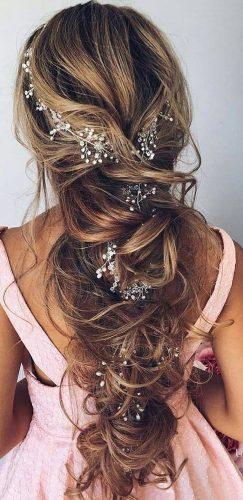 Photo 7-9: Incredible Loose Curls
Modern brides are loving the free flow trend of loose curl wedding hairstyles. Curls come in all shapes, sizes, and tightness. Looking great in half-up half-down styles, curls add layers of romance and elegance to any venue and gown.
Expert tips:
1) Long loose curls require your hair to look healthy and shiny. To add a bit of extra gloss, rinse your hair in cold water after each time you wash. Cold water makes the outer layer of hair smooth and silky
2) Want to play it simple, but need to add a little something extra? Use a single flower to accentuate your strands.
3) Want your look last longer? Let the curls cool down and set before letting them out. You could pin them to your scalp and use a blow drier to blow cold air from a distance. Don't let them down until you finish your makeup.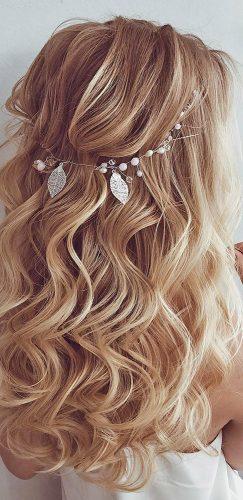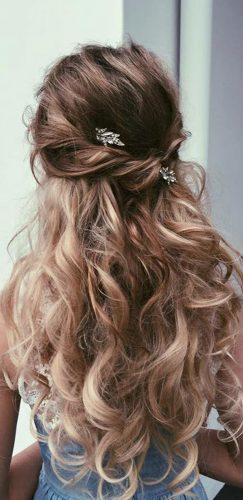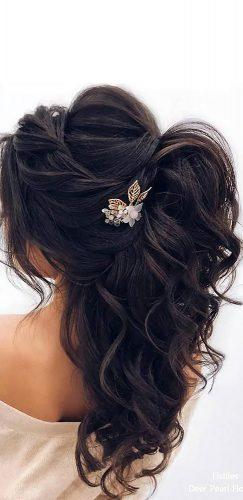 Photo 10-12: Elegant And Modern Half Up Half Down
Half-up half-down is one of the most popular bridal hairdos. It also helps to keep the hair out of the face and still look good in pictures. It allows to add braids, buns, waves, and it works with any hair length or hair texture. Also, loose curls pair perfectly with all sorts of accessories from pins and combs to headbands and crowns.
Expert tips:
1) It doesn't matter if you are going to do your bridal hair-do by yourself, or use some professional help. Thus, always opt for a trial hairstyle to make sure everything goes smoothly on your wedding day. As all other wedding hairdos for long hair, half up half down styles can be quite tricky.
2) Don't forget to bring all the hair accessories you plan to use to the trial session. It is important!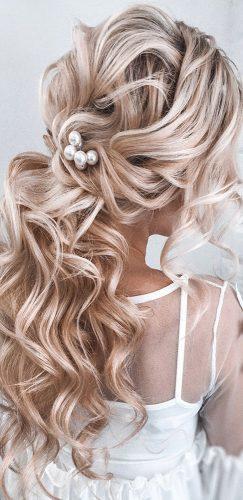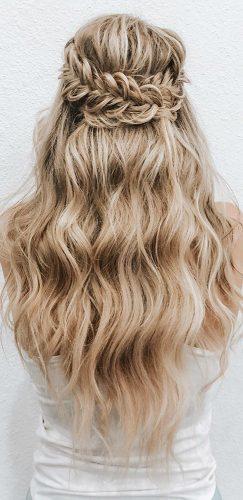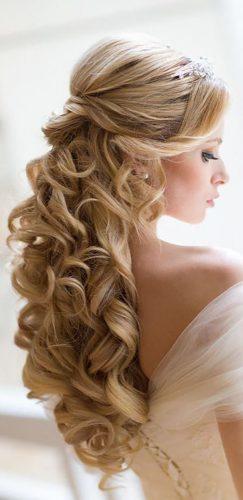 Photo 13-15: Braids For Long Hair
Your wedding ceremony season will have a fairly significant influence over your wedding hairstyle choice. Spring and Summer weddings go together perfectly with flower adornments. Romance reigns supreme with long flowing curls and braids. Dutch braids, French braids, fishtail braids – the options are limitless.
Expert tips:
1) Loose braids look especially good on a boho-chic bride. You can add a wavy texture to your hair, using a curling or flat iron.
2) Braid crowns look fresh and flattering on most types of hair. Start weaving two braids from your temples, connecting them in the back for that innocent romantic look.
3) The key to the ultimate boho look is to get lots of volume in your hair before you even begin the braid.
Weave in some flowers for a stunning fairy-tale princess styled hair-do.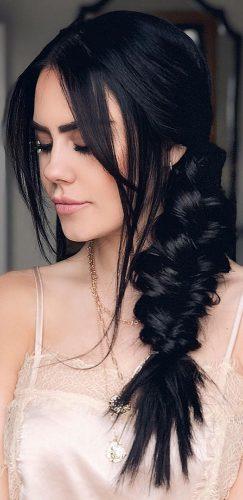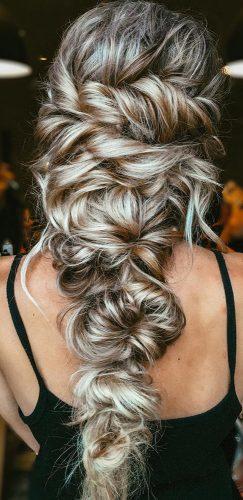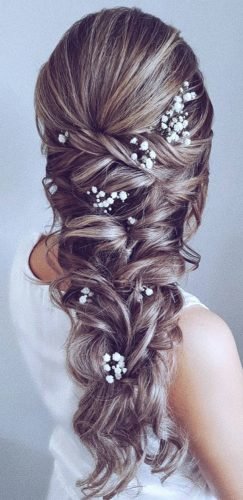 Photo 16-18: Add Some Flowers For Romantic Look
Compliment a Spring or Summer wedding with long waves, curls, and braids adorned with flowers and gems for the perfect seasonal theme. Flowers and long hair go together like salt and pepper, make your pop with a hairstyle that completely compliments. Almost all bride hairstyles for long hair look great with flowers.
Expert tips:
1) Flowers add innocence and romance to any bridal look but are an absolute must for a boho-chic bride.
2) You don't need to weave the flowers in. Consider a flower crown as a stylish, but easily removable alternative.
3) Complete your perfect couple look with matching flower accessories: a flower boutonniere for him and a flower crown – bouquet ensemble for her.
4) Pay tribute to the place and go for a piece of local flora if you have a destination wedding.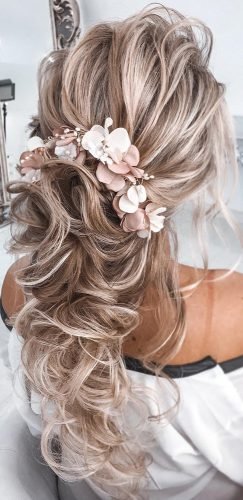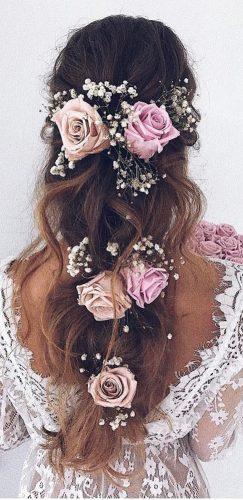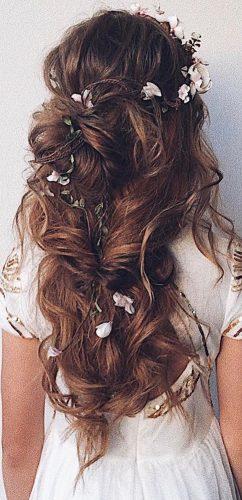 Photo 19-21: Stylish And Chic Hairstyles
Simple hairstyles are a strong option for most wedding themes but are an absolute must for bohemian and rustic motifs. Hippy and modern inspired themes scream for loose curls, long braids, and floral crowns.
Expert tips:
1) If you wear a flower crown it is wise to choose blooms in your wedding colors. These small details will help you pull everything together visually.
2) You don't need a lush flower crown. Depending on your style, you can simply accent your loose braids with several single flowers or a bit of baby breath.
3) Talking of baby breath – don't underestimate this dainty flower. Added to a stylish hairstyle, it has a stunning visual impact.
4) Flowers help to style up even the simplest hair-do to a bridal-worthy style. Even the most petite and subtle flowers give a most graceful effect.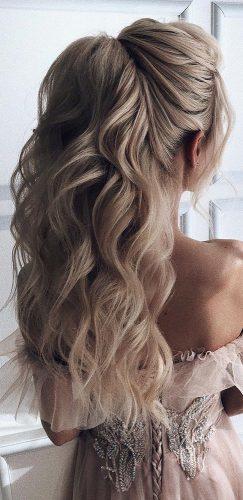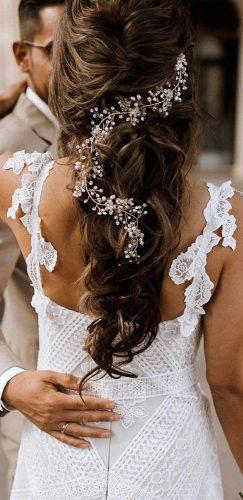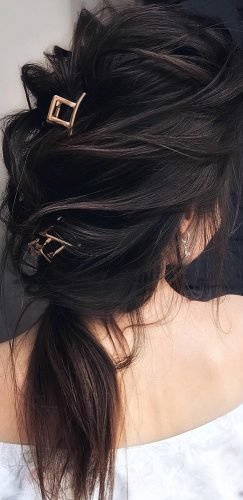 Photo 22-24: Simple Hairstyles For Long Hair
Simple hairdos are often chic and working extremely well with classic themes. However, modern weddings are made for the casual. Simple hairdos add tons of options for the bride but, potentially more important, allow the bridesmaid's hair of various lengths to participate in a unified theme. The positive effects of choosing a simple hairstyle are clear: you don't need to pay a lot of money for a hairstylist. You can make that perfect bridal look yourself with just a little bit of practice.
Expert tips:
1) The first rule of a simple hairstyle is don't forget to practice, no matter how simple it looks. After all, practice makes perfect!
2) Prepare in advance. Long hair requires a bit of extra care, especially when such an important event is coming. You can't allow it to be your bad hair day.
3) Sometimes less is more. Simply adding a flower or a bridal hairband to your usual hair-do to get a perfect wedding hairstyle.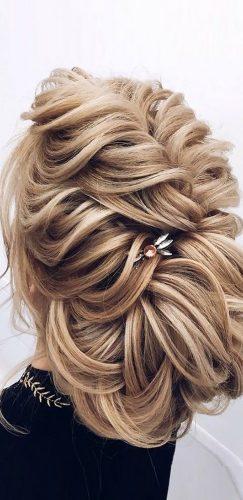 Photo 25-27: Gorgeous Ideas For Long Hair
This style is soft romance at its best, and suit every bride's gown cut. Bring this gorgeous option to your hairstylist to see which up-option works best with your dress.
Expert tips:
1) If you don't plan to wear a veil, a wedding can be the perfect time to liven things up by refreshing your hair color.
Advanced coloring techniques, such as ombre and balayage, look great on long flowing locks.
2) Combine different shades, close to your natural color, to get that soft and all natural look. Also, this way your hair tone is sure to complement your skin tone.
3) Also, the combination of different shades will add dimension and richness throughout the length. Ask your stylist for best coloring decision for you.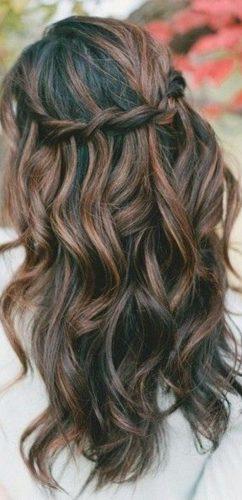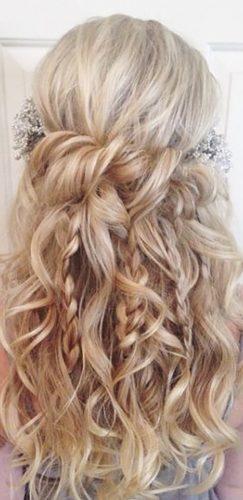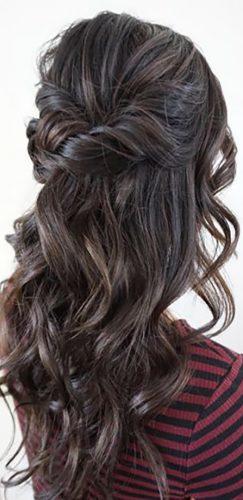 Photo 28-30: Lovable Soft Waves
Soft waves for long hair are loveable and compliment every bride. Loose and wavy hair with headbands and crowns are adorable. Natural looking waves reflect your bright personality and give your look relaxed summer vibes.
Expert tips:
1) If there is a secret to beautiful and long lasting waves. It is texture. Sleek and silky hair is great, but true boho waves are messy. If your hair is super-straight, add some texture to your strands.
2) For a bit of extra gloss rub a little bit of Argan oil all over your wavy hair.
3) Don't brush your curls – just run your fingers through the curls instead.
4) Finx your curls with a light touch of a hairspray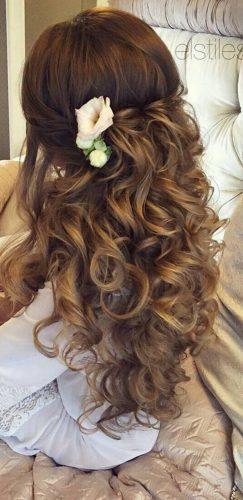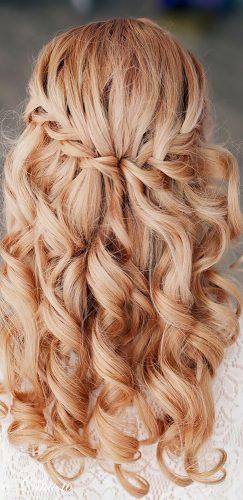 Photo 31-33: Gentle Accessories For Long Hairstyles
A long hairstyle can be made truly unique with the inclusion of so many accessories. There's no right answer when it comes to long hair wedding styles – you do you – but one thing's for sure. An accessory like a pin, comb, brooch, or headband add layers of intrigue. These antique or modern adornments are the perfect compliment to any long hair wedding style.
Expert tips:
1) While choosing wedding hair accessories, keep in line with your personal style and the style of your wedding. Actually, a well-chosen accessory can help boost some hair ideas for weddings
2) If you have a simple basic dress, hair accessories will help you define your overall style. Don't go for too lavish details if your dress has rich embellishments. But you should be very careful where color stones are concerned! It's better to have the dress in front of you when you choose the hairpiece.
3) Gold hair accessories are best with ivory or champagne dresses. Also, don't forget to make sure your bridal jewelry is also gold.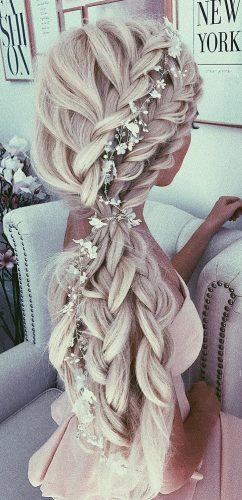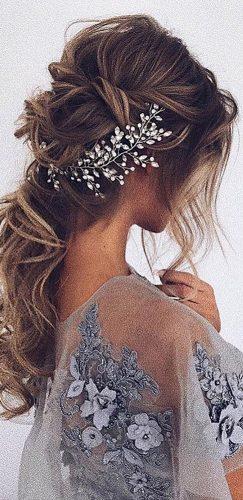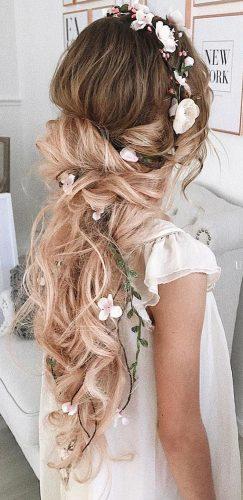 Photo 34-36: Unique Hairstyles For Long Hair
Expert tips:
1) Asymmetrical lines are one of the hottest trends this year! Why don't you go for an asymmetrical hairstyle? Be it a sexy side-sweep or asymmetrical braids – you are going to look stylish and up-to-date!
2) The newest trend in bridal hair accessories is a bridal hair vine. Vines are perfect for a romantic look. You can bend them to accent any hairstyle.
3) Add several tiny braids to make your half-up bridal look more original.
4) Half-up braids look awesome, but they can also serve as the perfect place to secure your veil.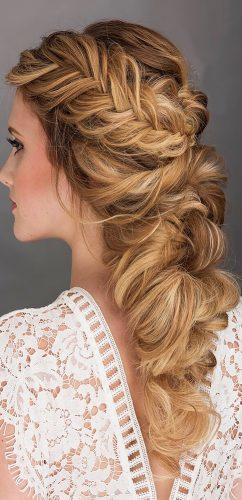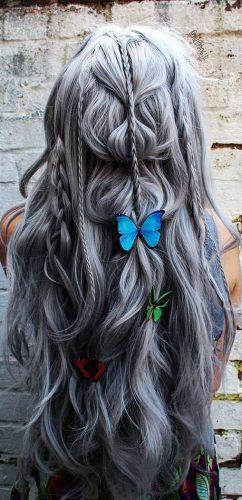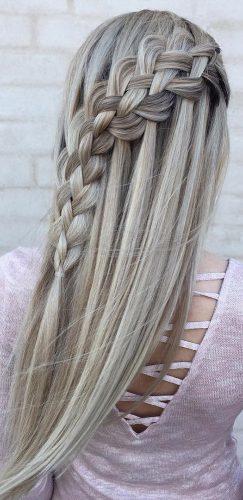 Photo 37-39: Elegant Volume Hairstyles For Long Hair
Expert tips:
1) Use conditioner first. Although it does nourish the hair, it can also weigh it down.
2) Shampoo after to take away any residue for more voluminous bouncy hair.
3) To add instant volume try flipping your head upside down. Apply some dry shampoo, and gently shake your hair with your fingers.
4) Use lightweight misting volumizer for fine hair, cream formulas for thicker textures, and a mousse if not sure.
5) Curlers can give the hair a lush fullness, even if your style doesn't include ringlets. Simply lose the curls with your fingertips to get that extra volume.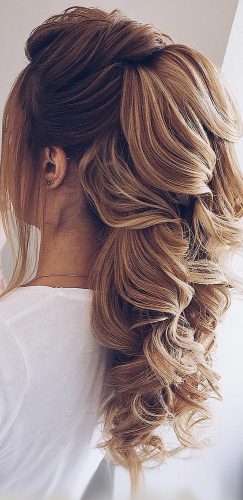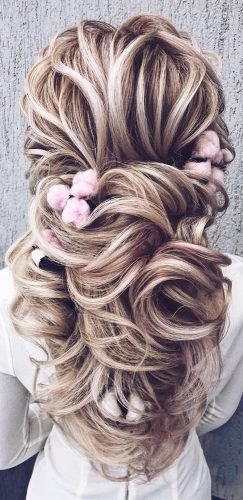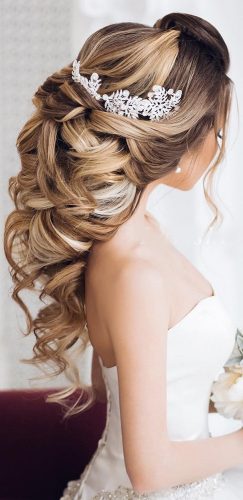 Photo 40-42: Goddess Hairstyles With Braided Texture
No matter what type of braid you decide to have: a simple three-strand braid, or something fancier. There are several most common kinds: French, Dutch, fishtail and waterfall, milkmaid and reverse braid. All of them will look marvelous as a part of your bridal hairstyle.
Expert tips:
1) In order to get more control of your tresses, dampen your hair before weaving.
2) Even the simplest braids can be styled differently by playing around with their size and texture.
3) You can loosen the braid by tugging it apart to make it look more voluminous.
4) Don't hesitate to add headpieces to complete the look.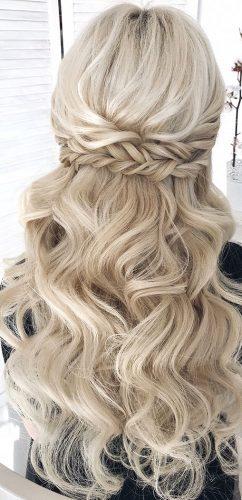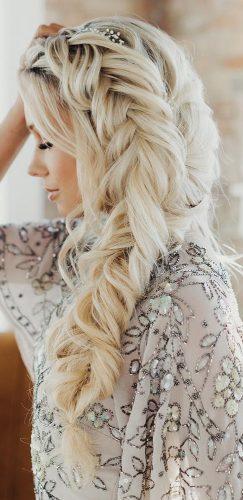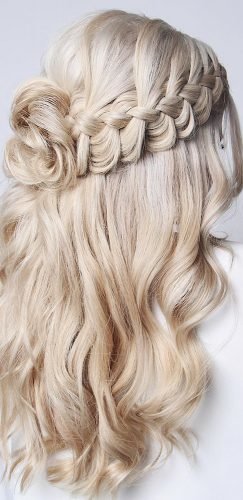 Photo 43-45: Casual Updo With Ponytails For
A ponytail is one of the simplest wedding updos for long hair. It can be a usual sleek one or a ponytail with a volume and texture. A ponytail is easy to make and easy to re-make if need be.
Expert tips:
1) A wavy and voluminous high ponytail is a great solution for a modern or minimalist bride.
2) A messy ponytail with waves and a texture is ideal for beach and tropical destination wedding brides.
3) A side messy wavy ponytail will look wonderful on a bride who has a country, barn or rustic wedding.
4) A low messy ponytail looks romantic and is perfect for a boho bride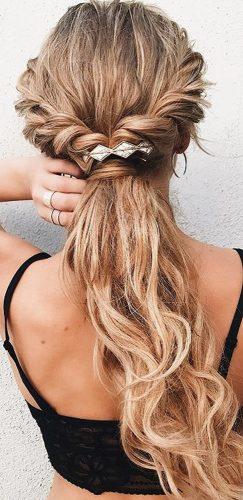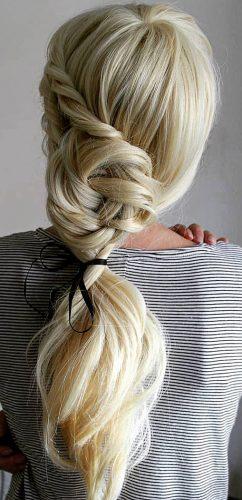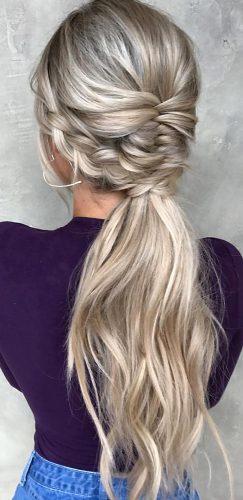 Photo 46-48: Bridal Mermaid Hairstyle
The popularity of mermaid hairstyle among other wedding hairstyles for long hair is growing every year. Ultimately romantic, messy, wavy and free – a perfect choice for a beach or a boho-chic bride!
Expert tips:
1) Accentuate your mermaid hair with a large exotic flower or a small rhinestones hairpiece that will sparkle in your hair.
2) Add that sun-kissed beach look with balayage highlights. They will also give visual volume to your strands.
3) Loose locks, framing your face, will make you look more tender and romantic.
4) The messier the better! Windswept hair is definitely in trend, so don't be afraid to express your inner mermaid!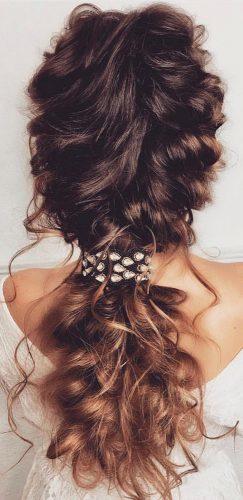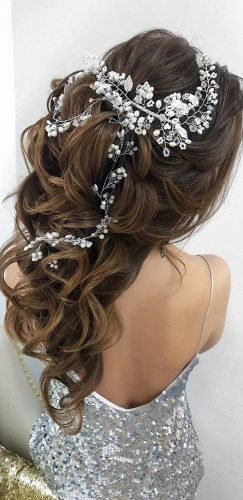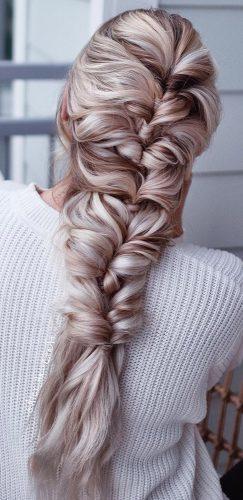 MORE OPTIONS:
Best Wedding Hairstyle Trends 2017