Photo 91-93: We Did It ! True Emotions
Making your getaway is fun! You've successfully made it through the toasts, ceremonies and dances. It's been a long night and it's time to make your move. The photographer will have fun capturing your entire party sending you off as you're whisked away to your honeymoon.
Photo 94-96: Romantic Wedding Photos Of The Bride And Groom
Although there are many people involved on this special day, it's really only about one thing: the romance between soul mates. There will be plenty of chances for fun and candid photos, but make sure to reserve some time for romantic wedding photos of bride and groom. Be natural and the photographer will have an easy time capturing all of the love.
Photo 97-99: Wedding Kiss
One would usually steer clear of PDAs, but your wedding day is completely different. Wedding kiss photos grasp all of the love and passion that your special day is meant to represent. This isn't just a kiss, this is THE kiss! Don't be shy.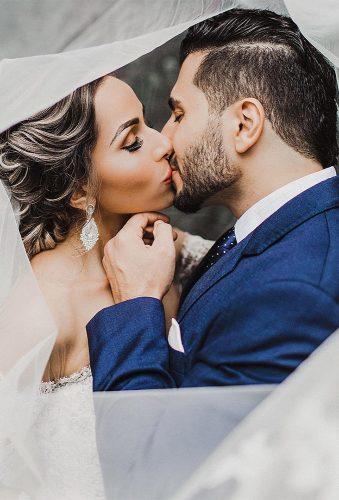 See more: 10 Most Creative Wedding Kiss Photos
Photo 100-102: Creative Wedding Photos With The Groom
Every bride will be happy to take some creative wedding photos with the groom. All eyes are on you, but this day is about two lives coming together. Take some time to scout the venue with your photographer to plan the perfect creatively staged moment with the two of you.
Photo 103-105: With Bridesmaids After The Ceremony
They know they mean a lot to you, and they know they look great! Individual and group photos at the ceremony are a prerequisite of a wedding album. Add to the series with the bridesmaids gathered around the bride and accompanying the groomsmen.