One of the first priorities of a wedding budgeting is to have a very clear and practical wedding cost breakdown.
In general, if we look at the average USA wedding cost breakdown, we notice that the cost varies from state to state. On average, you will pay $20,814 for a wedding in Montana, and $76,944 for a fashionable Manhattan reception.
We will tell you how to create your own budget plan, how to save and how to be satisfied with your expectations. Here's everything you need to know from an average wedding cost to specific numbers to help you with your very first project as a family.
Use our total wedding costs checklist we've made for you:

How Much Does The Average Wedding Really Cost Today?
First thing you should know is that the average wedding reception cost is rising with each passing year. Thus, don't ask your friends who got married several years ago how much does a wedding cost. In fact, the numbers are a bit higher these days.
Therefore, let's take statistics on typical wedding cost in the USA detected in the previous year. It will also give us an idea on which services and items are typical.
Average national wedding spends in 2017: $33,391.
Average guest list size and money spent per guest: 136 (that's down 5 guests per wedding year over year) with a total of $268 per guest. This is actually up $23 per guest year over year, and up to $74 per guest since 2009).
Wedding planner: $1,988
Photographer: $2,630
Videographer: $1,912
Florist: $2,379
Ceremony site: $2,311
Wedding dress: $1,509
Rehearsal dinner: $1,285
Reception DJ: $1,231
Transportation: $830
Ceremony musicians: $761
Wedding cake: $540
Invitations: $408
Groom's outfit: $286
Officiant: $284
Wedding gifts and favors: $252
Food: $70 per person
Now that you know the numbers you might reconsider who pays for what. It's a good idea to be aware of all the resources you have, so don't hesitate to ask your nearest and dearest if they want to share the burden.

Build Up Your Personal Wedding Cost Breakdown ASAP!
Source: Instagram@connieballuff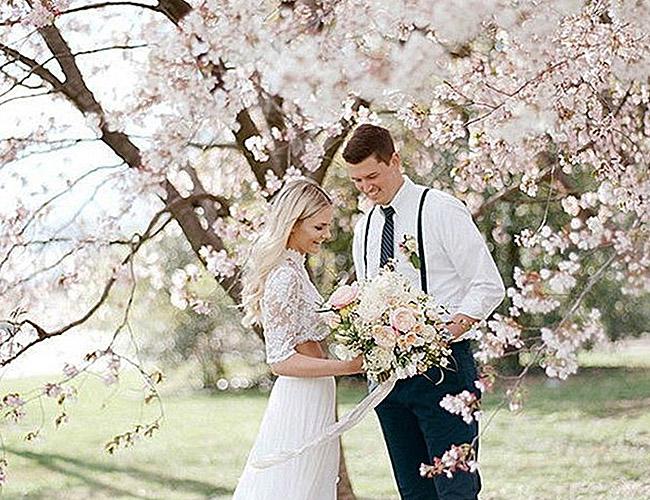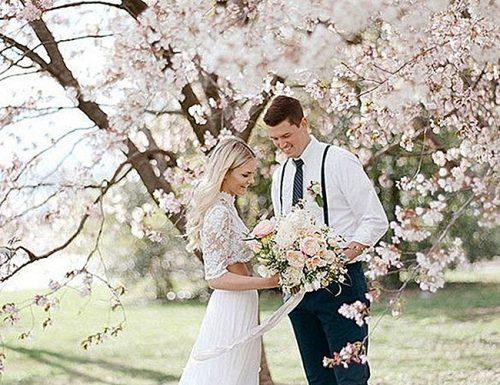 Now that you are aware of the average cost of a wedding, you need to run through checklists for wedding. As you read, make notes on everything you might need. And don't forget to include the points mentioned above. Particularly, pay attention to the smallest details, as they matter, and think how much you are ready to spend.
Keep in mind that actual figures and averages are important, but you're the one with the wallet. In fact, you are in charge of how much you spend. That's why spend any amount you want for your wedding. It is important to have realistic expectations, though. So, why don't two of you take a pen and a piece of paper and discuss all the estimations?
Apply Categories To Estimate Your Wedding Budget
If you take a look at a typical wedding budget breakdown, you can see that it's easy to divide your expenses into several categories. Here, you can easily notice that the biggest chunk of your wedding budget (up to 50%) will go to venue and catering.
– The Venue – 13%
The average price for a wedding venue is quite high, so make sure your venue can fit all your guests. Also, you need to be certain that it has options for all weather conditions. It is also important for the venue to match your style.
– Food and Beverage – 33%
Probably, one of the things you don't want to save money on is wedding food cost. You don't need to serve caviar, but the food needs to be of high quality.
– Photography and Video – 15%
On average, photography and video take up to 16% of the wedding budget. If you have a friend photographer you might save a lot of money on this one. However, think twice, as photos and videos are your lasting memories of this special day.
– Entertainment – 9%
Here you have one more way to save money. It's easy to organize fun activities for everyone with a friend or a relative in charge.
– Rentals – 17%
Consider all the details of your wedding here: you will probably need to rent tables, chairs, glassware, linens, a tent etc. Ask your venue and caterer – sometimes they will provide these items for you.
– Flowers – 12%
Fresh flowers take up a huge cost of wedding decorations. At the same time, remember that the right lighting, flowers, and décor can transform any space, so probably it's worth it.
– Transportation – 2%
Hiring transportation or limo services usually takes about 2% of the wedding costs. You might want to drive yourself, but hiring transportation will ensure everyone gets to the ceremony and reception safely and on time. Depending on your budget you may want to provide transportation for yourself, your family, or for all of your guests.
– Wedding Rings
The cost of the wedding rings varies a lot, depending on your priorities. You may order a pair of custom made designer rings, or have more affordable tungsten rings.
Source: Instagram@dukeimages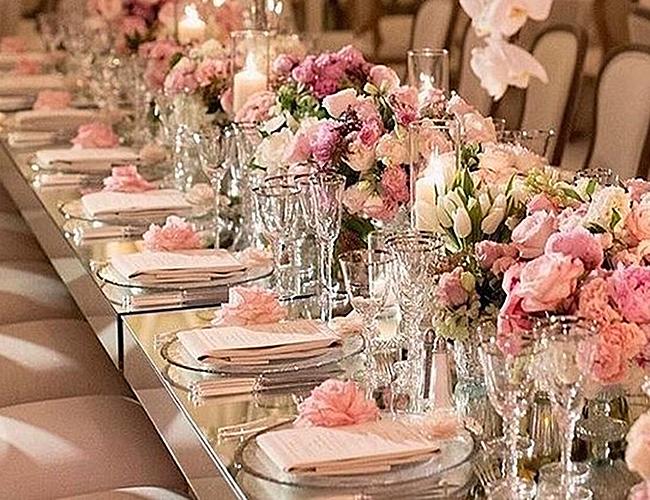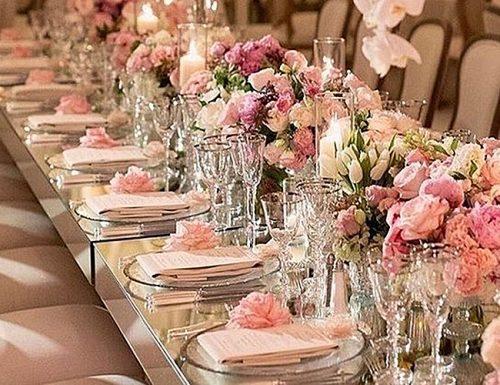 While planning typical wedding budgets, couples often forget about small details that might considerably influence the total amount. One of the things to keep in mind is the cost of beauty treatments before the big day, and the pre-wedding trial makes up.
You will need a bridal shower, a bachelorette party, and a stag party for the groom and his friends. Also, if you decided to hire a wedding planner, add the cost of business lunches or coffee meetings. Don't forget that to make things official you will need a marriage license. If you have a destination wedding, it is possible that you will need to pay for night-before hotel room.
Another little detail to keep in mind is tips: musicians, hairstylists, etc. Service can be included in caterer's general cost, but sometimes you will need to pay extra. You will also pay more if some of your guests accidentally break a plate or a glass. It is usual to give a donation to your officiant's church and to give a thank you gift for the officiant themselves.
Many A Little Makes A Mickle Or Ways To Save Up On Wedding
Looking at the timeline of wedding you might have some ideas on how to cut the costs. This is one of the situations when a friend in need is a friend indeed. A friend may be your photographer, or a wedding planner, or a DJ at your wedding.
Another low budget idea is to send out electronic wedding invitations instead of printed. Also, weddings on Friday or Sunday are usually cheaper than Saturday weddings. Moreover, there is a higher chance that even the most popular venues and caterers still have a spot in their schedule for you.
Another option to consider is a destination wedding when you travel together as husband and wife. Why don't you have the wedding and honeymoon in one trip at an off-peak season you will have a very reasonable budget. And if you want a really low-cost wedding, you can opt for a courthouse or home wedding with a few friends and family.
Anyway, be ready to negotiate a lot. Even if you decided to follow planning timeline by yourself, it's ok to ask assistance. Wedding experts and vendors can help you figure out the wedding budget and make it more effective. They know which costs can be cut easily, and what time or dates are cheaper. Another point is everything is negotiable. In particular, vendors can help you customize a package to suit your budget if you are open and honest about your limits.
Cheapest And Most Expensive Places To Get Married
Source: Instagram@kerrweddingsandevents
In general, if we look at the average USA wedding cost breakdown, we notice that the cost varies from state to state. On average, you will pay $20,814 for a wedding in Montana, and $76,944 for a fashionable Manhattan reception. If you think globally, the variety of costs is even more, so if you are planning a destination wedding, you might consider some statistics from around the world.
It is interesting that exotic destinations often are cheaper. First of all, it is your chance to start your honeymoon right after the ceremony. Moreover, the cost of the food is lower, everything is much cheaper. You can organize the ceremony and reception on a beach without booking an expensive venue. And a long flight also drastically lessens the number of guests.
Martinique and Dominica are traditionally on the top of the most affordable wedding destinations. If you are looking for something more expensive you should consider Europe with its ancient castles – some of them are available for a lease. Anyway, we hope that cheap or expensive, but your wedding will be truly unforgettable.