Your wedding to-do-list is important. Therefore, you don't want to forget or overlook any detail, from the guests to the food, the venue or honeymoon destination. For this, you need to draft a wedding planning checklist and work by it in order to avoid stressful situations and just chill on your big day.
Below, we have an ultimate checklist for each part of your wedding – leading up to before and after your beautiful day. Let's look through it together now!
Wedding Planning Checklist Timeline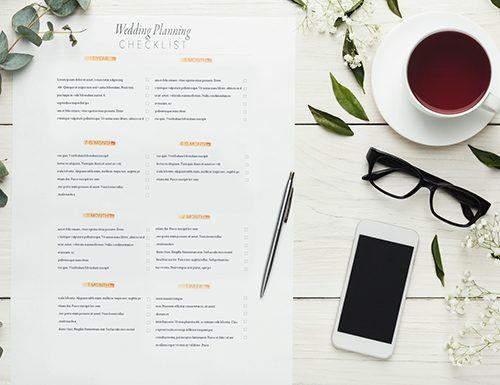 10 – 12 months to go
Pick at least three wedding dates, for flexibility sake.
Create a wedding website.
Prepare a wedding budget. Put your financial strength into consideration.
Make a decision on the number of guests.
Make your guest list. Consult your parents for their list too.
Send out save the date cards, especially to out of town guests.
Start comparing and deciding on potential caterers according to your budget.
Begin to scout for ceremony and reception venue. Use a wedding venue checklist for the guide.
If you can afford it, book a planner.
6 – 9 months to go
Select your bridal train, dress styles and colors.
Begin to shop. Buy the essentials like your dress, shoes, accessories etc.
Book hotel rooms ahead for out of town guests. Bargain for a discount.
Pick out your ceremony officiant.
Choose the color and style of cake. Begin tastings.
Review and select your ceremony and reception music. It is the best time to decide if you want a DJ or a live band.
Select your photo and videographer.
Create your gift registry at the smaller of two selected retailers.
Book a decorator and a florist, but if you want to DIY, it is the best time to start.
3 – 5 months to go
Conclude on your wedding venue transportation plan.
Book the couple's room – for prep before the wedding and the wedding night.
Make the reservation for rentals needed at the ceremony and reception.
Book your photo and videographer.
Book ahead the venue for your wedding rehearsal dinner. Dinners are not limited to restaurants.
Start your hair and makeup trails with your stylists.
Book your wedding cake.
6 – 8 weeks to go
Buy your wedding stationeries.
Go for your dress and accessories fittings.
Review details of the ceremony with the officiant.
Make marriage license and prepare documents for change of name if you want to.
Communicate new address information to the post office.
Prepare the reception sitting plan.
Let the vendors know the final number of guests.
Prepare your wedding toasts.
Complete all speeches and plans for the day.
3 – 5 weeks to go
Make final plans with your florist or decorator.
If you have not done your rings shopping, now is the time.
Attend food tasting.
Attend cake tasting
Ensure your bridal party and maid of honor have their dresses fitted.
Finish with those delegated for duties at your wedding.
1 – 2 weeks to go
Secure ceremony and reception transportation.
Ensure all wedding items are complete and ready for delivery.
Prepare all payments for the vendors and the officiant.
Confirm honeymoon reservation.
Break in your wedding shoes.
Delegate duties to those close to you.
Prepare an emergency kit for the wedding day.
The day before
Get a final and full body massage, a manicure, and pedicure. All the whole nine yards. You want to be perfect and dazzling for your day.
Attend wedding rehearsal and have fun.
Deliver the welcome baskets.
Take out some time alone to breathe and meditate.
Go to bed early and have that beauty sleep.

The Guest List Checklist
The guest list is one of the most sensitive aspects of a wedding planning checklist. A perfect guest list is one of the vital steps to planning a wedding. And you don't want to offend anyone or create enemies. You also don't want episodes of food allergies or dietary issues on your day.
It would be very healthy to keep track of attending guests and how many invites you've sent out. Those you've not invited, food preferences if any or other special considerations.
A wedding planning guide for guests will help you
Decide on the total number of guests your budget can cater for.
Check the wedding venue capacity for guests.
Ask both your parents who they'd want to invite. Combine them with yours and narrow down to your required numbers.
Distribute the guest numbers on both sides of the family.
Do not exempt yourself and your partner from the list. You make up the total number.
There should be no verbal invitation to persons not on your list. If they are attending, they should be part of the decided number. No extras!
Edit, replace, remove and complete your guest list.

The Catering Checklist
One of the most essential things to plan for in a wedding is the food and drinks. Like who comes to a wedding without expecting to eat some tasty foods and choice drinks? Give your guests a treat by taking out time to make a list of food and drinks ideas. Consult with the main caterer to communicate meal choices, recipes and dietary considerations for your guests.
Make sure to book a taste date with the caterer.
Here are some ideas for your catering checklist
Make a budget.
Begin an early search for caterers that fit your budget. Compare prices and services. Do this as early as 6 – 9 months before your wedding.
Check portfolio and previous job references.
Confirm if the caterer is free to be available for your wedding.
Decide on the type of reception and food service you want. Whether it's a formal dinner, brunch, lunch or cocktail reception. A buffet or served dinner etc.
Compare different menus with the budget.
Decide on menu items and meal courses.
Choose a menu and book a taste date with the caterer.
Check for the least charge for wedding catering.
Check if all costs include the setup and clean up fees.
Check if the caterer's services include a cake stand and knife, printed dinner menus, utensils etc., or not.
Let the caterer know when to start and end services.
Pick a deadline for final guests headcount and menu selection.
Conclude on deposit, balance, refunds, cancellation terms and conditions.
Create a final wedding day timeline and send to the caterer.
A week before the wedding, confirm the final guest headcount and wedding venue. Communicate it to the caterer.
Don't know how much to serve at the wedding party? See this helpful infographic!

The Gift Registry Checklist
Every couple, especially those starting out, need some essential items for their homes. Thus, you don't want to end up gifted with 12 buckets, 2 microwaves and no curtains at all which you actually need.
Make a list of items you need and create a gift registry.
Here are some tips to follow to create a perfect gift registry
Put your house space into consideration
When you want to set up a wedding gift registry, you have to take into account space in your home. Go from room to room and ensure that there is space to accommodate all you're about to ask for. Your wedding registry can flow together by documenting essential things you want for each room. i.e.
For the sitting room: Cozy lightening like lamps and chandeliers.
For the bedroom: Beautifully patterned rugs for warmth, cozy lights.
For your storage: Cutlery organizers, bins, shoe racks etc.
For the kitchen: Microwave, blenders, knife sharpeners, kitchen scale etc.
For the bathroom: Matching toothbrush holders, soap dishes, cute shower curtains, brushing mugs.
Document what you have, what to keep and what you want to give out. This helps you declutter.
Donate or dispose of those items you want to replace or include in your wedding gift registry.

The Wedding Songs Checklist
No doubt, the songs for your wedding has to be perfect. The selection process is not an easy one, but you have to do it anyways. For the sake of your big day, right? You have to prepare great entertainment ideas for the wedding reception and ceremony. One that will bring on the right atmosphere and wow your guests. Also, you should mind the style of the wedding and the audience while selecting tracks for your big day.
To do so, you can listen to song samples from your playlist or online. Make a list of the best wedding songs that suit your wedding theme and wedding program. Also, this list can be edited to add or remove songs before the day.
Songs for the ceremony
You will need music for
Guest's entertainment while they wait for you to arrive.
Groom's entry to go waits for the bride at the altar.
The procession – Bridesmaids entrance and the bride's entrance.
The signing of the marriage license – usually a sober music.
Recession – Exit of the bride and groom together, the bridal party and guests. Usually, danceable songs.
Songs for the reception
You will need music for
The arrival of guests to the reception venue.
The arrival of the newest couple and the bridal party.
Father and daughter dance.
The bride and groom's first dance.
Cutting of the cake.
Toss of the bridal bouquet.
Garter toss.
The exit of the newest couple.
After party dance, if any.

The Honeymoon Packing Checklist
Well, packing for your honeymoon is not as stressful as planning a wedding. As a result, a lot of couples leave it to the last minute. We will not suggest you do that unless you want to encounter the mother of all disappointments. This is your time alone with him, away from the world. It should be memorable with no hitches.
Make a honeymoon checklist to avoid some things. Like missing out on your chosen destination, because you didn't book early. Passport expiry issues, ticket booking or forgetting some travel items.
Here I present to you, a honeymoon packing checklist for every couple.
For travel
Light backpack and pocket-sized wallet.
Confirmation of transport tickets (by air, road or cruise ship).
Valid passports and visas.
Identity cards
Credit cards.
Reservation Confirmation.
Emergency phone numbers.
Photocopy and storage of all relevant documents.
Emergency cash.
Camera and its kit (enough film rolls and all).
Personal effects for him and her
Shoes- about 4 pair (sandals, flats, strappy heels, boots, sneakers, brogues etc.). Those you're most comfortable in. If you're going to a remote area or traveling in tough weather conditions, it's advisable to take shoes you can let go of if it gets damaged.
Casual wears (dresses, Tee shirts, jeans, shorts, skirts, khakis)
Cocktail dress, a suit, ties, belts.
Cardigans, sweats, pullovers, head warmers, thick gloves.
Swim trunks and swimsuits.
Sleepwear, lingerie.
Underwear (boxers, pants, bras). Don't forget to take a strapless and backless bra along. It will come in handy for those gowns with a deep behind down your waist. Knock the socks off of him!
Hair dryer.
Sun hats.
Toiletries
Prescription drugs.
Mini first aid kit.
Hand sanitizers.
Sanitary towels.
Pant Liners.
Sunscreen protector.
Body Oils
Face Wipes.
Toothbrushes and toothpaste.
Dental floss and mints.
Hairstyling kit, shampoo, conditioner.
Hair brushes, combs and hair ties.
Face wash and skin care products.
Makeup kit.
Soap/body wash.
Deodorants, perfumes, colognes.
Others
Leave photocopies of important travel documents with a friend or member of your family whom you trust.
Put down the names, addresses and phone numbers of the hotel you will be staying in.
Let your family or friend know when you check in, when you will be checking out and when you actually check out.
Put down emergency numbers to be contacted if you can't be reached within the reasonable time.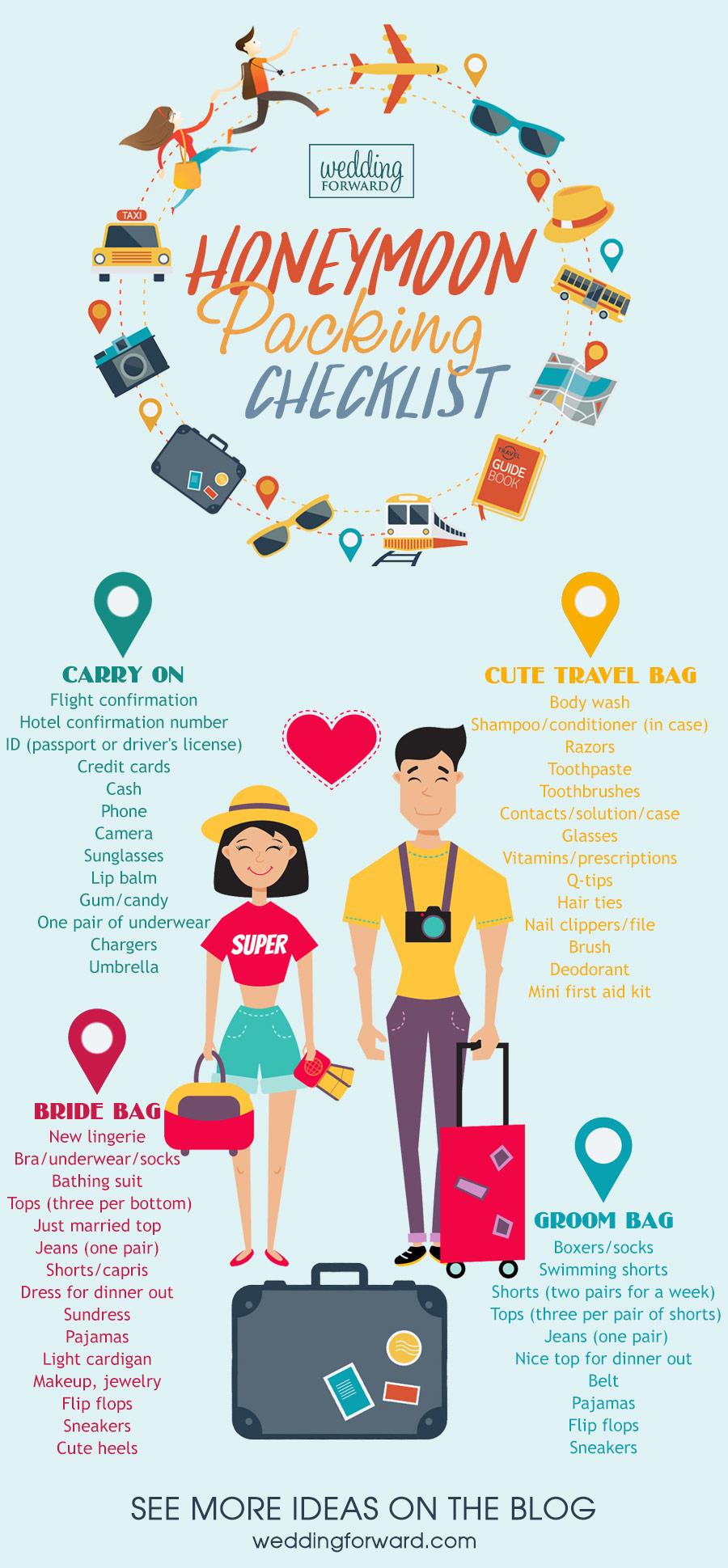 The Other Wedding Planning Checklists
Realizing a wedding detail, you overlooked while planning has put a damp on your day. This can make you cry. I will release the waterworks, trust me! There are some other Wedding checklists and timelines we should never overlook.
Here an important one is the wedding venue checklist. As much as you think you have it covered, you might not. By the way, the venue checklist helps you pick a venue of choice that favors your budget. One cheap enough with the capacity to accommodate your guests. You should also book within the 3-5 months' timeline. It will be hard to get a suitable venue if you don't book early.
This also helps you decide what decorations you want and how you want it done. For outdoor weddings, you will also have a plan B if it begins to pour. Especially if you are having a wedding during the rainy season.
How about the drinks like wines, cocktails, liquor, and the others? Your wines have to be ready and delivered in good time for your toast at the 8weeks timeline.
Your wedding planning guide should also include rings shopping. That is a very sentimental part though. Therefore, it should be done within the 6-8 months' timeline. Your rings will stay with you way after the wedding, they should be perfect. But, please, no rush in choosing at all. You take your time.
Make a list today to tidy all loose ends.
Don't know how much alcohol do you need for the party? See here!

Wedding Day Advice
You will appreciate the fact that the wedding day is one of the most important and beautiful days of your life. It is all about you. You are the center of attraction, so you should bask in it.
And your wedding day is the day you vow to love and keep one person forever. This day marks the symbol of your commitment to each other before the whole world.
This is not on your wedding to-do-list. This is the business of two hearts joining to become one.
The importance of weddings are often asked – Well, it is important because:
Through a wedding, you are recognized as husband and wife. You have complied by the law.
People of faith believe that a union, once celebrated under God has been sealed in heaven.
You have a companion for all time.
You have a confidant with whom you can share your problems and celebrate your joys with.
When planning your wedding up until your wedding day, there are some tips you need to follow. Tips that are guaranteed to help you stay stress-free.
Follow this steps
Prepare ahead for the D-day.
Hire an event coordinator /planner.
Do not push any activities to a day before the wedding. Keep it free, you need it for you. Stick to the essentials which is your hair and makeup.
Have a handy person around. One who attended your fittings with you and knows their way around your dress. This is important.
Take some time off with your husband. This is done after the ceremony and before the reception. Sneak into a room with him, breathe a bit, because, at this point, one or both of you will be overwhelmed.
Order a meal for the two of you. You can tell your bridesmaid beforehand to secure some food for you.
Delegate! Delegate!! Delegate duties!!! The order of photographs, the order of ceremony, order of wedding reception. Gift collection, the collection of keepsakes (which you may not find after the wedding). Delegate people trusted friends and family. It's your day, stay in the spotlight.
Stick with your spouse. Do not let any guest keep you away for too long from your new husband.
You cannot control everything, so stick to what is important.
Back to Reality
Once you check out of your hotel and hop on the plane back home, the honeymoon comes to an end. It is time to take another look at your wedding to-do list. There are a few things to finish up on it. Things you have to do so that you can declutter, reduce stress and get on with life.
Here is a checklist for how to get back to reality
Take inventory of your gifts. Organize them, so that you'd know who you'd send thank you notes to.
Go through your wedding pictures and save the most adorable ones.
Begin to write and send out thank-you cards.
Send your vendors thank-you cards, accompanied by a good reference.
Pick and write down lessons learned and planning regrets. Upcoming brides may approach you for guidance.
Take out time to relax before jumping back into the world.
A wedding planning checklist is unique to ease wedding planning. The checklists cover all aspects on how to organize the wedding. The wedding day, down to the post-wedding bit.
So, in general, the earlier you plan and the better organized you are. And the more relaxed you become and the more beautiful and memorable your day turns out. Thus, first plan hard and then chill hard!