Are you a simple laid back couple without a care for the overly formal wedding stress? What you need is a casual wedding planning that keeps everything as simple but absolutely amazing. The ambiance is a relaxed one, the menu is easy on the go, music is perfect and the atmosphere is intimate.
All of these make it easy for you to preserve your personalities while having the wedding of your dream. To make that dream reality, see some casual wedding ideas to inspire your wedding style.
What Does A Casual Wedding Mean?
A casual wedding means to keep things simple. From decor, stationery to attire, keep respectful but nothing tacky or extravagant.

1. Simple Yet Stylish Invites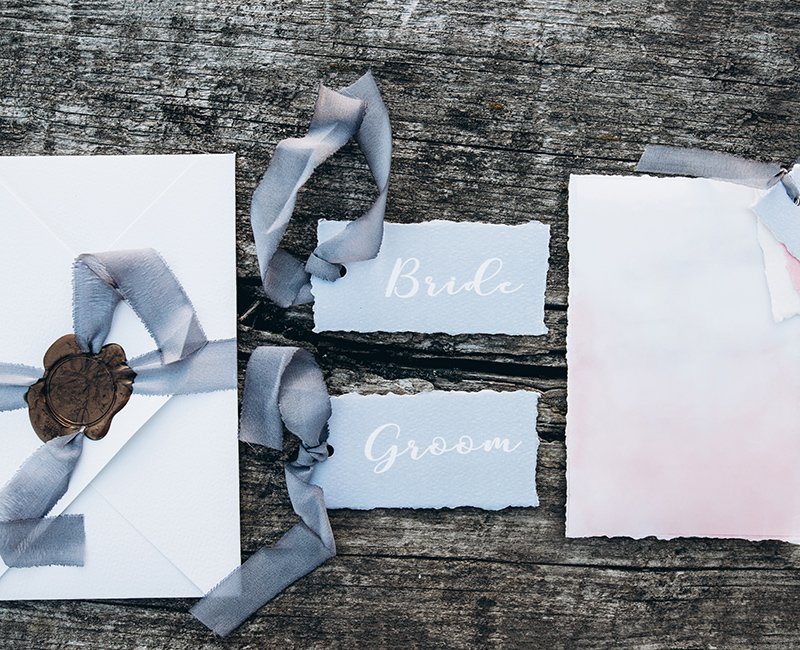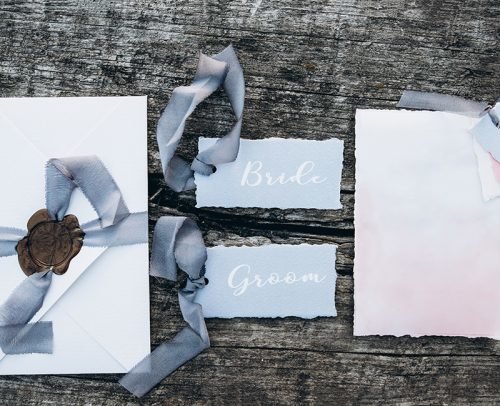 Your invitations are an avenue to display your casual wedding ideas. We would say something stylish, playful yet simple. Handmade cards with scrawled playful calligraphy are perfect. Complement with flowery motifs and a background that matches your wedding theme/destination. Play with soft colors like powder-blue, mustard, turquoise, burgundy or pink.

2. Casual Wedding Attire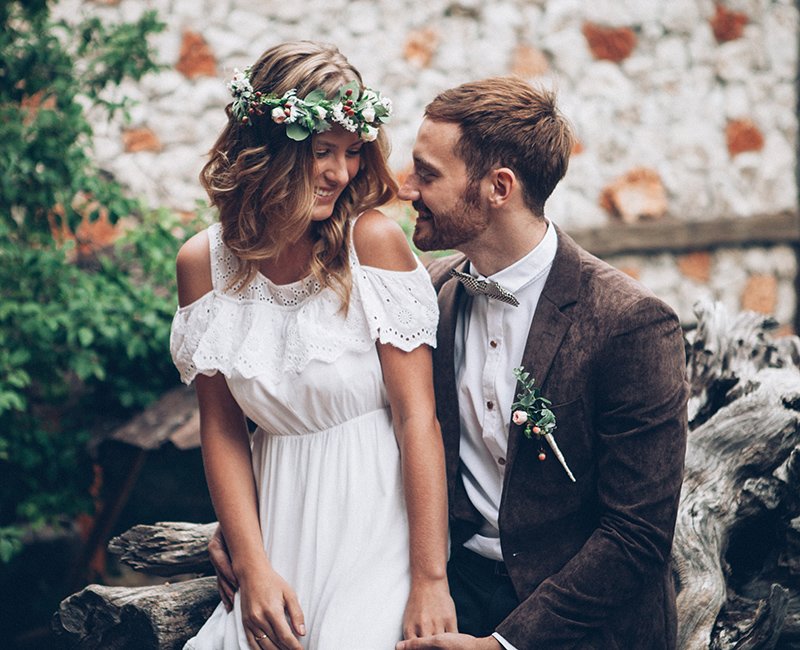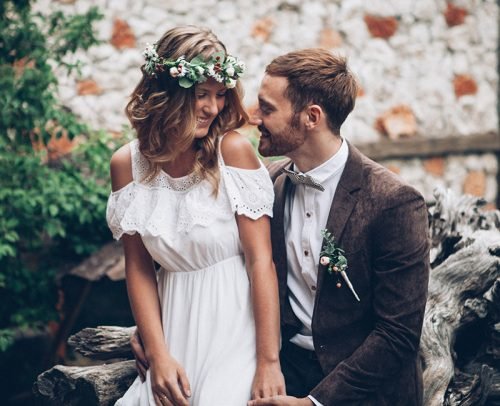 For the bride, simple wedding ideas will see her in chic Capri pants and flowery tops. A jumpsuit or silk dress with a bolero jacket is perfect. She could wear a knee-length tea dress paired with mules or flat fancy sandals. The groom will spot simple dress-shirt with folded sleeves and pants.

3. Work With Your Color Palette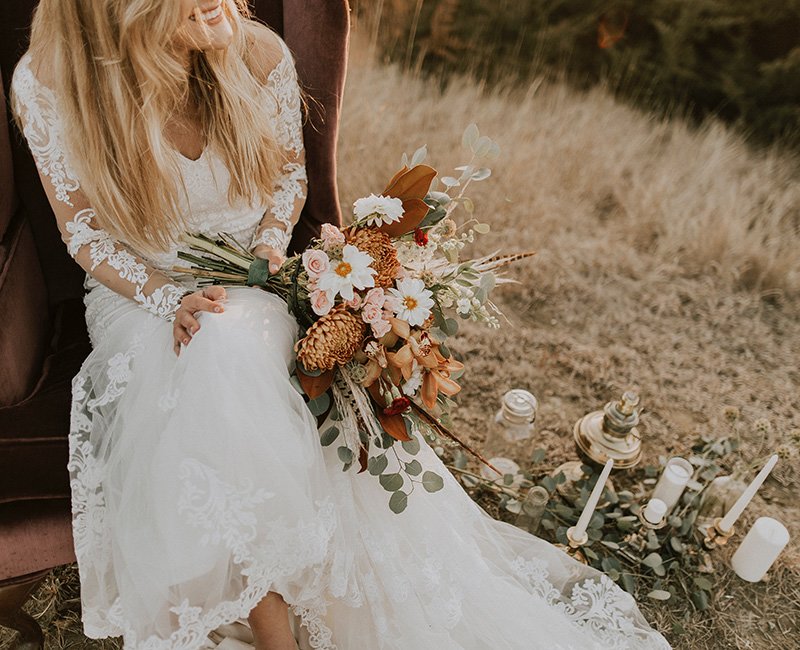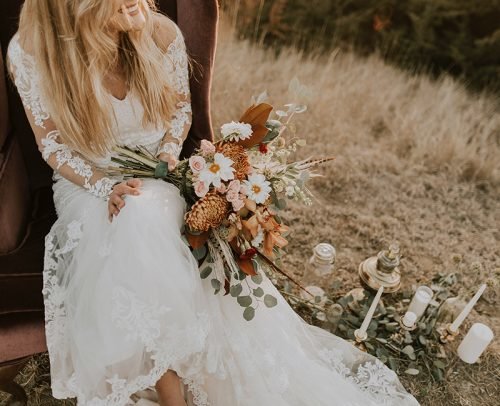 Your low key wedding ideas hinge heavily on your color palette. Pick colors that blend perfectly with each other without so much fuss and keep it that way. Then work around your color palette for the decor, bouquet and boutonnière, place cards and invites. The simpler, the stylish, the better.

4. Limit Your Guest List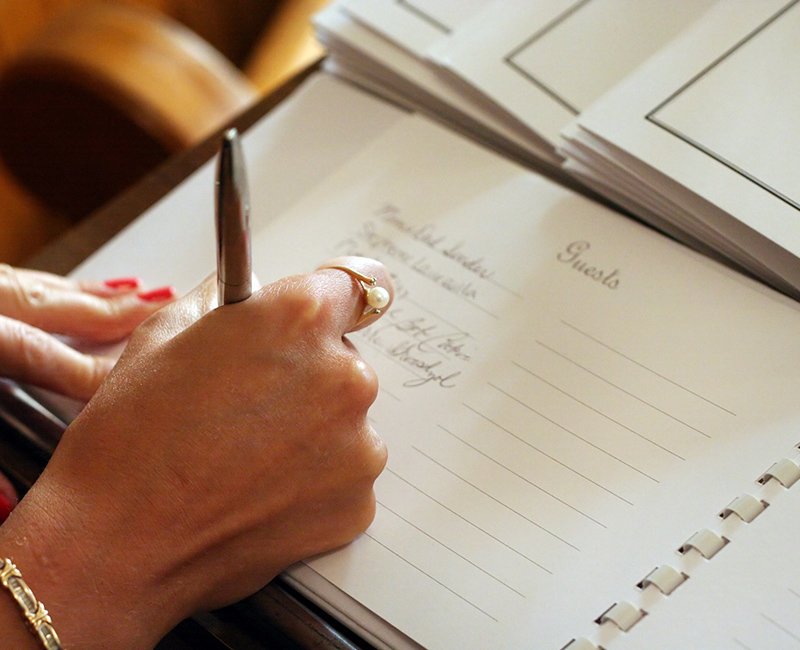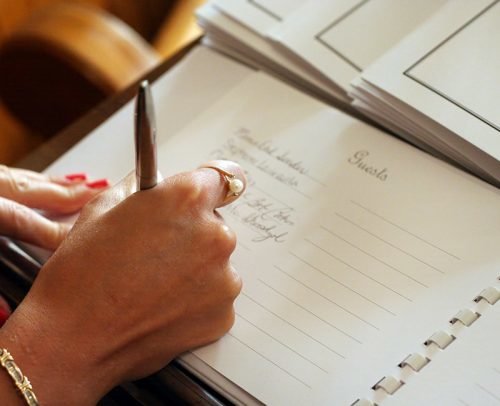 A casual wedding idea becomes anything but casual if there's a full house. Cut down your guest list leaving the most important people. A smaller number of guests means you'll have more resources to cater to them. The wedding becomes more intimate and meaningful because you'll be among close friends.
5. Having An Outdoor Wedding Ceremony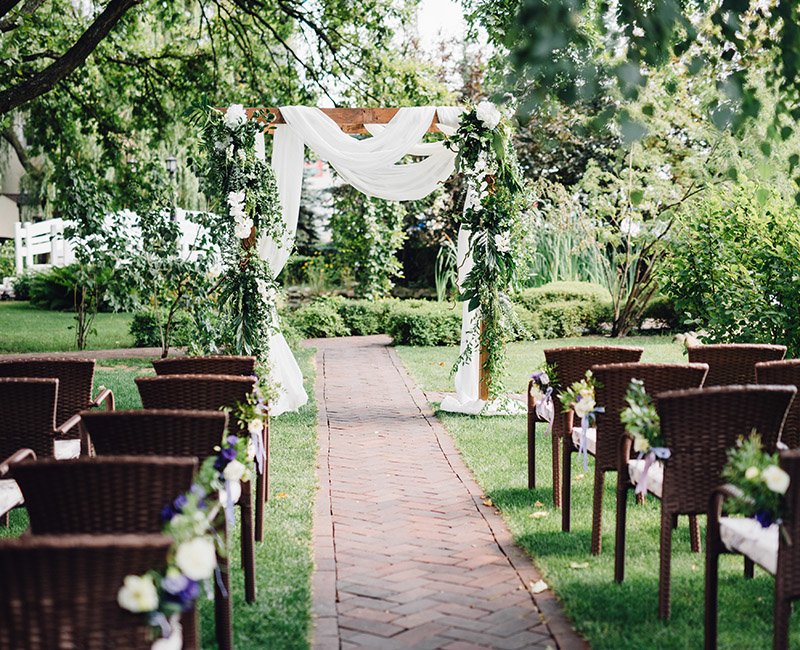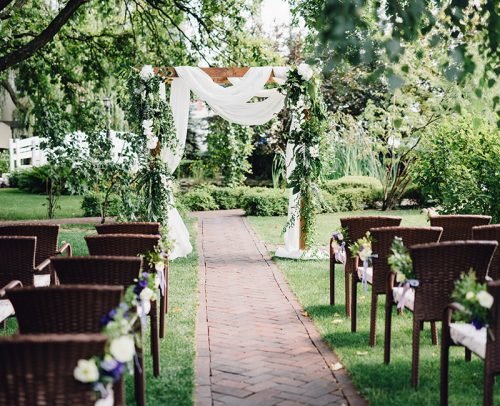 Informal wedding ideas don't get better than the outdoors. While it's beautiful and intimate to have a small indoor wedding, the outdoors are also as elegant. Take advantage of nature and create a romantic ambiance using floral arches, strategic lighting and family-style seating plan outdoors. Also, prepare for the weather.

6. Simple Wedding Ceremony Sign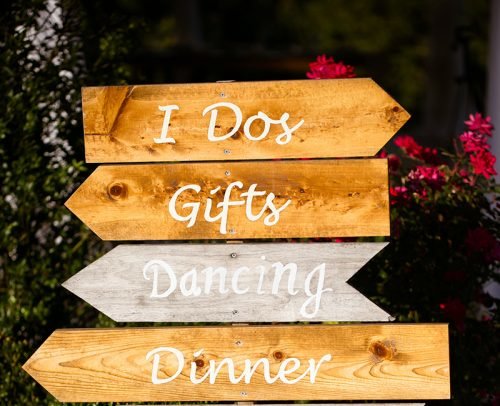 For simple wedding ceremony ideas, signage will do more than one job. It directs guests, gives information and forms a stunning backdrop for pictures. With this in mind, opt for wooden signage for a rustic theme. For class and modern sophistication, opt for acrylic. Finish with expert scrawled playful calligraphy.
7. Pre-Ceremony Cocktails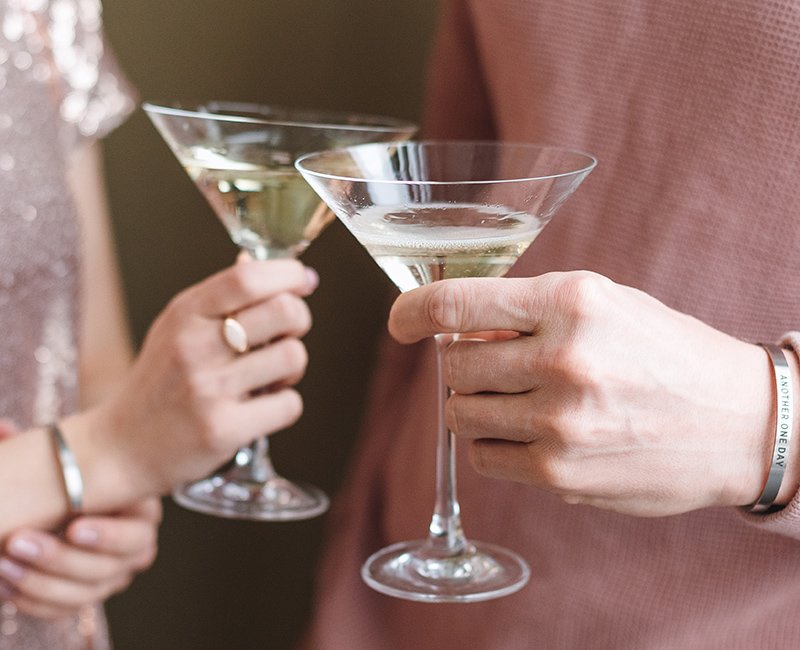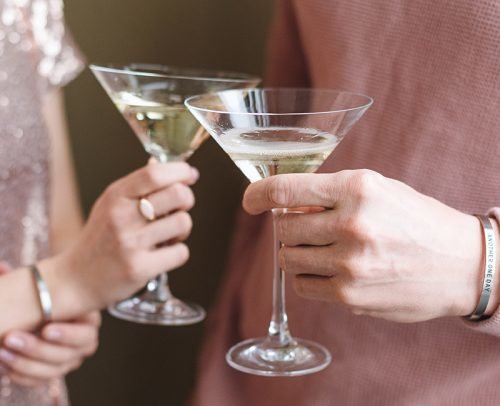 Simple pre-ceremony cocktails are one of the features of laid back wedding ideas. The better when you create your own signature cocktails. Have cocktails set on tables or create a cocktail bar. Guests will serve up themselves to the heart's content. This is preferable to having ushers pass round a tray.

8. Create A Lounge Zone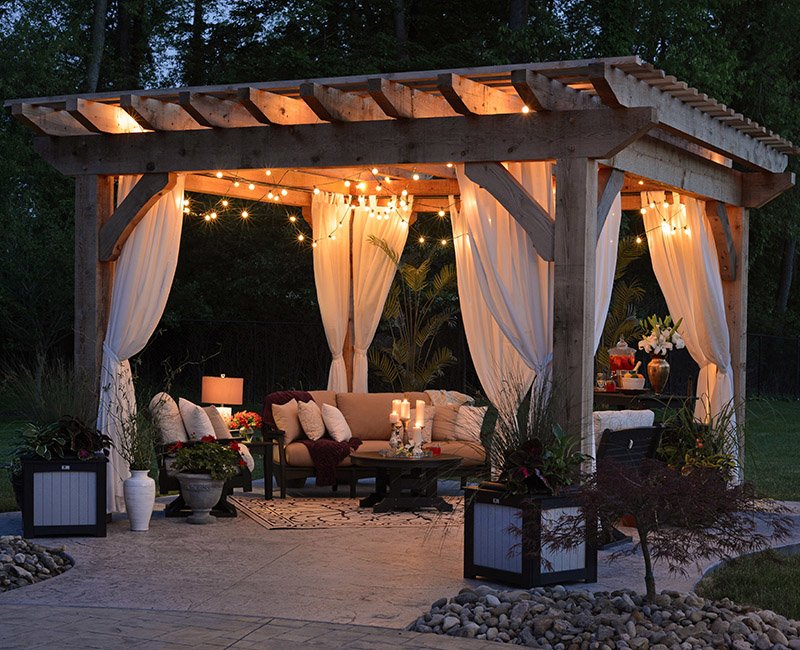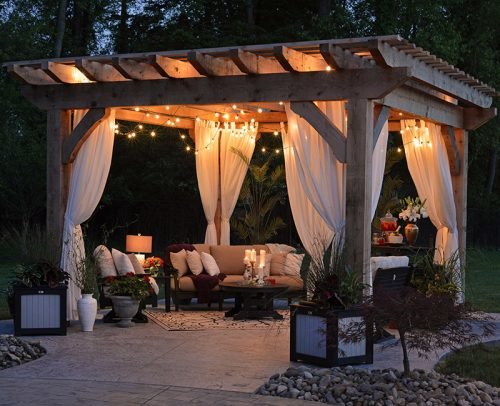 The idea of a lounge is relaxation and calm interaction in a soothing ambiance. Keep it simple by creating a lounge area complete with rugs and sofas. Add on light-colored throw pillows and a drink table. Fill low hanging dim string lights, and votive candles in place of centerpieces.
9. Work With Lighting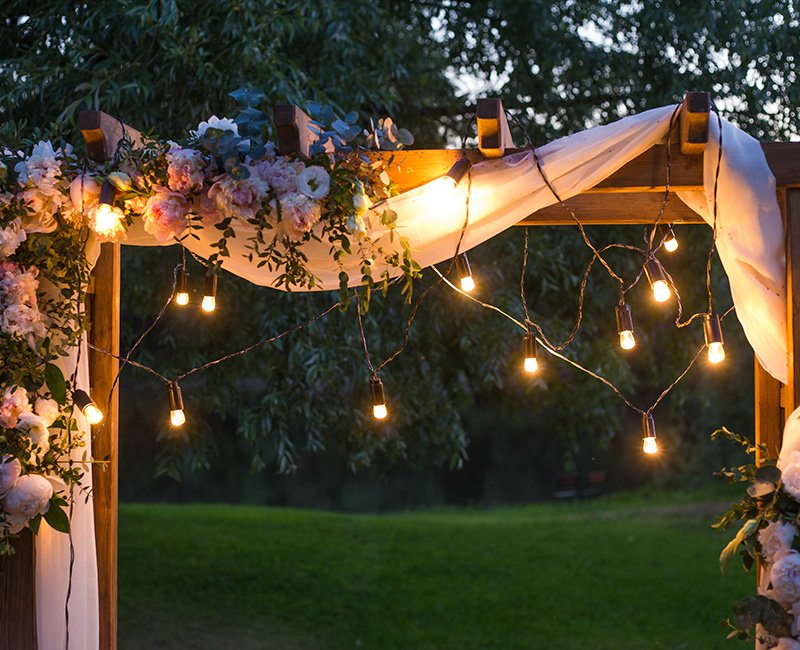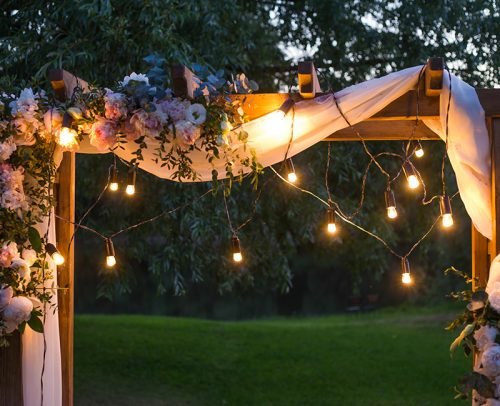 Ideas for a casual wedding doesn't mean using so much stuff. It means making the little you've got into something amazing. That's it with lighting for a casual wedding. A combination of bistro lights, colorful candles, and vintage chandeliers creates a romantic and intimate ambiance. Strategic lighting placement is what it takes.

10. Wedding Entertainment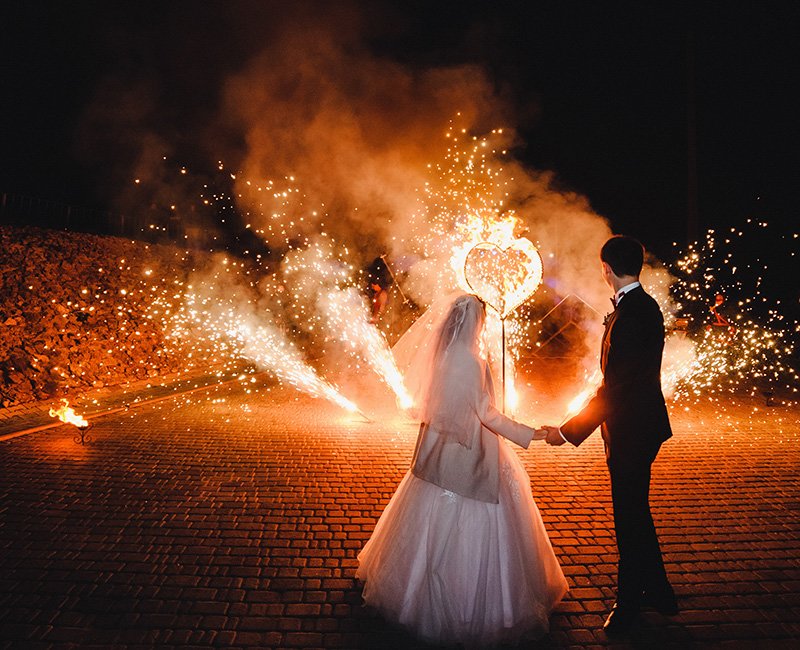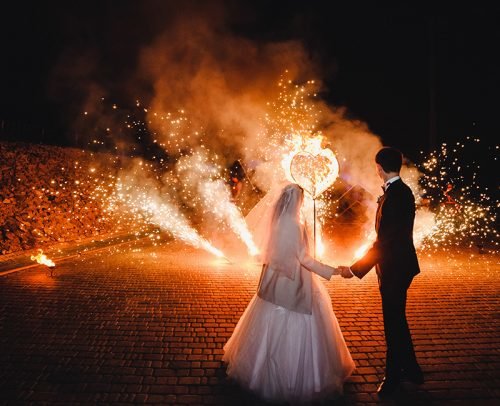 Heighten the fun at your wedding starting from recessional. Throw up colorful fireworks in place of confetti. Take entertainment to the reception by having dancers do their thing. The couple may also excite the guests by performing a routine dance. Bartenders aren't left out as they do their cocktail magic.
11. Casual Menu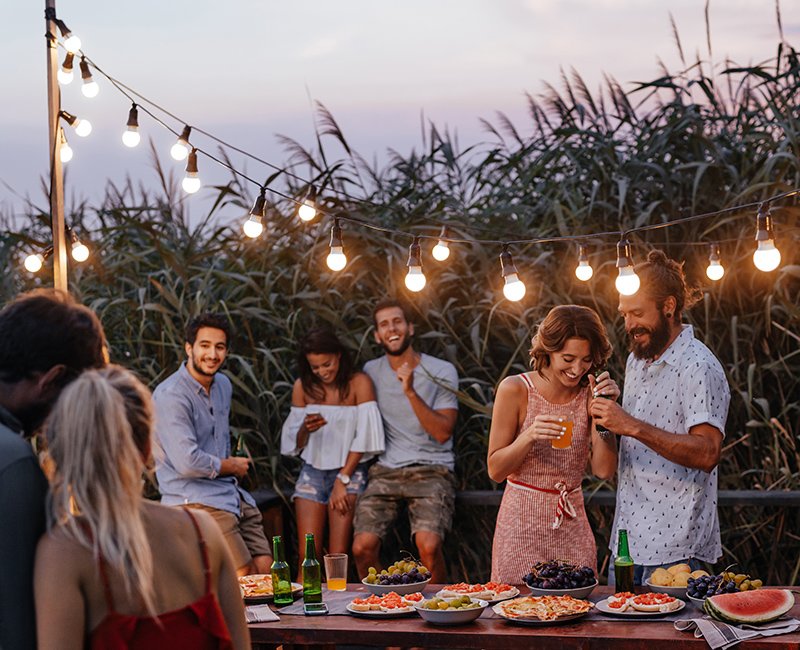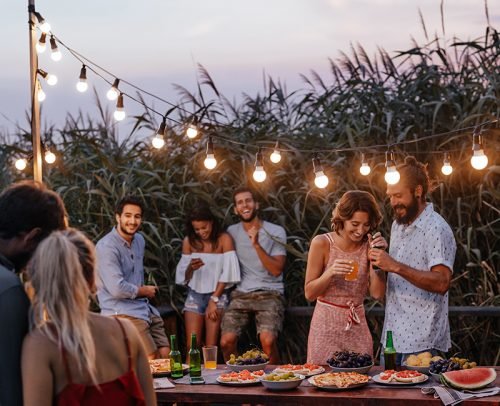 Ditch the formal seating and work with a family dining style. Serve up easy comfort foods on the go. Toasts, loaves of bread, cookies, chicken fingers, raspberries, cheese, and wide a variety of quick foods. For drinks, make ice water available for summer weddings, augment with lemonade, tea, or locally brewed wine.

12. Seasonal Flowers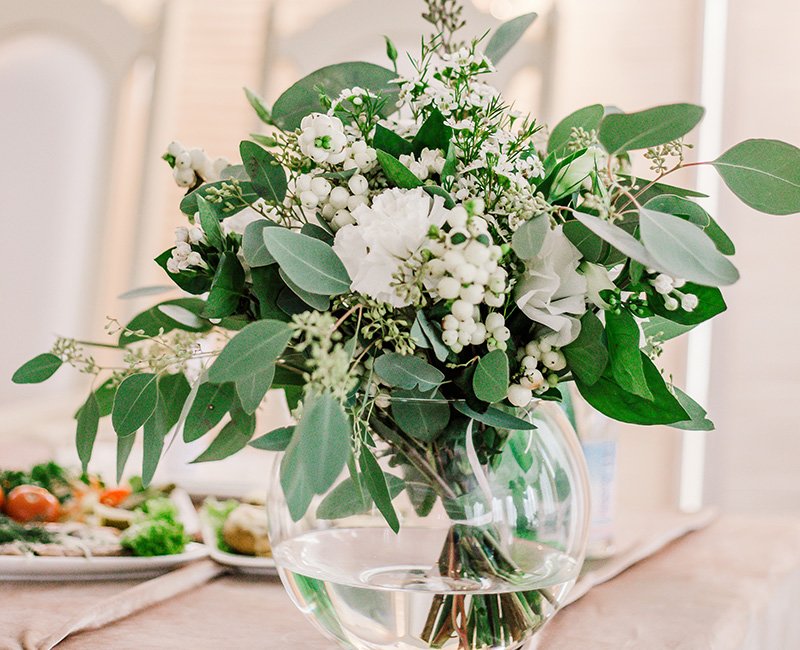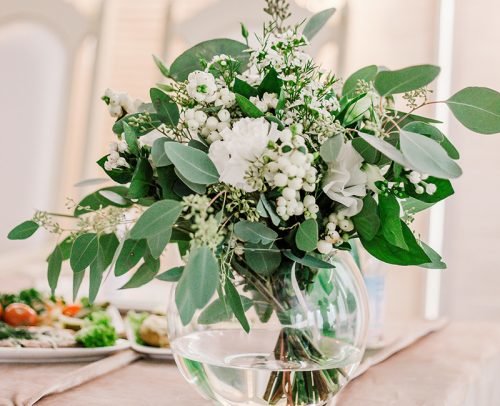 Using flowers in its season puts an earthly touch to your wedding. Use roses for your boutonnière and incorporate eucalyptus and gerbera daisies into your bouquet. Include wildflowers and sunflowers in the tablescape, centerpieces, and wedding decor. Seasonal flowers can be sourced locally and come cheaper. It's about nature's beauty and attention.
13. Set Up A Wedding Music Mix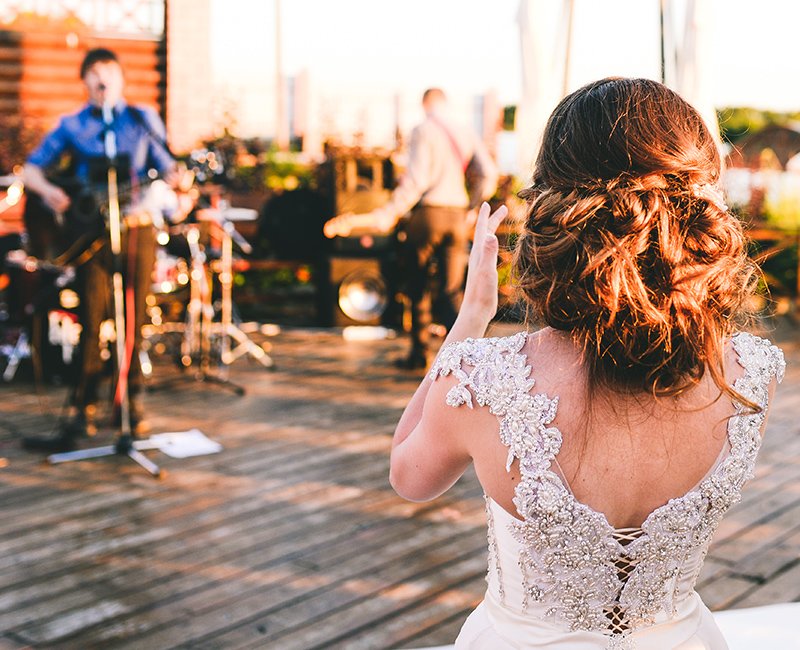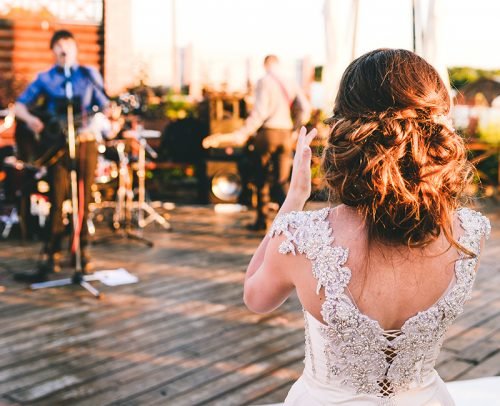 Create a wedding song list that every guest can relate to. Run your wedding playlist through a mix of genres. Tilt towards danceable and slightly upbeat selections. A few classics and oldies create a perfect balance. Keep your wedding songs playlist simple but all-inclusive to fit party activities.

14. Creative Dessert Table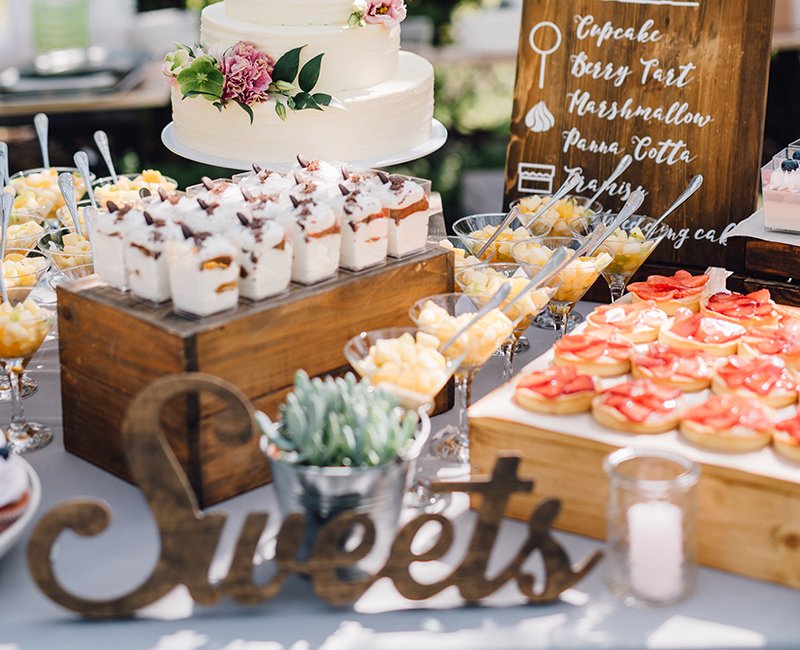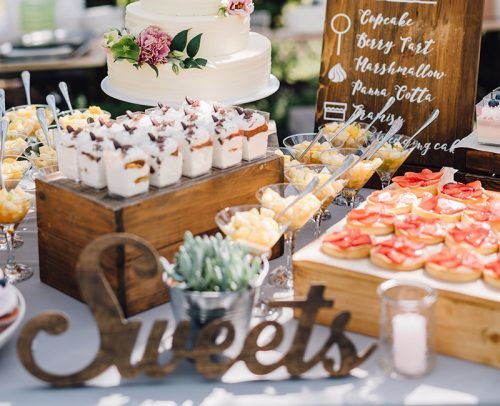 Create a dessert table stacked with sweetings for guests to chew on. Keep it simple by opting for tiny churros, cream tart and crepe cakes, parfaits, strawberry whoopie pies and champagne truffles. Other options include Chantilly shooters, blackberry wine hand pies, ice cream sandwiches, chocolate stout cake pops, cheesecakes, etc.
Wedding During Covid
Having a wedding during COVID is different but fun. You get to have only your nearest and dearest with you, making it more meaningful. However, safety is of the essence and it's the responsibility of both couple and guests.
Hence, here are some important things to do and expect when planning your wedding through COVID.

Things to Do When Planning Your Wedding Through COVID
Confirm COVID restrictions from the venue
This is very important because everyone is at risk of contracting the virus. Ensure that your venue is equipped and compliant with the COVID 19 rules. Investigate and be sure that all staff is tested and their license to operate during the virus is up to date.
Shrink the guest list
Find a way to shrink the guest list by restricting invites to your closest. If you still have a bulky list, call them to find out who's comfortable with attending a wedding. Many of them, especially the elderly will not feel safe attending one. To these ones, offer a virtual alternative.
Create a family sitting style
Hold your wedding outdoor and ensure a family sitting style. Arrange your sitting style in a way that families will occupy each table. Separate a family from the next to curb transmission.
Present virtual option
With the bulk of your guests going virtual, set up a station to video stream your wedding. Stream the disco for guests to dance to their heart content within the confines of their homes.
Don't hug or kiss
As a guest, don't hug or kiss anyone at the wedding. Also, avoid the space of other guests and maintain social distancing.
Observe rules
Wear your masks throughout the wedding, sanitize or wash your hands often, and constantly take your temperature reading.
Take responsibility
If you feel sick as a guest, don't attend the wedding. For the couple, if one of you is sick postpone or cancel the wedding. Take responsibility for yourself and others.
Casual wedding planning will take out the unnecessary pomp and pageantry associated with today's wedding. It's a comfortable kind of wedding that allows the couple to express their low-key lifestyle without trading elegance. From the food to wine, attire to decor, desserts to color palette, there's a laid back cohesion that appeals. There's a lot of understated elegance associated with simple weddings. And if you're planning one, this post about casual wedding planning got you covered.