Upgrade your bridal shower ideas from regular parties to something fun and exotic. It's important because the bridal shower is an opportunity to give the bride the most fun. There are so many bridal shower themes you can adopt for the event.
From bridal shower themes for spring to rustic bridal shower, we got all you need. Read this post to get some of the best bridal shower themes for your event!
Spa Bridal Shower Party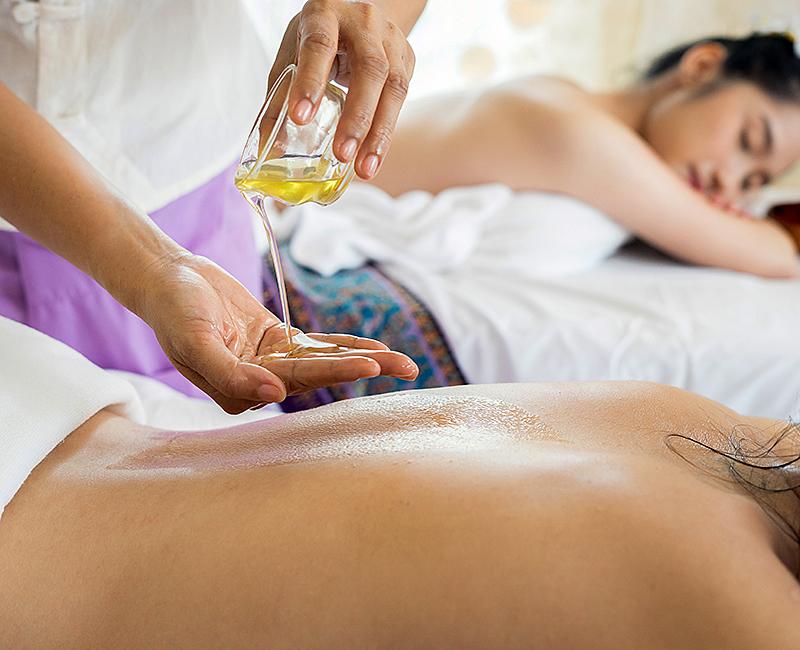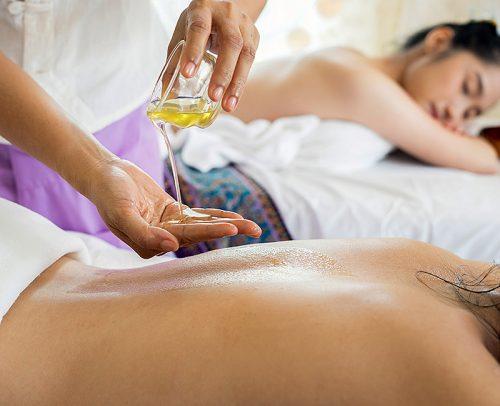 The spa is amongst the very unconventional bridal shower venues. Imagine having a bridal shower and relaxing at the same time. This will be a mega hang out for the bride and her guests. Forget the restaurants, bars, backyards, and ballrooms, and go for the spa.
Who will like it: The bride who loves to pamper her skin and look good will love it. It could even be a pre-wedding massage and total body care.
First, ask the bride to be sure that she wants a spa themed bridal shower. Then look out for the best spa in your city, one you and friends can afford.
Tips:
Request for bridal discounts packages for the total number of guests you have coming.
It is memorable to laze out in the spa over tall glasses of lemonade and soothing facials. The beautiful thing is that you don't need to spend so much on food or bridal shower decorations. The spa experience is with much more.
Give bridal shower favors instead in gift bags. In the bag may include robes, bath salts, pedicure and manicure kit, etc. The spa is a new, yet great place to have a bridal shower.
Tea Bridal Party
Source: aww.sam_ via Instagram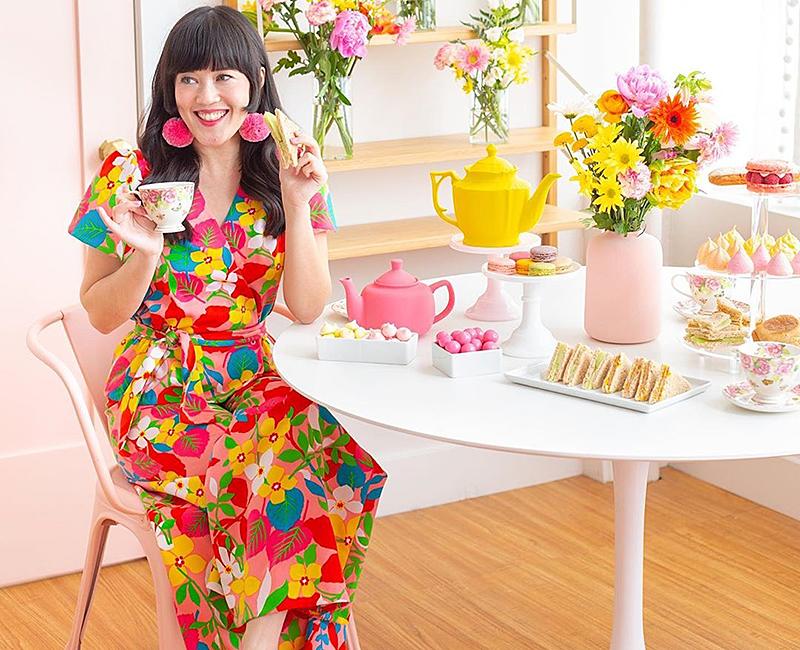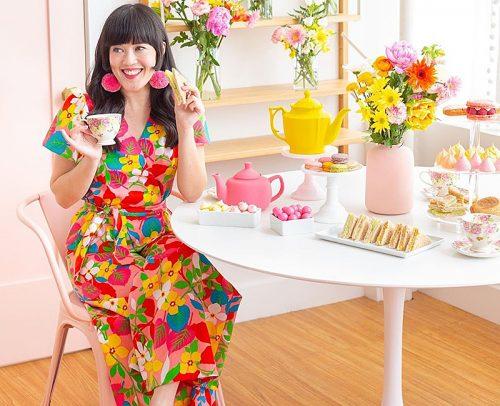 A Tea Party is a unique bridal shower theme. Not everyone will think much of it because it's assumed to be stuck up and boring. But this is not the case as there is a lot to spruce up tea bridal shower these days. Tea bridal shower is one that comes with a lot of divine floral arrangements.
Who will like it: This type of party is for brides who are quite sophisticated, dainty and love some British charm.
Tips:
Invite all your guests to tea either at your home or a tea house. It is best to hold a tea bridal party at a tea house though. They'd do all the clean up after you because that's the part most stressful.
Serve your guests with any flavor of tea you love and it could be quite chilled in the warm weather. Add some light foods like scones and sandwiches.
End the day by having fun at some bridal shower bingo. This is an unforgettable kind of bridal shower.
Cocktail Party
Source: bridal.journal via Instagram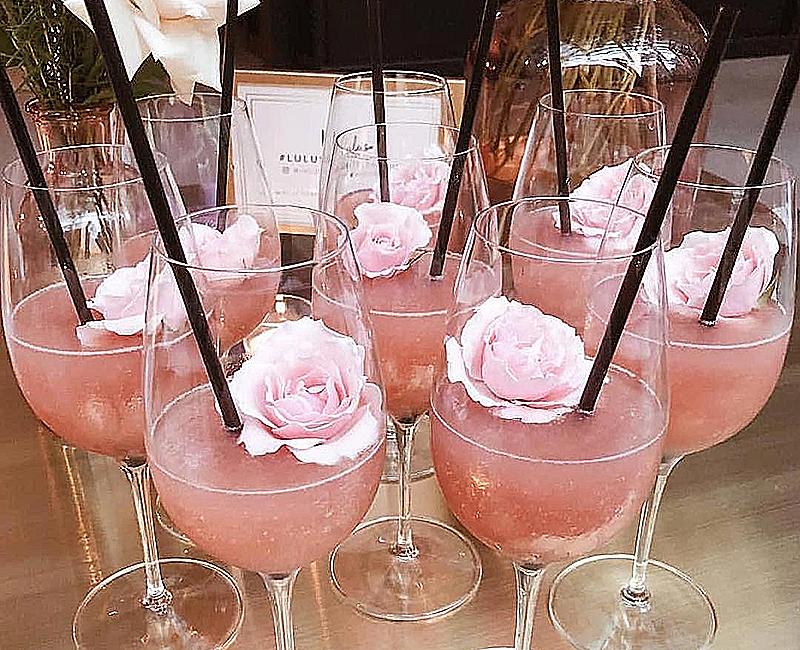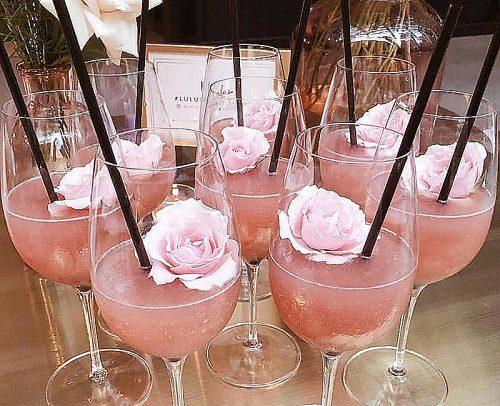 This type of bridal shower is one of the best bridal shower ideas at home. At home, because a cocktail shower is an opportunity for everyone to get drunk. So, it's important that everyone stays safe.
Who will like it: If sitting down to some long talks and boring games gives the bride a nightmare. Hosting a cocktail party is one of the best bridal shower alternatives to opt for. Inviting guests to cocktails gives them options to choose from, without spending a lot on drinks.
Tips:
Some of the best cocktails include amaretto bourbon punch. This cocktail is a strong one, combining punch, citrus, and maraschino cherry juice. You may also entertain with the spiced peach punch, best for summer. Embellish with peach and lemon slice.
One we are in love with is the chardonnay slushes cocktails. A combination of White wine, Grand Marnier, Pears, and Grapefruit. This is refreshing for hot afternoons.
How about the divine paradise rum punch that gives off a tropical vibe? Sweet coconut rum with frothy layer caused by mixtures of ginger ale, sorbet, and ice-cream.
Our last favorite is the grapefruit lemongrass cocktail which is light and lively. Make a mixture of grapefruit, lemongrass and ginger ale. For more lightness, add seltzer water. Go ahead to have unlimited fun with your guests.
Chic Champagne Brunch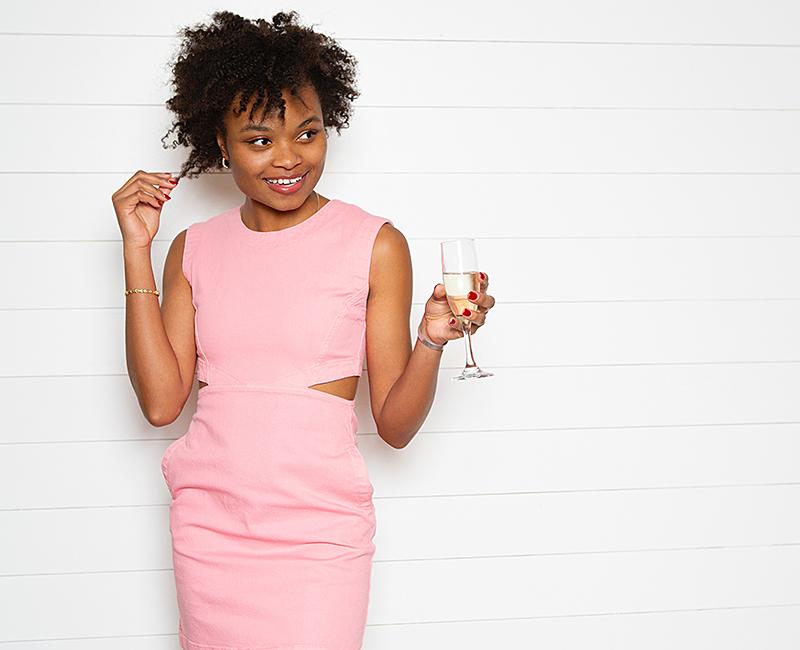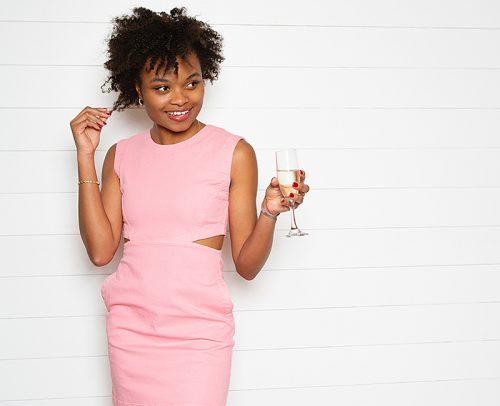 Brunch is an event that takes place at midday better put. This happens between breakfast and lunchtime.
Who will like it: A champagne brunch is one of the best bridal shower brunch themes for brides who have exotic tastes. It is a very sophisticated way to get a bit tipsy. Everyone who loves the good life will love some midday champagne treat.
So it is not too early to pour a location and raise your glasses up in cheers.
Tips:
One of the party planning tips that could save you loads of money is creating your favors.
Bridal shower decorations DIY may include gold framed place card settings. These place cards also double as favors which guests can use for their own pictures.
Set up a waffle station and champagne cocktail bar for the guests. They will help themselves to anything they need. Hold your champagne brunch party in your home, a cafe or restaurant.
Beach Bridal Shower Party
Source: billibigu via Instagram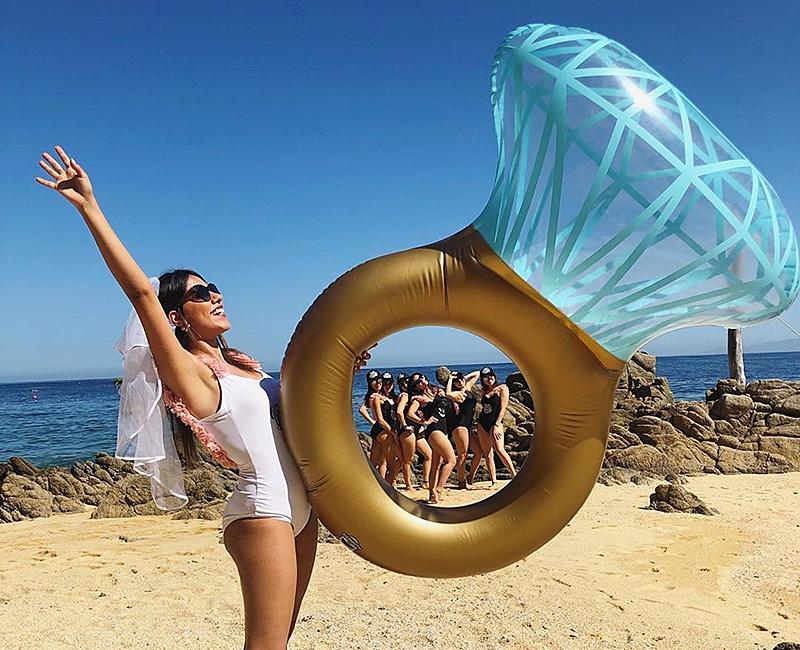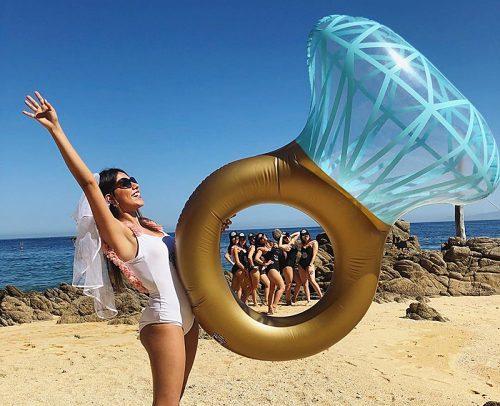 Beauty, freedom, and fun are what you get with a beach bridal shower. A type of bridal shower party that brings out all the creativity in you and your team.
Who will like it: If you love the water, sands, and nature, this bridal party theme is for you. A beach party is one of the best bridal shower themes for summer and fall. This is when the foliage turns bright colored and the pristine blue of the water flourishes. There is a lot of coastal vibes and sunshine, sand and moving water.
Tips:
Blend your bridal shower flowers and decor to fit the natural surroundings. Construct a corner palette with shades of light blue and aquamarine hues. Incorporate elements of the sea like seashells for decorations. There's also the option of starfish or even corals for place cards, etc.
If you want guests to give their bridal shower wishes, place bottles and cards on the table. When they write their wishes, they'd put it in a bottle.
Beach bridal party can be beach themed, yet held at other venues. You could also hold it on the beach.
[hellomybanner]
Cozy Backyard Party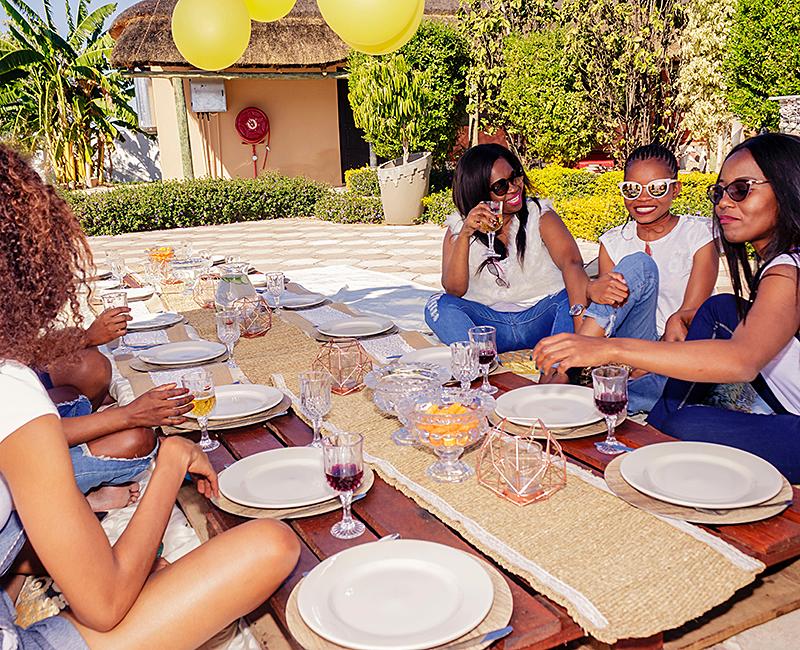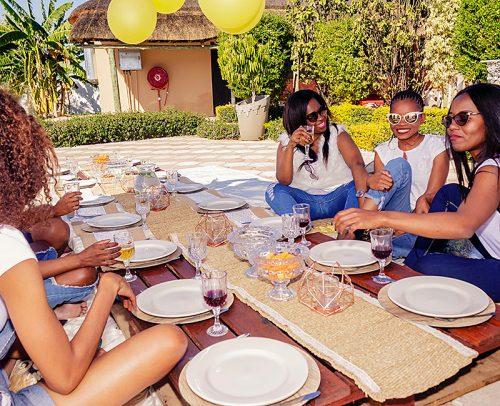 Who will like it: The backyard bridal shower is for the bride who is homely but loves the outdoors. When the weather is warm and everyone is all irritable indoors, take the party outside. This is an opportunity to give your backyard a facelift. Best of all is that you would save wads of cash from paying for bridal shower places.
Tips:
A casual kind of bridal shower, it will take some fun floral arrangements. They'd also be twinkle string lights, signage, simple decor, etc.
Go along with the traditional picnic kind of food, wines, and party cakes. Yes, don't forget the party cakes because it's a celebration and we're going traditional. It could be one huge cake or little boxed cupcakes with variant toppers.
Gatsby-Themed Bridal Shower Ideas
Source: rebecca.ku_ via Instagram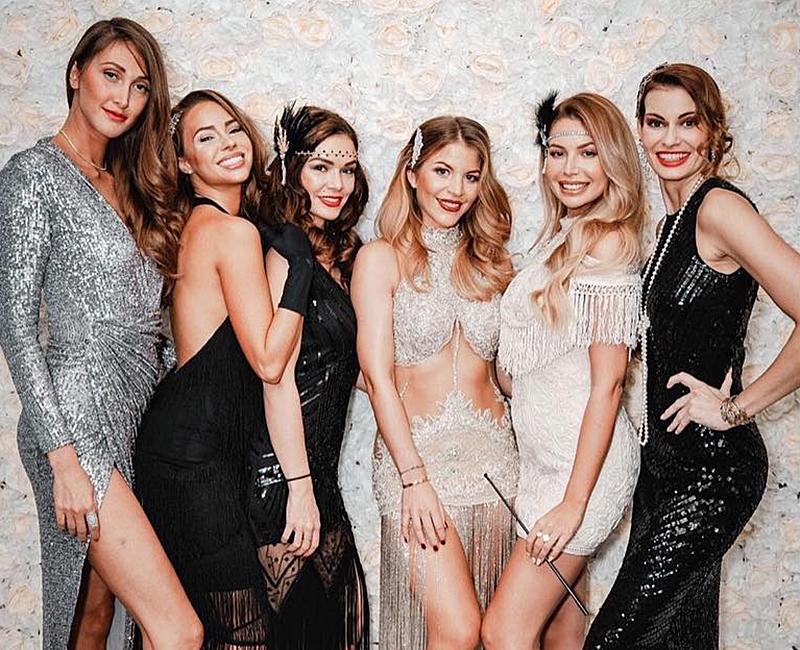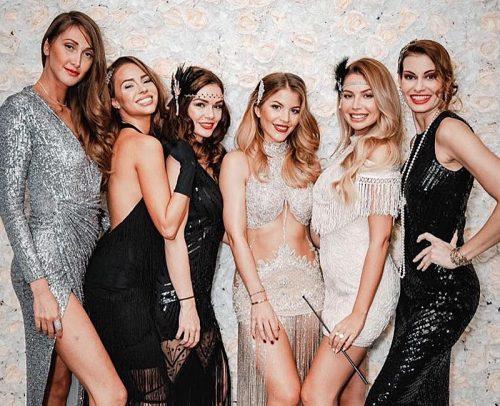 One of the most fun bridal shower ideas is channeling the Great Gatsby. A party themed towards the elite society of the 20s to 90s. This will take some level of creativity to pull off.
Who will like it: A party for guests who loves the vintage vibe. Signet rings, flapper dresses, and feather headbands, this theme screams classic extravagance. Get your guests to attend your Gatsby-themed bridal shower in rug cut out flapper dresses. Complete the outfit by rocking a vintage headband and accessories.
Tips:
Pick a venue that portrays the dramatic essence of the decade. Adorn with vintage furniture, marble floors, pearls and feathers for decorations. This brings out the old world charm of its time.
Serve up finger foods like fruits and cheese. For the drinks, you can go with the classic gin Rickey's. A combination of him, lime juice, and seltzer water. There is also the option of prohibition cocktails such as sidebars. It's a combination of cognac, lemon juice, and triple sec.
For bridal shower gifts, have them choose their own pieces of vintage jewelry. You can save cost by scouting them from antiques and thrift stores. Take lots of bridal shower pictures, because this bridal party is a rare one.
Pajama Party At Home
Source: adamoprisphotography via Instagram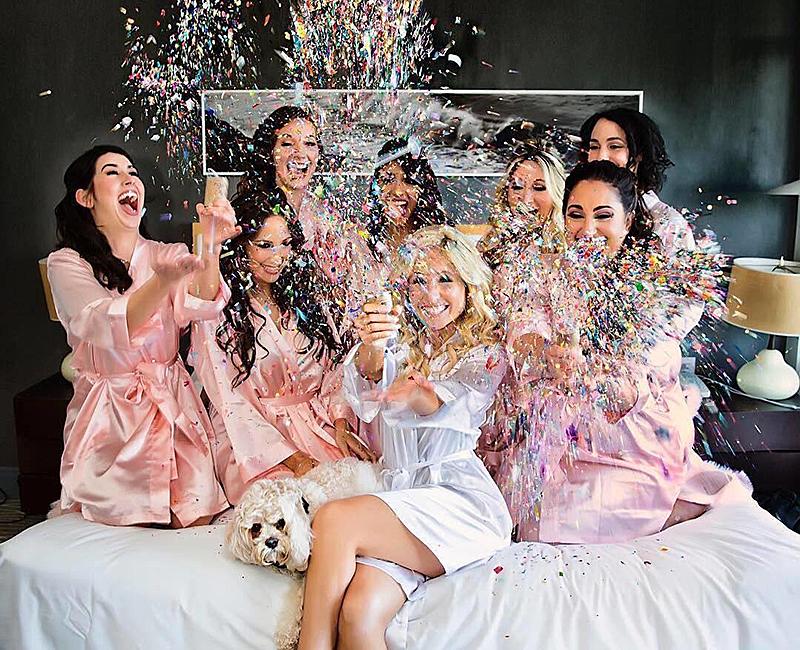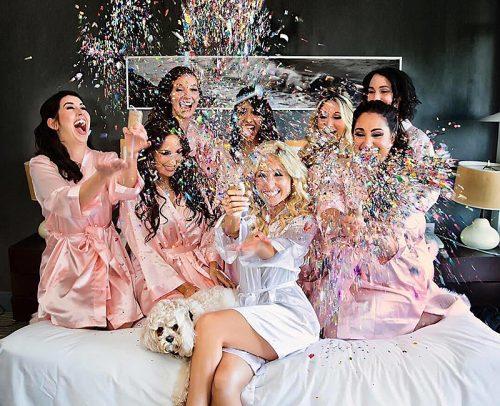 Who will like it: The slumber party is here again like it was when you were little. This bridal shower theme is an opportunity for you to reminisce on the old days. You can hold it either in the night or day time. It may also be an intimate one or a huge one.
Invite your girls over to a hotel or one of your home. Tell them in the invites that they should come with pajamas. You'd spend the night with your girls gossiping, eating, playing bridal shower games, music, and some movies.
Tips:
Create simple decor using balloons and streamers in the bride's best colors. It doesn't have to be over the top because it's a cozy night in.
Ask the guests to bring slumber party themed bridal shower gifts. Gifts like lingerie, slippers, candles, lipstick, nail polish, perfumes, etc.
For food, there's pizza, chips, pretzels, nuts, dips, fruits, chicken wings, candies, etc. Bring the drinks and wines along too. A girls night it doesn't get cozier.
Glam Garden Party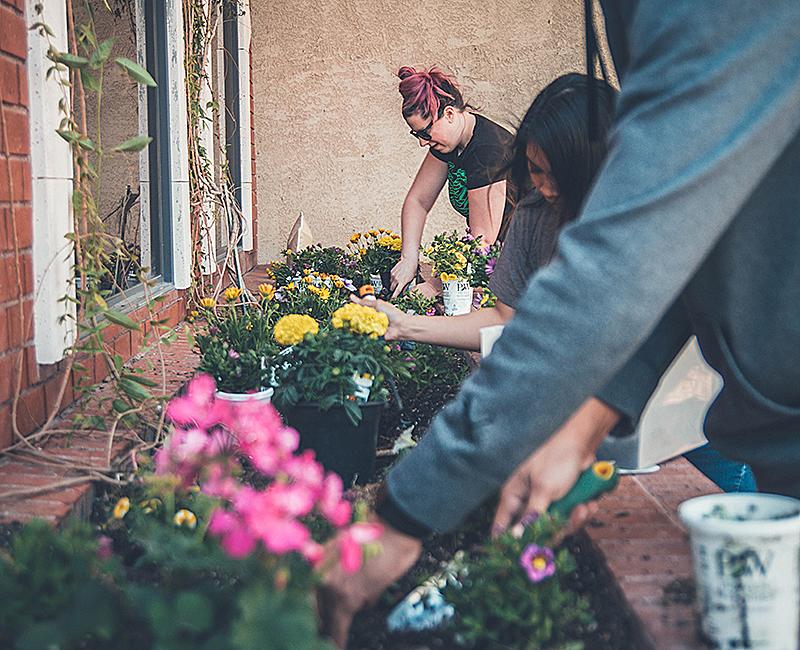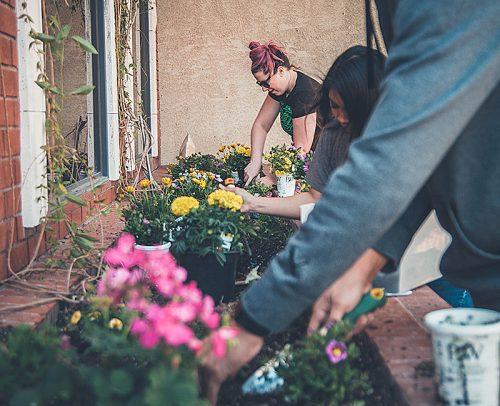 Looking for cute bridal shower ideas? A glam garden party isn't far from it. This type of bridal shower happens nowhere else but the garden.
Who will like it: There are some brides who live to nurture plants and see them grow. They love to get their hands dirty. This is a unique bridal shower that they will love.
Invite your guests into your garden and get in the planting mood.
Tips:
Plant seeds that will grow to beautify the couple's future home. It will be an unforgettable and evergreen memento for the bride.
Another interesting way to go about this is by attending a gardening class. If the bride loves to garden, this should be fun.
The decor isn't needed in this type of bridal shower party. This is an idea where you don't spend much, except on plants. You'll gift the bride potted bulbs, seedlings, garden tools and maybe plans. She'd plant this and tend them till they grow in her home.
After all, the rolling around in the dirt, you will retire to some refreshing drink like lemonades. A party where you have fun and learn at the same time.
Disney-Themed Bridal Shower
Source: emilie___events_ via Instagram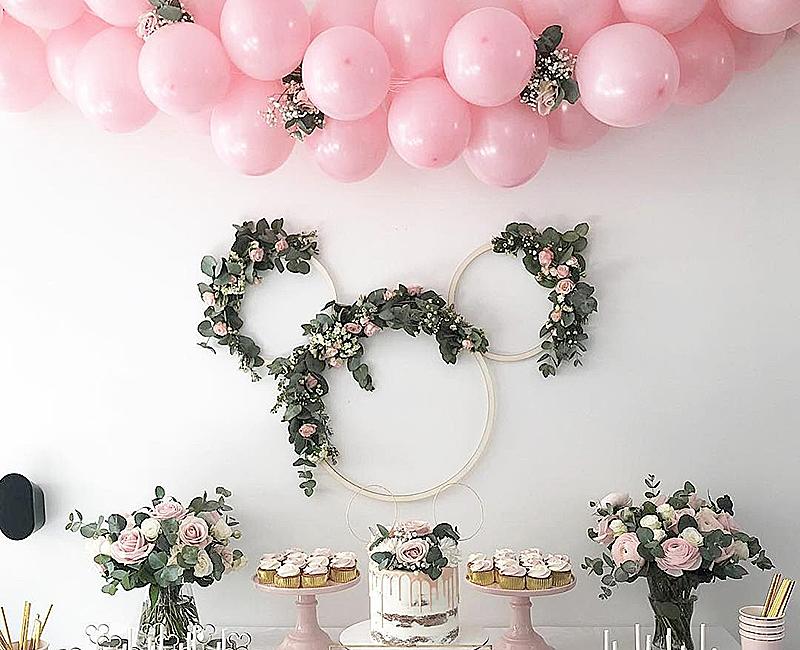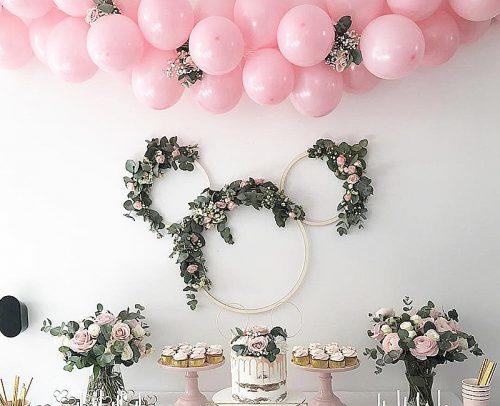 Did you visit Disneyland of recent or you're in love with the Cinderella Story? Have a Disney themed bridal shower!
Who will like it: The dainty and hopeless romantic will love this. Go with the rose gold color theme of Disneyland or any other of your favorite color. Let it reflect across every aspect of your bridal shower party.
Ask your guests to come in Disney-bounding gears, including Mickey's ears. Have fun, take a lot of pictures and play games. Some of the most interesting games include matching Disney songs to their correct movie.
Tips:
Try the ring snatching game. When guests arrive, give them a game ring. During the party, if they hear a guest mention "wedding or bride", they'd snatch the person's ring. The person with the highest number of snatched rings wins and gets a price.
Serve light food such as strawberries, potato salad, fruit, shrimp and Caesar salad, cinnamon rolls, chips. There could also be mini sandwiches and deviled eggs, etc.
Make a cake present, whether cupcakes or large. Some ideas include Minnie Mouse and Cinderella cakes.
Cooking Class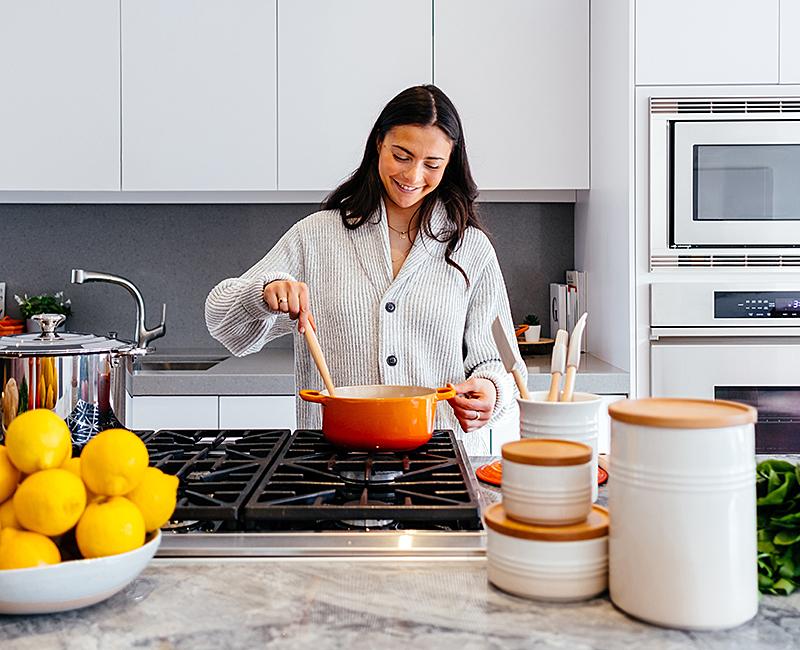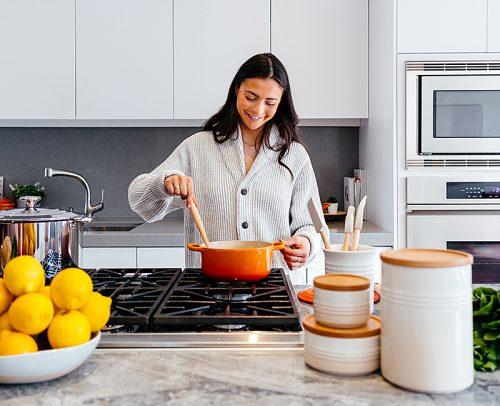 Who will like it: Bridal shower ideas like this involve eating out or a cookout. So, if you're the couple who loves to make magic in the kitchen, embrace this idea.
Bridal showers like these are always intimate, especially if a culinary chef is coming. This is because paying for cooking classes isn't cheap. Hence, it can only take a few people.
Tips:
Invite your very intimate friends to a restaurant to have a good time. The foodies will jump at this because it's time to eat. You may decide not to only eat but watch the making process. This is fun.
Another unique idea is to pay for cooking classes. A chef comes to show you all how to whip some tasty dishes. I'd recommend gourmet cooks. Going away from this, there is another method that is all-inclusive, yet very cheap.
Hold a stroke of pot luck by asking each of your guests to attend your shower with a meal. They should also bring the recipe along. Savor the meals during the party and then assemble the recipe into a book. These books could serve as gifts for the wedding.
Wine Tasting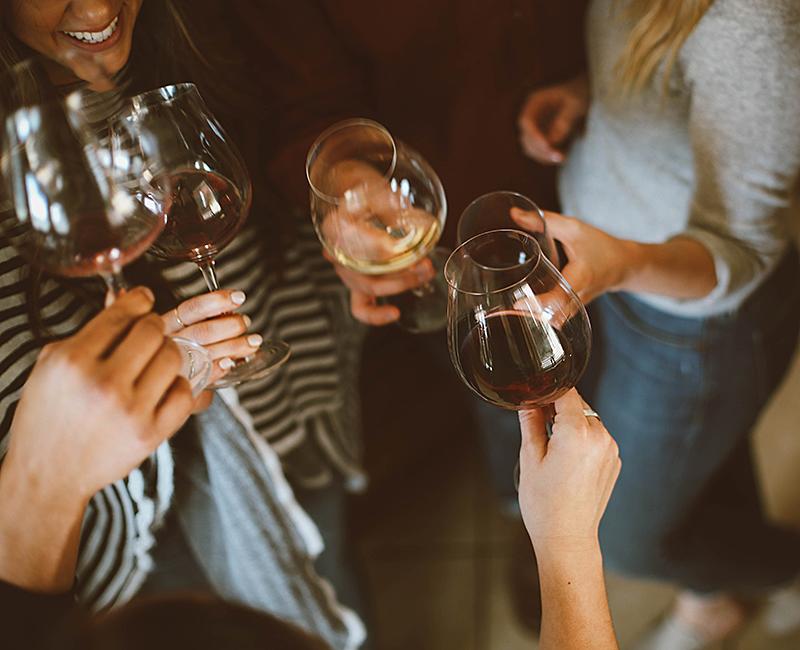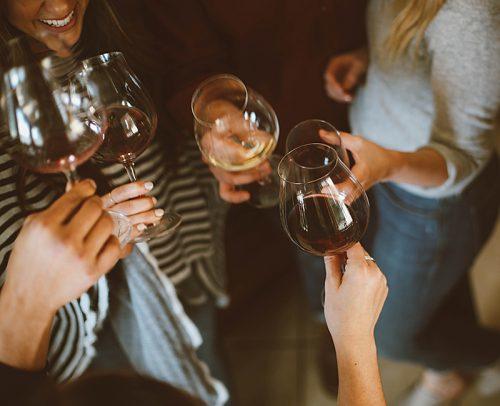 As great as country themed bridal shower goes, this is one of the best.
Who will like it: Brides who love to take wine will have a field day with this one. Have fun going on a tasting tour of the countryside. Take a trip to wineries and stomp your own grapes.
You will witness firsthand how all the wines you love to drink came to be. It is possible to get some tips for your homemade wine. An unforgettable experience.
Tips:
If you are not up for travel, tell your guests to each bring a bottle of wine. Spend the evening tasting wines, listening to great music and enjoying yourselves. You could also turn this into a fun and interesting game.
Pour the wines into cups and switch them so that they're not recognizable. Guest will volunteer to go on a blind tasting tour. Whoever gets the most wines correct wins a prize. At the end of this, enjoy your wine with grapes and some chips.
Total White Bridal Party
Source: jessica.koller via Instagram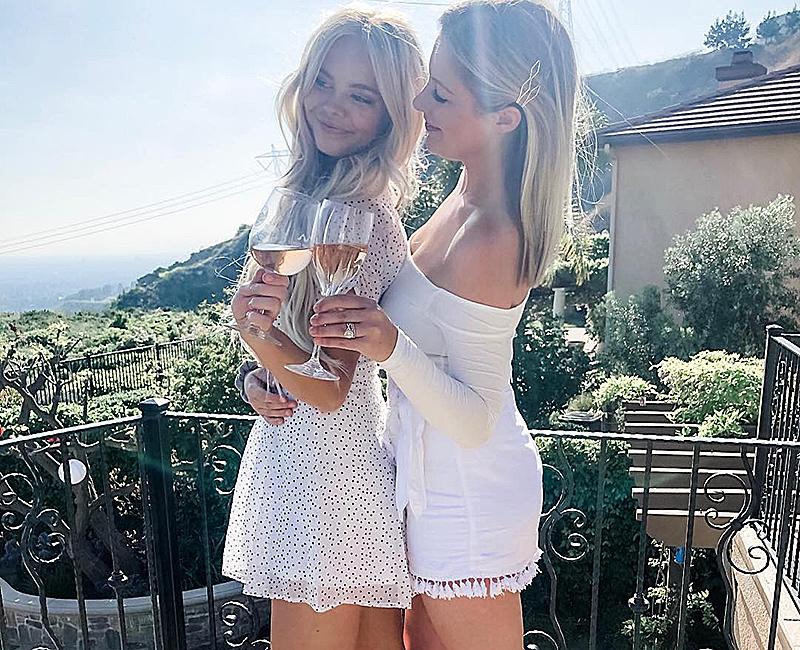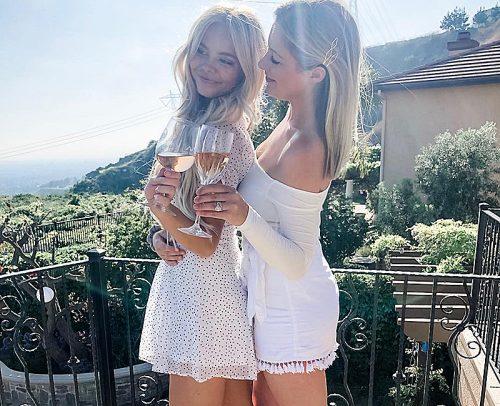 No blemishes, no stains, only perfect! That's an all-white bridal shower party. It is a combination of shabbily chic and elegant, a regal way to celebrate the upcoming bride.
Who will like it: A bride who loves the perfection of white will agree to this. From the decorations to the food, it's light and layered, not matching patterns. Begin with the decor as you choose white, silver, ivory, and hint of peach for layering. Then use burlap, tissue paper, a touch of shiny Mylar and lace for embellishments.
Tips:
Cluster balloons in the background and make tissue pompoms. Do a floral arrangement of white roses and peaches. String around white lights with gold stars to give a subtle yet clashing effect.
For food, serve vanilla sugar wafers, and white rock candy sticks, you may also favor white powdered donuts, yogurt dipped pretzels, etc. If you feel like a cake at the bridal shower, do something in Ombre. One which fades from ivory into peach.
Close the day with some lemonade.
Parisian Chic
Source: bellas_design via Instagram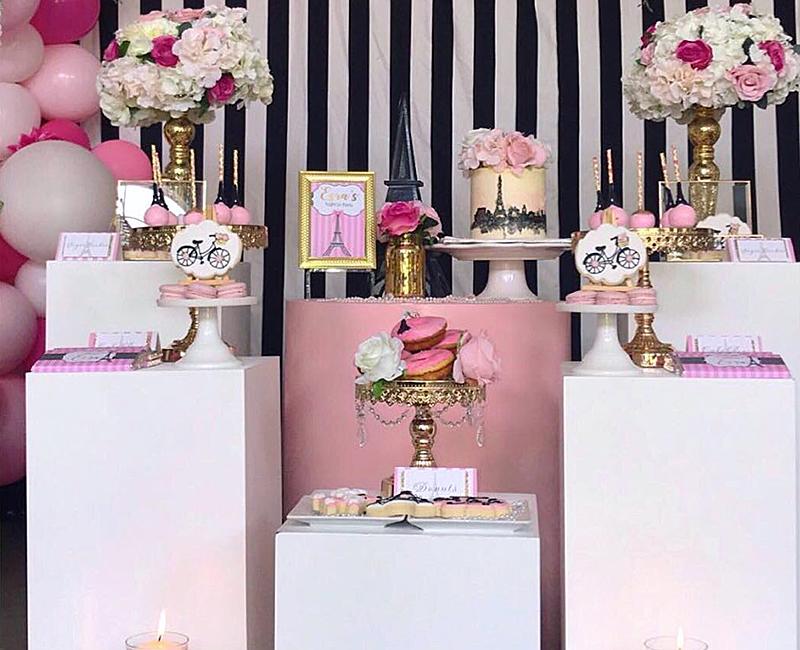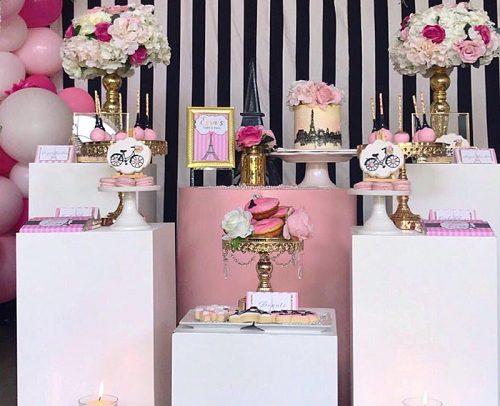 Bring the Parisian romance, glitz, and glam right down to your bridal shower.
Who will like it: Romantic bride will fall in love with this idea.
Work with color themes that are effortless and dreamy such as pastels and bright gold. Although, the most popular themed colors include bright pink, black and white. They come with a touch of silver or gold, and some hues of grey. Binding together, they form a cohesive palette. Use them for your all round décor.
Tips:
The meal must include French macaroons, then combine with desserts and cheese. Share chocolate wrapped almonds, and Paris themed sugar cookies as favors. The cake should come with bright pink toppings and a glittery finishing in hot pink and gold.
The presence of French wines seals the day.
Emblazon the Eiffel Tower on guest book table as decorative elements. Also use them as centerpieces on the table, as party favors and design on all stationery.
Classic Bridal Shower Ideas
Source: propmyparty_ via Instagram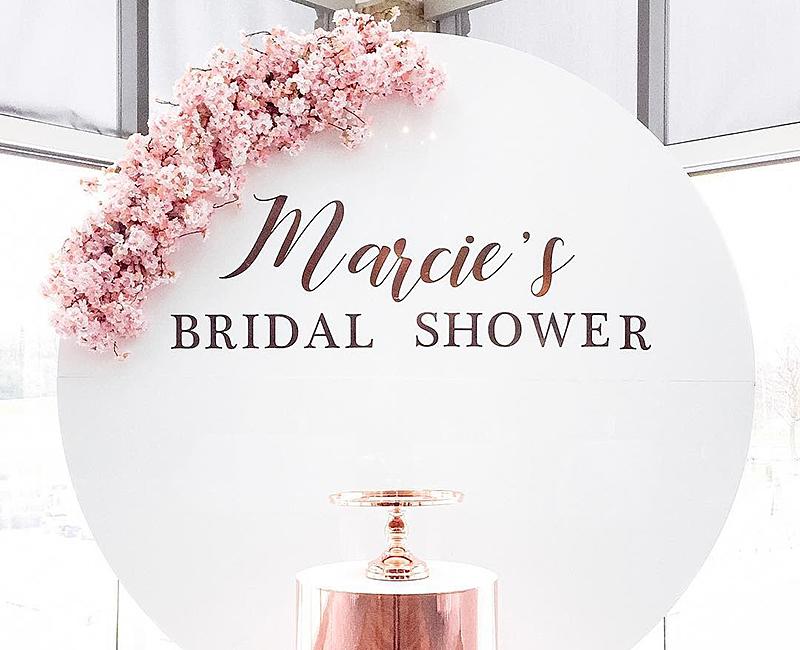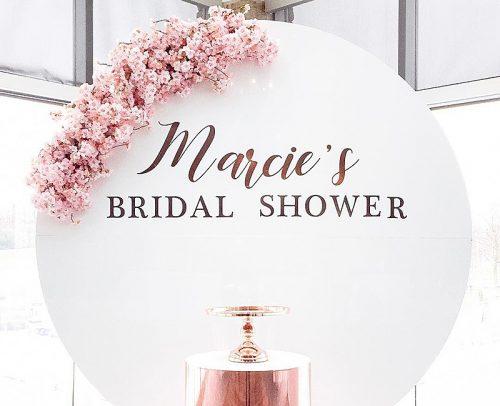 Classic is romance, colors, and confidence. It entails hearts, flowers, glitters and some wine.
Who will like it: This is for the bride who wants some old charming romance.
Tips:
One is the floral theme bridal shower where you have the ultimate display of flowers. Women love flowers, an ultimate display of beauty and feminine romance. So for this type of bridal shower ideas, it's going to be a floral affair. Go with floral prints, rose pink hues and a total wall backdrop of flowers. Think of floral centerpieces flower petals as confetti and flower decorated sashes for a bride. Make the foods in shapes of flowers or with flowers shaped toppings.
A winter wonderland theme is all about snowflakes and blankets of snow as backdrops. This is a kind of classical romance unmatched. Decorate with snowflakes, silver, and all white decor.
The black tie and glitter affair is for couples and it's kind of classic. If you love playing dress up, ask your guests to deck up in a suit and black tie. The ladies will come in dinner gowns and accessories. Make available buffet service and drinks for a full-blown party.
Such fantastic ways to celebrate bridal shower!

Rustic Bridal Shower
Source: thefancytreatsshop via Instagram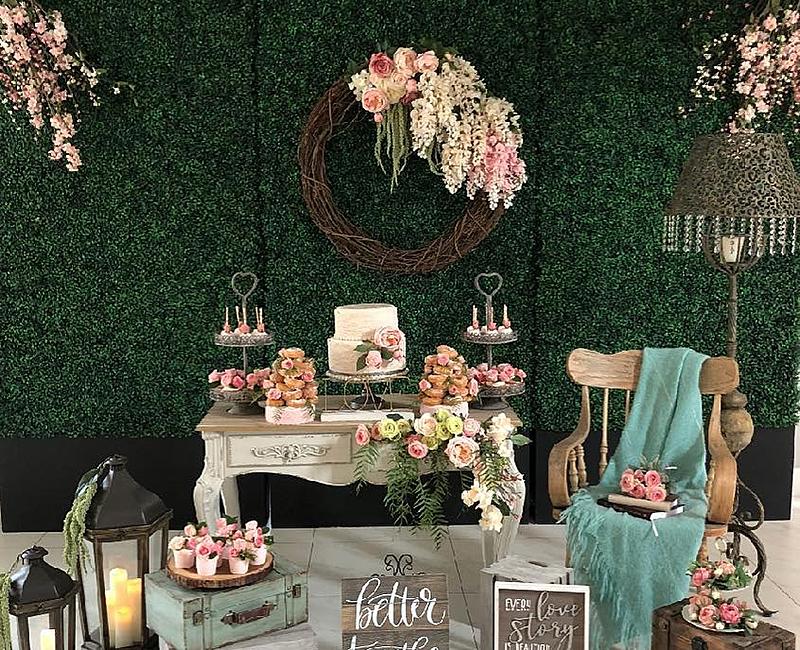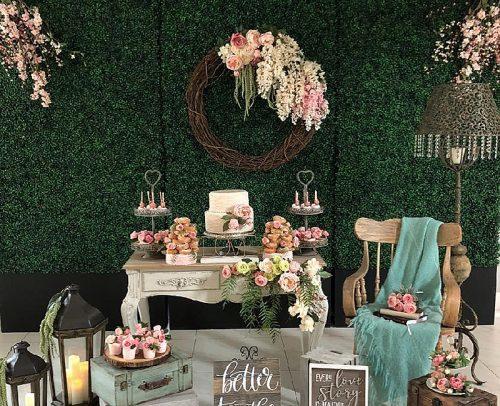 The rustic charm never fades.
Who will like it: If you love the carefree and charming attitude of the country, here's your party. This is a combination of traditional charm with a trendy twist. An ornamental blend of class and comfort. One of the most outstanding country theme bridal showers.
Tips:
This is often celebrated with an intimate gathering in the barn, farmhouse or the total outdoors. Best decor bets are mason jars, wood grain texture, barn accents, worn wood, etc. Embellish rustic banners with decorative paper fans.
For cakes ideas, leave it naked with thin layers of icing. Make simple cupcake desserts with muted color toned toppings. Add some mimosa or tequila drinks to the mix.
Get some fresh flowers in blush tones to give that fresh from the farm look. Relaxing in the rustic charm is fun and soothing.
The 16 bridal shower ideas we listed above are all unique and classic. From movie themes showers to romance and classics, there's something for everyone. The various bridal shower themes are beautiful and all affordable. If you want to have a great and unforgettable bridal shower, check out the ideas above.