A wedding budget sounds alien to lots of couples because they never planned a wedding. They neither know the wedding costs estimates nor how to plan a wedding. It's always a huge problem estimating the wedding expense, and they forget lots of things.
Wedding planning is fun, regardless of the wedding budget list, the planner or size of wedding. Read this post for tips on planning both a huge and simple wedding budget.
Average Wedding Cost
Wedding Budget – Who Pays For What?
As a rule, the parents of the bride handle the wedding expense checklist. But these days, couples are getting more involved in funding their own weddings. The family of the groom also show some support these days. Yet, the truth is that you need help, even on a basic wedding budget.
The first thing to do is to create a wedding budget spreadsheet for everything you need. Table it in separate meetings with the families of the bride and groom. Find out how much each side of the family is to contribute to the wedding. You can also ask what they will gladly take care of at your wedding.
This will get them committed to either a particular amount of money or wedding task. Strike those off your wedding budget planner, and handle other things. Check up with your partner on how much you can put together between the two of you. Check that off on your wedding budget calculator. Your budget it clear now, and you'll be sure about the size of the wedding you would have.
Talking to family about making wedding input is quite uncomfortable, but worth it. This is how to determine who pays for the wedding.
Wedding Costs Estimate Checklist
You have your wedding planning budget list, ready. Now, it's time to get out your wedding planner book for budget allocation. We will work with the average wedding cost percentages found in the industry. Hence, the wedding cost checklist is not accurate, but a tool to work with. You can tweak the wedding planning budget list estimates to suit your type of wedding.

Below is what my wedding budget looks like.
Wedding transportation 2%
Learn how to save money on your wedding by ditching the limo and fancy cars. Go for something simple.
The bride and bridal party transportation to the wedding ceremony and reception.
Transportation for guests to the venue
Parking fee for valet
Driver(S) charge
The wedding ceremony 2%
You can curtail your wedding planning budget by having the ceremony and wedding at the same venue.
Venue payment
Fee for officiant
Donations to church
Accessories for the ceremony such as sand, vases, unity candles, flower basket.
Wedding gifts and favors 2%
For wedding planning on a budget checklist, go with gifts that are cheap. You can find great favors at less than $2.
Gifts for the bridal party
Gifts for the flower girl and the ring bearer
Favors for the parents
Gifts for your spouse
Welcome gift baskets for out of town guests
Cake 2%
You can cut back on your wedding planning budget by using this trick. Get a simple Doyle tier for display and cutting. Have the regular sheet cakes to share to guests. This is against baking a 6 tier castle cake.
Wedding cake
Wedding sheet cakes
Cake cutting fee
Wedding cake stand and topper
Professionally crafted cake designs
Delivery fee
Beauty routine 2%
Get an expert in your local area to handle your beauty regimen. Book these trials on the day of your engagement photo shoots, instead of paying differently.
Mani-Pedi, haircuts, tints, massages, and facials for the wedding
Trial appointment for hair and make up
Hair and make-up booking for the wedding
Pre-wedding spray tan, glow up and lash extensions
Miscellaneous 5%
Every wedding budget estimator must have extras for an emergency. You may or may not touch it.
Tips for vendors
Insurance for wedding
Sales tax and service charges
Fees on overtime
Wedding invitations and Paper 2%
Do away with the paper and use e-invites. This is way faster and cheaper. If you want to be more formal, go with a signed page postcard.
Invites to the engagement party
Wedding save dates invite
Wedding ceremony invitations
Labels for return address
Invite postage
Invite to rehearsal dinner
Programs for the wedding ceremony
Wedding place cards
Menu cards
Wedding thank you cards
Wedding attires 7%
Borrow all that you can from friends who just wedded or have a great dress sense. Cut down on all the excess like reception dress. You may also hire or go thrift shopping.
Outfit and accessories for the engagement photo shoot
Shoes, outfit and accessories for the engagement party
Outfit, shoes, and accessories for the bridal shower
Attires, and accessories for bachelor and bachelorette party
Outfit for rehearsal dinner
Wedding dress, reception dress shoes, veil, and pieces of jewelry
Wedding attire undergarments
Tux, belt, shirt, pants, and shoes for the groom
Going away outfit (that's if you leave to the honeymoon from the wedding)
Dry cleaning of tux and wedding dress
Drinks 8%
To save money, host an open bar of beer and wine. You may also do signature cocktails for your guests. They will enjoy it or pay for spirits if they need some. Do not buy champagne in abundance, it's not really a favorite. Guests will gladly toast with their juices.
Drinks for cocktail hour
Drinks for reception
Champagne for wedding toasts
Beer
Open bar
Bartender charge
Wine
Juices
Coffee
Mixers
Tea
License for liquor
Special cocktails
Music 8%
Leave out the live band and go for a DJ that can double as mc. Give him your playlist and you're good to go. A live band will cost more.
Music for ceremony
Music for a cocktail hour
Live band or DJ for the reception
Lighting for the dance floor and photo booth
Sound system, speakers, and microphone
Wedding flowers 8%
Patronize your local flower shops for flowers in season. It will save you a lot of cash for delivery fees and flower costs.
Flowers for cake, if necessary
Flower corsages for moms and grandmas
Bouquets for bridesmaids and bride
Wedding ceremony arch
Flower girl and ring bearer flowers and accessories
Decorations
Delivery fees
Photo and video 10%
Get the professional to grant you total and exclusive rights to your pictures in soft copies. Print them out at your own convenience. Also, it is okay to cut out all unnecessary parts, like coverage before the wedding. This way, you'd save money on hours.
Coverage for engagement, rehearsal dinner and wedding day
Prints
Albums
On the spot edits
Raw footage
Reel highlights
Film feature
Professional correction, manipulations, and retouching
Planner for wedding 3-15%
Booking a planner for the whole duration of your wedding can be financially draining. Attend expos and get free consultations. You can also have one consultation session with a planner over the phone to get answers. Work with a planner for only your wedding day.
Development of budget. Depending on what you have on your wedding cost sheet, you'd spend between 3-15% on a planner.
Day, month or full wedding duration service
Venue and vendor negotiations, such as wedding catering pricing and DJ negotiations
Creation of wedding activity timeline
Coordination of rehearsal dinner
Handling of wedding day events
Wedding rings 12%
Buy your wedding rings from low priced shops or websites. Rather than splurging, check out Etsy. You'd get you exact choice because options are limitless.
Wedding bands
Resizing charge
Rings insurance
Personalization or custom engraving
Wedding reception 18%
Host your wedding ceremony and reception at the same venue. This will save money on venue and transport for vendors who charge by the hour.
Deposit for Venue
Rentals for room, dance floor if not installed and other materials
Fees for parking
Insurance for liability
Security charge
Wedding food 18%
Work with a buffet of foods that are in season. Skip the extravagant dishes. Do full course meals only if you're having s ballroom or formal party. Rather than get a caterer, DIY the easy ones with friends.
Finger foods
Buffet for guests
Food station
Family full course meals
Staff
Equipment for catering
Catering rentals
Meals for vendors
Bar service
Charge for service
Fee for set up, cleaning and clearing.
Honeymoon
Save money on honeymoon by choosing to go somewhere local. If you want a destination honeymoon, take advantage of all-inclusive packages and discounts. You can also set up a well-experienced registry. Guests will donate towards your honeymoon or give experience vouchers.
Wedding Budget Calculator
The wedding price calculator is the surest best to ensure you're on track. That makes a total of 100%.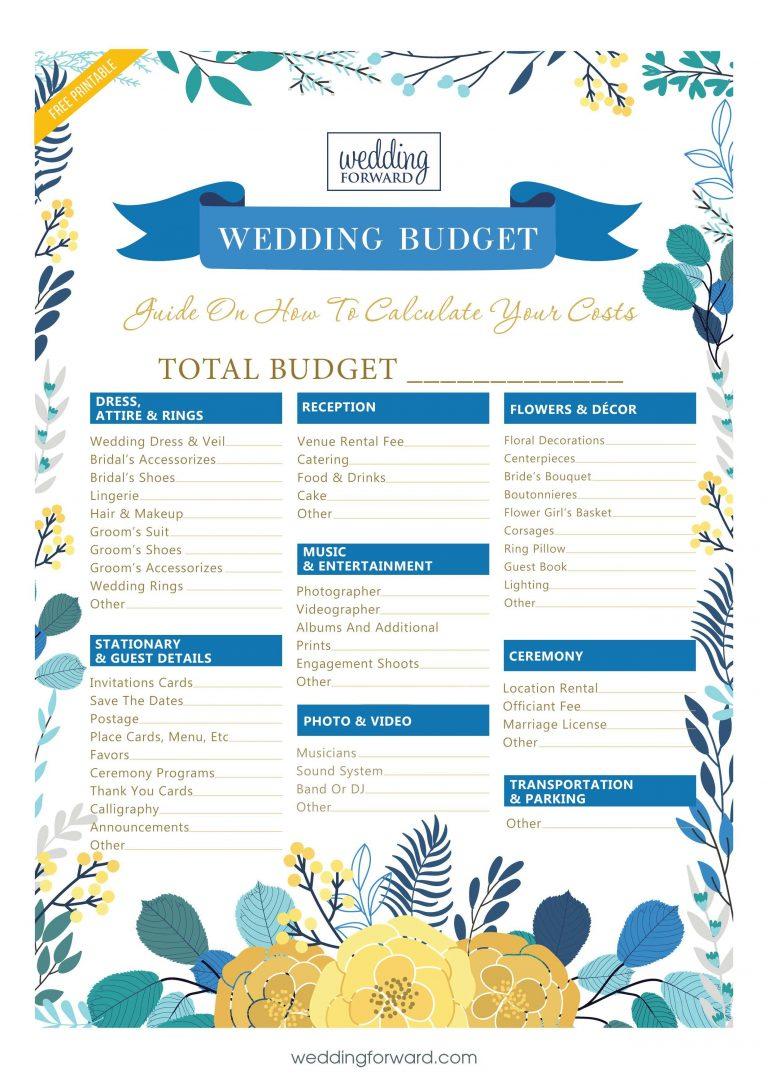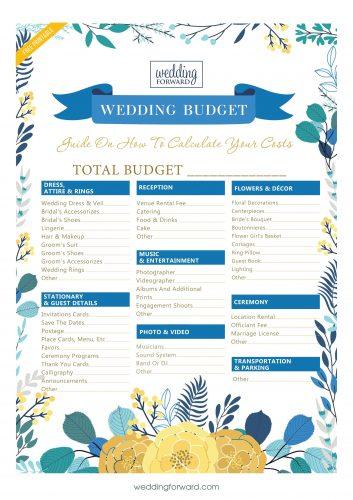 Simply create a wedding budget outline and group similar items together. Find their average cost, subtract it from your total budget and work out the percentage. Everything must sum up to 100%
Work with the average industry figures, because prices change depending on season and location. Better to have some cash than run into debt.
Pamper Yourself A Bit While Wedding Planning
No matter how much money you have to spend, planning a wedding is stressful. Do not take care of everything at your own peril. Hence, when budgeting wedding expense, add a little something for your treat to the budget. You deserve some pampering and glow up. What better way to pamper yourself than by getting a Miss to Mrs. Bridal subscription.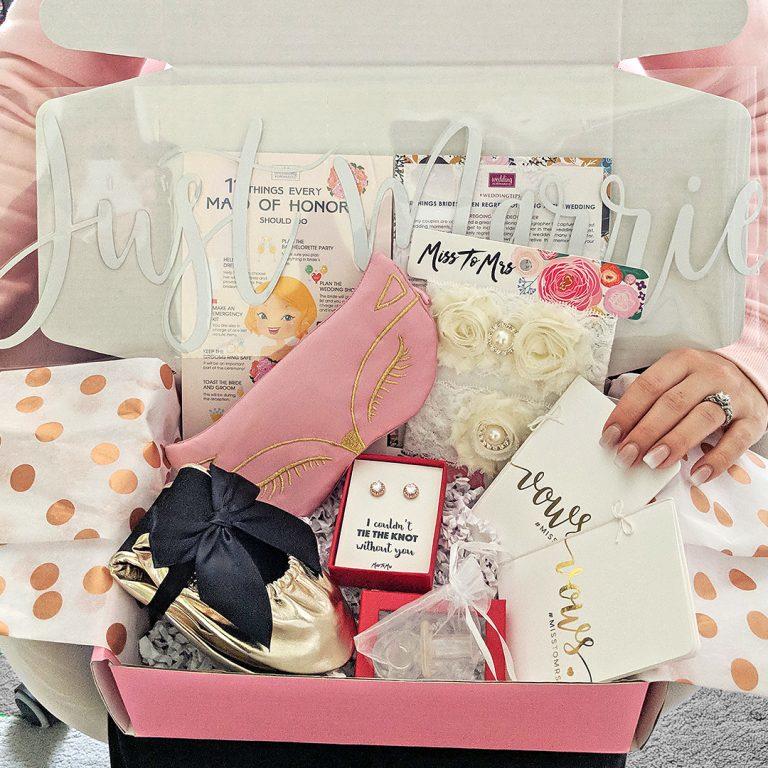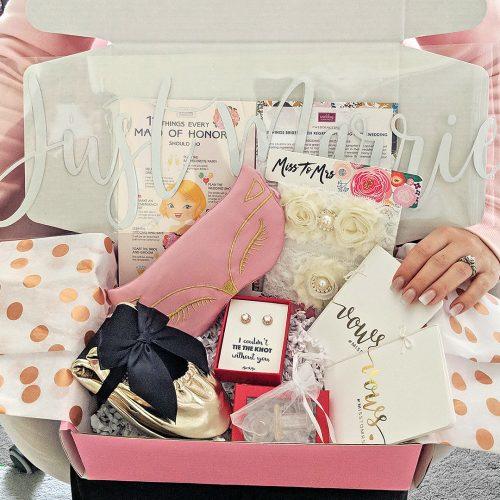 Subscribe to months full of fun and surprises as each box comes with its own theme. You are like 16 again, when you got surprises every birthday. This is even better because you get it surprised every month of your subscription duration. Things you can use to prepare, during and after the wedding. You would even find things you never thought you'd need.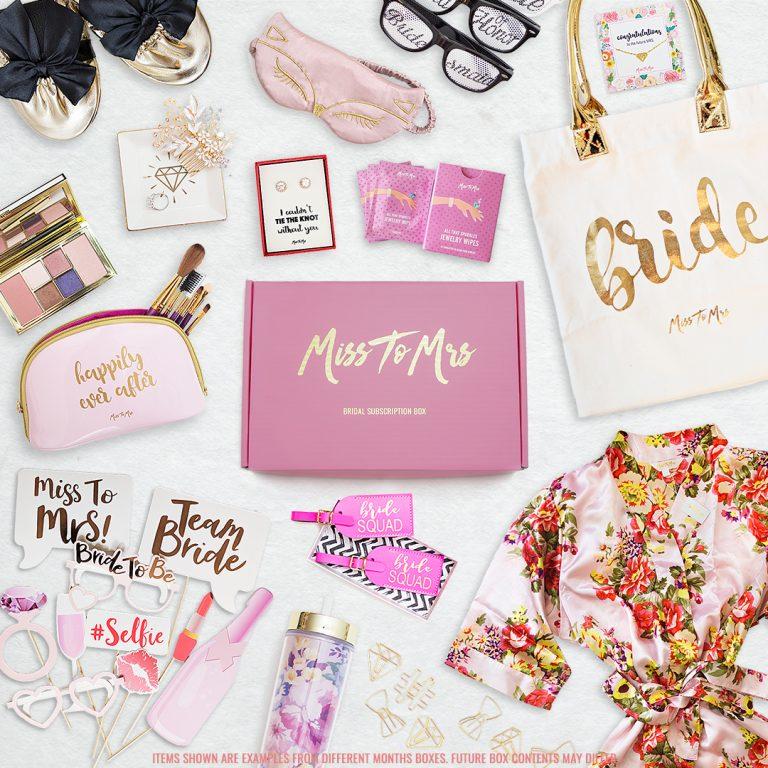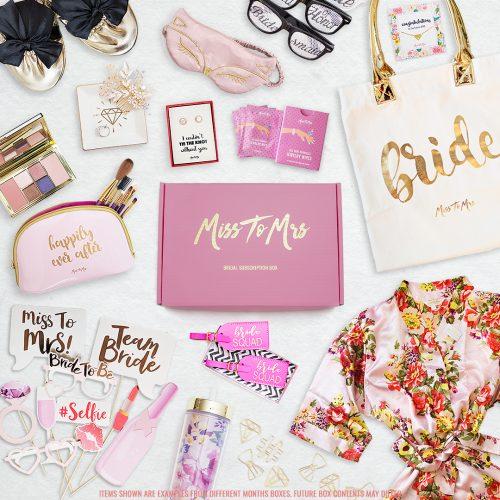 Talk about a gold plated necklace, bath soaks, kimono robes, and garter sets. My most favorite is the pair of ballet flats for when your heels are killing you. There are many more goodies to enjoy from Miss to Mrs. Subscription box. What sets them apart is that they cater strictly to the bride. So, you can imagine! The reviews and excitement are over the roof. Make your bridal journey count! By the way, follow us on Pinterest!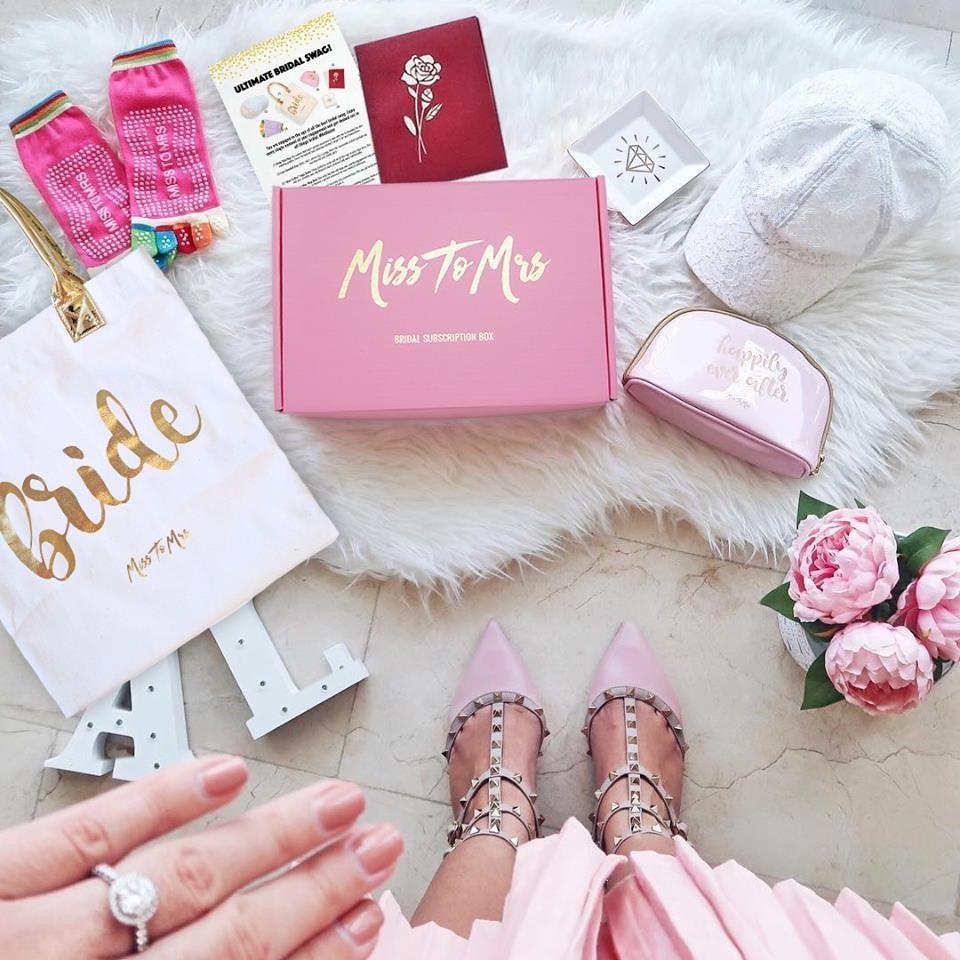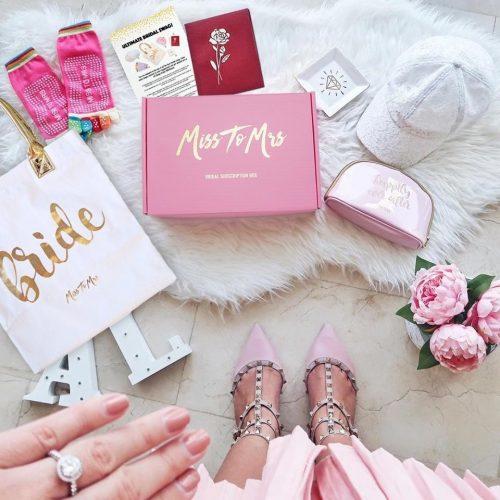 Wedding Budget Breakdown Tips
To have saved on the wedding, there are wedding budget breakdown tips to follow. These tips will help you understand the most important things you need. It will also help you cut out all the unnecessary stuff you don't need.
Being honest, a lot of items on a wedding budget outline are mere frivolities. So let's see how to make a cheap wedding, by cutting down where necessary.
Make your guest list as small as possible. A smaller guest list affects every other wedding expense you will make.
Have a less formal wedding. You will save a couple of bucks from the venue, décor, and food.
For invites, use postcards, DIY save dates and e-invitations. Saves cash, is faster, and curbs waste.
Skip the couture or custom made wedding dress. Attend trunk shows and local bridal shop. You'd be quite shocked at what you can find.
Ask friends and family for help that aligns with their talents.
Buy convertible bridal gowns instead of buying two dresses for ceremony and reception. A graceful cocktail gown with a cover skirt train will do. A lot of designers do it.
Hold your wedding on less pricey days. Days like Wednesdays, Fridays, and Sundays will save you cost on a venue.
Skip the seated dinner. Make your reception very casual.
Pick venues that allow you to handle your own day. Find out if you can bring your own caterer, food, drinks, and staff. They may supply the rental.
Buy two-tiered simple wedding cake for cutting, and some wedding sheet cake for guests. They'd be none the wiser. You can take the fun a notch up by skipping the cake for homemade desserts. Cookies, cupcakes, macaroons will give guests something to nibble on
Get all your photos in digital form. Print at your own disposal.
Have the same venue for ceremony and reception. Rather than pay for two venues, pay for one good venue. Make sure the venue has amenities.
Choose to do your wedding in the day time. You'll save on space charge, open bar, and heavy food.
Skip on the open bars. Replace with wine, beers, DIY signature cocktails and liquor from discount stores.
Book group accommodation and get discounts.
Patronize your local flower shop for seasonal flowers. Offer to do your own arrangements. It will save you delivery fees, expert arrangement fees, importation or wilting of flowers.
Book your wedding on off the season dates. No memorial events or peak periods. Booking your wedding in low seasons will get you the best venues at cheap rates.
Book your wedding coordinator for only a day off. Get your friends and family to organize your wedding leading to the day.
Rather than buy bags and bags of favors, create a candy stand for guests. If you must buy favors, find some at less than $2 per head.
Skip the plated dinner and have a buffet. Let someone man the buffet station to maintain order and portion control.
Sell off items you won't use anymore after the wedding. Items like your dress, decor, cake toppers and all. Thrift shops will pay you well for them
Do away with engagement parties or after wedding brunch.
Keep your decor simple yet elegant. Candles, bistro lights, and foliage or flowers will do. You can get these in bulk at cheap rates.
Pick a multipurpose DJ over a live band.
Overlook the extra pampering before the wedding. Your hair and Mani-Pedi is important but not a massage. You can have your massage and spray tan on your honeymoon
Relax and recoup before you go on a honeymoon. This is to reduce the financial stress on you.
Wedding Expenses Checklist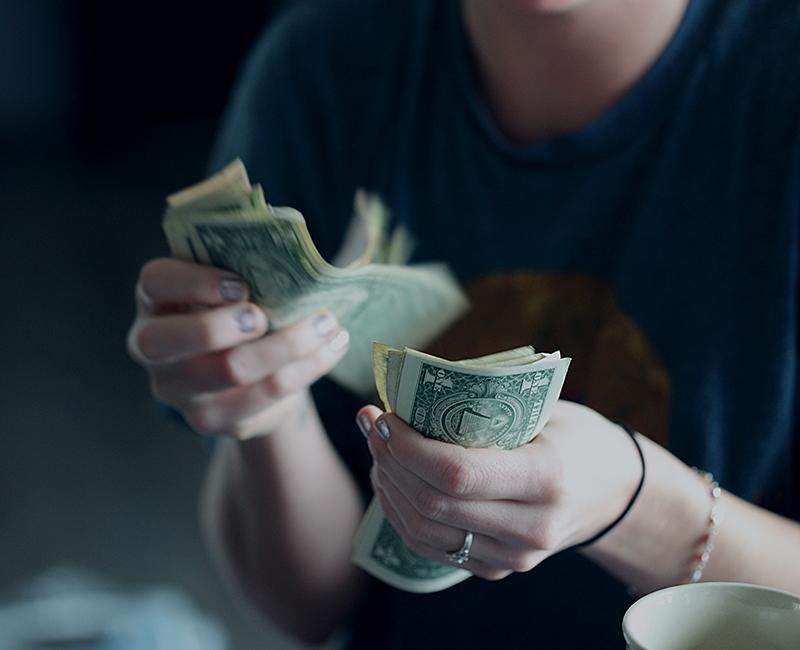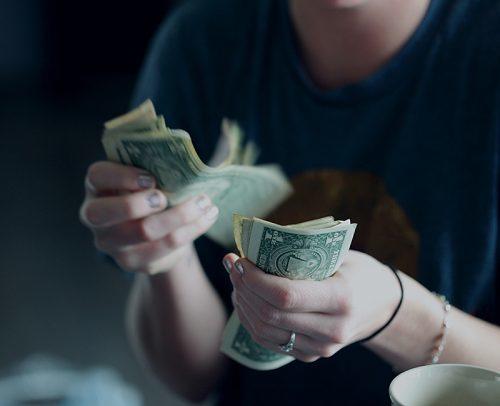 There are four major things to track on a wedding expenses checklist. They include the money coming in, money going out, money to be yet paid, and wedding items. These are the things to enter into your record book. Total all the money you gathered and give space for one's still incoming.
Get a wedding budget spreadsheet and fill in everything you need for the wedding. Use one spreadsheet, because it's easier to see everything in one place. You can easily track and trace items. Get a budget tracker who may be your trusted friend, and one wedding only account.
Your budget tracker will fill in every expense made and update all items bought. Make industry average estimates on items, and adjust the price after you get them. Scrap out unnecessary items and reallocate money to important ones. Record deposits made in the wedding payment checklists, the balance and due payment date.
Record everything expenditure and update as you go.
If you follow through with this, you will keep track of your expenses. You won't forget anything, and the stress will be minimal.
Real Wedding Budget Examples
Budgets and weddings vary with the individuals and what they want. It's a day most couples dreamt of for years. Now, it's here and couples want to make it count. There's a wedding for every budget, even with a wedding on a budget checklist. Below are real wedding budget examples going by average wedding industry standard. See what works for you
How much does a small wedding cost? Here's one for a small wedding with a budget of $2000
Venue of 6 guests with an officiant for 30 mins slot – $150
Attire for bride and groom – $300
1-hour ceremony Photography and Portraits – $800
Lunch and drinks in a restaurant for 8 – $600
Traditional wedding with a budget of $20,000
Full catering service + wedding venue for 55 guests – $12,000
Photography – $2000
A week off planner – $2000
Wedding invitations – $800
Bride and groom attires – $1000
DJ – $1000
Decor and flowers – $1,200
Formal wedding + reception with a budget of $30,000
Church or venue fee – based $350
Wedding planner fee – $2500
Full service for reception + venue for 140 guests – $16,000
Wedding flowers – $2,500
Videos and photos – $4,000
Bride and groom attire – $1600
Band – $3000
Getaway wedding budget with $31,000
Destination venue for the whole weekend – $6,000
Friday welcome potluck for 5 people – $800
Breakfast and lunch on Saturday – $3,000
Bride and groom attire – $800
String quartet for the ceremony – $500
DJ for the reception – $1100
Full catering service coverage for Saturday night – $10,000
Wedding decor and flowers – $3000
Photography – $2500
Brunch for Sunday – $2000
Wedding Budget Planner Tips
The truth is every wedding no matter how small, needs a budget. It's about time you get real and pull out a wedding planner book. Start documenting, tweaking and adjusting the tips below. No two weddings are the same, so I'll leave the general tips below. These tips are applicable to every wedding if you must get it right. Working with tips will give you a head start for your wedding.
Decide with your partner on the type of wedding you want. A day in the woods, elopement, small wedding, something formal or casual. A general feel of have your day will look helps you narrow a budget.
Decide on how much you are okay with to spend on the wedding with your spouse. Seek to know how much family members will contribute, or if they will handle a particular aspect. This will make a total of your budget.
Collate a guest count from your side, spouse and every other important person in your life. Sieve and document them, so that you'd be sure about how many mouths you will feed.
Establish priorities for your wedding. Decide with your partner, which events or items are most important for the wedding. Top 3 items or events for each of you will work fine.
Shave off costs from unimportant items and top up the very important ones. Reevaluate estimates, update and adjust as you go.
Be intentional about leaving your personal touch through DIY items. Check wedding websites to learn trendy DIY tips. It will help you create outstanding items like save dates, wedding programs, etc. For your wedding.
Follow through with your budget. Stay true to it, do not get anything outside your budget unless it's necessary. This will keep you on track and help you save money.
Ask For Expert Advice On Wedding Expense
According to experts, keep a tight rein on your budget, or run into debt. There are drastic ways to go about this. Below are some expert advice.
Put a leash on your guest list. Trim it into A and B group. The A group being the most important and must invite. The B group are those who get to come if there is space left.
Check out alternatives on items like flowers, centerpieces, decor etc.
Reuse the decor of the ceremony for the reception.
Look out for the tiny items. When they accumulate, they cost much.
Plan for emergencies
Delegate tasks
There is a reason why hidden wedding costs are very important. They can triple your wedding expenses and ruin your budget. Some wedding planners forget to take note of some important things for the wedding. Either because it wasn't in the policies or they feel the bride should take care of it. This ends up causing chaos, bloating the budget and last minute run around.
Find some hidden costs you should take note of, and how to avoid them below.
Equipment for the wedding band
Equipment agreed upon may not be enough for your venue if the venue is bigger. You will then spend about $500 extra out of your budget to get more equipment. Avoid this by having the band survey your venue before agreements. They are the experts who know what will be good enough for your venue.
Shipping cost for postage stamps
Lots of stores will charge you separately for shipping postage stamps. The worst part is that they will not tell you about this from the onset. This could cost you an extra $2 -$30 which bloats your budget.
Work with simpler, and less bulky materials that won't weigh so much. Also, seek to know all-inclusive charges from the outset.
Steaming and alteration of wedding dress
Wedding dress steaming and alteration can take between one to three hours. But many stores don't include it in the charges when buying the dress. To avoid this, find out what the dress payment covers. If it doesn't include the extras, you can prepare for that.
The longer vendors spend at your wedding past agreed time, the more debt you accrue. Avoid this by booking your vendors for realistic time frames. Cut out the pre-wedding preparation, chit chat, and post-reception party. Book them for only the real activities.
Welcome bags for out of town guests may have a different charge from the hotel package. Enquire about the content of your package from the hotel. Also, find out how much each welcome bag cost. This will tell you whether to do away with or put it in your budget.
There is no way around this. It will cost you about $35, depending on your state.
Wedding specialty undergarments
This is something a wedding planner will likely forget, resulting in the last minute run. As the bride, shop for it when you shop for your dress.
Things never always go as planned with wedding preparations. It gets worse if you have no wedding budget to keep you in line. Wedding budgets differ, so do weddings. But the most basic wedding budget will save your neck times over. Check this post to learn how to make wedding budgets, and tweak to suit. We send you our congratulations!