Lots of couples love long engagements because it gives them enough time to strategize and plan their dream wedding. But when you have 4 months or less, you have to get into the mood of planning a quick wedding. We know it's scary and doesn't look possible to have a superb wedding planned in four months.
But it's also a challenge, and you have our backing because we'd give you all the help you need. Get in the post, let's show you how to plan a wedding in 4 months!
4-Month Wedding Planning Checklist
This is the month where you come up with a list of the must-haves. We've helped sort that out with a 4-month wedding planning checklist below.
Decide on a budget. A lot of quick wedding ideas will keep popping in your head at this time. So, put them down and allocate costs. Begin from the most important to the least important. Find out what everyone is willing to contribute and go from there.
Secure your venue. Truth is that most traditional wedding venues get booked a year in advance. Pick alternative dates like a Tuesday, Thursday or Friday. You may just get lucky. You can also step out of the regular to check out parks, bars, museums, farms, and other sites.
Hunt down your dress in earnest. Look at ready to go bridal or rental shops for dresses you can order and get it the same day or week. Schedule fittings about two weeks to the wedding, so that the dress fits perfectly.
Get the commitment of your main vendors.
Plan out an engagement shoot.
Book guests accommodation.
Advice from real brides: "Lockdown your date and venue first, before any other thing. Other plans ride on the back of these two". — Erin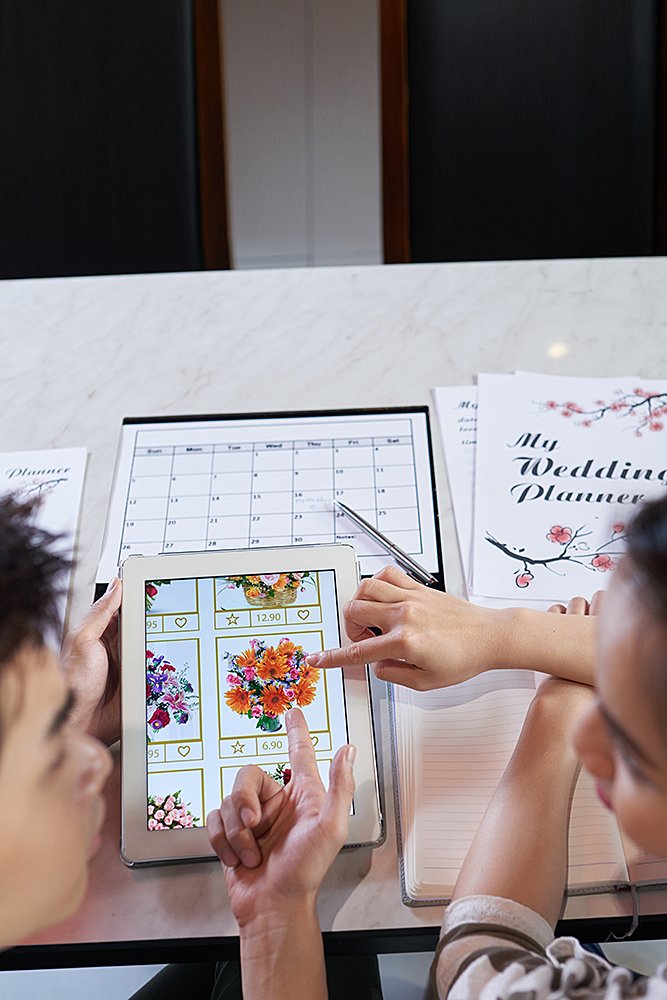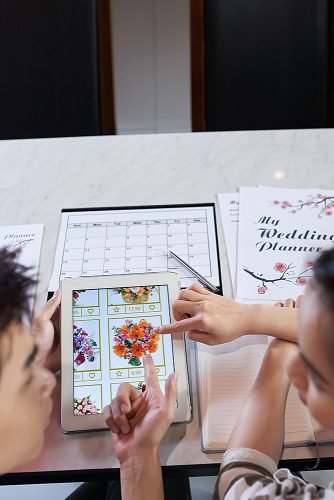 3-Month Wedding Checklist Timeline
Planning a wedding in 3 months checklist is the taking action phase. You've picked a date and venue? Let's show you how to plan a wedding in 3 months.
Look out for what it takes to make a marriage legal in the state where you're getting married. And set the ball rolling.
Get your partner and create the guest list. Then cut it down to the final guest list which your budget can handle.
Send save the date to the guests through emails or text messages. This is a way to get the message out fast.
Hire a wedding planner or the day-off coordinator. Whatever you do, create space in your budget for an expert hand. It will help keep you sane.
Book the officiant for your wedding. Make sure your date is free on his calendar.
If you're going to have a wedding party, it's time to tell them to get their outfit ready.
You have time to make wedding invitations. So, begin looking out for your best style and theme.
Order for your wedding cake.
Advice from real brides: "Budget for either a wedding planner or day-of coordinator. You get to truly enjoy every bit of your wedding". — Kendra
2 Months Before The Wedding
Do you need to plan a wedding in 2 months?
Pick a honeymoon destination and book the spot. Then check all documents necessary for travel and make sure they're valid.
Send out wedding invitations to your guests and start putting RSVPs together. Ensure that you send invites to only the wedding guests that got your save the dates.
Planning a wedding in 2 months? Now is the time to put together your order of ceremony.
Pick a date for the bachelorette party and bachelor's night if you can afford the time and expense. If not, bounce the hen and stag night together get more fun, spend less time and money.
Schedule your hair and makeup trial with your chosen beauticians.
Arrange for the transport that the couple will use to and from their wedding venue. Take care of transport for guests too, from the hotel to-and-back from the wedding venue.
Go looking and shopping for wedding rings.
Take a little break to hang out with bae, rejuvenate and breathe. Here's how to plan a wedding in 2 months.
Advice from real brides: "Ditch the fear to ask for help, because you're going to need all the hands and minds you can get". — Kimmie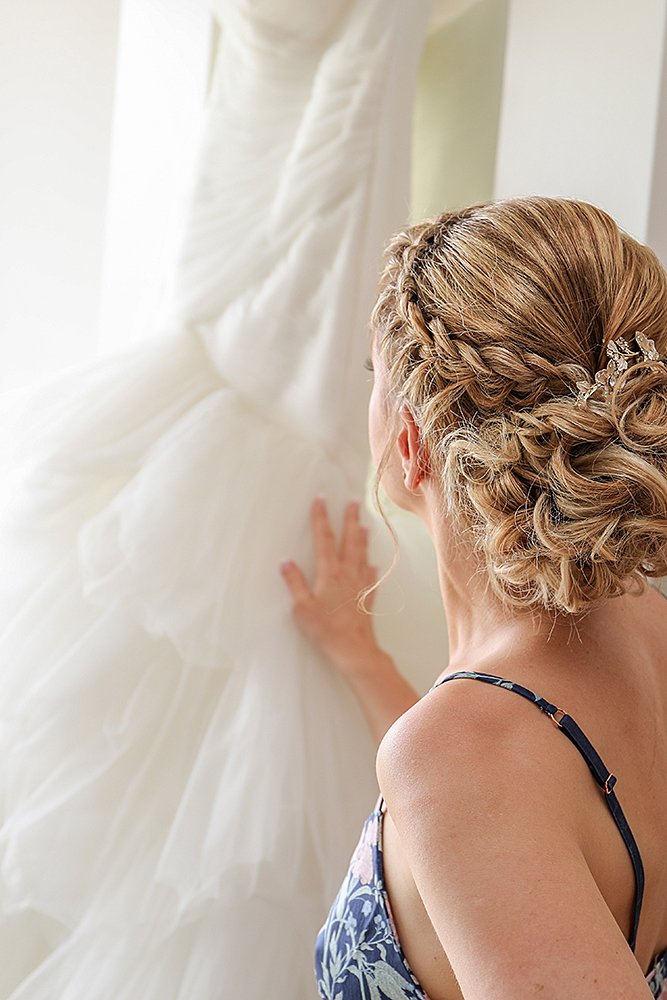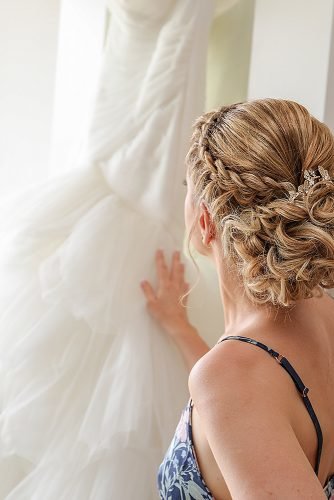 Planning A Quick Wedding: 1 Month Before
To plan a wedding in a month, you need to do the following;
If you got a dress that's not wear as it is, make all final alterations at this time. For brides who want custom dresses, it takes up to 6 months. To get it earlier, it will cost more. So, now is the time to go for the first fitting of the dress.
Get all last minutes of aesthetics done. From manicure to pedicure, facials, waxing, tanning, haircuts, tinting. Get all of them done.
Get all the undergarments you need for the wedding dress. But your shoes and appropriate wedding accessories.
Schedule fittings for your wedding party, if you're the one getting their dresses.
Attend a scheduled menu tasting and finalize on the wedding menu with the vendor.
Confirm the availability of all the wedding vendors you've booked. This will help avoid last-minute disappointments.
Shop appreciation gifts for groom, best men, bridesmaids, parents, family, and everyone who helped in planning.
Round up on all DIY craft you intend to put together for your wedding.
Look through all gathered RSVP and call up other guests who haven't responded.
Advice from real brides: "Delegate tasks and concentrate on you. You can't possibly handle everything solo". — Jane
Two Weeks Before The Wedding
Book a bar, lounge or restaurant for the morning or lunch after the wedding. You and hubby will need it to get back some calm, and also say thank you to a few people.
Once again, confirm all arrangements you've made with vendors. You can't be too relaxed no matter how reliable people are. Worry less, but make sure everything is perfect.
Contact caterer and venue to ensure that they are ready for you. If these two aspects flop, your wedding is over.
Go all out for your seating and table plan. It's your wedding, you don't want the guests to ruin it for you. Take your time to sit guests appropriately. While you should encourage interactions, you should never allow two people who don't see eye to eye on the same table. Your wedding isn't an intervention but a celebration.
Put finishing touches to your wedding stationery and order of program for the wedding day.
Intimate the venue and wedding coordinator with all the information and necessary updates of changes made.
Create an air-tight timeline for the wedding day.
Advice from real brides: "Make sure to relax and enjoy every moment leading up to your wedding. It sweeps by so fast and you can't catch it". — Meagan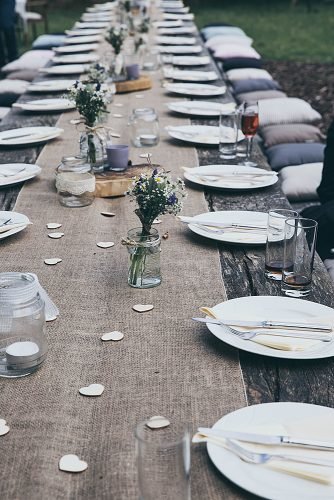 Wedding Checklist: The Week Before
Confirm the day wedding timeline for the vendors, wedding party and couple. Everybody should know where they should be and what they should be doing per time.
Furnish the wedding planner and wedding party with all the contact details and information of vendors hired. They need it to keep up with the vendors.
Take time out to have all the last-minute beauty prep you need. Make it a time out for two. Go with bae, get some pampering and bond some more away from the madness. Don't think of the wedding plan. Just relax.
Pack an overnight bag that has your going-away dress.
Pack a bag for the honeymoon and ensure everything is intact. Passports, flight bookings, other necessary documents, protective clothing, and cosmetics; hotel accommodation, transport, enough money, camera, etc.
Pack an emergency kit for the wedding day.
Communicate any last-minute changes to the wedding coordinator and vendors.
Do a total garb rehearsal. Suits, wedding dress complete with accessories, veils, ties, cuff links and shoes.
Organize balance and tips for hired vendors.
Advice from real brides: "Your vision could change by the time your wedding comes around. Don't feel bad or worry. It happens. Be flexible and open to changes". — Natalie
The Day Before The Wedding
Set up an emergency contact and hand it out to all vendors you've hired for the day. As much as it's your wedding, you shouldn't be bothered quite by the wedding vendors or anybody for information.
Delegate someone to handle guests that are coming. A go-to person whom incoming guests can call for directions, transport, and all that.
Hand over decor, place cards, table plans, table cards, and favors to the wedding planner or reception coordinator.
Get someone on top of the cake situation. Make sure it's on its way to be delivered to the reception at the right time.
Tie up all other loose ends concerning the ceremony.
Move down to the hotel or venue where you'll leave the wedding from.
Have a very healthy meal for the night and eat to satisfaction.
Take an hour to soak your body in a calming bath. A candlelit bath with wine by the side can help you relax.
Get a good night's rest for the day ahead.
Advice from real brides: "The cake will be well eaten, the flowers will die, and most people won't remember the little details. But be happy that people came to celebrate your love. That's a pretty special thing". — Kristi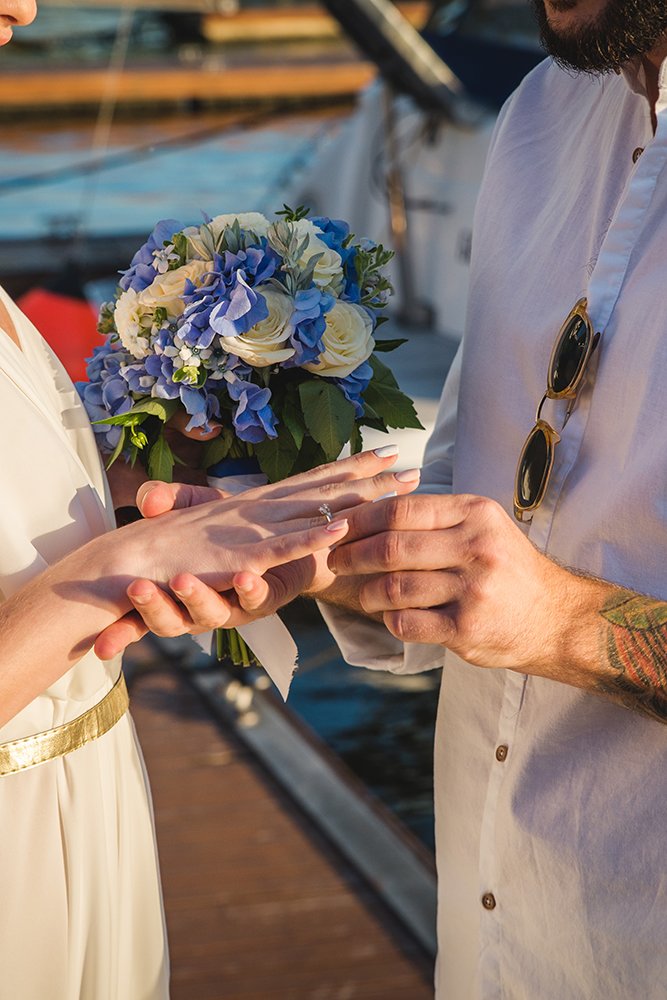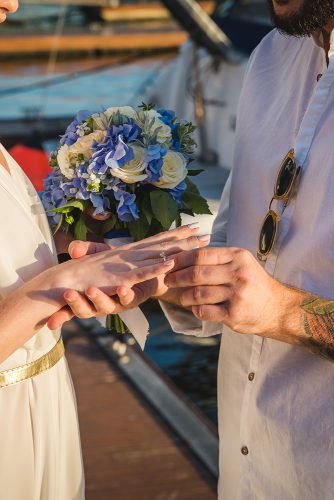 Tips On Planning A Quick Wedding
Lockdown the determining factors
The date, budget, and wedding venue are the determining factors that your wedding will hold. Sort that out first before any other thing. Those are the big decisions.
Get clear on wedding day vision
With venue and date sorted, decide on your wedding style, theme, and colors. This is the very aesthetic part of wedding planning and brings color to the day.
Send out invitations and build wedding website
Make your guests aware of your upcoming nuptials by sending them invitations or save the date if you've got time. Build your website and create a wedding registry.
Hire all needed professionals
Book all vendors necessary for a successful wedding day. Stay strict to budget and plan realistically. Don't spend the money you hope to get, but the one you have.
As you make plans, things will change. Towards the wedding, you'll want new things. You'll want to add something or take off something. Make these tweaks and perfect them in earnest.
You've won. You're on the eve of your wedding. Calm down, share a bottle of wine with hubby to be, breathe and get ready to say "I do".
Planning a quick wedding isn't for the fainthearted, but if this is your position, take up the challenge. We've made the journey easier by creating a checklist that shows you how to plan a wedding in 4 months. From making the big decisions to getting down to the fine details, we've got you covered. You also have pieces of advice from real brides to keep you going as you plan. For a bonus, find in post free tips to help you plan a quick wedding.