Very rarely do we have the opportunity to write something using a pen and paper. These days we strictly use keyboards and touchpads making it easy be oblivious to the tiny etiquette of stationery like how to address save the dates. There are only a few details you need to place on your formal save the dates, but the rules on exactly how to address them are fairly hard set. We're here to show you exactly what to do, what not to do, and a few samples to set things straight.
How to Address Save the Dates
Source: swellpress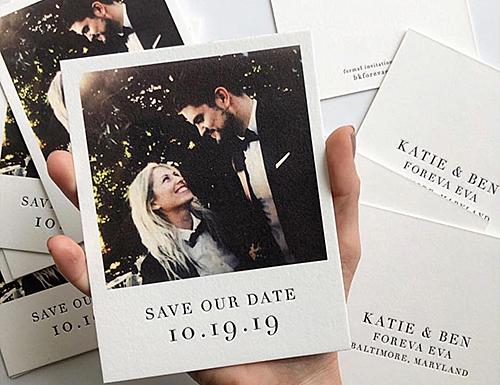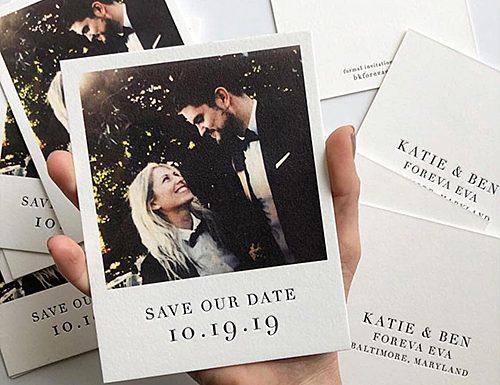 How to address save the dates to:
The formal way to address a save the date card o a single female is Ms. First name Last name.
There is no distinction between a single or married man. Address his save the date as Mr. First name Last name.
This follows traditional rules, naming them as a coupe as opposed to two individuals. Use the formal Mr. and Mrs. His name Last name.
Married Couples With Different Last Names
Sometimes you have to break from tradition. When a married woman has chosen to keep her last name. It's still appropriate to cite the husband's name first: Mr. His name Last name and Mrs. Her name Last name
Start with the father and mother, following the same format mentioned above. For children, simply add their first names. For super formal circumstances some brides can choose to add the "Master" designation for young boys.
Mr. and Mrs. His name Last name.
First name, First name, and First name

What Info To Include On Save The Date Cards
Source: nividesign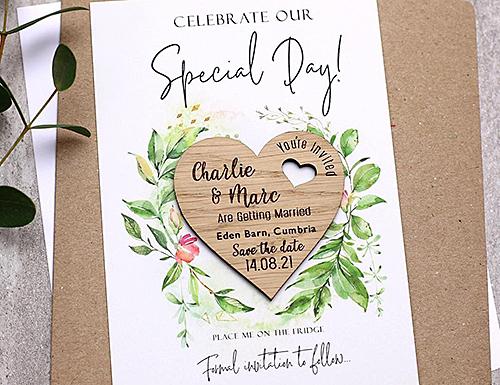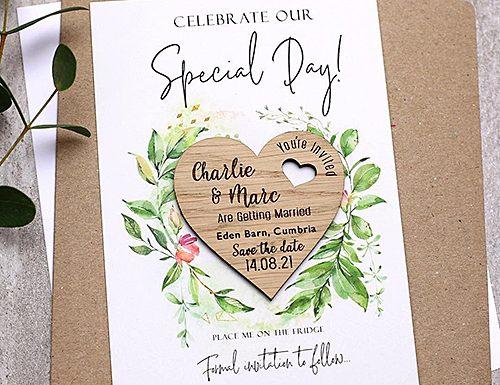 There are several essential items that you must provide in a formal save the date card. These include:
The full names of the bride and groom
A formal request to "save the date" or similar phrase
The date of the wedding
The city where the wedding will take place
Traditionally it's the groom's name whose name goes first on save the date, but modern times call for modern solutions. Unless your wedding is ultra-traditional, you probably won't offend anybody by placing the bride's name ahead of the groom's.
Depending on your style and theme, you also have the option of including a bible passage or your favorite quote. When considering this save the date example, make sure that it fits both your lifestyle and theme.
"With all humility and gentleness, with patience, bearing with one another in love, eager to maintain the unity of the Spirit in the bond of peace.": Ephesians 4:2-3

"And over all these virtues put on love, which binds them all together in perfect unity.": Colossians 3:14
[hellomybanner]
When To Send Wedding Save The Dates
Source: Kayla Coleman Photography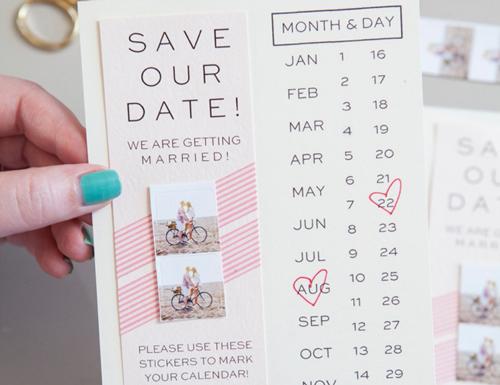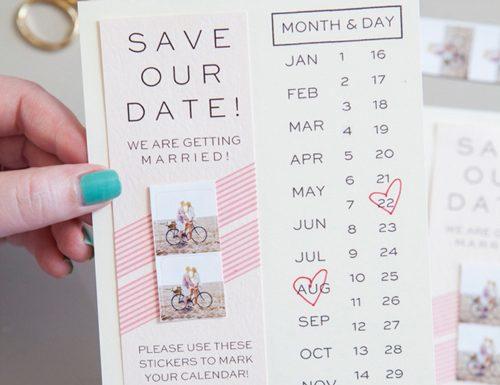 It's best save the date address etiquette to send your cards as early as possible. As long as you've chosen a date and the city where all the action will take place, you are safe to send. When sending save the dates, most experts agree that at least 6 months' notice is needed to give your guests an appropriate amount of time to plan. 8 or even 12 months is even better.
Dave and Brenda
Are Taking The Plunge
Please Join Us
June 16, 2020
Lake Marie, Florida
Should You Include A Plus One?
Source: Camdeco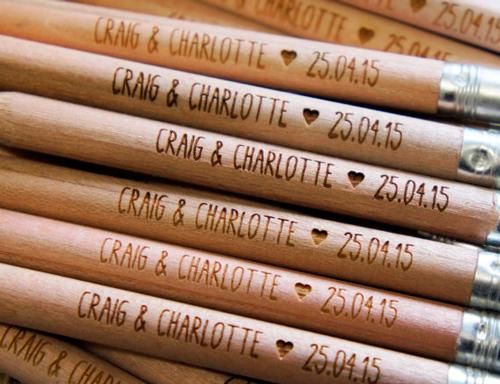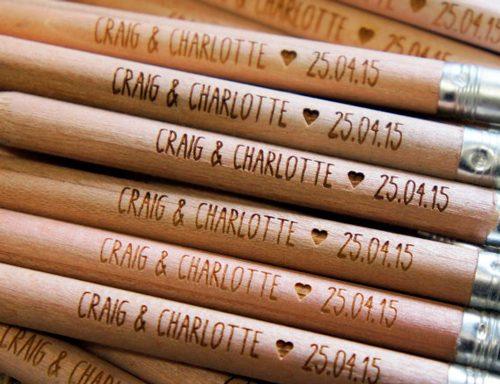 In most cases it's fine to include a +1, but you wouldn't write it that way. Rather, add "and Guest". You would do this for engaged couples, serious long term relationships, and married couples. You would also do this for the entire bridal party regardless of relationship status.
For everyone else, it completely depends on your budget.
Ms. Tania Thompson and Guest.
Mr. Langdon Ulger and Guest.
Tips on Addressing Your Save The Dates
Source: silkbeau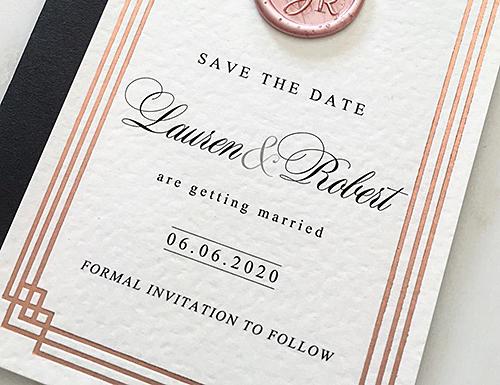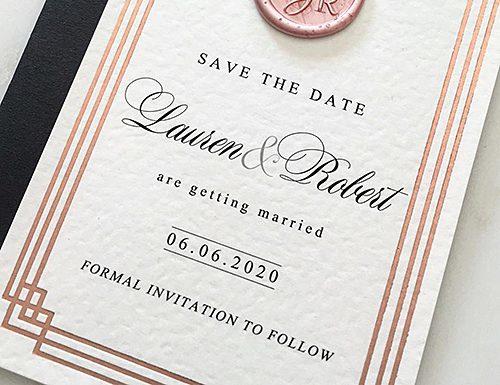 The first thing to keep in mind when determining what to write on save the dates is that these are not your wedding invitations. Wedding invitations include each and every detail your guests need to navigate your ceremony and reception. Save the dates, on the other hand, have limited information and act as a formal Heads Up so that your guests can begin making their arrangements for travel, childcare, and budgeting.
Adam and Sarah are getting married!
Please save the date
July 24, 2020
Santa Fe, New Mexico

John Smith and Jessica Lange
Will unite in Marriage
Save the Date
May 20, 2020
Chicago, Illinois
When writing the information on your envelope, make sure to write everything – such as the save the date return address – out in full. For example, instead of writing 126 1st street, you would write One Hundred and Twenty Six, First Street.
When choosing which words to use, make sure to follow your theme. Using the informal "taking the plunge" wouldn't be appropriate for a formal wedding. Just the same, a super formal save the date card wouldn't be fitting for a whimsical theme. Use the same logic for your save the date designs and how to address save the date envelopes. When in doubt, go with mostly formal options. Follow this advice, and you'll be just fine!
Main photo: Jessica Olivero Photography