Weddings are beautiful, romantic, and fun but the presence of a wedding arch gives that extra touch. A wedding ceremony archway creates a stunning backdrop that blends with the decor of the day. Couples love it more because in front of the arches do many memorable things take place, plus its significance.
Various arches include the floral wedding arch, rustic wedding arches, romantic wedding arches with lights and more. They're made out of different materials, and if you want to DIY wedding arch, follow us down this post.
Floral Wedding Arch Ideas
1. Succulents wedding arch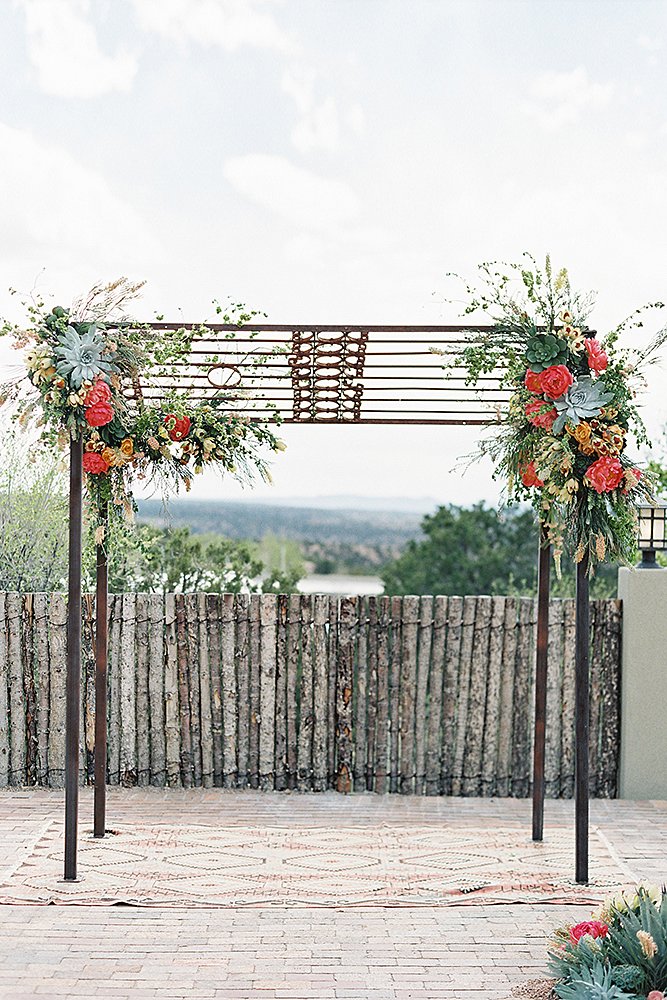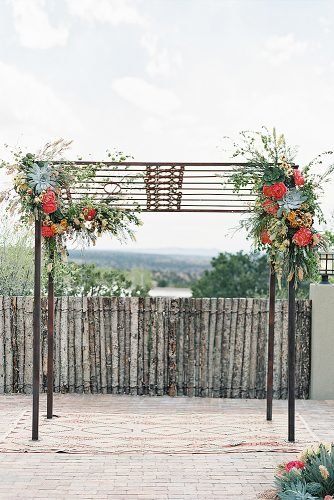 This is a floral wedding with a skeleton made out of Moroccan iron gate. The floor of this gate features a breathtaking and colorful kilim rug. The body is further adorned with an arrangement of succulents, Protea, blush grevillea, and peonies. Together this forms a gorgeous archway perfect for both indoor and outdoor wedding ceremonies.
2. Floral wedding chuppah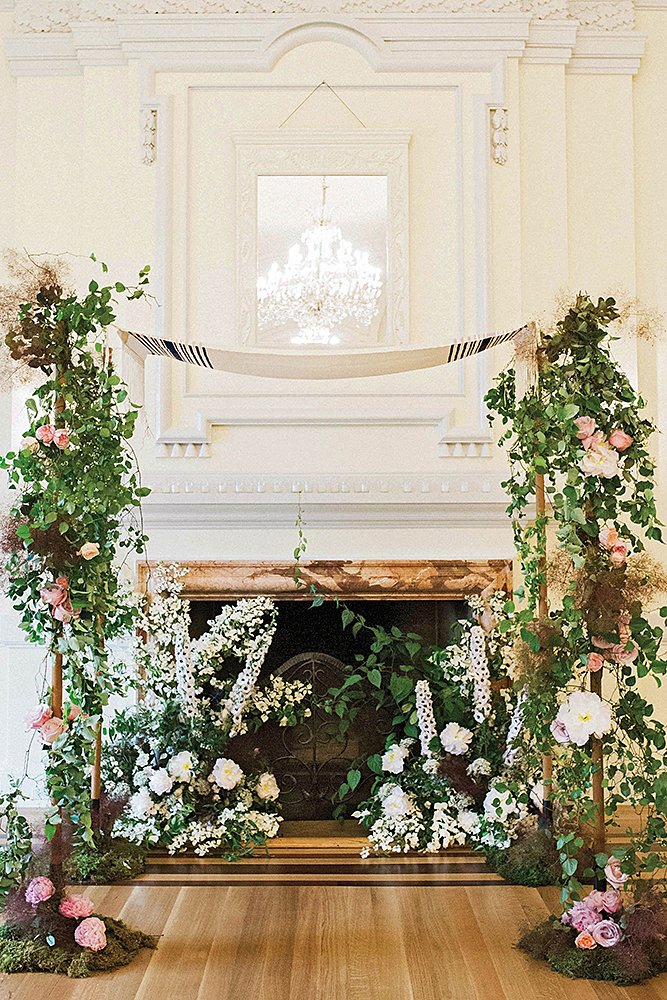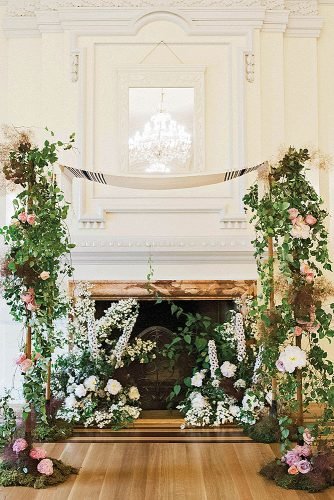 Traditional in every sense, this one of the wedding arch ideas that gives an outdoor vibe to the indoors. Signifying protection, new life, and bliss, the arch is the perfect way to have an outdoor wedding style indoors. It boasts a host of greenery peonies and garden roses. The look is well completed with a traditional tallit for more effect. Floral wedding chuppah is a timeless one that comes from way back.
3. Beach wedding arch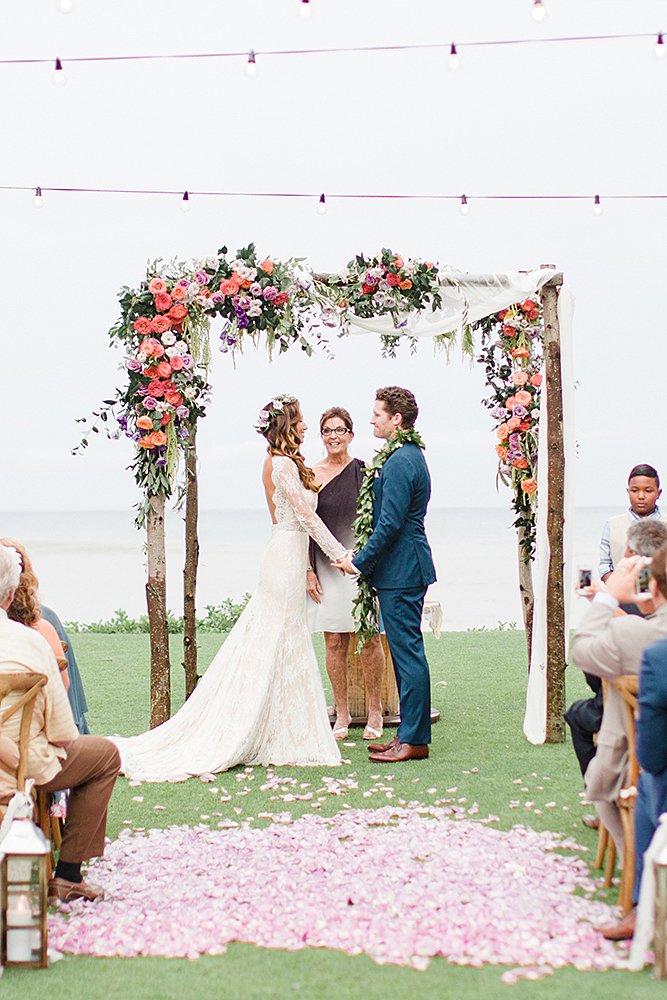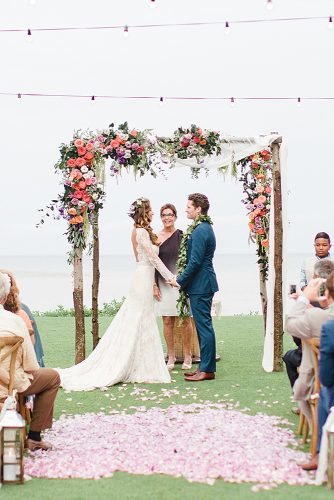 Perfect for a beach or destination wedding, this wedding archway is a classic and gorgeous one. The materials include eucalyptus, roses, passion vines, olive branches, lisianthus, and veronicas. These blooms merge to give a color yet natural tone. A powerful floral combination, it stays subtle while giving off vibes of relaxation and romance in the atmosphere.
Chic Simple Wedding Arches
1. Seashore arch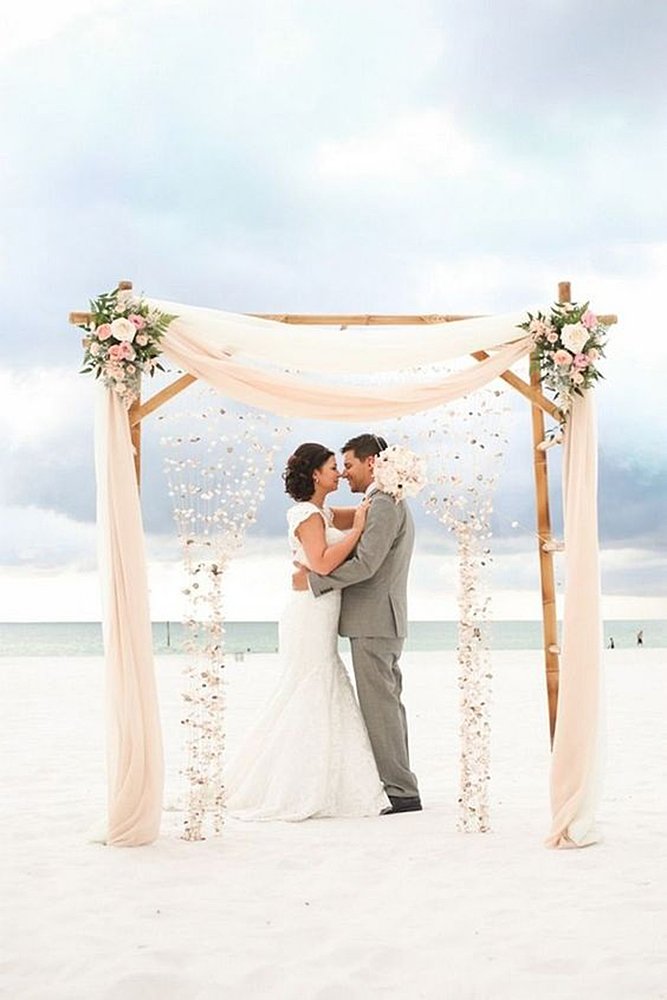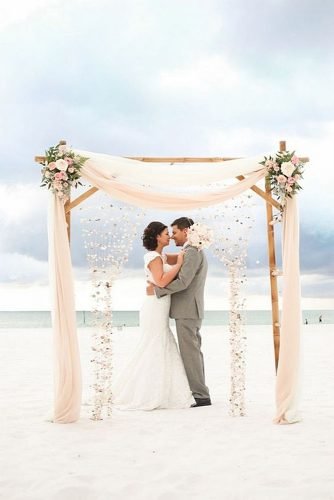 This simple wedding arch is perfect for the beach. It has a skeleton of bamboo made into ladders on both sides, to create an archway. A gauzy fabric drapes over the archway to complement the incoming flowers. It's then covered with subtle flowers, seashells, and greenery to accentuate the natural unique elements. Simple and not too forceful, it's one of the most inspiring outdoor wedding arches.
2. Whimsical arch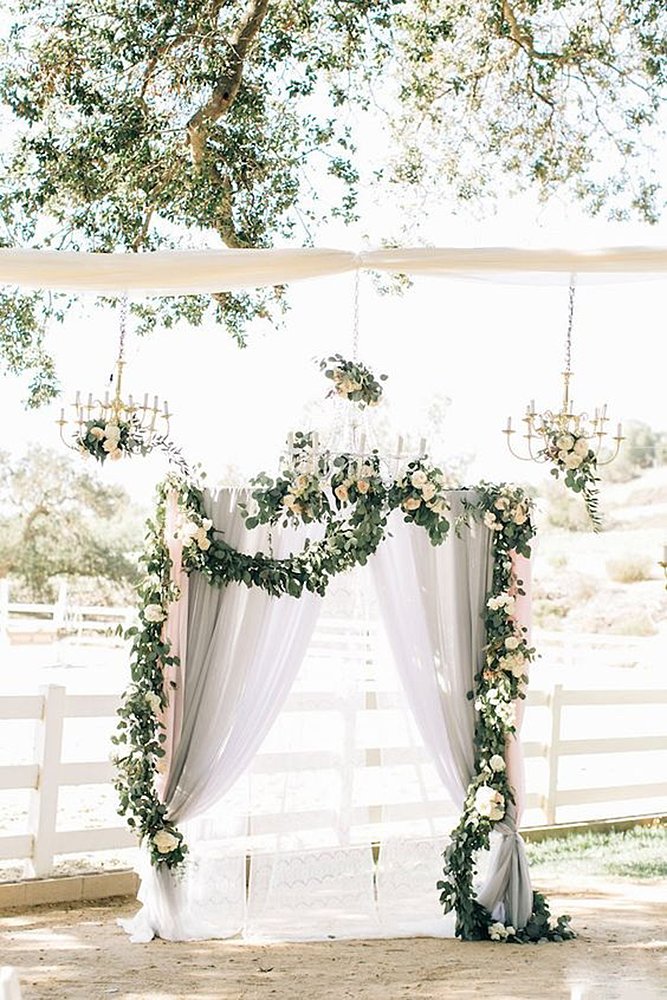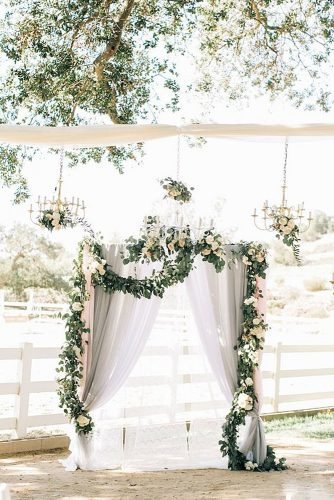 A whimsical arch is simple and gives off the "not so put together" vibe. This is what makes it endearing too many, especially adventurous couples. The arch is well covered in drapes to give a window backdrop. Then, silver eucalyptus flowers are carefully wrapped around the arch to give a whimsical outlook. To move attention upwards, there's a fix of chandeliers and metallic accents.
3. Old vineyard arch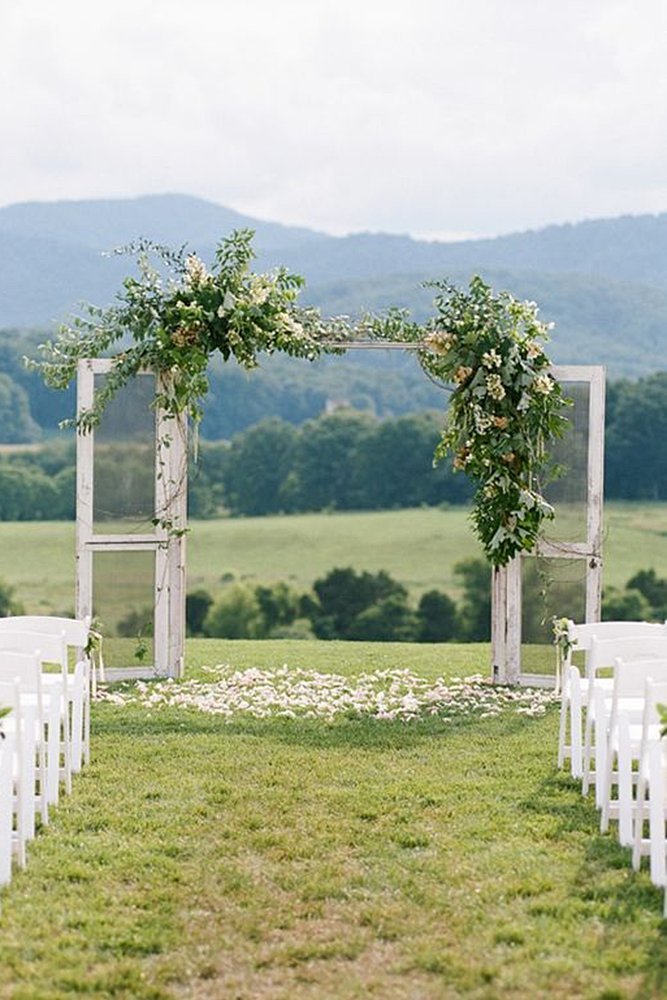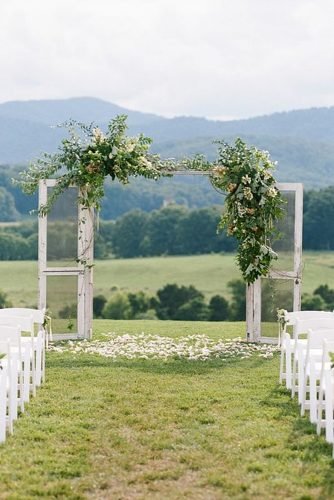 A frame made from old architecture and furniture to give a sturdy skeleton. It sets a handmade stage beneath where there's a sprinkle of petals. Above the archway is the sparse presence of flowers and greenery which highlights a more creative frame. Fixed in the scenic outdoors, it creates a stunning background for a wedding ceremony.
Rustic Wedding Arches
1. The blooming wreaths arch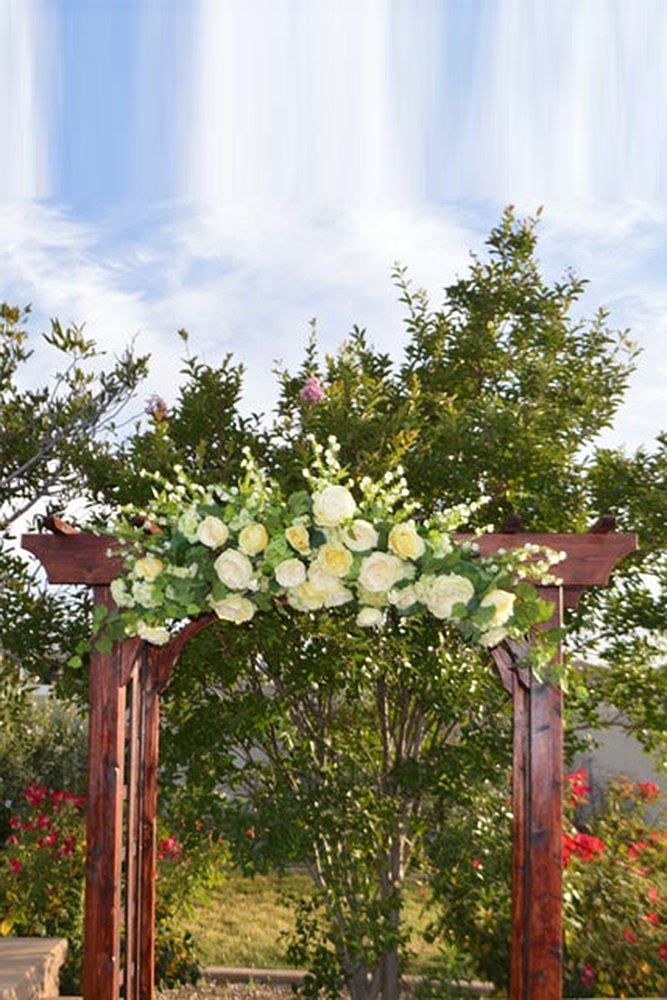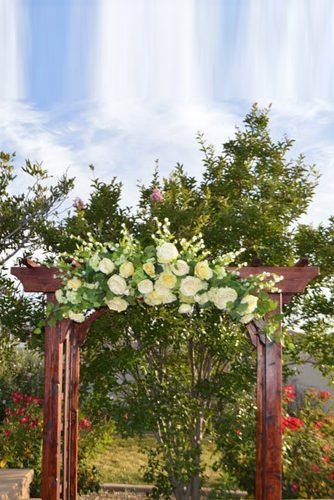 This is a rustic wedding arch for the couple who are pro-nature having a garden-inspired wedding. With a polished wood frame, there's a parade of ranunculus, greenery, roses, and wildflowers. It's predominantly off white, with touches of yellow roses, and a garnish of pompoms and green hydrangeas. This offers the arch as a stunning backdrop. This arch also doubles as a decorative one. Perfect for the top of a mirror, doorway, headboard or head table.
2. Relaxed natural arch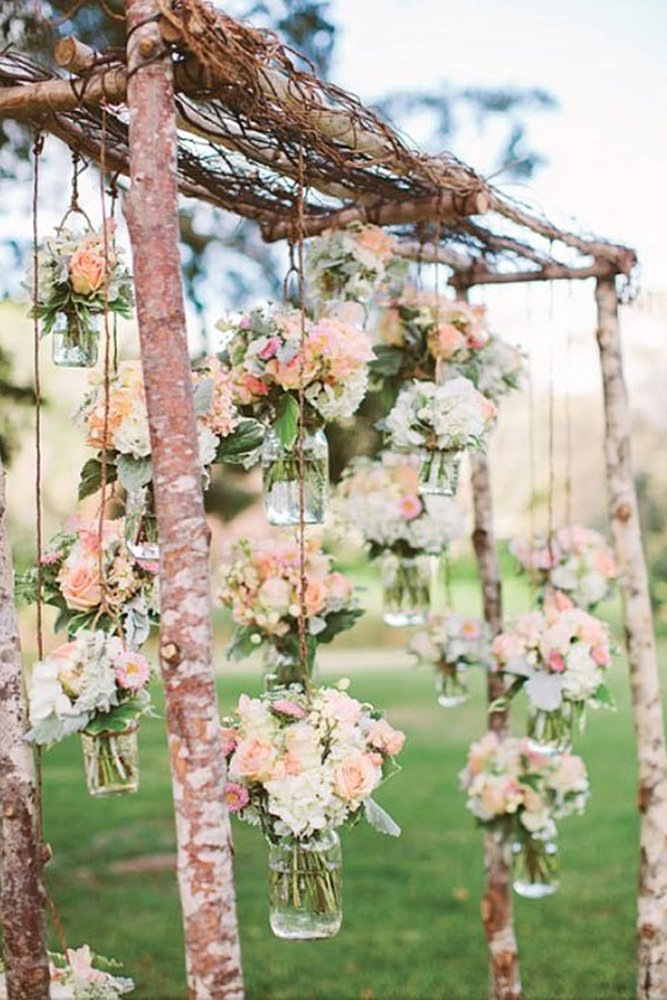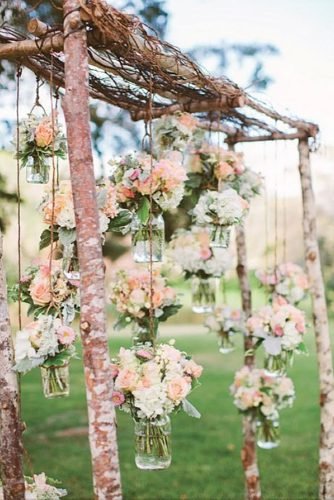 Perfect for backyard weddings, this is a rustic wooden wedding arbor adorned with hanging mason jars. All in muted tones, there's an addition of earthly eucalyptus to give the arch some lift. To cap it off, a blend of burgundy, light peach and greenery drip mix of flowers for a romantic look.
3. Effortlessly bohemian arch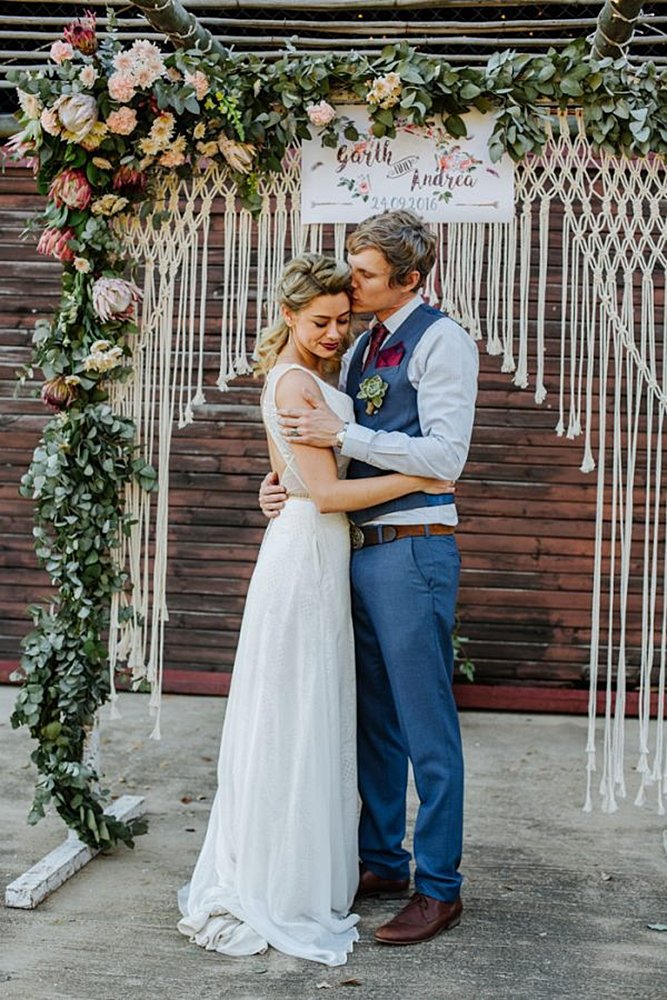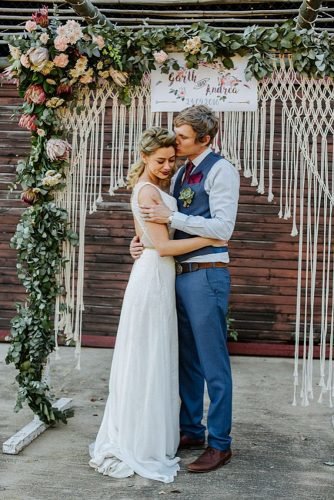 For the bohemian couple, this is an ideal outdoor wedding arch. A geometric teepee is quite embellished with wispy and macramé arrangements. This helps create a chic and minimal look. Top with metals, bright florals, and ribbon for a more modern vibe.
White Wedding Arch Photos
1. White wedding arch with light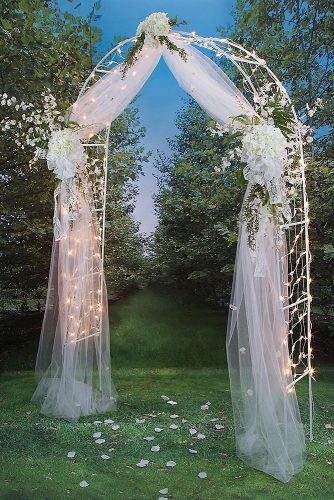 Evening garden-inspired white wedding arch, it's chic, minimal and modern. It's made out of white tulle, a vast array of off-white flowers which are predominantly white roses. There's a sprinkle of white petals beneath to make a handmade stage. The tulle features net lights clinging to succulents. This merges with earth tones and the starry sky.
2. White wedding arch with chandelier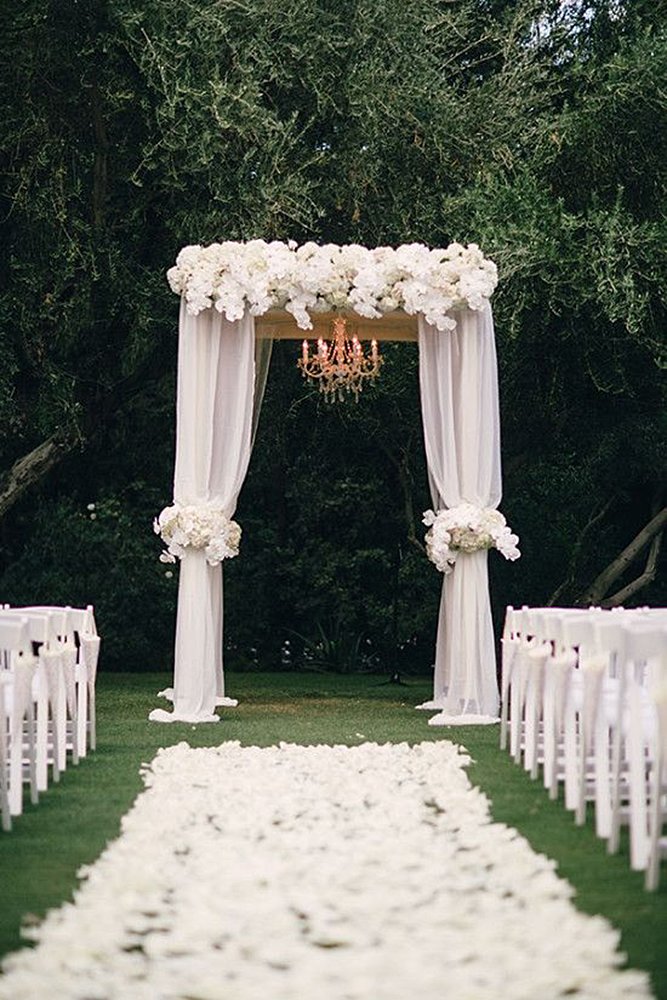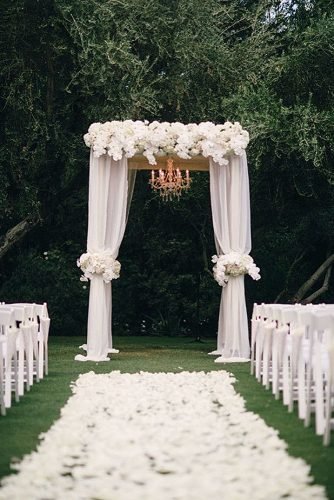 With a skeleton of metal rods, there is a drape of tulle on the arch. This tulle is well split into two to give a curtain doorway illusion. The curtains come together in bundles held to each frame by a wreath of white floral accents. The head of the archway features a collection of white roses and a dropping chandelier. This wedding arch is simple, romantic and fit for a backyard wedding.
3. Meshed white wedding arch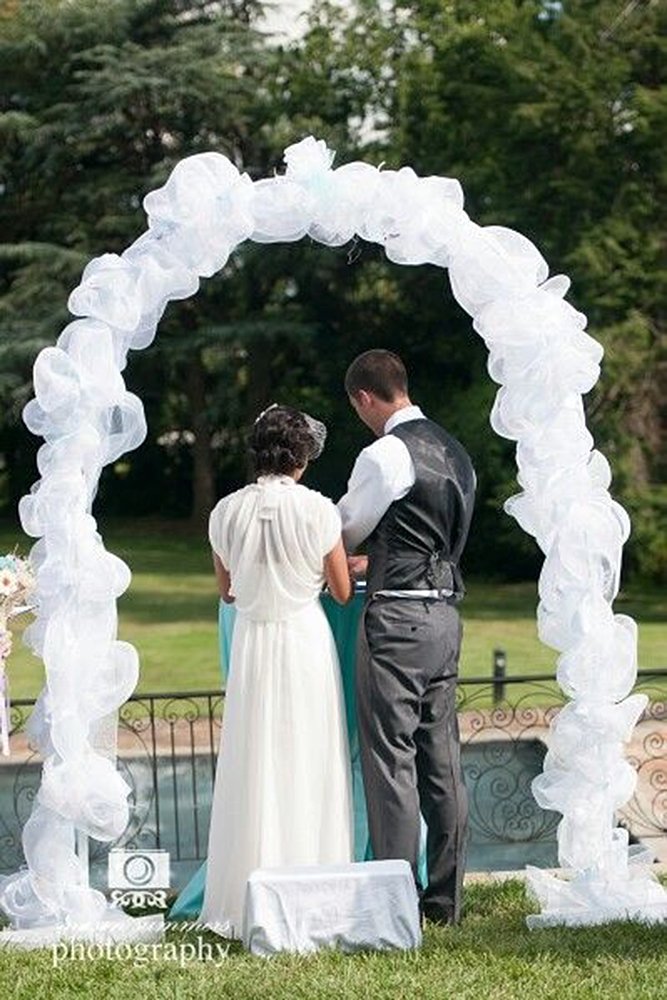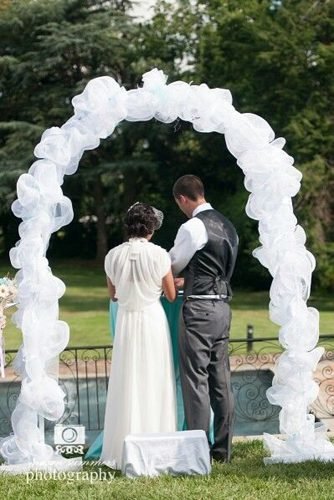 This is a white wedding arch made out of metal frames. It has endless yards of white mesh draped all over it. This semicircular arch is simple, modern and minimalistic. It's perfect for a wedding in the park. One of the best ways to add sparkle to nature.
Romantic Wedding Arches With Lights
1. Fairly light wedding arch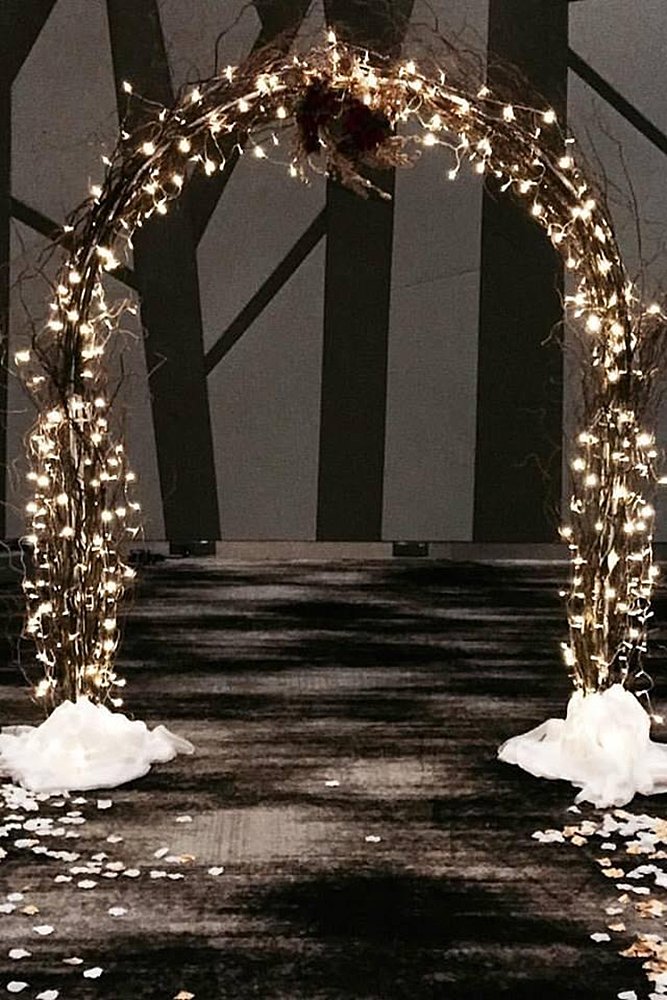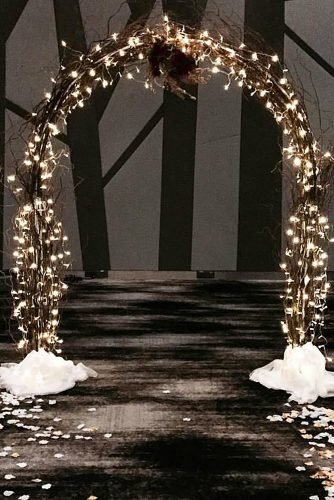 This wedding arch with lights is pure romance for the wanderlust couple. Metal rod frame strung with wild willow vines and embellished with fairy lights. This gives a lone forest path vibe. Ideal for rustic and outdoor weddings, it's timeless, natural and mystical. Very simple and easy to create.
2. Victorian themed wedding arch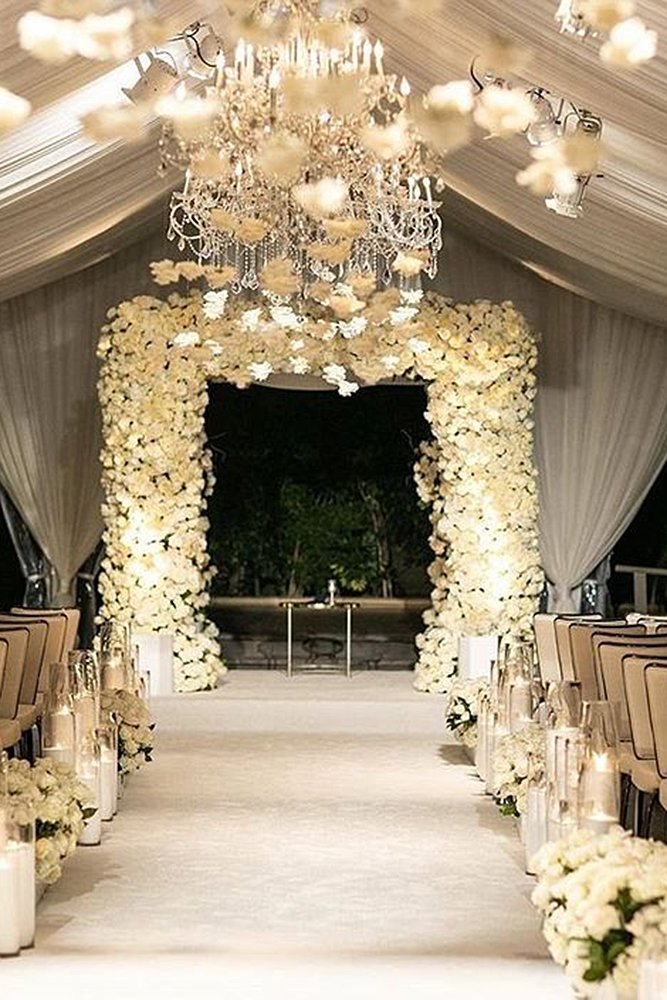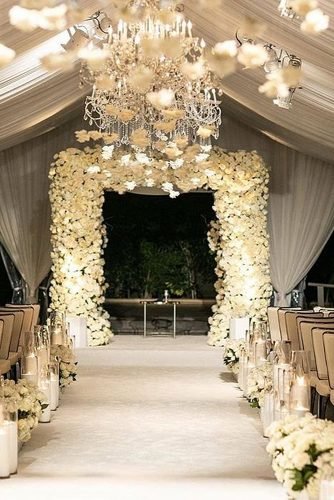 Toying with the idea of an indoor Victoria themed wedding? This arch is dreamy, drop-dead gorgeous, and trendy. This is the typical old-world blends with the new school. Made from white flowers around the frame. For the perfect finish, torches are set at each foot of the arch. Above, there's a chandelier of tiny lights hanging.
3. Lush white floral arch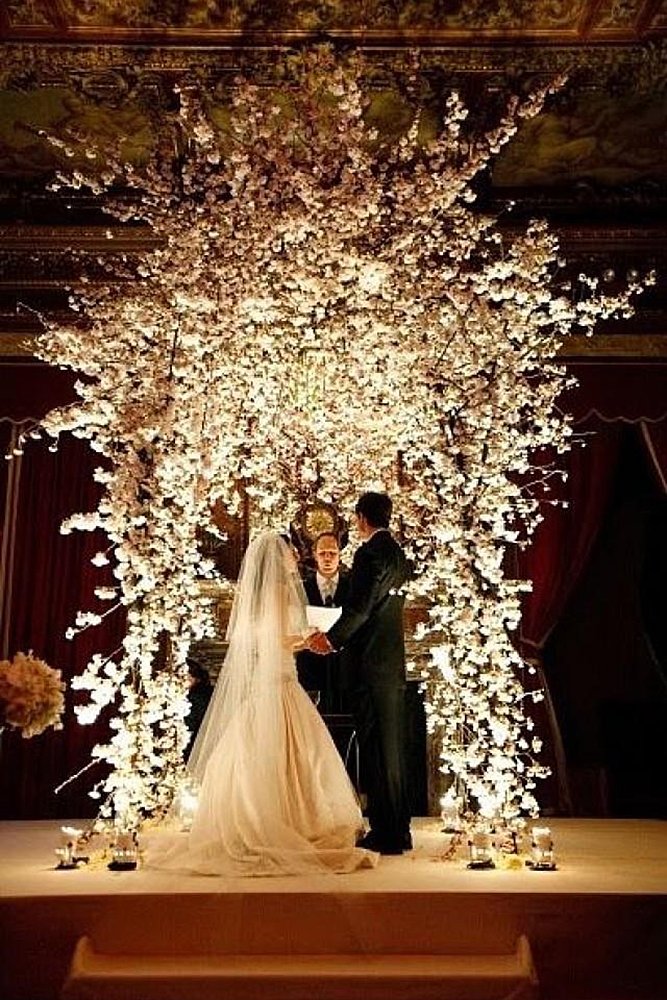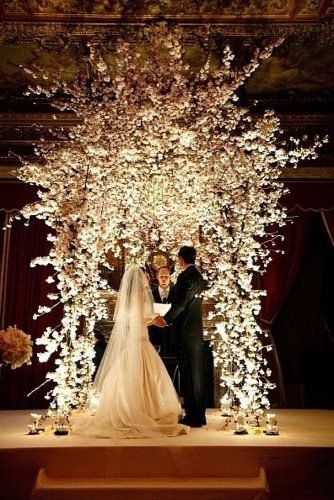 For the couple who wants to create a winter wonderland themed wedding, check this out. A very high arrangement of white floral at the head of the arch. They include Madonna lilies, tulips, roses, hydrangeas, and gerbera daisy. This mound thins as it runs down the frame of the arch. Then there are string lights weaved within and lighted candles at the feet of the arch.
Stylish Square Wedding Arch
1. Natural square floral arch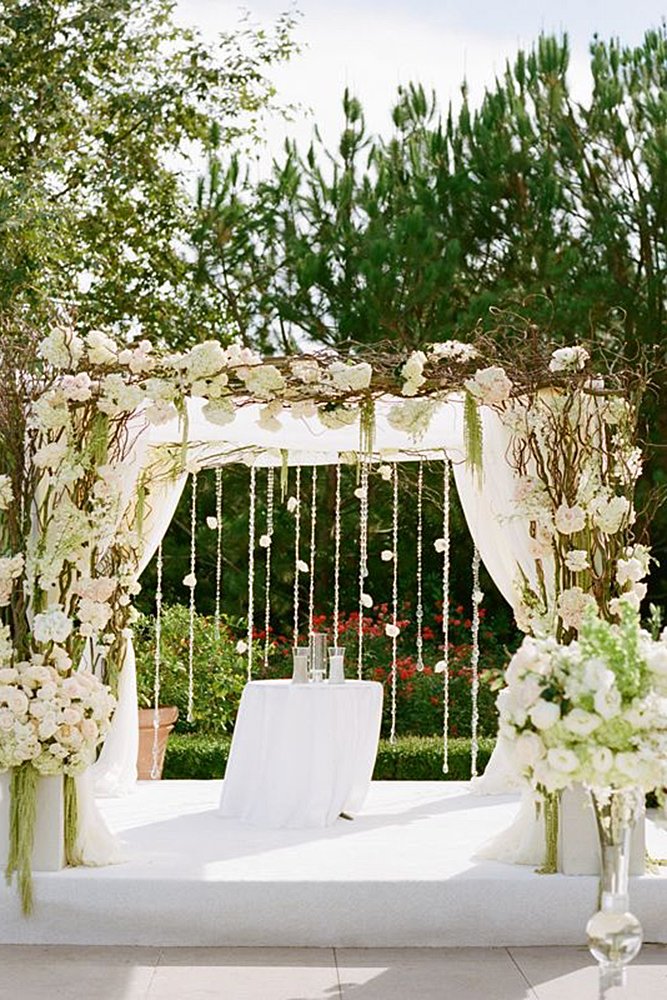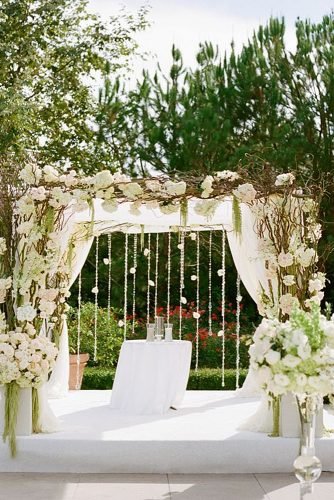 This square wedding arch is a natural theme that has white tulle draped over it. Other materials include wild willow vines, roses, other succulents, and hanging white flowers. They are perfect for both outdoor and indoor weddings. It brings with it a romantic vibe.
2. Suspended chuppah wedding archway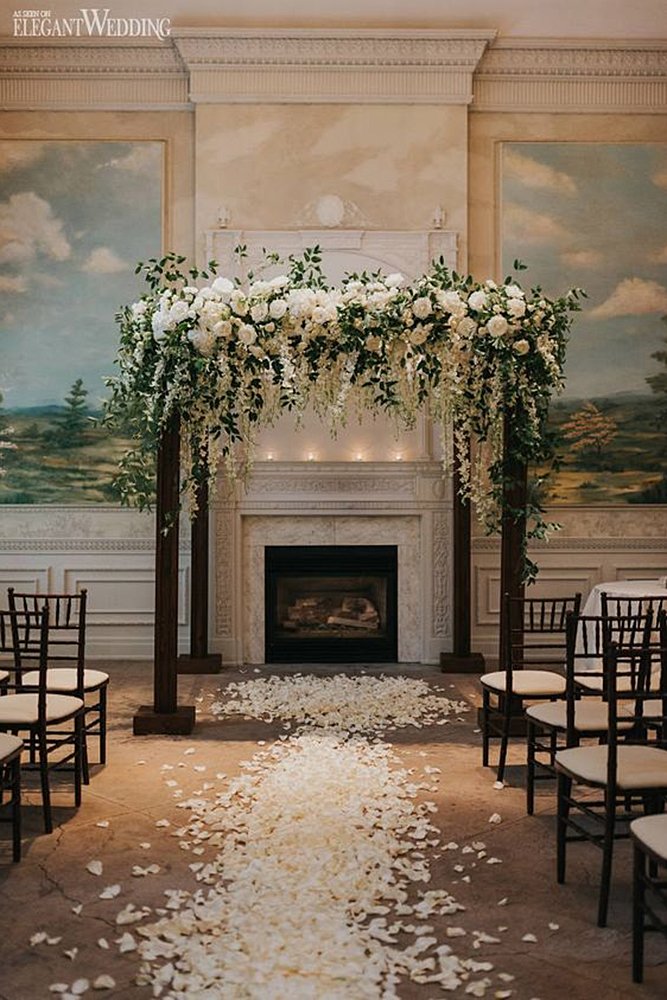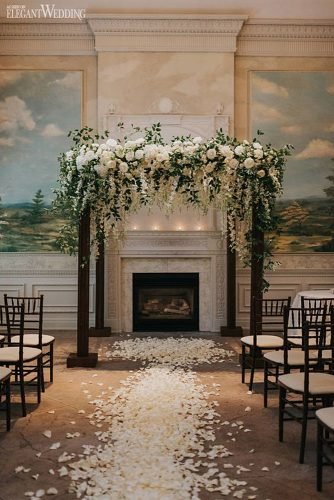 For a vintage themed wedding, this suspended chuppah arch is perfect. Go antique and classic with luscious asymmetrical florals. This includes roses, stock, Ruscus, and hanging amaranthus. This turns it into a stunning backdrop that merges with nature to give a perfect finish.
3. Dreamy Disney fairytale arch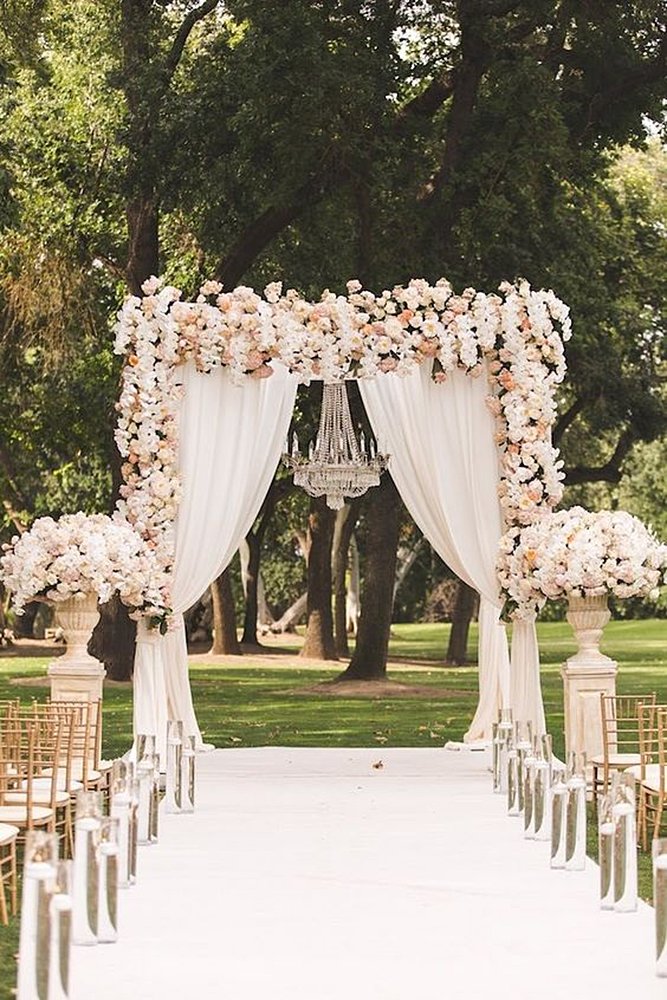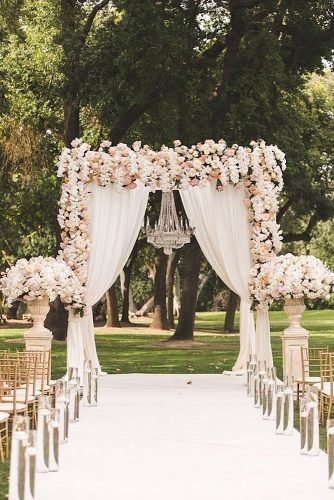 This is a square arch draped with chiffon. This chiffon splits into to and held at each side to give a doorway illusion. It is then adorned from top to bottom with white and pink roses. Overhead and between this doorways formed is a hanging chandelier. This makes it look like you're walking into paradise. A fairytale that never ends.
Natural Wooden Wedding Arbor
1. Driftwood heart wedding arch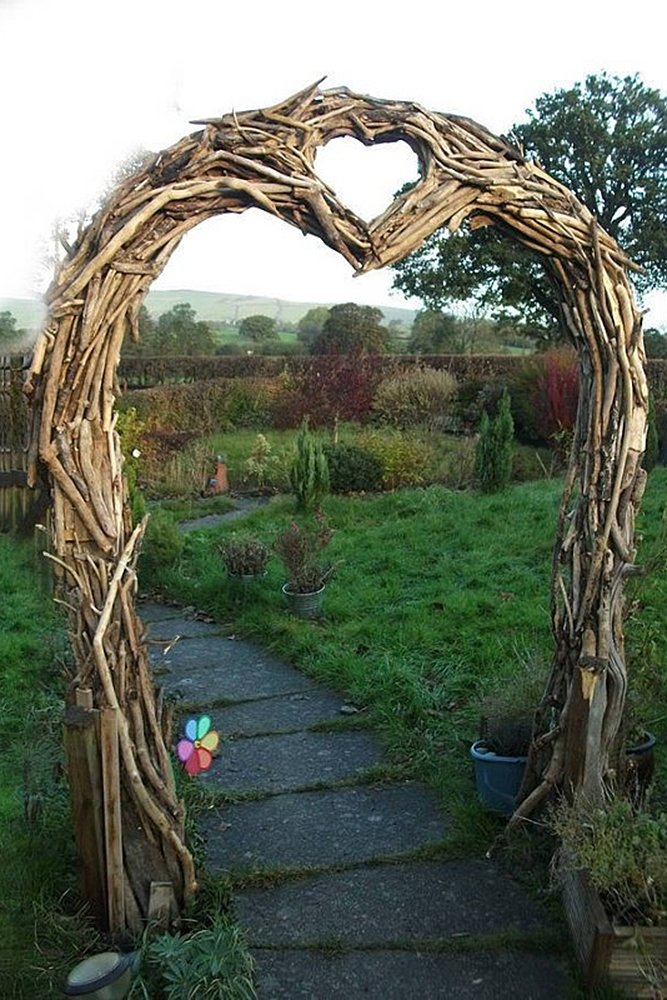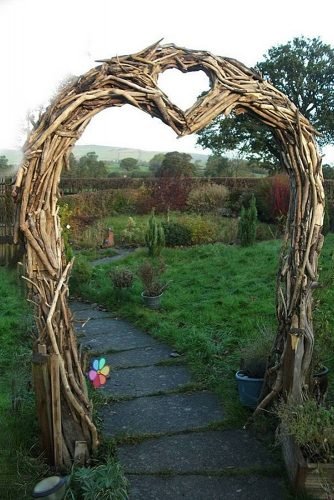 The driftwood heart wedding arch is perfect for beach and garden weddings. For a whimsical feel, you can also bring it indoors. The driftwood is sun-kissed and seasoned by the sea. It's naturally stunning fits just right into any ambiance, without extra decor. But if you must decorate, make use of cascading flowers. Put them in your garden after the wedding
2. Whitewashed wooden wedding arch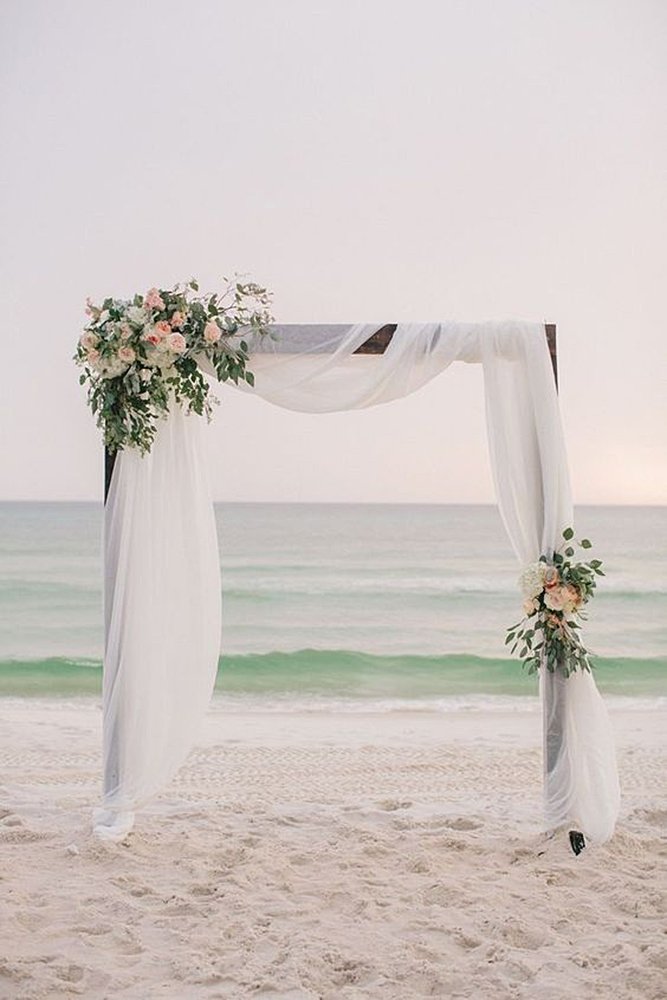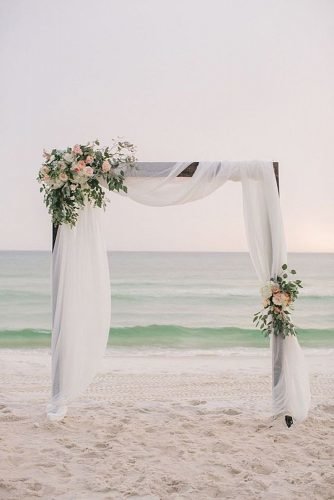 This is a wooden wedding arch with vintage inspiration. It is great for the ballroom, church, beach and backyard weddings. Draped on it is chiffon fabric that sways to the breeze. On either ends or angles are blooms comprising roses and peonies in a wreath of dollar eucalyptus.
3. Rustic wooden wedding arch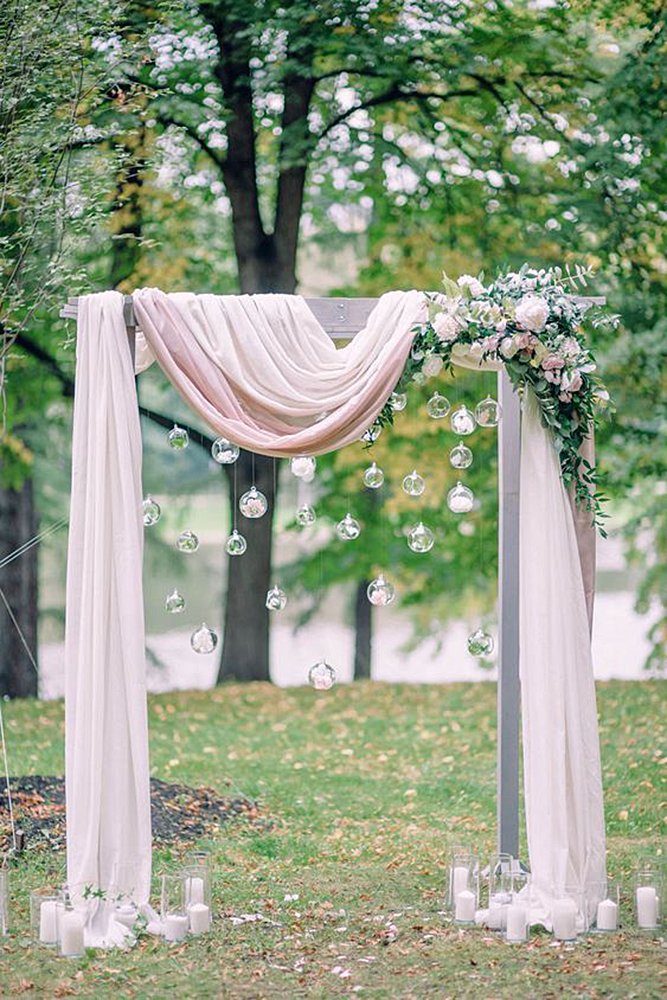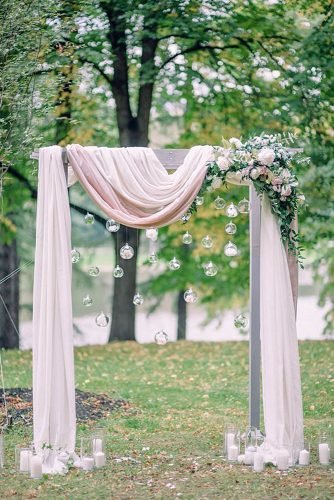 This is a square wooden wedding arch draped with pink textile. To the other side at the angle is a collection of flowers, white hints of white and peach roses. This arch is perfect for rustic weddings. And after the wedding, you can reuse the flowers by putting them in a vase.
Outdoor Wedding Arches Ideas
1. Whitewashed door with lavender wreath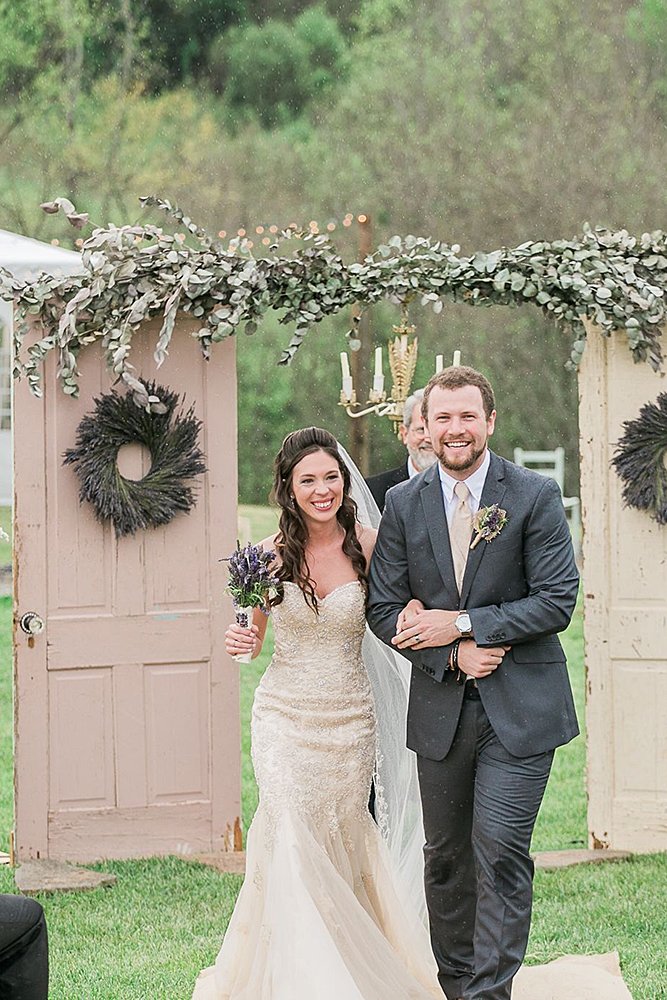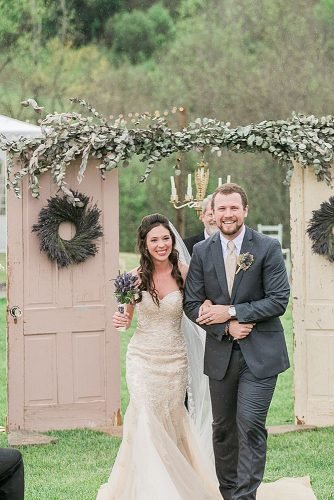 This is a vintage-inspired outdoor wedding arch idea. A whitewashed door with lavender wreath stuck to it, with flowers handing overhead. Flowers such as baby's breath, lavender, and eucalyptus. On the far end of the wreath is a suspended chandelier of lighted candles. This ideal for barn weddings.
2. Boho outdoor wedding arch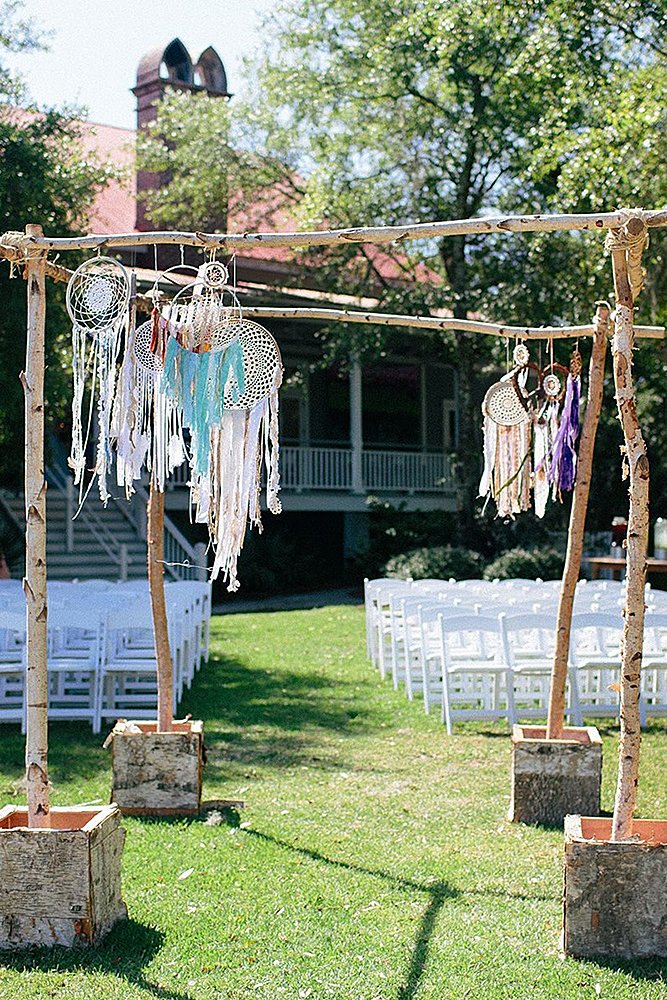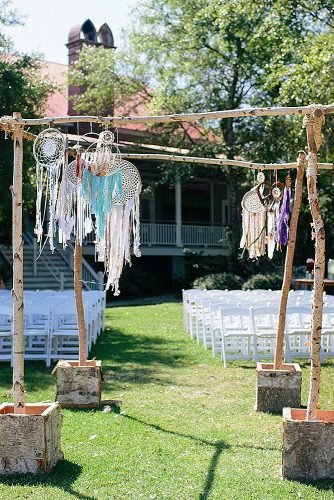 This is for outdoor bohemian themed weddings. Perfect for the garden or backyard, this is a simple and chic wedding arch. It's adorned with dream catchers attached to ribbons. This contrasts with the natural environment switching between calmness and energy.
3. Decorated Birchwood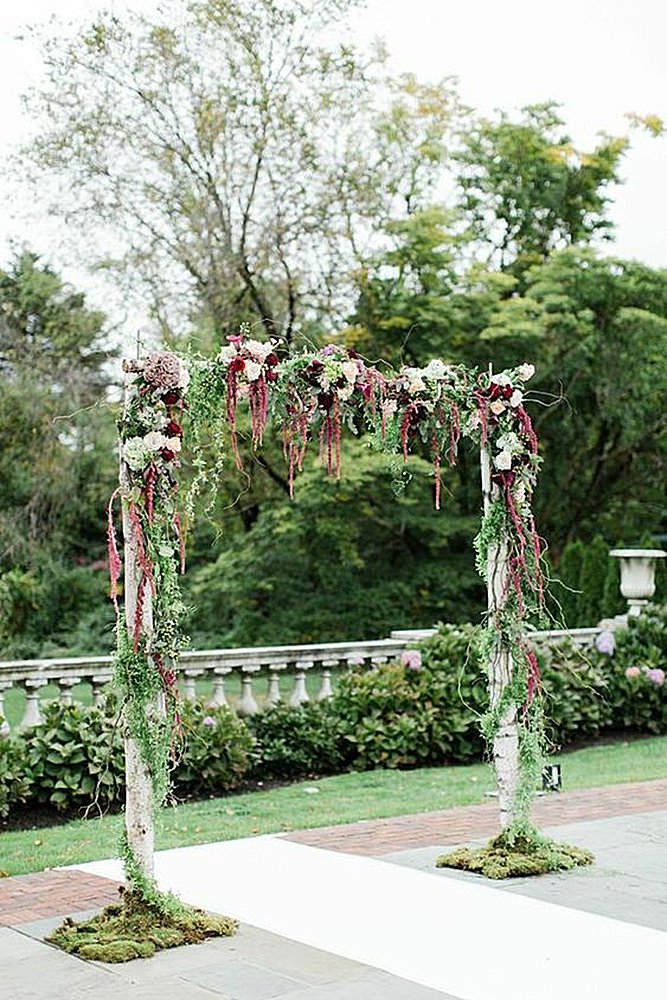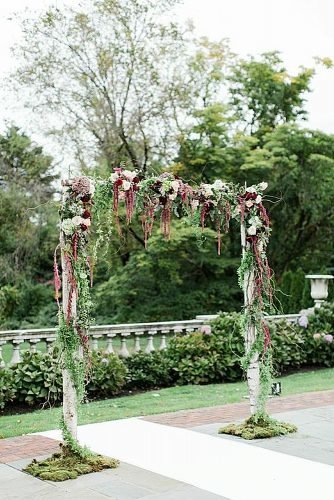 This is a wedding arbor that gives off a mystical feeling. Wedding arch decoration ideas here goes all around it in the form of sleepers. It's draped in moss all over and then wrapped in vines. This Birchwood wedding arch is perfect for an art deco themed wedding in the outdoors. When the wedding is over, it can blend with nature in the garden.
DIY Wedding Arch
A wedding arch is one of the most important things to plan for during wedding preparation. It's always an iconic sight given the materials they originate from. Vines, fabrics, wood, wrought iron, and flowers. Under this, you'll stand and say vows, and also use as a backdrop for stunning pictures.
To give it some of your personality, you'd definitely want to DIY. But before you start your new with DIY wedding arch ideas, there are few things to consider.
Budget: If your budget allows it, your arch can be extravagant. And if not, there are other fabulous options that don't break the bank.
Wedding location: Estimate the space available for an arch at your venue. Also, look out for positioning. Will it be at the front, middle, or placed for all to see? Also, the design of your arch must not compete with the venue. It should complement it instead.
Arch duty: If you're having the ceremony and reception in on venue, design the arch to play double duty. First for the exchange of vows. And after that, it will work for a stunning backdrop in pictures for you and guests.
Theme, flowers, and colors: Your arch is the centerpiece of the wedding. So, you must incorporate your wedding colors, flowers and theme into it.
Weather: If your venue is a windy one, do without fabric laden arches. Go for vines and flowers instead. Else, you'd spend the wedding sailing in yards of chiffon.
How To Make a Wedding Arch
The wedding arch is a functional and ornamental item. The work as entry and exit points for couples at weddings, and photo booths. They can also be quite used to surround gifts tables and other creative innovations you can think of.
While it's easier to just buy one, learning how to make a wedding arch is even more fun and rewarding.
Cut 4 posts, each should be 80 inches long. They will serve as the legs of your arch.
Cut out shorter pieces of 48 inches, with opposing angles of 45 degrees on either side. Cut another post of 24 inches with straight angles on either side. And then another post of 12 inches with opposing angles of 45 degrees on either side.
Scrape off sticky materials, sap or dust with a putty knife.
Use manual sandpaper or an electric sander to sand the wood. It removes the bumps and brings about smoothness.
Mark two inches at each end of the 48 inches post with a pencil.
Assemble the overhead frame using the 24 inches wood. Let each end of the wood touch the 2inches marks on both sides of the 48 inches wood. Secure this by drilling in wooden nails. This forms the top of the arch.
Pick the 80 inches posts and fix the legs to each corner of the top frame. Secure them with wooden screws.
Now, add the diagonal 12-inch pieces under each side of the top frame and secure with screws.
Choose your decorations, fabrics, flowers, vines, etc. They must match the wedding colors.
Drape the fabrics over or twist them along the arch.
Fix in flowers with staple gum or a hot glue gun. If there are other decorative materials, spread them out evenly. Leave no gaps, unless it's deliberate.
DIY Wedding Arch Decoration Ideas
Wedding arch decorations are mostly in wooden or wrought iron frames. They get transformed into a stunning sight with flowers and greenery. There is a growing trend which is to incorporate fabrics, lights, jars, bamboos, etc. With everything we've compiled so far, we have decoration tips for you, should you choose to DIY them.
Fabric: To accent the shape of arches, infuse fabrics. The most sought after choices include organza, chiffon, and tulle. And their thickness is in that order.
Flowers: Match arch flowers with those on the wedding bouquet. It's best to hydrate these flowers 24hrs before the wedding and fix them in an hour before the start. Roses are the most popular choices. But if there is no time to hydrate, use flowers that can do well pit of water. Two of them include carnations and protea.
Inclusive accents: Accents are the rave today. Popular for beach and tropical weddings are the seashells. String lights, fairy lights, and candles in mason jars are not left out. There's also the dream catchers, chandeliers and other metal accents. It's all about creativity, let it guide you.
The wedding arch is one of the most appreciated and photographed parts of the ceremony. It brings with it some levels of elegance and romance. They come in various styles and shapes to fit different wedding themes. Made from materials such as vines, wood, fabrics, and flowers, they are easy to DIY. You'll find some styles of wedding arches, DIY tips, and inspiration.