Bachelorette scavenger hunt is one of the hottest new trends for bachelorette parties. As it is both affordable and easy to plan, it's a fun activity for a girls night out. One of the best things about a scavenger hunt is that you can adapt it to almost every theme. They are also not as corny as some traditional games that have been played at bridal showers or bachelorette parties over the years. A scavenger hunt is not only one of the most popular bachelorette party games ideas, but it is also the most creative. But how does one go about preparing for a scavenger hunt for a bachelorette party?
The following article will give you some suggestions on the different types and themes.
How To Make A Bachelorette Scavenger Hunt
If you are wondering how to make a bachelorette scavenger hunt, you have come to the right place! We have some fun ideas for scavenger hunts. One of the first things you need to keep in mind that the party is for the bride, so you need to tailor the hunt to her tastes. Make it something she will not only enjoy but remember forever! This her last hurrah as a single woman with her closest girlfriends so you want to make it an event to remember!
Printable Bachelorette Scavenger Hunt – List Style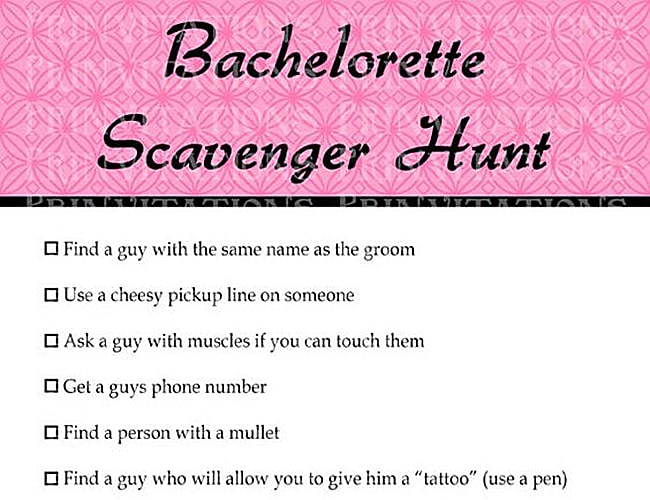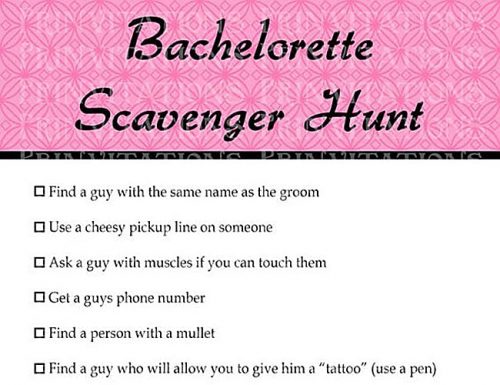 The scavenger hunt must be tailored to the bride's personality. Does she have a wild side? Would a dirty scavenger hunt be acceptable? Or is she more on the refined side and needs something clean and dignified? Make sure to respect the bride's tastes when you are planning the scavenger hunt.
Use this link for printable bachelorette scavenger hunt list
For a naughty list, you can use the list below or search for others online. Or if you know the bride really well, and have a dirty mind, you should have no problem coming up with your own naughty scavenger hunt ideas.
Free Bachelorette Scavenger Hunt – Icon Style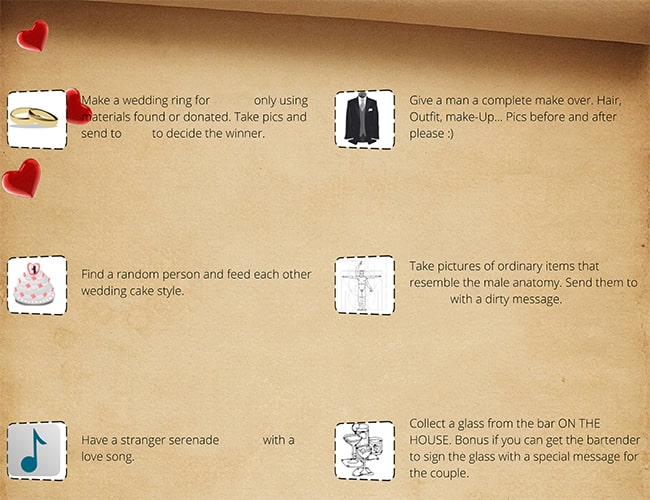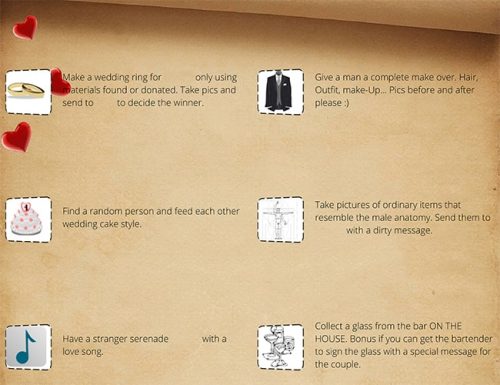 Bachelorette parties can be costly, so you probably don't want to spend a lot of games. Most of your money will probably go to party favors, food, and of course, adult beverages!
If you are in need of some free bachelorette scavenger hunt ideas, there is a plethora of information available online. An icon style scavenger hunt is free and a great way for the guests to show off how much they know about the bride.
Click here to download the free printable template
It is a fun way to engage all the guests, and amuse the bride-to-be, as well!
Bachelorette Photo Scavenger Hunt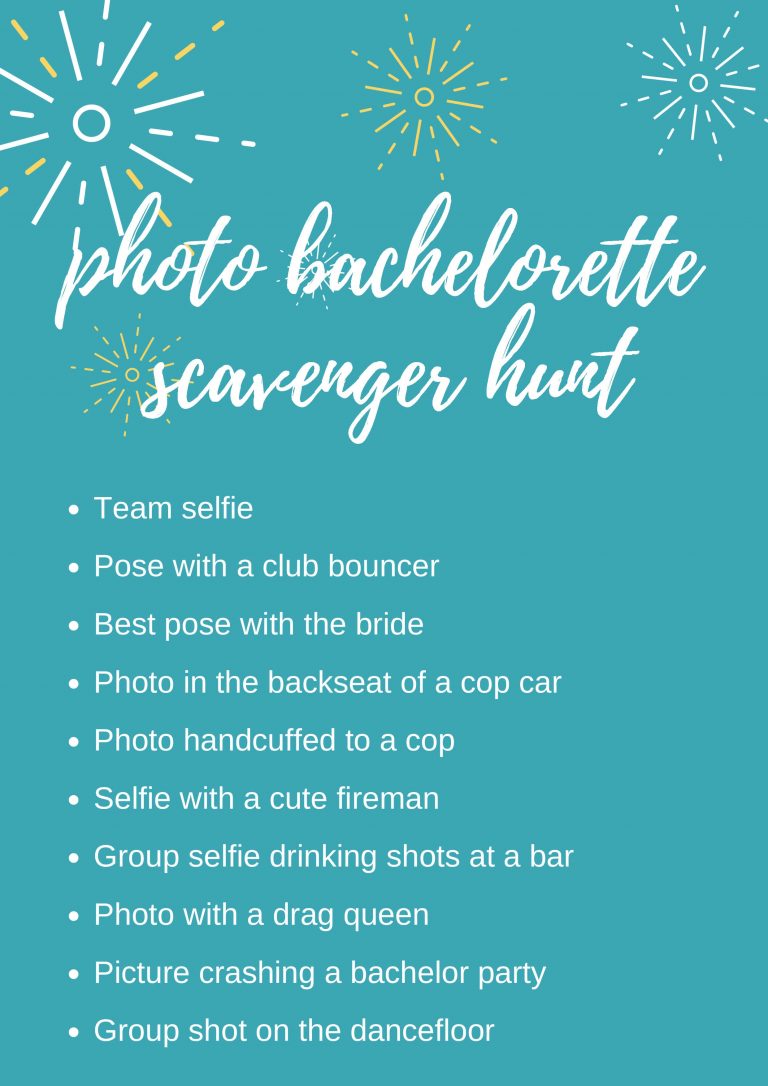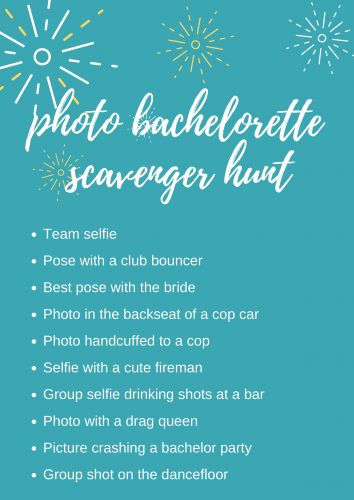 What about a funny bachelorette scavenger hunt? A photo scavenger hunt will get everyone laughing. You can divide everyone up into teams of 2 to 4 and send them off with a list of photos they must take. All this requires is for at least one person to have a mobile phone with a camera.
This idea is especially fun if you are in a city or small town. As well, you can make this scavenger hunt a pub-crawl event where the list includes fun photoshoots at each location.
Here are some fun photo bachelorette scavenger hunt ideas:
Team selfie
Pose with a club bouncer
Best pose with the bride
Photo in the backseat of a cop car
Photo handcuffed to a cop
Selfie with a cute fireman
Group selfie drinking shots at a bar
Photo with a drag queen
Picture crashing a bachelor party
Group shot on the dancefloor
Here is another fun photo scavenger hunt
Bachelorette Bar Scavenger Hunt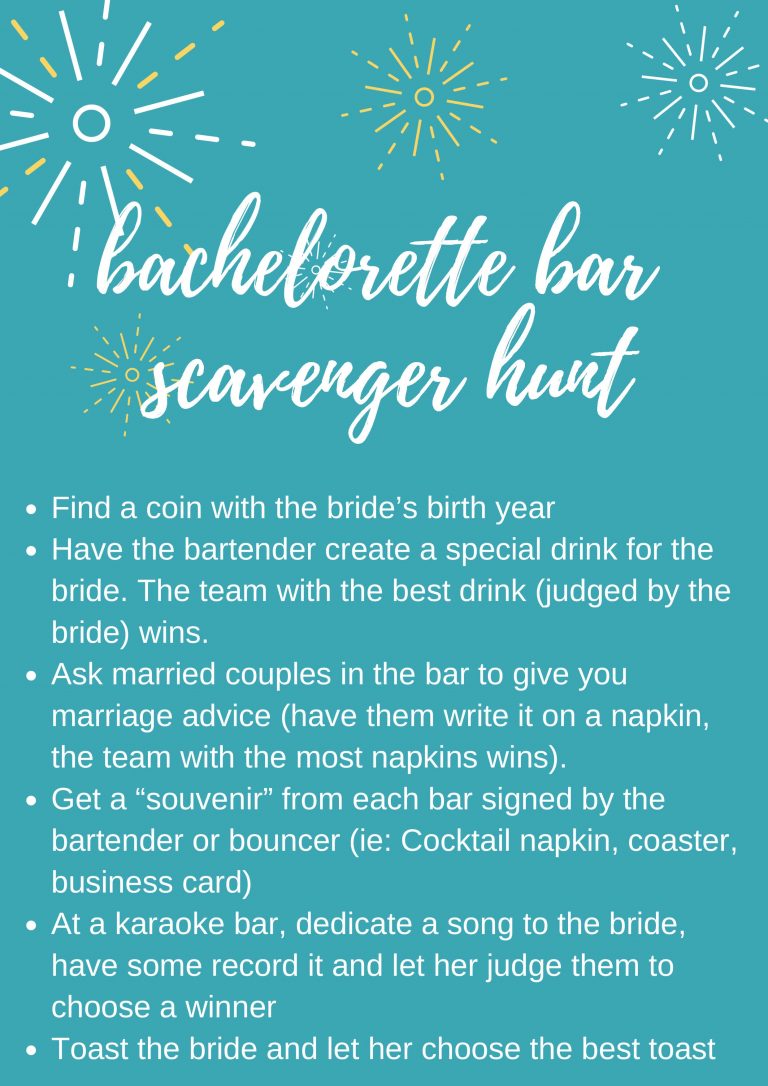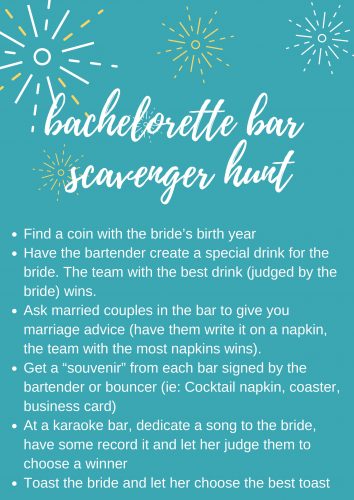 Planning on bar-hopping for the big night? Well, you can easily plan a fun bachelorette scavenger hunt to enjoy while throwing back shots. You can compile a list including both people and objects that are tied the bride, well as the bars on your pub crawl. Here is a list of ideas for a bachelorette bar scavenger hunt:
Find a coin with the bride's birth year
Have the bartender create a special drink for the bride. The team with the best drink (judged by the bride) wins.
Ask married couples in the bar to give you marriage advice (have them write it on a napkin, the team with the most napkins wins).
Get a "souvenir" from each bar signed by the bartender or bouncer (ie: Cocktail napkin, coaster, business card)
At a karaoke bar, dedicate a song to the bride, have some record it and let her judge them to choose a winner
Toast the bride and let her choose the best toast
Las Vegas Scavenger Hunt
Source: marvelousinthemidwest via Instagram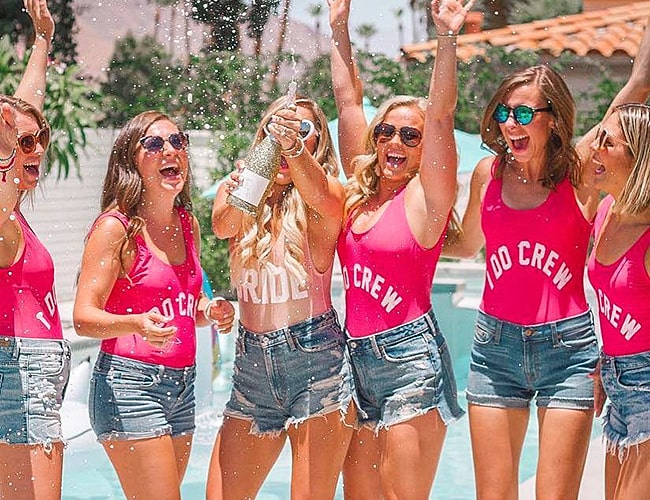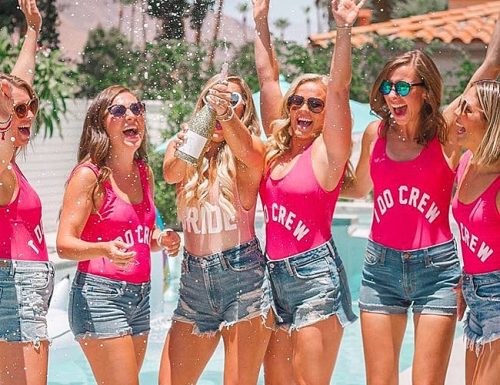 Are you off to a girls weekend in Vegas? No worries. What happens in Vegas, stays in Vegas, including the bachelorette scavenger hunt.
Vegas is more than just gambling and drinking, there are a lot of shops, hotels, restaurants and other such venues that you can include on your list. You can make it an evening quest, or hold your scavenger hunt for the bachelorette party during the day if you feel safer that way. The choice is yours and you won't be disappointed with the options.
Here is a printable Las Vegas bachelorette party scavenger hunt, complete with answers, to give you a few suggestions!
Click here to download the free template
Disney Bachelorette Scavenger Hunt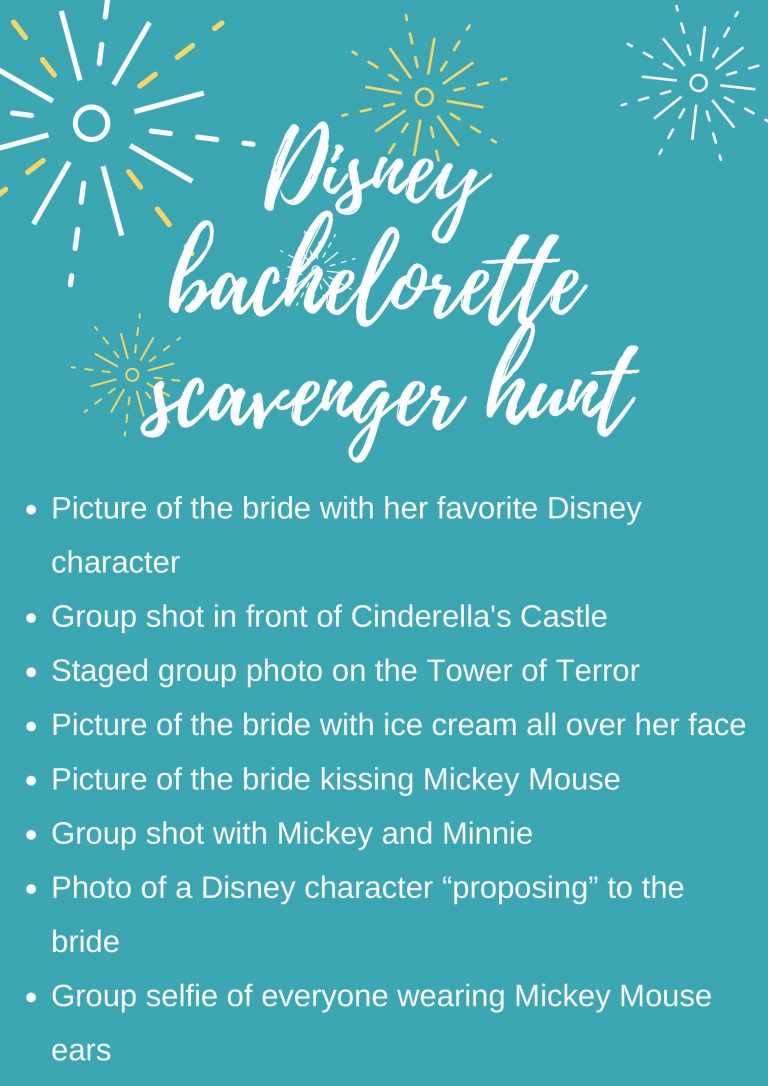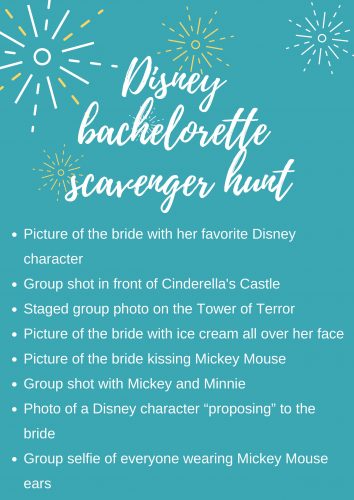 Is the bachelorette party at the magical land of Disney? Are you lucky enough to host the party at one of the most enchanted and happiest places on earth? If so, there is on end to the number of ideas for your scavenger hunt at Disney for the bride-to-be! Check out some of our favorites below:
Picture of the bride with her favorite Disney character
Group shot in front of Cinderella's Castle
Staged group photo on the Tower of Terror
Picture of the bride with ice cream all over her face
Picture of the bride kissing Mickey Mouse
Group shot with Mickey and Minnie
Photo of a Disney character "proposing" to the bride
Group selfie of everyone wearing Mickey Mouse ears
Clean Bachelorette Scavenger Hunt Ideas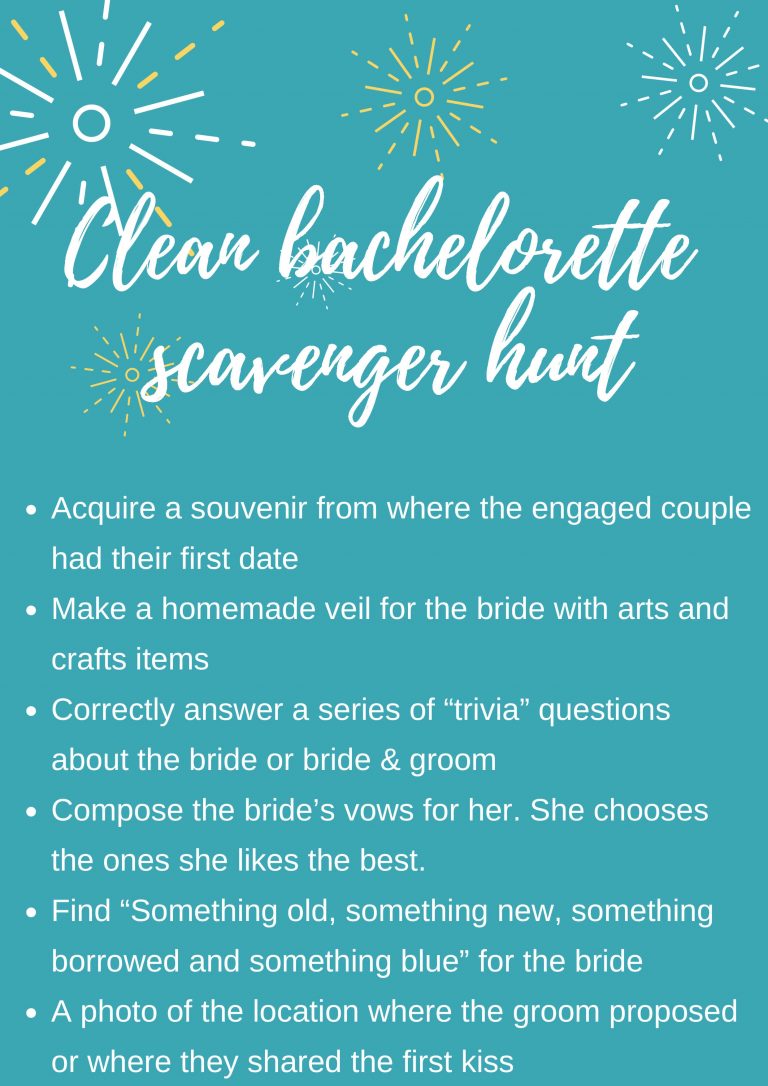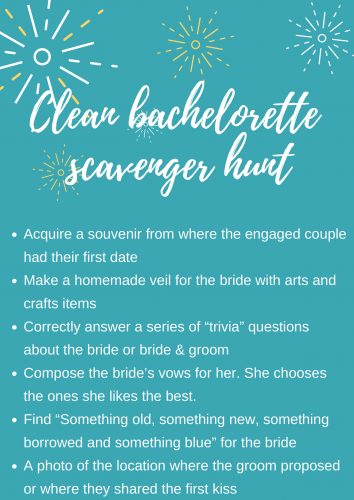 If the bride-to-be is more old-fashioned or reserved, you should plan a clean bachelorette scavenger hunt. Remember, the party is for the bride, so you need to respect her wishes, values, and beliefs. But that doesn't mean you still can't have a totally awesome bachelorette scavenger hunt! Here are some ideas for a clean scavenger hunt for your bachelorette party.
Acquire a souvenir from where the engaged couple had their first date
Make a homemade veil for the bride with arts and crafts items
Correctly answer a series of "trivia" questions about the bride or bride & groom
Compose the bride's vows for her. She chooses the ones she likes the best.
Find "Something old, something new, something borrowed and something blue" for the bride
A photo of the location where the groom proposed or where they shared the first kiss
Bachelorette Scavenger Hunt Checklist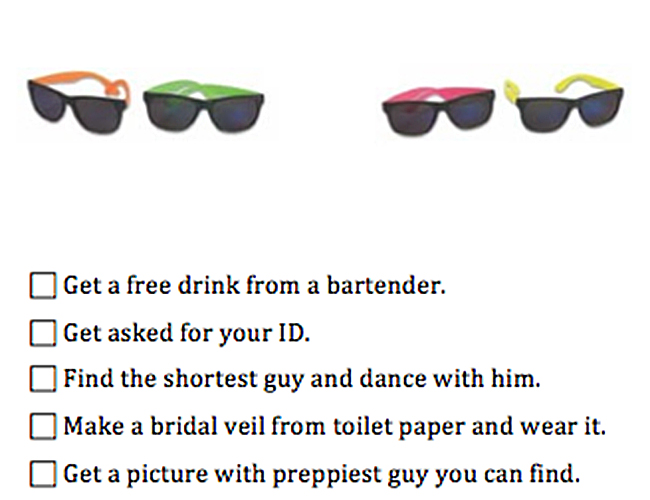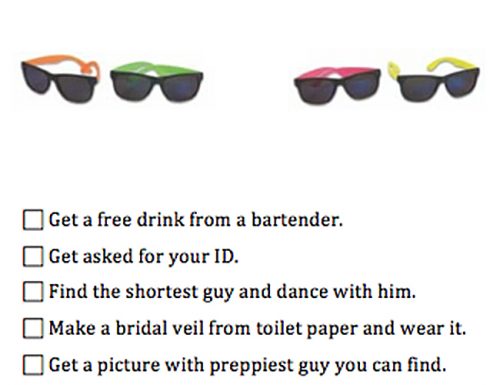 In order to make sure the scavenger hunt goes as planned, you should have a bachelorette scavenger hunt checklist prepared in advance. As well, if there are any "props" you need to plant yourself, you need to ensure that they are on-hand before the start of the hunt.
You can hand-write your checklist, or use one of the printable ones we have provided above. As well, you will want to have a copy of the actual scavenger hunt for each team and/or party guest. The better prepared you are, the easier it will be!
We hope that our ideas for bachelor scavenger hunts have inspired you to plan a fun and exciting scavenger hunt for the bachelorette party festivities! Make sure everyone is safe and never drink and drive! So get out there and start creating your list for the best bachelorette scavenger hunt ever!