There is nothing as show-stopping as adding an unusual or non-traditional element to your wedding look. This is why black wedding bouquets are a thing and an attractive one at that. The contrast of a white wedding dress with moody statement flowers can create a most gorgeous picture. If you'd like to make a statement with wedding bouquets in black, scroll on for some bridal inspiration. Dark and unique bouquets in all shapes and sizes for all types of weddings.
Brides Often Ask
Сan the bride have a black bouquet?
Does the bride's bouquet have to match the wedding colors?
Round Black Wedding Bouquets
Whether you need organic or silk wedding bouquets or even a combination. It can be styled in many different arrangements. Create a moody bouquet from stunning blooms such as Autumn eucalyptus, cappuccino roses, and dark burgundy anemones, dotted with black and pepper berries. All of these in a simple round bouquet for the most subtle and sophisticated wedding look.
Asymmetrical Black Bouquets
Make a statement with an asymmetrical bouquet. A truly unconventional bouquet that is sure to stand out, you can create this arrangement with any dark-hued bloom that you love. Consider a collection of blooms styled after a watercolor painting. Trialing amaranthus can hang from one side of this asymmetrical arrangement, combines with dark chocolate cosmos, various roses, moody dahlias, and foliage.
Cascading Bridal Bouquets
A style that will always be fabulous in its abundance is the cascading bouquet. No matter the type of wedding bouquets with black that you desire, this style will always be the right choice. Create a dramatic cascade with phal orchids, dark red roses, hanging amaranth, and accents of pampas grass to complete the beautiful wedding bouquet arrangement.
@liliaflowerboutique via Instagram
i
Save to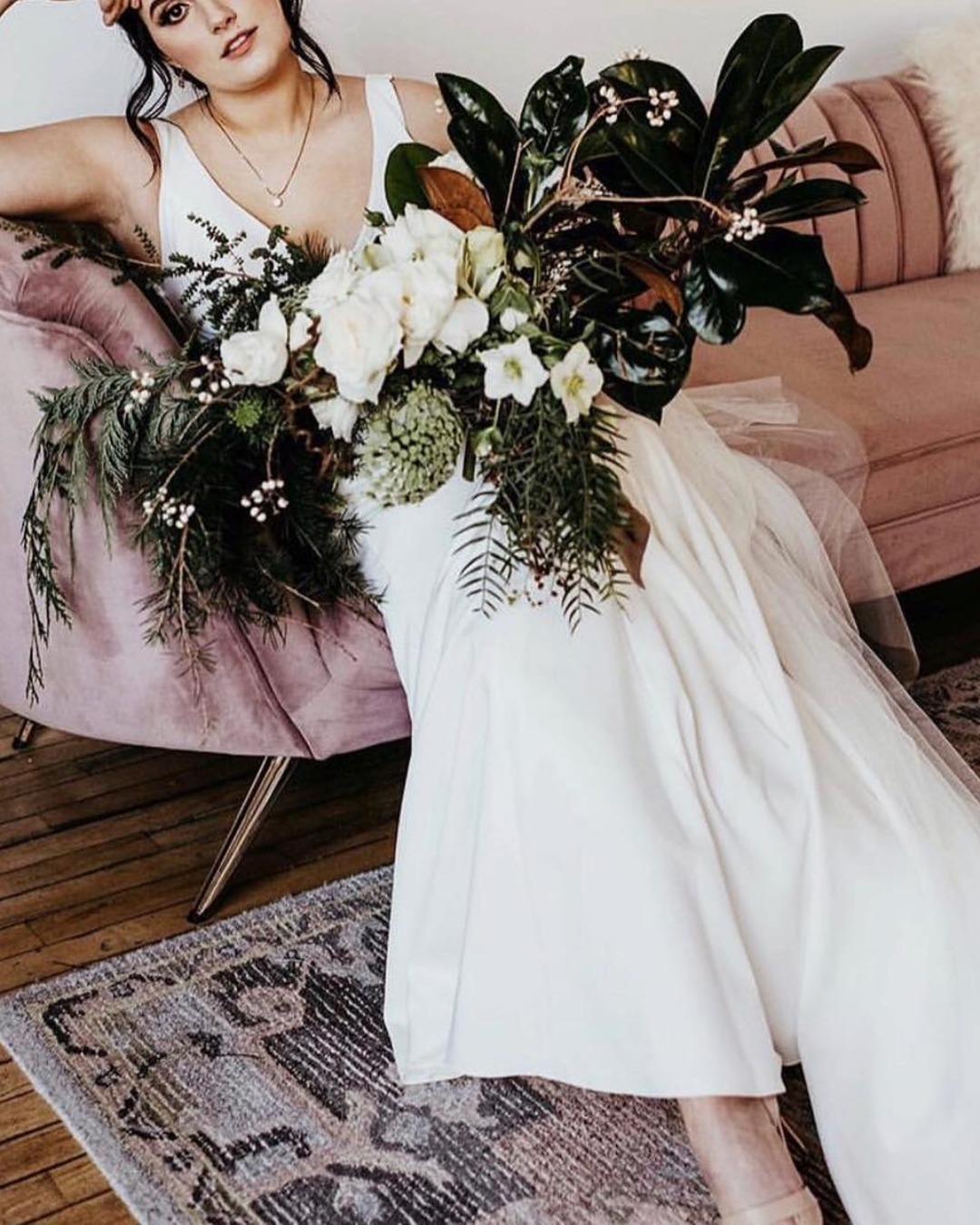 @jannabrowndesignco via Instagram
i
Save to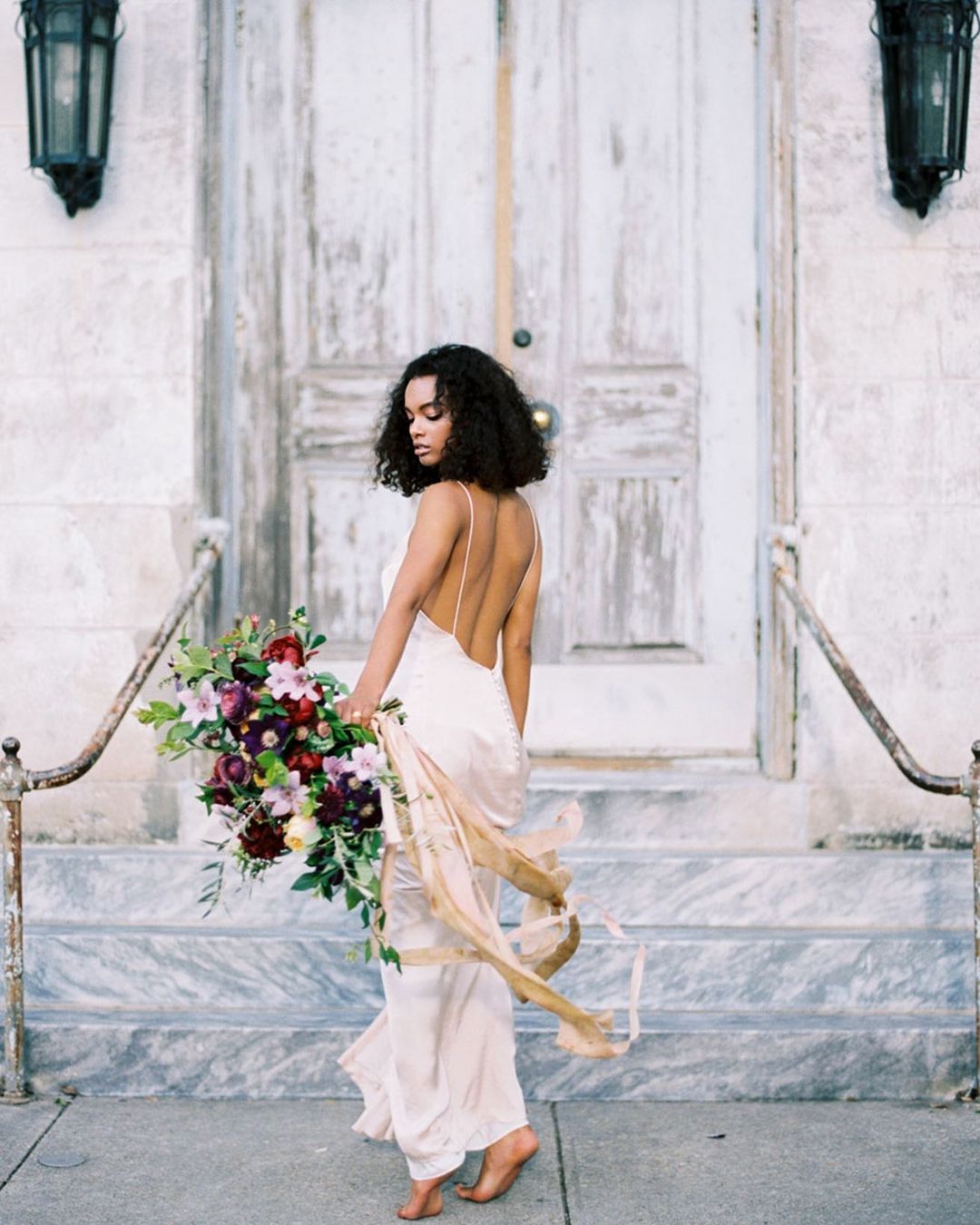 Organic Bouquet Ideas
One great thing about black wedding bouquets is that you can choose how moody you want them to be. They can be all dark blooms, or you can consider such color combinations as red, black, and white wedding bouquets. For that organic dream, florals such as ruby carnations, dark red roses, and scarlet dahlias. Add pink anemones and burgundy foliage dotted with cute white roses to complete a perfect look.
@hanaholdener via Instagram
i
Save to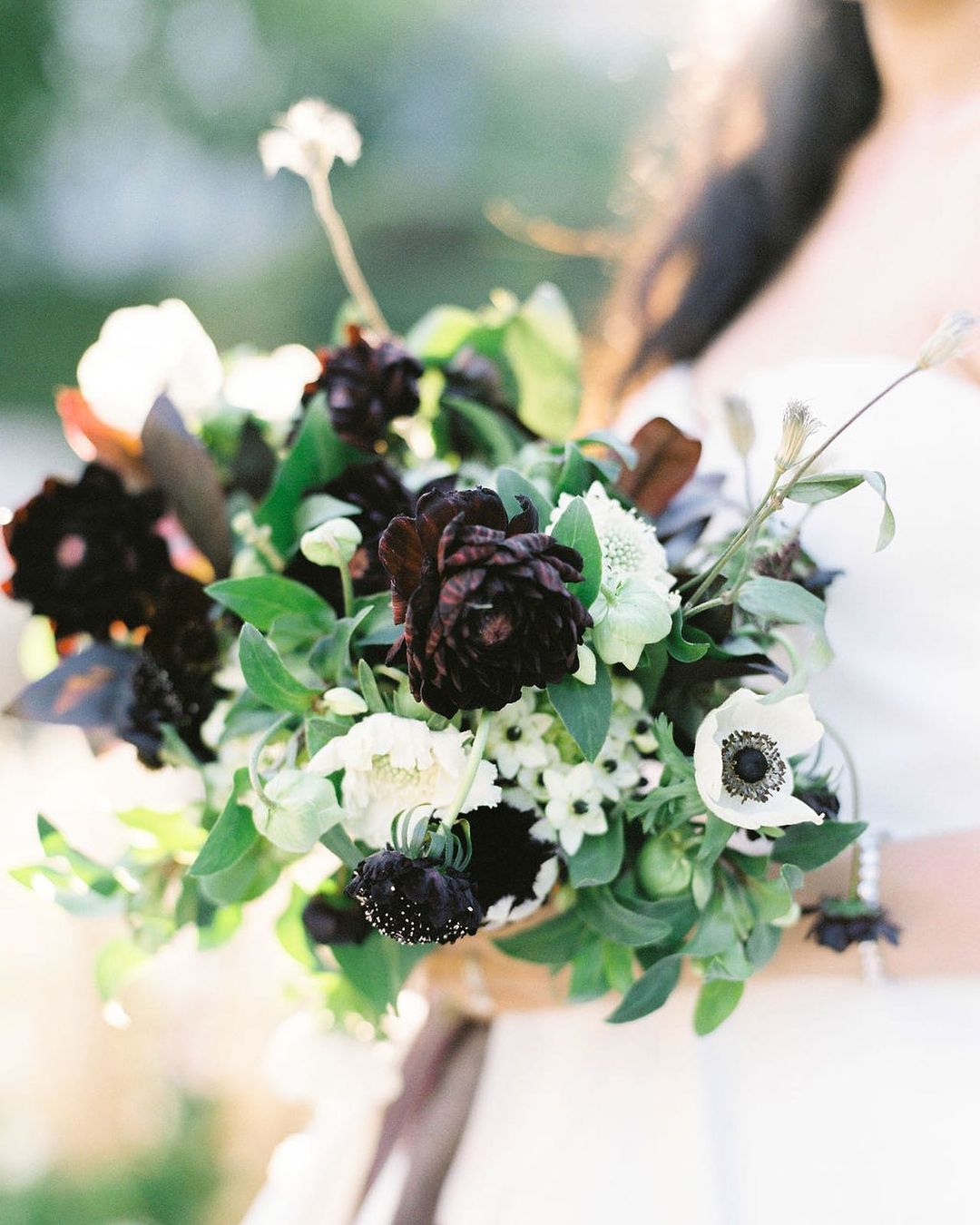 Crescent-Shaped Bouquets
If a round bouquet is not to your liking, consider a crescent-shaped clutch of flowers. For that black galaxy wedding bouquet, you could put together florals in rich shades of burgundy, deep reds, black, and merlot. Add some lavender-colored roses or pink and white for that extra pop of color. Complete with dark or earthy greenery for that wedding bouquet that packs a punch.
@jannabrowndesignco via Instagram
i
Save to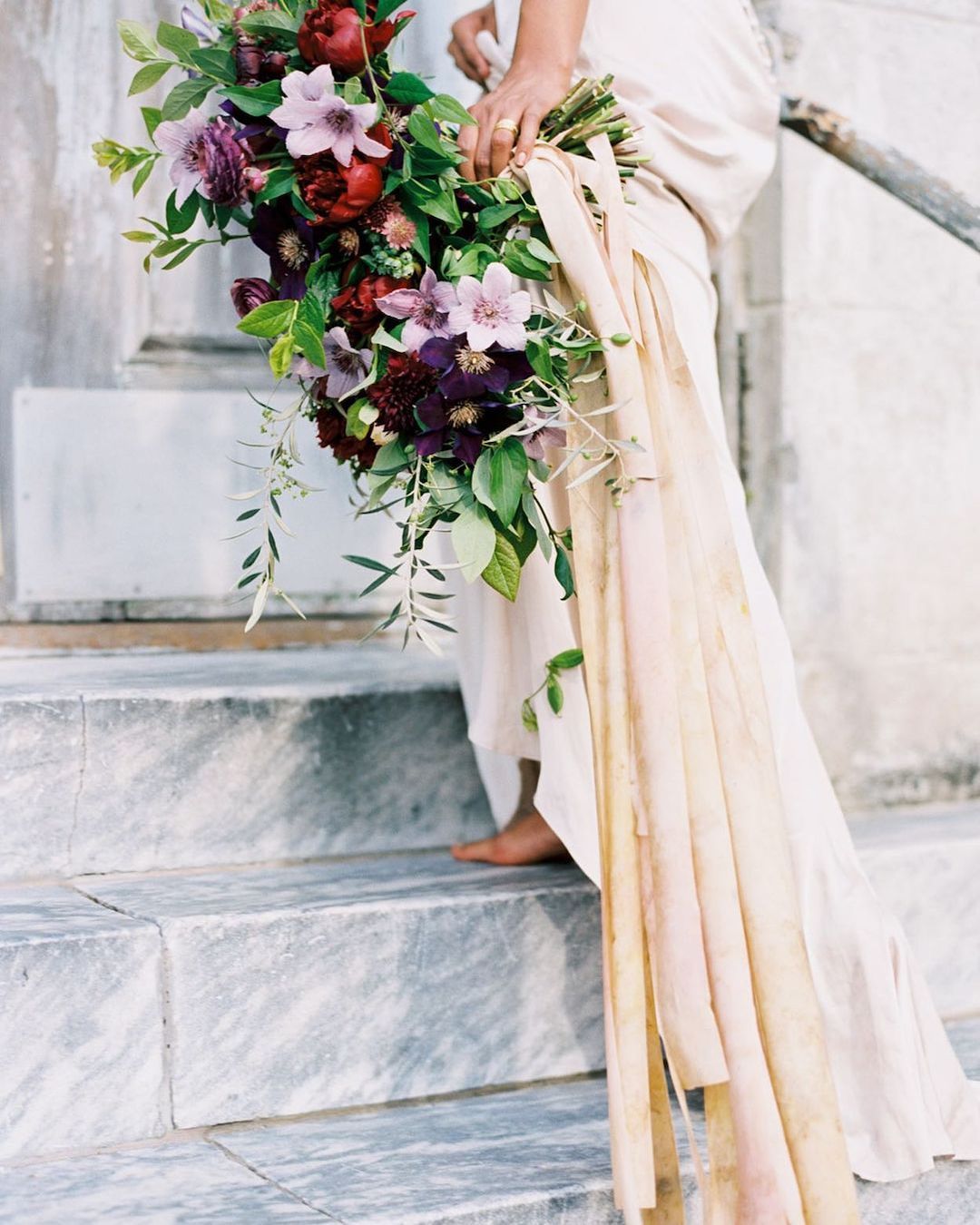 Contemporary Bouquets In Black
While lots of people may not see black bouquets as contemporary, they definitely are. This unique choice has come to stay and there are so many contemporary designs available. Take bouquets with black orchids. Combine these moody orchids with toffee-toned roses, burgundy roses, large lisianthus, and dark chocolate cosmos. Complete with bunny tails and dried fern for a show-stopping and gorgeous wedding bouquet.
@flower_addicted_angelica via Instagram
i
Save to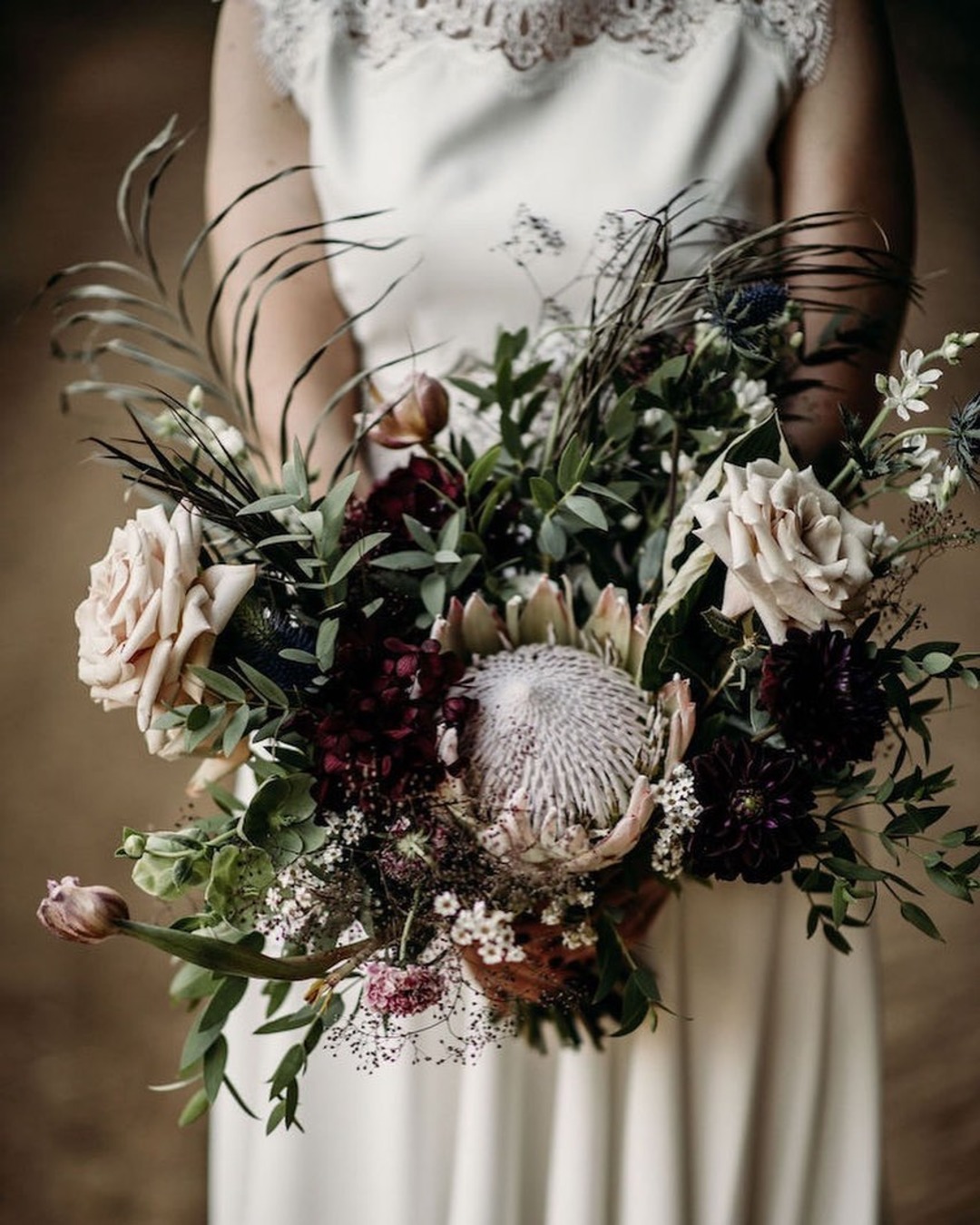 The dark and deep shades create statement bouquets and show-stopping pieces that any bride would want at her wedding. Whether you're having a modern, rustic, contemporary, or even vintage wedding, consider moody wedding bouquets burgundy white black, or even unexpected black and green wedding bouquets to liven your look.