What is not to love in a beach wedding? The sand beneath your toes, the breeze, the beautiful water, and just the fact that it's outdoors. A beach theme wedding gives you the opportunity to express yourself outside the box of the classics. Therefore, just the thought of the location is enough to inspire you and your guests with great bridal registry ideas. That is to say that the beach is a place to free yourself from inhibitions and get laid back and have fun.
Choosing the specific beach location, thinking of the right wedding dress for the wedding, the party favors and reception details. All of these can be a lot of fun instead of stressful when you think up DIY beach wedding ideas. However, with the beach theme there is a lot of potential for having a really fun time at your wedding. This theme takes the seriousness out of planning and leaves you with magnificent beach wedding photos. Thus, it is possible to have exceeding fun and create lovely moments to remember at your beach theme wedding.
Generally, preparing for a beach wedding is a time to come up with tropicalweddingideas. Think of the beach themed party favors, the table decorations, the aisle, the bar. There's lots to figure out to make this day one to remember and the location is a dream. Moreover, these types of weddings give the opportunity for lots of DIY beach wedding ideas which you might find here. So let's get your wedding day checklist started.
Nautic Invitations And Guest Escort Cards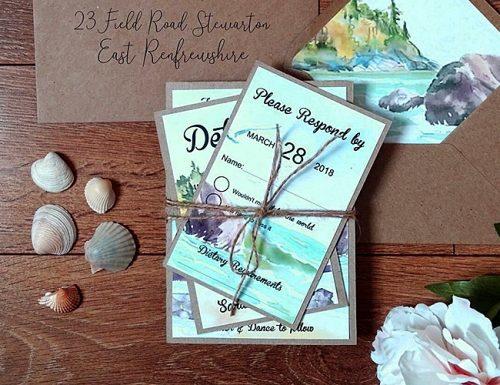 First of all, the fun in DIY beach wedding ideas is all the creative things you can come up with and do. Invitations and guest escort cards can feature nautical motifs like knots or anchors. Therefore, make the invitations memorable so they remember to include it in their wedding ceremony timetable. In addition, you can also glue the program and escort card to both sides of a lollypop stick to make for a miniature hand-held fan for your guests.
Then it is possible to make adorable escort cards out of seashells and hang them as key rings for easy access to your guests. There's no limit to the amount of creativity for your beach theme wedding. The more the better. For instance, invitations caninclude starfish or seashells for a more seaside look. Something that says you're a guest at my beach wedding ceremony, and expect to have the time of your life.
Maritime Wedding Decor And Favors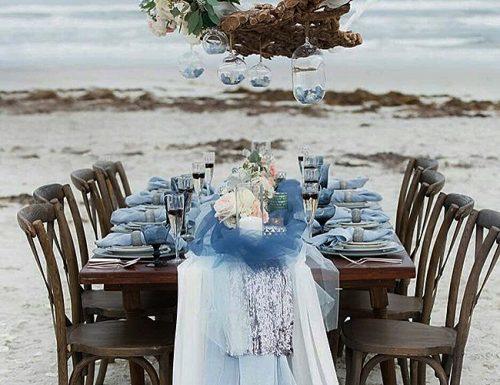 There are so many tropical wedding ideas to help design that lovely beach wedding reception. While working with the theme, fill glass jars with lovely seashells as center pieces for each table. Drinks at the bar should naturally come with an umbrella or two. And beach chairs can be draped in nautical colored ties or scarves for effect.
Asides beach chairs, you can take advantage of the beach location to create comfortable lounges for guests. Guests can choose to seat on the chairs or on beach mats with big comfy pillows, bean bags and stools. On the whole, lots of DIY beach wedding ideas to give your guests the time of their lives at your wedding.
The wedding favors for a beach theme wedding can bring the most fun DIY wise. Tote bags with a coastal map design, just hanging on each seat per guest. In addition, can openers with nautical motifs, little cute pillows also with nautical designs. Guests can also have personalized sunglasses which double as protection from the beach sun and party favors. Also, custom printed beach wedding towels or beach flip flops for the ladies and nautical theme neck scarves for the men. When it comes to wedding favors, there's so much to choose from in DIY beach wedding ideas.
Seaside Bouquet Ideas For A Bride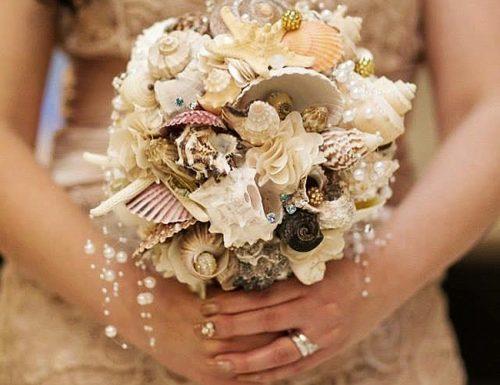 Although, any wedding on the beach would be incomplete without the right bouquet. Flowers with lovely beach colors, ribbons intertwined with beach corals and seashells nested in-between each petal. If arranged properly, these kinds of ideas can make for a truly beautiful bouquet. The type befitting the bridal posy for a beach wedding ceremony.
There's loads of DIY beach wedding ideas to help you create the perfect bouquet for your beach wedding. For example, tie the flowers together with nautical ropes or a blue and white stripped scarf. If nautical ropes are not your thing, then you can use sea inspired ribbons for that beach effect. However, choosing a few beautiful flowers and accessorizing them with sea urchins, pearls and starfish works just as well. There's lots of ways to create the perfect bouquet for your perfect weddingon the beach.
Painted Beach Wedding Signs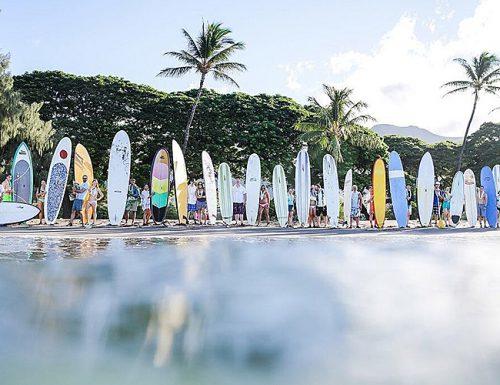 Beach wedding signs are a great inclusion in the overall décor for a beach theme wedding. Brightly colored surfboards of varied sizes are perfect material for a surfboard ceremony sign. The surfboards can be horizontal on a column to show different directions. And each surfboard can also stand independently in different locations, with a description of each location. Reception, bar, wedding ceremony; there's lots of ways to use this to your advantage. Either way the number of beach wedding ideas are endless.
Driftwood, as useless as they might seem, come in pretty handy for DIY beach wedding ideas such as this. Pieces of driftwood can be mounted on a stick, each labelled with directions to lead the guests. These signs to the bar, ceremony area, reception, can add to the fun of your special day.
Depending on the reception program, signs could also serve as indicators for a treasure hunt on the beach. Something fun to include in the wedding party for your friends and family. Thus, searching for and finding their wedding favors can make for a very interesting evening or day. In particular, this would definitely make for a much more fun beach theme wedding for everyone.
Cake Ideas For Your Beach Wedding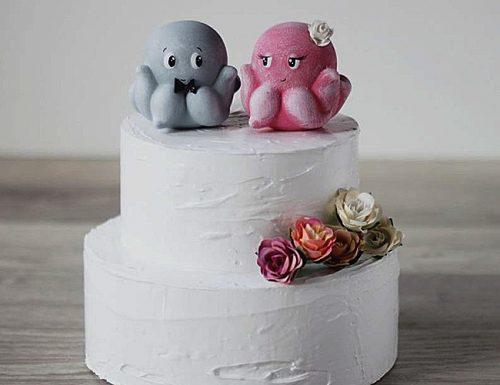 In ticking off that wedding checklist by month, the topic of the cake should be ticked as early as possible. In particular, cakes can be decorated with oyster shells, crab shells, coconut macaroons on each tier. The cake can even have nautical motifs and definitely beautiful beach themed colors. Anything but the classic wedding cake is a requirement for that beautiful beach wedding ceremony.
Whether it's a fruit cake, chocolate cake, cheese cake, or even lemon cake. These flavors can fill up your beach theme wedding. It can be small, it can be big, it can be simple or complex, it all depends on your preference. There is a lot of beauty in simple however. And a simple starfish here, an oyster shell there can surprise you with an out come.
For example, find nautical wedding cake ideas with motifs from the sea, beach, ships and boats. There's a lot of cake decorations which would recreate this beach theme. Cakes with layers shaped like seashells or caves. Boat motifs or beach chairs. It is also a spiffy idea to have little wedding cakes on the table of your guests, each with a beach motif or decoration on top. Numerous DIY beach wedding ideas abound to make that wedding cake that you've always dreamed of for your beach wedding.
Borrow A Boat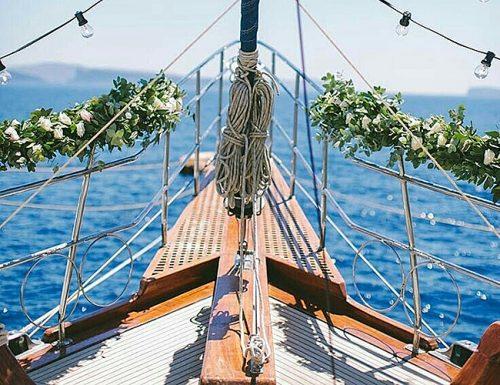 You can add to the fun and jazz of your beach wedding by renting or borrowing a boat for your party. There's no fun in changing last name, on a beach no less, if you can't make that day memorable. And what can be more memorable or create better beach wedding photos than having a floating wedding party?
Bring out the candles and the lanterns. It's time to have fun with your wedding party and be a pirate for a day. Also, use the water to your advantage by including it in your beach theme wedding. This way guests don't just get to look at the water; there's now an excuse to get in it.
Moreover, you can provide a simple or decorative shoe valet for your guests to drop their shoes so they can enjoy the sand or get on the boat barefoot if they like. If you can't get a big boat, you can fill a row boat with drinks and ice. Going to and from the boat to get drinks can also add to the relaxed feeling of being on the beach. And the boat can also be used it as a backdrop for fun wedding photos. Creating something even more special to remember from your wedding on the beach.
Sand-Blending Ceremony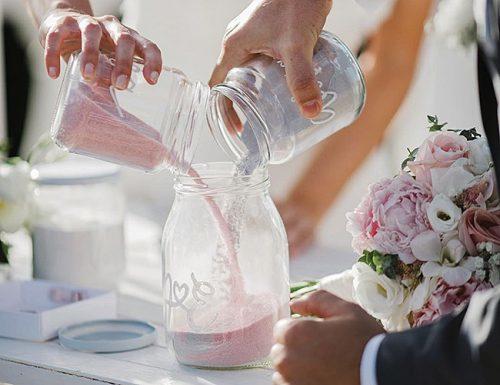 A sand blending ceremony is a ritual which perfectly suits a wedding on the beach and gives you something special to do with all that sand. It can add to the uniqueness of your day and make it even more memorable. Adding a marriage certificate to your list of documents, a lot more is at stake. Two families of different peoples and cultures come together and this is what a sand blending ceremony portrays.
A sand blending ceremony has the bride and groom pour a different colored shade of sand into a clear vase at the same time to form layers which show how they unite. Each person has a clear vase with a different color of sand in it. The groom can go first, and then the bride, and then they're pouring at the same time. This is a lovely and romantic ritual for the guests to watch at a beach wedding ceremony. Also incorporating the sand in your wedding makes choosing this location even more significant.
Other family members can participate as well in this sand ritual for a beach theme wedding ceremony. The sand can be in different shades of blue or red, or just your favorite colors. Towards the end of the ceremony all the participants pour their sand into the vase at the same time so the different layers show and come together at the top. This signifies the unifying of both families, their blending together as one big family. It also makes for a very meaningful and decorative piece in the couple's home. The sand blending ceremony is a winner as tropical wedding ideas go.
Beach Wedding Photo Backdrop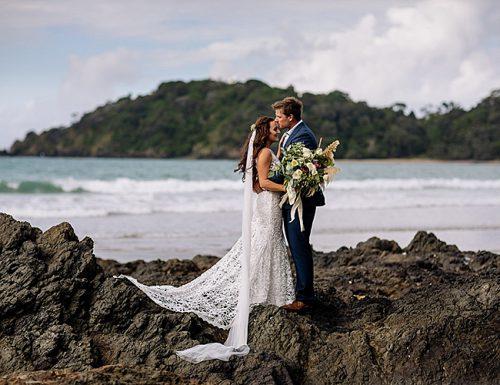 In taking wedding photos at a beach wedding ceremony it helps to use the elements around you to your advantage. No matter you're mrs or ms, just think of the breeze flowing through the bride's dress, the backdrop of the sea or a low hanging cliff. The sunset just before it gets dark, or the base of a beautiful coconut tree. The potential for great wedding photos at a beach wedding ceremony is everywhere.
Thus, to remember this special day it would be really cute to be able to take pictures with each of your beautiful decors as a backdrop. The boat, if there is one. The nifty beach wedding signs, the wedding arch, the bar, and the nicely decorated bride and groom chairs. The cute shoe valet and don't forget lots of pictures with the wedding cake. And some, where it's just the bride alone in her beautiful flowing gown.
If there are any fireworks at the end remember to take a picture with them lighting the sky in a huge photo backdrop. Also if you've included sparklers, do take pictures with your guests having fun and lighting them. If you have hired a professional photographer, then he can find a lot of inspiration with beach wedding photos. Pictures freeze memories in time and you want to capture the best to remember this special beach wedding.