There are very specific rules and regulations to adhere to at a Catholic Nuptial Mass. These rules cover the totality of the wedding ceremony, from the readings to the wedding script, and even the songs for Catholic wedding. And so, before deciding on certain songs for your ceremony, it is important to ask the priest as well as the church venue for some guidance. Every church has its own requirements for Catholic wedding songs. And while there might be no official list for catholic wedding songs for ceremony, it is required that the songs be prayerful.
To ensure that you choose music which adheres to the structure of the Catholic church, we have a collection of songs for each part of a Catholic wedding.
Catholic Wedding Processional Songs
These are traditional songs popular for walking down the aisle at Catholic weddings. They work with various instruments, from the piano, organ to string instruments.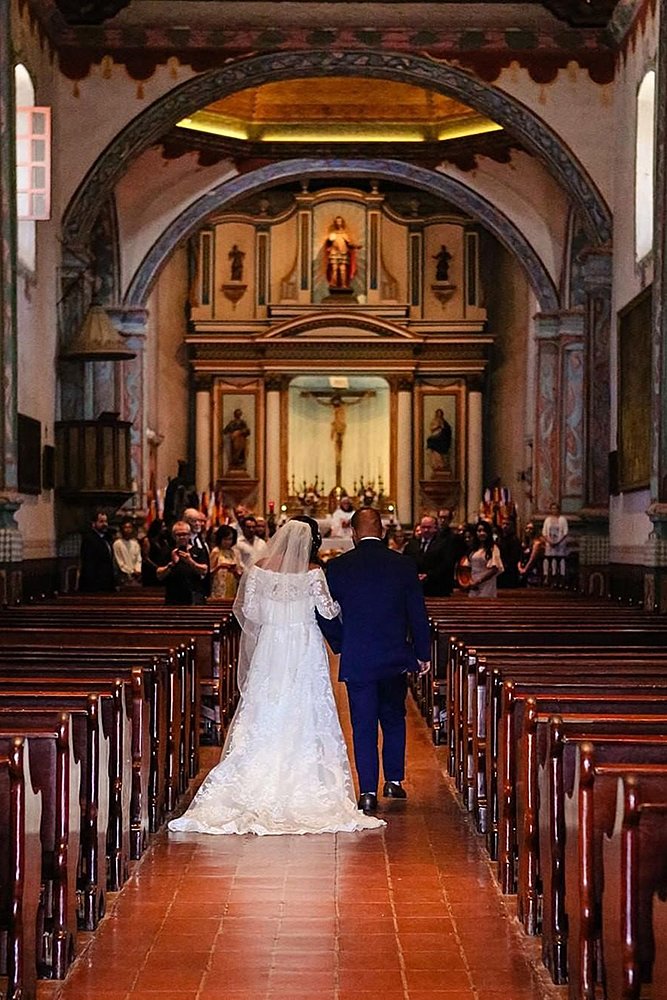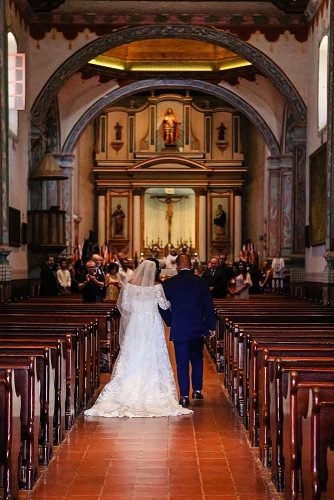 Catholic Wedding Ceremony Songs
Below are popular Catholic wedding songs with just the right tempo for Catholic wedding mass songs. Beautiful music that works well as background music to the couple's wedding vows.
Catholic Wedding Communion Songs
A Catholic wedding song list would be incomplete without accompanying music for the communion. The communion is a sacred part of the Catholic denomination. Below are a number of songs for this part of the wedding.
Make Me a Channel of Your Peace, Sebastian Temple: This song is a popular option for the sacred ceremony that is the communion. One of the most popular wedding hymns of all time with an inspirational back story.
Amazing Grace, John Newton: A popular classic that would be recognized by everyone, Amazing Grace was written from the personal experiences of John Newton, the English poet, and Anglican clergyman.
Air from Suite in D (Air on the G String), J.S. Bach: Another great and popular choice for a list of Catholic wedding songs, this tune is best played with string instruments.
Be Thou My Vision, Audrey Assad: With Irish origins on an Irish poem from the sixth century, this traditional Christian hymn is a lovely song that will pull on your guests' heartstrings.
On Eagle's Wings, Michael Joncas: Another favorite and long-standing choice for the presentation of the communion is, "On Eagle's Wings". A globally popular number which has been translated into a variety of languages over the years.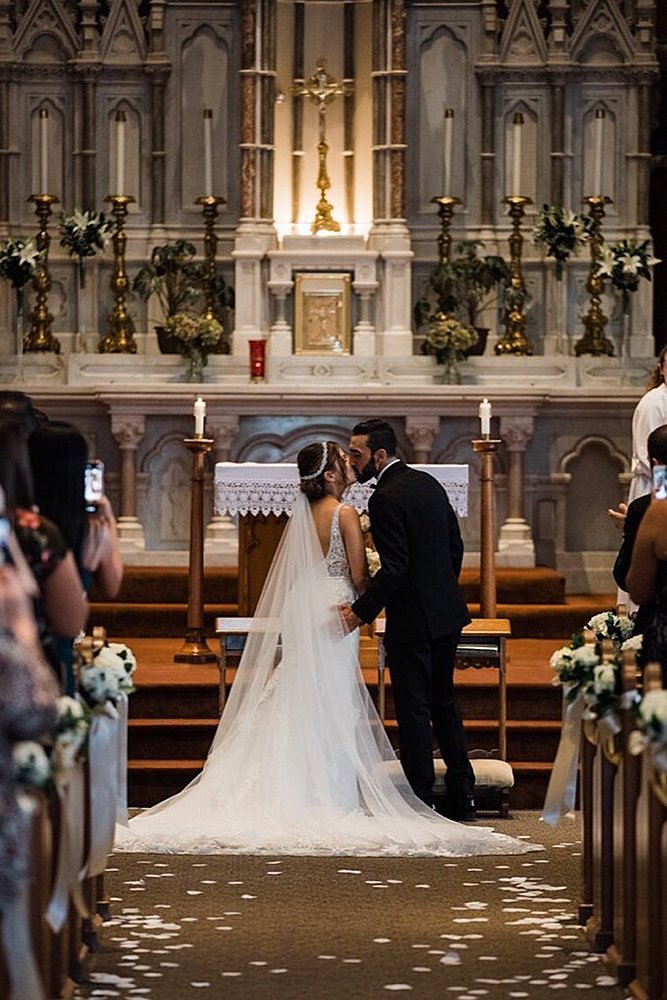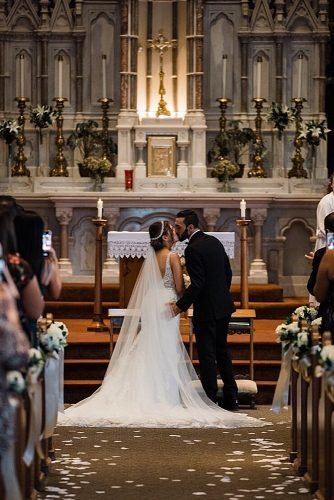 Catholic Wedding Recessional Songs
Below is a list of Catholic recessional songs you can suggest to the music minister or priest. Amazing songs that are popular in the Catholic community.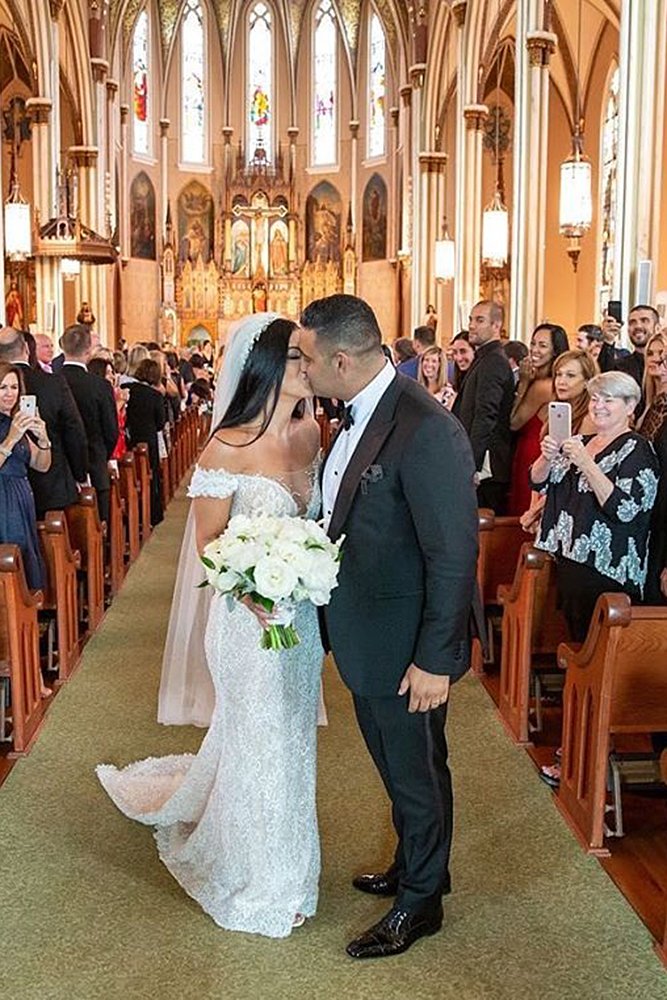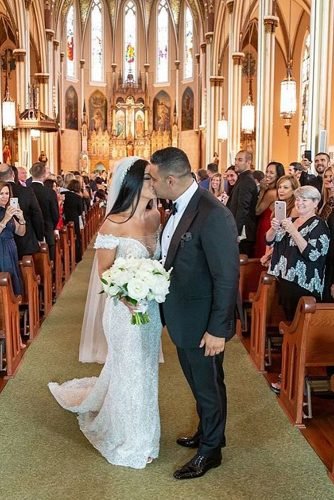 Here is the ultimate playlist with Catholic wedding songs
How To Choose Catholic Wedding Mass Songs
There are a number of factors that are important to consider when choosing the best Catholic wedding songs. To stick to the rules and requirements of the Catholic church, these songs will have to adhere to the following.
Be prayerful. Seeing as Catholic liturgy, including those for a wedding is to sanctify the worshippers, and give glory to God; any chosen wedding music would have to reflect the same. This is why popular secular music, is often not permitted; and even modern Catholic wedding songs would have to be pre-approved.
Be accessible. It has to be music that your guests and audience will be able to sing along to. Catholic liturgy expects that everyone in the assembly participates instead of watching passively from the sidelines.
Be beautiful. The church calls for the chosen music to be beautiful as beauty is a window into the divine. While this is a subjective factor, any tried and trusted music wholly accepted by numerous congregations should pass as beautiful.
Whatever your heart is set on for your wedding where music is concerned. Whether you are searching for wedding entrance songs, songs for recessional, or even Catholic wedding songs for the ceremony. This hopefully has given you a good starting point for making your musical selection for your big day. Be sure to try to find tried and true classic or traditional options to increase the chances of getting approval.