Burnt orange is a shade of orange that is darker than a carrot but lighter than a tomato. It is a rich, deep, and warm shade that is perfect for the fall and winter wedding seasons. Burnt orange bridesmaid dresses come in many styles, including short and long gowns.
These burnt orange dresses come from different materials like satin or lace, cotton or silk fabric, also tulle or chiffon fabric. Wedding burnt orange bridesmaid dresses are a great neutral that bridesmaids can pair with any other color. They look gorgeous, youthful, and sophisticated. Scroll down for more ideas on incorporating burnt orange dresses into your wedding.
Frequently Asked Questions
What Color of Shoes To Wear With a Burnt Orange Bridesmaid Dress?
What Color of Flowers Go Best With Burnt Orange Bridesmaid Dresses?
Long Burnt Orange Bridesmaid Dresses
Long dresses are fabulous options for your wedding party. Dresses in burnt orange are a great way to mix the traditional color palette. When it comes to long bridesmaid dresses, you will find a wide range of styles and fabrics available.
From tulle to chiffon, silk to satin, and even lace, you can find a long-burnt orange dress that fits your budget and style well. Brides who want something a little more formal than the average traditional bridesmaid's dresses should consider getting these long autumn burnt orange dresses instead.
@jennyyoonyc via Instagram
i
Save to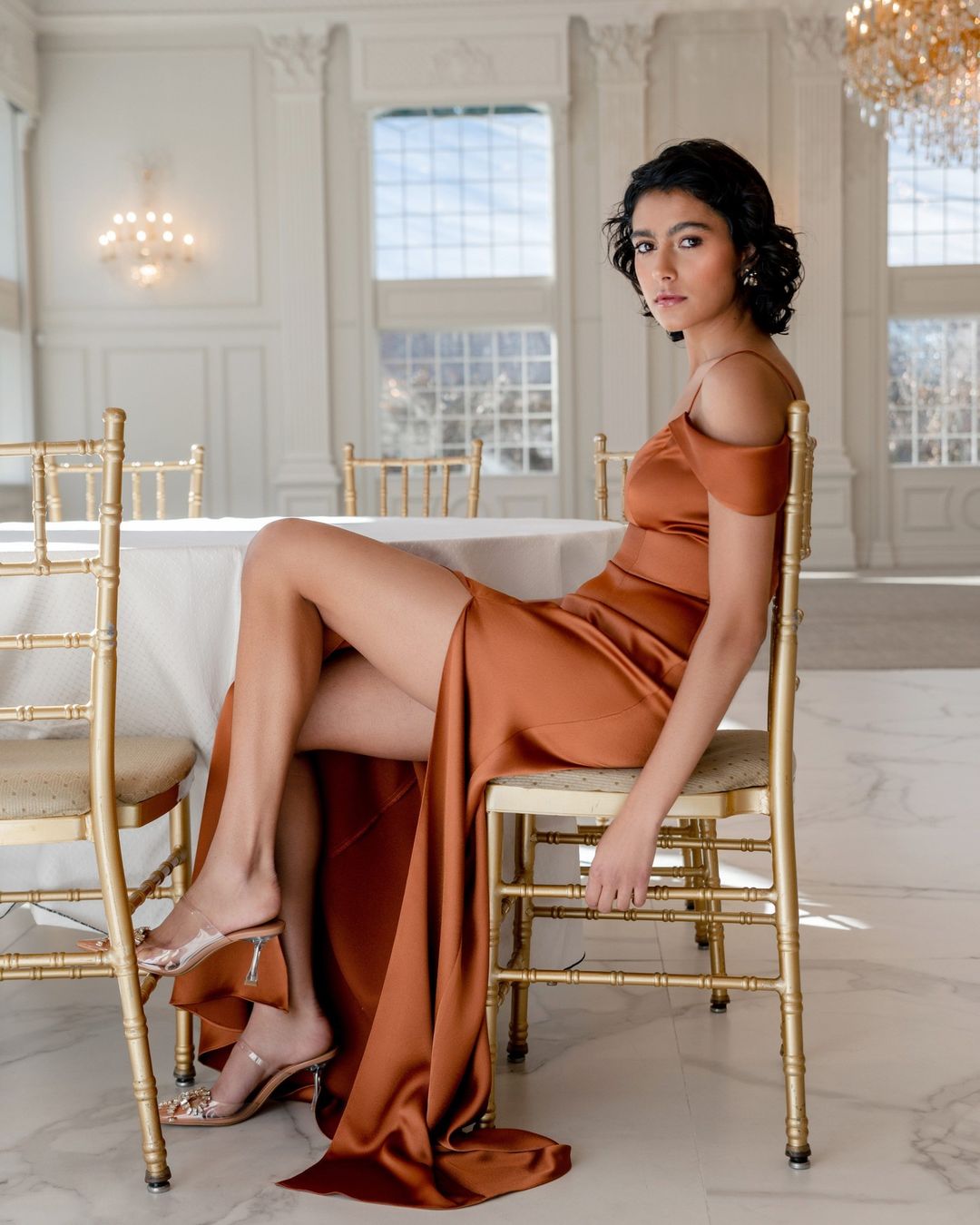 Short Burnt Orange Dresses
Short burnt orange dresses are often preferred by bridesmaids who want something different from the usual. They can rock their short bridesmaid dresses in burnt orange with flats or heels, depending on the length of the dress itself.
Bridesmaids can also choose from fabrics like cotton or silk. The best thing about short bridesmaid dresses is that the length gives the dress more shape and curves. This makes it look more sophisticated than those that are longer.
@costarellos via Instagram
i
Save to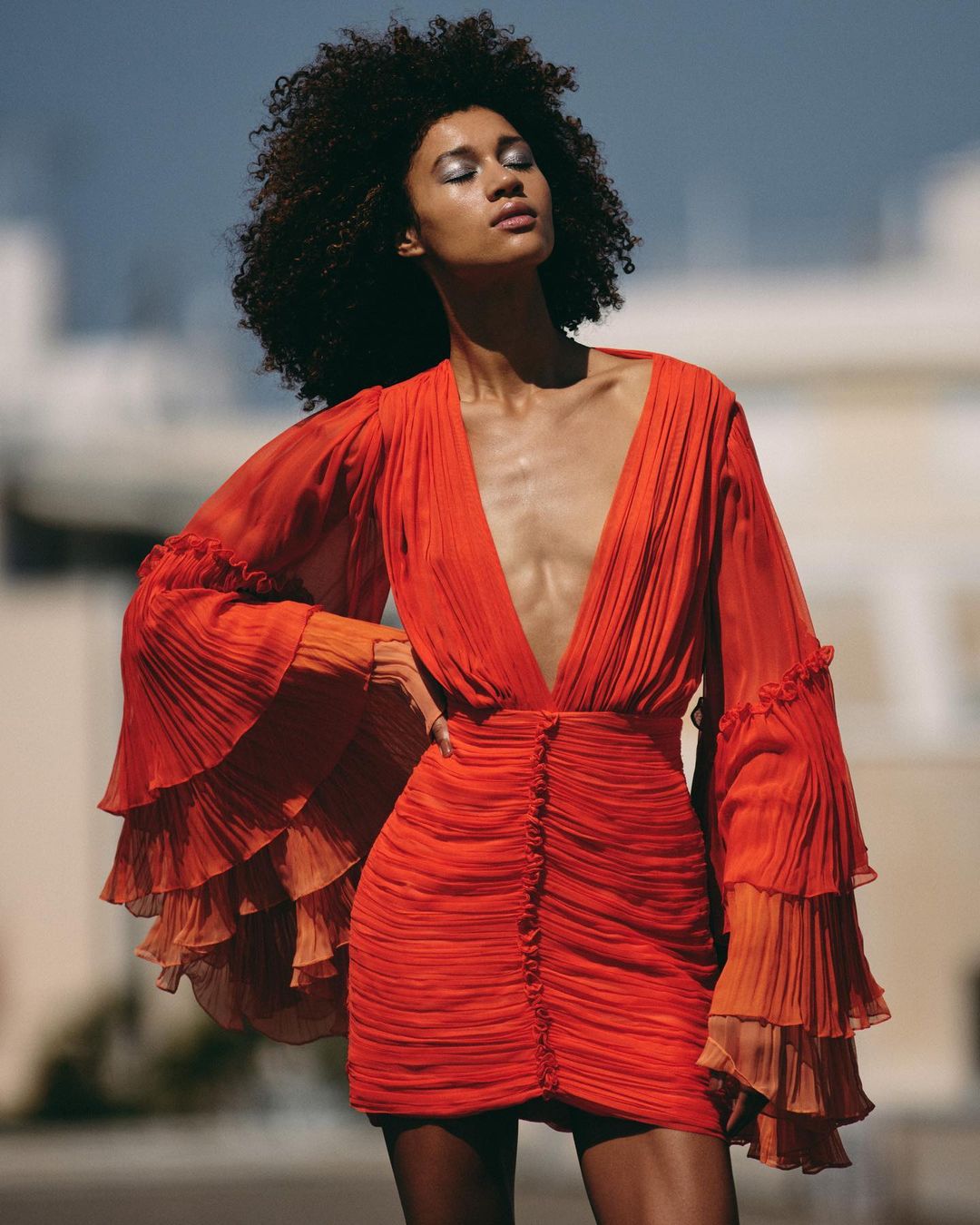 @ellezeitounedesigns via Instagram
i
Save to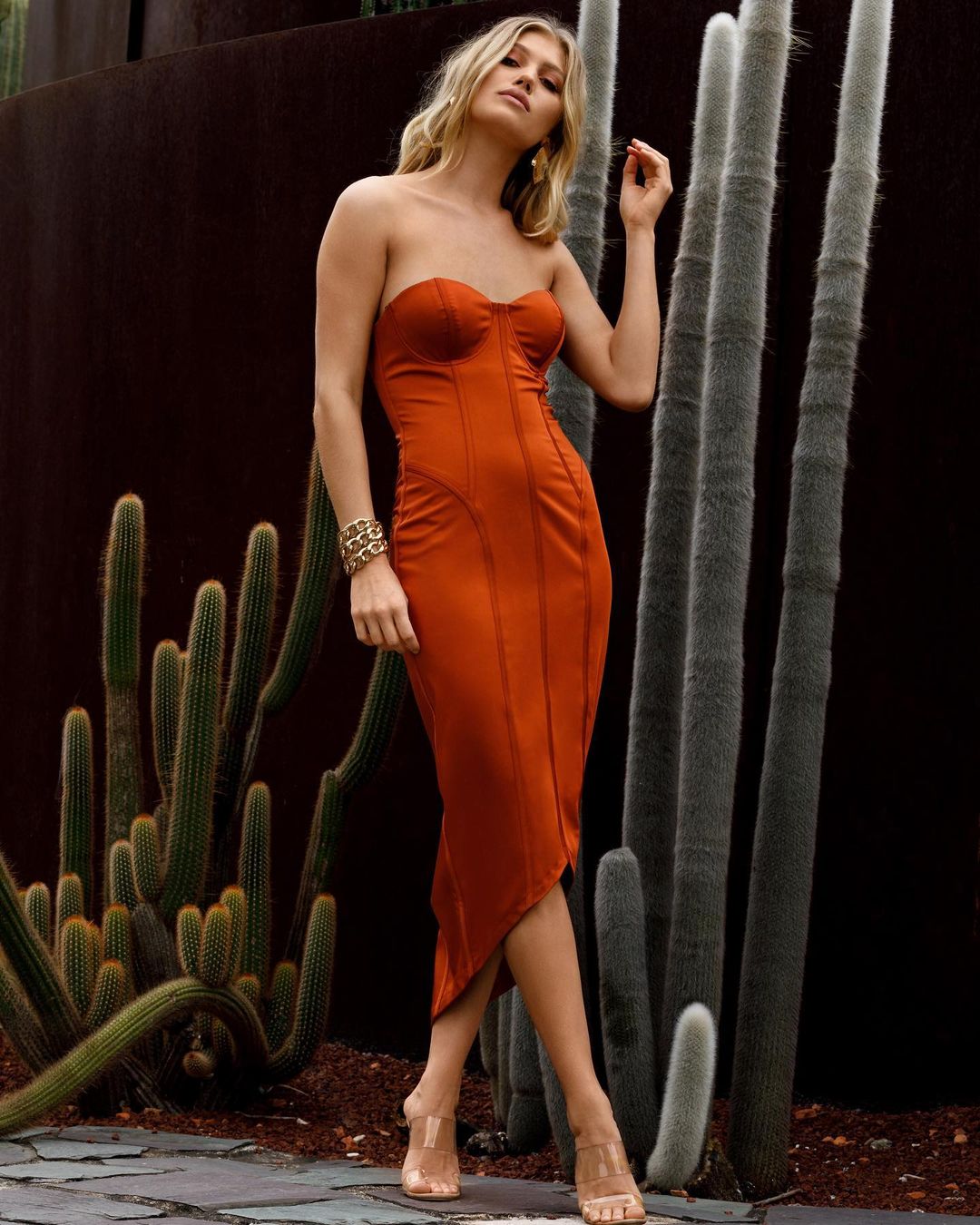 Satin Burnt Orange Dress Ideas
These satin bridesmaid dresses are easy-to-wear bridal gowns because they are light and comfortable. The most important thing about bridesmaid dresses is that they fit well and feel like a second skin.
Whether you are looking for a sophisticated look or something more casual, you can pair these styles with any other color or accessories. For example, wear a deep-hued satin burnt orange gown with black heels and accessories, or opt for a classic all-white with gold accents.
@jennyyoonyc via Instagram
i
Save to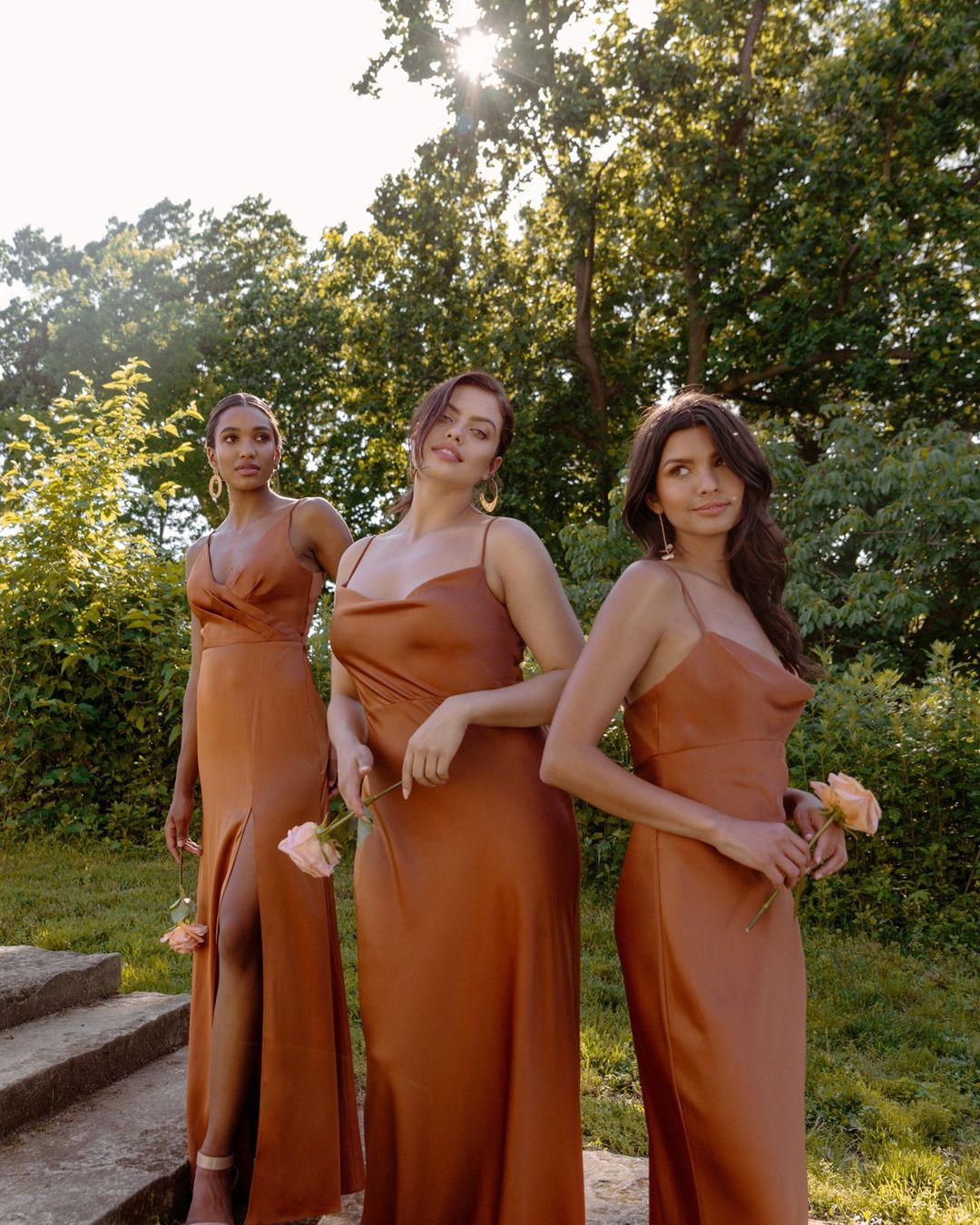 Velvet Burnt Orange Bridesmaid Dresses
Velvet burnt orange dresses are also popular because they fit different body types, skin tones, and occasions. For the bridesmaid, these burnt orange dresses are a great neutral that bridesmaids can use as an accent color to make a bold statement without being too overpowering.
Bridesmaids will love wearing this unique style of burnt orange dresses. They can choose from different fabrics and cuts; from soft silk to lightweight cotton so that everyone feels comfortable in their dress.
Save to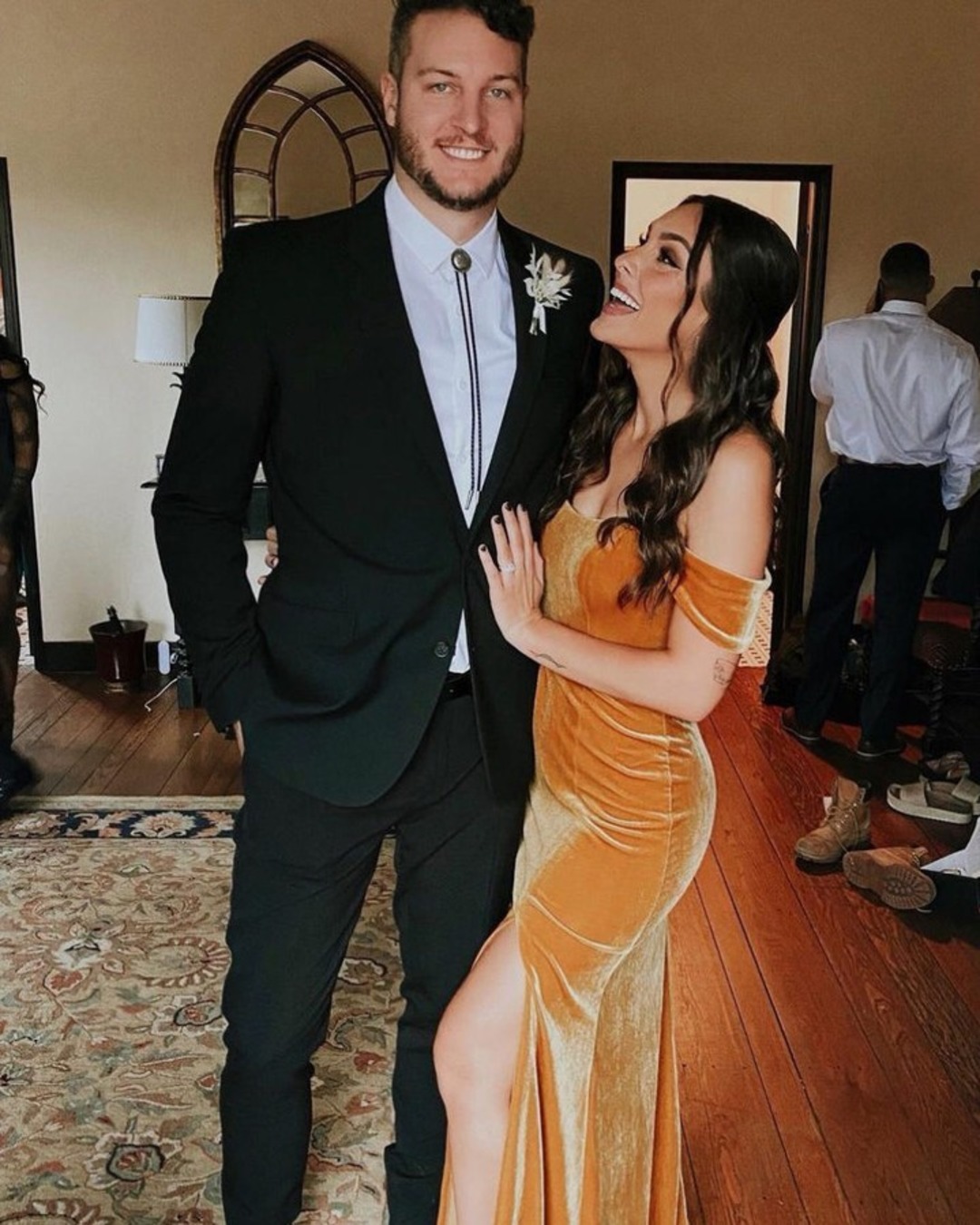 @jennyyoonyc via Instagram
i
Sleeve Dresses For A Wedding
Sleeve dresses give more room for versatility in styling options. You can wear them as sleeves on their own or as part of a top or jacket. The options are endless. Burnt orange dresses with sleeves can make any bridesmaid look more sophisticated in their dress.
If you are looking for something more interesting than plain bridal dresses, this is one option that brides can consider when choosing what style to match their bridesmaid dresses sleeves. Sleeves are great for weddings because they add more drama and style to an otherwise plain outfit.
@leaveherwilder via Instagram
i
Save to
@ellezeitounedesigns via Instagram
i
Save to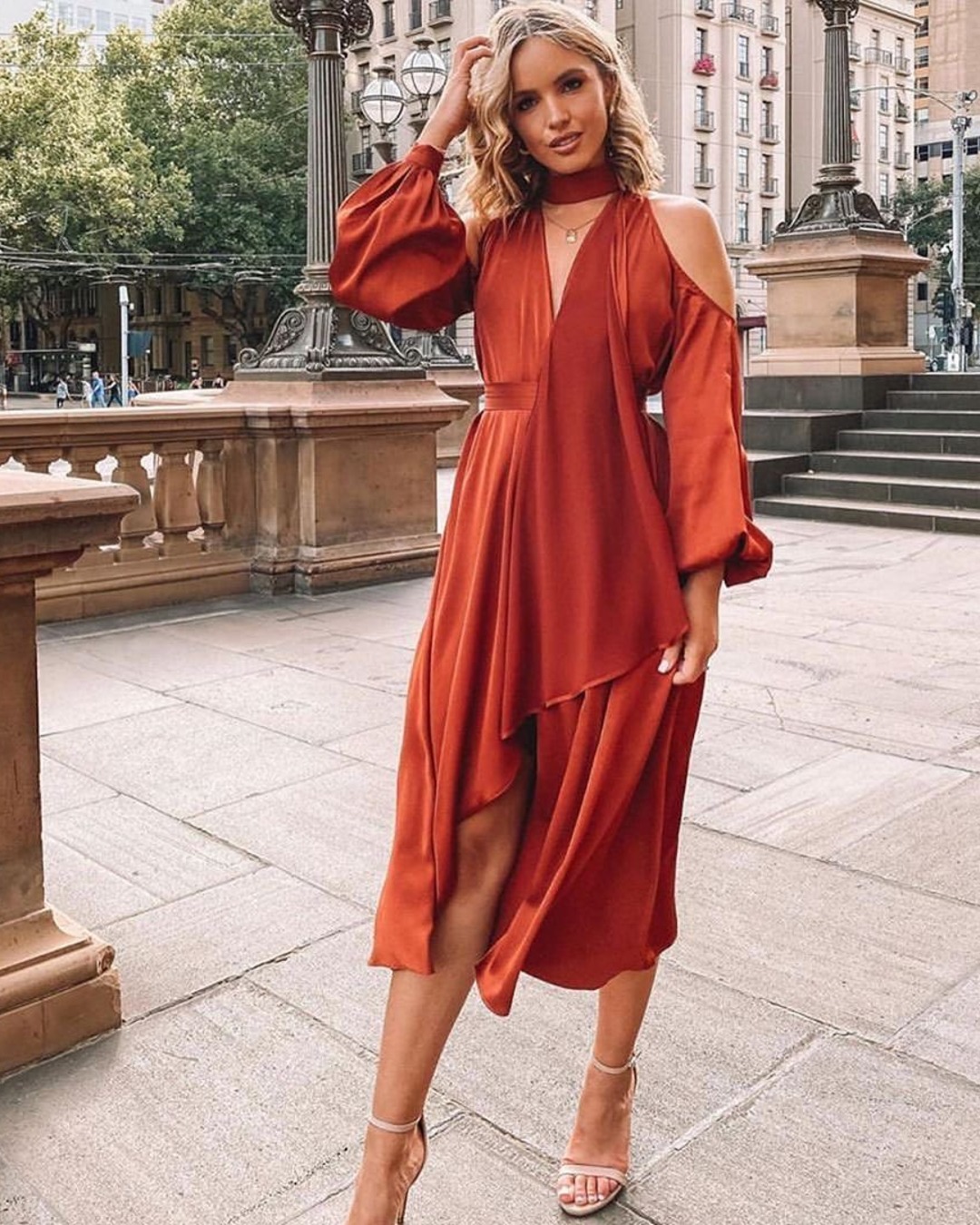 One Shoulder Dress Ideas
One-shoulder dresses are trendy right now, especially among young women who have fuller figures and want their curves to pop out even more than usual when they wear one-shoulder dresses.
Burnt orange one-shoulder bridesmaid dresses are versatile. They allow you to style them in creative ways, depending on what you want your outfit to look like on your big day.
These burnt orange bridesmaid dresses are perfect for any bride who wants to show off her individuality. They come in many styles, so you have plenty of options. As you pick out your bridesmaid dress, make sure to put your comfort first.