Decorations for church weddings don't have to cost a lot. Churches are still a popular choice for wedding venues. Church wedding decorations do not have to be extravagant. Nor do they have to be generic for those on a budget.

We have gathered some tips on how to decorate for a church wedding from simple decorations to vintage decor to rustic themed church wedding Churches in general are beautiful. However, your wedding is a special day so of course you want to adorn the church, cathedral, temple, chapel or other religious venue that go along with your wedding theme.
Check out our ideas for church wedding decorations for inspiration for your wedding. From DIY to affordable wedding decorations, we've got you covered.
Church Decor
Frequently Asked Questions
Can you decorate a Catholic church for a wedding?
How do I decorate my wedding columns?
How do I decorate my wedding pews?
Church Decorations For Wedding Ceremony
#1
Keep in mind that there will be certain restrictions when it comes to church wedding decorations, as with most wedding venues. Be sure to speak with whomever is in charge of the building to determine what you can and cannot decorate and so on.
Of course, you can purchase elaborate decorations for a church wedding online or at your local party supply store. However, one of the best things about church weddings is that they don't have to be over-the-top. You can use a variety of church decorations for wedding from flowers to ribbons to lanterns.
One of the best things about church weddings is that most likely already have a stunning venue so can just add to that. If you have permission, you can decorate the outside of the church as well as the inside.
Vintage Elegant Church Wedding Decorations
#2
Vintage weddings are all the rage right now. Vintage weddings are timeless, classy, and elegant. However, vintage church wedding decorations don't have to cost a fortune.
Church decorations for a vintage wedding can include anything from timeless antiques to modern vintage items. Some of the best places to find vintage items that can be used as church wedding decorations are thrift shops, consignment stores and antique stores.
You can use items such as lanterns, antique vases or china and even vintage furniture. If you are crafty, you can make DIY vintage decorations from vintage jewelry. The possibilities for decorations for an elegant vintage church wedding are endless.
Wedding Ceremony Church Decorations For Aisle
#3
Of course, the aisle is one of the most important places as all eyes will be on the bride as she makes her grand entrance. If you are looking for pretty yet simple church aisle wedding decorations, you won't have to look far.
A simple aisle runner can be adorned with rose petals for the bride. Additionally, you can use bows and flowers or greenery at the end of each pew on the aisle. Lanterns or candles are also ideal for evening church wedding decorations.
Simple Wedding Church Decorations With Incredible Candles And Lanterns
#4
Speaking of candles and lanterns, you can use one or the other, or both for simple church altar wedding decorations as well. Most churches will allow you to decorate the altar but always check first to be sure.
Lanterns and candles allow for a soft, romantic light. If you are unable to use real candles or lanterns for fire safety reasons, LED lanterns and candles are a perfectly safe substitution. You can decorate the entire church with stunningly beautiful candles and/or lanterns for a truly romantic setting.
Rustic Church Wedding Decorations
#5
Rustic weddings are also extremely popular. They are ideal for country or small town church weddings. As well, you can incorporate boho themed ideas to your rustic wedding decor.
Rustic church wedding decorations can range from sunflowers to mason jars with candles. One of the best things about rustic weddings is that you can save money by making DIY church wedding decorations.
flower_addicted_angelica via Instagram
i
Save to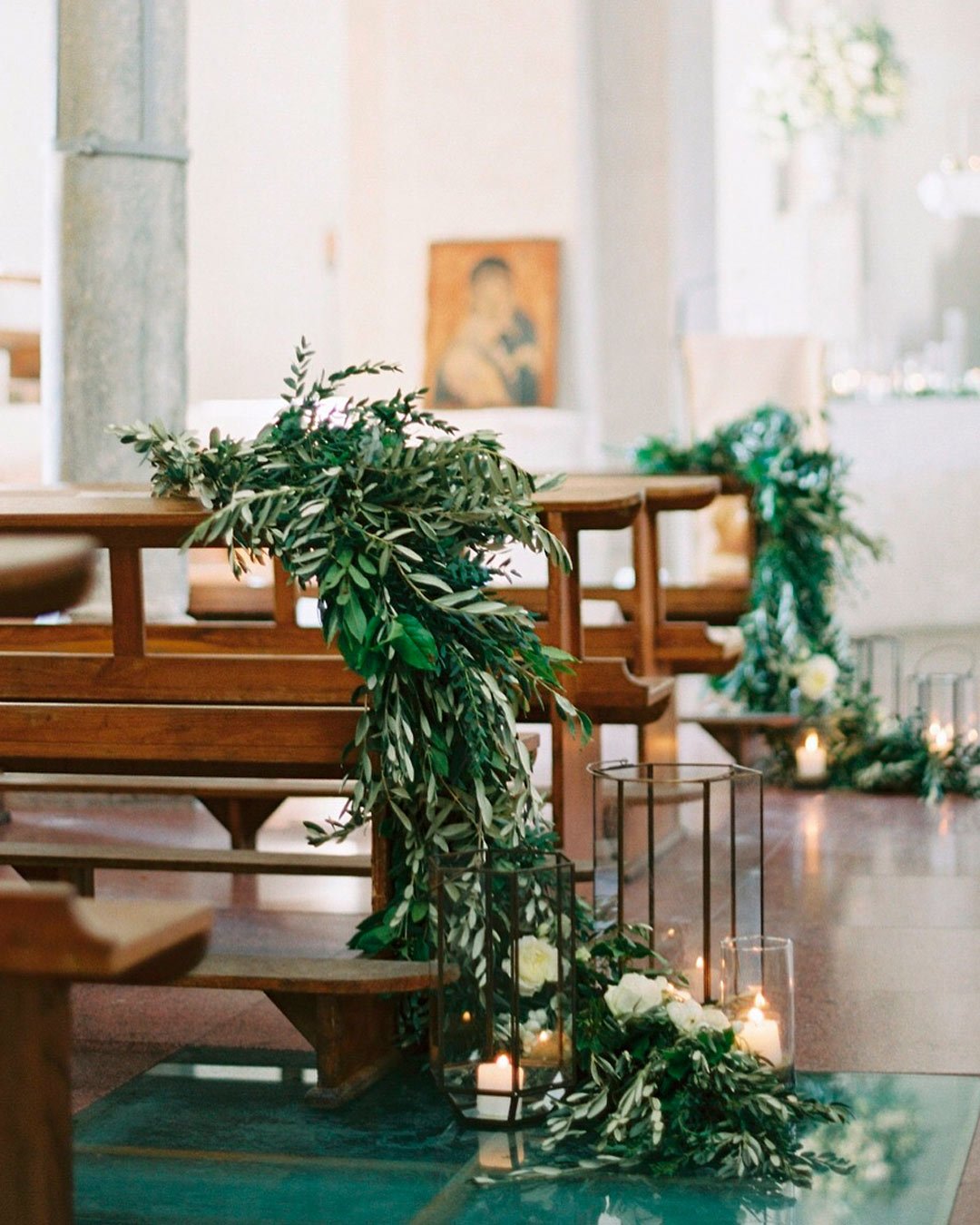 Save to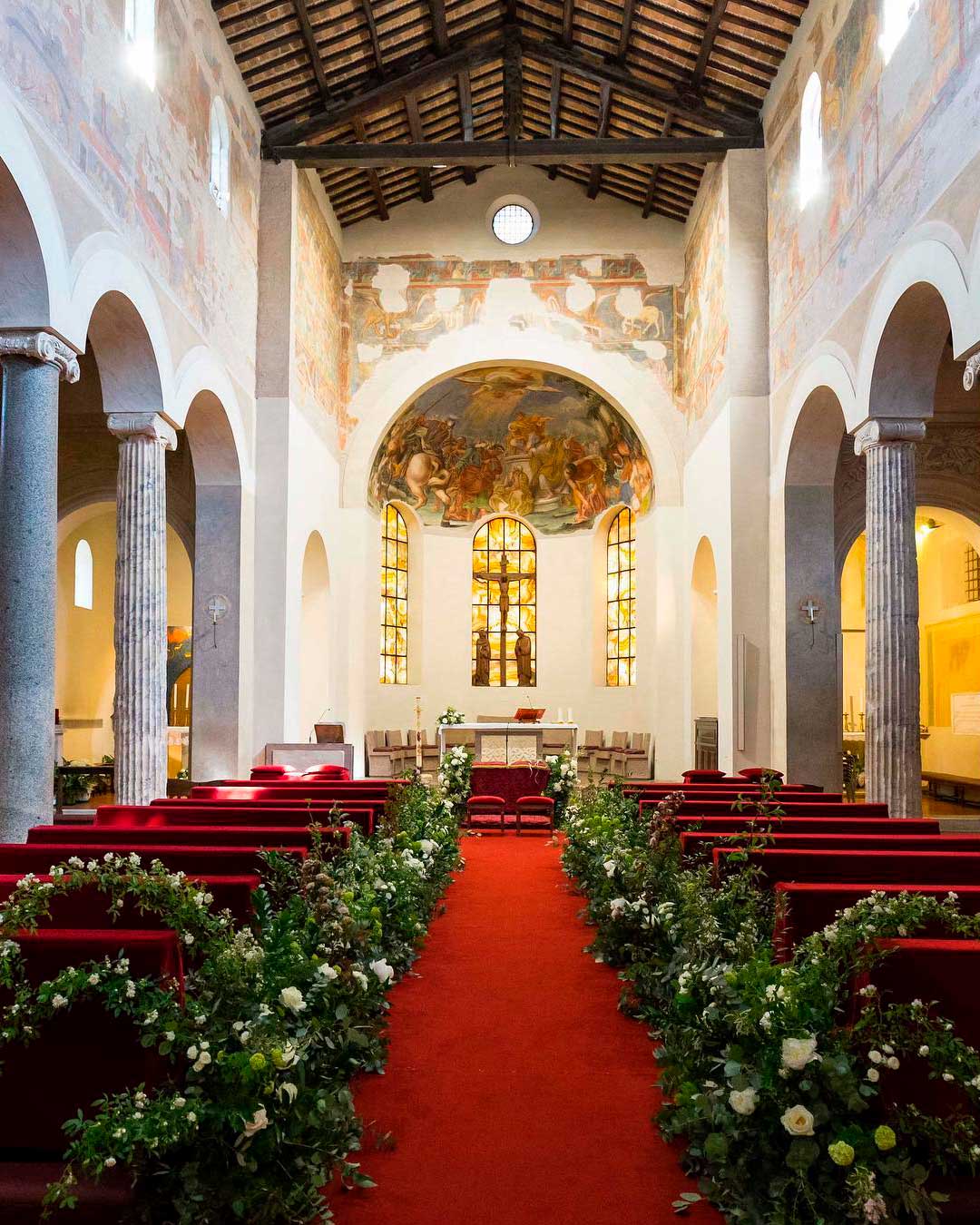 White Wedding Church Decorations
#6
If you really want to go old school, you can decorate the church all in white. White wedding church decorations can include flowing white ribbons and bows, pillar candles and a white aisle runner.
White flowers such as orchids, roses, lilies, and daisies will only complement your white wedding theme. There are dozens of ideas for white church wedding decorations.
Front Of Church Wedding Decorations
#7
Don't forget to check to see if you can decorate the outside of the church. Front of church decorations such as a balloon arch, greenery, and flowers can only enhance your church wedding.
You can even find gorgeous floral wreaths to hang on the church doors. Potted plants and flowers can be used outside the church as well.
Church Decorations For Wedding With Romantic Lights
#8
Lighting is key to a church wedding. From candles to lanterns to fairy lights, the sky's the limit when it comes to church lighting. It is imperative that you comply with fire safety of course. Keep in mind that flameless candles and LED lights are a safe and ideal solution for church lighting.
Jack o'lanterns are a great idea for fall wedding decorations for church. Fairy lights are the perfect solution for a summer church wedding. Lanterns are also a great solution as you can decorate them to suit your wedding theme.
Wedding Church Decorations Ideas For Halls
#9
If your church has a hall or foyer, there are plenty of church decorations for wedding ceremonies that can be used to decorate these areas as well. Your guests will congregate in these areas, so you want to include these rooms when planning your church wedding decor.
Again, you can use lanterns and candles in these areas of the venue. Candelabras and floral arrangements are always a good idea. You can personalize these areas with photos of the bride and groom.
Simple Church Aisle Wedding Decorations With Romantic Flowers
#10
It's pretty much a given that you will use flowers for your church wedding. Both your florist and wedding planner will have ideas of how to incorporate flowers into your small church wedding decorations.
However, you don't have to spend a fortune on flowers to decorate the church. You can use flowers from your own garden or even fake flowers. Hang a simple floral decoration on the end of each pew, scatter some flower petals through the church and utilize DIY wedding floral arrangements on the altar.
As you can see, church wedding decorations don't have to cost an arm and a leg. As well, simple and DIY decorations can do so much to add to your special church wedding. We hope you are inspired by our ideas for gorgeous decorations for your dream church wedding.