If you're not down with the traditional white bridal shoes, then a great and even more stylish option would be clear wedding shoes. You can create that fairytale look of your dreams with clear pumps, sandals, high heels, or even flats. Whatever you choose, we're here for it all. And, with our roundup of the best Cinderella shoes for you to choose from this season, you won't miss a thing.
Brides Often Ask
Clear Wedding Heels
If you can find a comfortable pair of clear heels, then go for it. Slingbacks are a good choice of heels that you can wear comfortably throughout the night and take off easily. These dress sandals would look even more glasslike embellished with rhinestones or crystals. If you want even more comfort, you could go for a similar pair of wedge heels instead of stilettos. Dance into your happily ever after looking like the Cinderella bride that you are.
@elihavsassonofficial via Instagram
i
Save to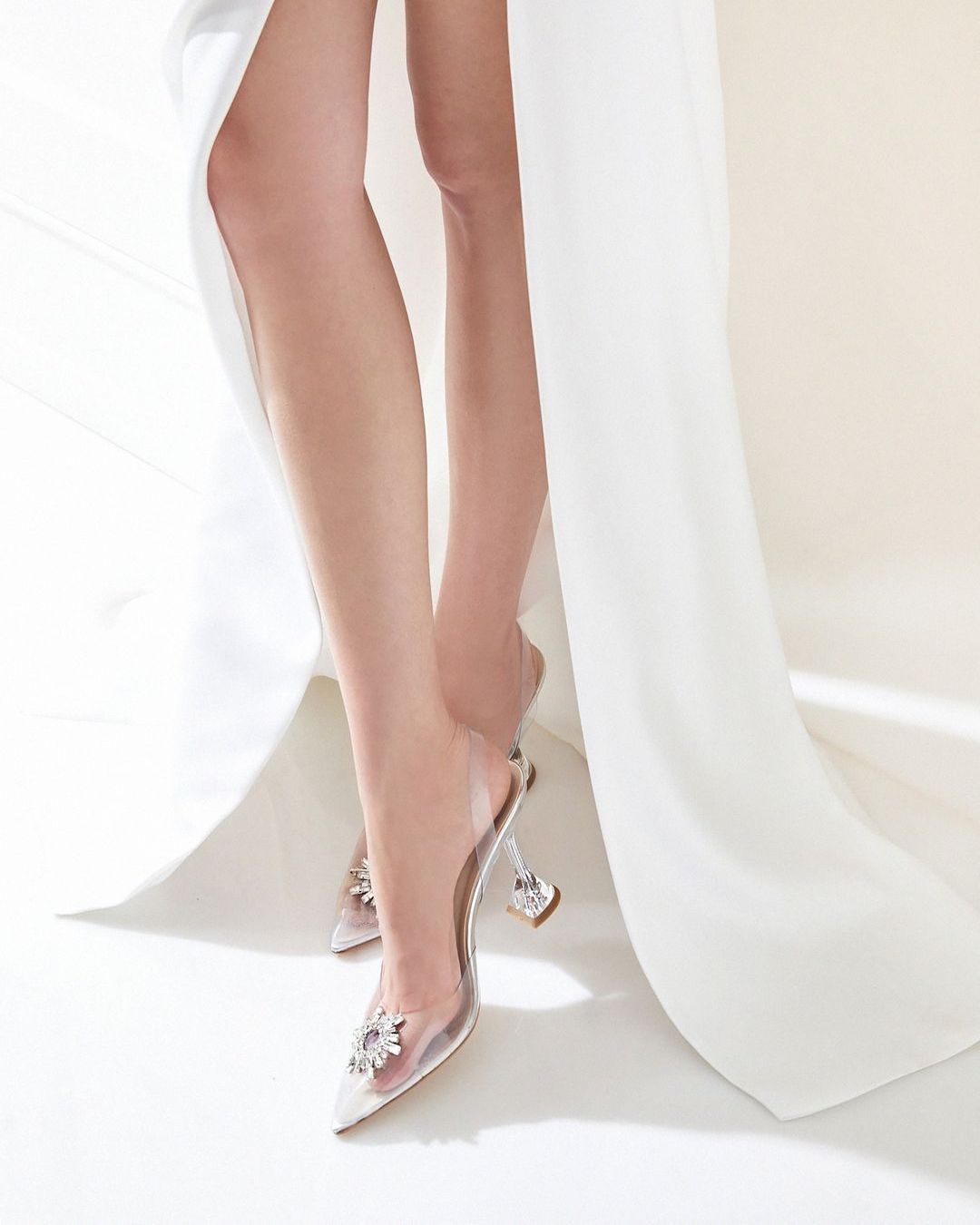 @thewhitecollectionau via Instagram
i
Save to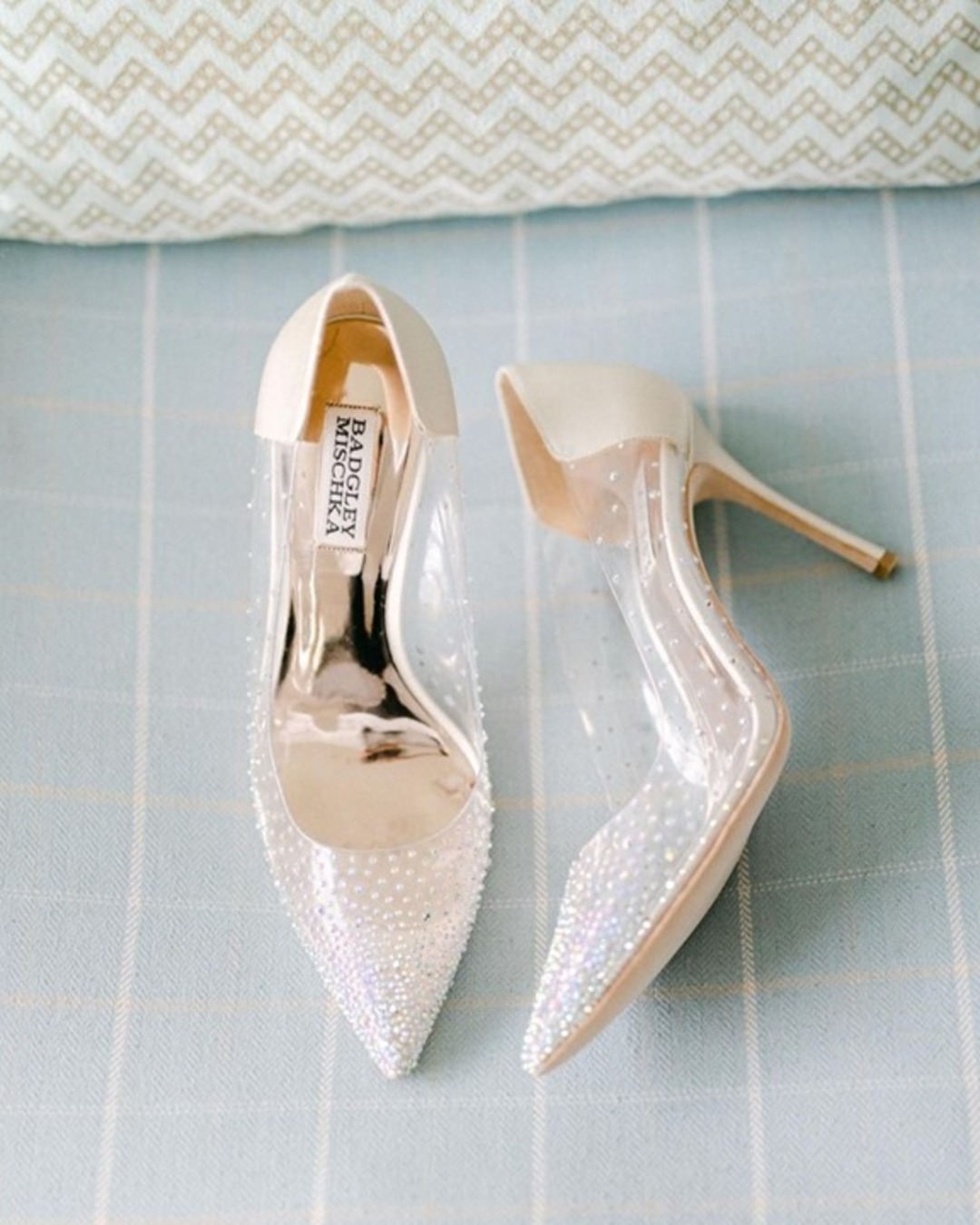 Clear Low Heels
Not every dress requires high heels, and you can get away with low heels for many wedding dress styles. With the variety of clear wedding shoes with low heels available, you should be able to find a perfect match. From low block heels to kitten heels or even low wedges, these are styles that go well with most wedding dress designs. With open toes or even crystal detailing, you can enjoy a night of comfort while looking gorgeous at the same time from your head down to your toes.
@weddyshoes via Instagram
i
Save to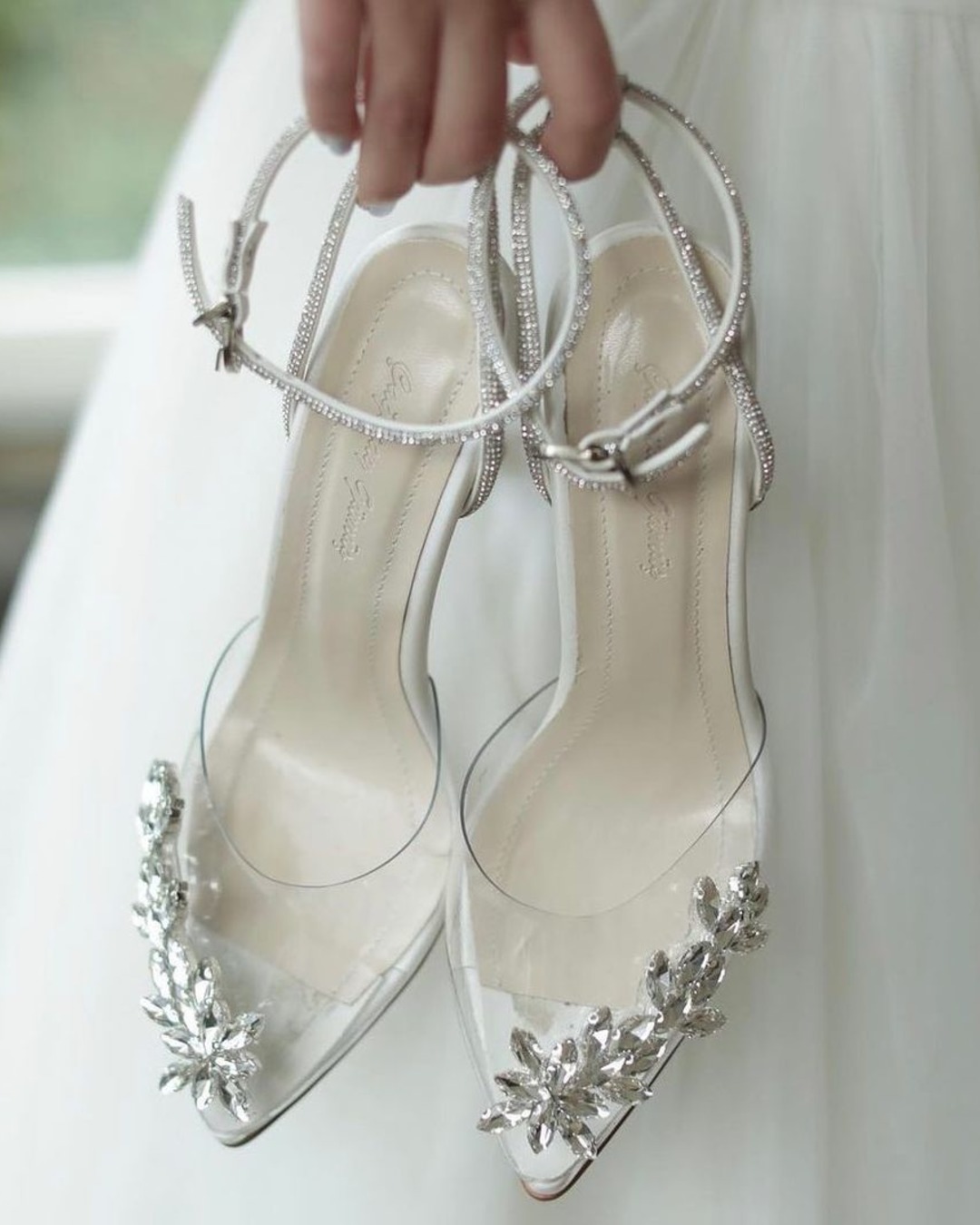 @arlenne_weddingshoes via Instagram
i
Save to
Clear Bridal Flats
Sometimes clear flat shoes for your wedding might be the best choice for that much-needed comfort. Whether you're on a budget or have enough to splurge, you should be able to find that perfect pair. It could be regular rounded clear flats or a pointed-toed pair for that extra style. Depending on the type of wedding, you could choose a plain clear vinyl pair, or one accented with gemstones for embellishment.
@arlenne_weddingshoes via Instagram
i
Save to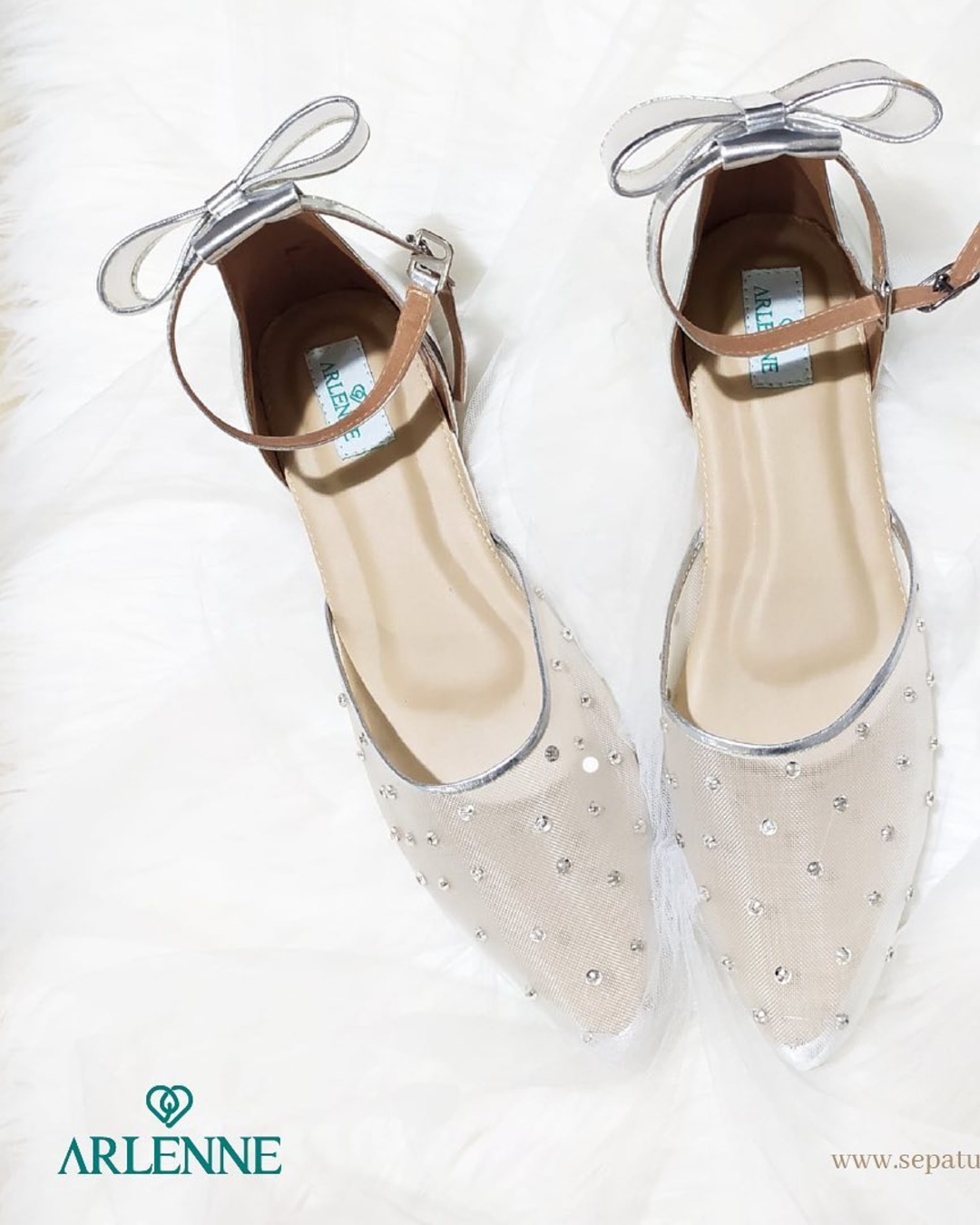 @katewhitcombshoes via Instagram
i
Save to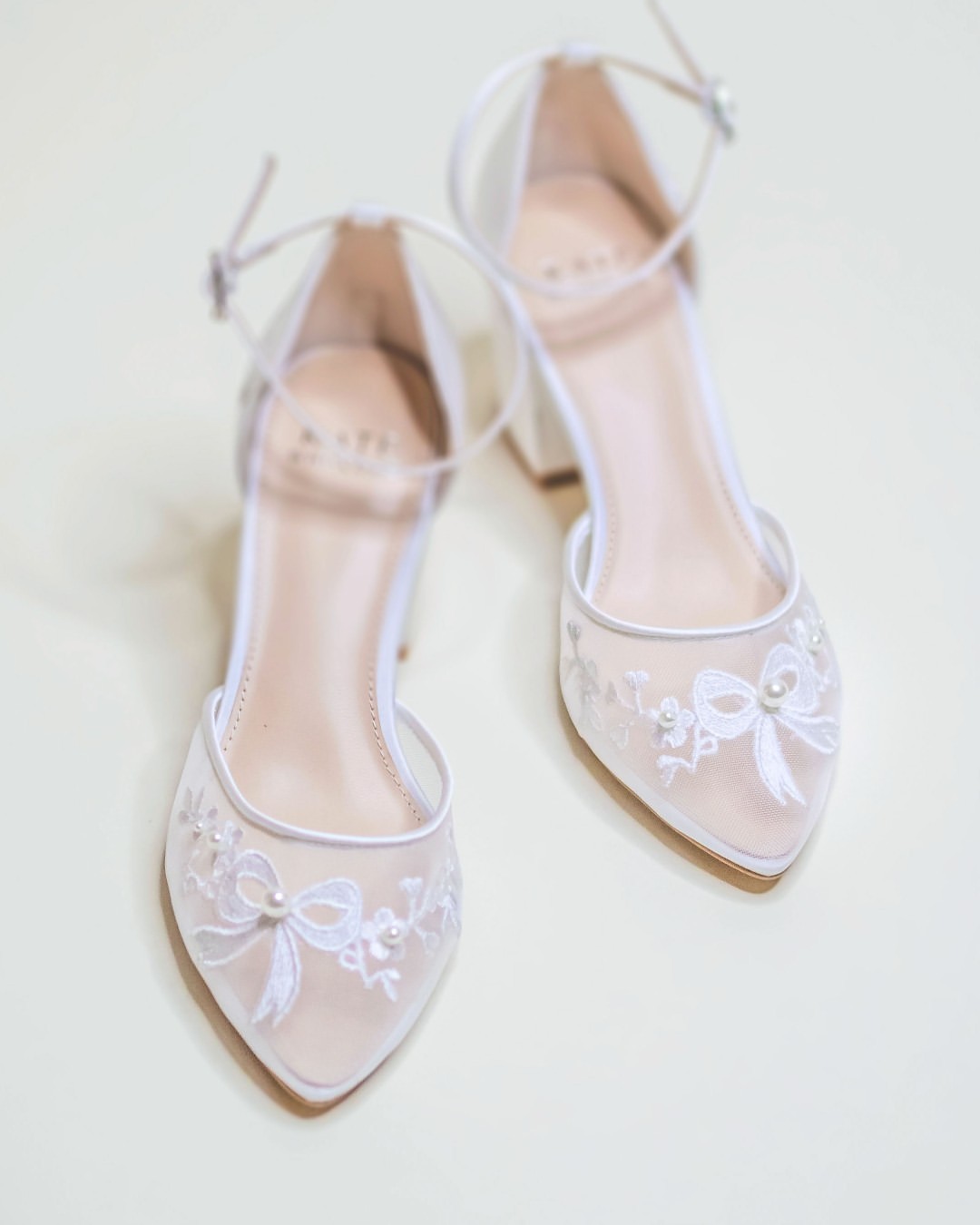 Clear Sandals For A Wedding
If you are looking for clear vinyl wedding shoes, consider getting sandals. The idea of clear glass slippers with clear heels begins to make perfect sense when you see the right pair of clear sandals. They can be block-heeled slingbacks or extra comfy wedge heels. Either way, they will look magnificent and would still be easy to kick off when it's time to make your moves to the dance floor. But, with all that comfort, you just might leave them on all night.
@camillagabrieli via Instagram
i
Save to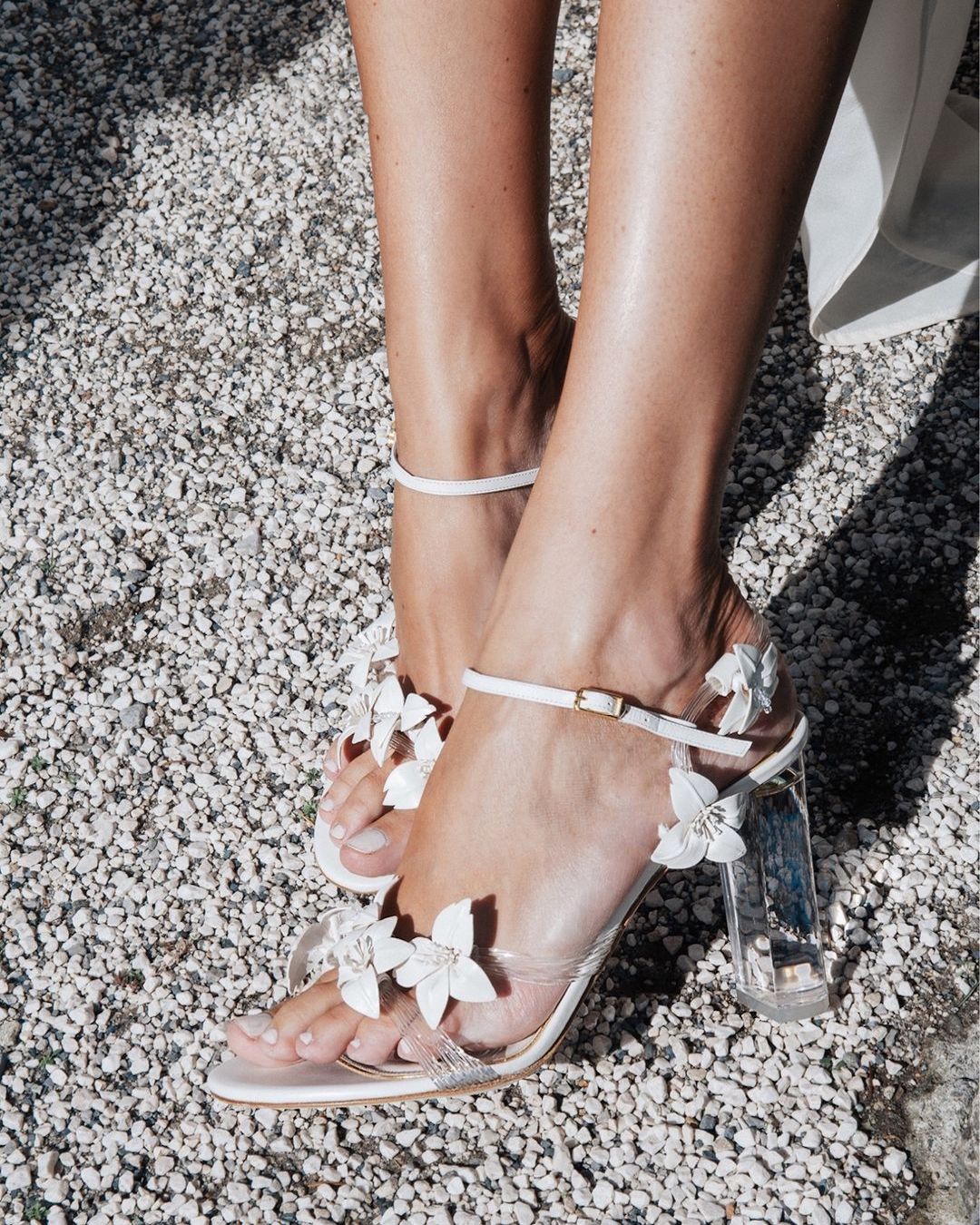 @camillagabrieli via Instagram
i
Save to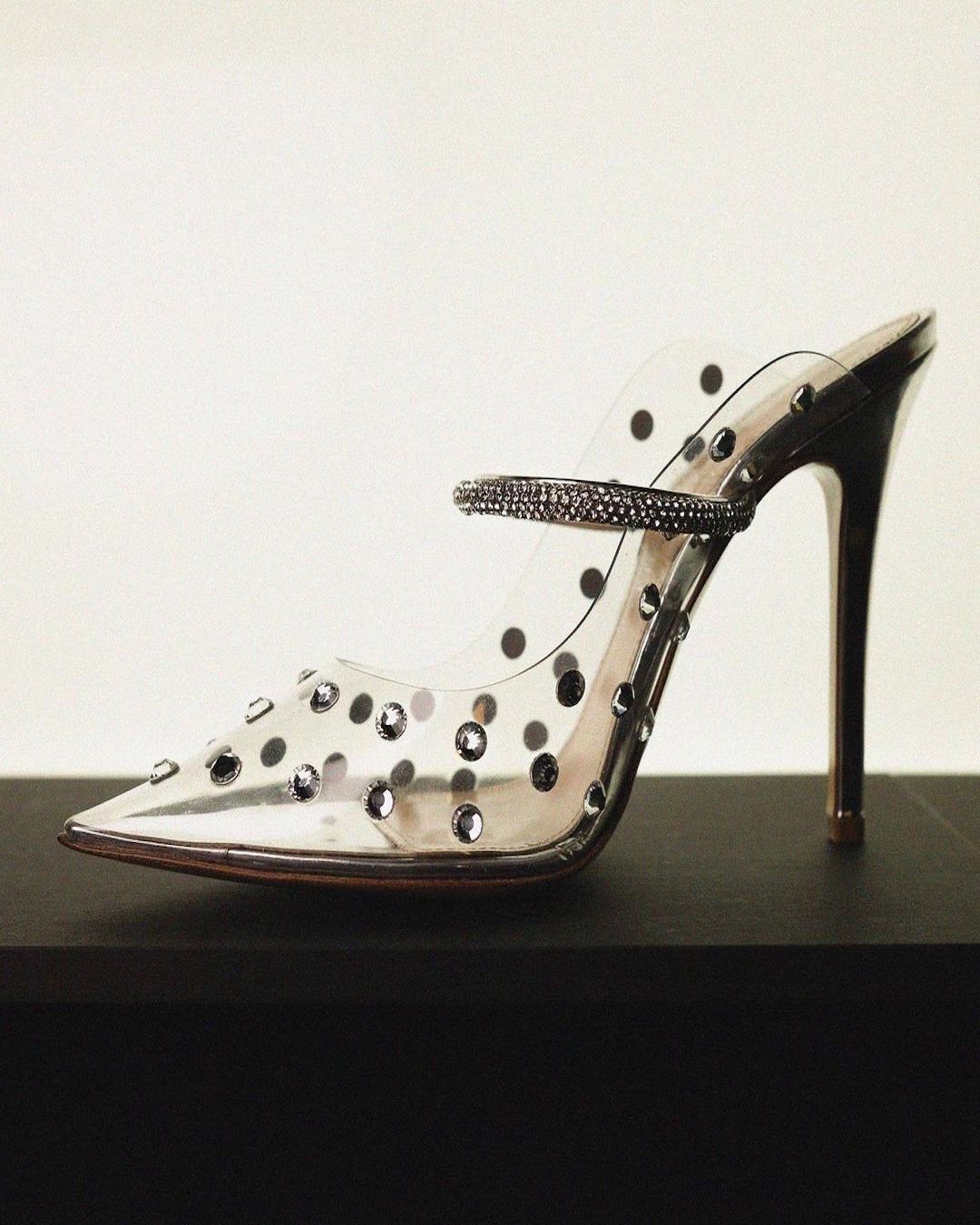 Clear Shoes With Rhinestones
Does your wedding look require some extra glitz and glamour? Then get a pair of clear wedding shoes with rhinestones that will do just that. Make a statement with clear pumps or sandals that look so glamorous, that you'd want your feet photographed all the time. Apart from having a modern look, the rhinestones will give your clear shoes that much coveted glasslike appearance. So, have the time of your life Cinderella. These shoes would fit most wedding dress styles, so one less thing to worry about.
@jimmychoo via Instagram
i
Save to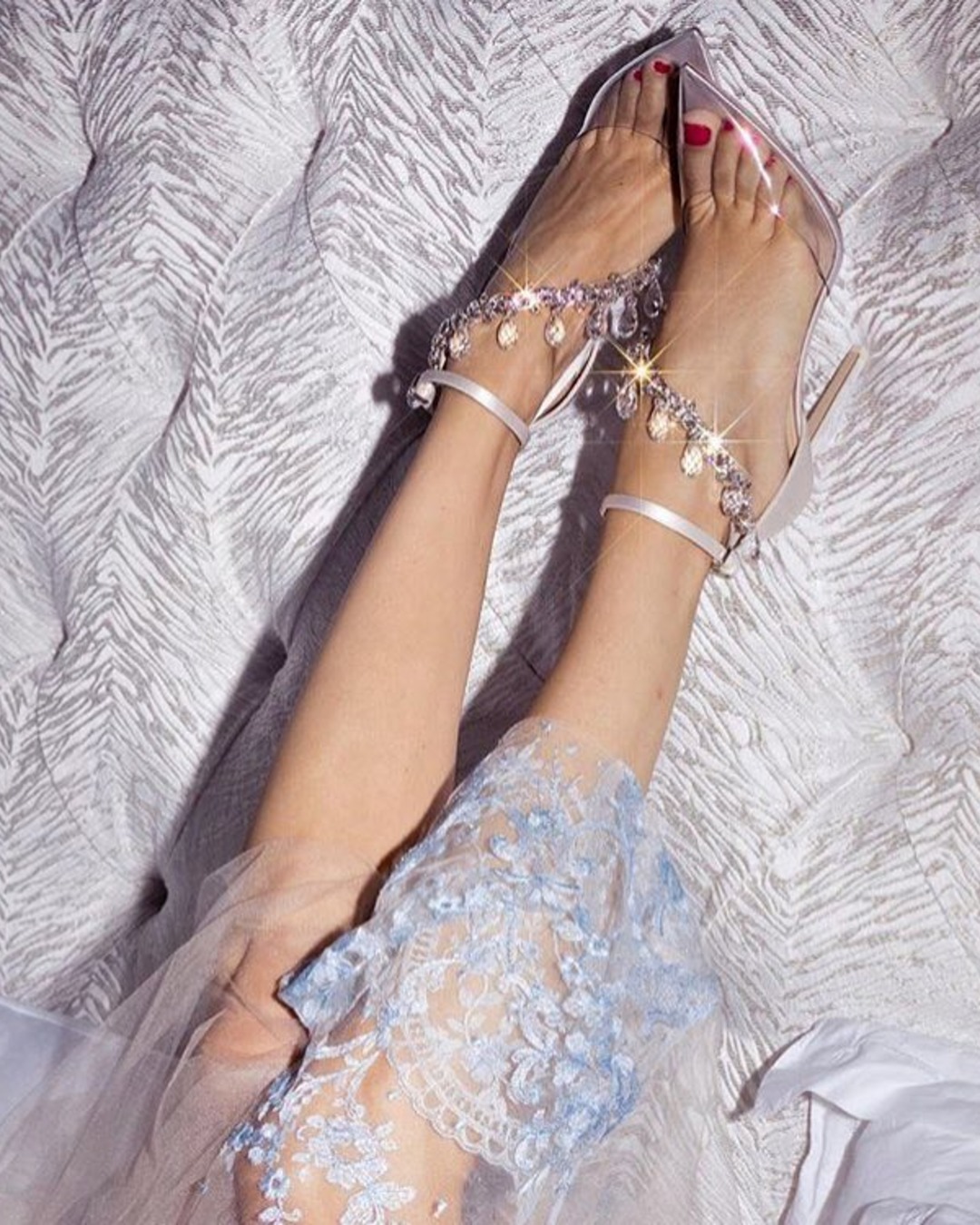 @thewhitecollectionau via Instagram
i
Save to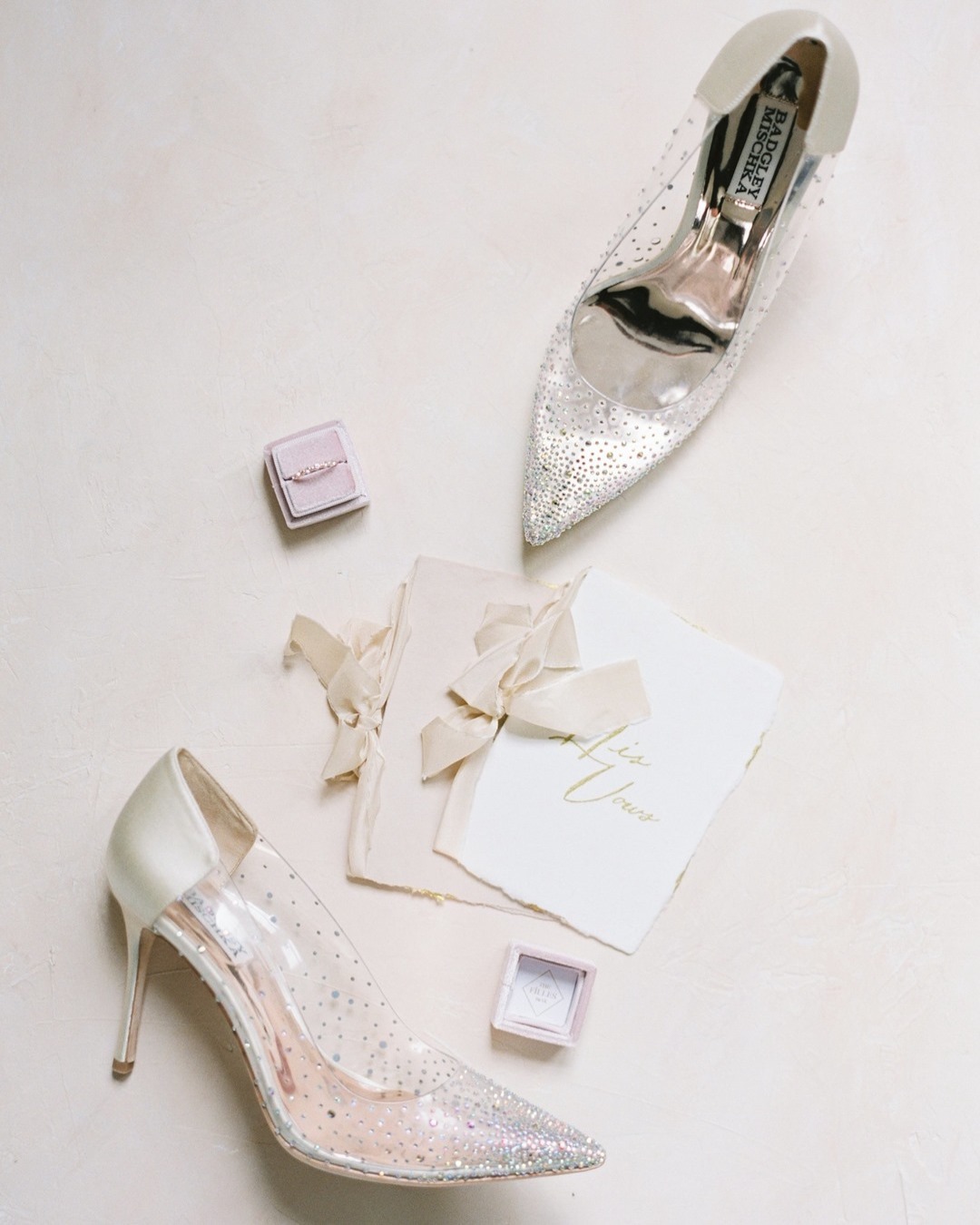 @elihavsassonofficial via Instagram
i
Save to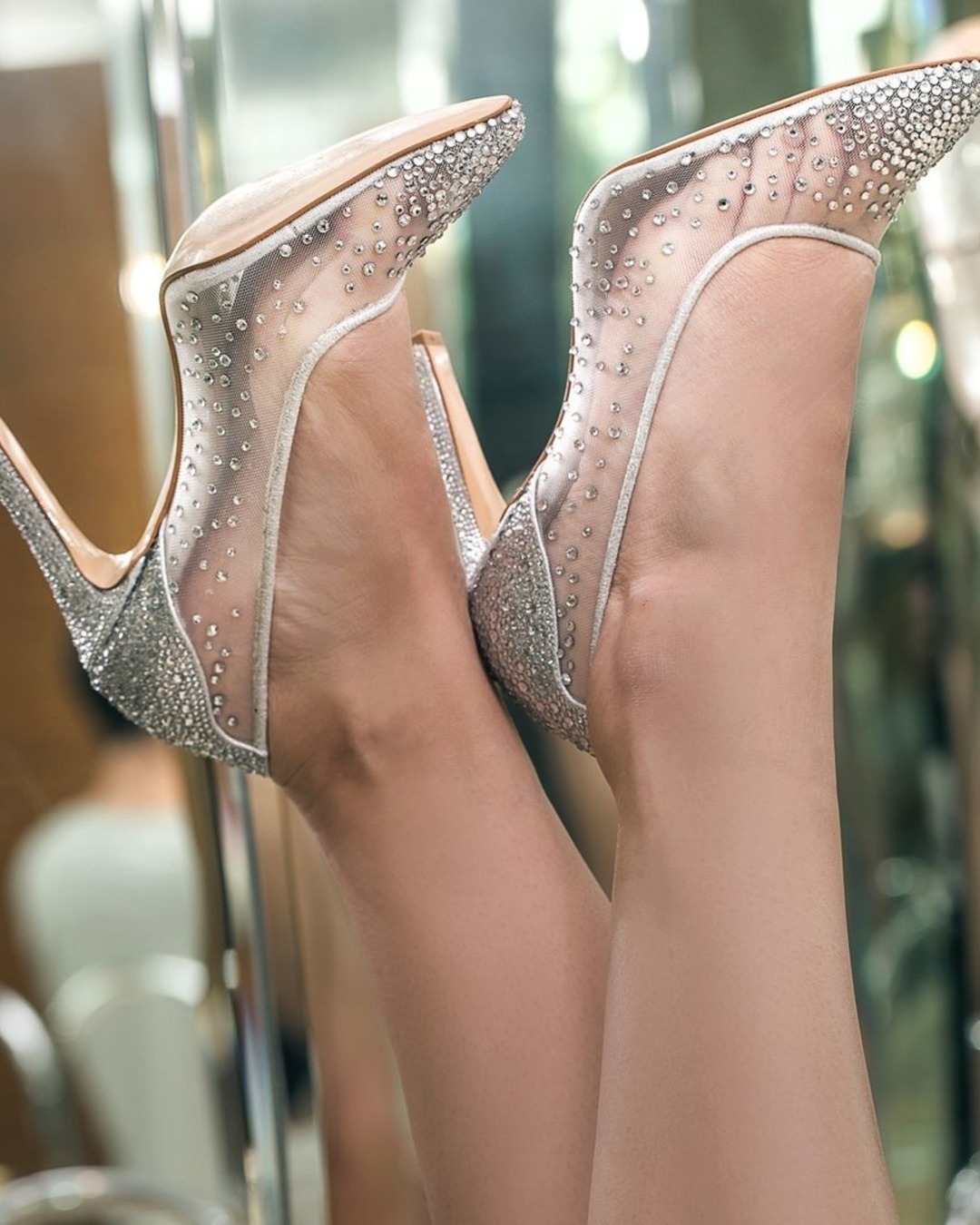 Gold Clear Shoe Ideas
Get that added sparkle with shimmery clear wedding shoes in gold. Whether you're having a vintage-themed wedding and need vintage clear wedge wedding shoes, or just want this look, it is always a good choice. You can have the most glasslike pair of shoes on your feet with the glitz that comes from gold embellishments on your clear pumps, sandals, or even booties.
Clear Sequin Bridal Shoes
Sequins are popular with weddings, and if you would be wearing a sleek and understated wedding dress, you might want clear sequin wedding shoes to dress it up. You might also want a sequined pair of shoes to go with a sequined dress. Either way, this is a cool look that would be loved by an edgy, fashionable, and trendsetting bride. Whether you choose pumps, slingbacks or low heels, as long as they are comfortable, you should look and feel your best.
Clear shoes are the ultimate bridal accessory. The type that you won't want to let go of once you set your eyes on the perfect pair. Every bride deserves to feel like a princess, and these glasslike Cinderella shoes are the best shortcut to get you there. Wedding worthy clear shoes of every style for that modern bride. Step into your happily ever after the right way; the Cinderella way, and leave your magnificent shoes on even after the clock strikes twelve.