Modern brides break traditions and think out of the box, from their dresses to accessories and the wedding proper – they set standards! Rings are not left out, that's why engagement ring trends 2018 is one of the most searched phrases on Google. Every girl needs that ring she can proudly flaunt.
Engagement rings are a symbol of love, promise and commitment, picking one is serious business. This is a piece of jewelry that the bride may wear for decades and pass on to the next generation as heirloom. This makes a lot of thought go into choosing one. Every bride is unique and will choose a ring that matches her personality, fashion style and comfort.
There are so many breathtaking designs available today, that will make a bride spoilt for choice. We are only halfway into 2018 but have seen stunning engagement rings that made our jaws drop! Brides will never run out of options, there's millions of cuts, types and styles to suit every bride!
Take the traditional bride for example, she'd love the different styles that simple engagement rings present. But give her solitaire diamond rings? Her heart will skip a beat! Some brides are very modern and choose not to stick to traditional, they will prefer white gold rings to the traditional yellow gold colors.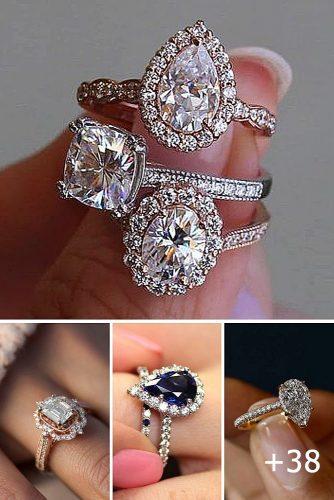 What's a ring without your personal touch? Brides who want some originality will go for the unique engagement rings. Decadence, statement and unusual best describes black and yellow diamonds. This will best suit the bold and elegant bride who is not scared to stand out!
We will not forget the bride who's on a budget, you don't need to break the bank to get your dream ring. There's something cheap but classy and very lovely for you.
Have friends glued to your finger by making a selection from our eye popping compilation of 2018 engagement rings!
Vintage Engagement Rings
Be it Edwardian rings or the fashion forward art deco engagement rings styles, vintage rings are timeless! They are elegant, historical, intricately detailed and never dates.
TIP. An engagement ring doesn't have to come from decades ago to be vintage. Create your own vintage inspired engagement ring to get that back-in-time-feel.
Way back, old mine cut stones (now called rose cuts and cushion cuts) and yellow gold were the rave of the moment. Now you can design your perfect vintage ring from gem stones like tourmalines, emeralds, sapphires or rubies.
They could also come in floral accents, asscher, square bezel, princess, trillion, emerald or Marquis cut diamonds. etc. These gemstones are patterned mosaic like. These stones are best etched in durable metals like platinum, gold and silver.
Vintage is for sophisticated brides that love the antique style and wants a feel of the old world. The good news is that, there are many ideas to explore, ones that will send back to the Victorian era. While they may be expensive, they're worth every dime and for the bride on a budget, a replica will do just fine!
Cheap Engagement Rings
For couples who do not have so much to spare, you don't have to break the bank. There are beautiful rings that are budget friendly, classy and durable at the same time. Engagement rings are special, but that should not make you go out of your way.
That money could be used as down payment for a house or a business, instead of buying a massive rock. The time has passed when men used their salaries or life savings to buy a ring. The best and most important part is that, you're starting a forever journey with the one you love.
TIP. For the bride who is in love with the black diamonds, onyx will give you as much elegance. How about the cubic zirconia? Metals like gold and silver also have budget friendly grades. This is you still getting your dream ring and saving cost at the same time.
A ring is not only a symbol of commitment, the thought behind the ring is what really matters. As a result, we have compiled some of our favorite rings under $250 for you. They look as gorgeous as their expensive other.
Beautiful Halo Engagement Rings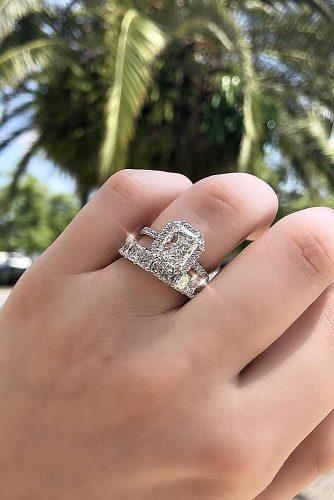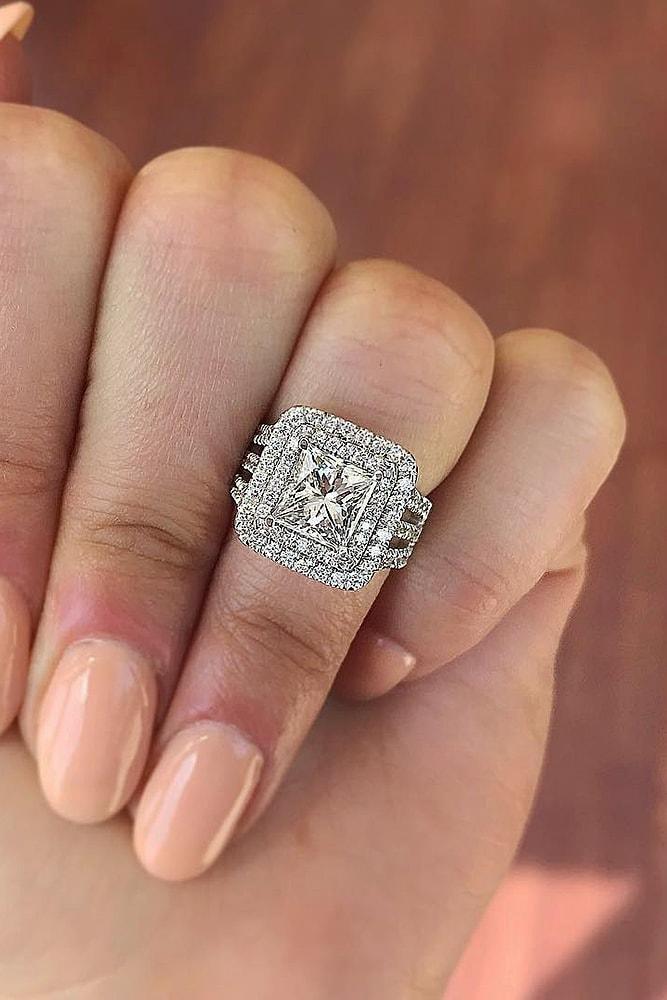 Over the years, halo styled engagement rings have been on increasing demand. Halos are here to stay as intending brides are rooting for it real hard.
TIP. Halos make center diamonds look larger when clustered around it.
Diamonds are a girl's best friend, they should look sizeable after all.
Another beautiful fact about the halo style is that, they give off a vintage inspired look. This trend has been setting the fashion world on edge and it comes with a timeless appeal. Halos come in very attractive designs, some of which are multidimensional, ornate and curvy.
If you're a fashion forward glamorous bride who wants a little more attention to her finger, choose a halo engagement ring. The options of adding a halo to your engagement ring is endless, no matter what style it is. An asscher, trillion, princes, marquis or hexagonal cut diamond engagement ring gets a new face lift with a halo present.
The beauty of a wedding band, when paired with halo engagement rings are astonishing. They give wedding bands an extra glow and some more class!





Pear Cut Engagement Rings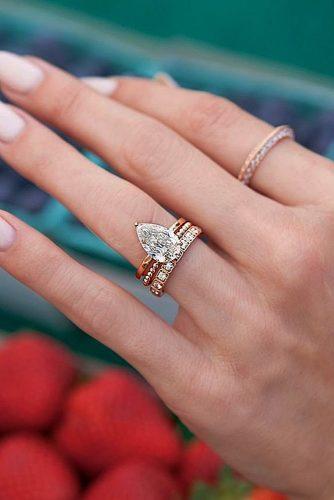 Pear and Marquise shapes are explicitly unique diamond cuts. They are so beautiful, brides find it difficult to make a choice.
Did you know? Marquis of French origin means nobleman, they wore diamonds to flaunt their status. Today, the marquise cut is symbolized by many cut variations, oval diamond cut being the most common.
Pear cut diamond engagement ring, like a teardrop is a dainty combination of a round cut and Marquise diamond, tapering at one end. Pear shaped engagement rings come in shapes and sizes that are perfect for women with wide, short or slim fingers.
Diamond in pear shape gives the fingers a slender and longer impression, but the stone size should be considered. A huge stone may swallow the finger, making them look shorter.
TIP. Marquise and pear cuts will sit well on ladies who have short fingers, making them appear longer.
Women with wide fingers are the luckiest in those category. While they have to avoid wearing rings that show so much flesh, they can flaunt both the pear and marquise engagement cut rings.
Charming Rose Gold Engagement Rings
Have you seen a rose gold ring? They ooze elegance and are in a class of their own! They have been in vogue for a couple of years and are not leaving our faces anytime soon.
This is a perfect substitute for intending brides who do not feel yellow gold engagement rings. Brides who want a combination of subtlety and color have embraced rose gold engagement rings. Rose Gold rings have successfully achieved near classic status!
Won't they? They have all the advantages and are corporate.
TIP. Rose Gold matches varieties of skin tones- fair, caramel, chocolate, pastels and all shades between.
We feel very sentimental about rose gold engagement rings. This is because, not only do the intending brides get their dream rings. But, rose gold goes a step further in making them feel comfortable in their skin, by complementing them.
Pair a rose gold ring with diamonds, rubies, sapphires, emeralds or amethysts and it matches perfectly as a set!
With other metals, rose gold blends in very well without clashes. Rose Gold comes in many styles, cuts and colors suitable for the vintage and modern bride.
Propose to her with a breathtaking engagement ring she will fall in love with (Photo 1).
Sparkling round diamond and romantic rose gold make engagement ring so gorgeous! (Photo 2)
Stunning ring with a beautiful paved band with center pear shaped diamond (Photo 3).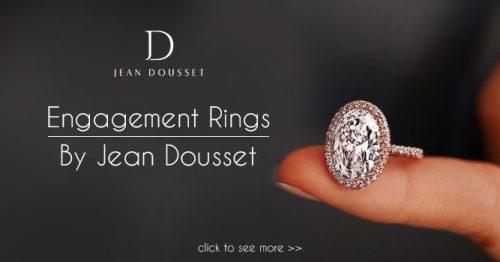 See more breathtaking and inspiring rings at Iconic Engagement Rings By Jean Dousset.
Trendy Unique Engagement Rings 2018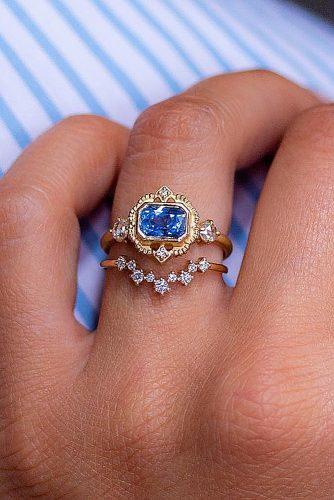 Jewelers and brides have outdone themselves this year 2018. They keep us fascinated by reinventing and blending the old with the new school. We've been on the lookout for trendy unique statement making engagement rings in 2018 and here are some of them.
If you're a romantic bride, you'll find the twisted accents style symbolic and unique. The infinity design represents you and your fiancé's lives becoming one. The twists mean that your hearts and souls are intertwined. How sentimental!
TIP. Diamonds can fill the side twists with a sapphire as centerpiece.
Colored gemstones are unique and we have seen a lot of them trend this year. Nobody is sticking to the traditional anymore. Seems we all need some color in our lives. From sapphires to rubies, amethysts, diamonds and emeralds. Brides have defied tradition and gone bolder, join the train.
Odessa (Photo 1) engagement ring in white gold and infinity diamond. You can find more inspiration at 24 Gabriel & Co Engagement Rings Extraordinaire.

Amazing rings (Collage: (Photo 1)(Photo 3)) will look fantastic with these modern bands (Collage: Photo 2) in different gold colors. See more inspiring ideas at Award-Winning Engagement Rings From Noam Carver.
Solitaire Diamond Engagement Rings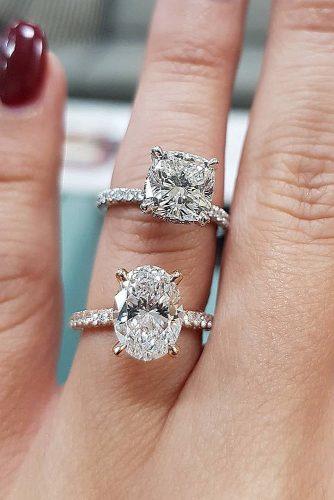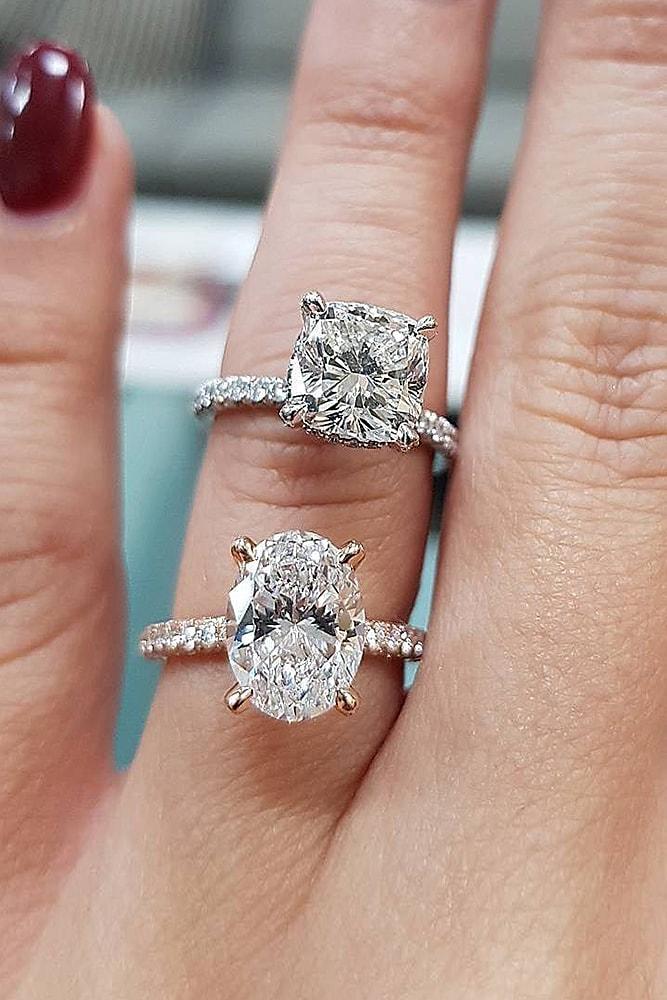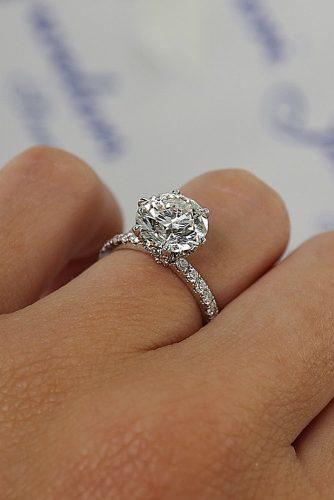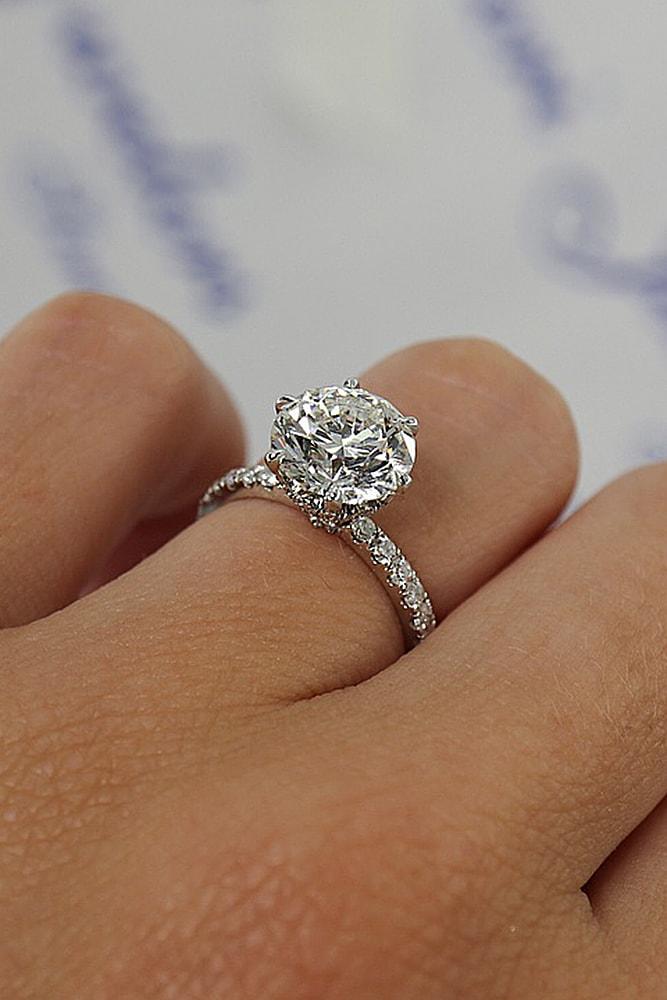 Solitaire diamond engagement rings never date. Demure and traditional brides will stick with moderate or small sized rocks. Bold brides will prefer larger and maybe, colored diamonds. This way, they maintain simplicity while making fashion statements.
They have been here through time and are still relevant. Solitaire rings define simplicity, elegance and class. They represent eternal love in just one stone. Its quality is timeless!
The ring is very traditional and emphasizes the beauty of a single diamond. The meaning of a solitaire is the presence of a single center diamond as the only embellishment. Hence, it's highly recommended for those who want a single simple stone engagement ring.
They come in an array of style, shapes, metals and setting to match various tastes and budgets. There's the yellow gold, white gold and platinum with a variety of karat weight. Their cuts are exquisite, depending on your choice.
TIP. This engagement ring type fit brides from all class.
Some brides will adore princess cut solitaire diamond and round cut solitaire diamond. While others will prefer an emerald cut solitaire diamond, radiant cut solitaire diamonds and all cuts in between.





Perfect Simple Engagement Rings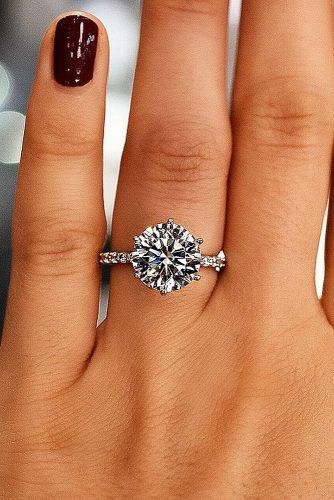 There is beauty in simplicity and as the saying goes, less is more! If you're a bride with an understated style, you may find wearing large rocks uncomfortable. Simple engagement rings are perfect for you. Now, this does not mean your ring will look drab and dull, nor will you trade style for comfort.
We would even say that some of the most gorgeous rings around lately are simple and dainty.
They come in intricate subtle details that never cease to hold your attention. Think of stones, metals and gems, you can have them all while maintaining your simplicity.
Simple engagement rings draw attention to the gemstones and the beautiful fingers they adorn. Simple engagement rings may not have gems on them. They can come in pure gold, platinum or silver charming bands. Their simplicity is the main attraction here.
TIP. Simple engagement rings can serve as heirloom, passed from one generation to another. They are also easy to manipulate and reset, if the bequeathed has a different taste from the previous wearer.
These rings are classic, elegant and subtle. These attributes best describes your personality and the uniqueness of your love.
Stunning Diamond Engagement Rings 2018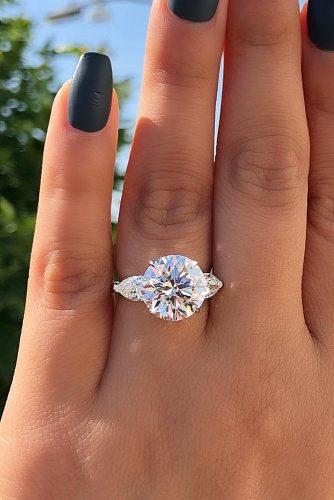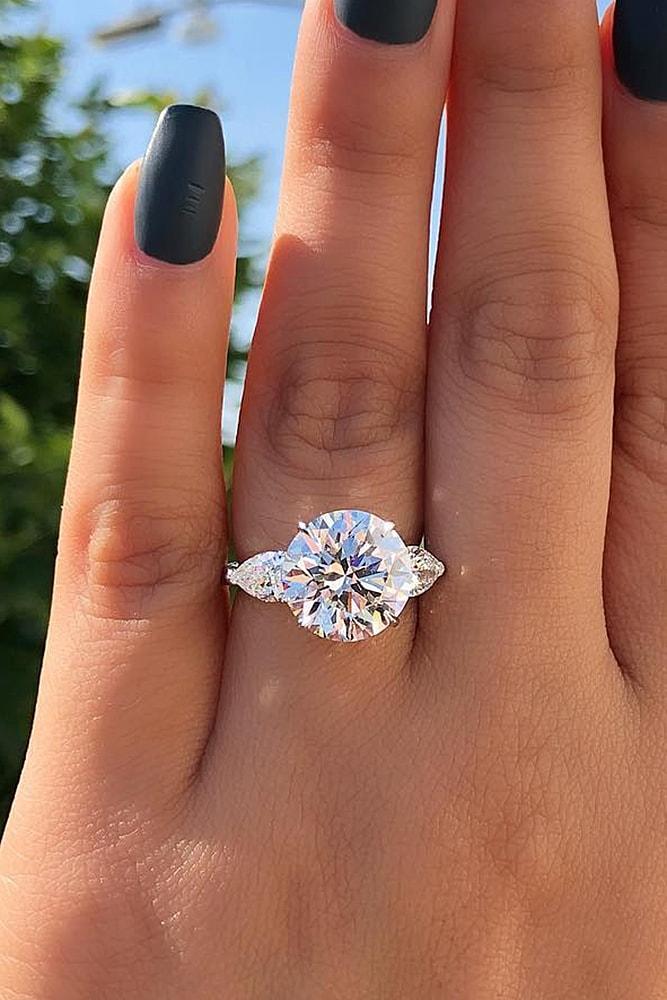 Engagement rings of 2018 are breaking traditions and have left us drooling. With unlimited gorgeous options to choose from, new twists and designs have made regular cuts look extraordinary! There's no rule book this year!
Brides have made diamond engagement rings exquisite beauties. Beauties that will leave newly intending brides in awe. Diamonds are a girl's best friend, remember?
Check out some 2018 diamond beauties.
This is a way for you to make your diamonds look bigger. Women have embraced this style to give their stones an extra push, while complimenting the center diamond.
TIP. The 3-side-stones are a great substitute for the halo and cluster style.
Most brides now set their diamonds this way instead of the north-south style. Emeralds, pear and oval cut diamonds will fly this style. Classic and unique, this is for the glamorous and sophisticated bride.
White Gold Engagement Rings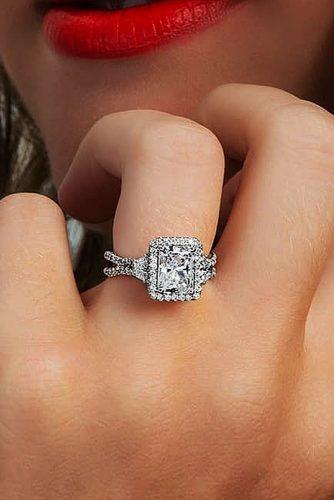 White gold is a color that is universal and looks magnificent on almost everyone. It is a very safe choice for the glamorous bride that wants a ring that comes with no fuss. White Gold rings have a sophisticated lustre and come in traditional and modern styles. They look like platinum but are way cheaper. If you're a bride with a tight budget, you're in luck.
You will find out that white gold engagement rings are not only very stunning, but are more durable than yellow gold rings. This is because of the strength of alloys combined with the white gold metal. Hence, this becomes your best option if you're an active bride. It will neither chuff nor get scratched easily.
The down side of white gold rings is that they require maintenance from time to time. The rhodium plating starts to wear off after some years, exposing the pale yellow color. Dip the engagement ring in rhodium every few years and it's as good as new!
TIP. Find out from your jeweler if they have provision for maintaining your white gold. Maintenance should be free, but if not, it's affordable.
Black And Yellow Diamonds Engagement Rings
Black diamonds are the perfect symbol of forever. They are mysterious, powerful and are a shift from the conventional diamonds. Brides who are confident and want to stamp some personality and make statements will love this.
They're chic, trendy and placed up there with the word unique! They come in many styles and cuts for you to choose from. Whether they are dusted through a plain band, placed as a centerpiece and flanked by other stones. A simple solitaire or extravagant 3-sone set in platinum, black diamonds are eye candies and are cheaper than white diamonds.
Yellow diamonds exude strength, abundance and clarity and are fantastic choices for the unconventional bride. They are rare and don't come cheap, compared to the whites. They are for brides who want to give a touch of their individuality while retaining elegance.
TIP. They are the hardest of all diamonds and you can wear them always. Yellow diamond is extravagance itself, they need no extra fuss to stand out. Angular halo, baguette diamond size stones or pave settings give yellow diamonds a classic look!
Diamond Pave Band Rings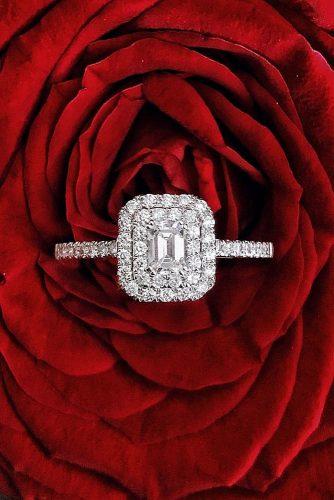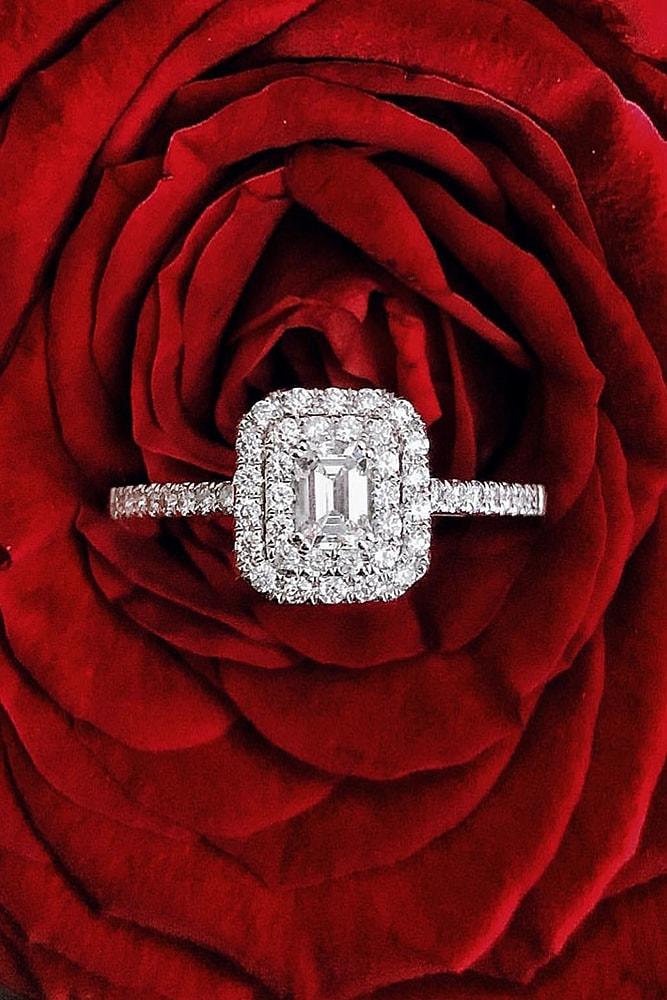 In pave settings, the diamonds are arranged very closely around the band, giving the ring a heavily encrusted look. This is where we say "a ring is paved with diamonds, like a street is paved with gold".
TIP. Taking into account their endless sparkle, pave settings were originally created to enhance the brilliance of diamond rings.
Diamond pave bands entrances women of all styles, whether demure, chic or confident. These are available in contemporary and classic styles, something for everyone. Ways to incorporate pave set diamonds into your engagement bands are numerous. Some of which are;
For the simple bride who loves pave rings, this is an option to consider. They are thin, delicate and detailed. Diamonds can be micro paved throughout the ring or around the center stone, enhancing the illumination and size of the bling.
This is for the couple on a budget. The pave set diamonds around the centerpiece form a halo, making it look larger.
The target is to increase the amount of light hitting the side stones. The diamonds are raised by U or V-shaped metals, exposing their sides to light.
Slim Square Unique Engagement Rings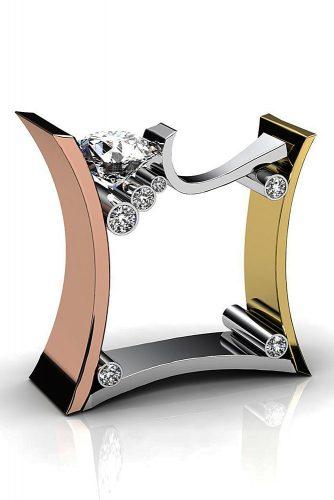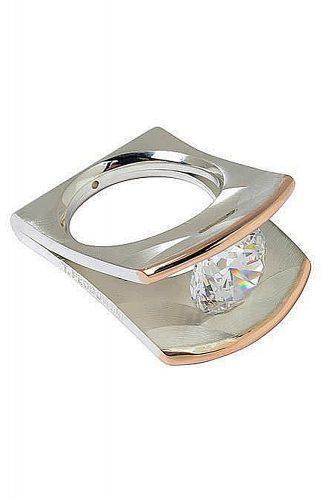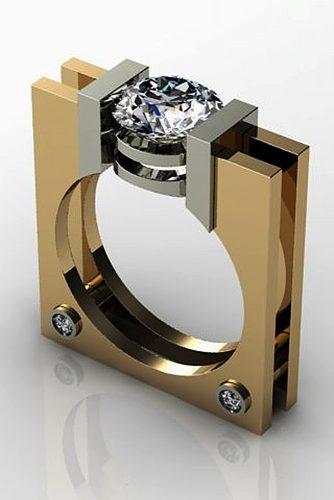 Every woman has got a personality and fashion sense which influences her kinds of jewelry. But no matter the size and shape and size of her beautiful fingers, there are rings and styles that suit her quite well.
TIP. For a bride with short fingers, slim square unique rings are the best fit. They sit well around the fingers, giving them enough angles for mobility and firmness at the same time.
Checkup engagement ring trends 2018, you will see that you are a fashion-forward bride who is ready for the glamour and attention that affiliates with the extraordinary. These slim square rings are unique and are on every fashion site and store worth its salt. Take Pinterest, these rings are very popular and pop up time and time again.
The graphical angles combine to create aesthetic clarity, giving an illusion of length. For the love of gemstones, pick quite a bit of a rectangular sized or oval gems, best-being emerald, marquise or diamonds. These gems further throw their sparkles around the rings, making short fingers look much longer.
The best of them come in white gold, rose gold and sterling with less bogus cut gemstones. They suit fair skinned women, dark-skinned women and all pleasant shades between. Slim square rings give you the celebrity look because they are seductive, sensual and imposing.
Modern Wide Square Engagement Rings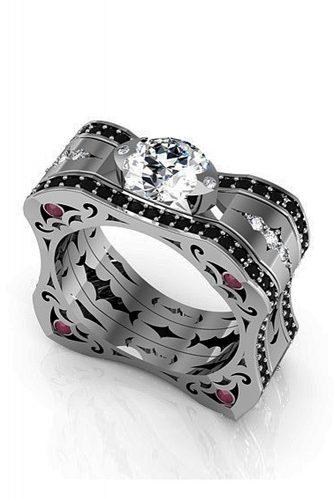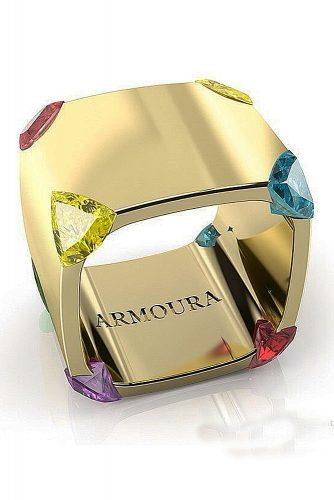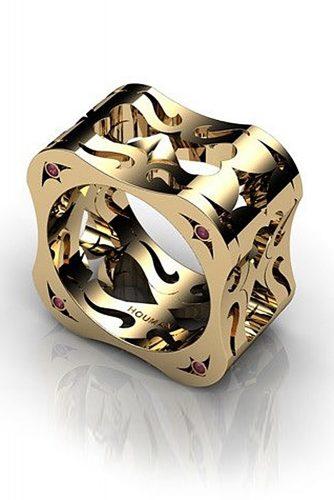 Engagement ring trends 2018 will not be complete without the legendary wide square rings. They are timeless and always in trend. Brides who are confident and love the spotlight will pick wide square rings for engagement.
Women with slim fingers should tilt towards wide square bands. They are modern and adorned by every woman fashionable in 2018. These rings do not outshine the fingers but stamp their presence, while complimenting the fingers and giving a wider illusion. With some gemstones like onyx or sapphire, slim fingers look acceptable wider.
Wide fingered women will favor these rings too. They do great jobs of keeping in the extra skin around the fingers through their somewhat extensive width. They do well to compliment the fingers, displaying only the beauty of the fingers and hiding otherwise flaws. These rings are unusual, out of the box, very popular, hence, only very confident women can pull wearing them off
TIP. Wide square rings go well with ease for those whose knuckles are either huge or not so appealing.
These rings have a way of diverting attention away from your unappealing knuckles unto themselves. With a wide square ring, there is a confidence boost, as your knuckles are out of view. Asymmetric cut diamonds, onyx or pearl will give a perfect finish to wide square rings, because of the subtlety of their cut. They are not imposing but present in their own right. White gold, rose gold, silver or platinum wide square rings will compliment different skin colors, from the fair lady to the dark.