Disclaimer: All opinions expressed in this post are of the Wedding Forward editorial team, and are based on the actual box received from Miss To Mrs. Other information mentioned is based on what was publicly available.
"Miss To Mrs" Subscription Box
Review
Is wedding planning stressing you out? The Miss to Mrs Box might make your life easier. It's a subscription-based service that provides helpful and fancy bridal products that every bride-to-be needs for planning her perfect wedding.
We wanted to find out if the Miss to Mrs subscription box is worth it, so we tried it for ourselves.
And you don't have to wait, as the first box ships in 2 business days! What exciting news!
So, want to know what we discovered? Keep reading!
Get your Miss To Mrs Box here! https://misstomrsbox.com/
i
Save to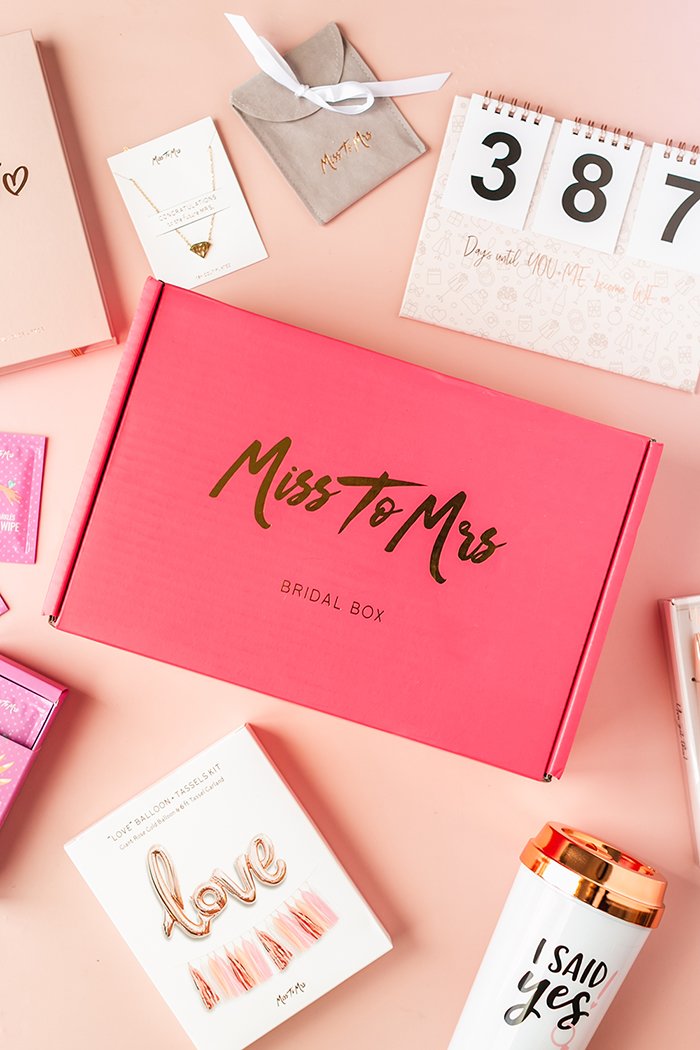 Quick Overview
Let's start out with a brief overview of this subscription box.

Tailored Plans That Work For You
With different subscription plans to choose from, you can select the plan that works best with the actual wedding date.
The plans differ in the amount of time that passes between the arrival of each bridal box, allowing you to move through the planning process at just the right pace. This ensures you will be ready in time for the big day.
Themes That Simplify Planning
Wedding planning involves so many different aspects. Thanks to its theme-based boxes, this bridal subscription service will break up the planning process into manageable pieces. Some of those themes include:
Let's Plan This
Ultimate Bridal Swag
Wedding Day Essentials
Each box includes the items that are related to its theme as well as the wedding planning essentials. If you want to see all the themes that are available, you can check them out here!
Award-Winning and High Ratings
This subscription box has already received rewards, including:
The Knot Best of Weddings 2020 & 2021
The WeddingWire Couples' Choice Award 2020 & 2021
A Year of Boxes Best Bride Box 2020
Clearly, this service has proven its value.

What we received in our first box
Now for the fun part! Opening that first box and checking out your goodies.

Wedding Day Countdown Calendar – This calendar will help you keep track of how much time you have left until the wedding, motivating you to tackle your to-do list and avoid falling behind.
Future Mrs. Notebook – This adorable notebook is just what you need for taking wedding planning notes.
"I Said Yes" Tumbler – This Instagram-worthy tumbler will let the whole world know you said yes. It's great to have with you during all of your wedding planning excursions.
"All That Sparkles" Jewelry Wipes – This cleaner isn't just for engagement rings. You can use it to touch up all kinds of jewelry.
Diamond Shape Necklace (18K Gold Plated) – This lovely necklace was beautifully packaged and so much fun to wear. Although the chain broke, customer service was quick to remedy the problem by providing a free replacement. The new necklace held up well, with no signs of falling apart.
Giant "Love" Script Balloon + Tassels Kit – With a 6 ft long garland, this incredibly large balloon adds the perfect touch to the engagement party. Your guests will love it!
2 Diamond-Top Pens in a Gift Box – You've got the notebook. Now you need the pens to go with it. Fortunately, the first box provides two pens that perfectly match the notebook. You will feel like a wedding planning pro as you jot down your notes.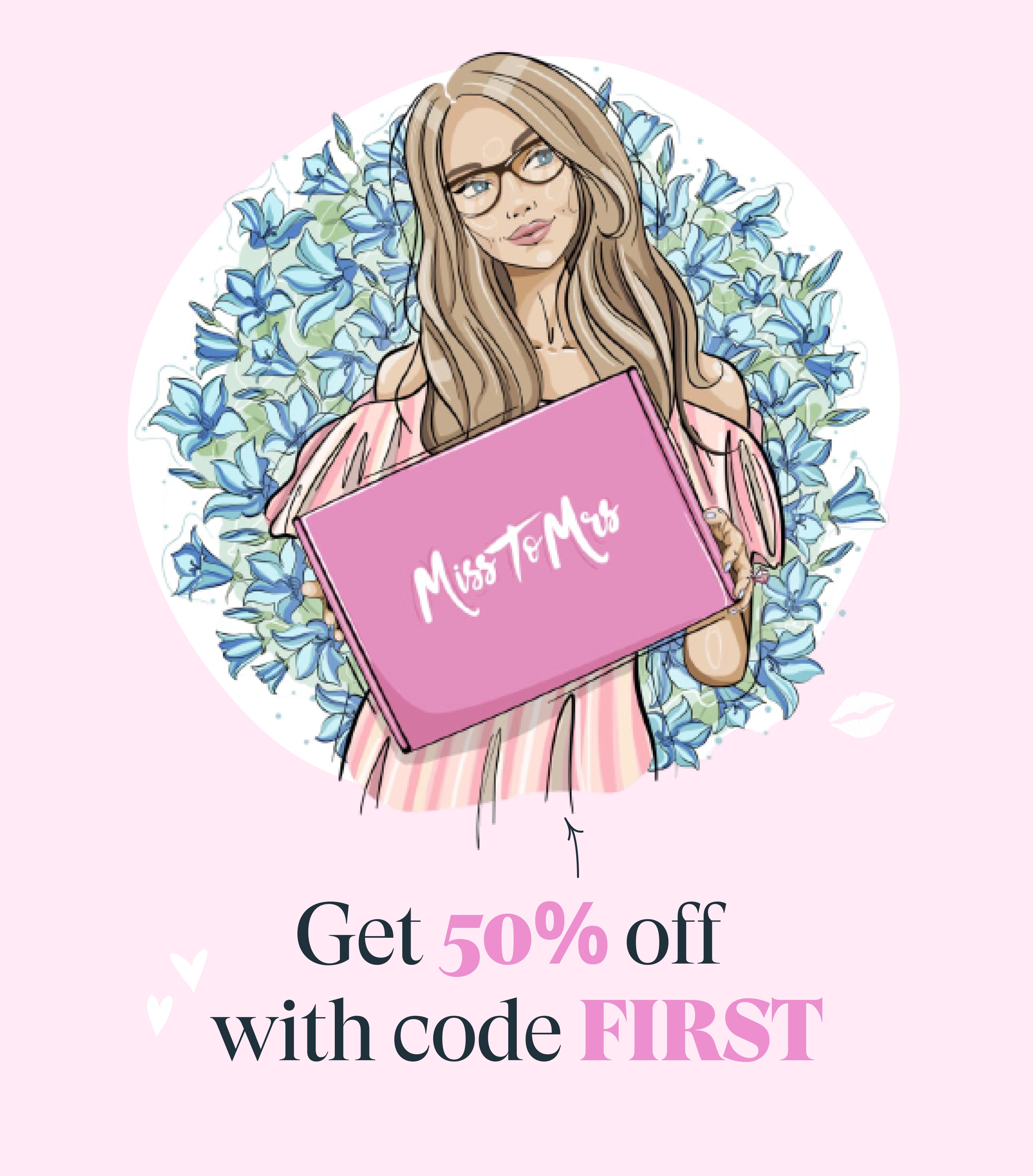 How much is it and what are the plans?
Wondering if you can afford this? Don't worry. This service is very reasonably priced. Although each bridal box includes exclusive items valued at over $100, you will only pay $35 + shipping for each box with the first box shipped in just 2 business days!
The Miss to Mrs plans are tailored to your wedding date which means that different delivery options are available. The span of time between each delivery depends on your wedding date.
For example, if your wedding is in a few years, deliveries will be made less frequently at the start of your subscription. As your wedding draws nearer, the frequency of the deliveries will automatically increase. But don't fret if your wedding date is close. You can choose an accelerated plan that guarantees a delivery every two weeks. You can also select "no date yet" if the date of the wedding hasn't been confirmed. Once you've subscribed, your first box will be shipped in just 2 business days. Shipping is offered worldwide, meaning you can subscribe no matter where you are.
What we love the most
Definity the tumbler! It's stylish and useful, allowing you to enjoy your favorite smoothie, coffee, or other delicious beverage as you work on planning the perfect wedding. Sipping your drink from this cute tumbler will make the planning process so much more enjoyable.

What we love the least
Unfortunately, most of the packaging is plastic. We would like to see more eco-friendly packaging being used.
Update: The team from Miss to Mrs Box recently informed us that they will be making the switch to recyclable packaging materials. We were thrilled with this news!
Is Miss To Mrs Box worth it?
We think so and here's why:
All of the products were beautifully designed and packaged.
We were impressed by the overall quality of each item.
The various subscription options allow you to choose the one that works best for your wedding date.
The customer service team is ready to help out 24/7, always making sure their customers are satisfied.
After testing this award-winning service, it's easy to understand why it has such a great reputation. The company certainly deserves it.
Instead of stressing out and feeling overwhelmed, you can enjoy planning your wedding because each box will make the process easier to manage.
You can also use the promo code FIRST to get a 50% discount on your first bridal box.