Either way, it can be overwhelming sometimes to decide on the right engagement party decorations to make your space fun and festive while reflecting your unique personality.
Whether you are a bride to be, or friend of the couple tasked with organizing an engagement party, and stumped for engagement party décor ideas, we got your back. Below we have a list of engagement party decorations that will definitely liven any venue that you choose. From cake toppers to banners and centerpieces, you won't have to look far to find the décor that is right for you.
Best Engagement Party Decorations
1. "He Popped the Question" Popcorn Bags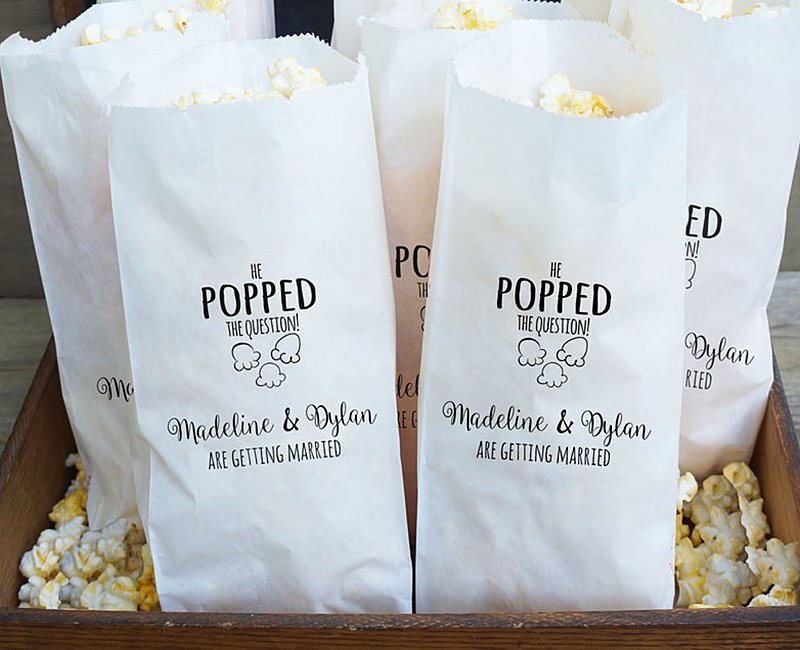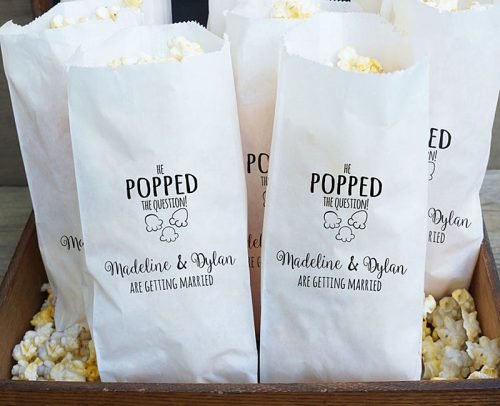 Whether you have a snack stand or you're sending guests off with some treats, these bags are sure to make things even more fun. Enjoy an Etsy engagement party theme.
Buy Here: Etsy, 10 bags for $6.
2. "She Said Yaaas" set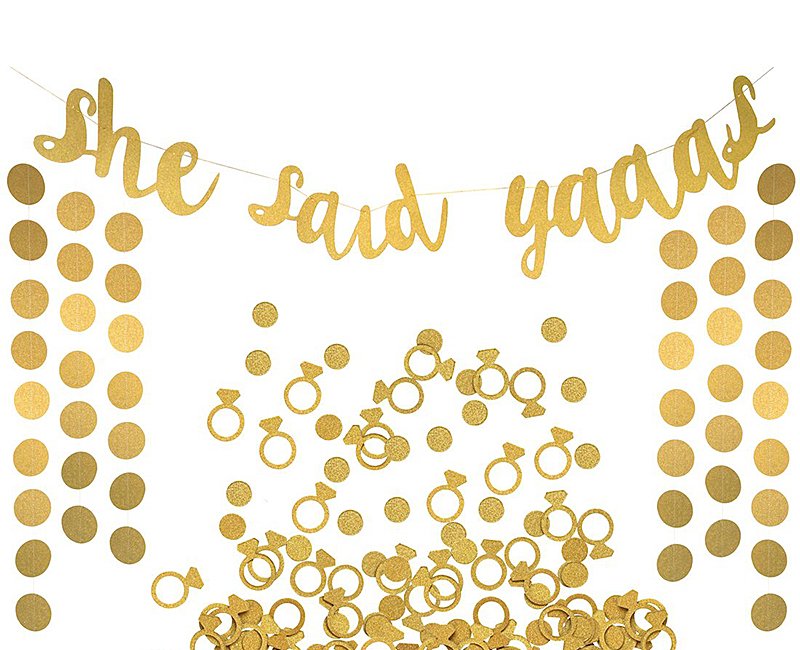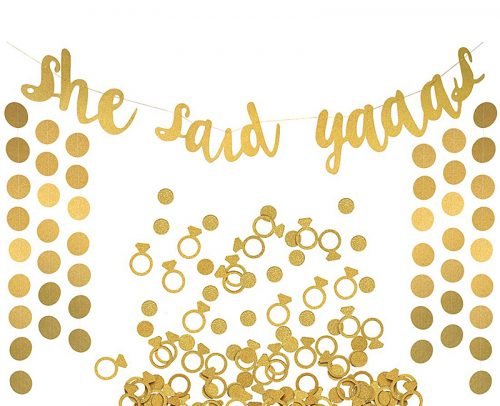 When planning an engagement party, décor sets go a long way in helping. This set with a "she said yaaas" banner, confetti, and garland, is cute and stylish.
Buy Here: Amazon.com,$12.
3. "We're Engaged" Welcome Sign of Tropical Leaf and Gold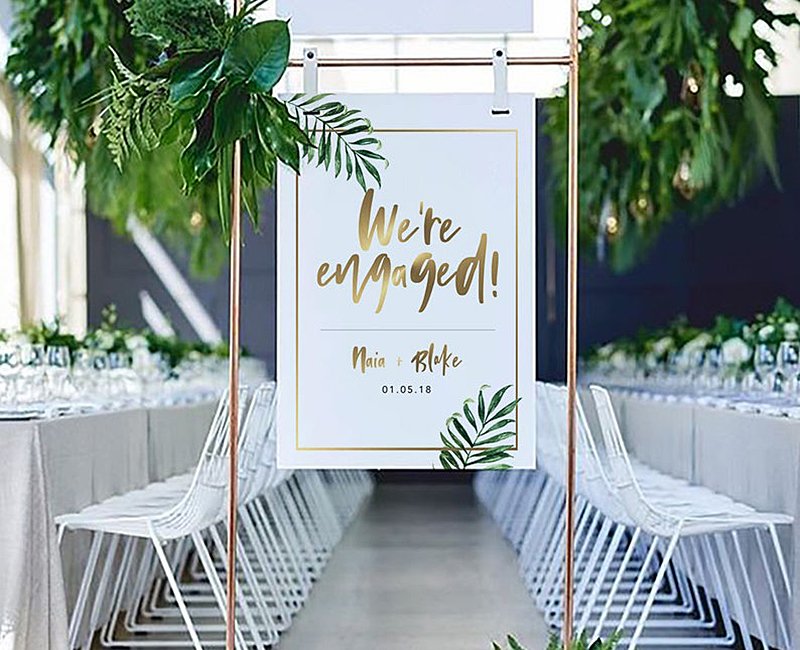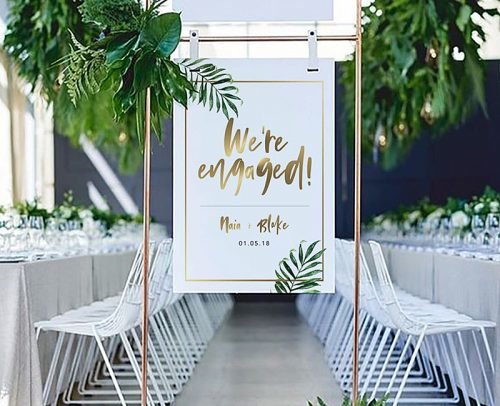 Decorate the entrance of your engagement party venue with this custom sign. Let them know that the fun is just about to start.
Buy Here: Etsy, $18.
4. Gilded Lanterns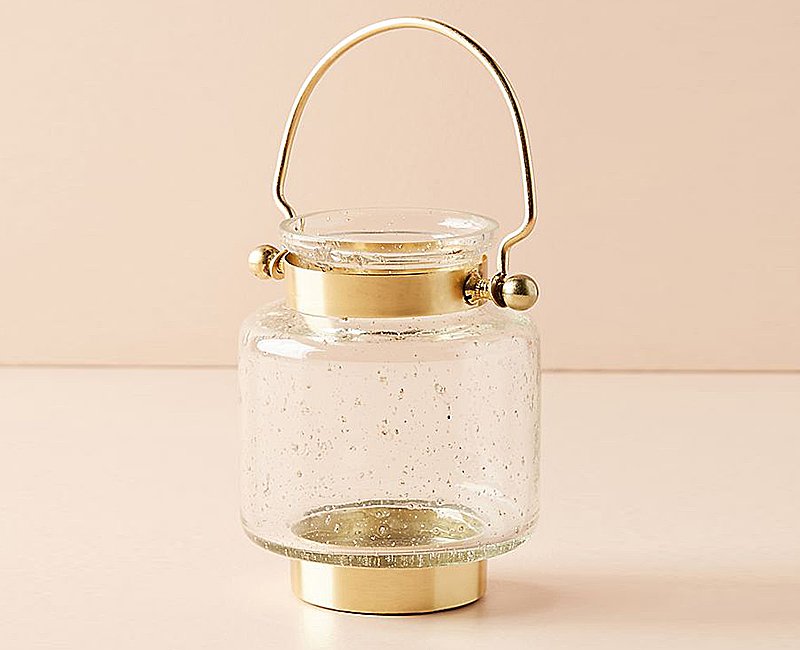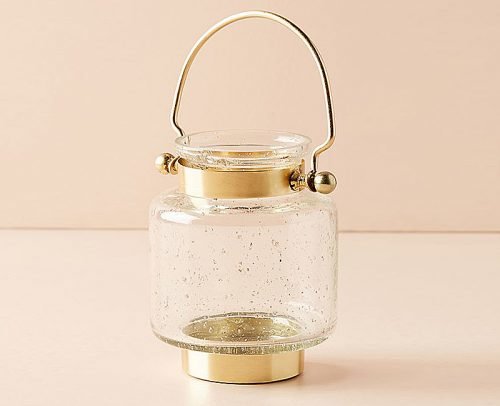 Use these pretty gilded lanterns to add a romantic, yet rustic feel to your venue. They can be used as centerpieces or hung in strategic locations.
Buy Here: Anthropologie, from $20.
5. Diamond Dessert Toppers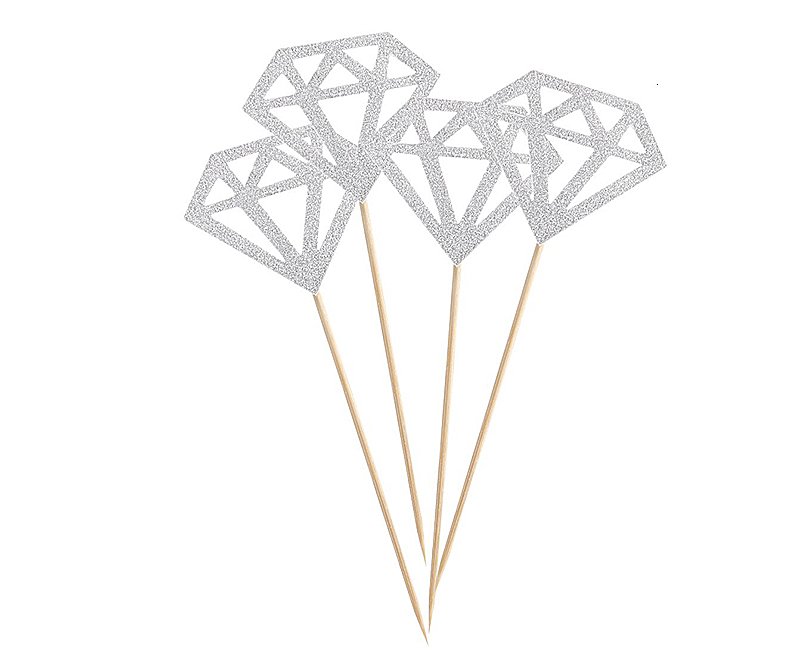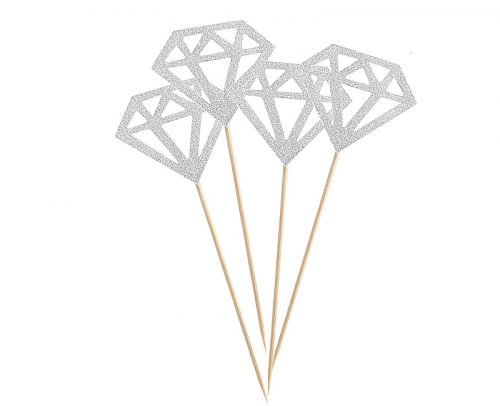 Use these ring-shaped toppers to add some glitter and sparkle to your cupcakes, scones, or any other type of dessert you will be serving.
Buy Here: Amazon.com, $7.
6. Engagement Party Tapestry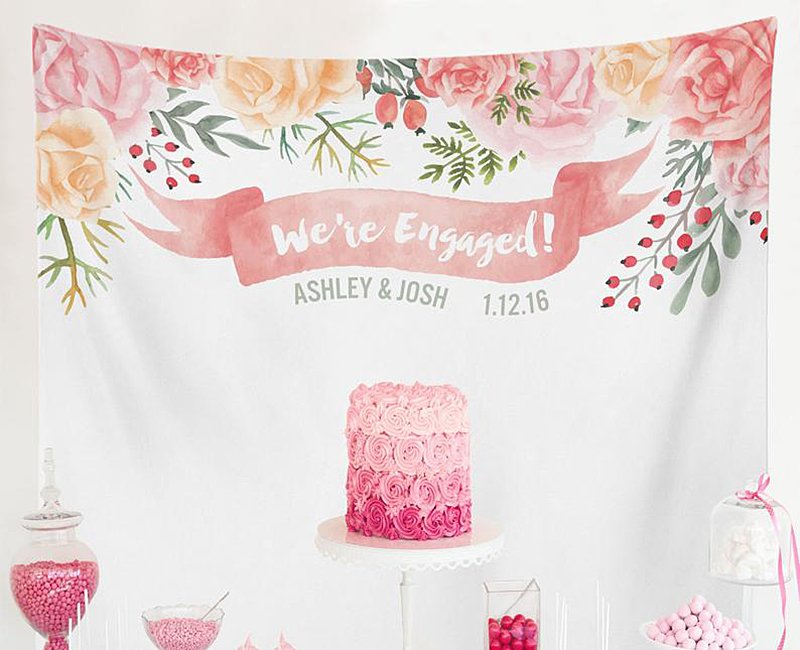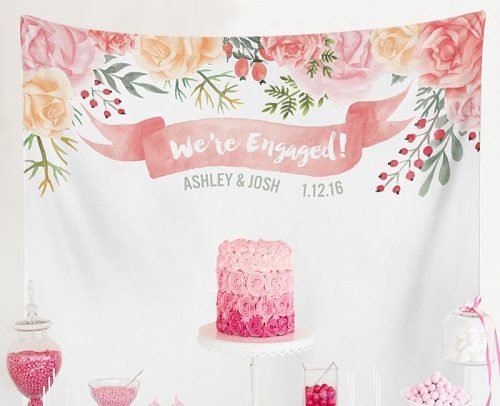 You can hang this large and fun engagement party tapestry on a bare wall so guests can use it as a background for beautiful, Instagram able photos.
Buy Here: Etsy, from $69.
7. Glitter Gold Table Runner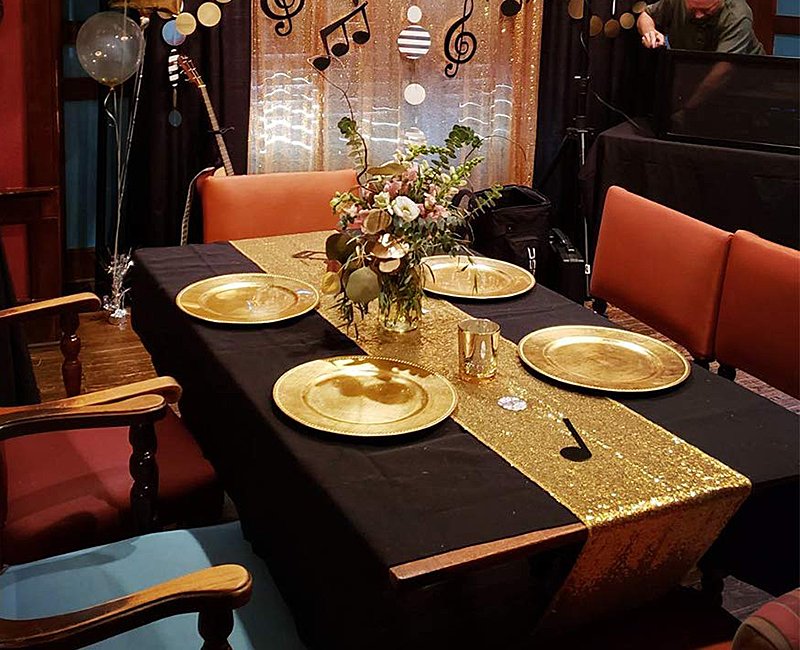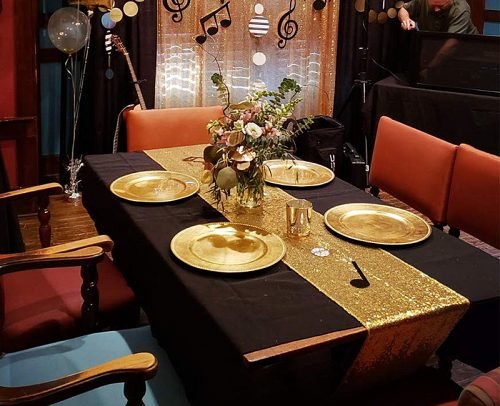 If you are looking to add some extra sparkle and shine to your engagement party, perhaps try this glittery gold table runner. The perfect fabric to transform your party venue from boring to stylish and fun. If your tables are dark, this would provide a great contrast for black and gold engagement party decorations.
Buy Here: Amazon.com, $12.99.
8. Coppola Sofia Mini Blanc De Blancs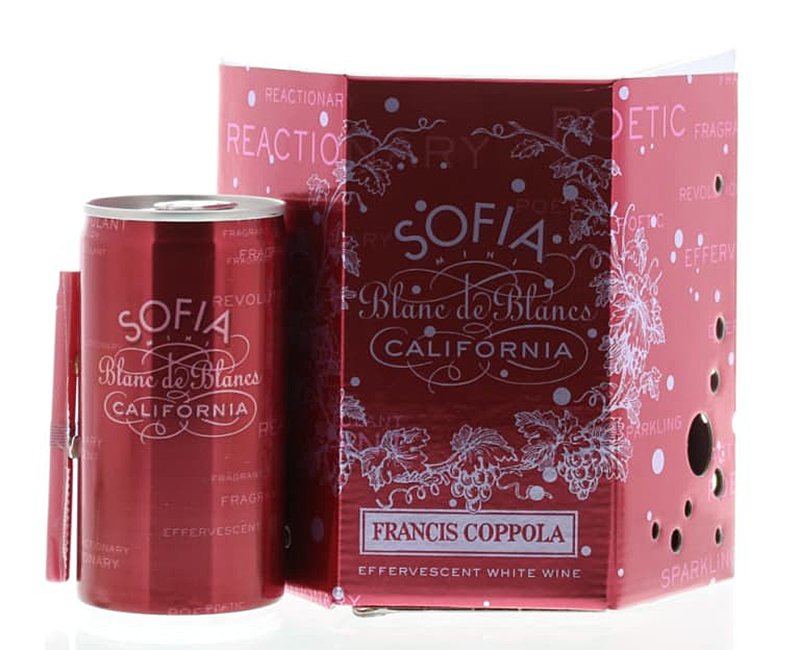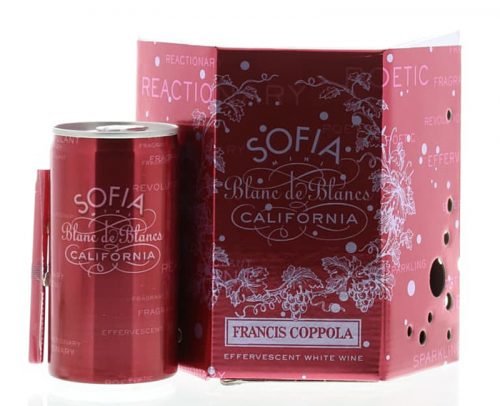 Have some mini wine bottles at your event for toasts. You can also package a few for guests to take home as party favors.
Buy Here: Wine.com, $20.
9. "We're Engaged" Personalized Napkins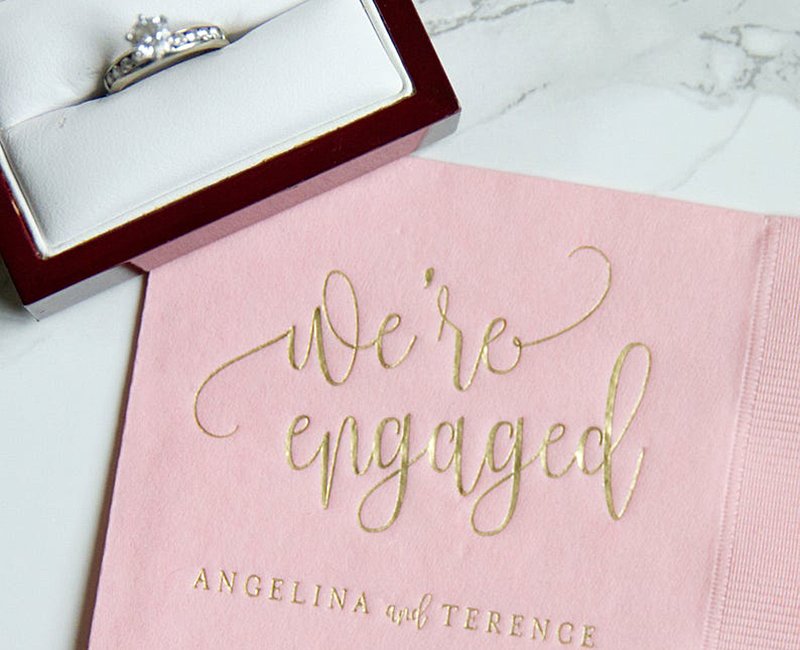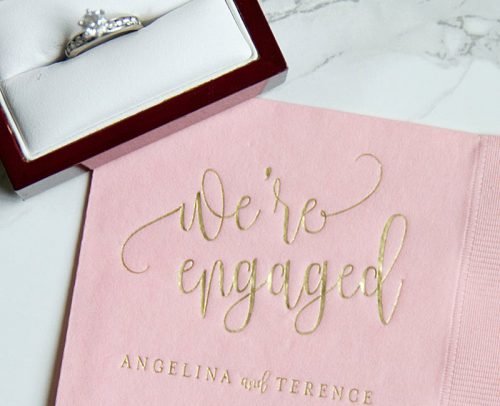 Use these personalized napkins to stay in line with your theme and keep your guests in the spirit of your celebration.
Buy Here: Etsy, $36.
10. Wooden Block Wedding Day Countdown Calendar, Rustic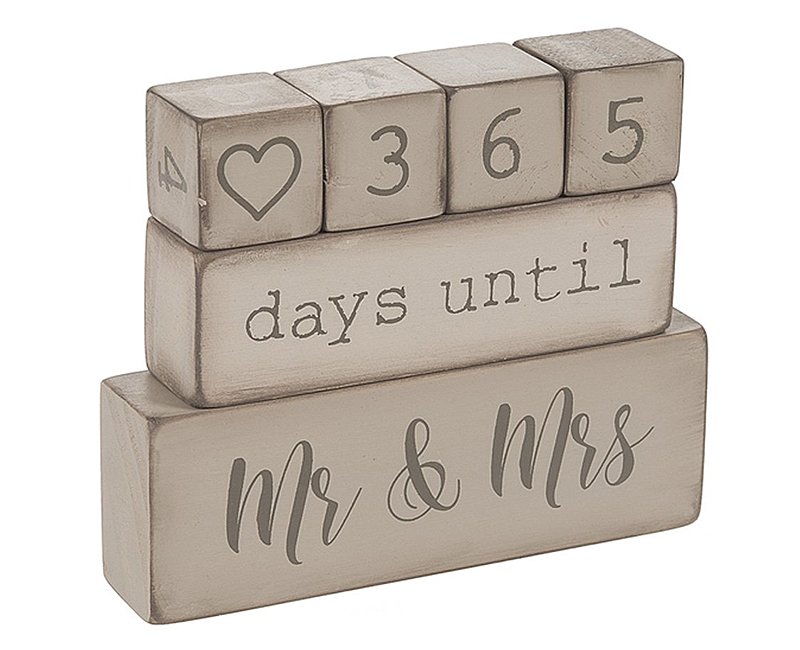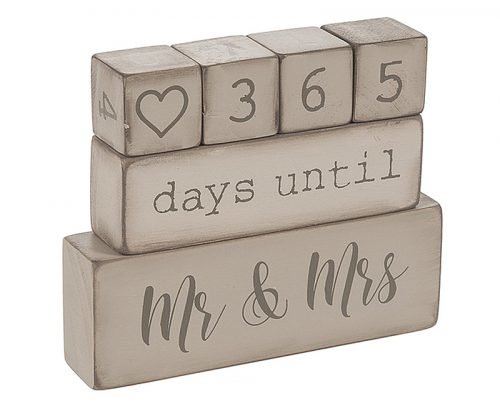 This cute countdown calendar counts down to the day of your wedding if you already have a date. It can be used as décor for the engagement party, and every day after that at home. Enjoy the fun of counting down to your special day.
Buy Here: Amazon.com, $14.90.
11. Mr. &Mrs. Wine Bottle Label Stickers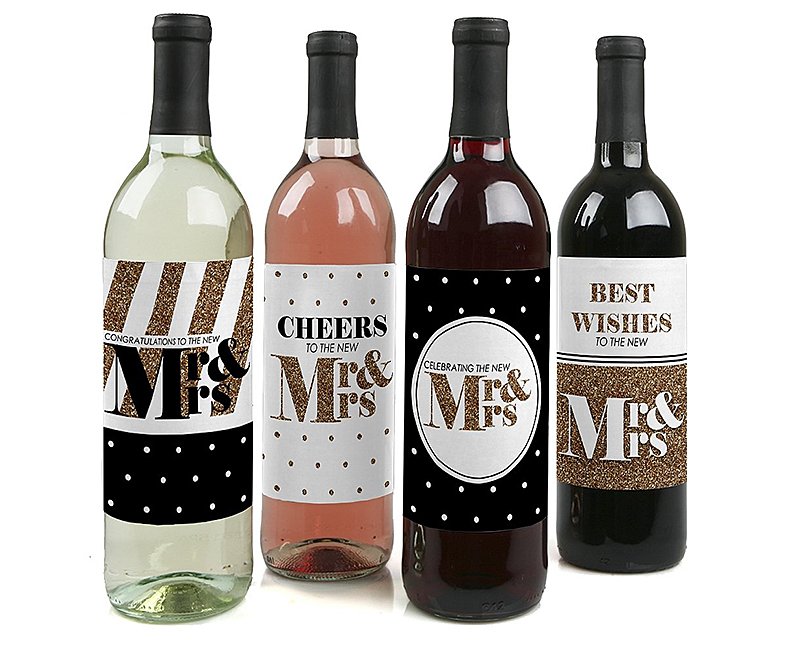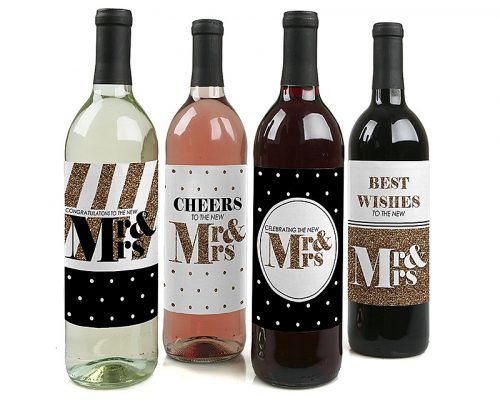 These labels would be great to stick to the bottles of wine to be served at your party, or the ones to be sent home with your guests.
Buy Here: Amazon.com, 4 bottles for $9.
12. Well Wishes Printable Cards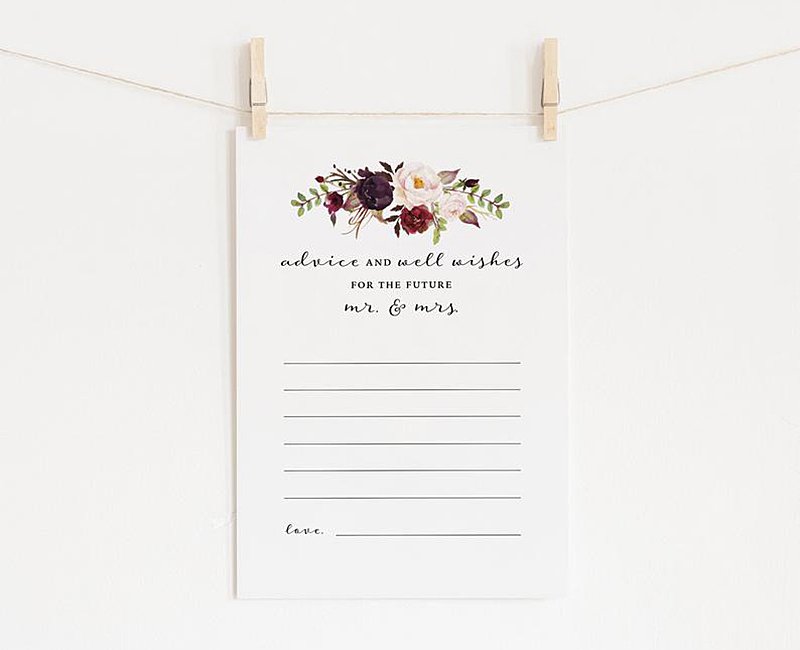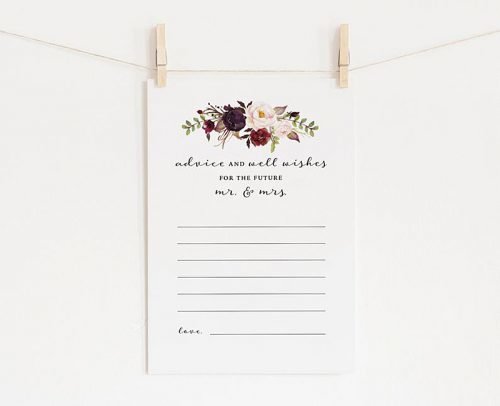 These cute and affordable cards can be printed and given to guests to write down their advice and well wishes for the couple. It would be great fun to read afterward.
Buy Here: Etsy, $5 for PDF download.
13. Sh*t Just Got Real Gold Glitter Bunting Banner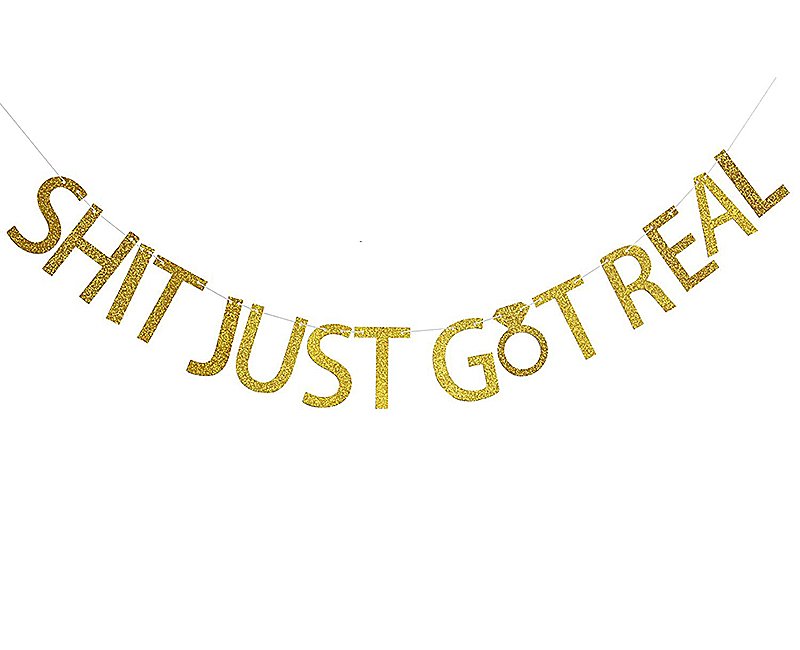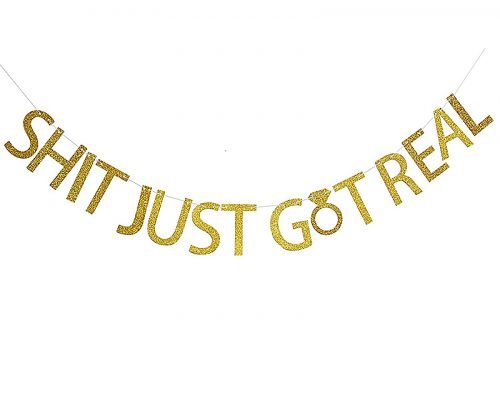 A "sh*t just got real" gold glitter banner for your engagement party venue. Though each letter would have to be strung individually, it would definitely add some fun to your party. Place against a black background for great black and gold engagement party ideas.
Buy Here: Amazon.com, $11.99.
14. Potted Succulents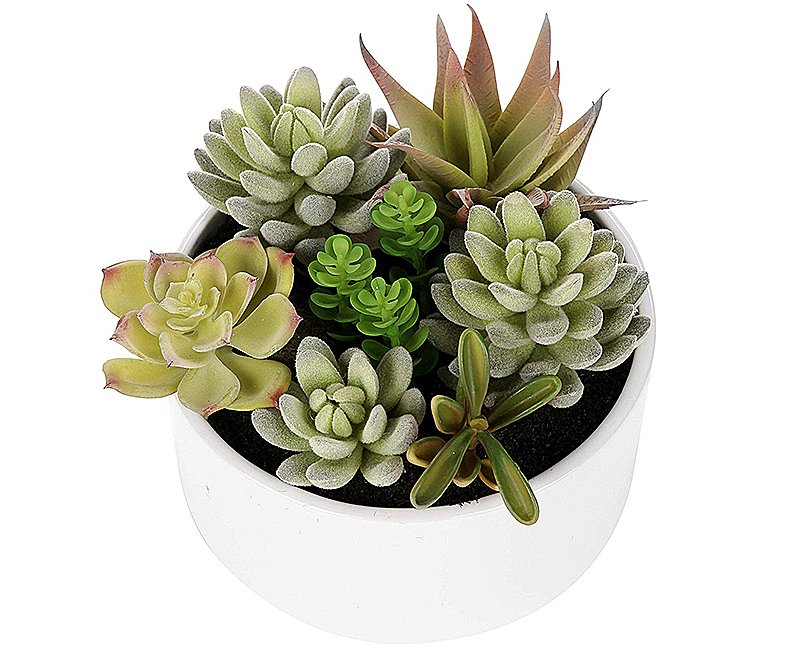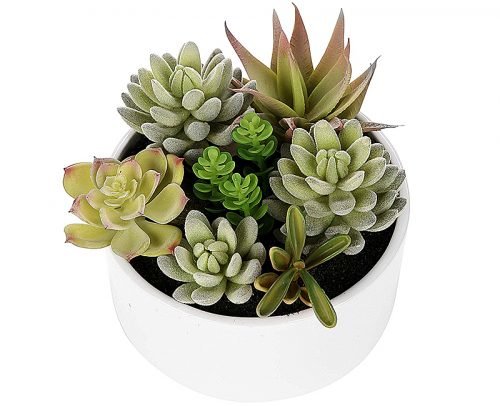 For some element of nature, get these real-looking faux succulents to use as cute centerpieces. A great choice for engagement party decorations ideas tables.
Buy Here: Amazon.com, $30.
15. Gold Ring and Circle Confetti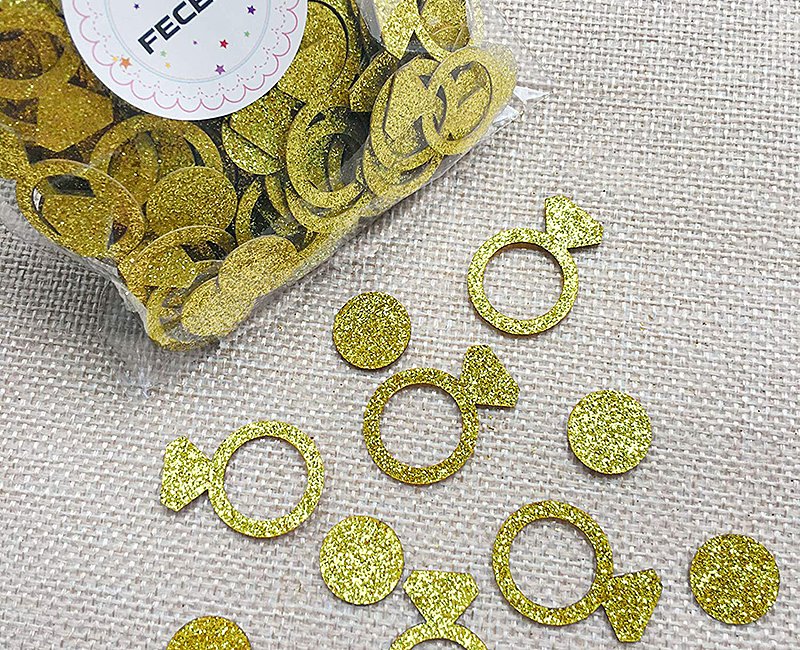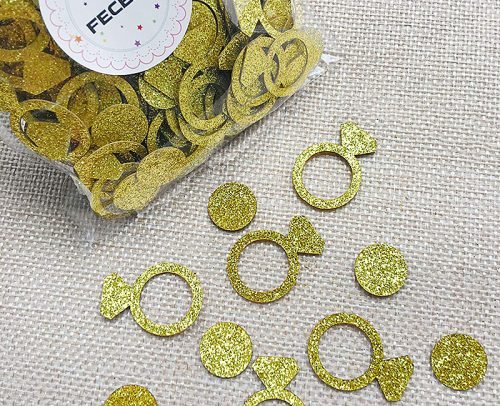 Add some bling and sparkle to your engagement party décor with this pack of glittery paper confetti. This cute and shiny décor will add that festive feel to your event.
Buy Here: Amazon.com, $7.98.
16. Diamond Ring Piñata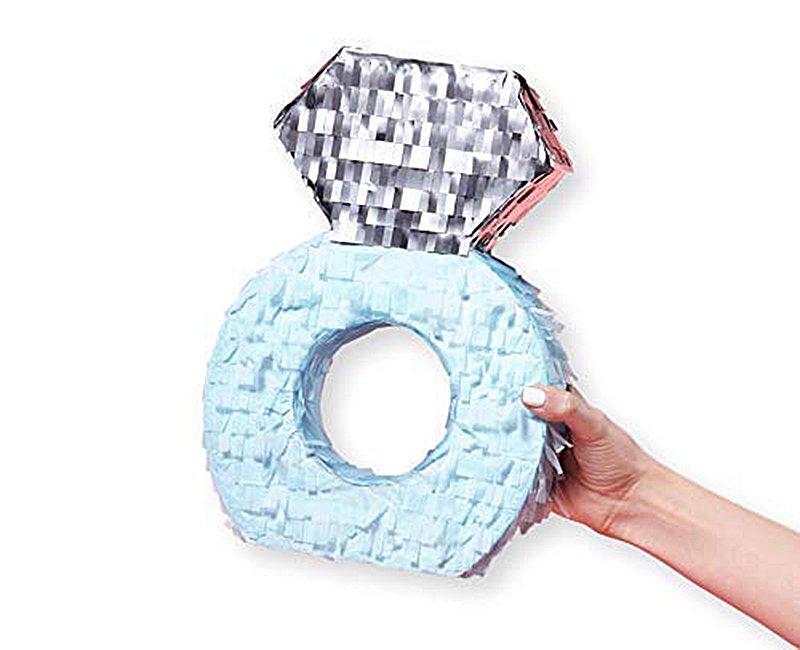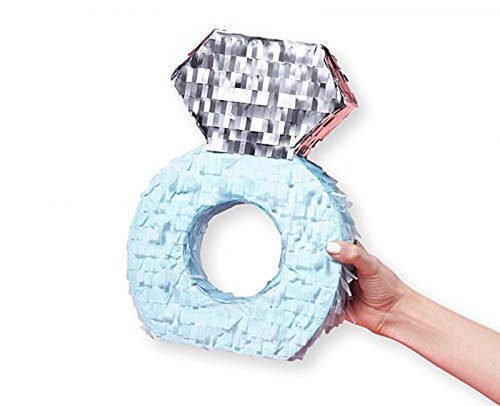 Get this diamond ring piñata for some extra fun and festivity at your party. With the shape of an engagement ring, this piñata will be fun for your guests, and also kids if there are any in attendance.
Buy Here: Amazon.com, $14.95.
17. Fun Gold Straws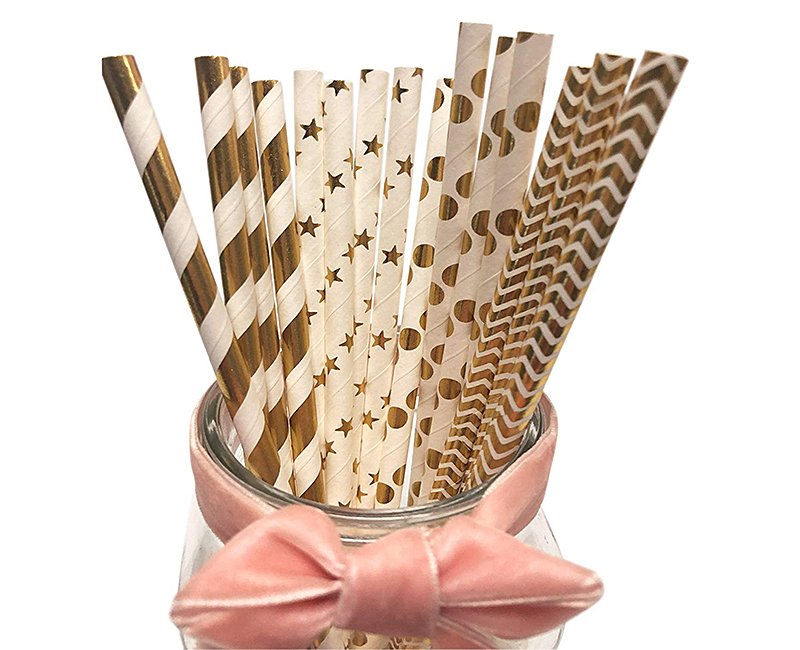 If your bar is serving cocktails or any beverages in a glass, you could pop these stylish gold straws in every drink for that festive effect.
Buy Here: Amazon.com, $11.
18. White and Gold Party Supplies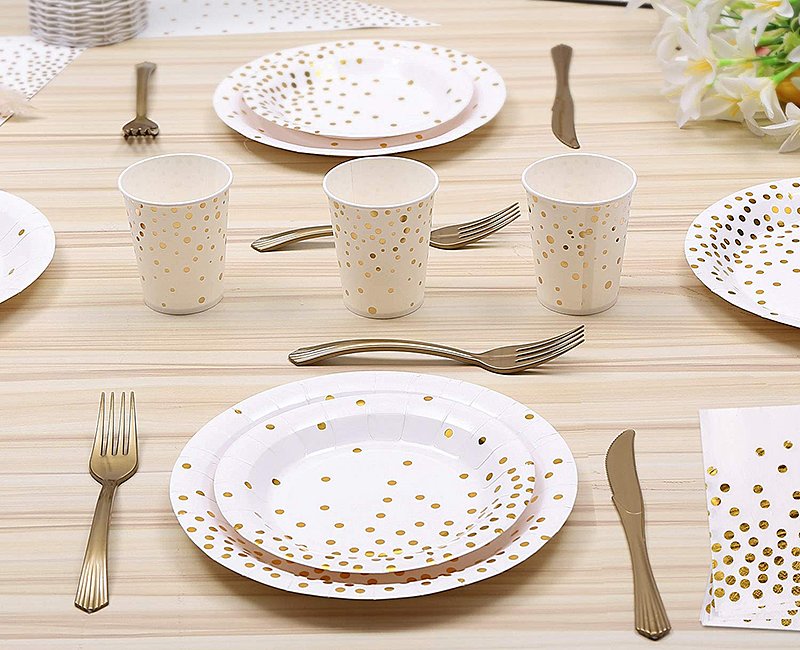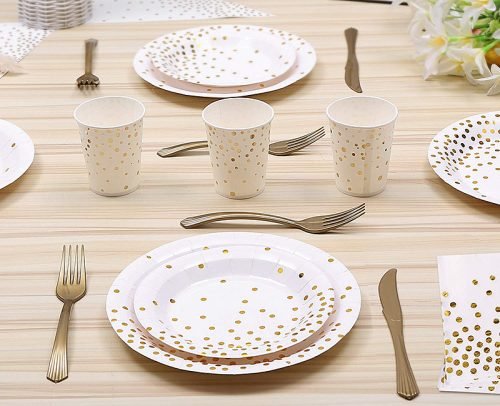 Depending on the theme of your event, you could order these white and gold party supplies. Made up of disposable and eco-friendly paper plates, cups and cutlery, these are stylish, easy to use and make cleaning up extra easy.
Buy Here: Amazon.com $23.99.
19. Engagement Ring Ice Cube Molds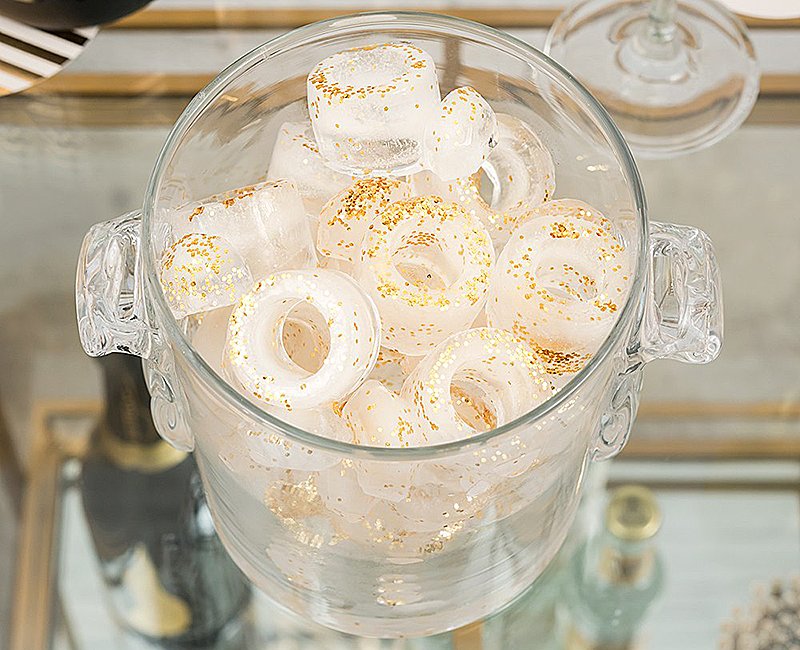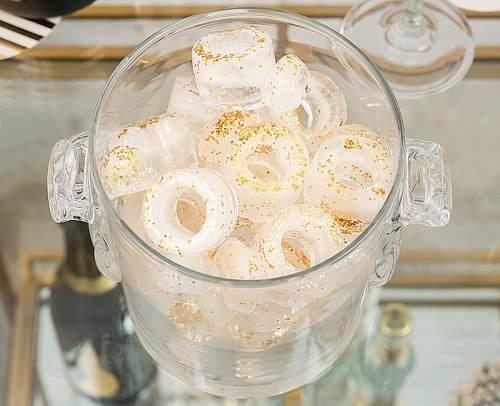 Let your party reflect the engagement theme in every way possible. Have your guests sipping on cocktails with these cute ice cube molds in the shape of engagement rings.
Buy Here: WeddingShop.TheKnot.com, $9.
20. Artificial Wisteria Vine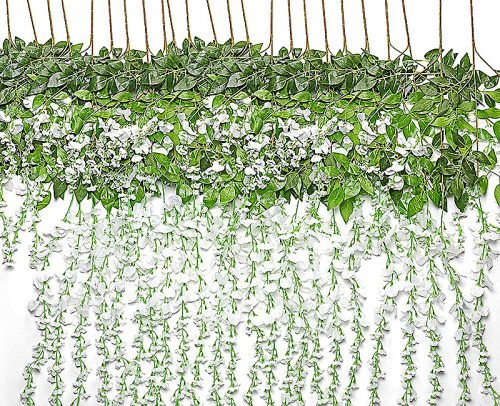 Hang these very real looking artificial vines from the ceiling of your venue for an attractive touch of nature at your party.
Buy Here: Amazon.com, 12 for $22.
21. Engaged Balloons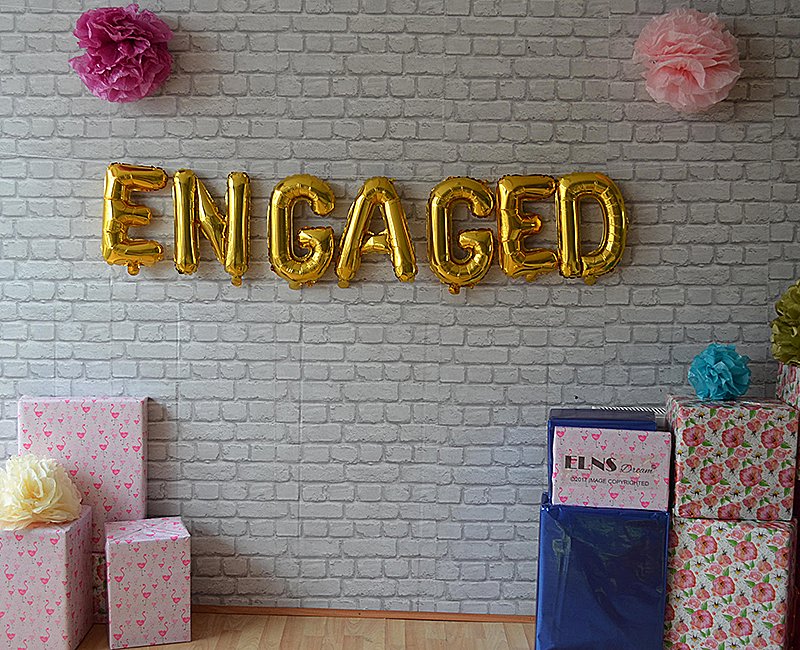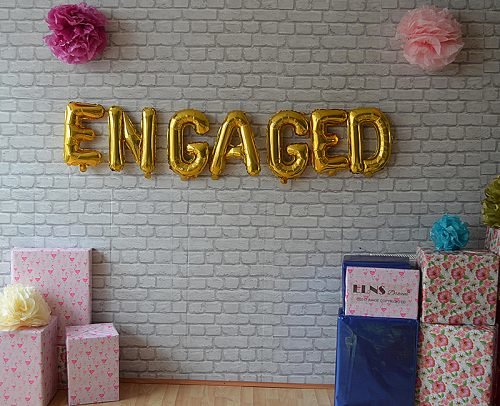 You can't go wrong with balloons. Hang these engagement party balloons of gold foil at your venue to loudly state your new status as a couple.
Buy Here: Etsy, $18.86.
22. Champagne Star & Circle Garland Kit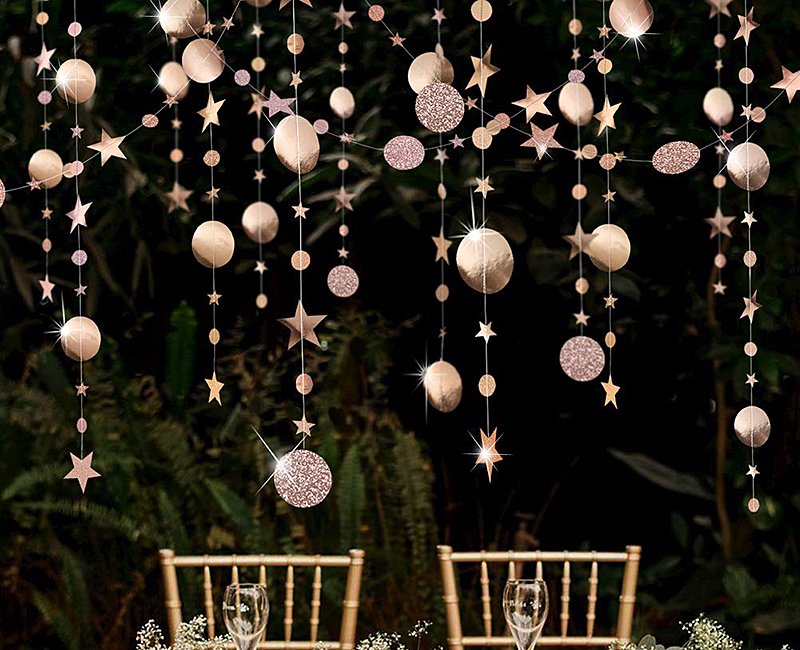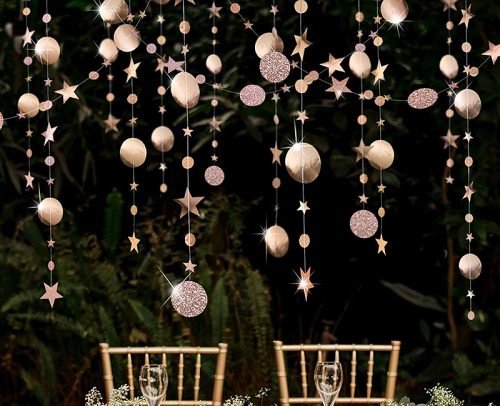 Use this glittery hanging banner for a beautiful backdrop at your event. Complete with circle garlands and shimmer stars, this eye-catching décor will create a festive ambiance at your party. It can be hung on walls, tables or even windows.
Buy Here: Amazon.com, $11.99
23. Disposables Heart-Shaped Plates Set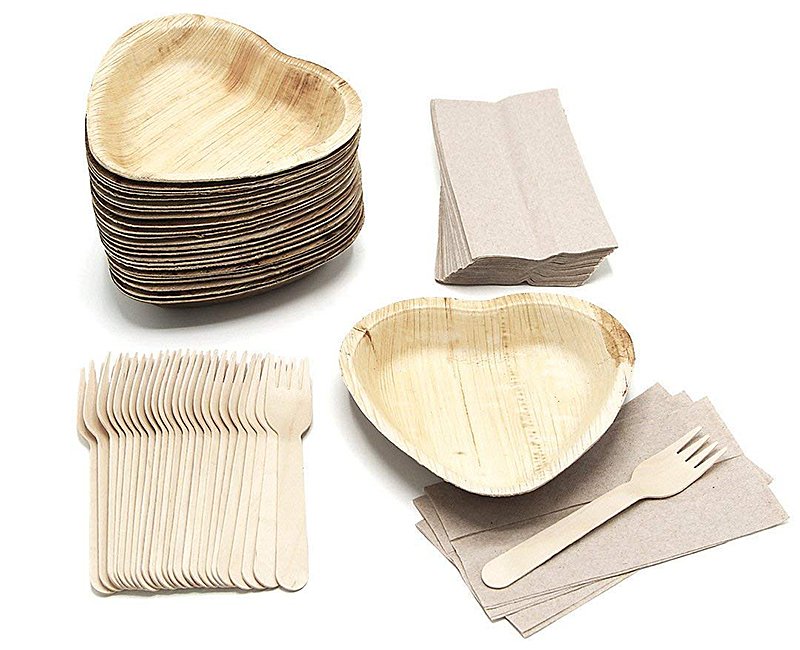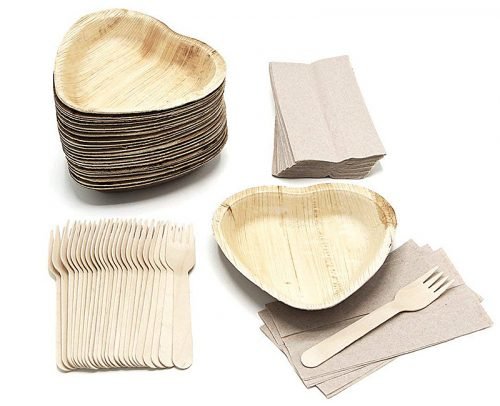 These will be perfect for an eco-friendly themed engagement party. Heart-shaped plates, perfect for snacks and appetizers.
Buy Here: Amazon.com, set of 25 for $21.
24. Fujifilm Instax Mini 9 Instant Camera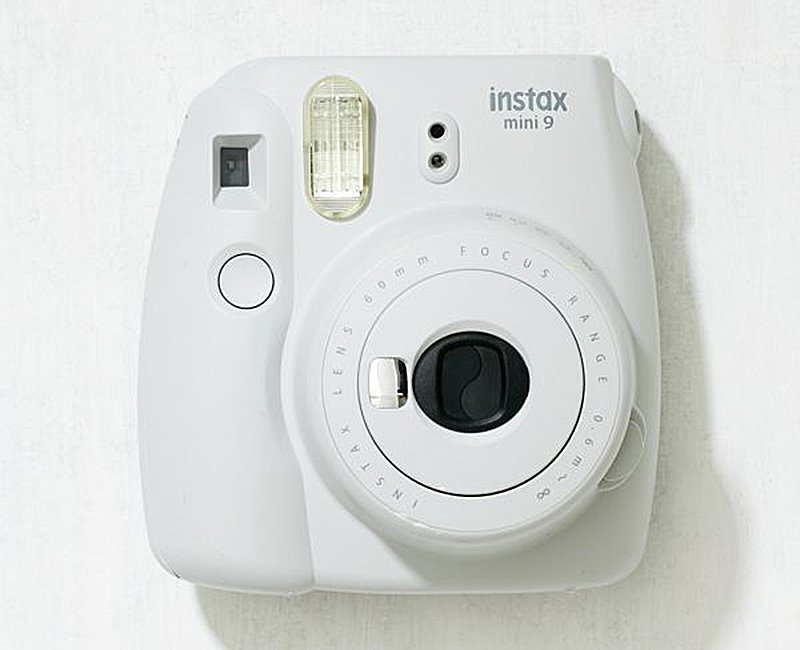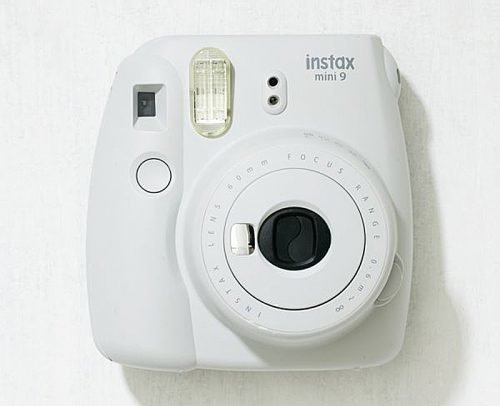 Guests will enjoy using these to take instant snaps and capturing beautiful memories. Their pretty colors make them attractive and functional pieces of décor to leave on one or two tables for the day.
Buy Here: Urban Outfitters, $69.
25. Mr. And Mrs. Hearts Engraved Wood Confetti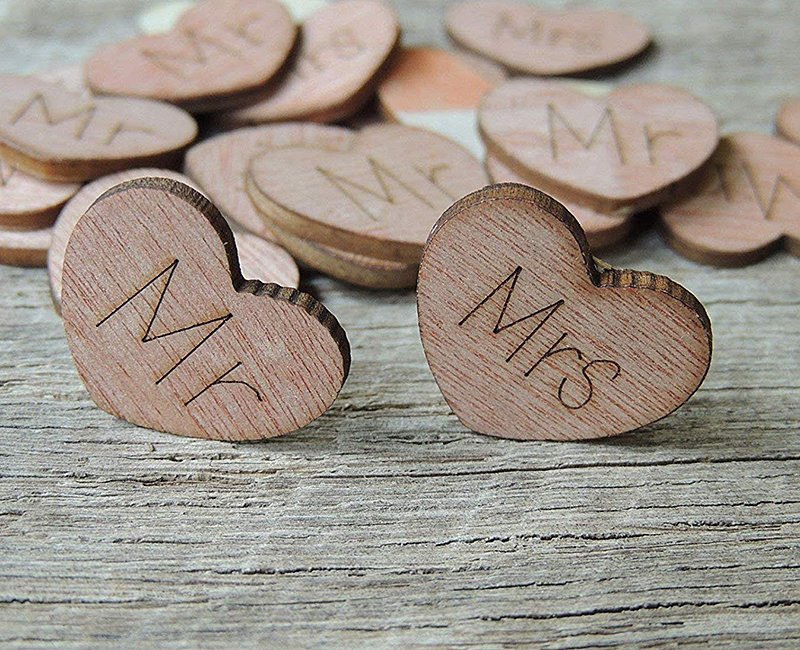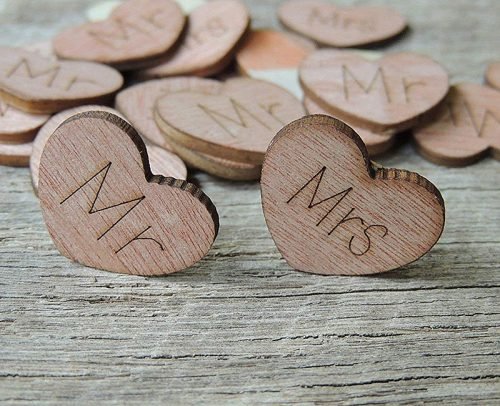 If you would prefer something less sparkly than gold confetti, consider this confetti of engraved wood. Their cute heart shapes make them a great addition across each table for that celebratory feel. Something to consider for table decorations for an engagement party.
Buy Here: Amazon.com, $8.
It is almost impossible to throw an engagement party without some engagement party decorations. And, if you are one of those people easily overwhelmed with party preparations, you might need some engagement party decoration ideas to help get you on your way. This curated list of party décor with an engagement theme should be able to provide enough inspiration to help you decide on the type of décor you might need. The prices could even help give you an idea for the budget for our venue décor. You do not have to feel any anxiety or stress when planning your party; you can sit back, relax and order away. Congratulations!
Related Stories You May Like