Now when you are on your way to becoming Mrs. Prince Charming, it's time to think about your loyal bridesmaids! Trust us, asking your best girls to be your bridesmaids is great fun! If you don't know how to make a bridesmaid proposal, let us give you our hand!
Of course, you can simply text them, but hey, that would spoil all surprises! After all, this is a special event in your life, so why don't you consider some creative bridesmaid proposal ideas? Popping the bridesmaid question can happen anywhere, anytime – just try to do it before the bridal shower!
Why?
Because you are definitely going to need your girls to help you with that!
Not sure how to do it? Take a look at our list of the best bridesmaid proposal ideas and get inspired!
See Interesting Bridesmaid Proposal Ideas!

Stunning Ideas With Jewelry & Cosmetics
So now when you have your list, let's think about how to ask bridesmaids. First of all, there are some great ideas involving jewelry and cosmetics. Show to your special girls that you need them with a stunning piece that they can wear down the aisle on your big day. A set of matching bridesmaids promise-rings would be adorably memorable. A simple and sweet necklace, a ring, or earrings – something your maids can wear on your wedding day. A hairpiece or a nail polish to match your wedding colors and themes – make the gift useful! A perfect bridesmaid gift! Also, why don't you try giving them some cosmetics? Give your bridesmaids a bath set! Essential oils, bath bombs, and delicious lotions would help her relax after your big day!
Personalized gift boxes with unique messages put the icing on the cake. Beautiful box, a piece of jewelry, cosmetics or perfume, and a little 'be-my-bridesmaid' card! Just remember to take photos for your wedding album before they're gone!
Source: ForTheMaids via Etsy, Lexia Frank Photography , TheChelseaCollect via Etsy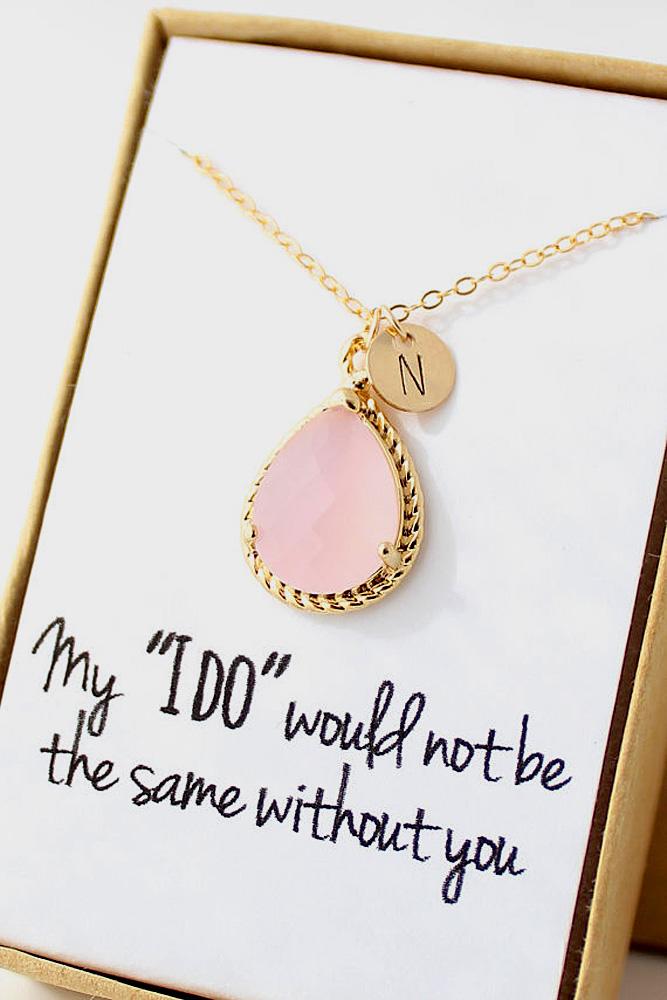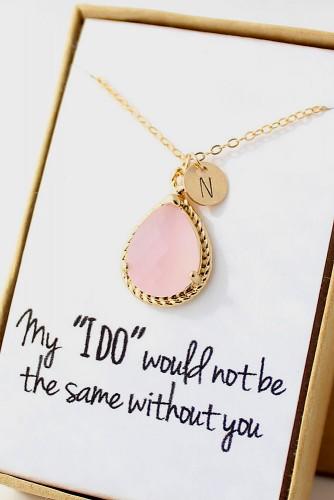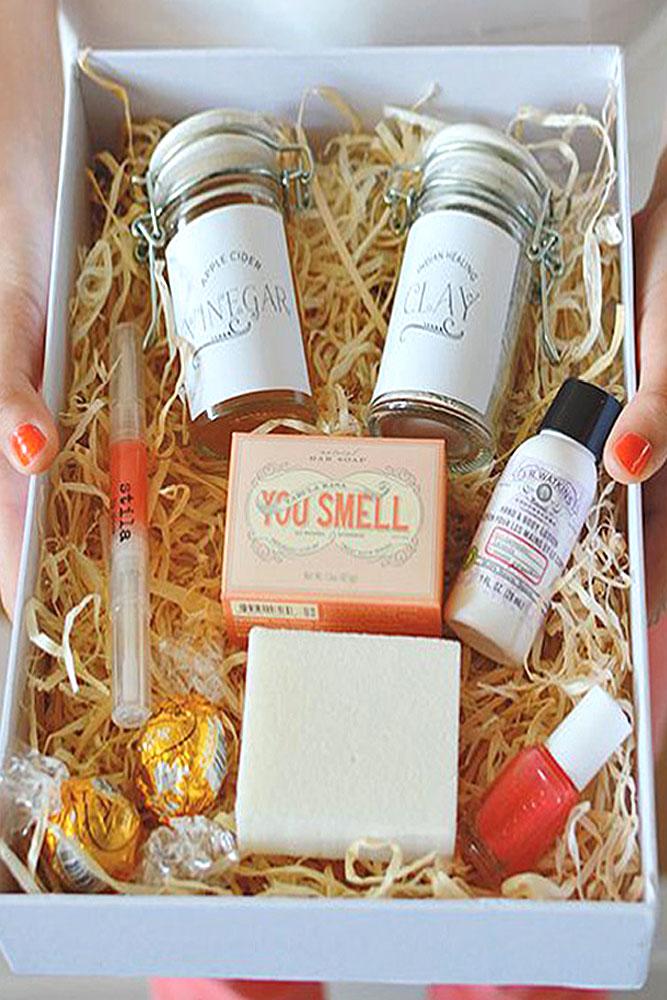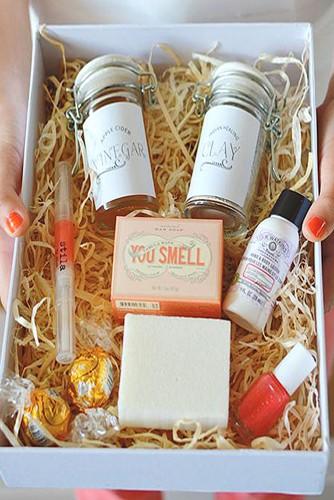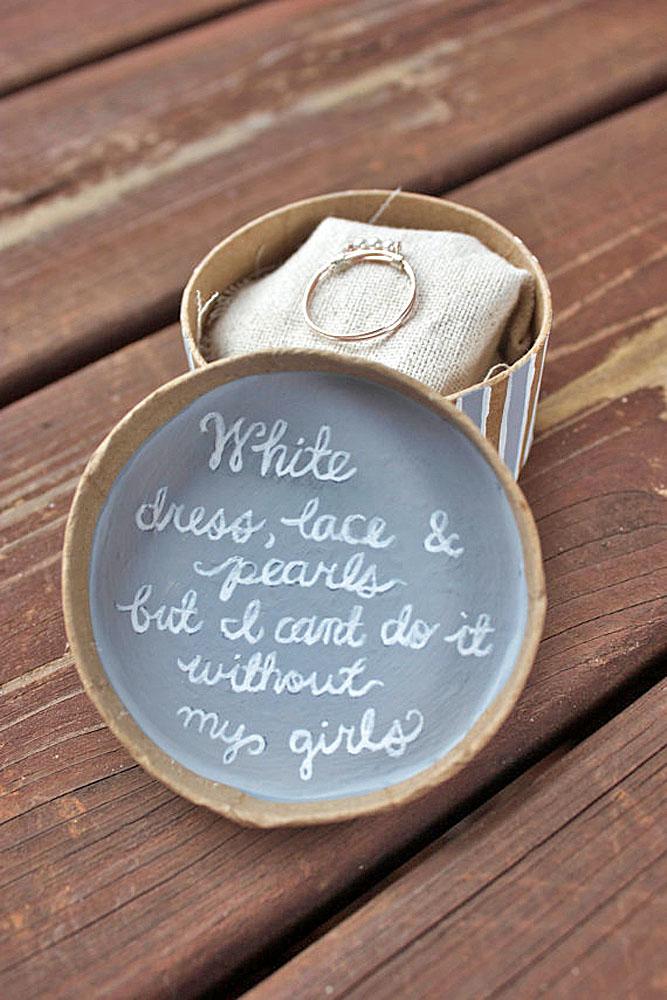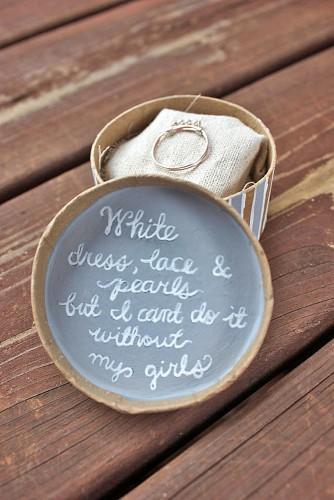 [ad_post_incontent_pos1]
Source: ForTheMaids via Etsy, Frm_FLUFFY2_FIT via Instagram, SoBlessedDesigns via Etsy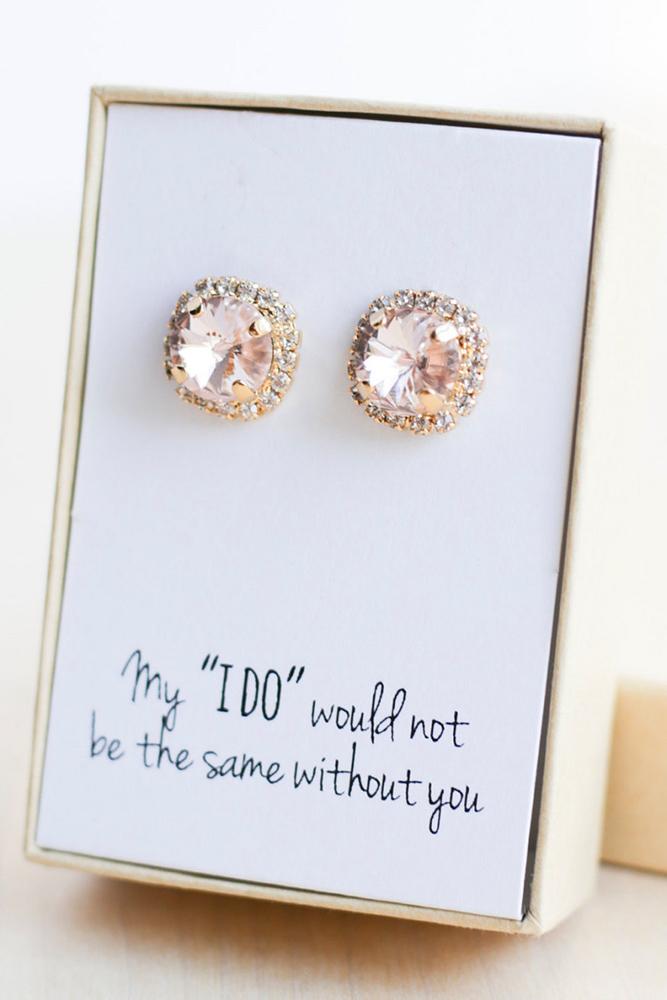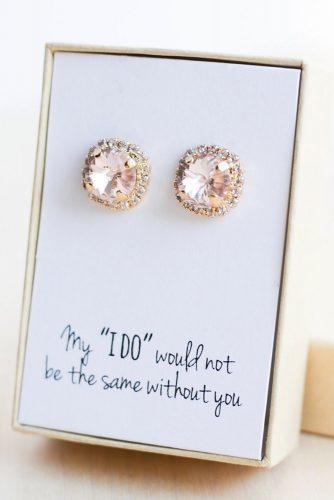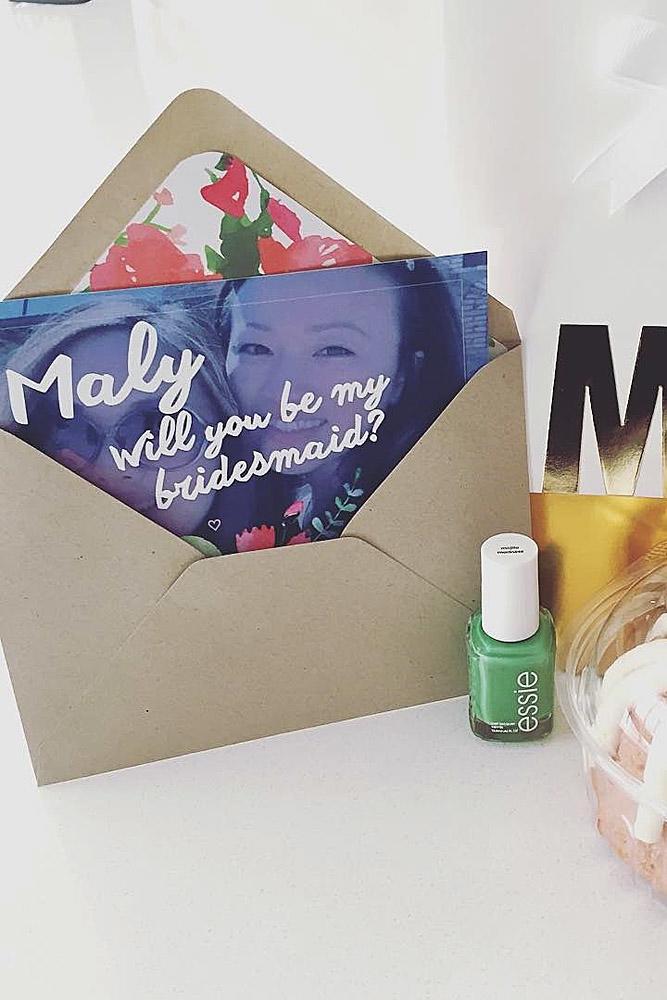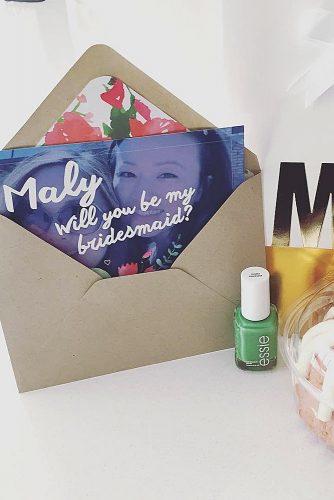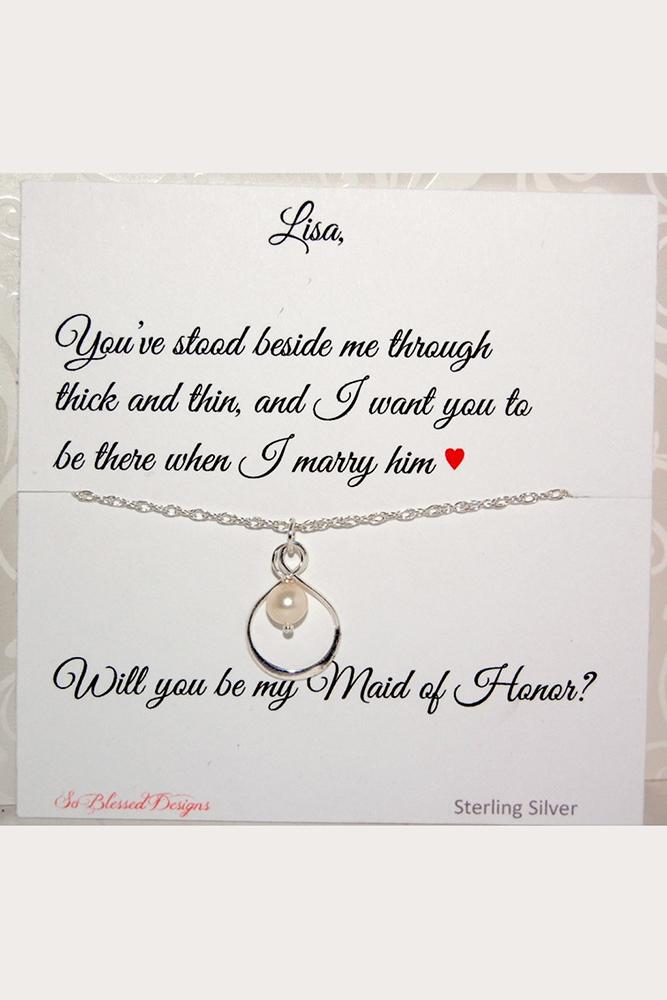 Beautiful Cards & Puzzle
Couples who find makeup, perfume and jewelry to be a little bit too much may prefer a more creative approach. Handmade cards and puzzles require time, thoughtfulness and attention to detail. Include it in your wedding planning and surprise everyone. Your best girls aren't exactly expecting an exotic gift. They are extremely happy for you, and they're very proud to hold a special place on your special day. Picking your card stock, decorating, designing and crafting the perfect message to each bridesmaid will definitely impress your girls.
You can make serious cards that represent the importance of the upcoming event. Or you can choose to celebrate the lightness of your friendship with fun cards. Cut the card into pieces and watch them try to figure out the hidden message on the custom jigsaw puzzle. Think about their surprise once they put it together! Make your card as informal as both of you are comfortable with. After all, this card celebrates your special relationship!
Source: rusticandruffly via Etsy, aprilheatherart via Etsy, PersonalPaperHugs via Etsy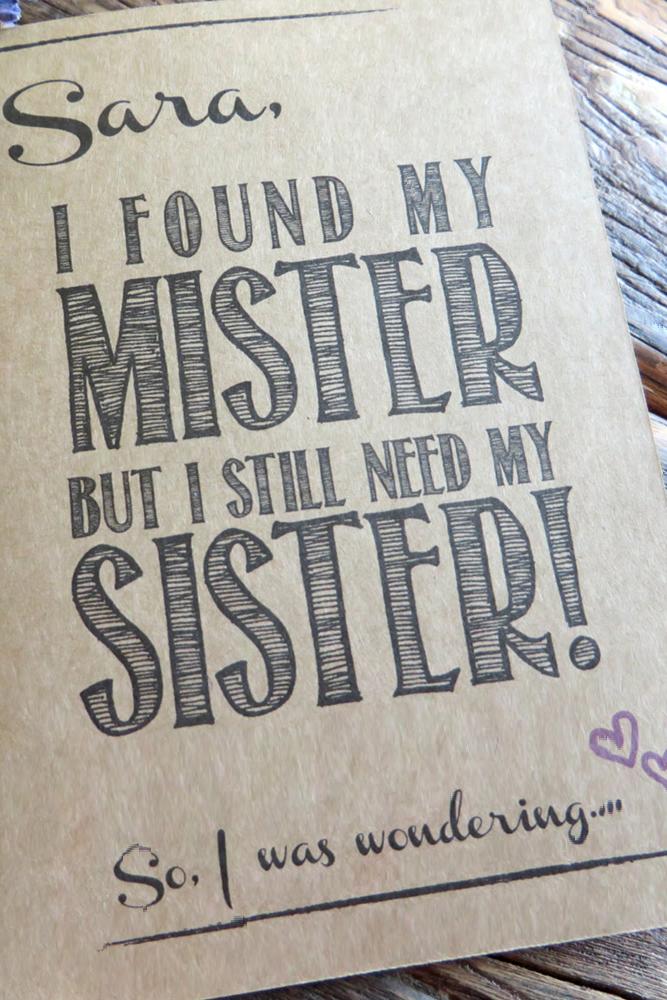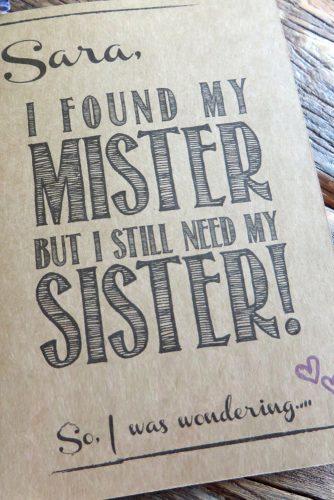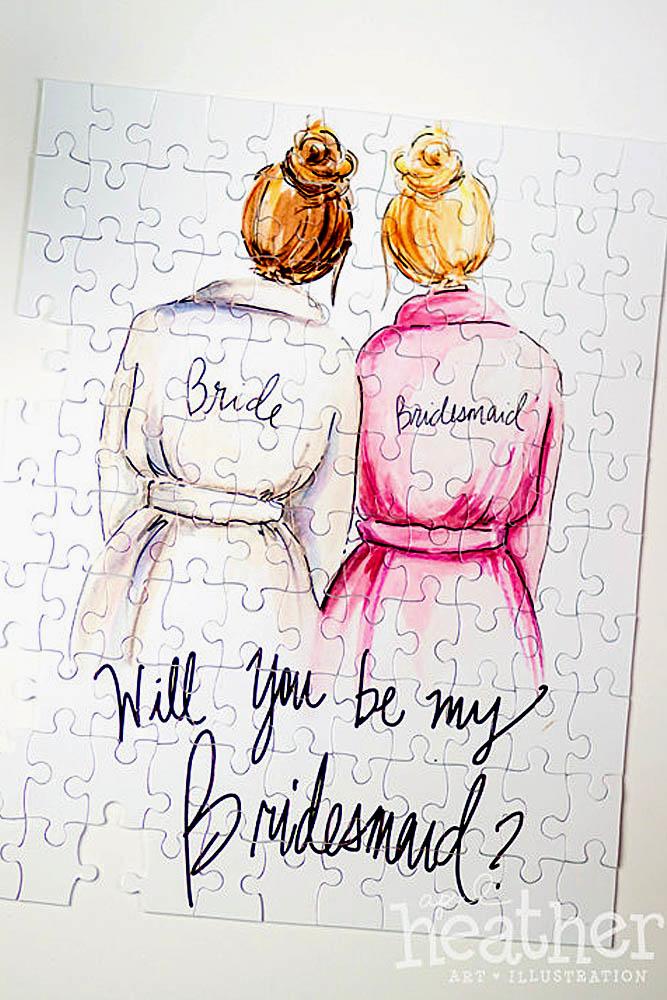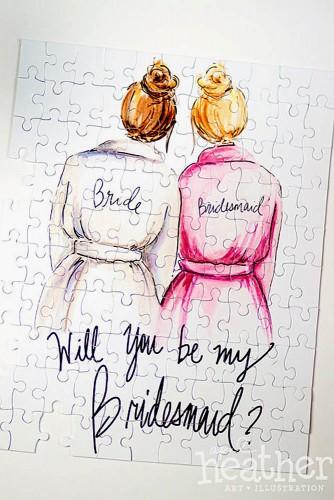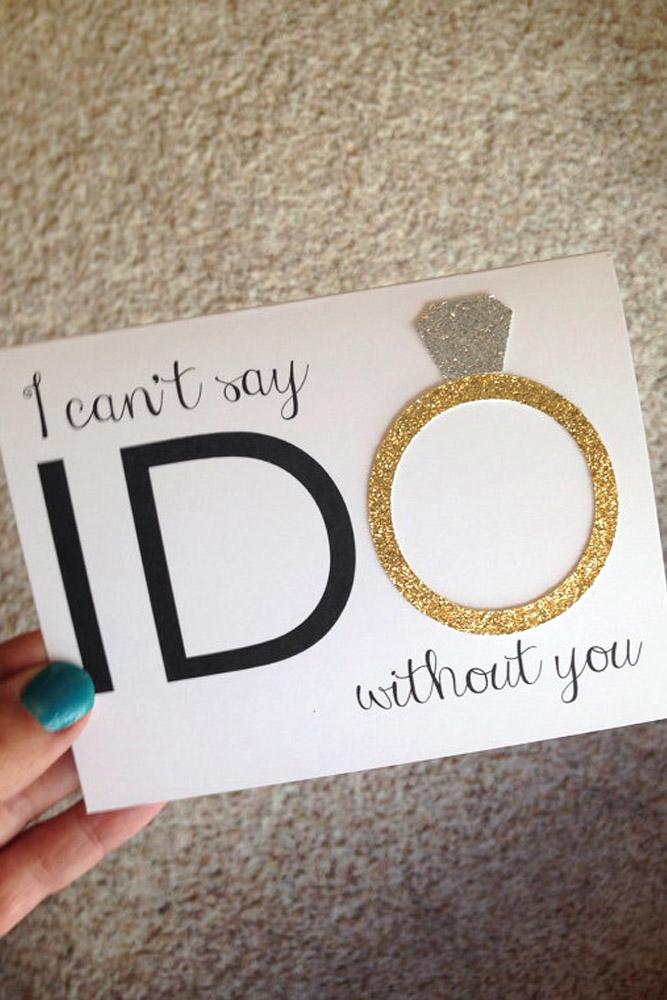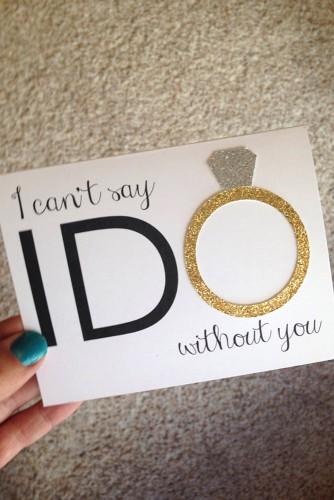 [ad_post_incontent_pos1]
Source: GretaArt via Etsy, PetalandPaperie via Etsy, invitesbythisandthat via Etsy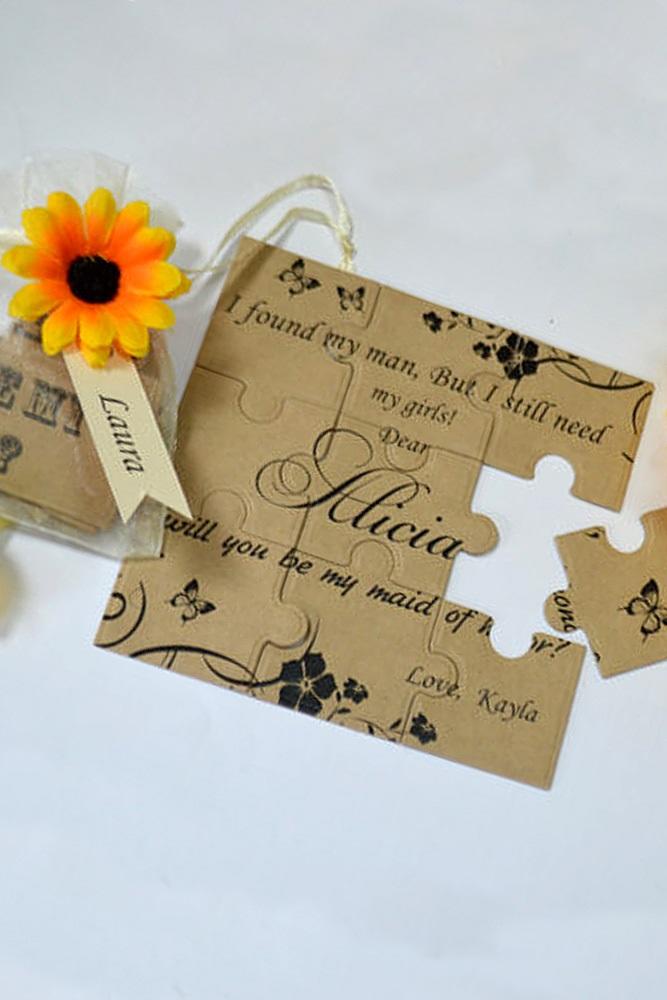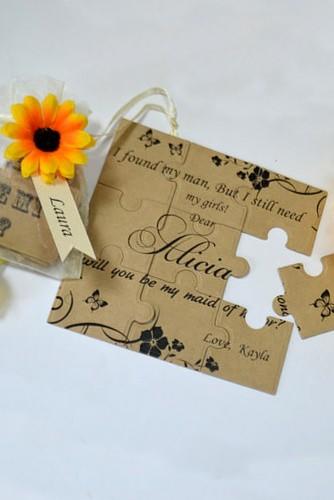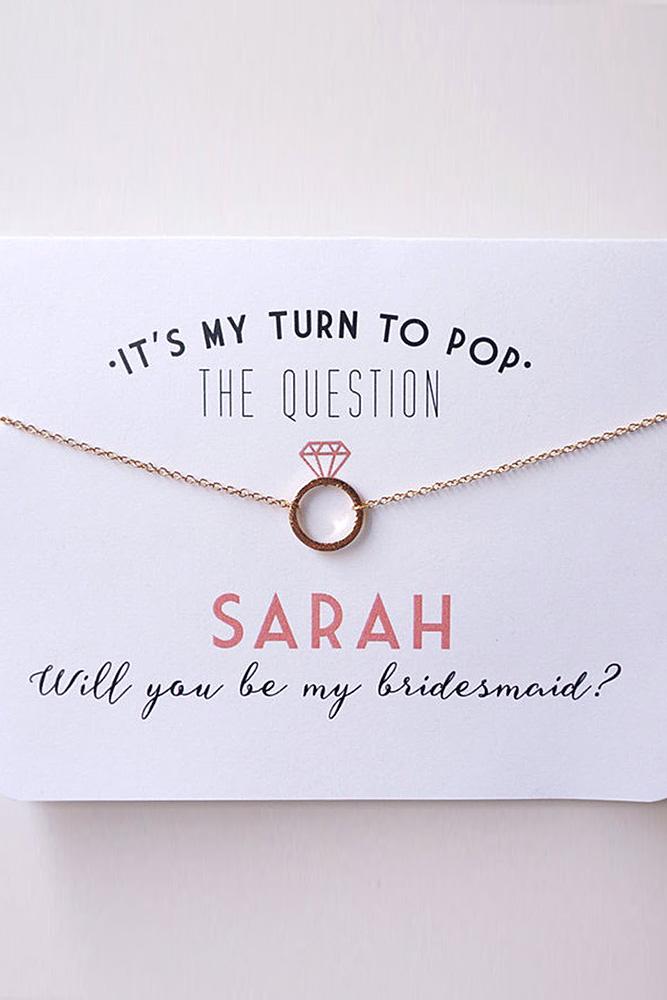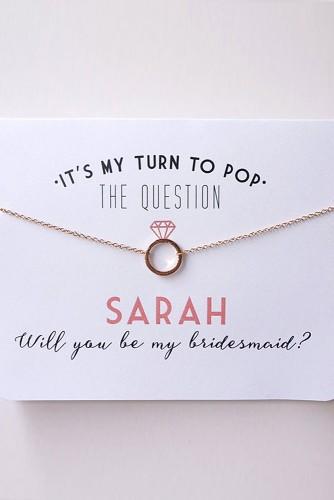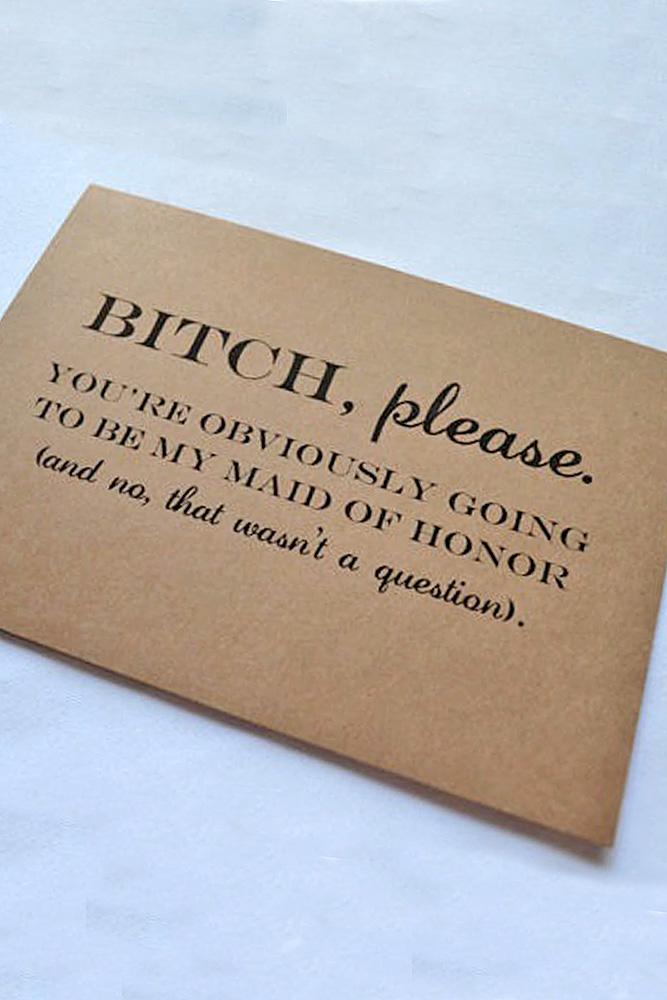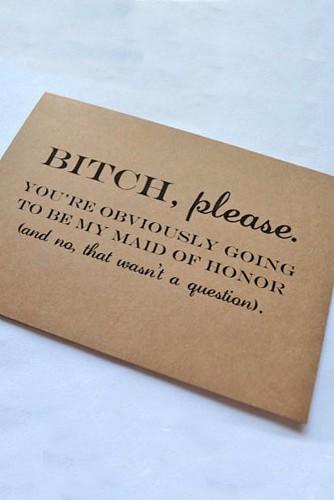 Funny Bridesmaid Proposal Ideas With Drinks
This is a momentous occasion and completely justifies popping a few bottles. For brides who prefer to send out a commemorative item, you can still keep the celebratory spirit alive with custom wine bottles (or any other beverage you both prefer). Today, it's super simple to buy a box of your favorite vintage bottle and to apply your custom label. You can have a lot of fun creating these labels with your wedding date and details, fun photos and personalized messages. Of course, if you have time, making your own wine for the occasion makes things extra sweet.
Another fun idea is to get your girls together and have a party! Just pour a round of drinks, and let them find the message under the shot glasses!
Personalized champagne glasses are another great idea to make a proposal! And when the surprise is over, you can use the glasses to celebrate!
And what if you are gym addicts and never drink anything but lime water and protein shakes? Customized water bottles and shakers are there for your bride tribe!
Source: webbica82 via instagram, ClassicWeddingDesign via Etsy, krismattshop via Etsy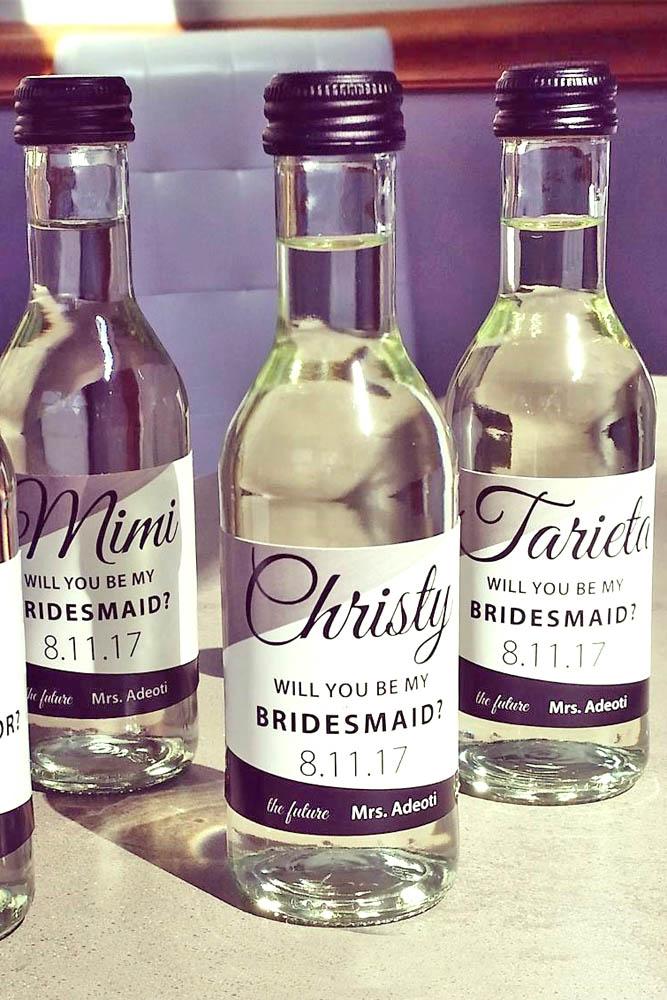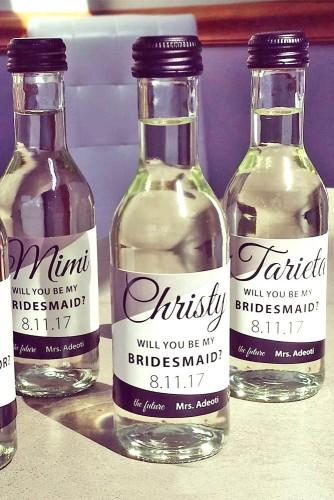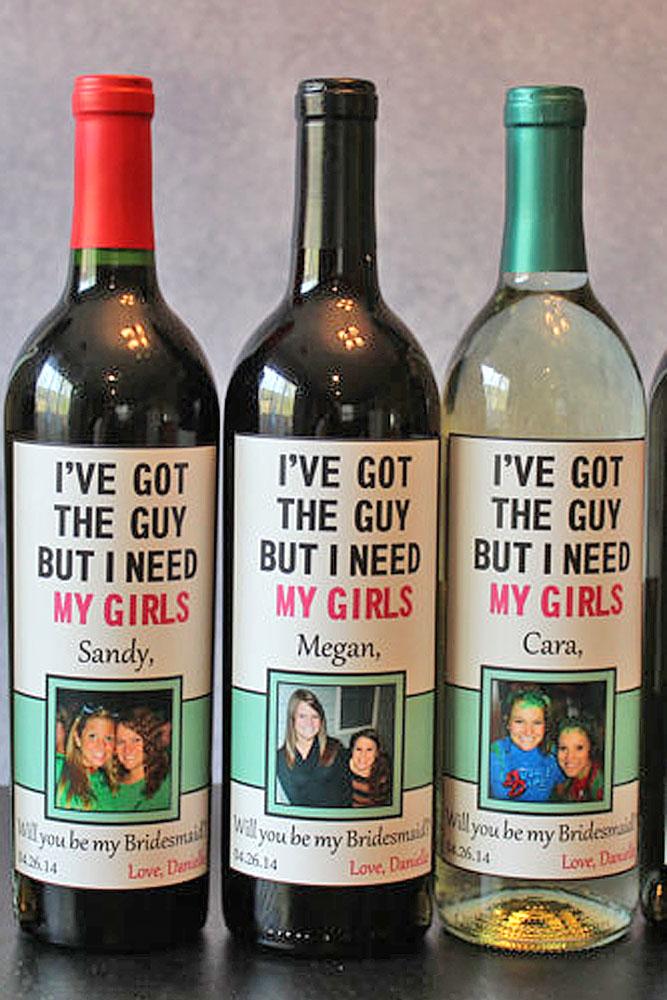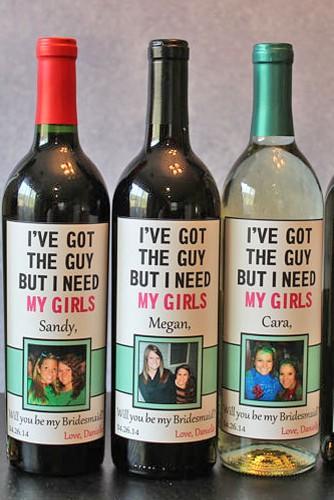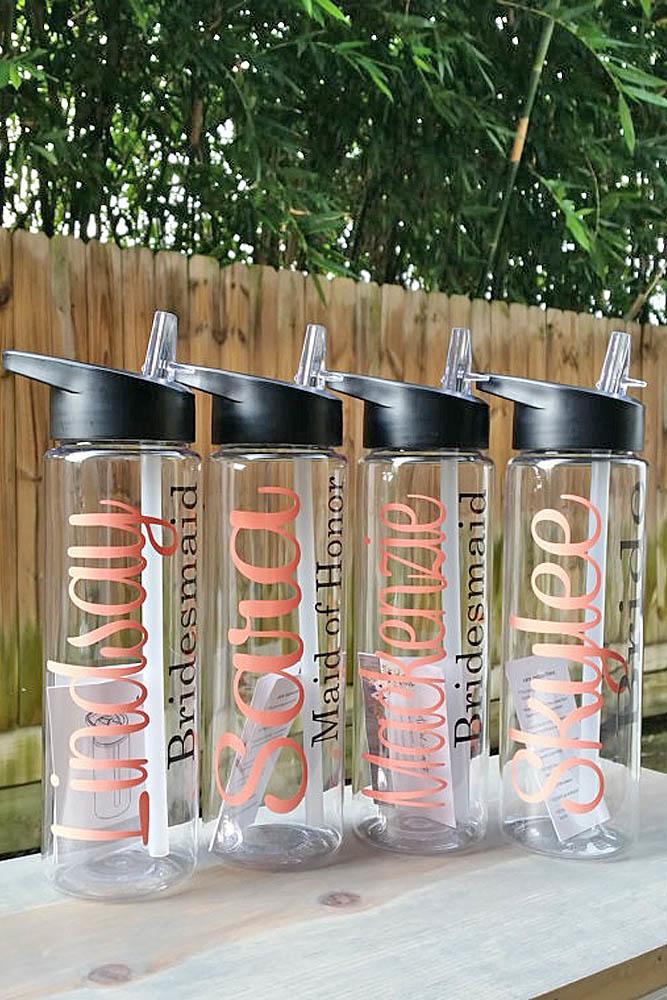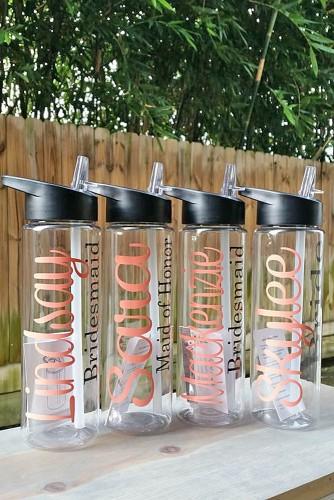 [ad_post_incontent_pos1]
Source: LabelWithLove via Etsy, digibuddha via instagram, digibuddha via instagram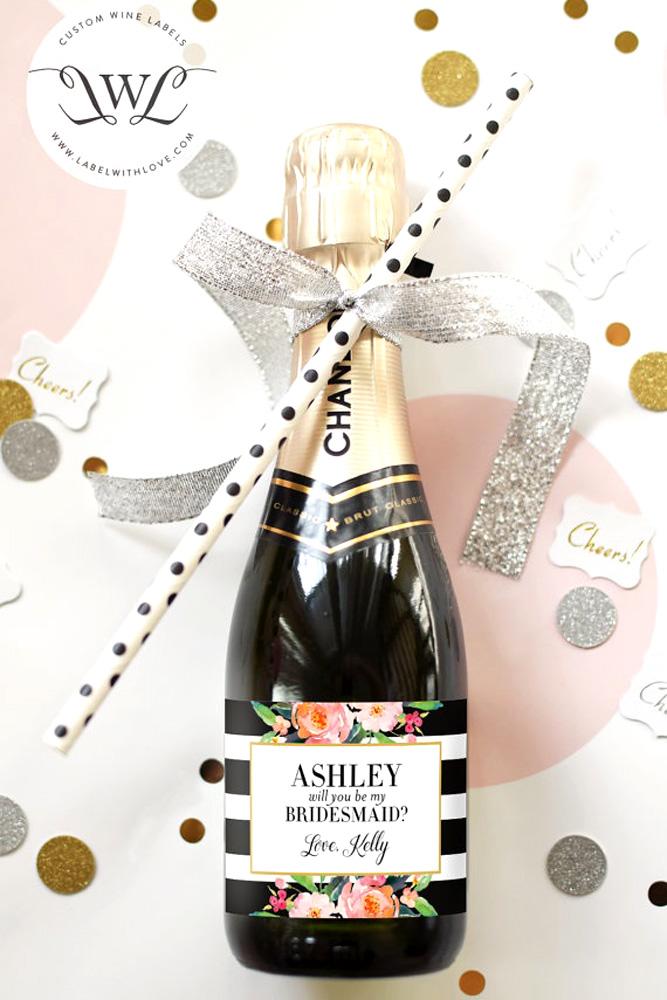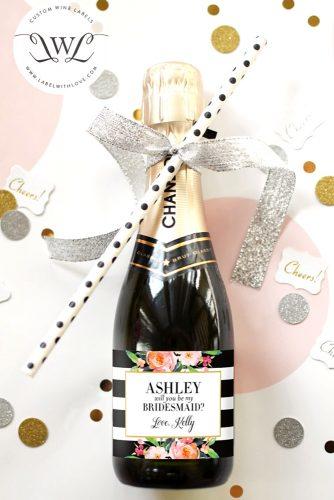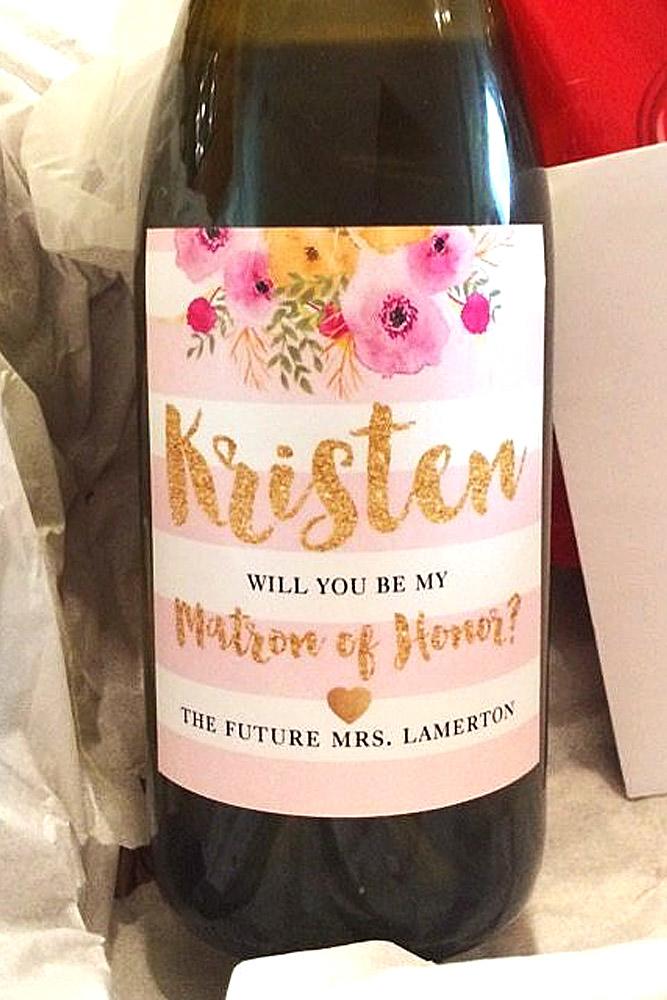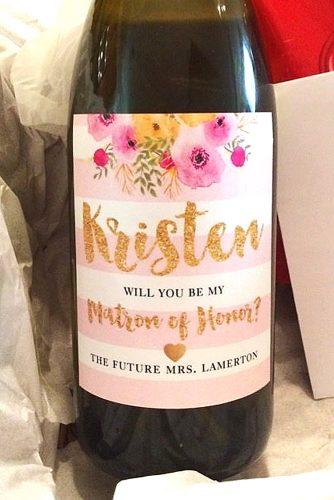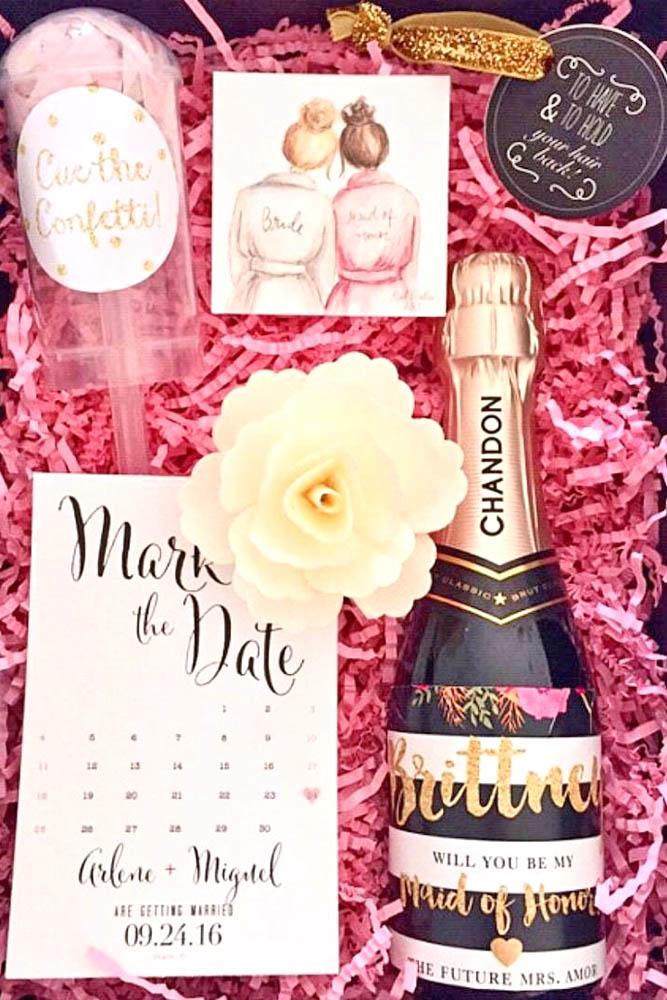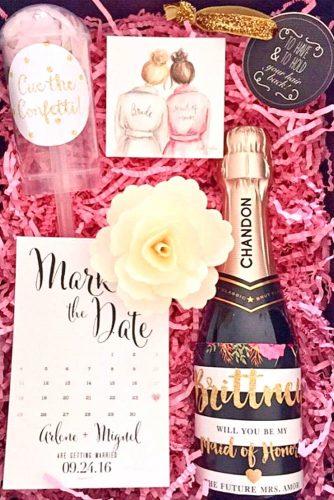 Bridesmaid Proposal Boxes & Candles
In case of bridesmaids are very diverse people, a bridesmaid proposal box may be the most appropriate one. These can be super fun as well, and there are no rules for what to put inside. A beautifully packed candle with a fun surprise inside is a great gift for your future bridesmaids! They will think of you every time they use the candle. Also, a candle is quite a romantic gift, so why not? Scented candles, candies, wine, jewelry, makeup, and flowers are all welcome additions. To go beyond, you'll have to use your imagination. Is there a special moment, song, or inside joke that you all share? Do you have a secret recipe for dynamite chocolate truffles or macaroons?
Regardless of what you choose to put in the box, make sure to include all of your essential wedding details and as much love as you can stuff into the package. These are your girls, and you'll need them quite a bit throughout your 'happily ever after' journey. Show them what they mean to you and you will not go wrong.
Source: Caroline Joy Photography, smittenonpaper via instagram, Anna Clarke Photography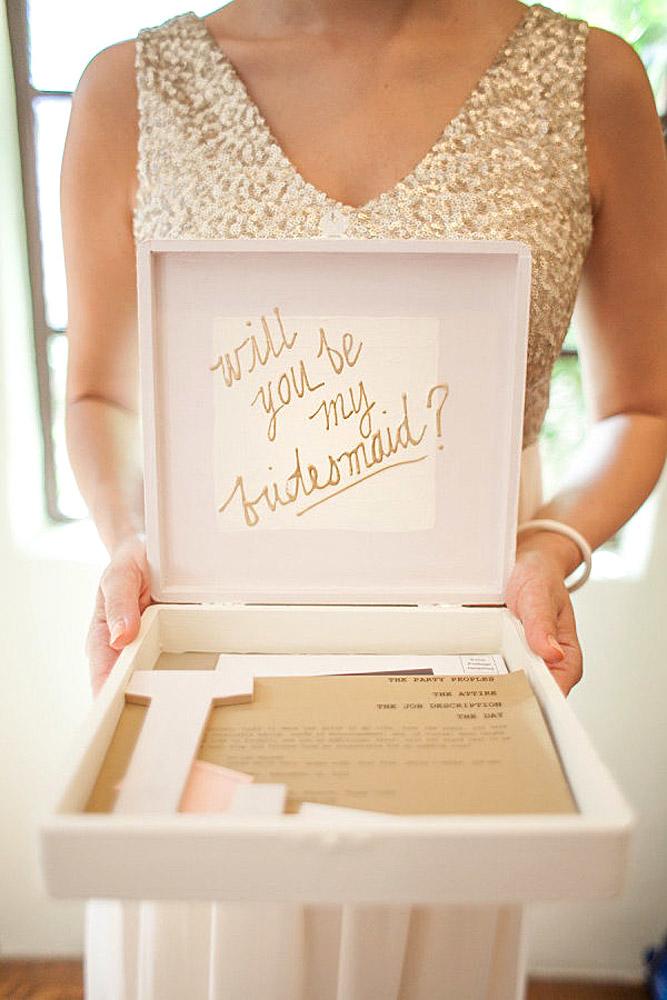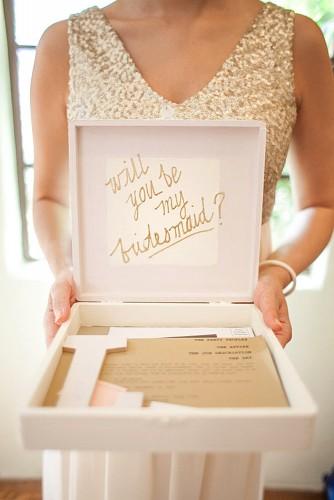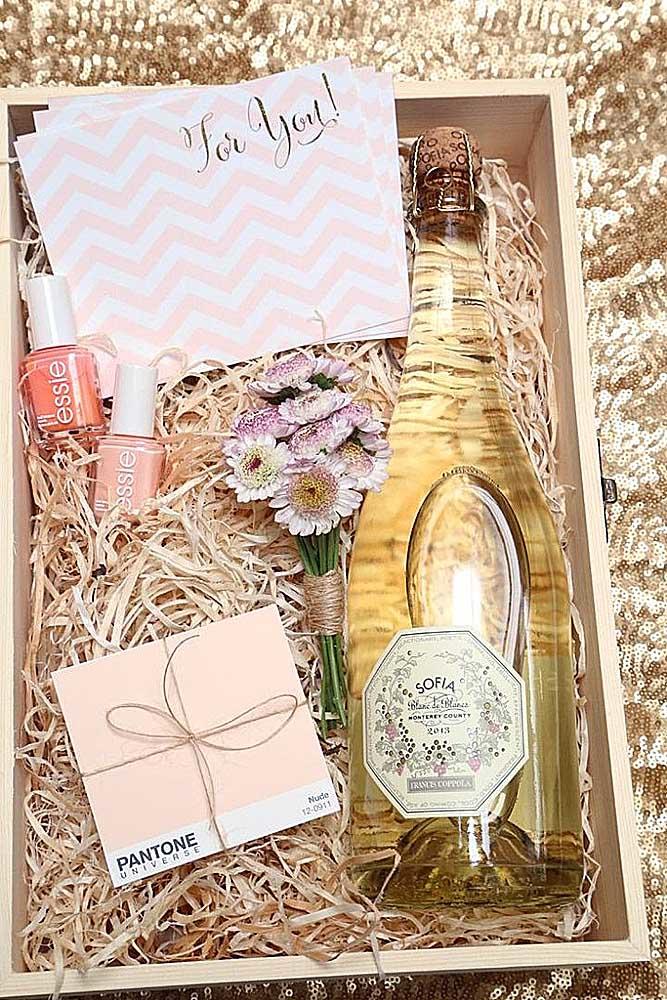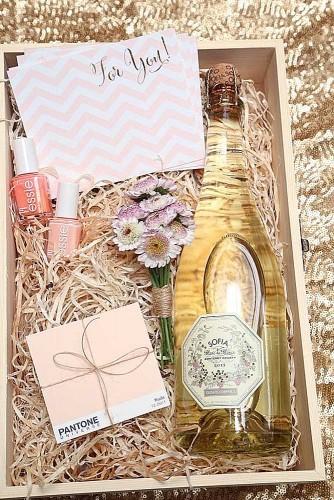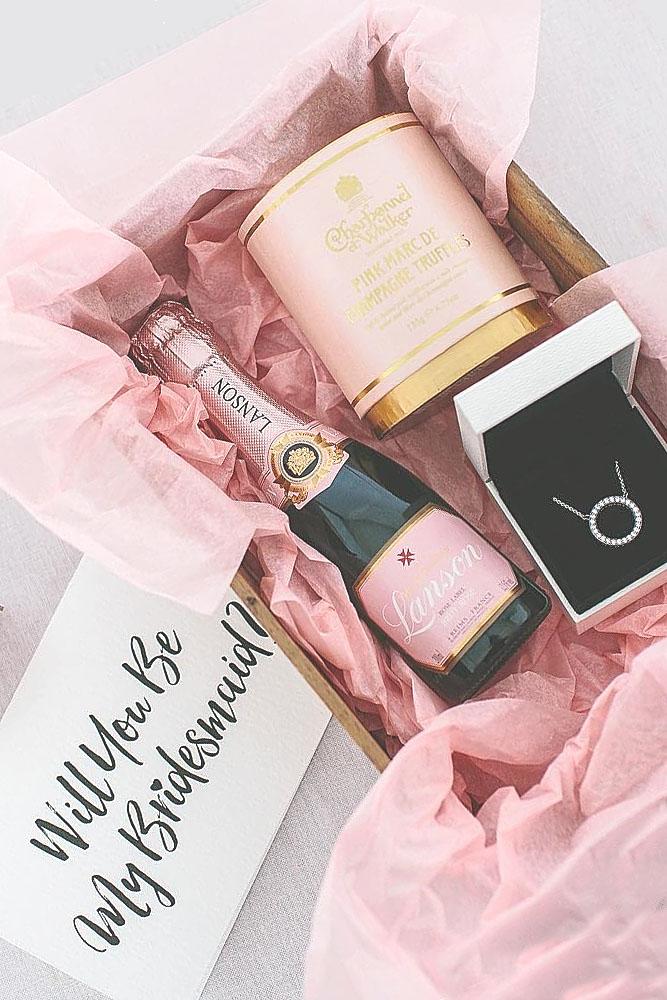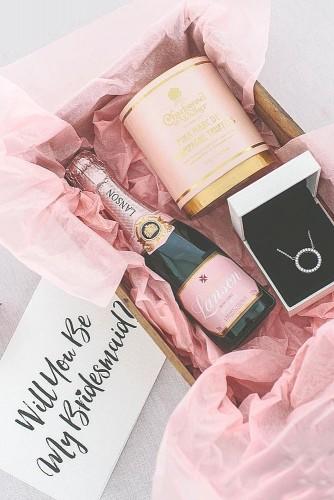 [ad_post_incontent_pos1]
Source: MyS oy Sister via instagram, Centred Soul via instagram, Rinse Repeat Blog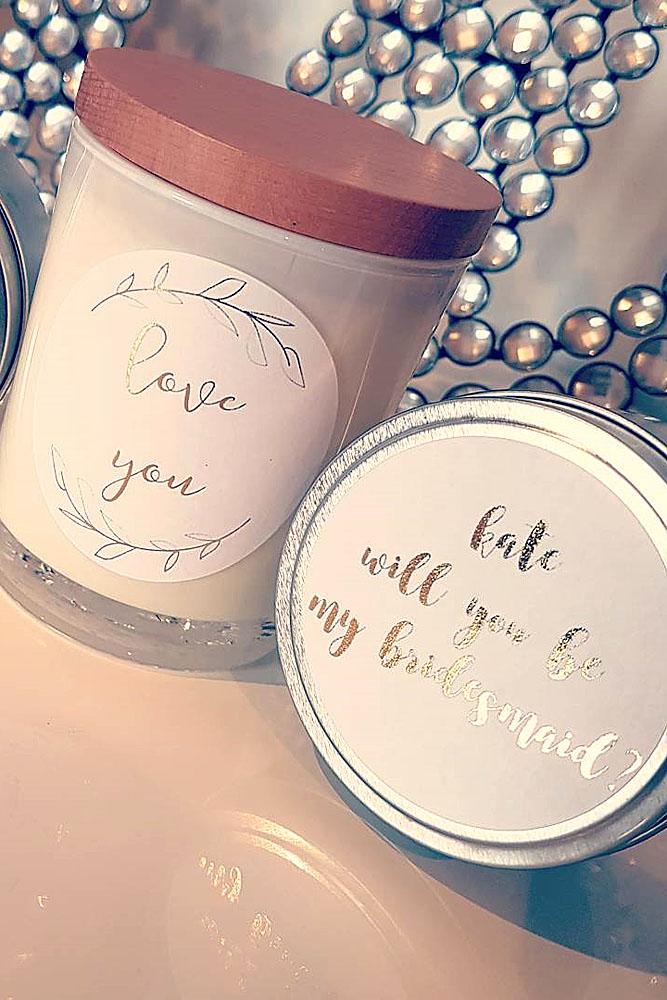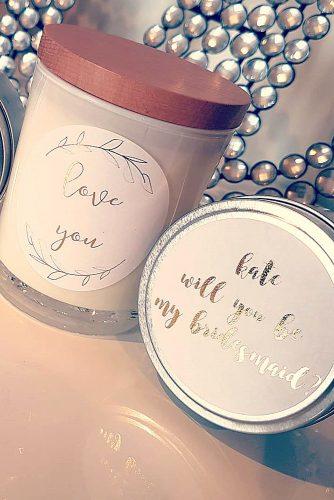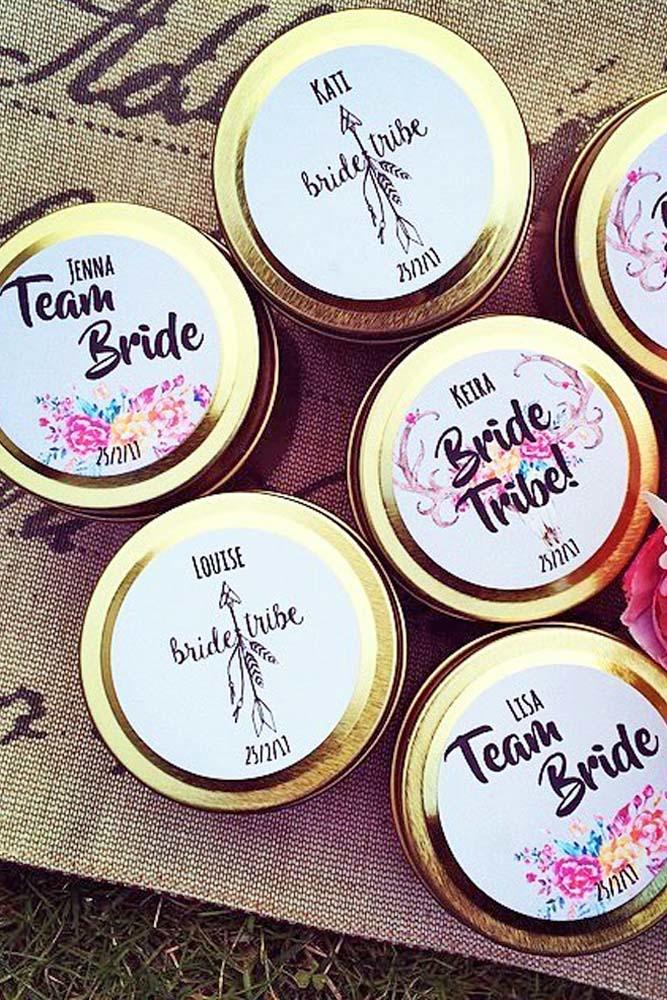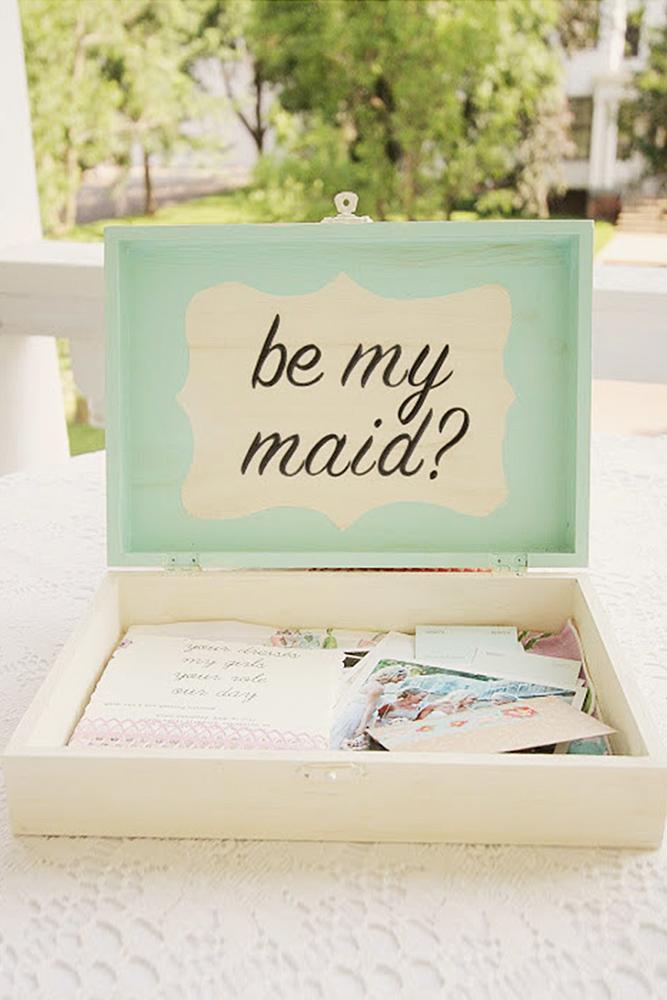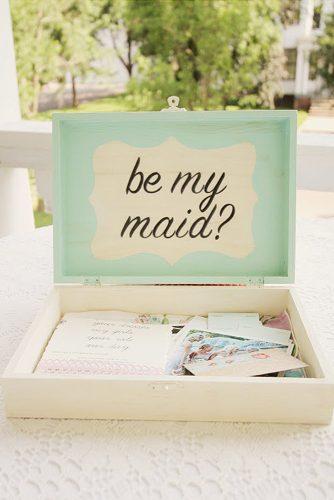 DIY Bridesmaid Proposal Ideas
Source: wanderlustpastry via Instagram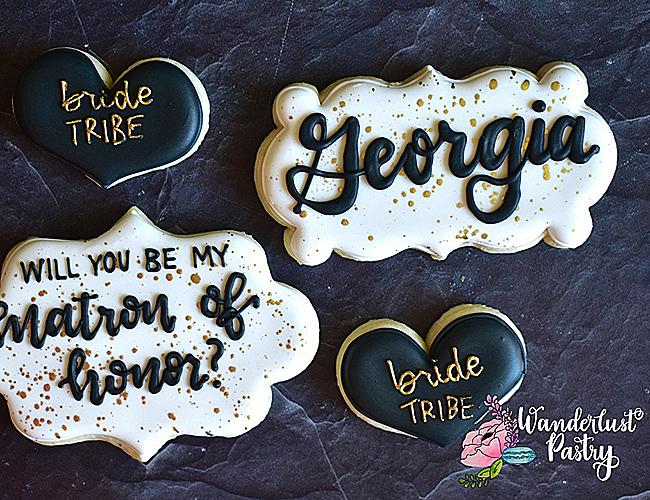 Do you want something more hand-made? Of course, what you can do depends a lot on your talents.
A hand-written card with your favorite photos included will make a perfect gift, which will remind both of you of this wonderful day. A bit of humor might help to ease down the moment – don't be afraid to show off your funny side.
If your girls have a sweet tooth you can try a tasty bridesmaids' proposal! A little box of macaroons, muffins or cakes – it doesn't matter what you choose. Your future bridesmaids will love making wedding plans, indulging in some home-made sweets.
Make a fun video or even organize a scavenger hunt to help you pop the question – it's fun and easy to do! A treasure map can lead your girls right to the chest with the joyous news and the question inside.
Don't be afraid to get creative! There's nothing better than a bit of hand-craft that makes your question even more intimate.

Cheap Bridesmaid Proposal – Custom Keychain
Source: PlumHouseGallery via Etsy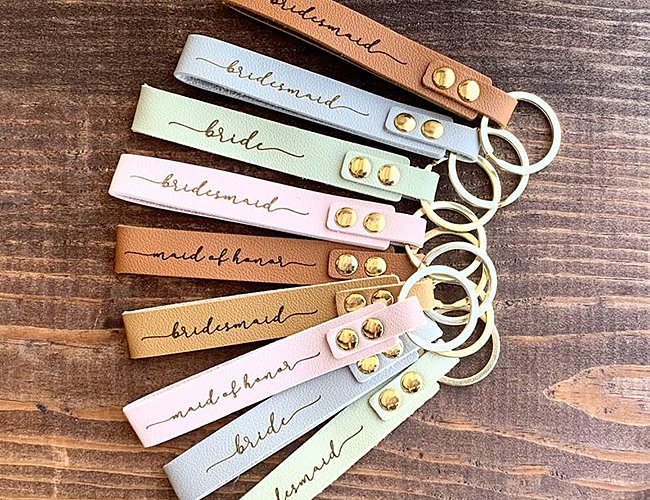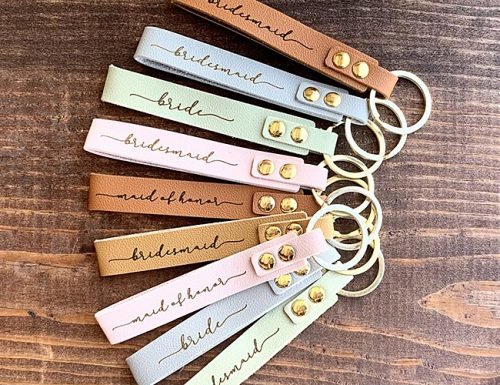 The bridesmaids are your best girls, and you can do the invite over the phone. But here's one chance to adhere to the bridesmaid etiquette, by making an actual proposal. Etsy is game on with their top-notch bridesmaid proposal ideas. One of which is the cute bridesmaid proposal custom key chain.
This is perfect for the couple who doesn't want to go overboard with the gifts. A perfect balance between minimalism and class. It's made out of leather and comes in multiple colors. The gift is also a very practical one, in that your bridesmaids will use them for a very long time.
You can include it in the gift box or give it as a stand-alone. There's also room for customization. Get all the names of your bridesmaids and have them monogrammed on the keychain. This cheap bridesmaid proposal gift is priceless. And your girls will love it.
Unique Bridesmaid Proposal Ideas
Source: KitAtlas via Etsy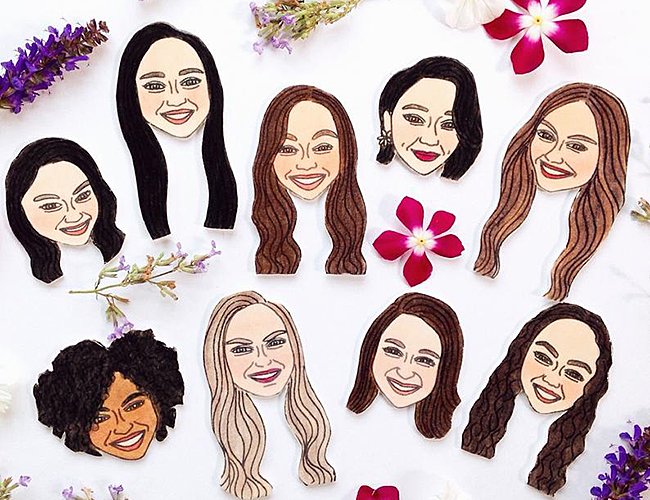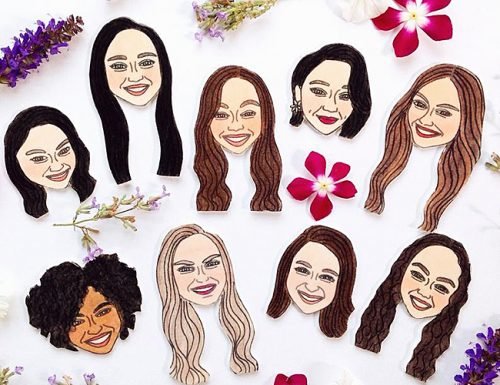 As far as unique bridesmaid proposal ideas go, the custom magnet is one to look out for. This is an interesting type of gift for brides who love to goof around with her friends. Custom magnets are funny bridesmaid proposal ideas sure to get your bridesmaids saying yes. Reason being that, they get to own magnets with their faces on them.
Whip out those cute funny looking pictures of your girls. And have each of their faces adorn a magnet. Engrave their names or initials on these magnets and send it to them. It's perfect for the refrigerator door, television frames, mantel, and workspace.
Handmade magnets are still the best so far when it comes to bridesmaid proposal gift ideas. They are thick, very unique, durable and sturdy. A perfect reminder of your beautiful day for a long time. Your bridesmaids will get an exciting kick out of this gift.

Personalized Bridesmaid Proposal Gift – Makeup Bag
Source: CraftingHandsNY via Etsy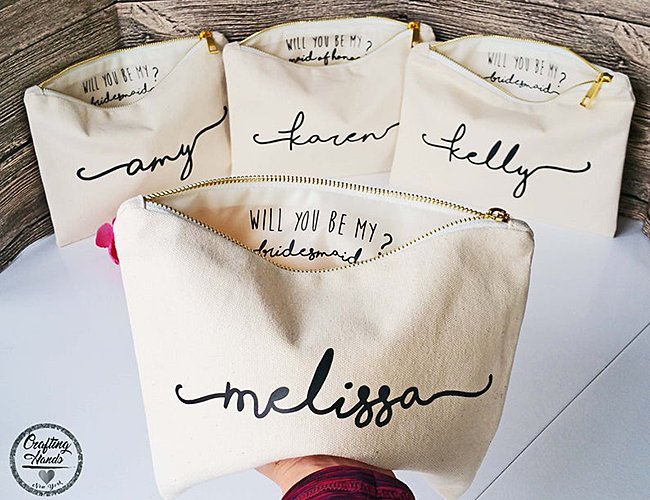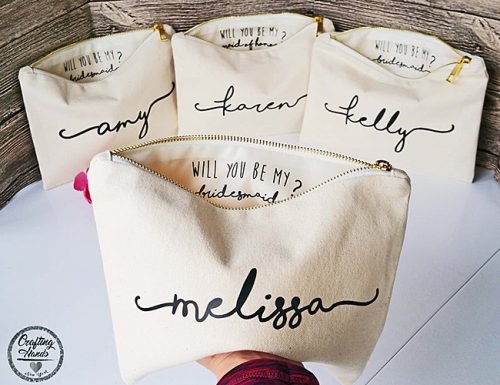 Do you want a happy bridesmaid at your wedding? Then help her get all her essentials in one place. The best way to do that is by getting her a beautiful bridesmaid proposal gift that can do the task. A personalized makeup bag. This is the perfect gift for a classy bridal party. The makeup bag isn't only for makeup, it can take a couple of other things such as;
Accessories
Lingerie
Gifts
Emergency kit
Medicine
Cosmetics
Stationery
Favors, and other essentials.
She's well put together, neat, organized and ready to go when she has a makeup bag. Make it more close to their hearts by personalizing these makeup bags. A bag that bears your name isn't one to let go of. Monogram their names on the bag with beautiful cursive fonts and colors. Propose to your girls with them, and you'd be sure to have happy bridesmaids.
Simple Bridesmaid Proposal Ideas With Socks
Source: MissWebbDesign via Etsy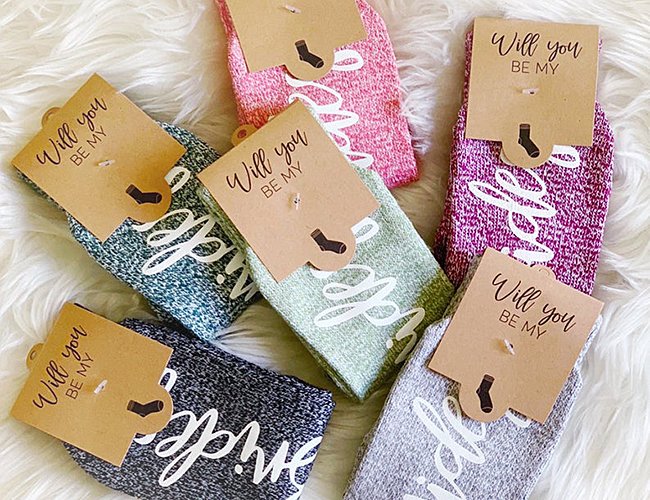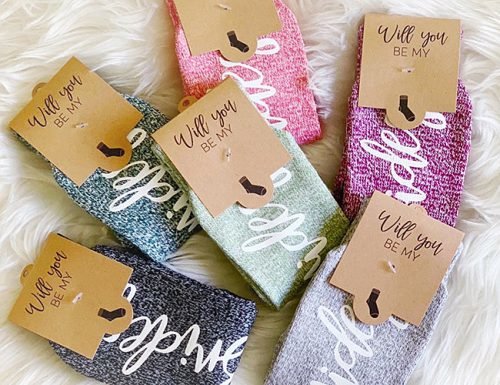 If you're looking for something so cute, simple and heartfelt to propose to the girls. Amazing socks are the best bridesmaid proposal gifts. They are simple because both for your wedding and after to keep warm. They are cute because they are one of a kind and not your conventional proposal gifts. They're also heartfelt because they bring warmth and sweet emotions with them. A perfect way to ask her to be your bridesmaid.
Now, y'all can flip the script by turning the socks into a sort of uniform. Wear them with the other girls at the bachelorette or bridal shower for a cohesive look. You and the girls can also rock it on the wedding morning, while you're getting ready.
You could buy them around the theme of your wedding or play with colors. Take it a step further by having their names penned down on the proposal socks.

Important Things To Consider Before Choosing Your Bridesmaids
Source: anyakernes via Instagram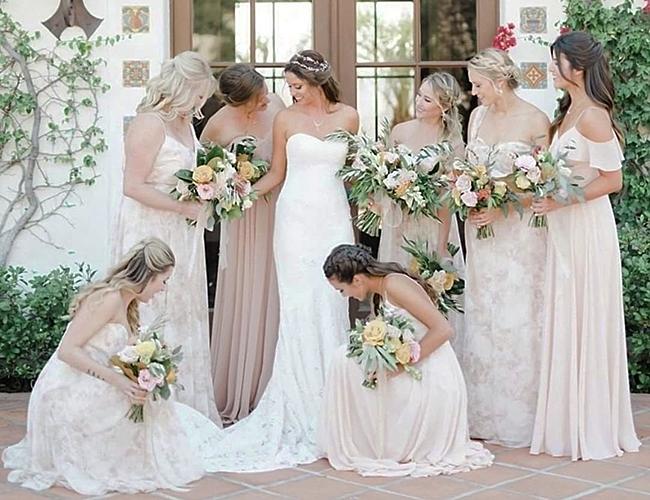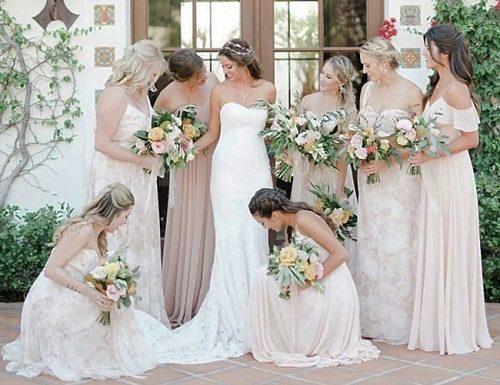 Before you ask someone 'Will you be my bridesmaid', here are several things you should consider before popping the question. Anyway, it is important who you have by your side on your big day!
1. Take your time
Don't rush in the heat of excitement about your wedding. Probably, you have some time on your hands before the big day – well, take it and plan carefully. Think about everyone you might want to have as your bridesmaid. Consider your friends, family, including people who live far away, and, of course, matters of politeness. Keep in mind you are not the only person who's getting married. Your fiance also has his family and friends, thus, mind to consider your future relatives-in-law.

2. Evaluate your needs and expectations
You probably have some image of your big day in your head. Is this a gala wedding that requires intricate planning with lots of details? In that case, you'll definitely need a lot of help with everything. Will it be an elopement with a small ceremony? Just the two of you and a couple of closest friends? Each of these events needs a different number of people with different responsibilities. Thus, make a list of all the roles you need to fill in. Think about who will be the best choice for each of these responsibilities.
3. Coordinate with your fiance
Remember, it is going to be two of you solving and deciding issues together. So, start to think different now and involve your beloved one. First of all, make sure you both think of the similar wedding. The size, the number of invited guests. Don't forget to discuss how big you want your bridal party to be. It is also important to keep in mind, that it looks better to have a pair for each member of your bridal party, so it will contribute to a harmonious atmosphere.

4. Think about details
The bridal party is usually anything between 4 and 12 people. If you have a large wedding, it is reasonable to have more people around you. However, with a smaller ceremony, 12 people beside you will be a bit too much. Also, don't forget to consider your venue size. If you want a larger bridal party, will there be enough place for all of your maids and men to stand beside you?
5. Set realistic expectations
Your big day is a truly special event, and probably, you expect all your friends and family to be there for you. But before you make your choice, think if the expectations you have are realistic. If the person you ask lives far away, or has small kids, or has some health issues, then being a part of the bridal party might be quite difficult for them. Family situation, details of employment – don't forget about such details while planning. Your bridesmaids are important and you are going to rely a lot on them. Also, different roles require different qualities. Not everyone is good at keeping things in control.
Don't try to ask for impossible! If you think that the person won't be able to be there for you, rethink your choice. Also, keep in mind that it is even worse if the person agrees to take the responsibility but is not able to perform it as well as needed.

6. Think twice
There are a lot of roles at the wedding. Different people have different talents. If your friend is a good photographer or a musician it might be wiser to ask someone else to be the bridesmaid. Your friend's skills would be better applied elsewhere. Also, think of duties – a maid of honor usually requires a lot of organizational skills. Not everyone is capable of doing this. If you are not sure if the person will comply with your expectations it might be better to consider other options. Consider your needs and their responsibilities, lifestyle and current situation. Decide what's most important for you.
7. No is OK
Being a part of the bridal party is a serious commitment that requires money and time. For example, bridesmaids are expected to pay for their dresses. If your friend lives far away her participation means travel expenses and some days off at work. If she has a small kid she needs to find a babysitter, which might be a bit of a problem. There are lots of reasons and life situations why the person you chose to be your bridesmaid might say 'no'. So, don't push when asking, it is important to allow friends and family to refuse. Your friend simply wants to be upfront and honest, there is no need to be insulted.

8. Don't ask because you must
You might feel obliged to ask someone who is not very close, but this is your day. Don't ask simply because you need to return the favor or because it's only polite. Bridesmaids are more than just guests. They help the bride with lots of issues, including very private ones like using the restroom. It is also possible that you will need emotional support and a bit of hugging and kissing (and her napkin to wipe your nose). If you feel that you won't be comfortable it's better not to ask. You need someone who's really close to you on this special day. If you feel forced it will only add to your stress.
9. Be sensitive
Apart from the family and work issues, there are psychological reasons why your friend might not want to be the bridesmaid. For example, it's nice to know that your friend is not comfortable with standing in front of the public. Some people are afraid of making speeches or are simply shy about being in the center of attention. If you know about such features of your friend, you might still ask, but leave a chance to back up without spoiling the relationship. Also, some of your girls might feel uncomfortable with the bridesmaid dress. Take a look at plus size bridesmaid dresses – if you choose a design that suits everyone, the problem can be solved.

10. Extra support
Consider the prospective bridesmaid's attitude to your relationship. You don't want someone who doesn't support the vows you're about to make by your side. A wedding is a serious event that brings a lot of changes in the life of a person. It is absolutely legitimate for a bride to need some emotional support, and it is the task of her bridesmaid to provide it. Make sure your bridesmaids approve your choice and are ready to be there for you when you need it.
Who To Ask And How?
Source: anchorandveil via Instagram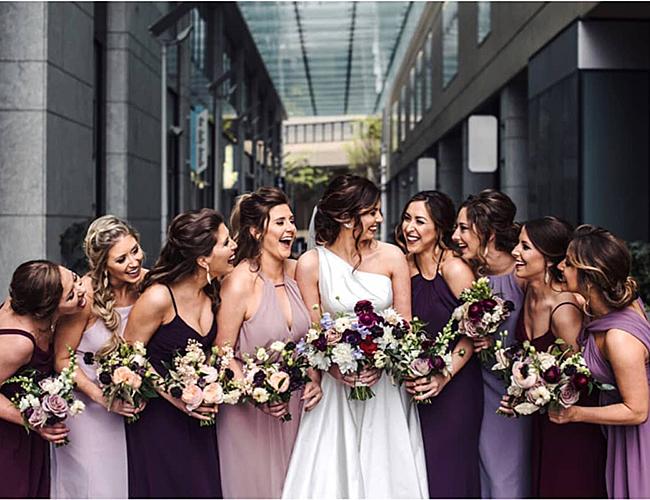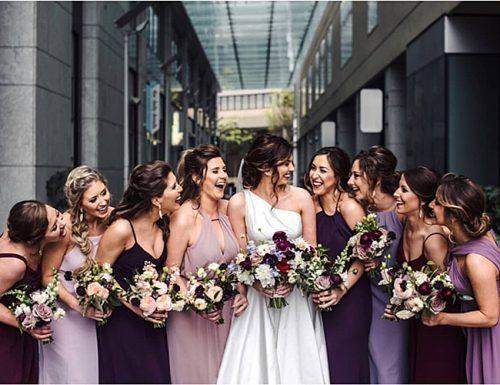 Your wedding is your day, and only you can decide whom to invite. Don't forget that, after all, you can have more than one bridesmaid. This leaves enough space for the list of your nearest and dearest. But even if your list is still too long, keep in mind, that you can include important people by using other options to get involved in your bridal party. You are going to need ushers, personal attendants, etc. As you ask different people, try to be as creative as possible.
There is no 'correct' way to ask, and the ways are unlimited for a person with imagination. Got creative block? Don't you worry, we'll boost your imagination! If you are looking for the best 'be my bridesmaid' idea, you've come to the right place. Here, we'll get it fixed for you in no time!

Different Female Roles At Your Wedding
Source: taylorboydphoto via Instagram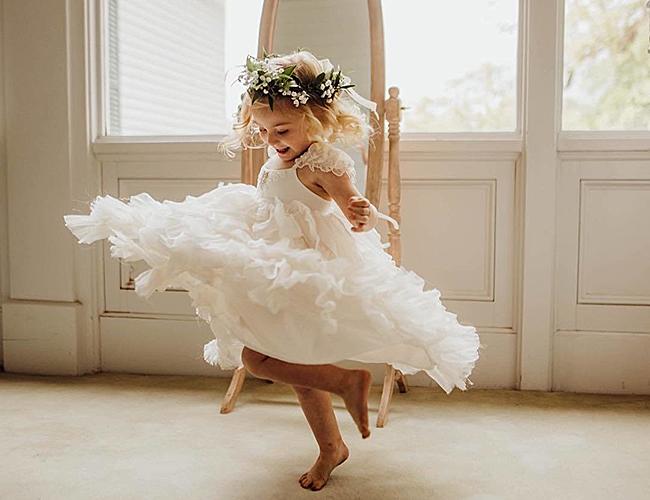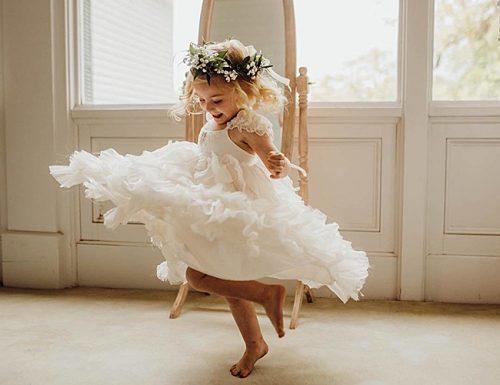 Before you start asking your bridesmaids, you've got to know the options. There is more than one female role at the wedding. Apart from the 'regular' bridesmaids, you might need a maid (matron) of honor, a junior bridesmaid, and a flower girl.
Maid/Matron of Honor
This is a woman who is in charge of your bachelorette party, the bridal shower and any other bridal activity. She is responsible and fun to be with because she will be your most trusted assistant. She guarantees your comfort. Somebody to wipe your tears of happiness carefully so that your make up will not smudge. Someone to hold up your skirts at the bathroom. Someone who knows you very well. She needs to be by your side no matter what, and – she's the one to help you with dress shopping! Maid of honor should be also ready to give you an honest opinion, hug you and calm you down when you are overwhelmed.

Bridesmaids
Bridesmaids are usually your best girls: sisters, cousins, co-workers, childhood friends – everyone you hang out with regularly. Also, someone who you definitely want by your side when you say your vows. Their responsibilities include standing at the altar and help you whenever you need it. Usually, their attire compliments your bridal gown, and they have similar bridesmaid hairstyles.
Flower girl
Usually, it is a sweet young lady aged 3-6. She is the one who will look absolutely sweet tossing petals down the aisle. Make sure she is comfortable in front of a crowd and can stand still long enough to get a few pics. Still, this is a kid, and a sudden nervous meltdown is highly possible. Be ready and don't get mad if it happens. Make sure you have a backup plan on how to calm the child down.

Junior bridesmaid
Someone who is too old to be your flower girl and too young to be a bridesmaid. Usually, this role is taken by a girl 9-to-14-years-old. She usually has the same responsibilities as adult bridesmaids, but she doesn't participate in adult activities. You can also ask her to help ushers, pass out programs, favors, etc.
Make A Post-Proposal Party Together
Source: tayriney via Instagram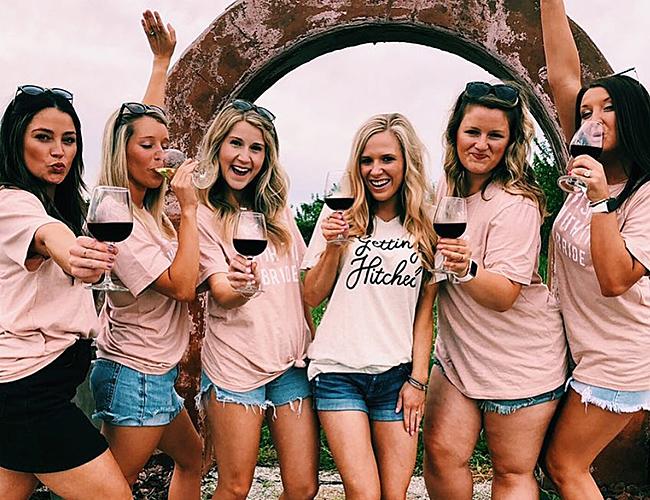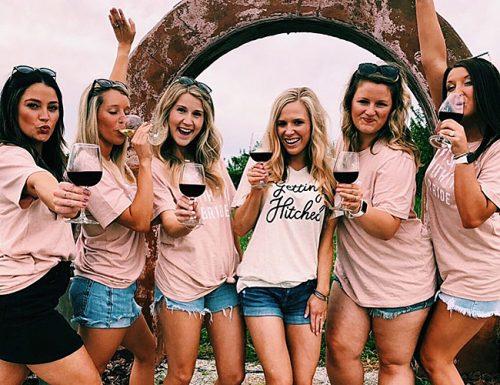 There is one more way to ask. And it involves partying and getting all your girls together at once! After you said 'yes!' one of the first things you're going to want to do is sharing the good news. Why don't you have a post-proposal party? Think about the people in your life who you will definitely want to share this special moment with. You want to make the proposal and the party a surprise, so be mysterious. Don't spill the beans! No need to have something fancy, but it's definitely the time to pop some champagne! Having a post-proposal party is a great opportunity to celebrate! You are about to enter a new life… celebrate it with the people who mean a lot to you! Drink champagne, play wedding songs – this is the perfect time and place to make your bridesmaid proposal. And don't forget about wedding-themed piñata! Your girls will love the excitement and the exciting surprise inside!