There are very few things in this life that you spend more time and effort planning than your wedding. If you're not prepared, it can become overwhelming. If you're too attentive you risk becoming the dreaded Bridezilla or getting carried away and completely blowing your budget. You definitely need essentials for planning a wedding, like the wedding budget spreadsheet.
Read our list of wedding budget spreadsheets to discover how easy it is to find a perfect wedding planning balance.
Top List Of Wedding Budget Spreadsheets
Wedding Budget Spreadsheet
#1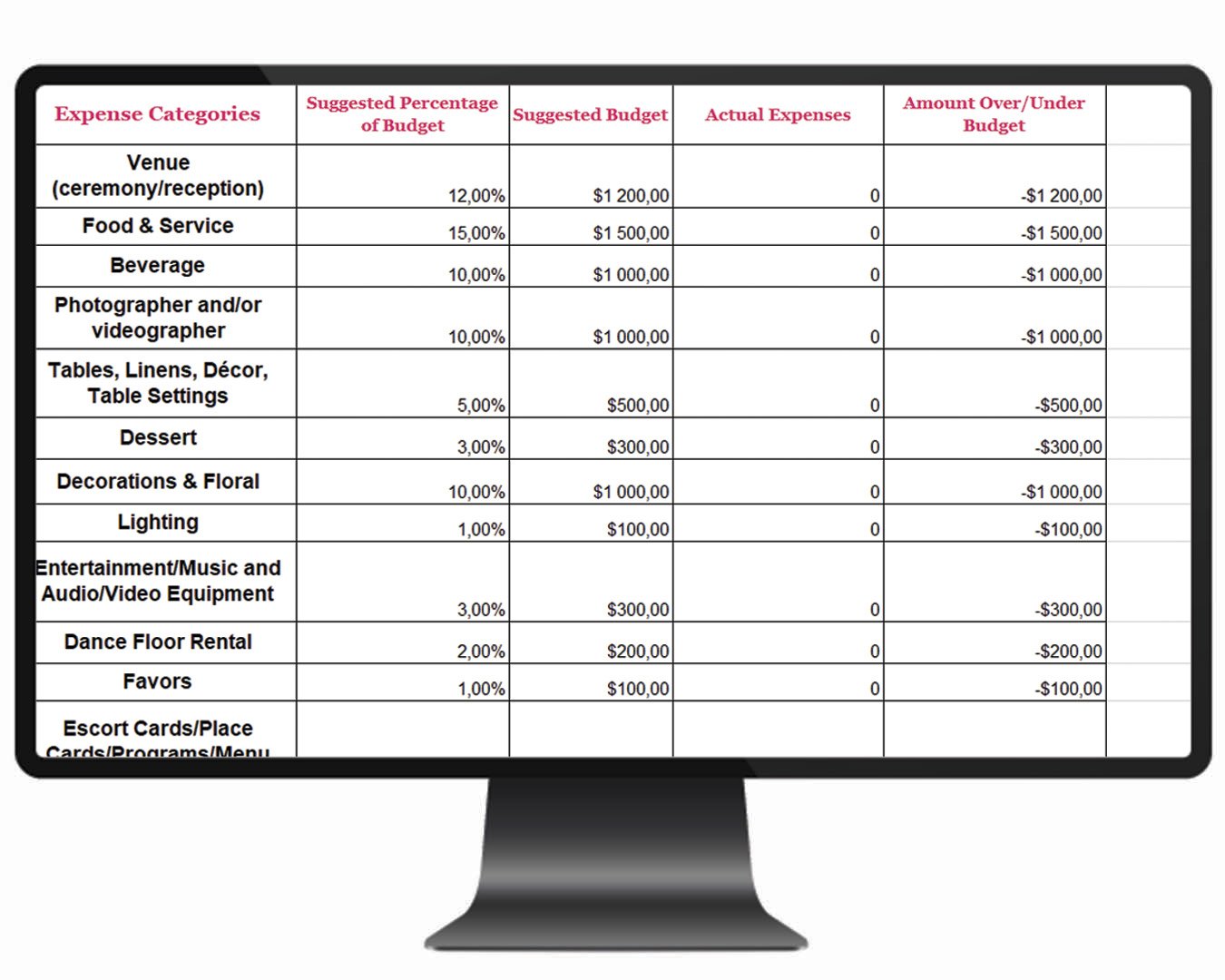 The wedding budget sheet from Wedding Forward takes the best of all the other tools and wraps it up in a tidy, easy-to-use package. This tool is perfect for brides and grooms and professional wedding planners alike. The beauty lays in its simplicity. It comes pre-loaded with recommended budgets for different categories and makes you feel absolutely fantastic as you add positive numbers to the over/under budget section.
It's also a wedding budget template excel that we created so maybe you think we're a little biased. The only way to find out is to try it for yourself!
Find it here.

Free Wedding Budget Spreadsheet by Bridal Musings
#2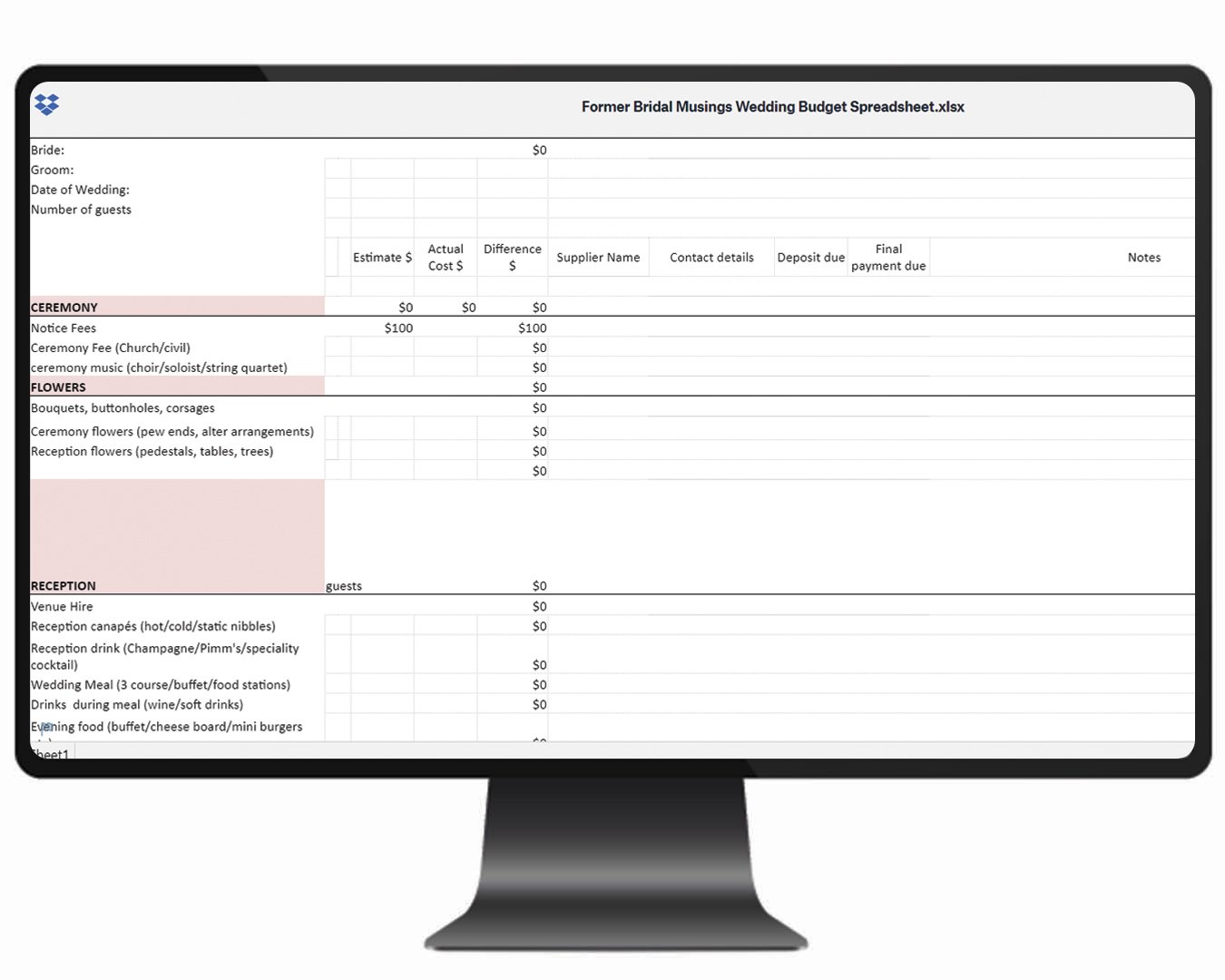 The free wedding budget template from Bridal Musings skips the bells and whistles and plunges into functionality. This is a great choice for wedding planners who are collaborating with their spouse, parents, bridal party, and anyone else. Simply open it up in Google Drive, share it with your helpers. Real-time edits will be visible as you all chip away at that endless to-do list.
Find it here.

Wedding Budget Tracker by WeddingWire
#3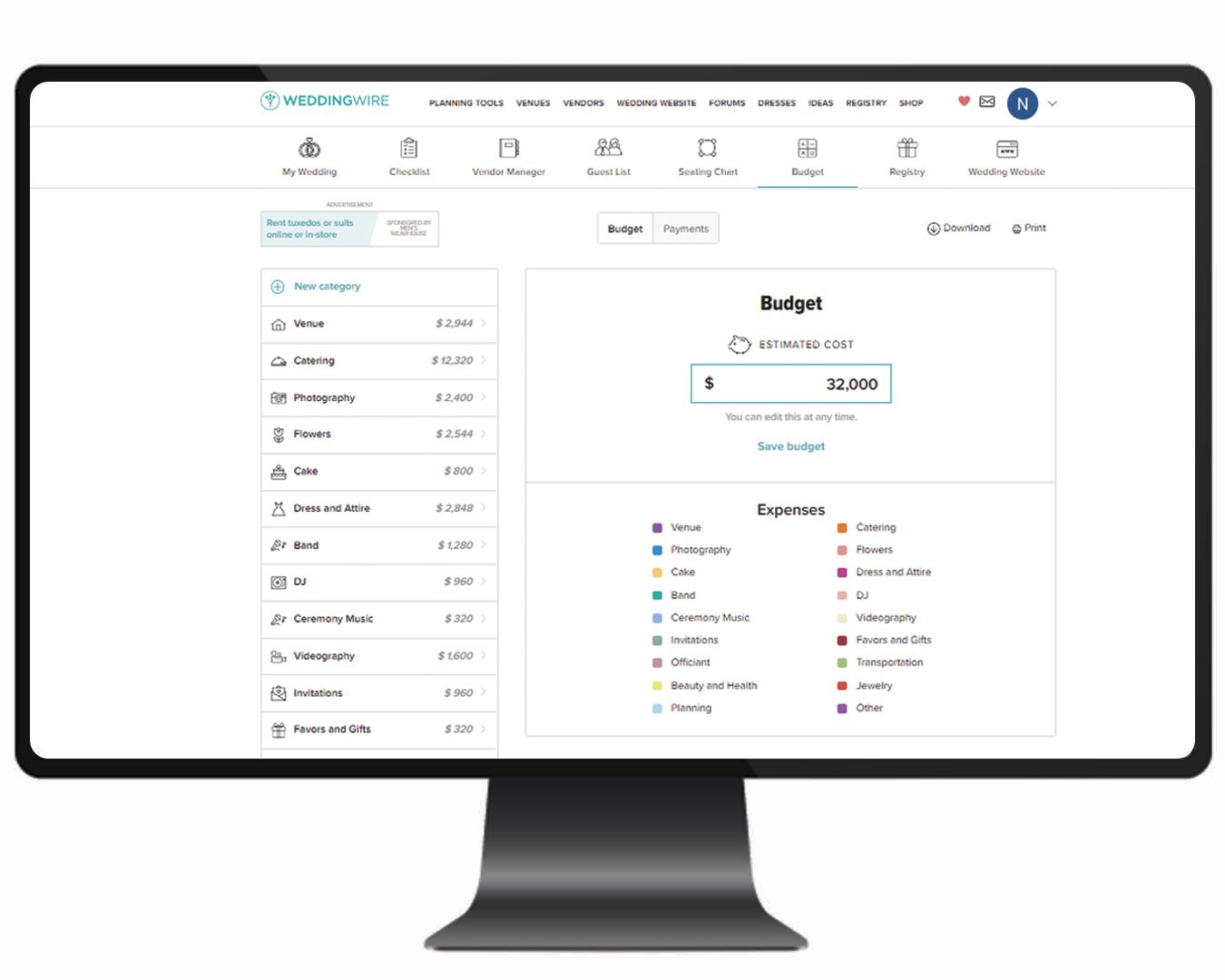 The perfect wedding budget checklist for wedding planners on the go, WeddingWire provides a free mobile-first app. Rather than waiting until your designated planning time, keep track of your to-do list when inspiration strikes and avoid omitting crucial info by keeping track of your purchases and vendor hires as it happens.
Find it here.

Wedding Budget Worksheet by Real Simple
#4
The wedding budget worksheet from Real Simple is exactly that, real simple. Everything is broken down into very simple categories and takes the extremely helpful step of suggesting the percentage of your budget should be assigned to different segments of your wedding.
Many brides and grooms have a great idea of what their overall budget is but are completely clueless about how to spend that money wisely. Real Simple solves that problem.
Find it here.

Wedding Budget Excel Spreadsheet by A Practical Wedding
#5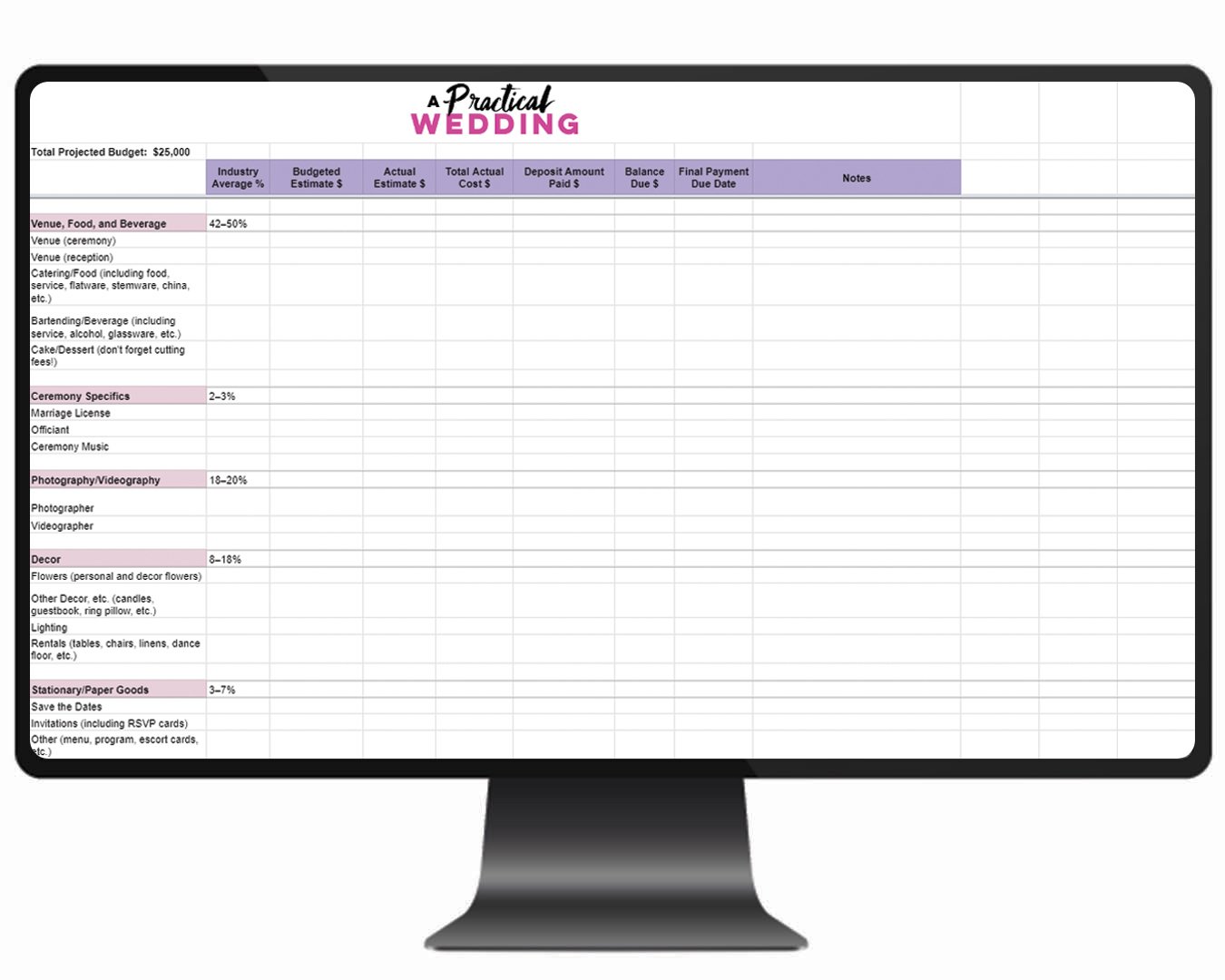 A Practical Wedding provides a wedding budgeting spreadsheet that guides you through the planning process without you even knowing. Start with an overall budget, break that budget down by category, and start checking things off your list. Before you know it, you'll have everything planned and accounted for without spending an extra dime.
This works perfectly as a Google sheet, but for those who prefer a more tactile approach, it works just as well as wedding printables.
Find it here.
Wedding Budget Calculator by The Knot
#6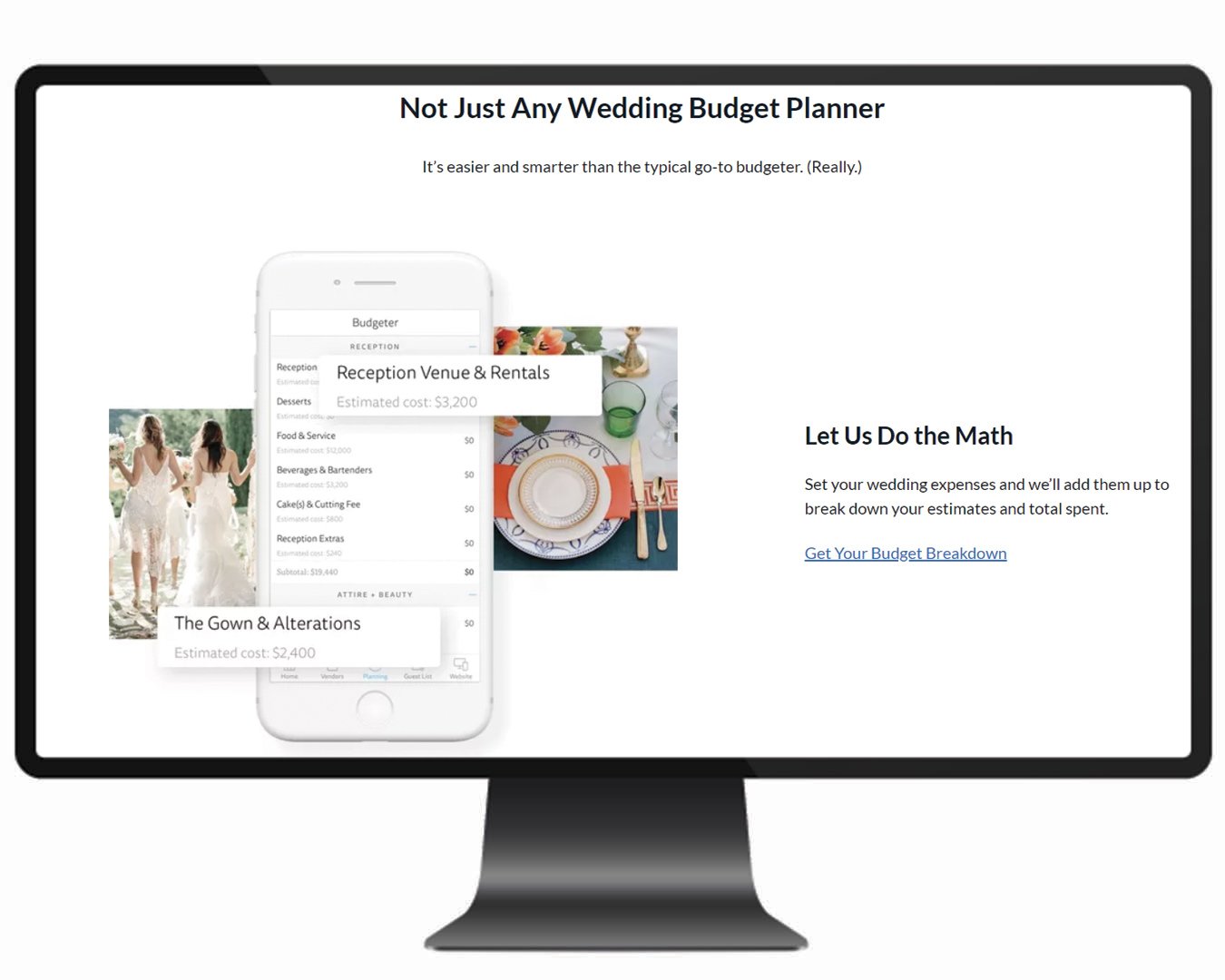 For those of you who get sick to the stomach at the mere mention of spreadsheets, The Knot is here to rescue you. Forego the standard wedding budget excel spreadsheet and immerse yourself into a highly visualized organizational online tool.
Start with your maximum wedding budget and start plugging in your estimates and actual expenses, and keep track of handy color coding and convenient links to trusted vendors.
Find it here.
Wedding Budget Template by Vertex42
#7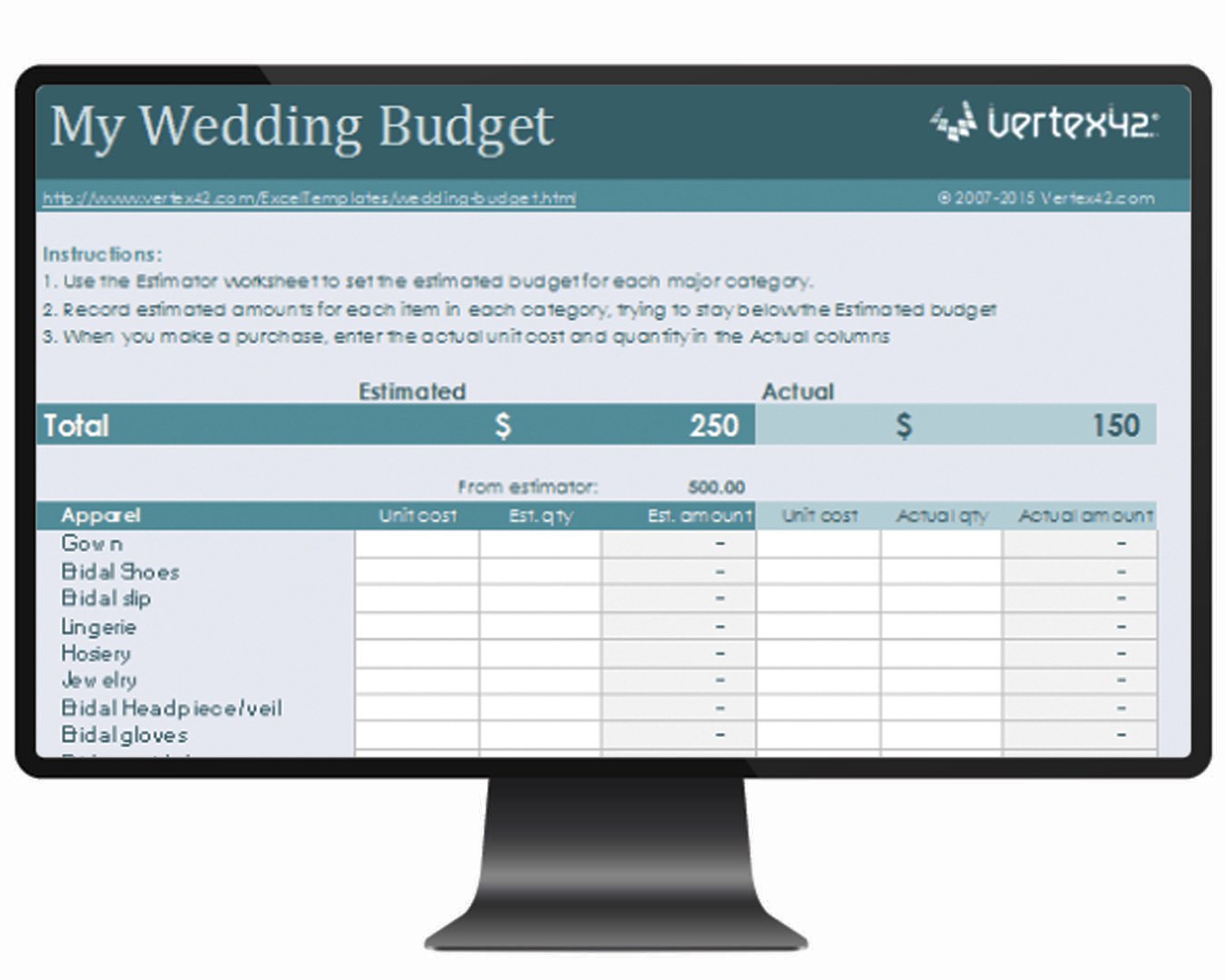 Vertex42 is the wedding budget excel for couples who know what they want but have no clue what it's all going to cost. Enter your wedding items and use the estimator to determine how it all adds up. From there it's a simple matter of distributing your funds according to your priorities and replacing the estimates with real values as you discover them.
One of the better tips on saving money is to overestimate the value of everything by at least 15% so that you don't wind up blowing your budget or end up having to make major sacrifices.
Find it here.

Wedding Planning 101: Wedding Budget by BrideSide
#8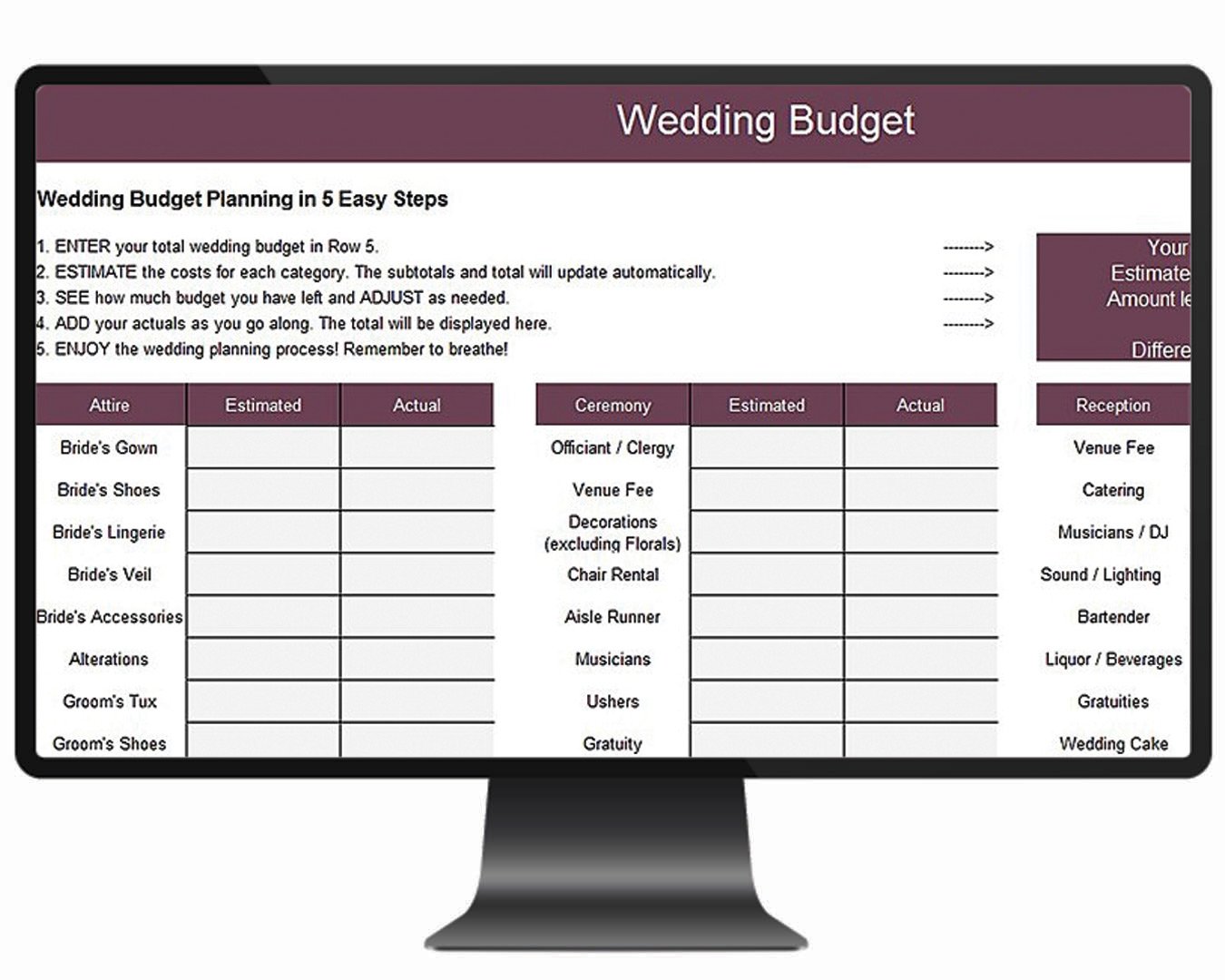 The best thing about Wedding Planning 101 from BridSide is how thorough the categories are. With many wedding budget trackers, you wind up with surprise expenses simply because they didn't fit into a category. With BrideSide, you're able to distribute your budget according to your priorities and account for every single expense that you're bound to encounter.
Find it here.
As you can see there's a wedding planning tool out there for everyone. It's not a one-size-fits-all situation so make sure to read through the descriptions and take the ones that sound appealing for a test drive until you find the one that works perfectly with your style.