Are you looking for a way to celebrate your engagement all the way till the big day? Then subscribing to a bridal subscription box is perfect to stay excited and pamper yourself. Inside these boxes, you will find cute bridal apparel, party essentials, decor items, and even bridal beauty products – everything to make your planning journey extra special. To help you decide which bridal box is right for you, keep reading our hands-on reviews (with discount codes & coupons included) of the best bridal subscription boxes.
Engaged?
What are top things to consider?
Does subscription includes wedding planning help, not just products
Is the experience tailored based on your wedding date
Beware of "first box" discounts – check for cancellation fees!
Brides Often Ask
What Is a Bridal Subscription Box?
Are Bridal Subscription Boxes Worth It?
When Should I Subscribe?
Disclaimer: All opinions expressed in this post are of the Wedding Forward editorial team, and are based on the actual boxes received in 2019/2020 from each company reviewed below. Miss To Mrs Box sponsored this post.
Best Bridal Subscription Boxes - Our Methodology
For this hands-on review, the Wedding Forward team actually received a box for each company so we could see the items from the beginning of the subscription experience like a new bride-to-be. Other information mentioned (such as prices, coupons, awards, etc.) is based on market research and what was publicly available around the time of this article's initial publication as of mid-2020, as well as updates made since then.
We considered the initial experience as well as what was promised in the future boxes. We carefully looked at how well the items matched the stage of wedding planning. We looked at the estimated value of the items included vs the subscription price. Finally, we considered public reviews as well as feedback from real brides that posted boxes on social media.

Best Overall – Miss To Mrs™ Box
#1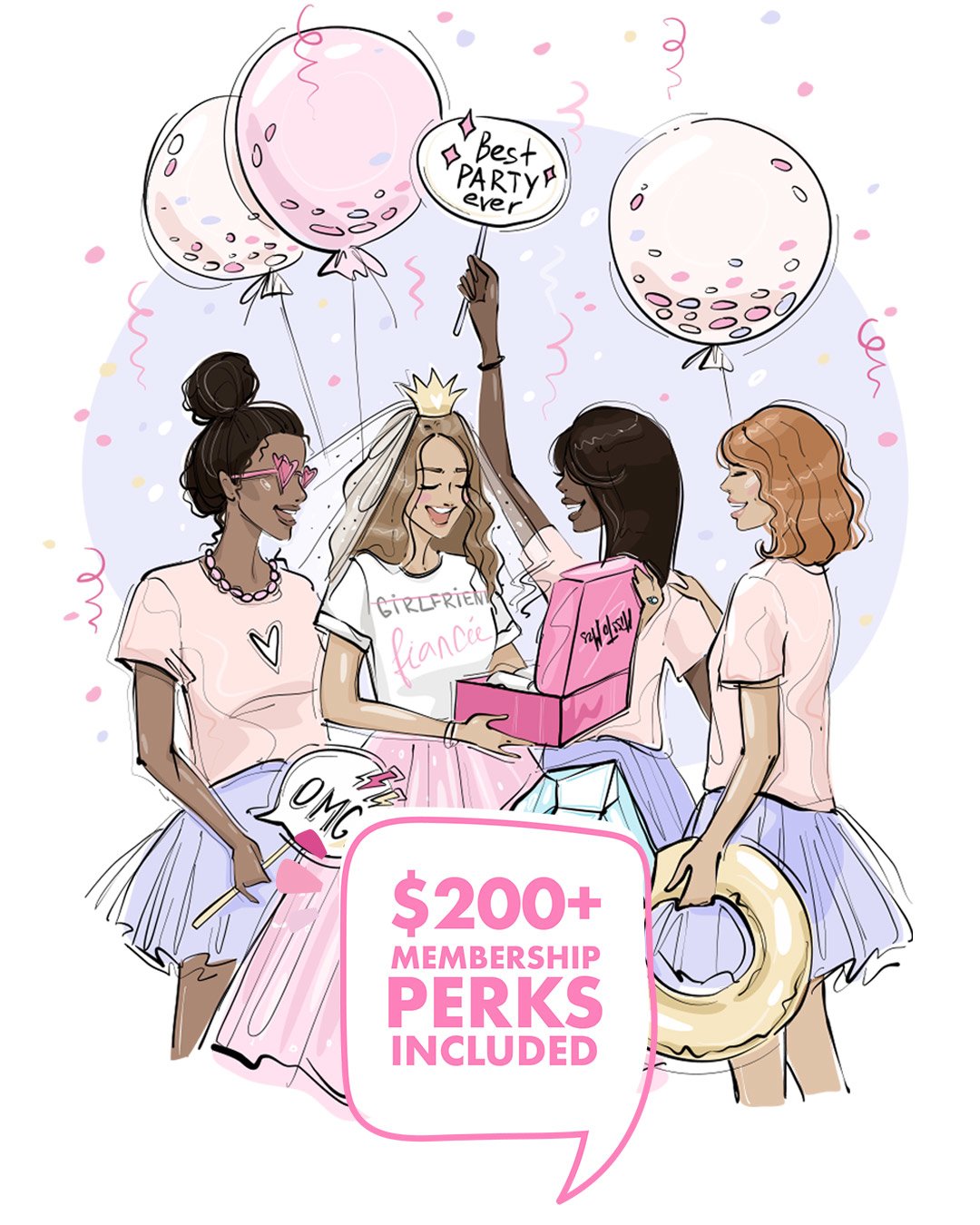 Real Brides of Miss To Mrs Box on Instagram @thedoctormom
i
Save to
Miss To Mrs™ Bridal Subscription Box is a theme-based bridal subscription with each box curated to YOUR stage of wedding planning, packed with exclusive products valued at over $100 in each box, and plans with monthly, every 2 or 3 months deliveries that are tailored to your wedding date (even if you haven't selected one yet).
Most notable:
Includes $200+ worth of perks to help plan your wedding
Award-winning: TheKnot, Wedding Wire, Brides.com
Plans tailored to your wedding date 2021 to 2023+
First box ships within just 2 business days!
All boxes are Mr/Mrs & Mrs/Mrs friendly
Subscription Key Features
Subscription Plans: up to 9 boxes, delivered twice a month, monthly, every 2 months, or every 3 months, based on your actual wedding date (or the possibility to select a "no date yet" option if you are still deciding). Perfect for weddings in 2021, 2022 up to 2025!
Wedding Planning Help: YES! 5 Membership Perks worth $200+ are included with a subscription to help plan your wedding.
Delivery Speed: first box ships in 2 business days.
Cancellation Policy: Cancel any time before next renewal, no cancellation fees on all plans.
Price: all plans are $35/box + shipping. Ships Worldwide.
Awards: Voted Best Bridal Box 2020, TheKnot Best Of Weddings 2020 & 2021, The WeddingWire Couples' Choice Award 2020 & 2021.
What We Received In Our 1st Box
Giant "Love" Script Balloon + Tassels Kit – Great kit to celebrate your engagement or to be used at ANY party event. This kit is HUGE, the garland is 6 ft long!
"All That Sparkles" Jewelry Wipes – It seemed like too much at first, because based on a picture we thought it was just for engagement rings, but it turned out to be a perfect cleaner for all kinds of jewelry! Very cute and practical.
"Future Mrs" Notebook – The cover and paper were good quality and extremely cute! Love how handy this is for planning everyday wedding details.
2 Diamond-Top pens in a gift box – We think every bride would want this set, it is a perfect match for the wedding planning notebook.
Diamond Shape Necklace (18K Gold Plated) – Beautifully packaged – loved the pouch. However, the chain broke which wasn't the best first impression, but their customer service team replaced it for free with no hassle at all. The new necklace held up well and was pretty to wear every day.
"I Said Yes" Tumbler – There's only one word: "Gram-ready" The first thing we did was fire up Instagram for some ring-selfies! We're pretty sure there's a TikTok floating around somewhere too. (BTW, @MissToMrsBox post so much amazing wedding inspiration on Instagram and have over 450,000 followers!)
"Wedding Day Countdown" Calendar – OMG, we can just see this will be all over Instagram. This is such a cool idea, and it's such an original item. How many days till your wedding day?
Is Miss To Mrs™ Box worth it?
Miss To Mrs™ Box certainly did not disappoint. Not only the items were super cute, but they were definitely worth the subscription price and more. All products followed a theme, were beautifully designed and packaged, and we felt that the quality was great. The ability to tailor subscription plans to your wedding date is a huge winner in our book, and we felt that this subscription was perfect if your wedding is in 2021, 20022 or even 2023+ given the flexible delivery options.

Real Wedding Planning Help: $200+ worth of Membership Perks included!
The Bride Box – Best Surprise Box
#2
The Bride Box is the "Original Monthly Subscription Box". We believe they are the first bridal subscription box company that started operating in 2013, how cool is that. According to their website, The Bride Box works with various wedding companies to promote brands and artists in the bridal industry.
Most notable:
The one-time boxes are great!
A different surprise box each month
First box ships in just 3 business days!
Subscription Key Features
Subscription Plans: monthly, 3, 6, 9 & 12 month plans delivered every month.
Delivery Speed: first box ships in 3 business days.
Price: $39.99/box + shipping. Save up to 12% on longer plans.
Awards:
What We Received In Our 1st Box
"Pop The Bubbly, I'm Getting A Hubby" Cotton T-shirt – Super cute! This would be fun to wear at the bridal shower or bachelorette party! Good cotton quality, loved it!
Bridal Sash – Definitely a must-have for the party.
Eyeshadow – Great idea to be able to try out different bridal looks.

Lace Garter – Maybe not quite bachelorette themed, but could definitely see this being used, maybe as a secondary garter to toss at the wedding.

"Shhhh, bachelorette party recovery" Sleeping mask – Loved the silky feel to it. Very cute item to go with the theme of this box.
Diamond Top Pen – This style pen is a definite must-have for any bride-to-be. Great for writing down all those important appointments.
Is The Bride Box worth it?
We were super excited to unbox The Bride Box since it was the largest physical box that we received, however, it felt a little empty once we opened it. It was a bit surprising to see bachelorette party items in the 1st box. Overall, the items in the box had a cute rustic style to them and there were some cute apparel items that would make any bride-to-be feel more "extra". The contents are worth the subscription price, however, we felt that the one-time boxes selection on their website was a much better deal.

The Bride Box Coupon Code: use BRIDE15 at checkout for 15% off the first box
The Ring Boxes – Best For 3 Months Till "I DO"
#3
The Ring Boxes is a monthly bride box subscription designed to help brides "plan, prepare, and pamper" before the wedding day. Stylish bridal apparel, useful products + must-haves for the bride with $100+ of items in each box is the promise from their website.
Most notable:
Great for a 3 months gift!
Tailored to your wedding date
Mr/Mrs and Mrs/Mrs options
Subscription Key Features
Subscription Plans: monthly, 3, 6, 9, 12 month plans delivered every month.
Delivery Speed: first box ships twice a month (check FAQ for details)
Price: $39.95/box + shipping. Save up to 15% on longer plans.
Awards: Wedding Wire Couple's Choice Award 2021
What We Received In Our 1st Box
"Mrs" Baseball Cap – A very cute and good quality hat that you could sport after the wedding.
Days Until "I DO" chalkboard sign – This was our favorite item in the box – Very cute rustic style. Would definitely be a nice way to count down the days until the wedding date!
"Mr & Mrs" Wooden Photo Frame – Perfect for displaying a wedding day photo. Just wish this was sent closer to the wedding date.
"This is my wedding planning tote" Cotton Tote Bag – Good size and sturdy quality while still being adorable. Perfect for taking along to wedding shows.
"To Have And To Hold Your Hair Back" 2 x Hair Ties – Very cute, but wish there were more of them so that they can be shared with the bridesmaids.
Is The Ring Boxes worth it?
The Ring Boxes Box we got was a super cute rustic style and we totally loved the Days Until "I DO" chalkboard sign. With just 5 items and a few recipe cards, we were not convinced that the overall value was $100 as promised, but we felt they were worth the cost of the subscription. There were some items (like tote and chalkboard) that were perfect for the early stages of planning, but other items would likely have been more appropriate for future boxes. Due to this, we felt this bridal subscription box is great for someone whose wedding is coming up sooner so that all the items can be enjoyed right away.

UPDATE: The Ring Boxes raised USA shipping to $8.80/box which makes it the highest shipping price among the boxes reviewed here.
The Ring Boxes Coupon Code: use the code MUSTHAVE for 50% off the first box.
Something New Bridal Box – Best Newcomer
#4
Something New Bridal Box is a monthly bridal subscription box that promises 4-7 full-sized, on-trend, wedding-related items designed to help celebrate the months leading up to the "I Do".
Most notable:
Lives up to the promise!
Can be quite a bit more expensive than the rest
Subscription Key Features
Subscription Plans: monthly, 3 or 6 month plans delivered every month.
Delivery Speed: ships 4-6th of each month.
Price: $44.95/box + shipping. Discount up to 15% on pre-paid options.
Awards:
What We Received In Our 1st Box
Navy cotton tank top "Honeymoon vibes" – Nice fabric and would be so cool to wear on the beach during the honeymoon.
White lace bridal thong – Oh la la, this was cute, but this might be a bit too personal.
MR & MRS passport holder – Definitely going to use these during the honeymoon! Great to see something for the Groom-to-be as well.
MR & MRS luggage tags – Samezies. Showing off is half the fun.
Pink velvet hexagon ring box – It's definitely cute, but the ring is already on your finger. We are torn if there is a need to replace the box it came in. This is likely something that would be purchased for the proposal.
Is the Something New Bridal Box worth it?
We really liked the items, but it's a little awkward that everything has MRS printed on it even though this was the first box we received and some brides might have to wait a while to enjoy these items. We'd much rather get something to celebrate being engaged at this stage and reserve bragging about being an MRS for after the ceremony. Overall, it was great that everything was practical and we could see actual uses for these items for both the future MRS and MR. The contents were definitely worth the subscription price and this would be a great box for someone who is close to the wedding day.

Something New Bridal Box Coupon Code: use the code CELEBRATE10 for 10% OFF
Get your Something New Bridal Box here!
Blushing Bride Box – Best From Europe
#5
Blushing Bride Box originated from the love of all things pretty and wedding related. This UK wedding subscription box for brides delivers wedding items to help inspire you through the planning stages leading up to your big day.
Most notable:
For those who want a taste of Europe!
Watch out for international shipping
Subscription Key Features
Subscription Plans: monthly, 3 or 6 month plans delivered every month.
Delivery Speed: ships once a month from the UK.
Price: $29.89/box + shipping. Save up to 6% on prepaid plans.
(NOTE: this is a UK company, USA & Canada clients should check whether there would be any extra duties)
Awards:
What We Received In Our 1st Box
Trinkets & Memories Box – This is definitely a very unique idea that you can use throughout the entire planning journey.
Team Bride Book – This pocketbook is chock-full of humor and advice!
Drink Tokens – These are perfect if you are having a cash bar at your wedding or bachelorette party.
Paper Straws – One of our favorite items in this box. It's great to have recyclable straws instead of using plastic ones! The attached rings make these super cute.
"Figs & Rouge" Soft Focus Pore Perfecting HD Matte Veil – Trying out makeup before the wedding day is super important. We highly recommend doing a full makeup trial ahead of time.
"My Last Christmas As a Miss" Santa Hat – We love the idea of having more seasonally appropriate gifts – it's just too bad we got this in January.
Biodegradable Confetti – It's great to see companies promoting eco-friendly products. We wish others would show some movement in this direction as well.
Is the Blushing Bride Box Subscription worth it?
The contents of our Blushing Bride Box, as well as the actual box itself, were definitely more unique than other boxes we received. If you are on a budget, this might be a better box for you as it's $5-10/box less than others, however, this does mean that you get smaller things rather than having at least 1-2 big-ticket items. Overall, this box is definitely worth it. We just wished it was more accessible in the USA & Canada as shipping was on the pricier side.

Blushing Bride Box Coupon code:No code we could find that was still working.
Get your Blushing Bride Box here!
Summary
We hope you enjoyed our reviews of the best bridal subscription boxes. If you want to feel the excitement of being engaged all throughout the wedding planning, you should definitely subscribe to one of these bridal subscription boxes.
We really enjoyed unboxing all of the boxes we received and there was something great and fun in each box. Each box offering is unique and we are sure you will find one that is perfect for your taste.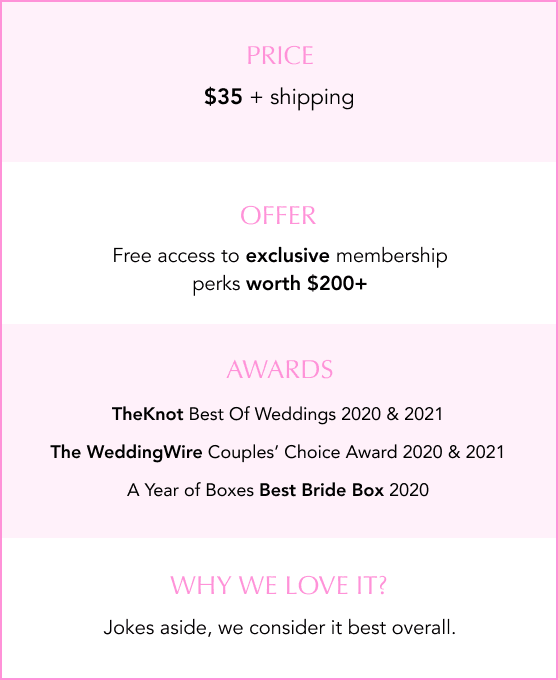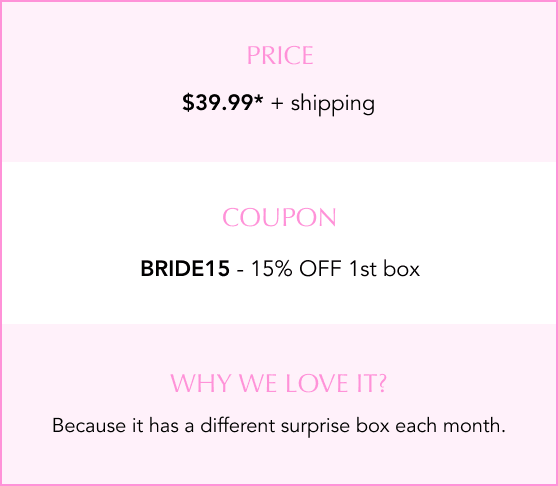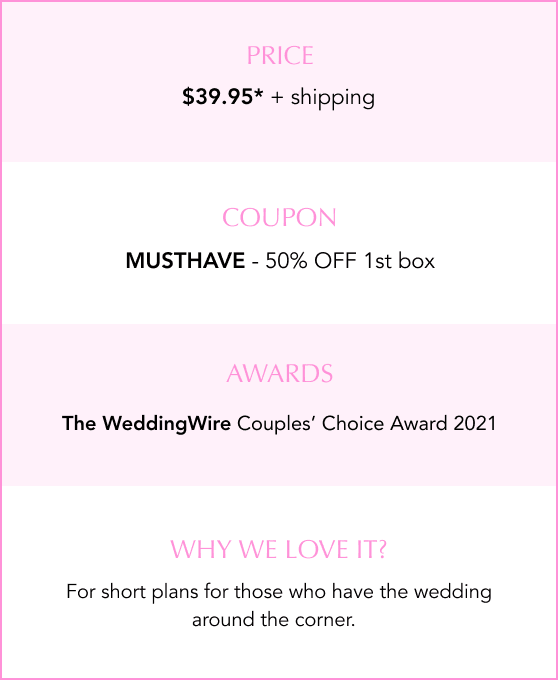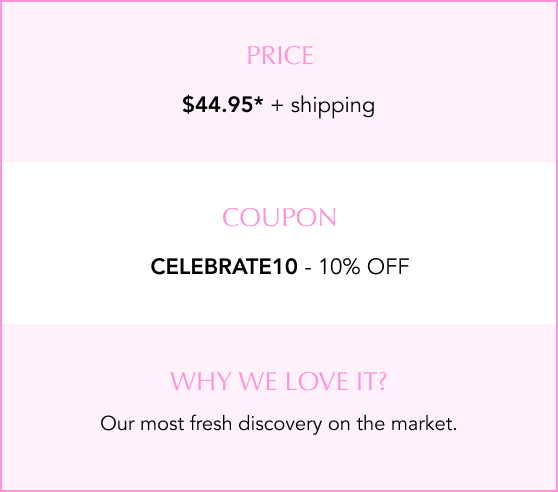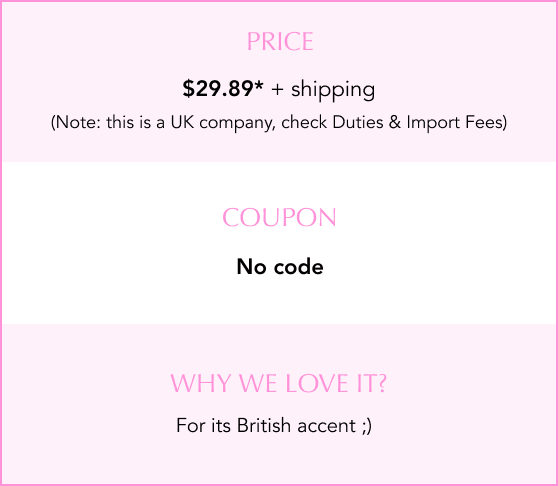 * long plans are discounted
Many of the companies also offer them as gifts, so don't forget to send a hint!
We look forward to seeing your unboxings on social media – tag us @weddingforward on Instagram.