Bride's Full Name: Marianne Semaan
Groom's Full Name: Graham Stewart
Wedding Date: 14 July 2016
How many guests? 65
How did you and your partner meet?
Casually through mutual friends, 8 years ago, and we spoke on the phone only for the first year before he surprised me with flowers at my doorstep one Valentine's Day. It was after that, that we went on our first date.
How did he propose?
Never one for a big show, he proposed to me privately in his home one sunny Sunday before we headed out to a friend's engagement party! It was a massive surprise and my sister and brother-in-law were just outside waiting as it happened. I was absolutely taken by surprise because even though we designed the ring together years earlier, I had no idea that he had gone ahead and had it made.
Pre-Wedding Photos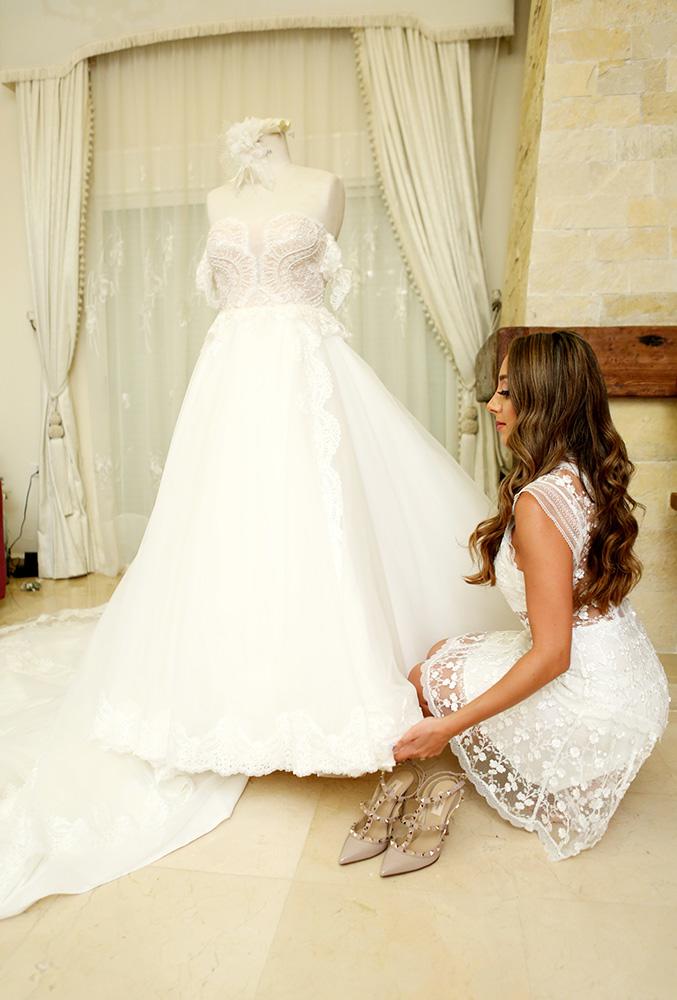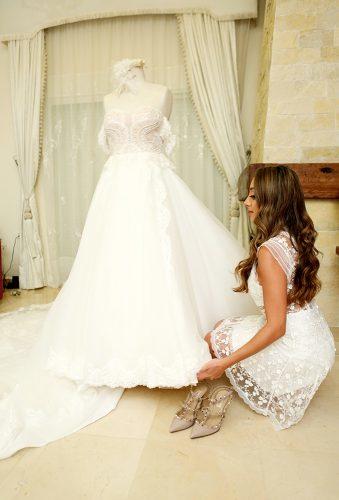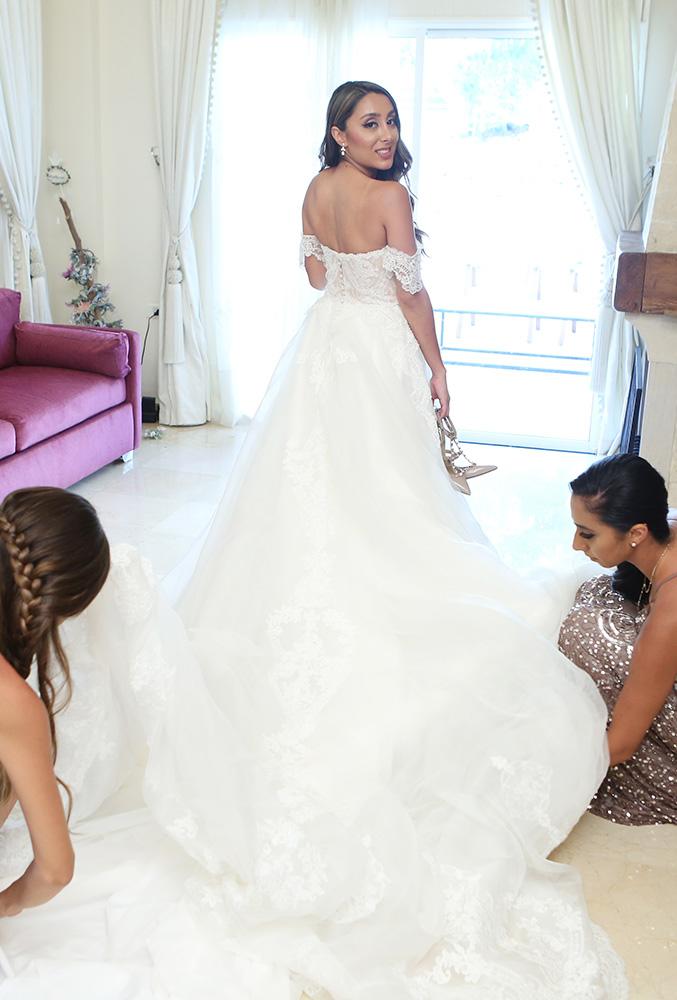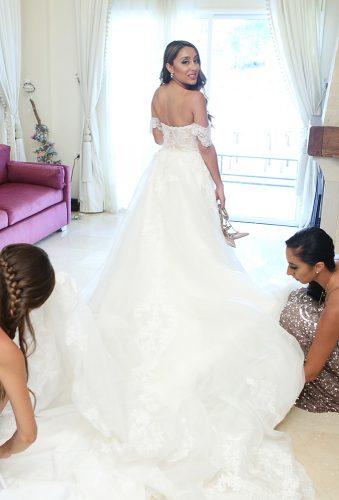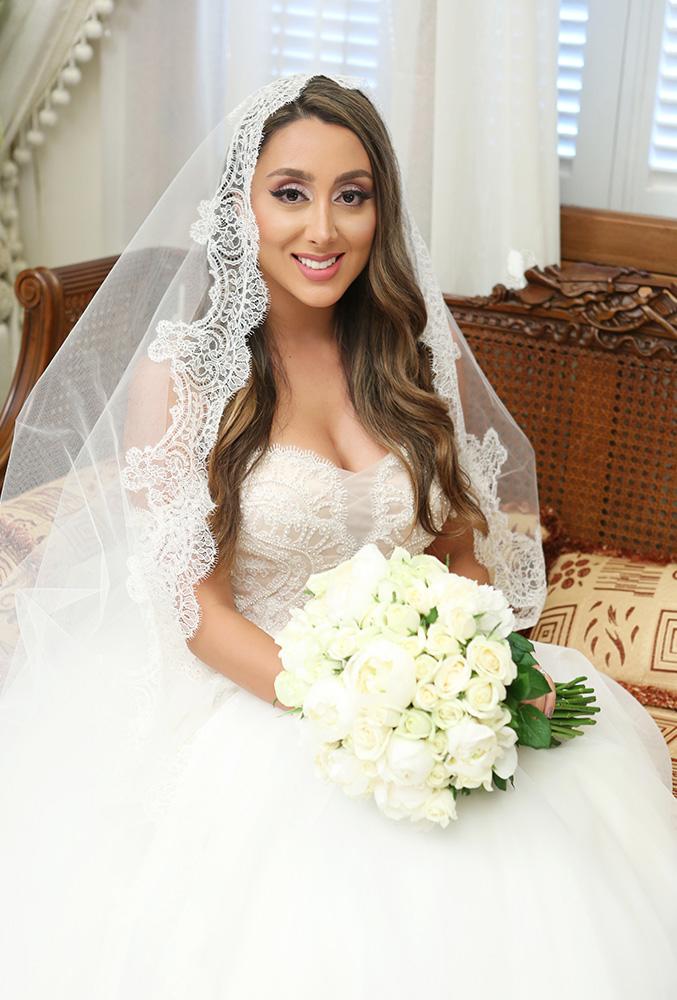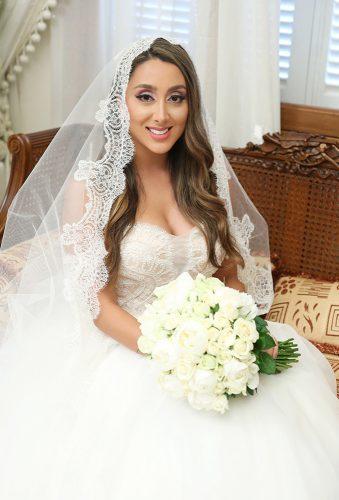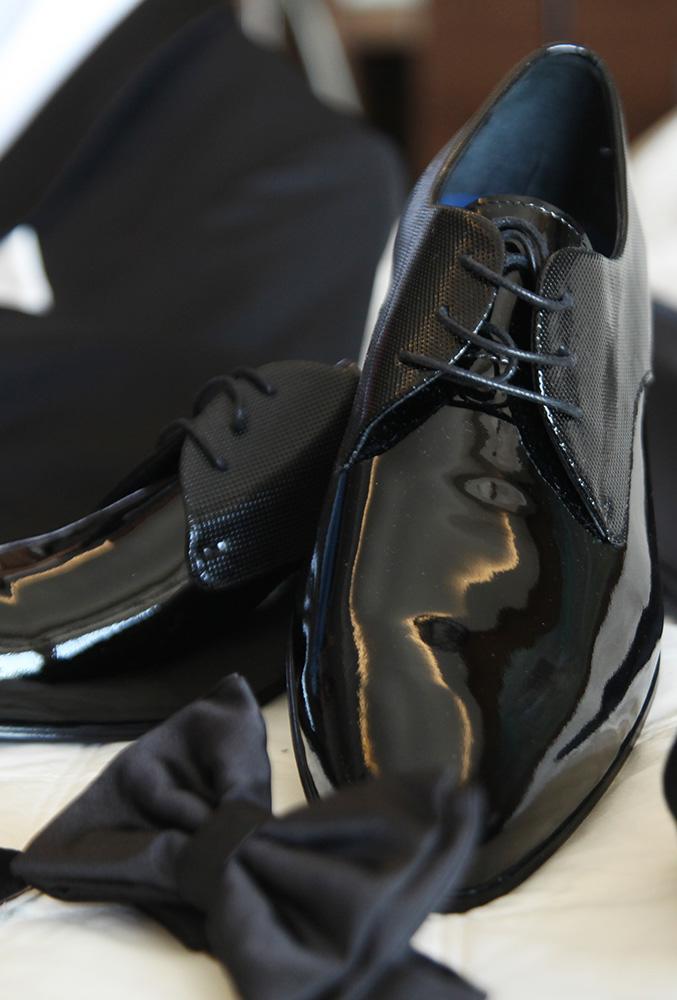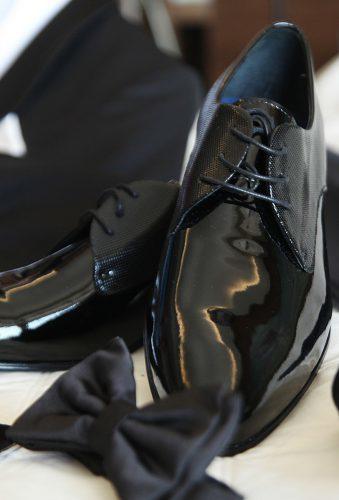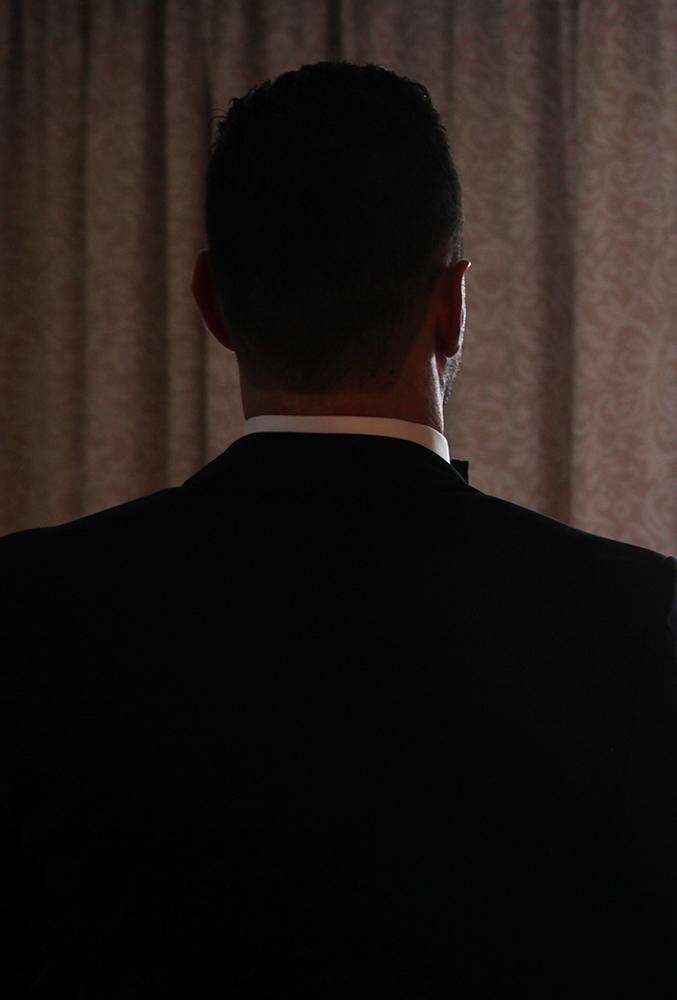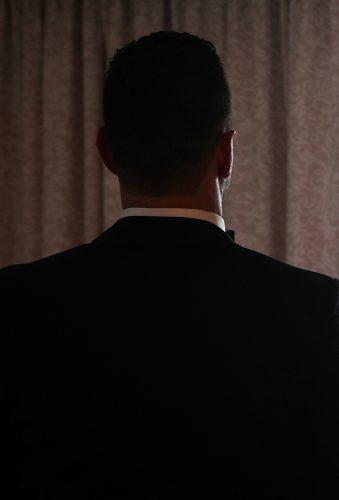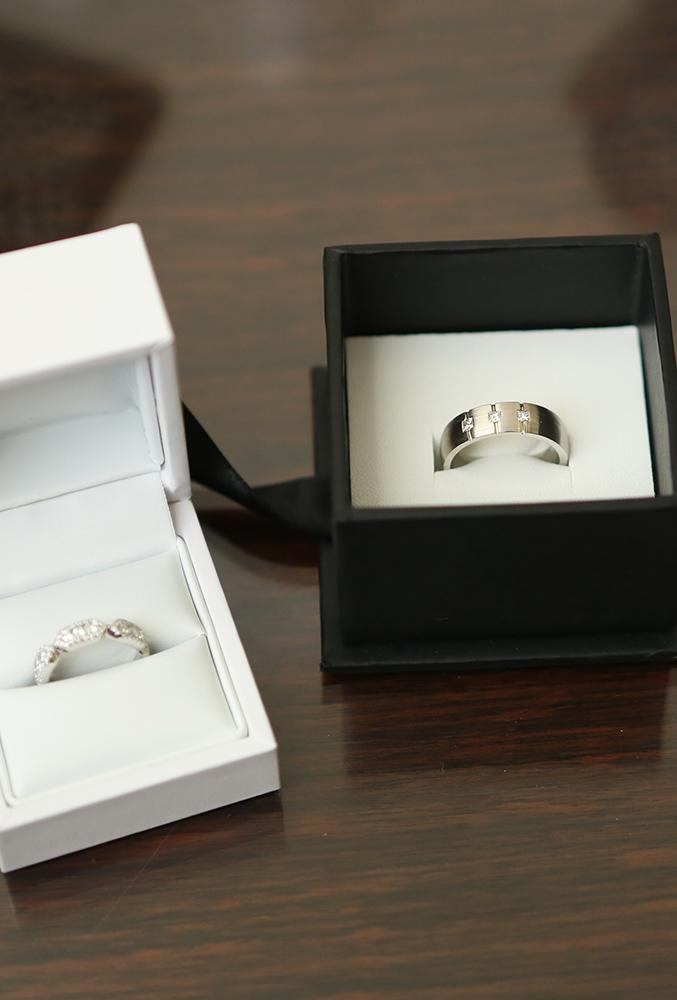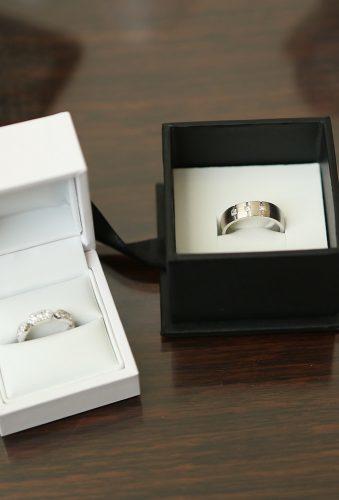 What's your most important piece of advice for creating and maintaining a strong relationship?

Always make the effort, even in the smallest ways, to show your partner your love and respect, every single day.
Tell us about your wedding gown and how you chose it.
I knew exactly the style I wanted for a very long time, however, I did not envisage wearing it in the searing Mediterranean summer heat! It had an ethereal off-the-shoulder detail with intricate ivory/mocha beading that cinched in at the natural waistline and spread out into a full-bodied three-metre-long organza and lace train. The train was the most important detail to me as I wanted it to trail behind me as I walked down the long aisle of the cathedral (which was where my mother had been baptised as a baby). The lace-trimmed cathedral veil was 5m long to complement and frame the lengthy train. It was also my 'something borrowed' from my sister, who had her own wedding the year prior and had Rosa Clara custom-make it for her to match her own gown.

Wedding Ceremony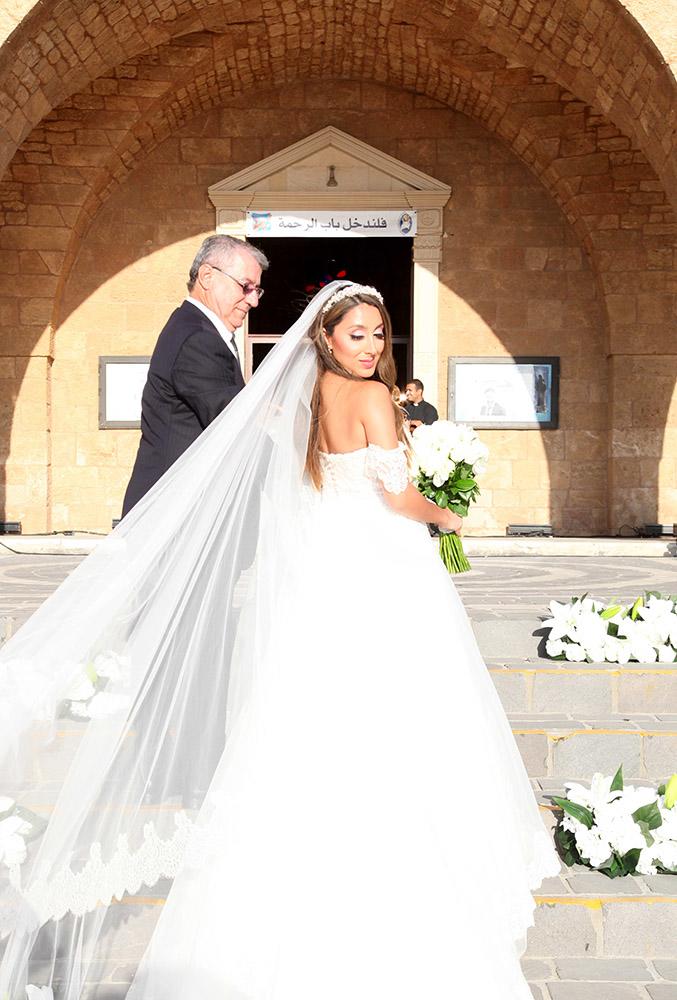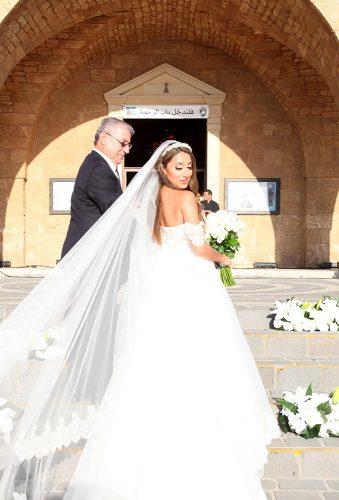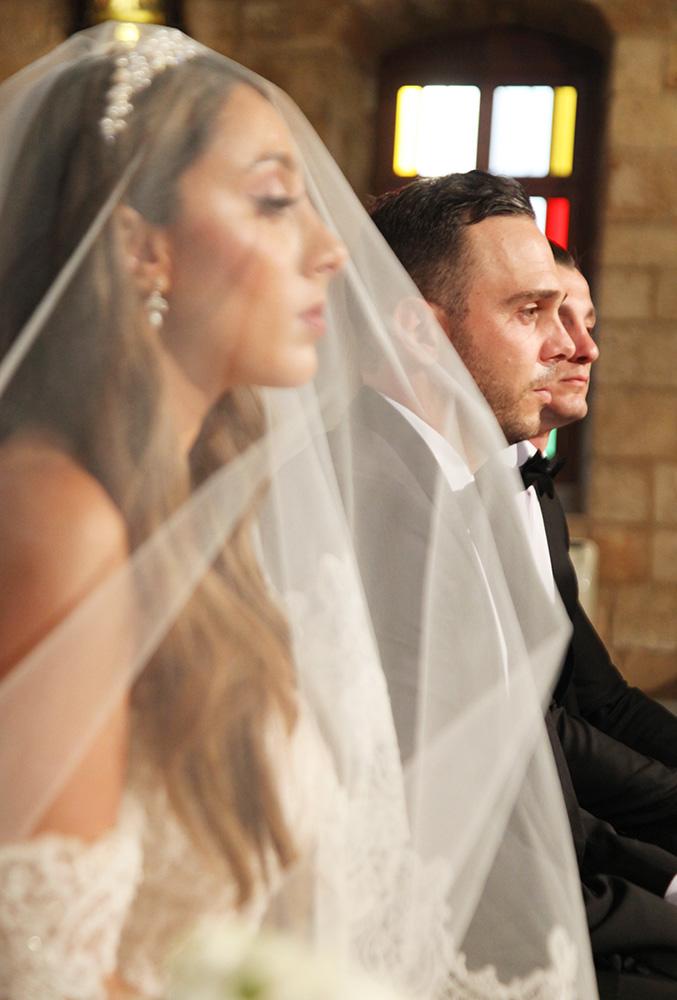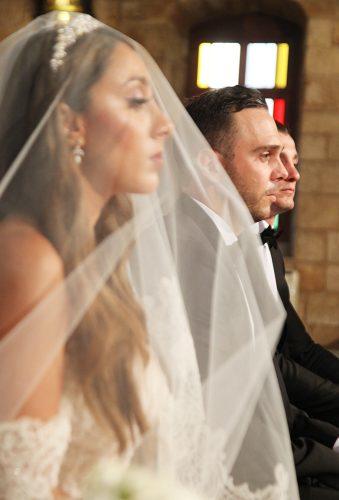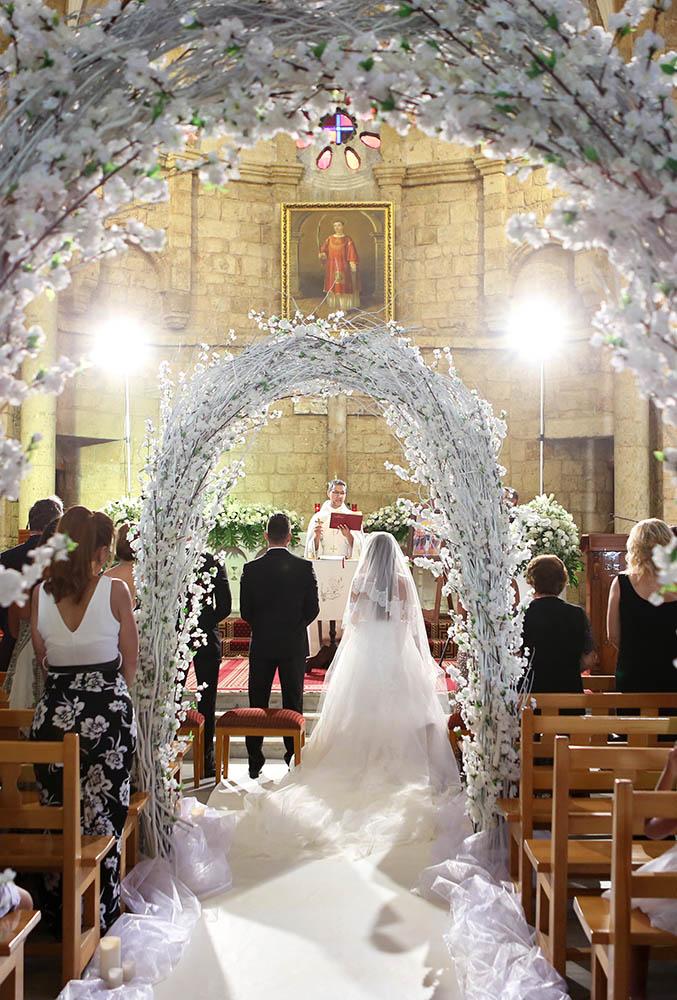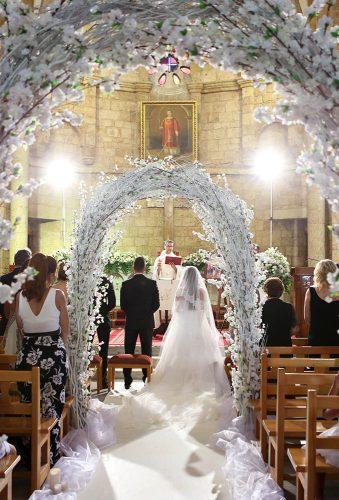 What sort of style did you envision for your wedding day (in terms of venue & décor + styling)?
Unique and stylish yet cool and it had to be more like one big party – which it was – nobody sat down at the reception, we just danced for hours and hours… It truly was all about the family, food and dancing, which was why we chose to travel to be with my relatives in the first place whom we had not seen in a decade. It was always going to be during the summer as I knew I wanted it to be in the open air as well.
What was your favorite moment from the day?
There were a few but it's between the moment I walked down the aisle with my beautiful father, Pierre to the instrumental version of 'Adore You' by Miley Cyrus or the grand entrance with Lebanese drums and folk dancers who really got the mood of the guests going!

Wedding Walk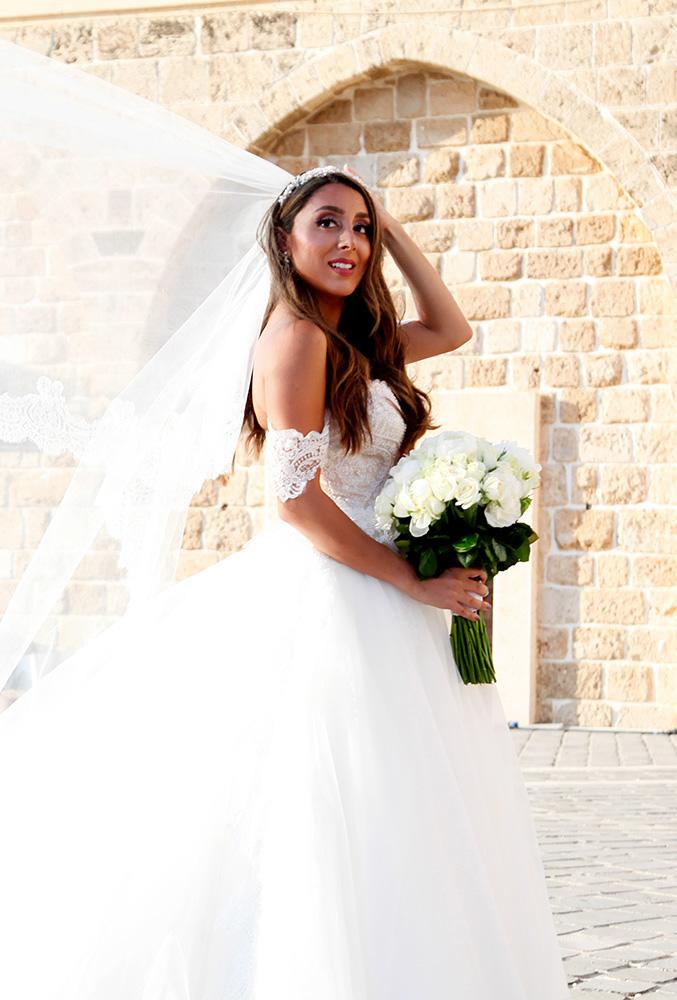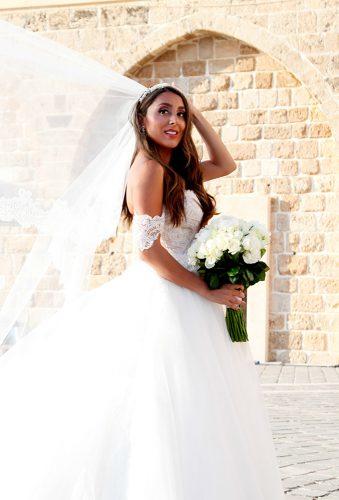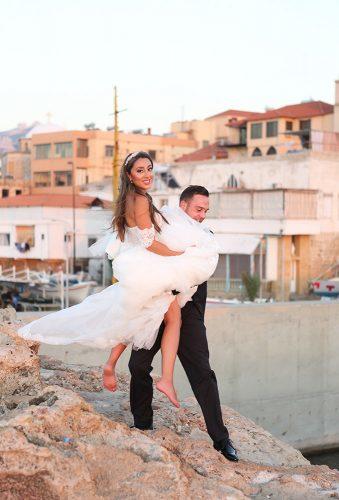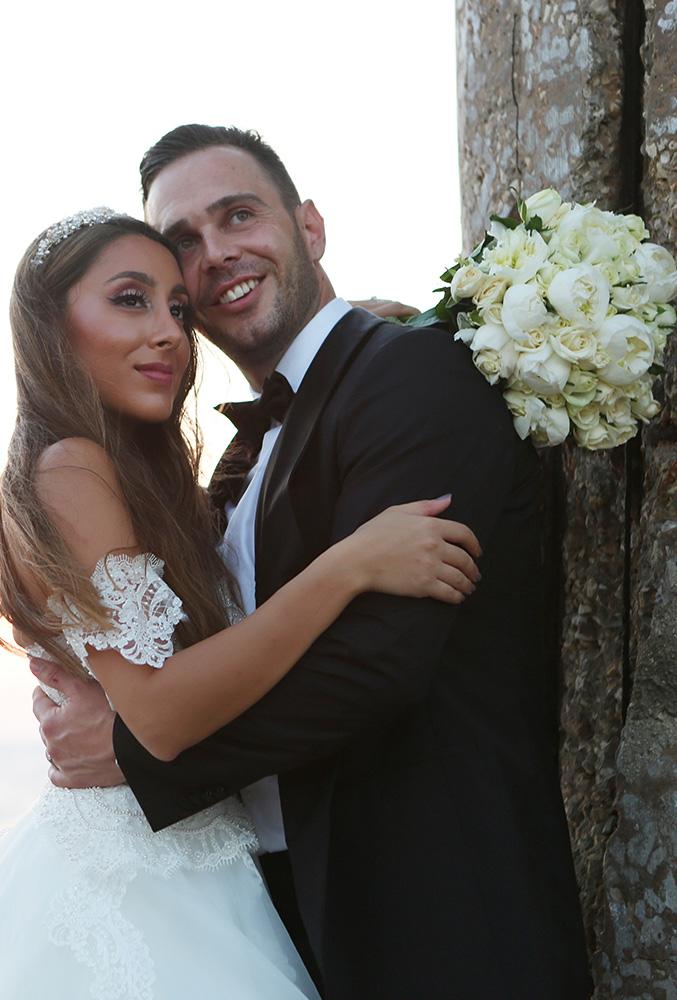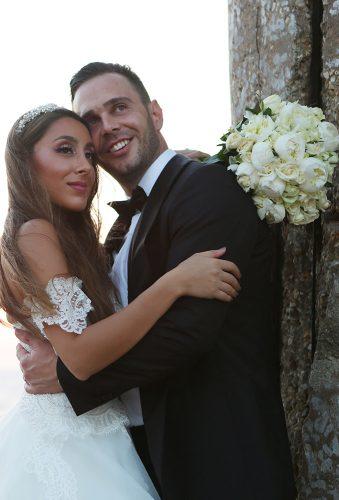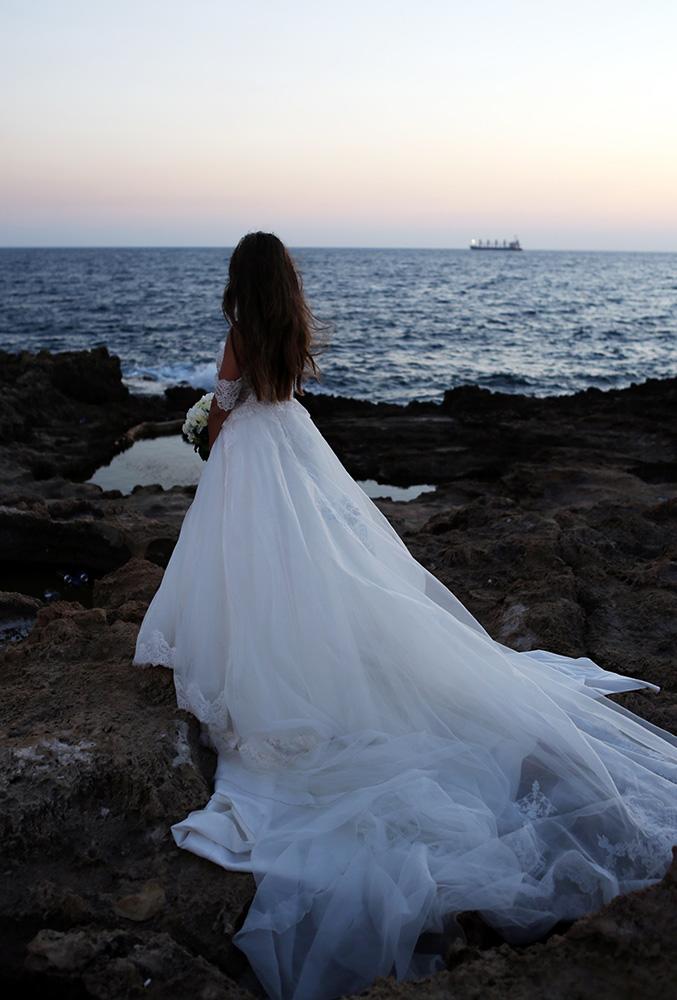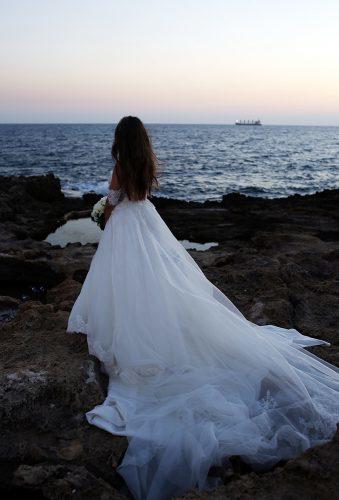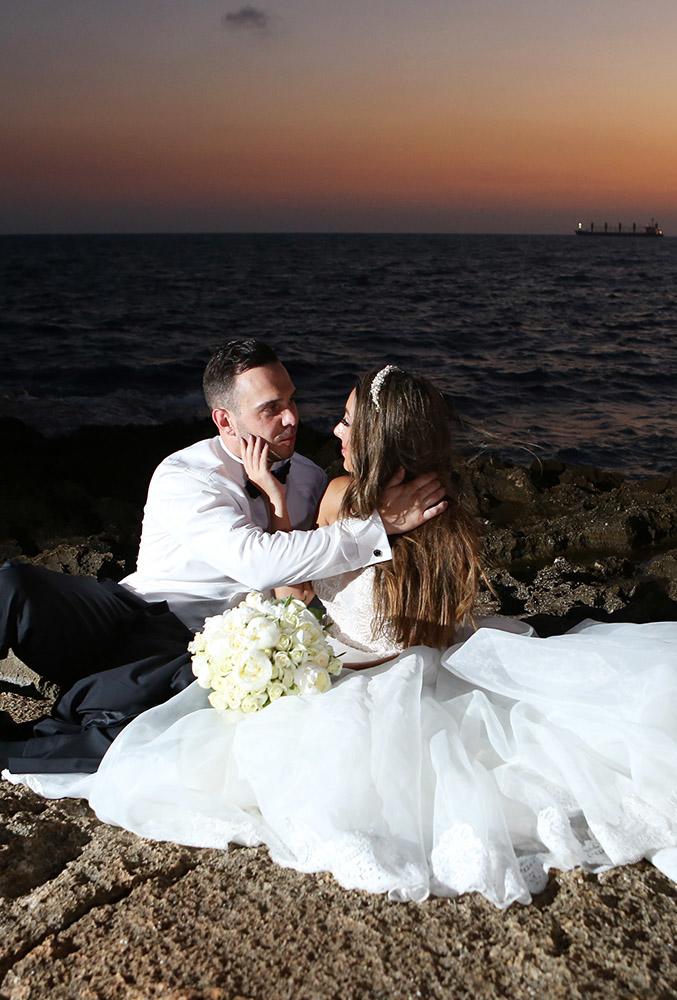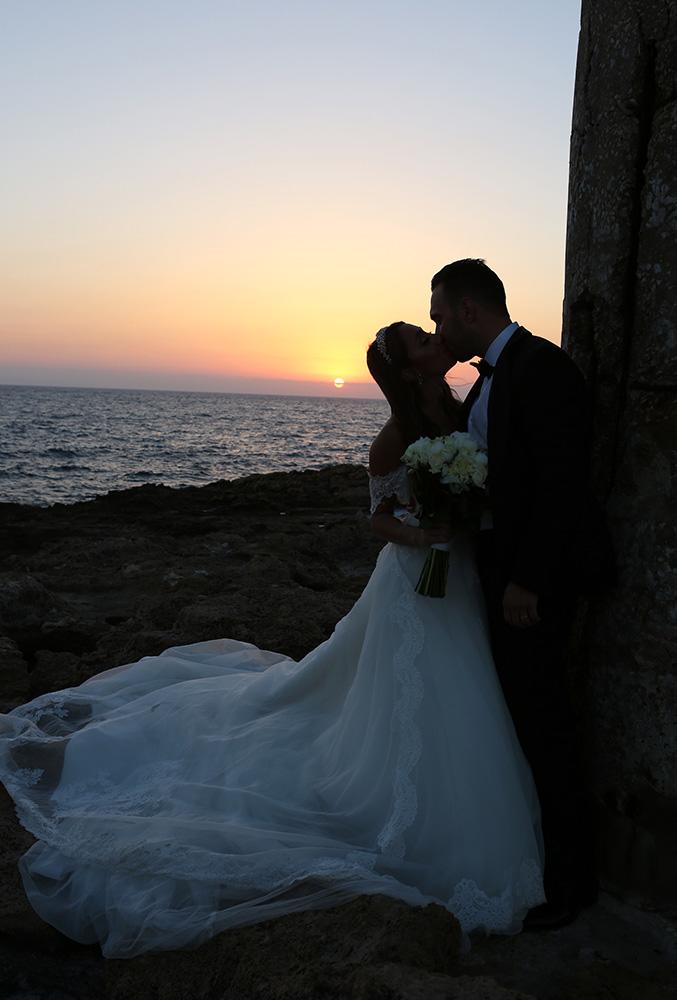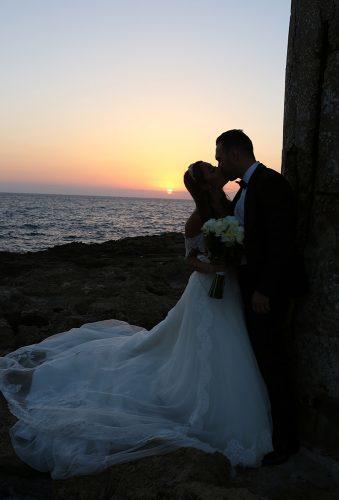 Any DIY décor elements?
Not DIY, but my aunty surprised me with silver balloons along the banquet table which was such a sweet, sweet touch.
If you could do it all over again, what would you change?
I would definitely have taken more photos in different wonderful places around Batroun like the photographer suggested but I was just too eager to get to the party!
Any tips that you can give to future brides?
Take a special moment on your day to just breathe and take it all in, with just your partner next to you, even if just for a minute.
Anything else you'd like to add?
Destination weddings are hard work! But so extremely memorable. Just be prepared for many challenges in the lead up to the day but they'll all go away and you'll be left with nothing but good memories to cherish for a lifetime.

Wedding Party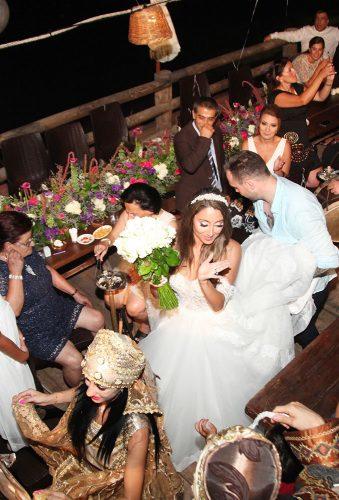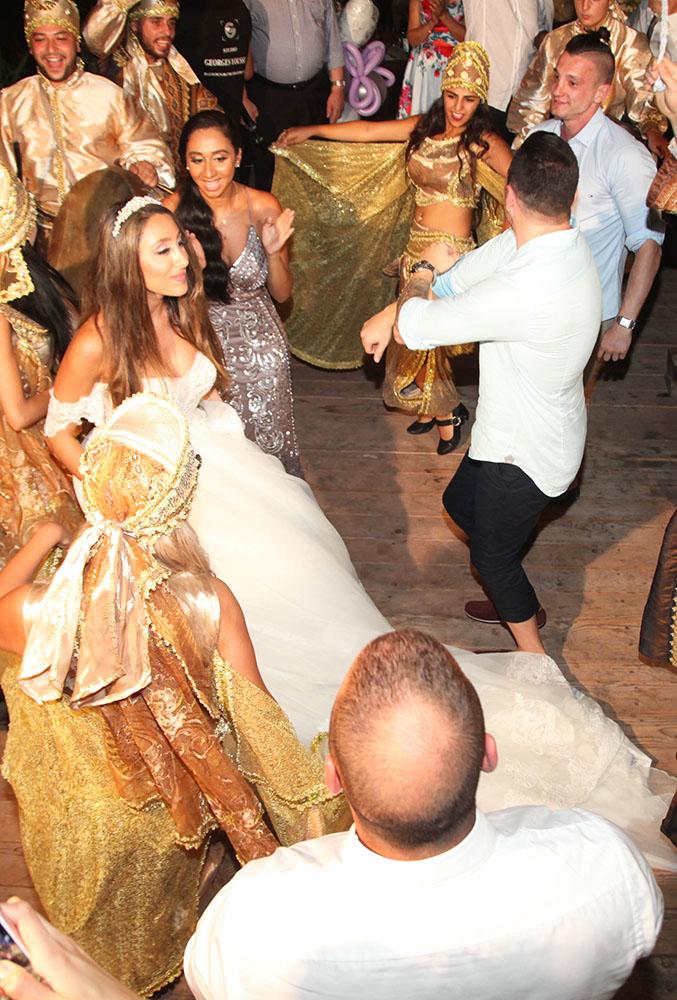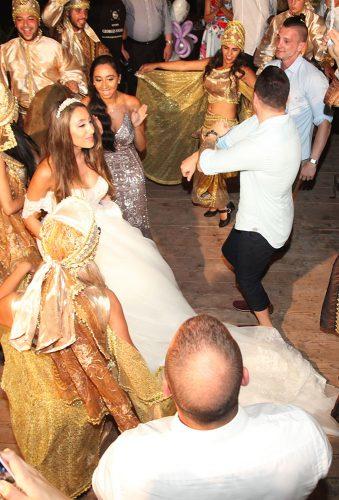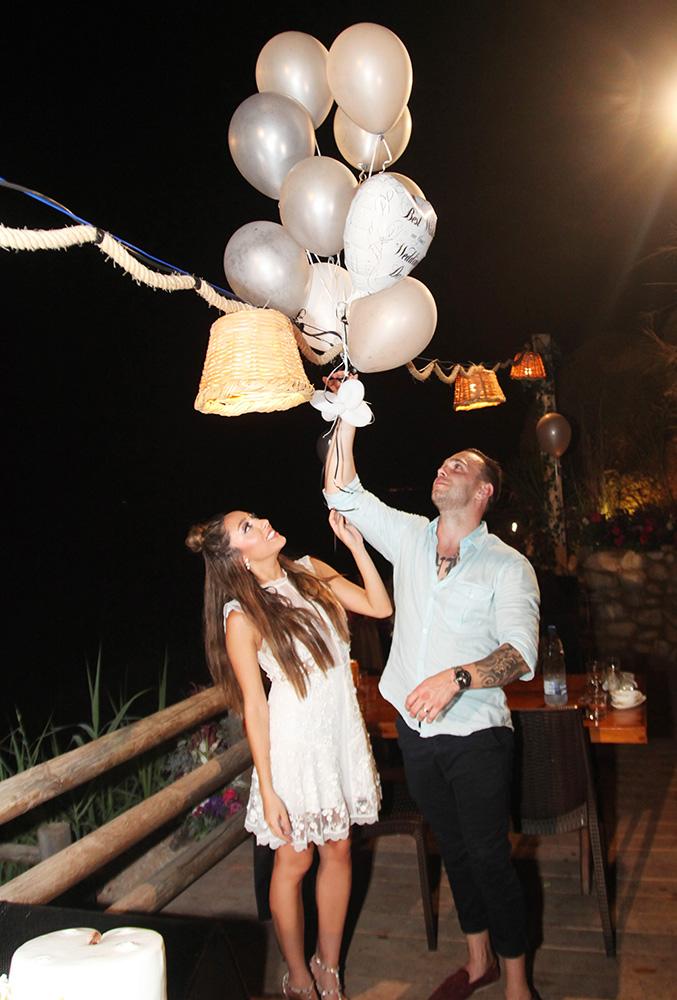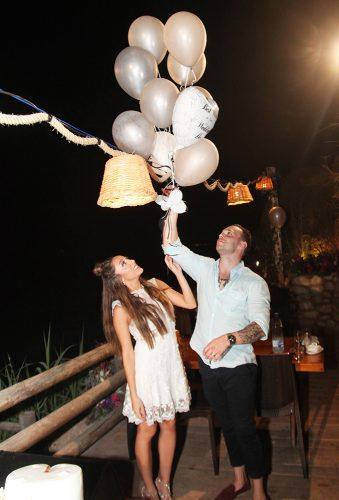 Vendors
Dress: Peter Trends Bridal in Roseville – https://petertrends.com.au/
Makeup: Talal Morcos – Lebanese International Makeup Artist, Beirut, Lebanon
Hair: Robin at Salon Robin in Batroun, Lebanon
Shoes: Valentino – https://www.valentino.com/en-au
Accessories: Veil – Custom made by Rosa Clara
Bridesmaids Dresses: Queenspark
Grooms Suit: Hugo Boss – https://www.hugoboss.com/au/home
Photographer: Studio Georges Youssef, Batroun, Lebanon
Stationery: Giant Invitations – http://giantinvitations.com.au/
Cake: Provided – Family friend
Food: Provided – Catered by reception venue and restaurant – Pierre & Friends
Flowers: Alicia Flowers, Batroun, Lebanon
Ceremony Venue: San Stephano Cathedral, Batroun, Lebanon
Reception Venue: Pierre & Friends (oceanside restaurant and bar), Batroun, Lebanon
Any Other Vendors:
Engagement ring was from GS Diamonds in the QVB, Sydney
Bride's wedding band was from Claire Aristides Fine Jewels, Sydney
Related Stories You May Like