Like most things in life, you want to approach your wedding day by hoping for the best and planning for the worst. That's why a wedding day emergency kit is an absolute must! You're putting months of planning into your big day, planning each tiny perfect detail. You're not about to let some torn fabric or stuffed up nose put a damper on your big day. We're here to you plan and pack the essential bridal survival kit.
Check out our expertly guided list of bridal essentials, click "Pin" and save!

Hygiene and Toiletries – Keeping It Clean
Source: Instagram@ladystartups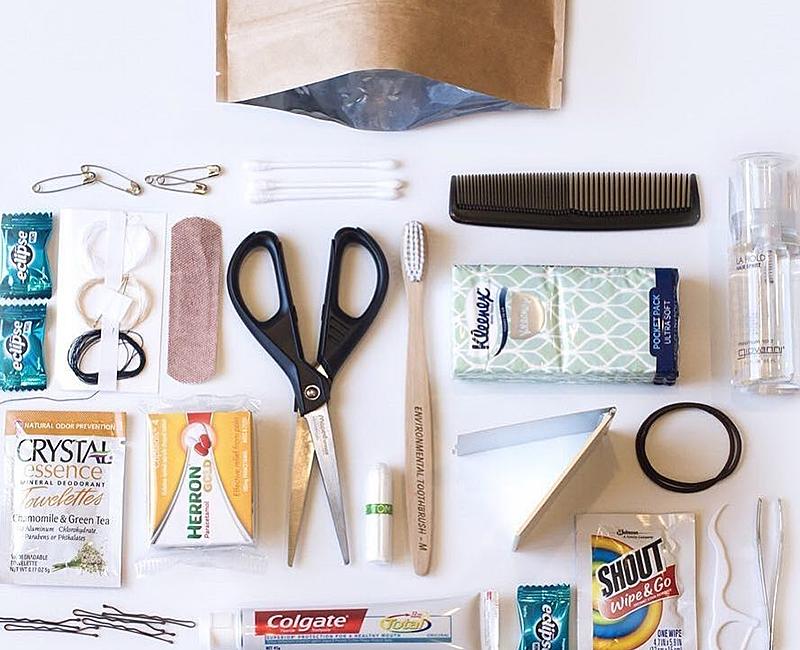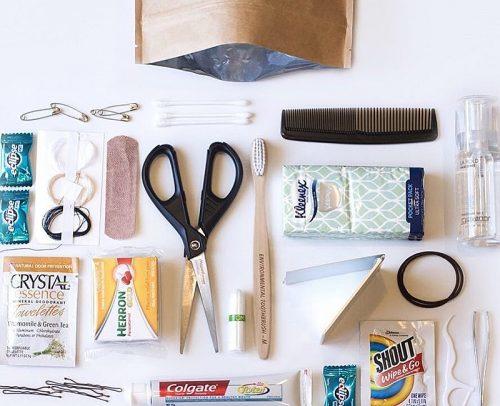 First and foremost in the bridal emergency kit, the Maid Of Honor needs to worry about all of the bathroom basics. Slips and spills are sometimes unavoidable, and the bride is sure to need to freshen up one way or another, and it's best practice to plan for every occasion. Here's what to pack:
Toothbrush. There will be food and teeth-staining beverages. Keep a toothbrush handy to keep your pearly whites picture-perfect.
Toothpaste. A toothbrush is no good without some good old fashioned Crest or Colgate to get the job done.
Floss. Sometimes a toothbrush just doesn't finish the job.
Tampons/Panty Liners. Even if it's not your time of the month, it's likely someone in your bridal party or guest list will thank you for bringing these along.
Deodorant. It's a stressful day. One application in the morning probably won't be enough.
Q Tips. Keep these handy for quick makeup touch-ups.
Tissues. There may be a few messes and more than a couple of tears. An absolute must on your wedding day checklist.
Body Spray/Perfume. They say that scents are directly tied to the strongest memories. Smell as good as you look with your familiar (or brand new) scent.
Baby Powder. Avoid sweat and scratchy fabrics with this life-saving addition to your wedding day survival kit.
Stain Remover. Spills happen. Avoid disaster by adding a stain remover pen to your wedding day survival list.
Towelettes. There's bound to be more than a few cases where you only have a few moments between tasks and events to freshen up. Come prepared.
Razors. You probably won't miss a spot, but just in case it's best to plan ahead. Just in case.
Medical Mini-Emergencies
Source: Instagram@norrisfilms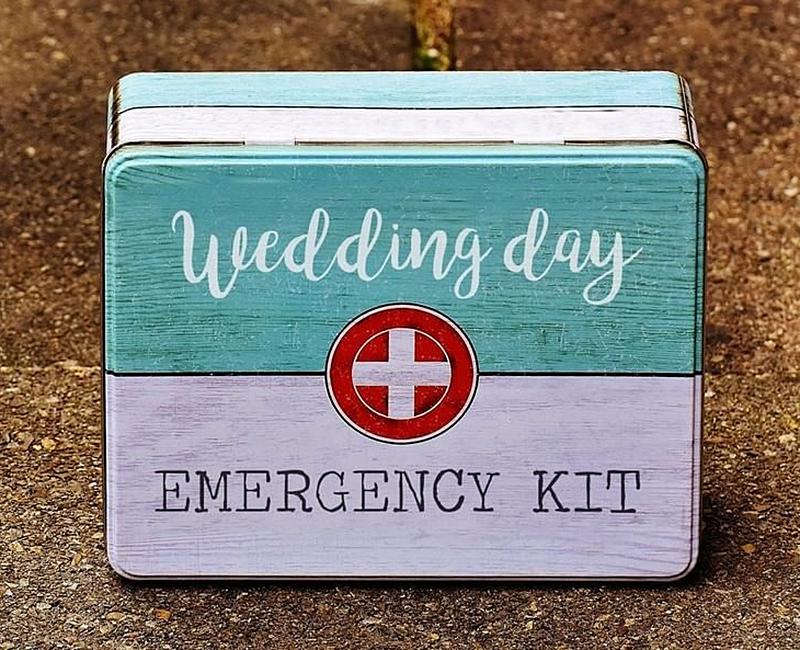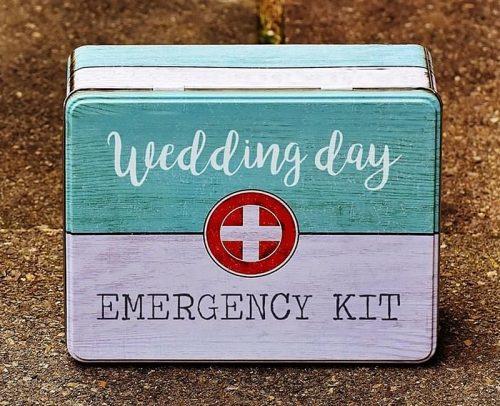 The next items in your survival bag are essential! With all of the commotion, food, drinks, music, and elements there's bound to be a small disaster trying to ruin your day. Tiny disasters like a papercut or a headache can quickly turn into a big deal on this big deal. Cut it off at the bud with these handy items:
Ibuprofen. Keep a clear head by keeping your headaches at bay. Make sure to bring enough for the whole bridal party, they have stress to deal with too.
Pain medication. Maybe you'll bang your elbow, or maybe your shoes are a little tighter than you thought they were. Either way, a little pain medication goes a long way.
Allergy Medication. There are dozens of scents, new food, and (for outdoor weddings) bugs and pollen. Get proactive and prevent the stuffy-sounding, stuffed up look.
Nose Spray. See above
Band-Aids. Keep these handy to keep the blisters off your feet, or for minor scrapes or scratches.
Sunscreen. Often forgotten but incredibly important for any outdoor wedding.
Bug Spray. See above
First Aid Kit. It's better to have it and not need it then to need it and not have it.
Tums. Let's face it, someone is going to over-indulge. Be a lifesaver with these tiny miracles.
Hair, Makeup and Beauty Checklist
Source: Instagram@alwaysthebridesmaiduk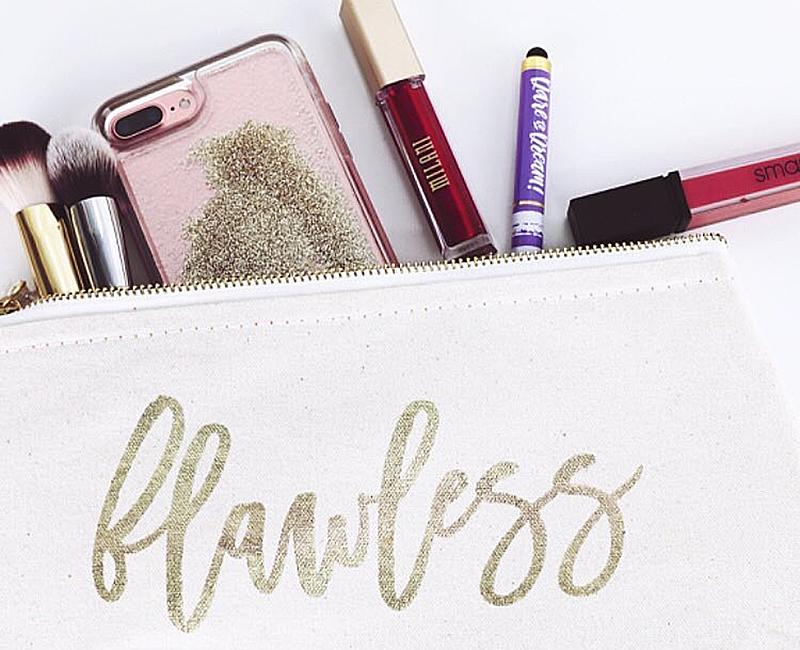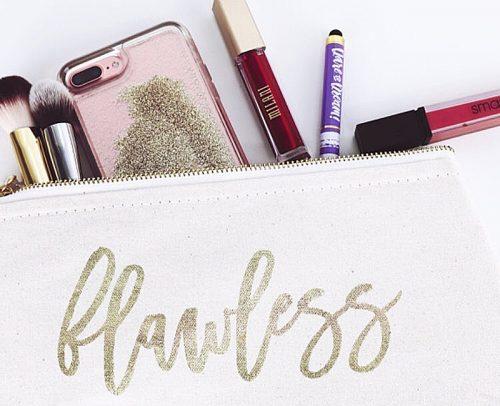 Next up on the bridal survival kit are the items you need to keep the bride looking and feeling her best. You have a long day ahead of you and the demands for periodic touch-ups and last minute primping and preening are to be expected. Be completely prepared with these crucial bridal kit items:
Sewing Kit. Bring thread that matches the color of your gown, the bridesmaids' gowns, and the groom's and groomsmen's suits to tend to any attire mishaps.
Clear Nail Polish. An old trick that works like a charm. Immediately fix runs in your nylons once discovered to keep the tear in check.
Bobby Pins/Hair Ties/Comb/Hairspray. Keep everything you need for last minute hair fixes or mid-celebration flyaways.
Lipstick/Other Makeup. Your makeup artist is sure to do a wonderful job, but even pro jobs need a touch up through the night.
Tweezers. If you don't bring these you're almost certain to find a stray hair that'll drive you nuts all night.
Blotting Papers. Nerves cause sweat. Keep the shine off your face by soaking up excess moisture.
Face Mist. Help your makeup stay where it's supposed to be and enjoy a little refresher at the same time.
Lint Roller. This is self-explanatory. Keep the hair of that gorgeous gown!
Eye Drops. Even if you don't have allergies, the room could be dry or there could be other irritants in the air. You don't want red eyes in all of those wedding photos.
Lotion/Moisturizer. You'll no doubt be receiving a lot of congratulatory handshakes. Stay smooth with a little hand moisturizer.
Earring backs. You went to a lot of trouble picking out the perfect accessories, and it's not unheard of to lose an earring backing. Bring a set of spares.
Emery board. Keep those beautiful nails smooth in case of chips are last-minute perfectionism.
Small mirror. A small item, but one of the more important things to keep with you on your wedding day. A compact mirror is handy for double checking all of your beauty essentials.
Contact lenses. If you wear contacts on a regular basis, bringing an extra pair is a wise way to make sure that your eyes don't wind up scratchy through the ceremony and reception.
Fashion Tape. If a hem falls or a seam tears you'll be thanking the heavens that you remembered handy fashion tape to stitch it back together in a hurry.
Makeup Remover. With everything going on no one would fault you for making a mistake when reapplying your makeup. Make sure the mistakes are temporary and proceed as planned.
Miscellaneous Extras
Source: Instagram@jenniferrayphotography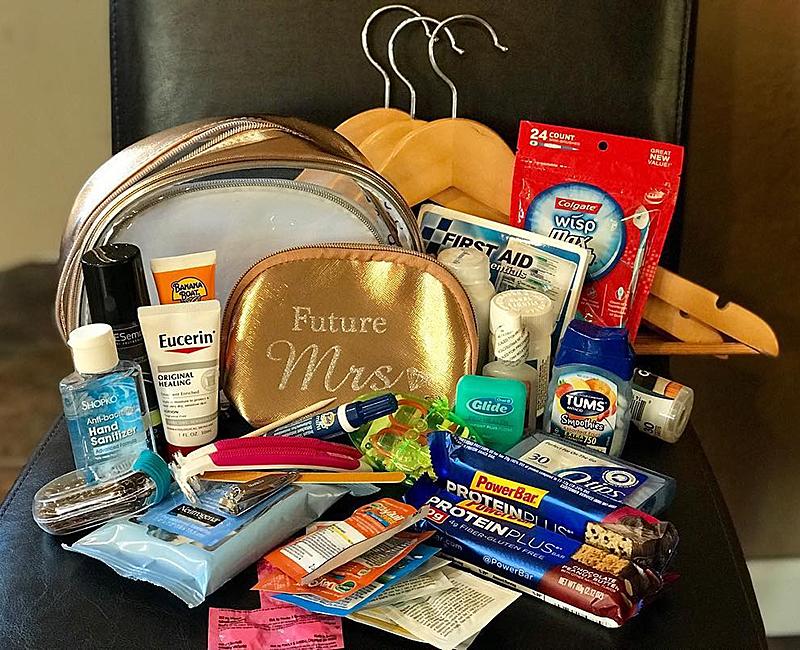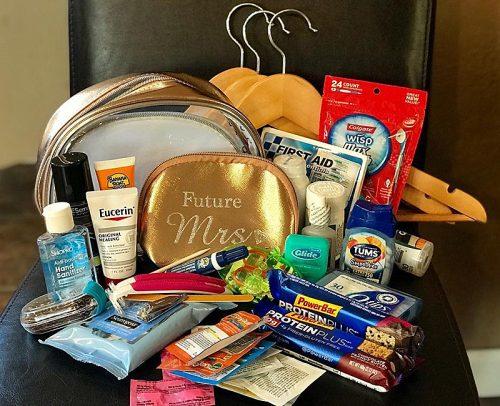 When you think a wedding day emergency kit checklist, these items may not immediately come to mind. But when you need them, you'll kick yourself if you left them behind. These items won't make the bride look or feel better. They're pure utility, and leaving them out is not an option. Here's what to bring:
Phone. You never leave home without your phone. But if there was ever a chance, this is the night. Put this essential on your list to make sure you don't leave it behind.
Phone Charger. Your phone may go through your battery a little quicker on your big night. Keep a charger handy at all times for you and your guests.
Pen and Paper. You may want to write yourself a reminder, you may want to write out a quick Thank-You letter, or you may want to be cute and pass your new husband a note. Regardless of your reason, something to write with often comes in handy.
Alcohol. Don't try to get the bride drunk. A small bottle of her favorite spirits to keep the edge off will do just fine.
Cash. All of your expenses are probably paid for, but if you have to put someone in a taxi or another unexpected expense pops up it's good to have a few extra dollars at hand.
Bottle of Water/Granola Bar/Other Snacks. You don't want to spoil the meal, but you also don't want the bride stumbling through her vows on an empty stomach.
Straws. This is for the bride to drink through without smearing her lipstick.
Sandpaper. Many of your guests will be sporting brand new shoes for the big event. Avoid a slippery situation and scuff up the bottoms a bit before they hit the dance floor.
Mints. This will soothe a sore throat after all of those speeches. Also, it's a nice way to keep your breath fresh.
Lighter. Maybe you'll run into a candle that needs a little fire, but this is mainly to singe frayed threads if they should happen.
Super Glue and safety pins. If there's no time for a fancy sewing kit or fashion tape, glue and pins will do in a pinch.
Chalk. White chalk is the insider's secret to covering up any bridal gown stains.
Bonus: Wedding Emergency Kit Guideline For Groom
If there is one thing you should keep in mind, making your mini emergency kit. The wedding is a union of two people, which means that not the only bride, but a groom might also need some help.

We hope this post has taught you everything you need to know about how to make a survival kit. Hopefully you won't need these small wedding day emergency kit items but if you do, you'll sure be glad that you checked in with WeddingForward to arm you with everything you need to get through the big day without a scratch.
Check back often for more helpful tips like creating a next day survival kit, how to choose the perfect wedding gown, and much much more.