Are you looking for some helpful entertain infographics to help plan your wedding?
Then you have come to the right place!
We have the scoop on some of the best infographics to help you plan for your bachelorette party, bridal shower and even your reception!
Wedding entertainment infographics are a great tool for helping you plan your wedding.
Infographic 1: Bachelorette Party Planning Guide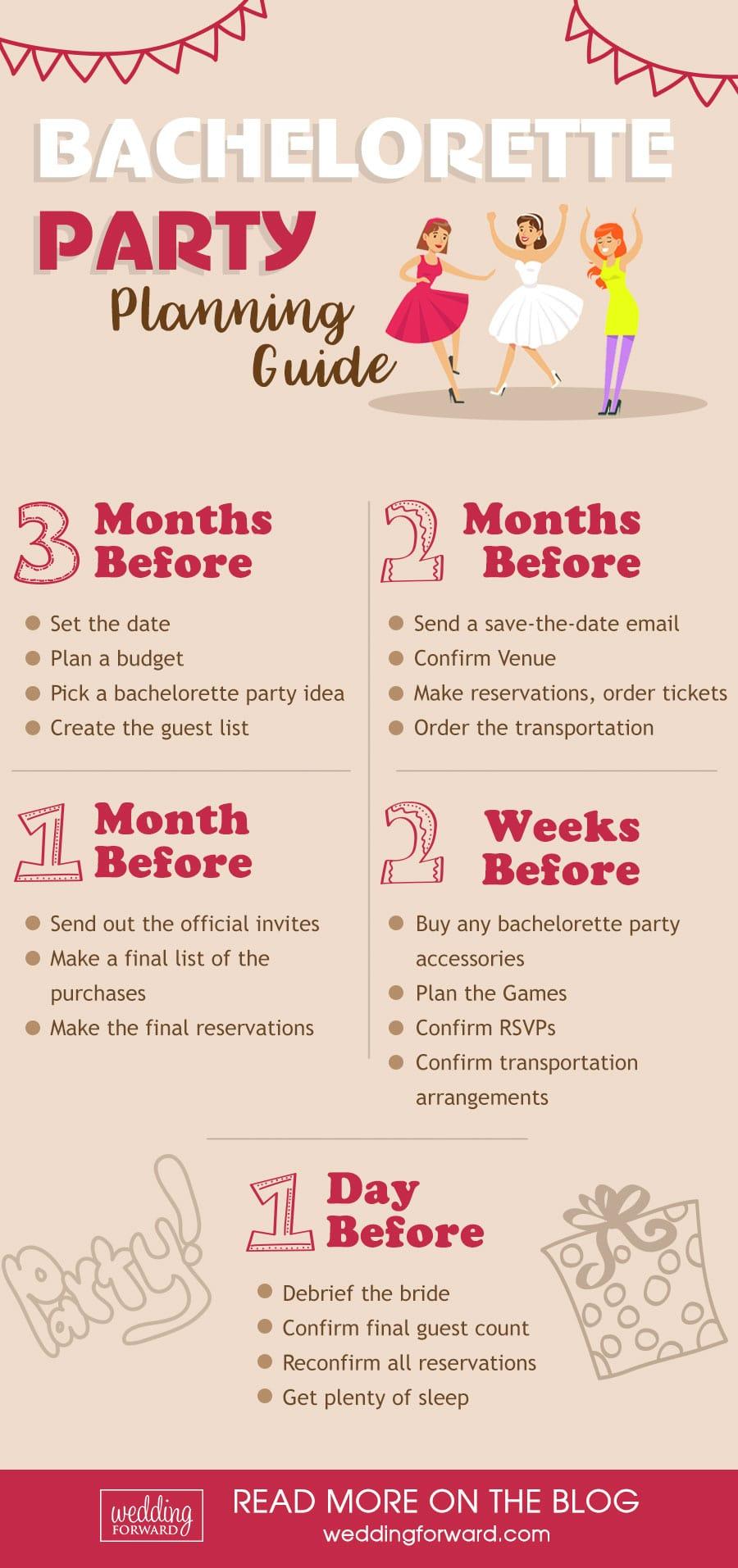 While the bridal shower is more formal, your bachelorette party should be more relaxed and intimate. This helpful guide will give you some tips on when to start prepping for your bachelor party. Starting at 3 months prior to and ending at the day of the event, this infographic gives you detailed advice on when to reserve the venue, sent out the invites and when to purchase any party favors. If you follow this handy guide, planning your bachelor party will be a breeze!
Infographic 2: Best Bridal Shower Games

There are dozens of bridal showers games from which to choose. However, you want to find the ones that best match your wedding theme as well as your personality. This infographic gives some fun ideas for popular bridal shower games. They will break away from the monotony of the traditional games and add a fun twist to your special day with your friends and loved ones. From fun quizzes to dress up games, you're sure to find some really fun gems o this helpful guide!
Read more about The Best Bridal Shower Games
Infographic 3: The Big Quiz – Bridal Shower Question Game

See also Most Popular Bachelorette Party Games and play them all!
Infographic 4: Wedding Shoe Game: Instruction and Ideas

Read more: The Shoe Game – How To Play & Question Ideas
Infographic 5: Bridal Shower Game: What Is In Your Purse?

Infographic 6: Wedding Entertainment Infographics: Bingo Quest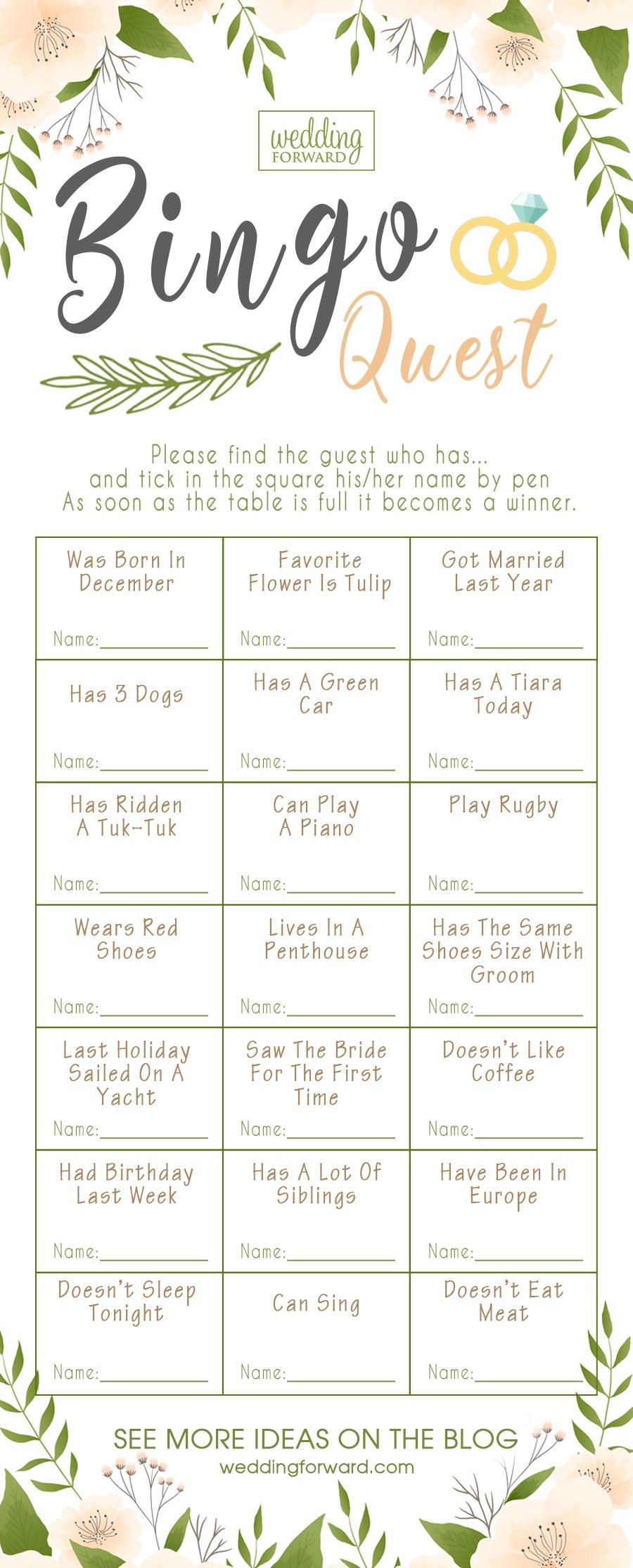 Bridal shower bingo is always a fun choice for a bridal shower game. You can find plenty of free bridal bingo cards online (like the one pictured here) or you can create your own. You can come up with fun prizes for each round. As well, you can print out your bridal bingo cards on scrapbook paper, cardstock, etc and decorate them with stickers and the like. Bridal shower bingo is a great way to get everyone at your shower involved in the fun!
Infographic 7: Ways To Keep Children Busy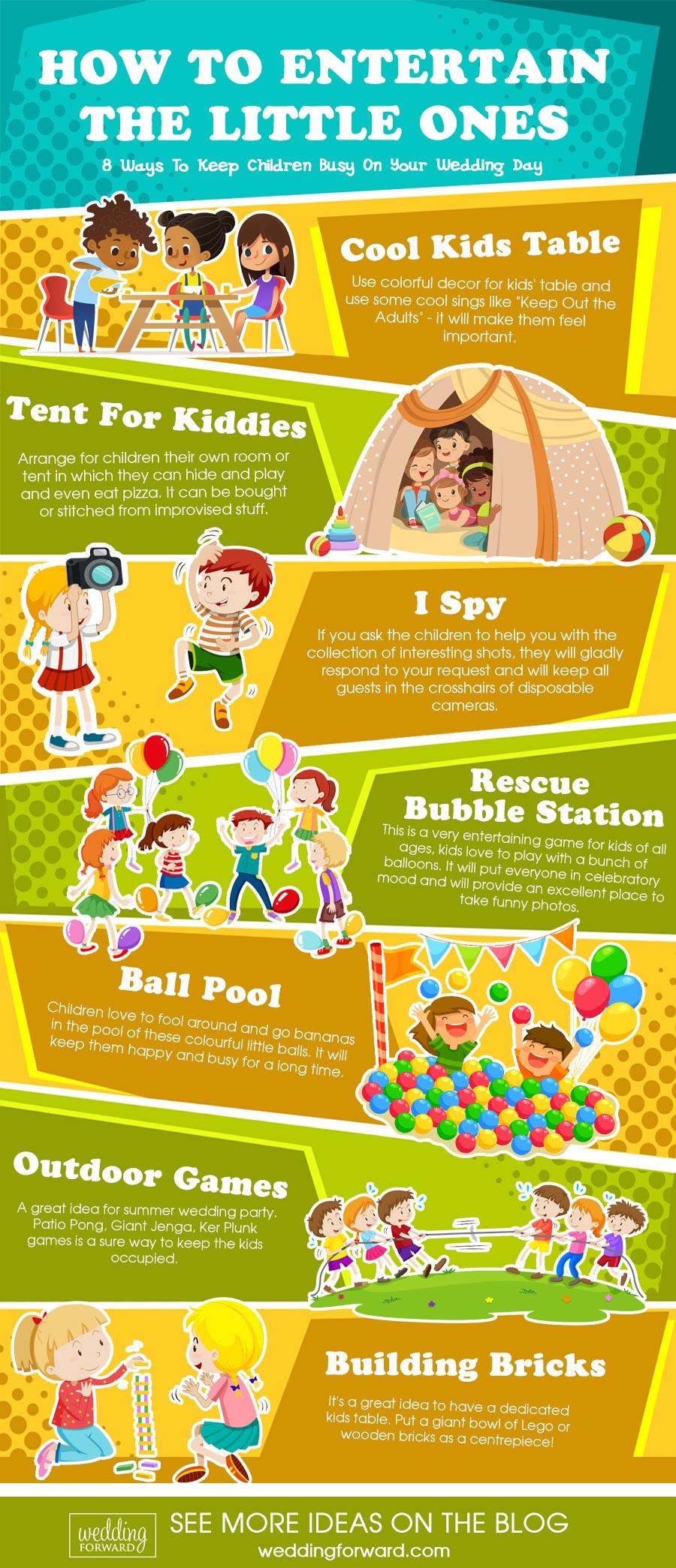 Unless you are having a child-free wedding reception, you are going to have to plan some fun activities for the younger crowd at your reception. This handy infographic gives some helpful suggestions of ways to keep the little ones entertained so the adults can enjoy themselves. From bubbles to balloons to crafts, there are endless ideas to keep the youngins at your wedding venue occupied!
Read more Wedding Game For Kids – Simple Ideas
We hope you find the wedding entertainment infographics to be helpful. You can find other such guides for your wedding planning:
Wedding Theme Infographics – Ideas and Advice
Wedding Planning Infographics: Useful Ideas & Tips
If you make use of these infographics, your wedding planning will be a breeze!
Related post: 27 Wedding Games For Kids For Any Wedding Type