Wine barrels are showing up more and more often in country chic wedding décor. A wine barrel can be used in lots of different ways to add a creative touch to your big day. They are used in a wide variety of ways that can create the perfect backdrop for any wedding, big or small. There are many different ideas of how these items can be incorporated into your wedding.
Adding a few barrels to your reception or outdoor wedding venue can add a rustic charm to your wedding that is hard to beat. Not to mention, these items are extremely affordable and are a great budget friendly way to add décor to your wedding. There has never been a better time to learn how these items can be used for a wedding.
Charming Wedding Reception Tables Of Wine Barrels
Source: Wooden Weddings via Instagram, Greer Gattuso Photography, Aida Malik Photography via Instagram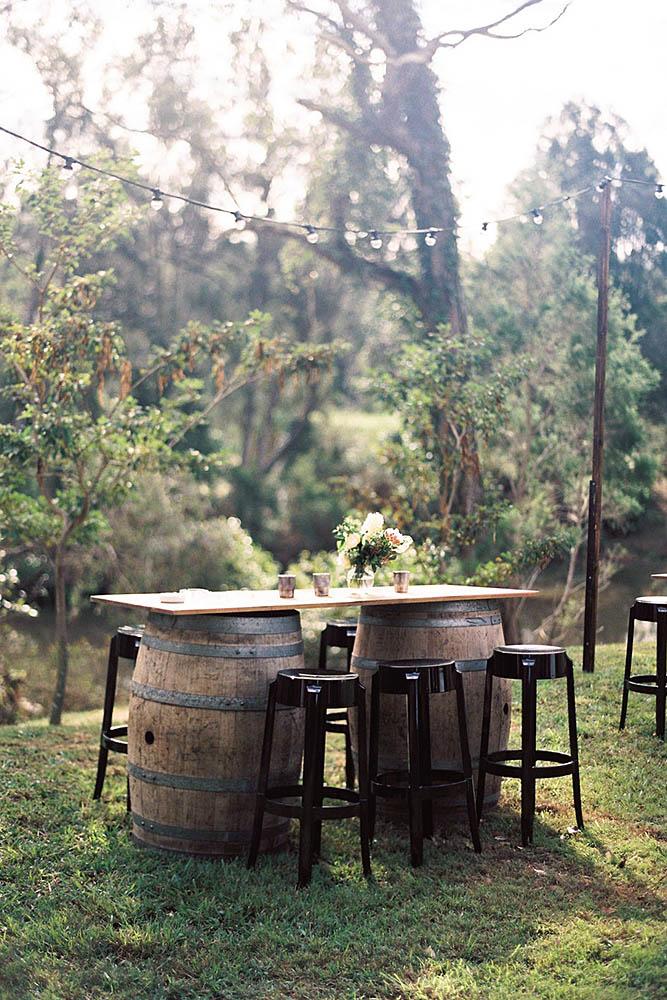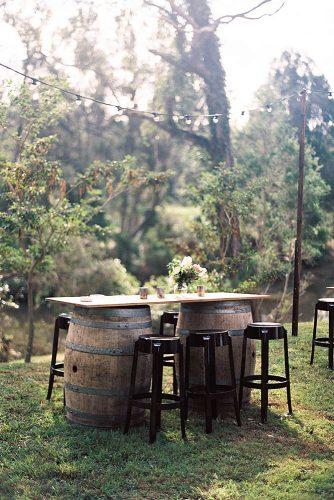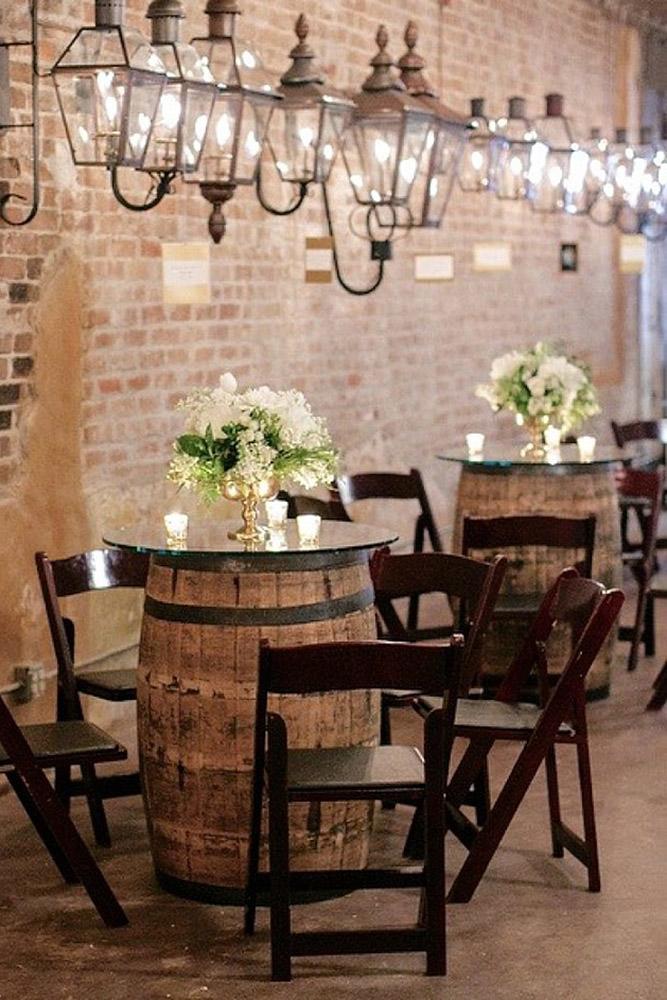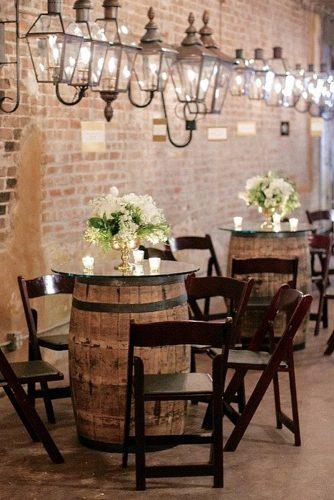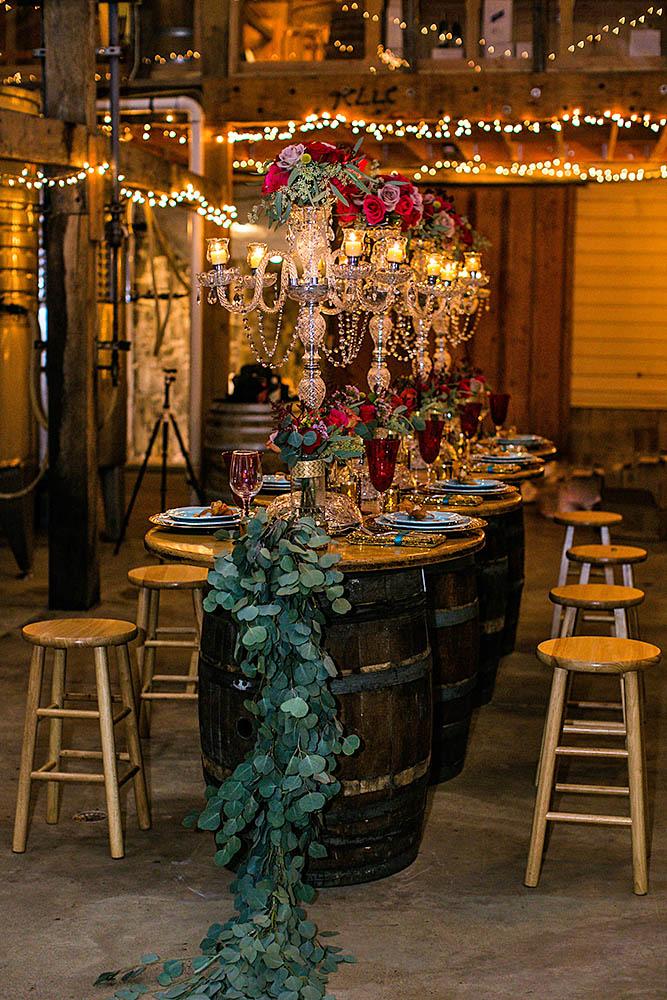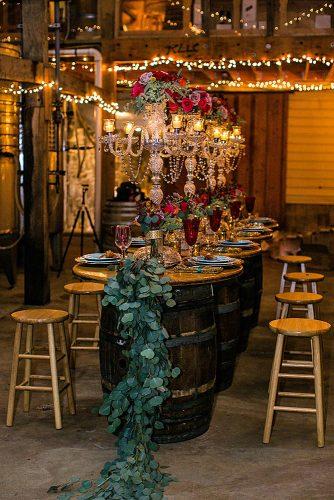 Using wood barrels for decoration is more than just budget friendly. It is a clever way to add style to your venue. Barrels of winealso add a chic attraction to your wedding décor with minimal effort. Simply use two barrels for legs and add a sheet of plywood at a top. Cover the plywood with a table cloth to make it more appeasing to the eye. This is a great idea for a bridal party table.
Ideal Backdrop for a Rustic Outdoor Wedding
Source: Barn Wedding Central via Instagram, Adam Cavanagh via Instagram, Britt Rene Photo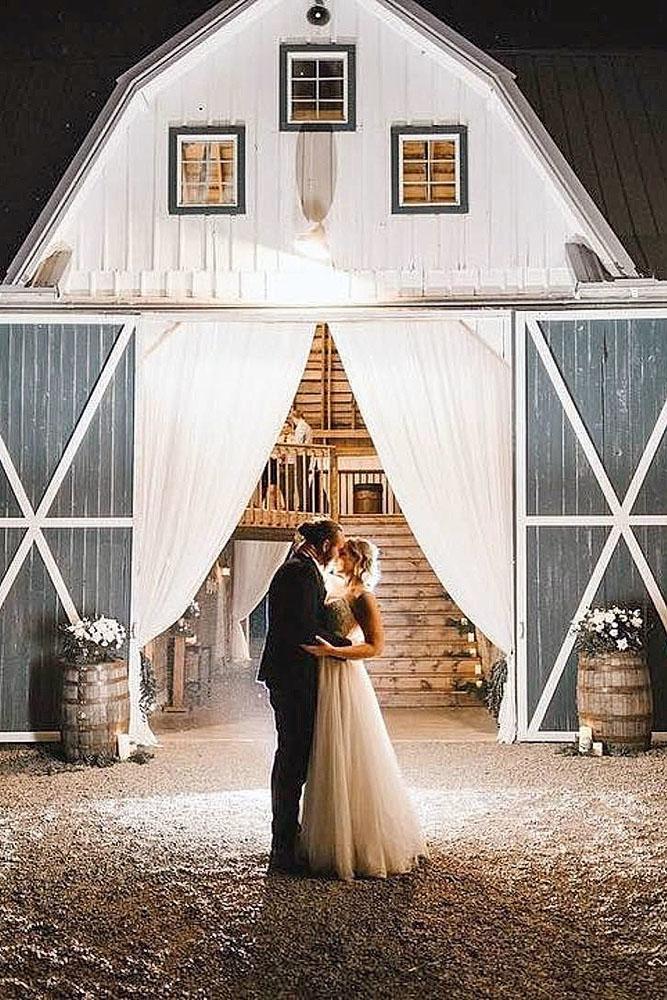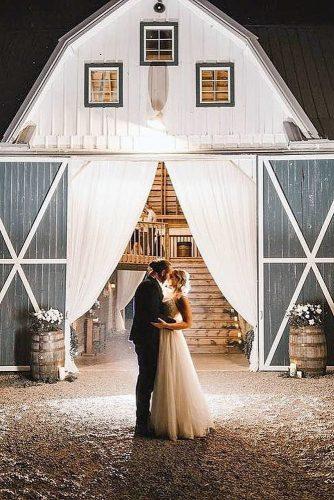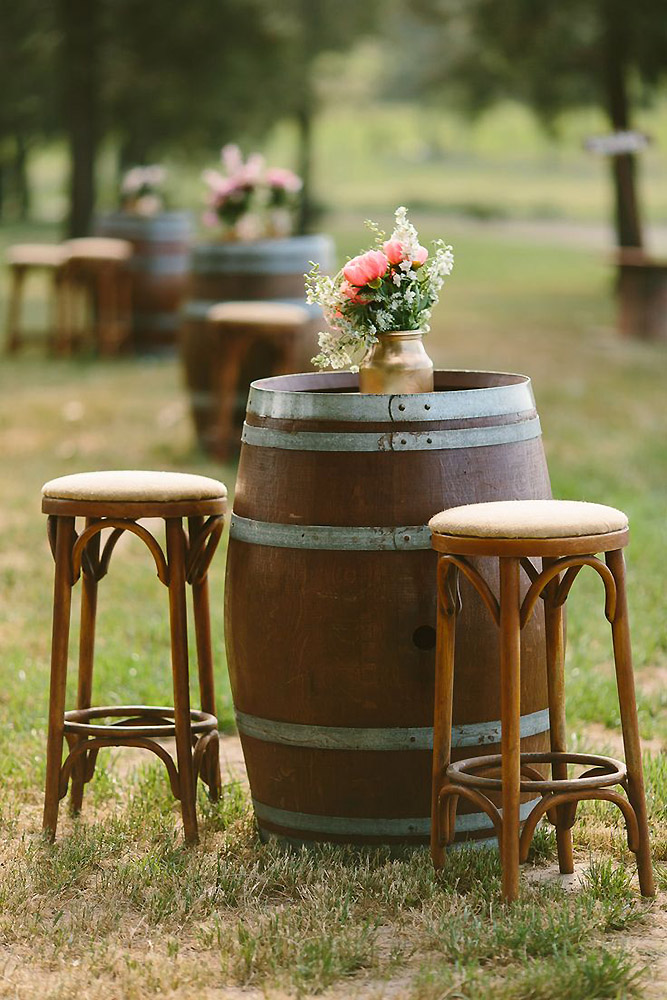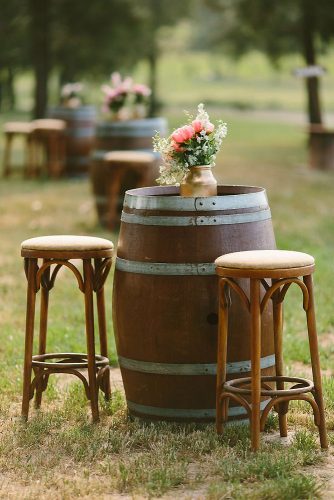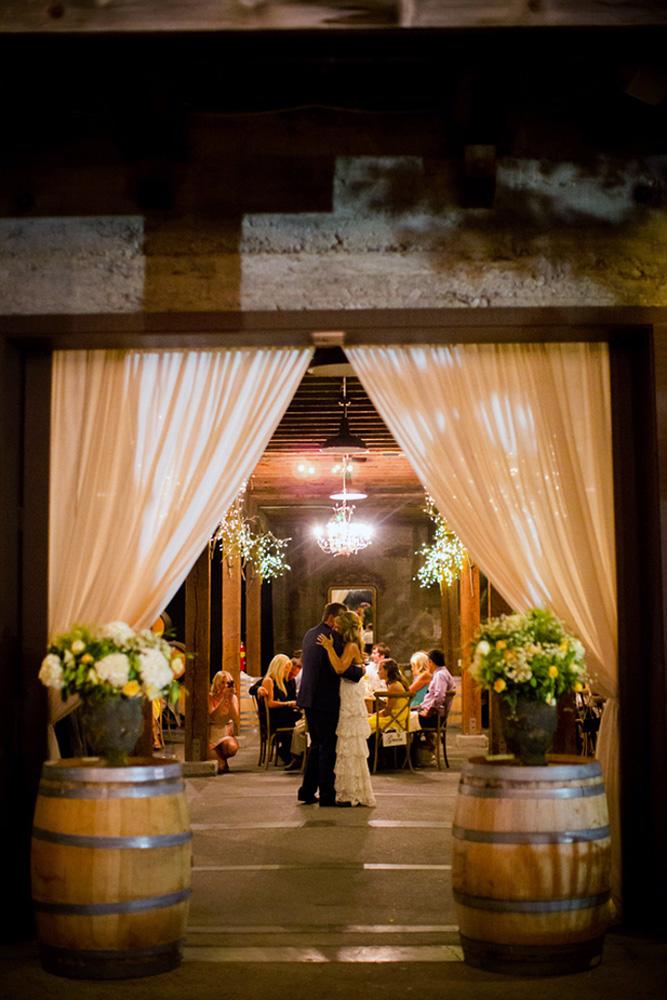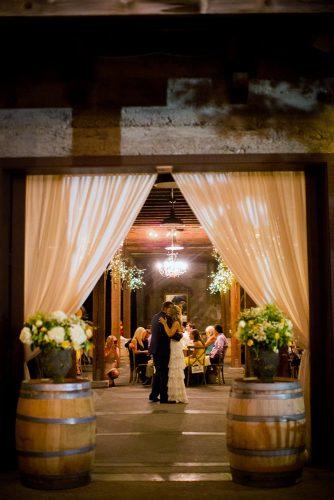 Wine barrel wedding décor is not just for people getting married at a vineyard. This type of décor can be used in tons of unique ways. Stacked barrels or even just a few barrels in the background make an ideal backdrop for wedding photos. This type of backdrop would also look great sitting behind the bridal party table.
Romantic Décor With Barrels For The Wedding Ceremony
Source: Rachel Solomon Photography, Clane Gessel Photography, Wooden Weddings via Instagram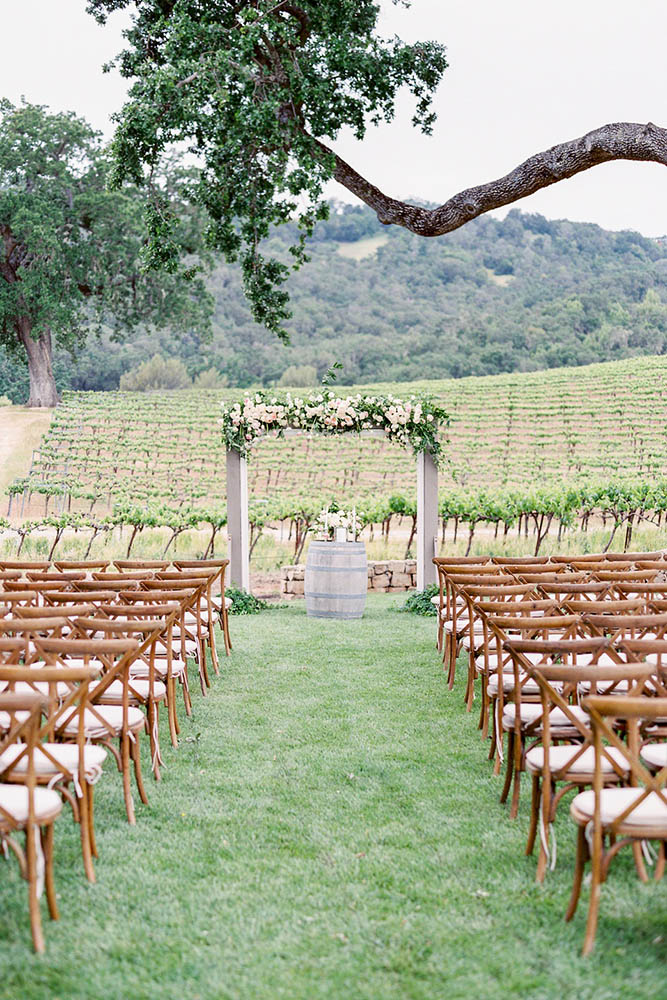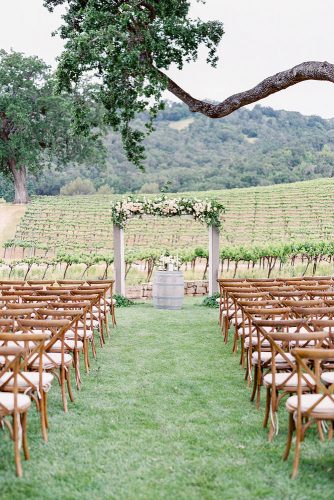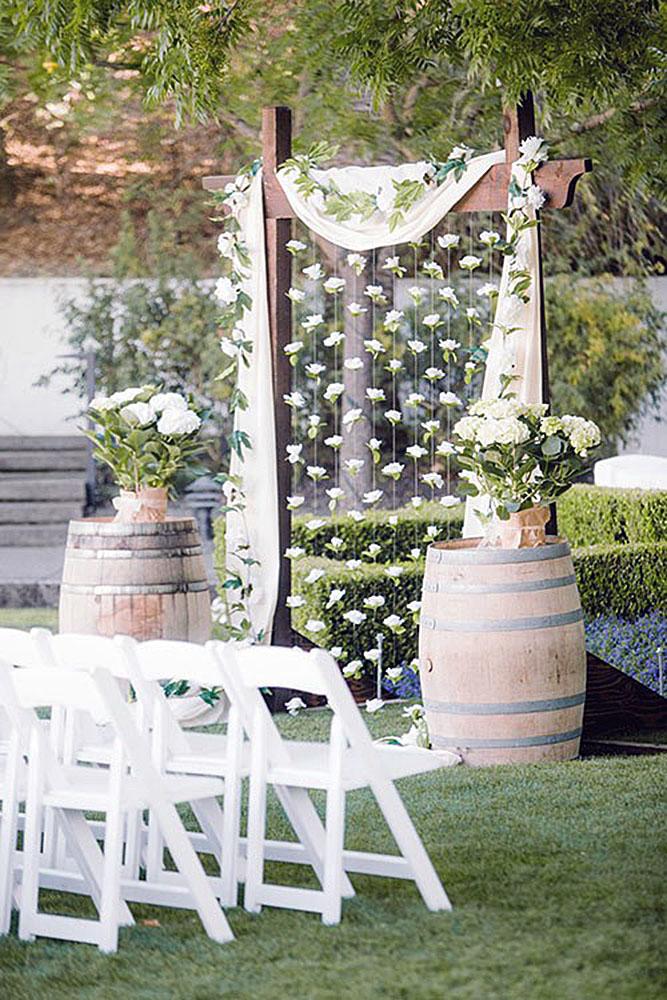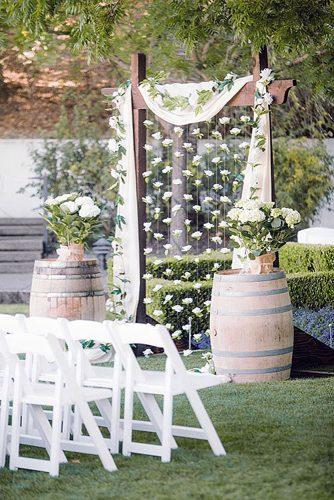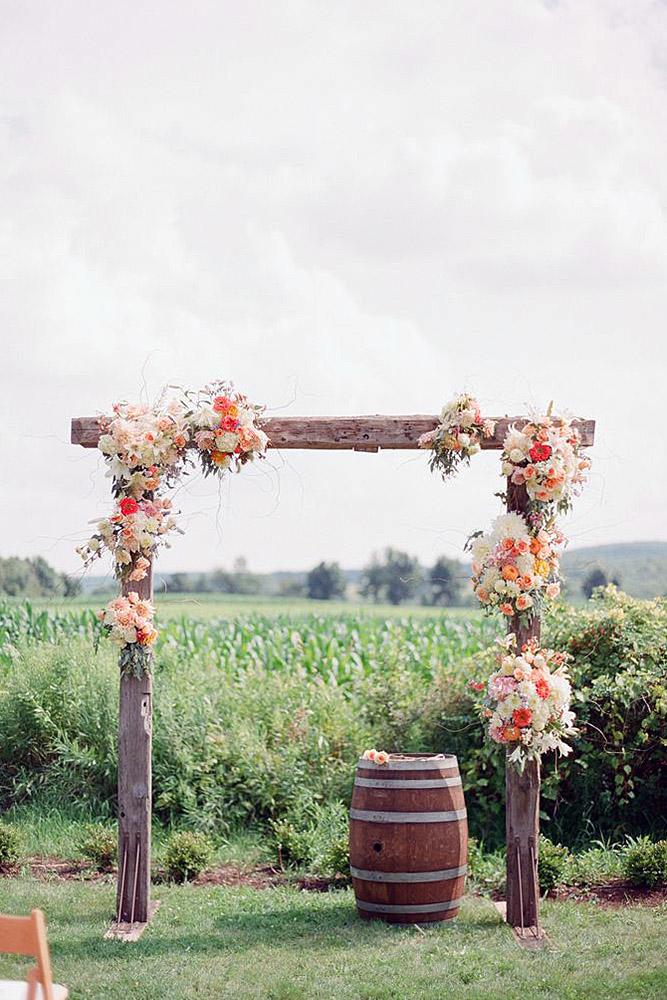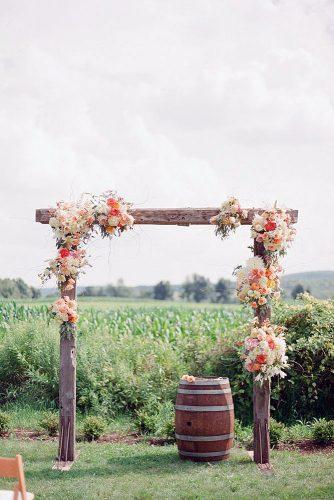 Barrels make a great addition to your wedding alter décor. Small barrels can be placed down the aisle and around the bride and groom. These small touches can add to your wedding in a big way. You can also place pictures of the happy couple on the top of the smaller barrels on the alter.
Stunning Barrel-Based Dessert Tables
Source: 1326 Studios, Mirelle Carmichael via Instagram, Ameris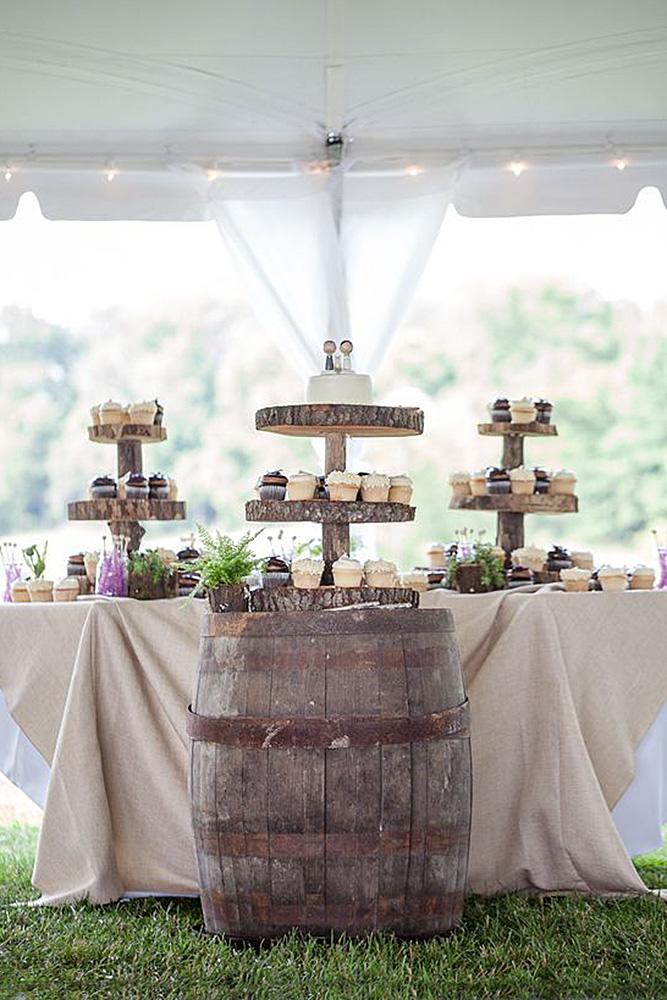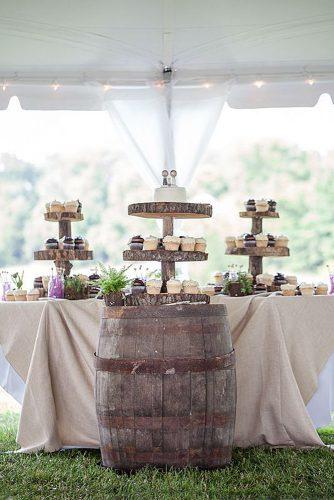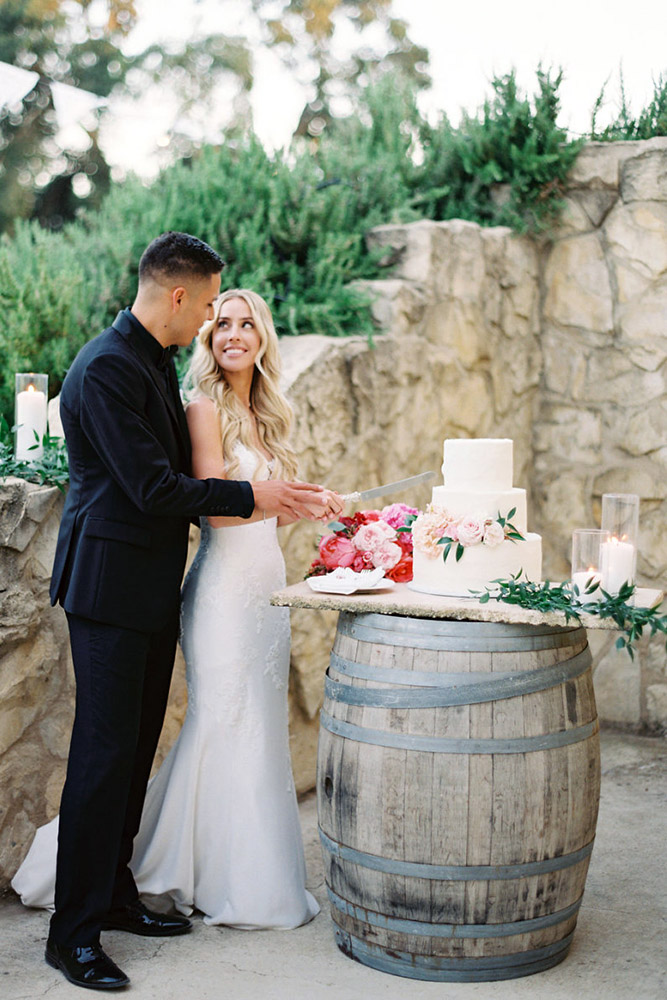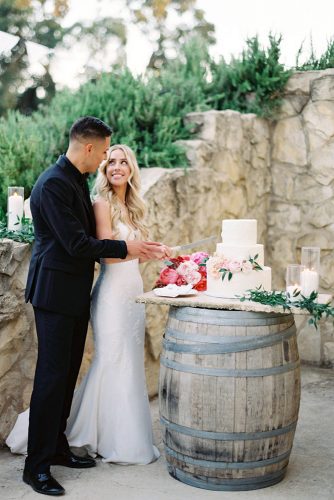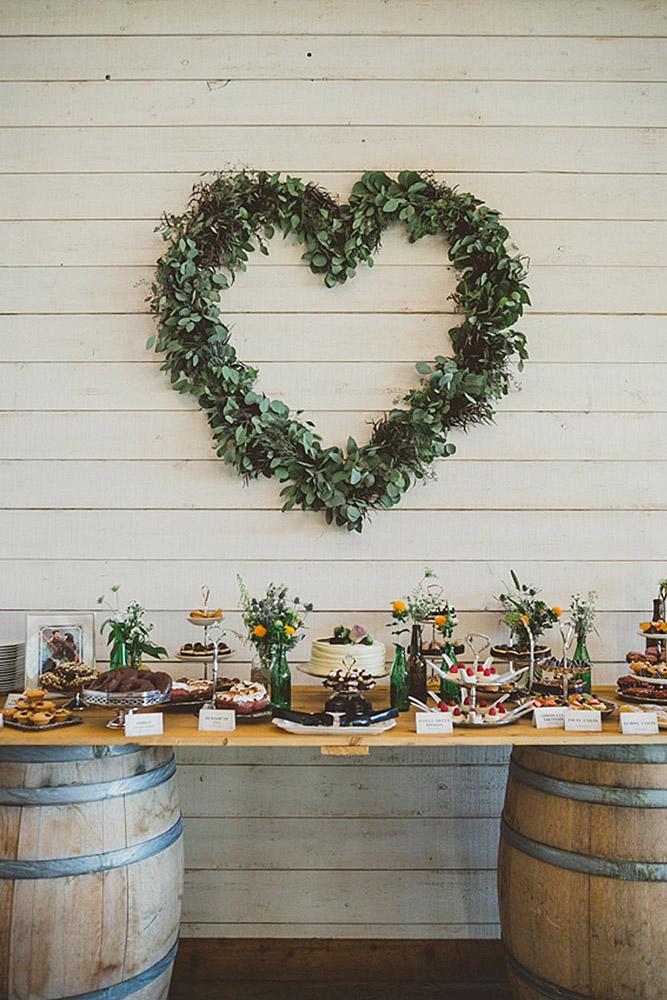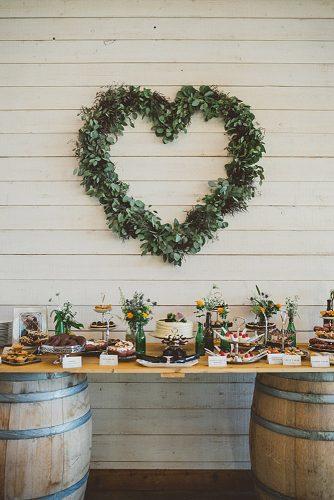 A wine barrel table can be used for a number of different things in your wedding. Having a table made of wine barrels is a great place to set desserts and sweets other than the cake. These kinds of makeshift tables add a touch of style to your wedding without a lot of money being spent. An outdoor wine barrel table can be used to place appetizers.
Wine Barrel Cake Stand Ideas That Looks Chic
Source: E. P. Love, Peaches and Mint Photography, Hunter Ryan Photo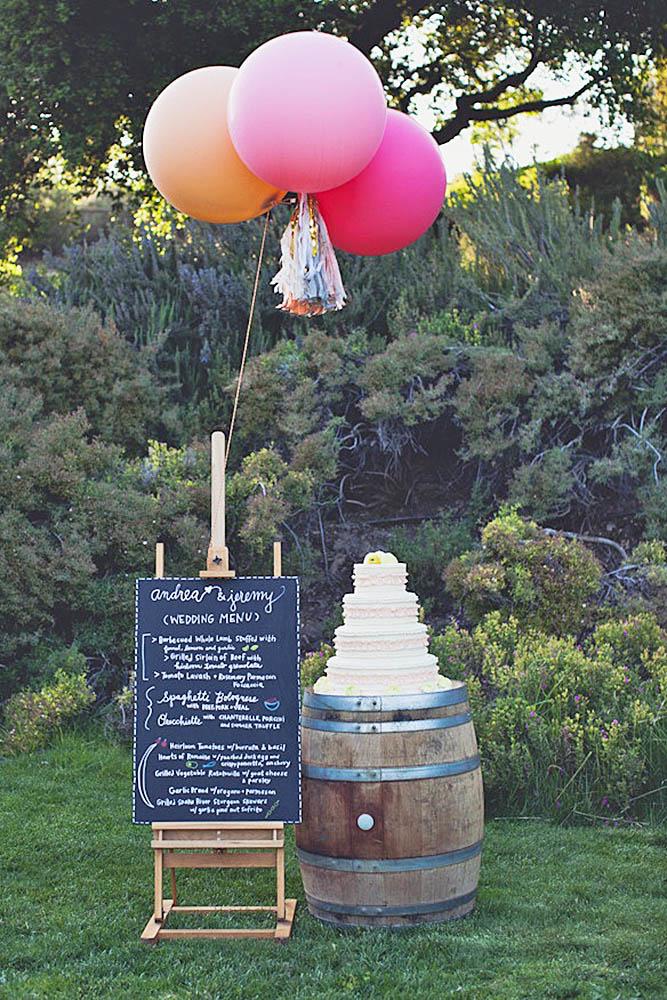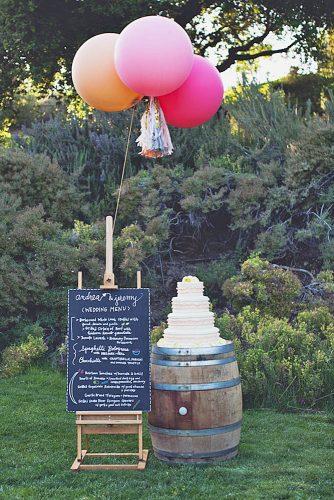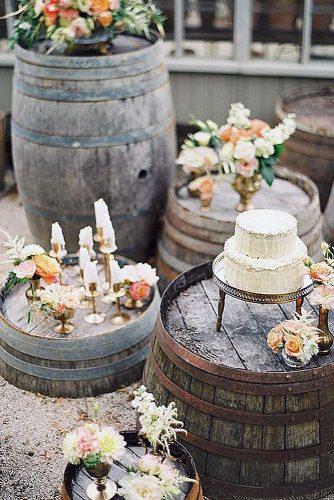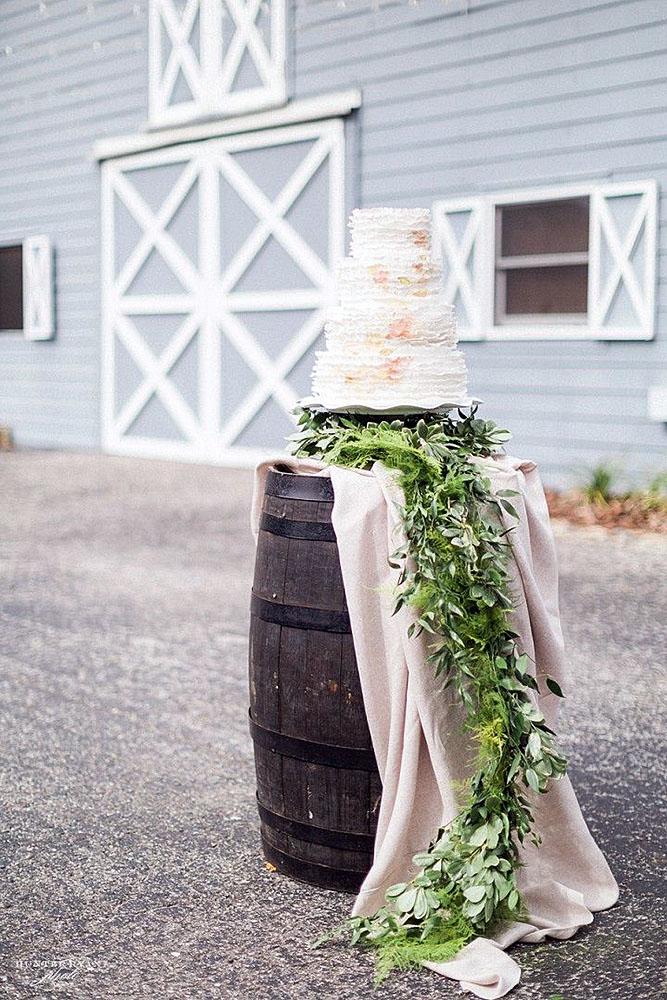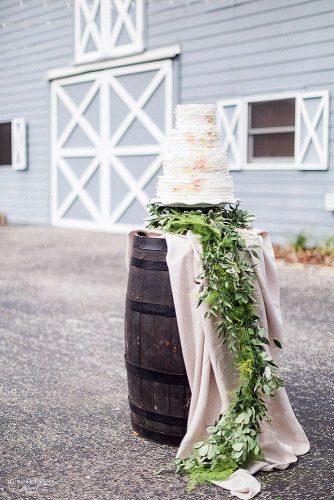 Small wine barrels for decoration add a rustic touch to your wedding décor. You could implement smaller barrels for a cake stand or a cupcake stand. Add a few candles around the cake on the barrel for a romantic ambiance. If you are wondering where to buy wine barrels for wedding, a quick online search should provide you with the answers you are looking for.
Classic Rustic Side Tables for Drinks
Source: Mirelle Carmichael via Instagram, Jen Rodriguez, Lemons and Love via Facebook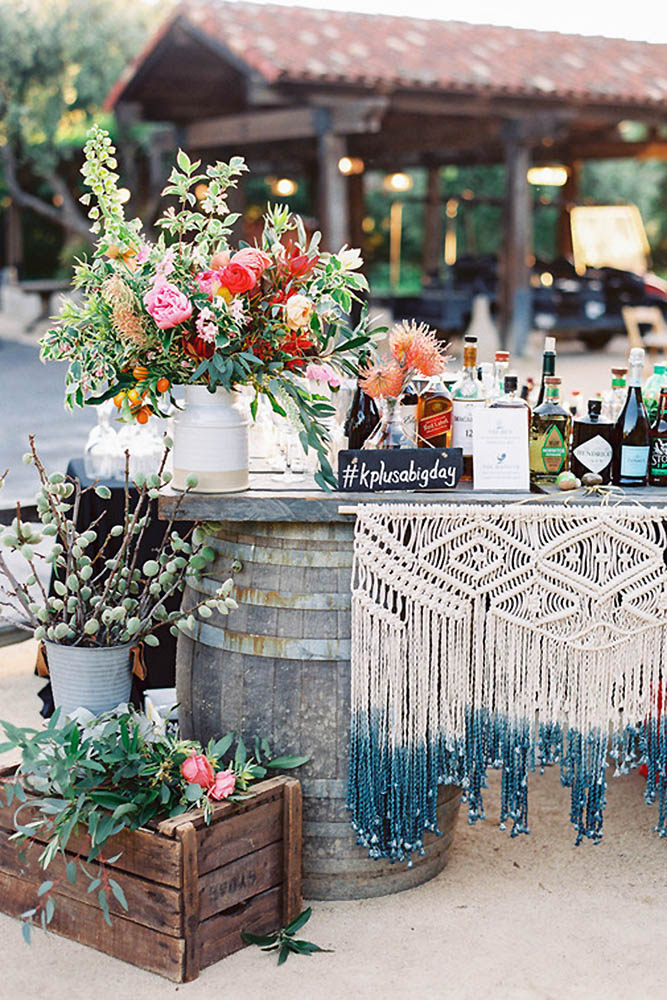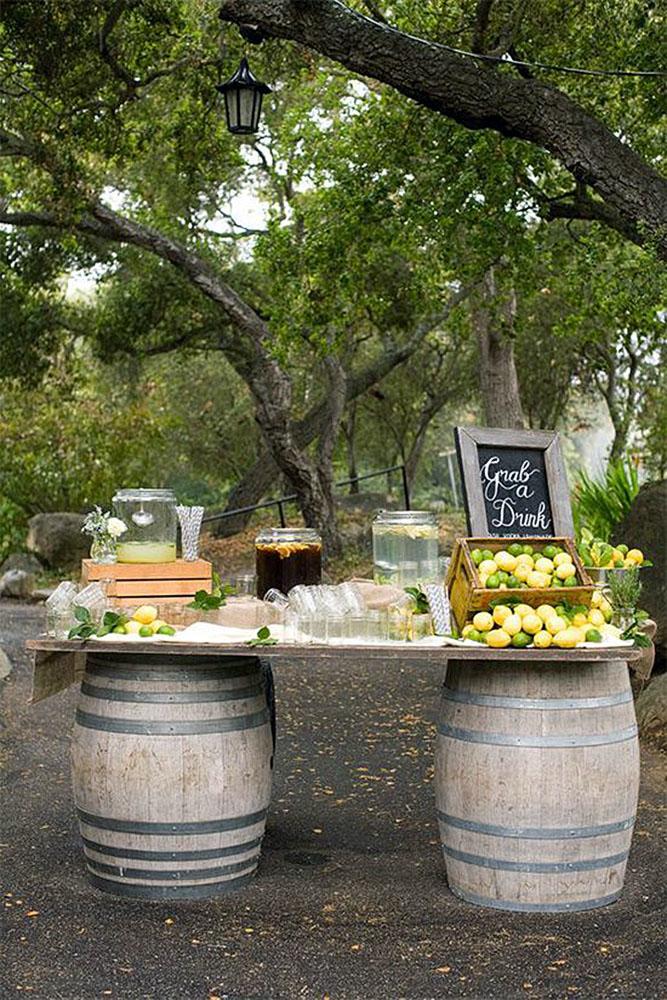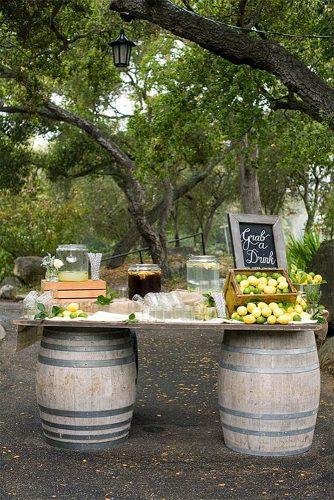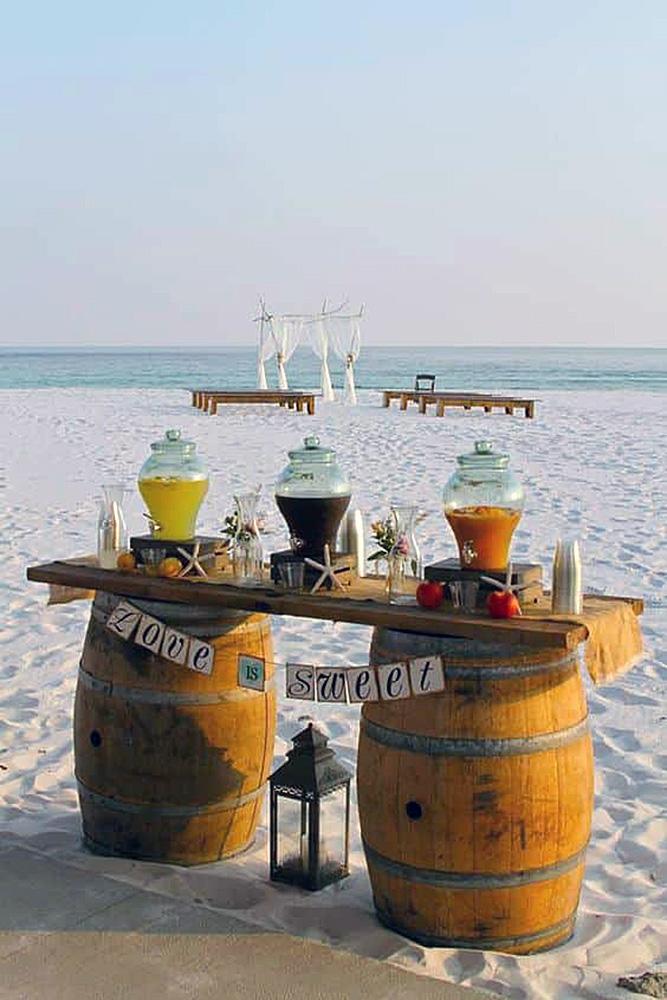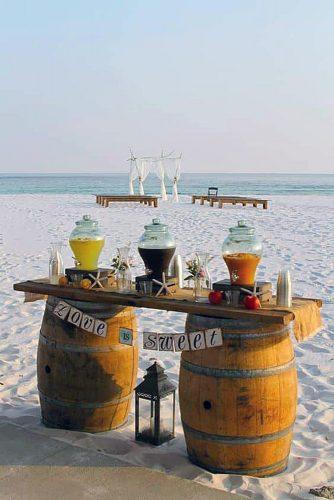 Another one of the most popular wine barrel ideas is to create makeshift tables for drinks. As mentioned before, placing a large sheet of plywood on top of two barrels is a great way to make smaller tables for items such as wine and other drinks you do not want to stick in a cooler. Again, cover the plywood with a table cloth. Cheap wine barrels for decoration can spice up your wedding décor without breaking the bank.
Unique Coolers for Drinks and Appetizers
Source: Event Essentials Hawaii, Marisa Holmes, Wildflowers Photography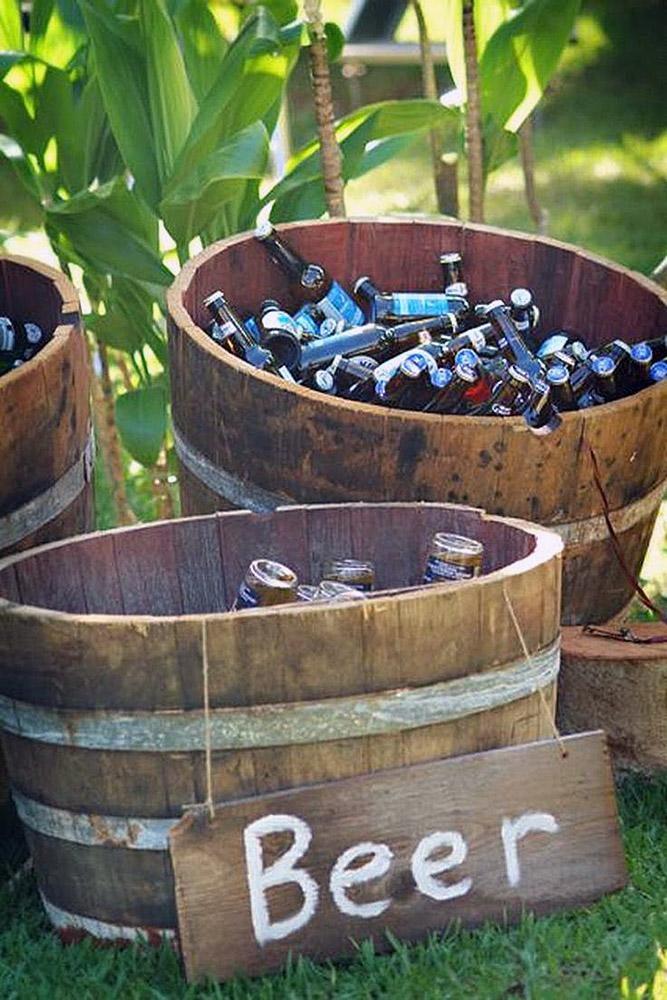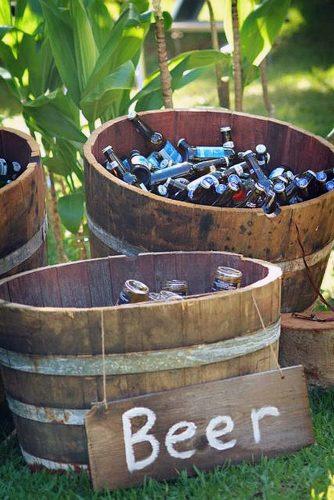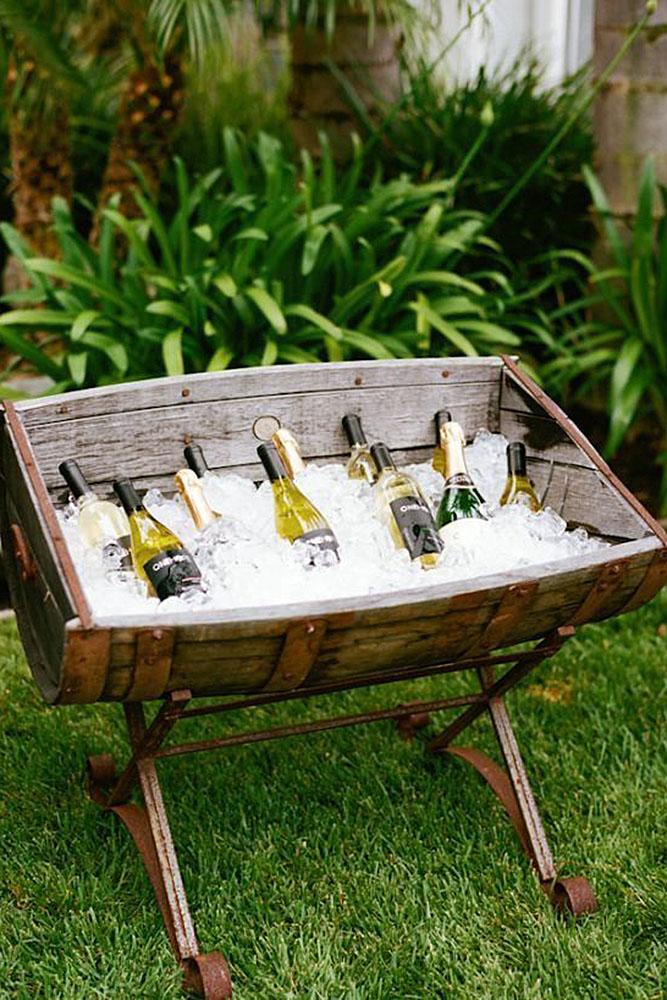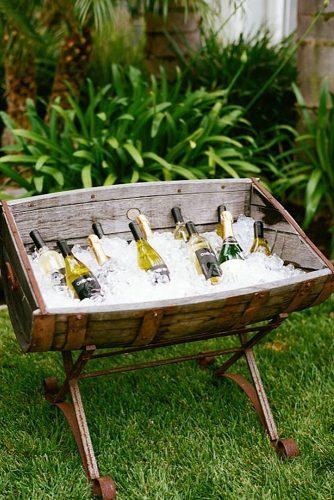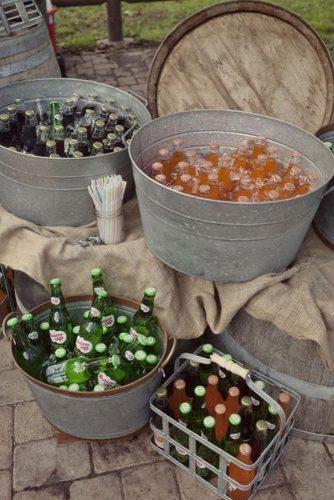 One of the most popular wine barrel decoration ideas is to cut out the top of the barrel and fill it with ice. Dump bottled drinks, like beer, wine, or soda, into the barrel of ice. Instead of a tacky cooler, you can have a quaint down home way to keep your drinks cold and stick to your rustic theme.
Spice Up Your Seating Charts
Source: mangostudios, rochellecheever, amalieorrangephotography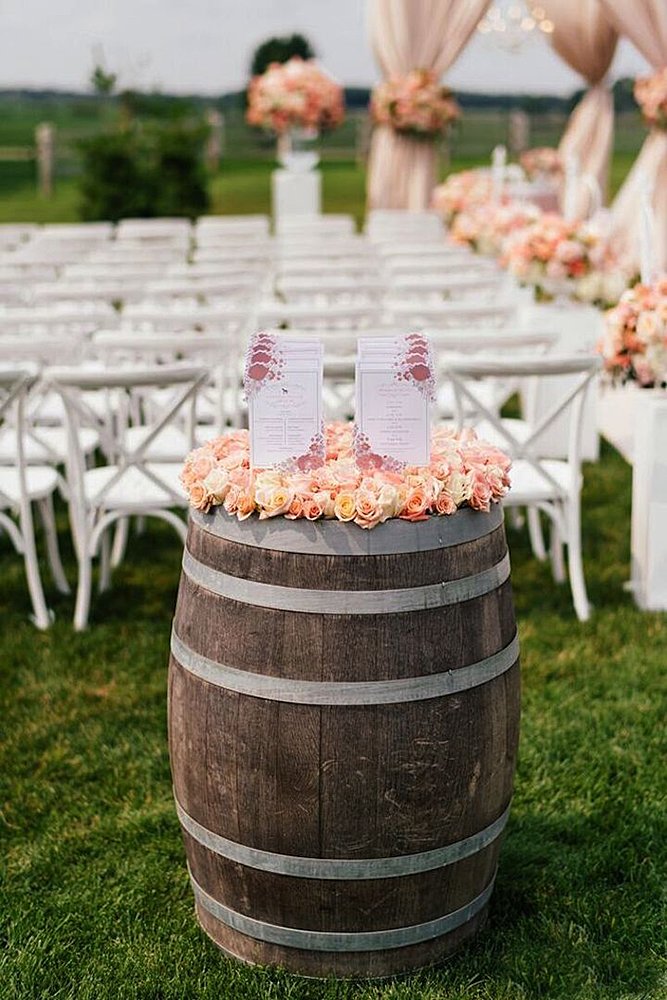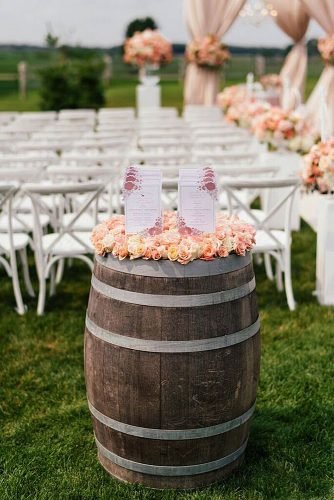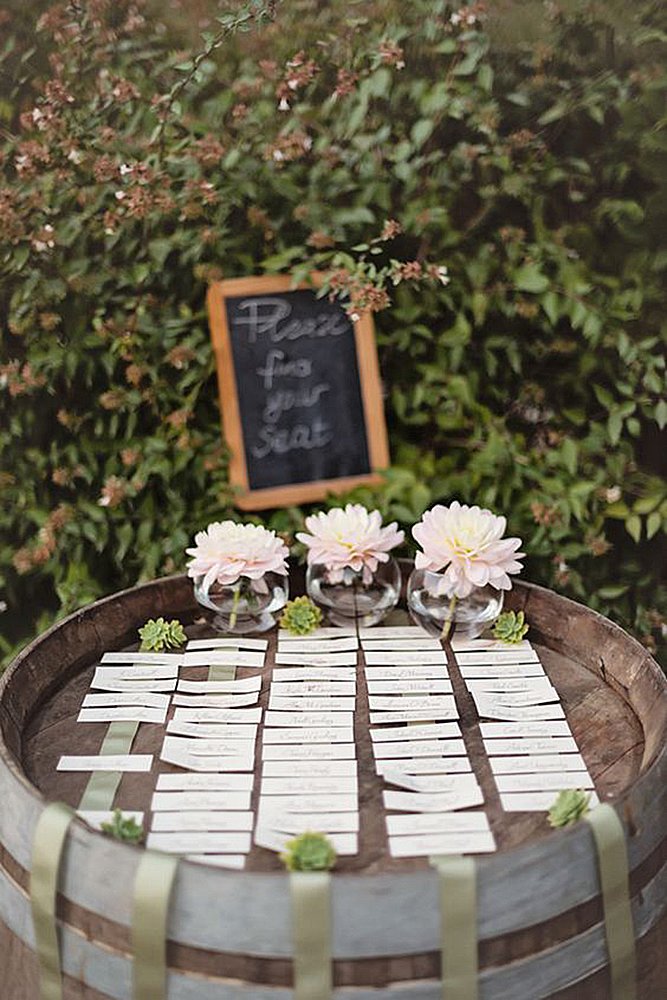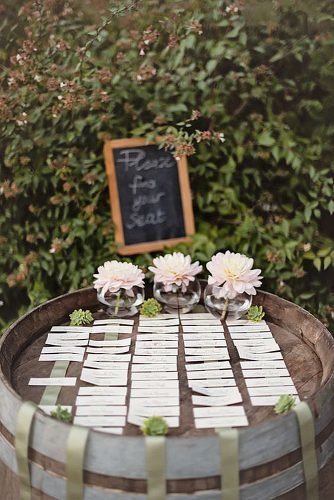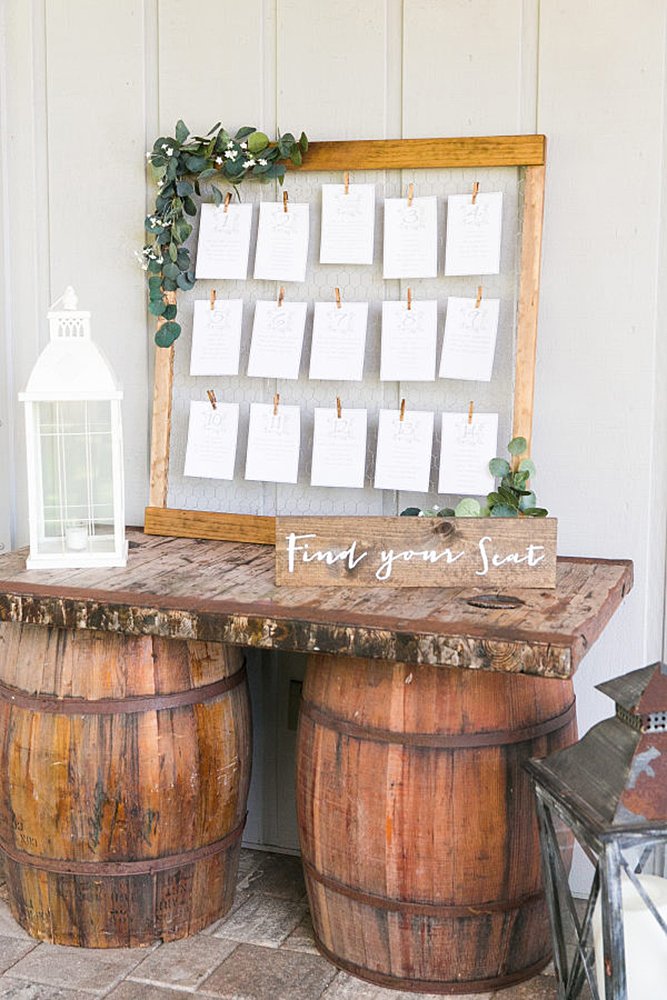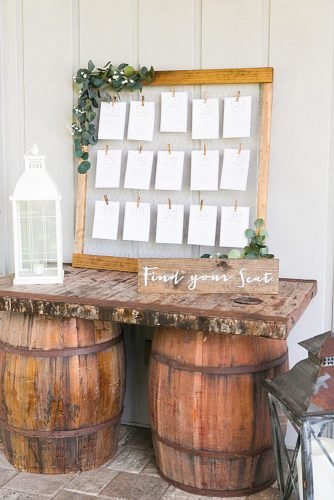 Wine barrel décor is not just a way to add a touch of country class to your wedding. One of the most popular wedding ideas for these items is to use them for your seating chart. Place the guests' names to the top of the barrels. You can even add a picture of you and your soon to be spouse on top of the barrels for a romantic personal touch.
Wine Barrels as a Unique Guest Book
Source: Photography by Stacey, Bella Grace Studios, Booth Photographics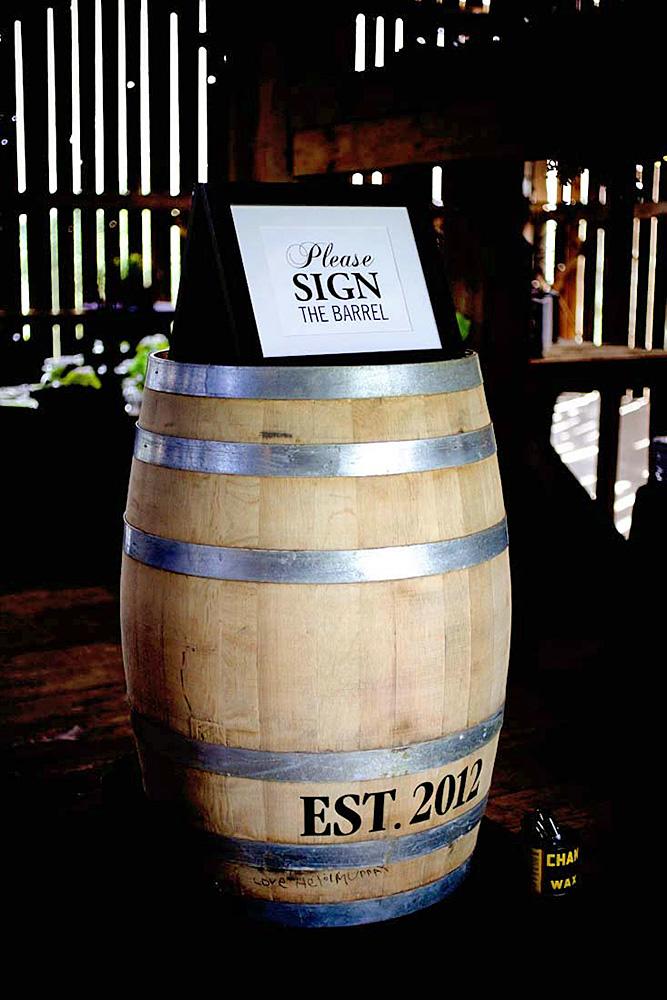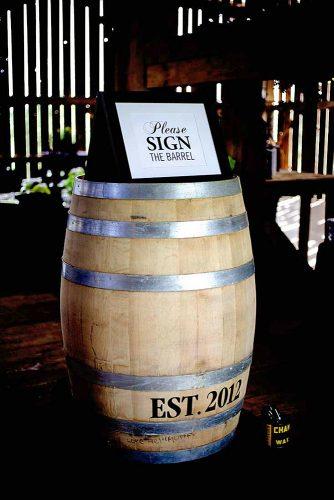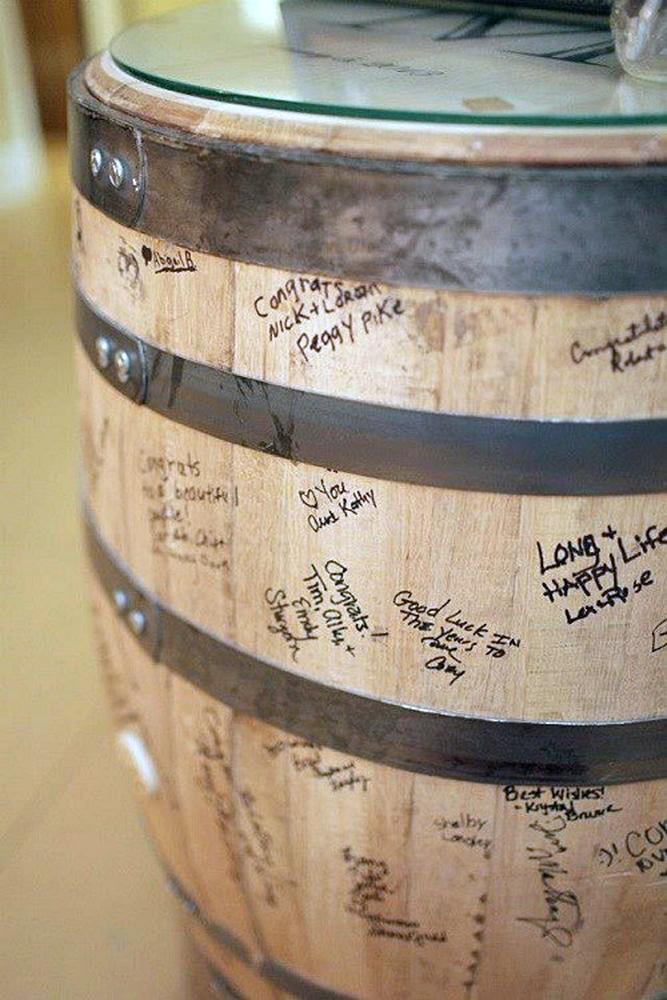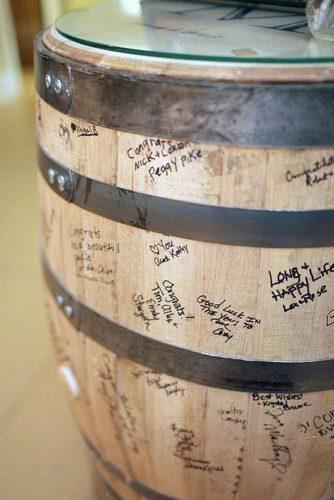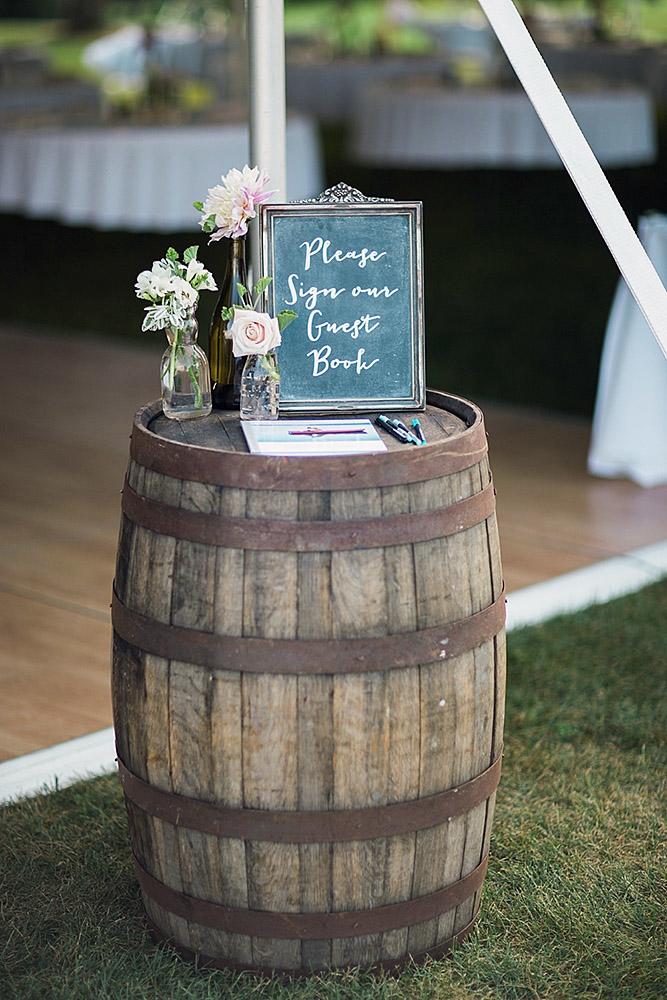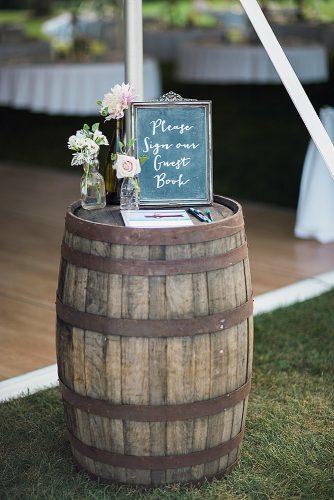 Guest books are a part of just about every wedding. Your wine barrel wedding will be something that your guests will remember most about your wedding. Using a wine barrel as a guest book can be simple. Provide permanent markers top of the barrel with a sign that encourages guests to leave you good wishes on the barrel. Once your big day is over, you can take the barrel home and incorporate it into your home décor.
One of a Kind Wedding Table Décor
Source: GreyBarnDesigns, vine and light, luke and cat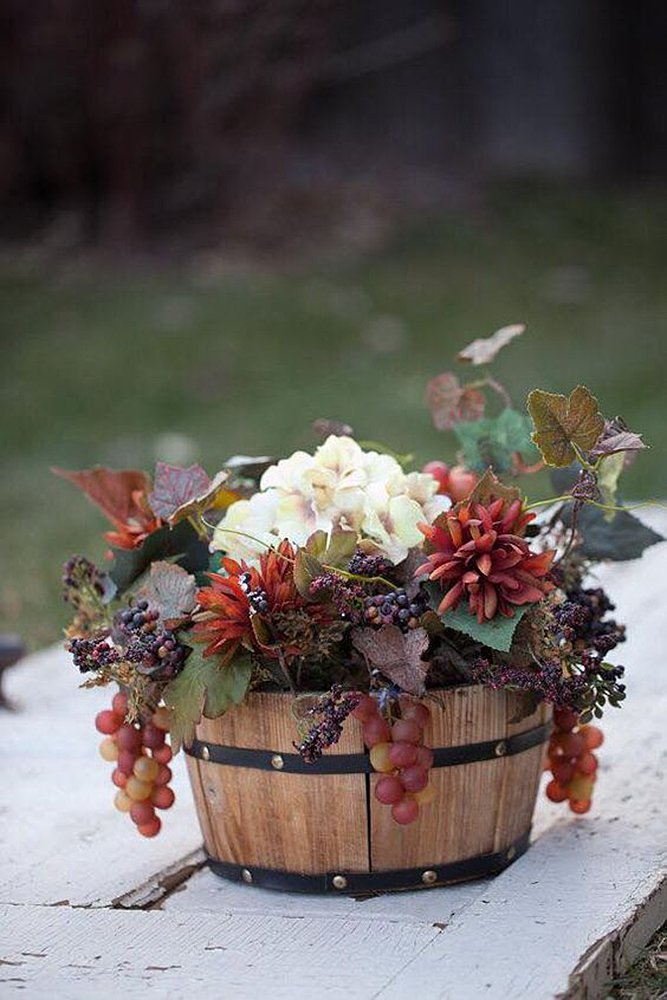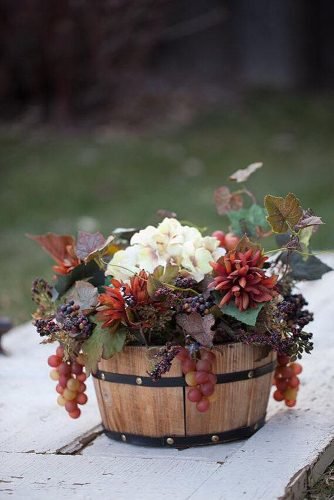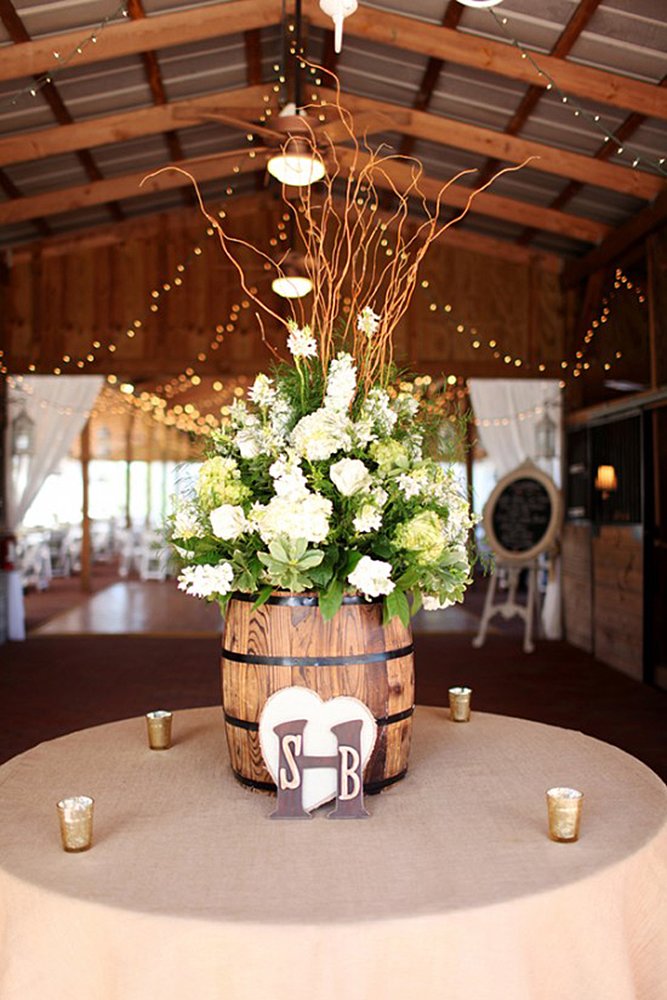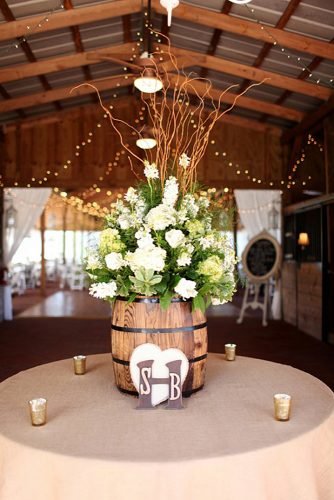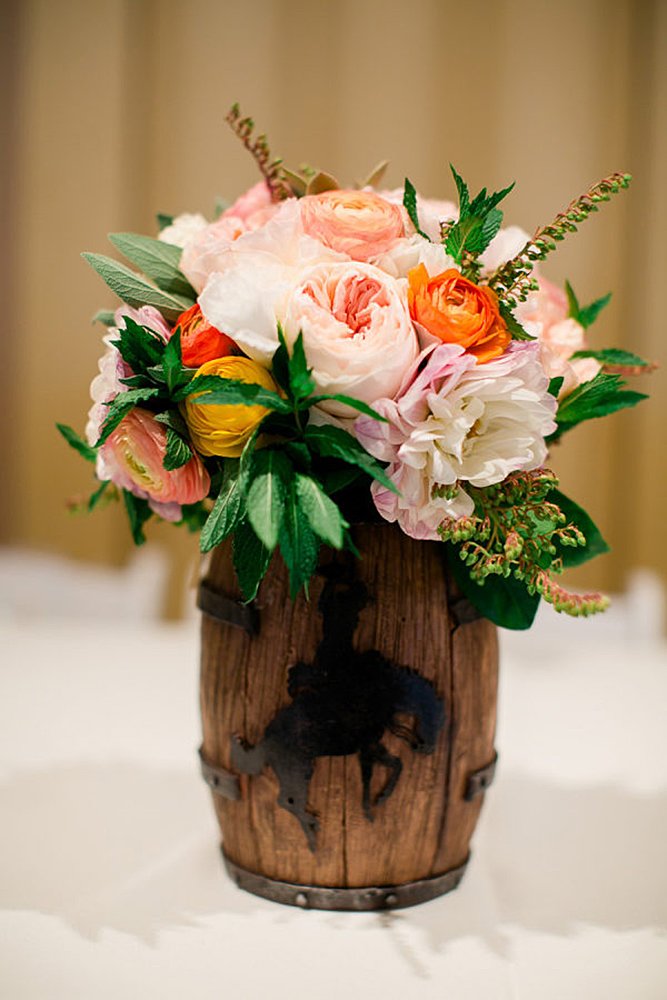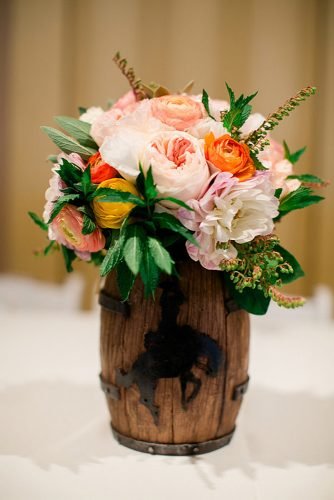 Buying used wedding decorations is a great way to save money and stay within your budget. Smaller wooden barrels can make great centerpieces for your guests' tables. Placing smaller barrels throughout the wedding can help you stick to your rustic theme without blowing a wad of cash.
Lovely Wedding Ceremony With Wine Barrels
Source: Ashley Kelemen Photography via Instagram, Lost In Love via Instagram, Emily Cox via Instagram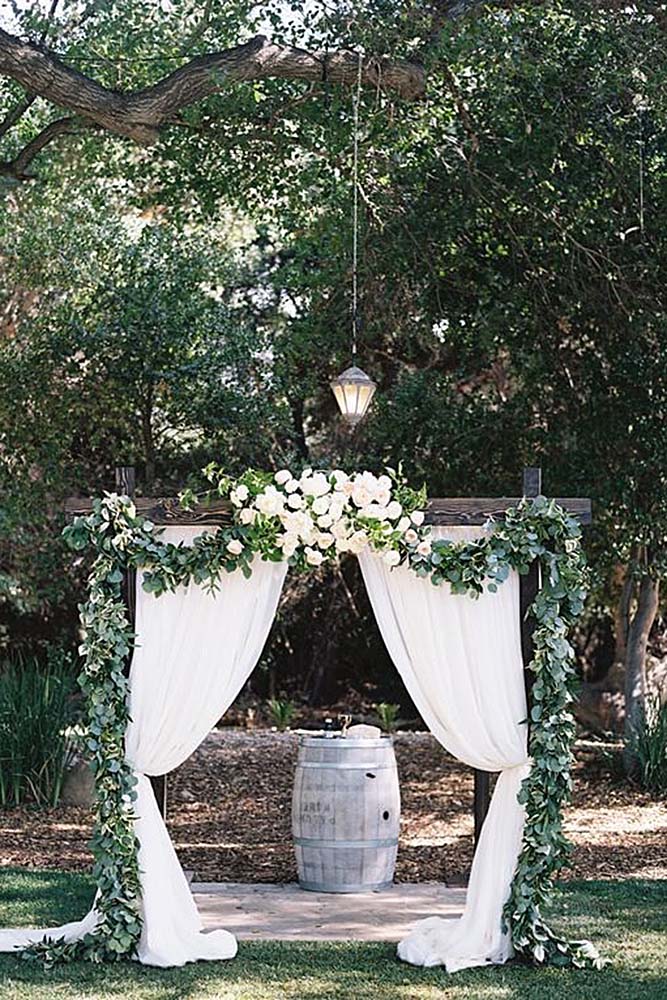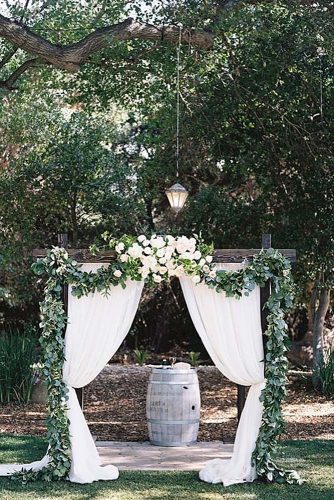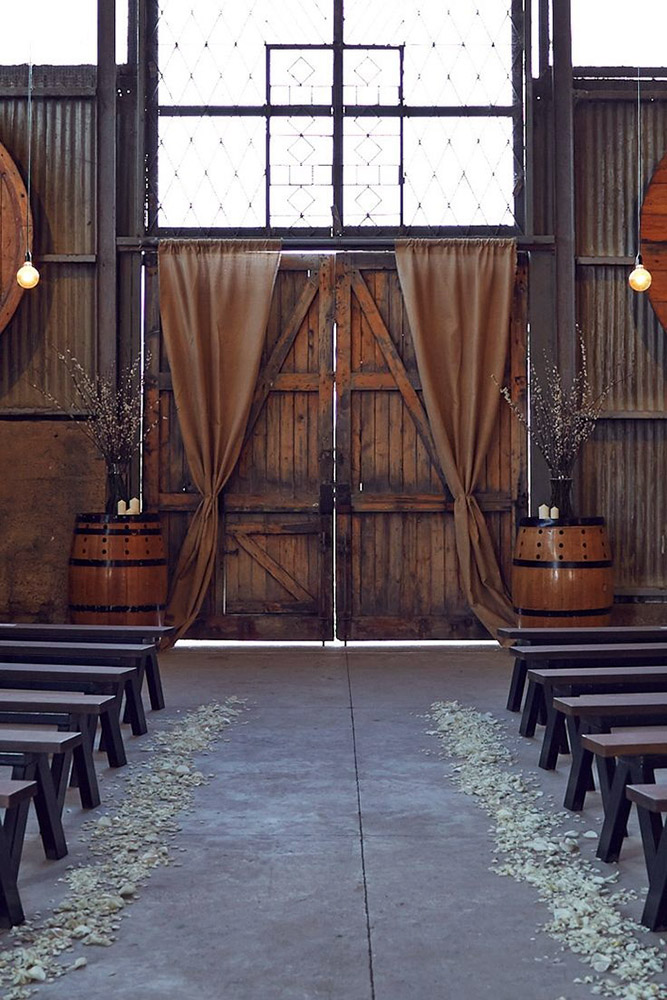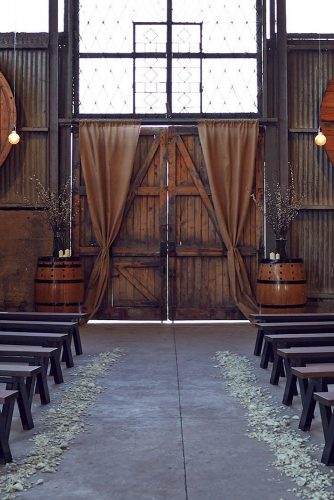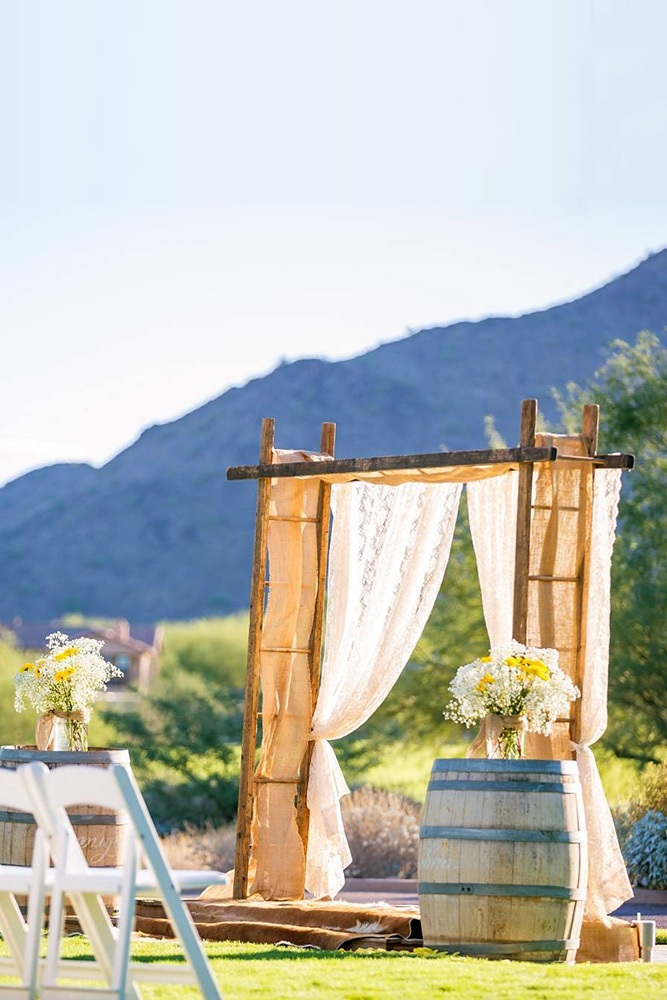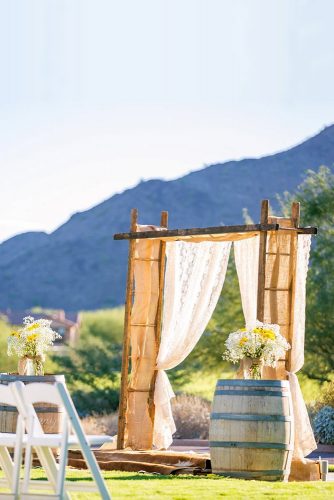 Wedding ceremony décor often consists of flowers, but you can spice things up by considering using a table made from wooden barrels during your ceremony. Small simple touches can make a big difference in the décor. They also would make a great wedding alter back drop.
Jazz Up Your Wedding Reception
Source: Jodi & Kurt Baier via Instagram, Wooden Weddings via Instagram, Perth Wedding Photography via Instagram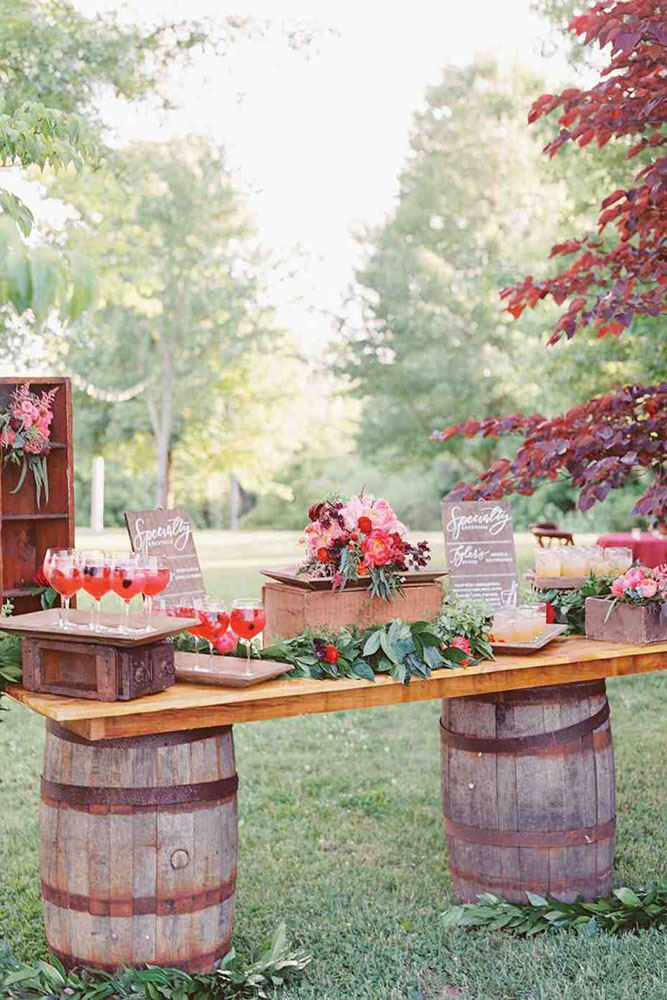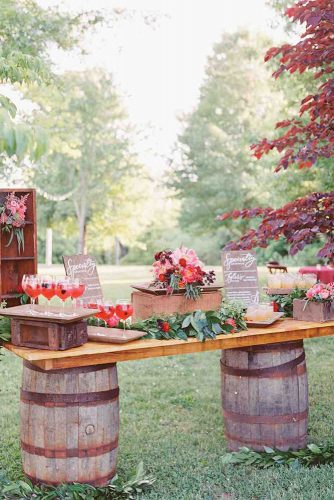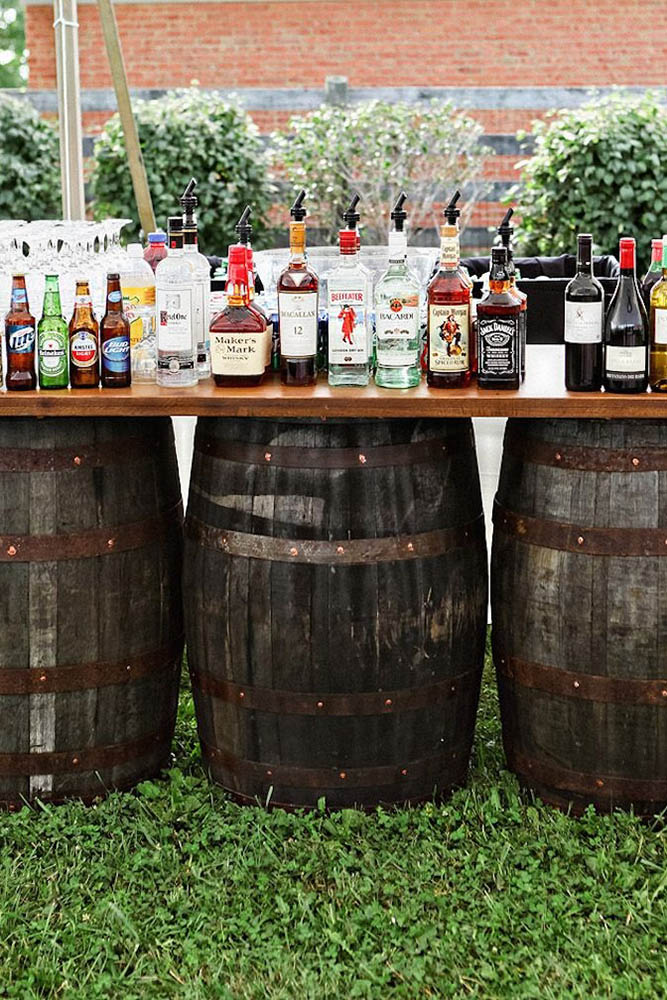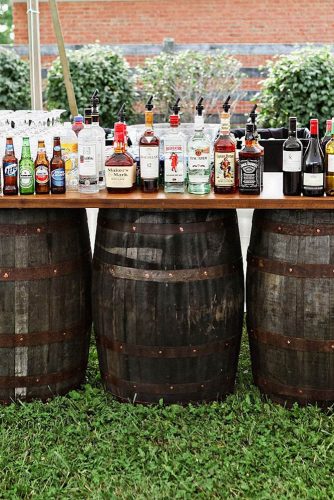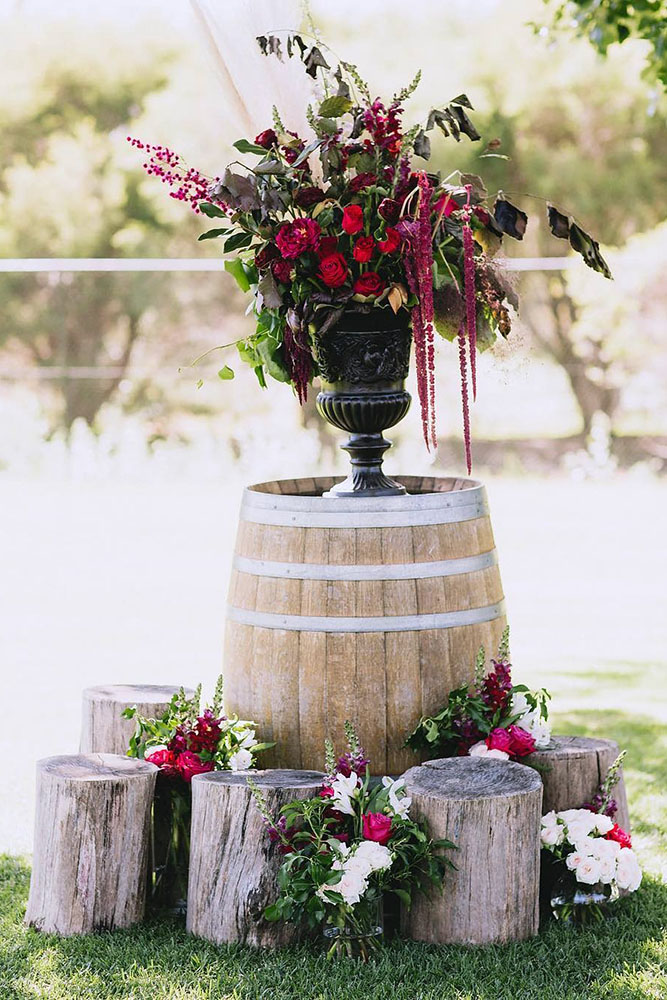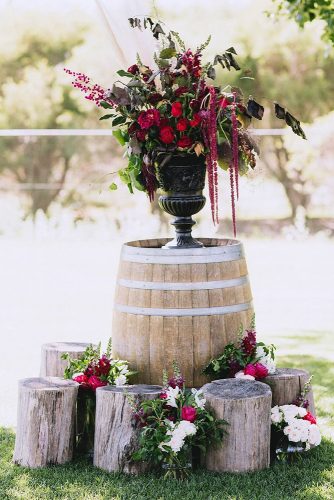 A large wine barrel can be placed strategically at your reception to be used as back drop décor. On the top of the barrel, you can place items that define you and your spouse as a couple. Place a few of your favorite items on top to add a more personal touch.
All in all, wine barrels for wedding décor is a great way to not just save money, but to make a personal statement about your wedding. The rustic chic look is making a comeback. Don't be afraid to get creative when using cheap wine barrels for decoration.