A wedding is beyond dancing down the aisle and saying your vows — it's a serious money affair. And the average wedding cost is most determined by three things, which are style, season, and location. Owing to these factors, the average price of a wedding is about $33.931 according to Knot's 2018 real wedding study.
This figure, however, is only a benchmark average wedding budget which can either rise by double or reduce by half. So, with your wedding in view, below are a few things you should know to put your wedding costs in order.
Brides Often Ask
What Is The Average Price Of A Wedding?
Save to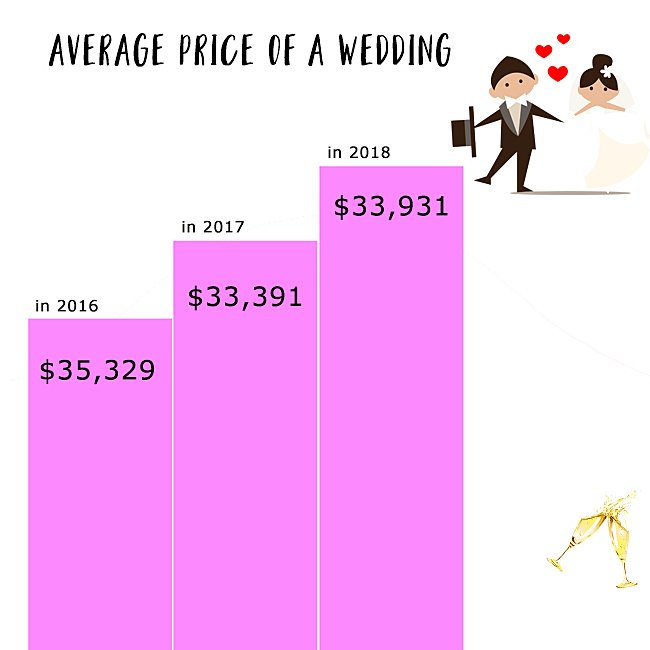 Average Wedding Features Cost
While we've put down an average budget for weddings, you should also know that many parts make up a whole. So together, let's do a breakdown cost of the wedding. Now, it's not mandatory to feature the whole list below at your wedding, as you can skip OR substitute. But they are stuff every wedding will most likely need.
The wedding site is where the couple holds the ceremony. The average wedding venue cost for the ceremony is $1,793. Although, using traditional wedding venues like churches tends to be cheaper. But couples want to take it to the woods, beach, resorts, farms and all.
The wedding reception is where the bulk of the wedding expense goes to. But the reception venue happens to be the second-costliest after food. The average price for a wedding reception, in general, is $20.931. And the reception venue's average cost is $3,100. This depends on when, where and package
Rings vary in price and is the duty of the groom to buy. One thing you mustn't compromise on, of all the 4 Cs is the cut. So, rings can range from $100 to over $1million.
The amount you spend on music depends on your preference. If you want a band, you'll cough out an average of $3,469 for the reception. For the DJ, it's an average of $797 for the ceremony and $1000 for the reception.
Entertaining guests will require an assortment of booze, cocktails, wines and all. You'll spend between an average of $1,834 to $3,056.
Food is the most expensive and most complex part of the wedding budget. You'd need food from the wedding rehearsal dinner and down to the wedding reception. I'm the average, you're bound to spend $4,200 for food at the reception only. With a guest size of 135, food could be $30 per plate for cheap weddings. And up to $100 upwards per plate for big weddings. For the rehearsal dinner, the average food cost is $1,297.
The bride's get-up often costs more than the groom's. The bride will spend an average of $1,631 on her dress, shoes and $225 on her hair and makeup. The groom will spend an average of $350 on his attire.
This could be cheap or expensive, depending on the kind of gift. But whatever they are, you won't be spending anything less than $250. Yet, you can minimize cost by either DIY favors or skipping them in total.
On average, you'll spend $528 for the cake. It's assumed that a piece of cake costs $3.90, so to cut cost, order half slice per guest. You may also order a smaller-sized cake for cutting and presentation. Then, buy sheet cakes to feed your guests.
If your wedding venue doesn't offer transport with their package, you'd have to sort it out yourself. For the wedding day only, shuttle buses or limos can convey guests from one spot to the other. A 3hour bill will cost $700 on average.
Average Wedding Venue Cost
Four factors determine the average price for a wedding venue. They are the location, wedding date, venue size, and package features.
So how much do wedding venues cost? Couples spend between $3000 to an excess of $11,000, with an average of $6,000 on venues. Check out some pricey and cheap wedding venues across the United States to fit your budget.
Oceanbleu, New York
Enjoy a beach wedding at Oceanbleu on Westhampton beach, near the Tennis hotel.
Venue rental is between $3000 to $11000 depending on the day of week and time of year. Packages cost $145 per person on Sundays and $175 per person on Saturday, including alcohol. A seated indoor ceremony will take 200 hundred guests while an outdoor takes the same. For the reception, indoors can take 240 guests while outdoor takes 200 people.
If you opt for a standing cocktail affair, indoors take 240 guests while outdoor takes 200 guests.
Gardener Ranch, California
This is a relaxing private complex along the Carmel River. Renting this ranch costs between $10,000 to $49,500 per event. This depends on the time of the year, guests count, and event duration. Event packages begin from $25,000 and up. This package includes overnight accommodations and welfare packages for 50 guests. The only tax charge is on the overnight accommodation and nothing else.
Ceremony and reception seating space can contain 150 guests indoor and 200 guests outdoor. For a standing cocktail service, space can accommodate 200 guests both indoor and outdoor.
Garden of the god's resort and club, Colorado
With its window-lined ballrooms, it looks over the Rocky Mountain, Pikes Peak and iconic red formation of god's garden. Here, packages begin from $145 per person up. The package includes
Sparkling wine for toasts
Plated 2-3 course dinner
Hors d'oeuvres passed by butlers for reception and ceremony
Couple sleeping room
A cake cutting service
Offers of china, silver, and glass, votive candles, linens, and napkins.
Beverages and food also cost between $10000 to $35000 per event. And this depends on the day of the week, time of year, space reserved and guest count. It can seat 200 to 250 guests for ceremony and reception, and 300 to 320 for stand up cocktail.
Miramonte Indian Wells resort and spa, California
Miramonte has some of the most elegant ballrooms making a desert oasis and surrounded by mountain vistas. Packages here begin from $150 per head and up, depending on the day of the week, the package is chosen, and guest count. Meals are from $100 up per person and can sit up to 300 guests.
Allegretto vineyard resort, California
Allegretto is an exotic Mediterranean-inspired resort, embedded in acres of vineyards, orchards, and rolling hillsides. It costs between $1,850 to $10,500 to book this rental space per event. Also, this depends on a weekday, time of day, and space reserved. A meal is between $29 to $170 per person and can seat 250 to 325 persons indoors and outdoors. For a standing cocktail event, it can take 350 to 600 guests indoor and outdoor.
The Average Cost Of A Small Wedding
A small wedding will have about 50 people or less. There are many reasons for having a small wedding, but the bottom line is that it's intimate. And it saves you loads of cash. At small weddings, you can skip some, substitute others and still have something classy. The average cost of a wedding with 50 people is between $10,860 to $15,500. Let's break it down.
Attire for the couple: $1177. While the bride's attire will go for $818, the groom's attire will go for about $299.
Hair, makeup, manicure, and pedicure: $219
Wedding Entertainment: $1110. This covers the DJ fees for both ceremony and reception. If you opt for a band, it will cost an extra $$2490 on average.
Decor and flowers: $1000. If you're using a natural space like a park, the decor will be minimal, saving you money.
Wedding favors and gifts: $380. You can also skip this or DIY.
Wedding invitations: $450. This cost can be well scrapped if you choose to send emails instead.
Photography and videography: $3540. Couples can skip on the videography
Cake: $331
Catering, venue, and rentals: $6854. Using places like yours or a neighbor's backyard saves you the cost of a wedding venue.
What Is The Average Cost Per Plate For A Wedding Reception?
The average cost per plate for a wedding reception is $70 and $85 when you include drinks. If you're catering to 50 guests, then it's about $3500 and an extra $750 for drinks. And this could go as low as $30 to $65 depending on food style. Also, four major meal styles determine this cost. They're hors d'oeuvres, buffet dinner, seated plated meal, and food stations. To break down this cost, you must consider the food type, rental cost, bar services, labor, tax, and fees.
Labor is between $15 to $25/hour per person, rentals start at $2, tax and fees could be up to 16%. So putting these together, you can save up to $2500 with the different food styles. Hors d'oeuvres will cost an average of $36 per plate, while buffet dinner costs $37. A seated plated dinner will cost $42 on average, while food stations will cost between $20 to $65. Also, if you decide on a food truck, it will cost between $20 to $40 per plate.
The way to arrive at this sum is by estimating the cost of putting the food together, include labor and all. Then divide it by the total number of guests you've invited.
How much does the average wedding cost? A question we believe we've helped answer by breaking down and simplifying wedding expenses. The average wedding cost is $33,931 and can double or reduce by half depending on the season, wedding style, and location. Also, we listed some venues to fit your budget and included the average cost of a small wedding. So whether you have a heavy budget to splurge or a tight budget, we've helped lift the budget burden.