Order is a luxury that couples wish for their wedding and the wedding program is one way to establish it. It contains all the information guests need to know about what, where and when a thing happens. But while it's functional, there's the aesthetic appeal it must have which conveys the wedding style or couple personality. As such, couples will like to DIY wedding programs to leave that personal touch.
If you're such a couple, check this post to equip yourself with samples and information to make different wedding programs.
Is There a Specific Program for a Wedding Reception?
When you ask this question, the short answer is no, not for a reception. While some people prefer to follow a traditional program, it is entirely up to the participants of the wedding as to exactly which activities they want to include in their weddingreception.
A wedding program is a list of expected events that will take place during the ceremony and or reception. It allows the guests to know what to expect to take place next which will give them an idea of how long the ceremony or reception could potentially take.

What To Include In The Wedding Program?
The information on the wedding program is determined by what will happen at the wedding. But there are constants which the ideal wedding program template must-have. This includes the name of couple and wedding date, readings, wedding party, songs if any and order of events. Naming the officiant is optional.

How To Make Wedding Programs
Wedding programs are as easy and fashionable as you wish. You can make your own fan wedding programs. If that's not your thing, check out online stores to pick out your best styles. But if you're a creative, check some websites in this post to download printable custom wedding programs.

DIY Wedding Programs Fans
DIY wedding program fans are fashionable and functional to keep you cool and pass on information. Program fans examples below.

DIY Programs Fans for Your Rustic-Themed Wedding
Source: VineWedding via Etsy, WeddingSophisticate via Etsy, ThatPartyChick via Etsy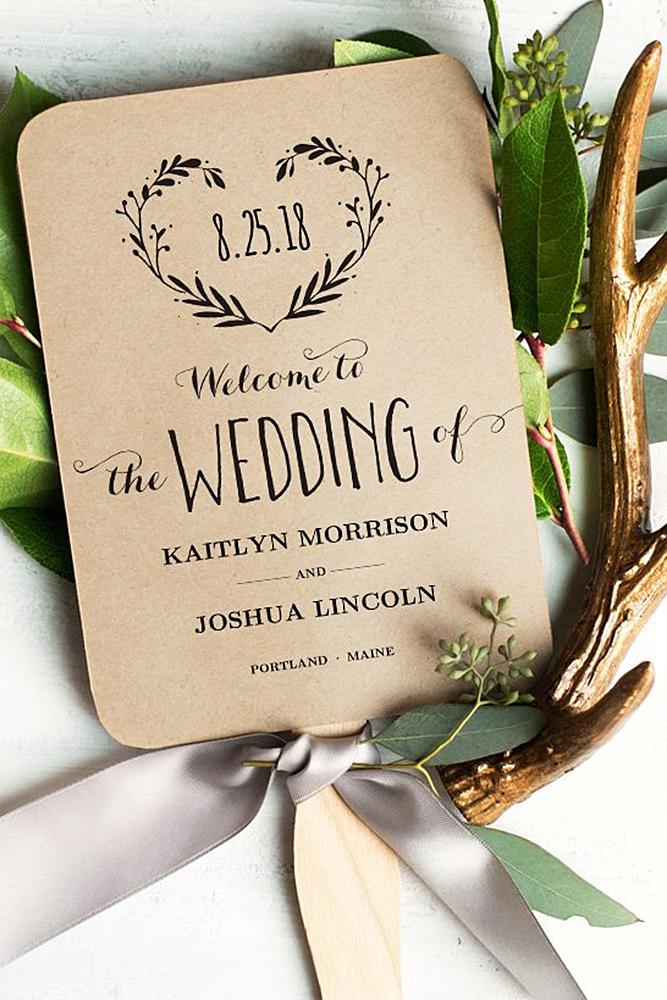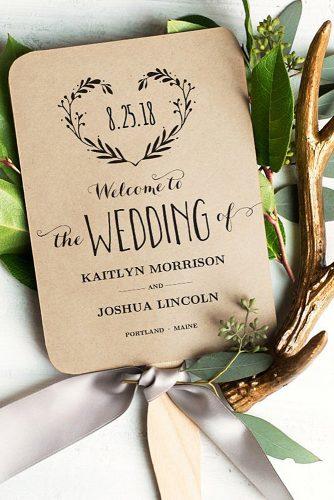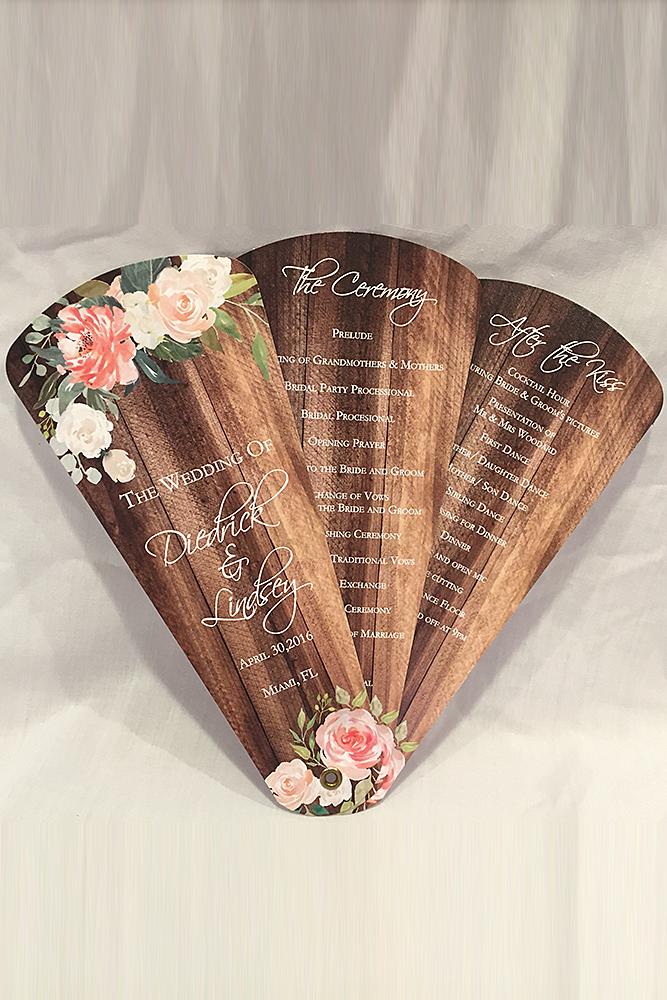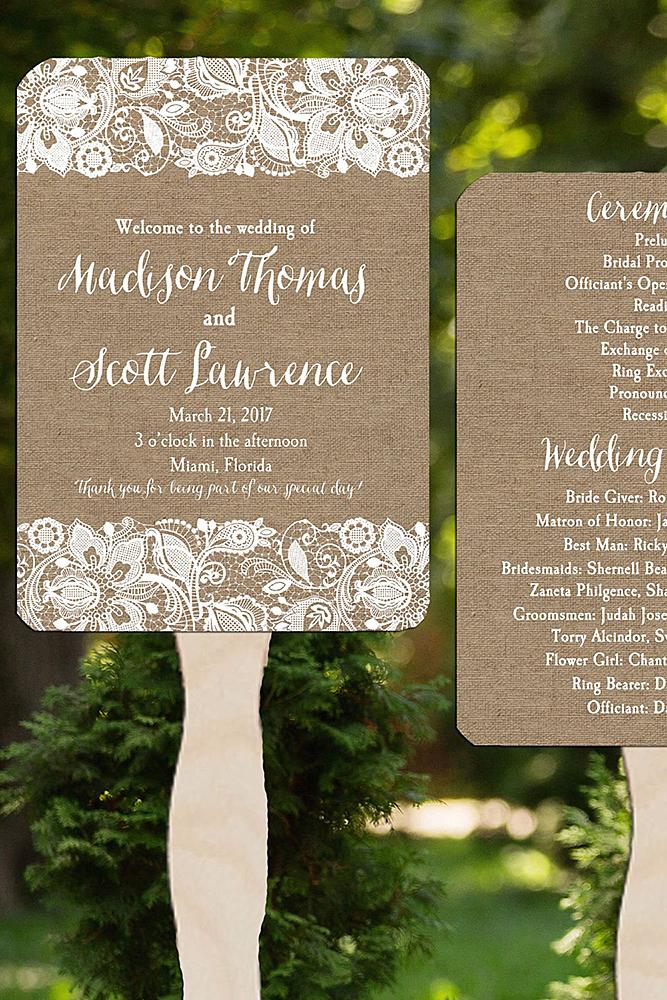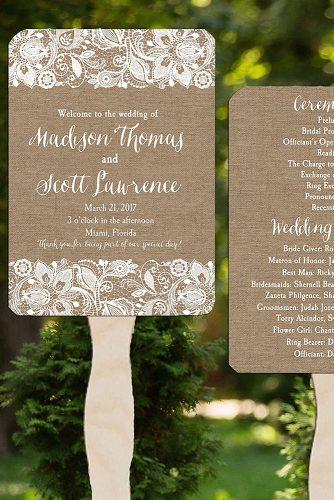 Fonts, cardstock color, and embellishments can influence the rustic vibe of wedding programs. To DIY…
Choose an online template, edit, and design with rustic-inspired fonts.
Download with crop mark prints on brown cardstock.
Fold and trim around crop marks.
Fix stick between folds, burlap ribbons on top and glue.
DIY Seashell Wedding Program Fans
Source: wiregrassweddings, beau-coup, carlsoncraftproductso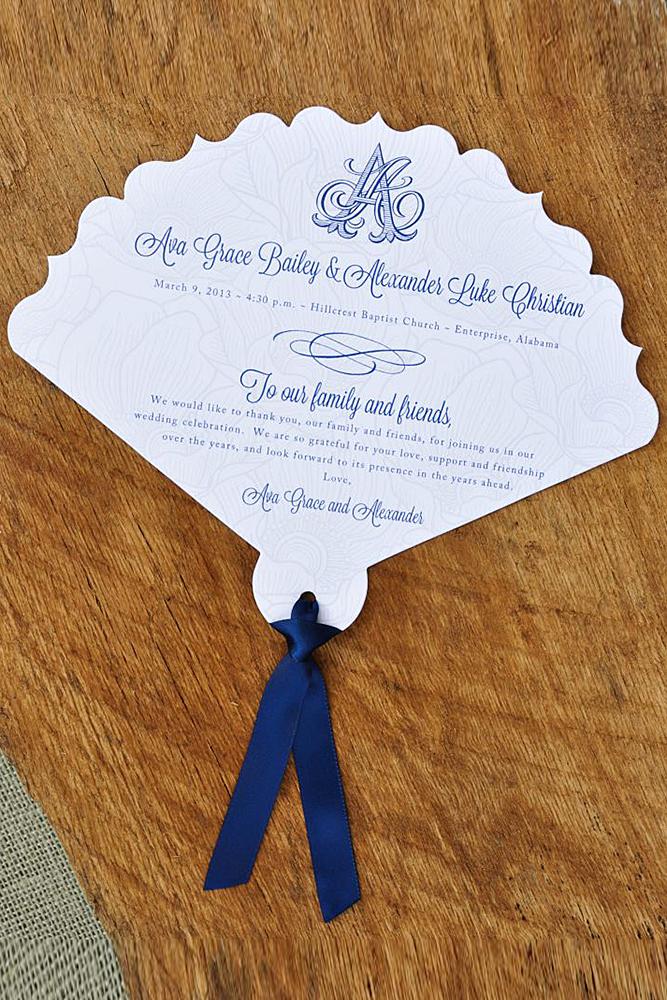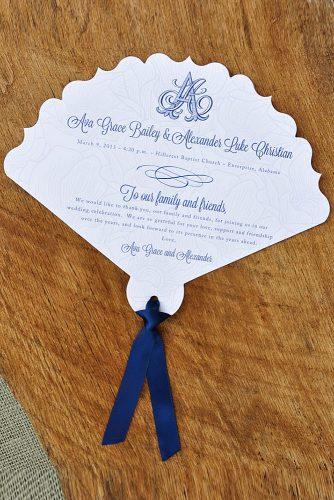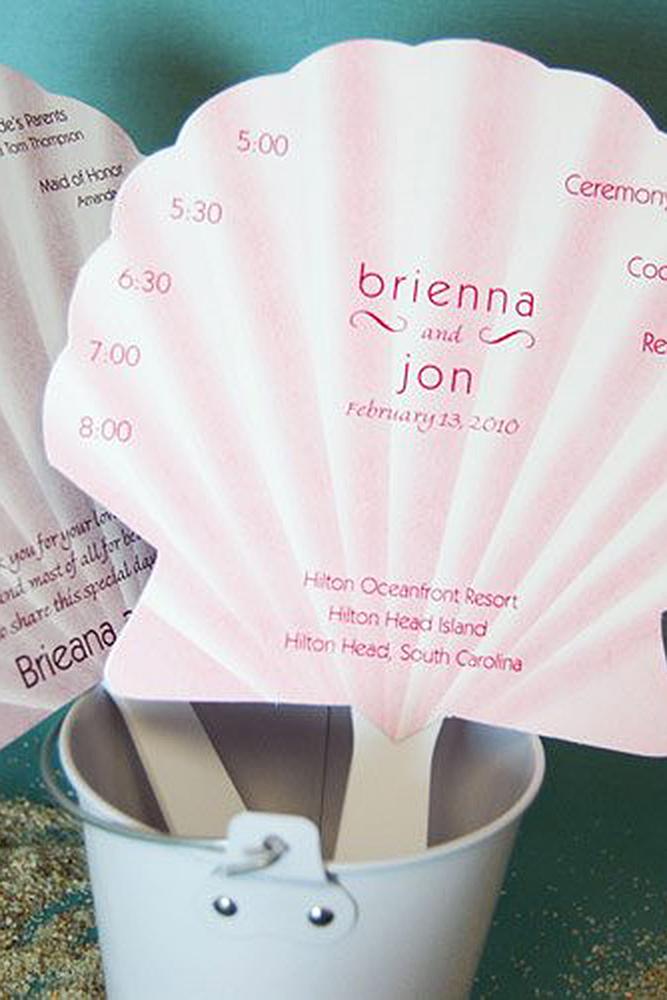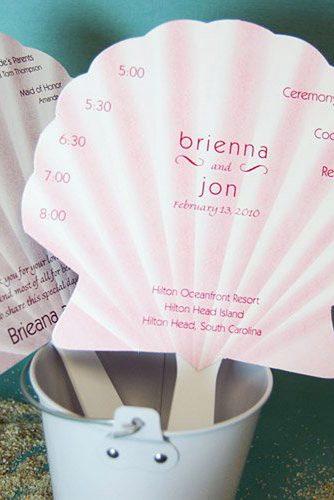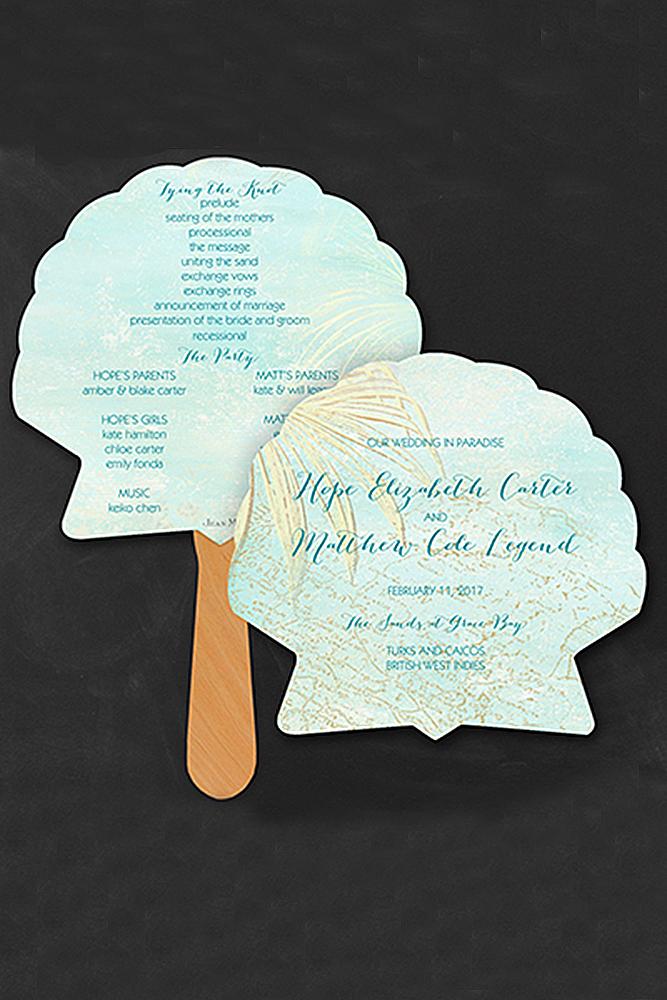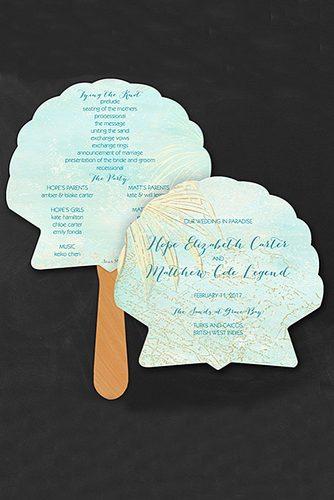 Beach weddings are simple, cute and natural which your wedding program should represent.
Download and edit a seashell wedding program template
Print your program text at the front and back
Cut through the paper to achieve a seashell form
Glue stick to the center of the card and embellish with light seashells.
DIY Beach Wedding Programs
Source: StationeryInvitation, CupcakeGraphics1, creatingapapermemory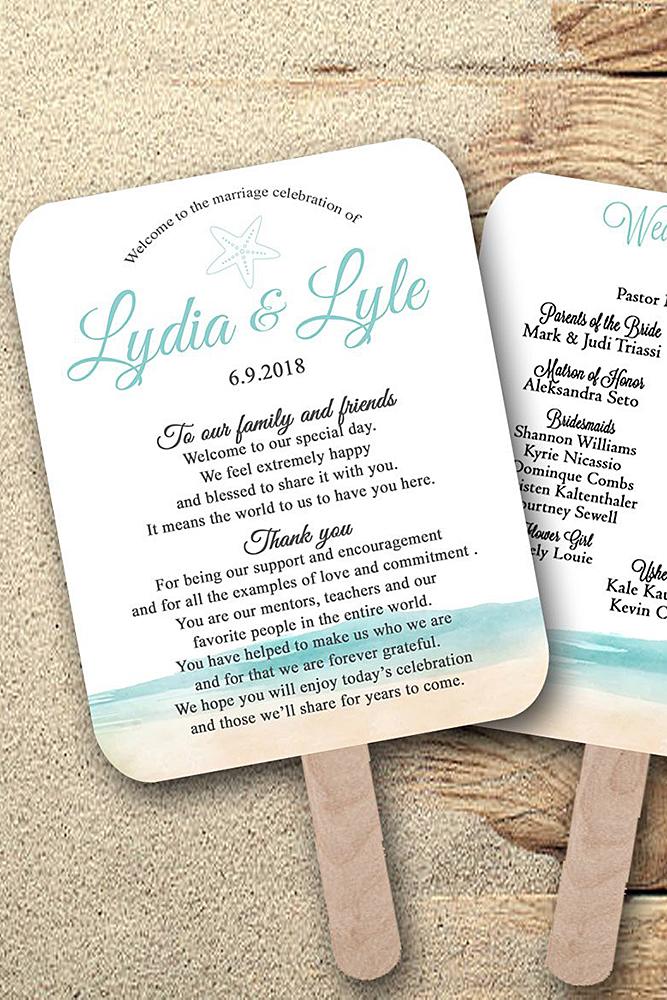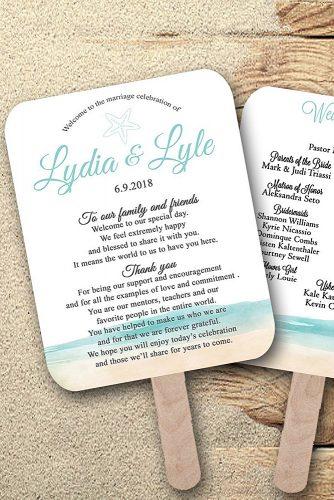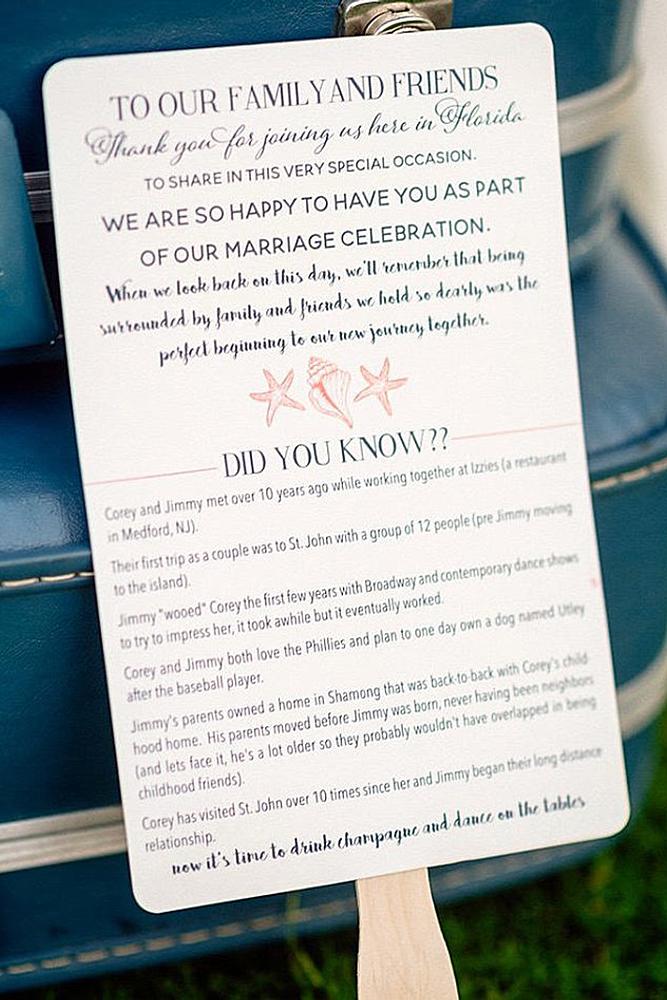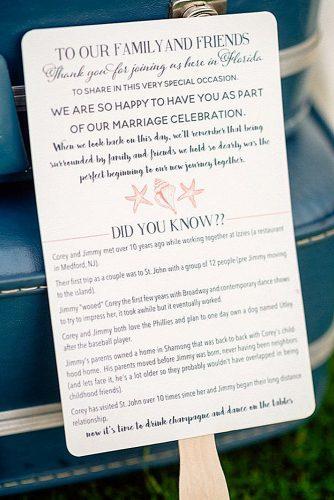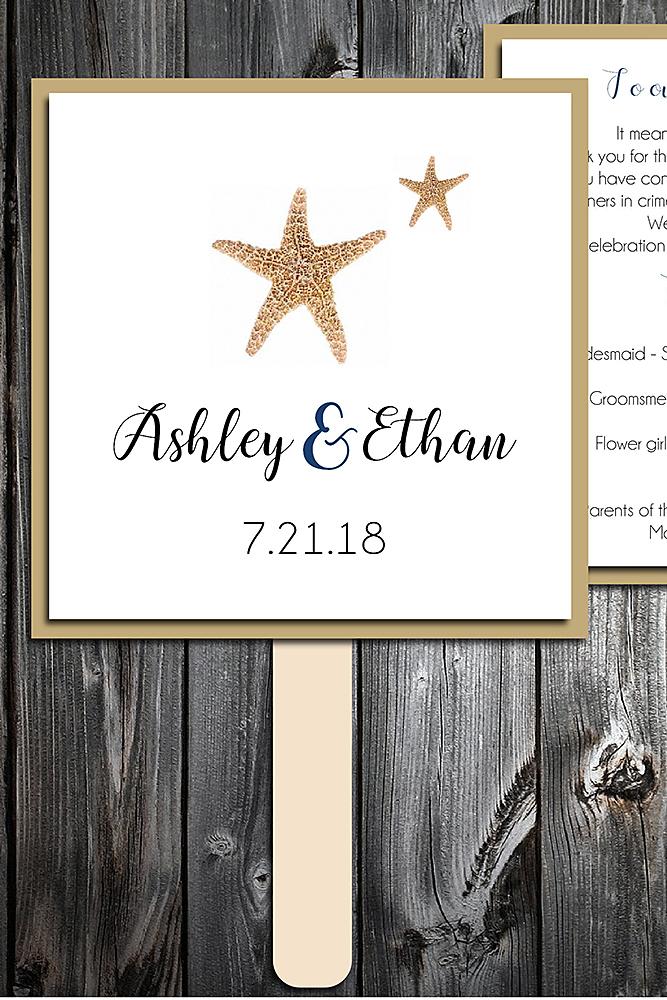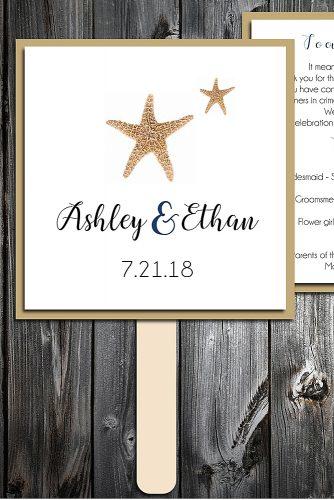 With the beach comes freedom. So regardless of the kind of wedding program you choose, make the end product resonate. Choose an airy color and uplifting fonts. Edit, download, and print to your taste. And then embellish with cute nature items like faux pebbles, starfish, seashells, etc. Go easy on embellishments.
Follow these steps to create your fan:
Choose your template from an online program and download it.
Edit and print your design onto the card stock you have chosen to use.
Glue the sticks and card stock to each other. * If you are using a two-sided print you will need to carefullyfold and glue the card stock to itself after you glue the stick in place.
Round the corners and add small embellishments if desired to give your program more character.
Creating a DIY Wedding Program Fan Using Popsicle Sticks
The Popsicle sticks make the difference for these cute wedding programs on a stick. Choose your program design, custom edit, and download. Cut into the shapes you desire and glue Popsicle sticks to them. Embellish the edges of the wedding programs or adorn with a ribbon at the stick neck.

The DIY Wedding Program Fans Template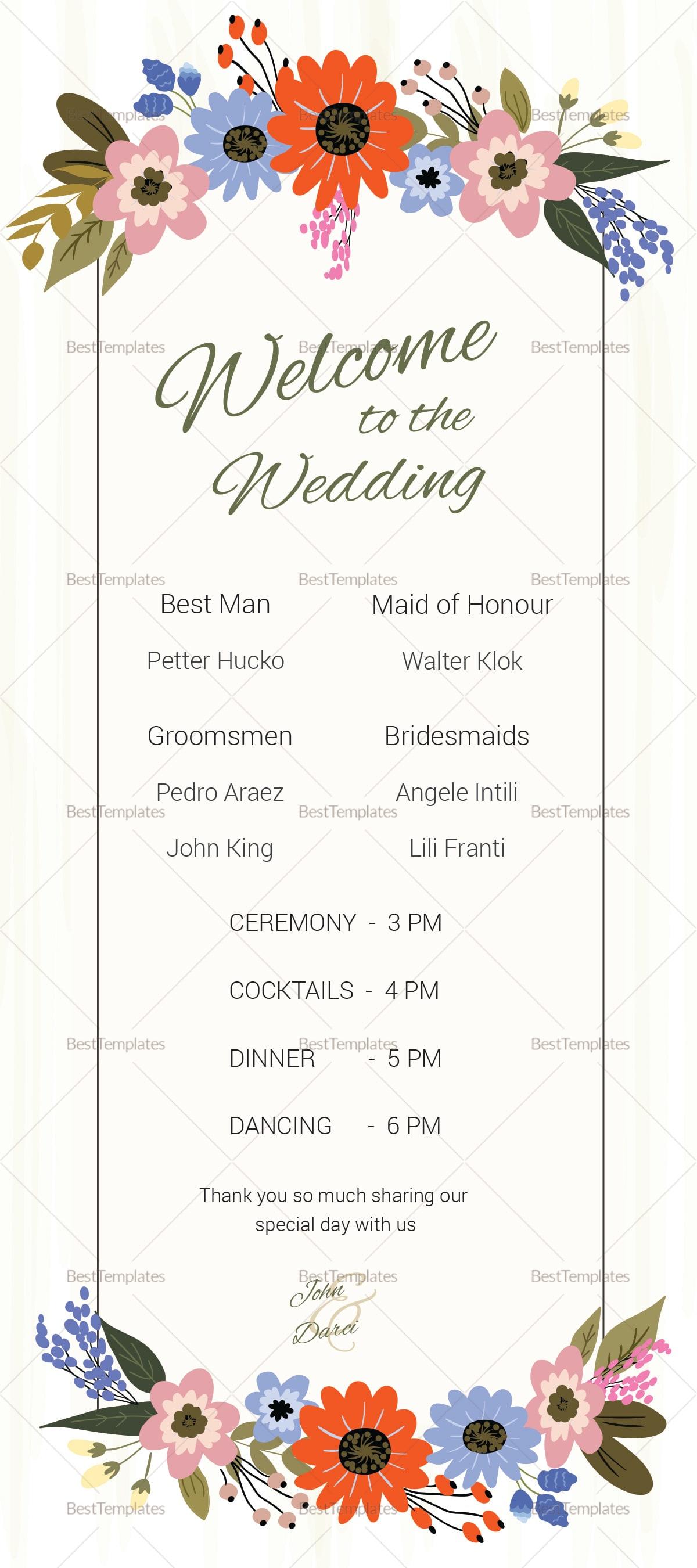 Check out this beautiful universal wedding program template for your diy program fan.
There are several sources you can go to and find your DIY wedding program fan templates. If you can imagine a wedding theme you can find the template to correspond with it. The wedding programs are easily edited to suit a specific theme. You can alter the shapes and sizes of your finished design that will make your wedding program fan unique.
The font, the card stock color and shape and there isan innumerable amount of embellishments that can be added to give your wedding program more character. Below we will list a few places you can go to find templates for your wedding program design.
Etsy is always a good place to find ideas that other have used. Zazzle.com, Templatelab.com, and thespruce.com are only a few of the options that you can find the templates you need. If all else fails, simply google wedding program ideas and you will find alimitless supply of templates from which to choose.
DIY Wedding Programs Ideas
Whether you want to DIY wedding programs fans, cardstock or other designs, see amazing program template sample ideas for inspiration.

Thinking of how to make fan wedding programs? Sweet Violet Bride gives you a cool chance with their paddle fan programs. These fans are perfect for that outdoor or summer wedding. The floral accents give the fan a vintage and traditional vibe. You may also do without the fan paddle.
Boho Weddings offer a Bohemian inspired accordion-folded wedding program template. It's free and can be downloaded as a word processing file. You will edit and put your important details. You can also customize text, font, and color. The next step is to print out programs for your boho-inspired wedding.

Having a summer wedding or want your guests to look like graceful fashionistas? These designer printable DIY fans for wedding programs are the perfect knockout. The program is both ornamental and functional as fans and information outlets. Download, edit, print, cut uniformly and join the cut pieces at the bottom.
Flag wedding program templates are fun, creative and refreshing for guests and couples. To get this template from Pipkin Paper Co., you have to subscribe to their free newsletter. The template automatically gets delivered to you. You can then edit the program template and change the details to your own.

A combination of chalkboard and flowers, this free wedding program template gives all the rustic vibes. The program features front and back areas that you can open and edit separately. Editing allows you to fix in your own wedding day details. The next step is to print and fold for the big day.
This wedding program template is simple and absolutely gorgeous for the minimalist and laid back couple. It is beautiful and features unique colors and fonts. It comes out like a tiered program attached from the top and it's also free. Download this wedding program, edit and customize it to taste.

7. Canva DIY Wedding Programs
Canva is the hub of creativity with over 40 free wedding templates. It also allows the liberty of users to change text, font, and colors. You can also switch floral images and add pages. You're spoilt for choice here. You can edit, personalize and download in PDF and then print.
This is a free wedding program template that you can make into a hand fan. If you're not big on DIY wedding hand fan programs, print it out on cardstock. This wedding program template is a PNG file that you can open in a photo editor and customize it with your details.

9. Southworth Wedding Program Template
For that truly natural and pure vibes, check Southworth out. It features over 15 free do it yourself wedding program templates in varied styles. Most of these wedding programs come in suites complete with place cards, invites, and menu cards. To get them, download in a document; edit, customize, and print.
Wedding Chicks offer DIY simple wedding programs as part of an invitation suite. But you can use it independently without the suite. Log onto the website where you'll find the tool tab. Click on it and customize the front and back of the program with your desired color, text and font.
The time spent on DIY wedding programs is a fun-filled and creative one. You take on the project to personalize these intimate details for your wedding day. There are so many samples to choose from, with websites offering free templates you can customize. Not sure about how to start or where to get your best programs? Our list of downloadable and printable programs for every wedding style will keep you inspired.