Personalized wedding gifts are in trend at the moment. No one wants to give boring gifts anymore to people. From monogrammed wood down to throw pillows, personalized wedding gifts connect more to the owner.
So, are you looking for a personalized wedding gift for a couple, parents or wedding favors? We have a handful of unique personalized wedding gifts you can choose from below.
Unique Personalized Wedding Gifts
Source: glamulet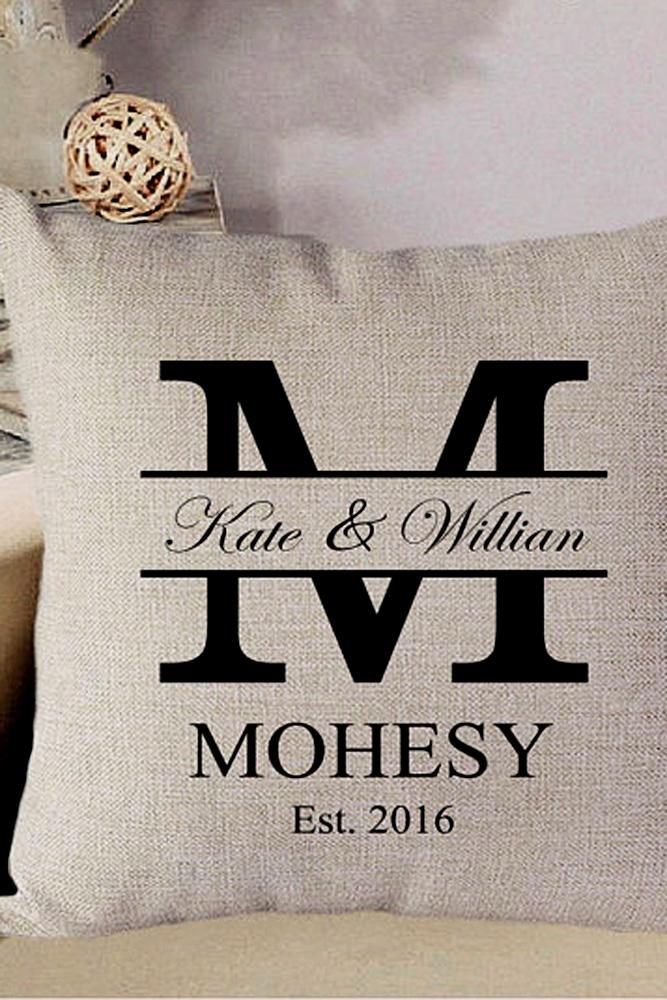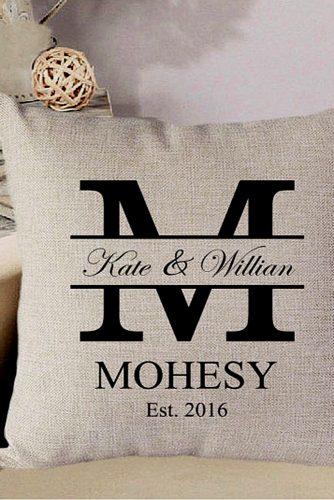 This is one of many cute personalized wedding gifts. It's one of the best wedding gift ideas for the home. This throw pillow weaves into the home decor, forming an aesthetic masterpiece. It's also functional in giving support to the neck, back, and head. This is one of the most ideal personalized wedding gifts for the couple. Relaxing on this pillow, and seeing their initials on it will bring more joy.
It costs an average of $30.99
Source: icustomlabel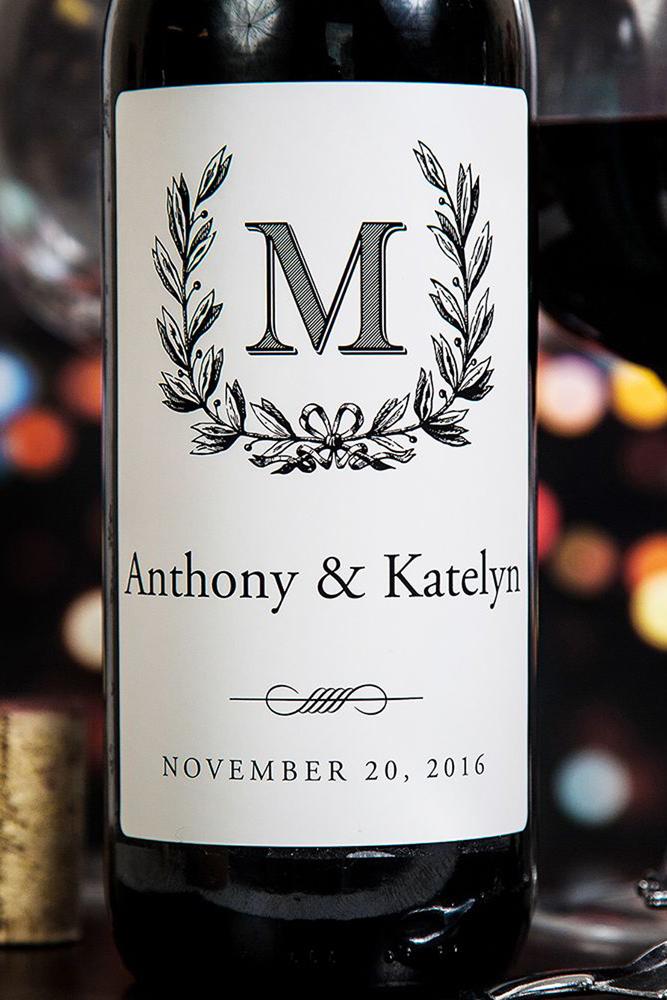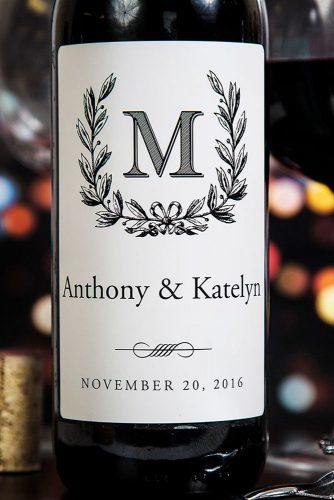 Give the couple the best wines for the wedding. Go an extra mile to have it monogrammed. And, you'd give the couple one of the most unique anniversary gifts of all time. Nothing is best to mark a celebration than some good wine. This falls in as top personalized wedding gifts for him. If a couple loves the good life, then they need some wine!
The wine and custom label will cost you an average of $100
Personalized Cutting Board
Source: countrybarnbabe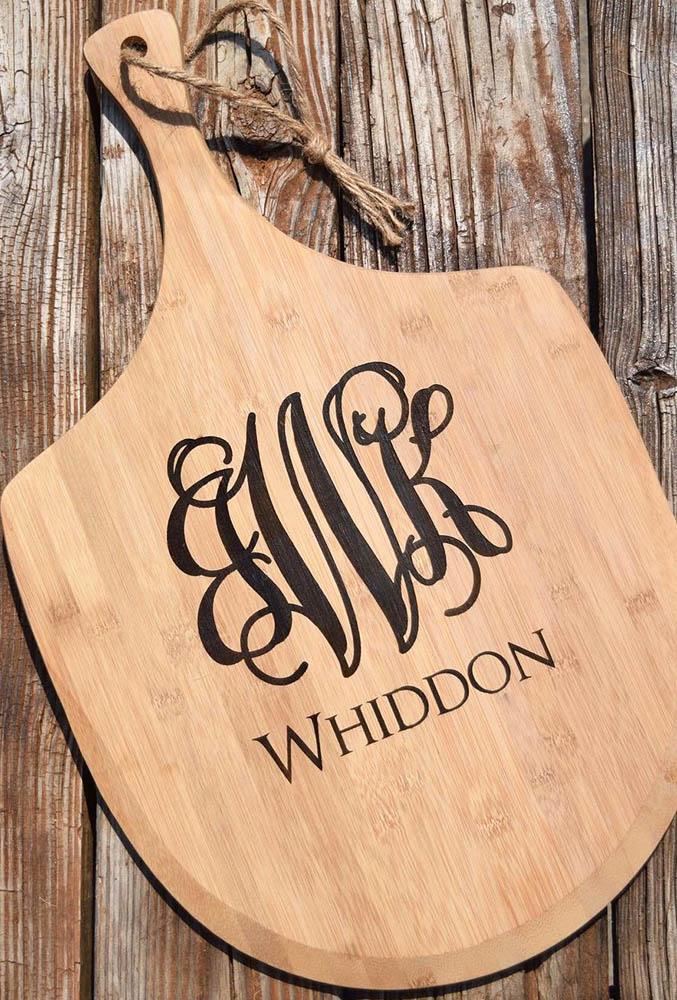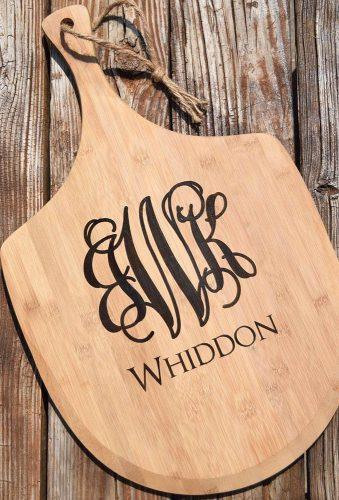 The couple that loves to cook will thank you for this. And for every time they are in the kitchen, they'd remember you. A custom cutting board is everything from cheese, to finger, onions, veggies, etc. Cutting over their names will give a homely feel.
One the average, this will cost you $25.99
Funny Personalized Wedding Gifts
Drink Together, Stay Together Custom Sign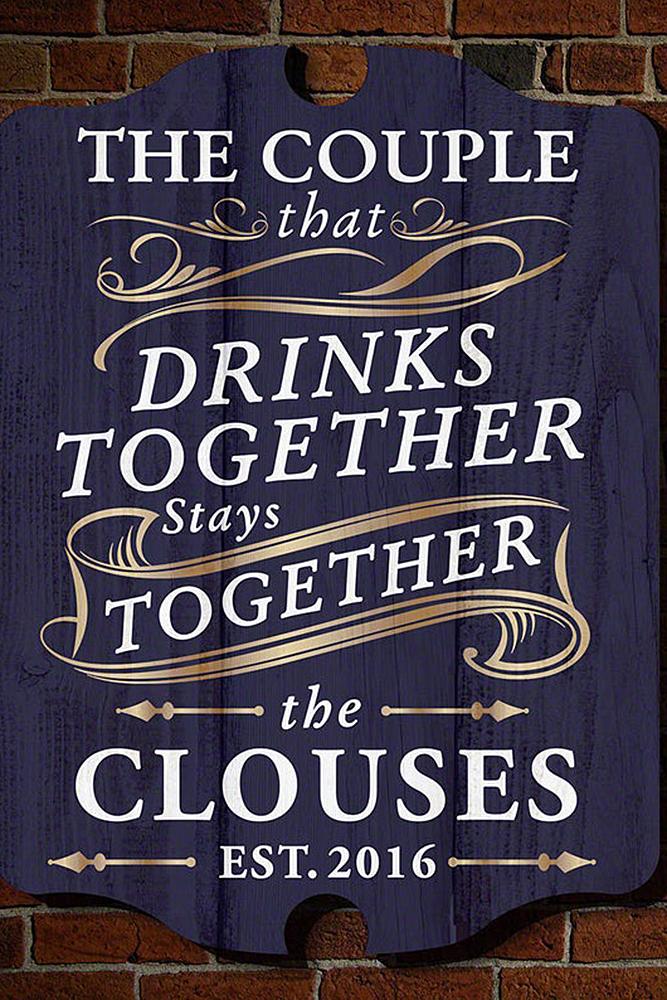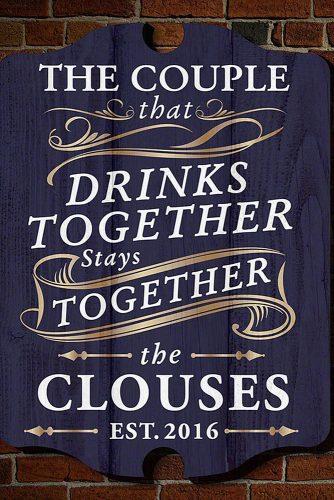 This is a custom sign that carries the date, last names of the couple and funny quotes. This is a custom sign best for couples that love drinking together. This sign is a fun reminder of how they love to bond over drinks. Will fit perfect in the kitchen or home bar. And it comes in navy blue color, which makes it ideal for beach themed and nautical weddings.
Click here to see funny custom sign.
Buy for an average of $45.00
Sh*t I Can't Lose The Ring Dish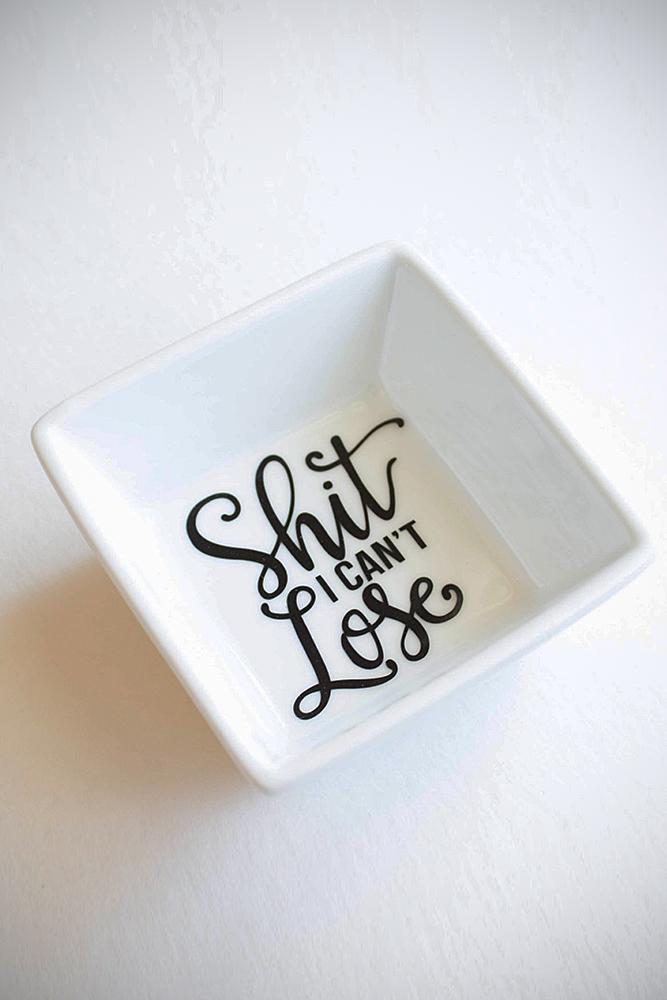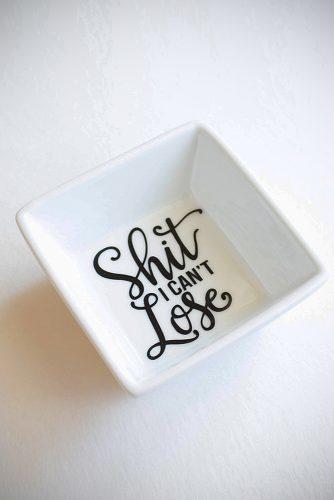 This ring dish is one of the funny personalized wedding gifts you can give a new couple. The funny inscription says it all. They can't lose their rings, and they need a dish to keep the rings safe. So get them one, and they never have to worry where their wedding rings are. They got the perfect safety dish.
Click here to see funny personalized ring dish.
Buy for $10.00 on average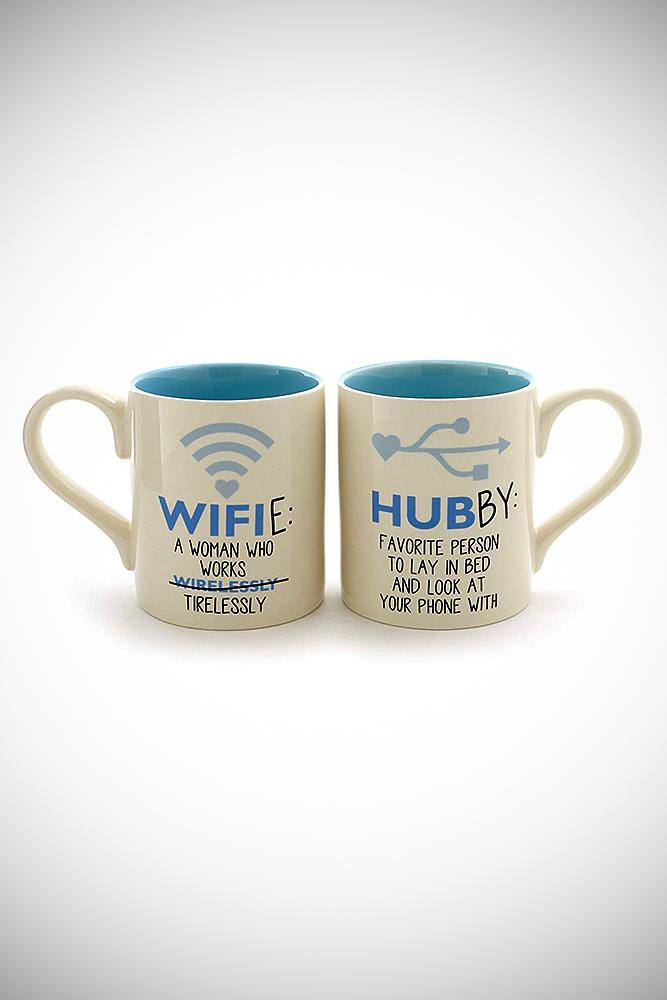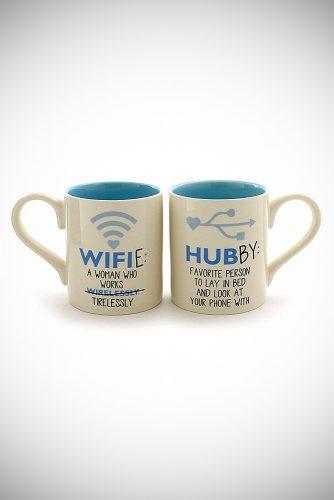 If the couple getting married are tech geeks or love tech languages, here's one for them. Gift them a "WIFI and USB HUB" coffee mug set for their morning dose of coffee. The mugs also work for other beverages they choose to take. They are beautiful and inspiring. Bonding together over a cup of coffee and the tech they love is awesome. Throw in a bag of rich coffee for the perfect finish.
Click here to see geeky coffee cups.
Buy for an average of $22.00
Cheap Personalized Wedding Gifts
Black And White Personalized Wall Sign
Source: beau_coup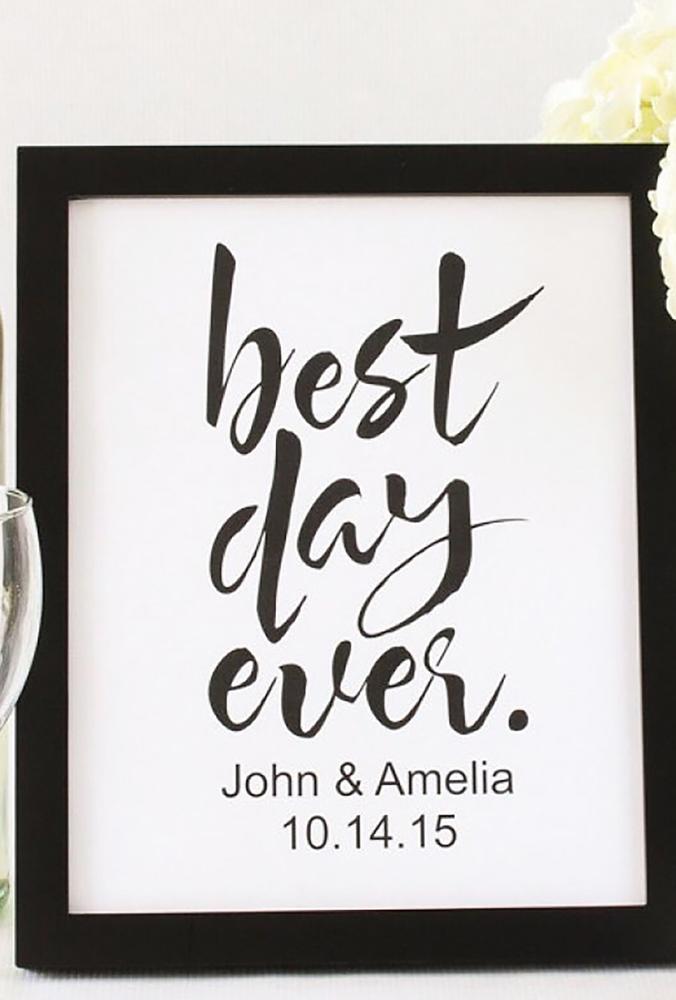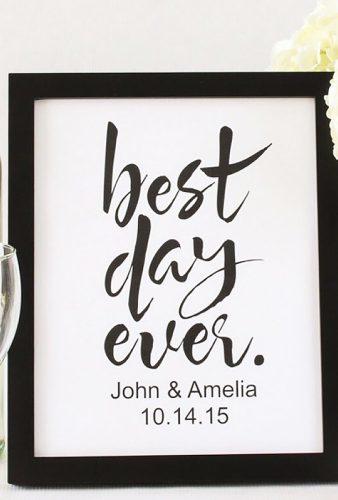 Usher couples into their new home by giving them beautiful cheap personalized wedding gifts. This is a personalized wall sign that is decorative and will remind them of their special day. With a natural background of white, black calligraphy and black edges, it's beautiful.
It is cheap and costs $31.99 on the average.
Source: countrybarnbabe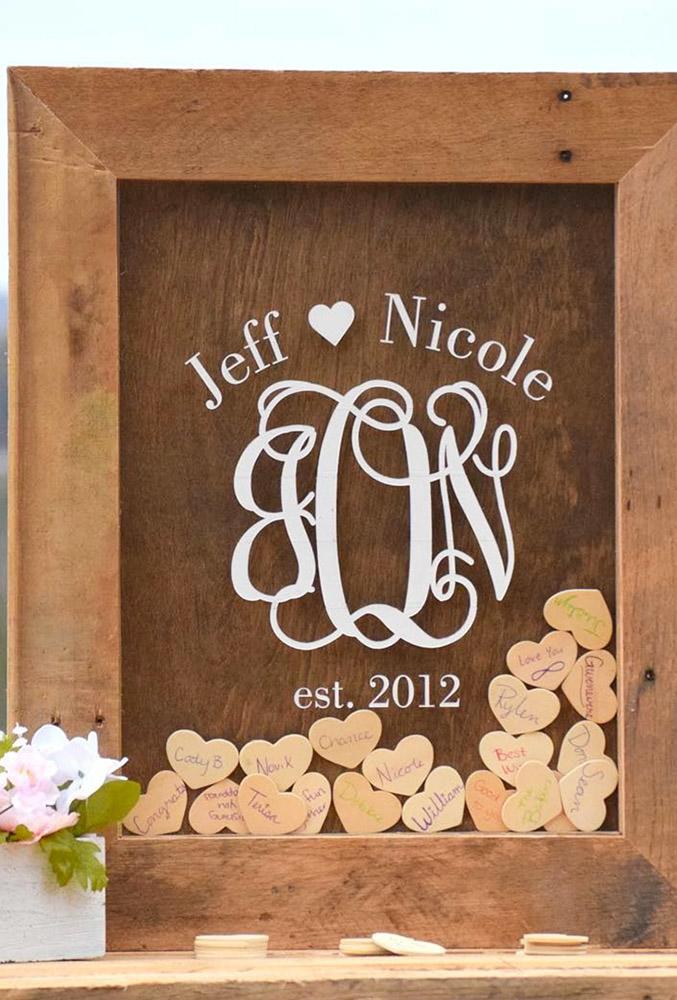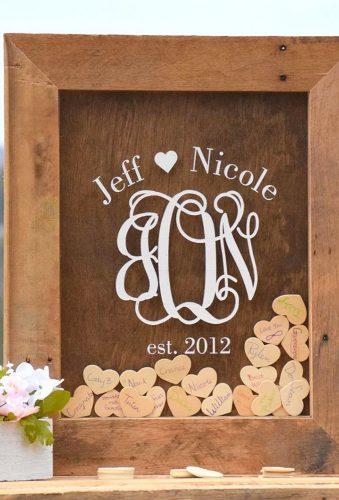 Tiny hearts, all beating as one in is one of the most beautiful engagement gifts. You don't have to wait until the wedding to give personalized wedding gifts to the bride. This serves as an ornamental piece in the home. And if you're thinking personalized wedding gifts for blended families, this is ideal too. All those hearts signify a family in unity.
This frame costs $22.99 on the average.
Family Date And Name Frame
Source: zulilyt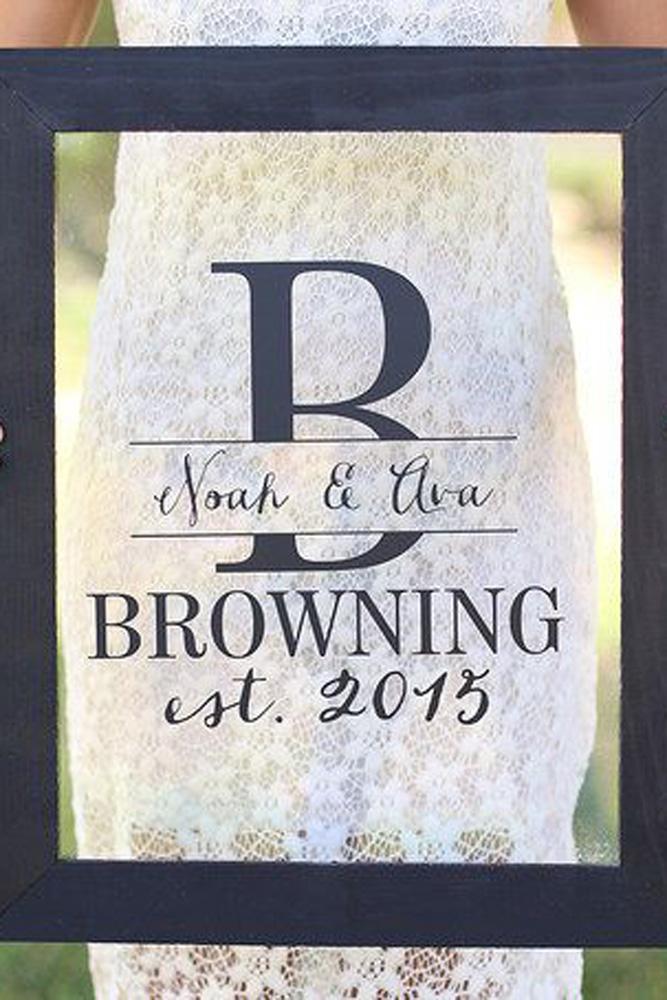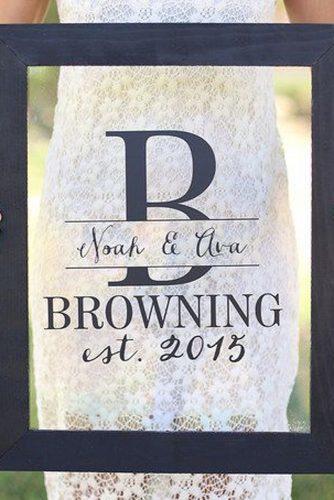 A frame inscribed with the initials of the couple and the wedding date is cool. It goes a step further to make the home feel like theirs. This wooden frame is all that and more.
Very polished and rustic, you can get it at about $25.99.
DIY Personalized Wedding Gifts
Source: beau_coup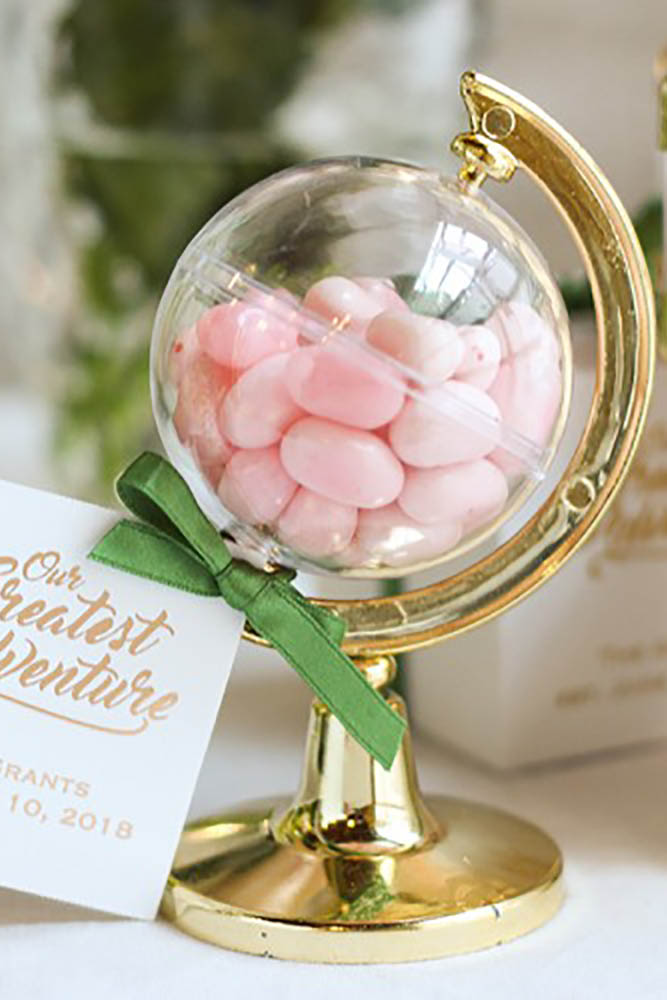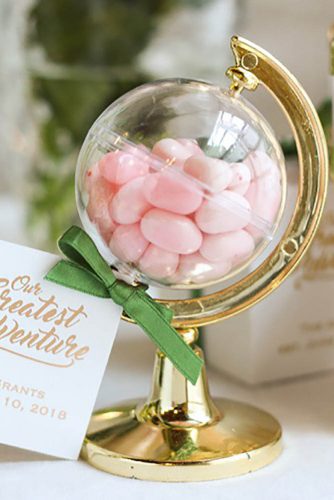 This is a personalized wedding gift that goes both ways. Guests can gift them to couples who love globetrotting. Couples can also give it as wedding souvenirs to guests. It is simple, stylish and elegant. It makes for beautiful desk or mantel decor. Again, users will collect tiny souvenirs from everywhere they've been in the mini globe.
It costs about an average of $15.45
Source: beau_coup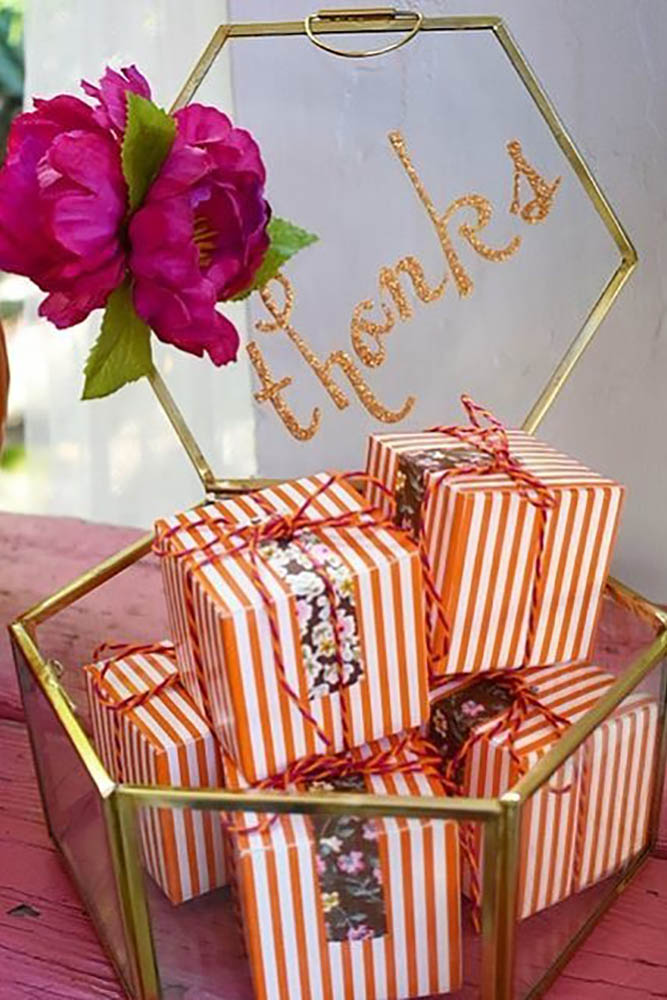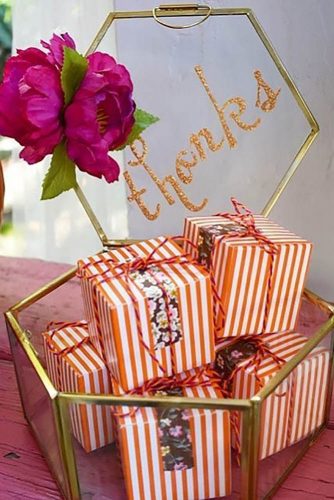 Wrap up your gift for the couple with these DIY personalized wedding gifts boxes. Couples can also send an unforgettable "THANK YOU" to guests with this. It's cheap and easy to DIY.
But if you want to buy, you'd get it at an average of $18.99.
Source: gifts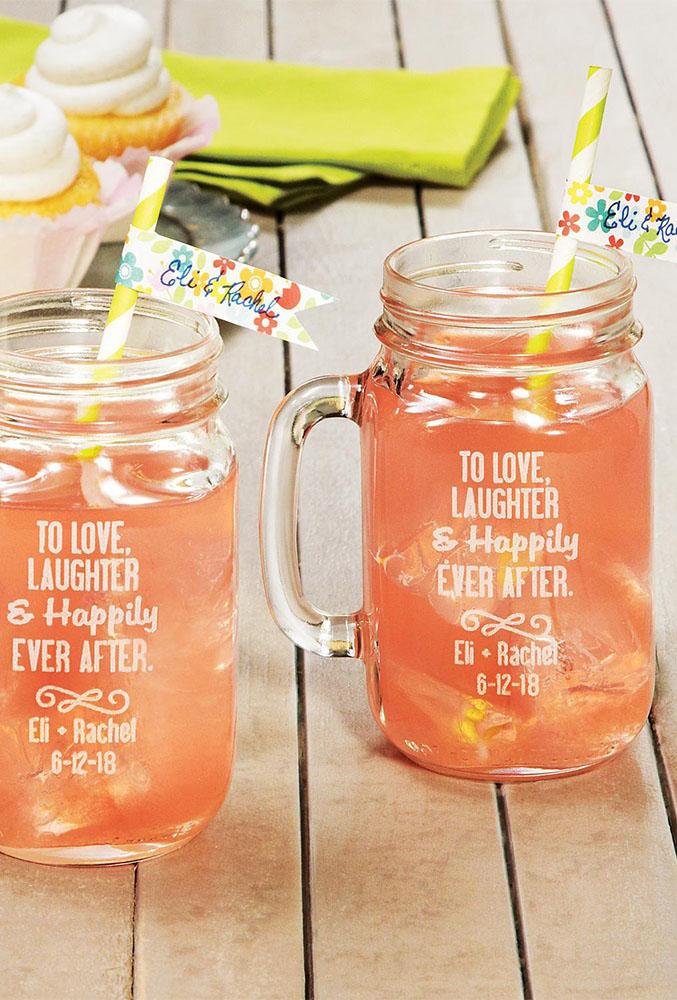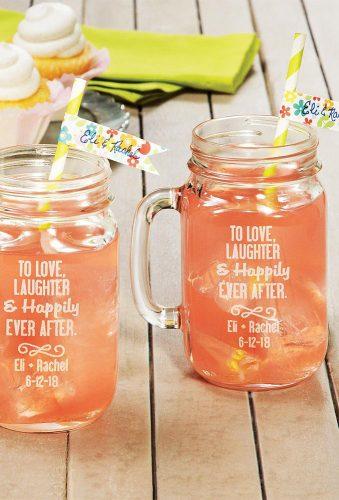 This is perfect for one of those hot days when the couple will need a jar of lemonade. And as the best bridal shower gifts, this is also ideal. Cocktail jars with straws are awesome personalized wedding gifts for bride that she'd appreciate. Their functions cannot be overemphasized.
On average, they cost $17.63.
Custom Personalized Wedding Gifts
Source: shopevermine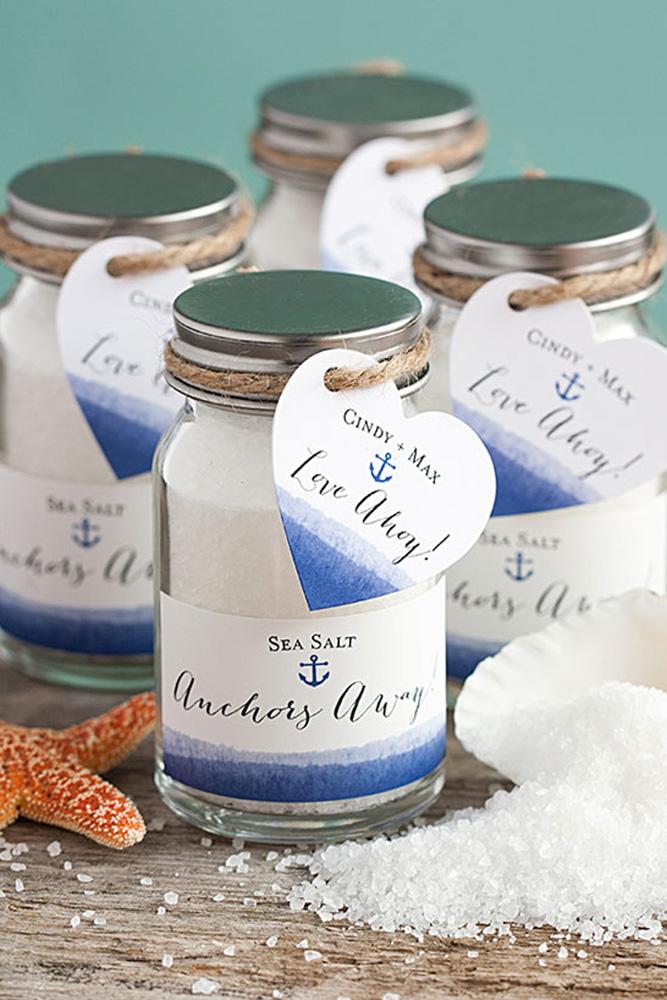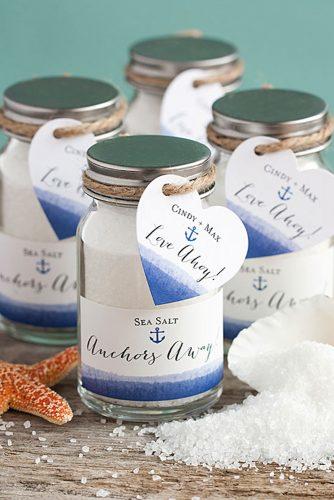 If you're having a beach themed or nautical wedding party, this is a perfect wedding favor. Why not give guests custom personalized wedding gifts, your own wedding salt. Guests will use this to their hearts' delight and use the container for the home too.
This costs $11.63 on the average.
Source: pretty_personalised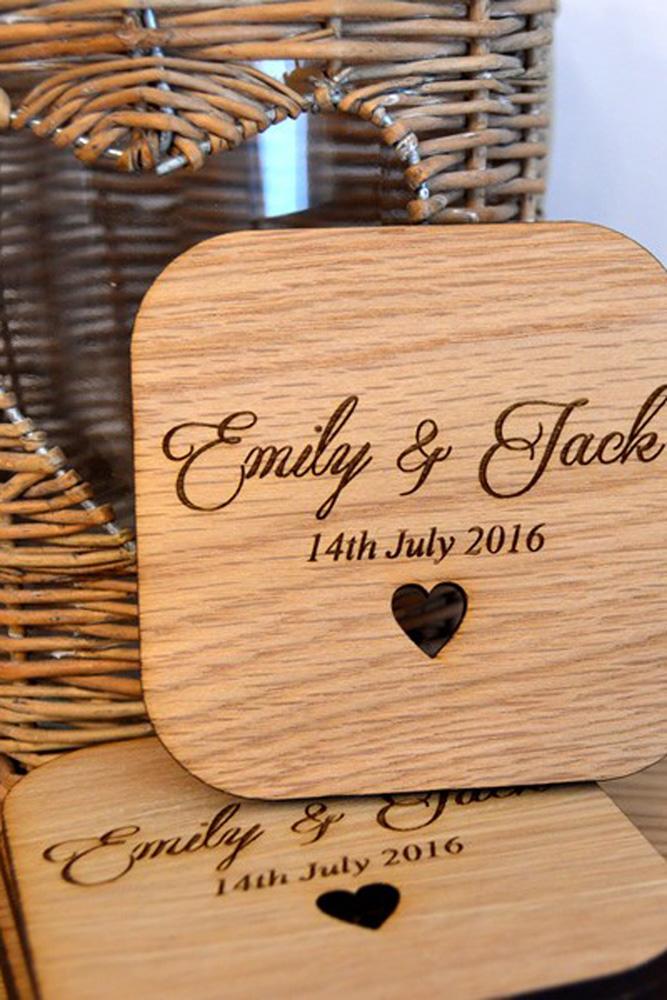 As a guest, one of the best-personalized wedding gifts for the groom is custom made coasters. You may not wait till the wedding, make it one of the bachelor party gifts. These wooden coasters with the tiny love cut will save the furniture from damage. The coasters act as a barrier between chilled drinks and furniture surface. No marks, no indentations, and they'll thank you for it.
Average cost $5.50
Source: pmallgifts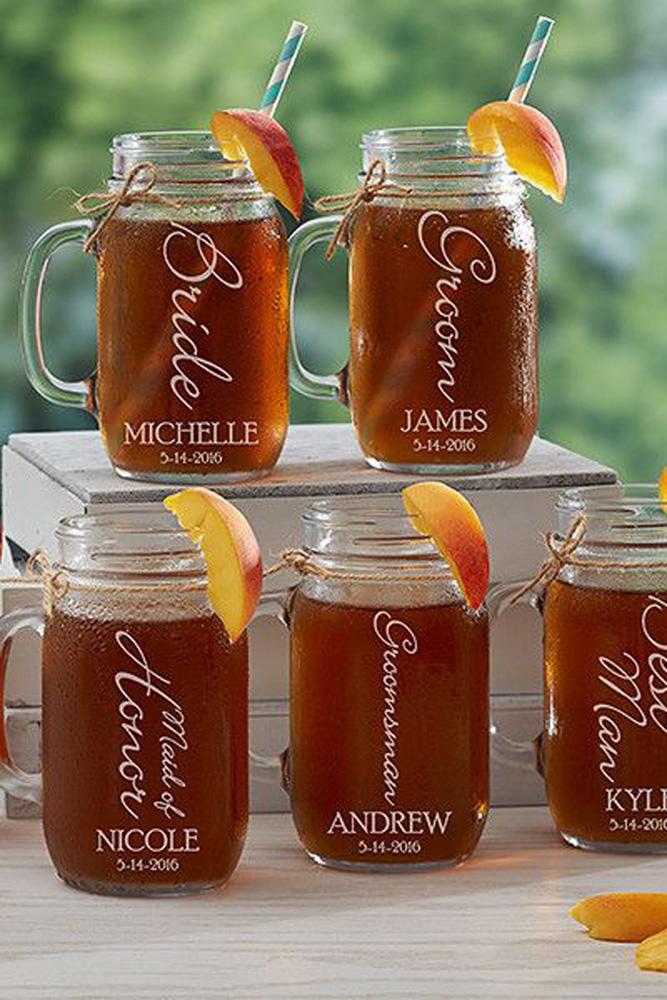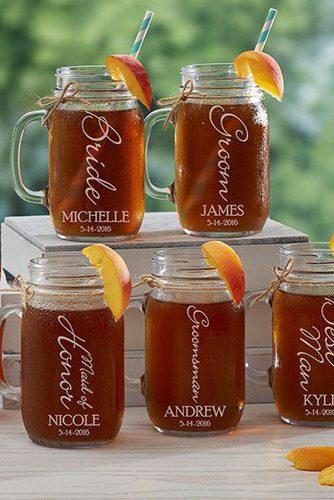 Mason jars are multipurpose and the bride will love them. Gift her something to store her juices, soups, and sauces. And for these ones with handle, an evening drink of mojito won't go amiss. Engraving then with couple's initials make them even more unique.
You can get them for about $12.10 each.
Rustic Personalized Wedding Gifts
Source: engrav3-me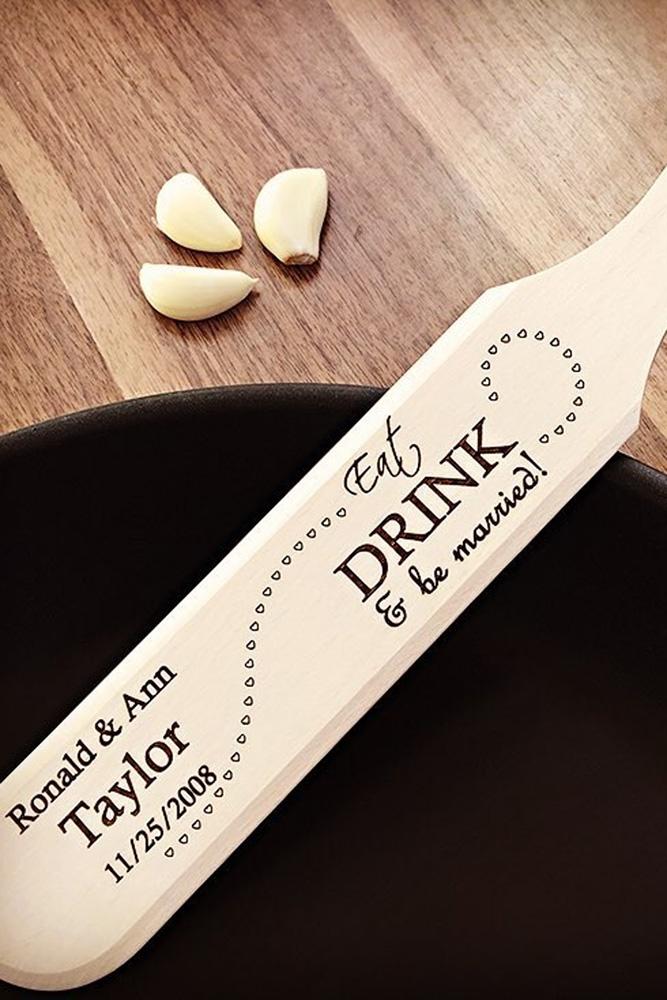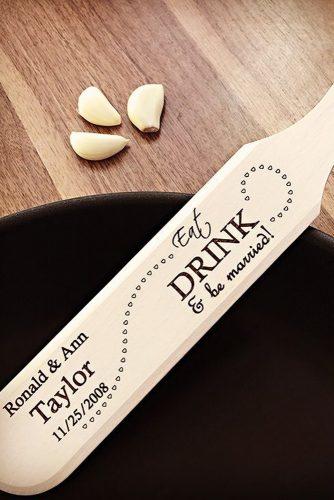 For the kitchen, this is a great personalized gift for the bride. Eat, drink and be/stay married it says. This is the perfect item for mixing the dough and adorable other like items. You make her job easier with this custom paddle.
For $30.25 on the average, you can buy this.
Wooden Wine Bottle Holder/Carrier
Source: gifts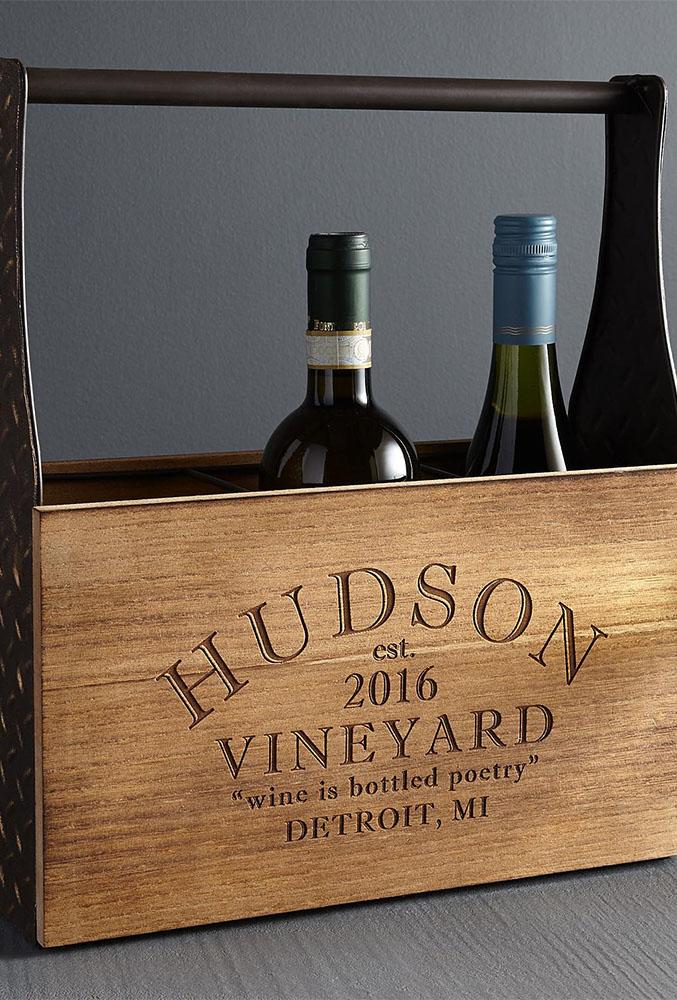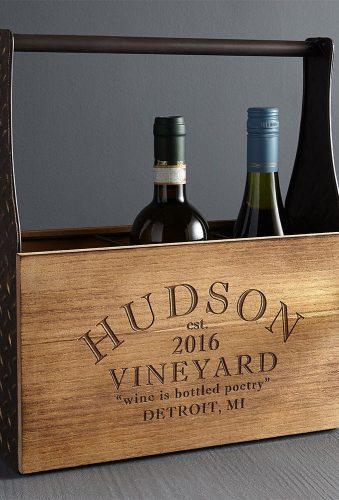 This vintage inspired and engraved wine bottle holder is stylish. It holds your wine bottles and doubles as a carrier too. With this, the couple can display their wines and move them around with ease.
Buy it for $40.00 on the average.
Rustic Wooden Wine Ice Bucket
Source: gifts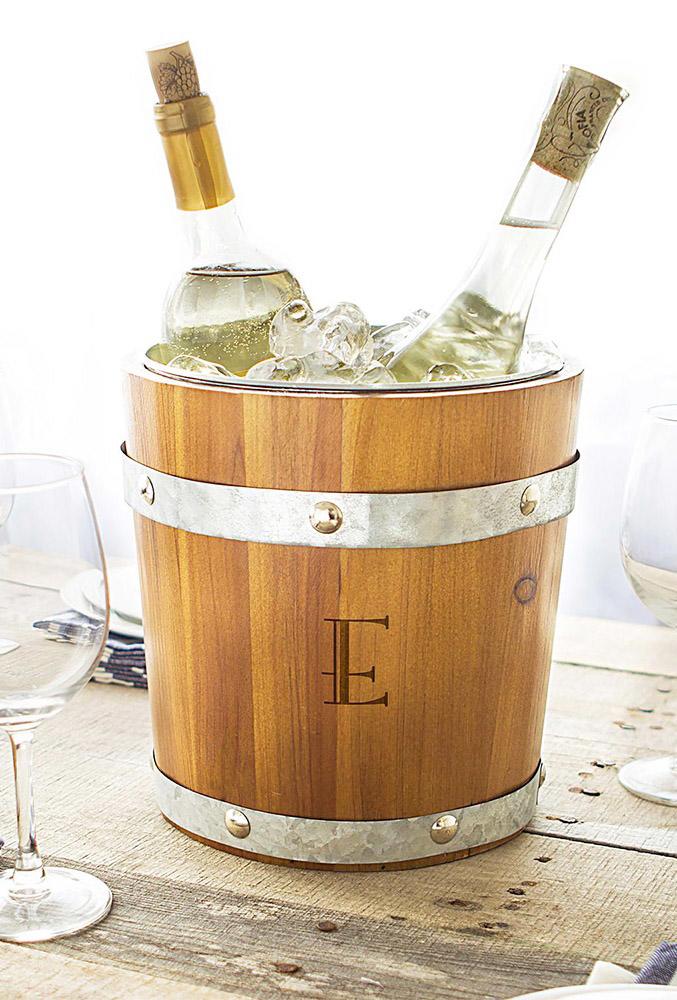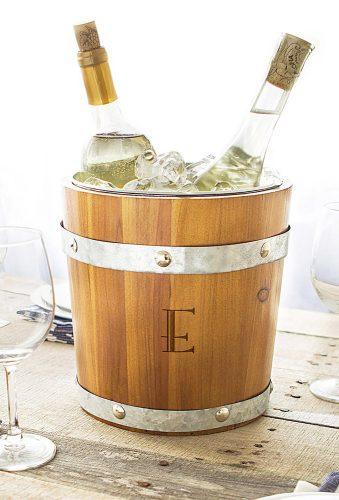 As far as personalized rustic wedding gifts go, this is one of the best. It's also should be on what to put on a wedding registry checklist. This is because it's a must-have for couples. The wine will stay chilled in style with the rustic vibe. It is also very mobile, easing you from making trips to the fridge. Ideal for picnics, entertaining guests, and fun evenings.
It retails on the average for $80.99.
Personalized Wedding Gifts For Couple Of Guests
Traditional Bar Glasses And Pitcher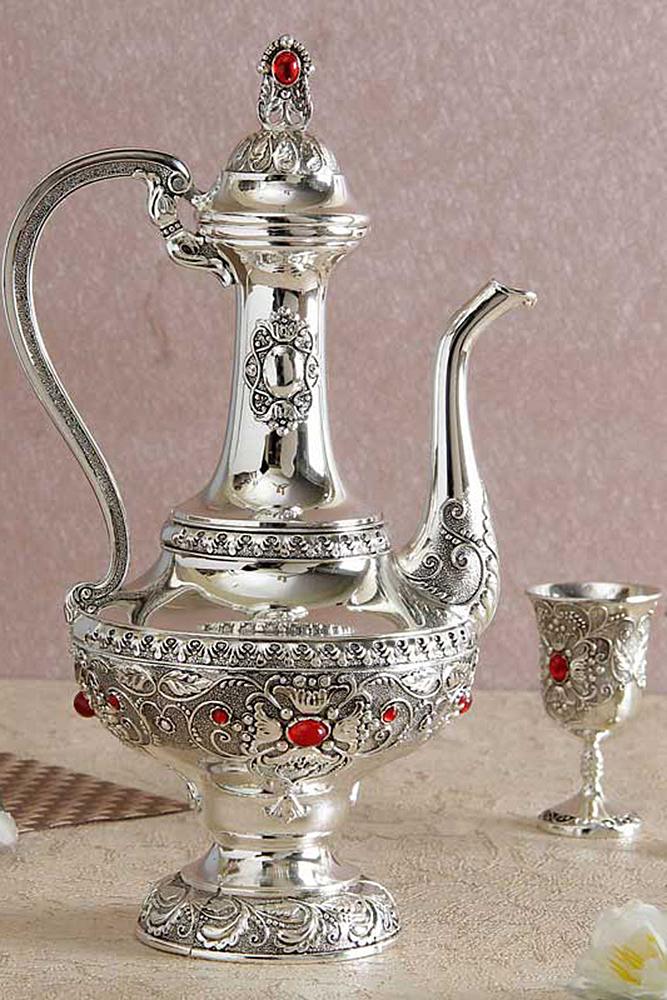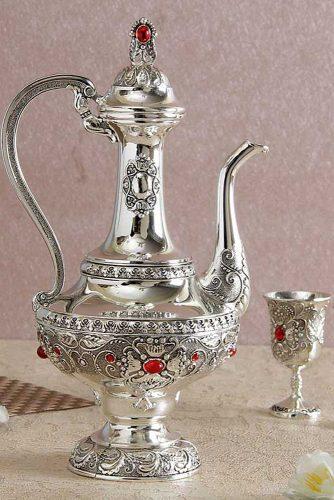 Thinking of the best-personalized wedding gifts for a brother? Try out this bar glasses and pitcher set for the couple. It's an essential utility and decorative set for the home. Functional for entertaining guests, dining, and leisure gatherings. It will also look stunning on their dining or shelf. This is more for your brother and to the benefit of the couple. Give them a good time with this one.
See here for bar glasses and pitcher set.
Buy for an average of $54.00
Embroidered Infinity Sherpa Blanket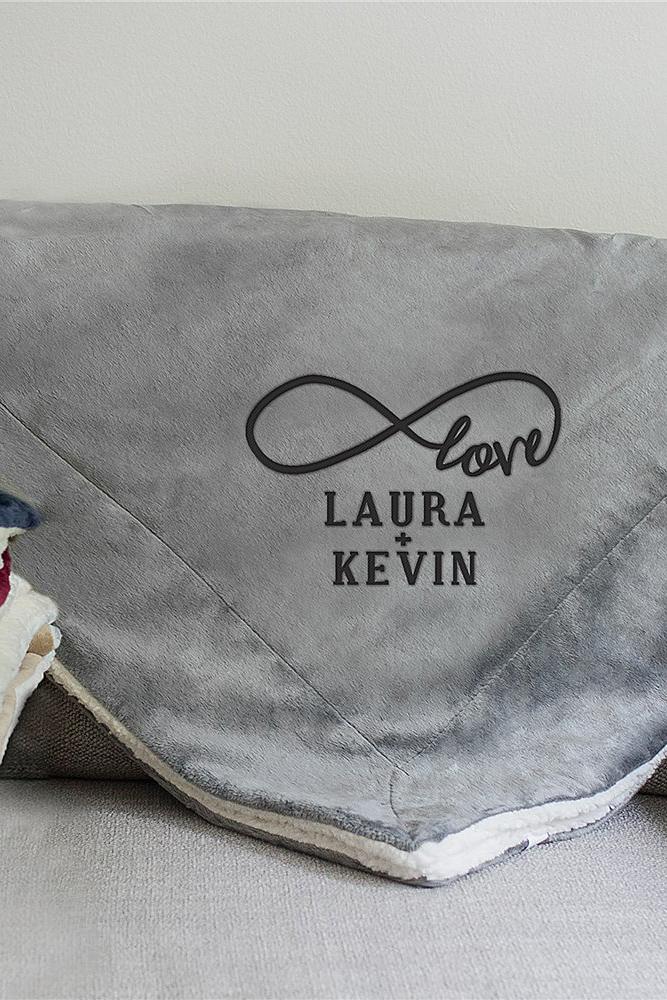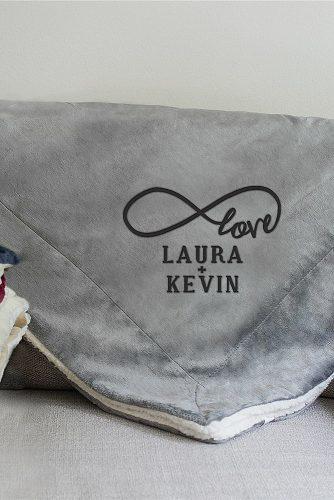 Thinking of how much to spend on a wedding gift for a couple without overextending yourself? An embroidered custom made infinity Sherpa blanket is the answer. Inscribed with the couple's initial, this is the perfect quality gift, yet affordable. Nice for snoozing in on those cold days. It'll give them comfort through the night while keeping them relaxed.
Click here to see infinity Sherpa blanket.
Sells for $40.00 on the average.
Engraved Mr. And Mrs. Wine Flutes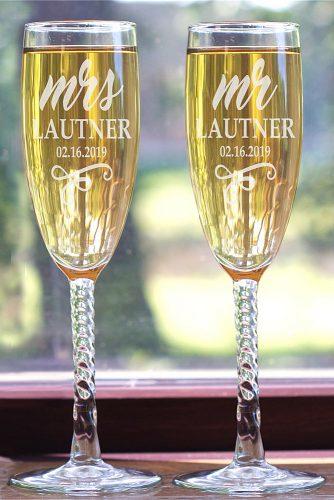 Give the new couple wine glasses personalized wedding gifts for their special day. Nothing is more celebratory than wine and even better with engraved glasses. Give them a set to make a toast to love and life on their wedding day. This set will stay for anniversaries, date nights, family gatherings and more celebrations. These stemmed glasses are very personalized, bearing the couple's initials.
Click here to see Mr. and Mrs. Wine Flutes.
Sells for about $25.00 on average
Personalized Wedding Gifts For The Bride And Groom
Custom Clock With Wedding Date
Source: gifts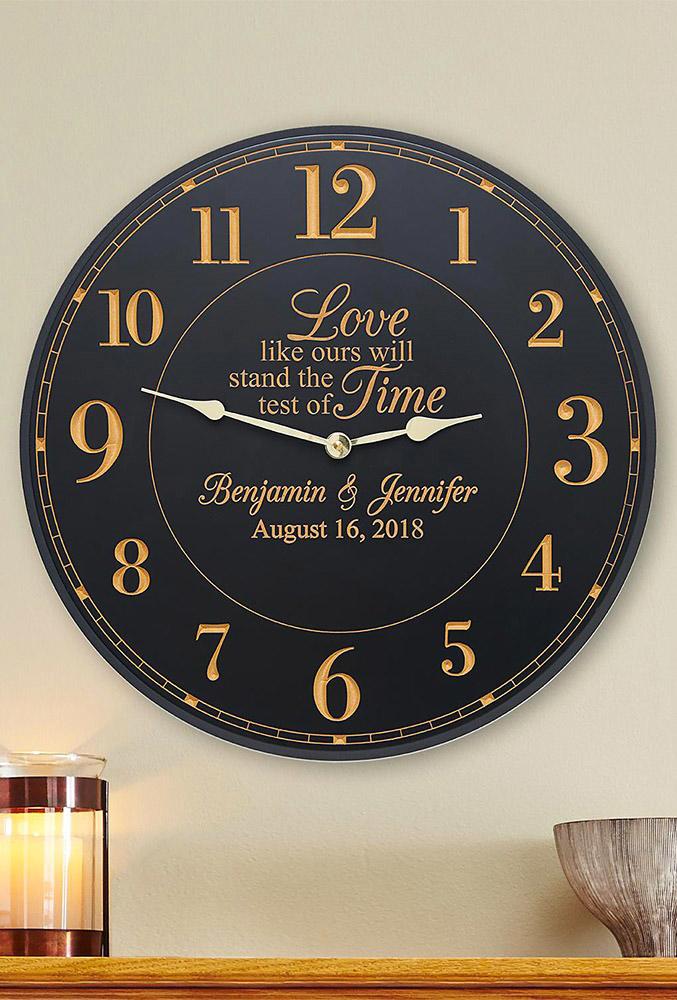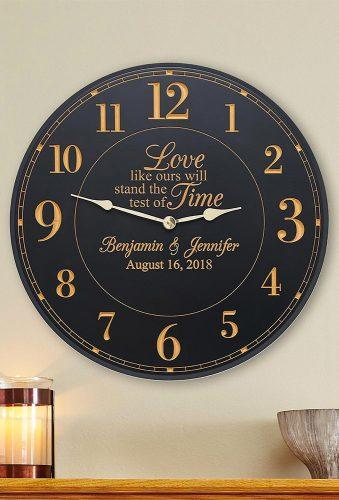 Gift the couple a personalized wall clock inscribed with their wedding date. It will always remind them that as time goes, so will their love go stronger. Add a beautiful love saying to it and complete their joy. This is a cute personalized wedding gift that the bride and groom will love.
It sells for $49.99 on average.
Source: sweethooligansdesign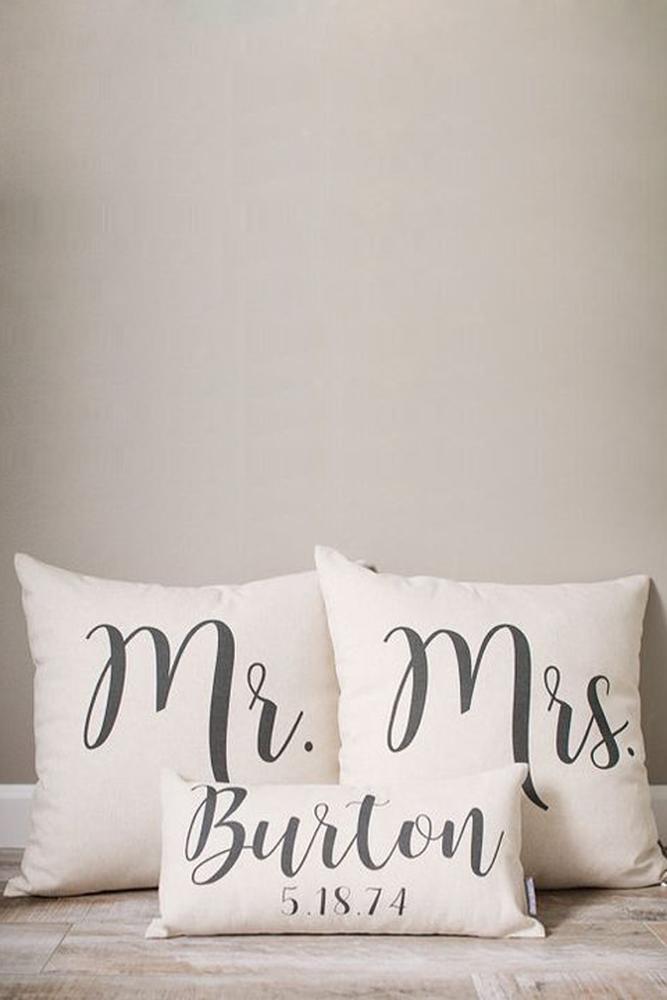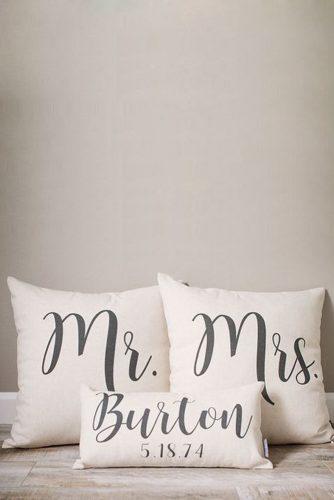 The bride and groom pillows are beauties for relaxation and bedtime. They're also cute decor for the bedroom and beddings. Have them monogrammed with Mr. and Mrs. for the new couple. They'd never fight for who owns which pillow.
For $55.00 each on the average, you will get them
Mason Jar Drinking Glasses
Source: personal-creations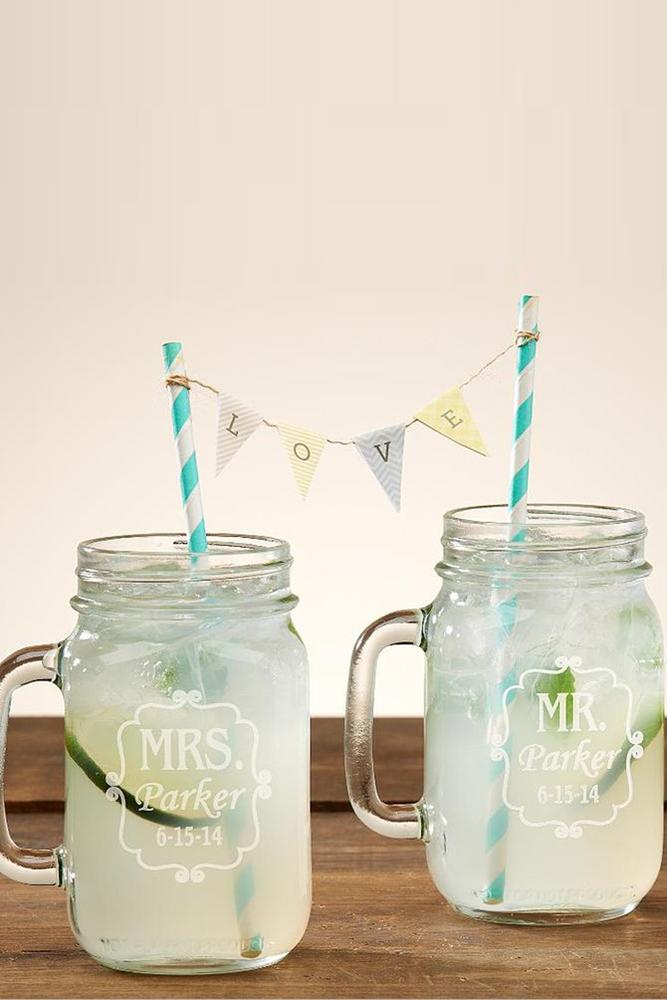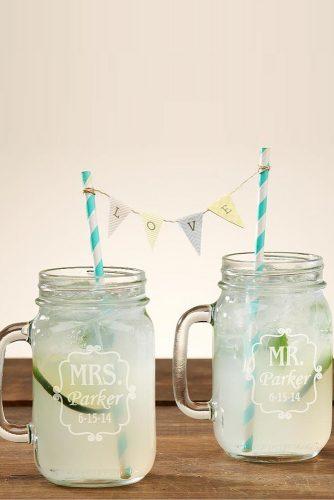 On the days when they need to relax with some juice, the mason drinking jars serve. It's a unique personalized wedding gift set for the couple who loves to nurse drinks together. Engrave them with initials and wedding dates for true beauty.
You'll find them for $29.99 each at average cost.
Personalized Wedding Gifts For The Parents
To My Parent Personalized Wedding Frame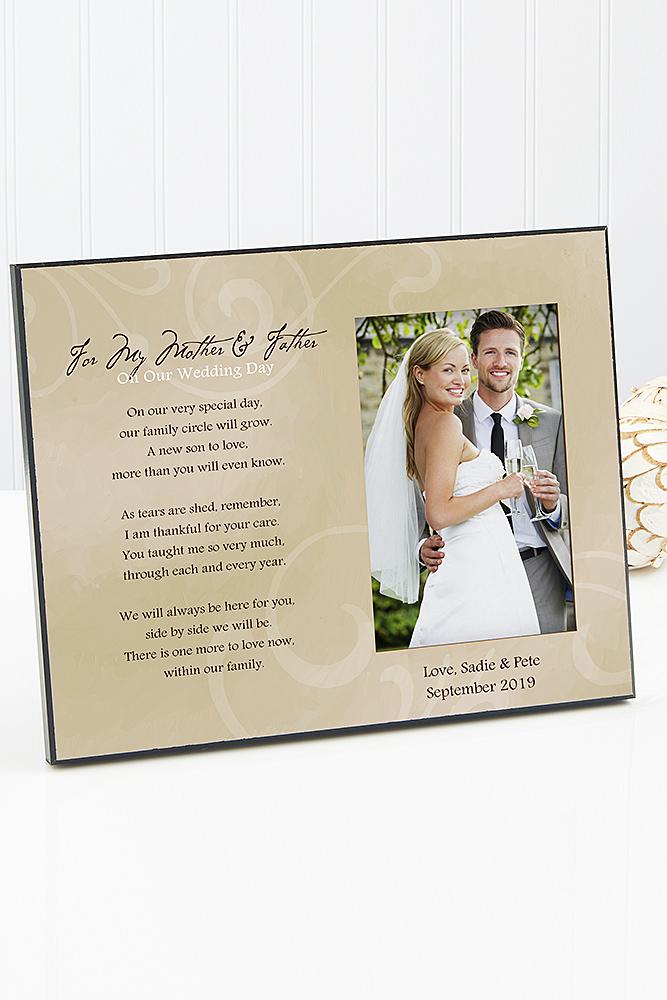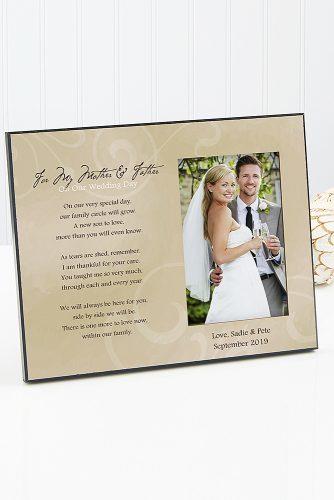 This is one of the most heartfelt personalized gifts for parents. It's a wooden frame with a wedding picture of you and your beloved. Send it over to your parents for their wall, bedroom, nightstand or mantel. A great way to say thank you to them, and a steady reminder of the love you share.
Click here to see the wedding frame.
One the average, it costs $37.00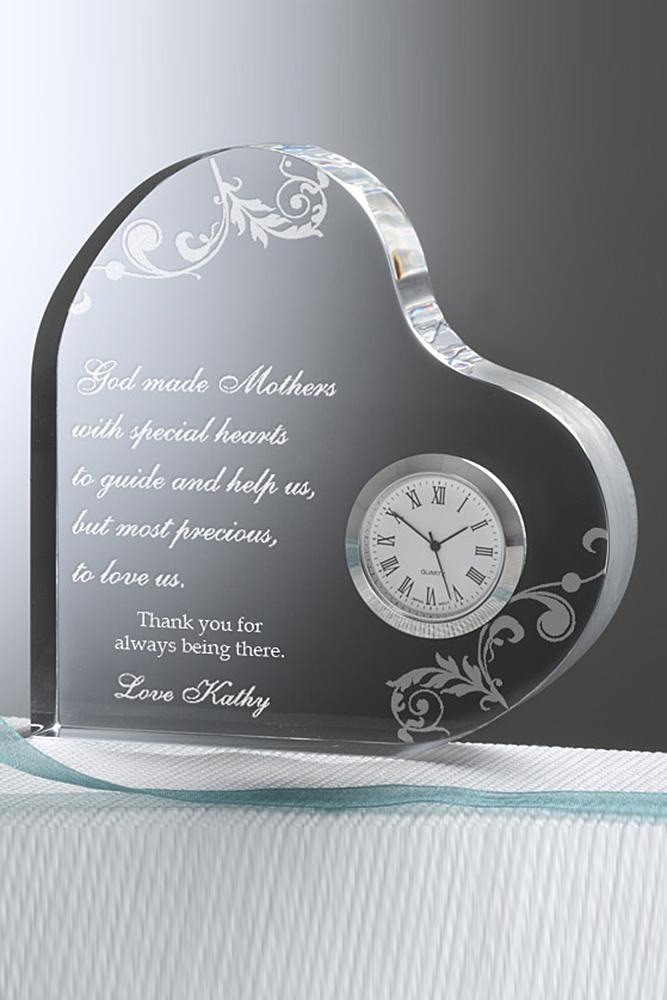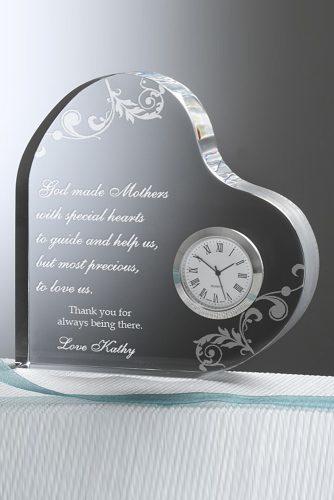 Remind mom that you love and are always with her every day with dear mom heart clock. They will pass for mother of the groom and mother of the bride gifts. The heart symbol depicts love and the transparent color makes it surreal. This clock is functional and ornamental at the same time. Its aesthetic nature gives the home decor some more flair. She'd love this.
Click here to see dear mom heart clock.
It costs an average of $38.00
My Favorite Walk Picture Frame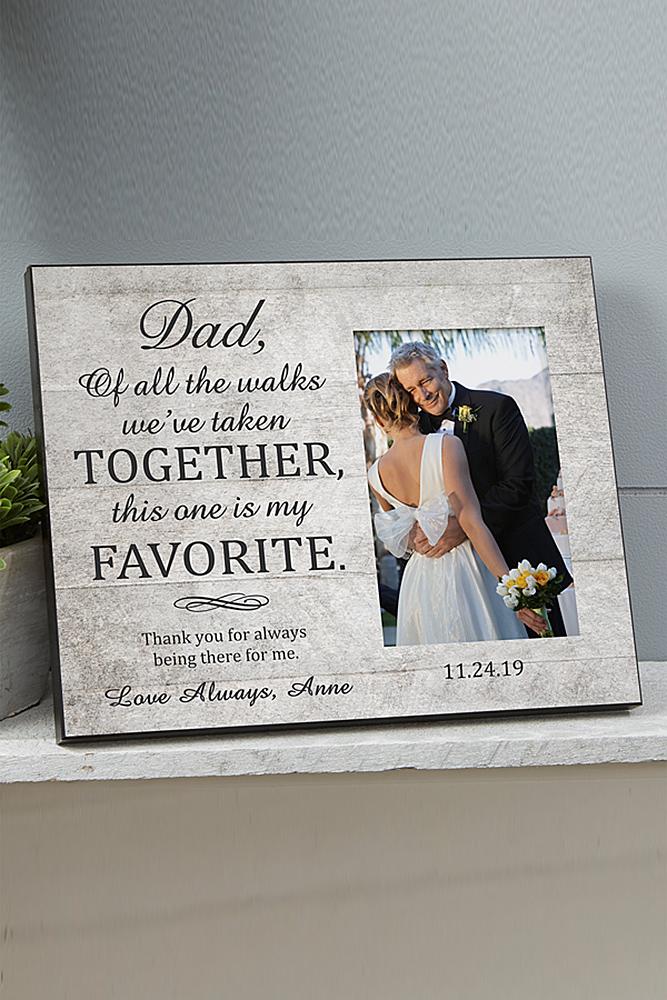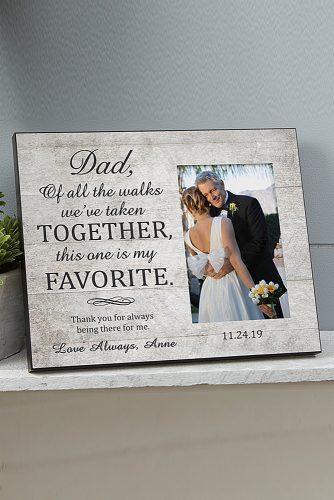 The walk down the aisle with your dad is one of the most emotional things you've done. Let papa know that it was your favorite walk with this personalized wedding gift for him. Send him a wedding picture of you and him dancing or taking that walk in a picture frame. He'll place it on the wall or nightstand and hold onto it forever.
Click here to see favorite walk frame.
On average, it costs $30.99
Personalized Gifts For Bridesmaids And Groomsmen
Source: wedding.favors.shop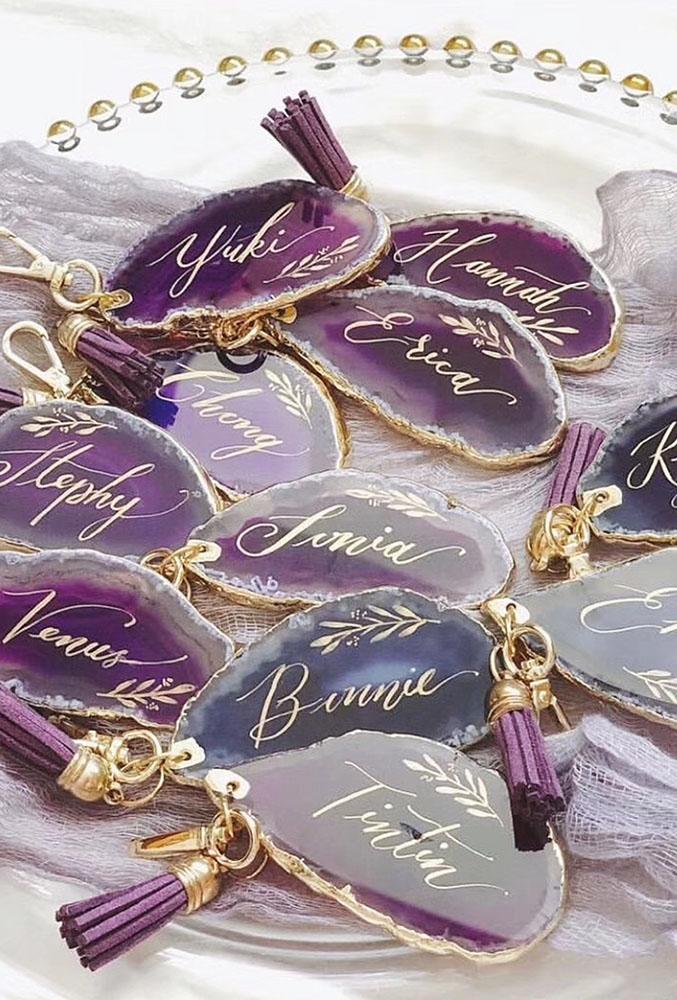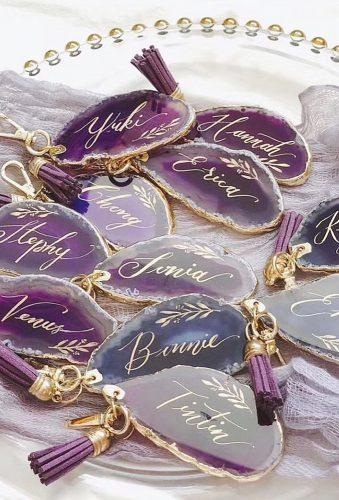 Crystal glass key chains are ideal personalized wedding gifts for a bridal party. They're classic wedding favors that will help them keep their keys safe. This is a great way to say thank you to your girls for making your day. They're also very stylish, fashionable and decorative. Engrave them with your wedding date and initials. You'd leave the day evergreen in their memories.
You can buy them starting from $10.00
Source: weddingsouvenirsmanila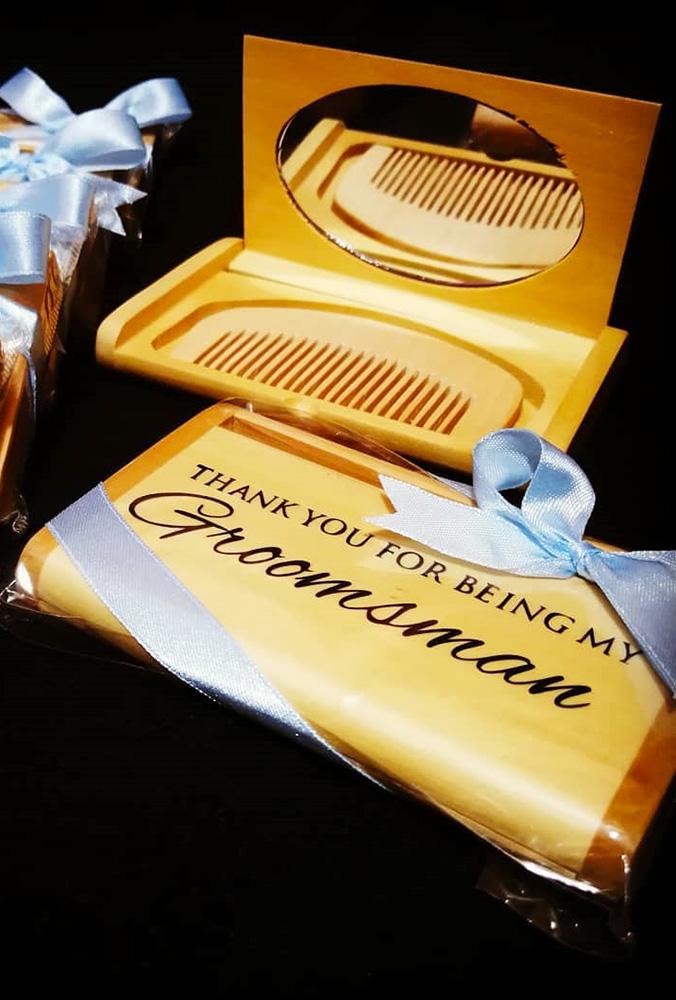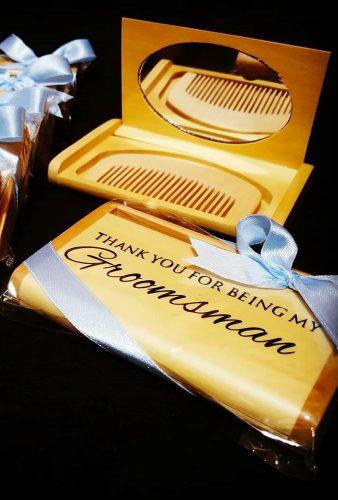 Perfect personalized wedding gifts for groomsmen. The comb and mirror set is portable, stylish and lightweight. Easy to carry around in a pouch, and very handy on trips. A huge necessity for men with beards and a head full of hair. This thank you set is one your groomsmen will love. It keeps them prim and proper all the time.
It sells starting from $11.90
Sterling Silver Crown Brooch
Source: elta_design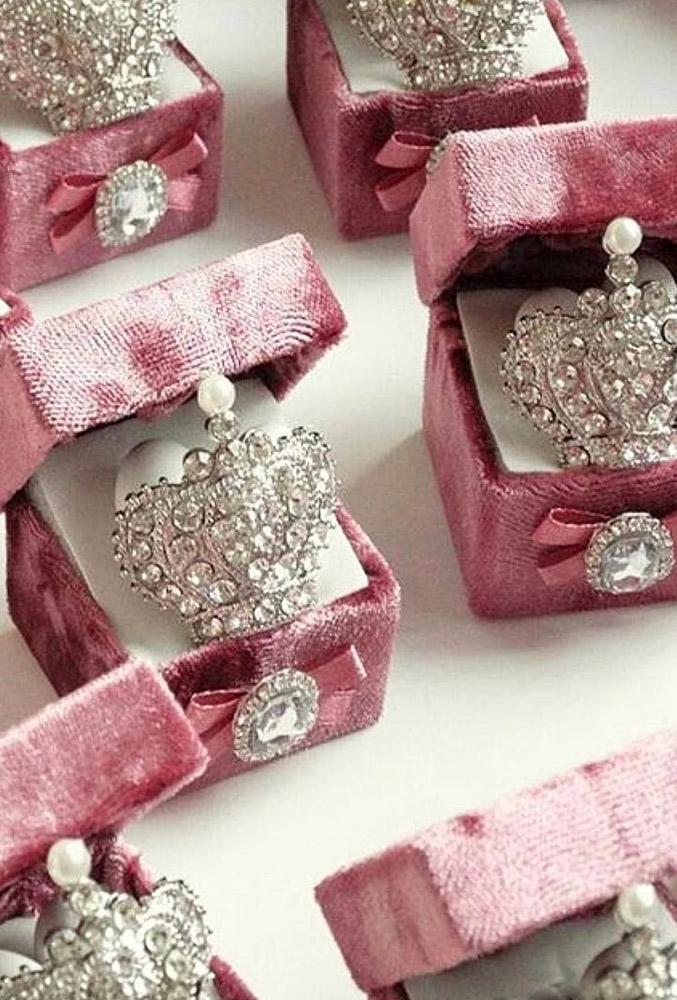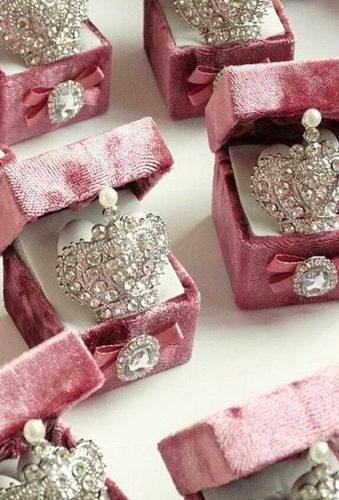 Give your girls the looks befitting an elegant Madame with the Sterling Silver crown brooch. These are graceful personalized wedding gifts for a bridesmaid. A unique way to say thank you. For every time they accessorize their clothes with it, they get the classic touch.
These brooches are timeless, stylish, and ornamental for the average cost of $24.00.
Religious Personalized Wedding Gifts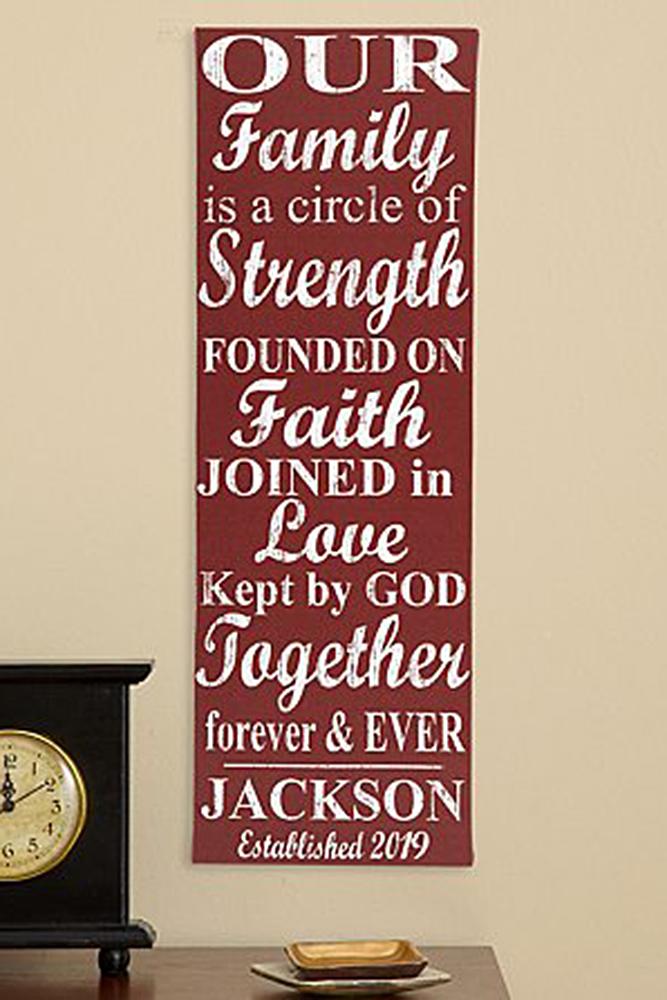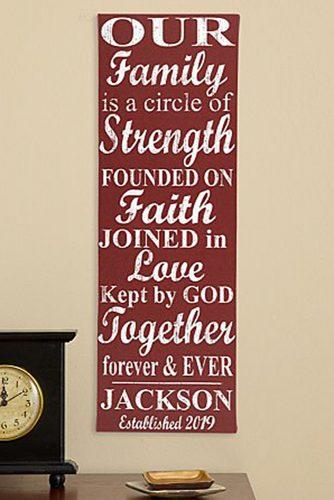 This is one of the best Christian personalized wedding gifts to give a new couple. It has a quote that says their family is under God's ordinance in a nutshell. Signed with the couple's last name and wedding date. This is a wall canvas befitting for bedroom, lounge or sitting room. An eternal reminder if God's love and protection for people of faith.
Click here to see our family circle canvas.
Buy at an average cost of $30.00
Anil'dodi V Dodi Li Jewish Painting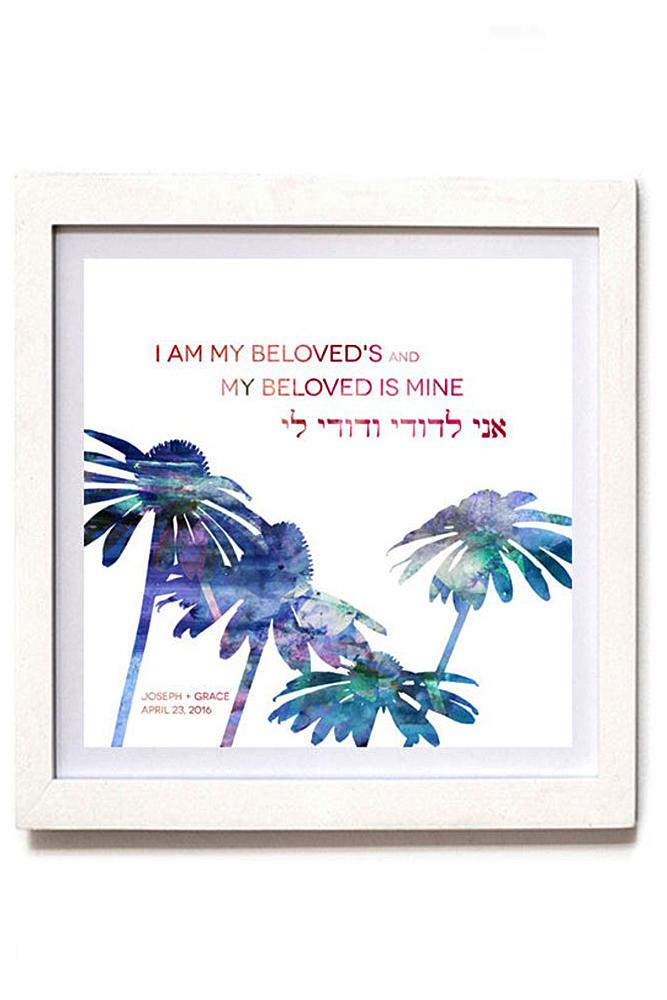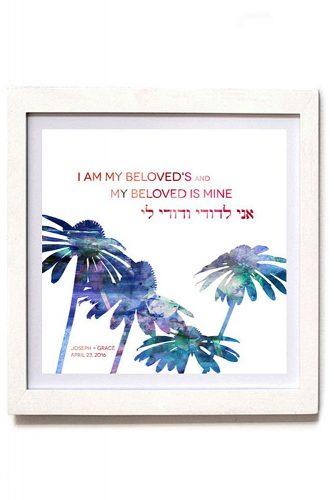 I am my beloveds' and my beloved is mine is a religious Jewish personalized wedding gift. This is an acrylic painting with tree pictures. The bigger trees shadow the smaller ones, showing protection by parents. This is a heartfelt heirloom that will pass from one generation to the next. It's ideal for a sitting room and bedroom decor, and it's timeless.
See Jewish religious painting here.
Painting starts from $55.00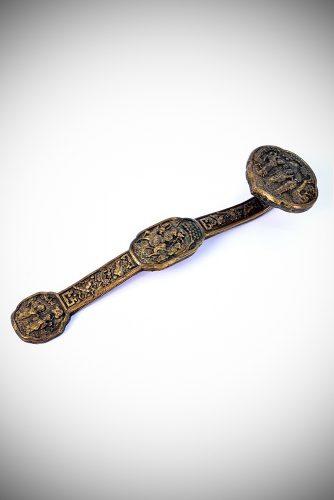 In Buddhism, this is a ceremonial scepter and talisman of good fortune. It's given to the couple before the wedding as a gift. And the groom lifts the wife's veil with it. It signifies that as she wishes her marriage to be, so will it. This is one of the Chinese most religious personalized wedding gifts. It's of high spiritual significance, even if always in use it at weddings. The bride's parents still gift the bride with it, to connote good fortune in her new home.
Click here to see Ruyi scepter.
It sells from $5000 upwards.
We've rounded off a long list of personalized wedding gifts. This includes gifts for the couple, siblings, parents, guests, and the wedding party. They're all affordable, stylish, decorative and functional. They span from funny to religious, rustic to modern, fitting across all wedding themes. So, make a pick of any of the best-personalized wedding gifts we have here. And put a smile on some faces.
Main Photo:
callahancreationsllc via Instagram