If you plan to personalize your wedding decor, then learn how to make wedding centerpieces. Making beautiful centerpieces brings out the creative side of you. Costs less and saves you cash. But there are very important facts and parameters to cover before you start making them.
First off, you must source your wedding centerpieces ideas from local mater, as it's durable and cheaper. Another thing is to consider varying choices so that some will survive if there are mishaps. The centerpiece for a wedding can look monotonous, so varieties in the design are welcome.
Don't stick to only flowers, use lots of ornamental vases, fruits and vegetables to pop colors. Also make sure that they don't block the view of guests, and are non-fragrant. Overwhelming the guests with fragrances could leave them uncomfortable.
So, in preparation for your wedding, let's see the 20 easy DIY centerpieces that cost almost nothing to create.
The Colorful Harvest
Harvests are wedding table decoration ideas to try. They are modern but, more suited for country or farm weddings. A combination of safari sunset, pumpkins, seeded eucalyptus, chili peppers, and sunflowers running the table.
Source: nicoleerinphotos via Instagram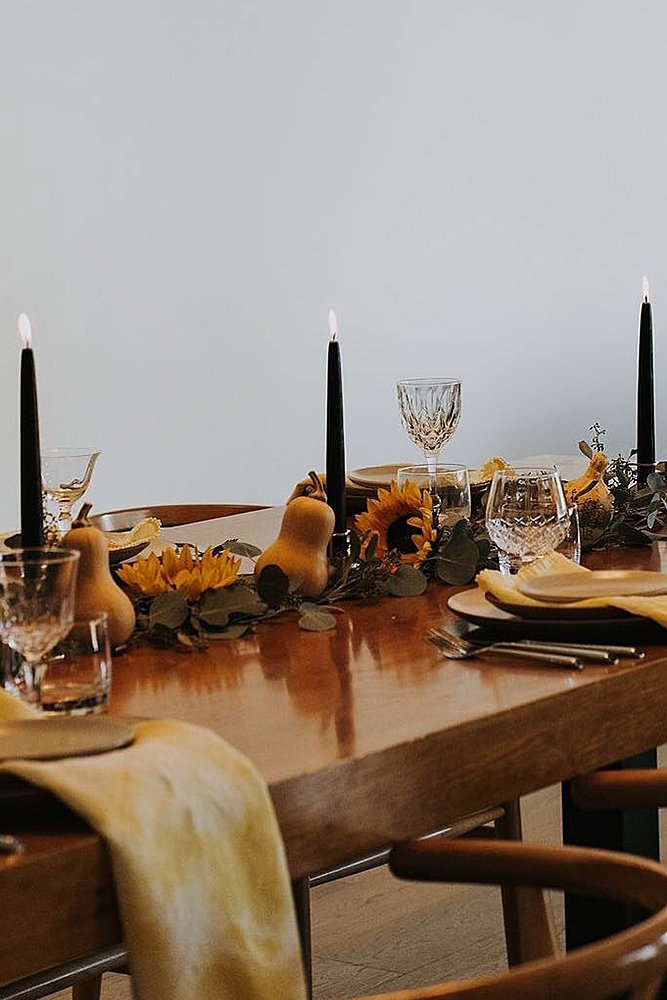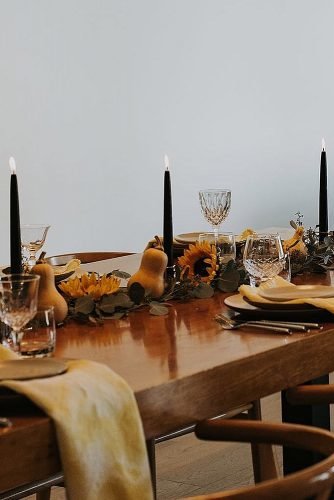 Rice And Rainbows
These are easy DIY centerpieces. How to make wedding centerpieces of rice and rainbows? Add vinegar and food coloring to rice. Mix well and sundry. Fill them in bows, votive or jars. You can also stack them or leave single. Stick tea lights in them.
Source: shescraftycrafty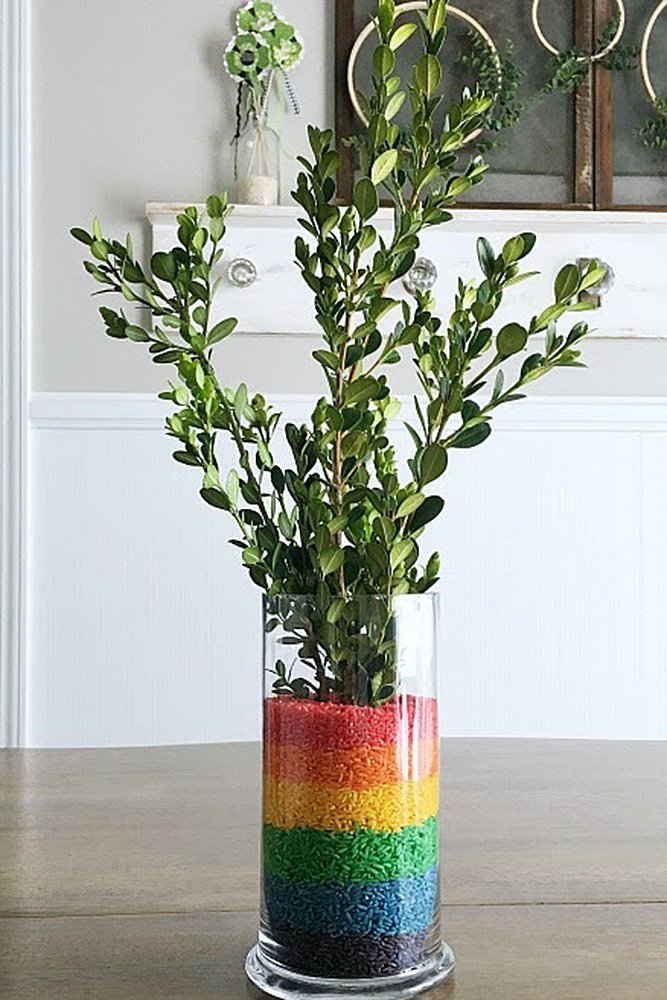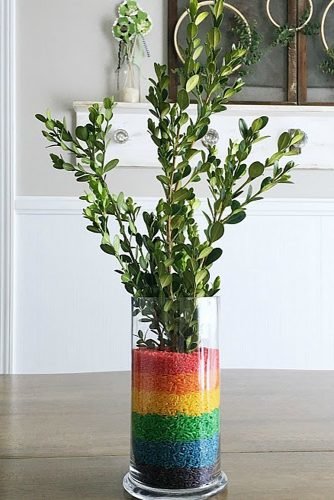 The Vintage Affair
Get vintage tea tins from your local stores and use them for vases. Fill them with flowers of your choice and give that vintage flavor.
Source: pinwheelcollective via Instagram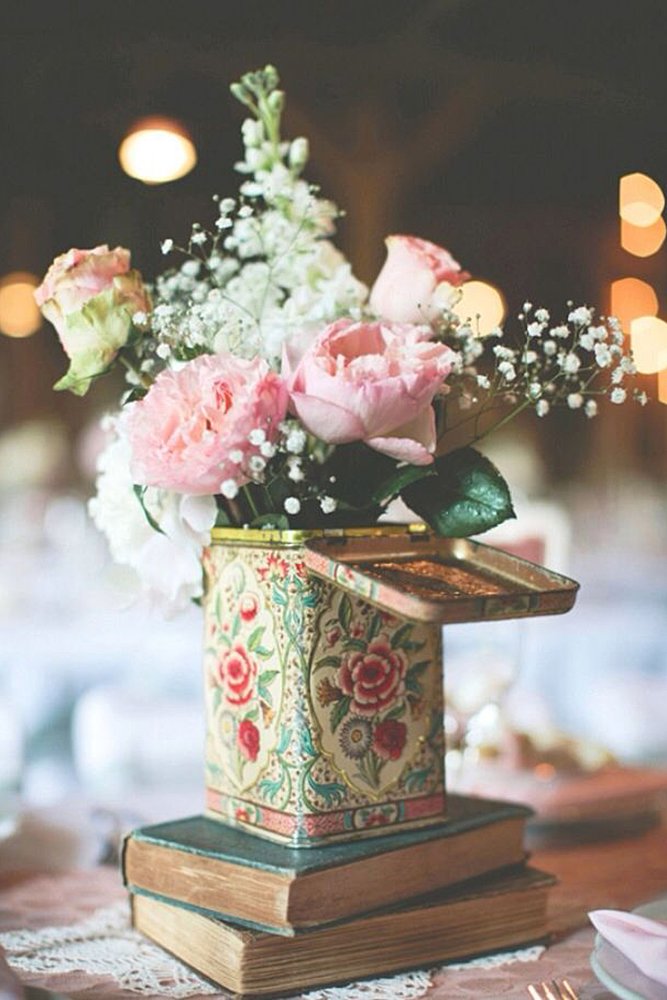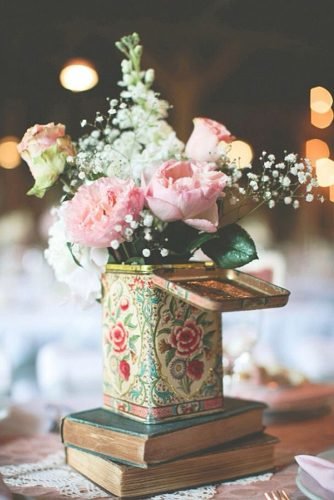 Garden Inspired
You can get inspiration for wedding reception centerpieces ideas from the garden. Combine hypericum berries, green and white hydrangeas, and green dianthus to give stunning centerpieces. They bring a garden feel, especially for couples who love to plant.
Source: jacquelinepattonphoto via Instagram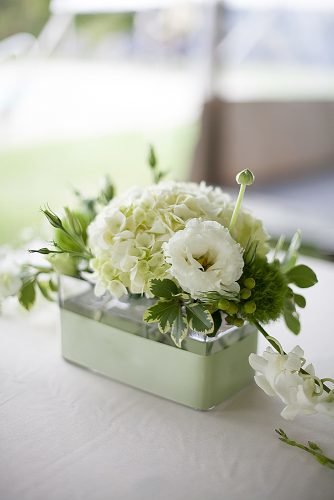 Nature's Beauty
Create natural tablescapes right out from nature. Adopt the use of grass and run them over tables. They can be artificial, and that's okay. But if you're going natural, plant the greens weeks before the wedding. It gives them time to grow.
Source: mike reed weddings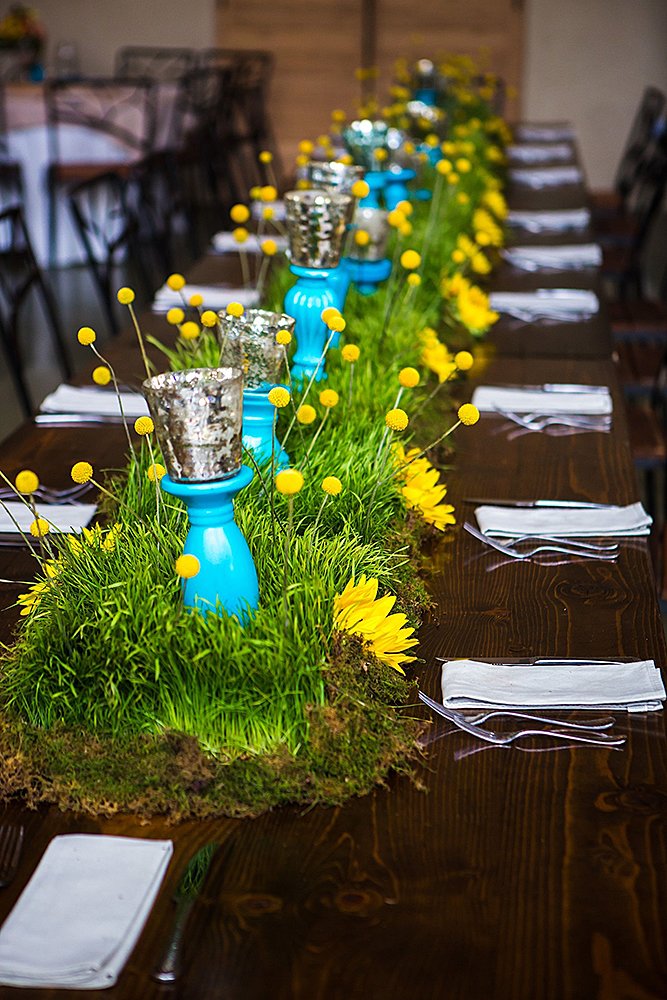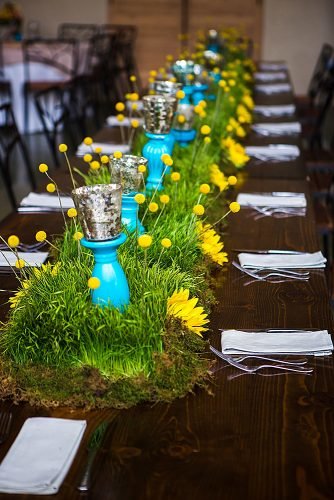 Floral Combo
This is a DIY table centerpiece ideal for modern and contemporary weddings. Pick out heaps of eucalyptus and run them on the tables. Then fix on stems of white and red roses at strategic intervals.
Source: sajephotog via Instagram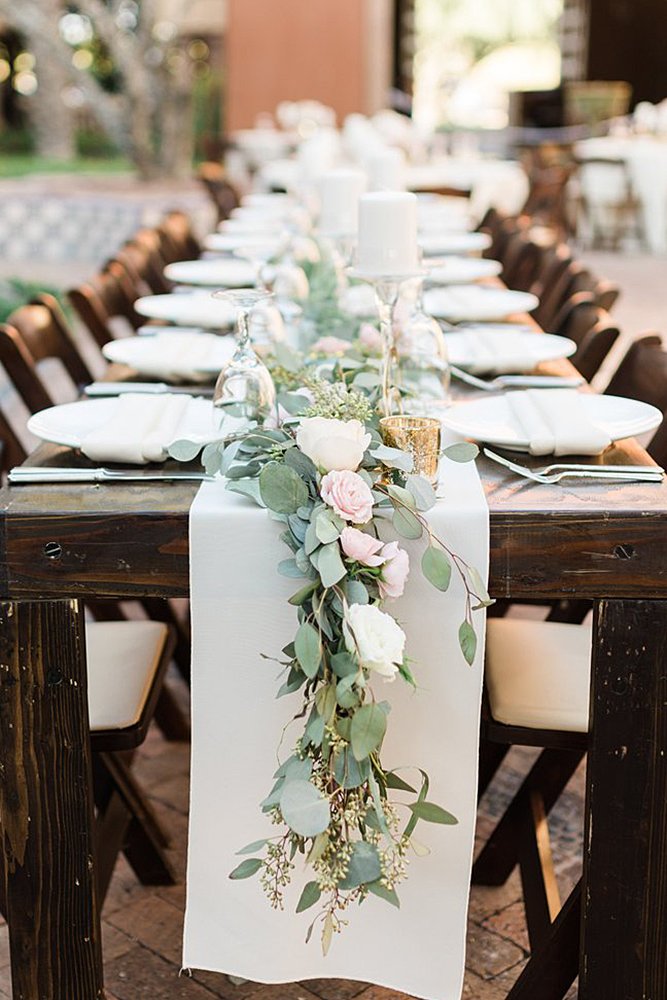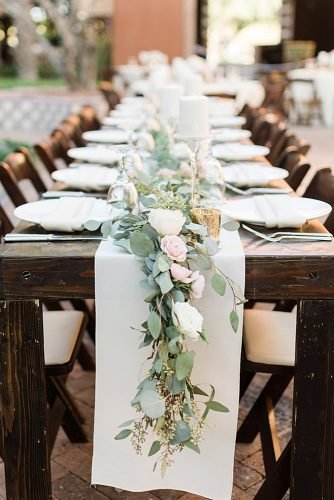 Succulents In A Jar
Buy jars and fill them with succulents. They are breathtaking. Arrange them on your wedding tables for more pop of color. At the end of the wedding, guests can pick them as souvenirs.
Source: jeremychou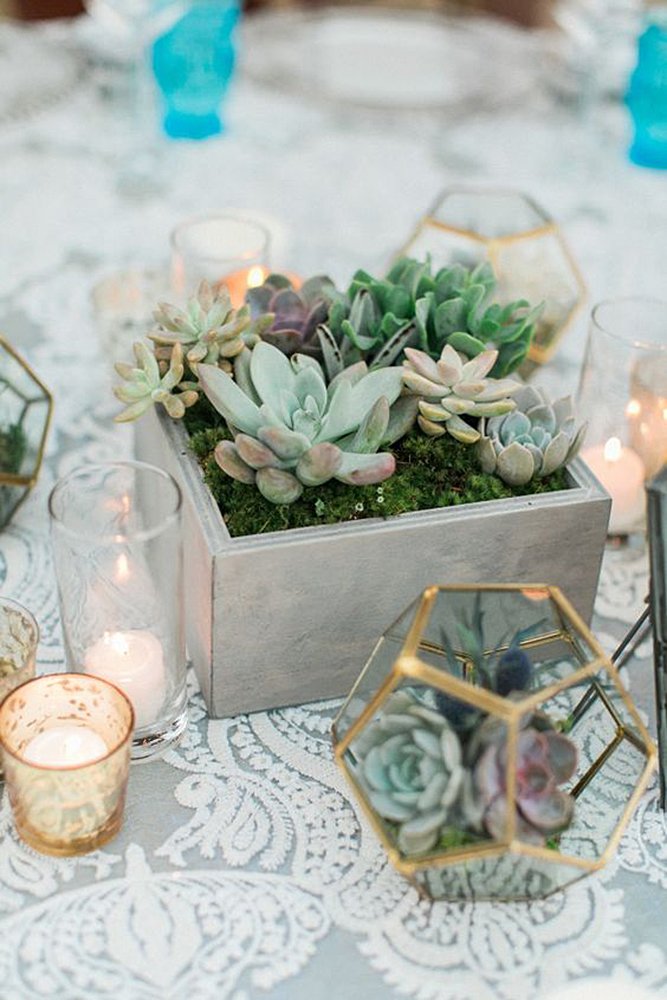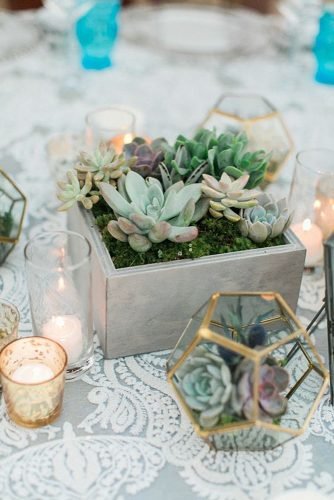 Unique Sand Bottles
Get bottles of unique shapes for these easy DIY centerpieces. Fill them with different colors of sand. Arrange them on tables that way, or stick in a stem of the flower to complete the look.
Source: ruffledblog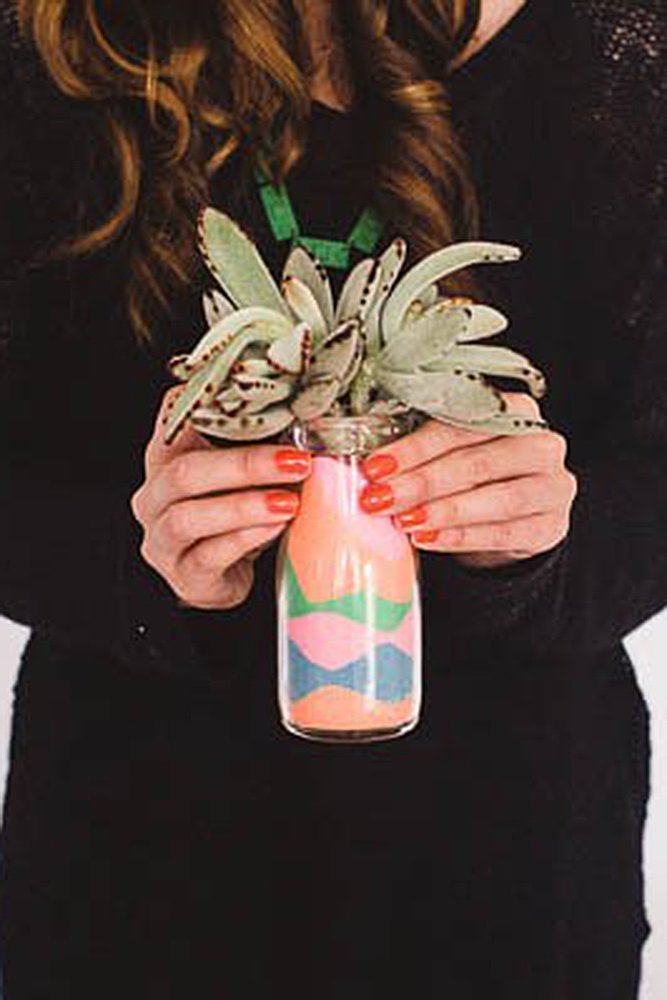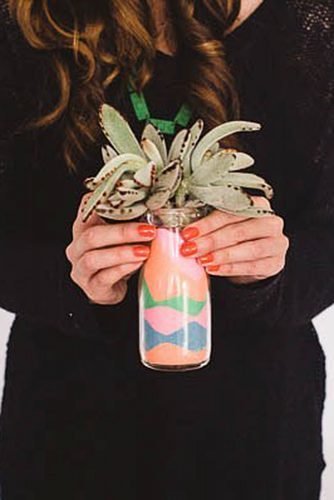 Hurricane Floating Flowers
Create a hurricane of floating flowers out of vases, candles, water, and roses. Get basics and fill them halfway with water. Put in the rose to float, then light a candle and put on the rose.
Source: christine de beer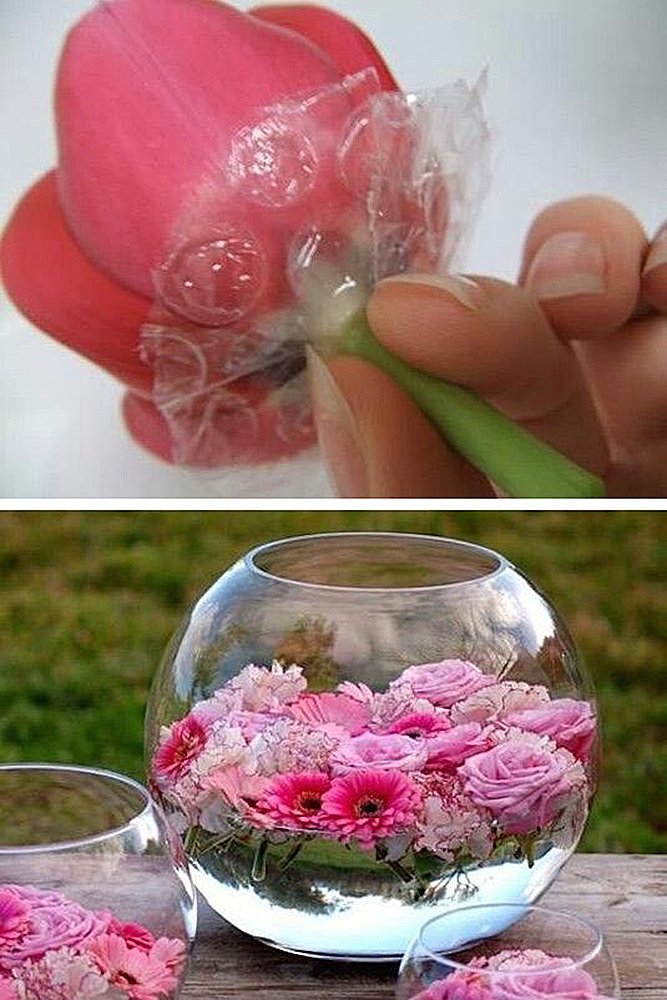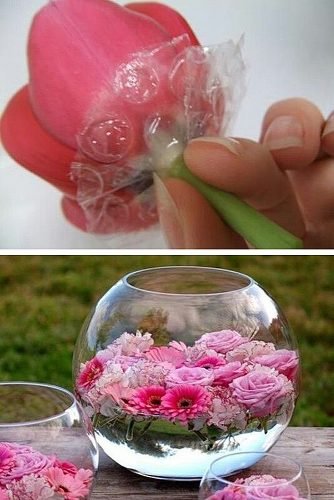 Buckets Sentimental
Get little buckets and paint in colors you favor. Inscribe romantic words like "LOVE" or your names on it. Fill these bucket with stems of flowers. Beautiful centerpieces and an opportunity to say sweet words.
Source: ehow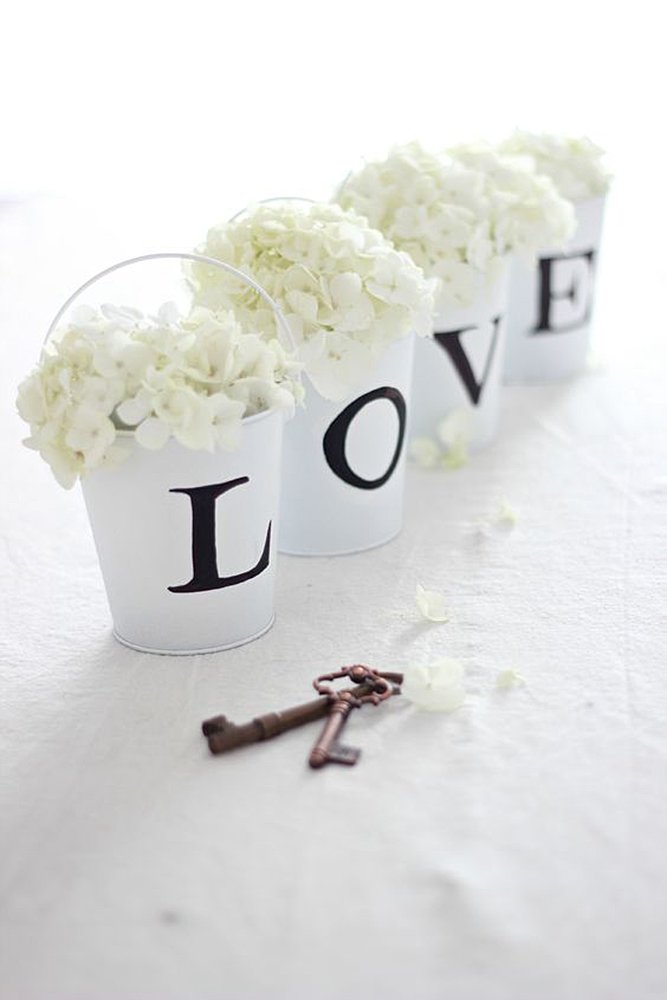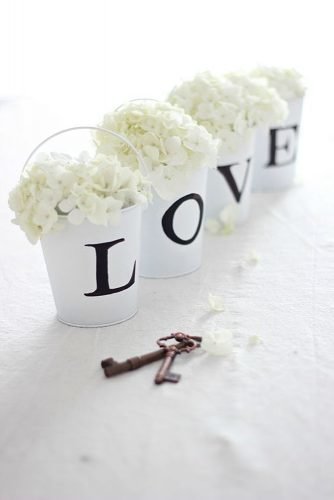 Chic Blooms
Make wedding centerpieces DIY chic blooms for smashing decor. Pluck daisies of different height and sizes and put them into ornamental jars and vases.
Source: camilla arnhold photography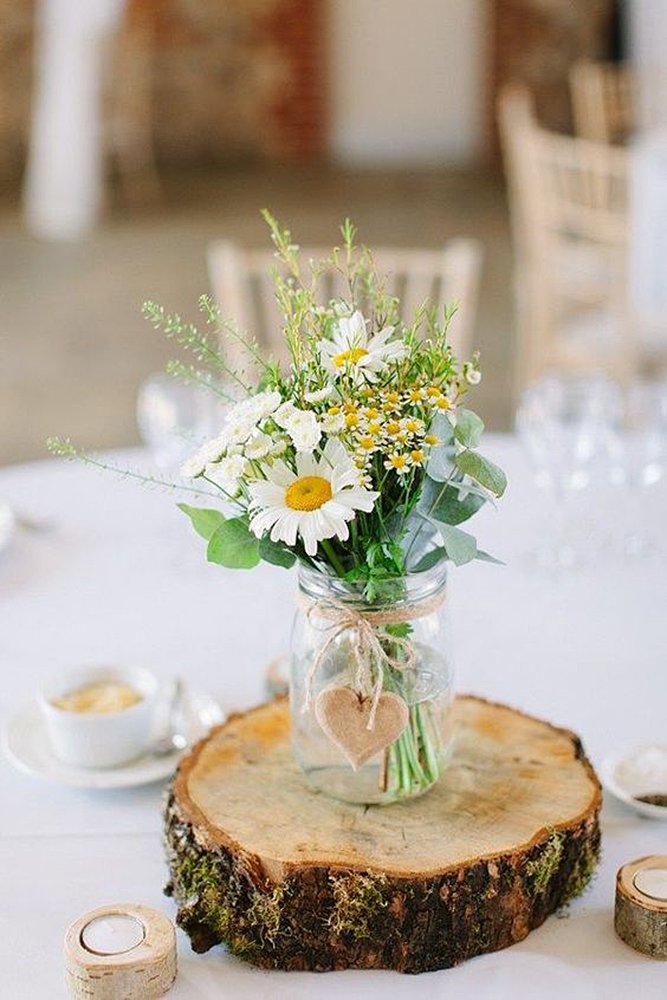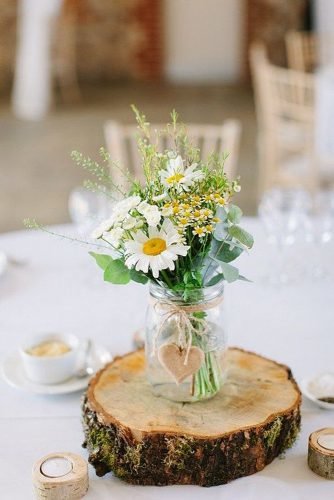 Paper Pinwheels
Create paper pinwheels in choice colors and pattern for your tablescape. They bring on a whimsical feel ideal for a traditional wedding.
Source: thesanadas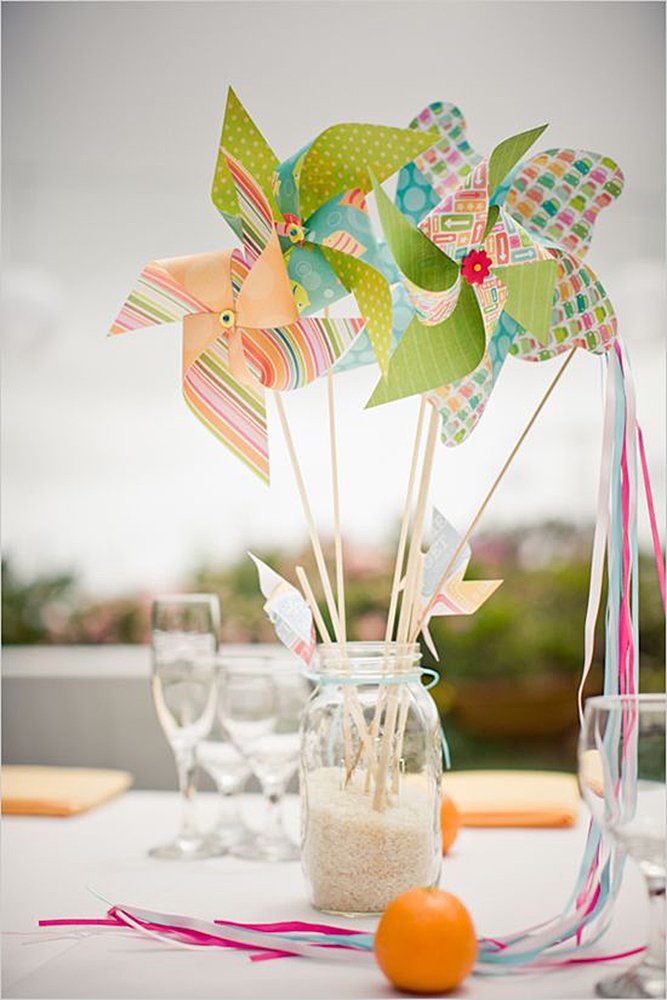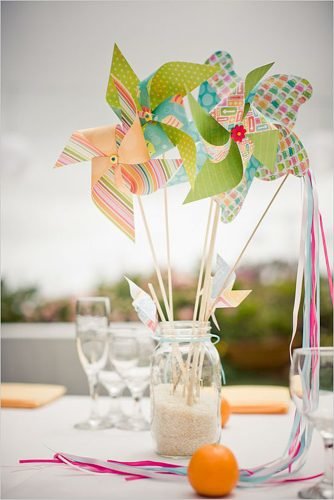 Shift Aquarium
Adopt one of the best wedding decoration ideas which are the shift aquarium. Fill these bowl with water, put the fishes in and some pebbles to match your decor. This will bring life and refreshing air to your wedding decor.
Source: picturethat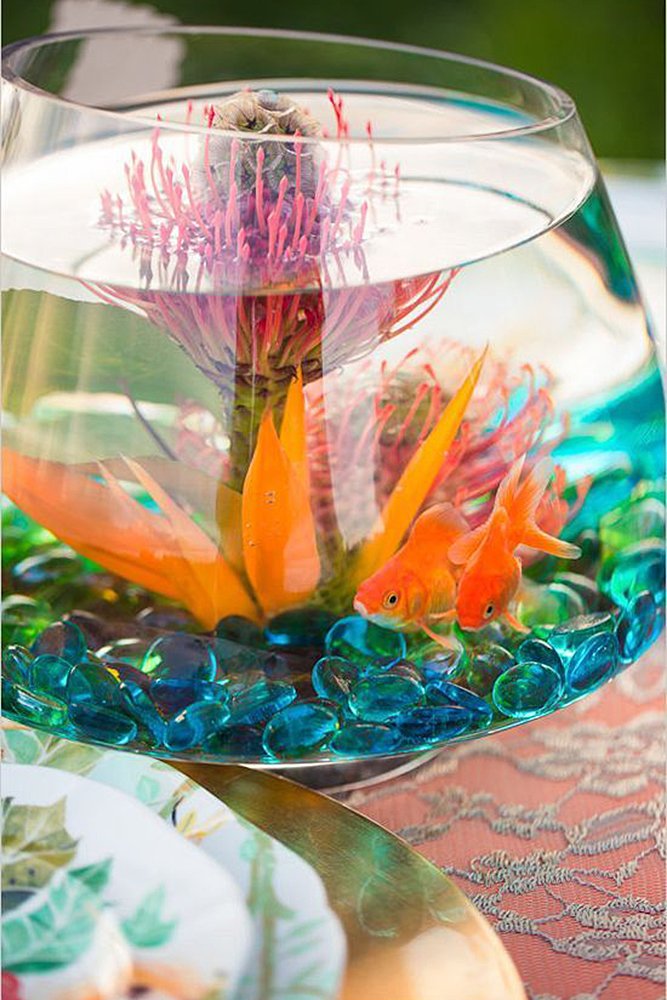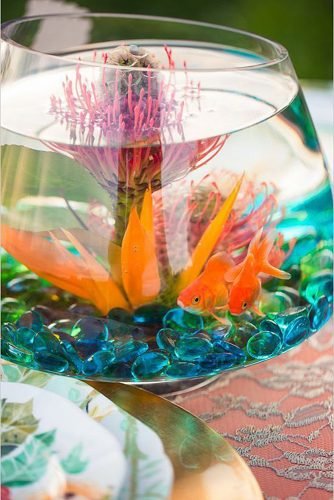 Whimsical Cascading Flowers
Get someone mason jars and stick heaps of roses and dahlias in them. Throw in some lemons and daisy to complete the look. This will form a cascade of flowers, giving a whimsical ambiance to your summer wedding decor.
Source: rachel smith photography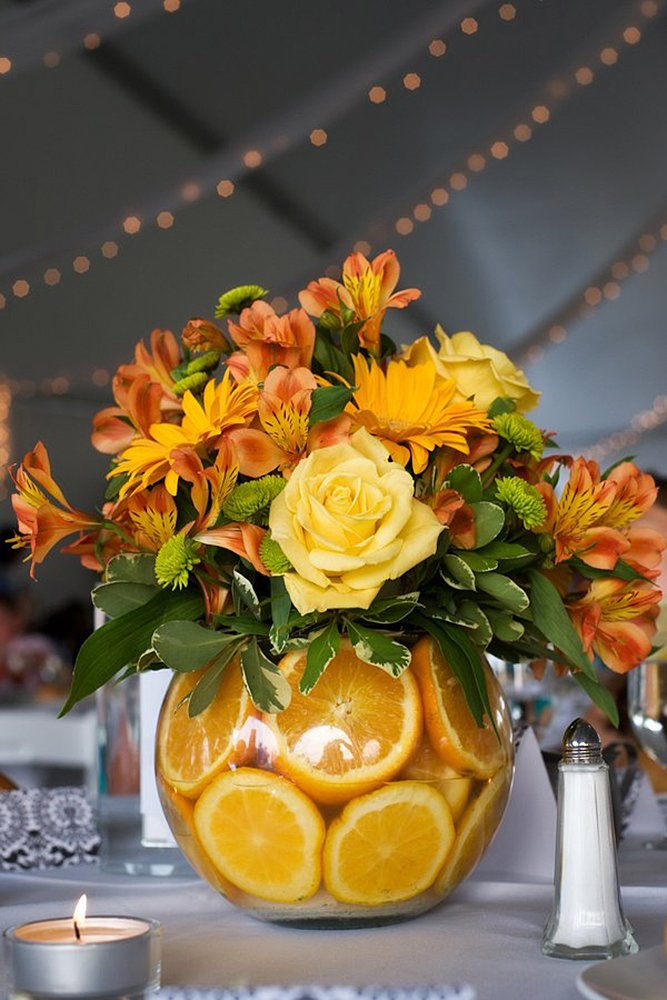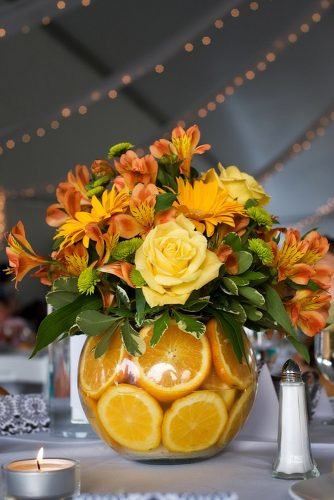 Reverse Wine Glass
Create exclusive centerpieces with traditional stemmed wine glasses. Get them and turn them upside down, over colorful flowers and marbles. The top flat surface of the glass stem is an ideal candle holder.
Source: supermanualidades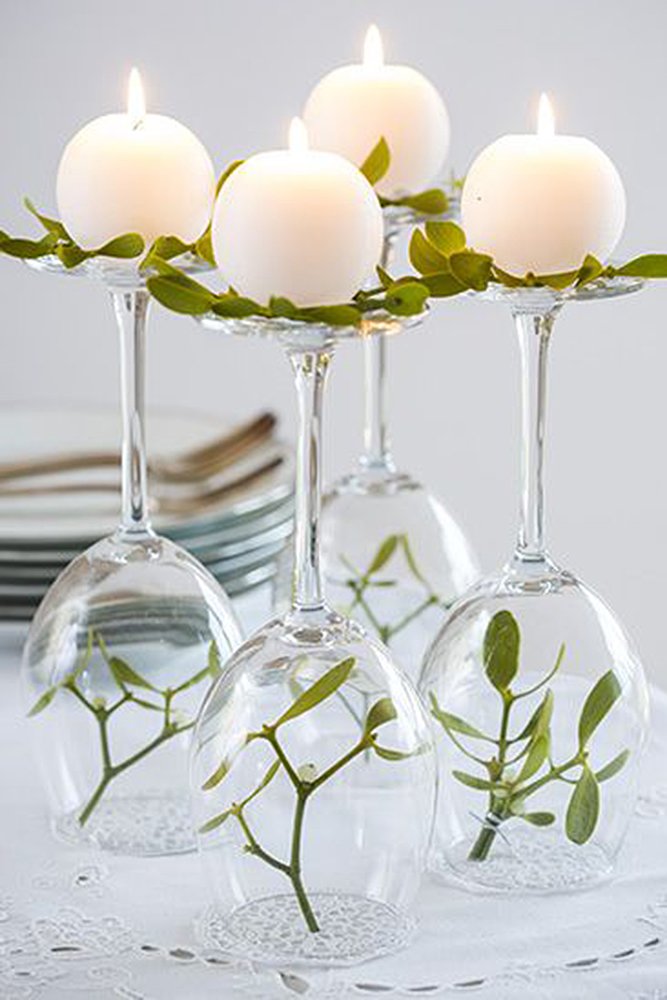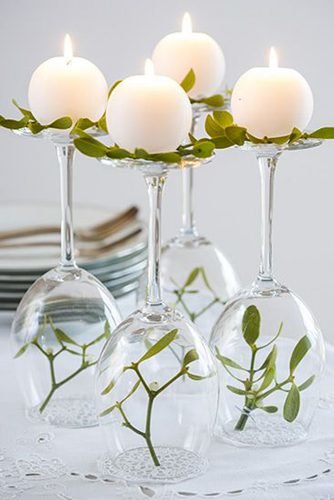 PVC Pipes Extraordinaire
We come across beauty in the most unexpected things, and PVC pipes are some of them. Spray out PVC pipes into colorful elements and stack them up on the tables. They transform the place into a bright atmosphere.
Source: imdiycraftsy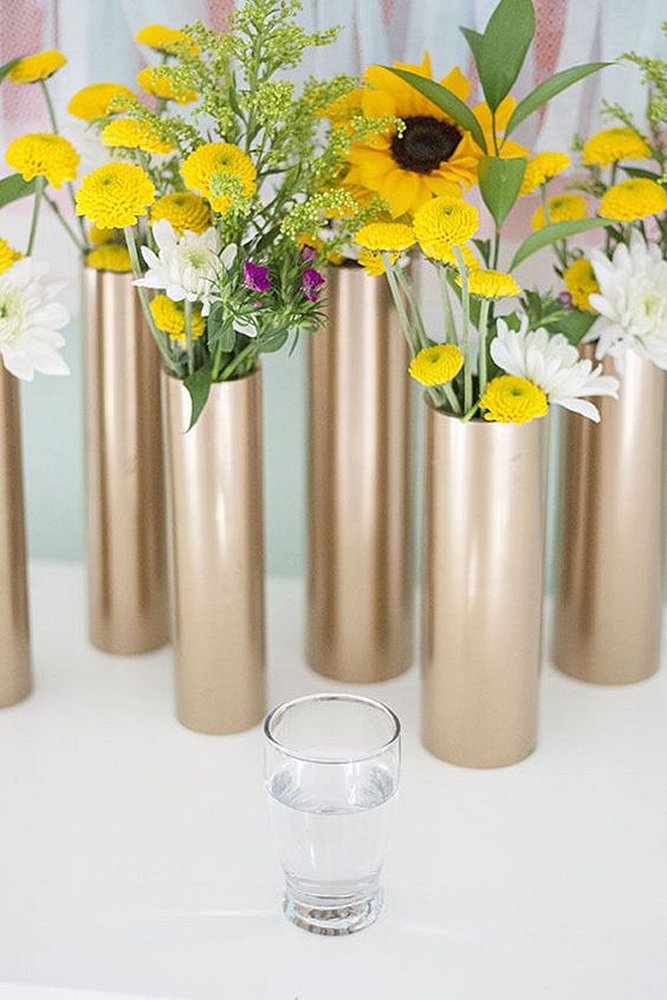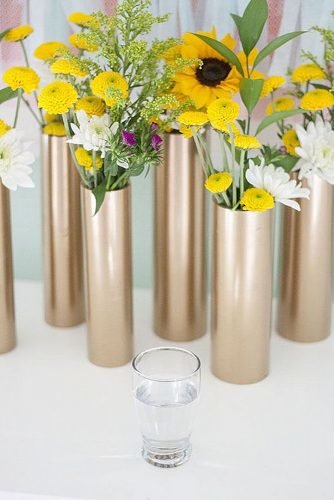 Orange Wonder Table Runner
Take balls of oranges and cut off the thin tops. Then pluck carnations, dahlias, white roses and peonies. Bundle them together and stick them into the top of the oranges. These are unconventional easy DIY centerpieces.
Source: greenweddingshoes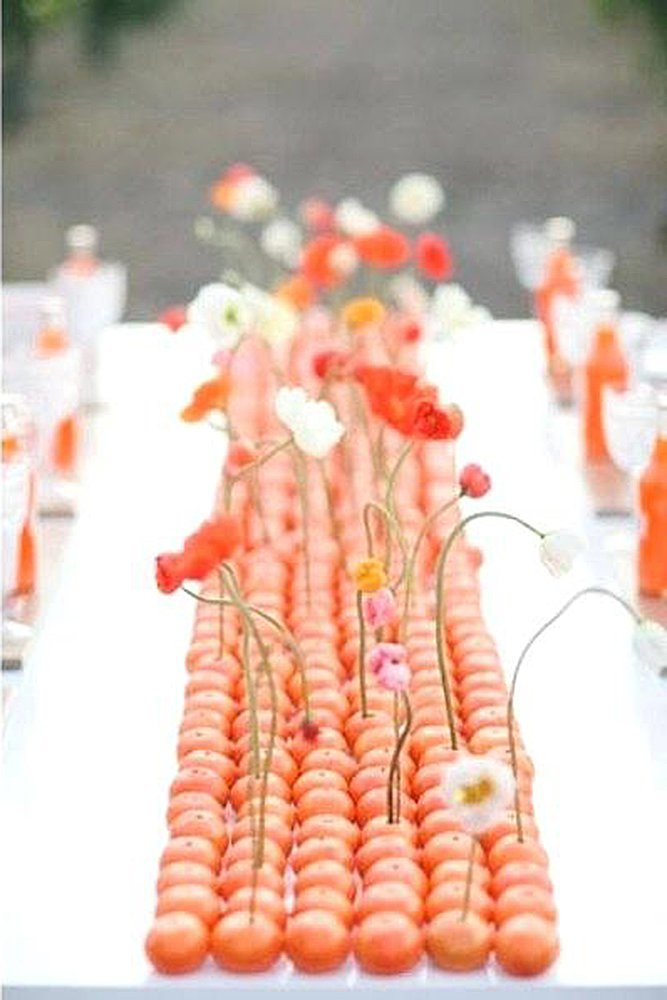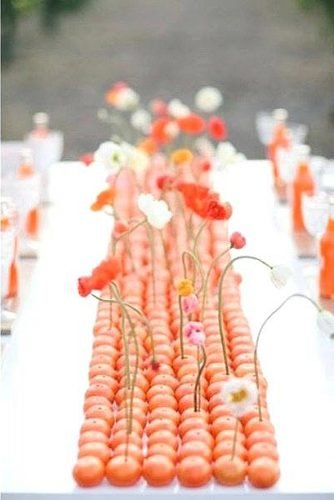 Soothing Baby's Breath
Decorate the wedding tables with a combination of baby's breath in mason jars. Embellish around the centerpieces, some fancy candles with a soft fragrance. Remember that the fragrance must be soft, or go for no fragrance at all. If it's overwhelming the senses of guests, it becomes disturbing.
Source: eliaskordelakos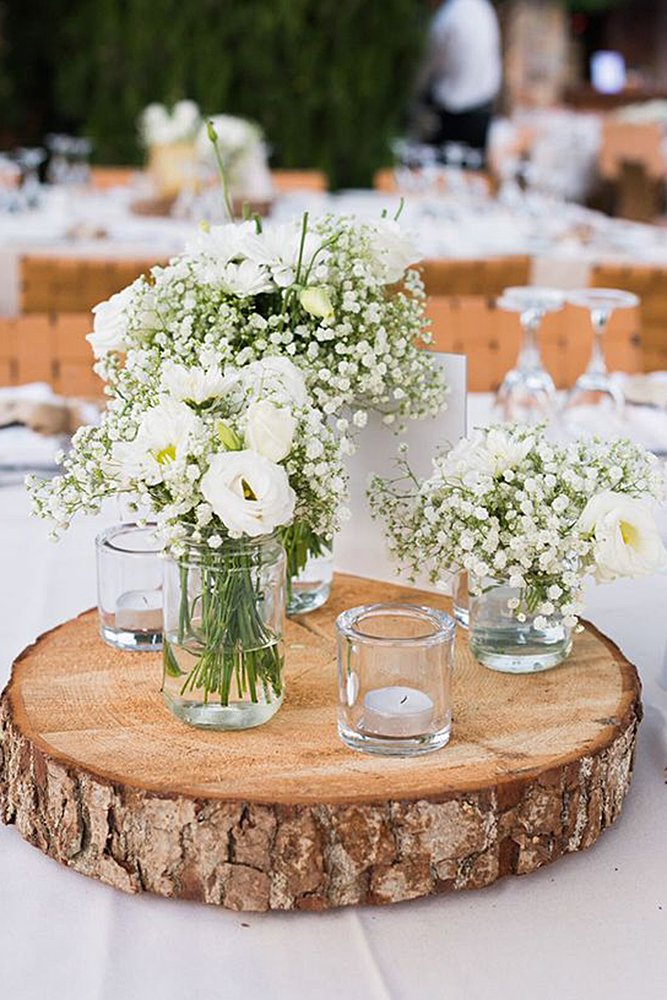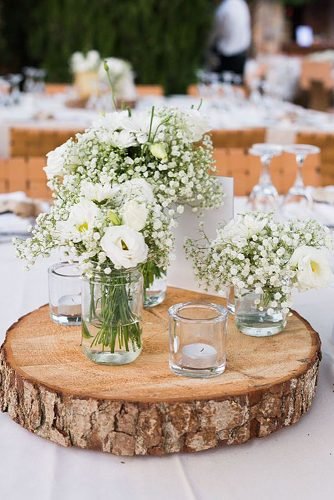 Lego Bowls
Get bowls of different sizes and fill them with Legos. Then decorate it by sticking a sweet chalkboard sign in it. This is a playful kind of centerpiece for the wedding. It's also very modern and stylish.
Source: gemma-clarke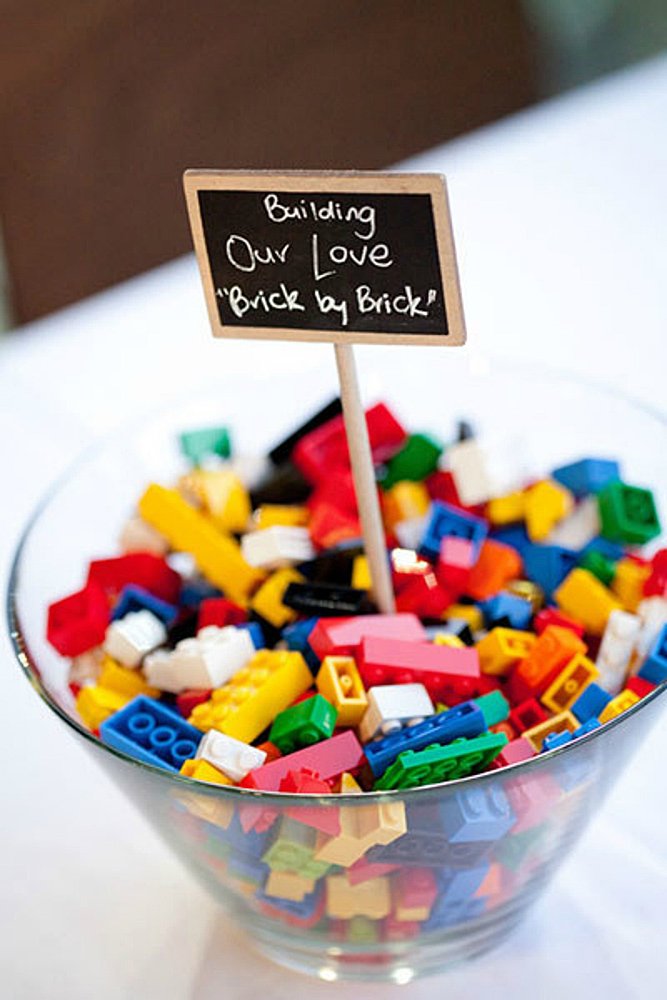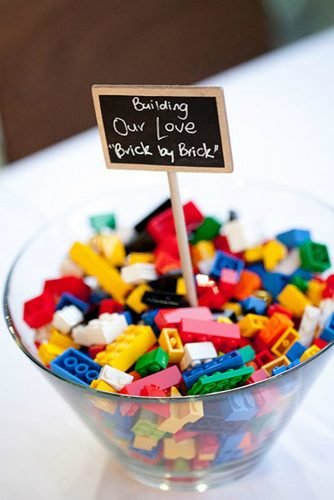 Colorful Logs
Who envisaged that logs could be so beautiful? Pick logs and paint in colors on both ends, to give rustic vibes.
Source: newyorksocialdiary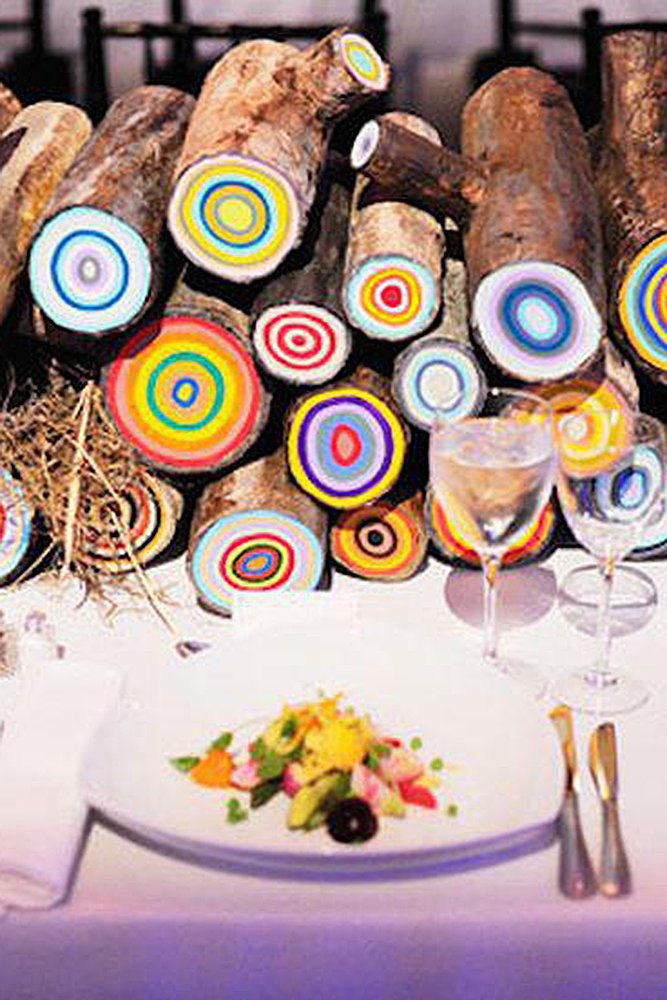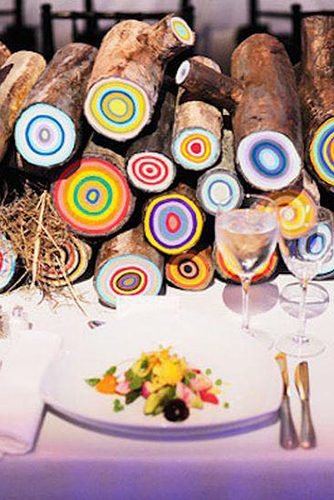 Having learned how to make wedding centerpieces, you're ready to create. There is beauty in even the most irrelevant things. So, you can create beautiful centerpieces from anything. We've listed 20 ways to make wedding centerpieces. Use any of these ideas to boost your own creativity. Don't forget to follow the tips in this post. But make sure you love them and they reflect you.