Wedding planning is a very happy and exciting time but it also can bring with it lots of stress. It is no secret that wedding planning can create a great deal of stress for the couple but it does not always have to be that way; and there are even some proven ways to take the stress out of wedding planning. We have created a simple breakdown of what some of the major stress areas are for planning a wedding and how to decrease some of that stress.
Stress
Brides Often Ask
What is the most stressful part of wedding planning?
The majority of couples have told us that the most stressful part of wedding planning is dealing with all of the different families that are invested in making the day come to life. For many couples the stress of trying to make all parties happy is what drives them crazy in the wedding planning process. From working out financial pieces to where and when the event will take place are just a few major sources of stress that couple need to deal with.
"I noticed I was trying to make everyone happy… my parents, my in-laws, my fiance and at the end of the day I was trying so hard not to disappoint anyone, the stress was killing me. My fiance and I decided to split up some of the wedding tasks so each side of the family felt they could be in control of a few items and it really helped" – Sarah, bride
Why is planning a wedding so hard?
Wedding planning is hard because let's face it, the day is pretty important. Everyone wants their wedding day to be perfect and how they always dreamed it would be so the overall gravity of the day is what makes the stress and planning process so difficult. Hosting a wedding means pulling together so many different pieces from working with vendors to booking a venue to ordering invitations couples often feel like the list of what they need to do is endless.
"I was totally overwhelmed with how to stay on track when planning my wedding, I didn't even know where to start. I decided the best thing I could do was work with a wedding planner who could handle some of the tasks for me and limit my stress" – Rachel, bride-to-be
Can planning a wedding ruin your relationship?
Being in a relationship is not easy under normal circumstances and then when you add in wedding planning and the stress around creating the perfect wedding it can make a relationship unbearable. Once you find the perfect person to marry you don't want anything to ruin that relationship but wedding planning can actually do that.
Below are a few ways to make sure your relationship stays on track through the wedding planning process.
Some couples find it helpful to create specific times of the day like dinner time or first thing in the morning as "no wedding talk times". By setting up some times of the day where you won't discuss wedding planning can help to lower the tension in the relationship.
Many couples actually work with a therapist or mental health coach to make sure they are working through this very stressful time in a healthy way.
Signs You're Dealing With Wedding Planning Stress
Stress can pop up in a lot of different ways and everyone deals with stress differently. Some very clear cut signs that you are dealing with wedding planning stress are changes in your emotional well being. If you notice that you are starting to feel too stressed and the cause is from the wedding planning process; it is helpful to talk with professionals and your support team around you to find ways to cut down the stress and create healthy outlets.
Signs of stress:
Relationship issues. Stress can make it hard to be in a relationship; and a clear sign that your wedding planning stress is getting in the way of your relationship is when you and your partner start to fight, disagree, and argue more than usual.
Family & friend tension. If your once harmonious family relationships now are filled with tension and minor squabbles you probably are dealing with some wedding planning stress that is overflowing into your other relationships. Opening the lines of communication can start to heal this issue.
Unhealthy diet. If we feel out of control often our diet gets out of control as well. If you see yourself making unusual and unhealthy diet choices it's probably time to take a step back and talk with your healthcare provider to find a way to stay more balanced.
Over-exercising. Exercise is a good thing and can keep us healthy both physically and mentally. But when you start to over-exercise to help cut down on the stress you are creating an unhealthy habit.
Weight gain or loss. When we feel stressed and unbalanced in life, oftentimes we will see a significant weight gain or loss. To make sure you are physically healthy you should always talk with your healthcare provider.
Aches and pains. When dealing with stress your body takes the toll. You might notice that you feel aches and pains and small ouchie which all can be directly related to the amount of stress you have going on.
Tips On How To Deal With Wedding Planning Stress
Stress is unavoidable but how we deal with it is the most important thing. To help you lower your wedding stress levels we have a list of useful tips that can make the wedding planning process smooth.
Communicate. The easiest way to cut down the wedding stress is to open the lines of communication. Make sure communication is easy and open for all parties included in the wedding planning process.
Hire a wedding planner. If you can afford to hire a wedding planner it's a surefire way to make sure some of the stress will be taken off your plate. Working with a wedding planner will help you stay on task and not be overwhelmed with the wedding planning process.
"As a wedding planner it is my job to make sure I take on some of the stress of the wedding planning process; which is easier for me since I am not emotionally caught up in the family dynamics. Since I work on many wedding each year I know the best ways to manage the process and make it easier on the couple" – Tina, wedding planner
Sign Up For Your Subscription Box. You will want to check out a wedding subscription box such as Miss To Mrs Box as they can help set you up for success and kick off the planning process. The Miss To Mrs Box will send you monthly, bi-monthly or quarterly boxes that are filled with essential wedding goodies. Useful checklists, vow books, necklaces and banners would help you to deal with stress along with tips and ideas to guide you through the entire wedding planning timeline.

Get your Miss To Mrs™ Box here!
Self Care Time. Take some time for yourself and step away from all of the stresses you have in life. For many couples not only are they dealing with wedding planning stress but they also have family, work and life stresses so taking care of yourself is key. Self-care is important and can make all the difference both physically and mentally.
Wedding Planning Time Off. It might seem like you need to be thinking about your wedding every minute of every day; but in reality, you don't need to. Create some time each day that is time off from wedding planning; this will help you distance yourself from the nonstop stress that can come with wedding planning.
"It was critical for me that I set aside 2 hours of everyday that I did not talk about or think about wedding planning. I put away all my devices so I was not tempted to get on social media or do research. By creating some time away from wedding planning helped to reset my stress levels " – Erin, Bride-to-be
Create A Drama Free Zone. Weddings are known to be high drama events but if you can help create a drama-free zone you will be helping your stress level as well. To create a drama-free zone you might want to limit your bridal party numbers since the more personalities you have to mix the more drama there can be.
"I thought I wanted a ton of bridesmaids. But after being a bridesmaid in a few weddings I saw how much drama came with it. So when I got engaged I kept the bridesmaid numbers to a minimum." – Carrie, Bride-to-be
Exercise. A healthy habit like getting exercise not only will get you in physical shape for your wedding day; but will also get you in a good mental spot as well. Are you not a gym fanatic? You can get the benefits of exercise by starting with just a short 20-minute walk.
Get Enough Sleep. Sleep is critical to our bodies being healthy; but for many sleep can be hard to come by when dealing with large amounts of stress. One of the best ways to create a positive sleep environment is to make sure your bedroom is free of devices that can distract you. Ditch the TV, phone, and computer when in your bedroom and focus on sleep and relaxing.
Get Help From Experts. Asking for help is an important part of not getting overwhelmed to the point of making yourself sick. You might want to ask for help and seek guidance from a healthcare professional.
Connect With Your Partner, Family & Friends. Making time to connect and spend quality time with your partner, family and friends can help your stress level go way down. Go on a date with your partner, host a girls' night, or set time aside to spend with your family. This will allow you to be surrounded by your support team and help to keep stress at bay.
Take Time Away. It might not seem like an easy task but taking time away from your day to day schedule can make stress levels drop almost immediately. Plan on getting away from work, wedding planning; and your just normal busy life can help you get space and clear your mind.
Stressed out about wedding planning? We've got you covered! Check out our printable wedding planning checklists, suitable for all stages of your wedding planning journey.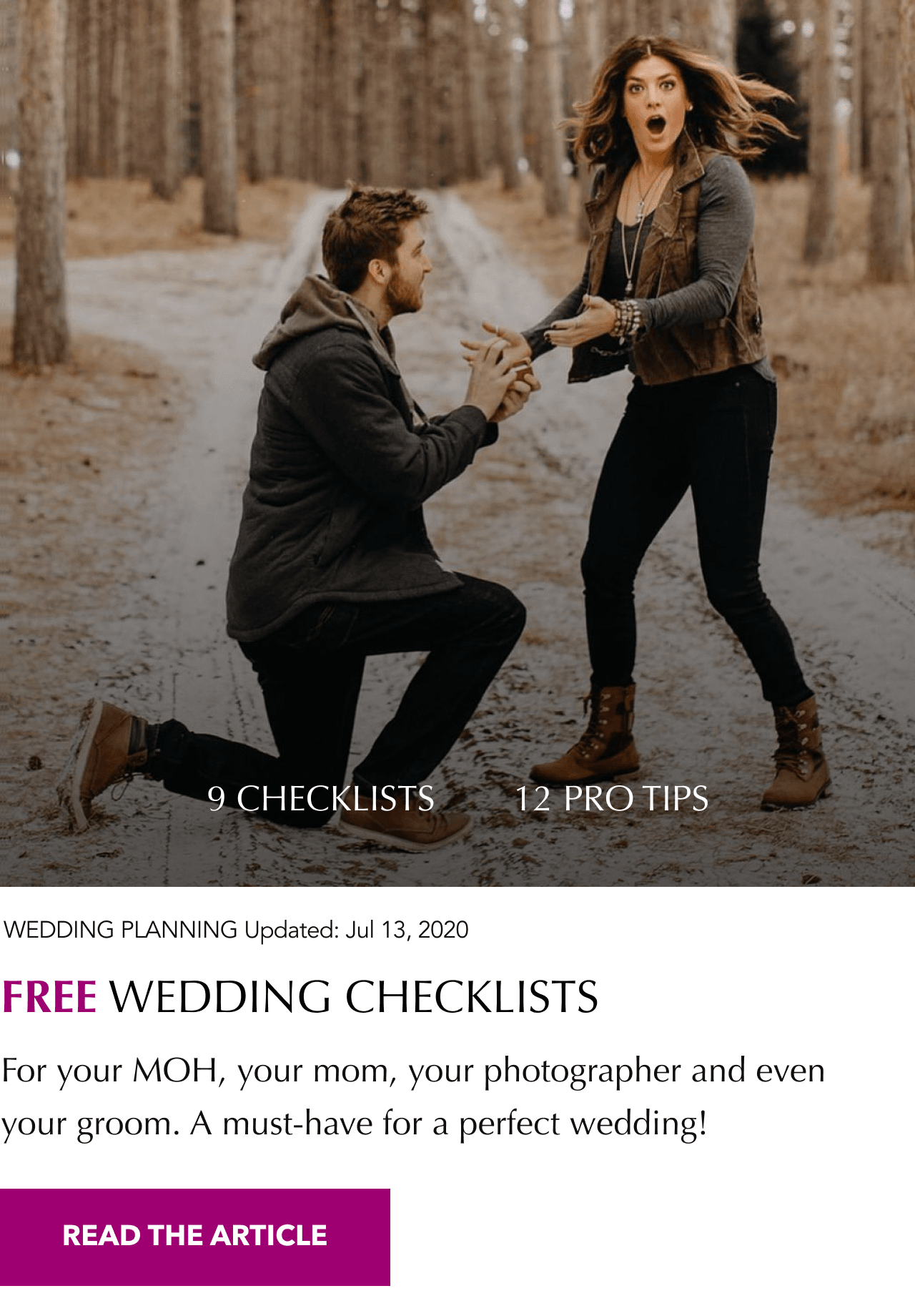 Funny Wedding Planning Quotes To Reduce Your Stress
As the saying goes, laughter is the best medicine; so we wanted to share some funny wedding planning quotes to help you laugh out loud and bring your stress level down.
"I never understood why couples decide to elope until I started the wedding planning process myself. Now I get it and am close to pulling the trigger on eloping!" – Morgan, bride
" If you want to send yourself on an emotional rollercoaster decide to plan a wedding. If you want to make yourself crazy plan a wedding in under 6 months" – Jessica, bride
"I thought I wanted a big wedding filled with elegance and beauty until I figured out that elegance and beauty cost a ton of money. So now I am going to settle for simple and cute" – Emily, bride
"When I informed my fiance that I hired a wedding planner he asked if that was necessary and worried it would cost a lot of money; but then I informed him that I would talk to the wedding planner about the wedding and not him and he said pay whatever she asks." – Jane, bride
"If you want to feel nonstop stress and anxiety plan a wedding; if you want to feel even more pain plan it and then have a global pandemic come along" – Lucy, bride
Stress is a part of life that we can't escape from totally but how we manage our stress is the most important thing. There is no doubt that planning such a large scale event such as a wedding creates stress; but working with wedding professionals, your support team, and navigating the tasks one at a time can help you lower your stress and enjoy the wedding planning process!