Outdoor wedding ideas are trending, because outdoor weddings are a hit for modern couples for very obvious reasons. From its natural beauty, ample space, and natural light which allows the full bloom of outside wedding decoration ideas. Regardless of theme, you need expert input of refreshing outside wedding ideas to make the most of your wedding venue.
You can also choose to leave your personal touch on things like tea stations, seating charts, and other outdoor effects. That's also not a problem, as you'll find 21 trending simple outdoor wedding ideas to inspire you in this post.
Chic Outdoor Wedding Ideas
1. Truck with décor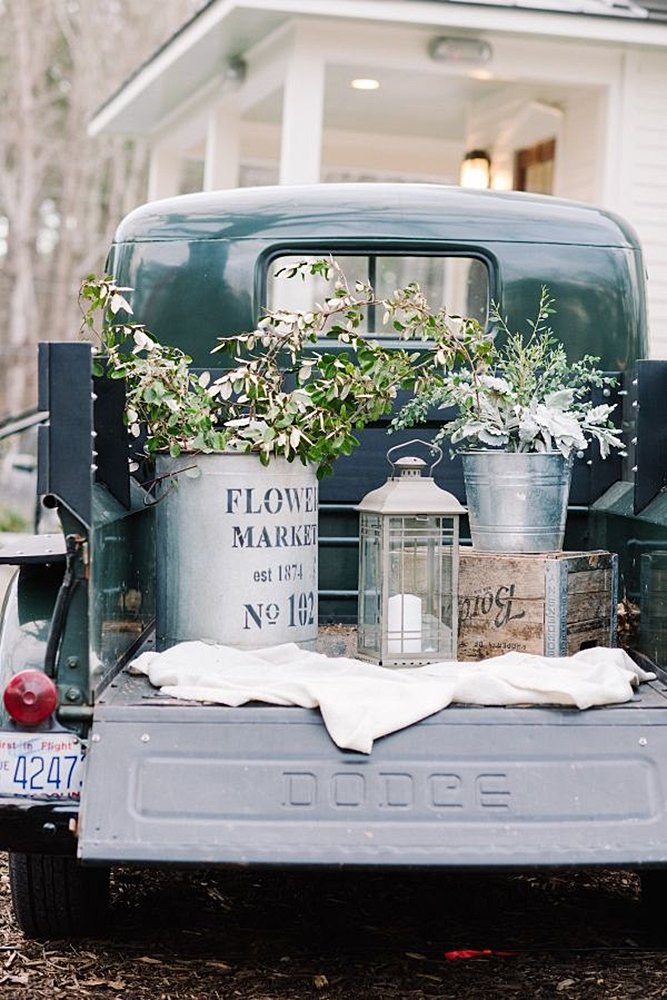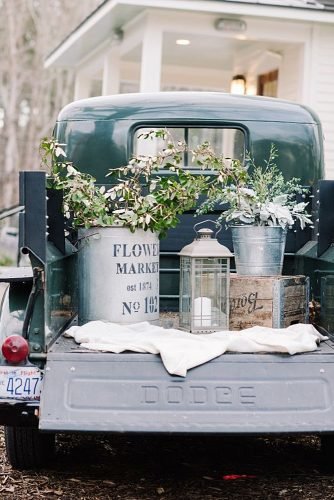 A truck with decor is the perfect backdrop for an outdoor wedding venue. Spark up your outdoor wedding decoration ideas by getting a vintage truck. Fill it with floral arrangements in tins and grace your venue with it. It makes fun fall back photo stand, giving you a retro vibe.
2. Backyard lounge zone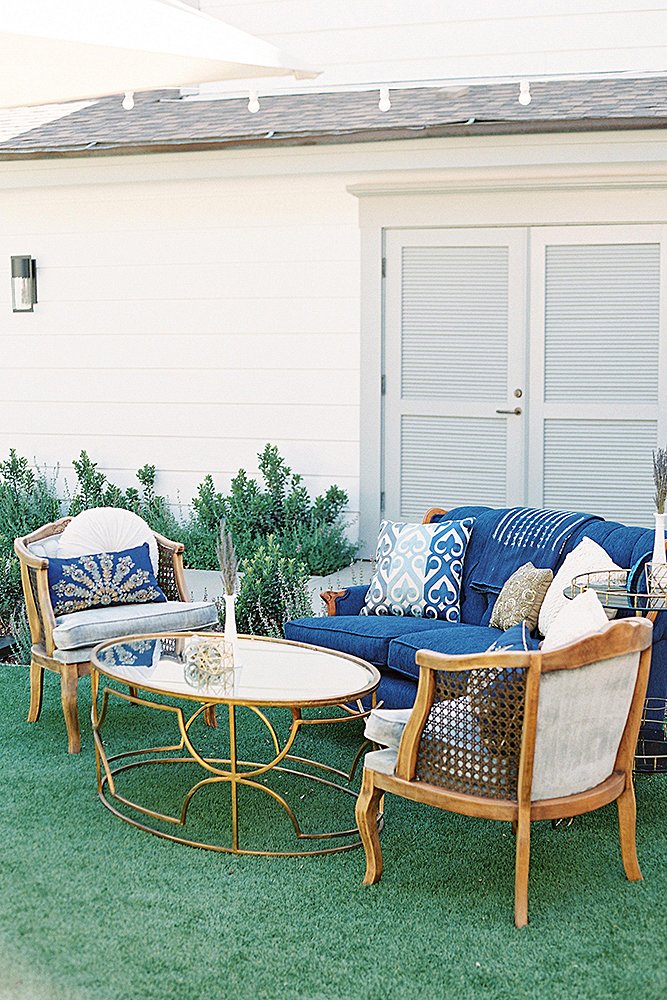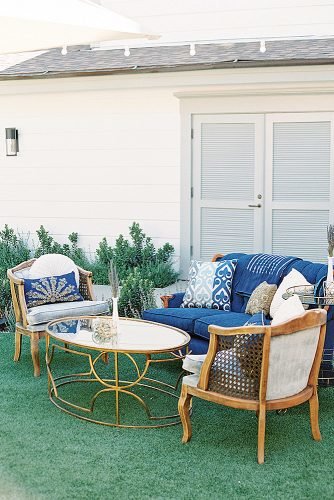 Planning an outdoor fall backyard wedding? Then a backyard lounge is one of the best outdoor wedding reception ideas. Set up a cozy lounge of rustic tones. Sofa, two worker chairs and then blend in some throw pillows. Your guests will find some comfort as they get together for cocktails.
3. String lights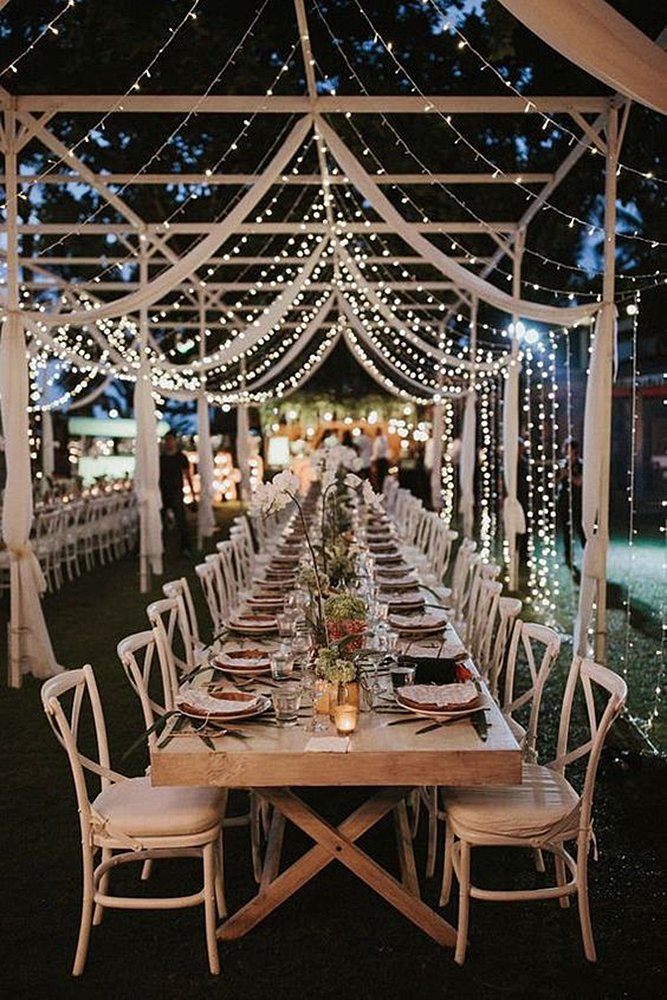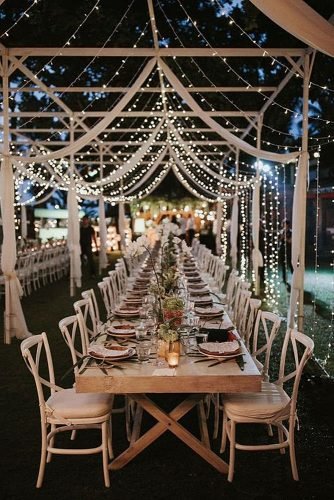 Want to have a family-style evening outdoor wedding reception? A string of lights rain is one of the trending wedding ideas for outside venues. Lend beauty to the stars by taking advantage of the open skies. Run string lights around your venue or family dinner table. Sparkles bring whimsical feelings.
4. Pampas grass table décor
When you plan an outdoor wedding at the beachside or garden, pampas grass should never be missing. This makes one of the best outside wedding decorations ideas. Pampas grass makes a very beautiful table centerpieces, setting up a romantic ambiance. It's a simple decoration idea for a romantic outdoor wedding.
5. Antique candelabras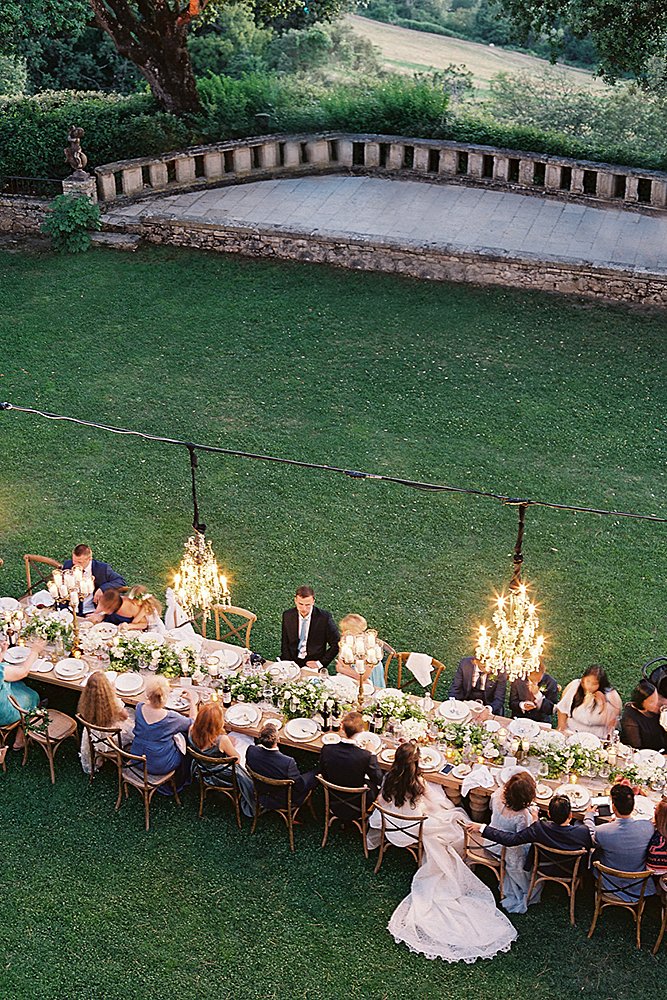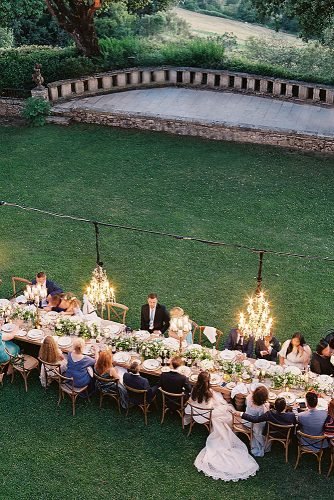 From the ceremony to outside wedding reception ideas, antique candelabras remain appealing to the eyes. Perfect for hanging overhead along the aisle at the ceremony, you can also suspend them over the tables at the wedding reception. Candelabras are great decor considerations for vintage-inspired farms, barn, and beach weddings.
6. Natural table setting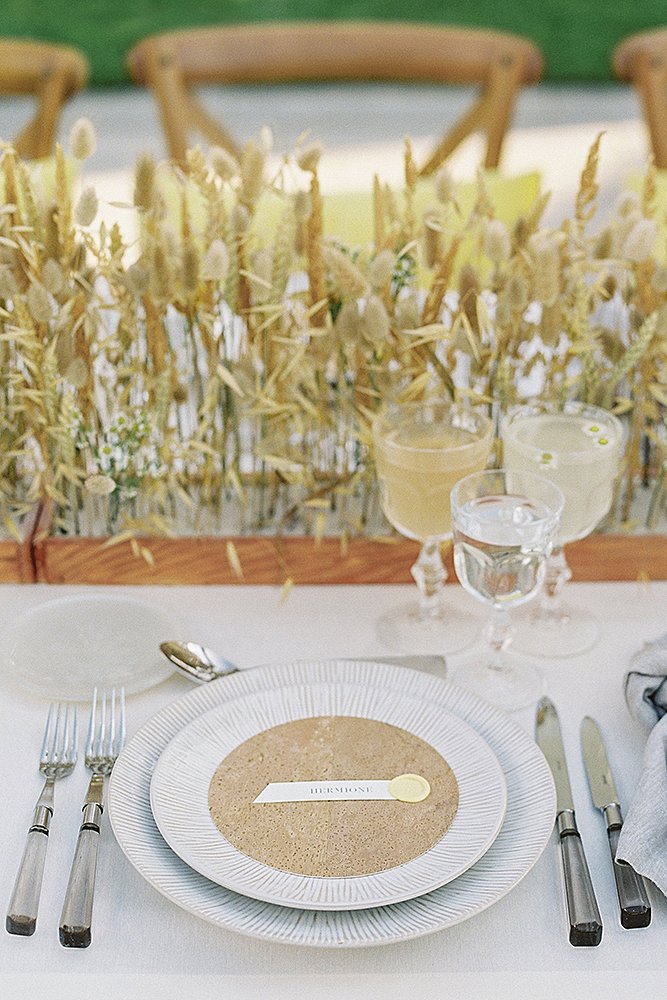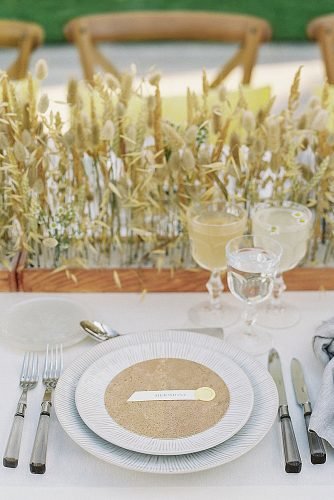 Natural settings for tables are simple outdoor wedding reception ideas trending at the moment. Use natural flowers or foliage for table settings to give that garden-inspired theme. Add on flatware in simple patter to reduce cluster. This fits best for couples who intend to have a simple spring wedding.
7. A seating chart installation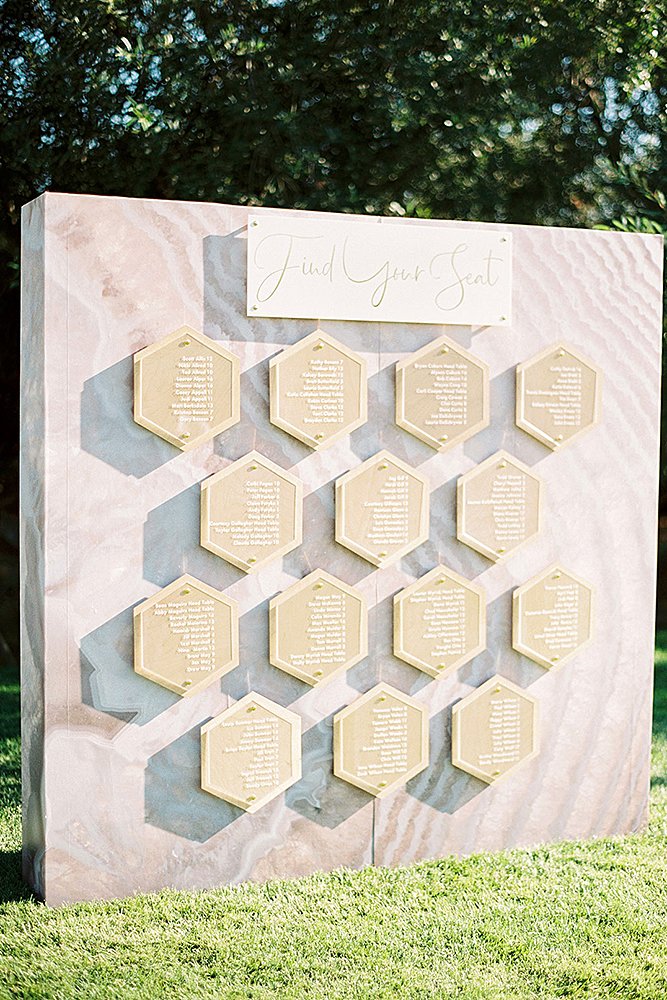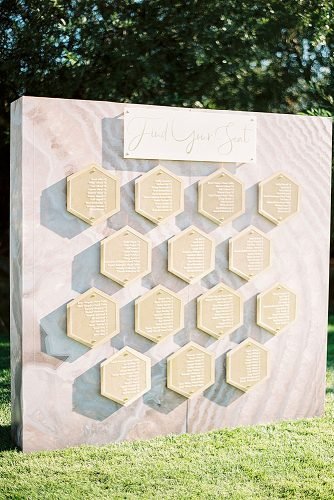 An installed seating chart is one of the modern simple outside wedding ideas to incorporate in your big day. Rather than putting down numbers on the table, install a searing chart at the entrance of the reception venue. This helps the guests know where they should seat with much ease.
8. Rattan light fixtures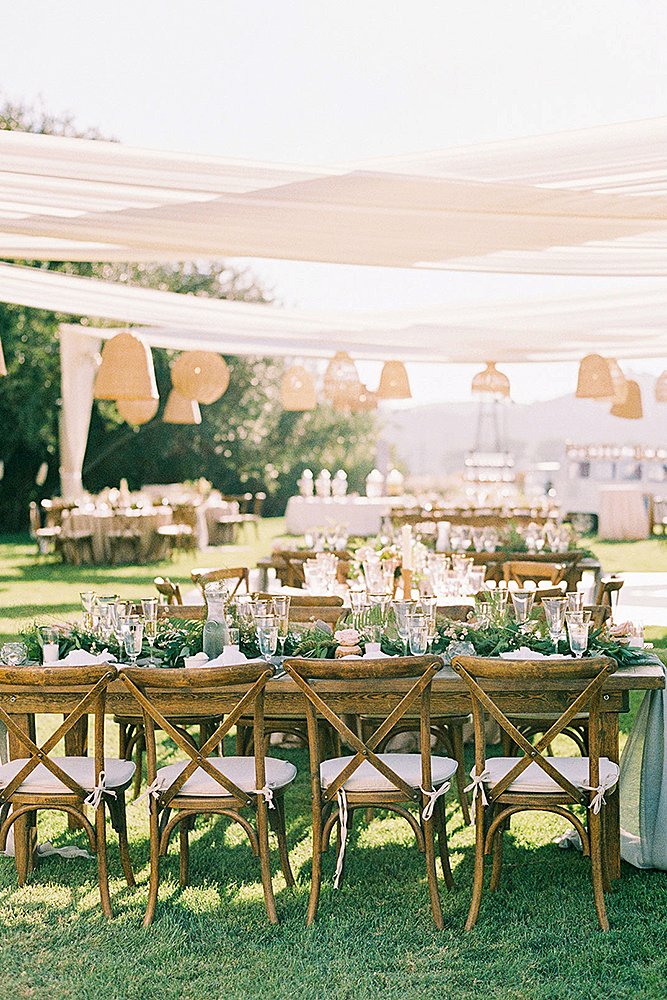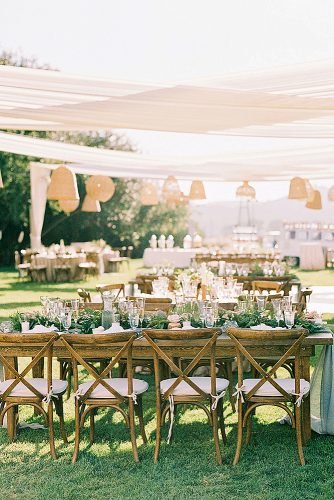 Do you have an Arabian or desert romance themed wedding party in mind? Don't forget the rattan lights. One of the most beautiful ideas for an outdoor wedding, rattan lights are a perfect fit for romantic evening weddings. They are soothing, bringing a calm and mystical glow to your outdoor setting.
9. Vintage tea station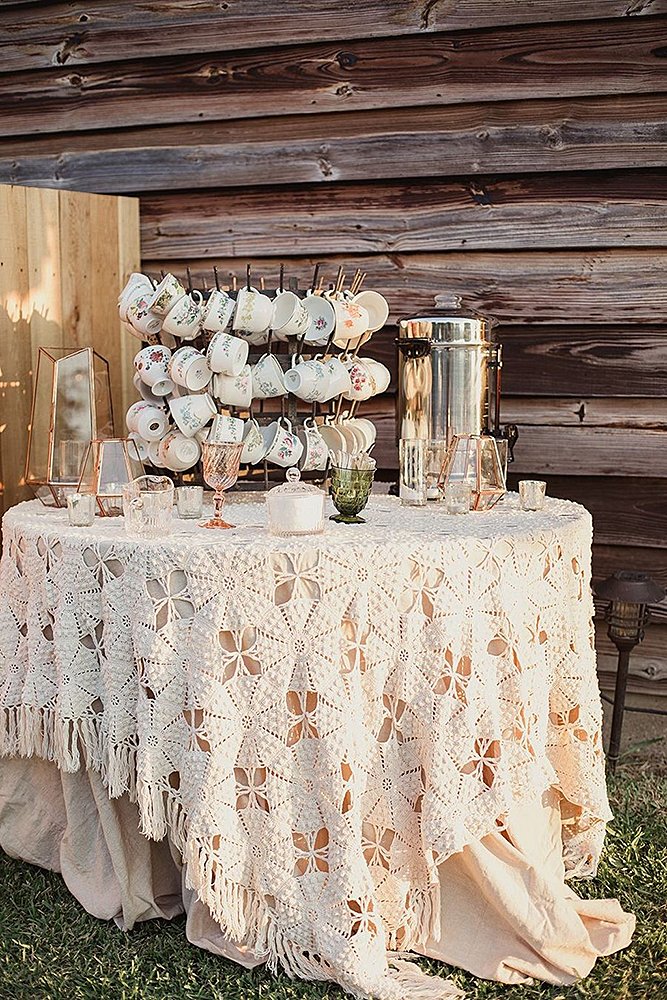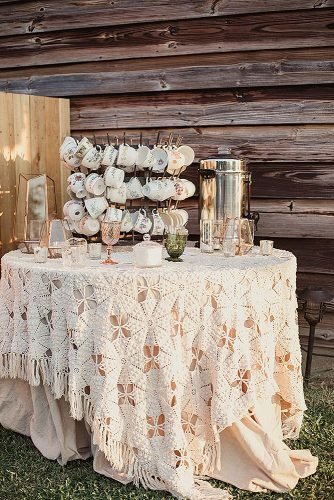 Vintage themed winter wedding in view? Set up a vintage tea station featuring rustic shades of fall colors. Everything vintage from earth-toned table cover, to the rustic background and not forgetting your fine China cups. This makes a sophisticated setting for guests to enjoy some warm tea during the reception.
10. Old window décor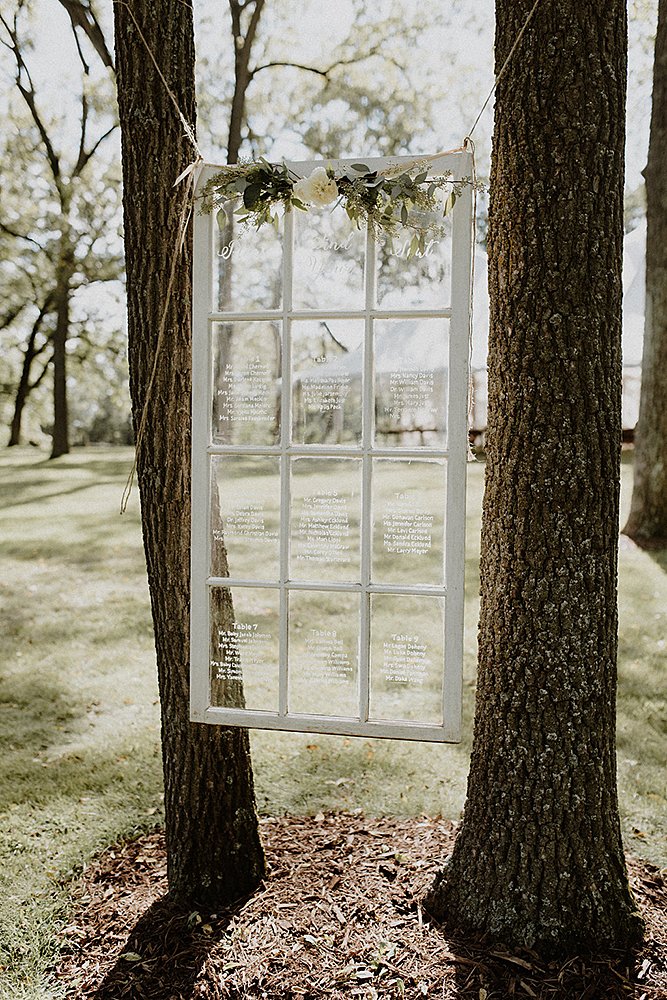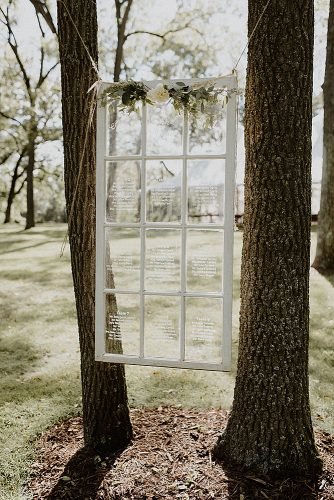 Getting married in the woods? An old window for decor is a great idea, especially for a vintage summer wedding. Get abandoned weather-beaten window, spray or not and fix some flowers. Suspend the wooden window between two trees as décor. It can serve as a beautiful photo background for everyone.
11. Wooden backdrop with floral décor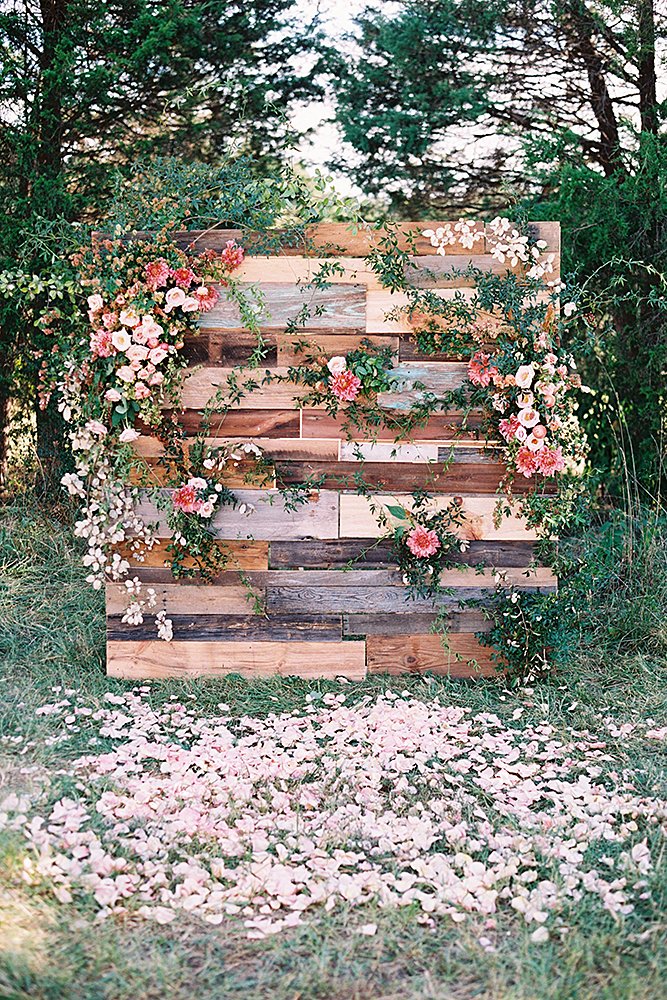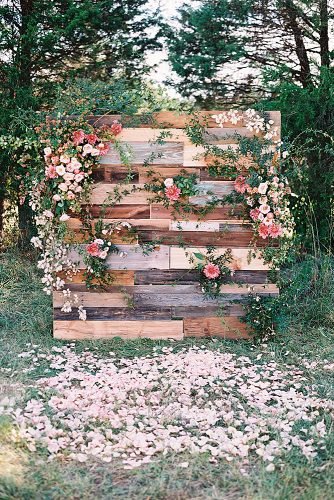 One of the most fun outdoor wedding ideas to adopt is a wooden backdrop with floral decor. If you're having an autumn wedding, feature fall decorations by playing with the many beautiful flora colors of the season. Merge them with the wooden background to give a full-on rustic vibe.
12. Patio cocktail hour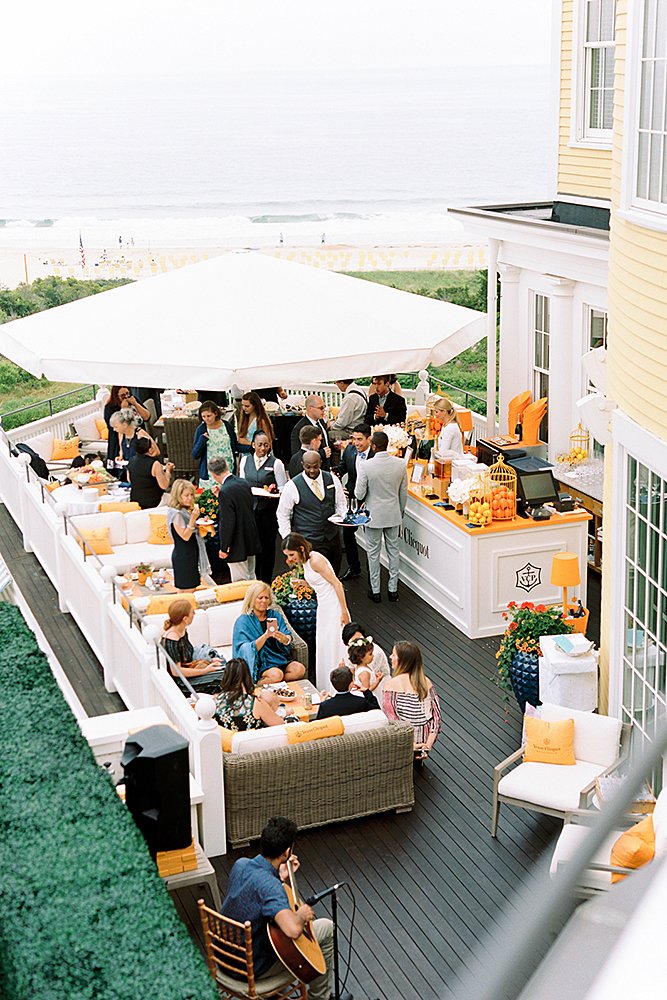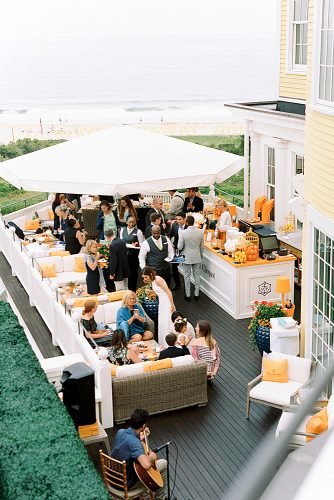 Transform your patio into a beauty with one of the most refreshing patio wedding decoration ideas. Make it into a family-style seating setting, with a parasol to serve as a shield for guests. The seating style helps give an illusion of a bigger space. Guests can interact and move around.
13. Tree trunk photo display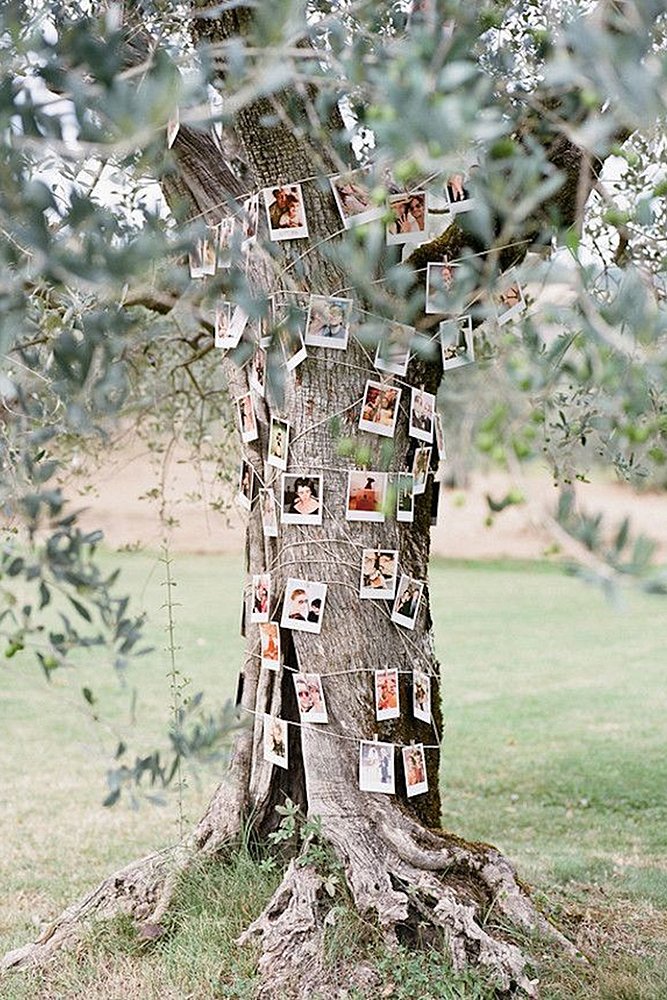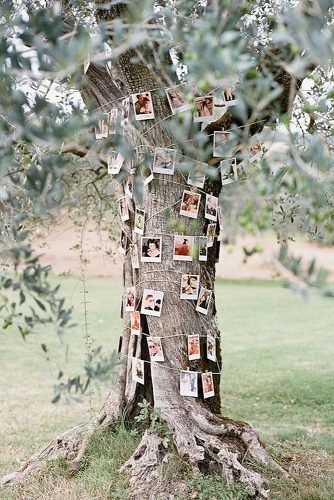 Set up an unconventional photo gallery at your outdoor wedding. Perfect for the gardens and park weddings. Get your loved up getaway, engagements and other random photos of you and your beloved. Fix them into ropes of string lights and run them around a tree trunk. Makes great display sight.
14. Chic photozone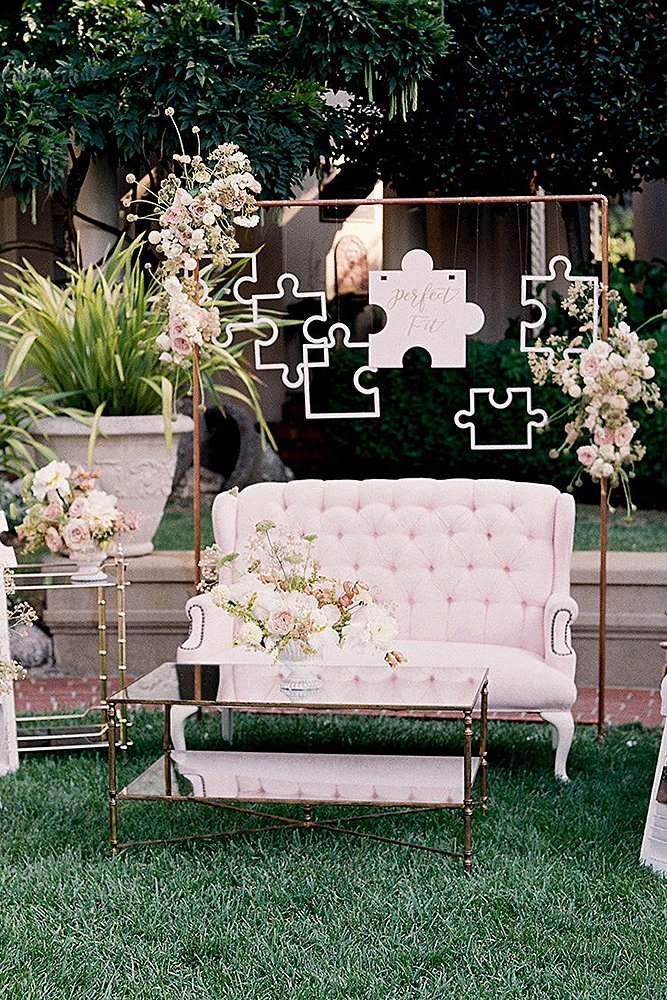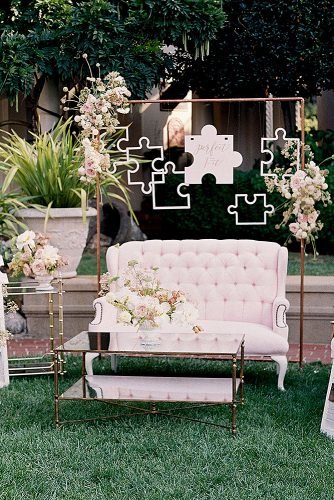 Create a chic spot for wedding photos at your wedding. Make it royalty style by getting out your Victorian couch. Decorate the area with some vases of aesthetic shrubs or pots of succulents. You'd have succeeded in making up a Hollywood glam inspired chic photo zone. Guests would be well thrilled.
15. Dessert cart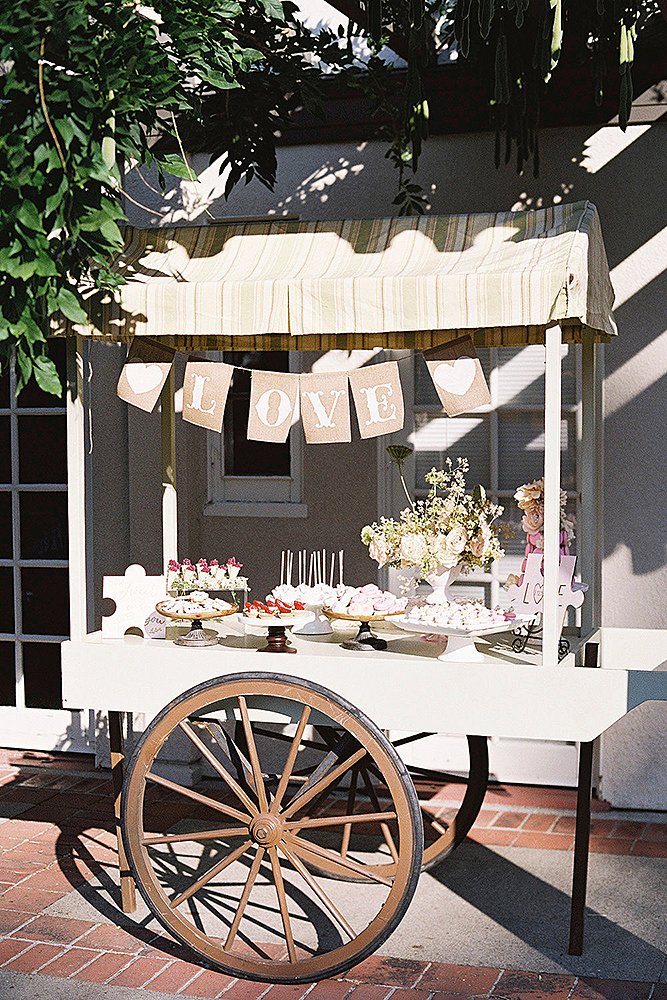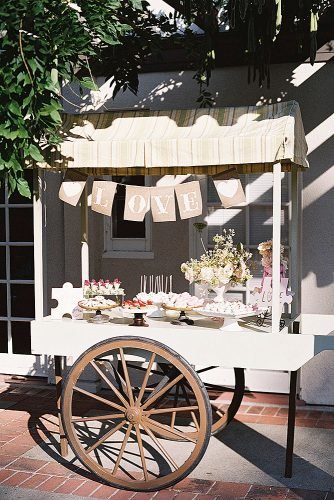 Wheel up your dessert in a cart to your reception, paying touch to the vintage theme. A mobile dessert cart makes it easy for the dessert to get around without clustering the venue. It is simple and one of the best outdoor wedding ideas for a park or barn wedding.
16. Intimate dinner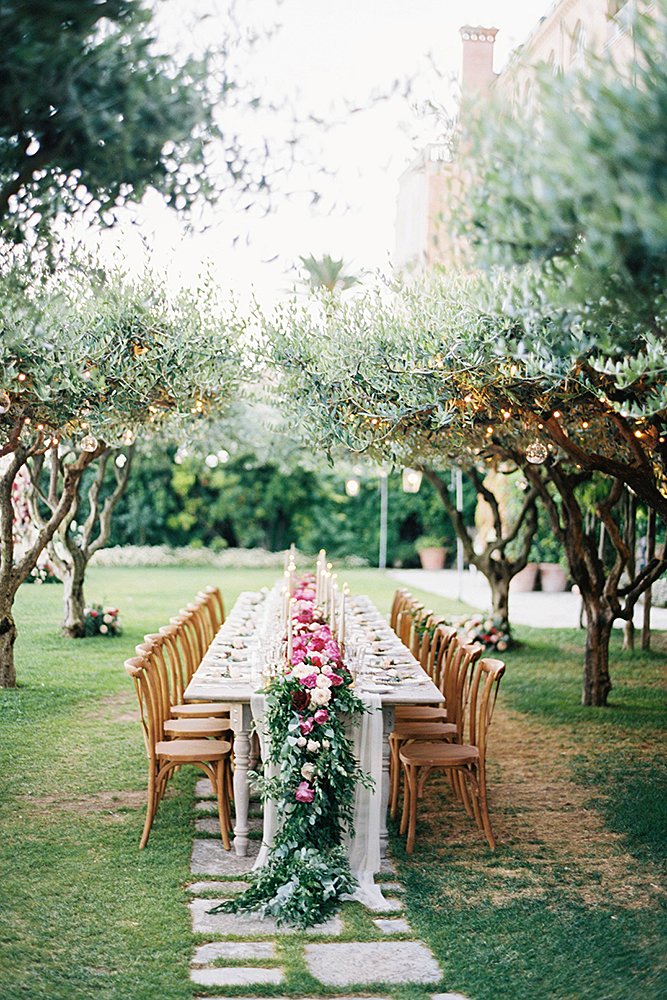 Planning an intimate dinner for a wedding reception? Then simple wedding ideas do the trick. Set your seating format in a family-style. A long or joined dining tables surrounded by chairs, dinner style. Decorate with simple floral arrangements and centerpieces. Run lights in the background for a more calming intimate effect.
17. Chic cocktail table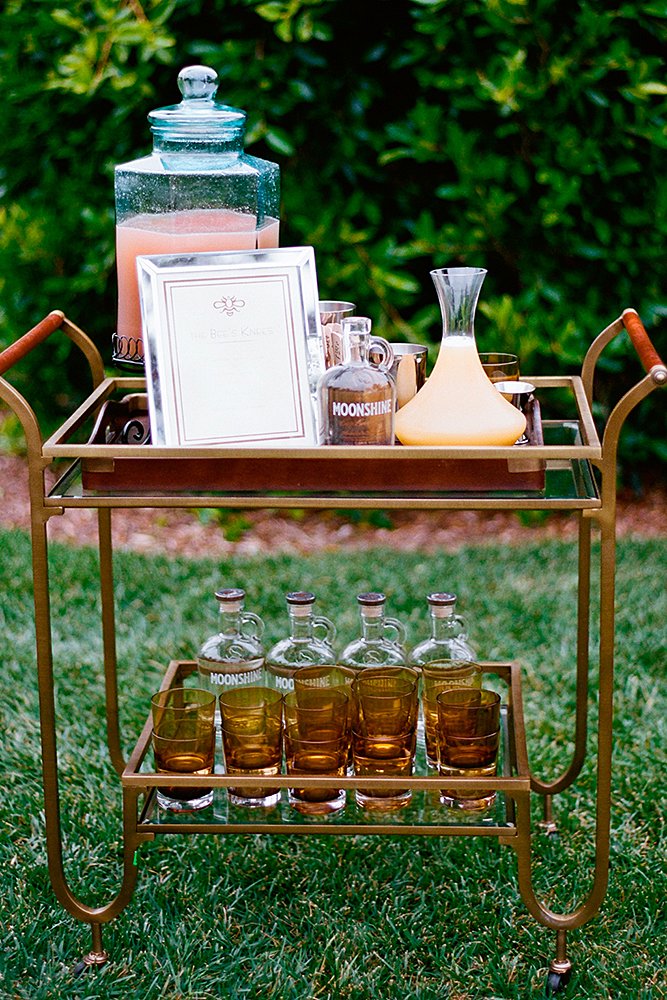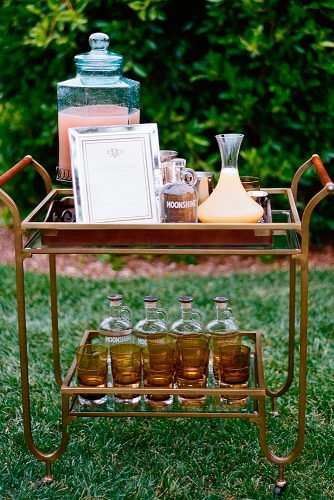 Set the rustic feel by getting a vintage double step open head mobile table for your cocktails. Fill your cocktail into pitchers, beakers and mason jars. Put the reserve into custom bottles. This way, the table is de-cluttered. The mobility of the table lets the servers move through wedding guests.
18. Flowers baskets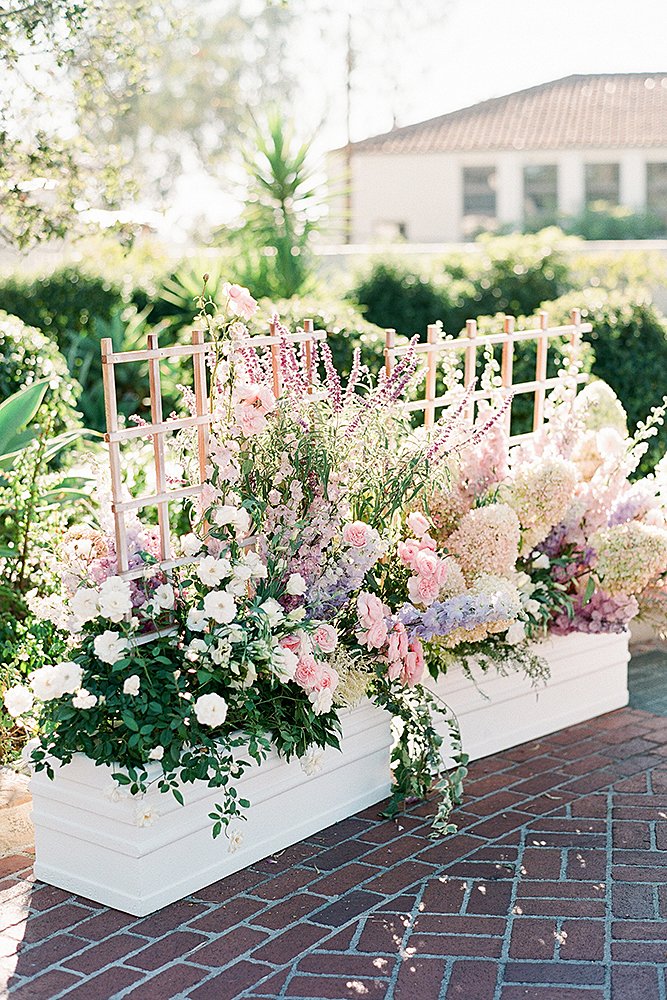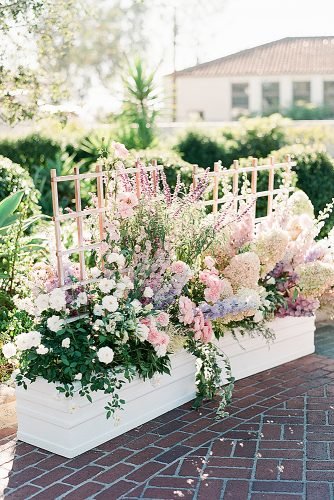 Who says flower baskets are out of style? Get your florist to fill your venue with floral arrangements in the flower basket. These baskets come in beautiful shapes, colors and sizes to fit different flowers. These flower basket floral arrangements through your venue leaves everyone with the beauty of garden weddings.
19. Greenery and lights décor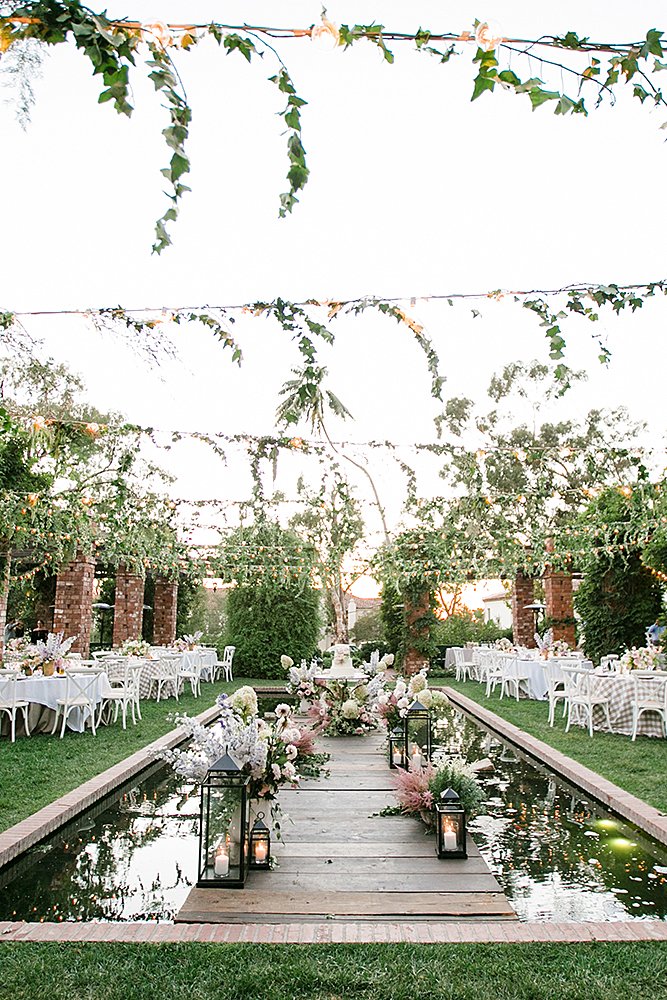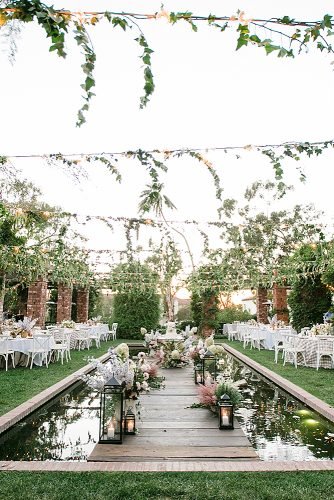 Whether for a wedding ceremony or reception, a combination of greenery and lights décor is an evergreen outside wedding idea. Perfect for a nature-loving couple, run the greenery at your wedding venue through strings of light. This is a creative idea that helps illuminate your venue, with a natural glow.
20. Cake table with floral décor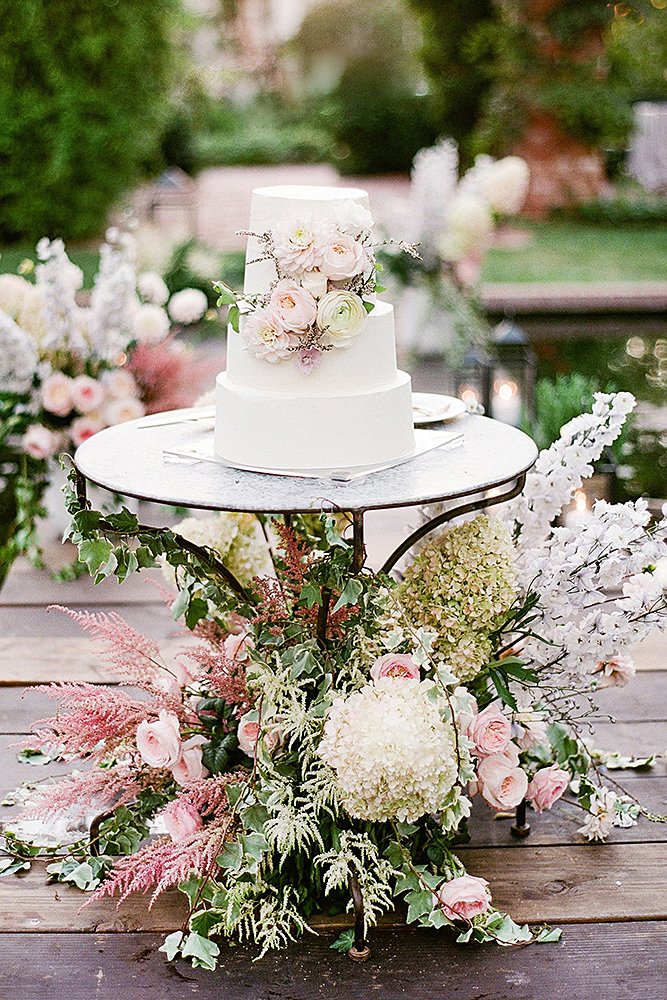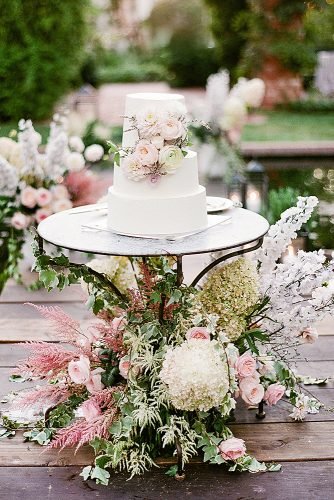 The extent of creativity is limitless with outdoor weddings. The cake is not left out as you can bathe it in floral décor. A good place to start is the cake table which you fill up with flowers and greenery. Cascading crafted flowers will also look good on the cake.
21. Greenery arch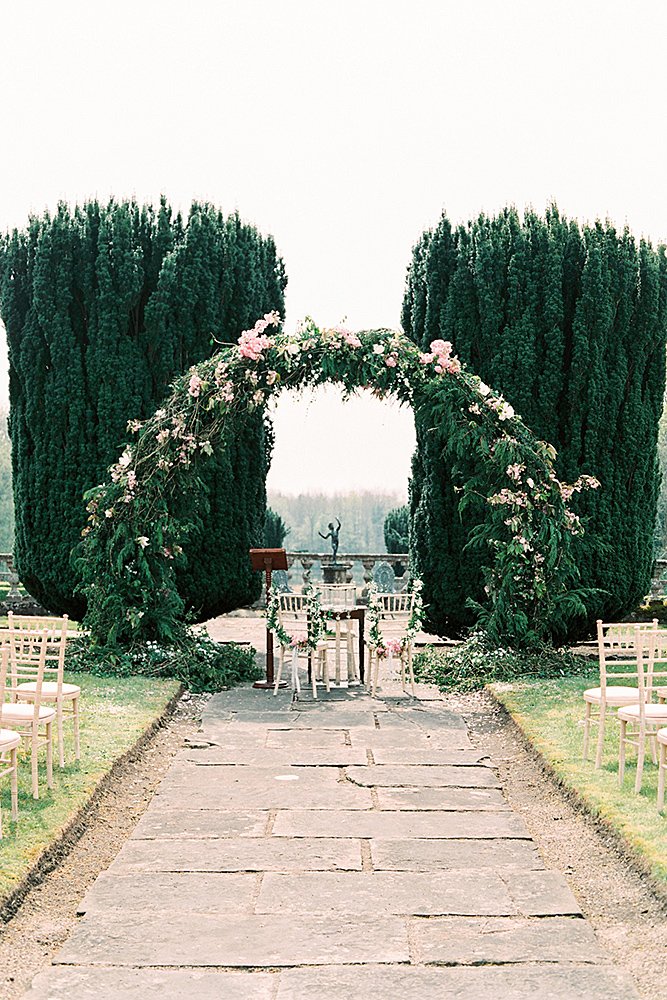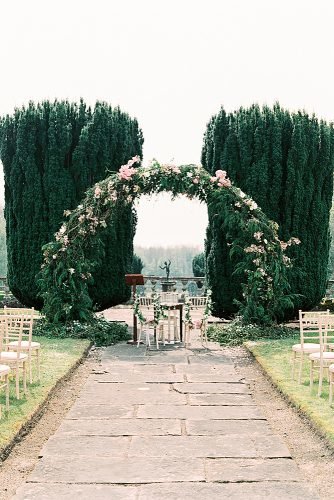 If you're planning an outdoor wedding that's going to be memorable, then think of featuring an arch. Not just an arch, but a greenery arch. This is one of the most gorgeous wedding decorations ideas for outside weddings. A greenery arch will blend with its surroundings, lending color to nature.
Above are 21 outdoor wedding ideas that are trending at the moment for modern couples. Whether you're opting for a modern, garden, farm, park, ballroom, bohemian or vintage-inspired wedding, you will find inspiration here. There is something for everyone, and the best part is that they are all budget-friendly. Most of these ideas are also DIY making it possible for you to personalize much of your wedding. Pull off an unforgettable outdoor wedding with these refreshing outside wedding ideas for ceremony and reception.