Pantsuits aren't exactly what comes to mind when you picture a bride walking down the aisle. Traditionalists will tell you that a white gown is a requirement for a real wedding. However, famously talented fashion designers and a huge swath of our society disagree.
If you are on the side of the millions of trendsetters and want to stand out in a big way, these wedding pantsuit ideas are for you. Overall, the wedding industry is veering away from the tight box of rules that religious-based traditions dictate and more toward personal choice and style. You'll have to agree that these menswear-inspired wedding pantsuits are a huge step in that direction.
There's absolutely nothing wrong with the classic A-frame wedding gown. In fact, we love them and hope they stick around for a long time. However, we're also incredibly excited about this emerging trend and hope you choose one of these examples for your wedding and become a trailblazer.
Brides Often Ask
Is it OK to wear a pantsuit to a wedding?
Can a bride wear a pantsuit?
Formal Pantsuits For A Wedding
A formal pantsuit for a wedding is a perfect ensemble to wear if you don't want to adorn conventional white dresses. There are stunning vintage and contemporary options suitable for every body type. Think delicate and feminine two-piece pant suits with detailing at the top for a dose of chic elegance. Another ethereal option is the bridal pantsuit with sheer lace sleeves and a peplum waistline to tone down the drama.
@evalendel via Instagram
i
Save to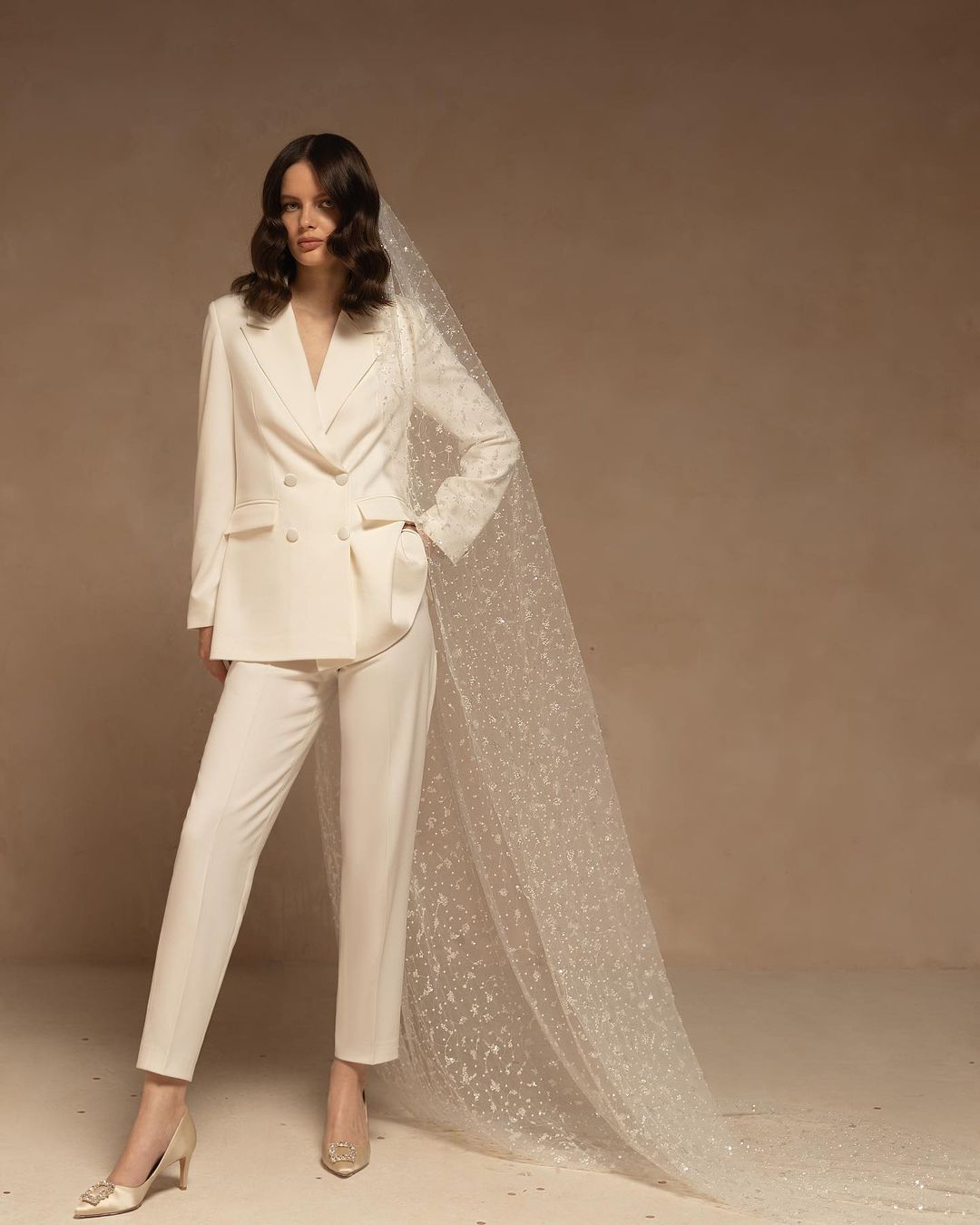 @kyhastudios via Instagram
i
Save to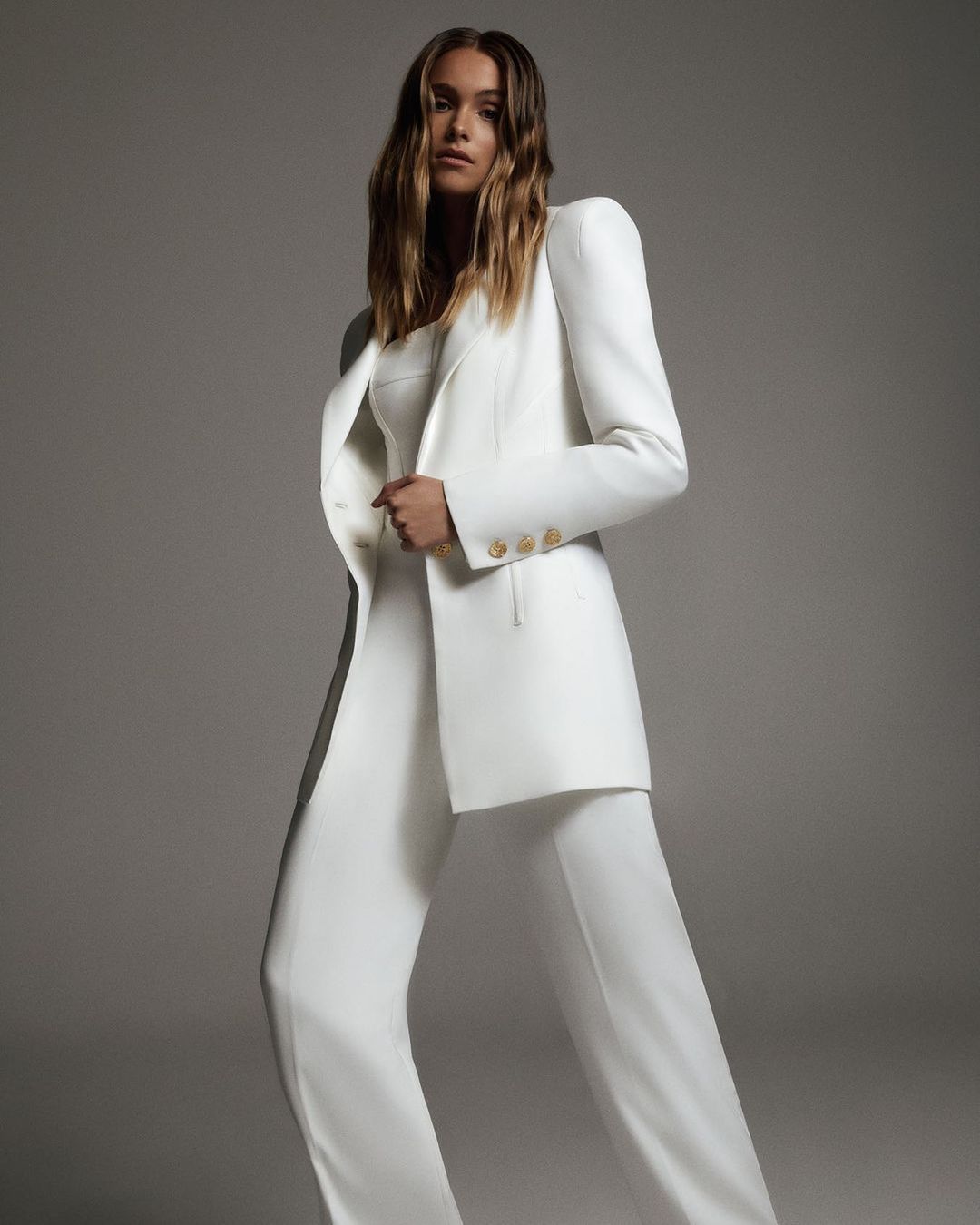 Elegant Pantsuit Ideas
Talking about unforgettable presence, an elegant pantsuit for a wedding brings the right sass. This look is great for everyone, from slim frames to plus-sized beauties. Give off the retro-chic look by pairing flared high-rise pants with classic blazers. If you want to channel the flirty look, choose satin wide-leg satin pants, a crop top, and oversized blazers. Finish this look with high-heeled sandals, hair down, and bold red lips.
@millanova via Instagram
i
Save to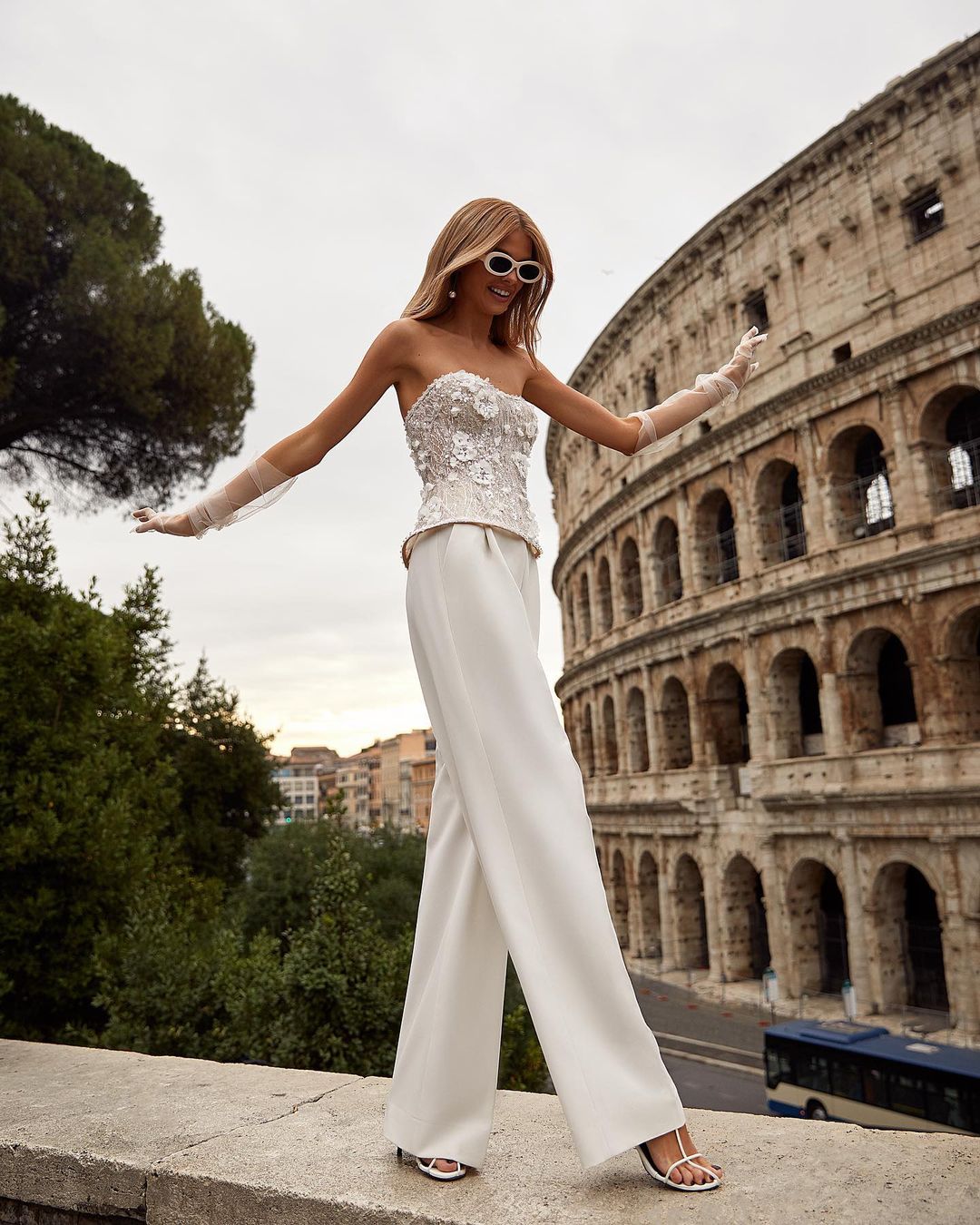 @innocentiadresses via Instagram
i
Save to
Simple Wedding Pantsuits
Minimalist brides love simple wedding pantsuits with little or no drama. Pair these blazers with straight ankle-leg high-waisted trousers for this final fit. The best part is that petite, tall, and plus-size women can rock it. You can also go the lace way with a single-button structured jacket with a flap pocket and vents at the back. Match this look with a pair of slim-leg pants and accessorize with pearl jewelry.
@kyhastudios via Instagram
i
Save to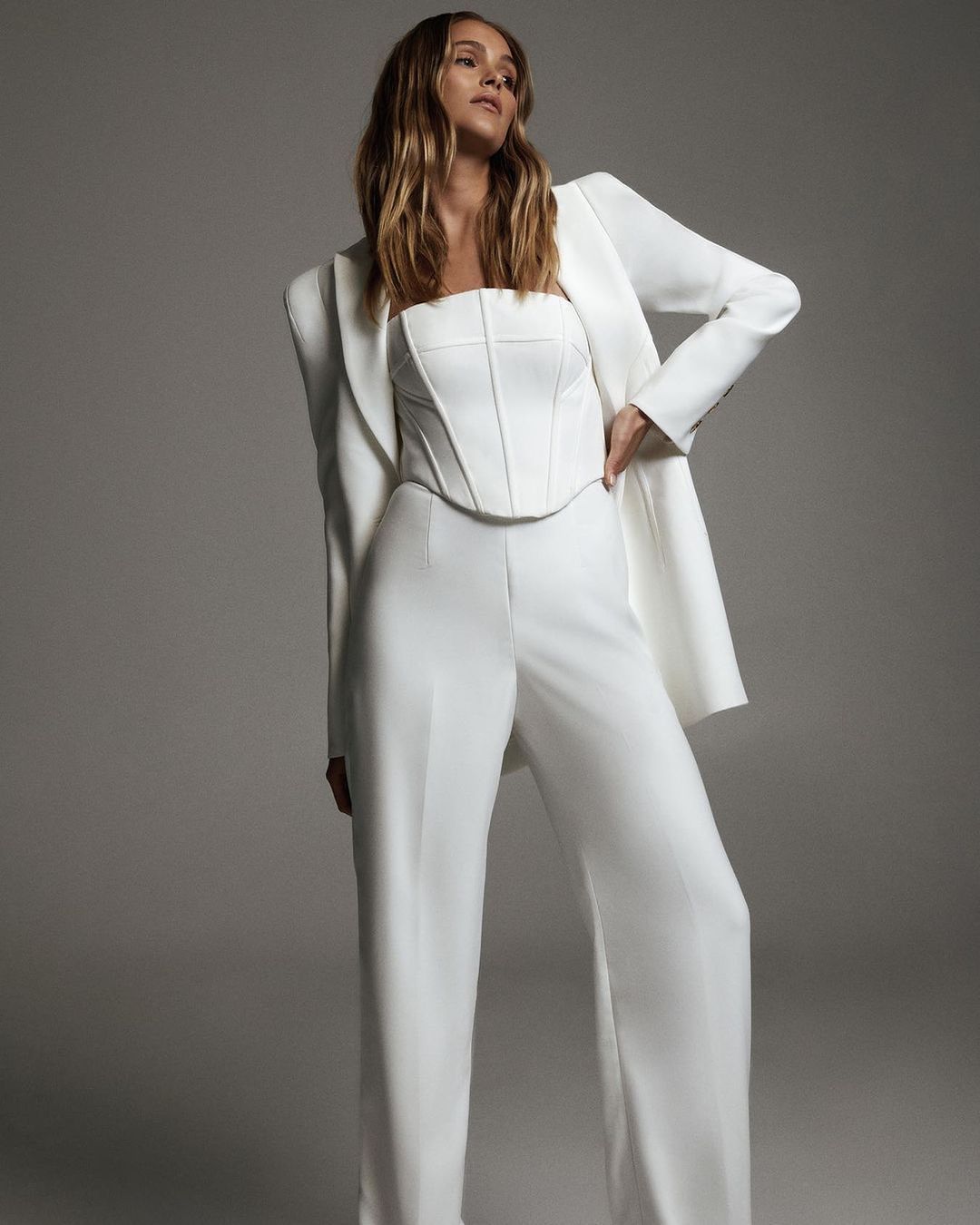 @royaldiofficial via Instagram
i
Save to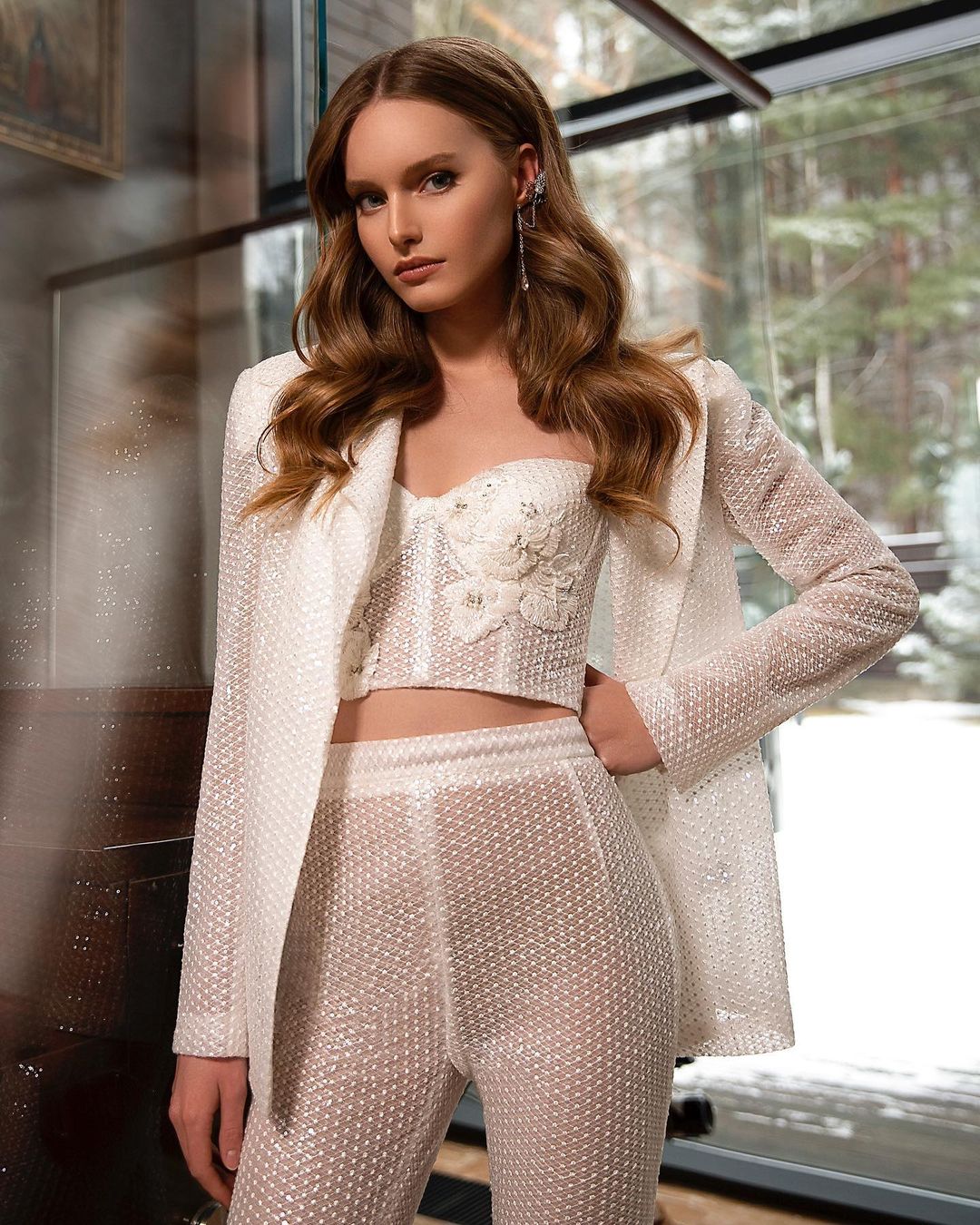 Silk Pantsuits For A Wedding
If you want to look luxurious on your big day, a silk pantsuit wedding is what you need. Choose a long subtle boxy looking long sleeved jacket paired with silk high-waisted panties. Alternatively, you could wear a low-cut blazer for a fun next-door girl look. You could also do a three-piece with silk blazers, spaghetti or strapless crop, and high-waisted silk straight-leg trousers. Pair this with gold or silver jewelry.
Casual Pantsuits For Brides
Casual wedding Pantsuits could either be dramatic or without frills. However, for bohemian weddings, a silk organza flounce blazer with sleek white trousers is the ultimate contemporary look. But if you want to give off a sexy appeal, choose a lace-detailed top with a plunging neckline. Pair this with voluminous trouser legs and strings of pearls.
Lace Wedding Pantsuits
Lace wedding pantsuits are fast taking over in the trendy look department for brides and guests. The best part is that they are versatile and suitable for every height and body type. Because they are elegant, feminine, and romantic without being too fussy or fancy. We have curated some of the most beautiful bridal pantsuit ideas. Check them out and get inspired with our wedding pantsuit ideas.
Wedding Pantsuits With Shorts
For brides that can't deal with a dressy pantsuit for a wedding, opt for shorts. Channel the trendy vibe with a cross-over V-neck blazer. Complete your look with sleek, tailored shorts and a matching clutch. Alternatively, wear a long oversized blazer with a sash, paired with mid-thigh shorts.
@kwhbridal via Instagram
i
Save to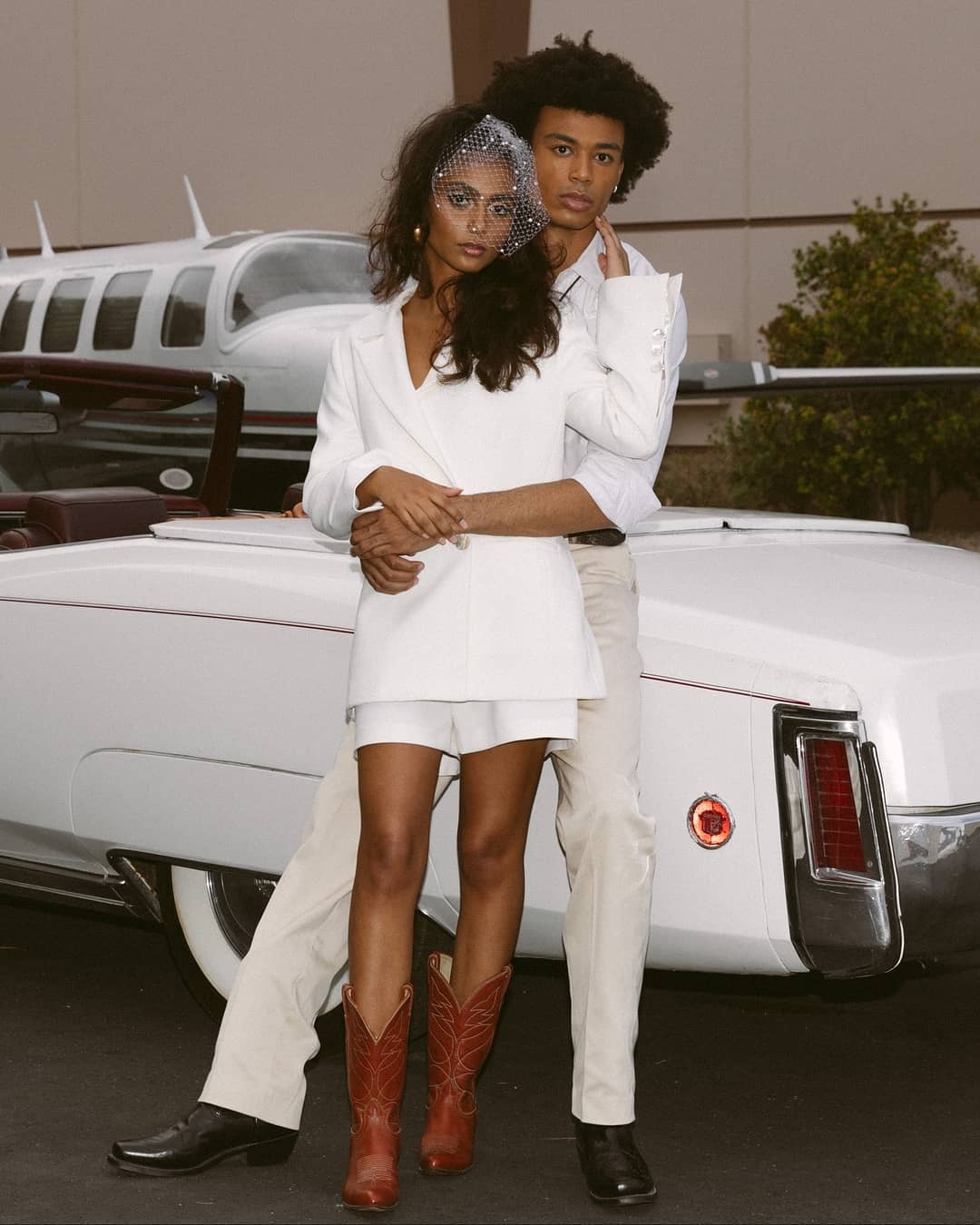 Wedding Pantsuit With A Cape
Do you want more drama and details in your bridal look? Consider a wedding pantsuit with a cape. However, this look is most suitable for tall or short brides depending on the cape length. Blend this design with wide-legged pants or high-waisted fitted trousers.
@beautecommetoi via Instagram
i
Save to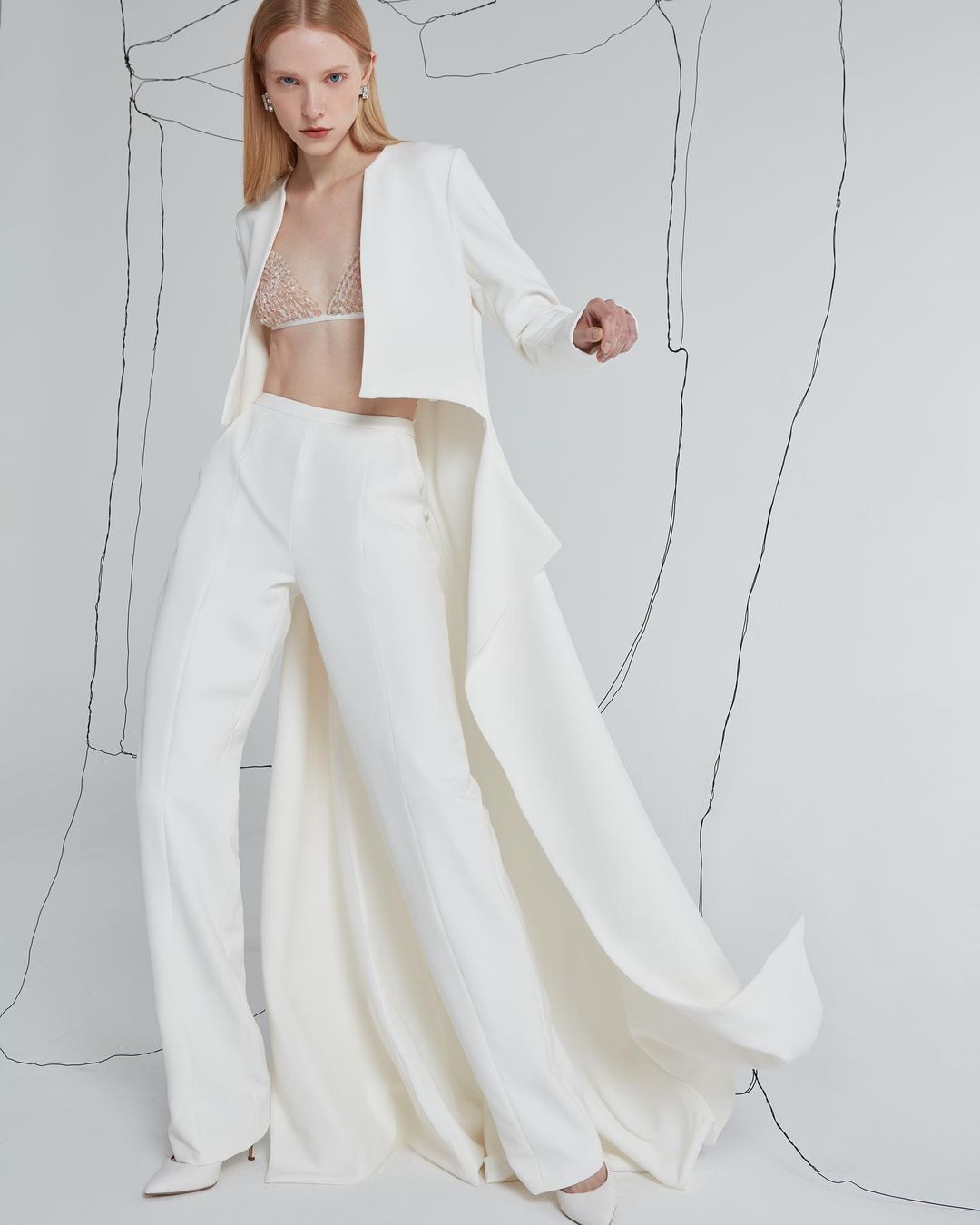 @evalendel via Instagram
i
Save to
Black Bridal Pantsuits
A black pantsuit for a wedding is a versatile look that takes you from a day of business to a romantic wedding. If you would rather wear black, think lace blazers with crepe lapels and palazzo trousers. Wear a low chignon, a high bun, or a half-up hairstyle. Finish with nude makeup for that classy girl look.