Save the date invitations is the first contact medium with your potential guests. It is a notice that alerts them to free up their schedule in preparation for the wedding. You need to make wedding invitations and save the date stylish by getting the best ideas.
Unique wedding save the dates and invitations are something you start dreaming up after a proposal. From cheap to the destination, or rustic wedding save the date, read this post to live the dream!
Save The Dates Ideas (plus plenty of inspiration pictures)
Country Wedding Save The Dates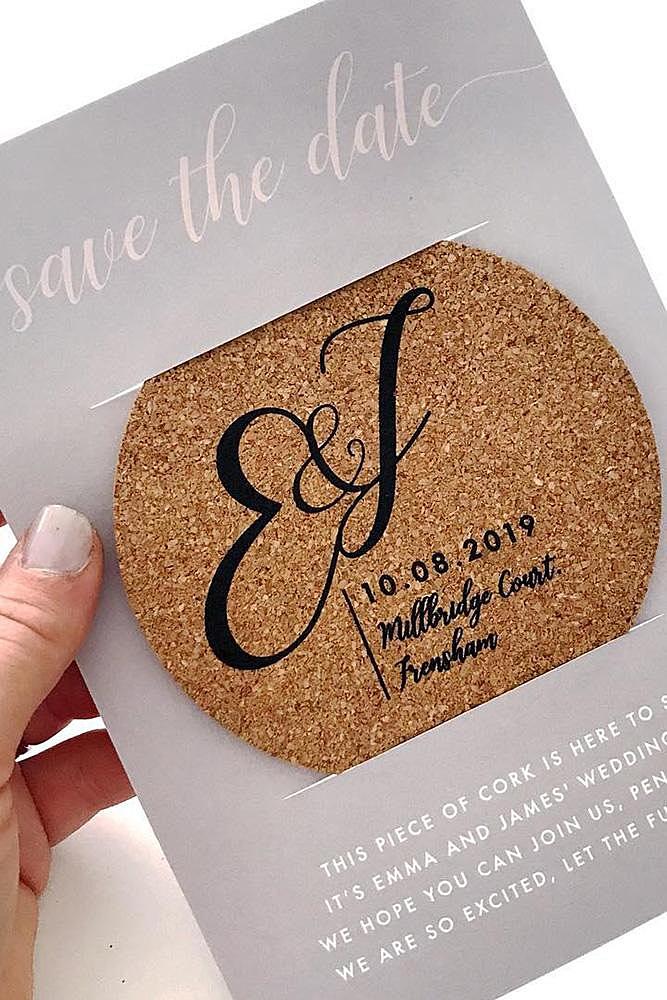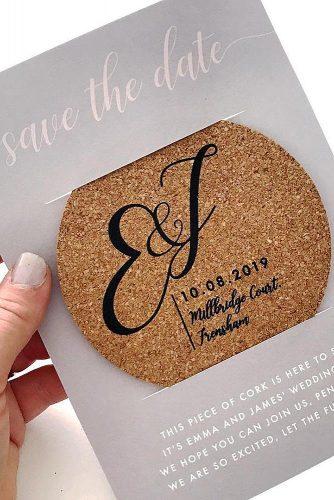 If you're having a country wedding, country wedding save the dates is the best. They're often laid back, calm and relaxed. They bring them an aura of vibrant but demure sophistication. From the farms to the gardens, grass fields, and barns. Below are some free printable wedding save the dates.
Rustic Wedding Save The Date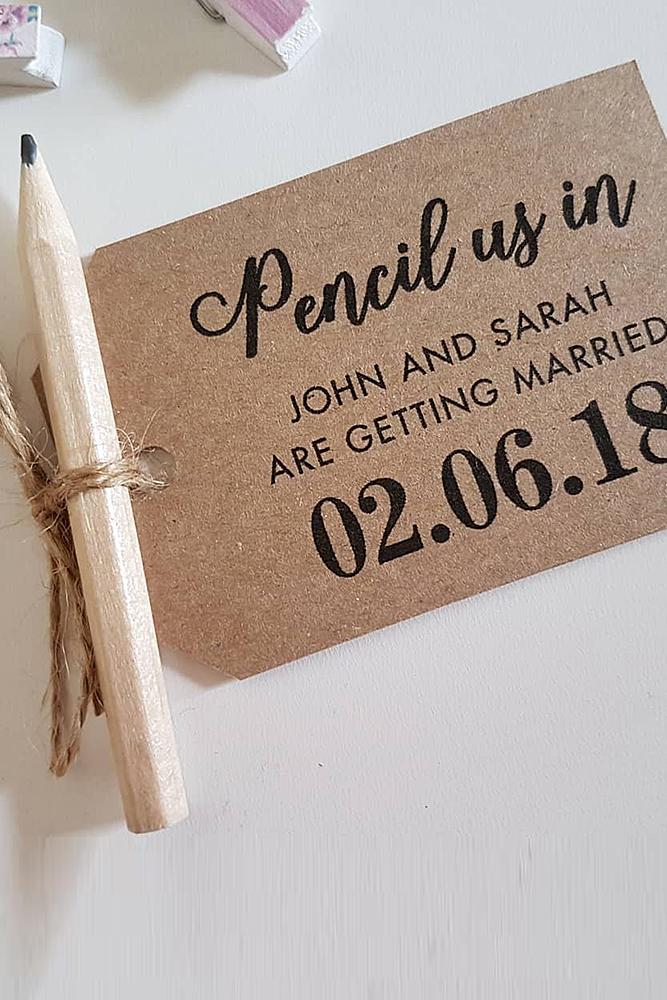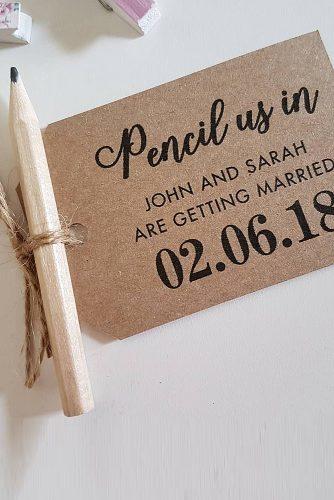 Talk of weather-beaten doors, woods, boards, and carved papers to give that rustic feeling. Rustic wedding save the dates will bring out your ideas the best. It will set the tone and create awareness for the kind of wedding you're having.
These wedding save the dates to go well with loved up pictures of the couple. Using this type of wedding save dates is an opportunity to paste pictures all over. On carved woods, flat boards, tough papers and more. Check out some wedding save dates rustic templates below.
Winter Wedding Save The Dates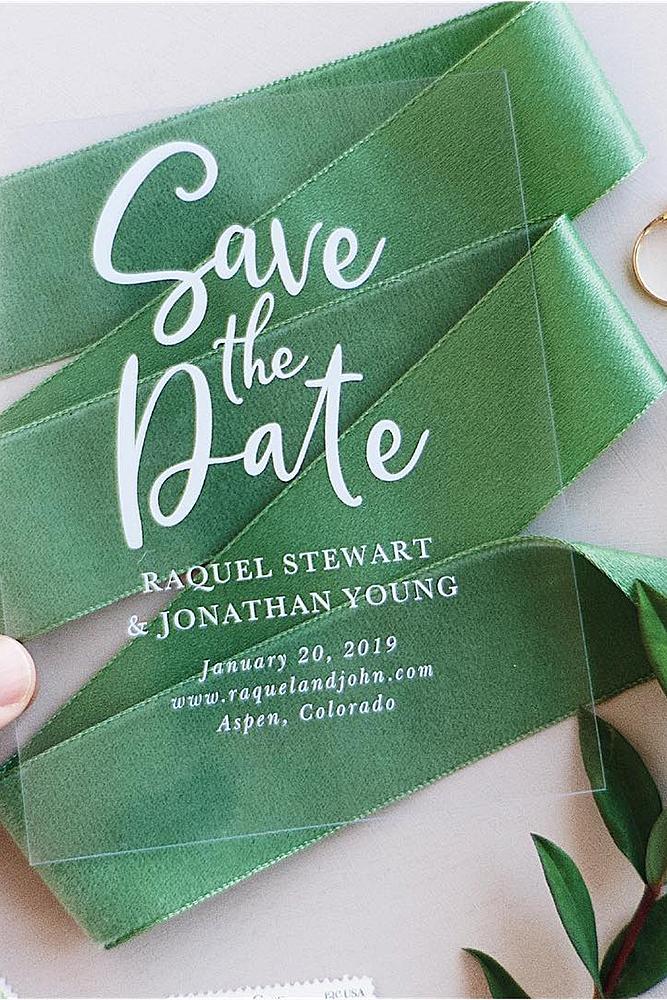 It is cold, it is snowy and it is festive to have a wedding. Let winter wedding save the dates card do the talking. Your guests will feel the onset of winter through save date cards and won't forget. We put some ideas below and they are gorgeous. Check them out.
Fall Wedding Save The Dates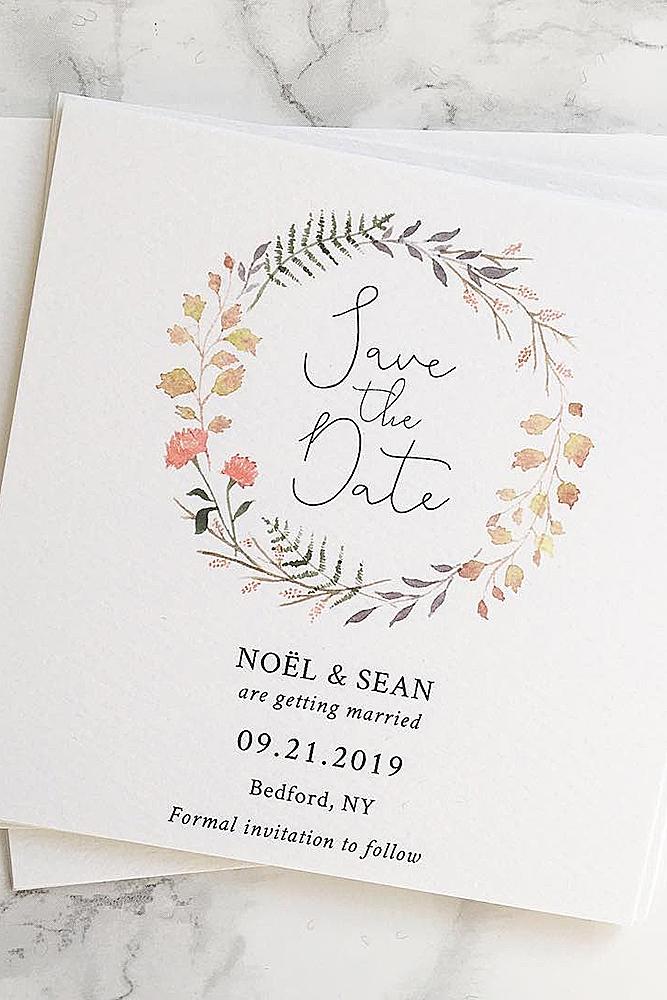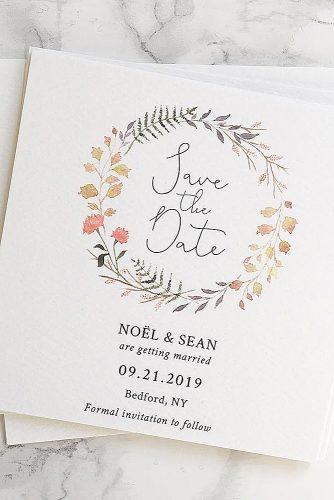 This is the time of the falling leaves and coloring of beautiful flowers. Take advantage and send out fall wedding save the dates cards that celebrate the moment. They are everything sunny, radiant, vibrant and beautiful. See some ideas below.
Christmas Wedding Save the Date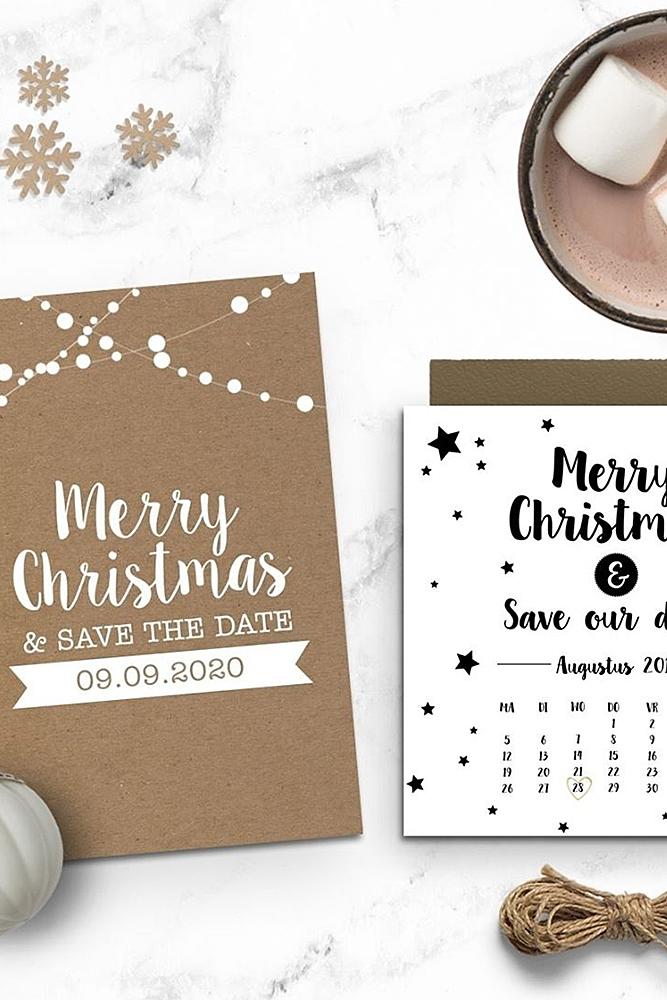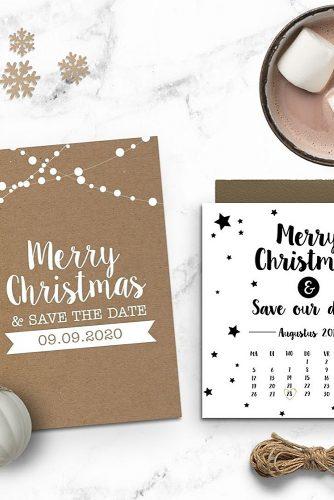 Having your wedding at Christmas, that's a double celebration. Get everyone into the festive and celebratory mood with cute Christmas wedding save the dates. Make them beautiful cards that your guests can place by the Christmas tree. They can be fancy, ornamental or high fashion! See some below.
Unique Wedding Save The Dates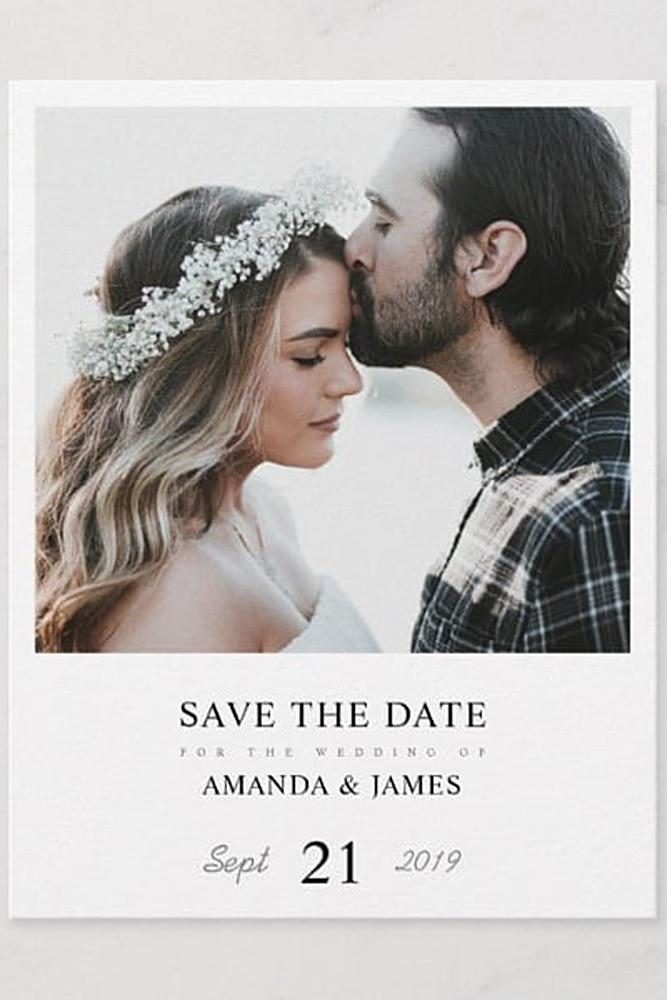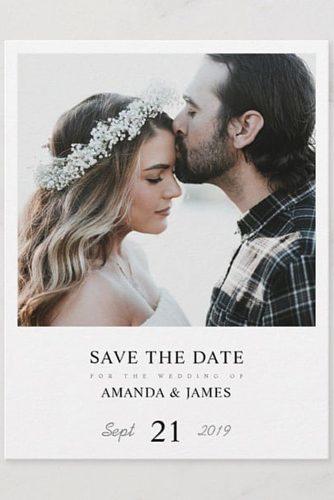 Weddings stand out with unique save the date cards. There are so many unique designs for wedding save the dates online. They have a refreshing and uncommon touch to them, making them very attractive. Below is a list of five unique save the date invitation card to love.
Magnet Wedding Save the Dates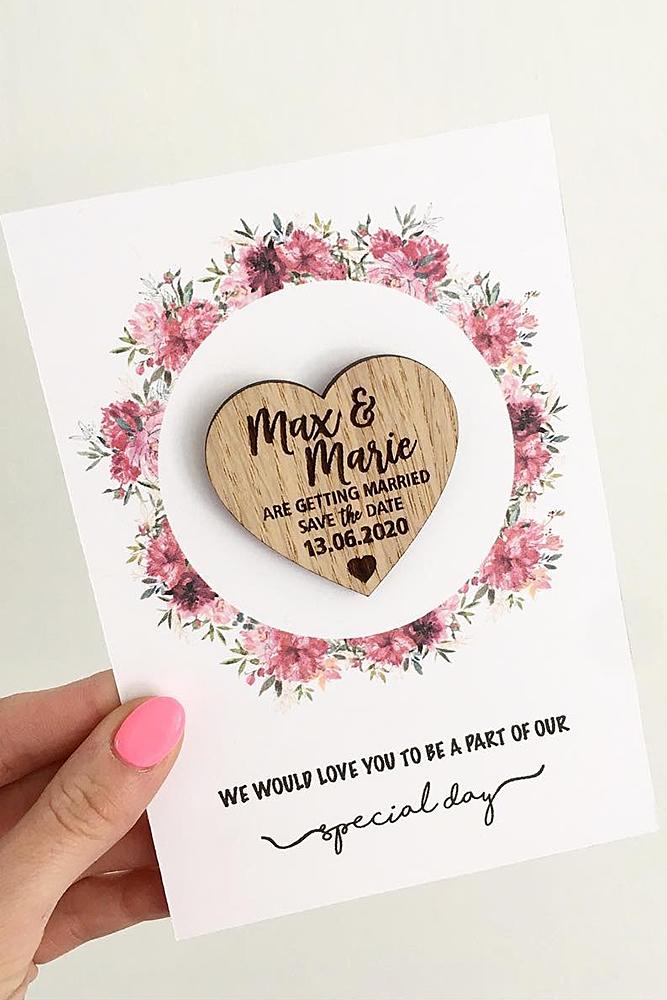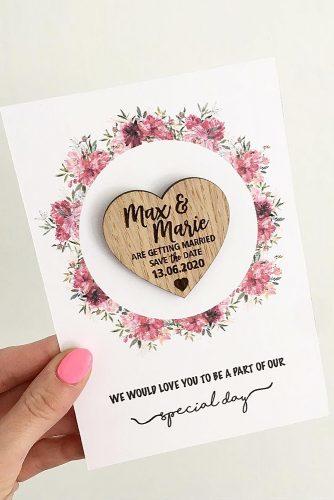 Magnet wedding save the dates are items that will be in the guest's faces. This trumps emails or save the date cards because they can get lost, forgotten or deleted. The advantages of going for the magnetic save the date are weighty.
Asides these facts that old aunty will be proud to show off her baby getting married. It is a consistent reminder of your wedding date because it never goes away. Guests will stick it to the refrigerator or kitchen wall. A perfect companion whenever they need to eat, which is a necessity. So, as long as they eat, they see you.
Again, it serves as a fashionable wedding souvenir to remember you by. A visitor in their homes always, you'll be. Although magnet save the date does not make up for the wedding invitation proper. Do remember to send one.
The gorgeous Marsala blooms save the date magnets.
Download template here.
The classic and nautical wedding inspired Anchors Aweigh magnet save the date.
Download template here.
The wistful, cute and sturdy Southern romance magnet save the date invitations.
Download template here.
Disney Wedding Save the Dates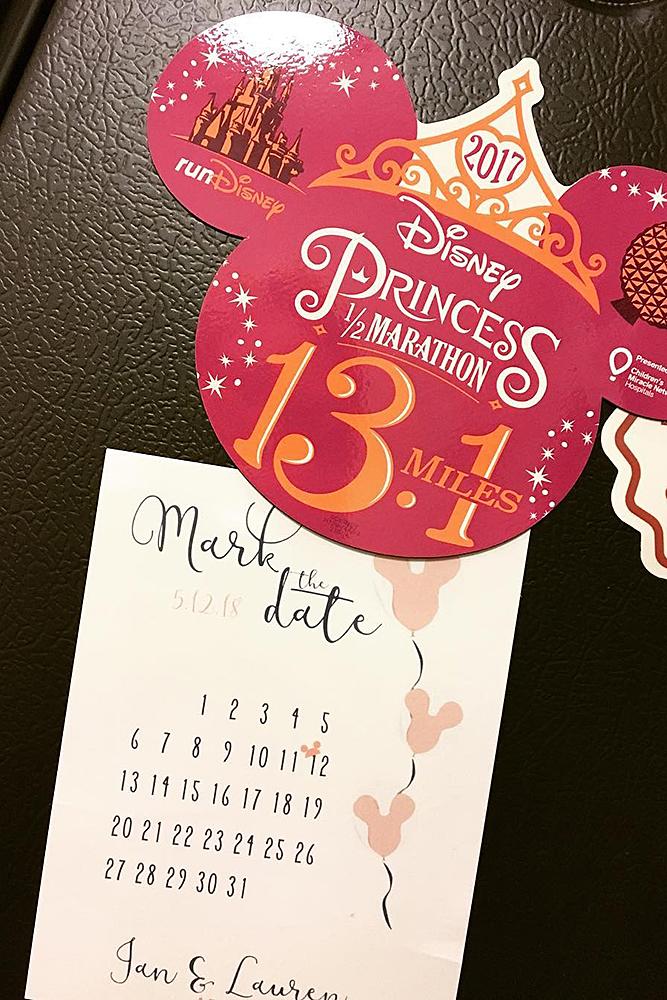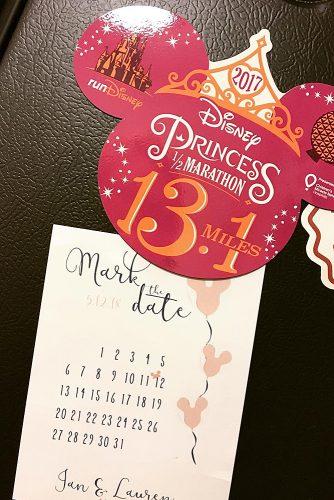 This is for couples who love animations and fairy tale. Be the prince and princess of the ball, and live a fairytale at the Disney bound wedding. Go with this theme and pull it off if you're cartoon enthusiasts.
They are so cute and colorful, with wistful characters and colors. See some gorgeous Disney wedding save the date cards below.
Disney fairytale wedding save the date
Like a fairy tale, it will weave an air of love around your guests.
Download the template here.
Disney foil wedding save the date
Turn up the heat a notch by scrawling your details in gold foil. That's beauty in a league of its own.
Download the template here.
Disney Up wedding save the date
Colorful and animated, it will leave your guests in a trance of what's to come.
Download the template here.
Funny Wedding Save The Dates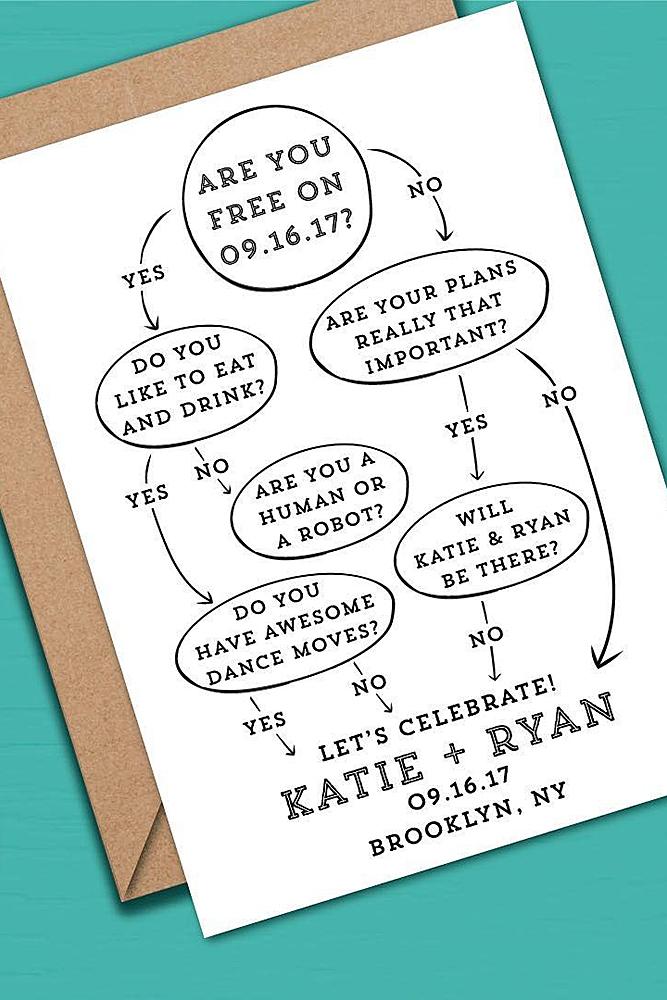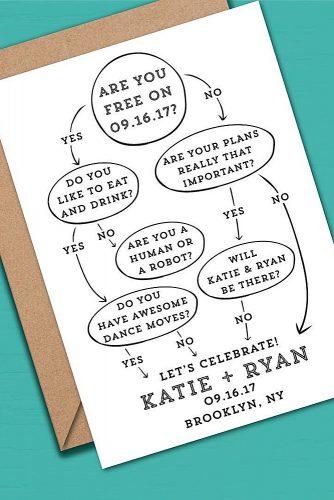 It's a time of celebration, but you can spice it up. Let the guests see the wedding save dates and laugh till they tear up. A little humor will not go amiss with funny wedding save the dates. This is another way to stay in the heart of your guests.
Use pictures and wordings to create some humor. Add some witty marriage quotes for more effect. Let guests remember you with a smile always. Find some funny and cute wedding save the date below.
Cheap Wedding Save The Dates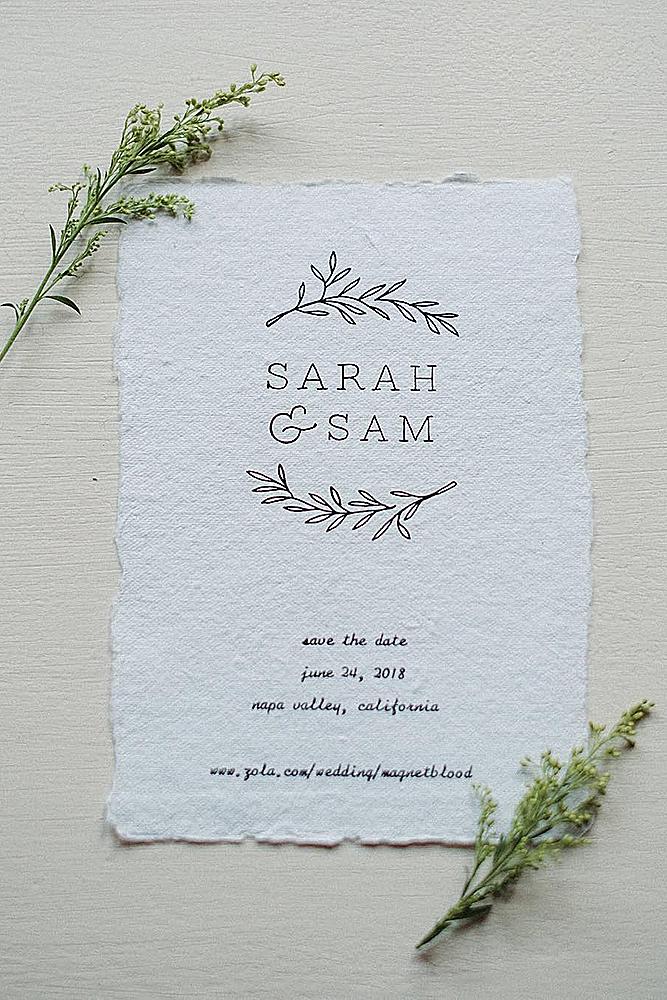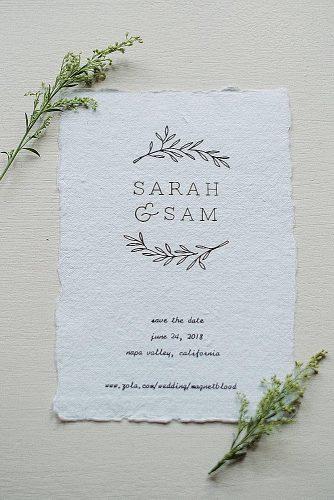 With so much to spend on wedding preparations, cheap wedding save the date to the rescue. It is a frequent occurrence not to have so much to spare on minute items as this. But weddings save the date are important too.
So, the solution is going for something cheap, yet classy. You would miss nothing. This is for the budget conscious couple and they are all under two dollars. Check out some of the best cheap weddings save the date.
Destination Wedding Save The Dates Ideas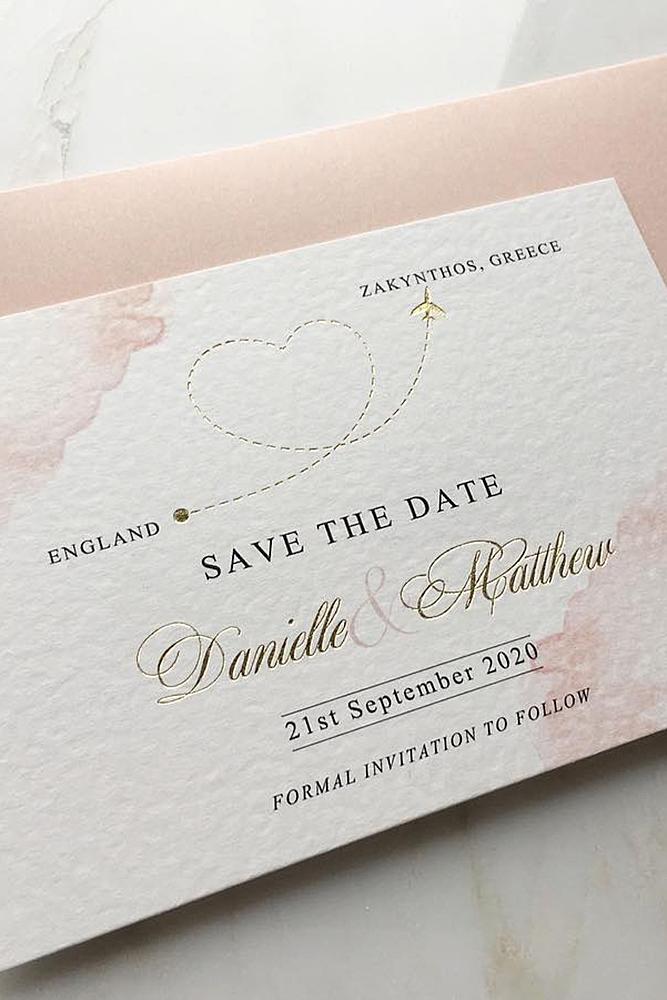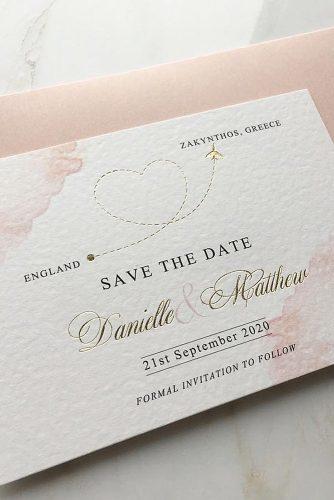 If you're having a destination wedding, you'd want to reflect some destination beauty. Let guest feel your love as it flutters to a destination where you love. Tell guests of your happy place by sending out destination wedding save the date.
Pictures or wordings may prove effective to relay what destination you're heading to. See some destination wedding save the dates ideas below.
Cruise wedding save the dates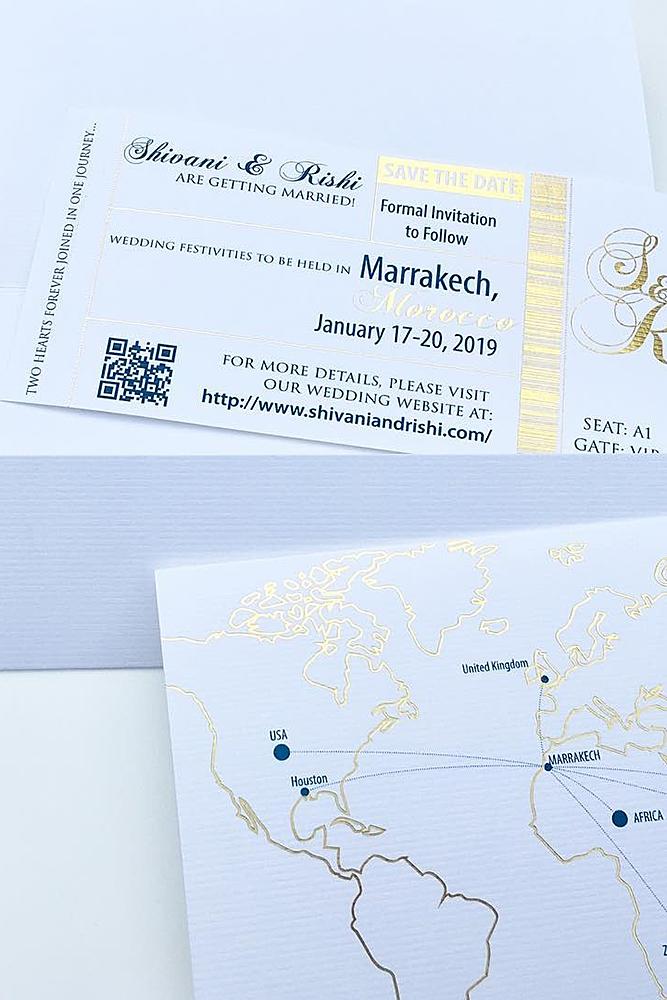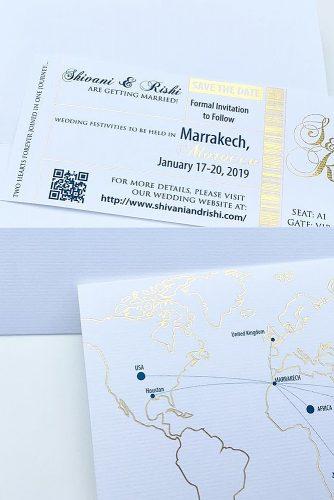 The beautiful sunset, the calm of the sea, and the point where the sky joints the sea. These are beautiful sights that are not easy to give up. They will give your wedding picture a breathtaking backdrop. And the freedom on waters is to die for.
Enjoy magnificent skylines and the bluish water with guests, send them cruise wedding save the dates. See some ideas below.
Foil boarding pass save the date
For the wedding on a cruise, guests will need a boarding pass. So keep it stylish by making it in foil.
Download the template here.
Nautical luggage tags wedding save the date
The nautical luggage tags bear the anchor of a ship. A beautiful way to tell guests to get ready for a cruise.
Download the template here.
White and navy blue cruise wedding save the dates
White and navy blue are the symbolic colors of sailors, captains, and navy. An easy way to tell the guests to pack up for a fun cruise.
Download the template here.
DIY Save The Date Ideas

DIY wedding save date allows the couple to get hands-on with their invites. This is one opportunity to stamp some personality on your wedding. DIY wedding save the dates ideas is unique, because of the personal touch. Add the wedding quotes of your choice to give it the perfect finish.
You don't even need to be a design expert to make them. Go online, checkup Canva or Spark post on adobe Spark. In a couple of minutes, you'd have your invites. Same applies to those who want to work by hand. See the steps below.
Select a preferred card size for your project.
Decide on your wedding theme and pick a layout, color pallet, and background images.
Pick out your perfect pictures and paste them on.
Style the cards with your best fonts, shimmers or designs for the details. They may be bold, decorative, fanciful or script.
Time to download and print your cards.
Check out some DIY wedding save the dates ideas you can put off.
Save The Date Wording Ideas
The best save the date wording is short, sweet and prompt the guests to take action. Save the dates don't need to have so many words. When your guests see it, it should move them to check the calendar, anticipate and prepare.
A right worded save the date cards must include the basic information because it's a heads up. The guests must know who's tying the knot, where it's happening and when it's happening. If you built a website already, include it so that guests will go there for more information.
There are so many ways to word wedding save dates. If you're going traditional, whimsical, casual or formal, see some help below.
Brenda Scott and David Myers
Are getting married
At Big Sur, California
On Saturday, 13th of April 2019
Anticipate a formal invitation
David proposed!
Brenda said yes!
Come with us on Saturday, 13th of April 2019
As we celebrate our union and make final
At Big Sur, California
You will get a formal invitation
Please save the date
Saturday, 13th of April 2019
As Brenda and David tie the nuptial knot
At Venice, Italy
Expect a formal invite.
Dos And Dont's Of Save The Dates
Wedding save the date is fun to create. It's done with all the excitement that goes into planning a wedding. He proposed, you had an engagement and on your way to getting married. It's a celebratory time for you because you have dreamt about your wedding forever.
In the middle of the excitement, you could make a mistake that'll put a dent in your day. We are here to make sure that you don't make those mistakes. You will have a fun time sending out your wedding save dates with our dos and don'ts guide below.
Do give out your wedding save dates early, but not too early.
Don't inform anyone whom you do not plan to invite. You'd see them show up and be quite shocked.
Do be very explicit on those to attend.
Don't invite anyone whom you are sure won't show up.
Do keep your wedding save dates simple.
Don't add your wedding registry information. It is crass and desperate.
Do add on a wedding website.
Don't send out your invites the electronic way. Do more of magnets instead.
Do not have typo errors. This could be very detrimental to your wedding budget. You may have to redo and resend, costing you more money.
Do remember to send a follow-up invitation to the wedding.
When To Send Out Save The Dates For Wedding?
When to send out save the dates for a wedding is a question we get the time and over. Lots of couples preparing to get married do not know how to go about this. They ask, when is too early and when it too late? What if it's a destination wedding, how do I deal?
Well, unless you have a short engagement, eight to six months before the wedding, is ideal. This is time enough for guests to clear out their schedule.
If it's a destination wedding, then one year is good enough. This will give guests time to prepare for travel out of the country.
Sending out your wedding save the date too early may cause it to get lost. Guests will end up forgetting your date. If you send it too late, you may not have enough people turn up at your wedding. So, moderation is key, and remember to send a follow-up formal wedding invitation. HOW TO MATCH
How To Match Wedding Invitations And Save The Dates
Wedding save the date goes out to guests nine to six months before the wedding. Wedding invitations, on the other hand, go out six to eight week. So, it may be difficult for you to match your wedding save dates and invitations. This is because, at this point, unless the engagement is short, you don't know what you want yet.
But, it doesn't need to get hard, because you can find your way around it. Although it is not mandatory the wedding stationery match, it's beautiful if they do. Below, we made a list of wedding invitations and save the dates that match. You can pick them and tweak them to suit your style.
Save The Date Etiquette Tips
Your wedding save the dates is a project where your creative juices can flow. There the freedom to save the dates based on wedding themes or style. There is no limit to how wedding save the date designs can pan out. But there is a catch right here!
Whether it's a vintage wedding save the dates, Disney wedding save the dates or others, there's a code of conduct. There are things one must not forget to observe while addressing save the date cards. Anything to the contrary is a rude shock waiting to happen at your wedding. It doesn't even have to be a cheap wedding save the dates to ruin your wedding.
Hence, below are some etiquette to observe if you want to get your wedding save dates right.
While addressing your custom wedding save the dates, do not forget who, what, and when. The guests must know who they got an invite from, so state your names. Also state what they're invited to, which is a wedding. Then inform them of when and where the wedding will hold by including dates and venue.
Be very explicit in your wedding save dates to avoid unpleasant surprises. Also, be polite, but straightforward about who you invite and how many extras an invite admits. Be specific is pets and children can come along. This is not a time to be coy.
If they're cruise wedding save the date or destination wedding save the dates, begin with far guests. Send them in advance to guests who are far away, but have a high likelihood of attendance. The same method also applies to Christmas wedding save the dates. Guests will factor you into their plans for Christmas.
This is to enable them to clear out their schedule and make adequate preparations for travel.
The best wedding save the dates are particular about layout and save the dates wording. This is more for couples to decide on adopting funny wedding save the dates. The layout and content of your save date invitations set the tone of your wedding, what to expect, theme ND faith. It is what helps guests decipher how to respond to you, how the wedding will look and know what you want for the wedding.
Do not make the layout so unattractive that guests don't give your card a second glance. Card content will be one that makes guests comfortable and not scandalized. Content should also help them decide your faith, so they can tailor wedding wishes to suit.
Include the link to your wedding website if you have one already. It will make wedding date adjustments and other wedding updates easy to communicate to guests.
Save the date is a beautiful way to announce a wedding after the engagement. How it's received sets the tone for your wedding. Get creative by working with any of the ideas we put up. Whether destination wedding save the dates or something simple, it's all in here. There are rules and etiquette for a guide as you share the happy news.