Wedding planning infographics will help you to create a dream wedding and won't be missing out on anything. There's nothing better than having visual ideas what, when and how to do. Our wedding infographics will help you to get everything organized and under control.
Check the post below to start browsing the gallery and happy pinning!
Infographic 1: Checklist For Changing Your Name After Marriage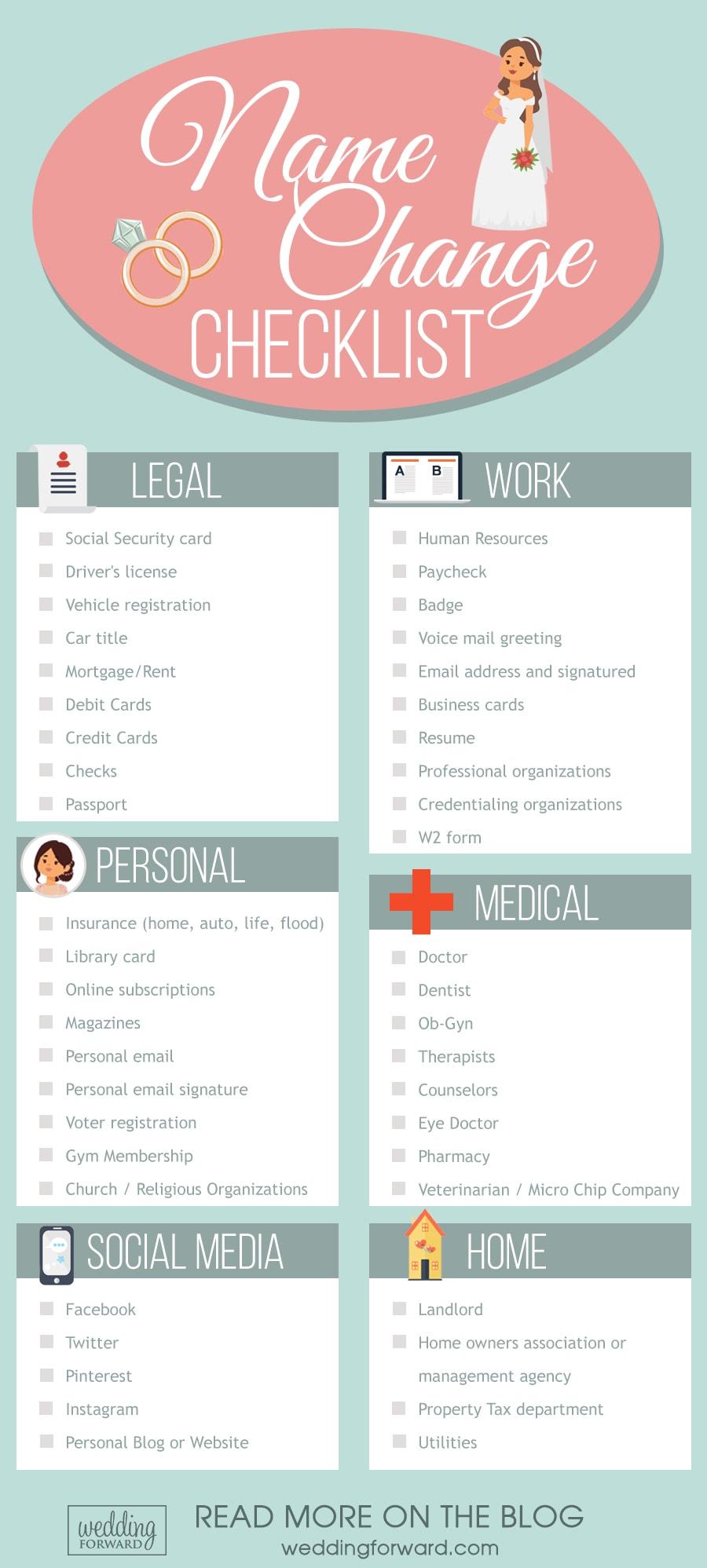 Infographic 2: Wedding Planning Timeline

We have tips to help you master the 12-month planning process and a simple checklist at the end of the article – 12 Month Wedding Planning Timeline.
Infographic 3: Wedding Photo Timeline

We trying to make helpful wedding photo infographics. Here 9 Wedding Photo Infographics To Make Your Wedding Photos Amazing.
Infographic 4: Who Pays For What in a Wedding

Whether a small ceremony, lavish affair, or an exotic island destination, weddings have a cost. The big question is, who pays for the wedding? Check Who Pays For The Wedding: Main Etiquette Rules.
Infographic 5: Wedding Day: Duties & Responsibilities

From composing a guest list to organizing your wedding party, there are so many important details and wedding roles to remember. Read the post How To Choose Wedding Roles To Help Make Your Wedding Less Stressful.
Infographic 6: Wedding Ideas For Every Season

Choosing a wedding guest outfit is a difficult and long task. Look at these perfect outfit ideas for every season 30 Wedding Guest Dresses For Every Seasons & Style.
Infographic 7: Wedding Cakes Guide

What kind of cake to choose? Ordering a classic is a good idea but we recommend to look for more seasonal ideas. Here you can get the inspiration 24 Fabulous Winter Wedding Cakes We Adore.
Infographic 8: Wedding Dress Guide

Here is some helpful information to make shopping for your perfect wedding dress easier. This post will help you – Wedding Dress Shopping Guide.
Infographic 9: Key Questions To Ask Your Wedding Hairstylist

The perfect way to create a bridal look that will be good for you is to bring your favorite styles picture to your wedding stylist. Here you can find the most inspiring ideas 36 Ideas For Wedding Hairstyle Inspiration.