It is routine for couples to seek out only the best wedding websites for their big day. With so much to do on the wedding planning checklist, only the best wedding website builder will serve. But because one could get overwhelmed with many choices available, we narrowed down the search for you.
This post contains personalized wedding websites to fit the spec of each couple, saving them the time of sending the same texts and emails repeatedly. These websites which vary in functions, styles, prices, and interface, possess features that allow you to do an easy job, save more money and reach more people, all at your own convenience.
What are wedding websites for?
Wedding websites are for announcing to all your guests at the same time your order of wedding events; accommodation options, schedule, venue, and direction. Guests can also find where your gift registry is, against sending prints, emails, and texts every other day. As such, it should be an easy wedding website that anyone can navigate.
There is something for everyone in this post, from the regular to the tech-savvy couple!

How To Make A Wedding Website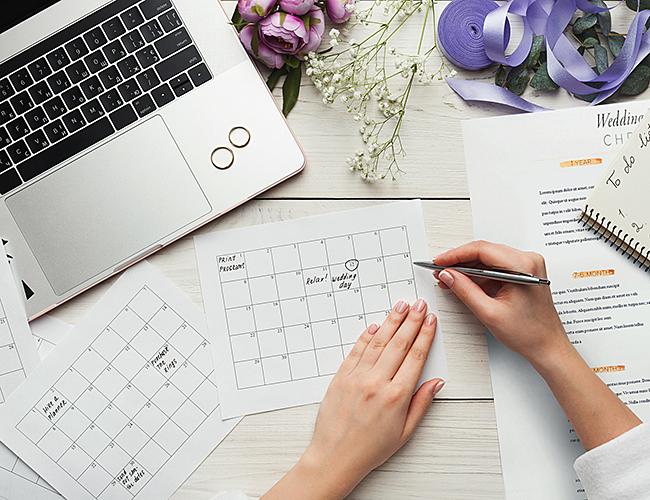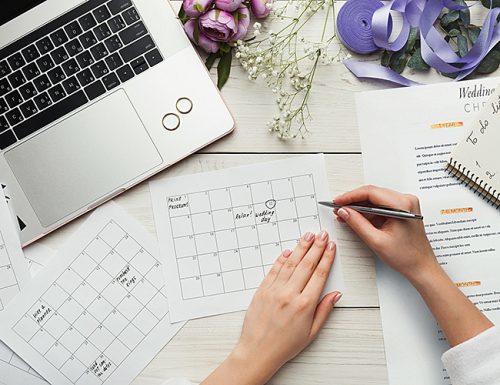 With your wedding checklist reminding you that there is a lot to do, you should create a wedding website and ease yourself some burden. The relief, speed, savings and reach wedding websites cover cannot be overemphasized. Guests will find it easy to locate your wedding venue, find accommodations and get you your choice gifts without ringing you up. This is why you should be intentional and careful about the information you put out.
Do Password Your Website
This will help you keep the wedding crashers out and let only your invited guest's access to your private information. Take advantage of the password options of the site or use a custom upgrade.
Don't Mention Any Invite Only Events
Leave out exclusive events of your wedding and disseminate only to whom it may concern. Including them on your wedding website will make those on your guest list feel unimportant or left out. It could even portray you as rude.
Do Include Information for Wedding Registry
We always advise against putting your registry information your card invites, but on the wedding website, it's allowed! Include links for where all your registries are, for easy shopping. If you want cash donations, a short note on the aim will give the guests an insight into your cause.
Don't Derail From Your Theme
Everyone who knows how to plan a wedding testifies to how hard it is to pick and make a theme come to life. Do not part with it! Whether it's bohemian, retro, chic, classic or rustic, make it a part of your wedding website design. Let guests have a feel of what they see on your invites. Be consistent!
Do Make Travel Information Detailed
Make guests coming from out of town have an easy trip by putting all travel information out. Tell them the closest airports to the venue, hotel accommodation options, phone numbers to call and any discounts you were able to get for them. This will make the job easier.
Don't Use Online RSVPs
It is best to use the formal card RSVP type as this will help you make an accurate confirmed guest estimate. It is also to the advantage of guests who are not tech savvy. This is against online RSVP where guests confirm and bail, do not confirm and show up or confirm late and ruin your plans.
Do Remember Your Wedding Timeline
Every event leading up to your wedding follows a wedding planning timeline. Let the guests know about each event, time, place and mode of transportation. This will help them adjust their schedule, prepare well and appear with the right gears.
Don't Be A Bore
Guests want to read your love story, see your bridesmaids and groomsmen, but they don't want to be sick and tired. Make it interesting, informative, but concise. This way, you will hold their attention and your wedding website will be fun to visit.
TOP 10 FREE WEBSITES
| | | | | | | | | | | |
| --- | --- | --- | --- | --- | --- | --- | --- | --- | --- | --- |
| Website | Joy | Getting Married | Wedding Wire | Luv Birds | The Knot | Minted | Zola | Wix | Wedding JoJo | E-Wedding |
| Ease of Use | ☆☆☆☆☆ | ☆☆☆ | ☆☆☆☆ | ☆☆☆☆ | ☆☆☆☆ | ☆☆☆ | ☆☆☆ | ☆☆☆☆ | ☆☆☆ | ☆☆☆ |
| Design | ☆☆☆☆☆ | ☆☆☆ | ☆☆☆☆ | ☆☆☆☆ | ☆☆☆☆☆ | ☆☆☆ | ☆☆☆☆ | ☆☆☆ | ☆☆☆ | ☆☆ |
Joy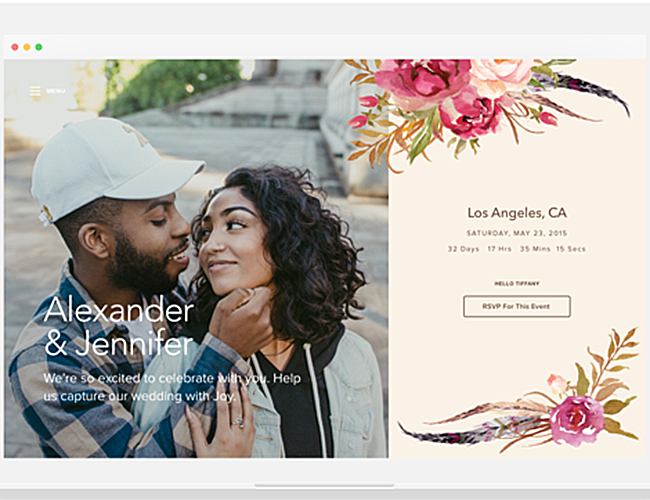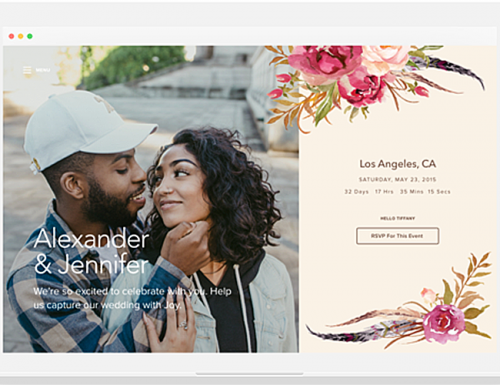 Originally designed for the sister of the founder, Joy is one of the best wedding website ideas. It allows you to set up your own guest lists, import your spreadsheets, create your custom wedding app and RSVP. You save the date and wedding invites can conveniently go through the website.
The beautiful part is that it is so easy to use, guests can connect and get to know each other from when you set it up till after your wedding. Guests can also upload their best pictures of your wedding party on the website. Such generous and free for all website!
Who Will Like: Couples who want an all in one tool.
Price: Free for now, but a premium section is coming soon.
Pros: It's fast, saves time, easy to navigate and efficient.
Cons: You could be dealing with split screen wedding website design and other unpleasant features.
Difficulties: If you also decide to use a personal domain, your site gets redirected to Joy, which could be tiring.
Clients Say:
"If you are unable to fund a more enabled and all-inclusive wedding website, Joy is a great alternative!"
Getting Married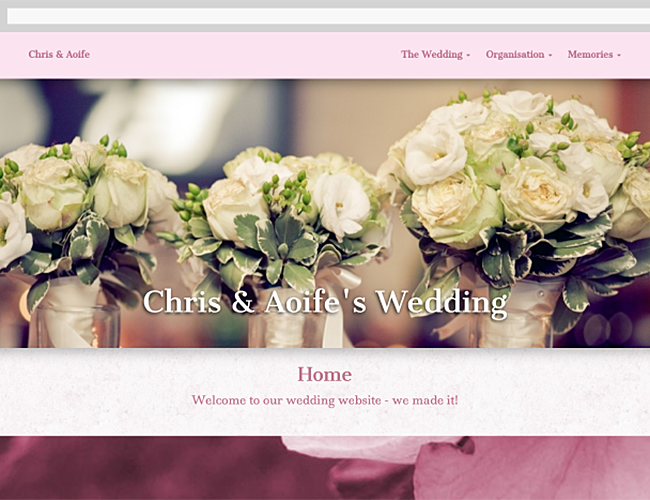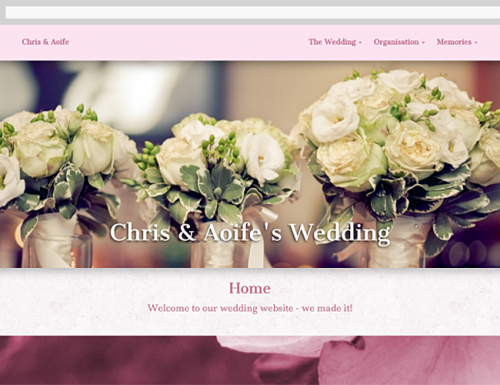 Getting married is one of the best free wedding websites in the United Kingdom. It is an all-inclusive website that is fast with a lot of divine designs for your pleasure. You will not run out of options with the floral romance, rustic and minimal layout at your disposal. If you want specific gifts for your wedding, Getting Married helps you show guests the way by UK's favorite wedding gift list provider, the award-winning Prezola. How about keeping memories from the big day? This you can do through crow sourcing of wedding photos.
Who Will Like: Persons who want a fast and easy way to create a website with many options.
Price: Free
Pros: It is mobile friendly, easy to set up and easy to use. It also helps with venue maps to guide guests to your event.
Cons: Creativity is also stifled here. It leaves much to crave for in the area of many layout options.
Difficulties: You can toy with style, fonts, and themes but you cannot manipulate the structure. This is a limiting cheap wedding website.
Clients Say:
"This site is ideal for those who want free features and want to influence the gifts they receive."
Wedding Wire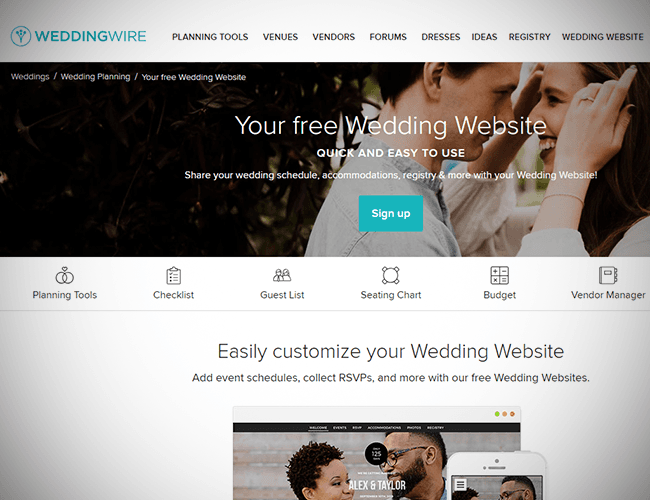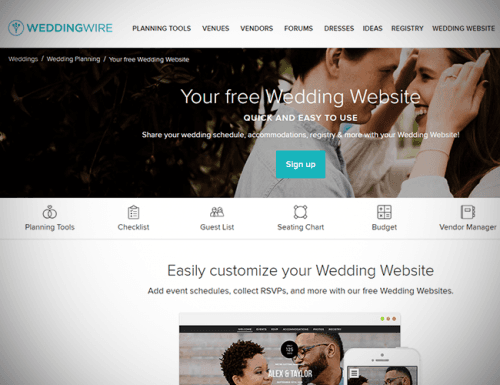 As a leading wedding website creator in the United States of America, Wedding Wire presents with varieties of templates with different styles and designs. Top creativity is a let on for Wedding Wire, with people able to work with modern, rustic or traditional templates and designs. You can even make a custom backdrop with you're loved up or engagement pictures.
It has the ability to blend with other apps. For instance, it allows hotel suggestions to pop us and direct booking through the site. With this site that is mobile and tablet friendly, you can create a URL that allows online RSVP tracking.
Who Will Like: Couples who want one the best wedding website that is free and linkable to other planning tools.
Price: Free or upgrade to a custom domain for $12.99.
Pros: Templates are over 400 and it links comfortably with other digital planning tools.
Cons: The templates are plain and bland and for over 400, that's boring.
Difficulties: Navigating the website building process is a bit difficult.
Clients Say:
"It covers only the basics, but if you want to enjoy it, pay for a custom domain."
Luv Birds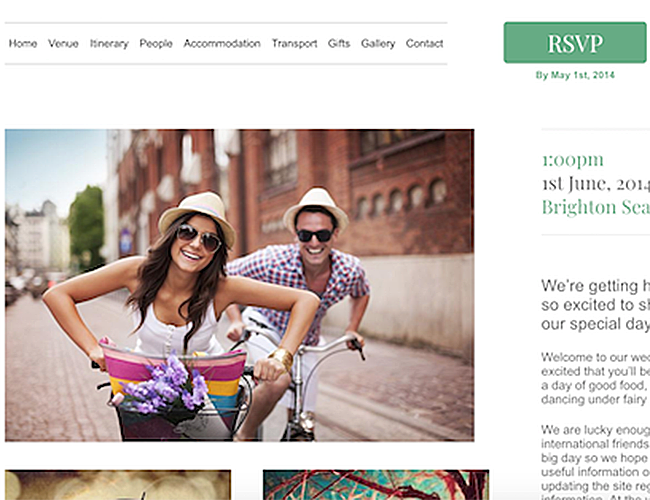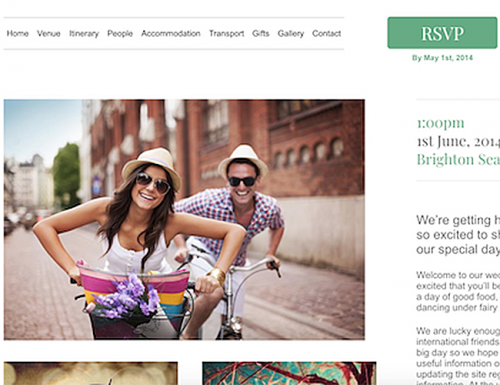 If you are thinking of uncomplicated wedding website ideas that will take you one minute max, Luv Birds are the answer. This is especially for people in a rush or last-minute consideration. This wedding website is simple with an easy layout and basic designs. It caters to every wedding website need, but the limitations are many. Users should prepare not to be too selective and make do with only what they get.
Who Will Like: People or Couples who want a wedding website at the last minute.
Price: Free, but you make payments if you want your website to remain up after a year.
Pros: Fast, easy to use, clean and simple.
Cons: Basic, very basic. Lacks a lot of features.
Difficulties: You cannot create a personal URL.
Clients Say:
"If you are not fussy about designs, you will love it."
The Knot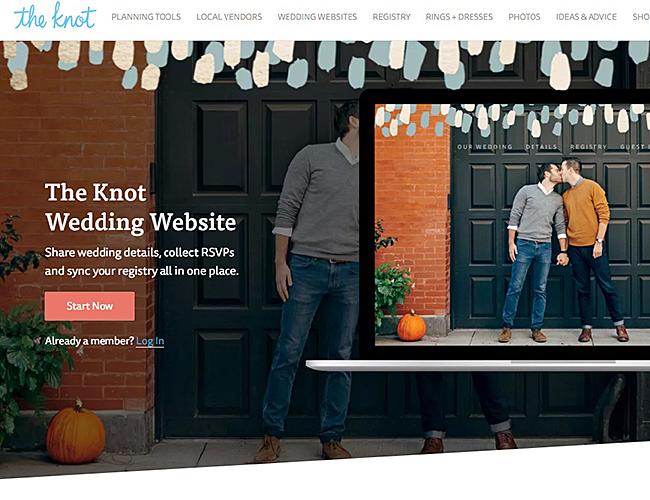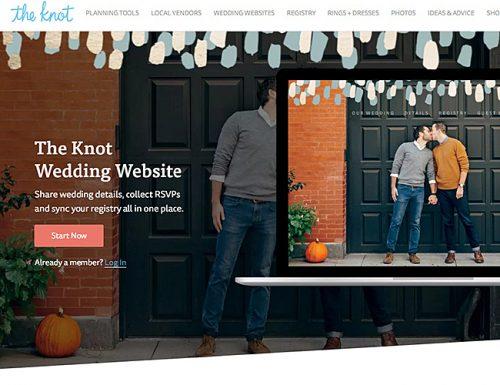 The Knot is a leading free wedding website creator is that is easy to set up and offers over 160 design templates. A leading wedding website in the United States, its features are outstanding for a free website. It is mobile-friendly and syncs with ease to other digital tools including Facebook and Instagram. This makes wedding planning much easier as you have everything in one place. Your registry is also not scattered as guests can see all your gifts at once. You also have your personalized URL which helps you track RSVP online amongst other goodies offered. With The Knot, you are set!
Who Will Like: Everyone who wants an easy wedding planning with everything under one site.
Price: Free, but if you want a custom domain, it's $20.
Pros: It brings everything under one roof and links with other digital planning tools, making planning so convenient. You also get personalized URLs and custom privacy settings. No headaches, only seamless planning.
Cons: RSVP can only be custom-built to a minimal level.
Difficulties: You cannot edit the site, personalize your style, background, colors, and fonts through its app. You will require the use of a computer.
Clients Say:
"I advise you use this one if you need a site you can get creative on. One that's easy and fast to use, with everything in one place."
Minted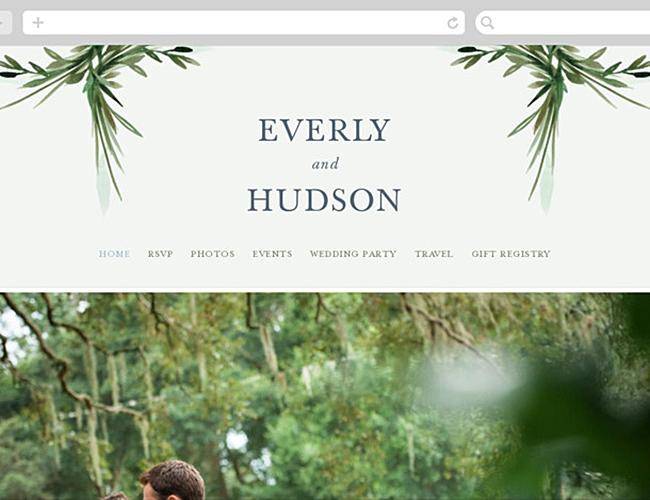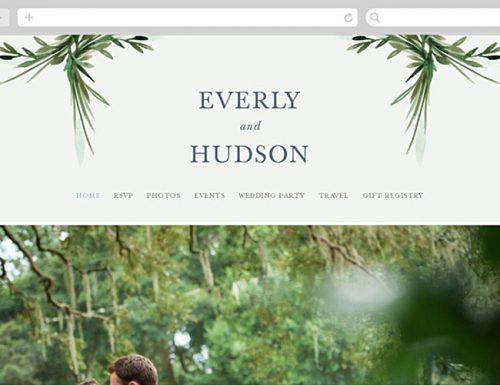 From being the champion of stationeries in the United States, they moved to wed websites and are strongly gaining presence. This is an easy wedding website that offers numerous varieties of designs and schemes, each of which you can customize to suit your wedding stationery. Minted is a wedding website creator that is very easy to navigate. It reeks of simplicity, style, and comfort.
Who will like: Any person, whether tech savvy or not, who wants something stylish and a coordinating scheme for their wedding stationery.
Price: Free for limited features. Get premium for a single fee of $20.
Pros: All designs are brainchildren of independent designers, so there's a uniqueness to each design. You can also scout for invites and decor that match with the aid of "shop your website style". Easy to use!
Cons: Registry will be manually linked to the website, lacks planning tools.
Difficulties: To use the best features, you must pay.
Clients Say:
"Use it if you want something uniquely basic and if you care so much that your decor and invites should match. Asides these, there are no perks."
Zola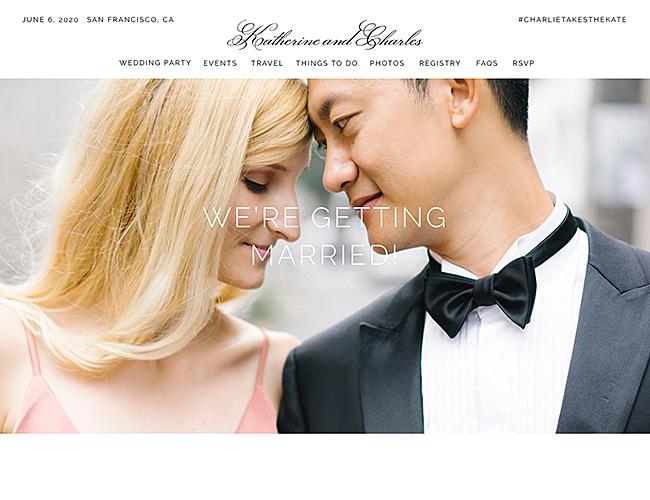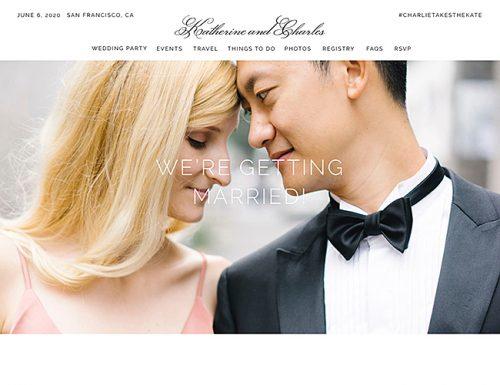 Zola is a wedding website builder that doubles as a mega wedding registry and top. Or the range wedding directory. You can easily customize and alter the website at will. It also syncs with the wedding registry so easily that you can buy gifts straight from Zola. You can manipulate styles, fonts, and colors to suit your theme and party.
Your RSVP tracking allows your guests to send in song requests, food preferences chit chat and so much more. Zola has everything covered.
Who will like: New age couples with exotic tastes for a pricey gift registry.
Price: Free. You can otherwise buy a custom domain for $14.95.
Pros: Fast and easy to set up with guides and tips as you go. A massive guest list and the ability to only show information you want and hide the others.
Cons: It doesn't sync with other digital planning tools, like hotel bookings and all. You have to do that separately. It also has only 30 template designs and as such is limiting to those who do not have a Zola registry. They have to manually add gifts from other registries.
Difficulties: It is not so convenient and clients find it hard to navigate.
Clients Say:
"It is superb if you have or plan to have a Zola registry. But if you are not about to opt for high-end gifts, Zola is limiting."
WIX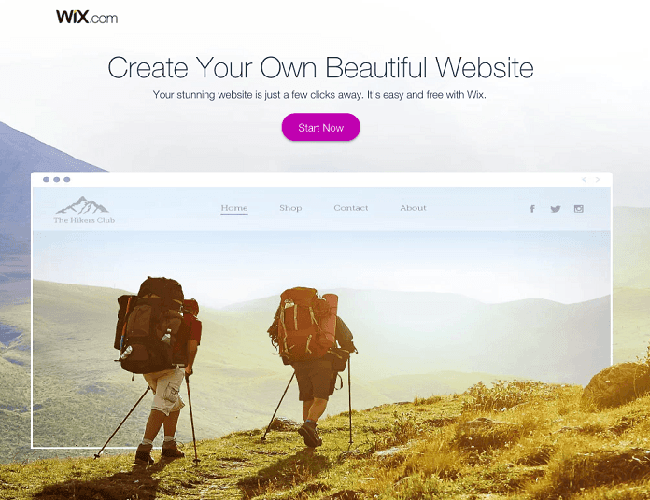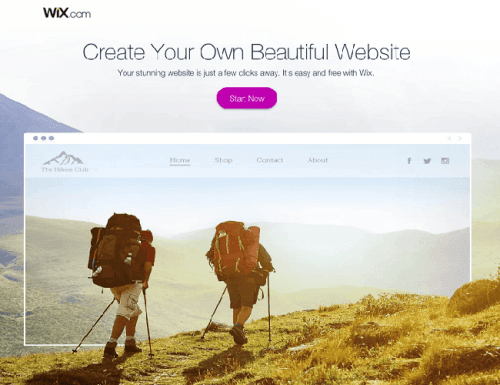 Wix wedding websites have features with over 500 modern design templates. For wedding specifics, there are about 50 templates dedicated to that, so it narrows your search. It is very easy to use and versatile wedding website. It is also mobile-friendly and smart, going everywhere with busy couples and guests. Wix has features that easily make it the best wedding website creator you can find. From sending out e-invites to the weather forecast and photo uploads, Wix is a full option custom wedding website.
Who Will Like: For couples who want a unique ready and custom made a website.
Price: Free or get premium and custom domain for $10 per month.
Pros: Layouts are inspiring and modern. Security is top notch.
Cons: It doesn't sync with nor show registry gifts even after you add manually. Features on the free version are precise.
Difficulties: A tiring and intrusive Wix overhead banner that everyone can do without.
Clients Say:
"To enjoy this, use if only you will pay the premium fee."
Wedding Jojo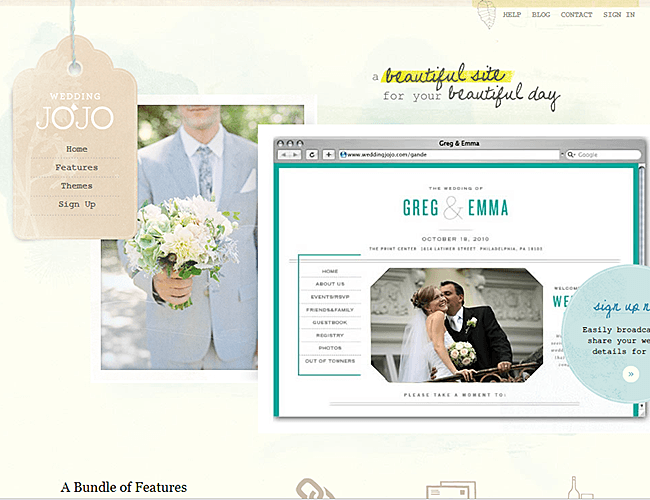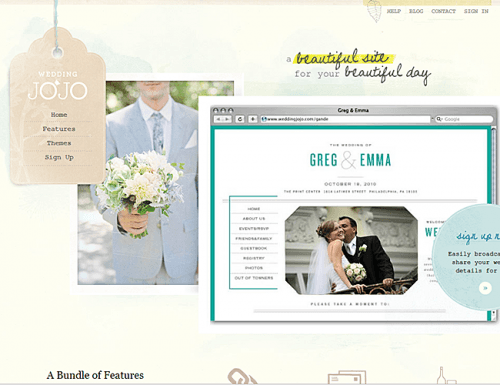 Very modern, chic and trendy, this is for the retro, rustic and boho couple. Wedding Jojo offers a range of 8 design themes to choose from. For a fee, all these themes you can personalize in different colors. A high point of this wedding website is the guest book which allows guests to connect, comment, drop messages, advice and well wishes for you and your special one.
Who Will Like: The trendy, yet simple couple who want something easy and fast.
Price: Free or get an upgrade for $15.30.
Pros: Features 8 unique and customizable color schemes. Features a guest book.
Cons: Creativity is finite. It doesn't sync with the registry, free themes are limited.
Difficulties: This wedding builder is utterly basic, no calendars, and no seating plan arrangers.
Clients Say:
"Although very limiting, use if you want something trendy, simple and chic."
E-Wedding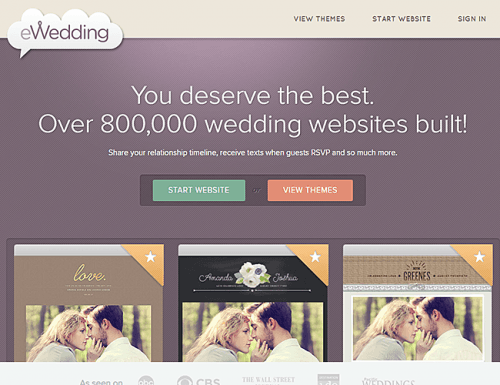 This wedding website builder is more traditionally oriented as compared to other wedding websites. It also ranks as one of the lowest prices websites. It parades a tool to text RSVP, a relationship timeline and customizable beautiful, but plain designs. There is not much about this website, because is it simple and minimal with limited creative space.
Who Will Like: Couples who love the simplicity and would want to tell their story through a relationship timeline.
Price: Free or upgrade to premium for $14.71.
Pros: Unique and customizable designs. Relationship timeline. Cheap wedding website.
Cons: You cannot import a spreadsheet. Work on the website is minimal. Creativity is precise.
Difficulties: Basic content and leaves you cold. Digital planning tools do not sync. Better serves as a diary than a wedding website.
Clients Say:
"Use if you love to create a relationship timeline."
TOP 10 PAID WEBSITES
| | | | | | | | | | | |
| --- | --- | --- | --- | --- | --- | --- | --- | --- | --- | --- |
| Website | Square Space | Riley&Grey | Appy Couple | Weblium | Glosite | Bliss&Bone | Weduary | Nearlyweds | uKit | Jimdo |
| Ease of Use | ☆☆☆☆☆ | ☆☆☆☆ | ☆☆☆☆ | ☆☆☆ | ☆☆☆ | ☆☆☆☆ | ☆☆☆ | ☆☆☆☆ | ☆☆☆ | ☆☆☆ |
| Design | ☆☆☆☆☆ | ☆☆☆☆ | ☆☆☆☆☆ | ☆☆☆ | ☆☆☆ | ☆☆☆☆☆ | ☆☆☆ | ☆☆☆☆ | ☆☆ | ☆☆ |
Square Space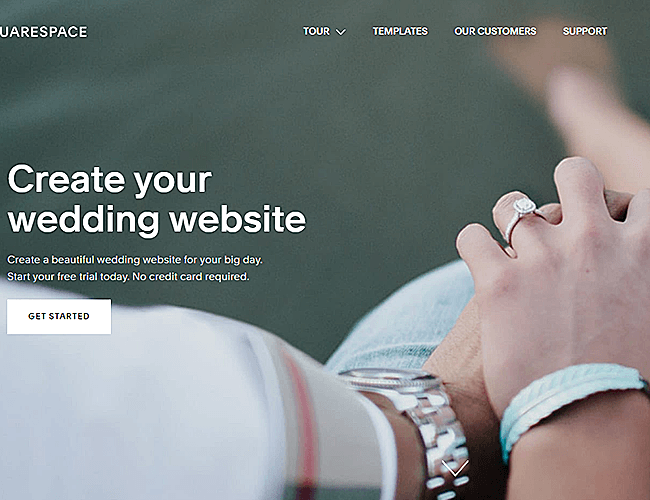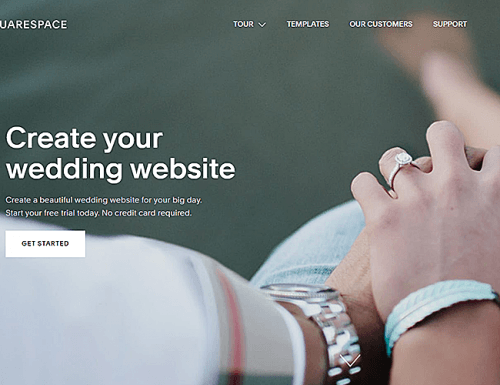 Following closely behind Wix, Square Space is a high tech wedding website that everyone can easily navigate through. It is very easy to use and mobile-friendly, making it a convenient travel partner for guests coming to your wedding. It parades 6 template designs that can be custom-built to fit exactly what you want per time. There is the register syncing too so that guests can shop your registry without leaving your website. Square Space also supports photo and video uploads of the best of your day. This wedding app is everything!
Who will like: As it bears a striking semblance to a coding site, this is well-chosen for a tech enthusiastic couple who wants everything custom made.
Price: Custom domain is $20. A month's subscription is $16. A full year package goes at the rate of $12/ month.
Pros: Free creative expression, easy customization, view as you update. Very professional outlook even without the touch of a tech geek.
Cons: No mobile editor.
Difficulties: The longer wedding website stays, the more money it gulps. Trials only last for two weeks before you're forced to subscribe to a package. There is no easy way.
Clients Say:
"We do no advice couples on a tight budget to use this as it gulps cash without offering any wedding specific tool. Use only if you have a flexible budget."
Riley & Grey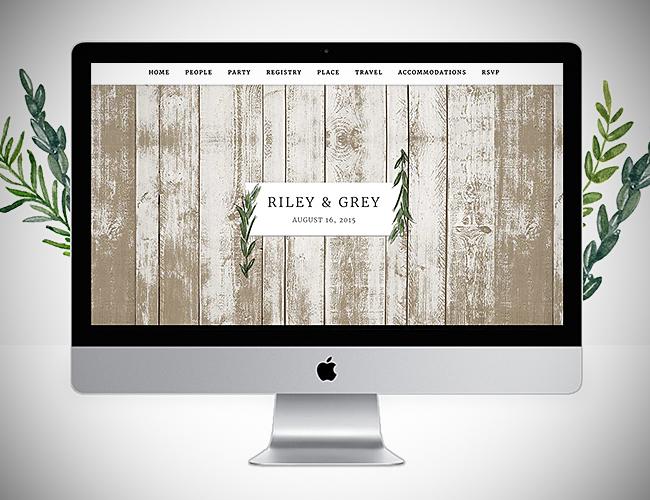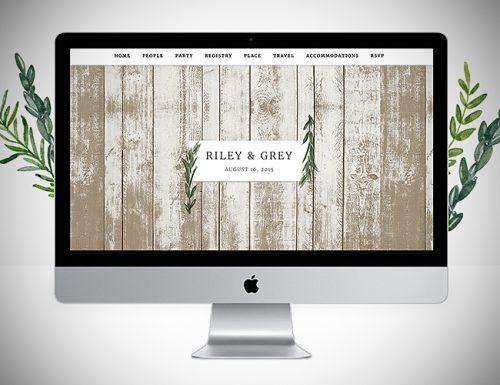 Riley and Grey wedding websites are sleek, stylish and easy to navigate, with grand template choices. This is a high-end luxury which offers a wide range of features to the satisfaction of the users. It syncs with digital planning tools, supports accommodation information and bookings, tracking of RSVPs and is customizable. So much that you can raise a guest list, create playlists and take guests food preferences. Updating the site at any time is easy and there is room for a venue and other information.
Who will like: This is for the stylish and luxurious couple who want to make a statement with their wedding website.
Price: $35/month, $233/year.
Pros: With a rich and unique layout, it presents with many pictures to give you a satisfying experience. You can also customize or personalize almost every part of it.
Cons: Compared to other wedding websites builders, it's quite expensive.
Difficulties: You have to add manual tools and this makes the process tiring. It is also not very handy.
Clients Say:
"Use it if you have the money and want to make a statement."
Appy Couple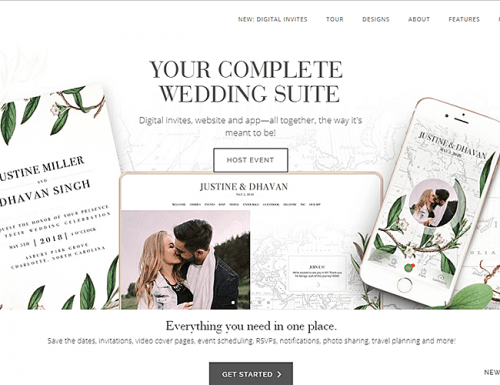 Appy Couple is a custom wedding website with interactive features to hold everyone's attention. It parades a wide range of templates and features "designer" designs from the crème de la crème of the design and fashion community. This is also a site where you can match your designs with your wedding décor and stationery. It is easy to use, easy to navigate and boasts of satisfaction for users with its numerous features.
Who Will Like: Couples who are financially solvent, but are not fuzzy about designs. They only want the best wedding websites.
Price: Boutique package for $49, the Luxury package for $149.
Pros: Guest messaging and RSVP tool, privacy and selective invitation option, interactive features.
Cons: It costs a fortune, yet, is not much different from other sites. A regular!
Difficulties: To customize your chosen design or use a bespoke theme, you'll need to get custom pricing.
Clients Say:
"Use this if you want a simple, but chic and stylish wedding website."
Weblium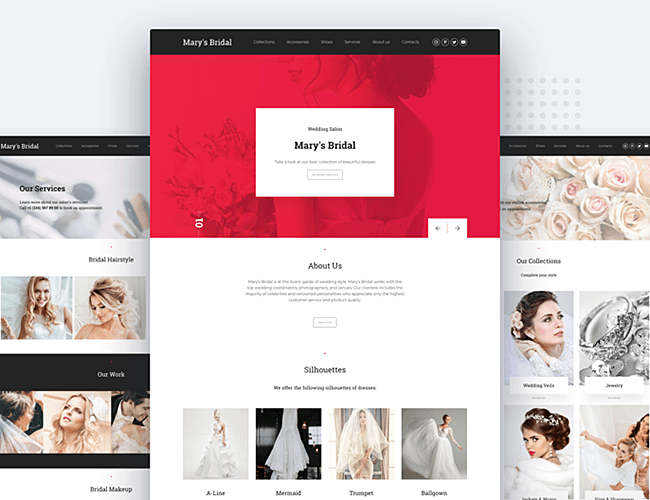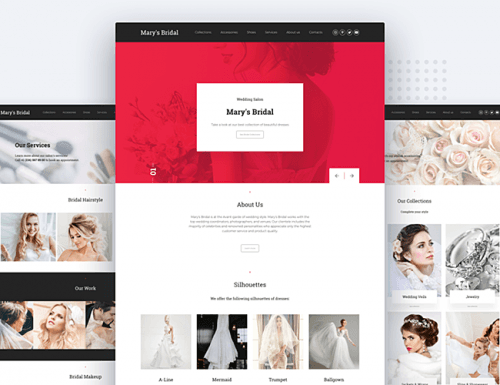 This is a leading wedding website created by template monster. With about 25,000 template designs, you will be spoilt with choices to make. This website is a platform already optimized with standard SEO specifications to suit users. It features a tour guide section, allows for music and video upload and has RSVP too. It is highly customizable, let's you have your own domain and allows many manipulations.
Also, on Weblium you can create the website using the wedding templates with fixed price per month, including SSL certificate, domain, and more features are included.
Who will like: This is for the couple who want the burden to create a wedding website taken away from them.
Price: Set up is a onetime fee of $399. Subscription is $15/month. $10.5/annum and $8.25/ biannually. Weblium DIY with templates: $ 10.5/month.
Pros: This website with its many features totally takes the stress off you, so that you can focus on other things. Gives you an unending string of designs to choose from.
Cons: Is quite pricey. The vast numbers of design templates may leave clients overwhelmed. There is no hands-on input from the couple. Leaving your wedding website in the hands of others is something many people may not find comfortable
Difficulties: Creativity is tough because users cannot edit the website on their own. It must be through the professionals.
Clients Say:
"Use only if you want no part in the stress and can afford the fee."
Glosite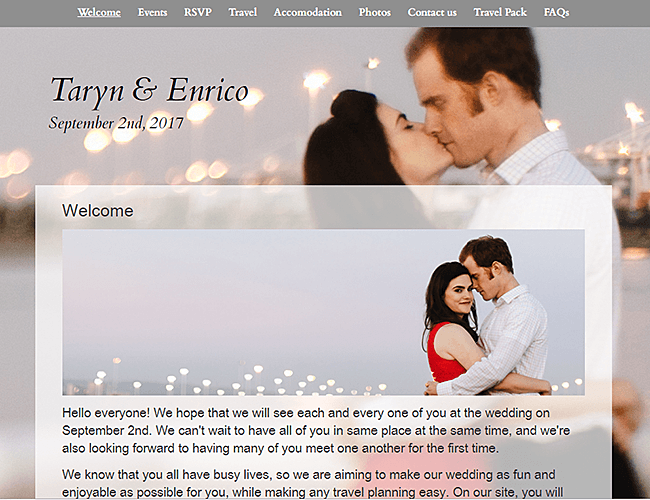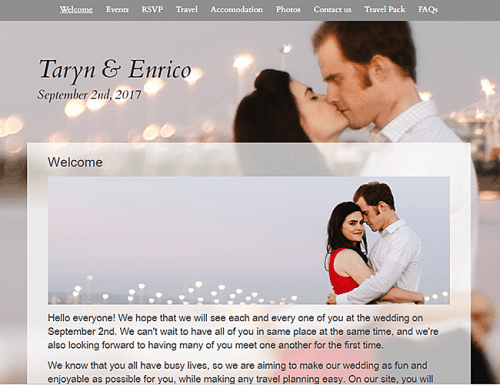 This is a wedding website that beats many others with its compound features. This website allows RSVP tracking, matching of stationery online, downloadable spreadsheet, thank you notes and gift tracking. There is the option for picture upload and creating links to your multiple wedding registry. Convenient and ideal for destination weddings, it features guest list management, location time and venue add-ons. It is very handy and a client has total control over what happens on this wedding website.
Who will like: Couples who want style, class and all their activities under one roof.
Price: $19.99/month, $75/annum.
Pros: Boasts a wide range of features and schemes. Has matching offline paper invites for those that are not tech-savvy.
Cons: Only 21 days of trial. A similar layout style which might not be for everyone.
Difficulties: Too simple, heavy use of texts and exaggerated designs. It is pricey. To get themes, you pay. The difference in layout and themes is the background color and illustration, no variety.
Clients Say:
"It is totally worth it, but use only if you're not on a tight budget."
Bliss & Bone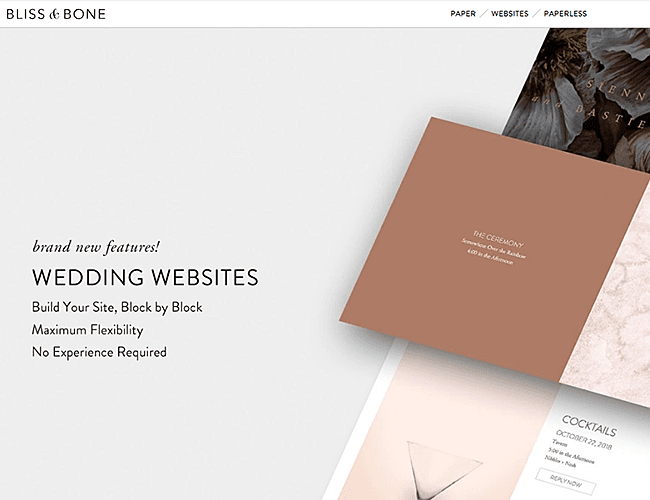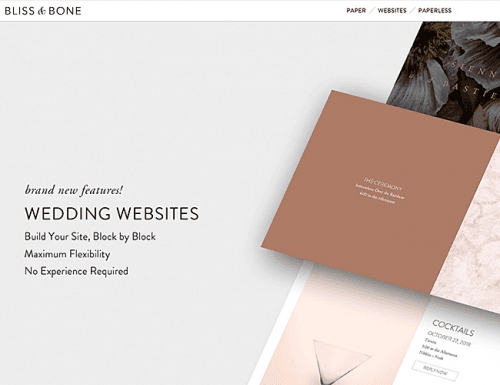 Bliss & Bone, a multipurpose stylish wedding website was set up by a couple, Carl and Cindy Skanderup. They started out as a wedding invitation stationery set up and with their profile, the website is a hit. This website allows you either to create from the scratch or totally customize available designs. Color palettes are divine and you can update your designs at will. Bliss & Bone is mobile phone and tablet friendly, allows for private events and photo uploads, RSVP export and owing to your domain.
Who Will Like: The trendy, modern, sassy and alternative couple.
Price: $12/ month.
Pros: Modern and stylish templates. Customizable. RSVP tool and guest list management.
Cons: 7 days of a free trial. Doesn't synchronize with external digital planning tools.
Difficulties: You cannot navigate easily without a little tech ability. You can only access useful features after payment.
Clients Say:
"Use if you want something stylish and free of hassles."
Weduary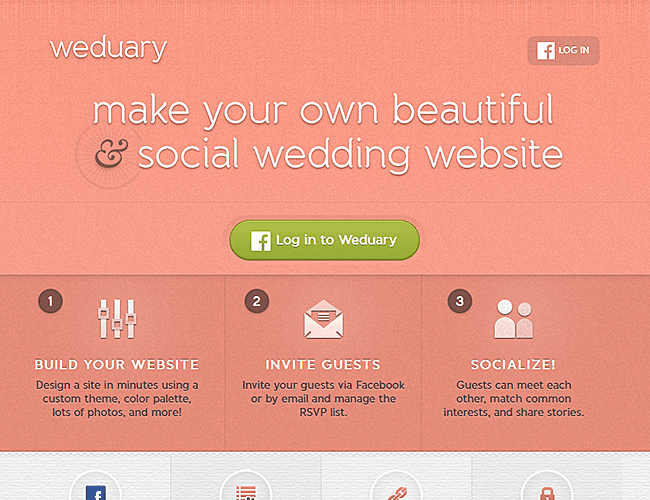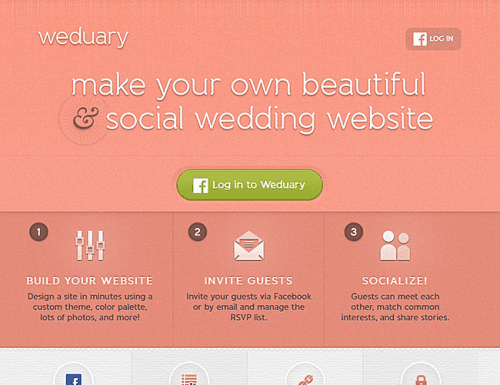 This is an easy wedding website design from the founders of Brit + Co. Those who have a love for virtual space will find this very interesting as you can connect all your guests' lists through Facebook. An option offered by Weduary amongst others. It is also an interactive wedding website where guests can get invites, connect and keep up with each other even before your wedding through Facebook. There is also the RSVP tool to track guests who you invited to your wedding.
Who will like: Couples whose wedding will serve as a meeting point for almost everyone in their lives.
Price: $21
Pros: This wedding website brings every part of your life together through your guest list.
Cons: Asides from the fact that it allows social media to connect, the features are precise.
Difficulties: You have to make do with what the designer gives as you can only do so much with this site.
Clients Say:
"Use only if you don't want to miss out on guests from any aspects of your life. Instagram, Facebook, Twitter, LinkedIn, Tumblr and the likes."
Nearlyweds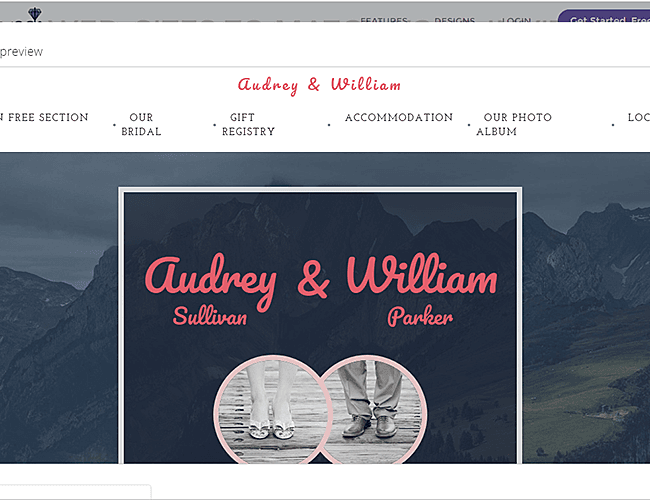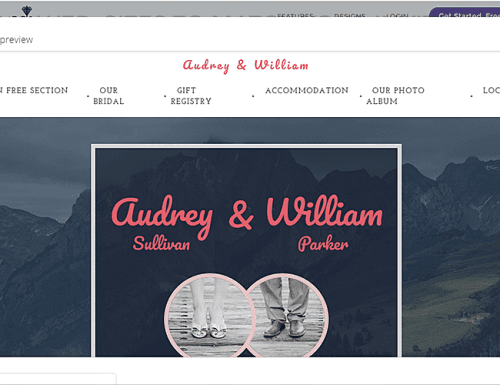 This wedding website is broad and has many attractive features. It has the RSVP tool to manage the event and guest list, plus one can match website design with offline stationery. Security is certain as you can privatize your event with a password. The site can also accommodate your many registries and links, for guests to click and shop! Guests can upload photos before and after the wedding, drop comments and interact with each other. You can also upload playlists, get a personalized domain which won't be redirected, edit and update your site at will.
Who Will Like: This is for the contemporary couple who want simple and easy.
Price: $8.3/ month
Pros: Has 60 templates and over 100 designs to choose from. Allows user total control of features.
Cons: Allows RSVP to only one event on the free option. Limited templates to choose from.
Difficulties: There are usually tech problems associated with site navigation. Themes are not up to date. Layout and functionalities are archaic.
Clients Say:
"Use if you want flexible, fast and simple."
uKit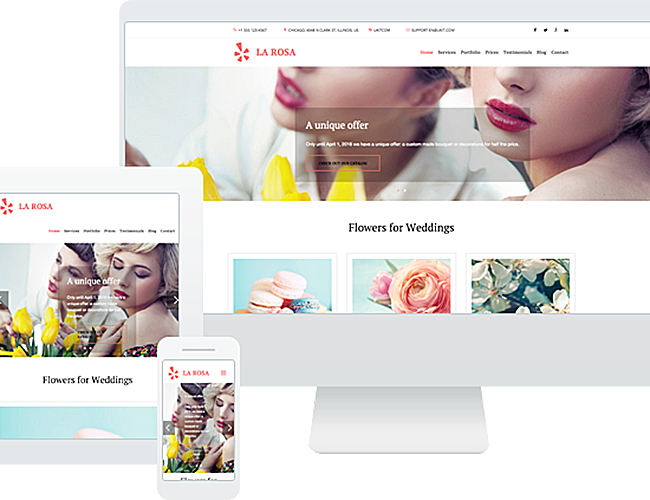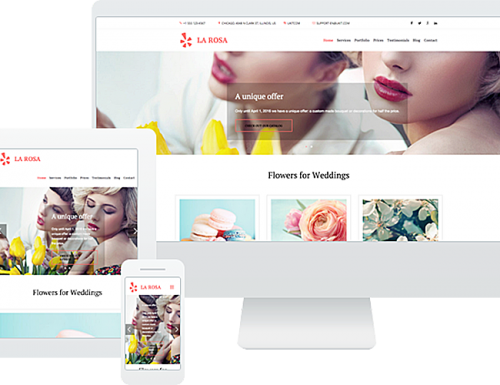 A Russian based wedding website builder uKit was initially launched for small businesses but meandered into wedding options. It is very easy to use and allows you to create your website from scratch. With its agreeable templates, vast photo gallery, custom design tools and a lot of integration options, uKit keeps winning. Its themes range from wedding agencies to boutiques, actual weddings and more. It's an interactive website that allows comments, photo, and video imports and supports multiple websites.
Who will like: People who want a wedding website.
Price: Premium ($5/month, $48/year). Premium + ($10/month, $96/year). E-commerce ($12/ month, $115/year). Pro ($15/month, $144/ year).
Pros: Supports multiple websites, allows for picture uploads. Import post and pictures from Facebook and LinkedIn.
Cons: 14 days trials which aren't so useful for those who are moderately tech and web design savvy. Creative restrictions; as only two fonts are allowed.
Difficulties: Templates are bland. Limited customer support, the best templates require a Premium+ plan.
Clients Say:
"It is easy to use, simple, flexible and users are in control."
Jimdo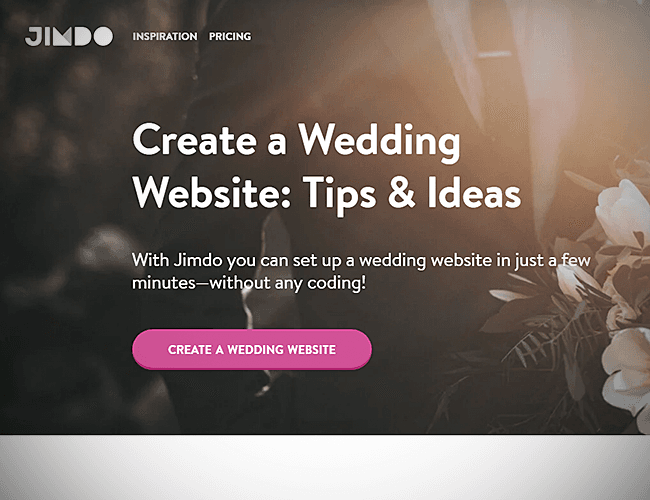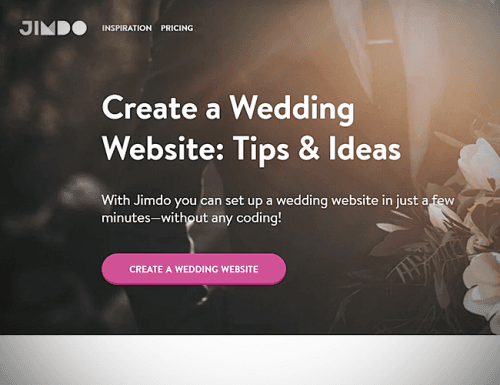 This is a wedding website which guides you step by step as you create. It is very mobile friendly and has a top-notch aesthetic prowess. It offers unique custom domain and no adverts. Its designs are eye-catching and inspiring for wedding specifics. This site has SEO tools to help guests find your website. It is fast, customizable, allows for photo uploads and RSVP tracking. Users have control over there features for a fee.
Who Will Like: Couples who are tech newbies and want to explore and create.
Price: Pro package is $9/annum, business package is $15 – $19/annum and platinum package is $39/annum.
Pros: You can use both point-and-click interface and direct HTML/CSS editing to design your website. Retain content even when you switch templates. Increased speed due to the usage of jimdo artificially intelligent dolphin.
Cons: Templates and designs are amateur. Creativity is also stifled and you have to pay certain rates to enjoy.
Difficulties: Only 40 templates and limited builder option. Their rates are well charged each year and half-yearly. There is no monthly subscription.
Clients Say:
"Use only if you want something playful and easy even at a price."
We have lined up 20 best wedding websites examples which are currently trending. Some with more features than the other, but their value cannot be put down. With these websites, you will save time, save money, work faster and accurately. They are god sent and easy to navigate, whether you are knowledgeable about IT or not. The best wedding websites for 2020 features fonts, styles, layouts, interfaces, and illustrations that are flexible for everyone to work with!