Weddings are a beautiful occasion. The walk down the aisle, the reception, the music, the dancing; every moment is precious. At the epicenter of all of this are the wedding vows.
This the exact moment that "Happily Ever After" is defined, and the rest of your lives are pledged.
This is when your heart and soul are expressed, and promises that will last the rest of your life are made.
This is when you stand in front of your friends, family, and god and solemnly swear to love each other and take care of each other for the rest of your lives.
Knowing what to say isn't easy. Many couples still love the standard wedding vows, while the trend to write your own continues to grow.
Either way, in order to prepare for the big "I Do" moment, you want to plan ahead.
This guide will introduce you to the various vow styles, how to accommodate the time you need along with the rest of your wedding planning, and how to structure them so that they come out absolutely perfect.
1. Traditional Wedding Vows
The best place to start learning about different example wedding vows is traditional promises. The traditional weddings vows structure has had a long-running relationship with the church but has since become non-religious wedding vows. There is still a lot of overlap, but they are no longer mutually exclusive. The main separation comes from the promises to "love, cherish, and worship", and the bride to "love, cherish, and obey", but the sentiment of a contract of love stays intact. Modern wedding vows (for good reason) steer clear of citing the bride as a piece of property and focuses on the everlasting bonds of love. Celtic wedding vows have always held this spirit.
"I, , take thee, , to be my wedded wife, to have and to hold from this day forward, for better for worse, for richer for poorer, for fairer or fouler, in sickness and in health, to love and to cherish, till death us depart, according to God's holy ordinance; and thereunto I plight thee my troth."
This theme has been carried throughout the years and is more or less expected in any wedding vow. However, modern vows expand on this with the addition of a love quote, a personalized song, poems, elaboration on love, and sometimes a little humor.
2. Vows For Her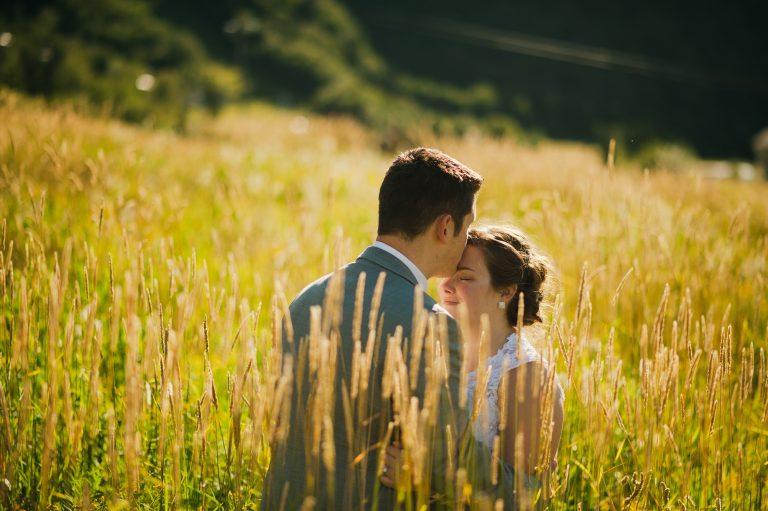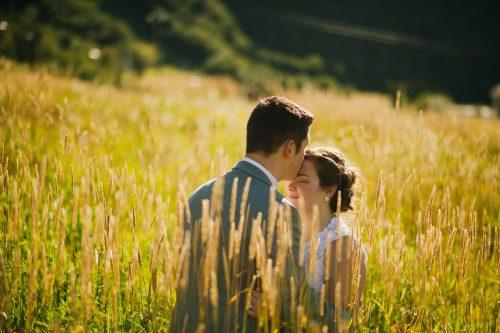 The days of promising to "obey" and become your husband's property are long gone. Today's weddings are based on pure love, and this is your chance to devote your heart and soul to the man of your dreams.
The moment when you promise to spend the rest of your life together through thick and thin doesn't come easy. All the words have been said in the right order and with the right meaning. To start the process, pour yourself a glass of your favorite pinot noir, turn on some romantic music to set the tone, and read a few romantic poems or stories before you pick up your pencil and paper.
Create a list of every time he's been there for you, of every time he's proven that he is the man of your dreams and the one you want to spend the rest of your life with. Let this inspire the words you choose to define your devotion to him and how much being man and wife means to you.
The basic structure of most vows begins with illustrating how you understand exactly who each other are deep down, and that's exactly what you love about them and knowing that you'll always feel that way. It promises that love to look forward to the future, and allow that love to grow each day. It acknowledges that there may be bad times, but promises to always look beyond that and support each other.
Find your own words to say this in whatever format suits you best. It may be a traditional pledge, it may consist of extremely romantic quotes, or it may be a song or poem that you recite. Tell an anecdote before, during, or after and feel free to slip in a joke or two, but make sure that the framework stays intact. Follow your inspiration and speak with your heart. It will be perfect.
3. Wedding Vows For Him
Men sometimes have trouble expressing exactly how they feel. Using a wedding vows template can really help capture what's in your heart. To get your mind in the right headspace, start by with a pen and paper.
Write down everything that you love about her. Recall how you met, and dream about what it's going to be like to spend the rest of your life with her. Now that you have romance in mind, it's time to put some structure to it.
You can literally use this traditional vow, or simply use it as a framework for a highly personalized promise:
"I, [name], take you, [name], to be my friend, my lover, the mother of my children and my wife. I will be yours in times of plenty and in times of want, in times of sickness and in times of health, in times of joy and in times of sorrow, in times of failure and in times of triumph.
I promise to cherish and respect you, to care and protect you, to comfort and encourage you, and stay with you, for all eternity. "
That basically sums it up. But, your future wife deserves a little more. There's no set rule on how long your vow should be. Make it too long and you'll lose the interest of the crowd, but make it too short and it may come off as insincere.
The traditional vow contains the critical message and promise but only takes a minute to read through. The best wedding vows ideas to combine the traditional promises to always be there for each other.
Adding your own thoughts and feelings adds context and explains why you truly believe in this and will keep it in your heart until the end of time. This is much more meaningful.
Once you have your speech written, re-written, and maybe even field tested with your best man or one of her relatives (it's wise to take notes), you'll want to turn it into a proper speech. Say your vows out loud. Repeat this over and over until it feels natural.
When the big moment comes look into her eyes. Remember the words you wrote on that piece of paper describing everything you love about her and how you dream of "happily ever after". As the words come out, you'll truly feel them. Your bride will know, and for this, she'll love you forever.
4. Personalized Wedding Beautiful Vows
A lot of couples choose to write their own vows for one reason or another. Couples are also preparing full-blown productions in place of the traditional wedding vows. Brides and grooms alike are writing poems, composing songs, and playing instruments.
Performing a song just may be our favorite. Songs are an integral part of many relationships and many couples have a definitive song. For high school sweethearts, it can be the song that was playing at prom. It can be the song playing on the radio during that first road trip, or it can be what was playing at the restaurant during your first date.
Regardless of where "your song" came from, learning to recreate it as your vow is an extremely romantic gesture.
Learning a new instrument may be a little out of your range, and reciting a poem may just not be your style but you can still make your vows your own. Handwriting how you feel and the life of togetherness that you dream of, and that you promise to nurture for the rest of your life can be a beautiful thing. A few simple words can be absolutely perfect.
One thing to remember is that you need time. You may have the feelings completely intact, but to get the words out in the right order will require a lot of repetition. Write down what you mean to say. Repeat it out loud to yourself in front of a mirror. Practice in front of friends and family, re-write and repeat. You only get one shot at this and you want it to be perfect.
5. Romantic Vows
Stepping away from traditional allows you maximize the romance. If you're not sure where to start, go with a poem. It's romantically perfect to recite the masters like Shakespeare and or Keats, but it's even better when you write your own.
This is no easy task, so you'll need some inspiration to get to start.
"Bright star, would I was steadfast as thou art—
Not in lone splendor hung aloft the night
And watching, with eternal lids apart,
Like nature's patient, sleepless Eremite,
The moving waters at their priestlike task
Of pure ablution round earth's human shores,
Or gazing on the new soft-fallen mask
Of snow upon the mountains and the moors—
No—yet still steadfast, still unchangeable,
Pillow'd upon my fair love's ripening breast,
To feel for ever its soft fall and swell,
Awake for ever in a sweet unrest,
Still, still to hear her tender-taken breath,
And so live ever—or else swoon to death."
John Keats
Study up on various poetic structures and find the one that fits your personality. If you're not the poetic type, romance is still within your grasp. Simply speak your heart. If you're like many out there and find it heart turning feelings into a smooth flowing speach, Hollywood is here to get you to start.
"the heart's not like a box that gets filled up. It expands in size the more you love."
—Samantha, Her
"I love you very much, probably more than anybody could love another person."
—Henry, 50 First Dates
"You make me want to be a better man."
—Melvin Udall, As Good As It Gets
These quotes all have one thing in common; brevity. They sum up a universe of emotion in a single sentence or two. Keep this rule of thumb in mind for your invitation wording and throughout your vows. The number one tip? let your heart do the talking.
6. Religious Vows For Wedding
Religious aspects bring layers of beauty to wedding ceremonies. On top of swearing an oath of companionship in front of your friends and families, you are making vows of the union in front of the creator of the universe.
In the Roman Catholic church, marriage is one of the seven Sacraments that are prerequisites of getting into Heaven.
Hindu weddings involve the Agni, a sacred fire and prime witness to the religious process. The sacred fire is circled 7 times, bride and groom hand-in-hand. Each pass represents a different vow.
Many Jewish wedding ceremonies occur under a Chuppah, a special wedding canopy which represents the couple's new home. Often accompanied by each set of parents and other family members, 7 blessings are recited under their new home.
Muslim ceremonies can differ greatly from region to region, but one thing remains steady. The bride and groom commit to being each other's comforter and each other's protector because they are only meant for each other.
Of course, there is far more to each of these ceremonies, and a lot of variations depending on denomination and region. However, it's clear that the vow is a common thread that is a significant part of any tradition. These vows are the deepest of promises, and can never be taken lightly.
7. Funny Vows
Modern brides and grooms are turning to humor at an increasing rate. The trend is to take the classic vow and add a little twist like "I promise to love you in sickness and in health, for richer or poorer, when the Patriots make the playoffs and when they lose, till death do us part".
Others are taking this a step further and full out Roast their significant others.
Humor is okay, in fact, it's encouraged, but it's important not to deviate too far. Many people cite humor as the #1 attractive feature in a desirable mate, but it's important to remember what the vows truly mean. A "good joke" isn't the point, because the point is to wrap your message of love with laughter and smiles. Keep this in mind when you deliver your one-liners and anecdotes, and make sure that your message is delivered.