Autumn is a special time of year for weddings. The weather is a little cooler and harvest time is upon us. This means outdoor weddings without having to worry about heatstroke, delicious local menu options, and gorgeous fall wedding colors!
Choosing your wedding colors is no easy task, but we're here to show you 2020's hottest trends and a little advice about how to let the season inspire you.
1. Rich Yellow and Royal Blue
Royal blue is a perfect wedding color choice for many reasons. "Something Blue" is known to bring good nuptial luck, many people list it as their favorite color – so you won't have anyone complaining about the choice – and you feel a little more comfortable just looking at it. A rich yellow is an eye-pleasing way to make everything pop!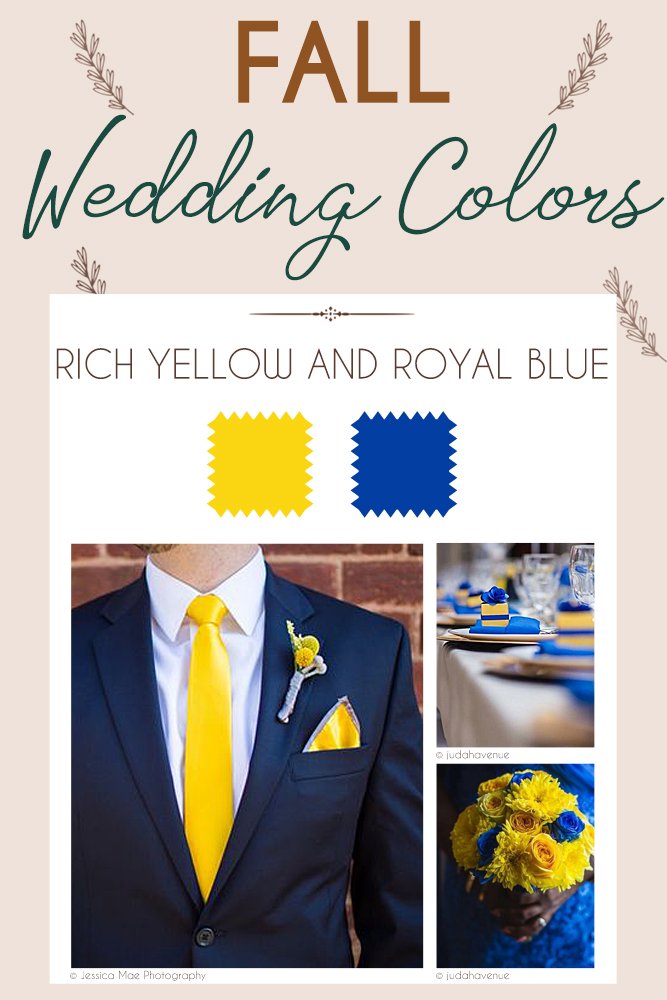 It's best to choose royal blue as your bass and rich yellow as your accent. For example, blue suits and yellow ties for the groomsmen, or fall blue colors for your table runners with yellow flowers for the tables.
2. Maroon Wedding Theme
Maroon is one of those colors that can stand on its own, but it is a heavy color so try to reserve it for the later fall months. November wedding colors are best described as rich and grounded, and maroon achieves just that.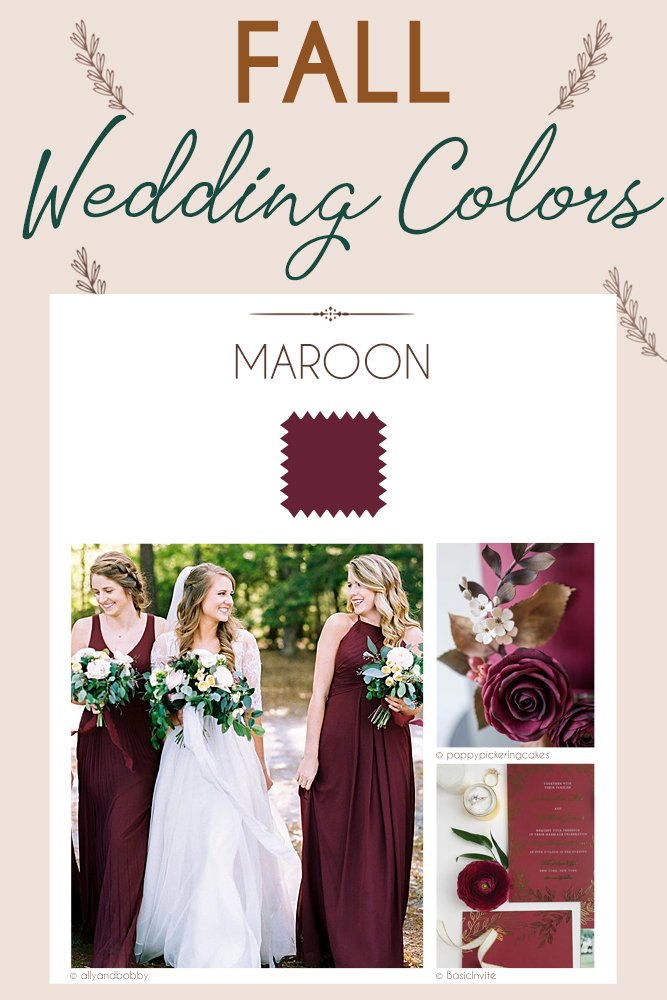 For design ideas, consider stark whites for the venue and decor but subdue the brightness with your offset maroon. This will give everything a pure, clean, and vibrant appeal that will provide that traditional wedding appeal while still embracing the season.
3. Gray and Navy Colors For A Fall Wedding
Combining gray with navy lets you lean into the fall season with a near black-tie appearance. Gray is extremely versatile since there are so many shades to work with. It also makes an excellent base. There's no risk of losing your color as you would with black or overwhelming the viewer like you would with white. Gray is perfectly in the middle.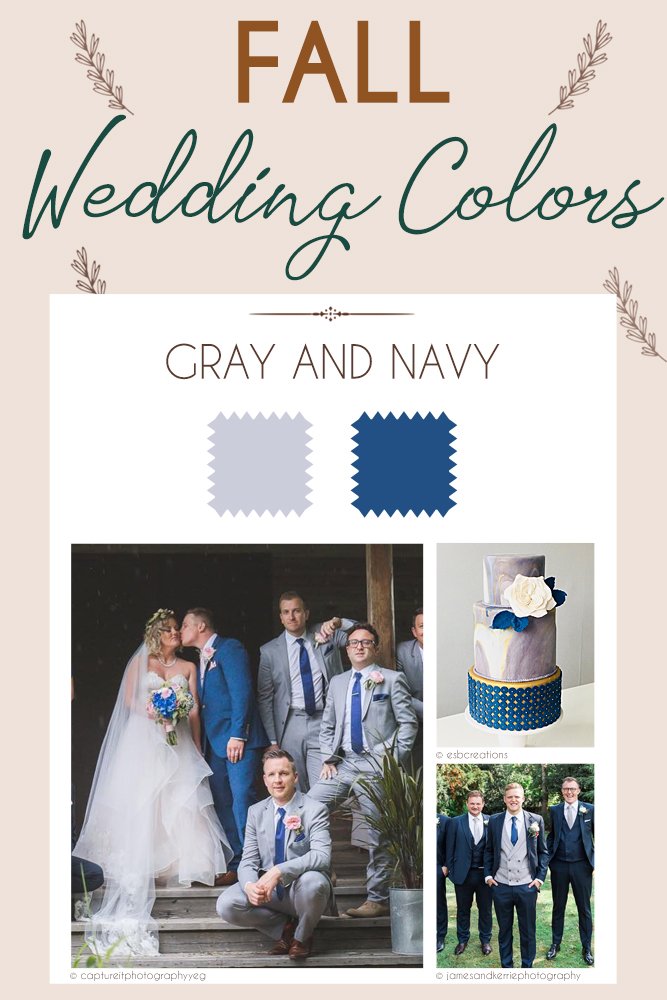 Blues are often associated with ice and winter, but the navy variety works perfectly as October wedding colors since it seems to reflect the autumn midnight sky and offers plenty of visual warmth.
4. Yellow and Maroon Color Palette
This color palette jumps right into fall and celebrates the harvest. You'll find plenty of gorgeous tree leaves changing to yellow and maroon as well as many of the fruits and veggies that have just been pulled out of the ground.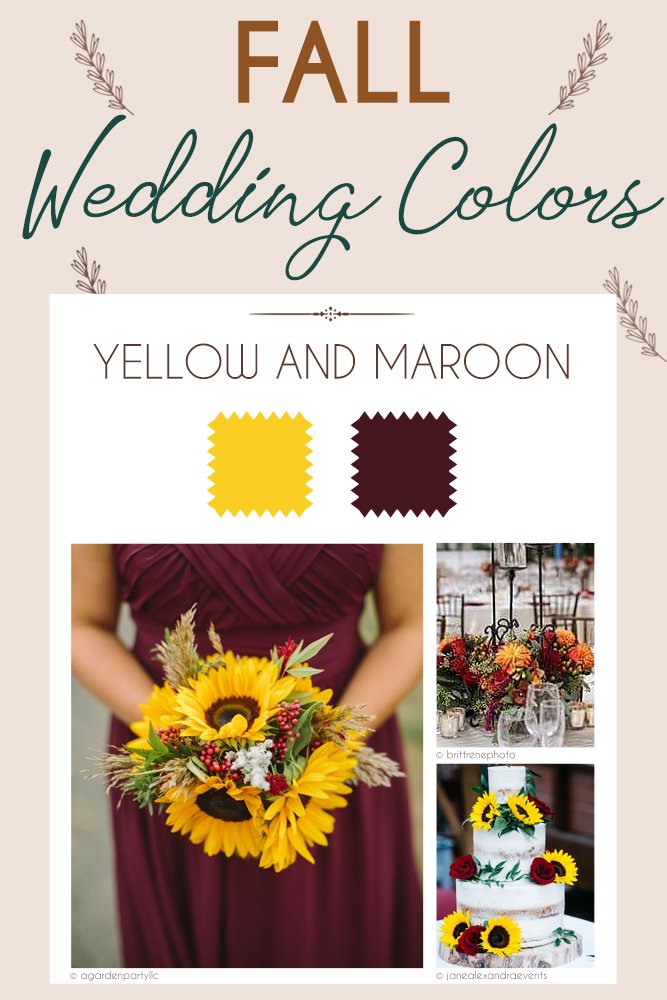 This may be the perfect September wedding colors options. Depending on where you live, September is still warm enough to host an outdoor celebration without discomfort. You may prefer a richly decorated indoor reception. Either way, these colors are playful enough to compliment any length of the dress as well as a lot of sleeveless options.
5. Lavender and Silver Fall Wedding Colors
This color combo is romantic, stylish, and a little unexpected. Due to the subdued look, it also works perfectly for vintage wedding themes.
Harvest time is also vineyard time, and the lavender plays into this perfectly. It also provides you with the opportunity to make your bridesmaids to smile from ear to ear. The soft allure of lavender is just darling and goes a long way to enhance flat fabrics and textures alike.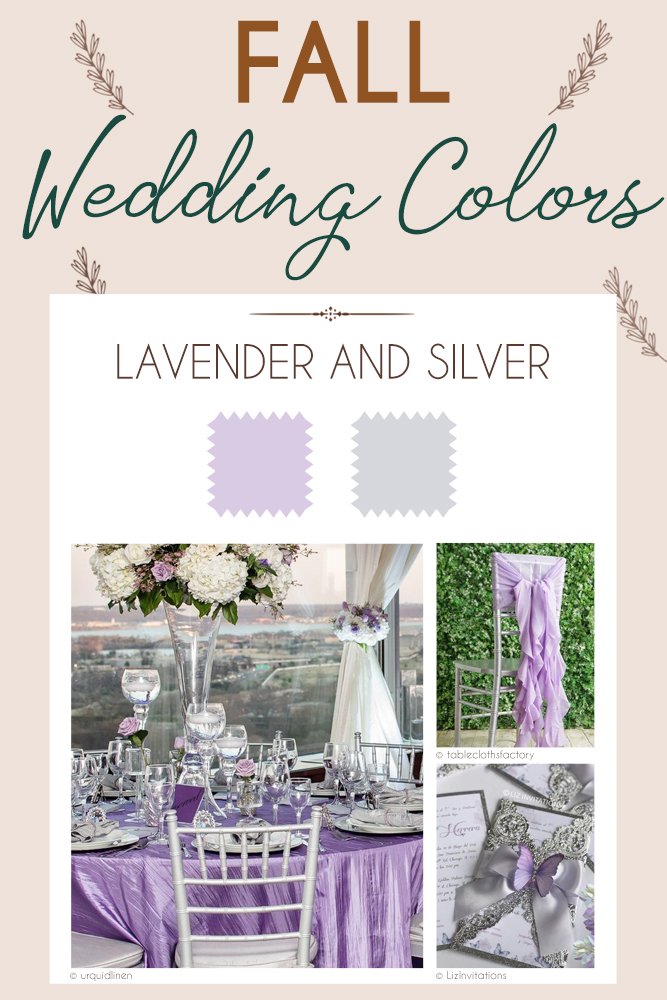 Spice things up by pairing the soft innocent look of lavender with a sultry slit in the bridesmaid's gowns. The juxtaposition is gorgeous.
6. Burgundy and Gold
Gold isn't an obvious autumn wedding color, but how well it pairs with the season would shock you. Gold is great for weddings of all sorts. It's an earth tone as well as a metal tone so it fits right in with vintage, traditional, rustic, and boho theme.
Feature-rich burgundy with gold accents for a wholesome yet glamorous look or reverse it entirely for a lavish gold features with burgundy accents. Same colors, completely different atmosphere.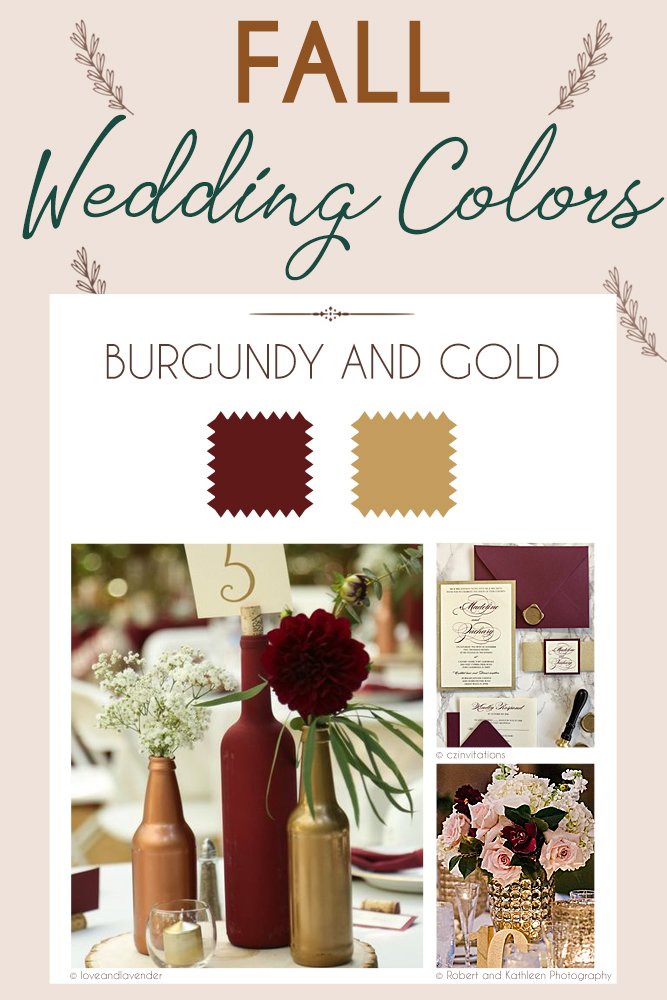 Before you decide how much burgundy vs how much gold, it's best to settle on a theme so that you don't end up throwing things off by using too much of one color.
7. Lilac and Grey
Lilac is a delicate color. You'll either have to balance it off with strong textures and accents. Or, reinforce the fragile nature with intricate decor features and textures. Either way, grey has the magical ability to make it appear both stronger and prettier at the same time.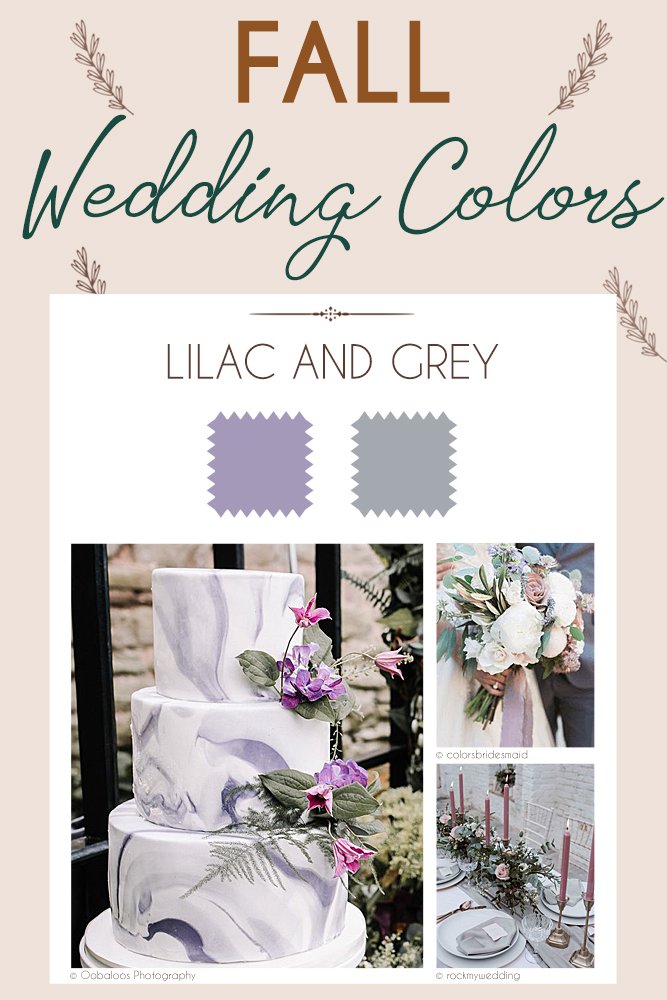 You can't even hear the word "lilac" without the scent of flowers coming to mind. If lilac and grey are your fall wedding palette colors of choice, be prepared to go crazy with florals. To take full advantage of the power of this color combo, place flowers on your tables, on your signage, in your hair, pretty much everywhere you can.
8. Rust Orange with Greenery
If you're leaning into the themes that a late fall wedding brings with it, rust may be your perfect option. Not very common, this is one of those fall wedding colors schemes that we can really endorse as an up and comer.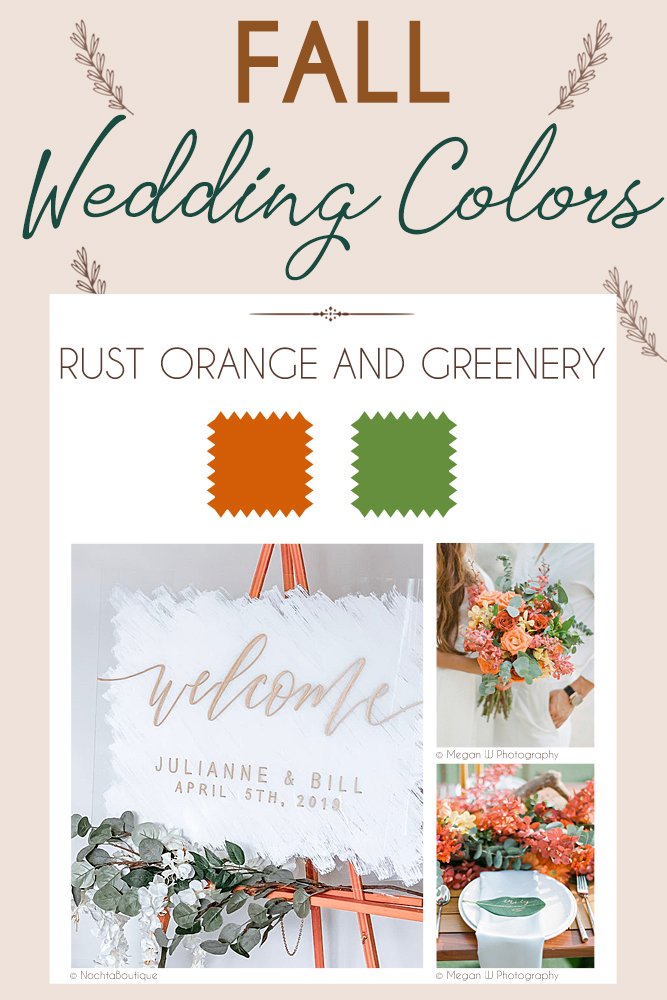 The fall season brings a plethora of gorgeous colors, but towards the end of autumn colors fade fast. Rust wedding colors mimic this natural behavior which can be quite beautiful if used correctly. Rust is an earth tone that matches best with bohemian themes but you don't want it to appear as though things are dying. To keep things fresh and lively, make sure to include a healthy dose of greenery.
9. Maroon and Navy
We've already mentioned maroon, and we've already mentioned the navy. Put them together for our favorite maroon color palette. Because of how dark and rich these colors are you may want to throw in a very light (or even white) accent or background color, especially for evening events.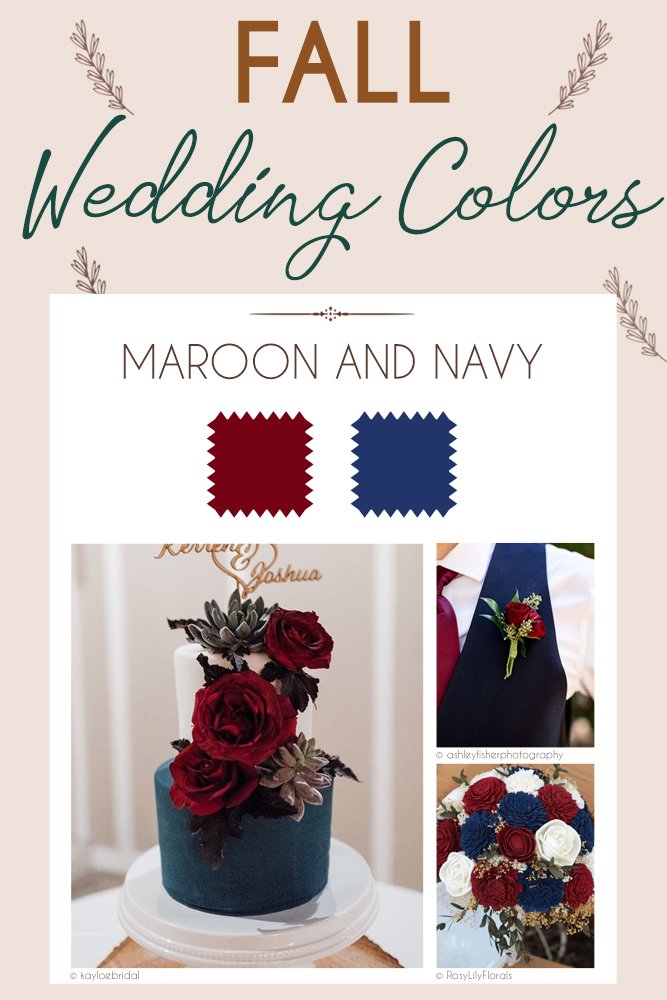 These fall wedding colors have a psychological connection with enhancing the appeal of food. If your wedding menu is over the top make sure to set it on a textured wood table and be generous with fabrics and flowers.
This look falls somewhere in between traditional and whimsical. Use strategically placed lighting to define your particular style.
10. Ivory with Dark Purple
Dark purple is a bright fall color that breathes light into any outfit or physical area. Bright ivory is THE color to make it pop. Douse your event in these fall color combinations and you'll be treating your guests to allusions of lilac, grapes, and all manner of deep season foliage.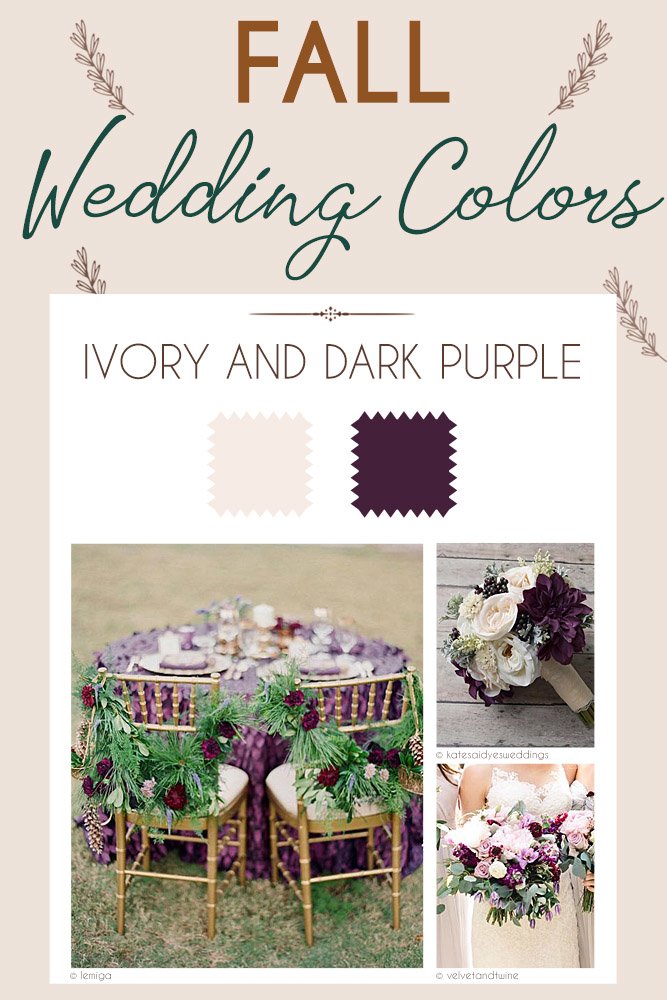 This particular color combo carries the ability to make skin glow. This theme works best in outdoor rustic settings as it also tends to enhance woods and rich textures. Make sure to choose fabrics that reflect well to take advantage of all of the barn lightings.
11. Dark Red, Copper and Grey
This is the top trend of fall wedding colors 2020. Copper brings in old-world charm – perfect for intricate designs, and traditional, vintage, and rustic themes – and grey and dark red set it off.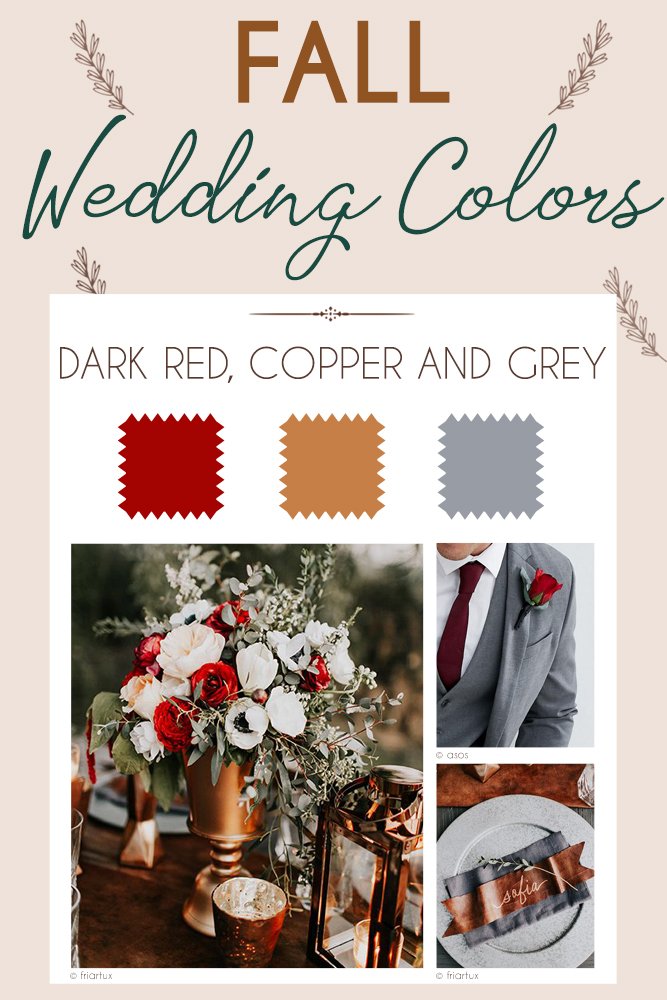 It's highly recommended to host an outdoor wedding with this color combination. Dark red, copper, and grey look absolutely fantastic in photos with greenery as the background.
Copper can be very eye-heavy if overused. Make sure to use it sparingly throughout your decor and attire, and use it more as an accent than as a base.
12. Grape, Orange and White
Grape and orange wedding color ideas offer a great harvest POP of color for casual outdoor weddings. This is the perfect color scheme for a family affair with lots of kids running around. It's fresh, it's fun, and it's super vivid for those photoshoots.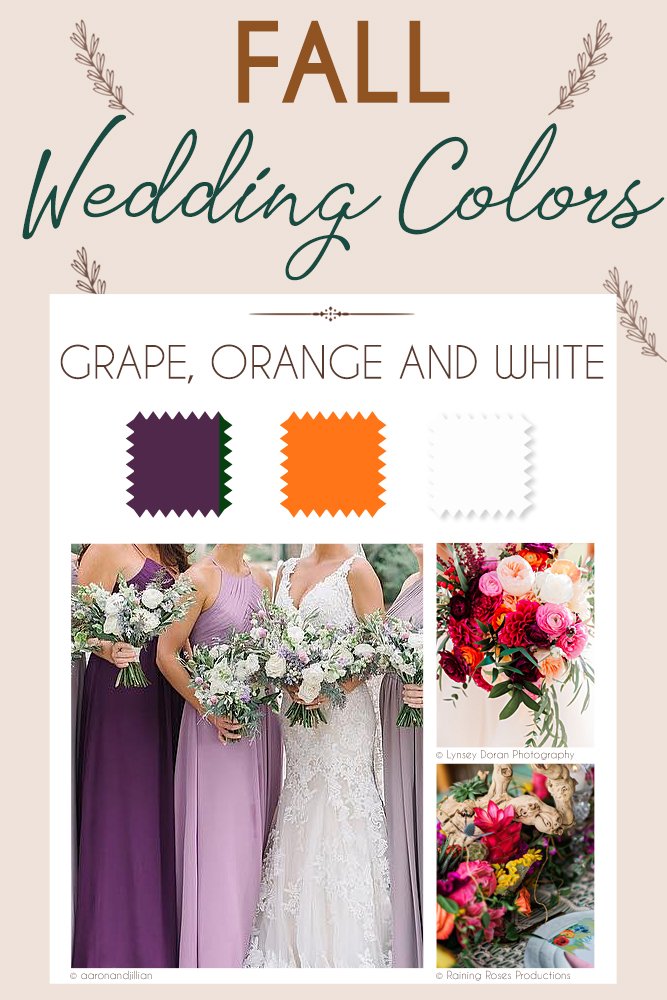 Make sure to use white as much as possible. Too much grape or orange and you run the risk of making everything appearing a little juvenile. For the same reason, also try to make sure to use texture whenever possible so that it's not flat bright colors you're working with.
13. Deep Blue and White Color Schemes
Alone this color combo will come off as a navy pattern, but mix in a little rose and you have yourself one of the hottest Wedding color trends of 2020. Dress up the chromatic duo by placing plums, cherries, and other harvest reds throughout the table.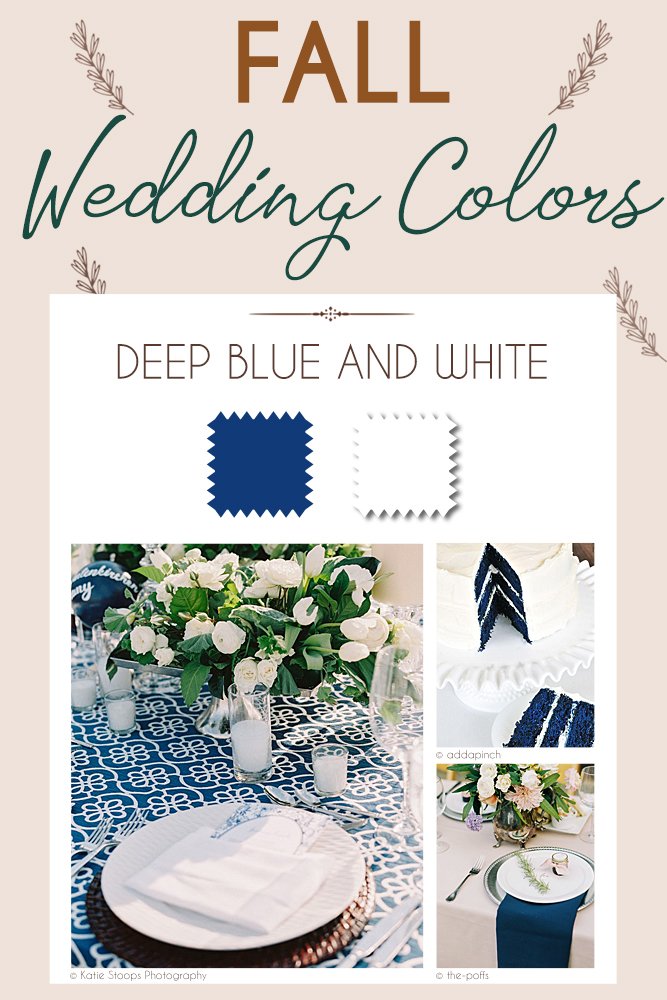 Take your originality a step further by dodging wood grains and opting for stones and metals for your furniture, signage, and another major decor. Having a minor third option not only brings you out of that navy feel, but it also gives you a lot more floral options as it's difficult to pull off a completely blue and white bouquet.
14. Red Pear Wedding Color
The great thing about this color is its originality and its versatility. Wear it as sheer, flat, textured, or sequined for completely different looks.
One word of caution: red pear is a very deep color that tends to overpower small details. Similarly colored flowers on the table are ok, but if you're planning on holding a bouquet you're better off choosing a complementary color.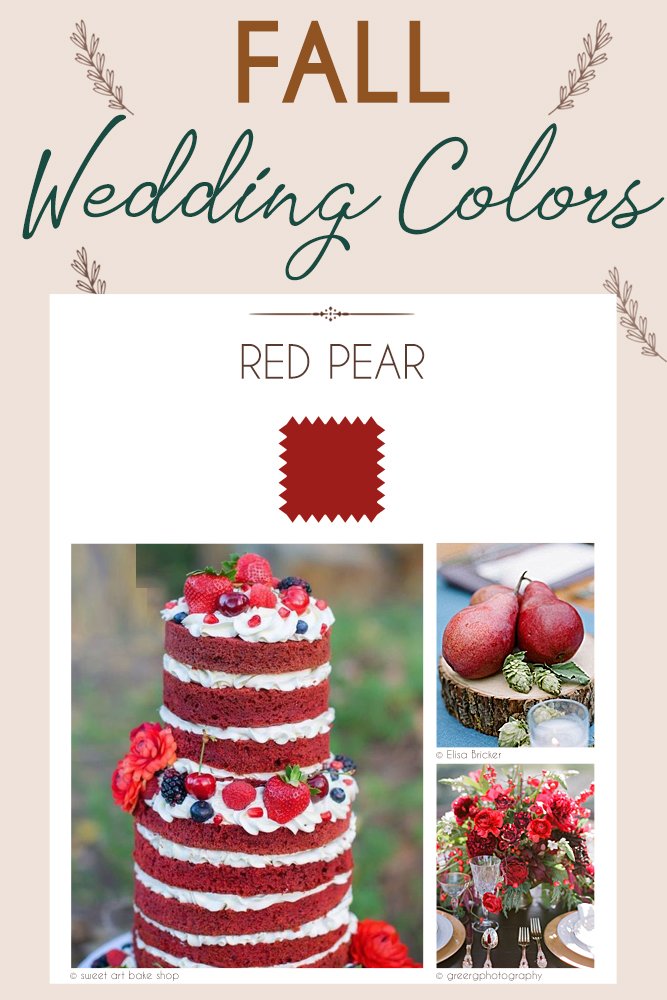 Otherwise, a lot of those gorgeous petals will be completely lost in the wedding photo album. Don't overdo the contrast. The color is absolutely stunning and you wouldn't want to risk changing its appearance. Rather, choose neutrals that won't steal its thunder.
15. Almond and White
Regular whitewashes out a lot of brides and two-tone is hotter than ever. Brides searching for the perfect almost-traditional bridal gown need look no further.
This color combination pairs perfectly with baroque and intricate details which can be explored well beyond the dress. It has a natural appeal that goes well with bohemian weddings. Whichever theme you're choosing, using this color scheme requires simplicity. Keep details small and delicate and make an effort to keep your venue clean with simple florals throughout.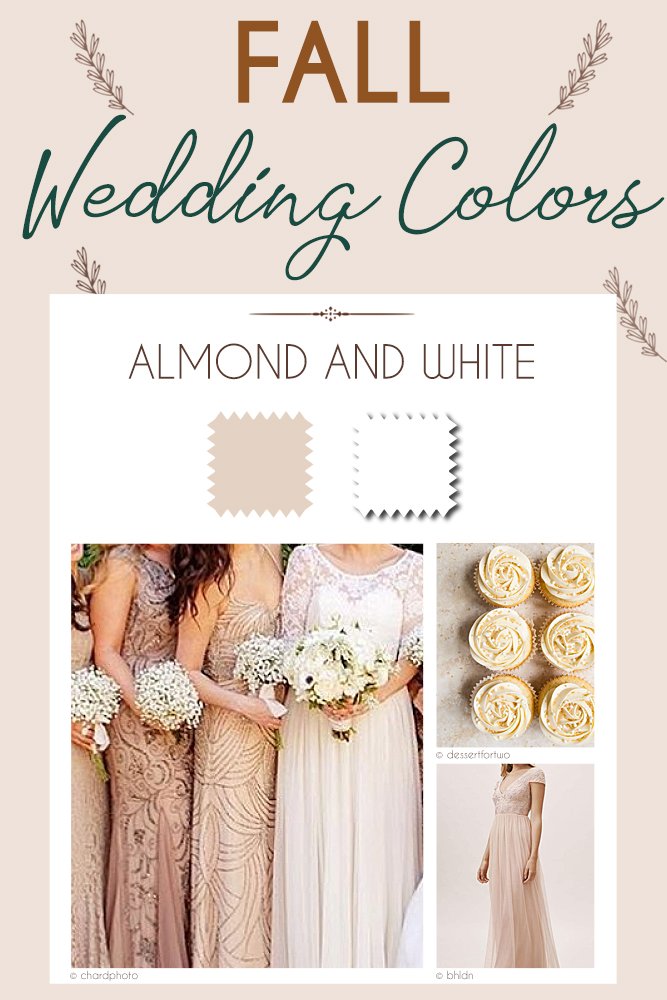 Although this is a perfect autumn look, it works very well as an innocent summer look but you can also lean into winter – as opposed to fighting against it with vivid reds – by mimicking the delicate snow hanging on tree branches.
16. Evergreen and Blush
Romantic, modern, rustic, bohemian, and garden party. Blush and Evergreen go with them all of these wedding themes! Choose this color scheme for late fall or early winter weddings when flowers begin to lose their vividness and the season of renewal begins.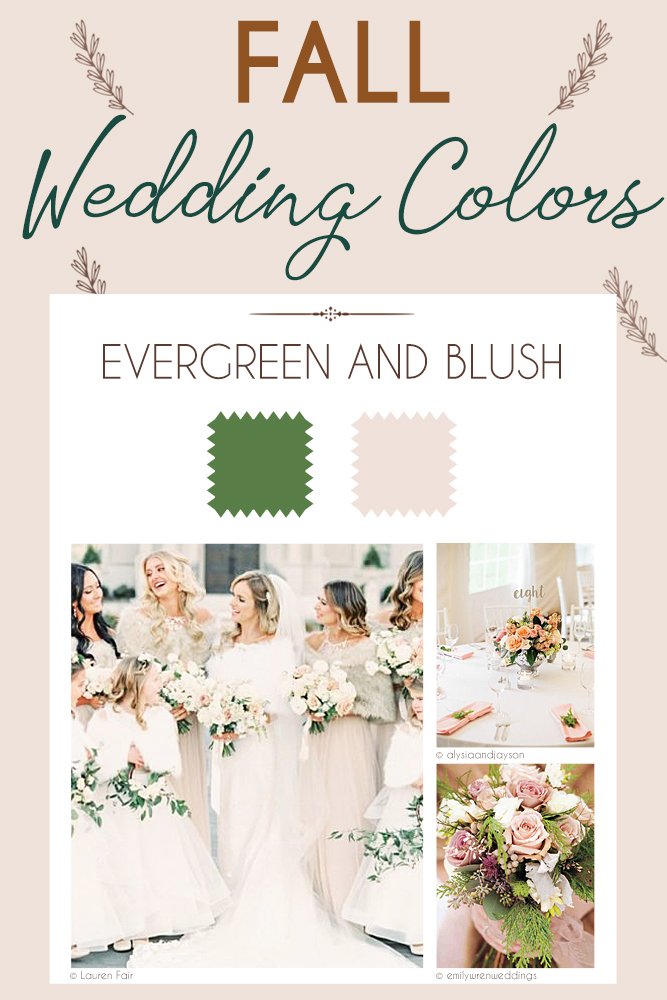 The sweet pale quality of this color combo allows you to go overboard with hung fabrics, lighting, and oversized table decor. Bright colors and heavy textures overwhelm the senses when the decor is over the top, but the light qualities of evergreen and blush empower you to go a little crazier than normal.
17. Emerald & Gold colors For A Wedding
Hold nothing back with an ultra decadent art deco wedding theme. Emerald and gold are loud, proud, and absolutely stunning. Have a blast choosing your vintage jewelry and Gatsby-inspired venue decor.
Bridesmaids can choose to combine emerald, velvet emerald, gold, and sepia while groomsmen can dawn classic tuxedos with green and/or gold ties, vests, or cumberbund. Of, the group of men can keep it classically classic with all black and white up top, with a splash of spice with brightly colored socks.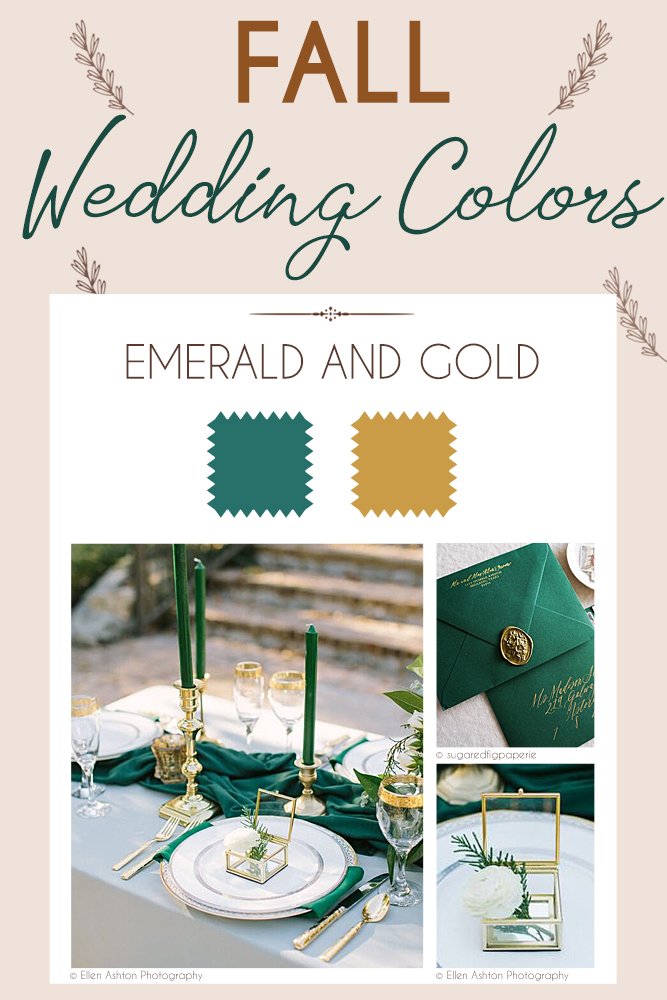 An extra step you can take is opting out of the traditional white wedding cake and replace it with decadent emerald frosting with gold details. It's sure to make a splash.
18. Peach and Dark Grey Wedding Colors
Regular old pink may be okay for Valentine's Day, but for your wedding day, you'll want something a little more trend-worthy, and a little more romantic. This special shade of pink is sweet and brings the brightness of the sun, even when you're inside. Pairing it with grey keeps it soft but also adds an air of sophistication which keeps it perfectly masculine for the groom's party.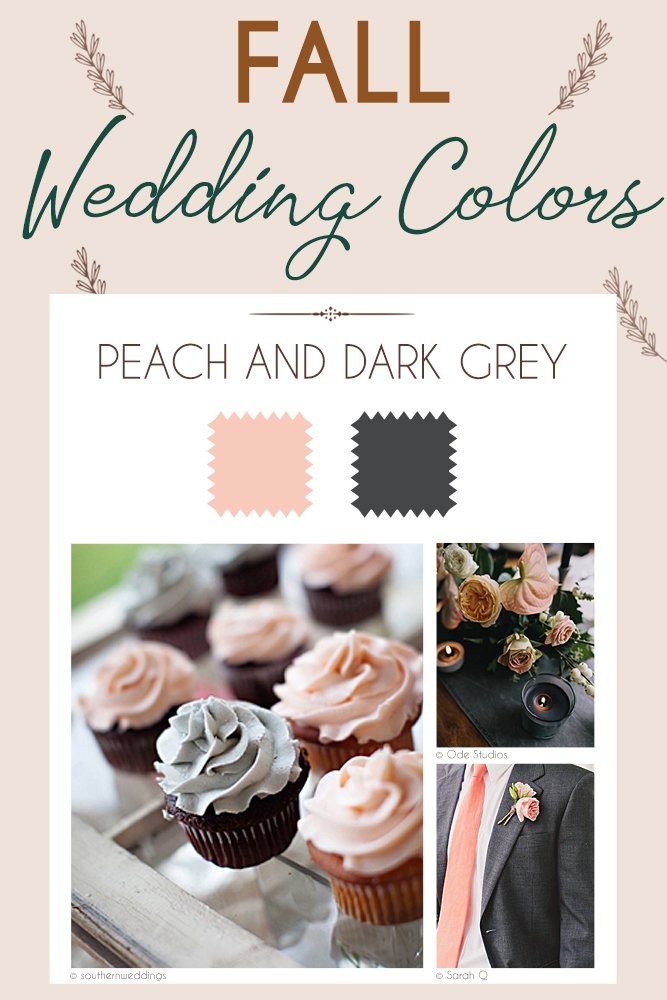 The combination stimulates a sense of freshness and renewal which is a great way to fend off the feeling of the onset of winter.
19. Pewter Tone with Pink and Peach
Man and Wife is the emotional theme of the event, and many trendy couples are choosing to go literal with their color schemes with His and Her choices. Pewters are extremely hot with the groom's this year. Gunmetal is a manly color that summons charm and sophistication. Matching this with pinks and peach reigns in the dark look with a little delicacy and offers the entire bridal party something they'll adore.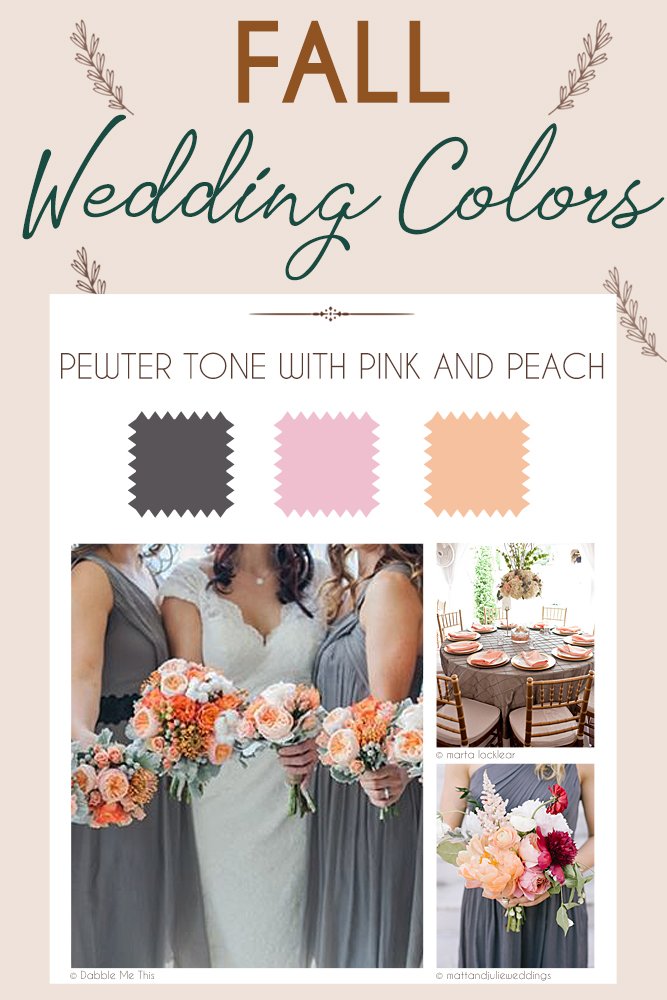 This is a slightly atypical choice. It's possible to coordinate your decor to pull off a gorgeous traditional affair, but you're better off embracing a modern of the alternative theme.
20. Deep Graphite and White
Deep graphite is a breath of fresh air for bridesmaids dresses and groomsmen tuxedos alike. Bridesmaids often (not so) secretly dread the idea of the poofy seafoam gown. Groomsmen feel like 007 in a tux but often wish they could get a little more creative.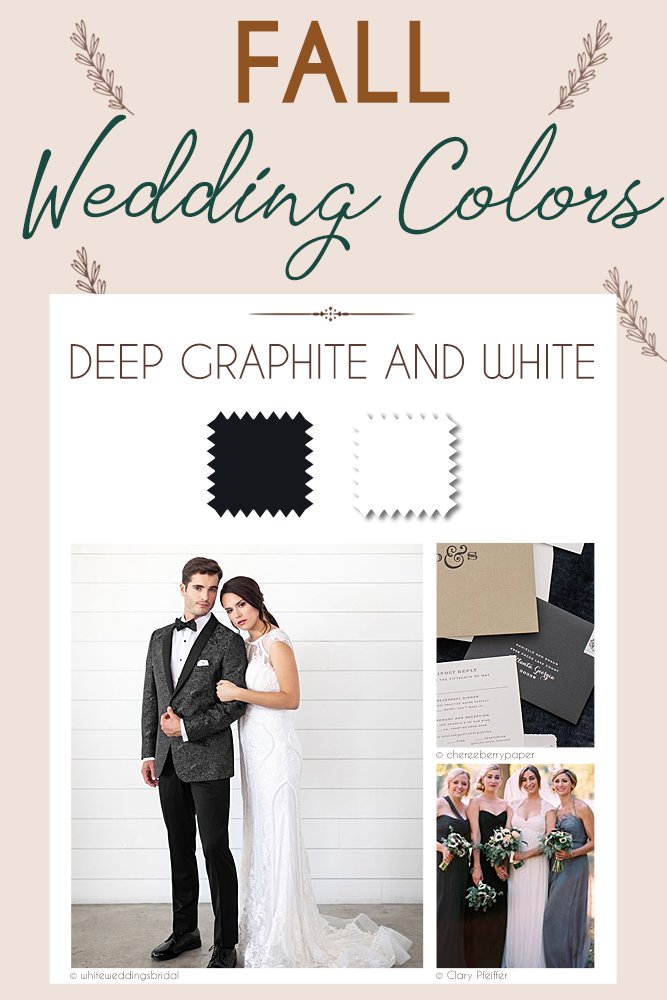 Offer them something ultra-modern that really brightens things up winter celebrations. The night comes sooner and there's a sense of in the cooler months. Instead of feeling drab in a black dress the men in runway-cut grey suits and complemented with clean white.
These neutrals give you unlimited color options when it comes to florals and venue decor.
21. Pink and Blue Color Ideas for Weddings
We challenge you to find a bridesmaid that doesn't look gorgeous in blue. This color is almost universally stunning, and a little splash of pink makes it pop in a trendy way!
If you're looking to stun your guests with brightness without looking childish, this is the wedding color combo for you! Beyond the gorgeous gown and suit options for bridesmaids and groomsmen, you have some incredible decor choices in front of you.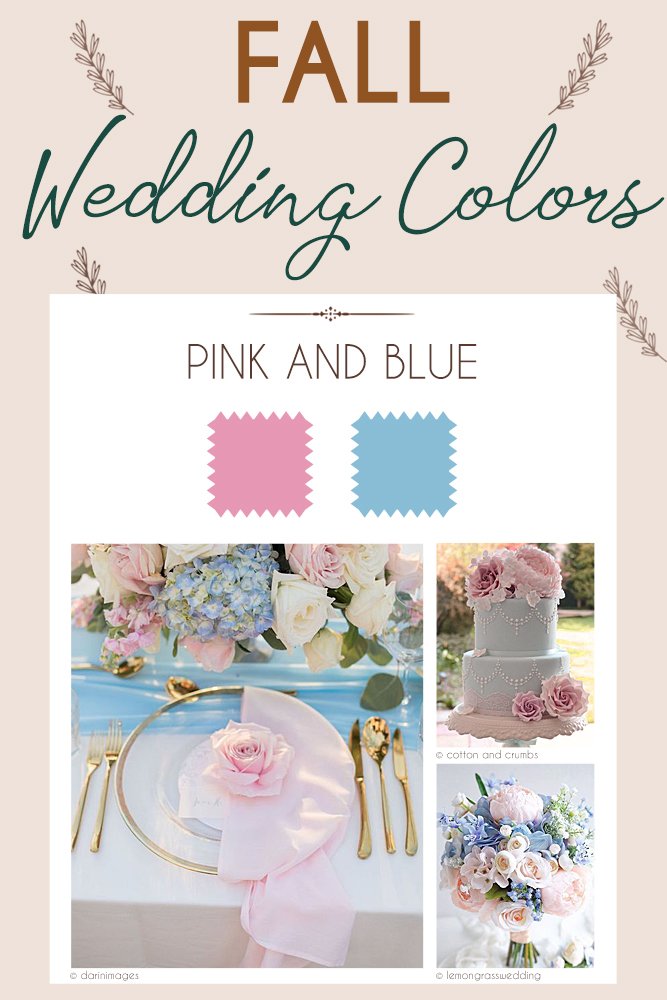 This color scheme is best served in autumn as a pre-winter wonderland event, which allows you to play off of the brightly colored leaves and involve the entire visual environment into your party.
22. Purple and Navy Blue Wedding Colors
Purple and navy blue is pure wedding magic. This combo works equally beautifully as a whimsical winter theme and a majestic beach ceremony and reception.
Use an equal amount of blue and purple throughout the venue, and introduce gold or other metallics as an accent for your cake and table settings.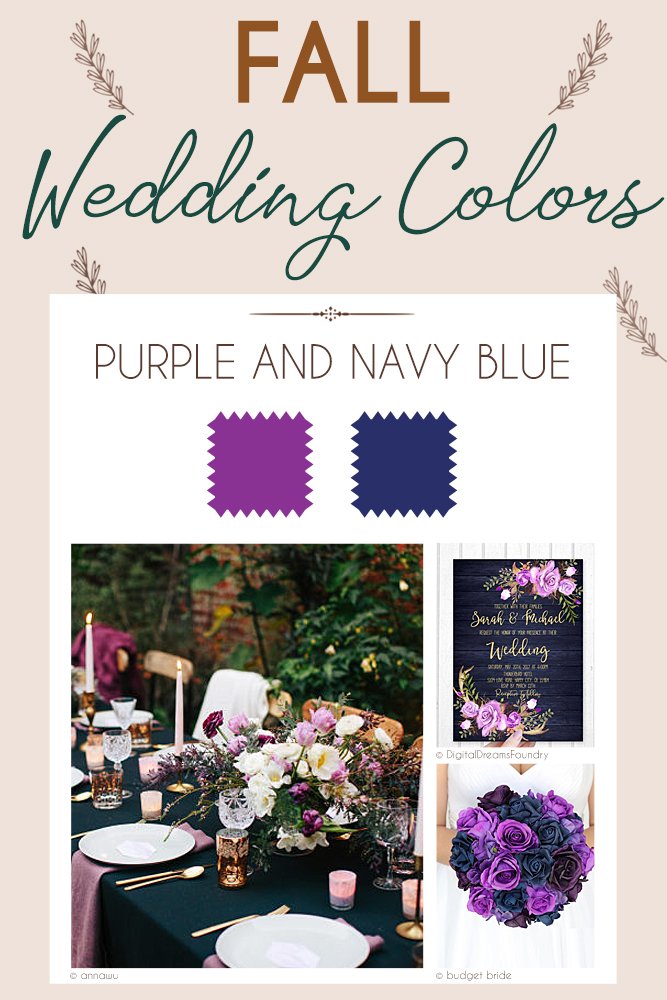 When working with florals try to stick with white as much as possible to allow the colors to pop and breath. As an addition, consider adding a hint of one of the colors into your gown to compliment the bridesmaids' gowns.
23. Yellow and Brown Wedding Theme
Brown and yellow scream solstice harvest. Match these fall wedding colors 2020 brides have been raving about with natural elements such as wood and stone for an ideal barn or outdoor celebration.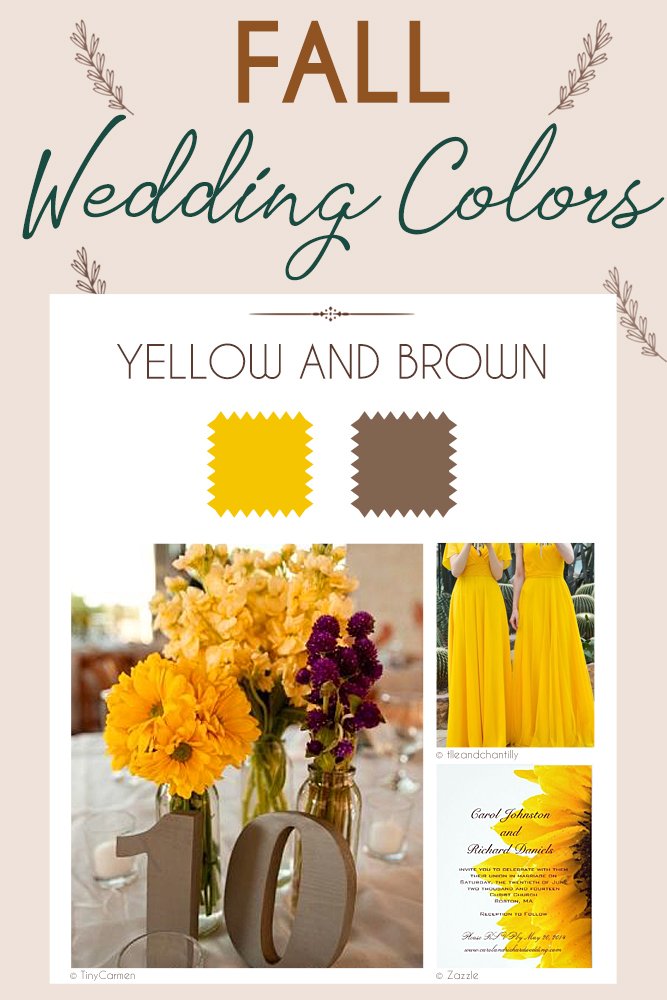 The best way to compliment this eco-themed wedding is by bringing in wooden tables, log stools, woven table runners, and only a subtle amount of flowers so that they don't steal the show. Keep it classy with high-end place settings and plenty of DIY candle centerpieces, LED ropes, and other forms of lighting. If you have the opportunity, a large fireplace is in order.
24. Green and Maroon Fall Wedding Colors
Green and maroon are one of the most beautiful natural color combinations. A deep red rose atop a crisp green stem is almost synonymous with romance. Trendsetting brides are extending this duo throughout their entire wedding theme in 2019.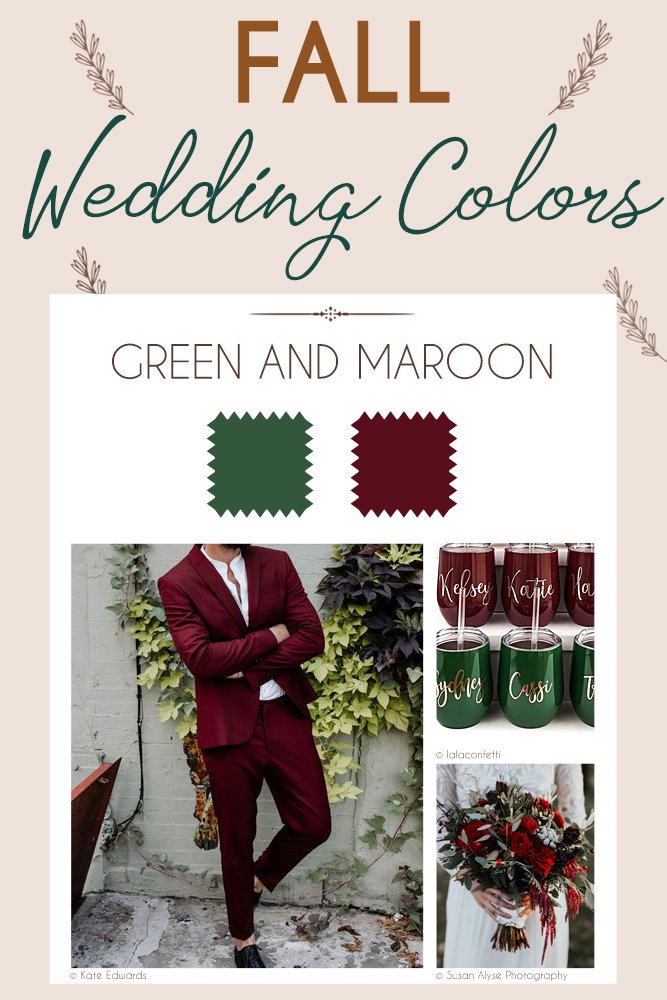 Follow this theme all year round. It warms up the winters, compliments the summer, and plays off of the spring flowers. Of course, the best season to wear green and maroon is in the autumn. Deeply rich and vivacious colors borrow from the harvest and instill a sense of warmth.
The best wedding themes ideas do 1 of 2 things. They either play against the onset of winter by bringing warmth and brightness, or they lean into nature and the changing of the leaves. Follow these guidelines and add a surprise twist – such as unexpected variations of traditional fall wedding colors or an unusual complementary accent color – and you're sure to nail 2020's trendiest wedding.