The beach has some of the best backdrops for gorgeous pictures, gifted to us by nature herself. If you're looking to have a beach photoshoot and unsure of what to wear to the beach, which colors to choose and how to make the most of your chosen location, then you are in the right place. We have put together a culmination of beach photoshoot ideas that will have you using the beach to your advantage.
Finding the right kind of costumes, deciding on your poses and exact part of the beach to you will all come together once you have gone through our beach pics ideas. A great location to get fab photos, the beach, the waves crashing on the shore and the entire landscape has so much to offer. Seeing it through the eyes of our photography experts, you are sure of nothing less than fantastic results. Therefore, allow us guide you on this journey of making only the best beach pictures.
How to Dress for a Couple's Beach Photoshoot
Below are a few beach outfit ideas you should keep in mind to have a great time and great results from your beach photoshoot.
Dress with the hot weather in mind, so think light, breathable fabric. Some examples are linen, rayon, cotton, and chambray type denim. If your outfit isn't compatible with the weather, your discomfort would show in the pictures, even more they wouldn't go with the laid back location.
If your shoot is early morning or at sunset, then consider a light sweater or jacket to pair with your outfit against a possible chill.
Coordinate your outfits, but be sure to not over coordinate. Try clothes made from similar fabric and colors that look great together. Imagine you're in the same story, which you can only relay by your clothes. Also accessorize with hats, belts and jewelry when possible to add a layer of fabulousity to your look. For instance, if you wear a white beach dress and blue belt, he could put on white shorts with blue shorts and you could throw on a hat for effect.
Carry a backup outfit in case of unforeseen circumstances. Your clothes could get wet or stained with food, anything. You will want to be prepared to get the best shots in the shortest time.
Try not to wear clothes with noticeable logos or brands that will deflect from the focus of the photos, which is you. Best to go with plain outfits and patterns.
Which Colors Are Best For a Beach Photoshoot?
There are no strict rules for colors when it comes to outfits for beach photoshoots. When paired nicely, almost any color theme will work. However, a few examples of colors that work best in a beach themed photoshoot include bright colors like red or coral, as well as khaki, white and blue. Also be free to mix and match plain outfits with patterns and see what creative results you might get.
Movie Shots Ideas
Source: laurenparrphotography via instagram, leisurely.layne_ via instagram, xtreme0613 via instagram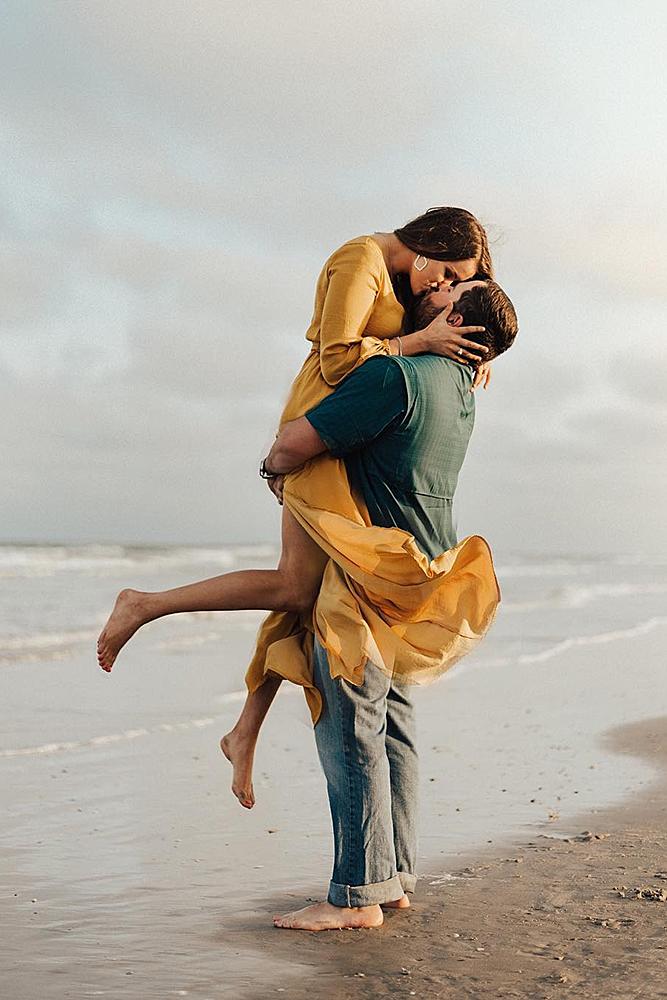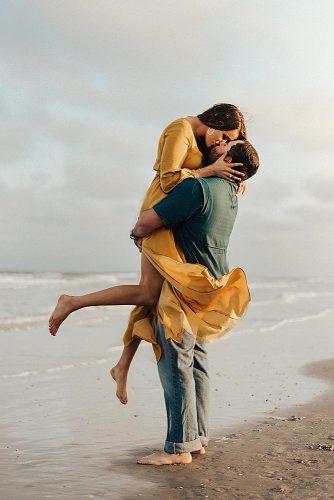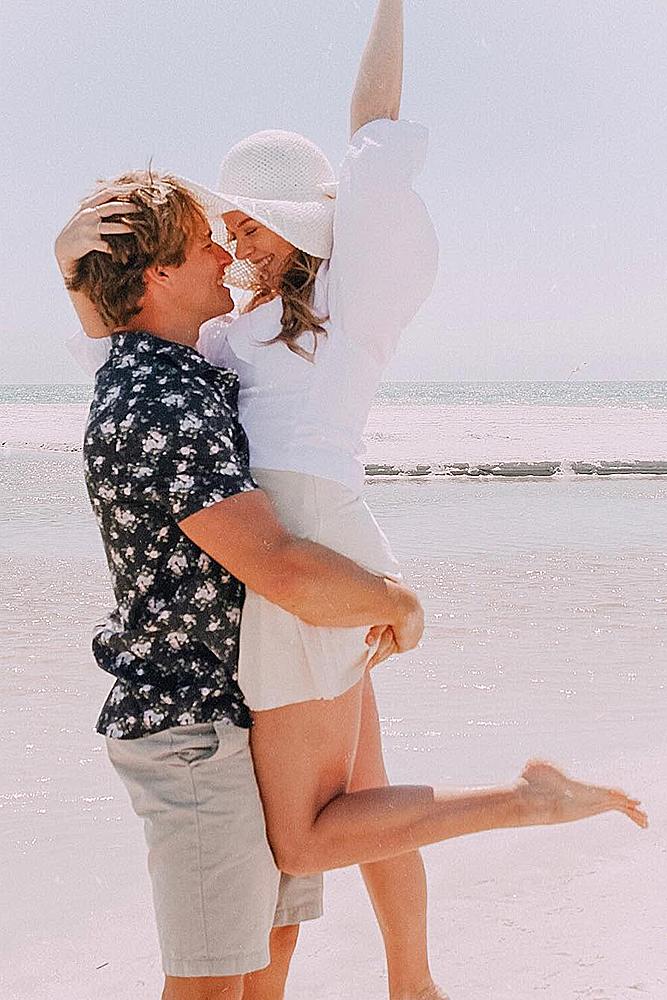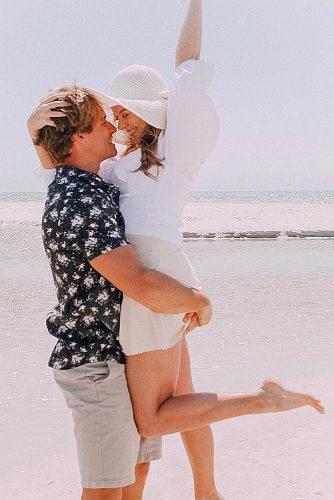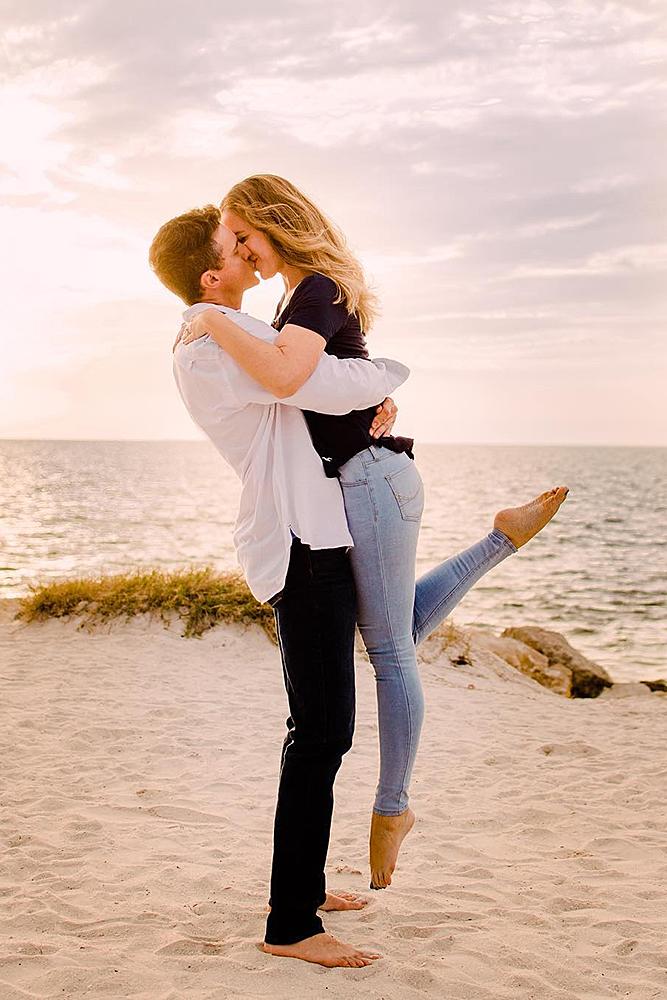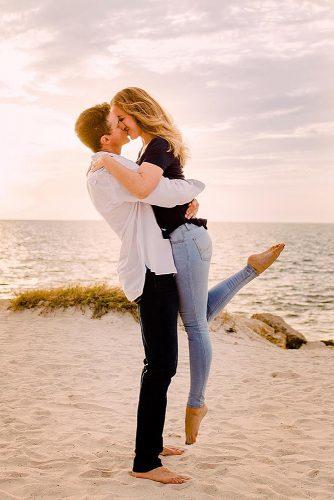 For interesting photos, you can imagine scenes from movies that you love. These types of shots can be interesting and memorable as a simple picture holds a story.
Stroll on the beach shot: Nothing beats a romantic walk on the beach with a picture of the shoreline in front or behind you.
Reflection shot: A shot that captures you both along with your reflection in still water, magical.
Running shot: As if running towards your beautiful life together with the most amazing backdrop complementing your love and laughter.
Carefree shot: As carefree as ever, just talking and laughing each other, while touching, makes for a great photo.
Climbing a tree shot: One person could be higher on the tree trunk, reaching out to the other.
The Horizon Shot
Source: ivoryblushphotography via instagram, colleensanclemente via instagram, avamoorephotography via instagram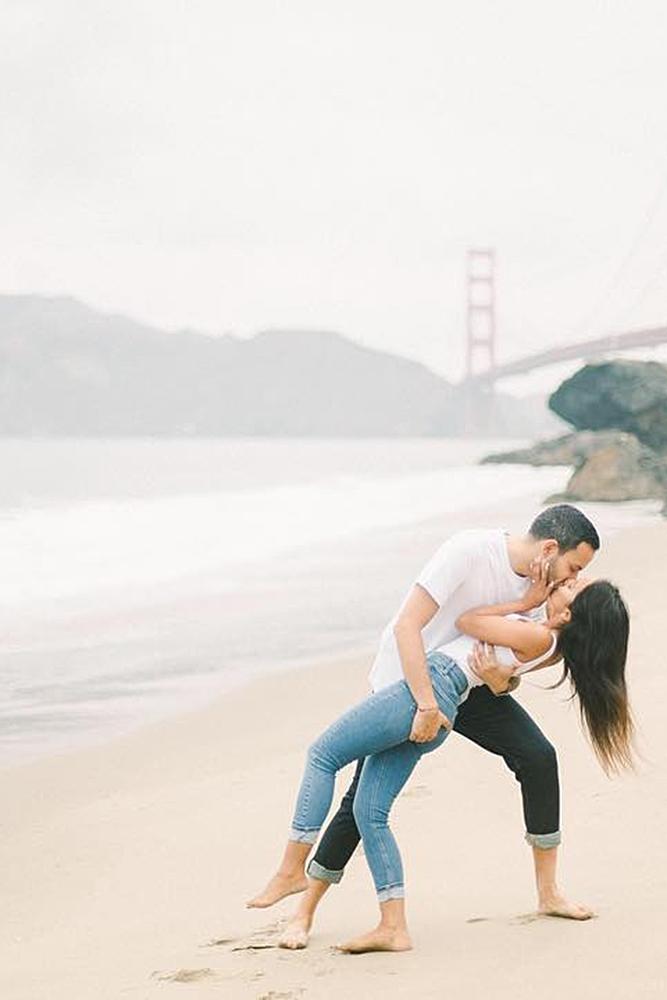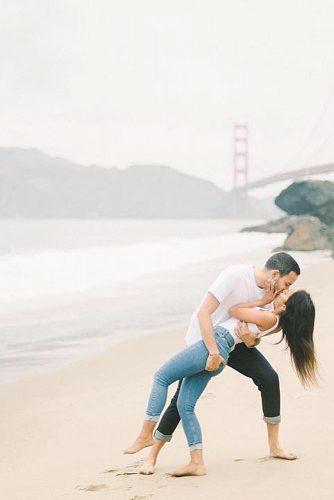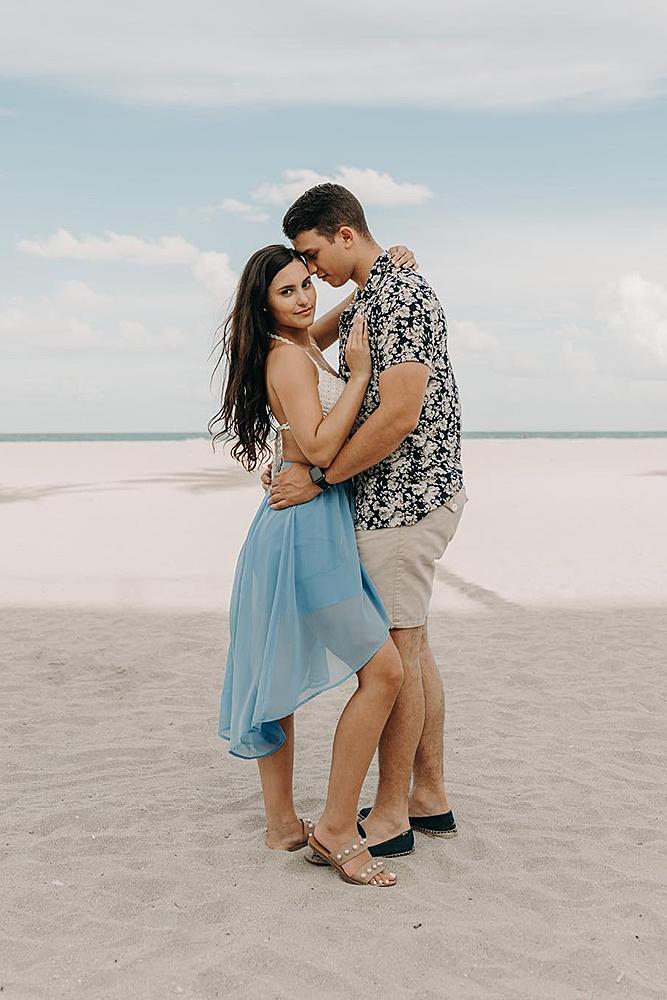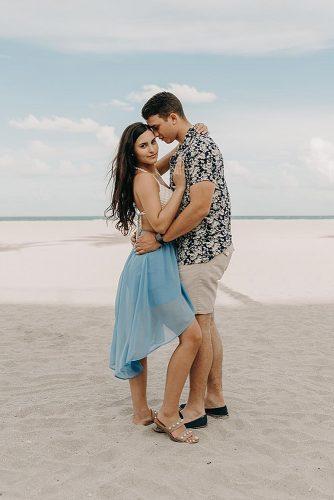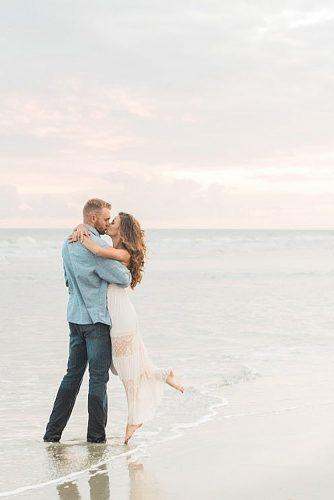 The beautiful and endless horizon of the sea never looked better. Capture it in beautiful poses, such as:
A sunset shot: Capture the horizon at sunset, use it as a romantic background or foreground as you stare into the sea.
A bird's eye view: Find an elevated surface giving a bird's eye view of the ocean below.
A perspective shot: Play with different perspectives and angles that give a different view of the horizon.
Panoramic shot: A photo that captures the beauty of your environment in one single shot.
Coastline shot: Use the widespread coastline and crashing waves to your advantage in a nice photo shoot.
Nature Shots
Source: shanny_94_ via instagram, georgielwilson via instagram, danikadiedikerphotography via instagram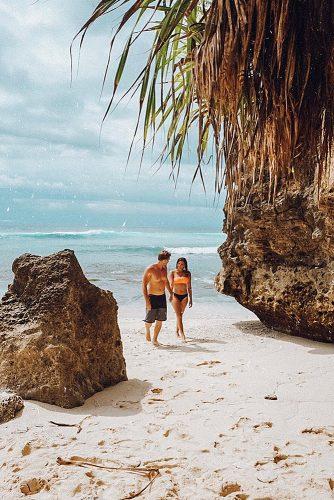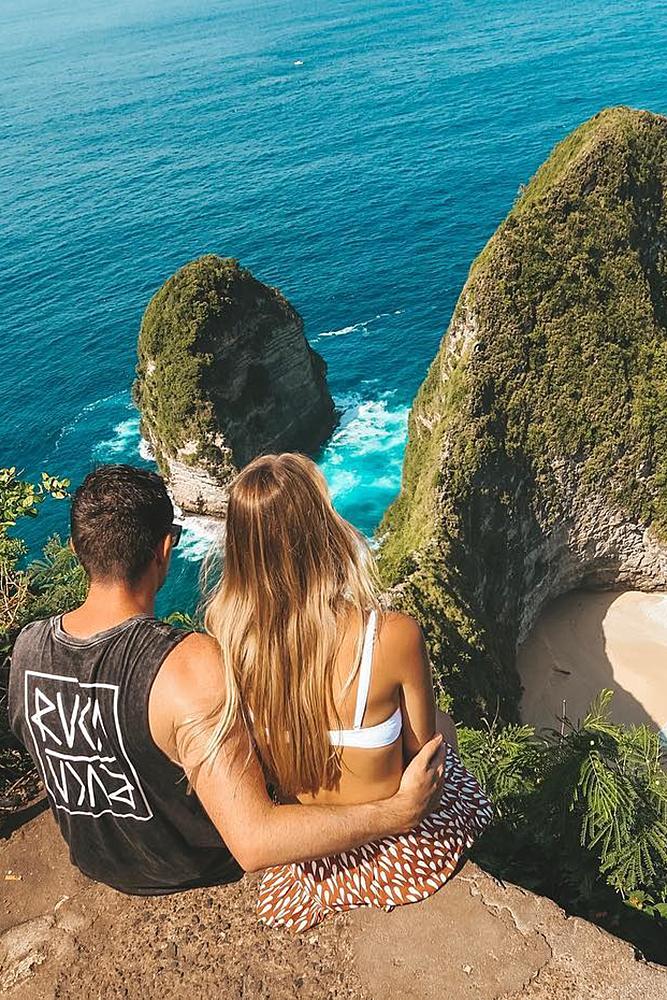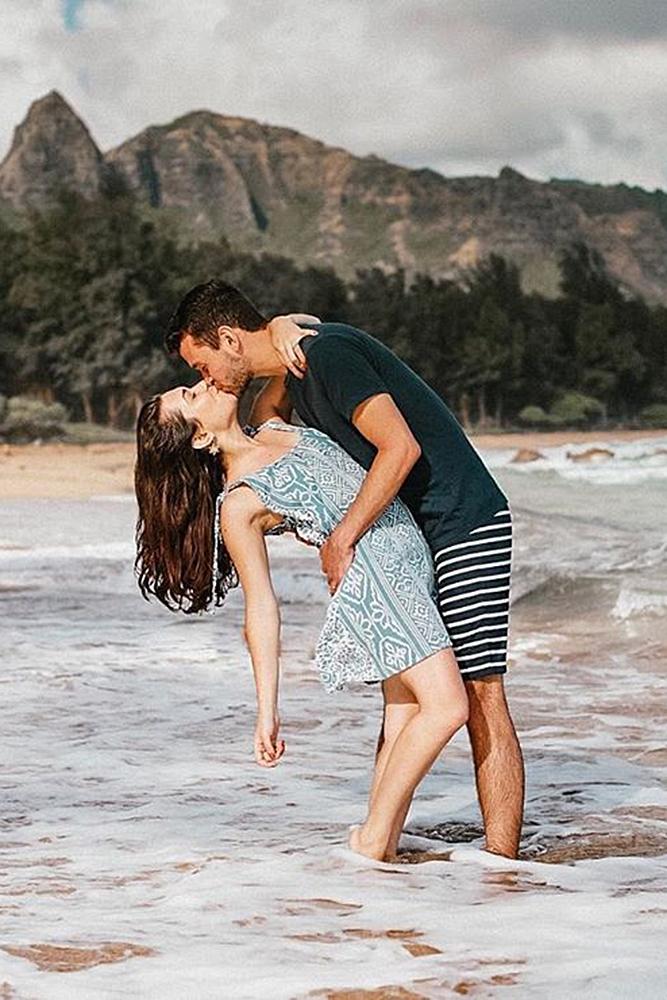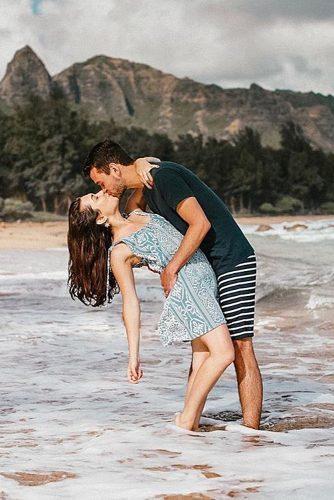 Asides the water, you can inculcate other aspects of nature in your photoshoots on the beach. This will produce a more artistic and magical look in your photos.
Greenery shot: A shot amongst a patch of greenery like a beautiful palette.
Beach Trees shot: A picturesque beach tree offers a unique background for a photo.
Driftwood shot: Add texture to your picture with the rugged background of driftwood.
Palm trees shot: The lovely silhouette of palm trees will make any picture stand out.
On the Beach Shots
Source: leaguetravels via instagram, marinalopuga via instagram, alexisjuliaphoto via instagram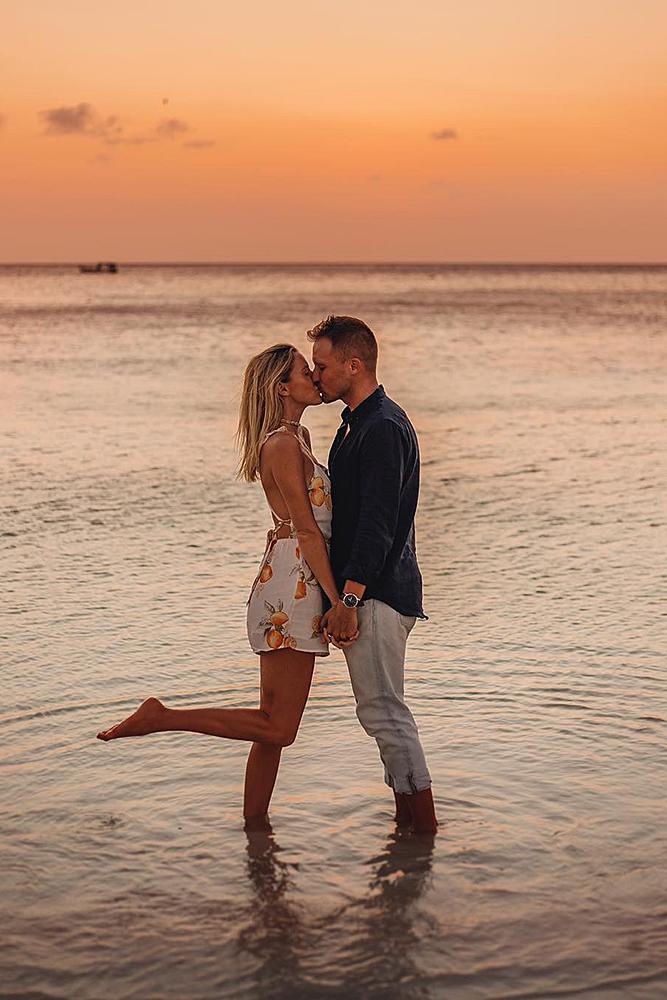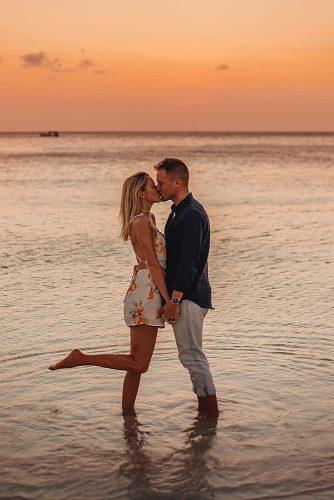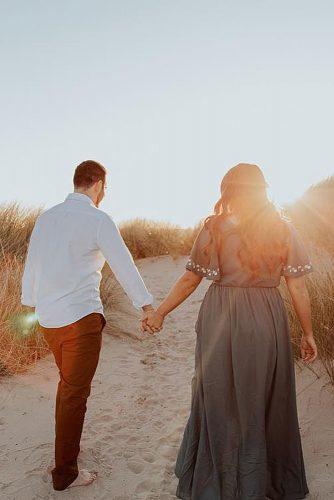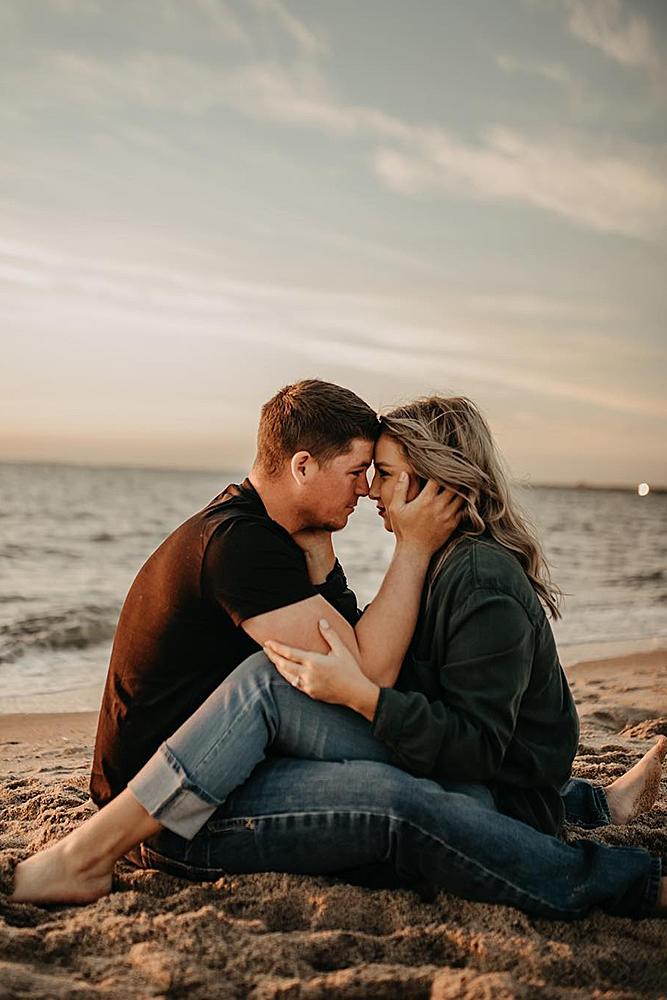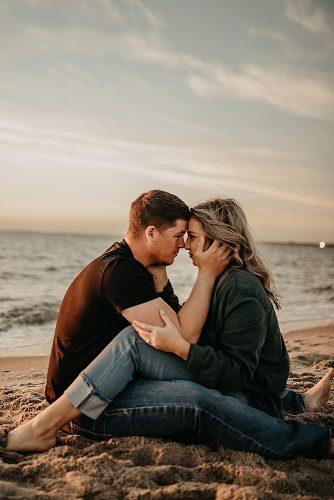 Imagine it's a lazy day and you're relaxing on the beach with your loved one. The laid back nature of thisbeach couple photoshoot will be magical in itself.
Beach sand shot: Evidence of fun and relaxation is the picture that focuses on the sand between your toes.
Craggy beach shot: The rocky and craggy coastline, takes away from the water, but is a part of the beach in itself. A photo here will combine rough with soft, to produce beauty.
Beach creatures shot: A picture with a starfish or even a crab, gives your pictures added life.
Sand dunes shot: A shot among the sand dunes, with a pose that says I love you more than anything in the world.
Shots on the Rock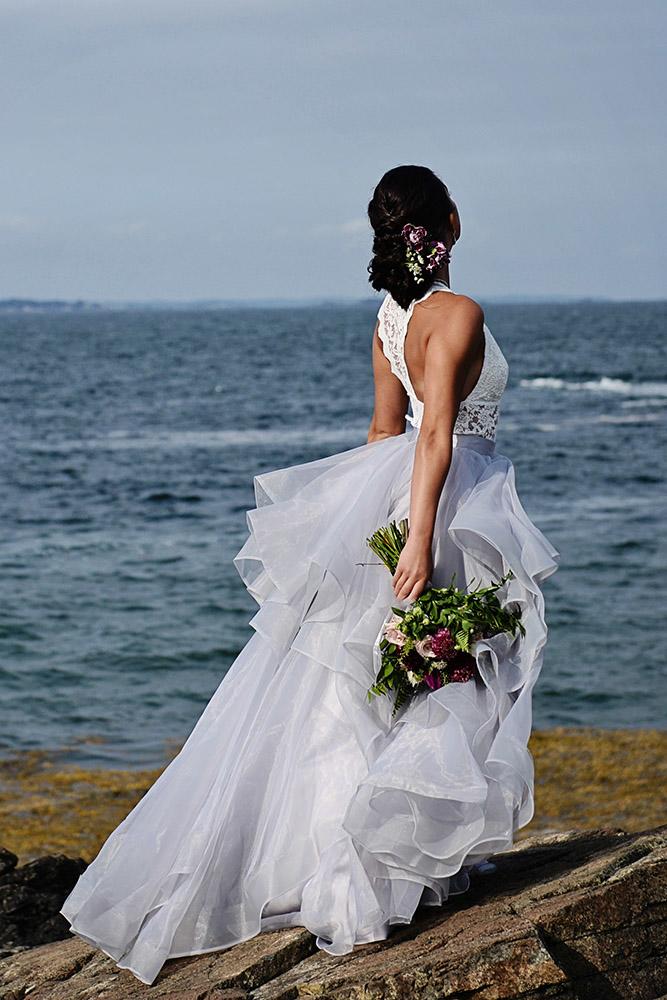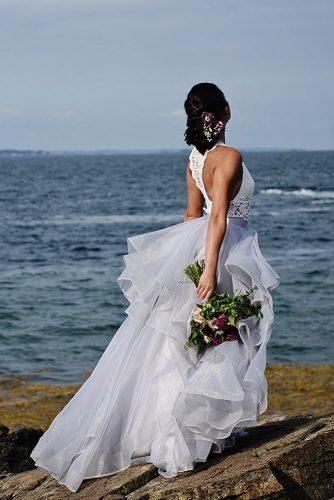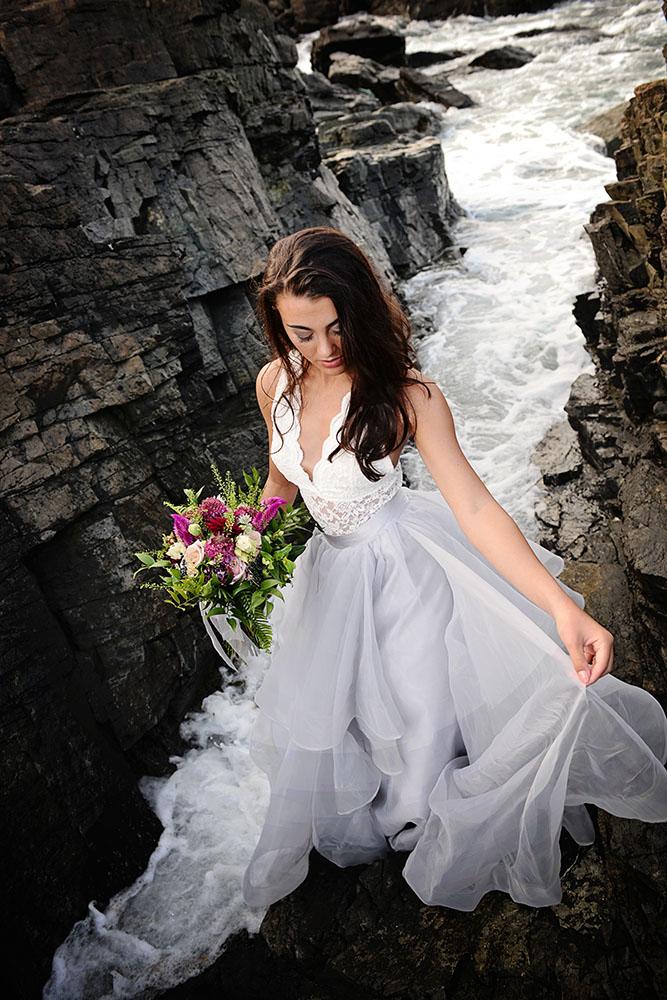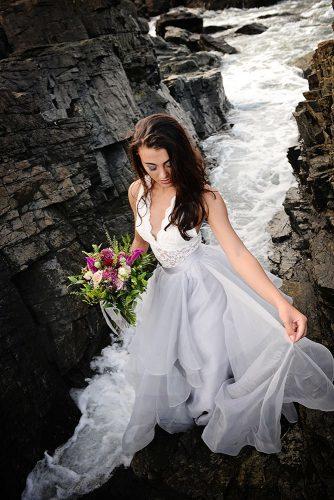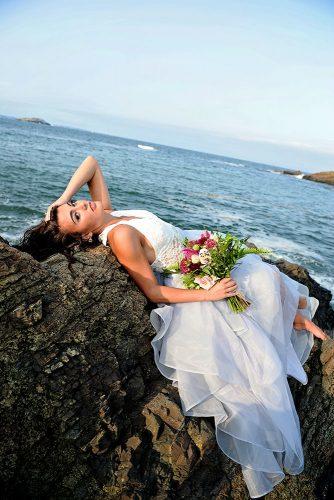 Explore other rocky parts of the beach, and it will surprise you how the beauty of nature brings your photoshoot to life.
A lone rock shot: Nothing spells romance like a huge rock that signifies you are the rock in my life.
A cliff shot: Capture the drop of the cliff with a perspective shot that creates a daring and yet beautiful background.
Bedrock shot: A romantic and rugged look can be created from a bedrock background photo.
Boulders shot: A most beautiful setting, even boulders sitting in water can create the romantic effect you require.
Stylish Beach Photoshoot
Source: sass_photo via instagram, mazecreates via instagram, thrifted.gifted.blessed via instagram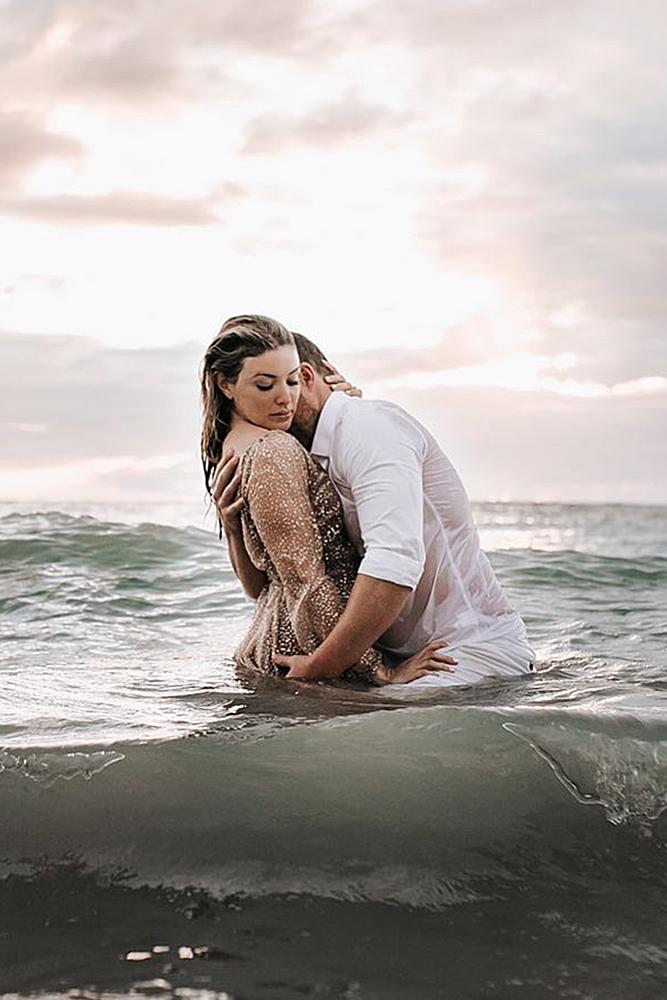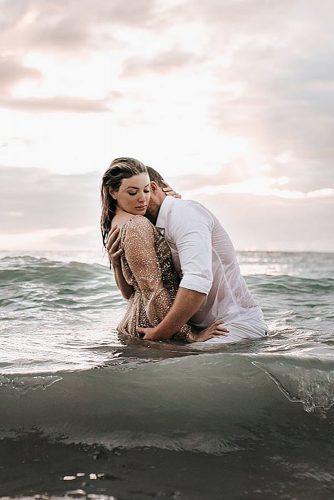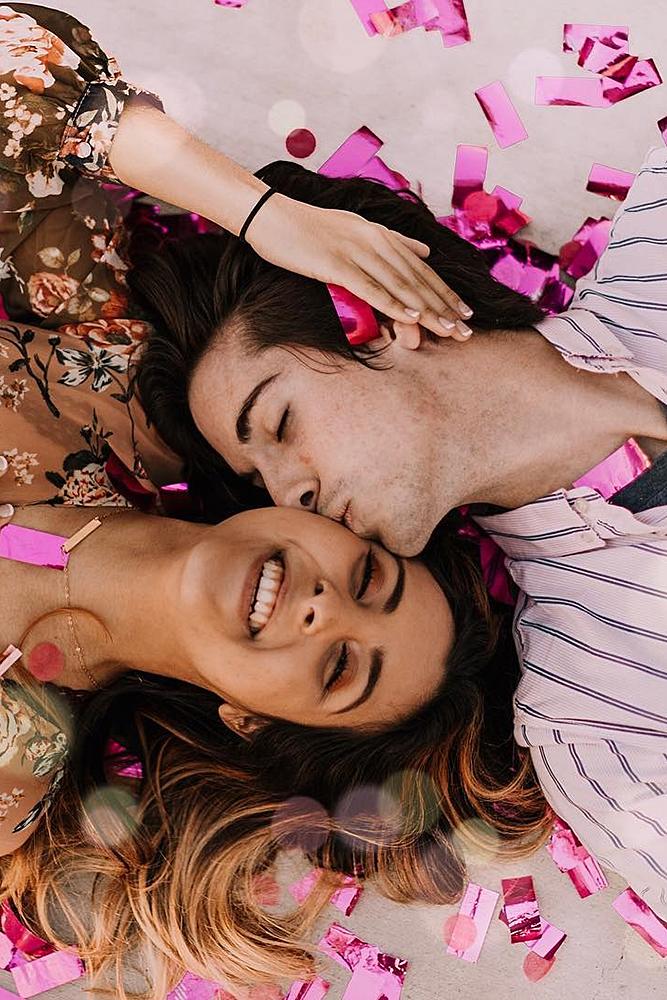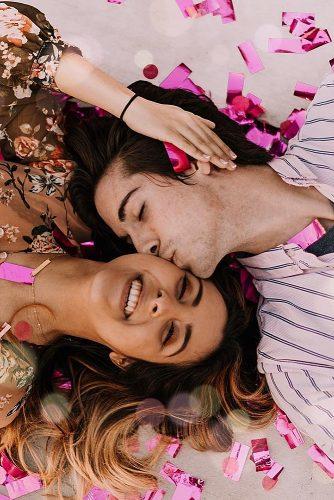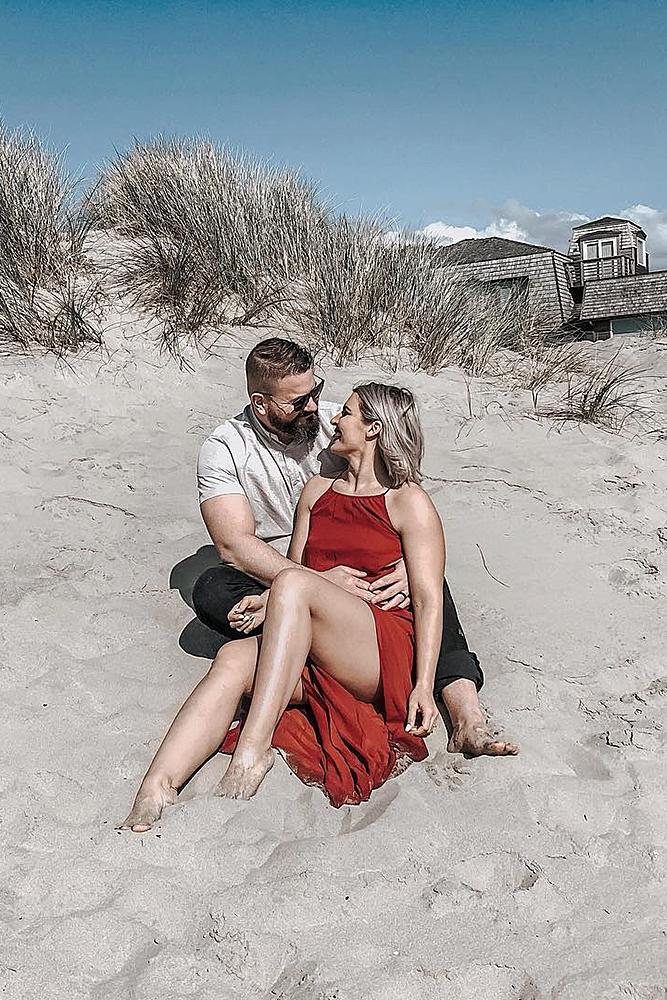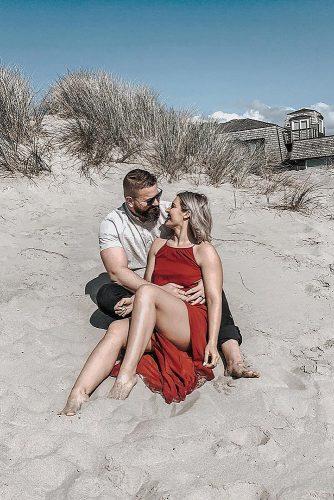 Add some style to your beach photoshoot poses. It's not just about the beach; some photos should focus on the emotions between you two.
A fairy tale shot: Spice things up with a fairy tale shot using a spray of water as an ethereal backdrop.
A glamour shot: Catch the glint of your wedding ring while you embrace, for some added glamour.
The sexy shot: Kissing in the waves or while lying on the sand; nothing creates a more sexy beach photoshoot.
The unique shot: Try something unstaged for a completely unique look.
Shots with Water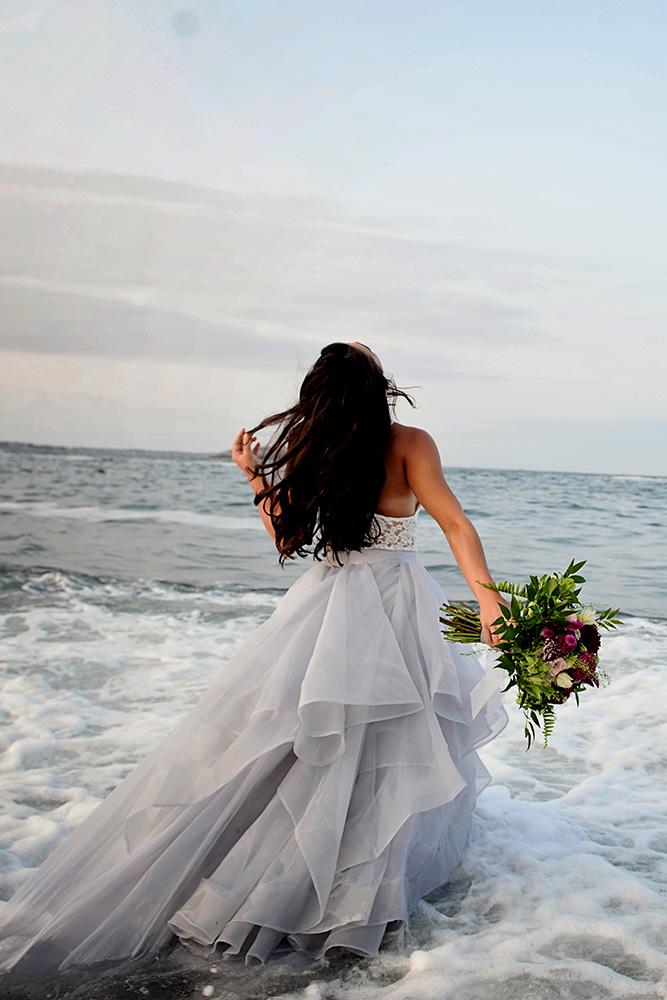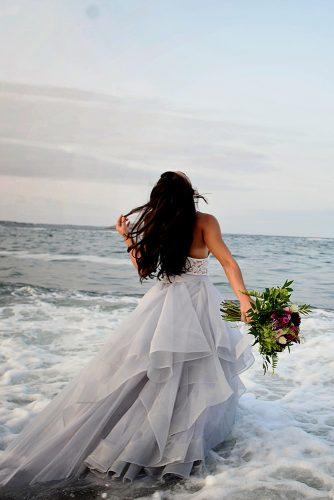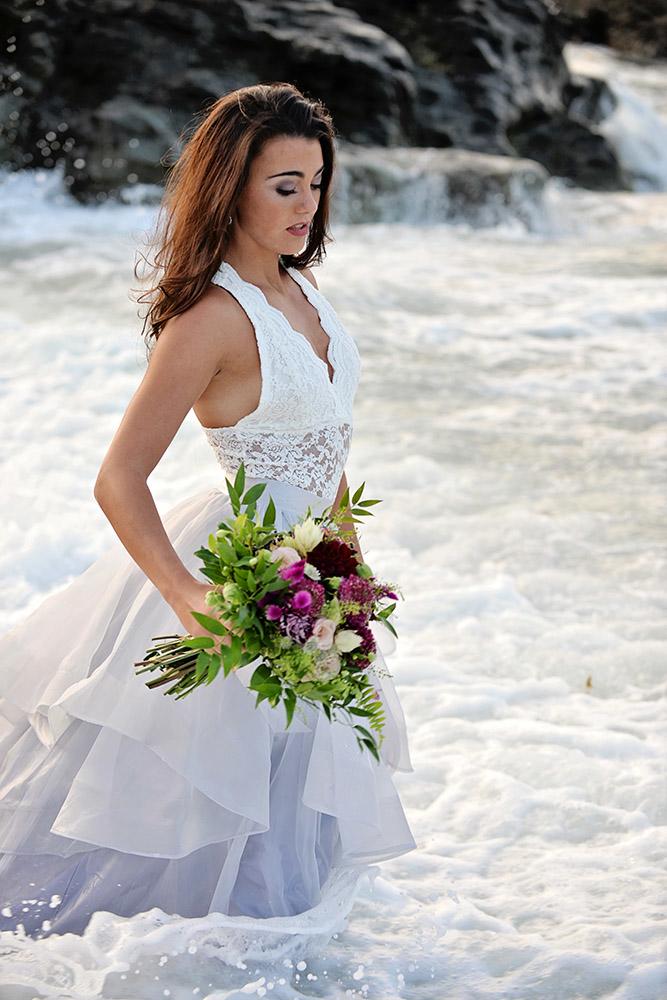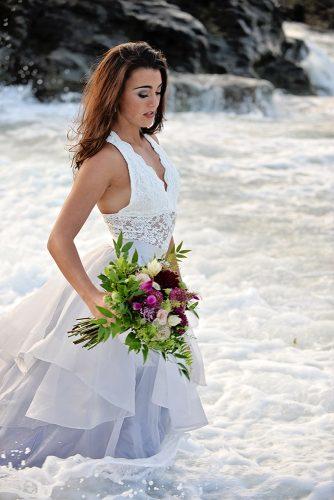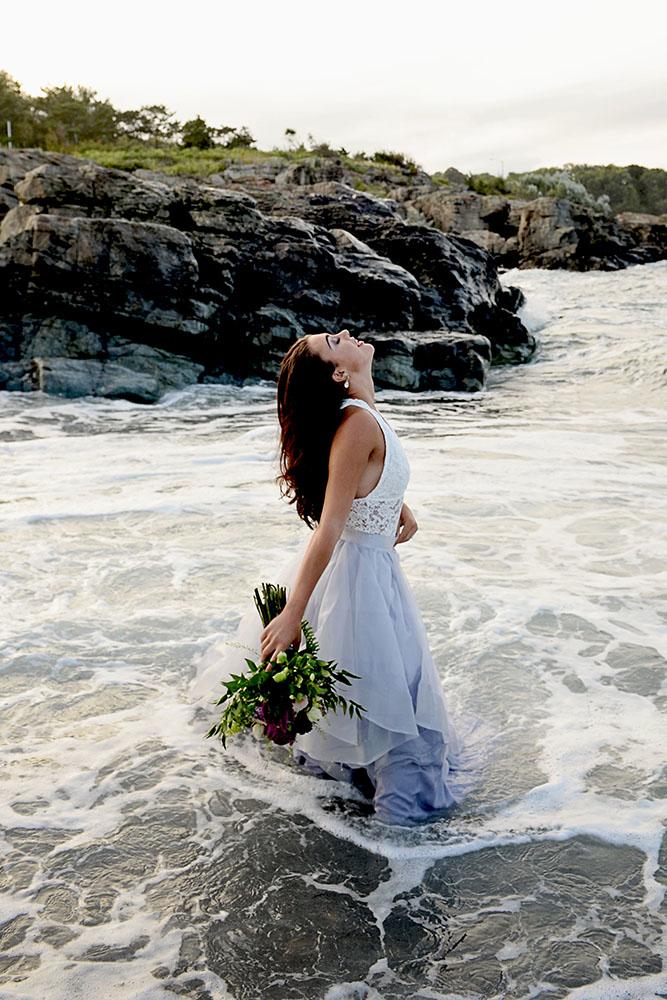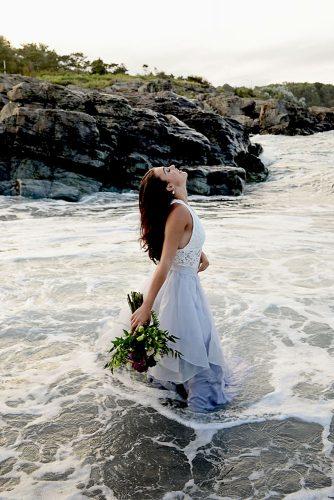 Your beach shoot is not complete without elements of water in it.
An ocean waves shot: The crashing waves of the ocean make for a breathtaking backdrop.
An in the water shot: Dip yourself in the water for that romantic in the water shot.
A bluffs shot: Get a truly picturesque shot where the waves crash into rocks or cliffs for a magical shot.
Tide pools shot: Tide pools among craggly rocks and coves will give you a mythical background.
A splash shot: If you are not afraid of getting wet, try to catch a splash shot for something magical.
Engaging Shots
Source: _jordana__ via instagram, sergeykbn via instagram, analyphoto via instagram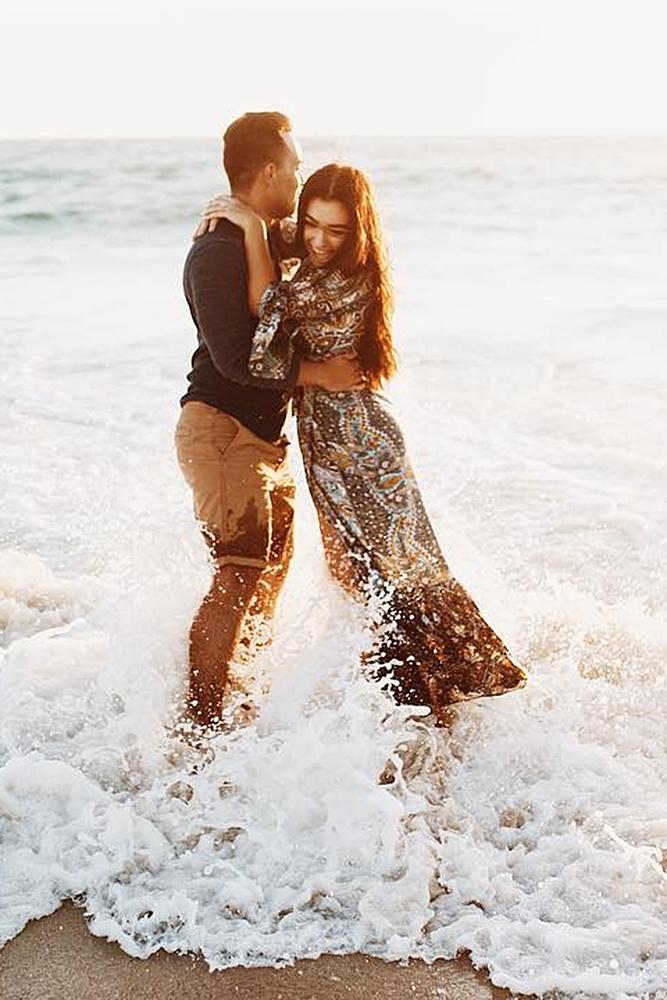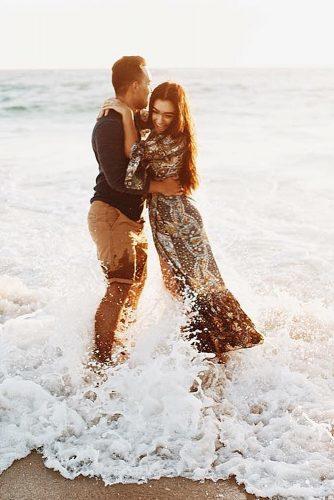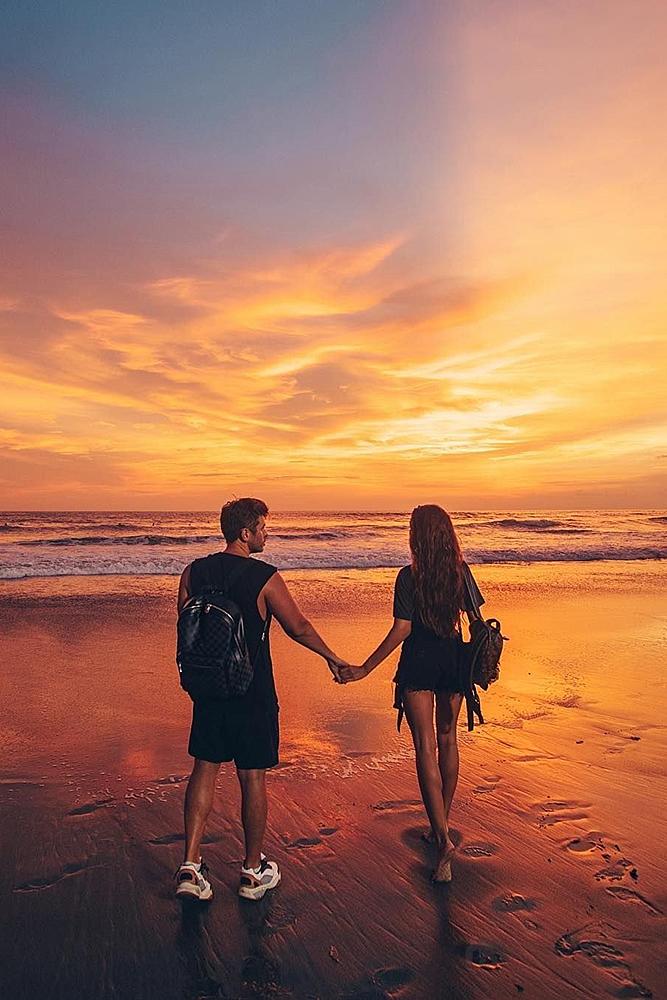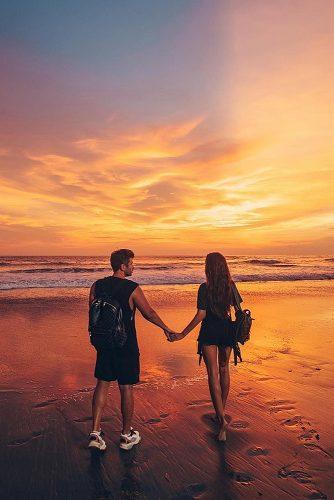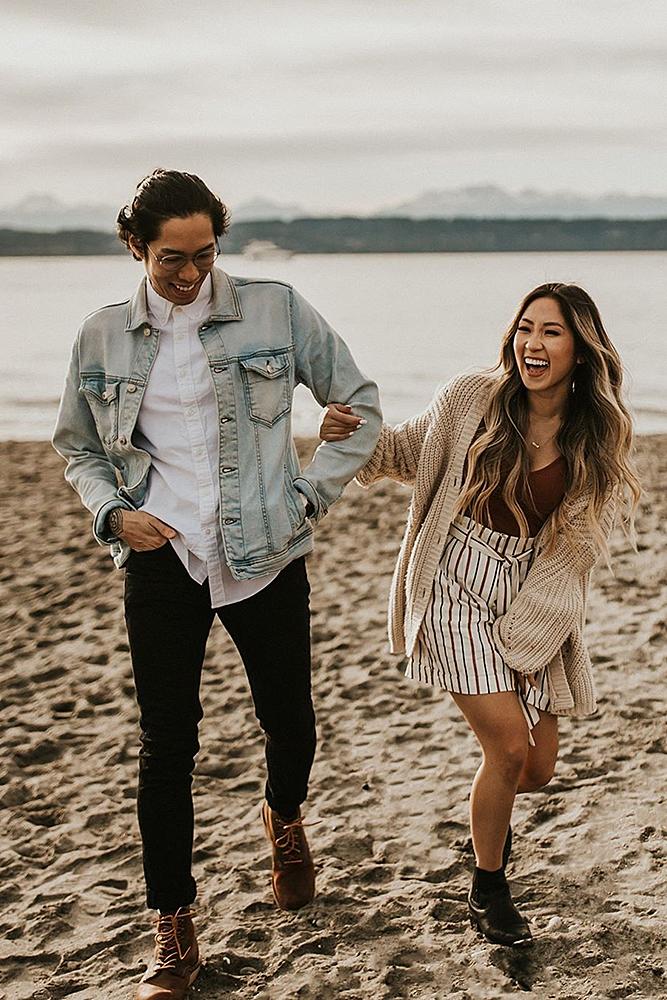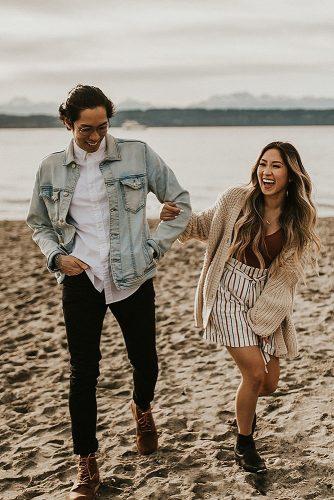 Think something fun and out there for some interesting shots while on the beach.
A playful shot: Let your inner child roam free as you play and have fun. Ignore the camera and create memorable shots.
Sandy feet shot: Get those sandy feet in the picture cos nothing spells beach like those.
Trash the dress shot: Trash your wedding dress with a run into the water with your dress for a daring and nice photo shoot.
Couple's Shots
Source: dearkodak via instagram, alex.phillips.photography via instagram, madisonpaigefuller via instagram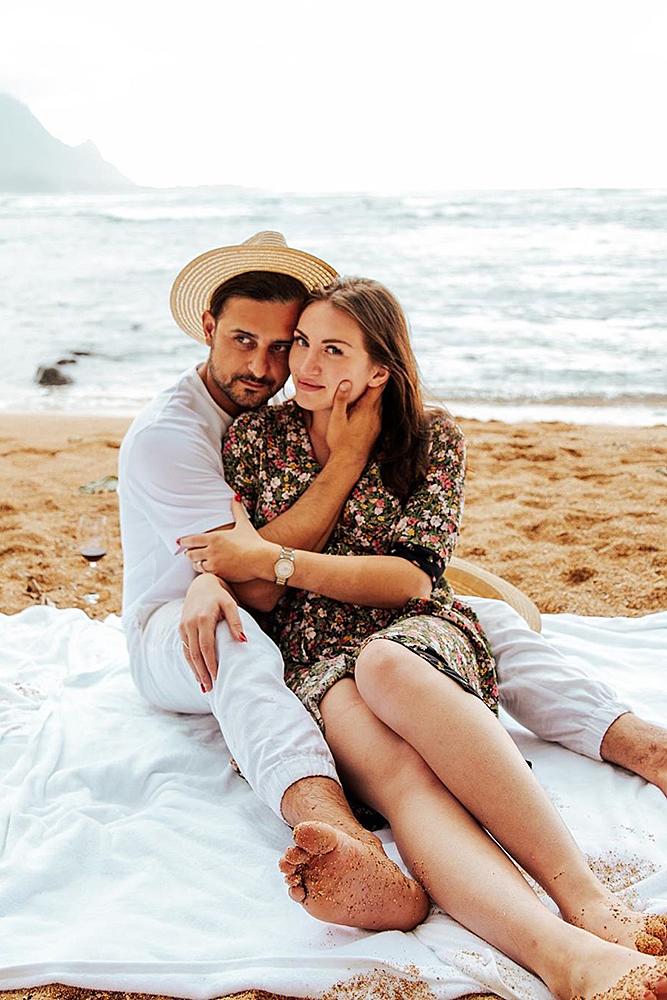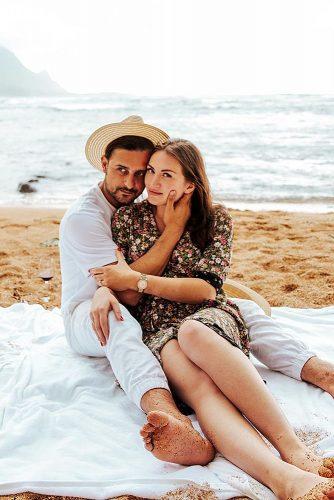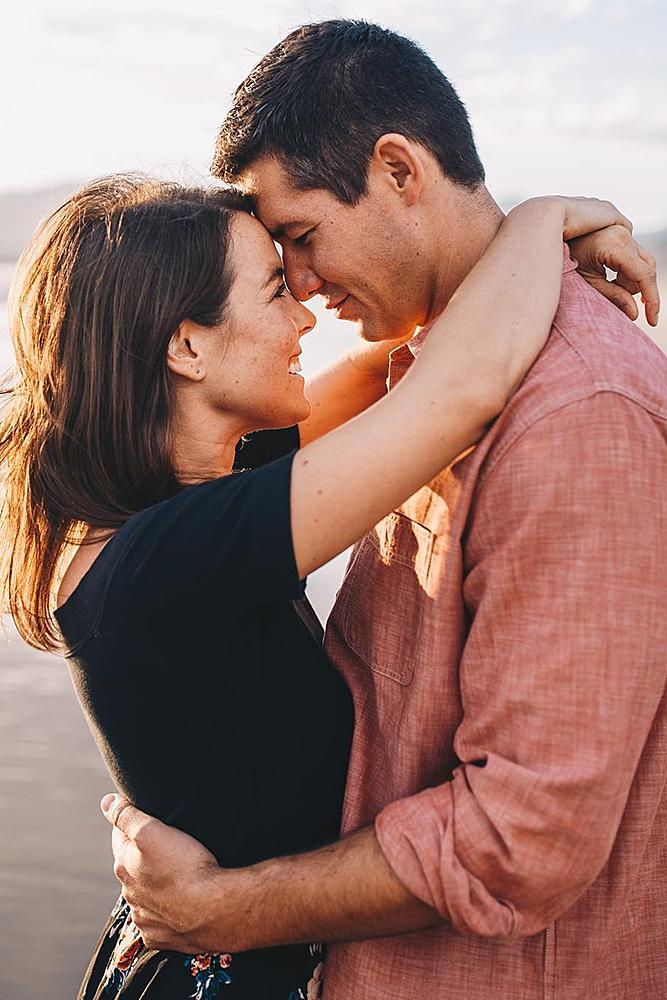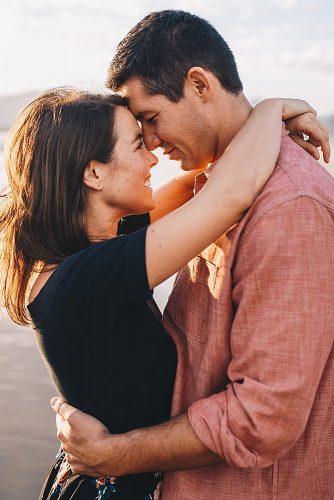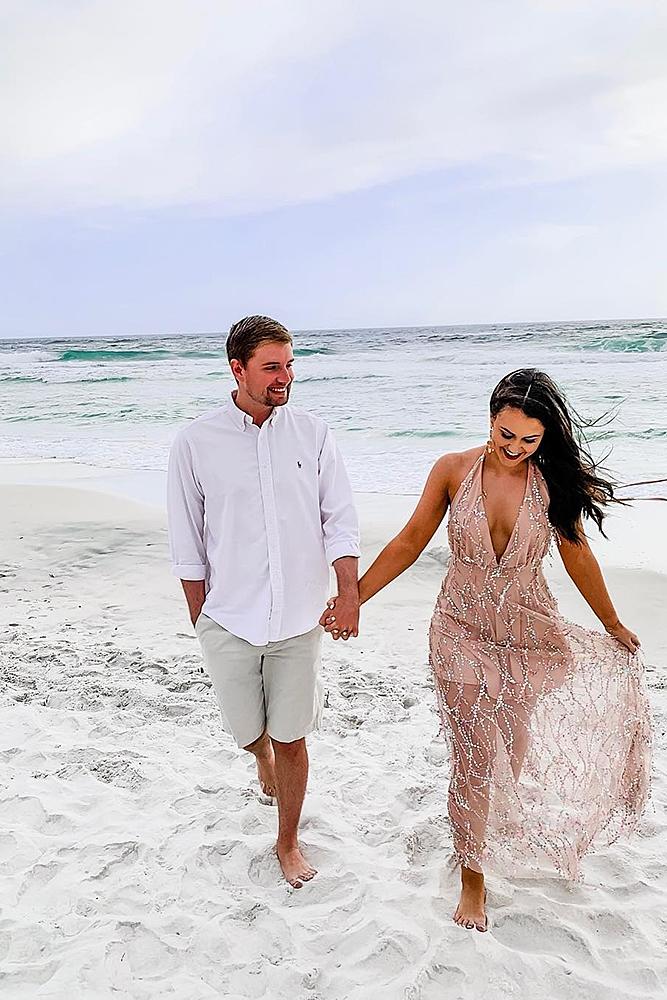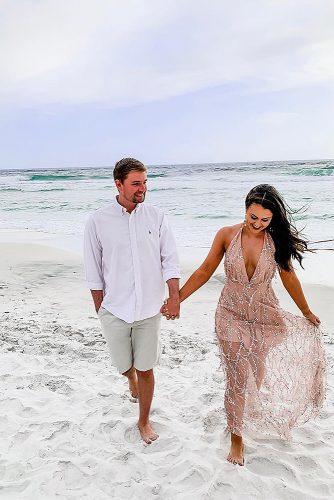 Unique pictures capturing your romance on the beach. Your photoshoot is incomplete without these.
A profile shot: A profile of you two with the coastline far in the background.
A kiss shot: Seal your romance with a kiss and make sure it's captured on camera.
A close-up shot: A close up, with the blurry backdrop of the sea, captures your emotions in a beautiful setting.
A candid shot: Capture intimate moments when you're not posing for the camera but just into each other.
The repose shot: Relaxing with your loved one on the sand or in a simple hammock makes a great couple shot.
A hand in hand walk shot: Linked hands indicate your union and make for a great emotional shot.
Playing with Light
Source: kappy_k_photos via instagram, janasnuderl via instagram, travelsurasweb via instagram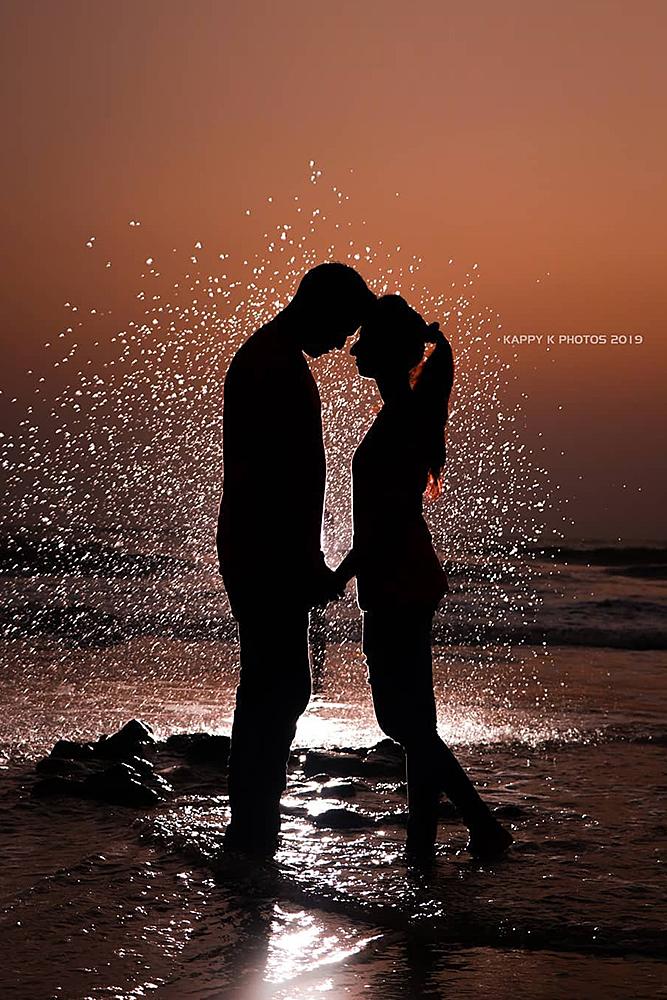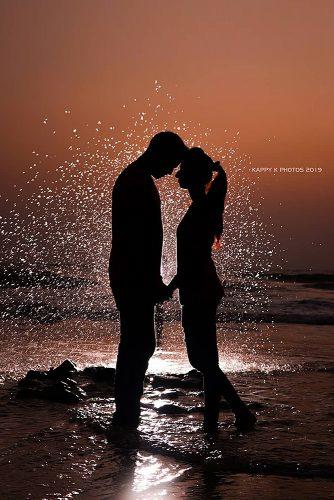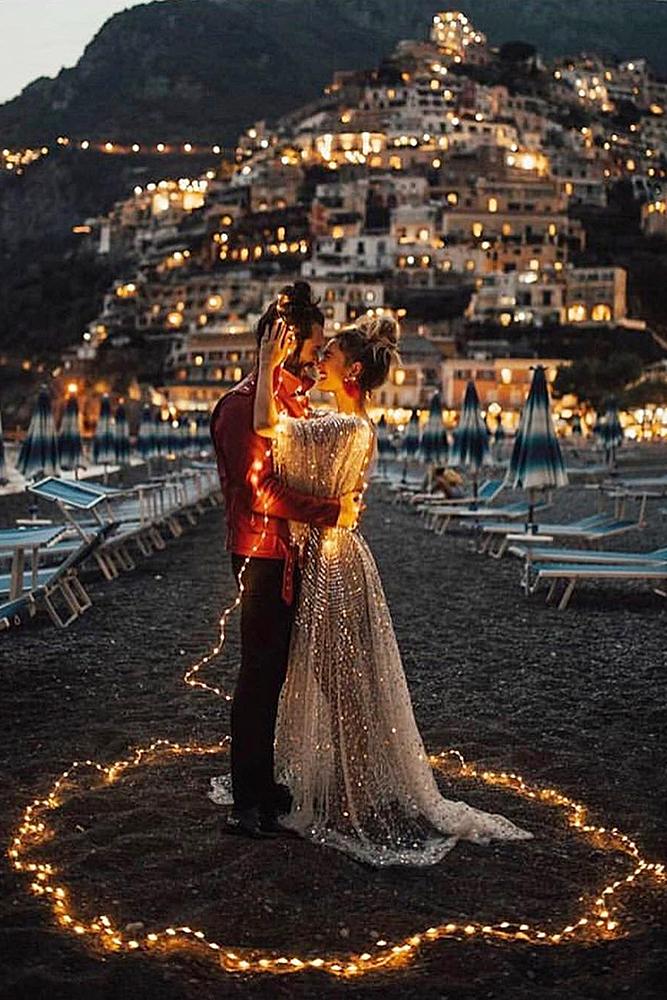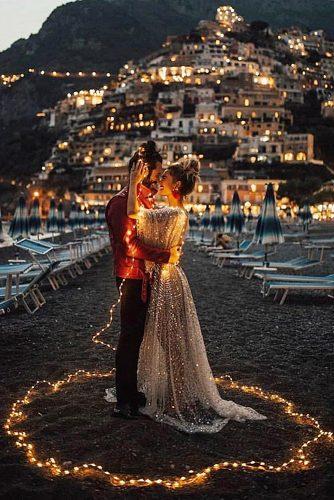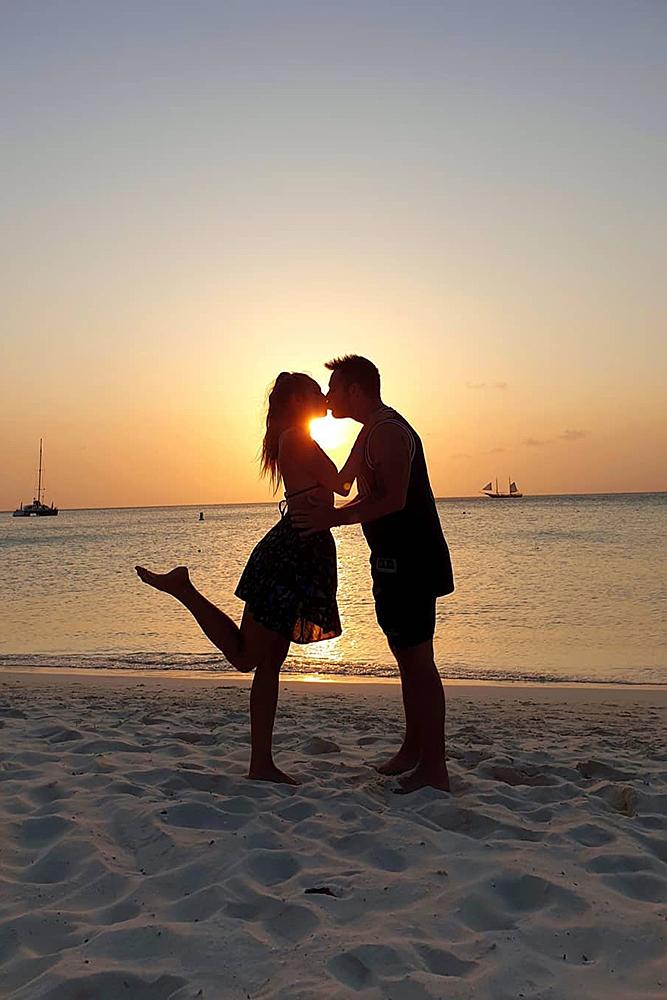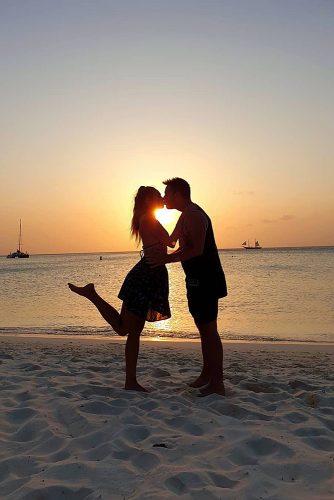 Enjoy the different colors of light created by sunrise, sunset, or even dusk, for effect and even more compelling photos.
A silhouette shot: Create the loveliest blacked out silhouette at sunset, with the orange and pink skies as a backdrop.
An ambiance shot: Catch the ambiance of your surroundings in a colorful sunrise beach photoshoot that looks just as much like a painting as it is a photograph.
We hope you don't run out of ideas, and find our tips helpful for your beach photoshoot. There are usually lots of questions like what to wear for a beach photoshoot or what to do for a pretty beach picture. We hope we have been able to answer them all. There's nothing quite like the beauty that the backdrop of a beach creates for a romantic and also breathtaking photoshoots at the beach.