A wedding program is a very important aspect in a properly planned wedding. Although it is often just a piece of paper commemorating a special day for 2 people, it has become a complex player in modern weddings. While there are many various types of wedding programs an increasingly popular option is the DIY wedding program fan.
These are not merely sentimental pieces of paper any longer. They have become functional and multi-purpose in many cases. The DIY feature has also become very popular due to the money saving the DIY aspect allows you to accomplish. DIY features are also a way for people to get involved and help make a wedding a success.
Is There a Specific Program for a Wedding Reception?
When you ask this question, the short answer is no, not for a reception. While some people prefer to follow a traditional program, it is entirely up to the participants of the wedding as to exactly which activities they want to include in their weddingreception.
A wedding program is a list of expected events that will take place during the ceremony and or reception. It allows the guests to know what to expect to take place next which will give them an idea of how long the ceremony or reception could potentially take.
What are Some of the Things that Should Be Included in a Wedding Program?
There are many variables of things that could be included in a wedding program from the entrance music, artist and composer to a list of the wedding party. If you are a do-it-yourself person then the ideas are limitless. You can find all sorts of diy how to make wedding program fanson the internet.
Fans have become an excessively popular option for the programs due to their multi-function purposes. They are an adorable way to display your program and serve as a cooling device for various wedding settings. Not excluding the fact that they make adorable keepsakes.
Various Ways to Create a Wedding Program
There are many ways that you can create a wedding program. As mentioned earlier one of the most popular options, especially for outdoor a destination wedding, is the fan. There are several variations of the fans for wedding program fans diy. You can incorporate any theme that you may have chosen for your wedding into the program if you use the diy wedding program fans template that are widely available on the internet.
While you can have your programs printed professionally it will save you a substantial amount of money to do them yourself. It is also very rewarding to know that you created them yourself.
Making Program Fans for Your Rustic Themed Wedding
Source: VineWedding via Etsy, WeddingSophisticate via Etsy, ThatPartyChick via Etsy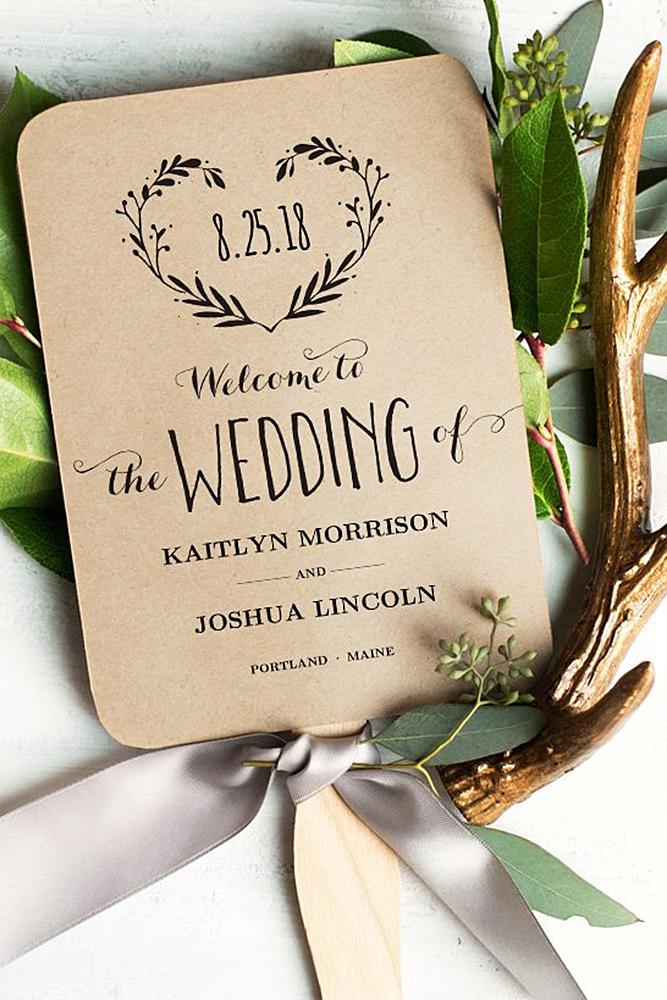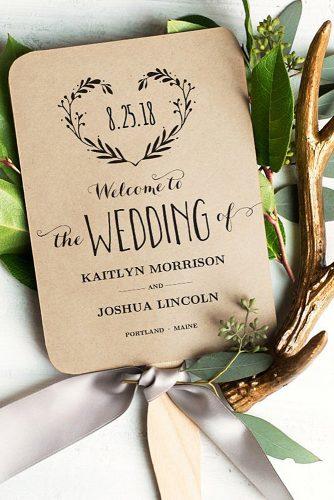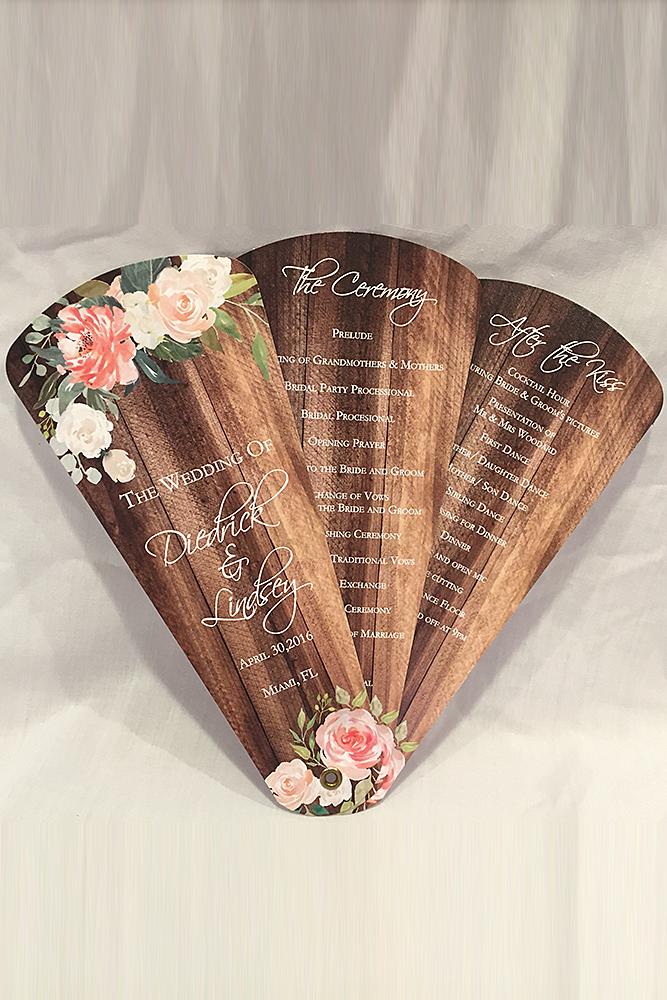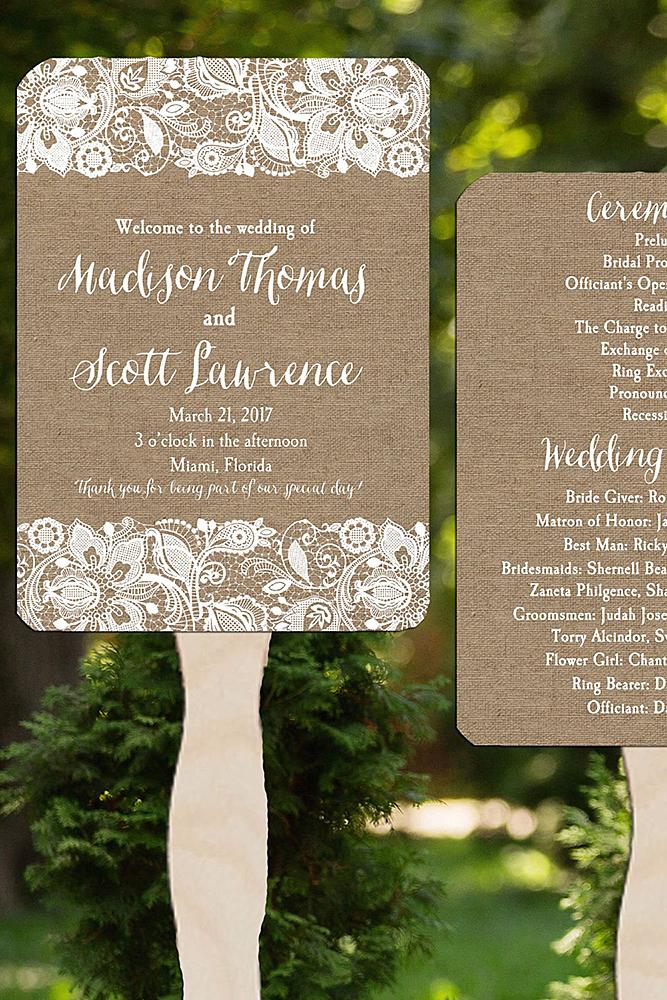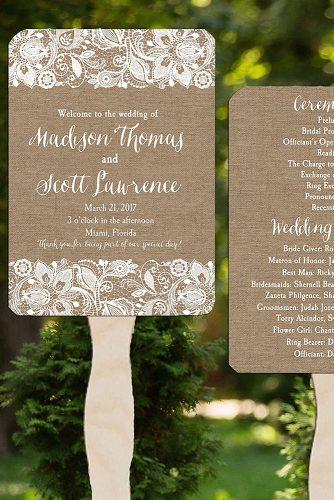 In this section we will discuss ways to create diy rustic wedding program fans. The rustic theme has become wildly popular for all occasions and décor.
So, it is no surprise that it has been incorporated into weddings as well. There are a variety of ways that you can merge a rustic theme into a special occasion like a wedding. This would typically seem like a contrast with a wedding being such a special, formal occasion but brides everywhere are opting for a lower cost wedding ceremony in order to prepare for their future with their spouse. Therefore, weddings aren't as elaborate and proper as they once were.
One of the most popular ways to create a rustic wedding program is to use burlap. Burlap has become a rustic staple in décor. You could use burlap to form a ribbon to place on your program fan and this would easily change a regular fan into a rustic fan. You can also use various types of card stock paper to give your program a rustic appearance.
The font you choose to use can give the program a rustic appearance as well. It doesn't have to big or elaborate to change a regular program into a rustic themed program. Less is more! Below you will find an outline of supplies needed and steps to create your rustic wedding program fan.
You will need: Sticks, printer, cardstock, glue and burlap ribbon
Choose your design from an online template and edit it. Take care in using a font that suits your rustic theme.
Next you will need to download and print the document. It is vital that you print the document WITH crop marks. This will make it easier to finish and get precise measurements for each program.
The next step is to fold and trim using the crop marks. This will allow all of your programs to be a uniform size.
Next glue your stick to your programs and glue them shut.
We recommend using glue tape since it is less messy.
You can use a corner punch to round the edges of your fan to make them look more finished and professional.
Cut a piece of burlap ribbon 18 inches long and tie it around the stick into a bow. For a nice finishing touch notch the ends of the ribbon.
Creating DIY Seashell Wedding Program Fans for Your Beach Wedding
Source: wiregrassweddings, beau-coup, carlsoncraftproductso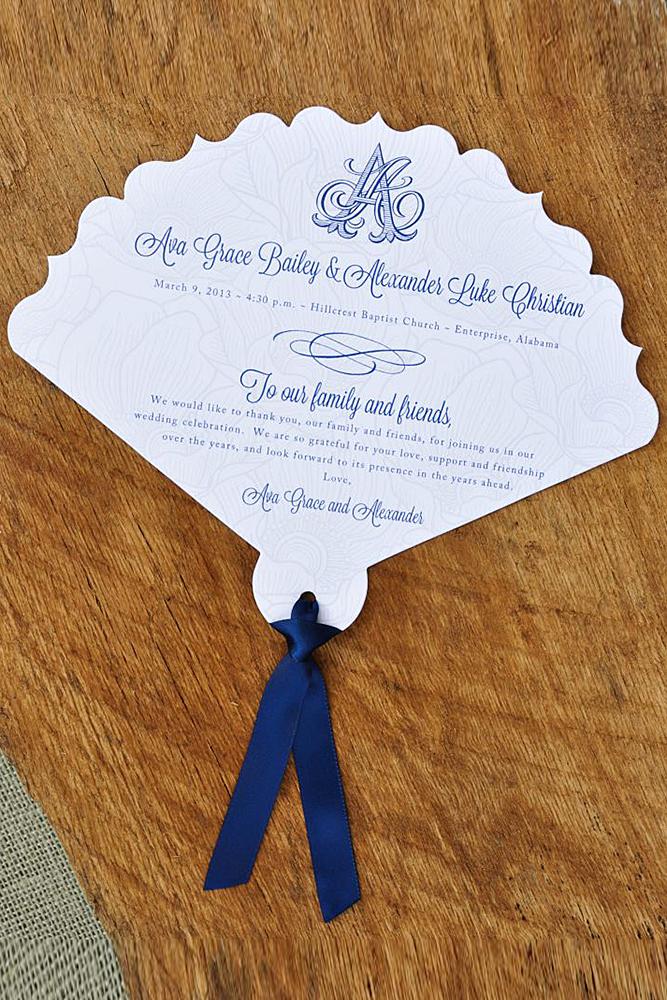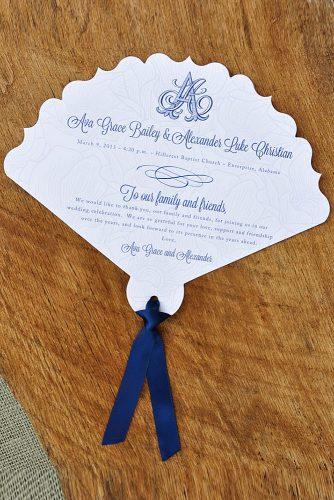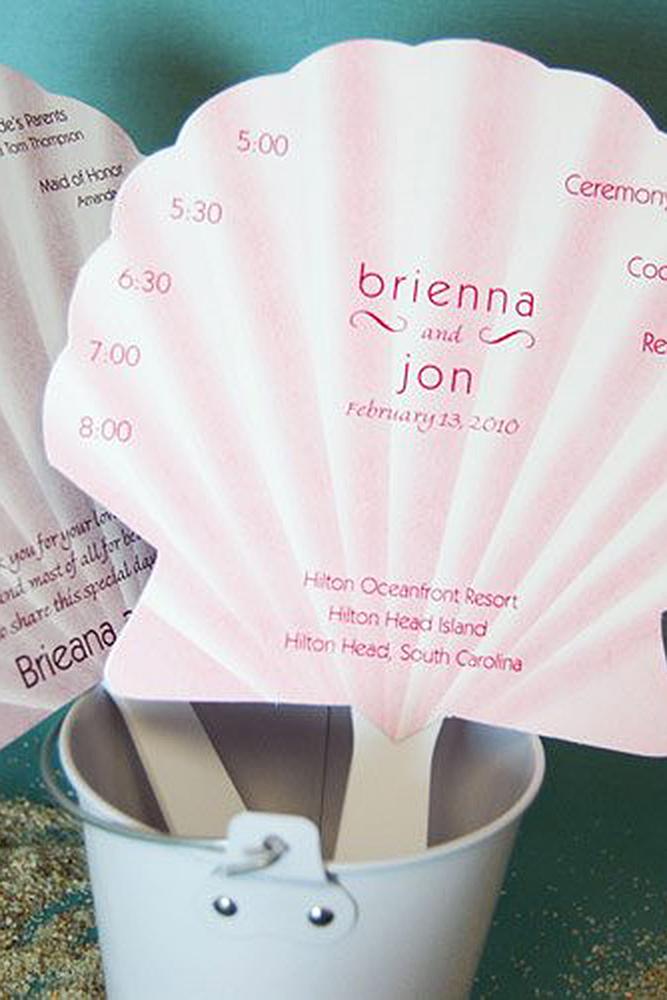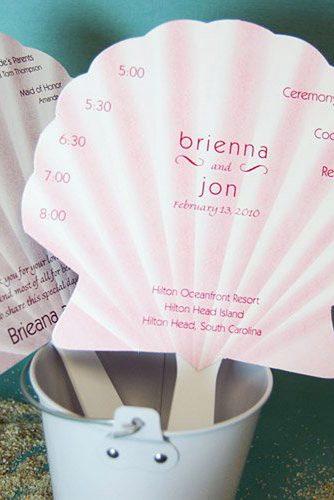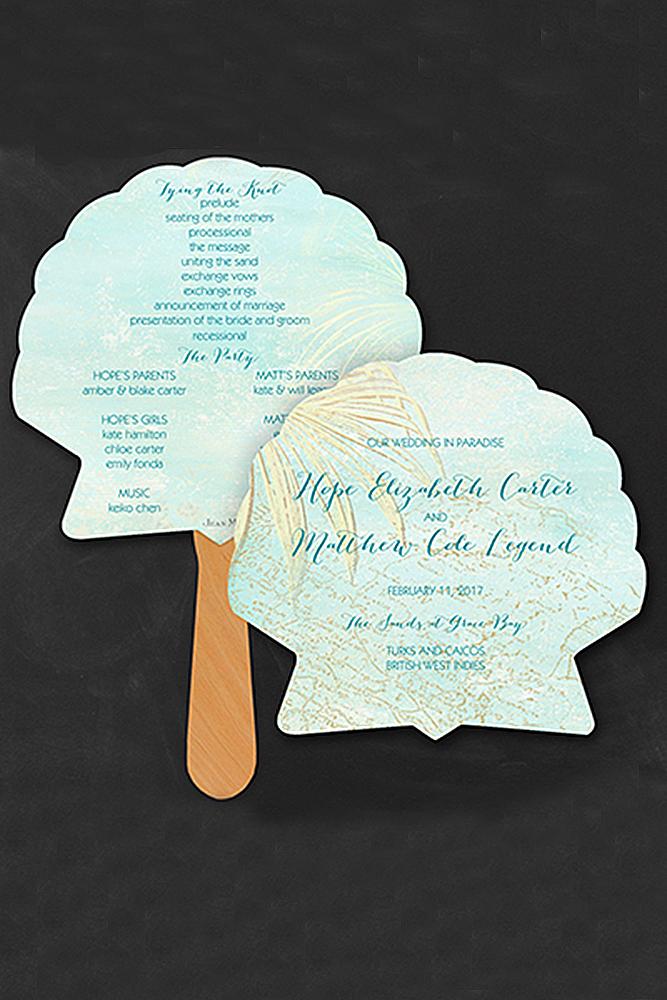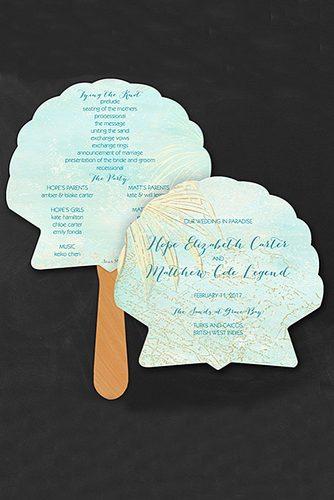 Next, we are going to talk about diy seashell wedding program fans. Obviously, this themed program is ideal for a beach wedding. Beach weddings have become more popular due to their small intimate qualities and the less formal environment allows for a lower cost event due to the savings in wedding attire.
For this project there are several supplies that you can use to give it a more authentic theme. Don't make the mistake of placing too many embellishments on the fan as that it will make it bulky and difficult to use. It will also interfere with its functionality of its intended use. The products you will need are:
Card stock (at least 65# weight), sticks, glue, printer andsmall shells(optional)
Steps:
Choose your seashell template and download and edit it.
Print the text on the front and the back of the cards.
Using the guidelines cut out the excess paper in order to achieve the seashell shape for your fan.
Next, glue the fan stick to the card stock assuring it is center and placed properly to achieve functionality.
Finally, add small light-weight embellishments such as light weight shells or starfish to give your program an added flare. It is vital that these items are light. If they are heavy and bulky, they will interfere with the fans ability to work properly.
Designing a DIY Beach Wedding Program Fan
Source: StationeryInvitation, CupcakeGraphics1, creatingapapermemory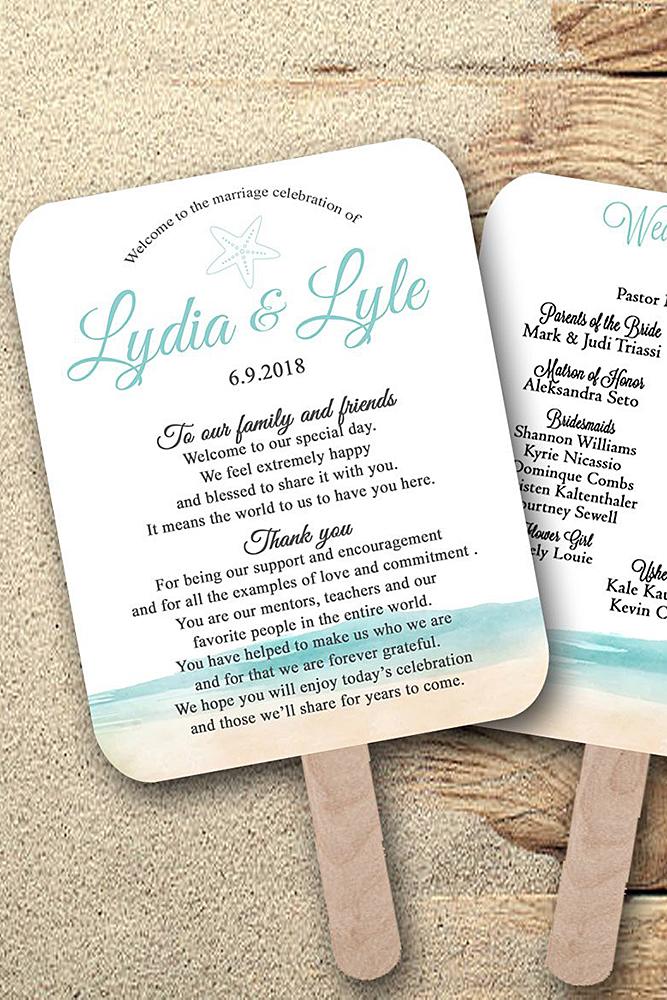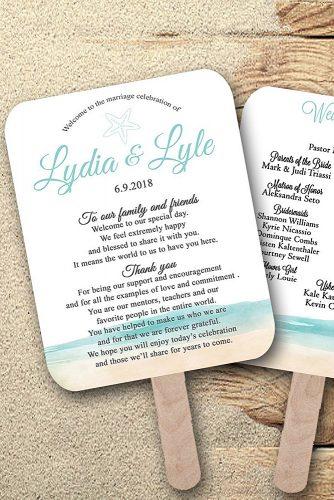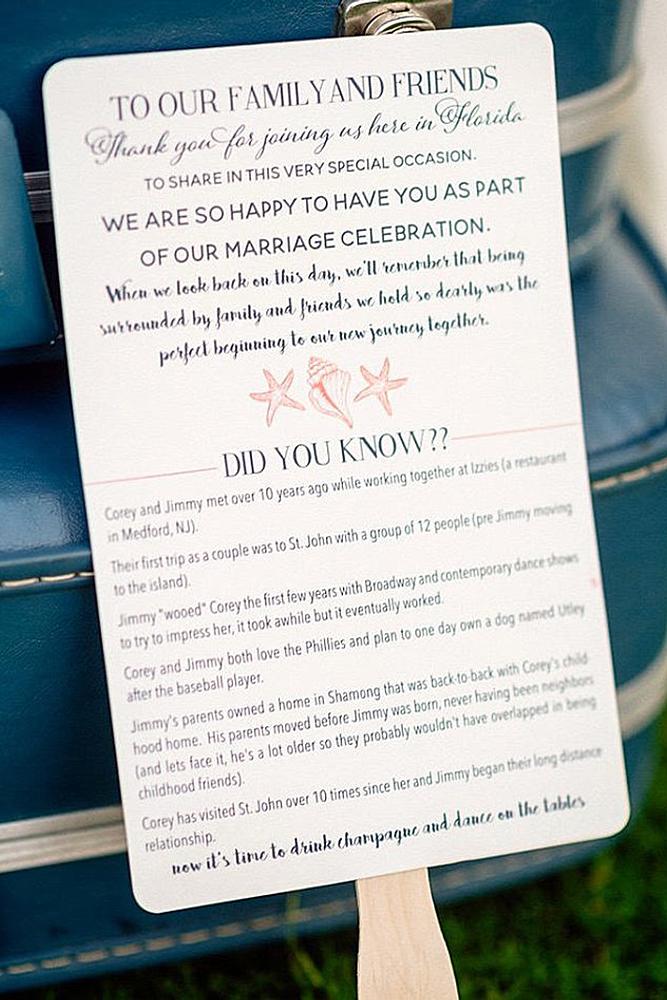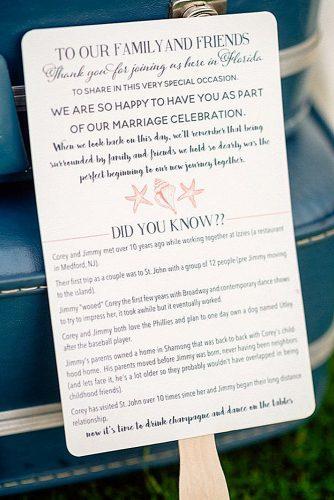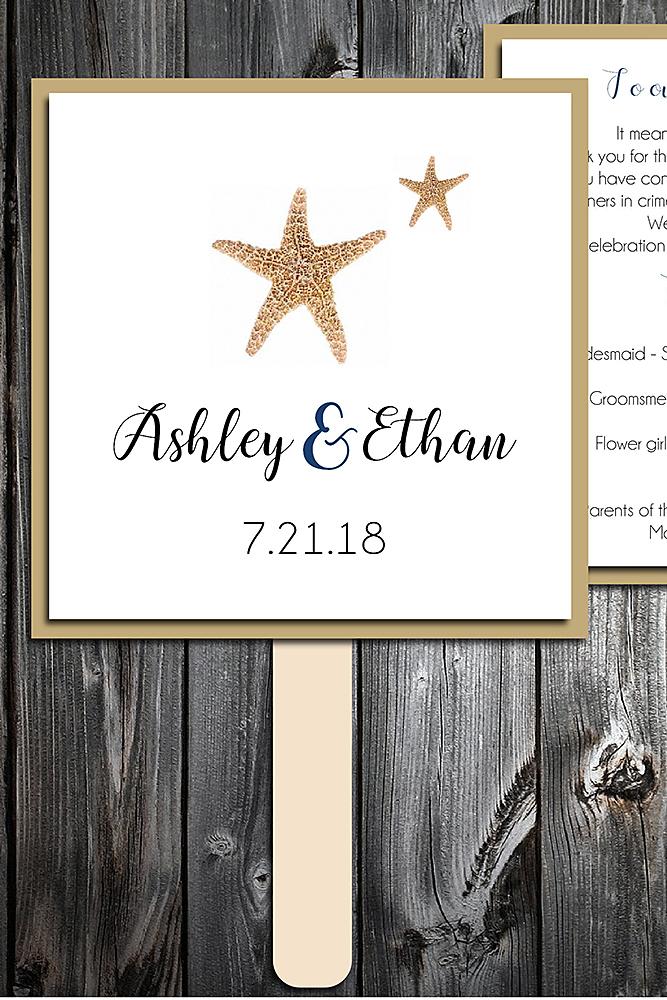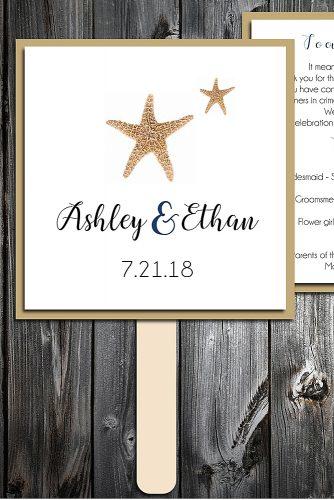 In this section we are going to go over different types of diy beach program fans. You do not have to stick with a seashell them to have a beach themed program. There are a wide variety of objects and ways to incorporate a beach theme into your wedding. For example, one cute play on words is to use the "tying the knot "phrase since nautical themes have a correlation with knots. Another way to incorporate a beach theme is to simply choose the right colors and incorporate them into the print that is placed on the program fans.
The supplies needed are like those needed for other types of wedding program fans: Card stock, sticks, glue and printer.
Follow these steps to create your fan:
Choose your template from an online program and download it.
Edit and print your design onto the card stock you have chosen to use.
Glue the sticks and card stock to each other. * If you are using a two-sided print you will need to carefullyfold and glue the card stock to itself after you glue the stick in place.
Round the corners and add small embellishments if desired to give your program more character.
Creating a DIY Wedding Program Fan Using Popsicle Sticks

The next project we are going to talk about is a wedding program fan using popsiclesticks. This type of program fan is a smaller, light-weight program and since it is smaller and uses a smaller stick it contains a smaller amount of information. While you can use a wide variety of templates or designs a few popular options are heart shaped wedding program fans, jar shapes and simple rectangular shaped fans. Some of the supplies you will need for this type of fan is:
Card stock (a lighter weight should be used since you are using a lighter weight stick), popsicle stick, glue and a printer
To discover how to make a program fan using a popsicle stick follow these steps below.
Choose your template from the website making sure of the size to assure it will correspond with the popsicle stick.
Download and edit the template with your information that you want to include on your program.
Print the program onto card stock and cut out the design if necessary
Glue the stick to the card stock and the card stock front to back if necessary.
Add ribbon or other embellishments if necessary.
The DIY Wedding Program Fans Template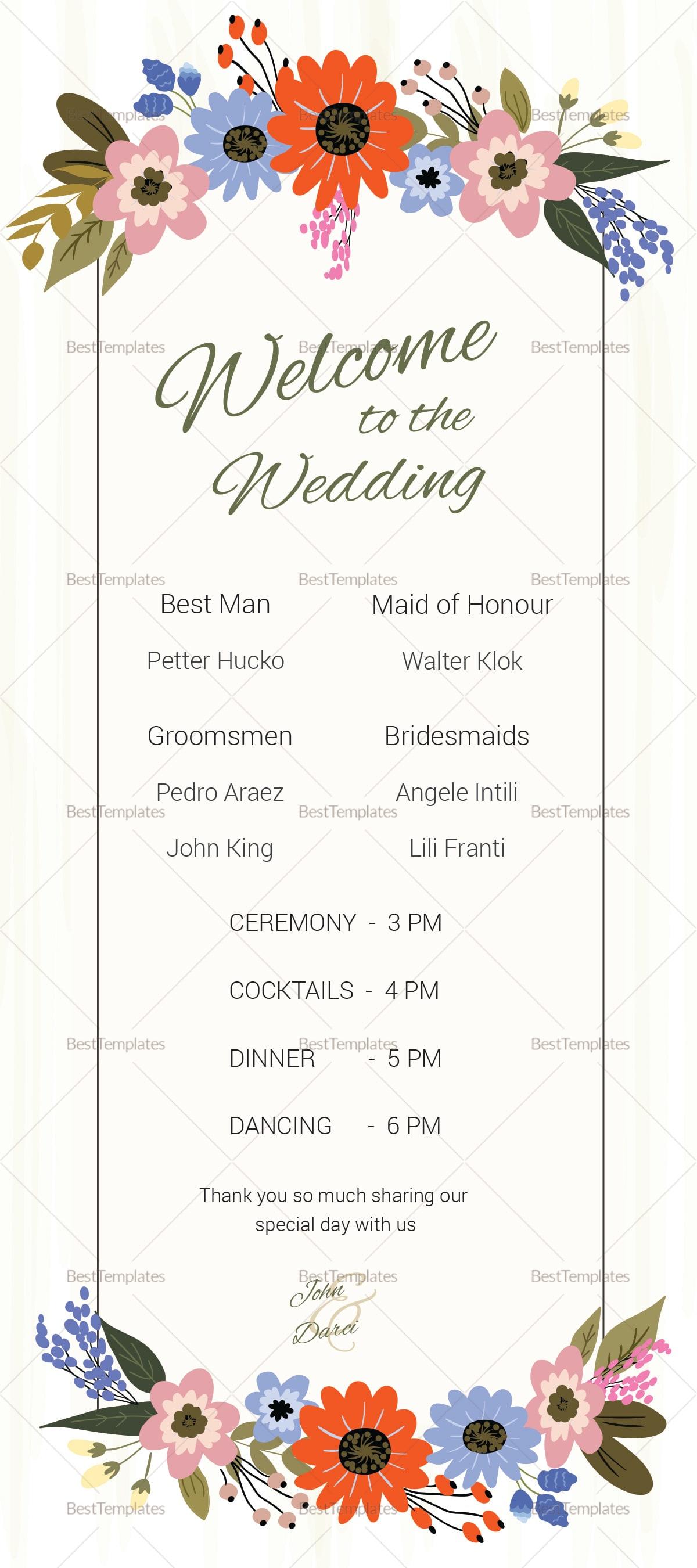 Check out this beautiful universal wedding program template for your diy program fan.
There are several sources you can go to and find your DIY wedding program fan templates. If you can imagine a wedding theme you can find the template to correspond with it. The wedding programs are easily edited to suit a specific theme. You can alter the shapes and sizes of your finished design that will make your wedding program fan unique.
The font, the card stock color and shape and there isan innumerable amount of embellishments that can be added to give your wedding program more character. Below we will list a few places you can go to find templates for your wedding program design.
Etsy is always a good place to find ideas that other have used. Zazzle.com, Templatelab.com, and thespruce.com are only a few of the options that you can find the templates you need. If all else fails, simply google wedding program ideas and you will find alimitless supply of templates from which to choose.
When you are preparing to create your diy wedding program fans we hope this information is helpful to achieve your task. You have all the tips and tools necessary to create a great design that is all your own. Let your creative juices flow and incorporate things that are meaningful to you and your spouse this will assure a terrific finished product.