One thing that can add a touch of panache to your wedding is your wedding table settings. You can make your style stand out with how you choose to set your tables.
To make your wedding truly stand out will be to choose personal details for your dinner table that will make it unforgettable. You can choose to be casual, detailed, or even formal.
Below we have collected a list of wedding table setting examples to fit different tastes and styles, to guide you on infusing your personality through your table setting design.
How to Set a Wedding Table
Setting a wedding table is a tad different from setting a regular dinner table. So we have put together a few tips for creating beautiful wedding table settings. You would need to consider the following.
Place settings
Most venues have this as part of their package, so you will not need this. If yours doesn't however, look into renting plates, glasses, flatware and chargers. If you have a color scheme or theme to follow, keep that in mind when making your choices.
Linens
Table cloths, napkins, table runners and so on. These will be the base of your table settings. It is safe to go with neutral colors, but you could also use bright pastel or bold jewel if you are looking to match your color scheme.
You could also play around with textures and patterns. If you are not afraid to think outside the box, you might be surprised by the results.
Centerpieces
The most important accessories for your wedding table décor, are your centerpieces. Your wedding theme would definitely come into play here. If you're having a rustic or bohemian themed wedding, you could switch the classic vase and bloom with origami, feathers, beads; something different, unique and eye-catching.
Stationery
Also important when thinking wedding tables set up ideas is your wedding stationery. Things like menus, place cards and table numbers which will help guests locate their seating. The design of your wedding stationery would have to match your theme and choice for table setting, to tie everything neatly together.
Chairs
This goes without saying, that your guests would need chairs to sit on. However, for options, some favorites include x-back chairs, folding chairs, and Chiavari chairs. If you're going for something completely different, you could also use comfy poufs.
Favors
Something you can add to your wedding table décor is the wedding favors for your guests. Some people prefer to set them at the exit so guests can just pick as they leave. Another method, however, is to place them on their plates, so they see their favors as they sit down to eat.
Extras
Asides the usual items, it is okay to add some extras to complete your theme. These could be transparent vases filled with pebbles or confetti, lovely scented candles, you name it.
Wedding Table Setting Examples
Outdoor wedding table settings
Source: pablo_laguia, ernestovillalba, lasonrisadebeatriz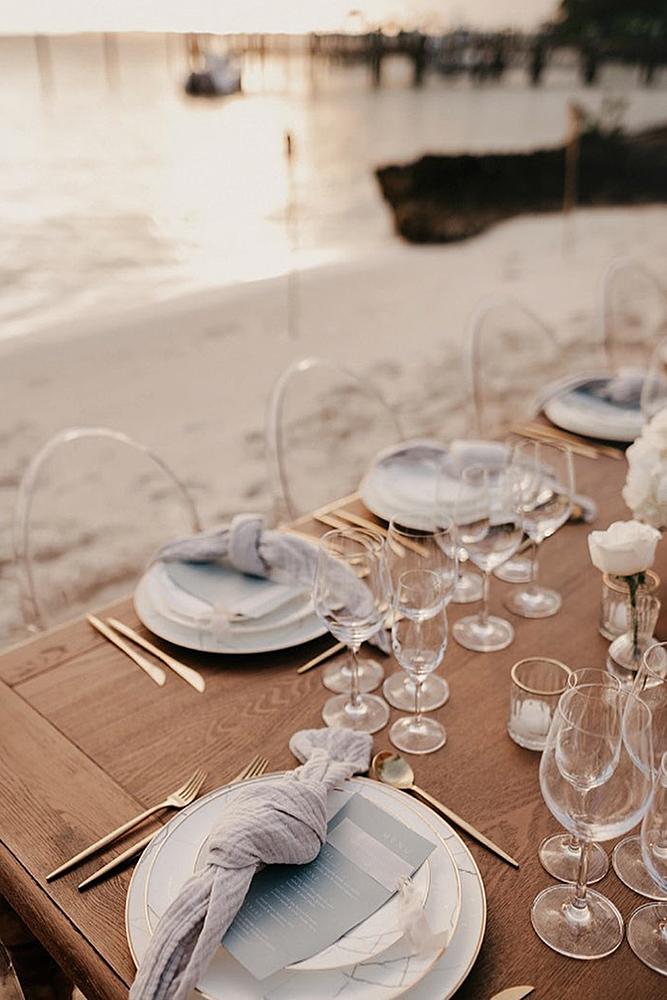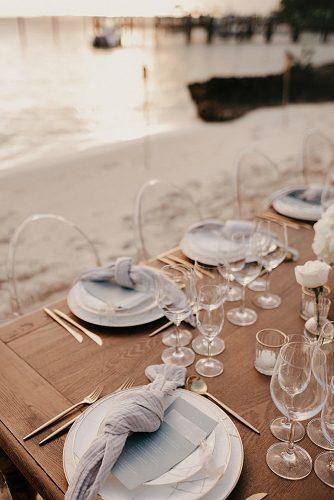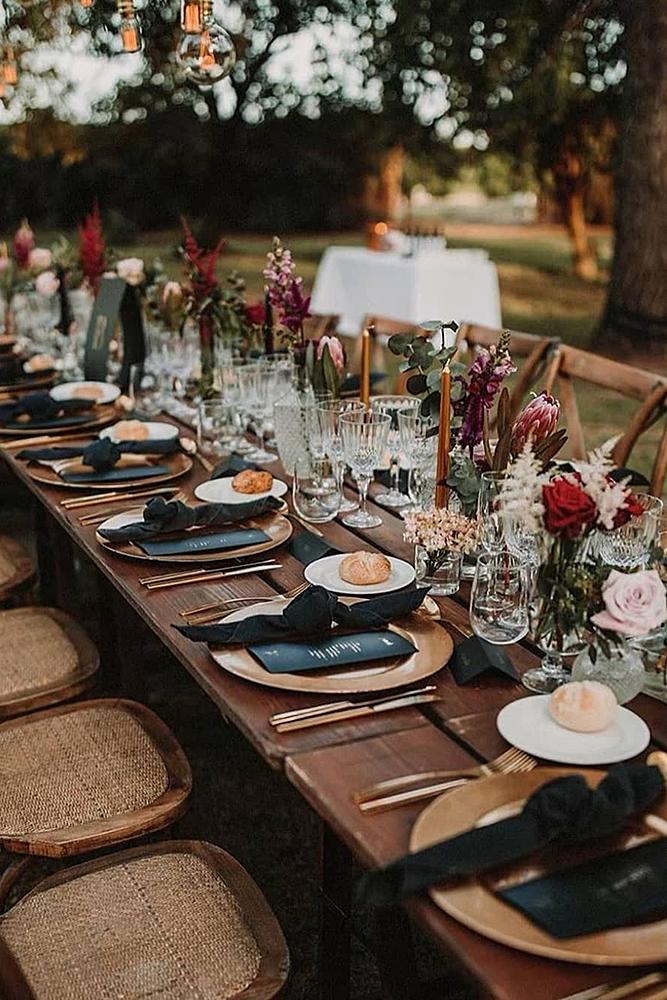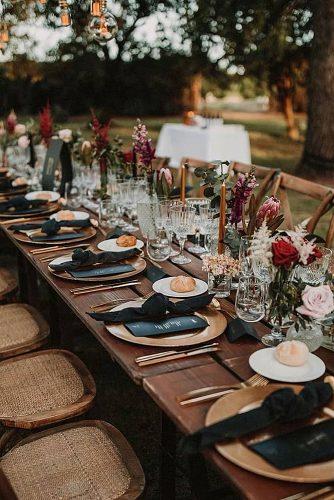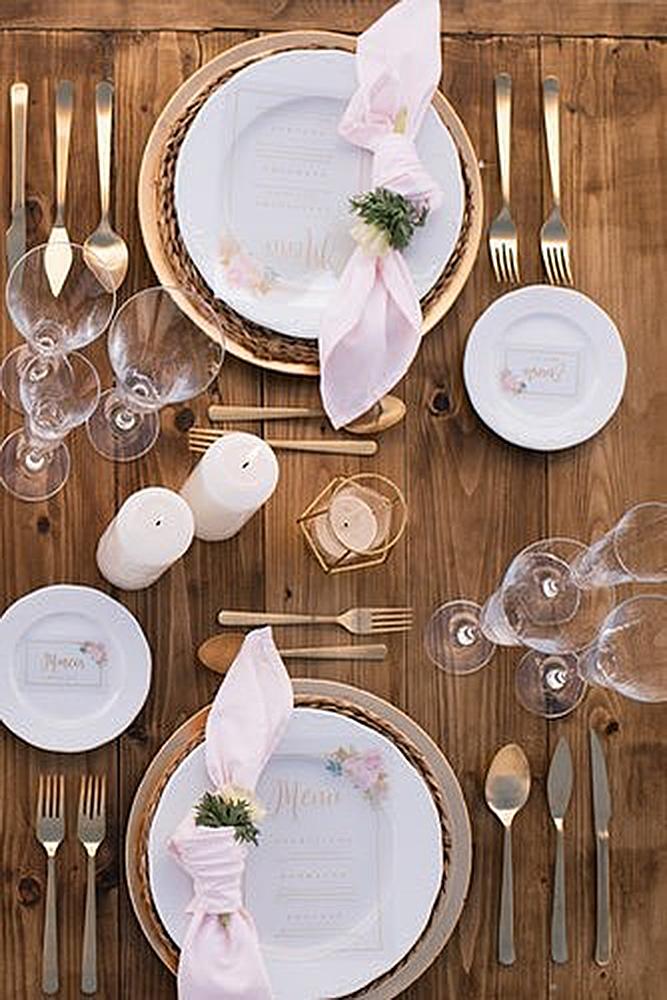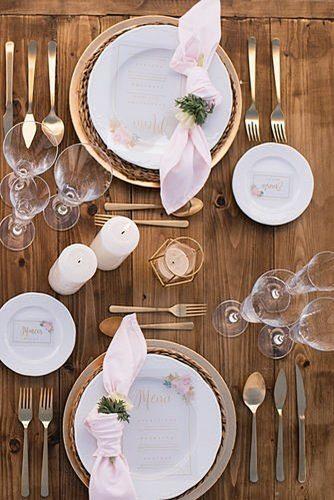 To add that outdoor element to your table setting, you could add nautical elements like driftwood, glasses, and linen, especially for a seaside ceremony. This will add some texture and personality to your décor for a great table setting for wedding receptions.
Unique table setting design
Source: rockandstoneweddings, handletteredmarket, ashleypaigephoto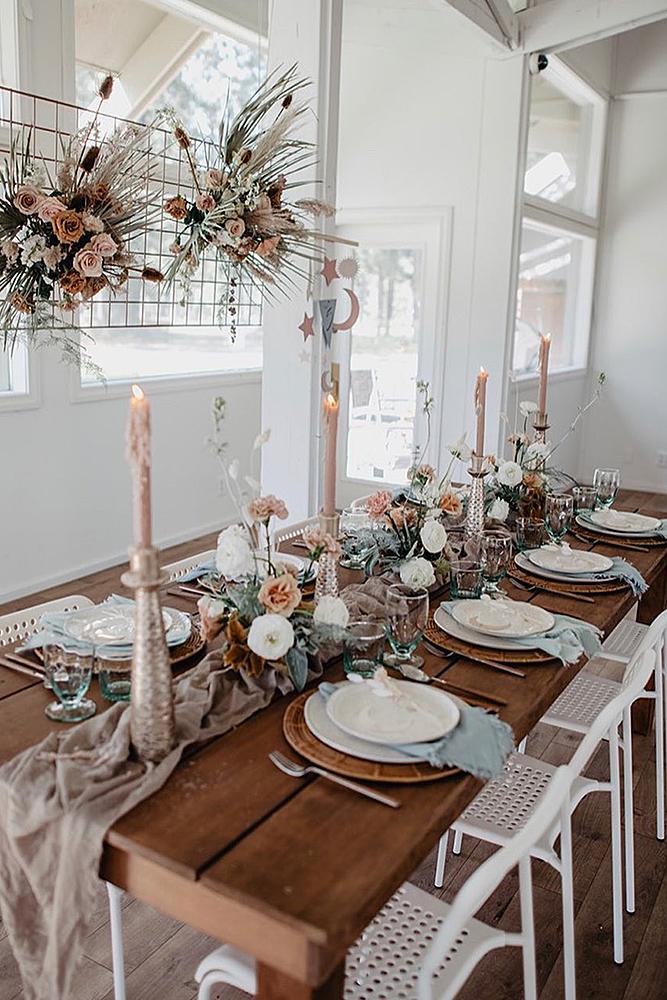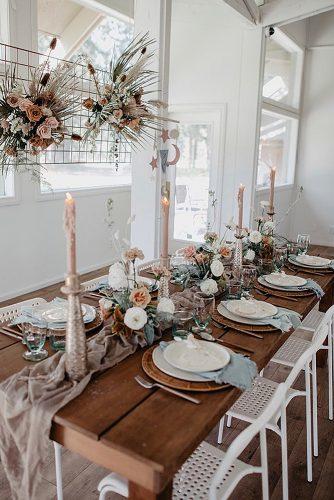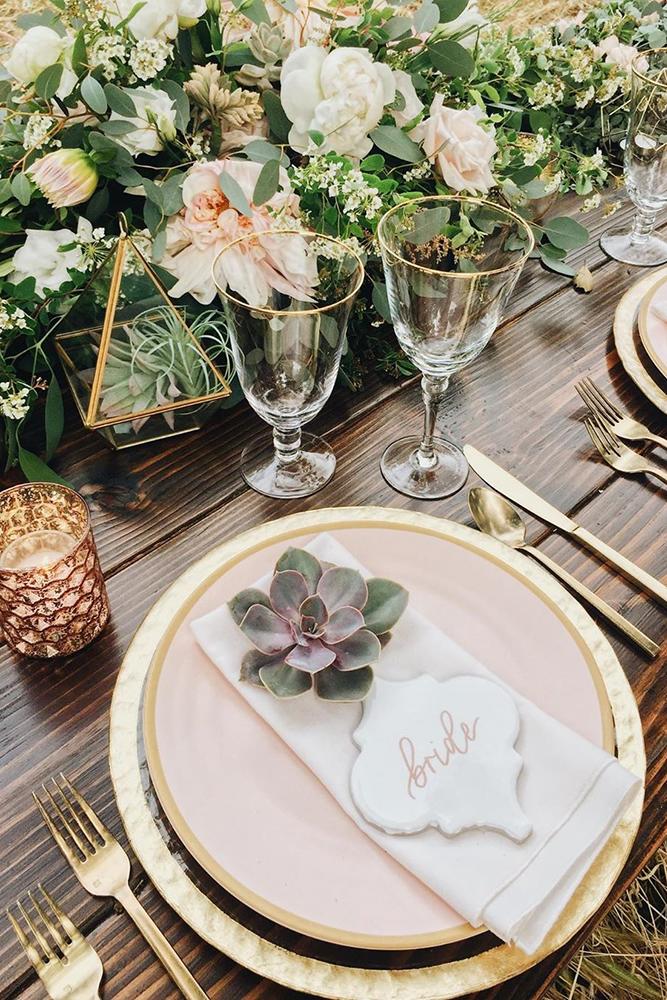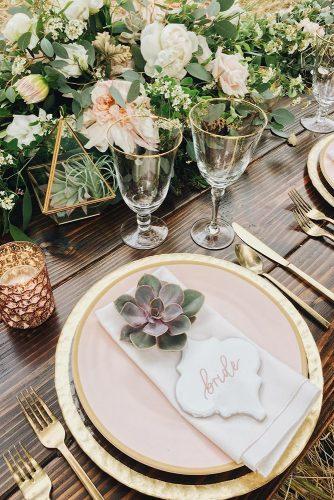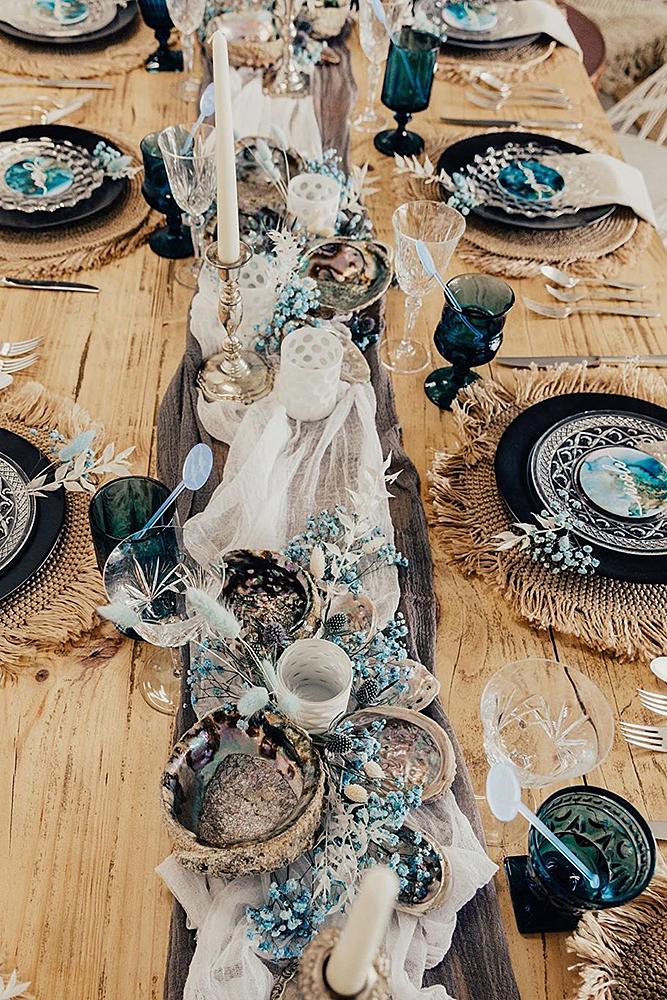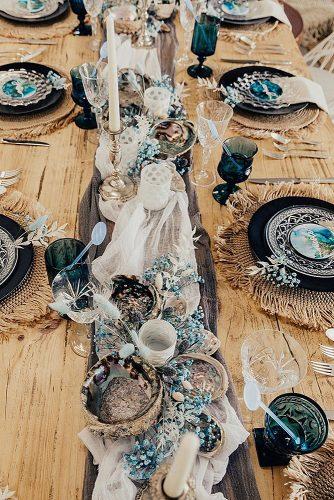 For something unique, you will have to think outside the box. Go to a flea market and see what calls you. Brass bracelets could be napkin rings, you could get lovely colored candles, agates, and scarves as table runners. Things like this would definitely stand out and could create romantic wedding table settings.
Simple wedding table settings
Source: j29events, nicolsonrussell, atmosphere.fotografia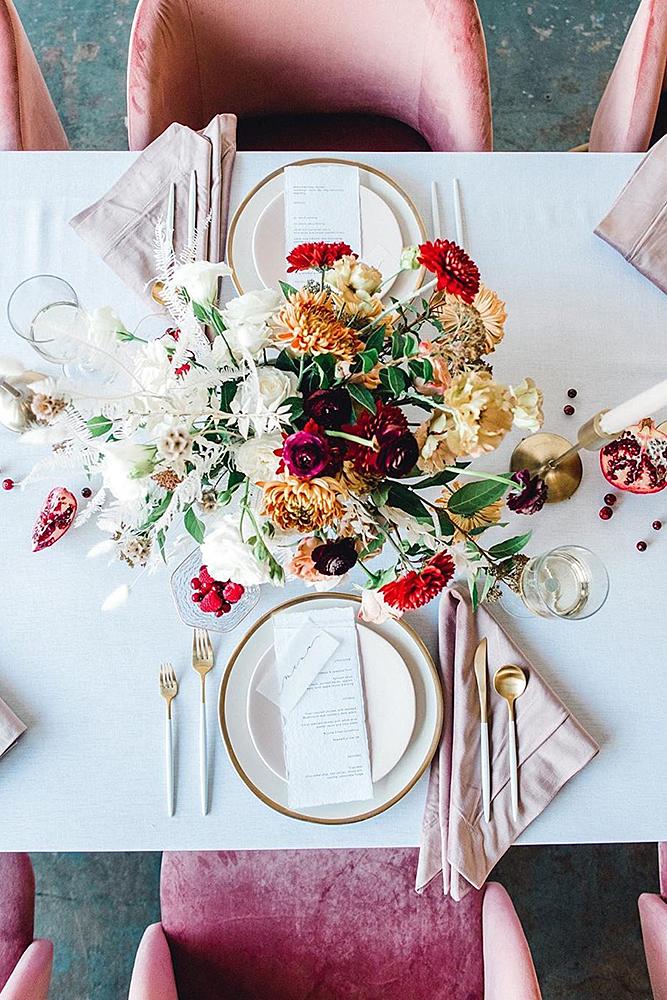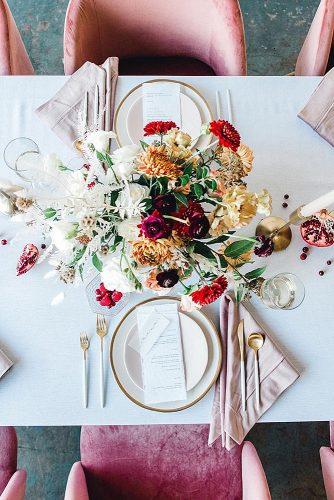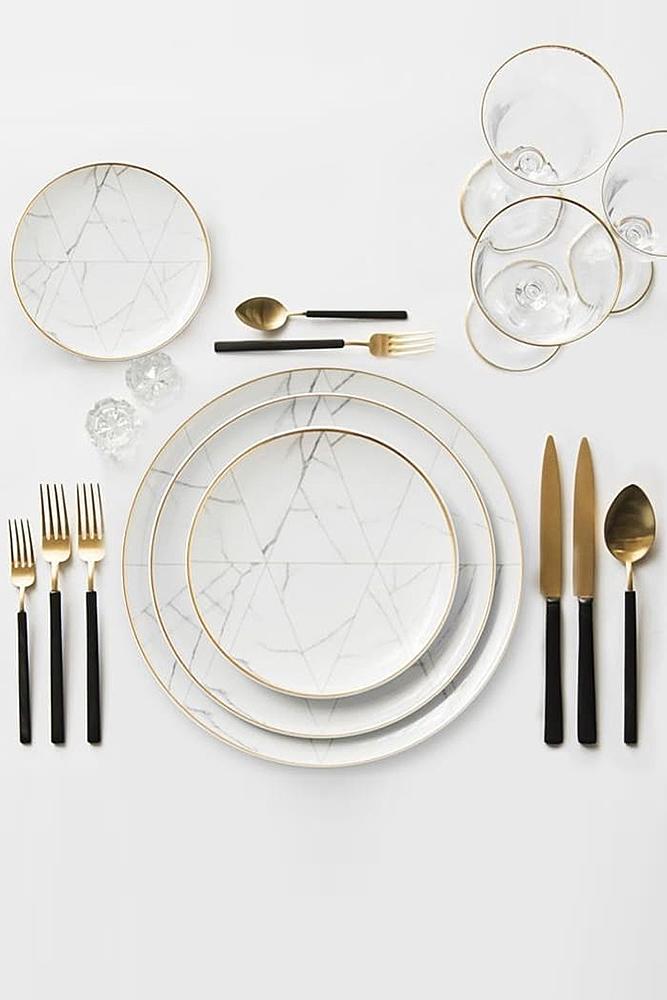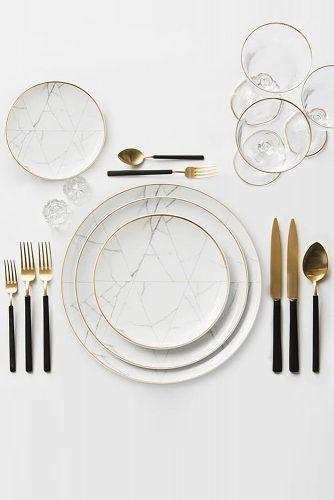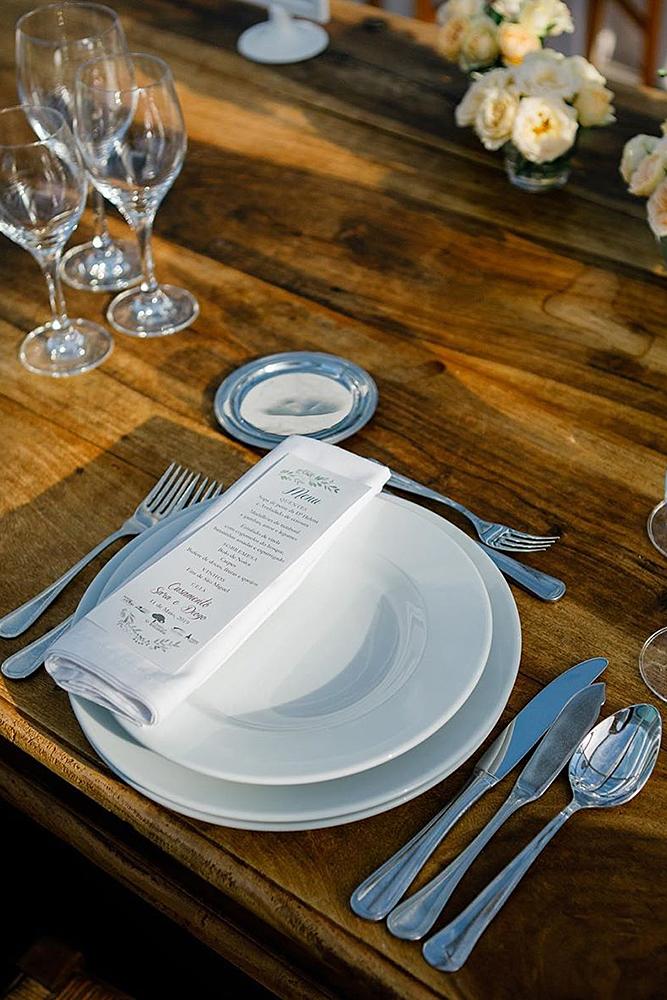 Less is more most of the time, and a simple setting is always a classic. Traditional China, gold votives and neutral linens are the type of items you will need to create this timeless look. For wedding centerpieces, you could have peonies, roses, privets or scabiosa.

Table setting for buffet wedding
Source: cammybespoke, ediblesins, tonyscatering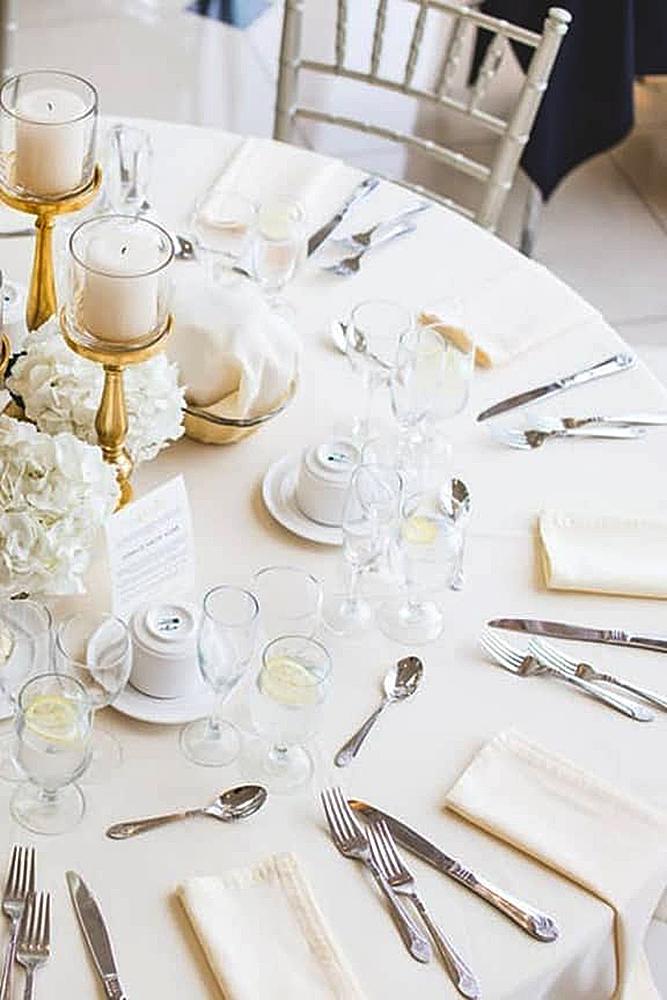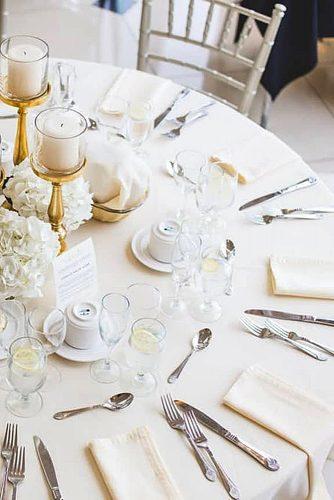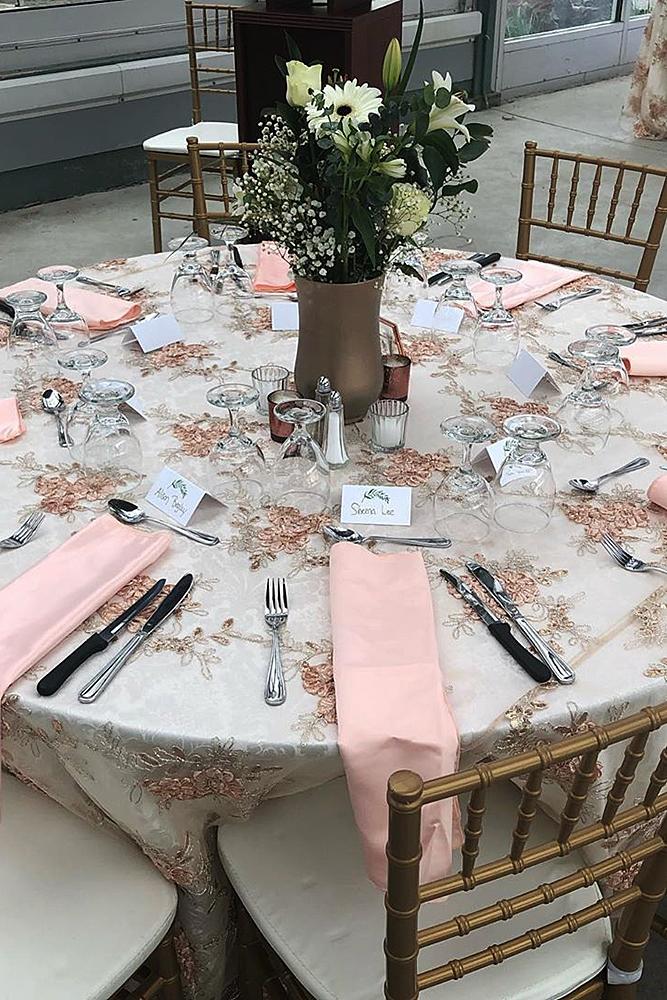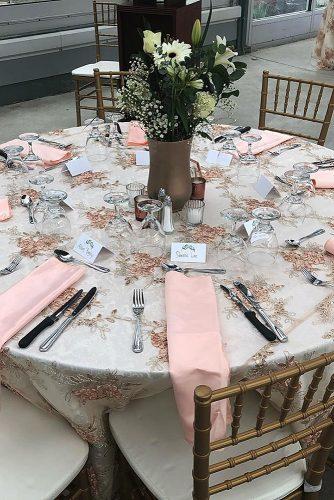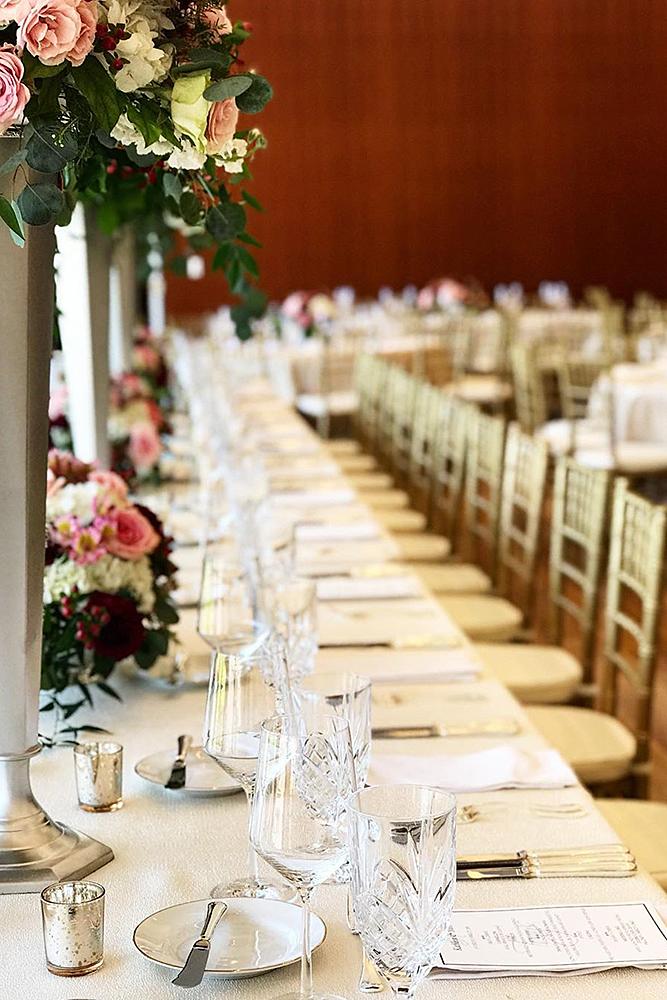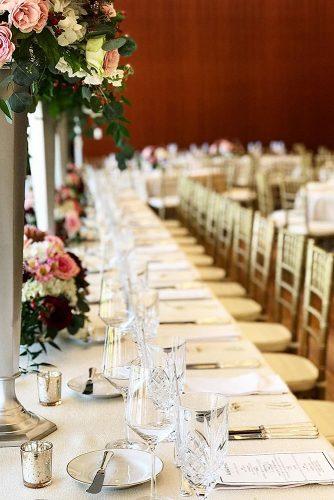 For a buffet wedding, you would have to prepare much in advance. The recipes, the location of the buffet table at the venue, everything. Each detail would have to be well thought out so that dinner can go on without a hitch. This also involves the table setting, so decisions like placing side dishes after entrees would have to be made.
When setting your wedding tables for a buffet it is best to use risers to create a variety in height for when you stack the plates. A simple one to use would be soft drink crates. Placed on different areas of the wedding table, they would give an interesting visual effect.
It is also a good idea to place the cutlery at the end of the buffet line, so guests have their hands free while serving. They can get the cutlery when they truly need them, in the end, without having to worry about dropping them.
Another idea and this a money saver is to place the more expensive cuisine like fish and meat at the end. Guests will definitely have these in smaller amounts after having selected other food like sandwiches and pasta.
[hellomybanner]
Table setting without plates
Source: irenemingot, vowsweddingplanning, tonyscatering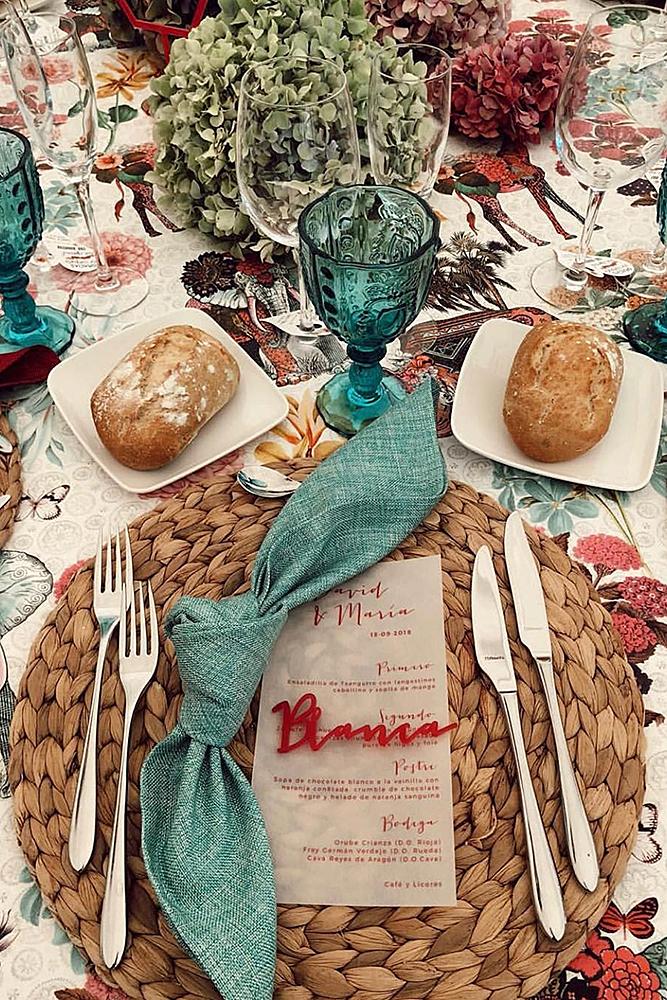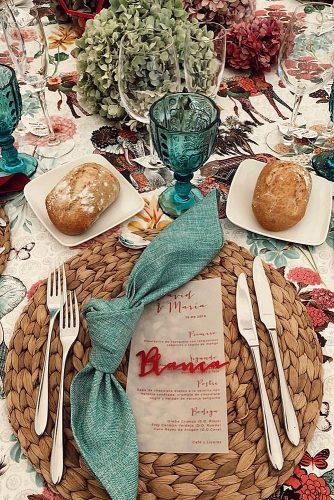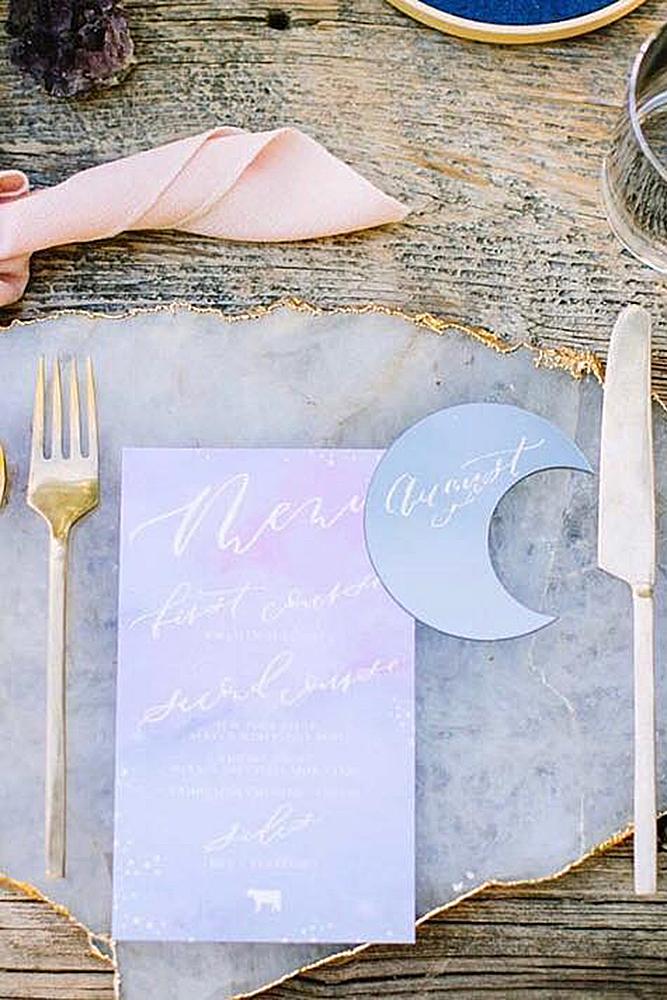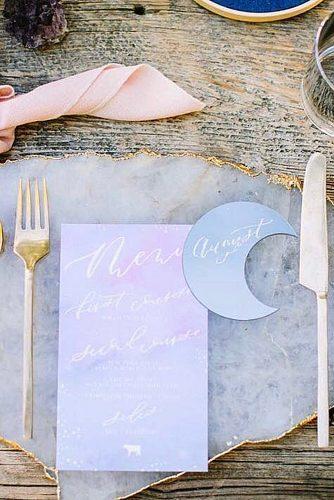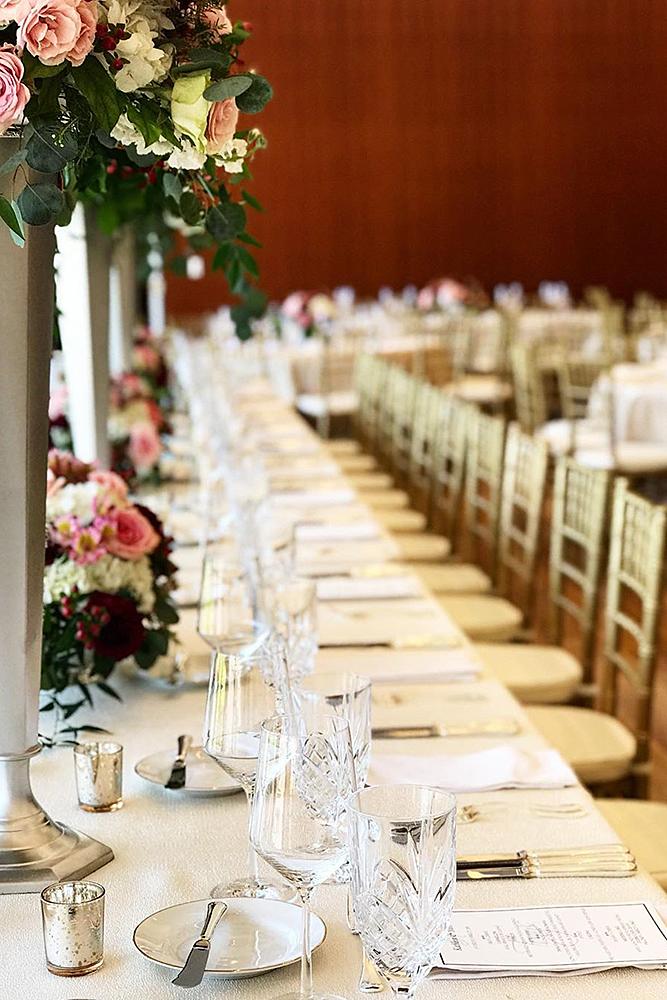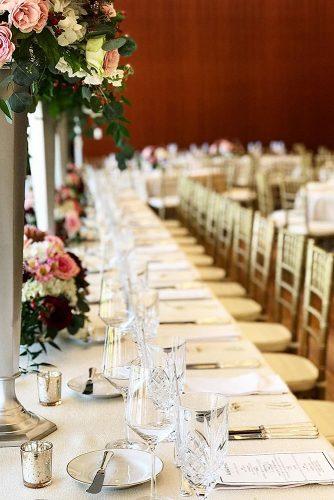 For a truly unique and bohemian feel, you could set your table without plates. Decorate wooden farm tables with pomegranates, roses and olive branches. Don't forget your napkins, you could place guests favors atop each one for that true rustic vibe.
Basic Wedding Table Setting
Source: maison_options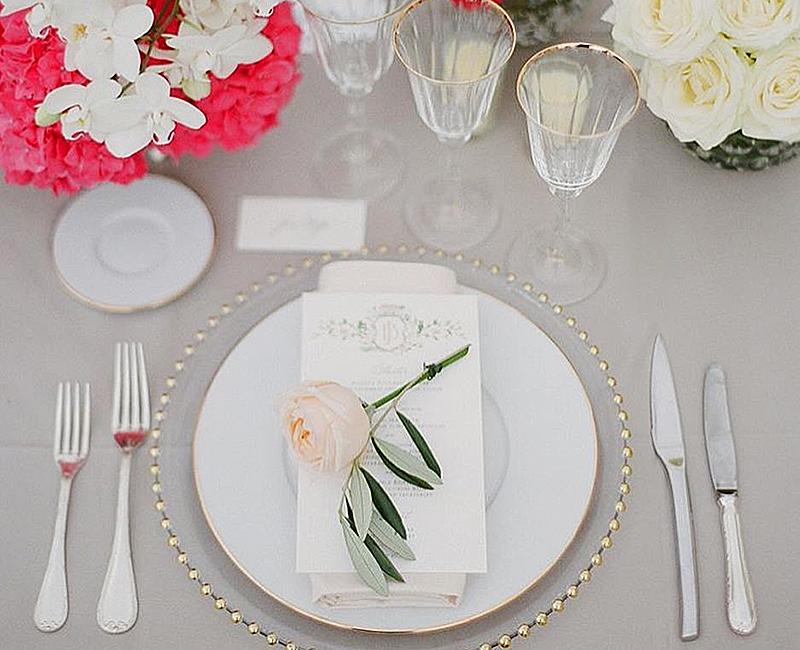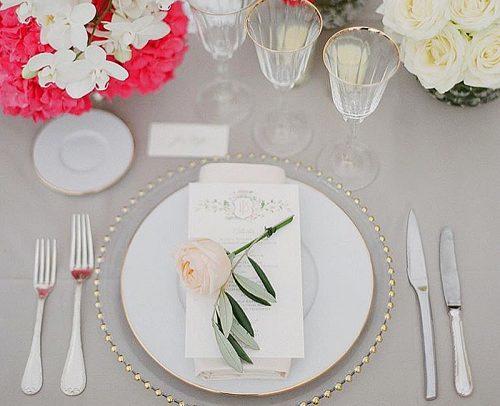 A basic table setting is a typical classical setting. The order is (left to right): fork, plate, knives, spoons. For basic and inexpensive table setting you can use a fresh flower as a decor. Your guests will totally love this!

Formal Table Setting
Source: littlefeathersldn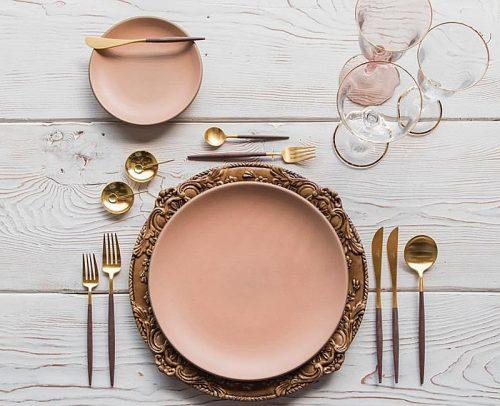 There are steps to setting a formal wedding table. These are:
Make sure the forks sit below the bread plate and butter knife.
The dessert spoon and fork sit below the dinner plate.
Set the stemware in a way that forms a triangle. The knife is below the water glass with the white wine glass to its lower right, all below the red wine glass.
The forks to the left are for the main course and the salad.
On the right side of the plate, from the left, are the dinner knife and soup spoon.
The napkin can be set under the forks to the left of the plate, or to the left of the forks. The napkin can also be placed on the charger or center plate.
Casual Table Setting
Source: cozy_linen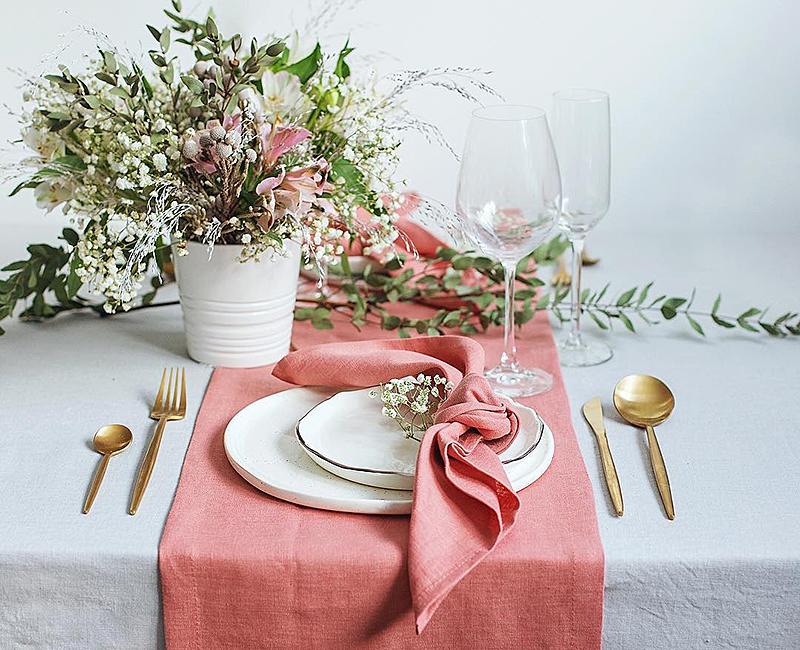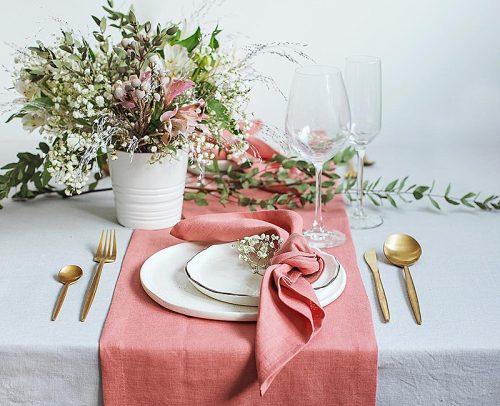 A casual table setting is exactly as it sounds, casual. So it can be relaxed and follow your wedding theme without being too rigid. You might want to try tie and dyed table runners and simple napkins. You could also use copper flatware or any of your choice, with olive branches for décor. True casual style.
To help you keep in mind main rules on a table setting, we've made for you table setting etiquette infographic. Click "Pin It" and save!

Wedding Table Settings On a Budget
If you are on a budget, you would have to create your fairy tale wedding, but at less cost. There are certainly a few steps you can take to cut cost and not break the bank.
Don't cover your tables. The design of your tables could add to the beauty of your table setting.
Dress up your table with a lot of greenery. This is more cost effective than purchasing flowers.
Re-use the flowers from your bridesmaids' bouquets for the table setting in addition to the greenery. They won't need the bouquets after the ceremony after all.
It doesn't have to cost a fortune to set your wedding table. You can still have a lot of detail but at a fraction of the costs.
The beauty of your wedding table settings adds a lot to the total décor of your wedding. Whether you are on a budget or not, it is a great idea to decorate in line with your overall wedding theme. When you have your theme, take some time to browse pictures of wedding tables around this theme; this could help too. Either way, we hope that we have been able to give you sufficient wedding table setting and even centerpieces tips to inspire ideas for your setting. However, if you're having a unique, casual or simple table setting, then the world is your oyster, as they say.