When thinking about wedding cake designs, some couples want nothing to do with the ordinary. They prefer to find something new, trendy and out of this world. Some others prefer something minimalist and clean with angles, perhaps with a futuristic look. Either way, the cake should reflect the overall theme of the wedding, as well as their values?
Well, if you are one of those couples without a clue of what you want and you're stumped for wedding cake ideas, you have come to the right place. We have awesome wedding cakes; mouth-watering creations from naked cakes, to rustic designs and even geometric shapes with all the angles. Cakes that are tasty and good to look at, at the same time, which will give you lovely wedding images when photographed.
Gather as many cake ideas for wedding and get tons of inspiration that you will need to create your personal and perhaps even original design. From detailing with intricate piping, to hand painted details, and modern designs with delicate flowers. Your guests will be obsessed with every one of these pretty and modern designs. Finding just the right cake design can be a skill on its own. And we hope that with these, you would be able to create a concept to present to your cake baker, for that absolutely amazing wedding cake.
Tumbling Orchids
Give your cake a plain background and add depth by including a cascade of realistic orchid blooms. Mirrored in delicate details on individual tiers, the flowers tumble from the top or middle part of the cake down the bottom. Doesn't necessarily have to be orchids, you can choose either one of your favorite petals in any shade of color for a beautiful, and yet edible creation.
Source: beyondinfinitiphotography via Instagram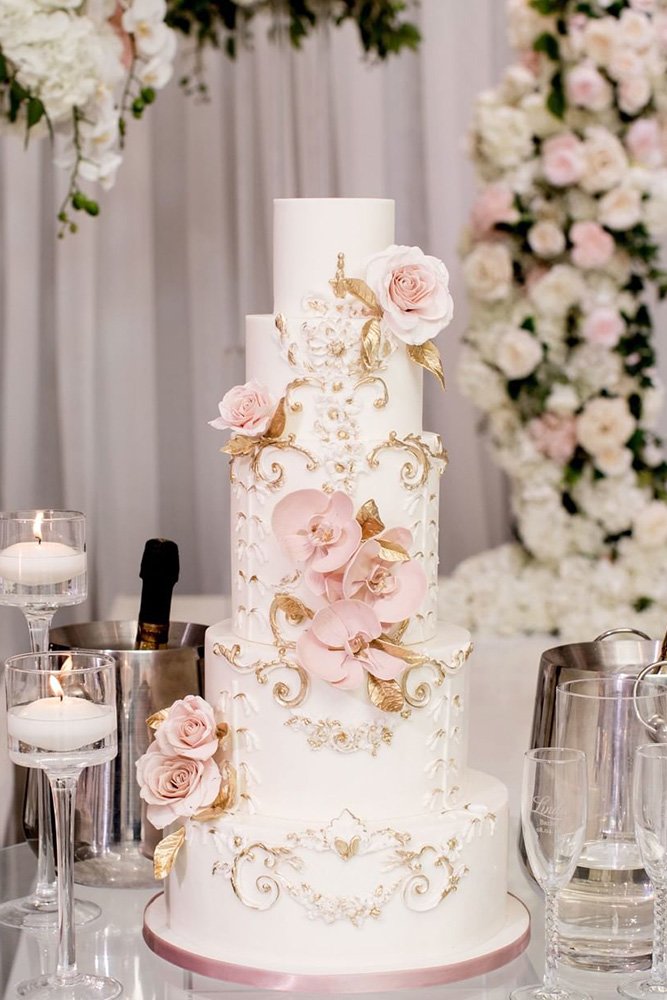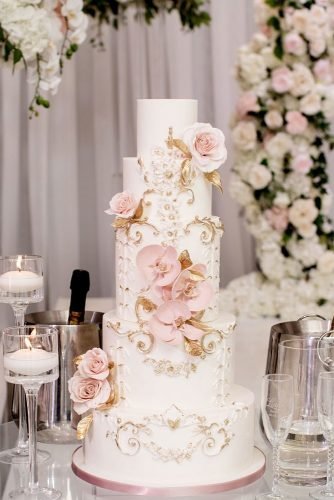 Classy Gold Details
Add a metallic look to your cake with gold details in hand painted watercolor tiles, perhaps with just a hint of gold. Or you could decide to go heavy handed and allow the gold reveal just a hint of the white background color. Finish it with an acrylic cake topper for that classical wedding cake.
Source: sugarsugarcakeschool via Instagram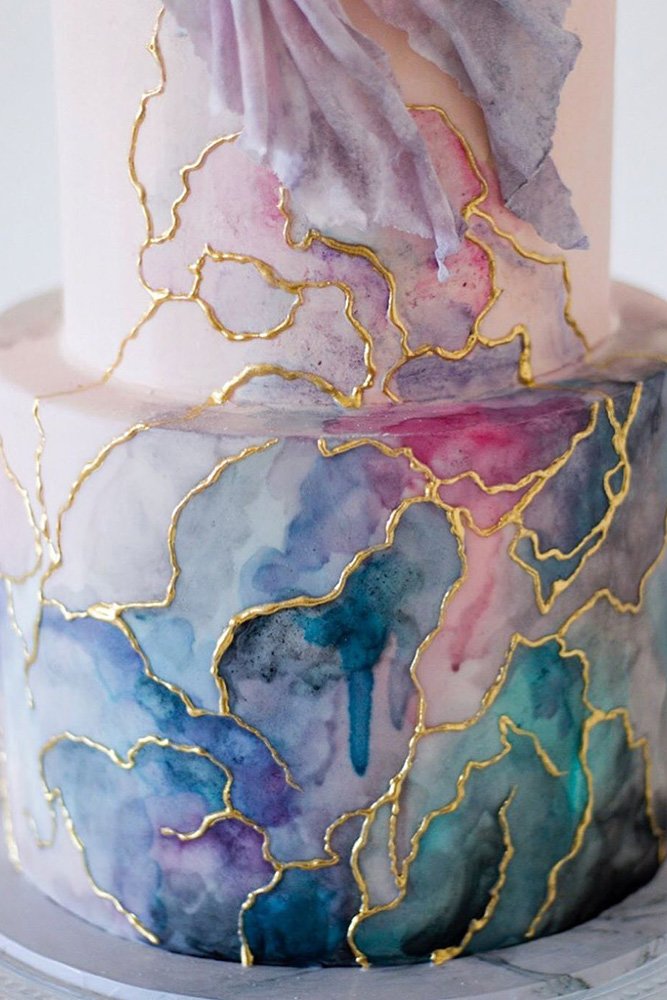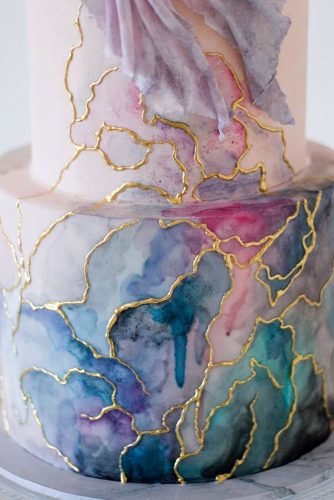 Simple Wedding Cakes
Choose a simple and minimalist look by deciding to design just one layer of your cake, whether it's two or three or even more layers. The contrast would be enough to create an eye catching look. Choosing to design just one tier does not take away from the beauty at all; instead it gives the cake an added elegance. Cover the chosen tier in a three dimensional eyelet design, dragees or even flowers. Also, if you're thinking cheap wedding cakes ideas, this might just be a winner.
Source: hayleyelizabethcakedesign via Instagram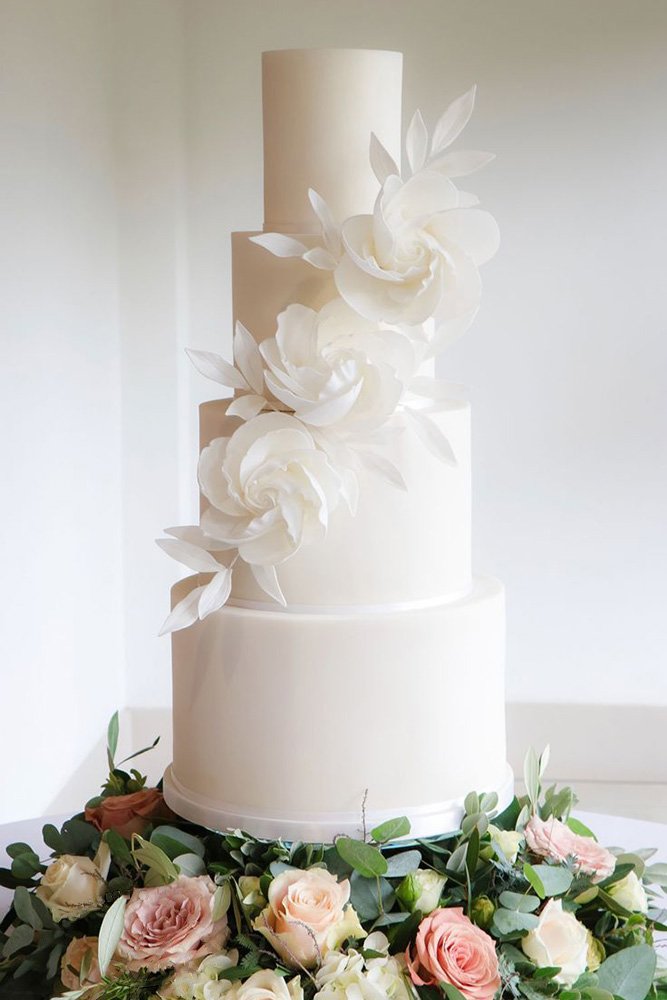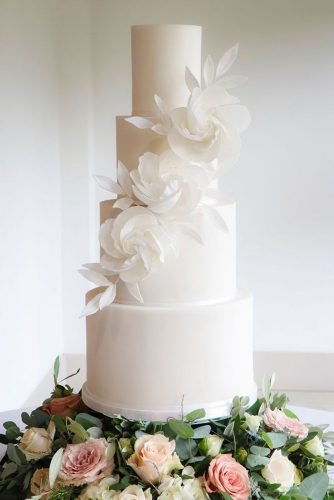 Abstract
For a true work of art, you could have an abstract, out of this world wedding cake. Have the fondant for wedding cake decorated in ultra-fine waves or sharp edges with a smoky look. Give it an ethereal quality if you like, or a colour scheme that would make the wedding cakes decoration pop. With abstract designs there are mostly no rules. You can create almost anything and in any shape you desire. Find a design that works with the overall theme of your wedding and add that extra abstract look.
Source: neviepie via Instagram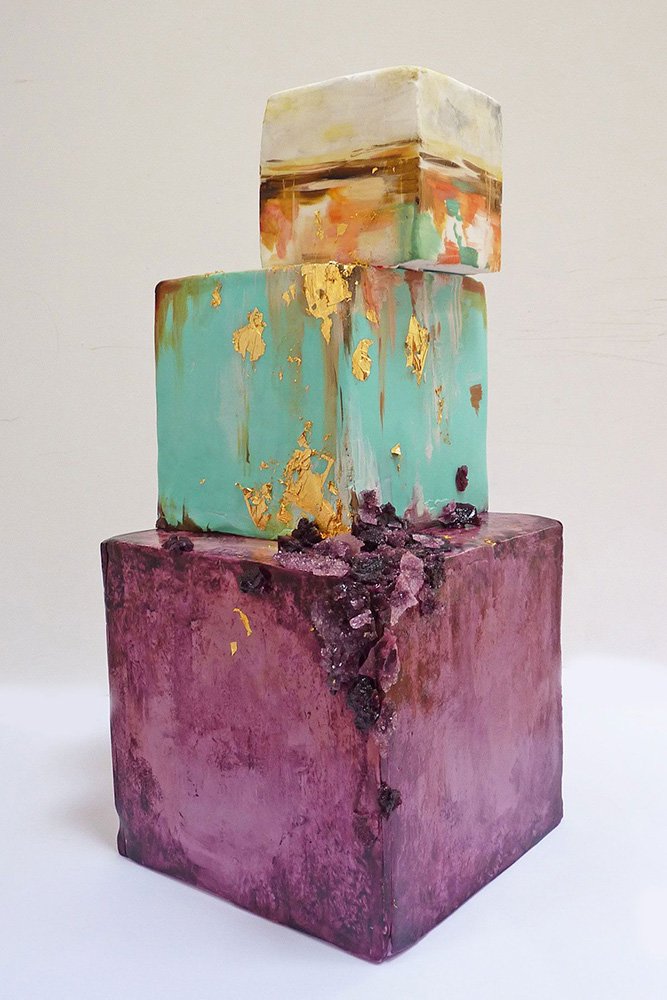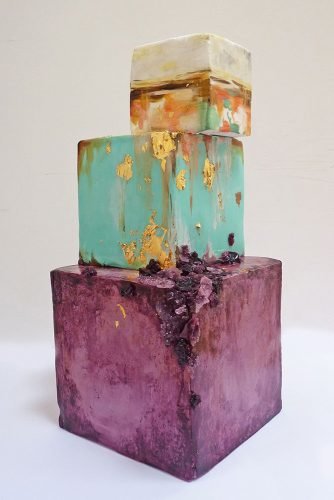 Layered
Decide on a layered cake that's different from top to bottom. It can be smooth and simple at the top, and deep and edgy at the bottom, or vice versa with the top having dimension and complex designs to the bottom being minimalist and plain. Either way you will have an out of the ordinary and outstanding cake.
Source: agistudio via Instagram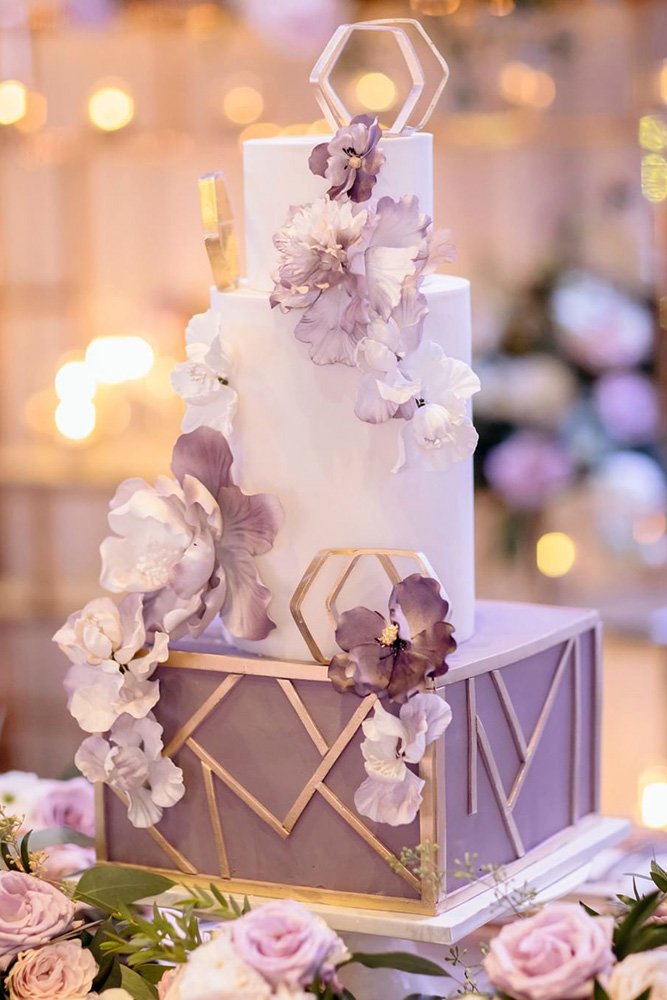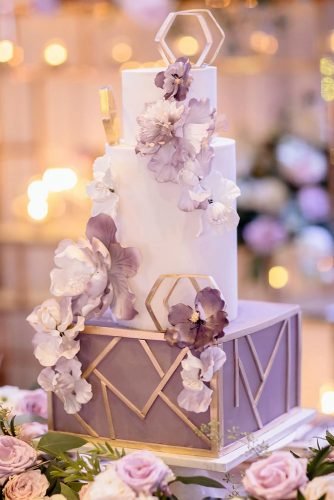 Alternating
Another method for alternating layers of cake, could be to have the varied designed layers, but tie them all together with a tumbling floral vine. With this you have the tiers that switch from one design or color to another, but it all comes together with the cascading floral creation. Some gorgeous wedding cakes have been created by just alternating the layers.
Source: mariamackphotog via Instagram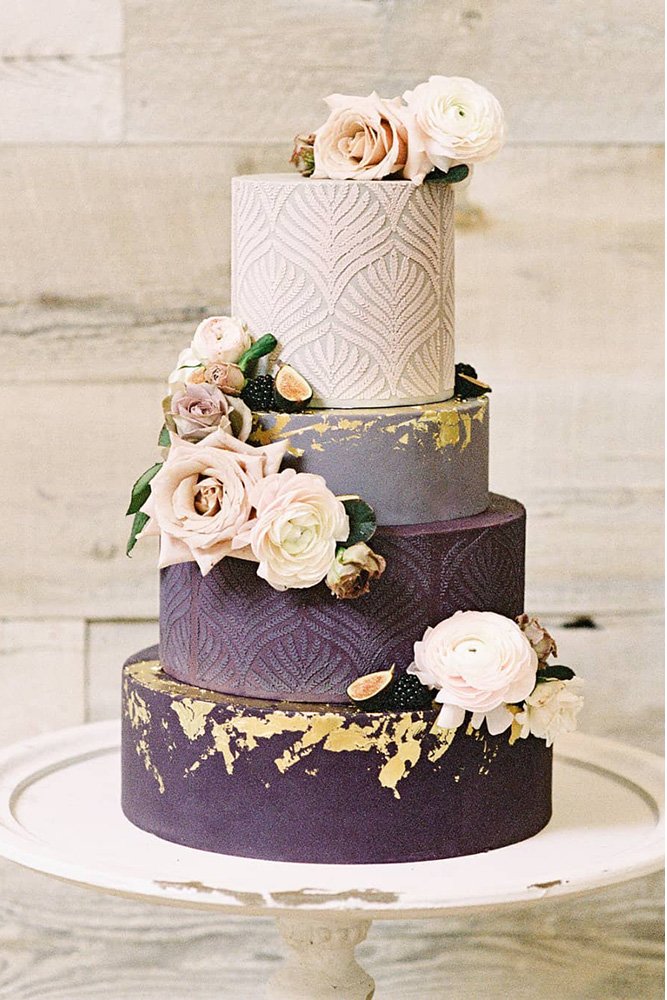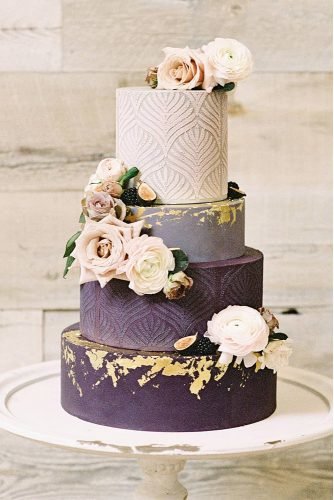 Inspired By The Ocean
Having a wedding on the beach? Consider an ocean inspired wedding cake. Create your beautiful wedding cake by turning a classic white cake into something that looks like it stepped out of the sea; with ocean waves inspired fondant designs, sea shell, sea weed and oyster details, with blue and aquamarine hues. We are only limited by our imagination; and a well designed ocean inspired creation, could look surreal and tempting to eat at the same time.
Source:Hazelwood Photo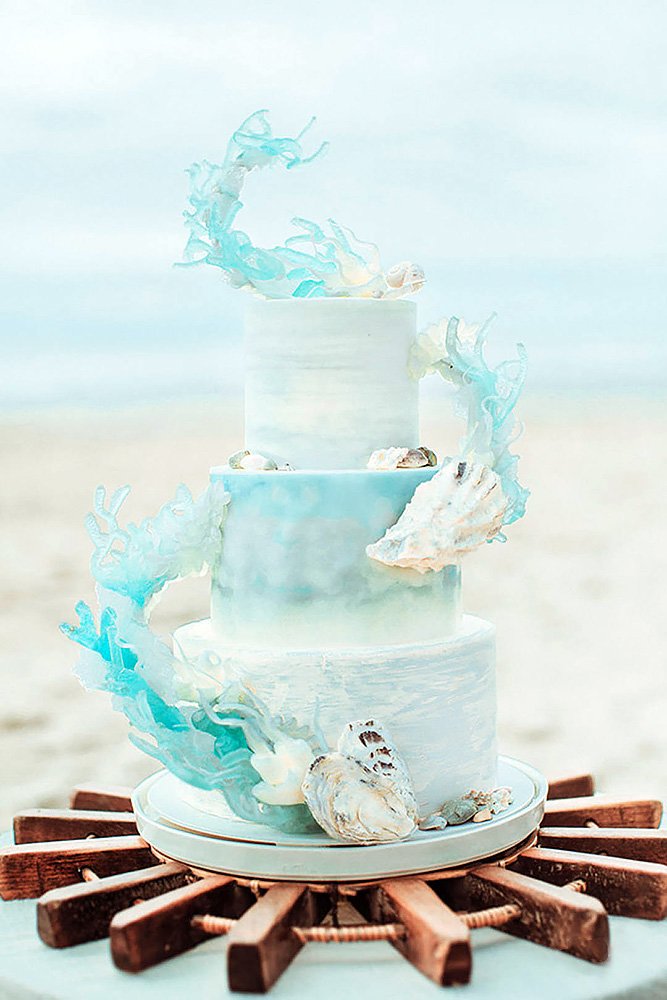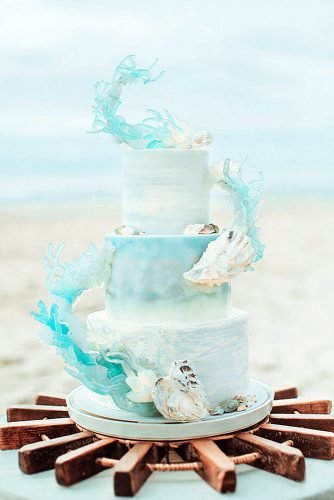 Sprouting Blooms
Turn a simple wedding cakes design into something elegant, with dozens of lifelike sugar blooms sprouting from edges and corners of your multi-tiered cake. Allow the blooms roam free on the cake, or gather them in clusters on each tier. With clean, white tiers, you would be able to balance the floral clusters in a way that they don't swallow up the cake.
Source: elena_gnut_cake via Instagram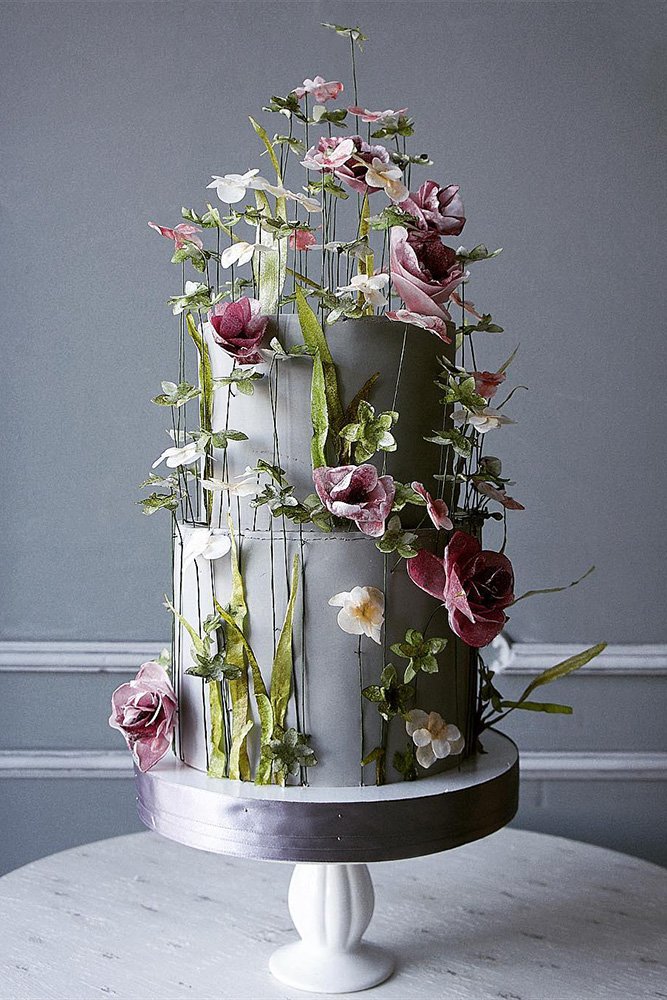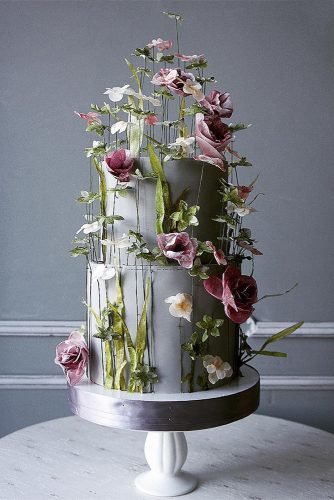 Clean And Bare
For the couple with minimalist dreams, the clean and bare cake would be just perfect for a unique wedding cake. A multi-tiered cake, void frills and overwhelming florals, perhaps just a sparse touch of color or one flower here, another vine there. Sometimes less is not just more, it is everything. There is a lot of beauty in simplicity, and a clean, minimalist cake has its own way of claiming the room and standing out.
Source: Charity Maurer Photography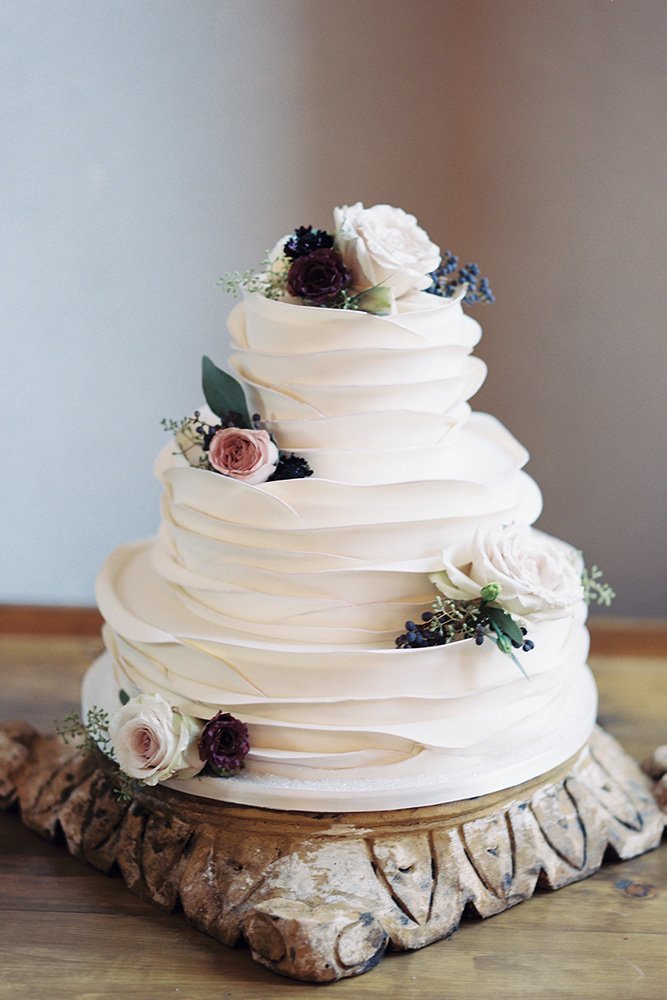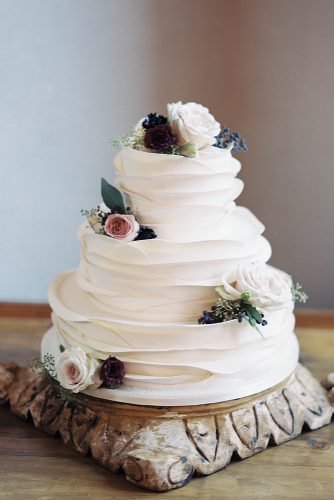 The Naked Cake
Void of any fondant or type of icing, the naked cake has its own special allure. Created bare, it can be designed with elegant flowers, drips of sandwiched frosting, and topped with blackberries, fresh raspberries or flowers. That it is void of frills, doesn't mean it cannot be beautiful.
Source: oobaloosphotography via Instagram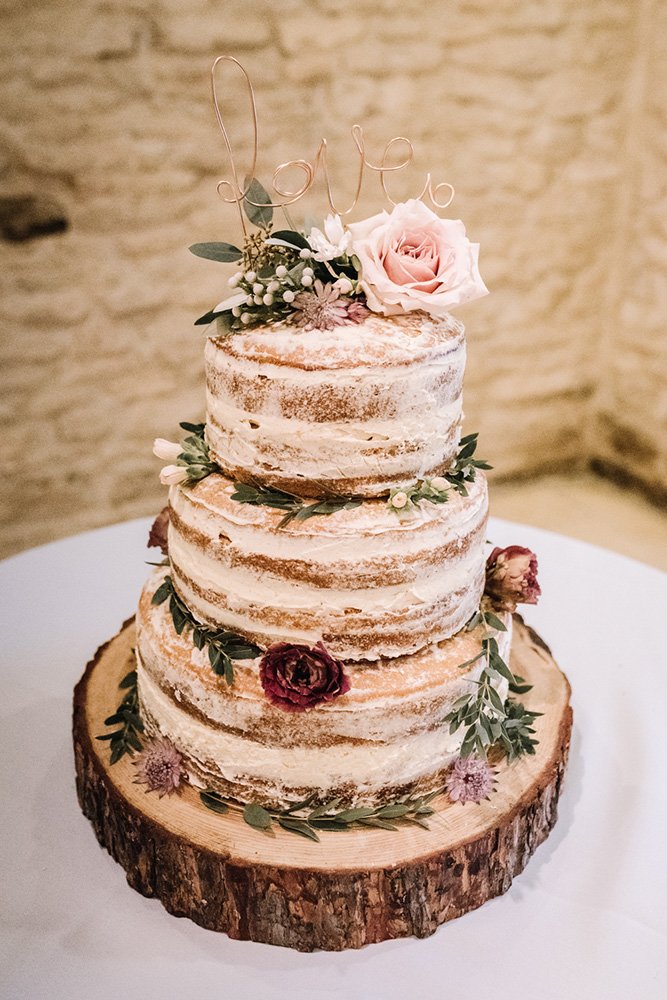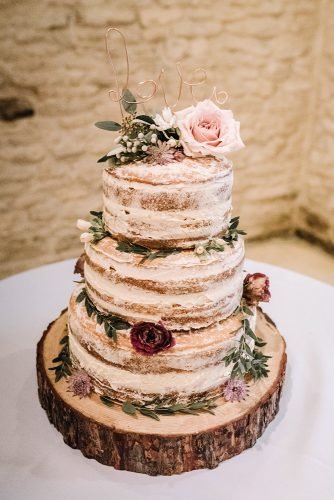 Almost Naked
Not nearly as naked as the naked cake, the almost naked cake has just enough icing to cover its imperfections and satisfy the sweet toothed guests. It's see through and barely their cover has its own kind of allure, giving the cake a different type of dimension as well as a rustic look. This artful and ultra-elegant creation can be topped with berries or pretty peonies. Some of the best wedding cake designs have come out of near naked cakes.
Source: laciehansen via Instagram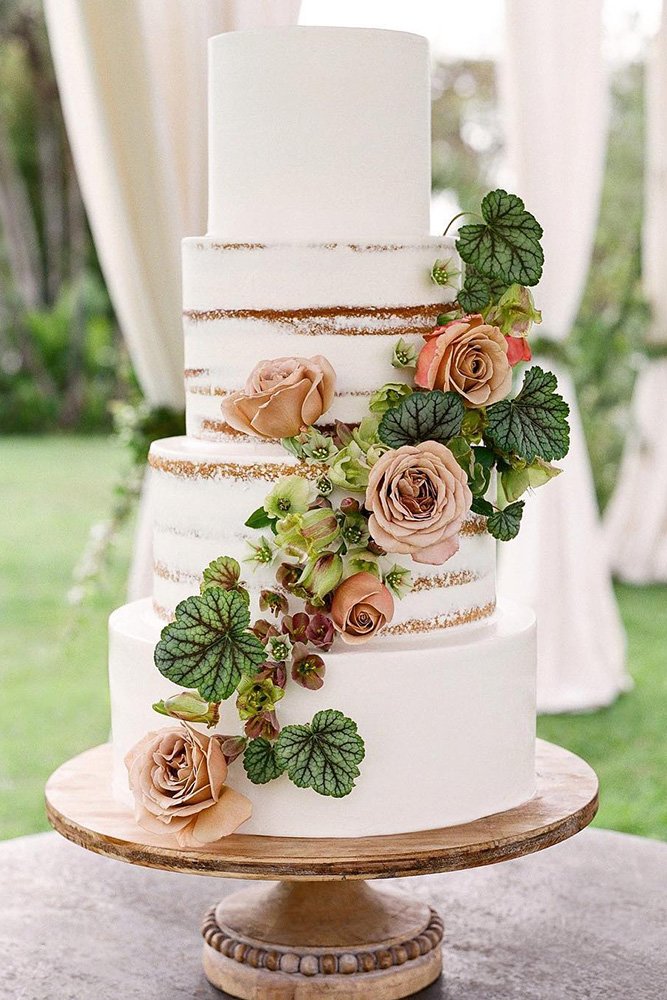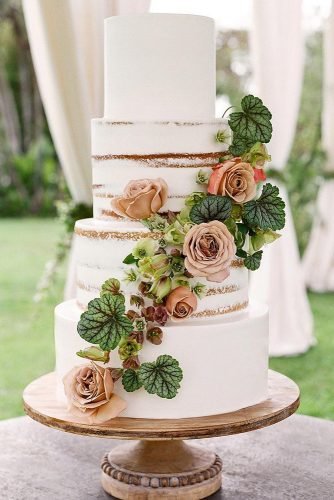 Square Cake
Consider a cake that doesn't have to succumb to the norm of being shaped in a circle and having no angles. This is the square wedding cake. All lines and corners, this cake is not as rigid as it might at first appear. If designed with geometric patterns to emphasize its shape and topped with florals of a soft, delicate color, the square cake becomes quite an elegant creation. It moves from rigid looking, to being sweet and romantic.
Source:MPSG Weddings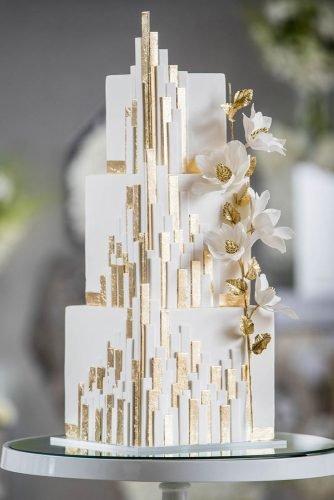 Deluxe Marble
A wedding cake or slabs of marble? Well, it would be hard to tell with this marble cake. Minimalist colors and an iced marble pattern will transform this square wedding cake into a futuristic creation that looks just like marble blocks stacked together in different sized tiers.
Source: Erica Ann Photography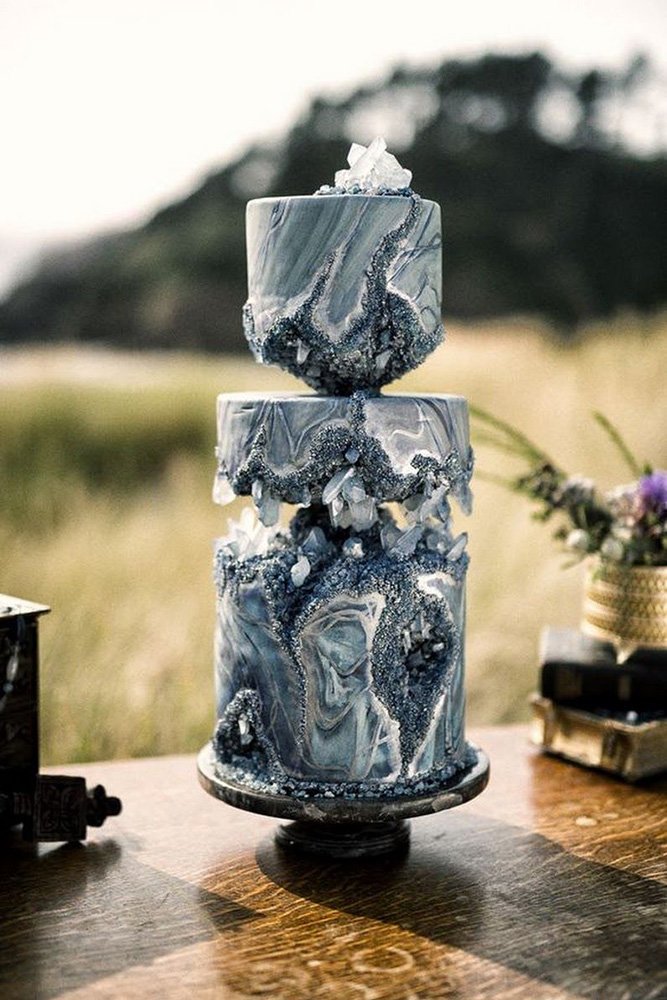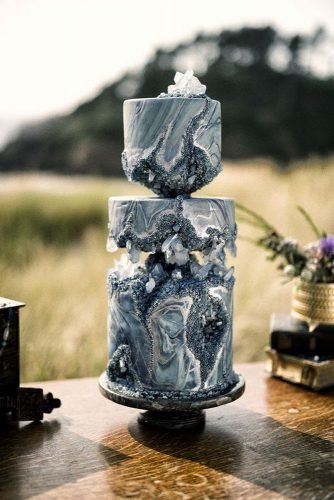 A Personal Touch
Personalize your wedding cake with a theme that means something to the both of you. Decide on the theme, conceptualize it and run with it. It could be a book or place you both love, or a movie. Could be a delicate and heartfelt movie like "UP", or a theme as daring as "Burlesque". With the right color palette, you will be able to achieve something phenomenal.
Source: theloadedcrum via Instagram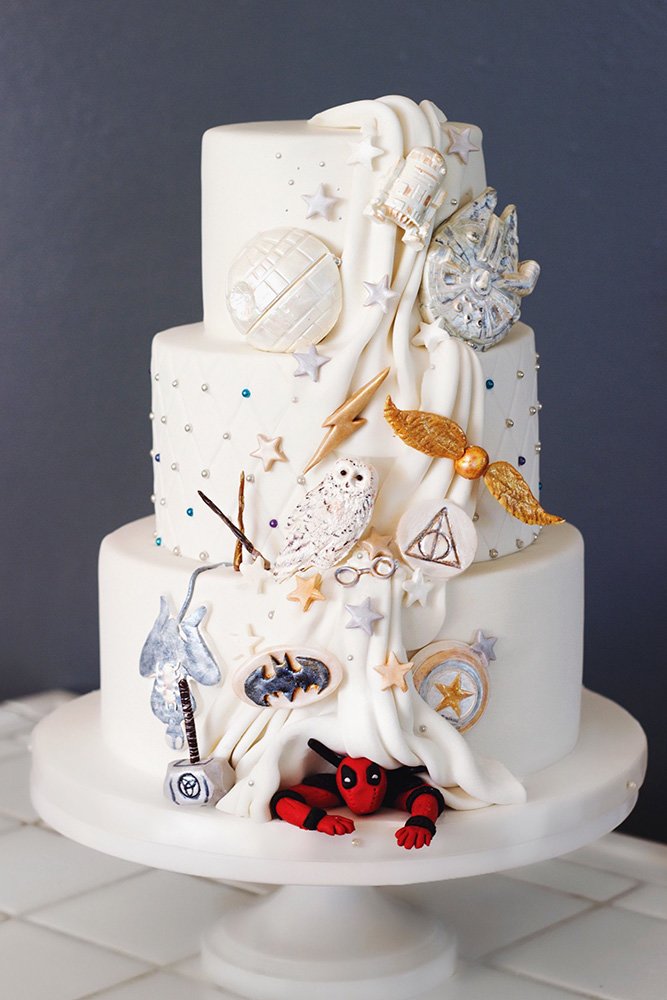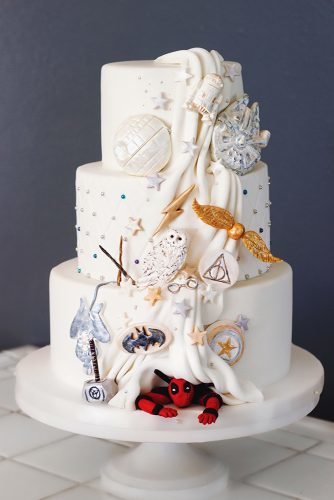 Mismatched Layers
Who says each tier of cake has to be the same size, color and shape? You could create a cake with completely mismatched tiers, from block shape colorful ones, to round, color blocked designs. Quilted ones, to plain, almost naked types. This look would not only be a trend setter; it would most definitely stand out.
Source: Ashley Rae Photography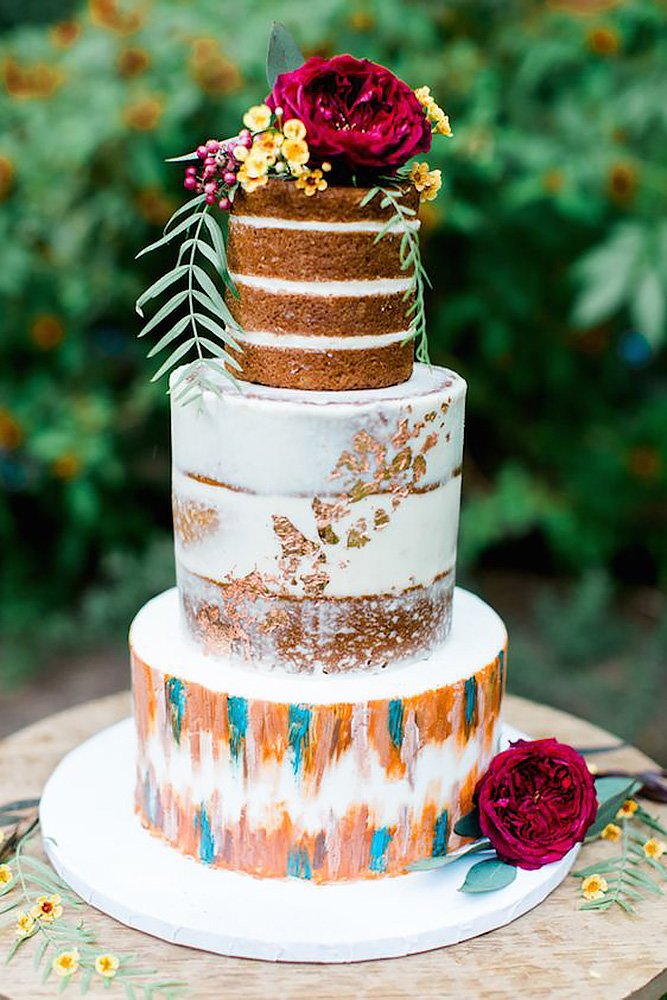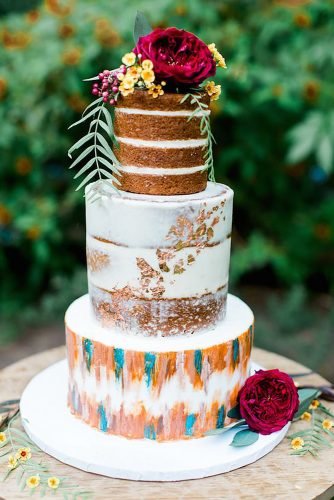 Deciding on the specific design for a wedding cake can be confusing sometimes. However, after you have chosen a theme and venue for your wedding; pairing that with your budget and the things most important to you, things might begin to come together. Something else that could help quite a bit is a collection of wedding cake ideas to keep you inspired and give you a choice of pretty wedding cakes.
While the exterior design of the cake is important, the contents of the cake matter as well, as the proof of the cake is in the eating, no? So, take your time to decide on if you would want the classic fruit cake, chocolate cake, sponge cake, or other type of cake. Either way, you and your guests deserve something that is as delicious as it is beautiful. Choosing a cake for wedding might be just as important as choosing aspects like your wedding dress, tuxedo or even the venue. We hope that we have been able to help make this decision easier, and we wish you the most fabulous and trendy cake that will truly wow your guests on your special day.