Every aspect of your wedding is important, and nothing deserves to be overlooked in the grand scheme of things. This includes seemingly little things like wedding place cards for your guests at the reception. If you're keen on tying every aspect of your décor to your wedding theme and show off some of your personality, perhaps put some thought into wedding place card ideas.
Not to be confused with seating charts of escort cards, place cards enable guests to find their exact seat at their designated table. While they may be optional, they are a fun addition to your overall décor and help a lot with seating arrangements.
Sometimes the little things count even more and here we have a number of options that show you just how. From pretty, discardable place cards, to those that can serve as takehome mementos for your guests. Get to impress your guests even more, and have them seated in style.
1. Simple Chic Card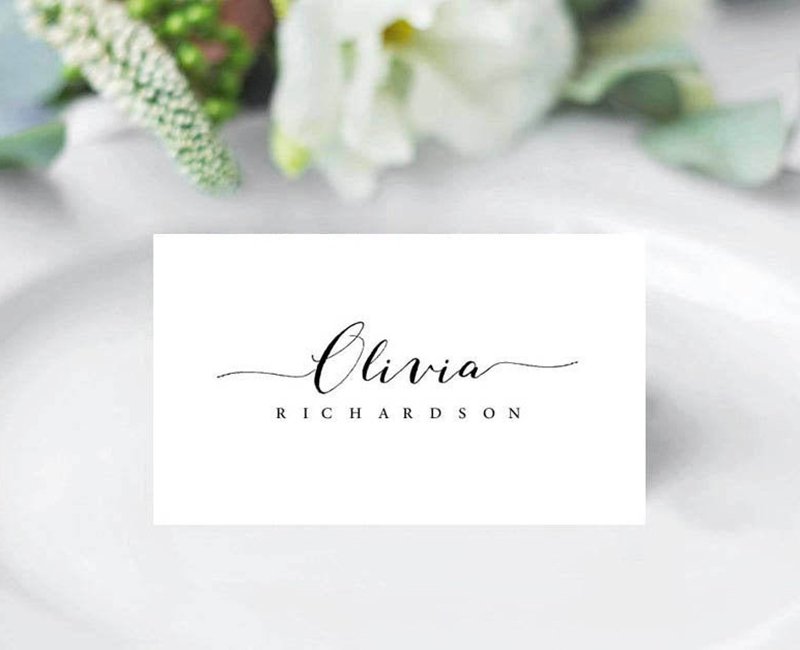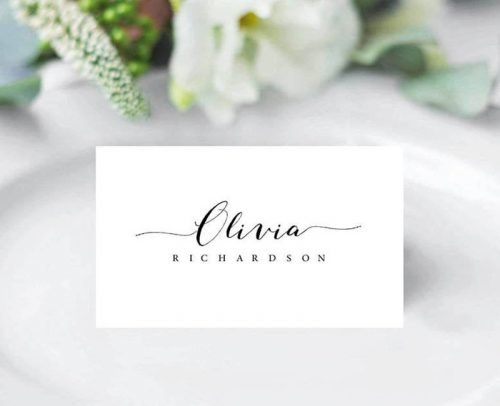 A cute addition to your wedding table decorations, this easy to edit place card comes with a stylish design and fonts. It's a great choice for a minimalist type event, clean, neat and simple. Personalize to your taste, download, and print. If you're in need of simple wedding place cards ideas, this would make the cut.
2. Laser Cut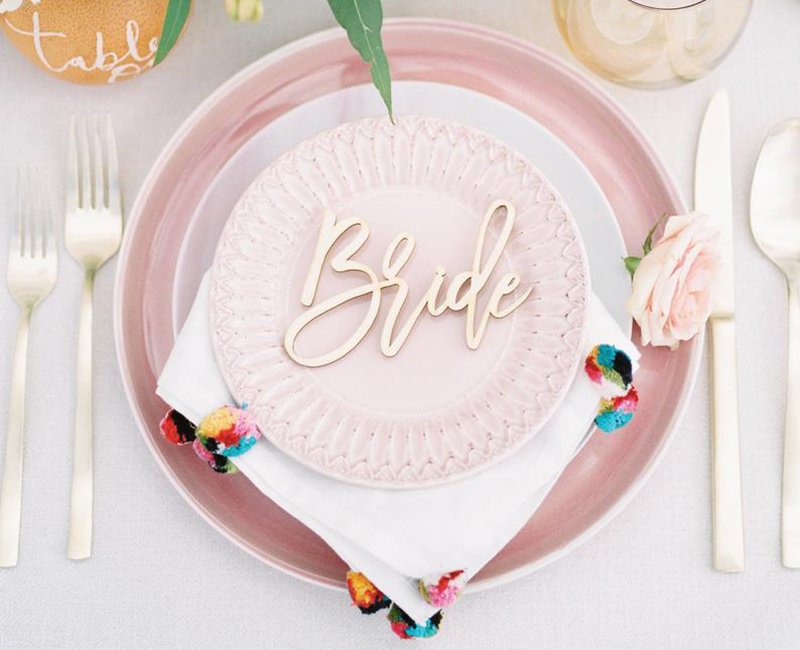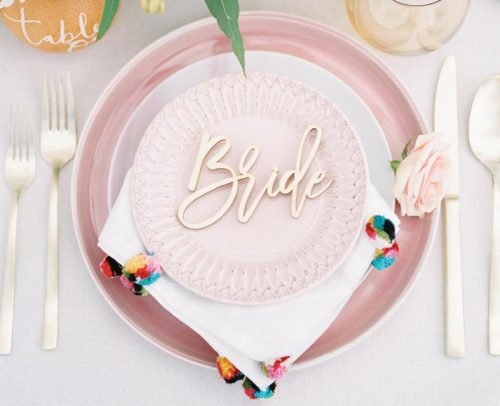 For handmade wedding place cards, consider this one made of birch wood. A stunning addition to your reception décor, it comes in a variety of sizes, and each sign is laser cut from quality wood. A fall theme wedding or rustic wedding would appreciate this for wedding reception place card ideas.
3. Acrylic Place Card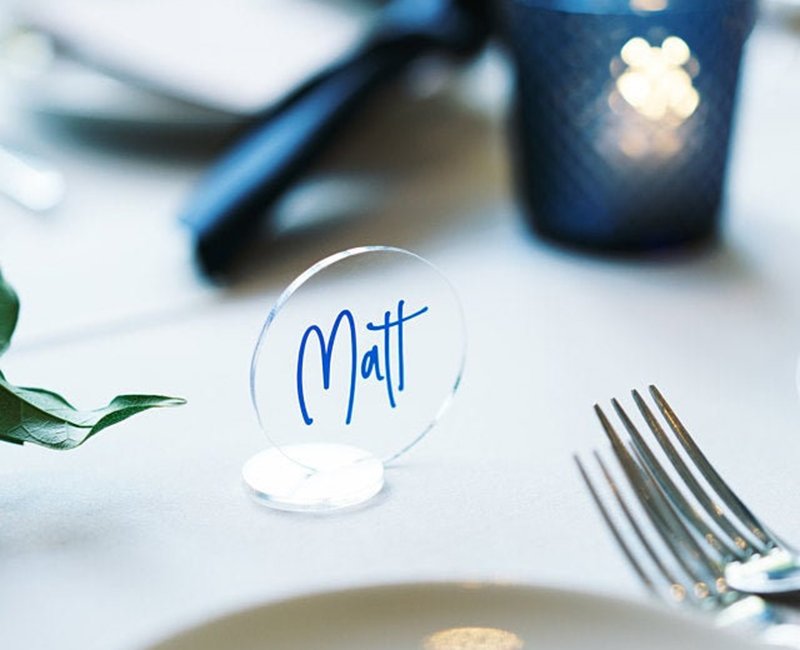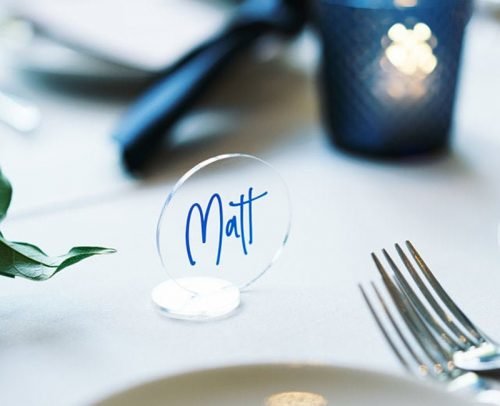 A classic or modern wedding will benefit from this geometric, freestanding, clear acrylic place holder. This beautiful, handmade piece can be produced in a rectangle, hexagon or circle shape, to fit with your overall idea and design for your wedding reception. The perfect finishing touch and place settings for a wedding.
4. Agate Place Cards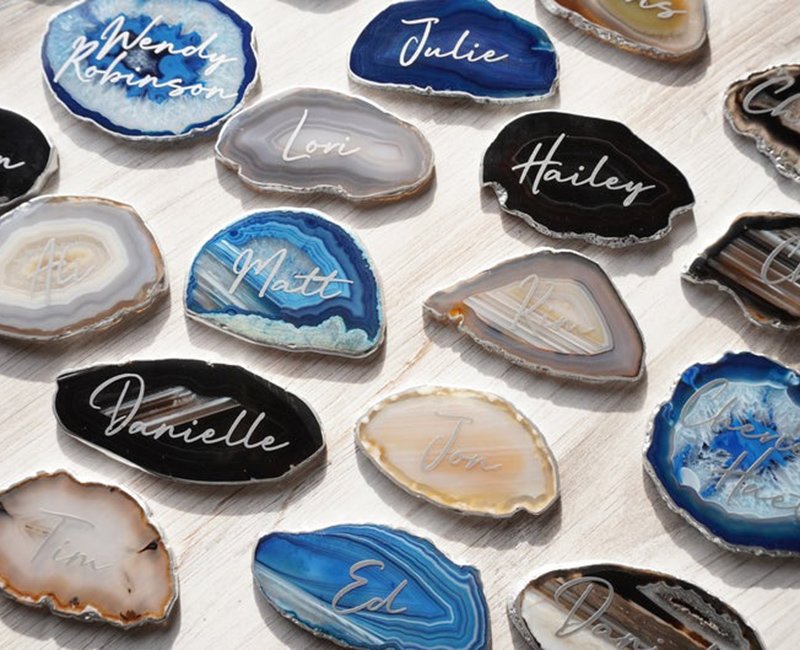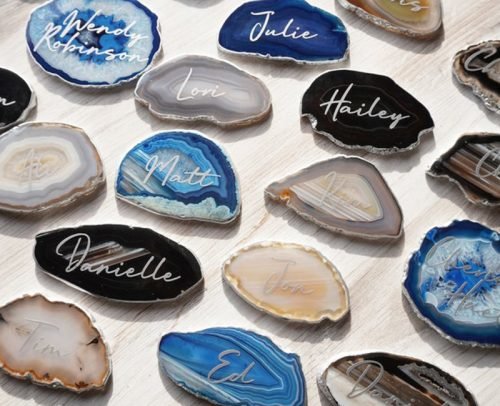 Your search for unique wedding place cards ideas might just have ended with these special handmade Agate place cards. Beautiful agate stones, imported to be used for place settings, are made from vinyl and agate. Asides from being a great wedding placement idea, guests will be happy to take them home as mementos of a special day.
5. Wooden Name Tags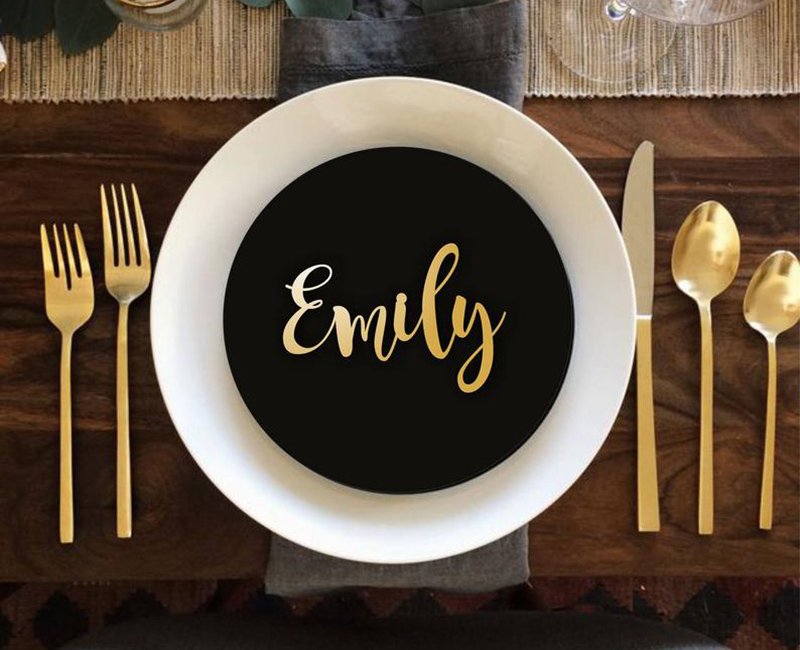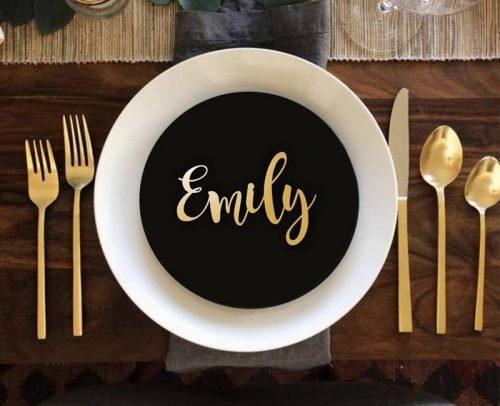 Handmade from beautiful, laser cut wood, this is another great choice to add to the décor for a rustic or bohemian wedding. The special size for this wooden tag makes it perfect to sit on a dinner plate. A most unique choice for place card ideas for wedding reception.
6. Signature Drink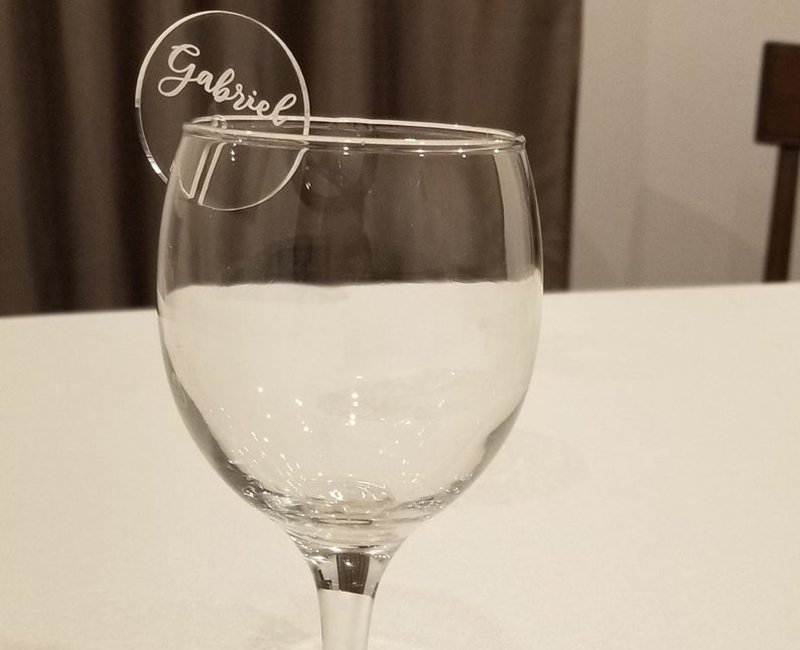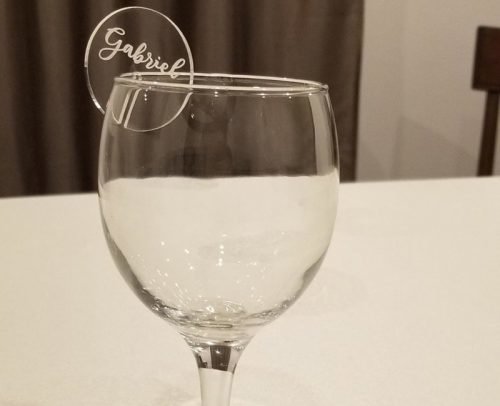 Another unique place card idea for a wedding, this would pair perfectly with your signature drinks if you have any. If you're looking for something special to catch the eyes of your guests, consider this cutey made from clear acrylic. Able to sit beautifully on champagne glasses, they are sure to make your tables stand out.
7. Personalized Mini Nutella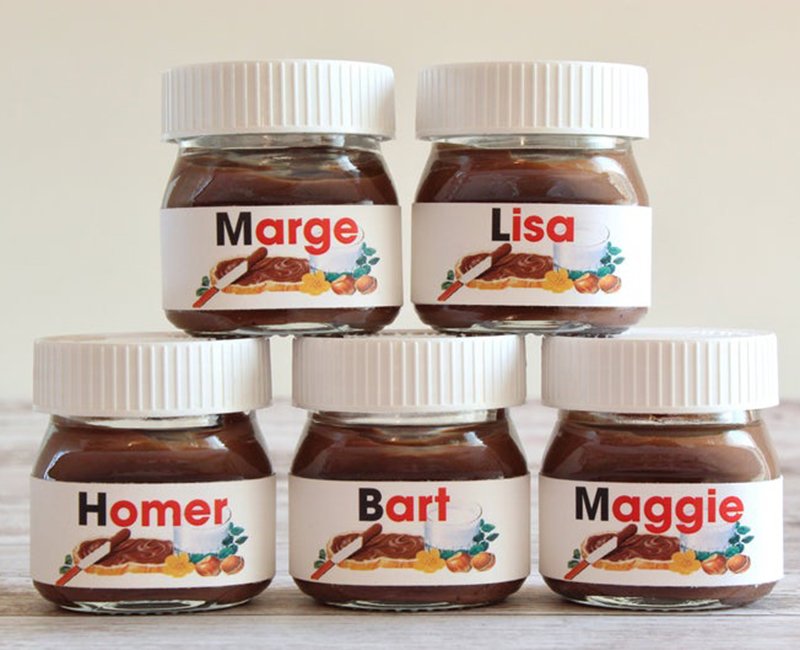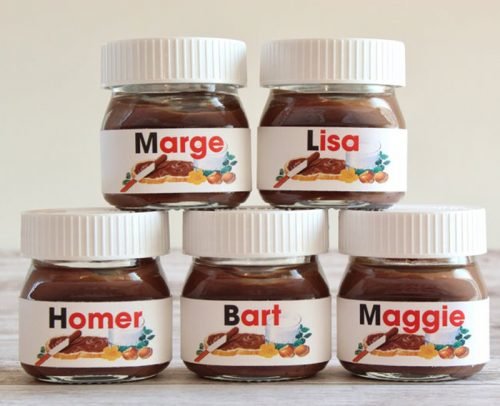 While this definitely falls in the category of unique wedding place card ideas, it would also be great for other wedding-related events like a bridal shower. Your Nutella addict guests would be thrilled to take one of these home. A cute and ingenious stocking stuffer, all you need do is personalize the label and order.
8. Greenery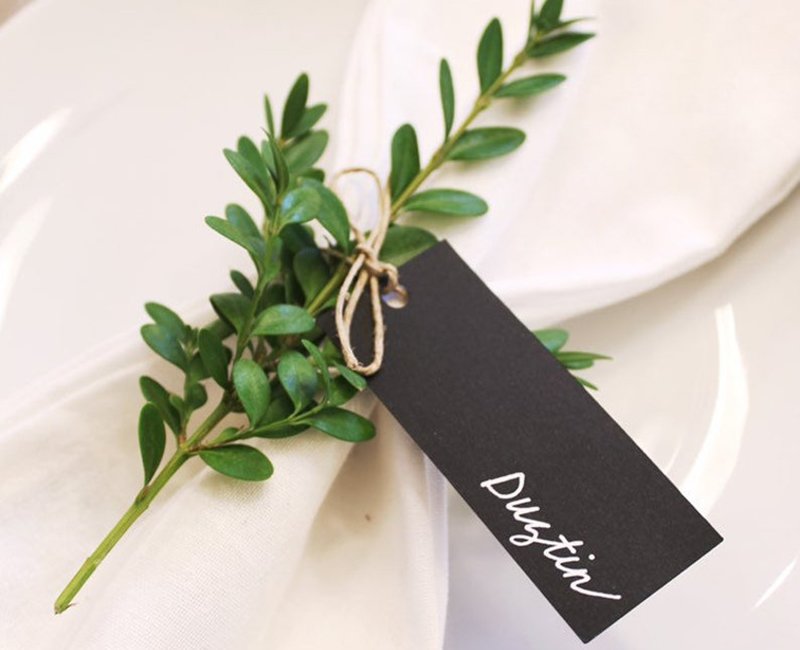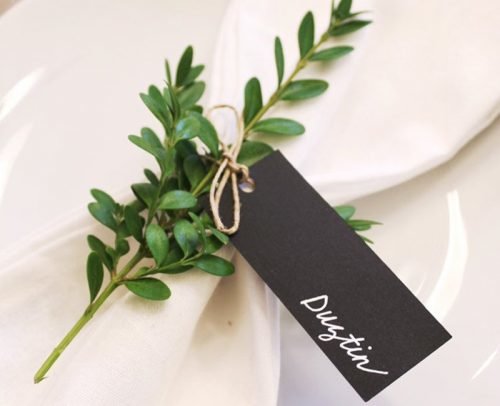 Nothing like cute place cards to spice up your wedding décor. These stamped calligraphy cards, made of either black or grey paper would work for a rustic or modern-day wedding equally. Its beauty lies in its simplicity and the white ink of the writing makes it perfect for a wedding day celebration.
9. Personalized Name Tags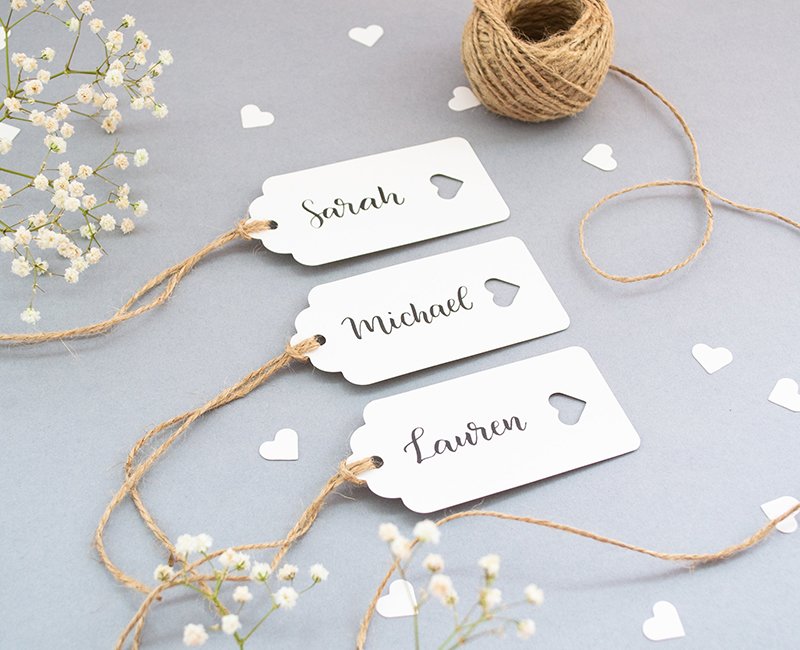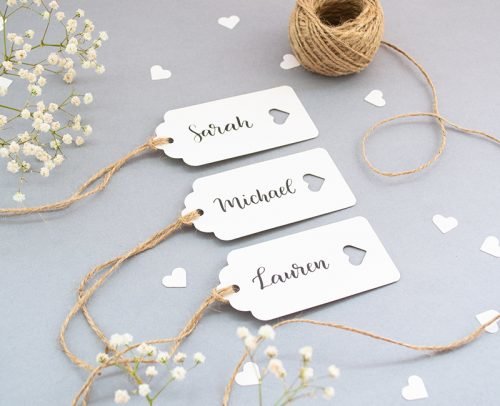 Classy, white hand-lettered wedding place cards for that classic or modern wedding reception. An ideal choice for a rustic or autumn wedding, these tags have lettered in black ink and are decorated with Kraft twine. We won't leave you short of choices for place cards for wedding ideas.
10. Engraved Starfish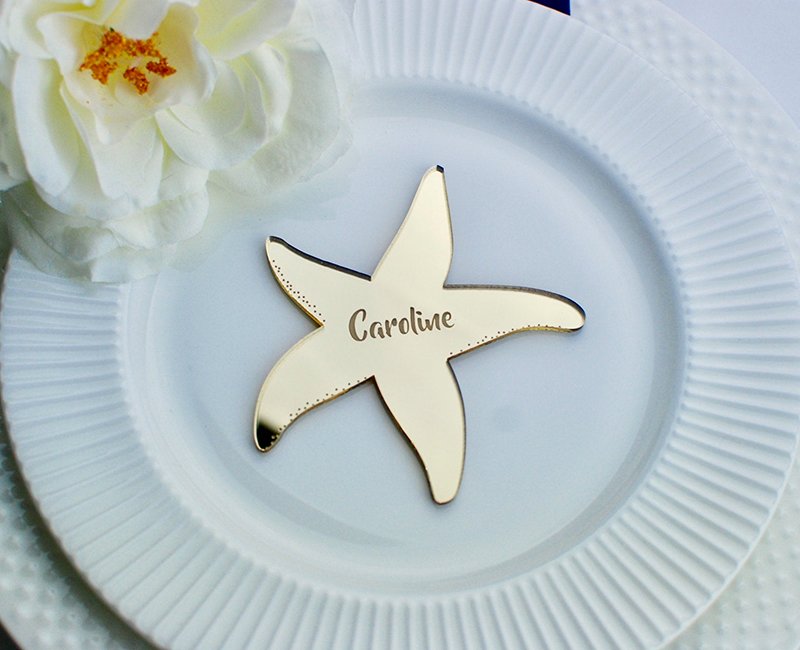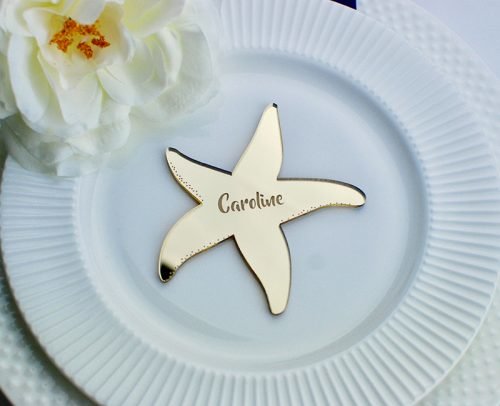 This stunning starfish wedding name place card is ideal for a beach wedding or tropical destination wedding. Such a beautiful option that comes in silver mirror acrylic, gold mirror acrylic, glitter acrylic and blue or green. It's custom cut, and a wedding favor your guests would be thrilled to take home.
11. Stylish Watercolor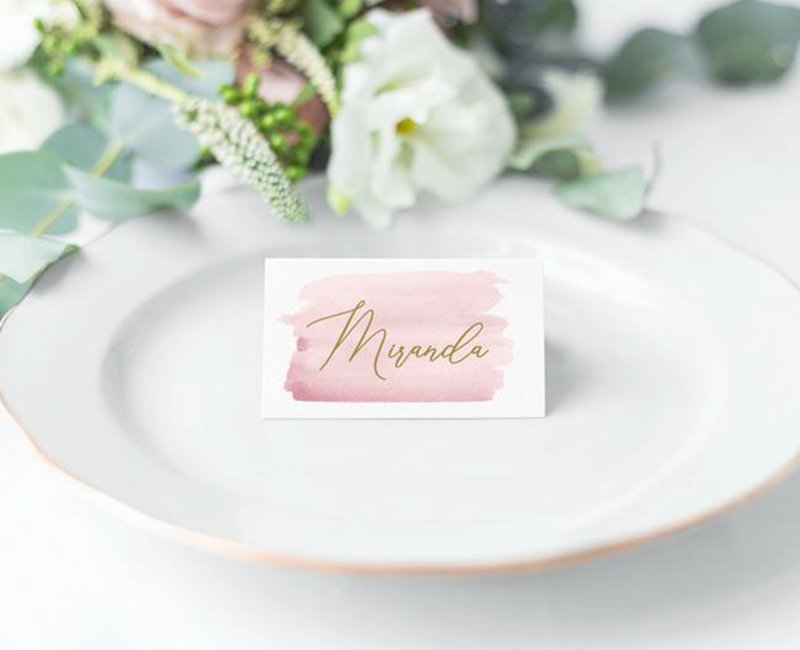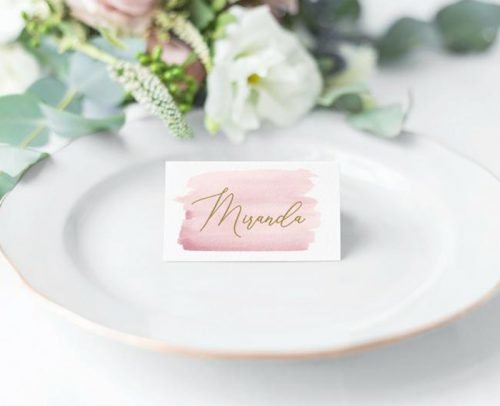 Another one for beach wedding seating cards ideas, or even a rustic wedding, is this watercolor, easy printable option. For a breath of fresh air, customize these cards to fit in with the theme for your special day and watch them light up your table décor. Simple and beautiful, your guests will love them.
12. Vellum Place Cards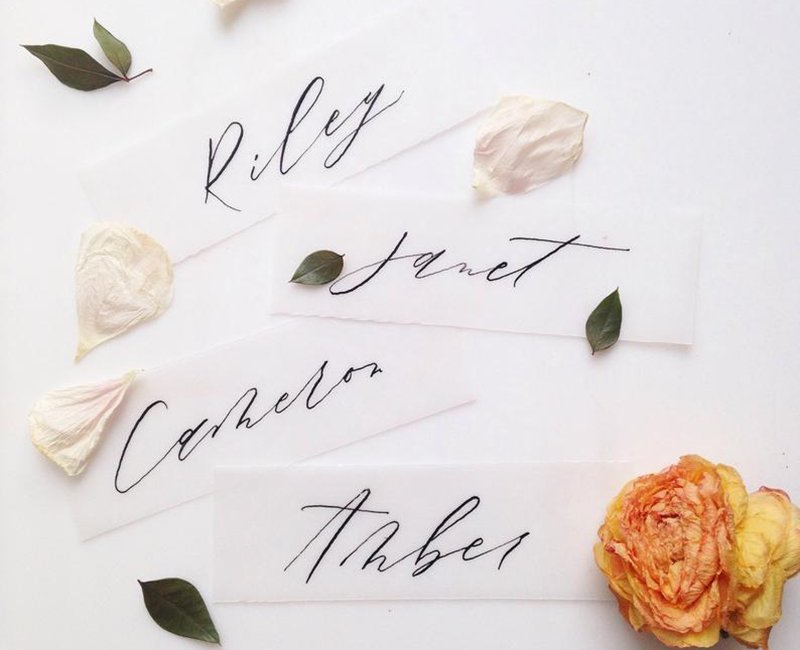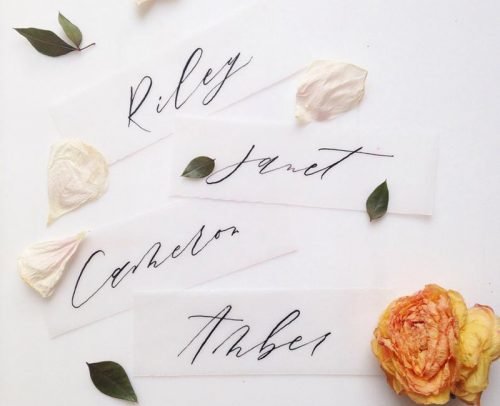 A new and trendy choice for wedding place cards, the vellum card is another on our list for wedding name cards ideas. They can be used at various types of weddings with different themes, gardens, classic, modern or even vintage.
13. Hexagon Place Cards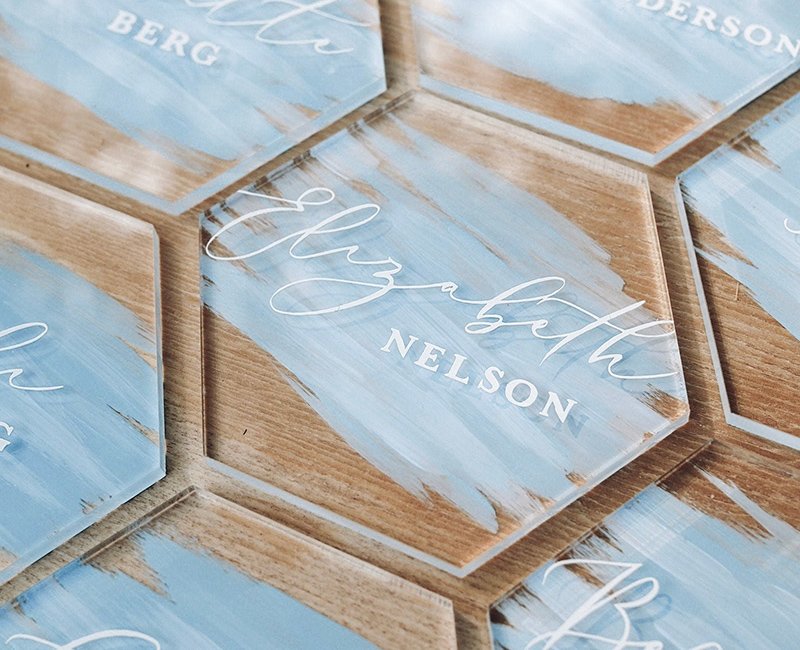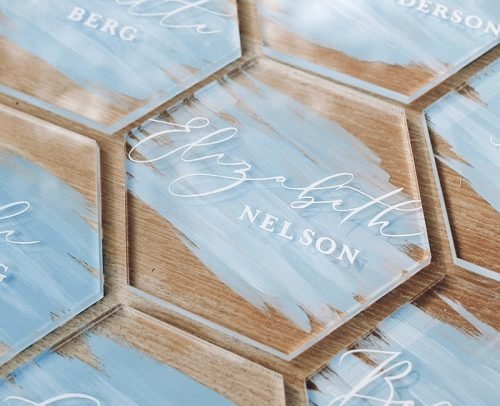 If you find yourself in need of wedding table cards ideas for a modern wedding or minimalist type, consider these hexagon place cards. They will complete your wedding table setting in a most elegant way. Made of vinyl and acrylic, the writing is hand-lettered and available in gold, white or black, to blend with any theme colors you might have.
14. Wooden Wedding Escort Cards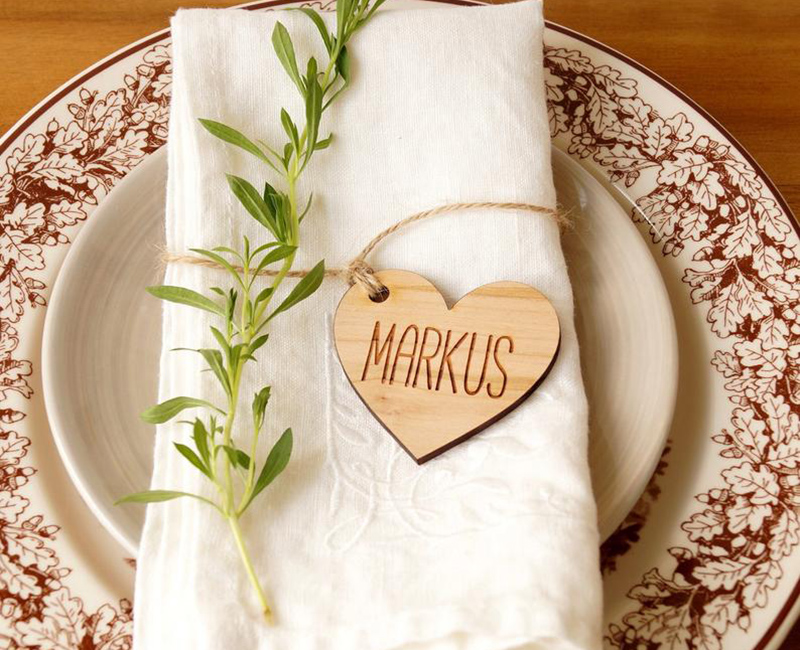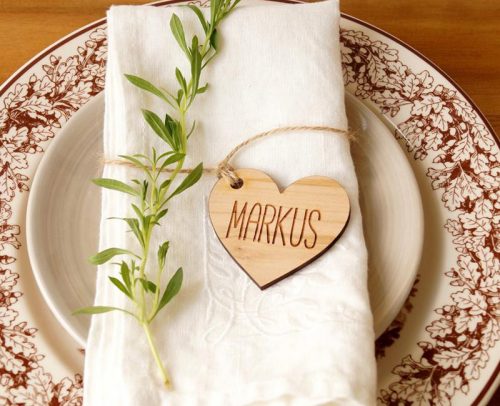 A heart is the most popular motif for love and would be perfect for your wedding escort cards or place cards. These handmade wood cards would fit in well with a wooden place setting or a rustic or fall wedding, even a garden-themed wedding. Personalize to your heart's desire, pun intended.
15. Amethyst Card Holders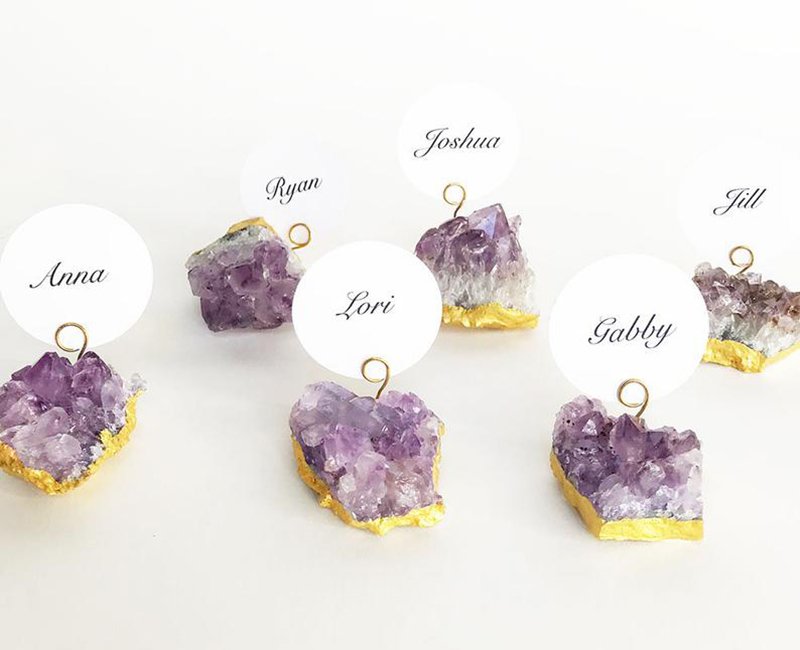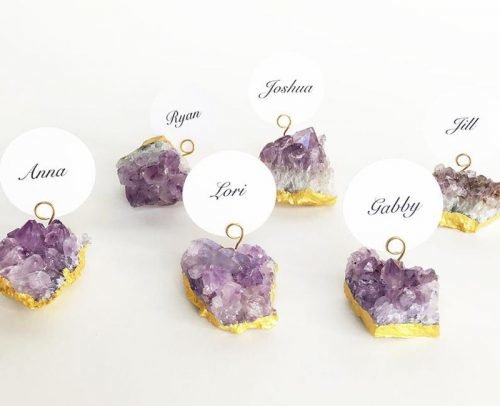 If you're set on using something completely out of the box, then try making a sparkly statement with these gold dipped amethyst clusters. Known for producing a calming and meditative effect, it would be beautiful for a non-traditional wedding reception. So unique that each has different variations, something special for your guests to take home with them.
16. Rustic Сraft Place Cards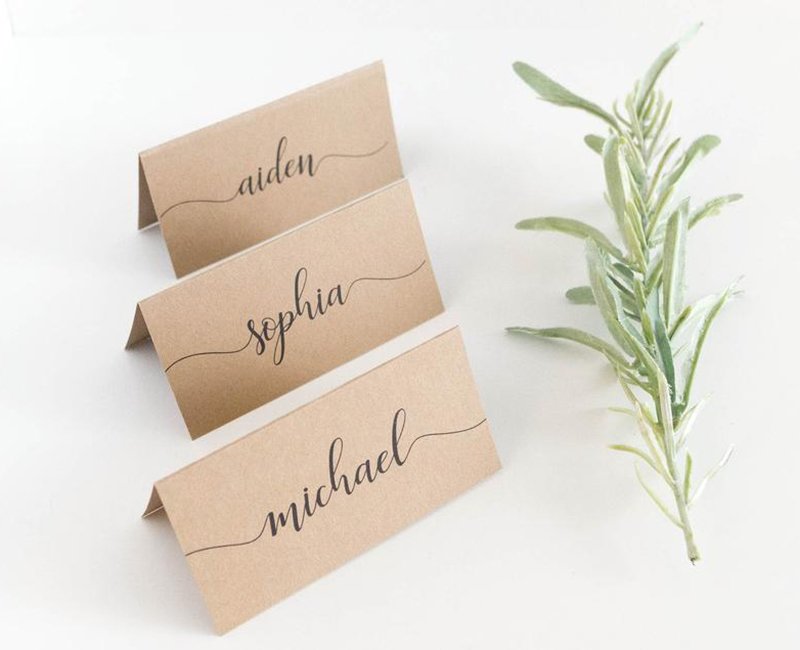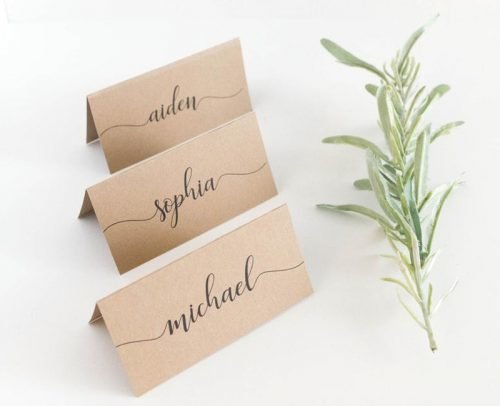 Use these stylish place cards to make your table setting even more beautiful, be it for a rustic, summer or fall wedding. Made from cardstock, they are simple and easy to personalize to your tastes.
17. Disney Castle Place Card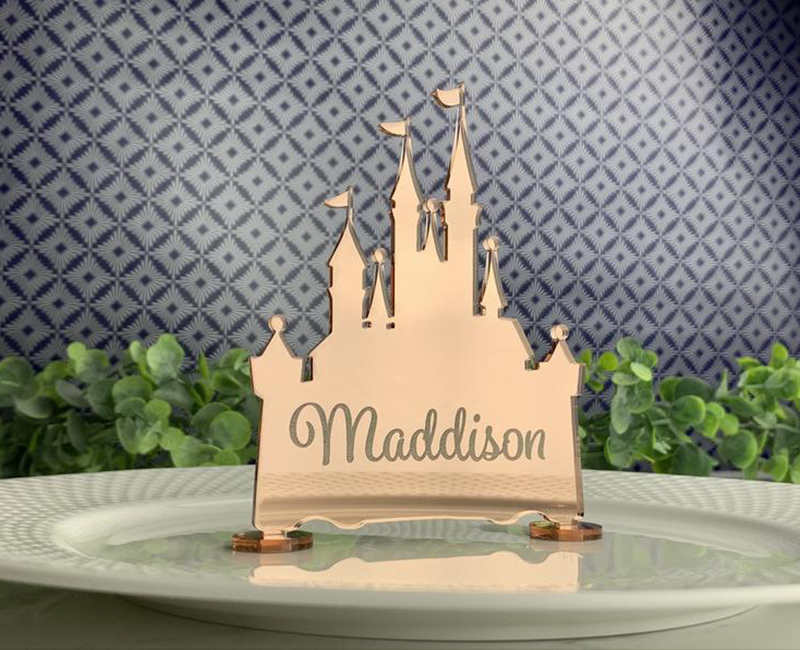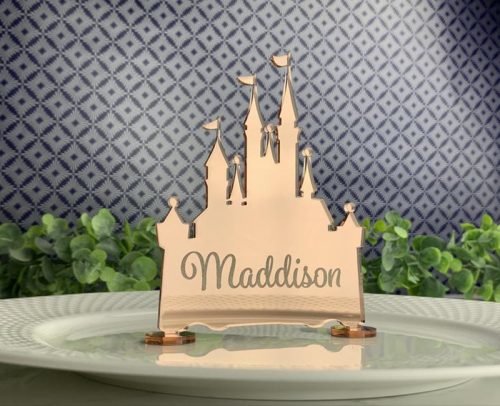 Disney fans all over, do we have the best wedding name card ideas. These laser cut Disney castle name place cards can also double as cake toppers. Made of either gold or silver mirror acrylic, they can glam up any event décor in the best way.
18. Superhero Escort Card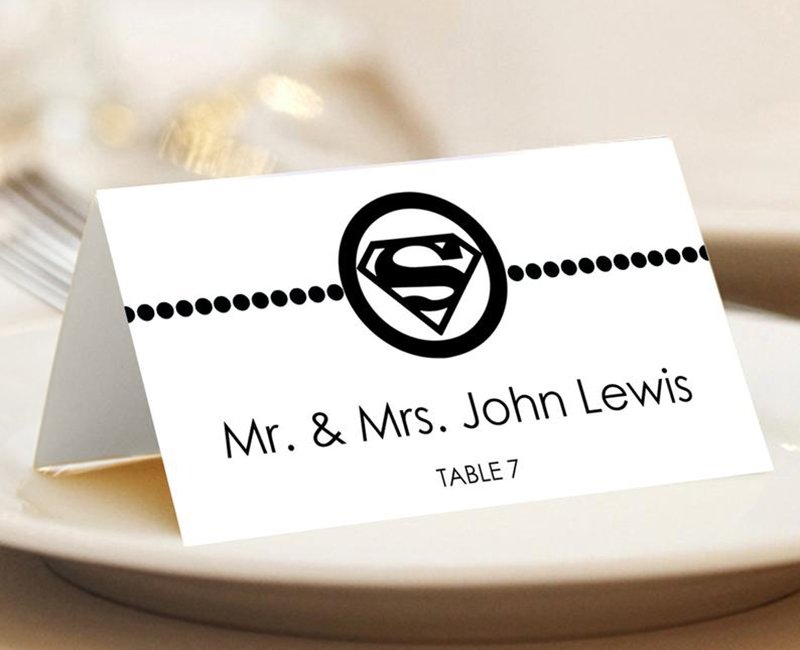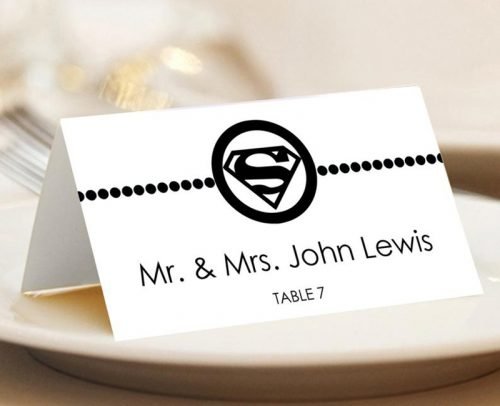 Fans of superhero movies are not left out with these genius superhero wedding place cards ideas. Select the superhero logo of your choice for the most unique handmade wedding place cards.
19. Pineapple Wedding Place Card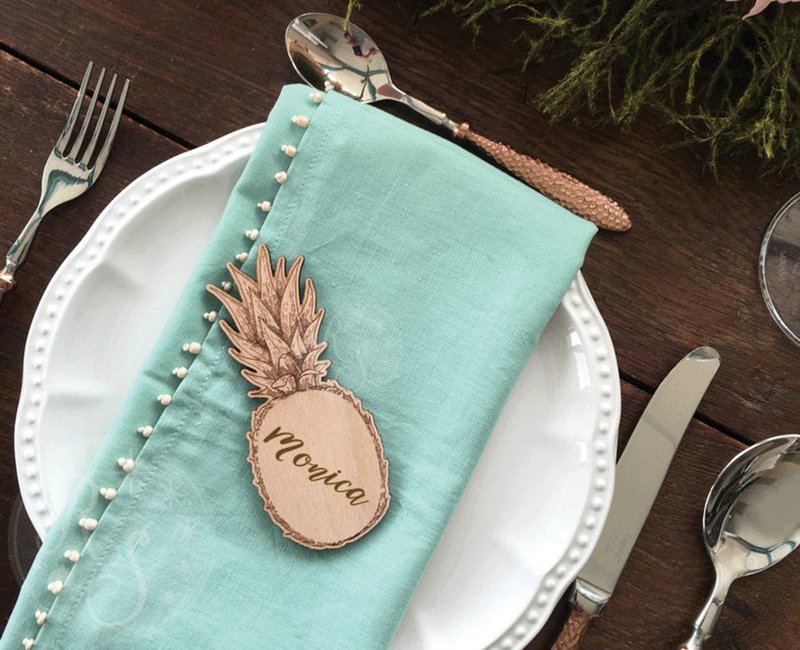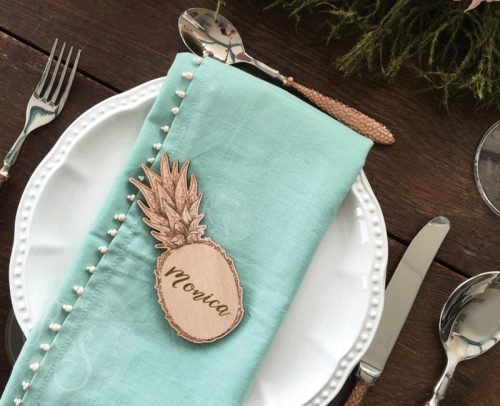 Are you having a tropical wedding or a summer wedding reception? Then these fruit-inspired wedding place cards might be just what you need. Stylish, wooden pineapples with beautiful writing for an island wedding.
20. Escort Cards With Wax Seal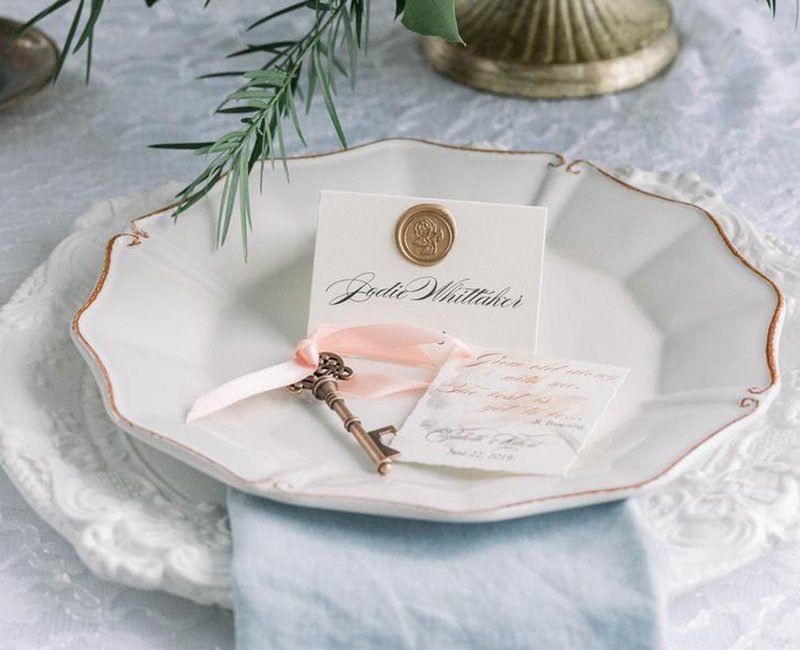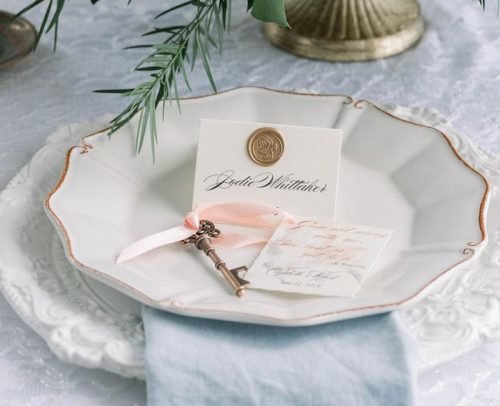 For a proper vintage wedding or even a modern one, court the idea of these elegant name place cards with a wax seal. Made with a quality matte or pearlescent cardstock, they can be placed in a cardholder or pinned on a board.
You cannot run out of ideas for wedding place card ideas, whether you're looking for something traditional or would prefer one quite outside the box. Whatever type of wedding, fairy tale, beach, tropical, classic or modern, you will find one that's perfect for you.