Anna Campbell wedding dresses are every girl's dream come true! Handmade with love, they are sure to win your heart from the very first sight. It doesn't matter which styles you prefer – Anna Campbell wedding collections have them all! Her collections have various skirt options, be it flowing silk tulle, full princess silk organza, or a sexy trumpet lace. 100% silk and the most intricate lace design are a signature feature of this Australian brand. Anna's vintage-inspired collections are renowned for their romantic design and elegance. These breathtakingly beautiful dresses are both sexy and romantic. You can be sure, that they will enhance your natural beauty. Each wedding dress is unique, tailored to each bride's needs, shape and style! Carefully hand-sewn beads and sequins, laser-cut laces and the most delicate of trimmings… Anna Campbell dresses and accessories are definitely something to look forward to on your wedding day!

"Wanderlust" Collection By Anna Campbell 2019
Anna Campbell, a wedding designer, renowned for her romantic sparkle, has finally presented her long anticipated 2019 collection, 'Wanderlust'. Embroidered fabrics, custom-designed laces, hand-beaded embellishments and stunning new silhouettes – a dream come true. Anna Campbell's breathtaking 'Wanderlust' dresses are everything that a modern boho bride might wish for. Jawdropping open backs, shimmering details, unique hand-drawn embellishments, and sparkling glass beads add glamor to the romantic feminine image.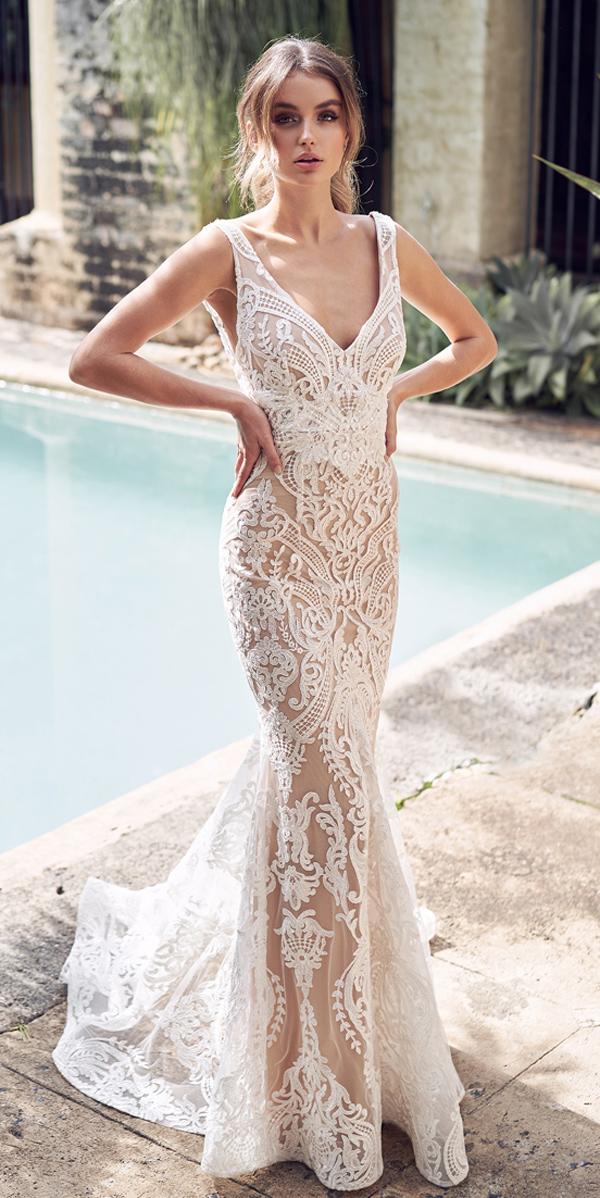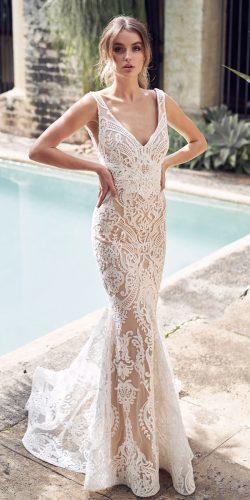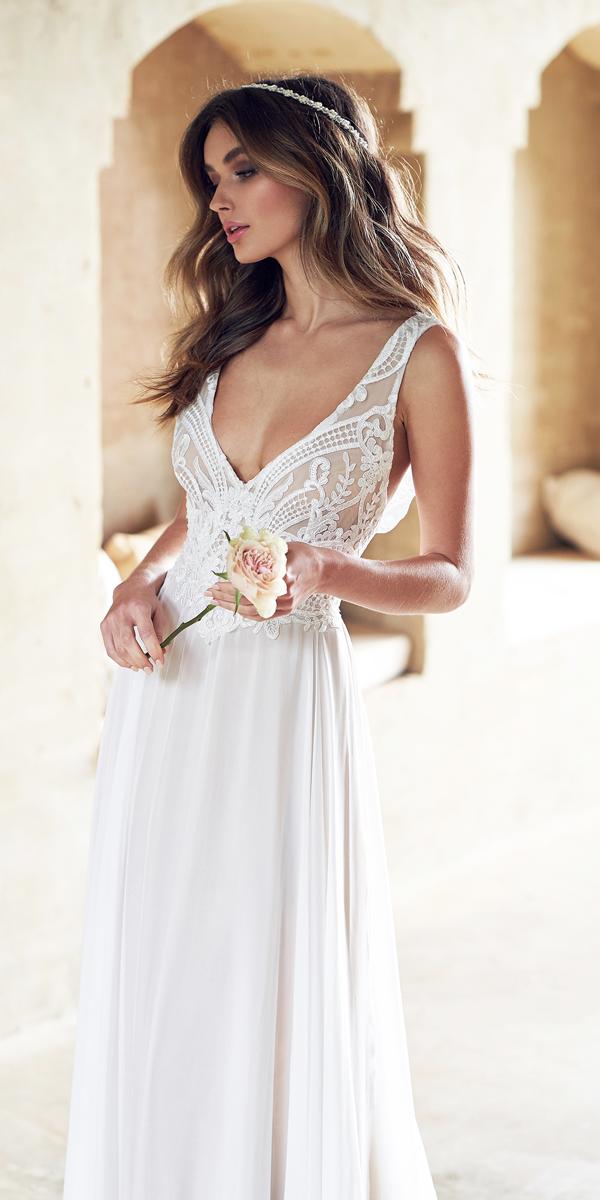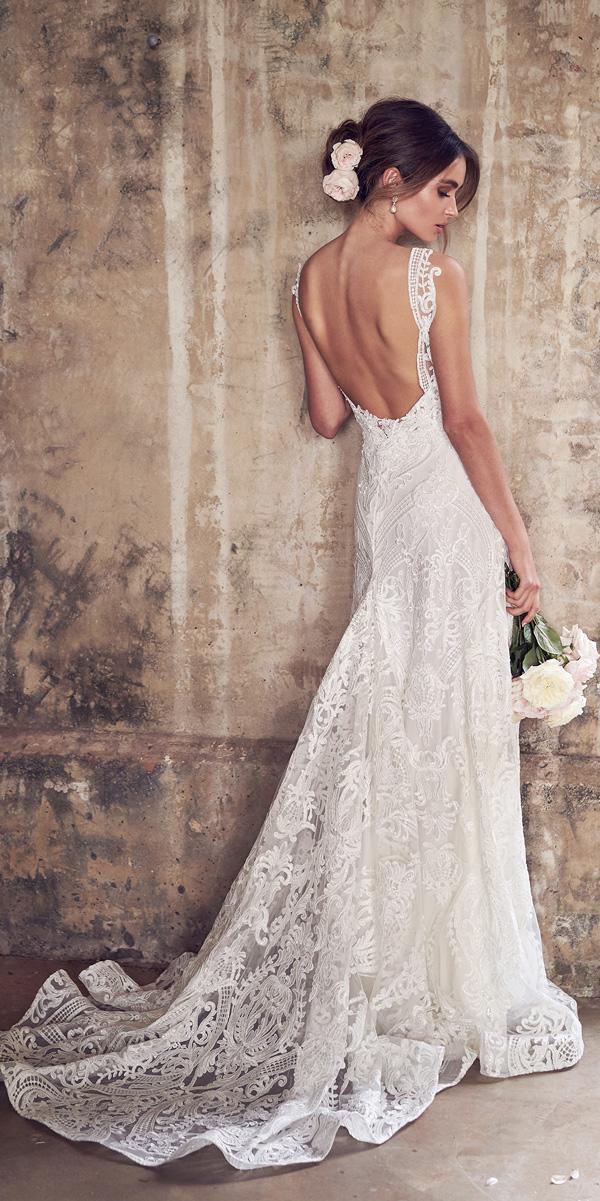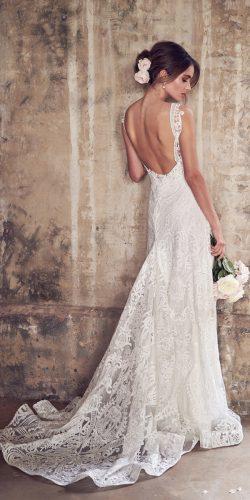 The Jamie Dress is a bold unique corded lace dress, embroidered with sequins for that magnificent all over shimmer. Its skirt options include fitted Lace Trumpet, a modern Silk Crepe de Chine, flowing Silk Tulle, floating Summer Chiffon, or the new full Empress Lace. Its in-built train is easily bustled with a silk-covered button.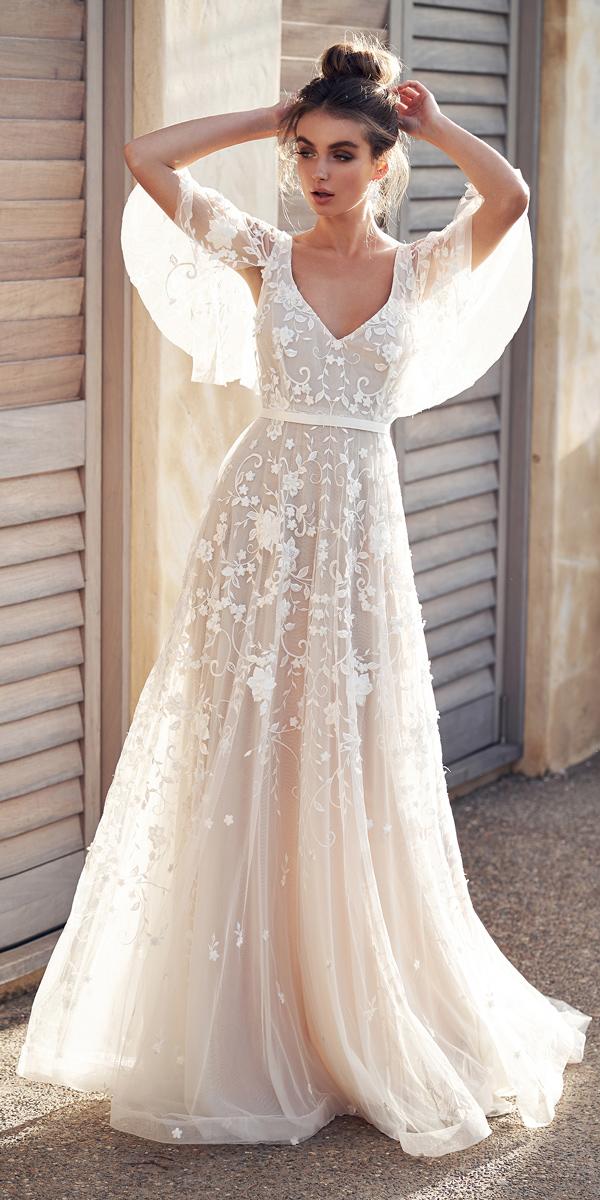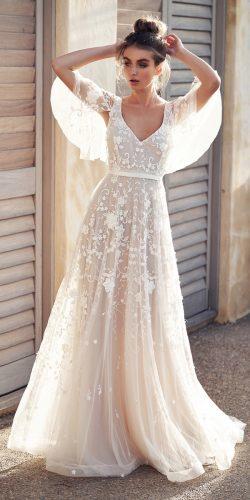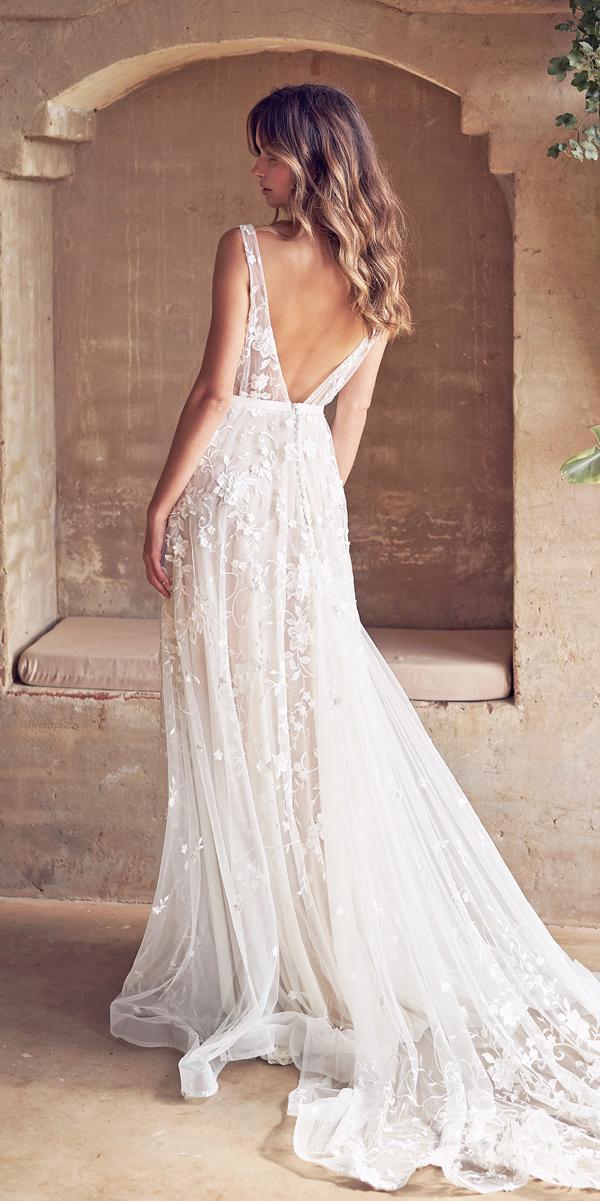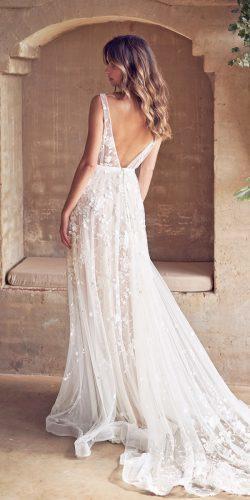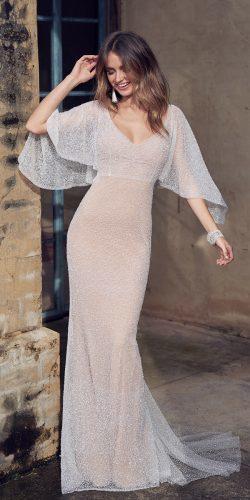 The Amelie Dress is pure romance: its most exquisite embroidered tulle is embellished with 3D laser cut flowers and petals, glass beading and sequins. A full skirt of the Amelie dress drapes beautifully from your waist, while raw cut tulle draped sleeve gives extra volume and coverage. Opulent and luxe, the Wanda Dress brings detail, drama and glamour for an unforgettable bridal statement.
The 13-piece collection offers a variety of options. Each dress is hand-sewn in Melbourne, Australia, and can be customised for that ultimate comfort and look. Be it multiple skirt options, draped or capped sleeves, or an extra sparkle – Anna Campbell helps every bride to create her own unique style. The flexibility in tailoring allows to choose the most flattering silhouette for every shape and style. Anna Campbell brides know, that they are going to look stunning on their wedding day.
Anna Campbell Wedding Dresses 2018
So what's new for 2018? This year Anna Campbell decided to make you twice as happy with two ethereal collections. 'Eternal Heart Collection' is sparkly, sexy and romantic. Each gown features classic Anna Campbell intricate hand beading and beautiful lace details. Anna Campbell also released five brand new styles at New York Bridal Week, each offering a modern, fitted silhouette for modern romantics. Think fitted lace and silk crepe dresses, plunging low-backs and embroidered lace trains…
If you are looking for something special for your wedding day, Anna Campbell's wedding dresses are exactly what you need. Sparkling, hand-embellished laces and silks from around the world create a unique and most romantic look. With these dresses you are sure to stand out!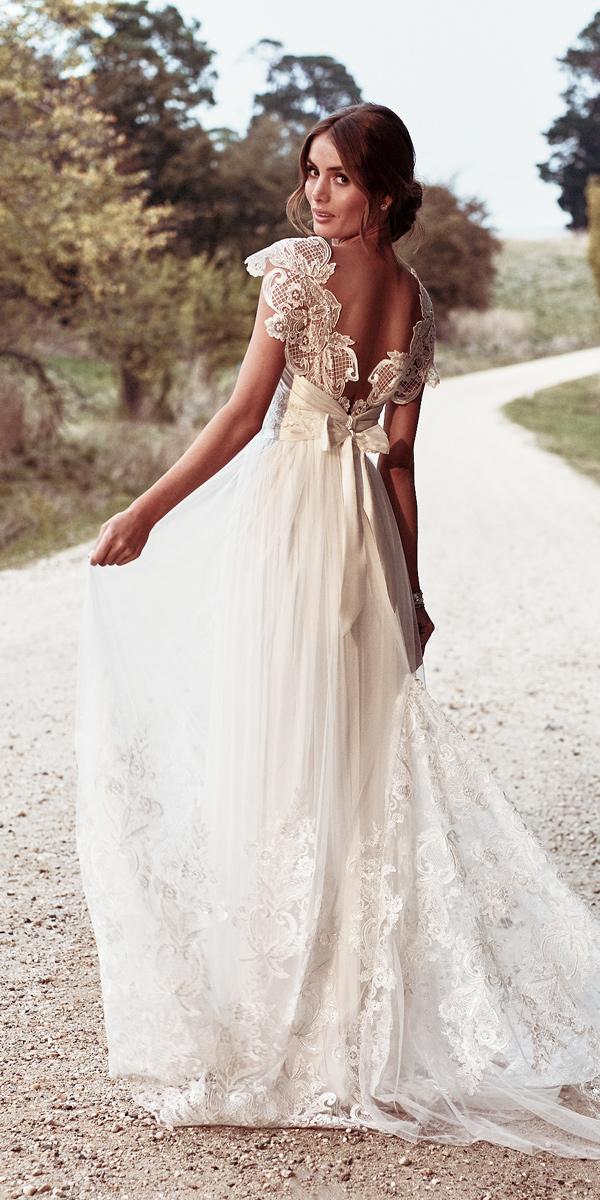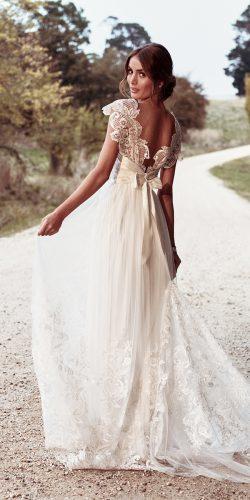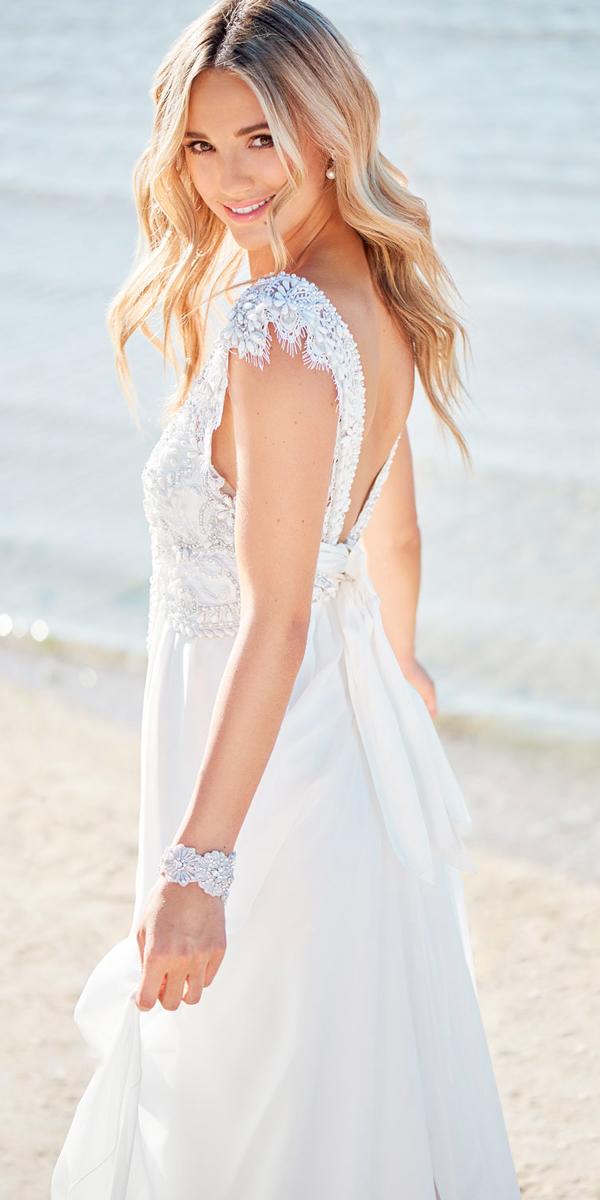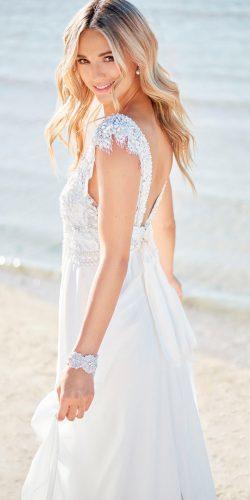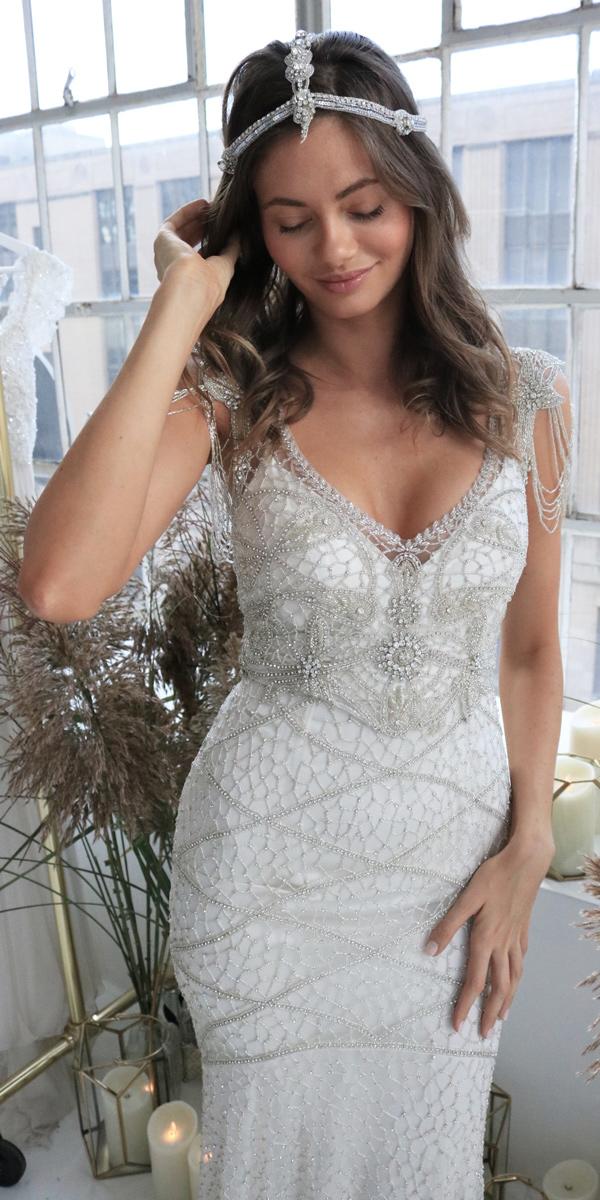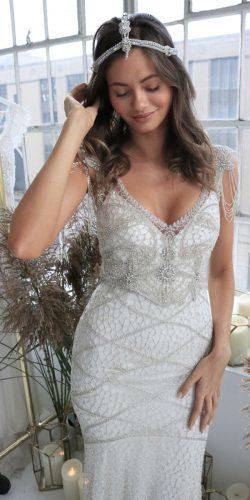 Open v-shaped neckline, sequinned lace, low back, and a detailed lace belt – Savannah dress is the very image of bridal grace. Ruby – the embroidered hand-beading neckline and capped sleeves, intricate ivory lace. Fine, hand-beaded shoulder loops, a sexy v-nec bust with padding and mega sparkle – Grace dress is classic Old Hollywood glamour.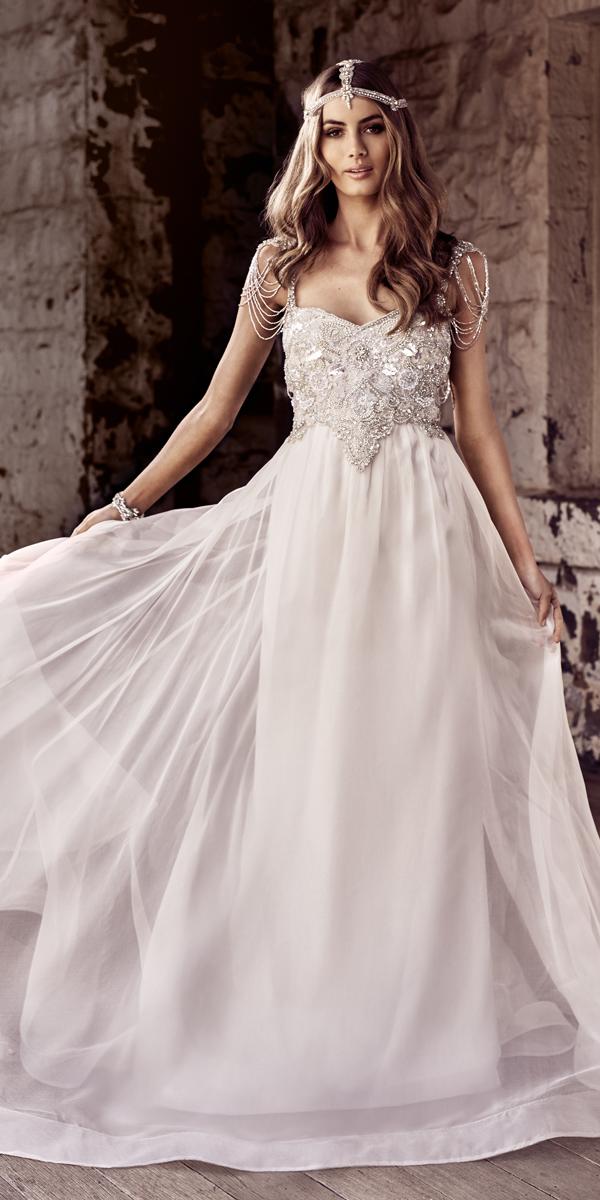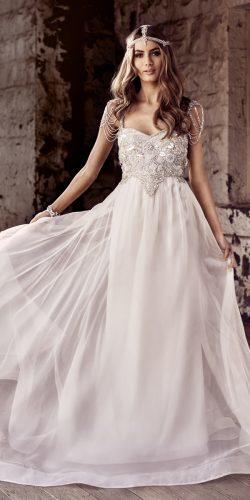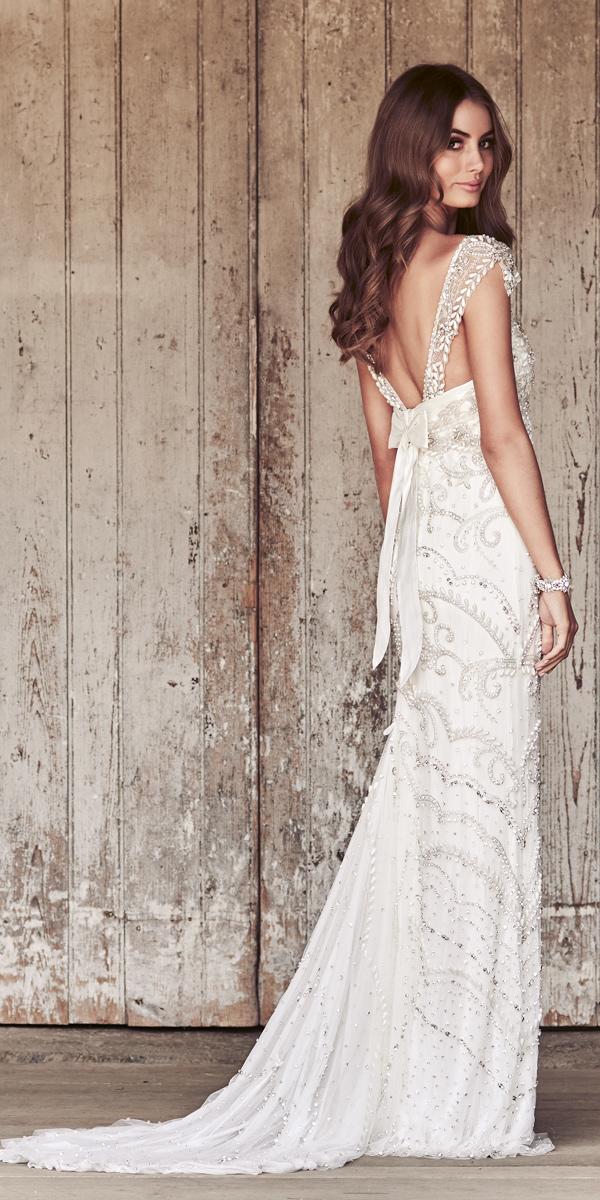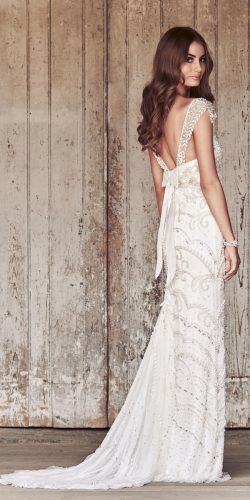 This embroidered vintage Chloe dress is truly romantic and glamorous. Its intricate embellishment shoulder loops detailing create an unforgettable bridal look. The Harlow dress a beautifully sheer lace overlay, with modern lace details is true modern romance. Silver and ivory hand-beading of the Raine create sparkling highlights. Narrow, feminine embellished straps, an open back and the classic Anna Campbell silk bow.
Anna Campbell Wedding Dresses From Previous Collections
'Classics Collection 2016' by Anna Campbell is all about perfect lines and individual design. It has everything to make you the most charming bride ever. This Melbourne-based designer makes customizable dresses, that girls worldwide dream about.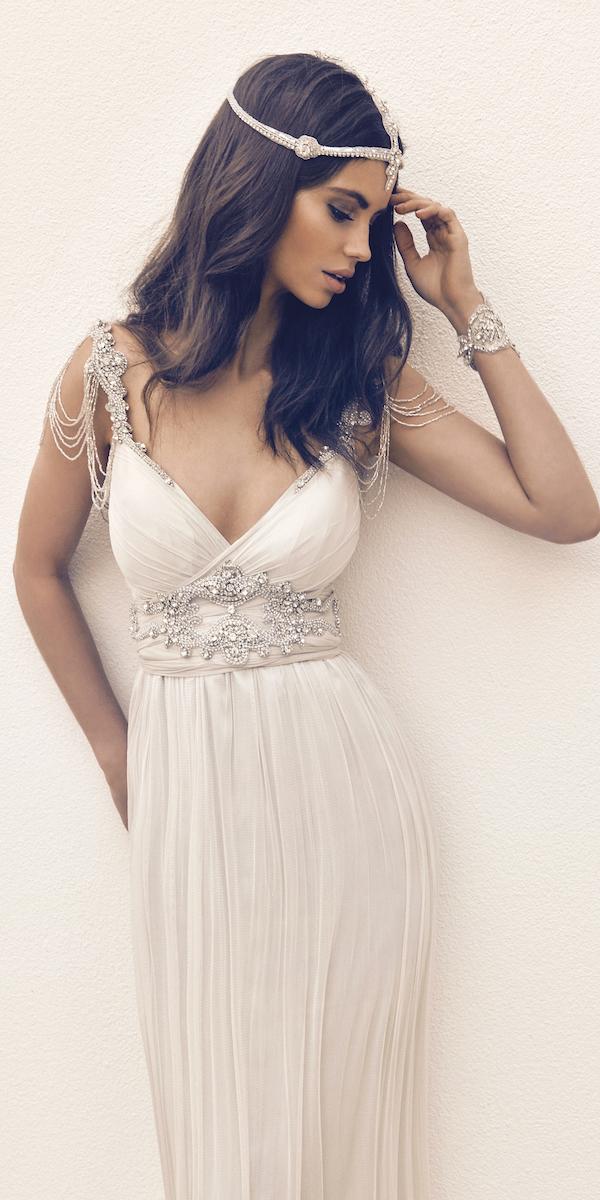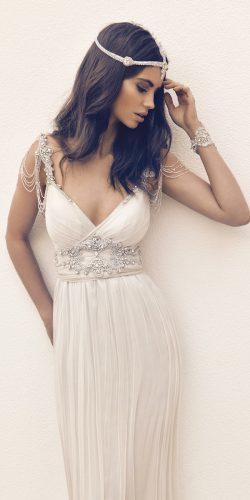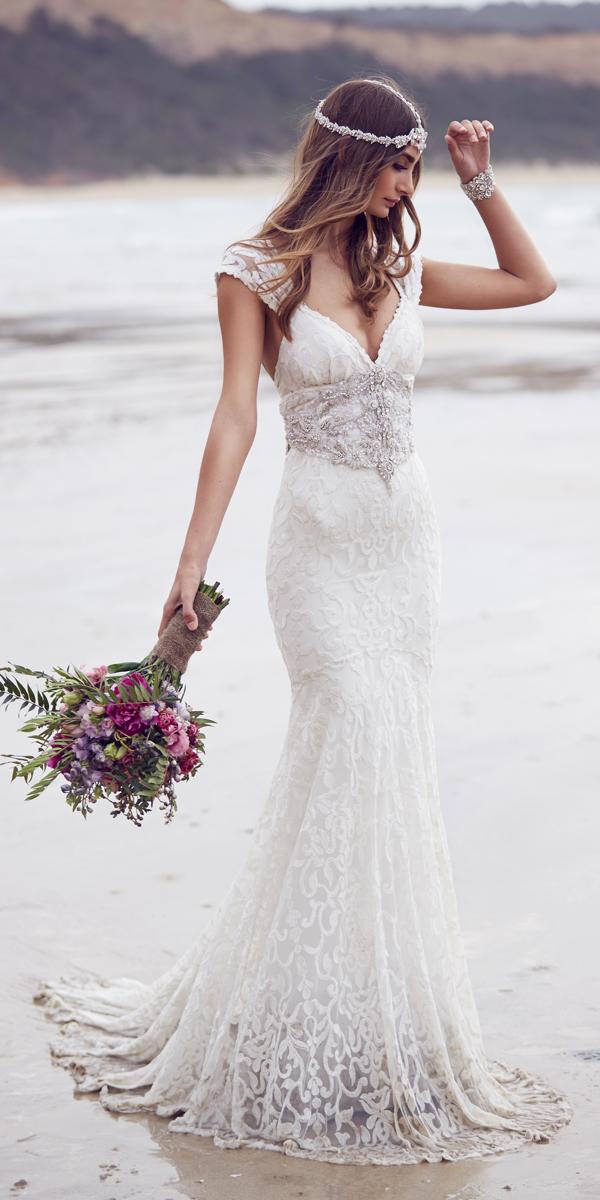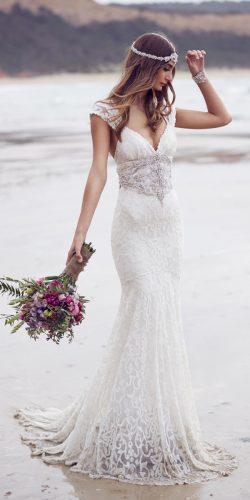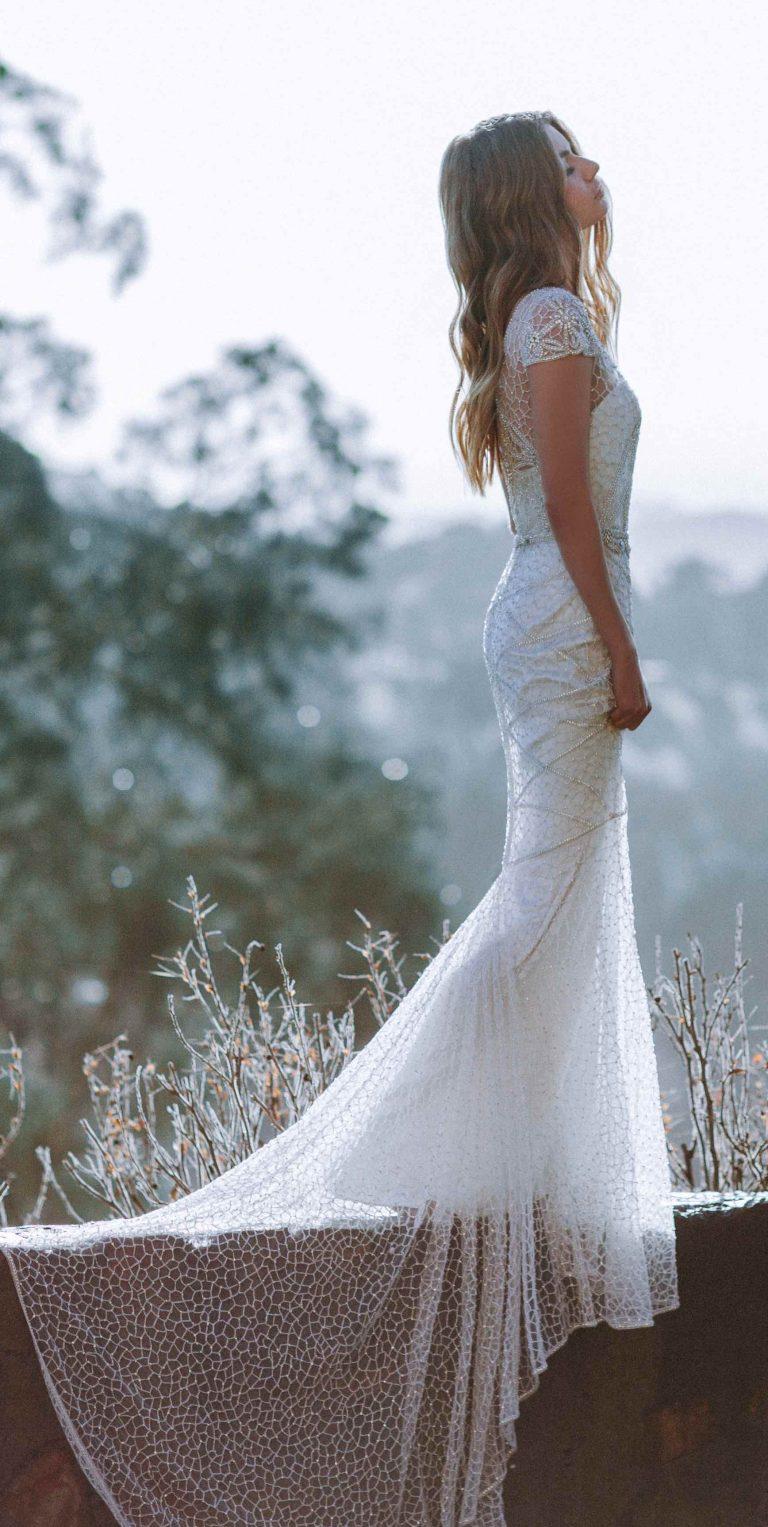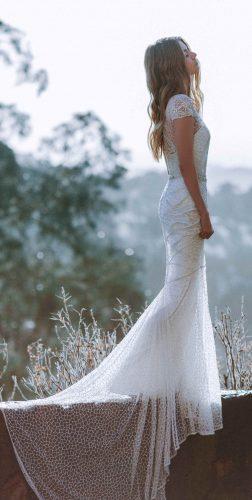 Romantic and glamorous, relaxed, bohemian and independent – this is a classic Anna Campbell bride. Flowing silk organza, hand-embellished silk, delicate beading drapes, intricatelace shoulder detailing, a low back… a modern, yet timeless design. Choose your one-of-a-kind wedding dress!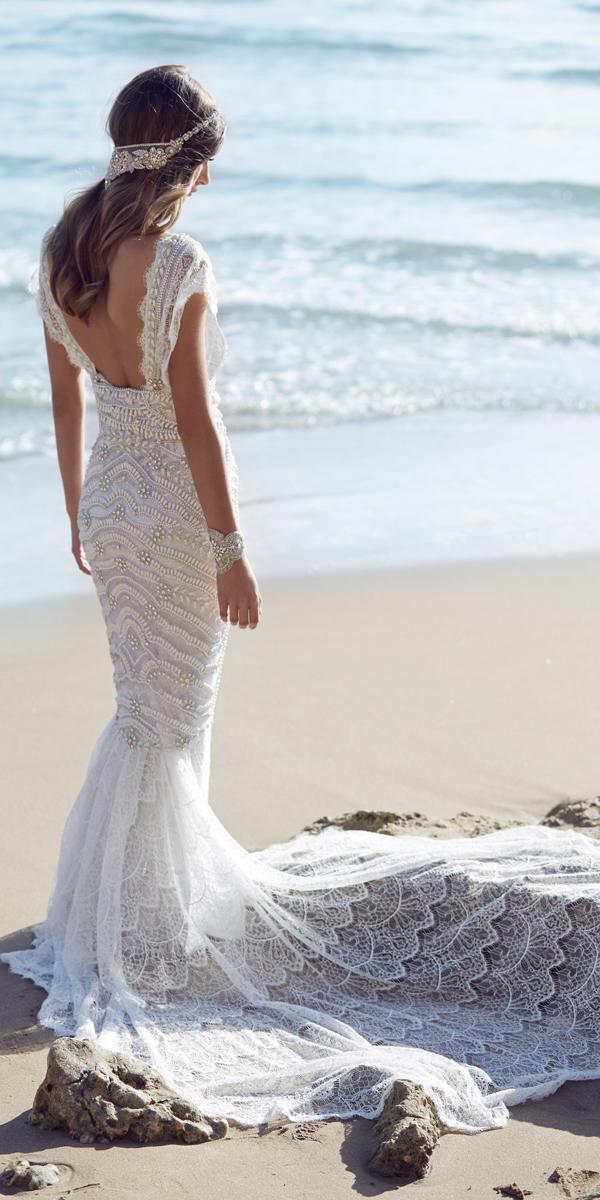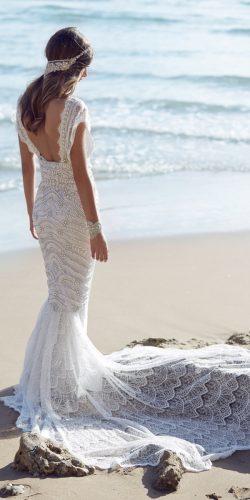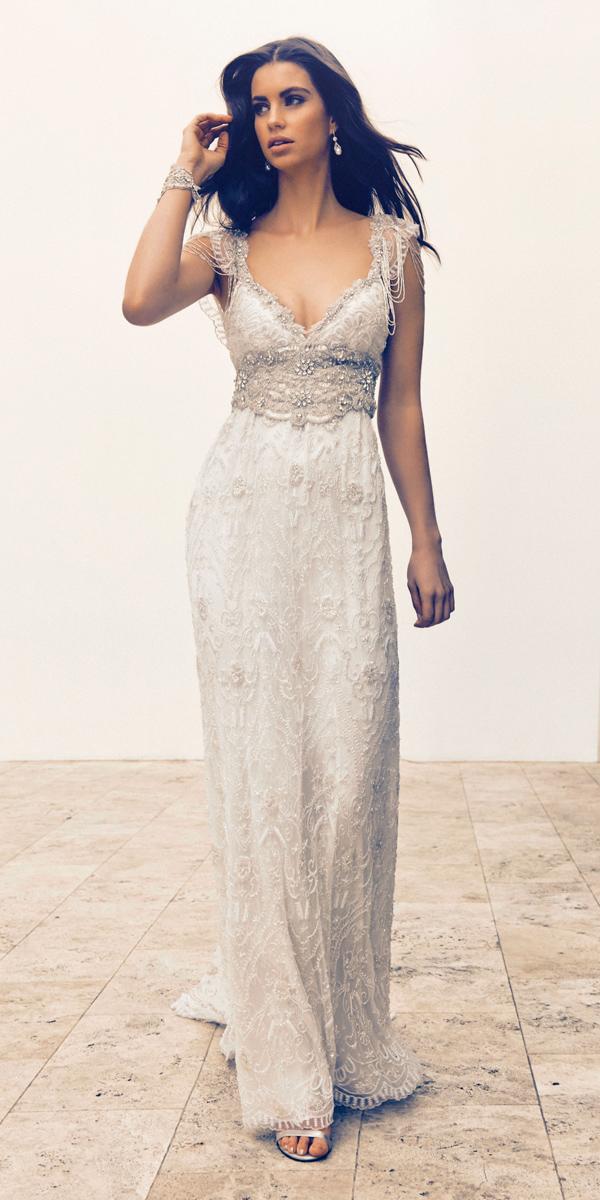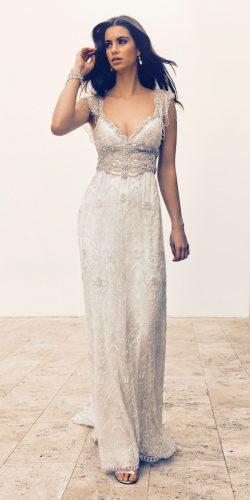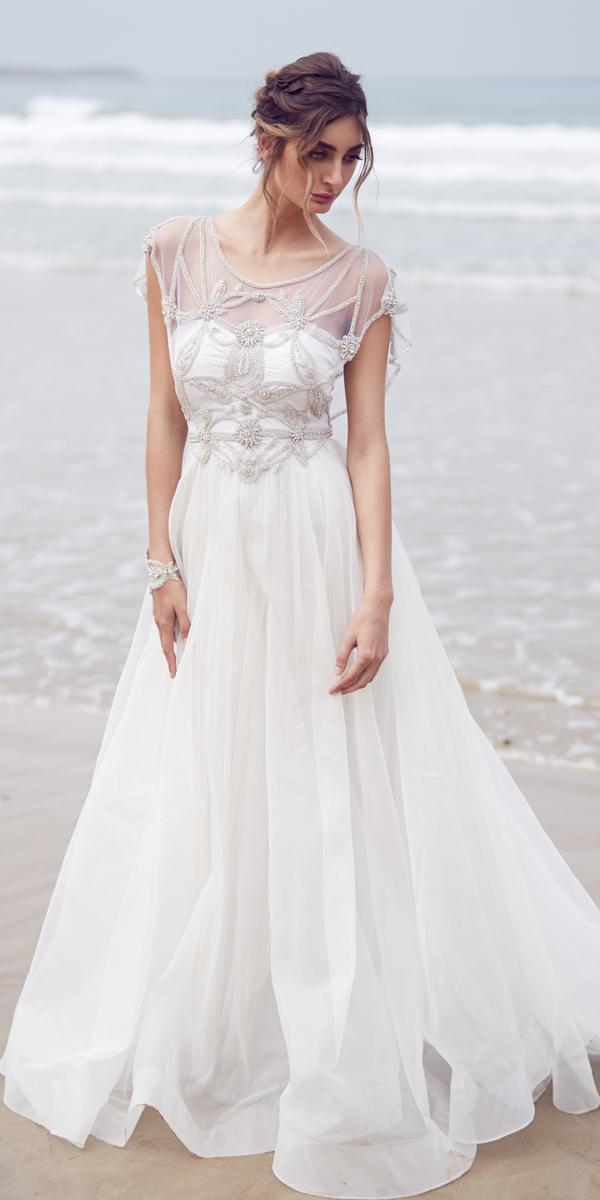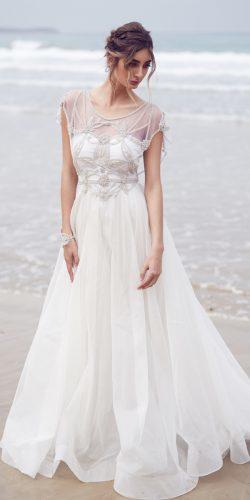 Real Brides In Anna Campbell Bridal Gowns
Brides who choose Anna Campbell dresses really want to sparkle on their wedding day! Ethereal, breathtaking beauty of these handmade dresses will give you a truly unforgettable look. Nothing compares to this unique combination of vintage charm and relaxed elegance. These dresses are styled with heart, and available for a worldwide shipping from Melbourne, Australia. Take a look at these stunning Anna Campbell brides from around the world!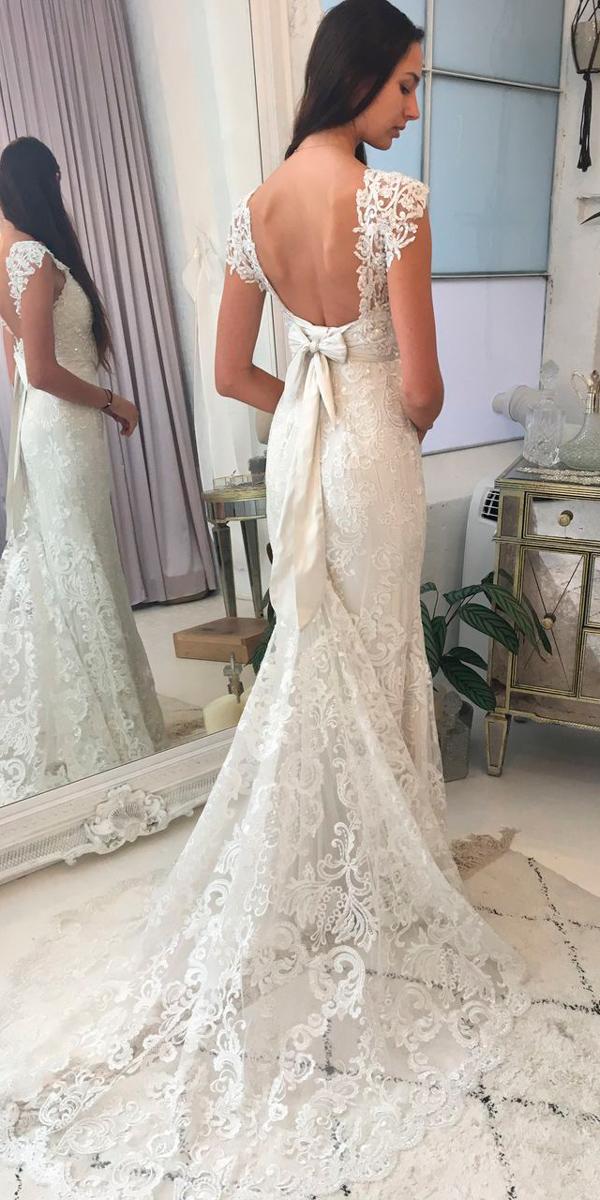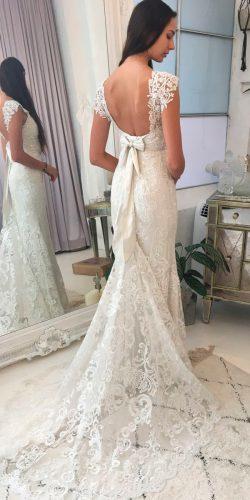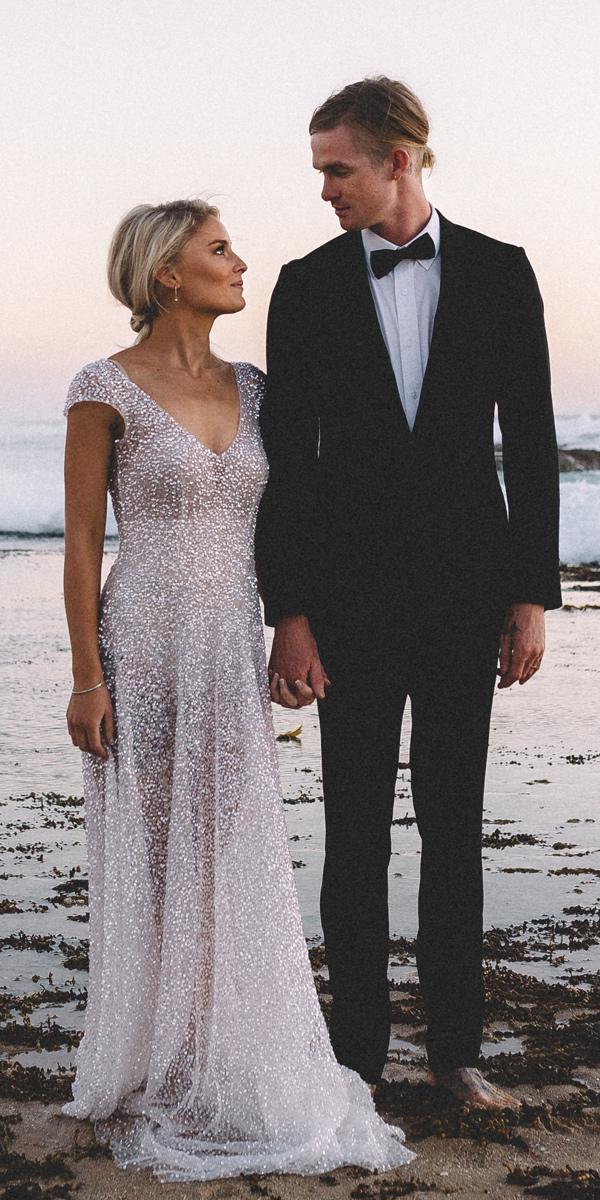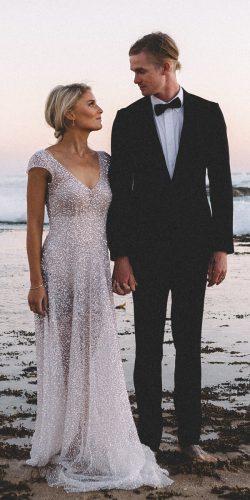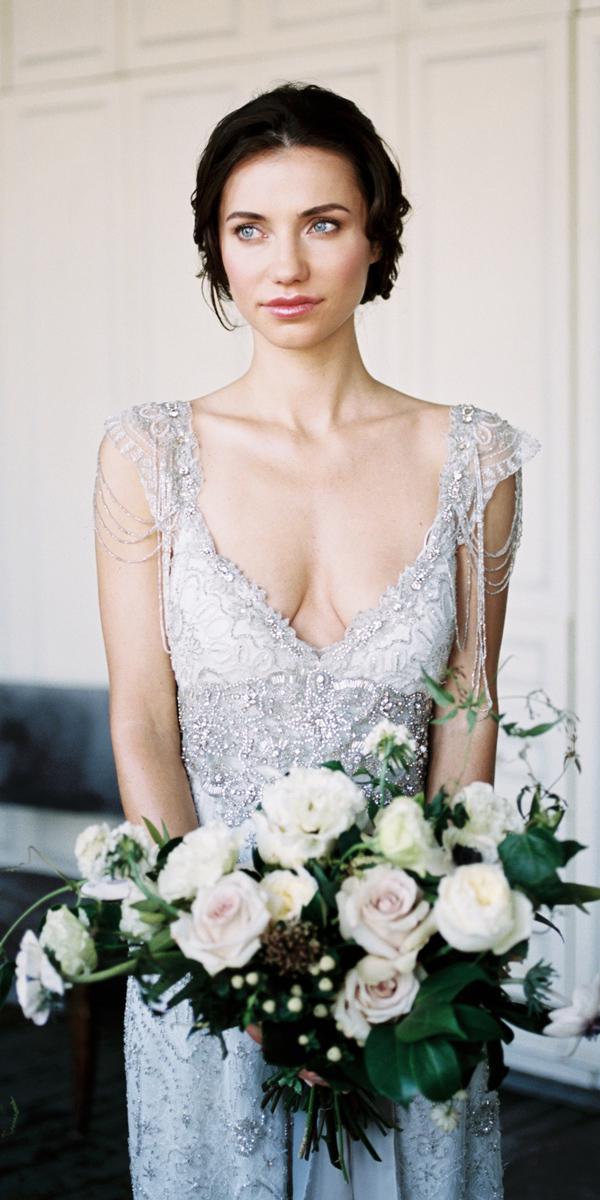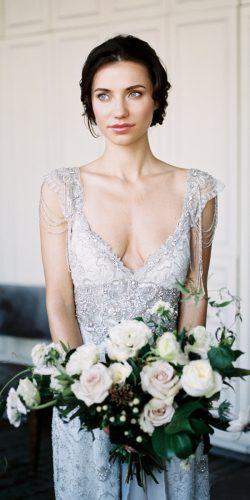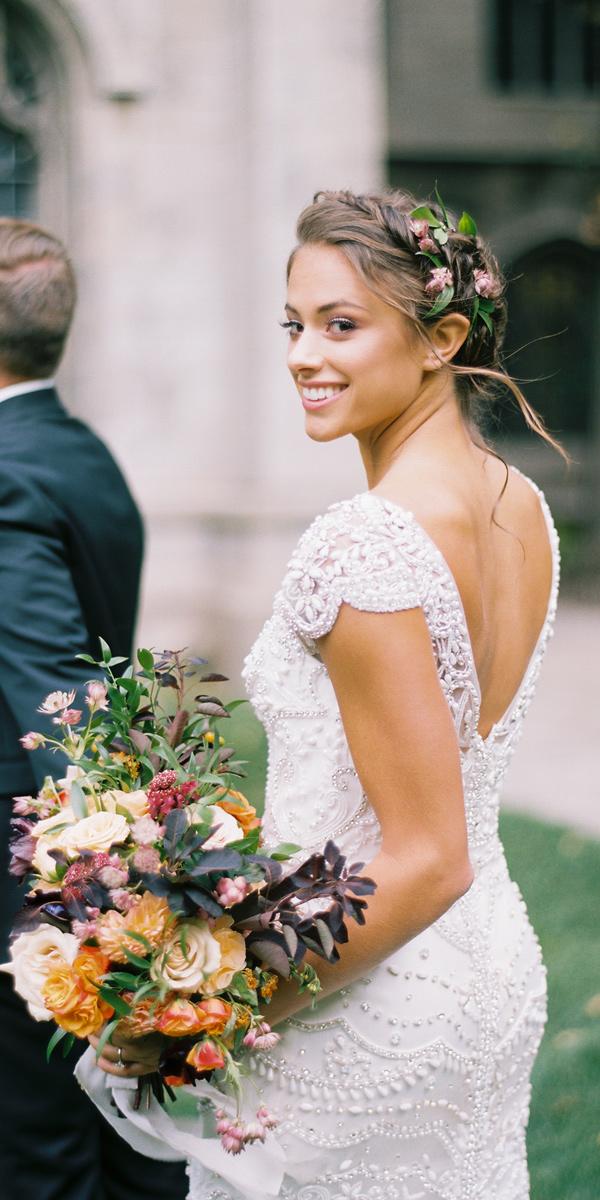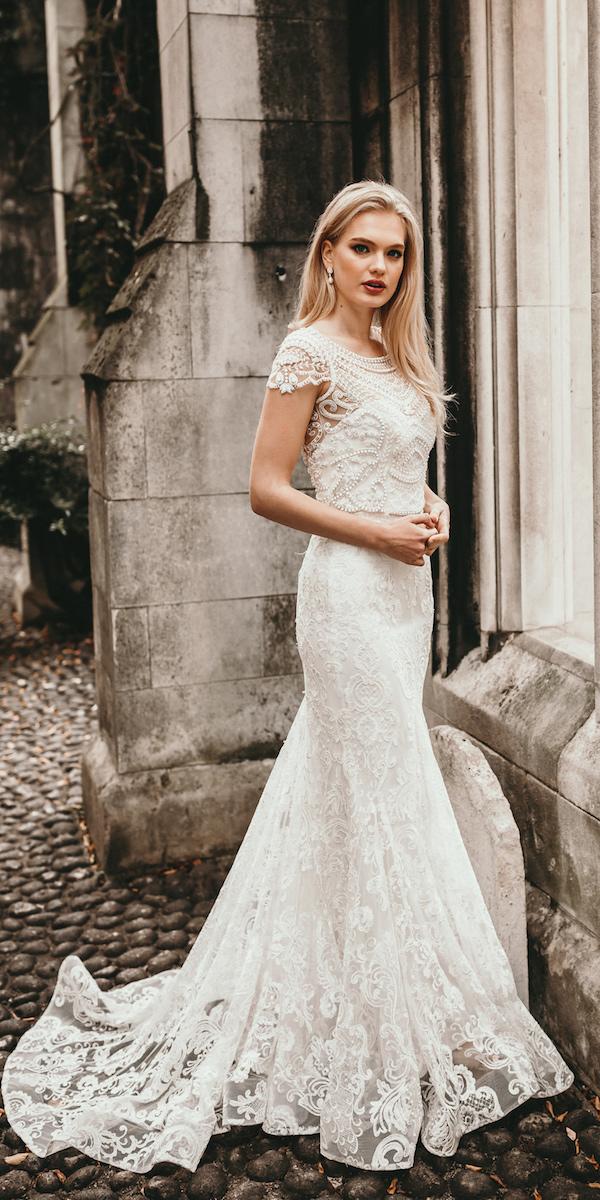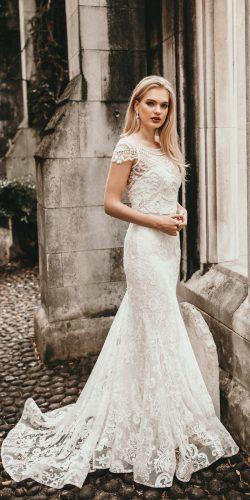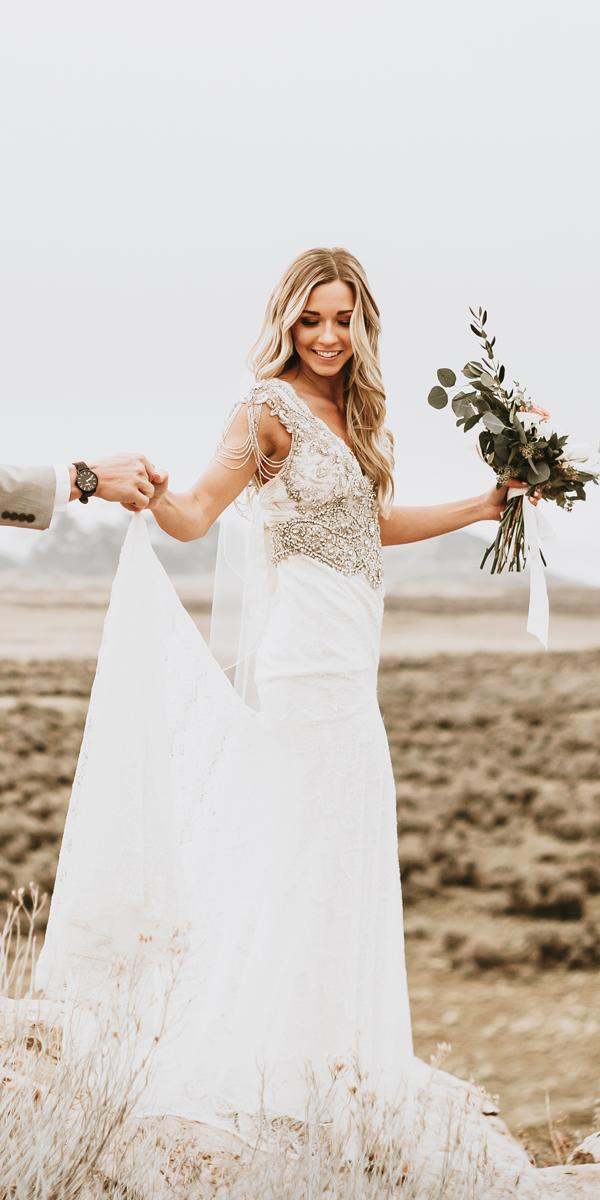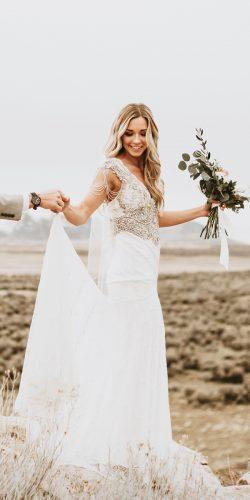 Charming Accessories You Must See
Complete your look with Anna Campbell accessories. Hand-embellished headpieces and combs are gorgeous to wear with or without a veil. Beaded, shimmering cuffs and bracelets will add that touch of sparkle. Hand-embellished belts help to create shape and provide that finishing touch, while bridal veils of sheer, soft tulle are sure to make you feel like the most beautiful bride! These accessories are masterpieces of classic bridal elegance and style. Undoubtedly, you will look amazing with these Anna Campbell timeless bridal accessories.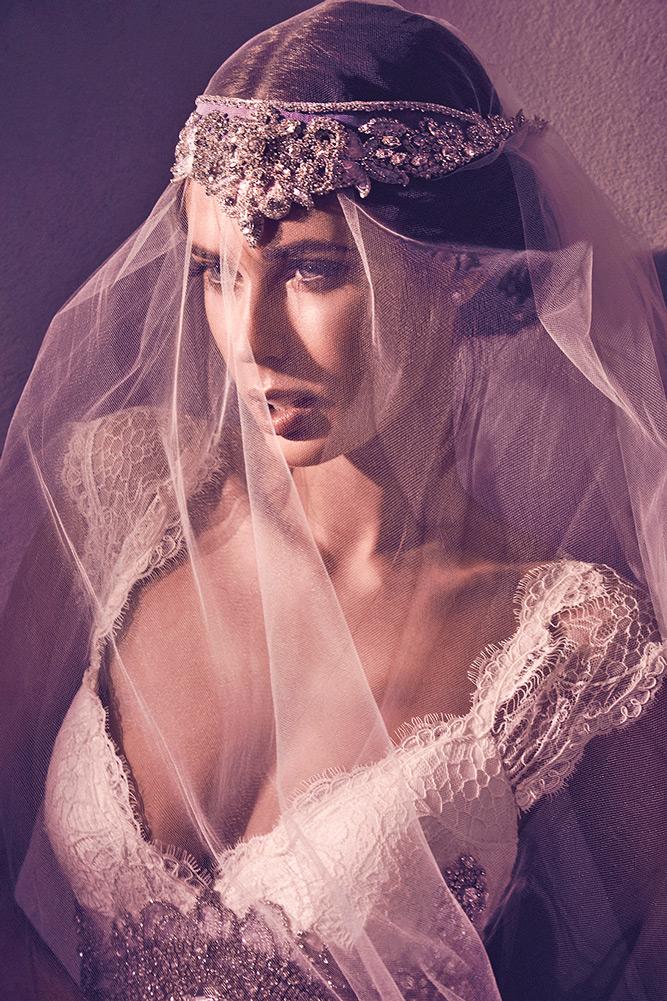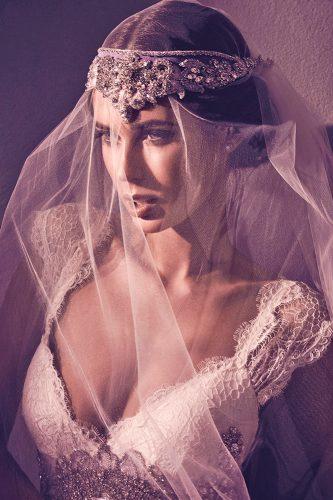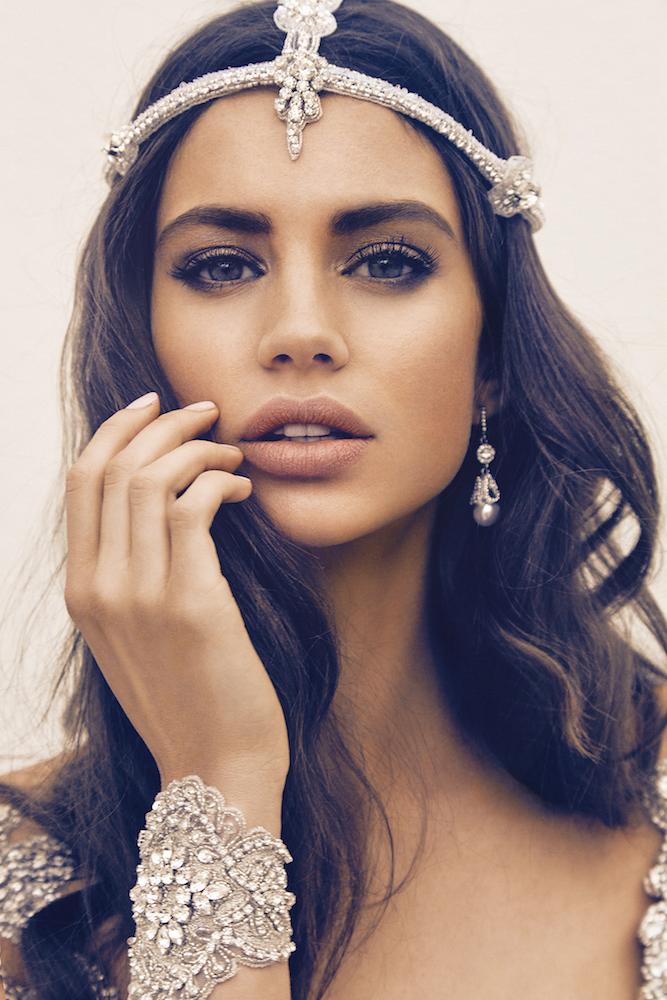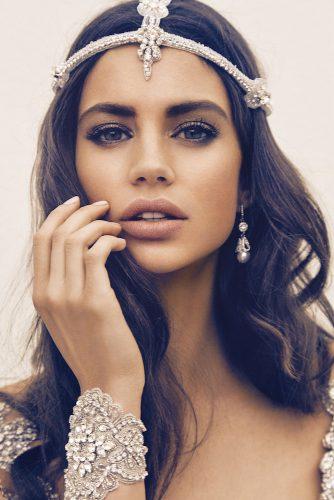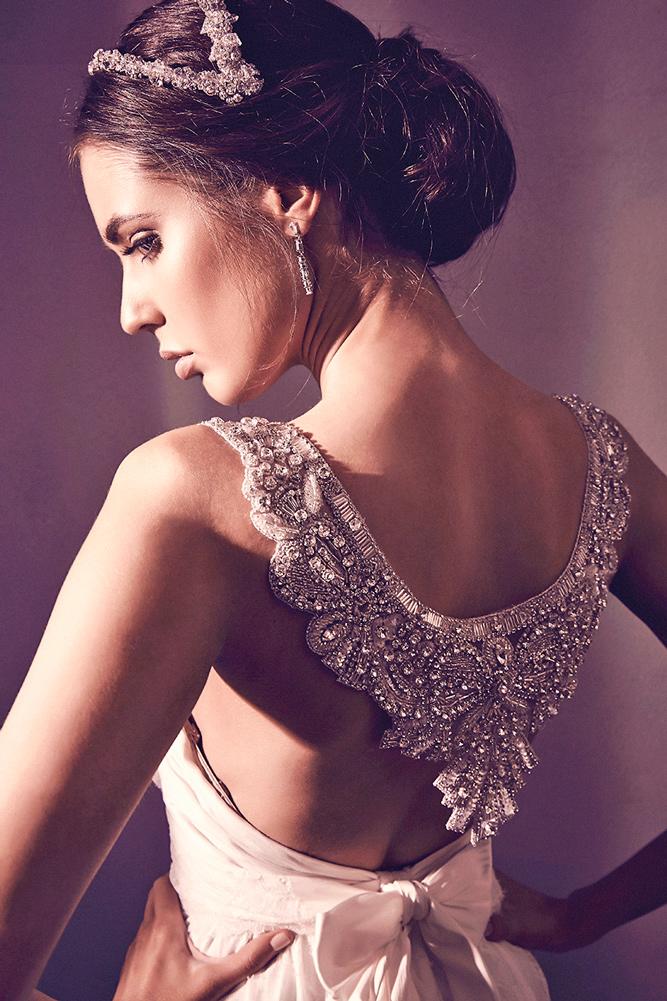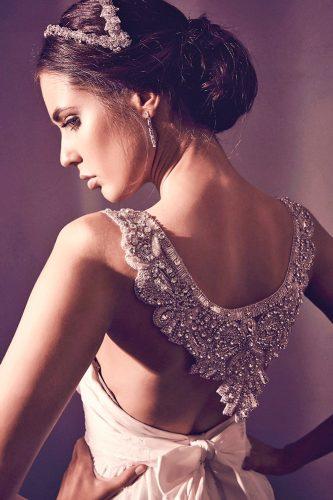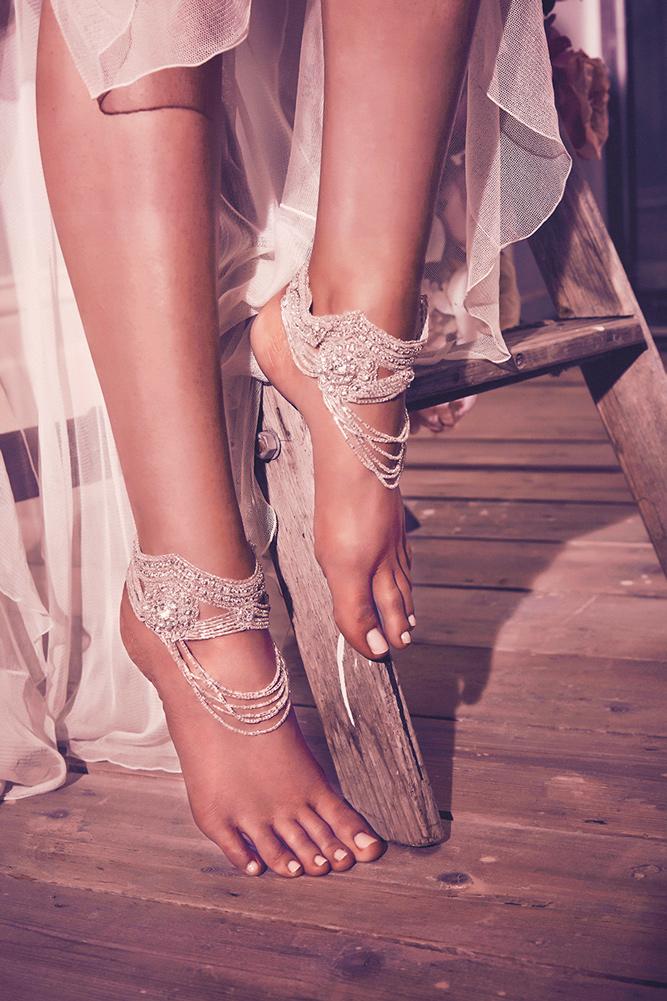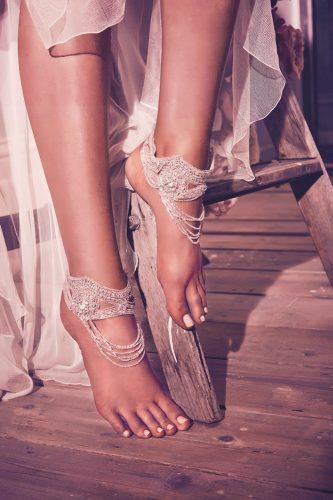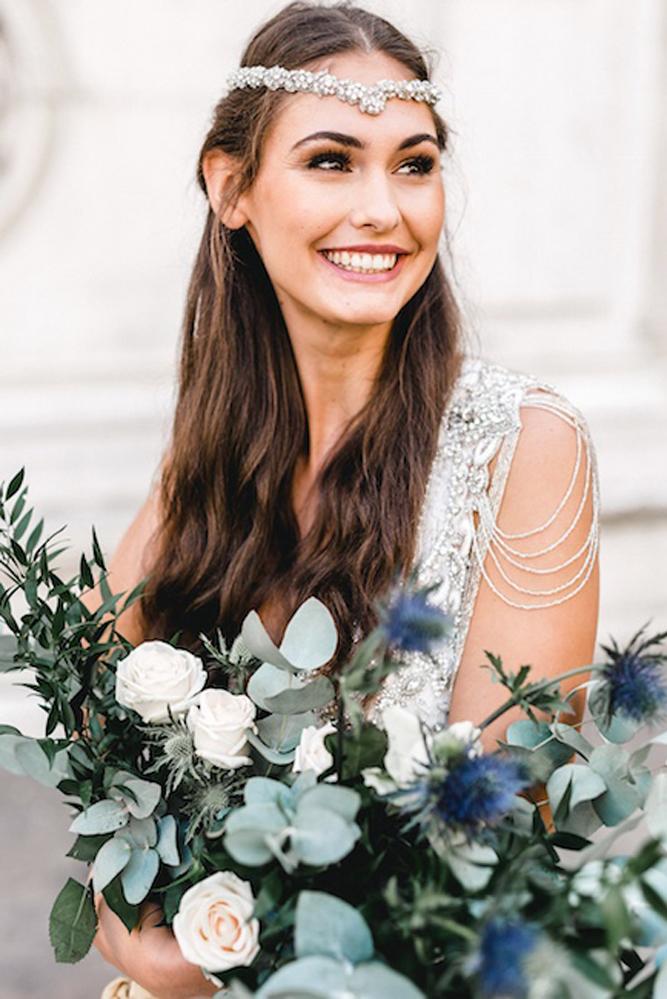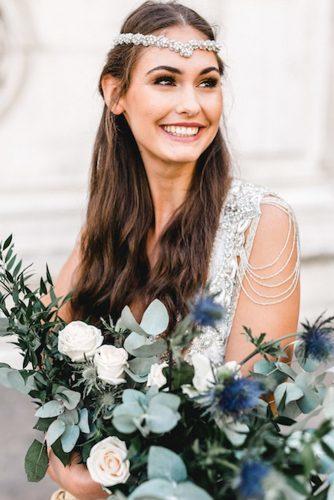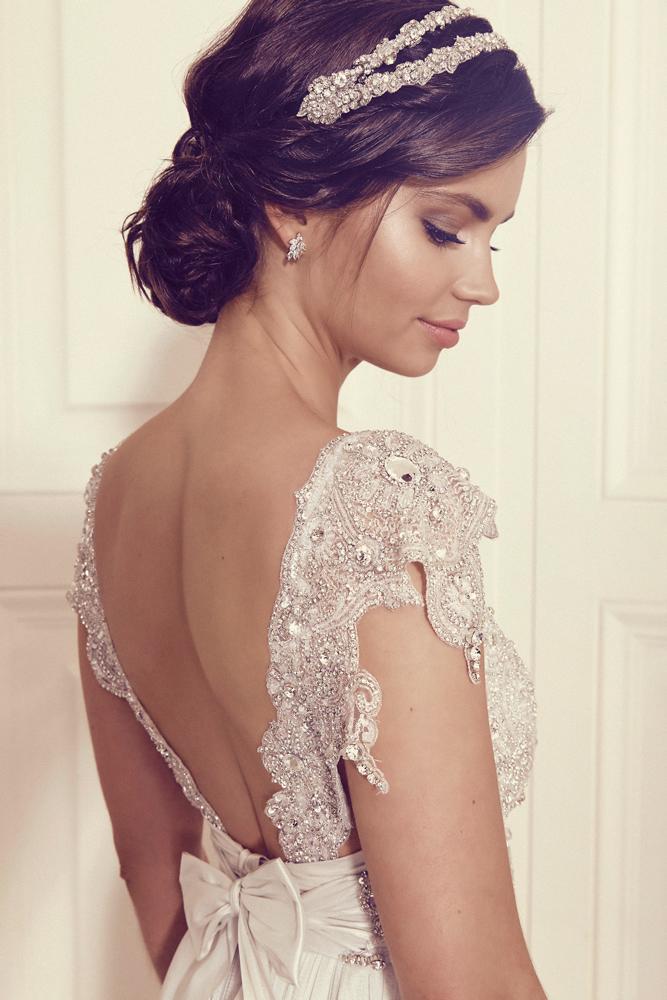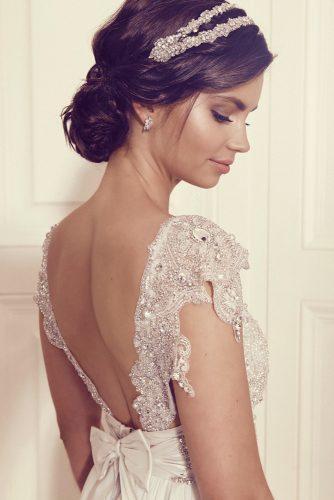 You can buy Anna Campbell dresses worldwide from a network of retailers across the USA, Canada, Australia, New Zealand, Europe, the UK, Singapore and Brazil. Be sure to check Anna Campbell website for locations and contact details!
Dresses are also available at Anna Campbell Trunk Shows touring the world. Don't miss all their top styles visiting one of their Australian or international stockists for one special weekend. Trunk show orders offer a special 10% discount that applies for that weekend only! Check trunk show dates and all details on the Anna Campbell website.
"This post was sponsored by Anna Campbell. Thanks for supporting our sponsors!"