We are present to you with the best wedding dresses from the most popular bridal designers here. Uniquely cut to fit most body shapes, we are sure that you will fall in love with most of these wedding dresses collections and be spoilt for choice.
Among our variety of wedding dresses, are A-line dresses, Ballgowns, simple, beach, and other variations. Have a look-see and be inspired to find the one that will make your hopes for a dream wedding come true in 2021.
What wedding dresses are best for what body types?
Wedding dresses these days come in all styles and cuts, and sometimes it can be difficult finding the style that is best for you. The best wedding dresses are those that complement and even enhance your figure. Below we have tips on which style of dress is perfect for which body type:
For a petite bride
Brides who are 5'4″ and below will benefit from the A-line that flatters most body types. This dress will complement a petite bride by giving significant definition to the bust and waist area, and even more with a V neck.
For the hourglass figure
The mermaid gown hugs the figure, celebrating it in all the right ways. A feminine style, it is perfect for the bride with the hourglass figure, as it follows the contours of the body, and flares by the knees.
For the tall bride
A tall bride can pull off a ball gown beautifully, where it would overwhelm a more petite bride.
Infographic Guide To Wedding Dress Silhouettes

Read more to find out what wedding dress for your body type works the best!
Popular Wedding Dresses From Berta
Founded in 2014, the fashion house, Berta, is named after its sole designer, Berta Balilti. The brand bases its styles on an avant-garde design style that constantly tests the boundaries of fashion in the modern world. Famous for being modern, bold and sexy, Berta's designs combine mostly retro styles, with vintage materials. The designer's approach to high-end bridal fashion is artistic in a way that continues to draw the attention of veteran fashion bloggers, editors, and publications. She is currently considered as one of the top-notch designers of bridal and evening wear in the world.
Source: Berta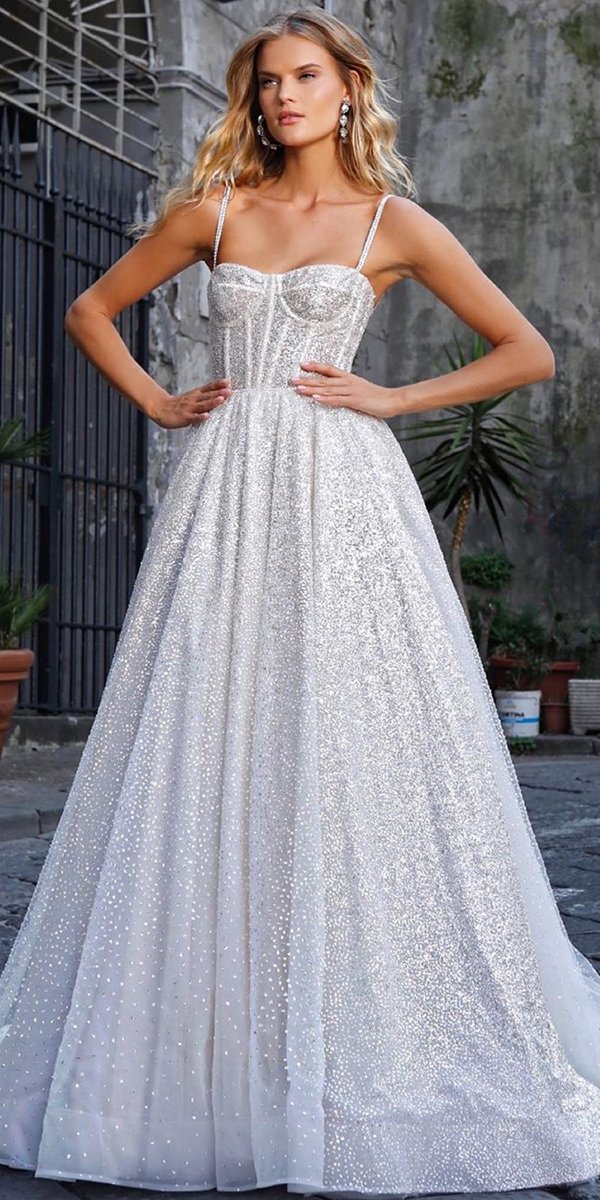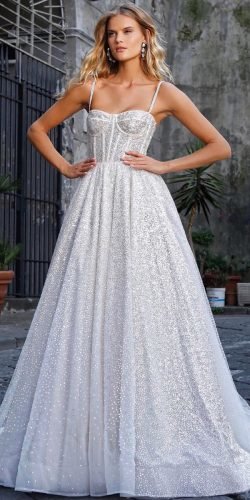 A-line dress
Beautiful A-line dress with corset bodice, that drapes to the floor in a full skirt. This shimmering fabric will suit any bride who is bent on dazzling on her wedding day.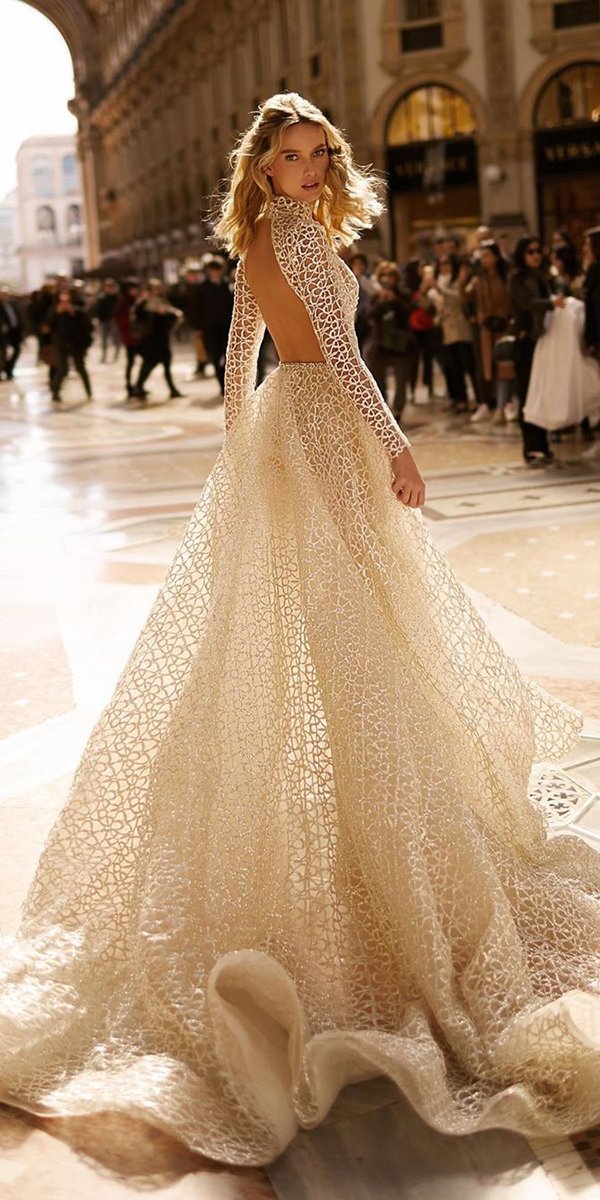 Long sleeve gown
This bareback dress is beautifully paired with a high neck. An A-line dress unlike any other. One that is sure to draw the attention of everyone in the room. A special dress made for a special bride.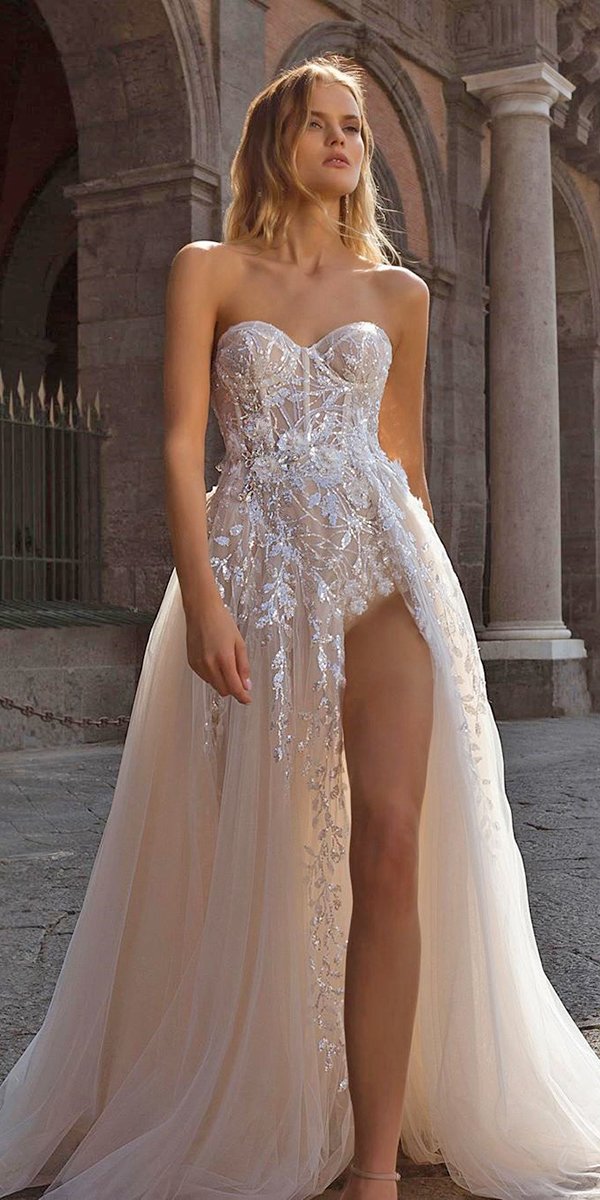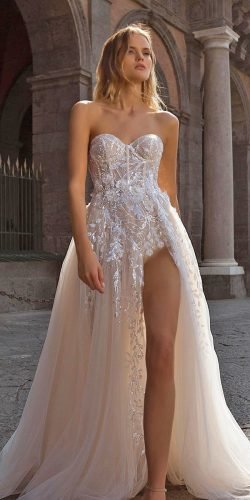 Beach wedding style
A sleeveless dream of a dress in flowery tulle, and a high cut slit that is sexy as it is beautiful. The dress has a figure-hugging bodice, and a long skirt that flares from the waist, and falls to the ground like a dream.
Wona Bridal Gowns — Bridal Collections 2020
A Ukrainian bridal and luxury fashion brand, WONÁ is the Ukrainian word for "she". This is an apt name, as the brand is committed to its clients (women), who provide inspiration for its designs. The WONÁ brand is one that believes that every woman's unique beauty can be revealed by the perfect dress, and each a muse in the creation of dresses, which embody the most extravagant and intimate desires. It is a brand that continues to capture the hearts and minds of numerous brides, helping them to highlight their unique features and tastes on their most special day.
Source: WONÁ Concept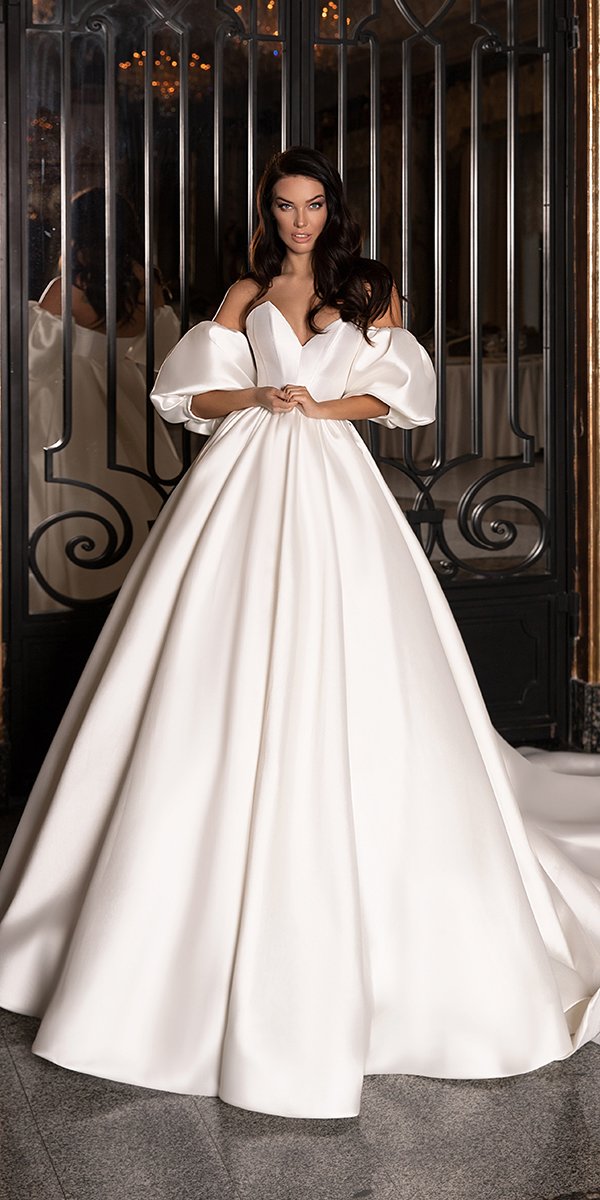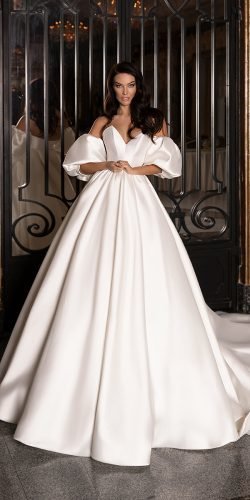 Simple style
For the romantic bride, we are present to you the Patricia wedding dress. Ball gown silhouette with puff sleeves – perfect choice for the bride in need of simple style.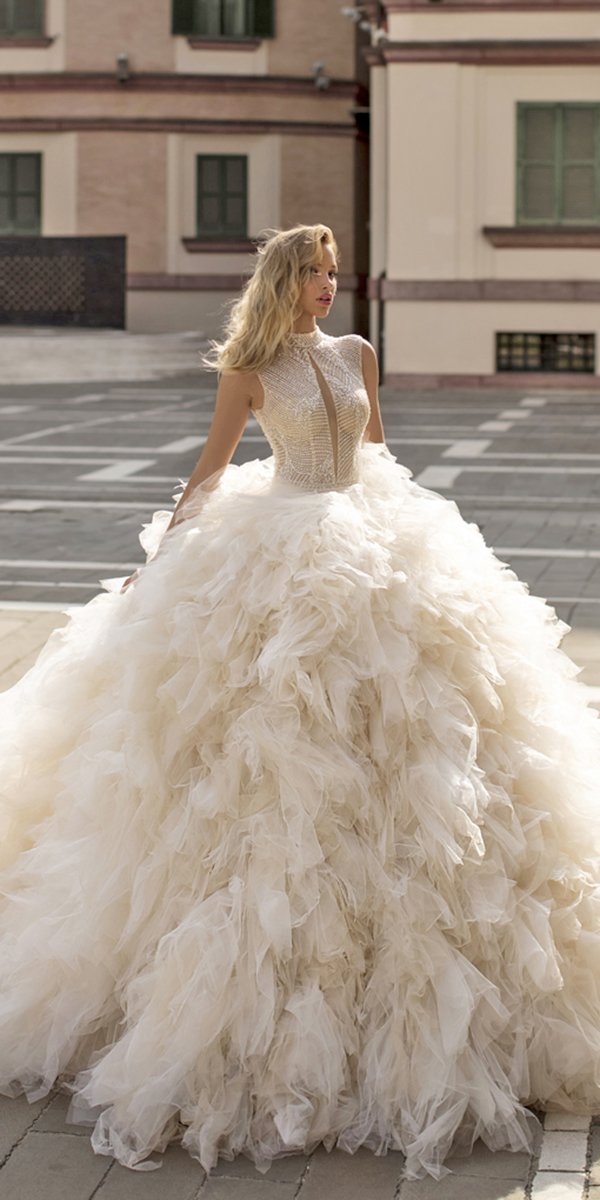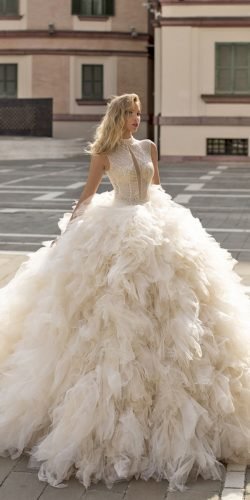 Ball Gown silhouette
The flamboyant Melissa bridal gown is a sheath dress of high-quality fabric in beige, decorated with shiny crystals and beads. It has a most beautiful neckline and a full skirt of the abundant veil.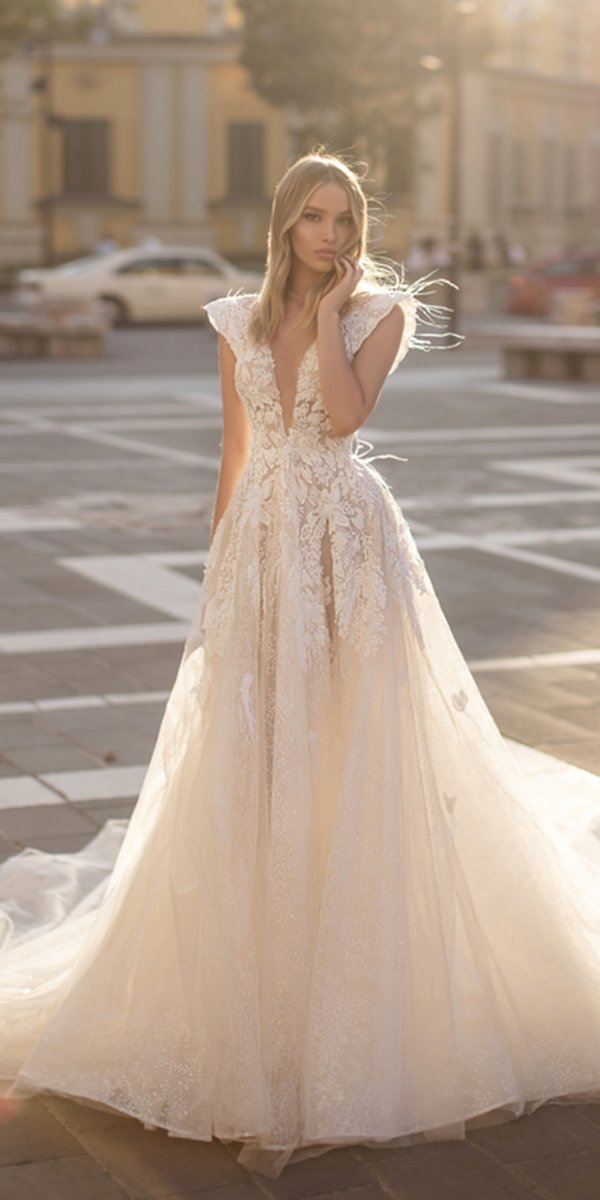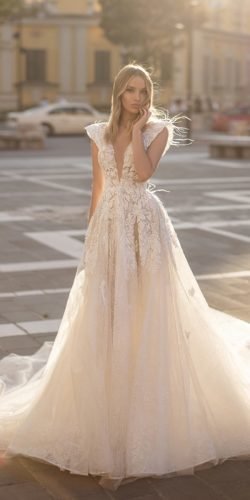 A-line gown
The Crystal bridal gown is one that gives a bride a sophisticated wedding look. The main accents of this A-line dress are the unusually shaped sleeves and low V-shaped neck. The dress is adorned with large lace feathers and flowers at the top, with a skirt of shining fiber and a long tail.
Sexy Wedding Gowns by Galia Lahav
Galia Lahav is a leading couture fashion house that prides itself on being able to provide custom couture gowns to women without the need for a physical meeting. This is made possible to the use of a unique technology that helps to produce uncompromising designs that emphasize personalization and customization in a way that is difficult to come by anywhere else.
A master in the creation of luxury apparel, Galia Lahav garments are known for their meticulous sewing techniques and high-end fabrications, which tailor to the unique needs of each individual customer, creating garments made for each wearer alone.
Source: Galia Lahav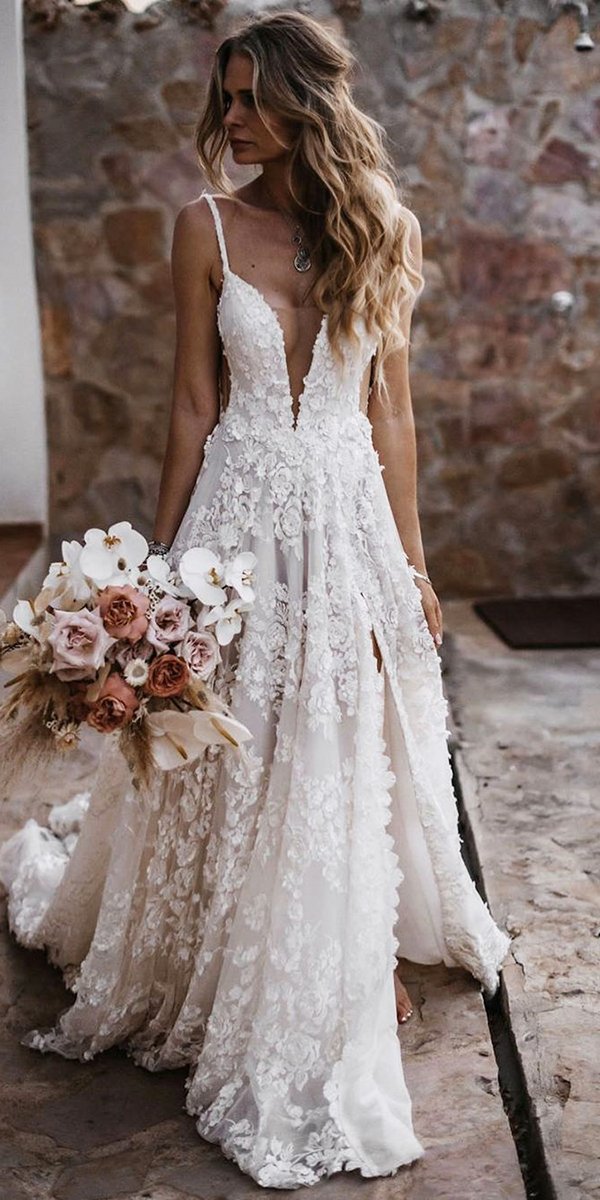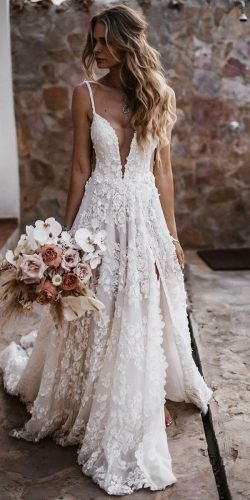 A-Line silhouette
Sexy deep v neckline, hot wedding dress which flares at the bottom and falls to the ground in a whispy dream. Galia Lahav will have you saying 'yes to the dress'.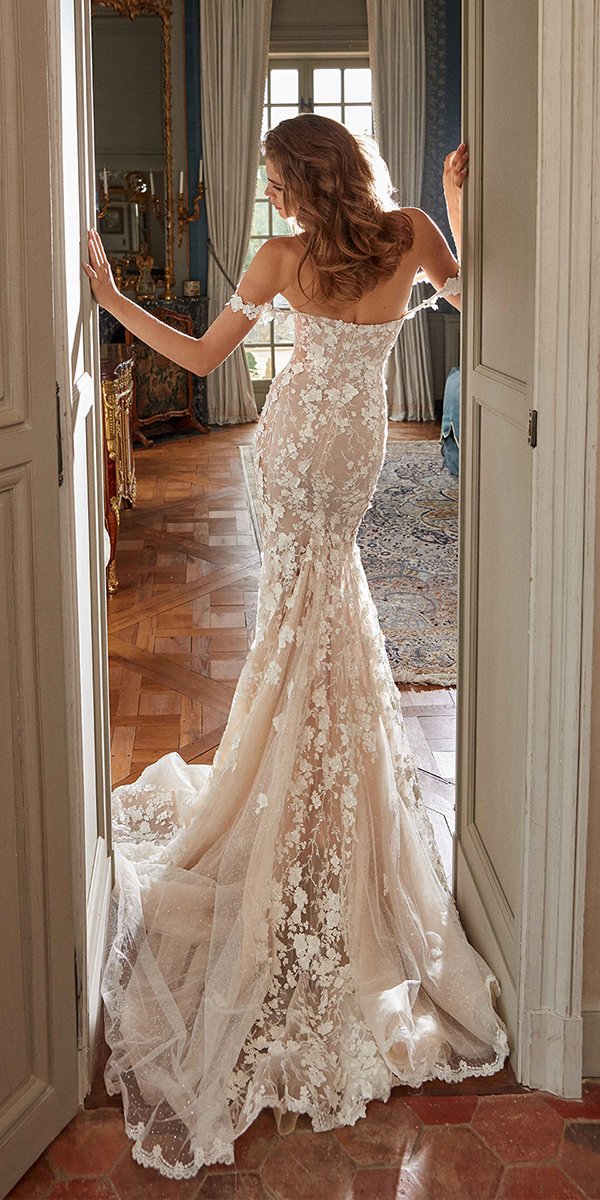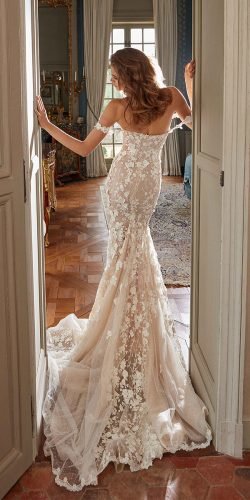 Fit and Flare silhouette
The perfect wedding dress, with lace and silk, adorned with big, beautiful flowers. Created with flowy fabric that flares at the waist. A custom made wedding gown, made to fit your body perfectly and your style.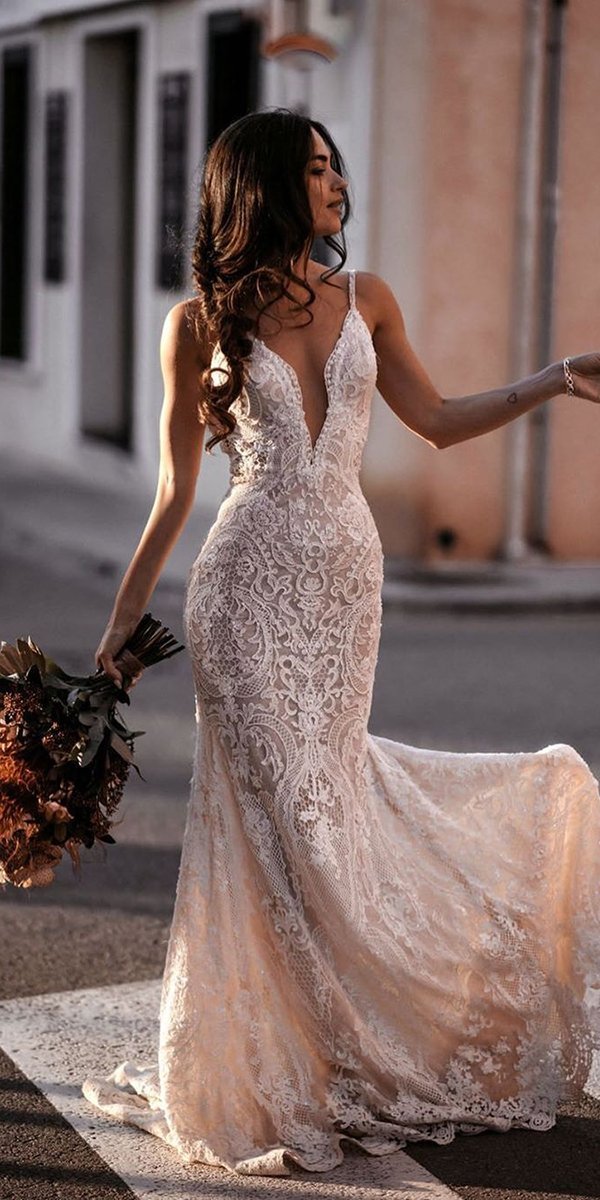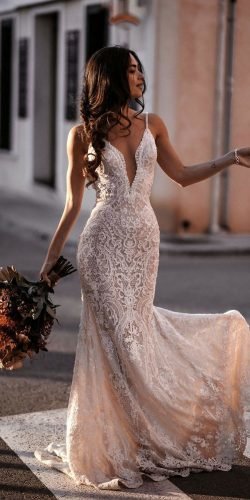 Beach gown
A beautifully, hand made couture gown of lace. A long sheath wedding dress with spaghetti straps and plunging neckline. A beautiful choice for the bride in need of beach wedding dresses for a beach or tropical destination wedding.
Lian Rokman Bridal Dresses Designer
Known as the new generation designer, Lian Rokman believes that the unique style of every bride needs to reflect in the vision of her wedding dress. The wedding dresses collections of this brand has a number of designs, ranging from modern to romantic, classical and even sexy. Created from the highest quality materials and with immaculate details, each dress is created in a way that compliments the figure of the bride who will eventually wear it. These comfortable, sophisticated and organic gowns are masterpieces that any bride would want for her wedding day.
Source: Lian Rokman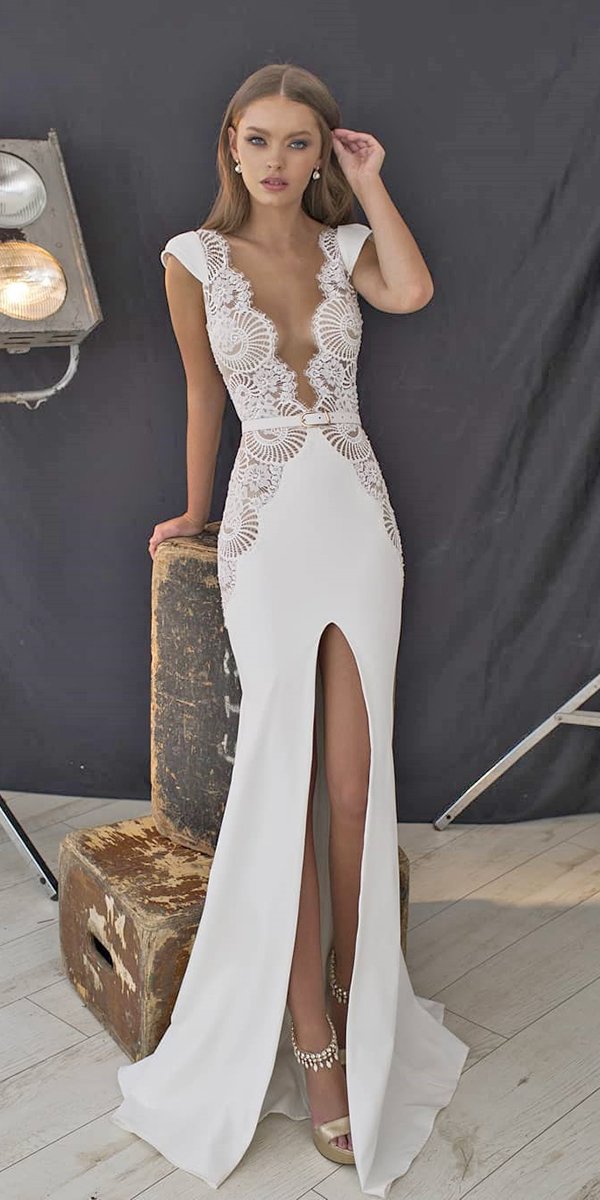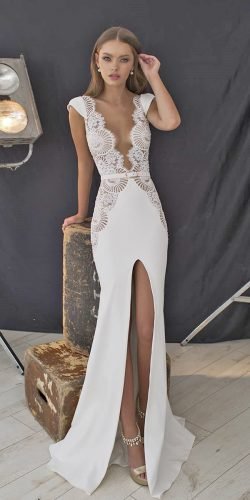 Lace dress
Sea Shells, from the fairy tale collection, is a most unique design, inspired by the beaches in Israel. A modern design that inspires sexiness and embodies modernism, the key elements of the dress are the open slit of the skirt, and its epaulets.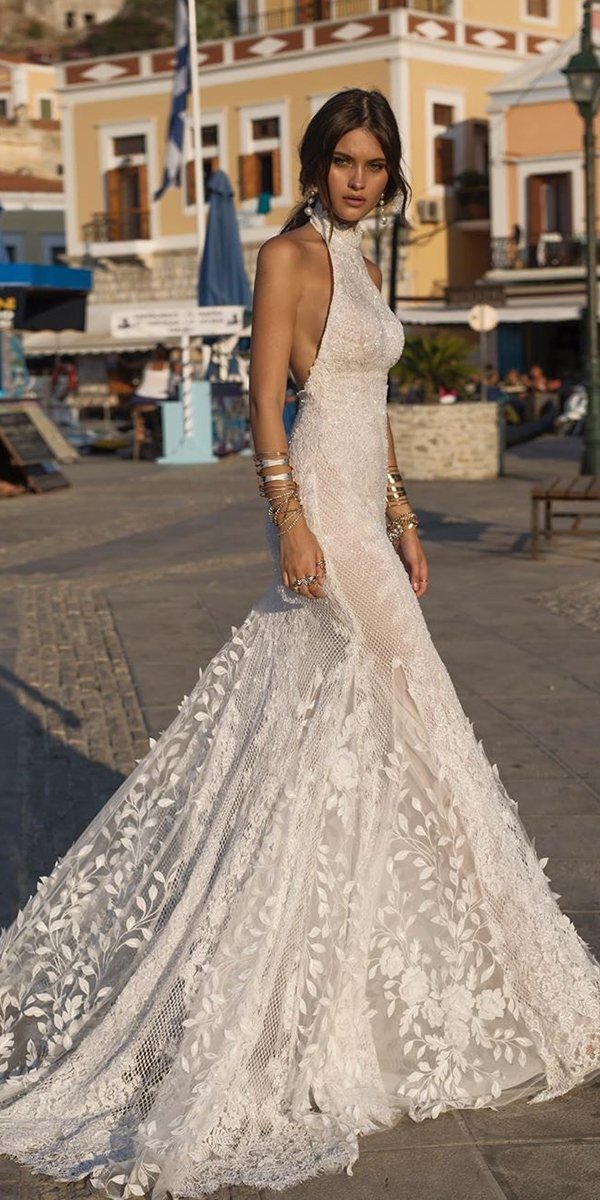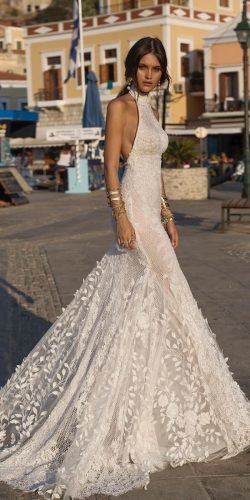 Beach style
From the mystic romance collection, is this halter neck, open back dress, Daria. A dress that gives the illusion of a weightless bride, gliding through her wedding, will be great for anyone looking to create a fairy tale theme.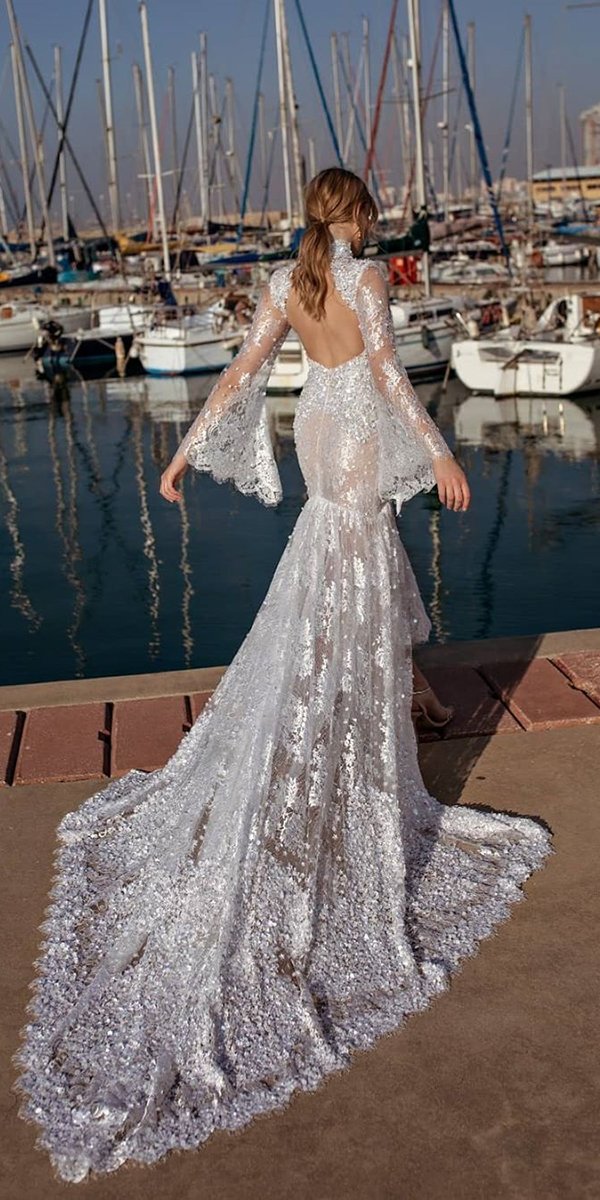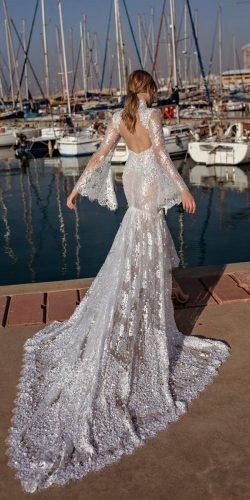 Fit and Flare gown
Fit and flare wedding gown with long sleeves and high neck. A sexy open back with delicate lace for the bride who longs to feel sexy on her special day.
Anna Campbell Wedding Gowns For 2020
Committed to making the most beautiful bridal accessories and dresses from custom-designed laces, hand-beaded embellishments and luxurious silks, Anna Campbell, located in Melbourne, send their hand made designs to brides all over the world.
Comfortable dresses, which embrace bohemian beauty and modern glamor for a bridal elegance that is uniquely Australian. Whether your wedding location is a rustic vineyard, lavender field, enchanted forest or somewhere even more dreamy, Anna Campbell is sure to complete the magic of your once in a lifetime day.
Source: Anna Campbell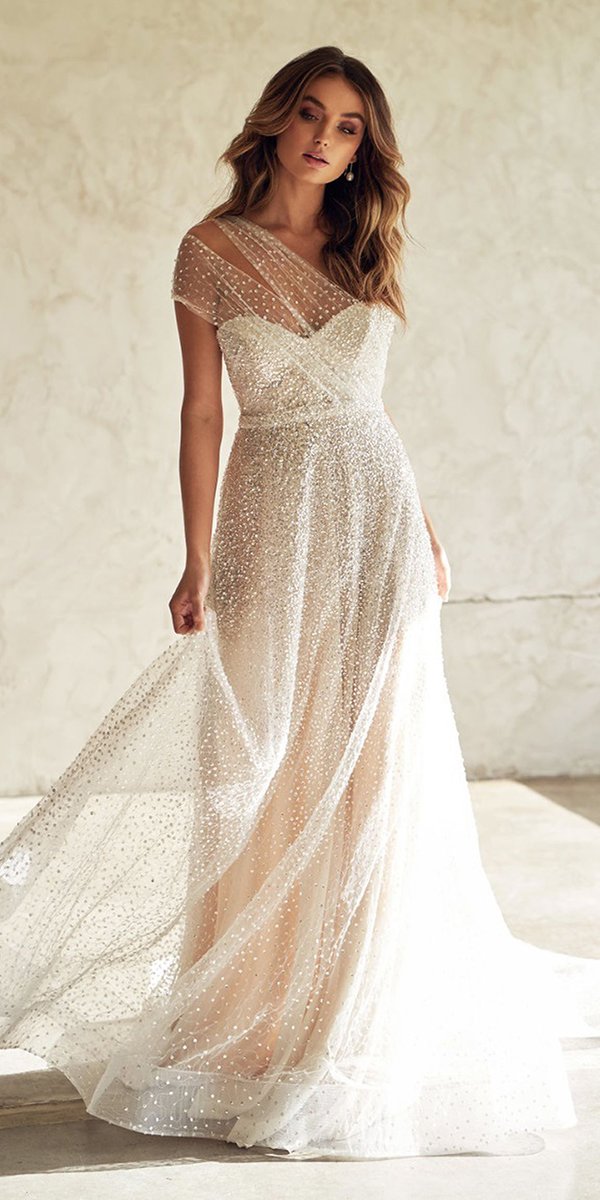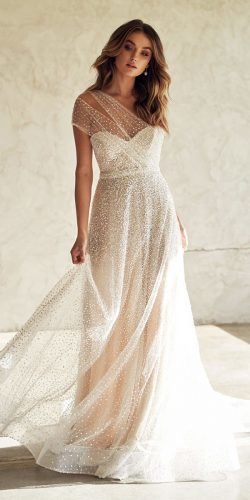 A-line silhouette
This hand made wedding dress of hand-sewn sparkling sequinned tulle, Tate features an elegant one-shoulder detailing, fitted silk bodice and full circle skirt. A mesmerizing design, it is styled with beautiful pearl earrings.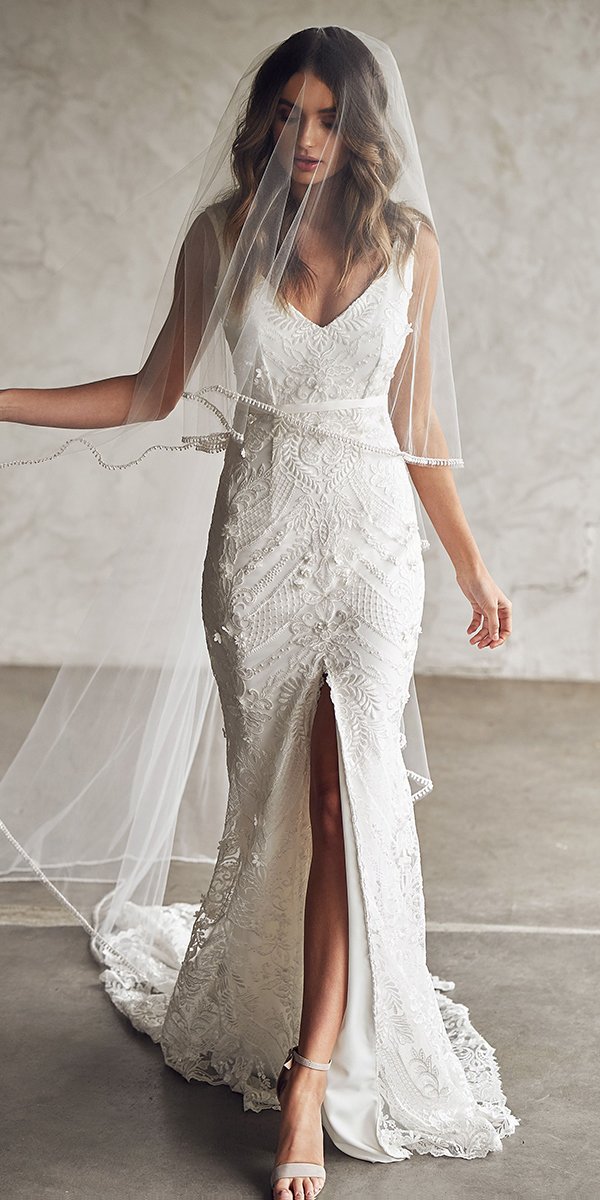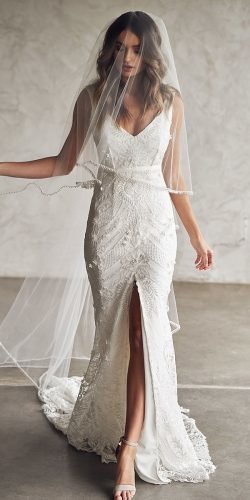 Lace bridal gown
The Lexi wedding dress is a statement dress of bold botanical lace, embellished with 3D flowers that are secured with sequins and glass beading. Its low, sheer lace v-back, v-neckline and high front split, all complement its pretty lace train. This dress creates a sexy vision if there ever was one.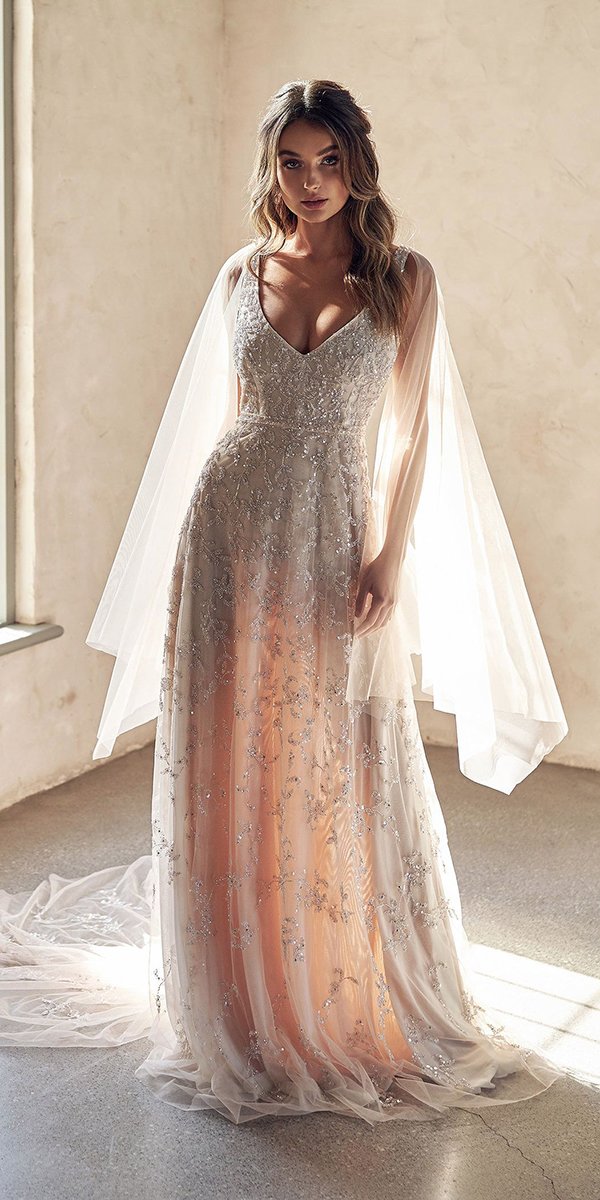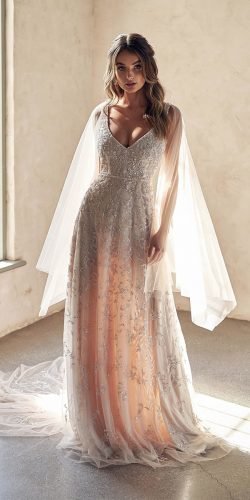 Vintage bridal style
A fabulous statement of femininity, Eden is made of pink tulle and covered in hand-sewn sequin embellishments. While the dress is available in a sleeveless version, it features a tulle draped sleeve. Its skirt drapes from the waist, in a dreamy and romantic shape.
Styled with the Valencia Pearl Earrings and Elle Chapel Veil with Blusher.
Moonlight Bridal Dresses That Are Wow
One of the most prestigious names in the bridal fashion industry, Moonlight Bridal is a brand dedicated to making the dream of brides come true. It is committed to creating the wedding gown that each and every bride dreams about before her wedding day. Launched in 1986, the brand provides luxurious looks of hand-sewn details and high-quality fabrics, at an affordable price. From styles that can be worn to classic events or even a garden wedding, Moonlight Bridal caters to the varying needs of the bride of today.
Source: Moonlight Bridal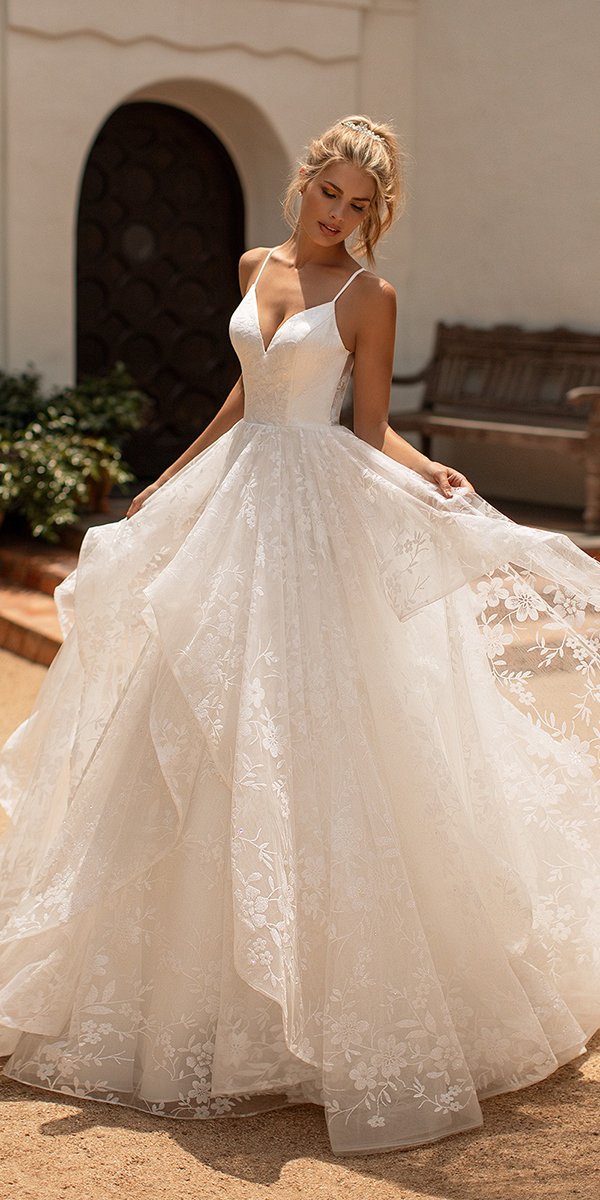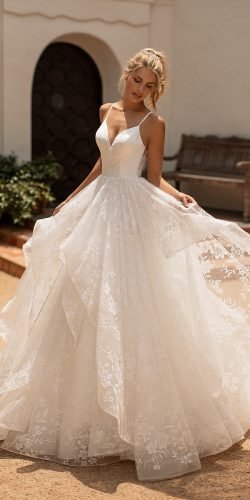 A-line dress
A statement dress for the bride who wants it all. This playful, romantic and sexy dress features a deep sweetheart neckline, thin straps and an illusion back. The skirt of this A-line wedding dress is its best feature, created with chantilly lace fabric that cascades the skirt and its chapel train, for a dream, elegant look.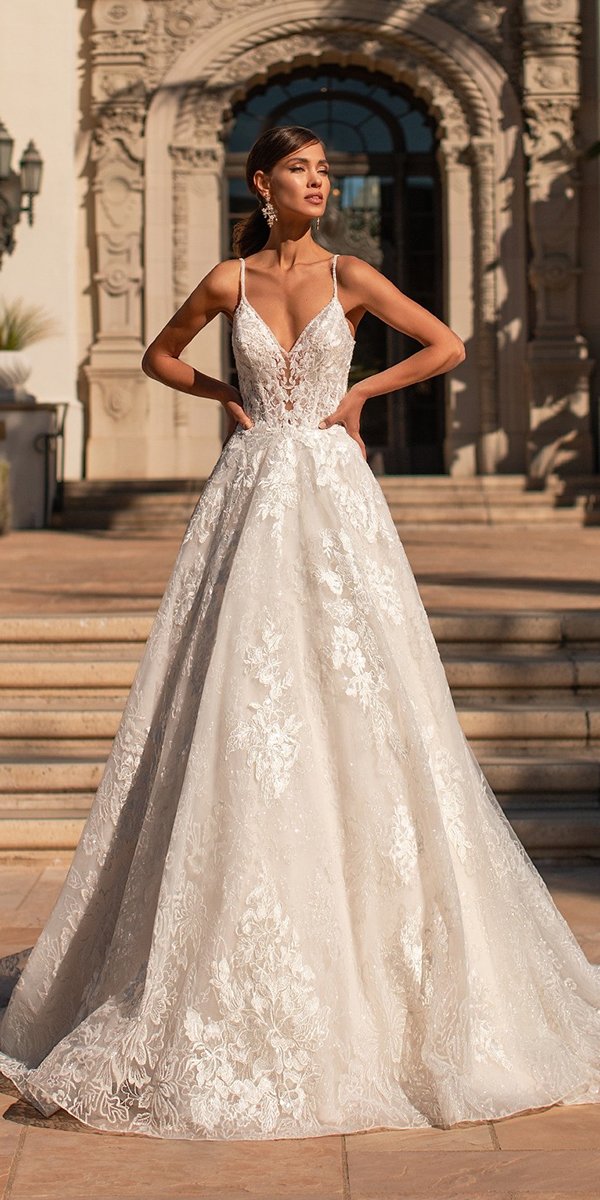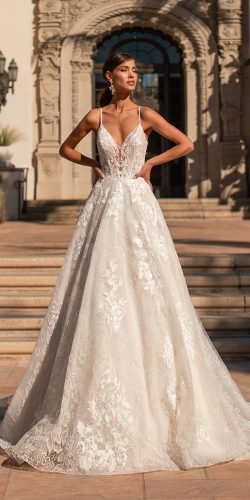 Lace wedding style
A true showstopper, this stunning full A-line gown with floral shimmer net and a semi-cathedral train from the Moonlight Couture collection. The deep sweetheart neckline, deep illusion v-shaped back bring an undeniable sexiness to this gown – your guests won't be able to look away!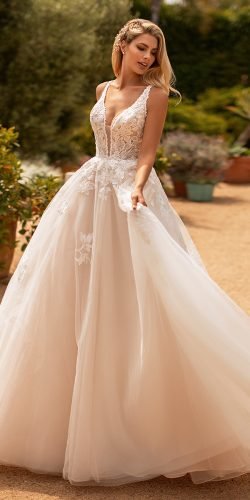 Ball Gown silhouette
If you are looking for the traditional ball gown for your wedding, perhaps consider this sparkly number of tulle and lace, with a magnificent chapel train. The dress is styled with an illusion inset and deep sweetheart neckline, with an illusion v-back. Its skirt is made of layers of tulle for that dreamy look every bride wishes for.
Pretty Wedding Dresses From Pronovias
A family firm that began as El Suizo, in Barcelona, founded by Alberto Palatchi Bienveniste in 1922. It grew into Pronovias in 1964 with the creation of the first prêt-à-porter bridal fashions by Alberto Palatchi Ribera, when he joined the company, during a revolutionary period that made wedding dresses accessible to all. The values of the company include respect, empowerment, stronger together, performance-driven and innovation.
Source: Pronovias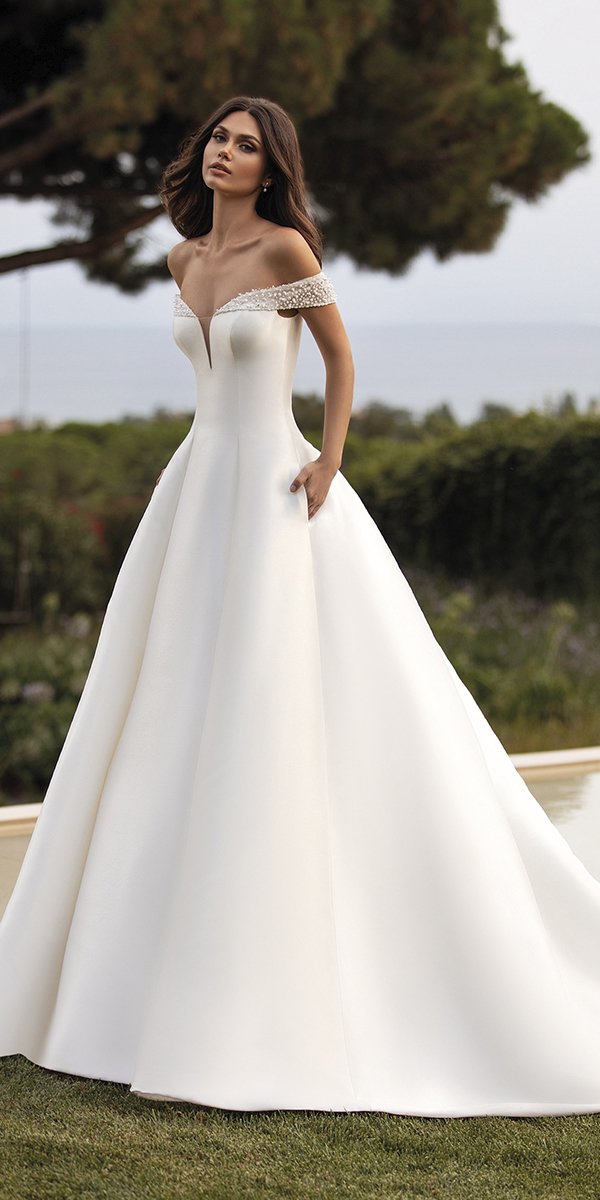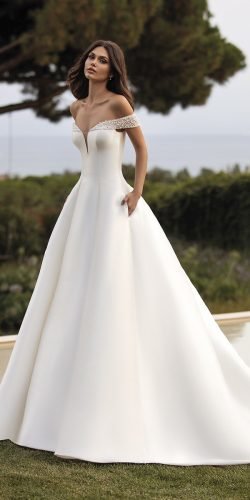 Princess silhouette
If you are looking for a simple and yet stunning dress, then the Rea wedding dress might just be for you. An off the shoulder Cinderella dress that features an open back, this dress is sensual with its plunge bodice, sleeves embellished with silver dotted beading and creamy seed pearls finished with a wavy princess skirt.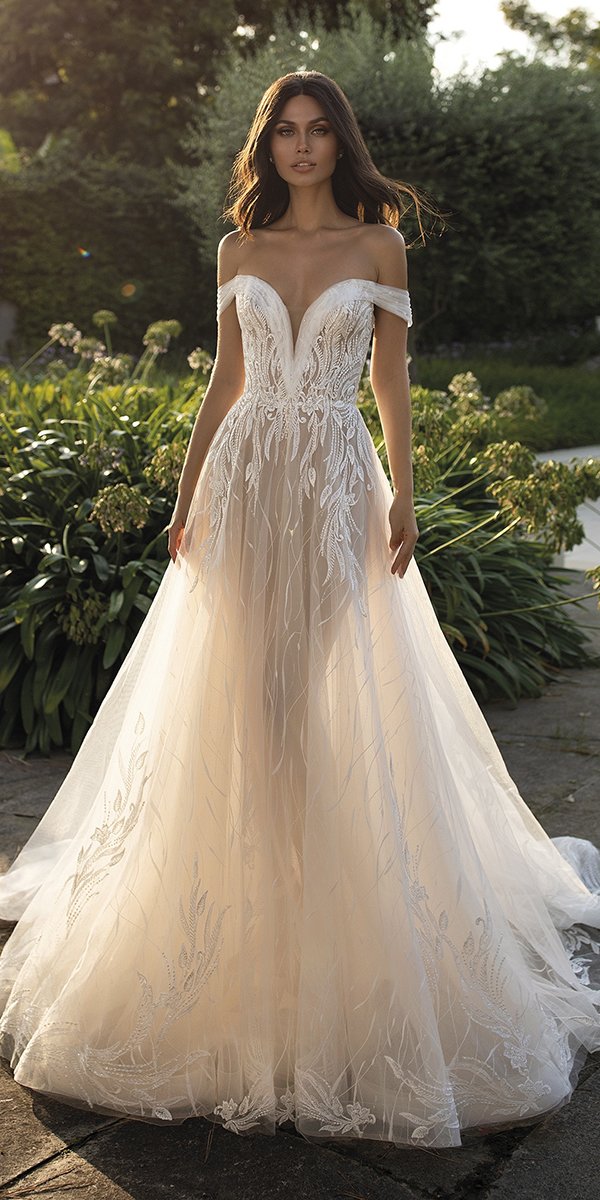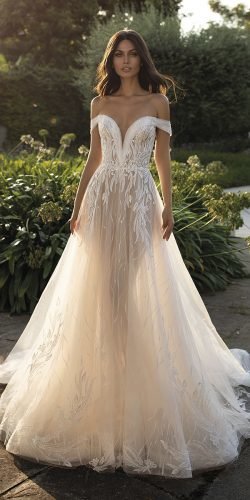 Lace bridal dress
The Cloe dress is a sexy number of off the shoulder sleeves and a plunging neckline on a sheath dress of butter-soft tulle. It has a fitted bodice of sparkling leafy lace pirouette, a corset back and a flowy princess skirt.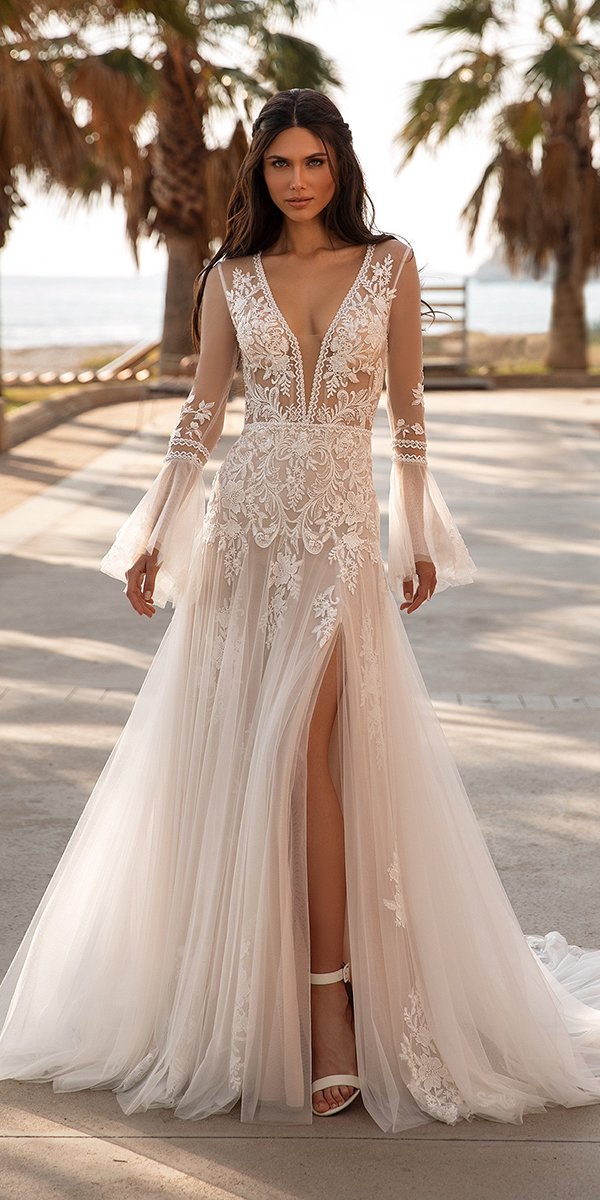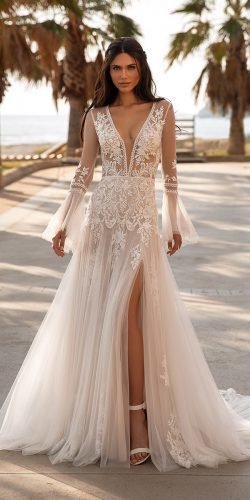 Long Sleeve wedding dress
Glide through your wedding day in this whimsical wedding dress fashioned from lace and tulle. With long bell sleeves, split evasé skirt and a chapel train creating a unique vision of ethereal elegance.
Terrific Bridal Gowns By Enzoani
Led by award-winning designer, Kang Chun Lin, the team behind Enzoani work continuously to keep the brand at the cutting edge of bridal fashion design. Kang Chun Lin merges a timeless design esthetic with an avant-garde inspiration to create numerous custom made styles and designs for hand-beaded dresses, which take a huge amount of time to create. Dresses of the highest fabrics and Swarovski crystals, are what you will find at Enzoani.
Source: Enzoani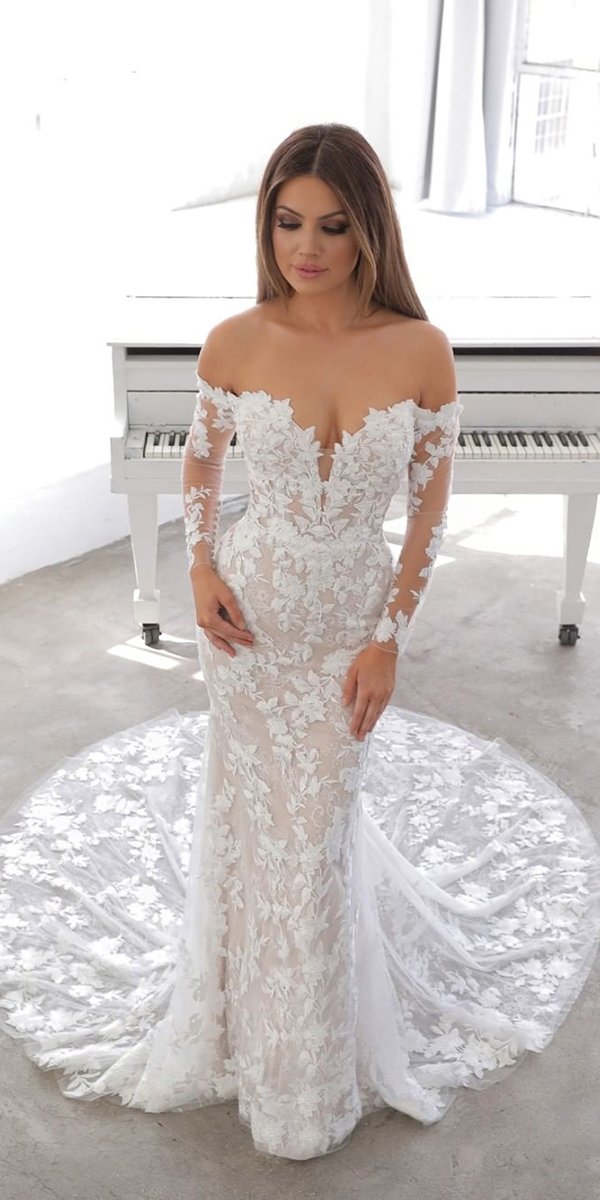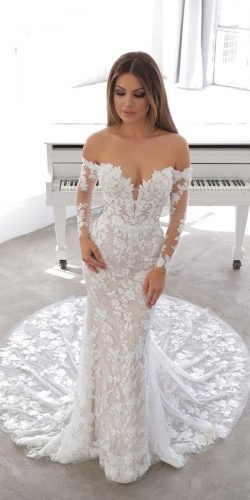 Lace style
Naroza dress with long sleeves and off the shoulder, re-embroidered lace appliques adorn silhouette, bringing soft femininity to this wedding day look.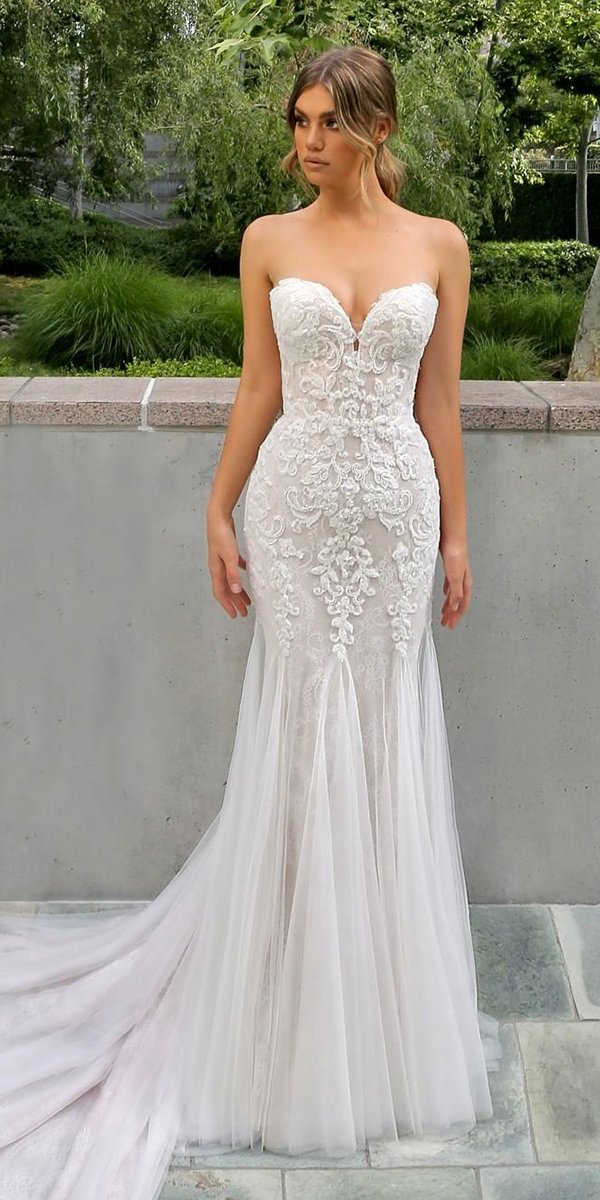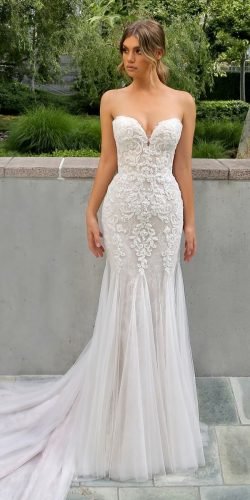 Mermaid bridal silhouette
This ivory mermaid gown is a romantic, sweet number of exquisite lace that features a low sweetheart neckline on its bodice, and a layered tulle skirt.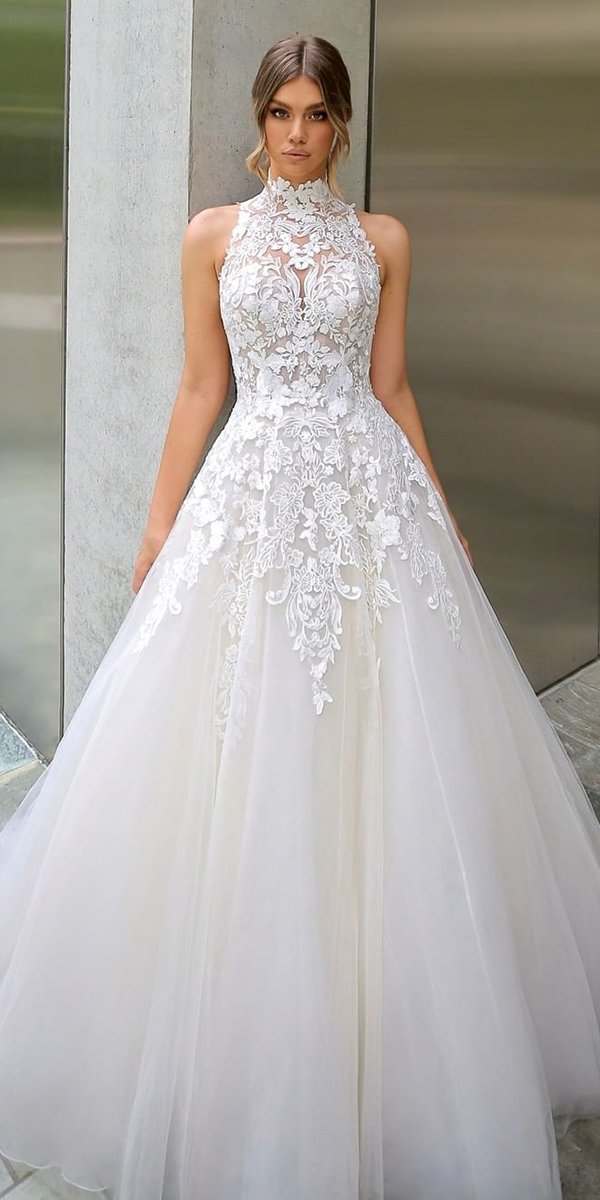 A-line dress
This A line wedding gown of lace and tulle, is made with a sexy, high neckline and illusion lace back to match its illusion lace bodice. The flowy tulle skirt is long and dreamy, adorned with lace appliques.
Wonderful Wedding Dresses From Naviblue
Naviblue Bridal is a brand that engages in the production and sale of wedding accessories and dresses all over the world. It sells a large assortment of its products at competitive prices that satisfy a large number of brides and bridal houses. Naviblue Bridal ensures brides from all around the globe of the highest quality and luxurious dresses for sophisticated customers.
Source: Naviblue Bridal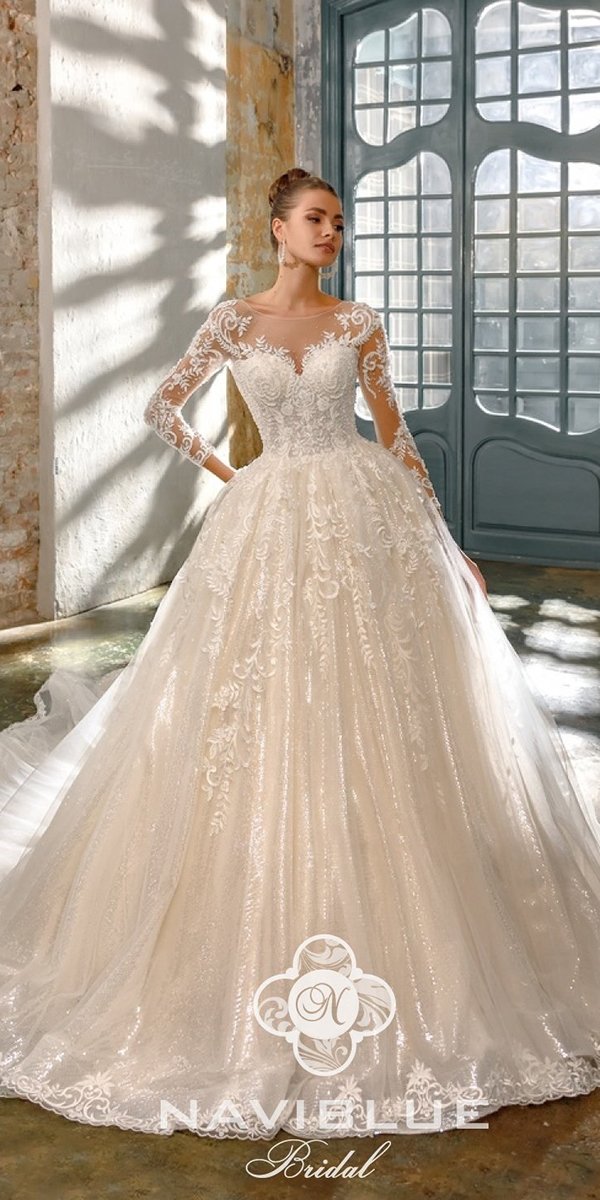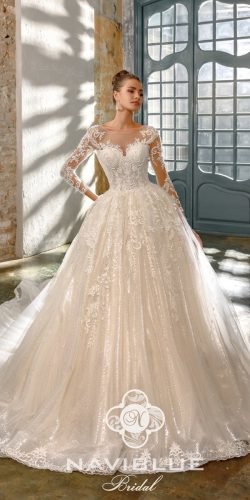 Lace dress
A splendid ivory lace wedding gown with a sheer, scalloped neckline and full skirt that flares from the waist and falls to the ground in a long, elegant train.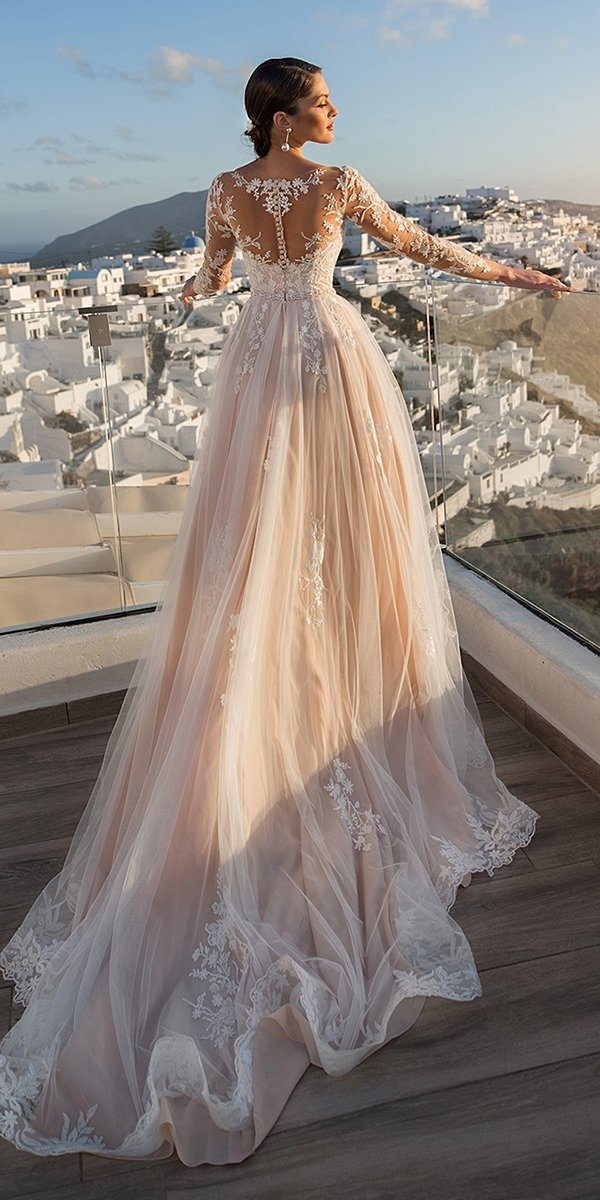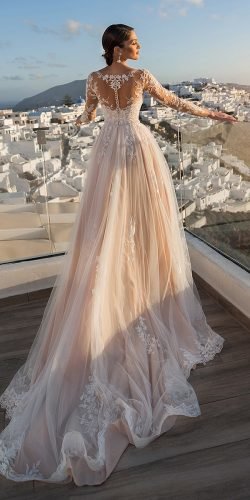 A-line silhouette
Breathtaking, sparkly wedding dress, with a fitted bodice, long, lace-covered sleeves and long, full skirt that falls beautifully, with a tail at the back.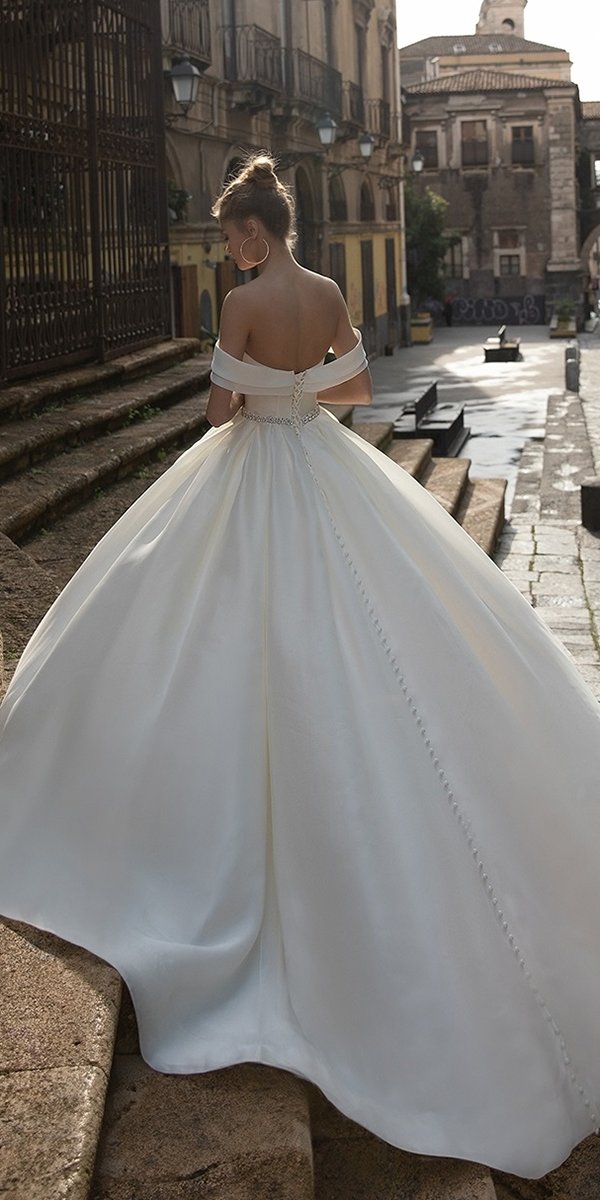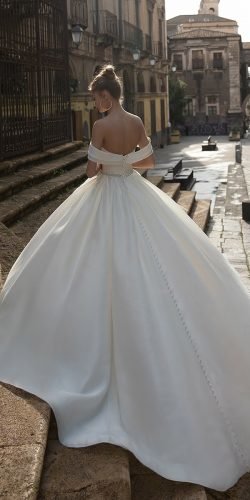 Simple style
A magnificent gown with beautiful low back, off the shoulder neckline and a long, full skirt that falls in a beautiful tail at the back.
Gali Karten Bridal Gowns For Hot Party
A brand that successfully merges elegance and an innovative twist in its designs, Gali Karten caters to the brides who want to make a statement. Tailored to the unique tastes, needs, and personality of each customer, the brand's designs emphasize elegance, quality and uniqueness in each and every creation. To sum up, it is a brand known for quality and sophistication, adorning brides with dresses that feature sleek modern lines, figure-flattering designs, with hints of romance and vintage nostalgia.
Source: Gali Karten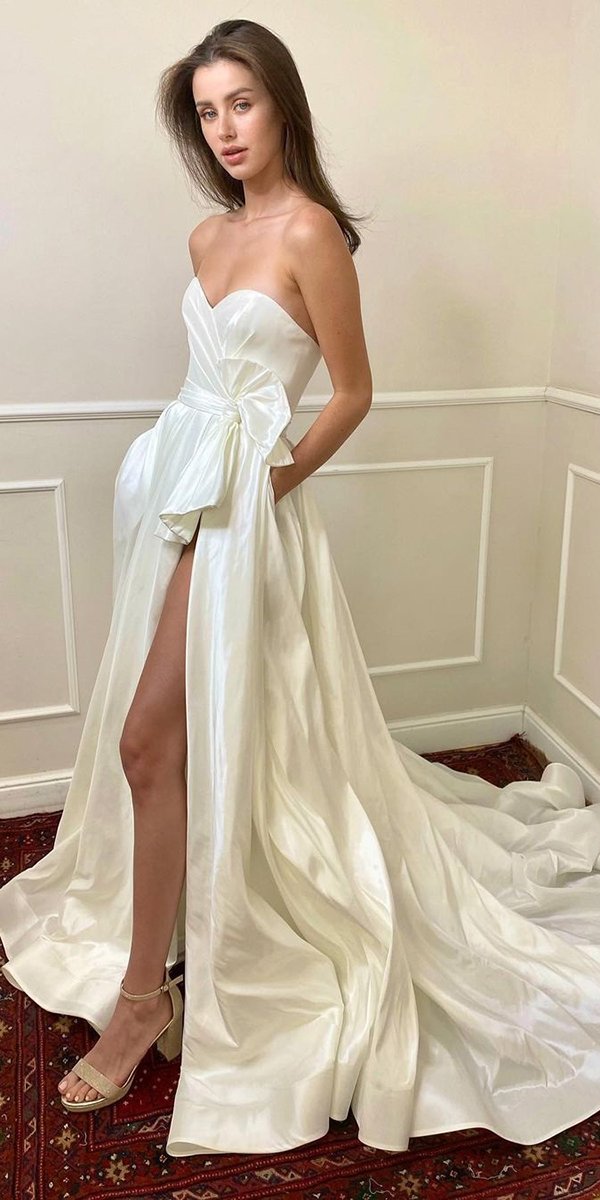 Simple gown
A beautiful, delicate gown, with a sweetheart neckline. The skirt is slender and long, with a high and daring slit for that ultimate sultry look.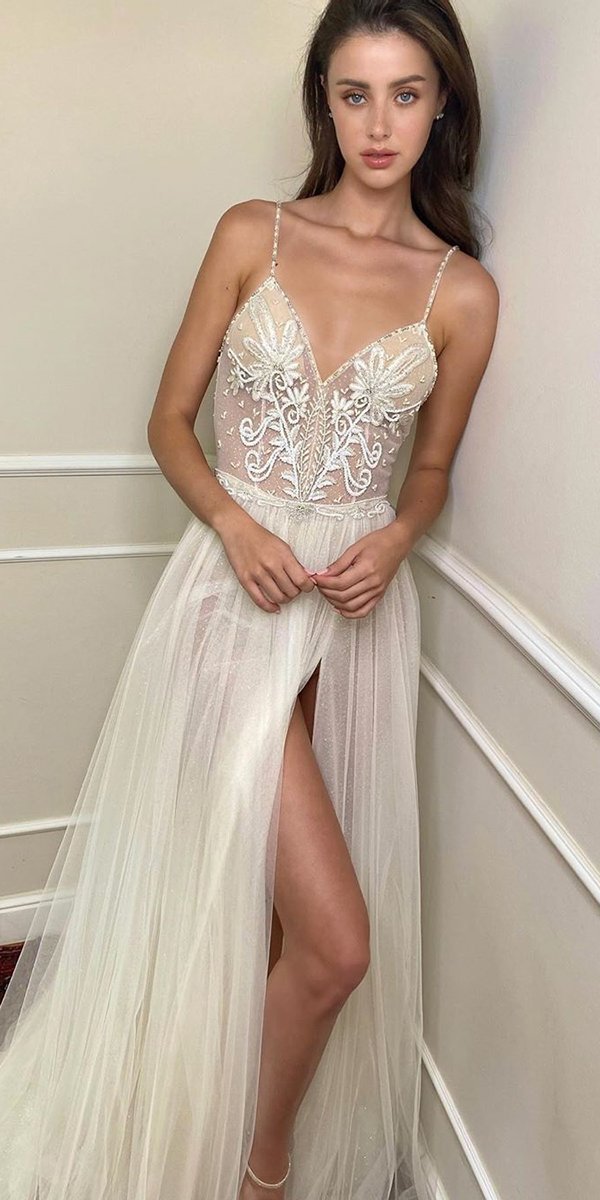 A-line bridal gown
Bridal dress with spaghetti straps made of whimsy lace fabric, a fitted bodice and long, flowy skirt. The sleeves are optional and easy to wear or take off.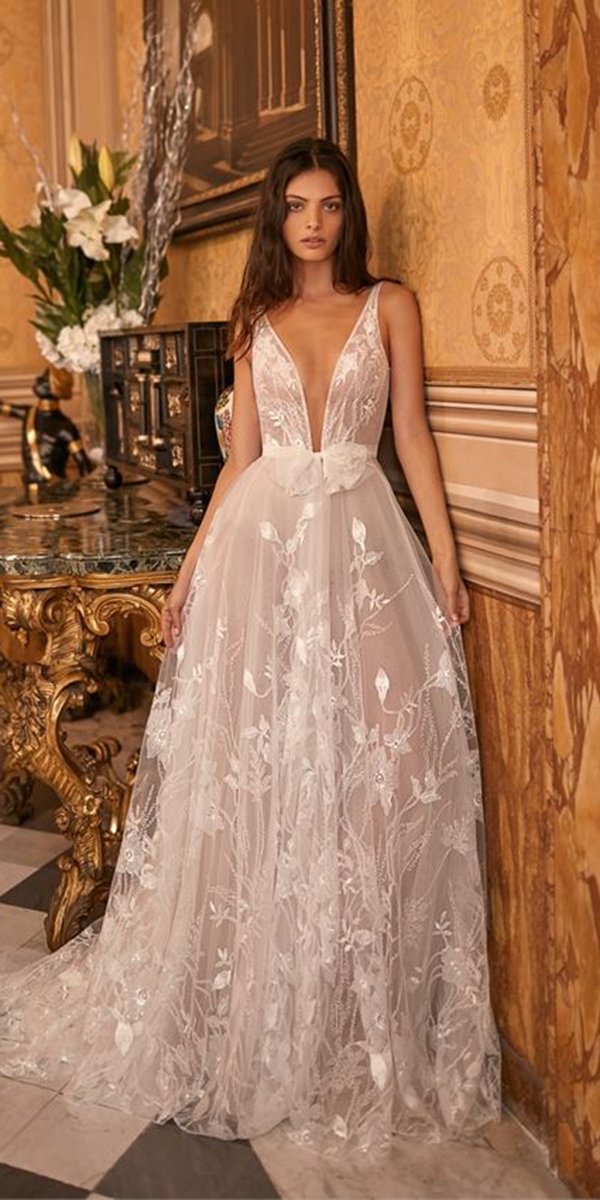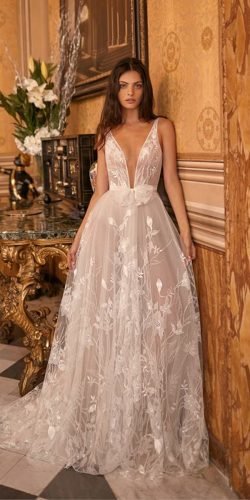 Bohemian dress
A delicate, fairy tale dress, this wedding gown of soft lace fabric features a plunging neckline that ends in a sweet bow at the waistline. The full, flowy skirt, falls naturally with the dress, creating an ethereal look for the bride who is looking to recreate a dream.
Marvelous Julie Vino Wedding Gowns 2020
A brand that combines a modern touch with classic style, Julie Vino has a distinctly unique stylistic vision that is different from most you will find in the bridal market. With one of a kind wedding dresses and evening gowns, each customer of this brand receives undivided attention for the creation of bespoke and personalized dresses to, sculpted to fit the body of the bride. Brides receive customized dresses made from the best, high-quality fabrics and feminine designs. Everything required to create the most magical dresses.
Source: Julie Vino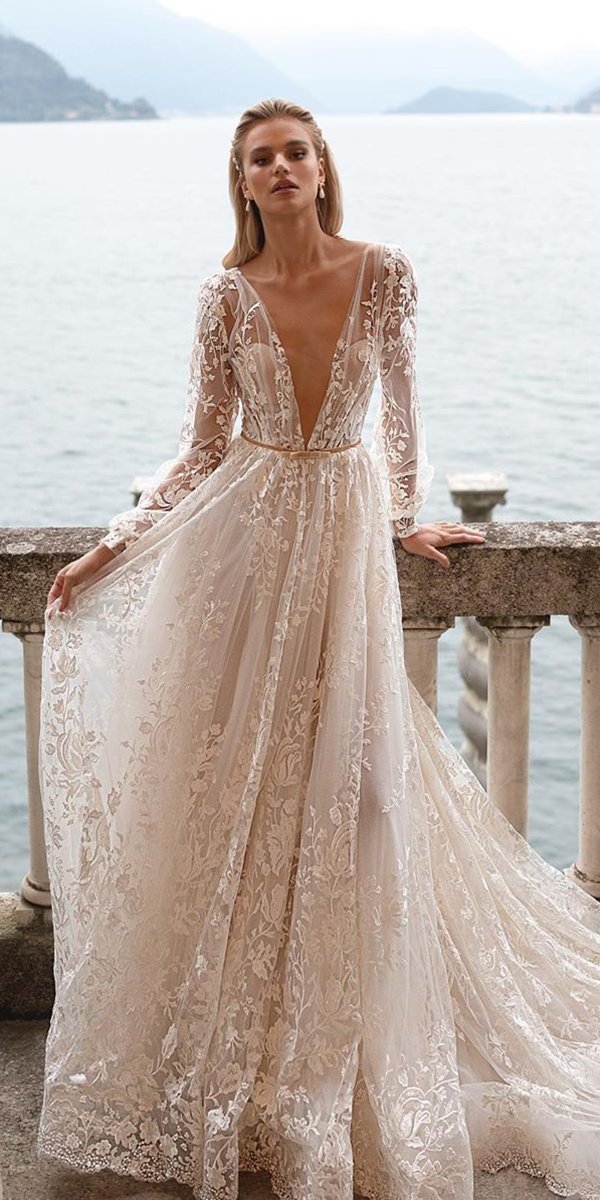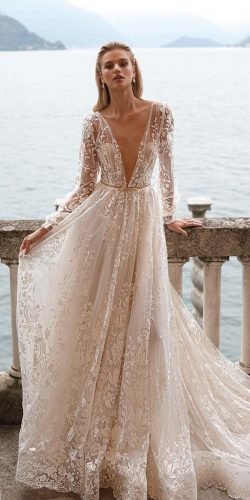 A-line dress
A dreamy collection of long flowy gowns made from beautiful lace and tulle. The Bellagio gowns are for the elegant bride who is daring at the same time. A-line dresses that will make the day of almost any bride, a dress from this collection are sure to turn heads on your special day.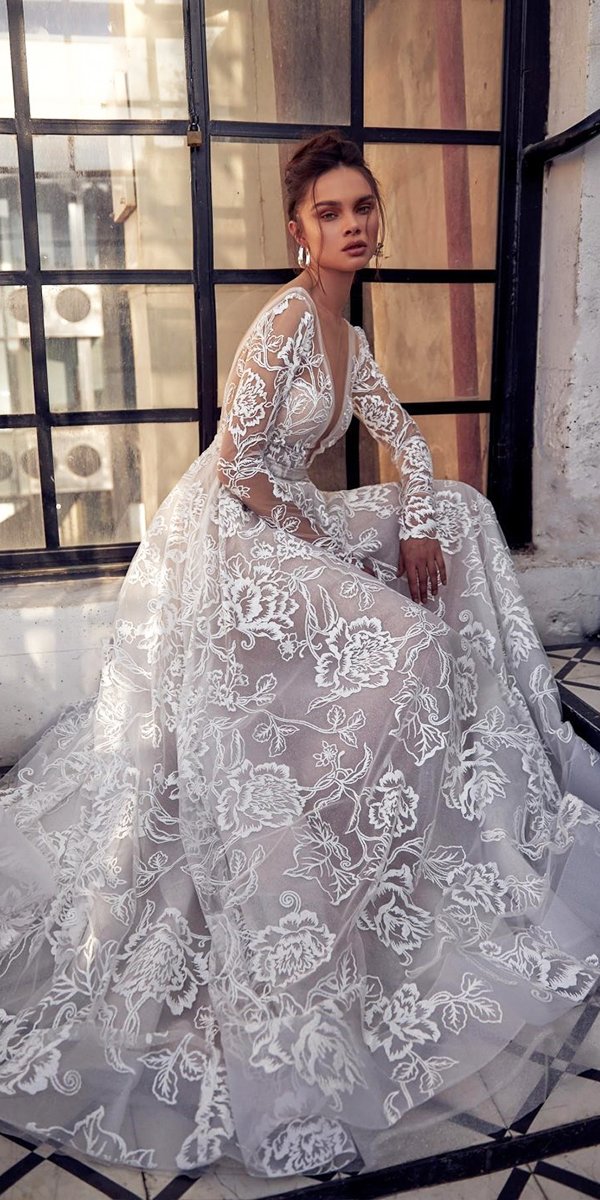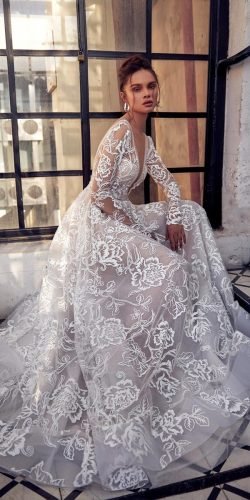 Long sleeve gown
A long, beautiful wedding gown of elegant lace, this A-line wedding dress with its plunging neckline, long sleeves and full skirt would be perfect for any type of wedding. From a vintage wedding, to a bohemian or classic one, you wouldn't have to look far from this picture of perfection.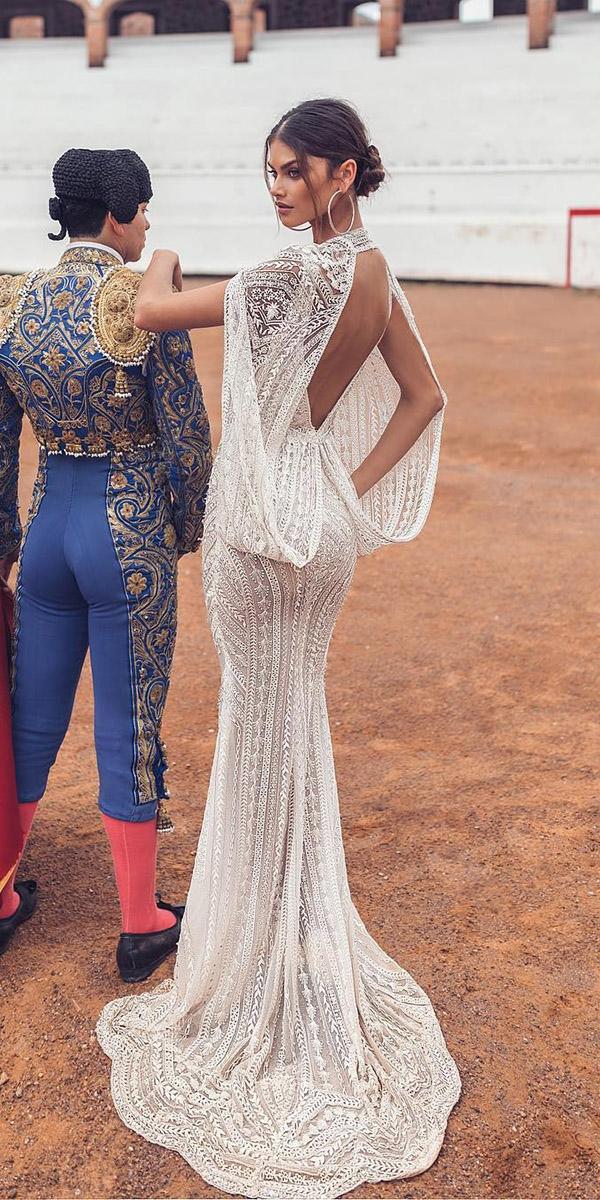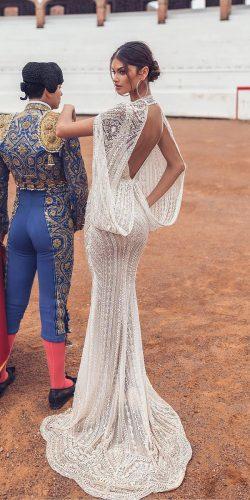 Mermaid silhouette
An elegant and sexy open back mermaid wedding dress with spectacular beading from top to bottom. The beauty of this dress is enhanced by the exceptional design of the sleeves that connect to the waist of the gown at the back. The dress for the bride who is looking to stand out.
Lovely Bridal Dresses From Madi lane
An Australian based brand that caters to the bride with an innate sense of style, Madi Lane combines timeless sophistication with modern ingenuity to create dresses a bride can hardly say no to. The Madi Lane story is a timeless tale of 'girl meets dress', the dream of every little girl who grows into a bride. Each dress, an exclusive piece of beautiful art, and elegance of design made from high-quality fabrics, delicate appliqué and embellishments to create garments of modern contemporary couture. So, the dresses are made to fit each bride's figure as well as personality, making each piece stand out like no other.
Source: Madi Lane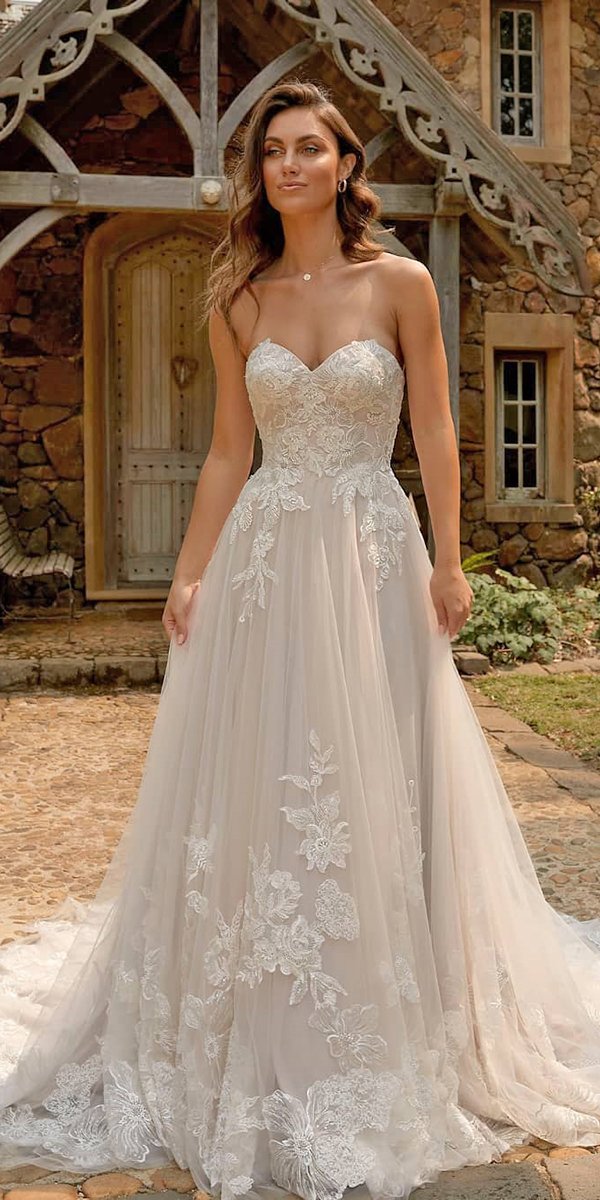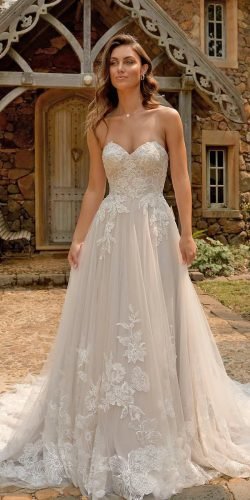 Ball gown silhouette
A traditional ball gown, Haven is the picture of soft femininity as well as romance. A dress of luxurious floral lace and a full, billowing skirt of tulle is the type of dress dreams are made of. A dress constructed to fit every feminine form, the skirt is adorned with lace appliques and has a beautiful train, as well as a detachable tulle shawl.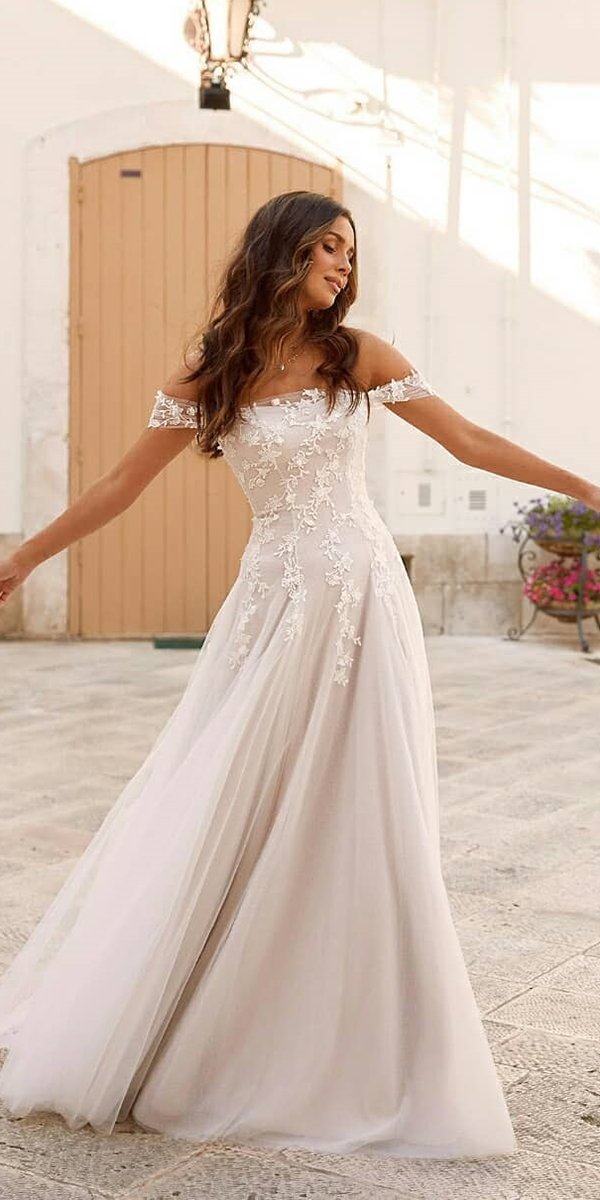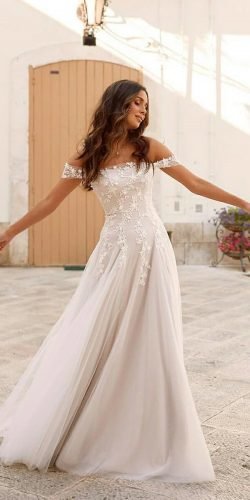 Beach style
To twirl in a Mena is the dream of the wild and wistful bride. A wedding dress, which encourages a carefree nature, the Mena has an off the shoulder fitting bodice that embraces the waist, and a full skirt that falls to the floor in layers upon layers of silky tulle. This for the bride who will like to float through her wedding in style, during the autumn or spring. The shoulder appliques are removable, giving versatility to the dress and for the bride who wants something different.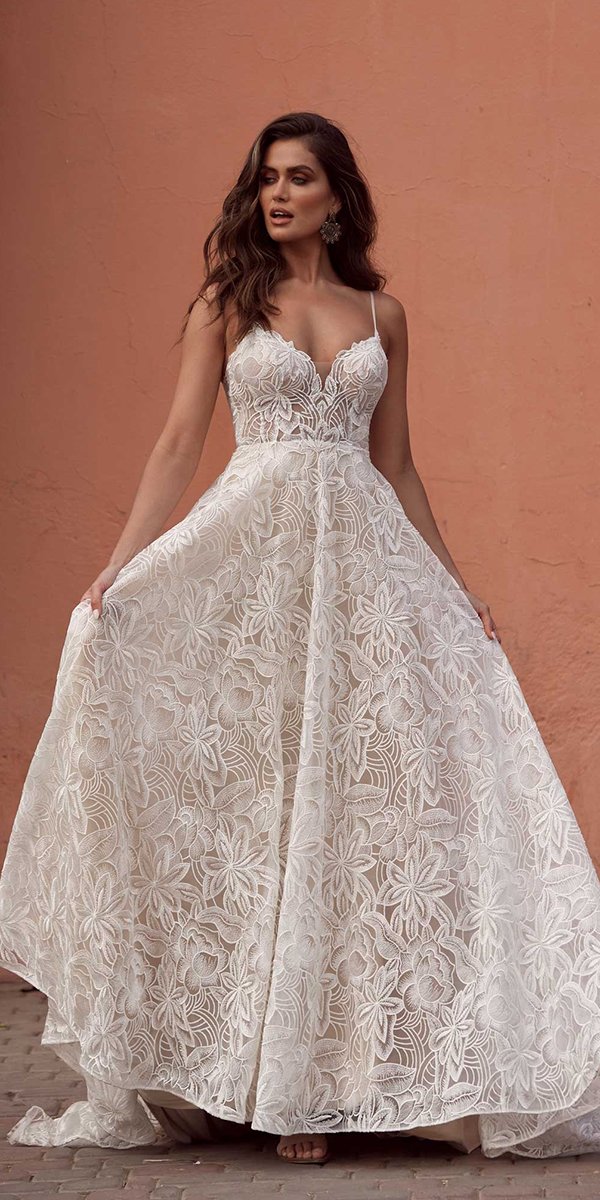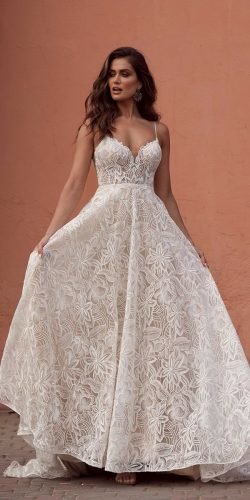 A-line wedding dress
A tropical floral lace creates a modest v-neckline with spaghetti straps dropping into her sheer lace back. A detachable train is included with Azaria's magical gown – offering brides the best of both worlds. The soft ivory tulle floats from the nape of the neck, down the back before cascading into a dramatic train.
Modern One Day Wedding Gowns
One Day bridal is the beginning of a love story for a bride and a groom. Established by its creative director, Kyha, in 2011, it is a brand that has established itself as a leader of a uniquely designed wedding gown in the fashion industry. A brand that continues to push the boundaries of traditional bridal, it also creates its designs around the personal bridal experience of its founder. Kyha continues to create wedding gown designs that reflect her personal style, giving brides something different from the usual traditional white gown, and dresses that can give them an unforgettable and memorable experience.
Source: One Day Bridal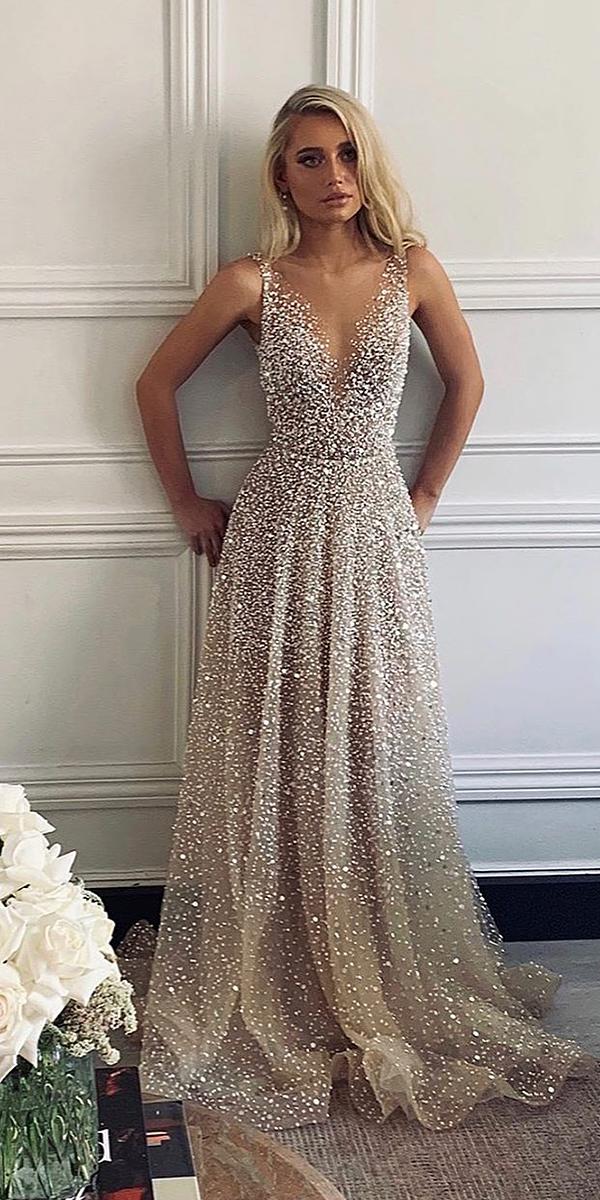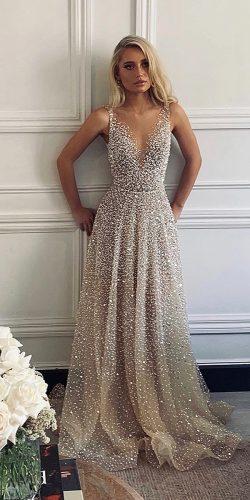 A-line gown
A wedding dress sweet as Peach, is this exquisite pearl and sequin embellished, Champagne beaded tulle. This exclusive dress features nude cups atop a sheer bodice and a skirt which creates a modern and seamless look for the bride looking to make a statement on her big day.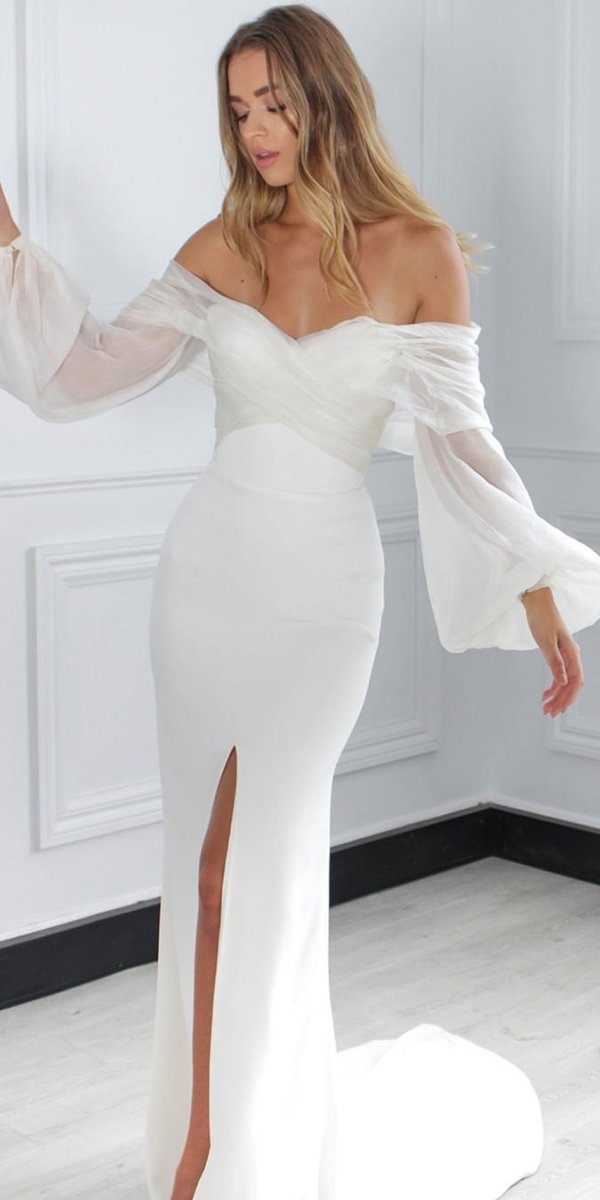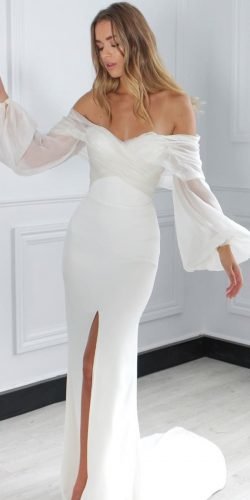 Simple style
Crafted from a triacetate blend base, the Hazel gown moulds gently to the body and offers a feeling of luxury without unnecessary weight. The fully corseted bodice creates a beautifully fitted silhouette which perfectly balances against the softer elements of this gown. The gown is finished with a centre back zipper and subtle buttons on the bodice.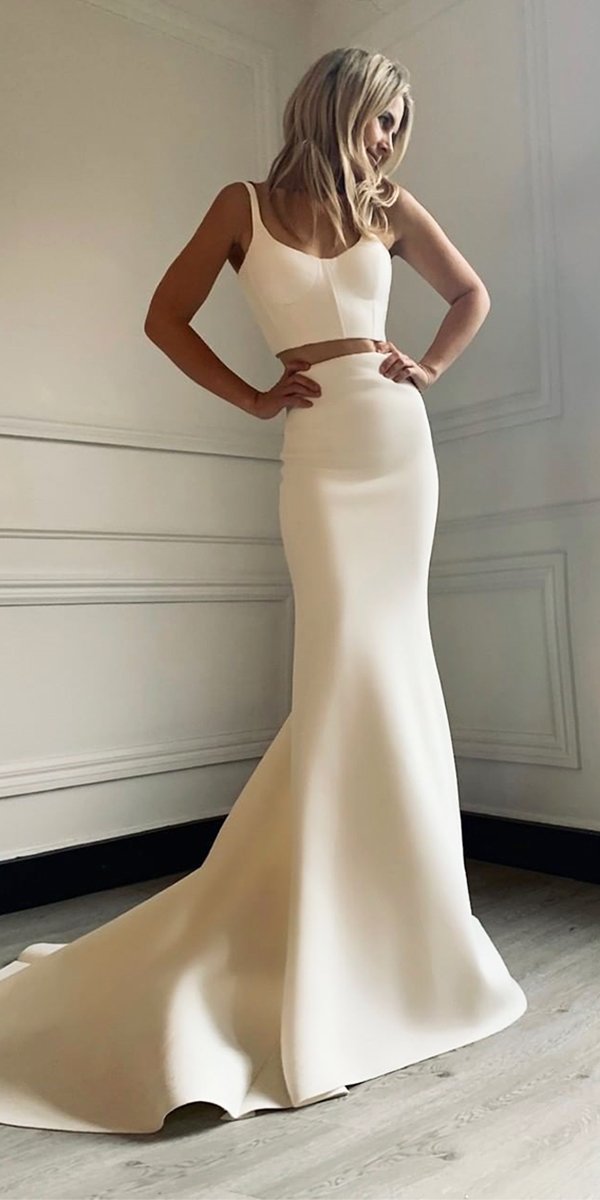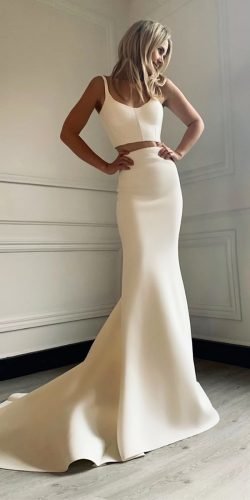 Beach dress
A fully structured bodice featuring corsetting detail is a perfect style for bride who wants to show your figure
Simple Bridal Gowns By Suzanne Neville
Made in Britain gowns, with designing and production undertaken in London, the Suzanne Neville brand, which began in 1991 is one of the leading designers of bridal and evening wear in Europe. Adhering to styles of traditional origins, the dresses are designed with the techniques of contemporary couture. Suzanne Neville is widely known for glamorous evening dresses simple elegant wedding dresses. Diverse collections of slim-fitting silhouettes, to full, romantic gowns of the most delicate hand embroideries and the finest silks. Most importantly, the brand continuously strives to create the most flattering shapes for each and every individual bride.
Source: Suzanne Neville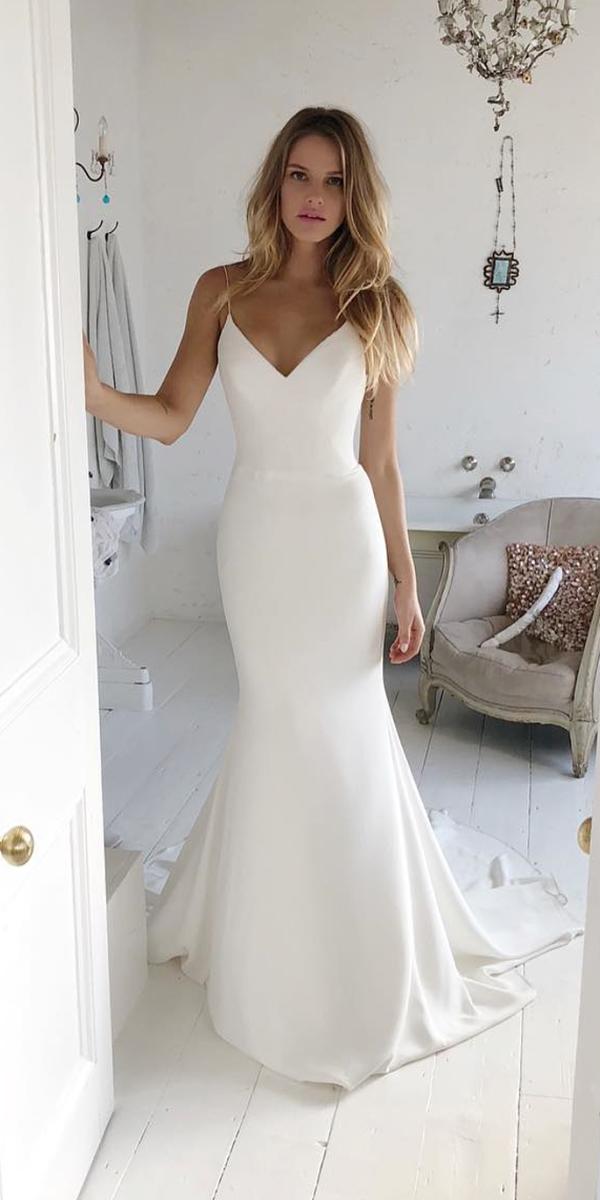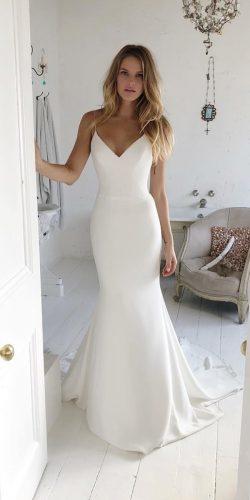 Trumpet wedding dress
A simplistic, matte trumpet wedding dress, with thin spaghetti straps, for the minimalistic bride who understands the beauty and elegance in simplicity.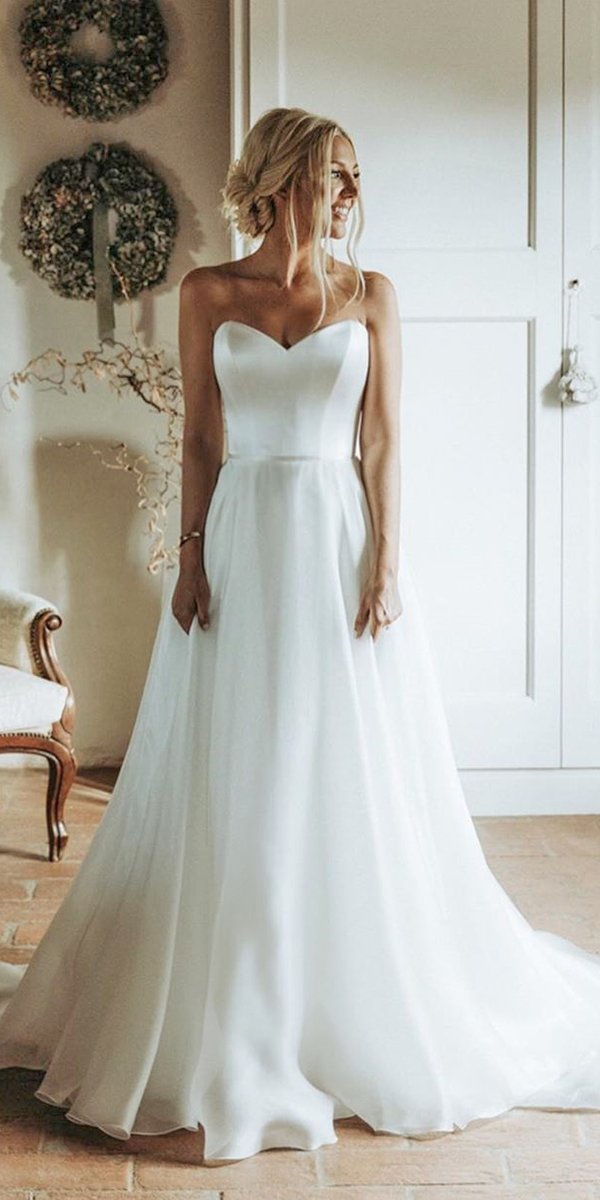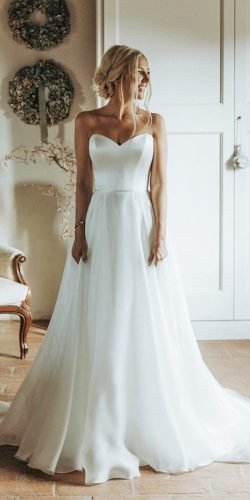 A-line silhouette
Sleeveless, white vision of a wedding dress, with fitted bodice, and soft, silky skirt that flares from the waist, in a waterfall to the ground.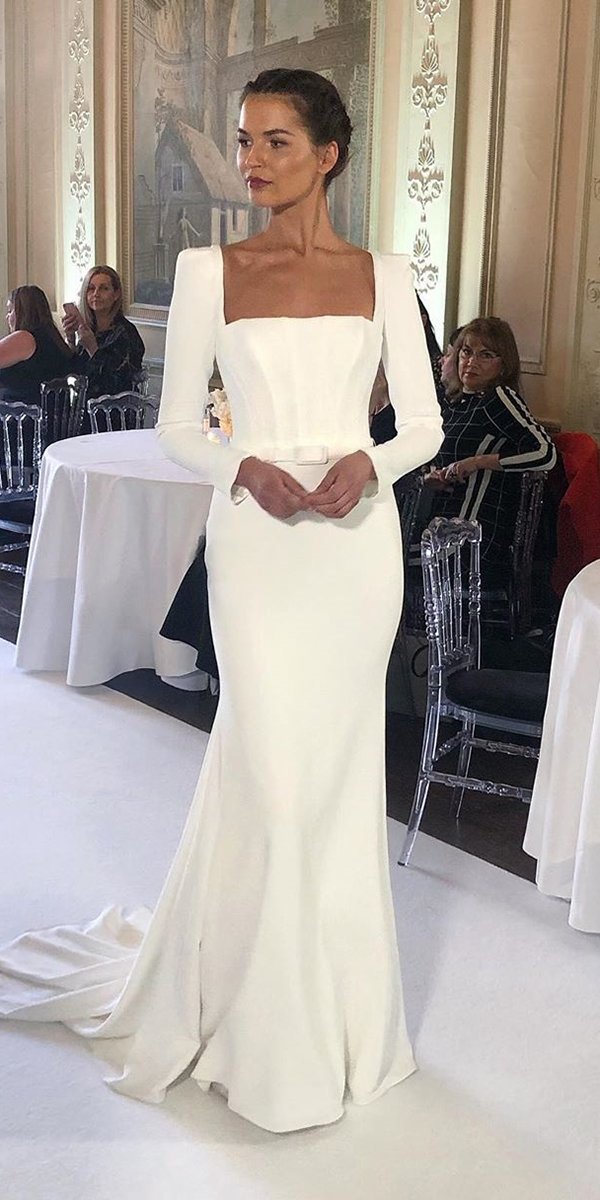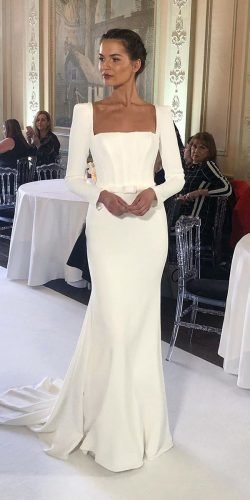 Long sleeve gown
An elegant wedding dress for the bride who wishes to make a statement. Long, slender sleeves and rectangle neckline, which gives way to a long, slender skirt and beautiful tail.
Strapless Wedding Dresses From Dimitrius Dalia
Whether you're dreaming about a vintage-inspired boho-chic look, yearning for a classic wedding gown with a modern twist, or in love with the idea of a dramatic bridal look, Olivia Bottega is a name you need to know. And today, we're showing you some of the stunning reasons why!
Olivia Bottega is available at some retailer stores across Europe, but most importantly is available online at their Etsy store where they had collected excellent reviews and the trust of hundreds of brides – we are seriously impressed! The best part? All Olivia Bottega dresses have a 5-star rating and they would refund your money if you order a dress and you don't like it.
Source: Olivia Bottega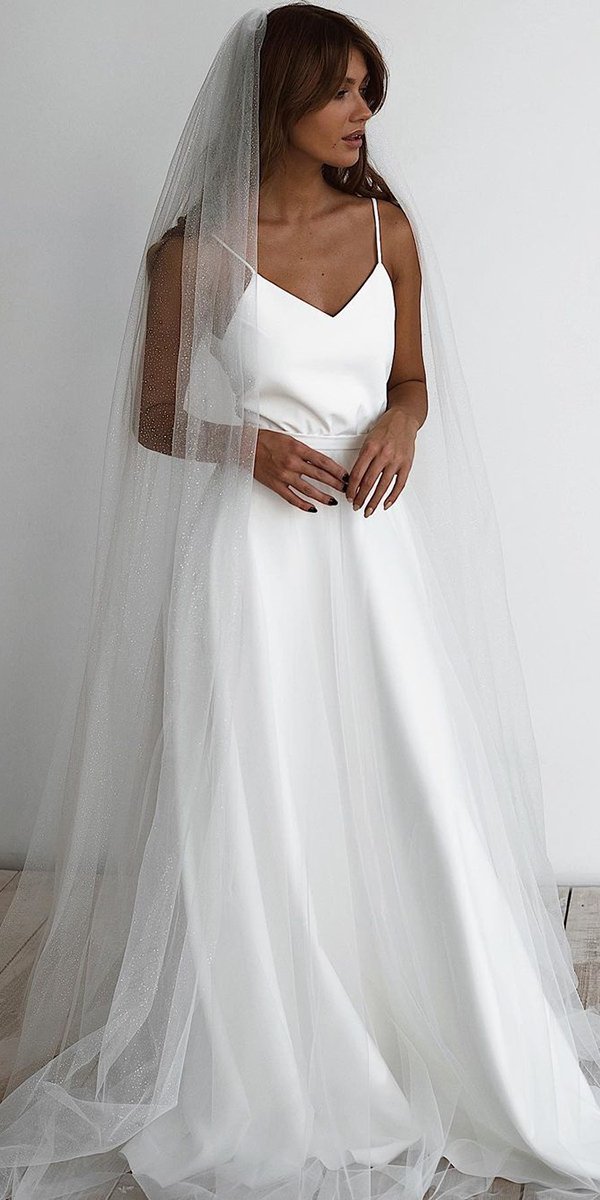 A-line wedding gown
Wedding dress Prue Shine. A-line dress with separate lush sparkly skirt. Soft Tulle laconic minimalist wedding dress. Crepe lower dress with one layer tulle + separate sparkly skirt.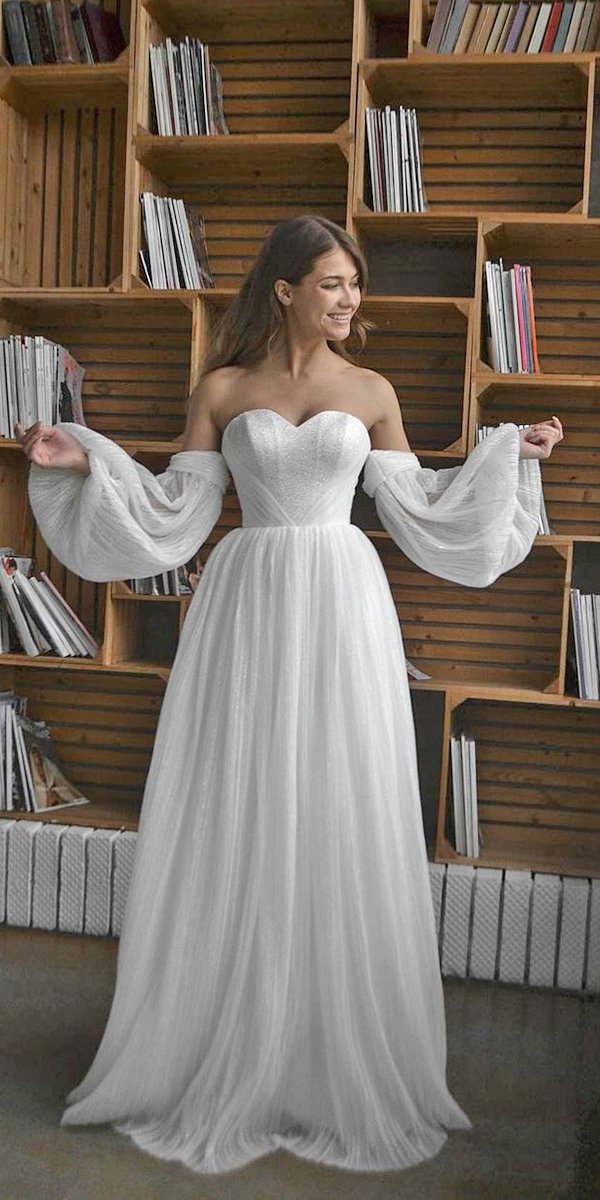 Simple style
Wedding dress Toliz by Olivia Bottega. Ball wedding dress. Long sleeves. patterned lower sleeve and pleated upper sleeve. Glitter tulle on bodies . Open corset. Lush tulle skirt.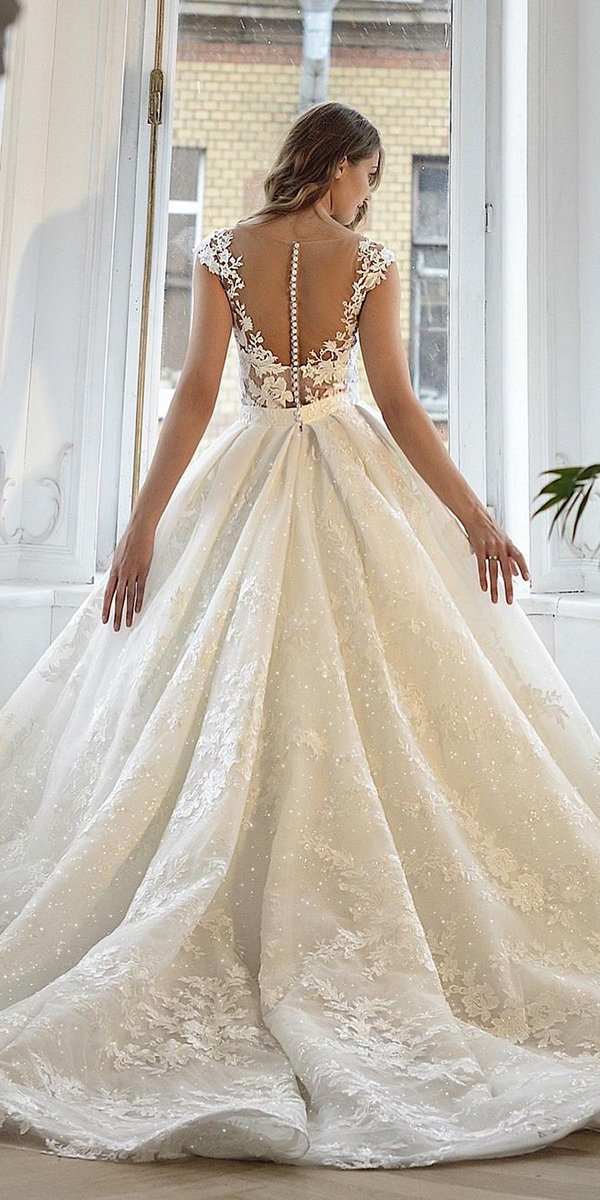 Ball gown dress
Luxurious mod wedding ball 2 in 1 dress Airis 2in1 by Olivia Bottega. Mermaid and Ball wedding skirt.
Stella York Bridal Gowns To Inspire You
The brand that offers beautiful and trendy bridal dresses for brides of every size, from dresses for slender brides to plus size wedding dresses. Stella York creates wedding gown designs which are so timeless, they stand the test of time. It's many affordable collections, the latest of which features sexy details, feminine elements and grand silhouettes which encourage brides to make a statement that will last forever.
Source: Stella York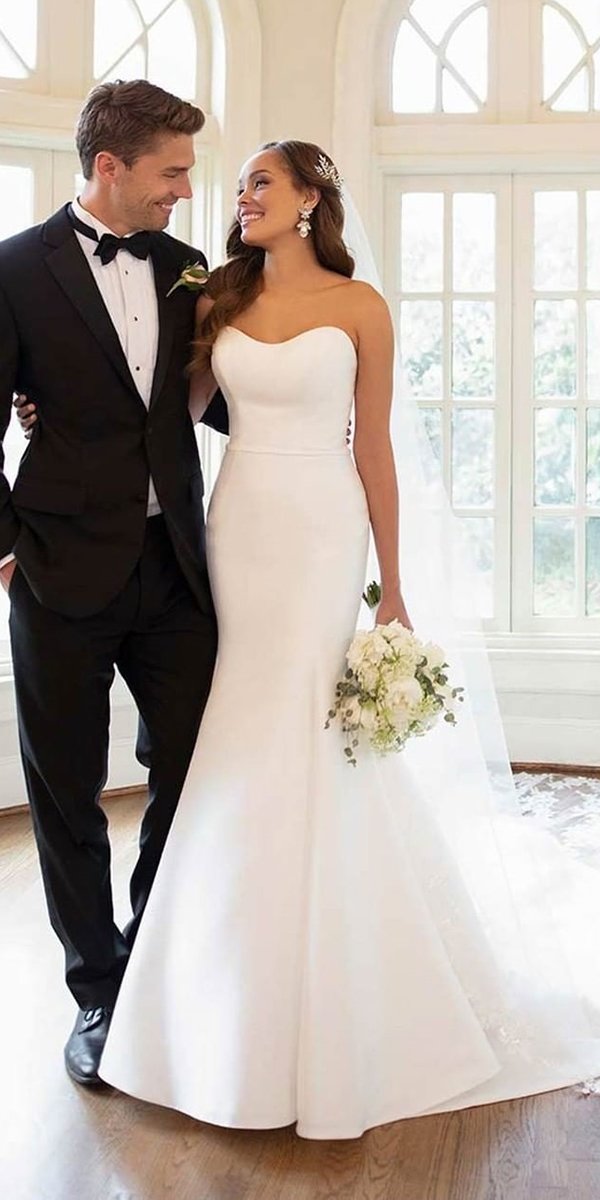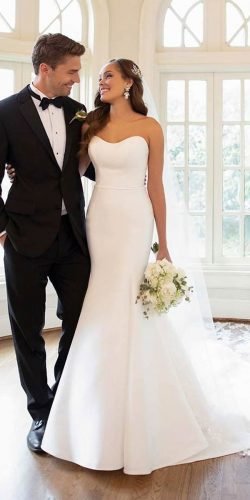 Fit and Flare silhouette
A wedding gown of pure luxury, this gorgeous Mikado gown features a strapless, fitting bodice with a classic, dipped sweetheart neckline, which encourages the use of accessories. This sleek matte dress creates an hourglass shape from its fabric belt to the box pleats which follow the flare of its long and full skirt.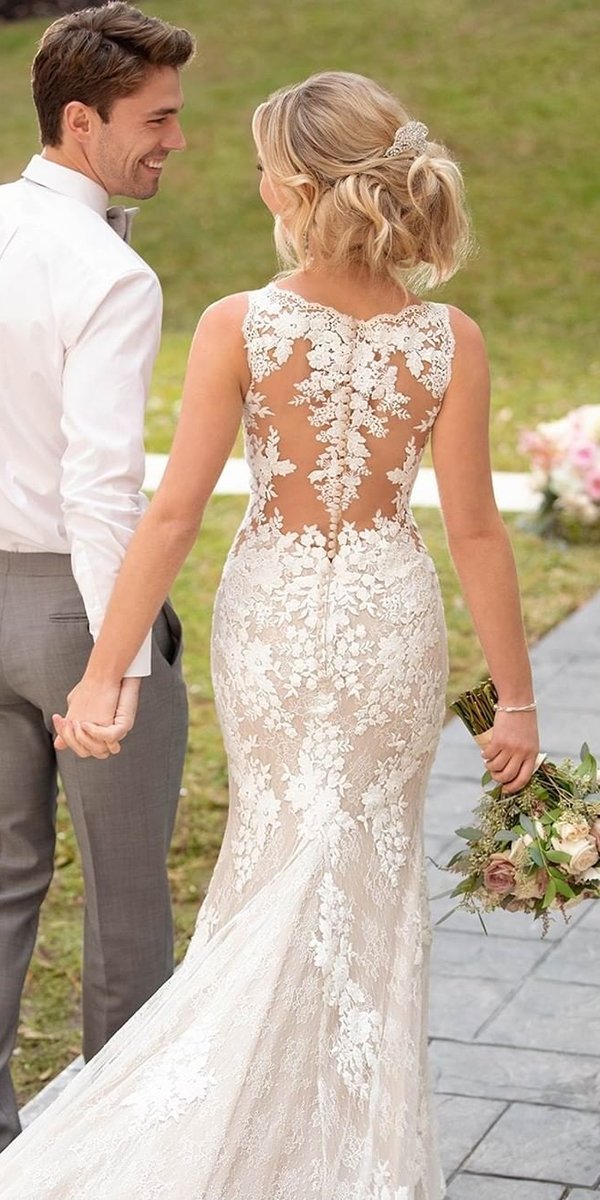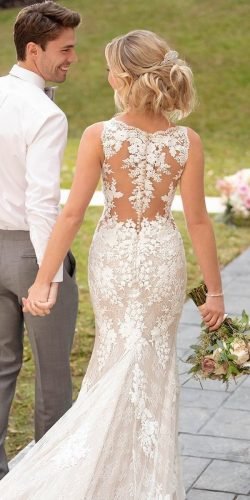 Lace wedding dress
A magnificent vintage dress, if ever there was one. This wedding dress of cotton style vintage lace features a floral explosion and neutral Georgette lining, which gives it an exquisite multi-dimensional look. The hem and neckline are finished with French and eyelash laces for a touch of the old world, and its lace straps adorning a V neckline, are casual and classic at the same time. A dress that combines updated design elements with traditional details flawlessly.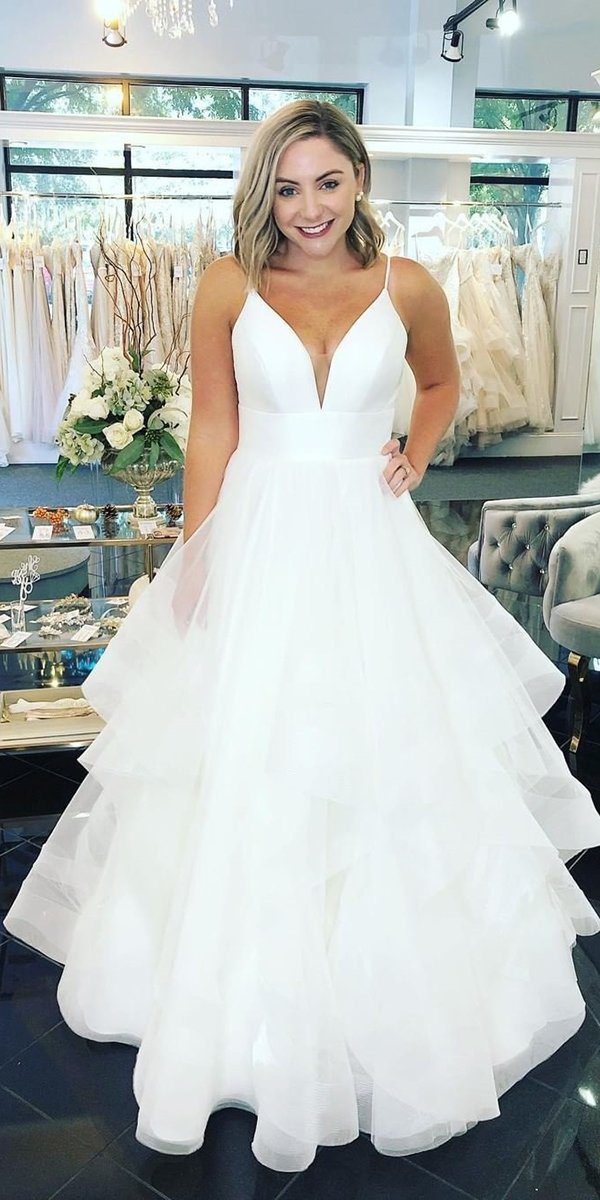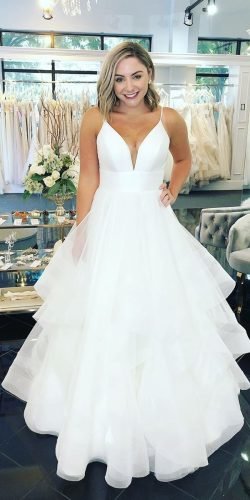 Simple style
A modern statement dress, this beautiful, minimalist number will put a smile on the face of most brides looking to create a simple and clean look. The fun and flirty modern ballgown feature thin straps around a curved V neckline and a matte Mikado bodice, enclosed with a wide waistband. The skirt is a large ballgown of tiered tulle, with layers banded together with special horsehair which help maintain its weightlessness, allowing each piece to come alive at every turn. The dream of every modern bride.
Exquisite Wedding Dresses By Mori Lee
A brand that recognizes the importance of this moment in time for every bride, Morilee creates stunning designs that have led it to become one of the world's leading evening gown and wedding dress fashion brands. Led by designer Madeline Gardner, the brand strives to ensure that they can give every bride exactly what she is looking for. In short, visionary taste that creates a variety of stunning dresses from high quality fabrics, delicate lacework, is the type of perfection that you can expect with Morilee.
Source: MoriLee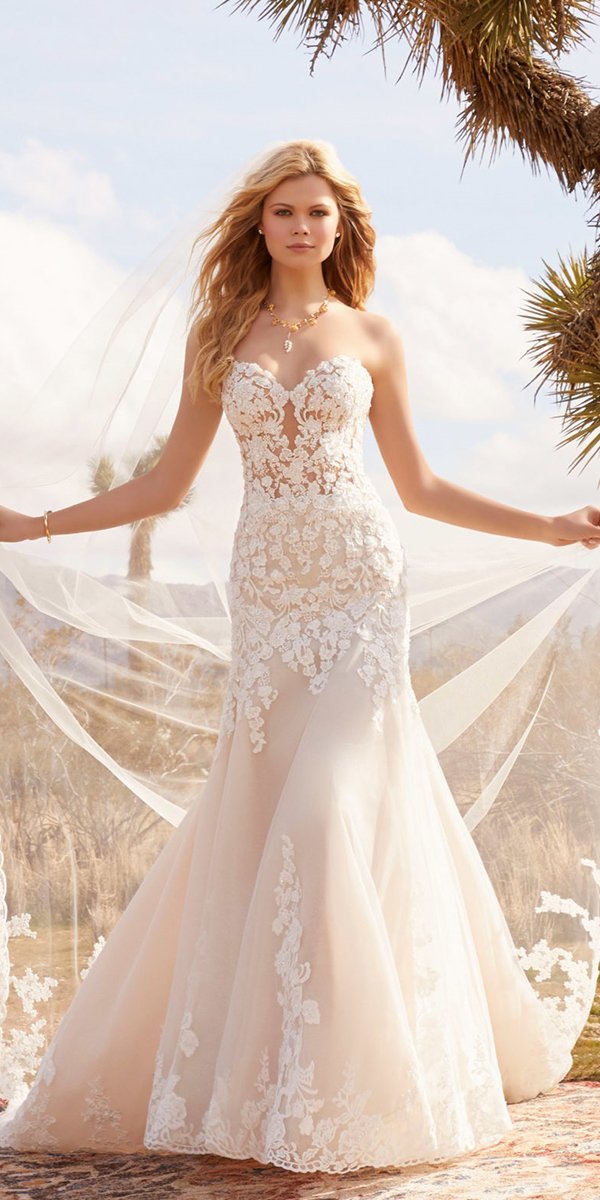 Mermaid silhouette
Available in ivory, crème and nude, this Roxanne designer wedding dress features a mermaid silhouette and beautiful sweetheart neckline. With exquisite embroidery, beautiful crystals and beading, it is a most appealing wedding dress available to all types of brides as it is made in three different lengths to cater to various tastes.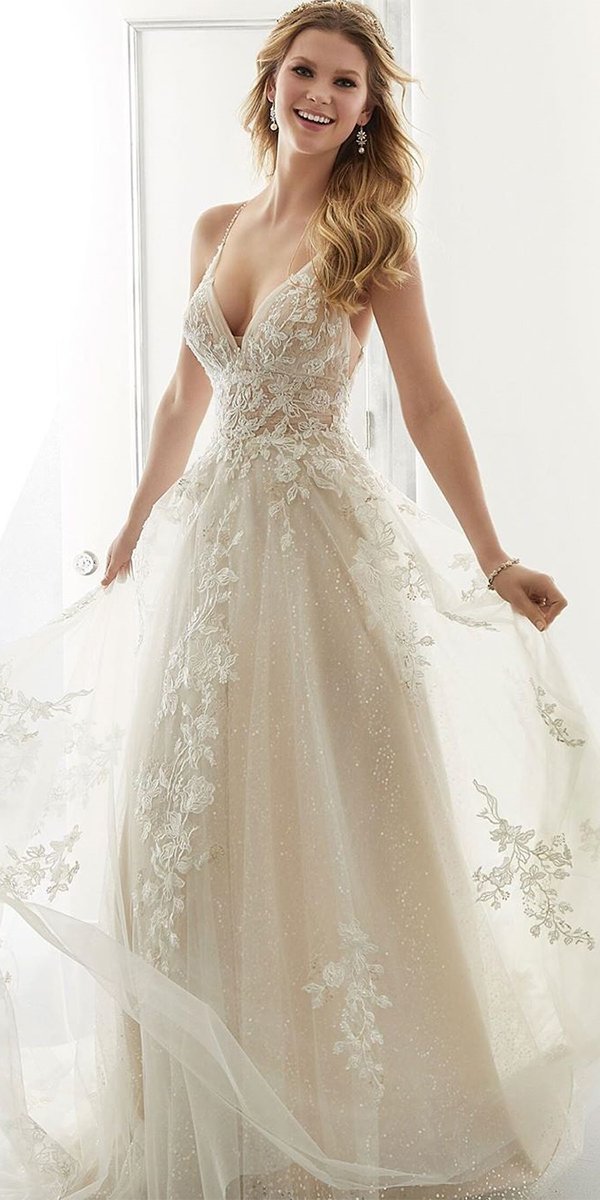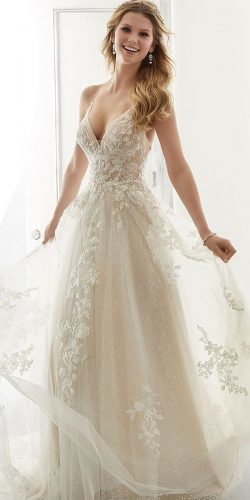 A-line gown
Romantic and ethereal, our Ariana wedding gown is all about the details. Crystal beaded, metallic embroidered appliqués add a touch of sparkle to the soft Tulle over Sequined Tulle A-Line silhoutte. Delicate crystal beaded criss-cross spaghetti straps complete the look. This gown can be worn with or without the detachable sequined tulle underskirt.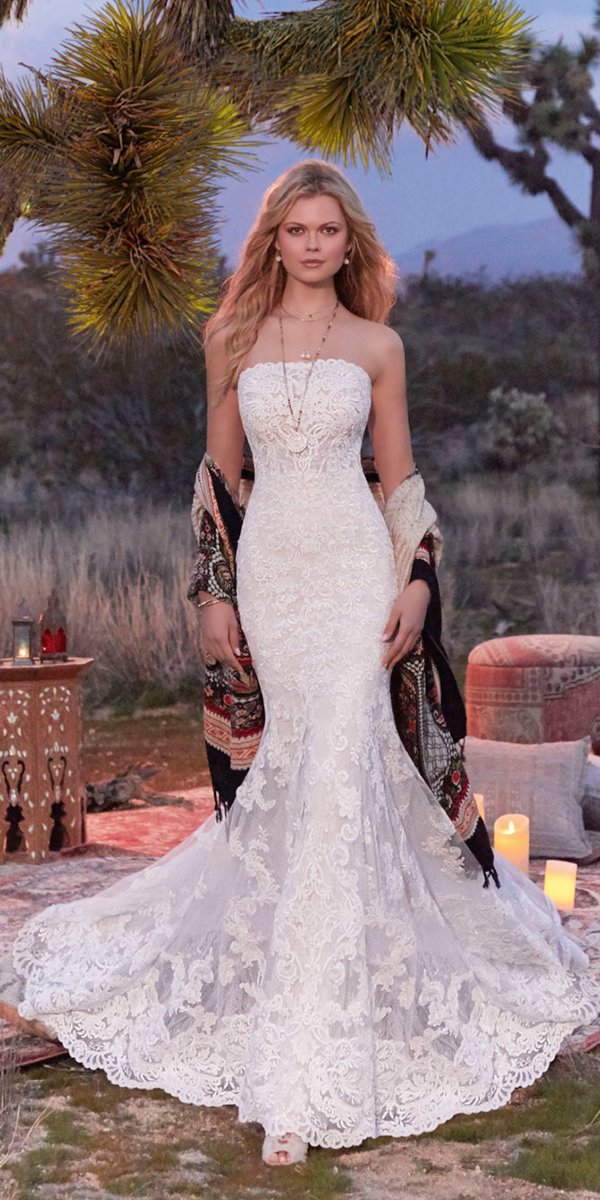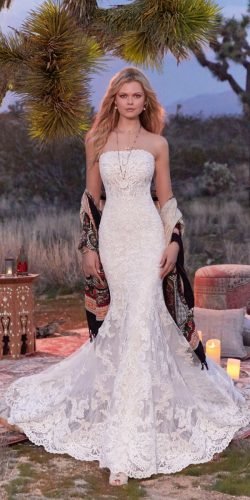 Fit and flare silhouette
The Rumi designer wedding dress is shown in champagne and ivory colors, and features a fit and flare silhouette, with a strapless neckline. The gown also features beading, beautiful appliques, and lace to complete the design.
Fabulous Bridal Gowns From Liz Martinez
A brand which believes that each design should be an expression of a woman's seductive nature and inner beauty. Liz Martinez is recognized as one of the most innovative and significant designers to come out of Israel. Each beautiful design is made from unconventional cuts, unexpected materials, strict attention to details and being flexible enough to flow with current trends to create dresses that turn the dreams of little girls into reality.
Source: Liz Martinez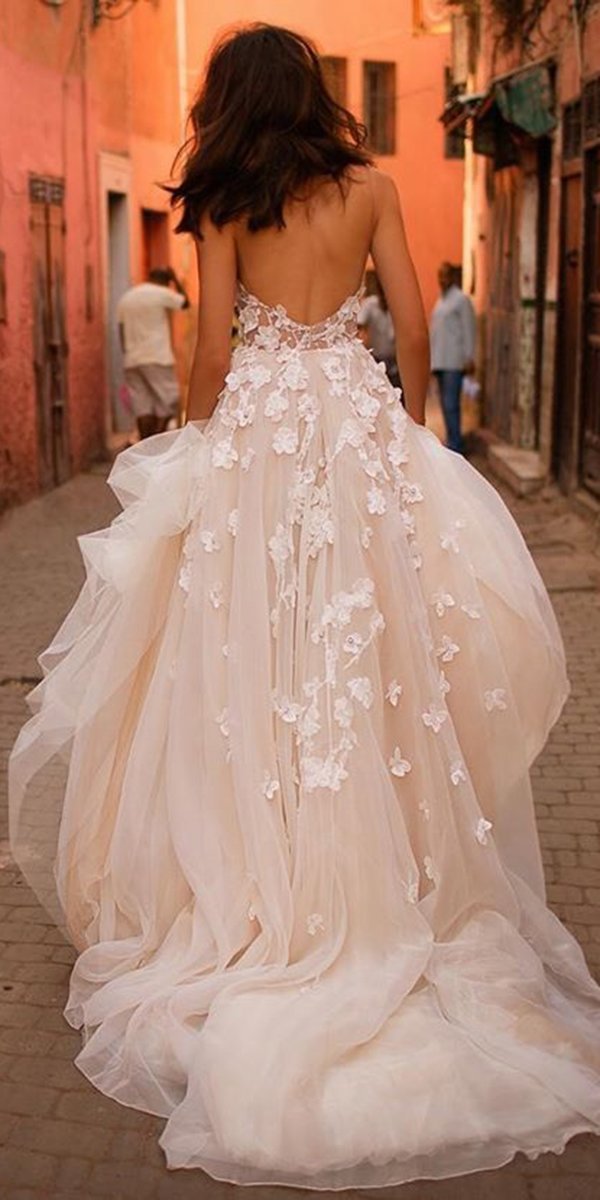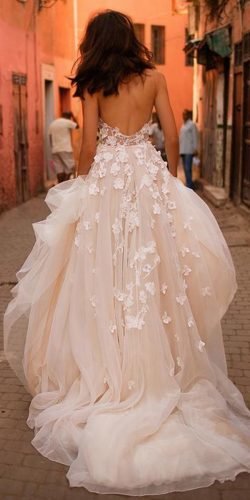 Ball Gown silhouette
An off the shoulder dream of a dress, designed with flowery lace and tulle that billows around the wearer. A fitted bodice sits atop a full skirt, which falls to the floor in a full tail.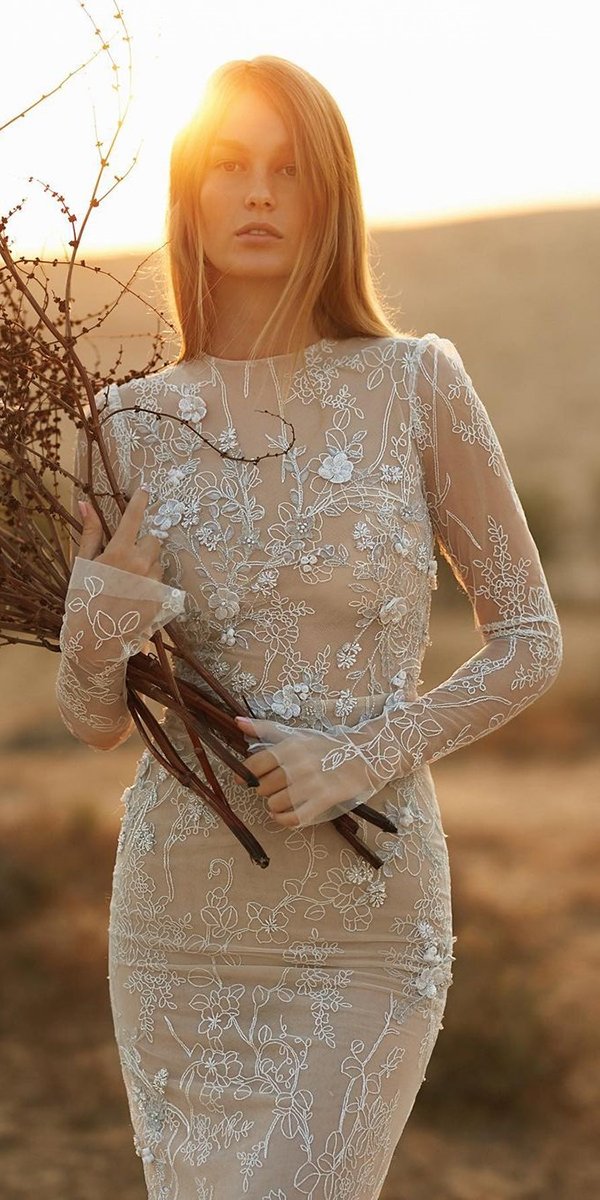 Bohemian bridal style
Modest dress, with long beautiful sleeve. A stunner lace that will definitely surprise your groom and wedding guests.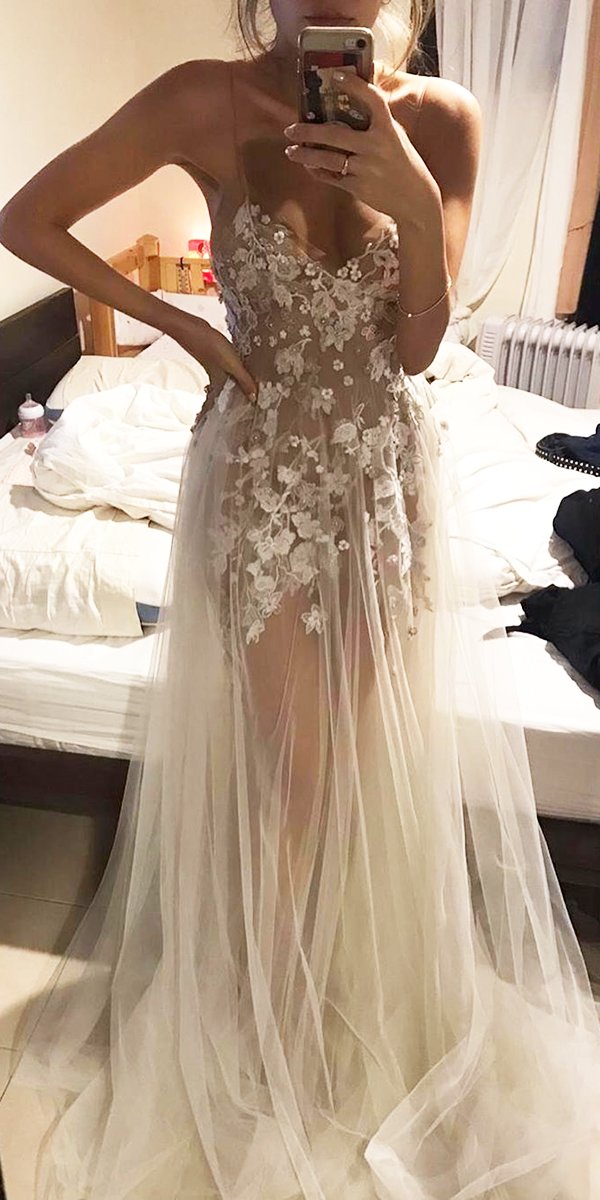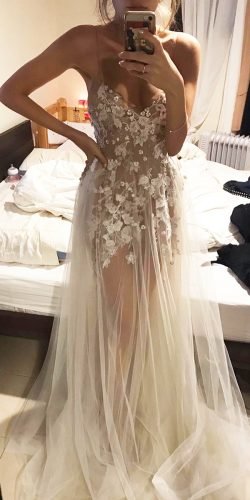 Beach gown
A most seductive and elegant dress is this beauty of silvery, flowery lace, and a deep V neck, hanging by thin straps, that gives way to a soft, wispy skirt. The type of stuff that dreams are made of.
Excellent Made With Love Wedding Dresses 2020
Committed to creating, designing and delivering the most beautiful wedding dresses of our imaginations. Above all, Made with Love believes that every dress should be created with love, and this love should be evident in each dress. From their styling appointment to personalized service for each customer, and follow up correspondences, each bride is deserving of love throughout the process. An old fashioned approach which the brand is proud of, it results in the creation of beautiful and yet affordable wedding dresses and veils.
Source: Made With Love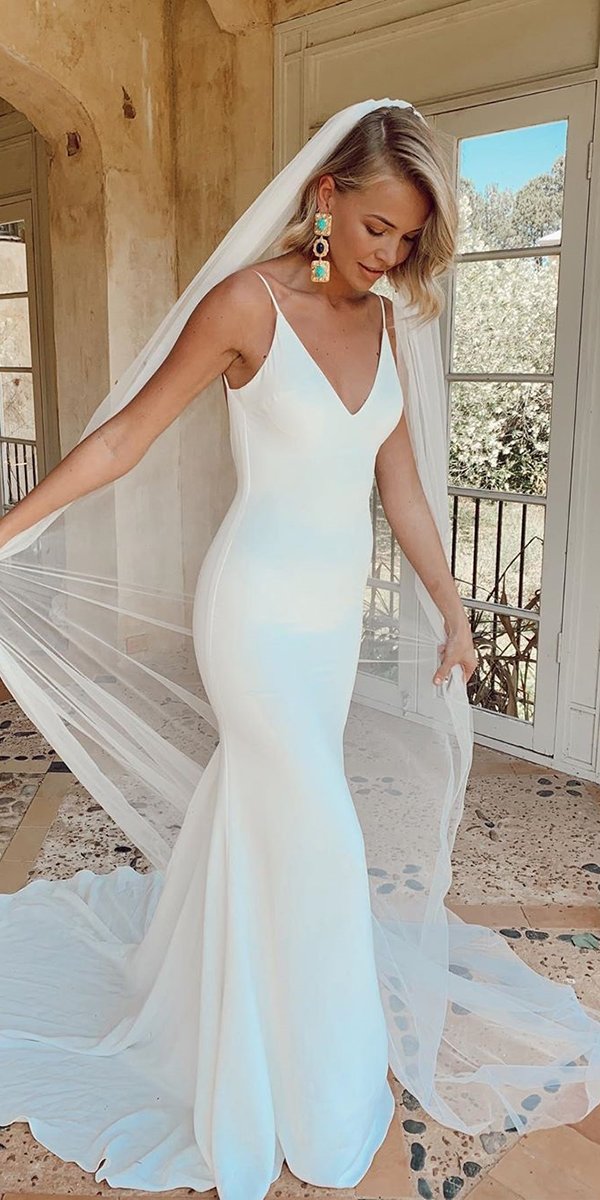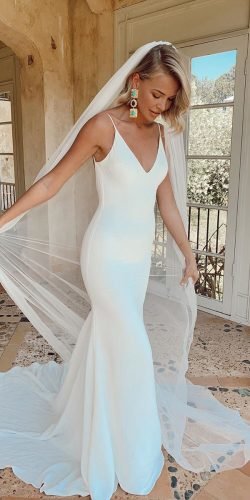 Simple style
A wedding dress of striking simplicity, the Jordann wedding dress is one of French crepe luxury, that exudes classic elegance. With a low back, 3 tier tulle skirt, medium train and shoestring straps, it is a dress that will make you want to walk the room endlessly, swishing and floating as you go.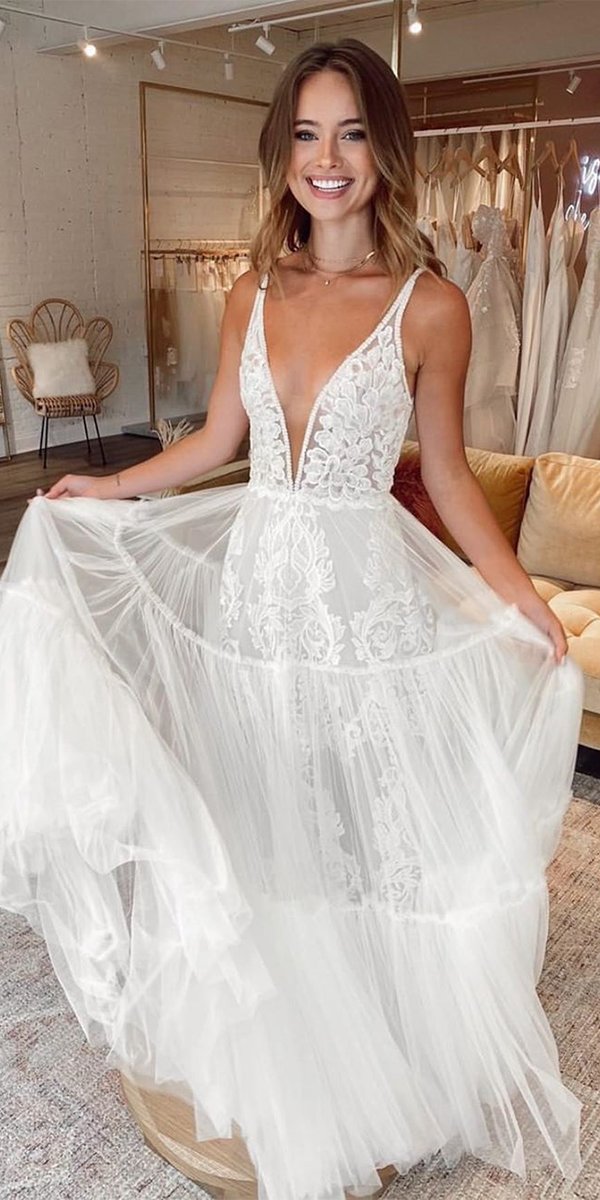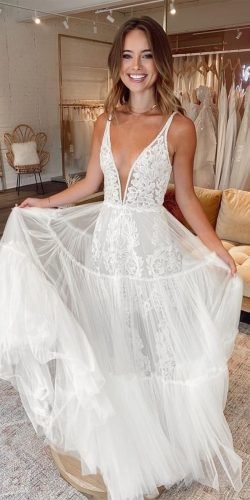 Bohemian bridal gown
River will make you want to swish around the room forever. She's light and floaty and irresistibly fun.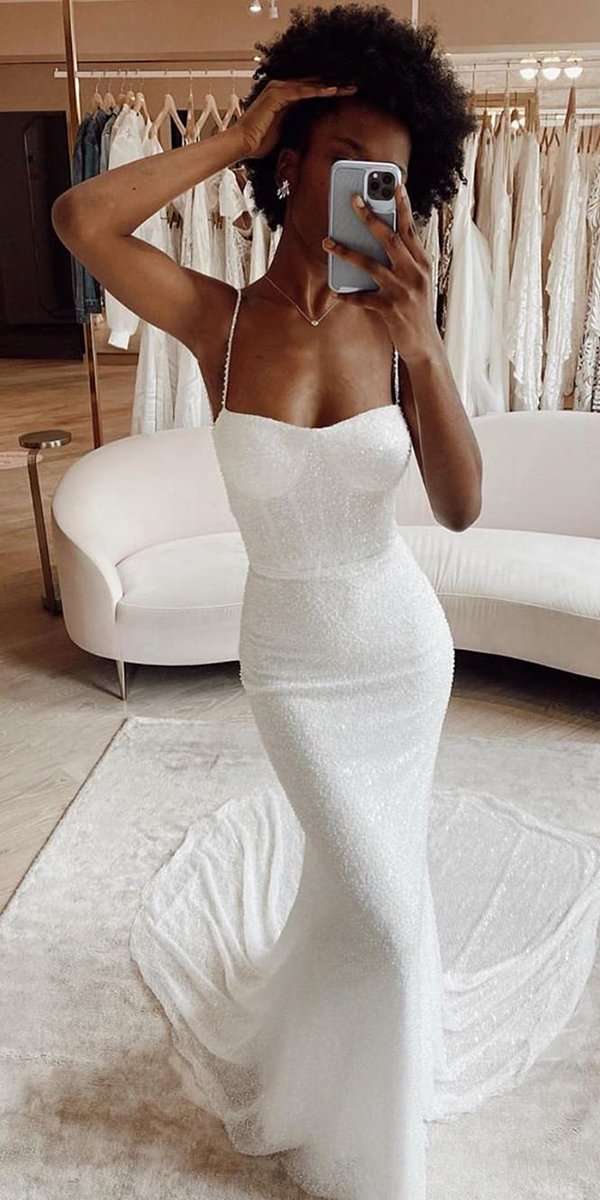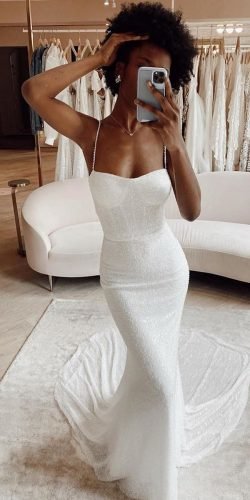 Mermaid silhouette
Lola is a luxurious dress that features hints of bone underlay and ivory.
Monique Lhuillier Gowns For Non-Traditional Bride
A world-renowned designer, Monique Lhuillier's designs capture the essence of sophistication and luxury, with wedding dress designs that provoke a sense of allure, glamour, and femininity with every dress. In other words, by creating dresses that can be luxurious and playful at the same time, the brand has become a home to brides who understand the art in fashion. This idea is prevalent in all the ready-to-wear day and evening dresses, as well as accessories and bridal collections of the brand.
Source: Monique Lhuillier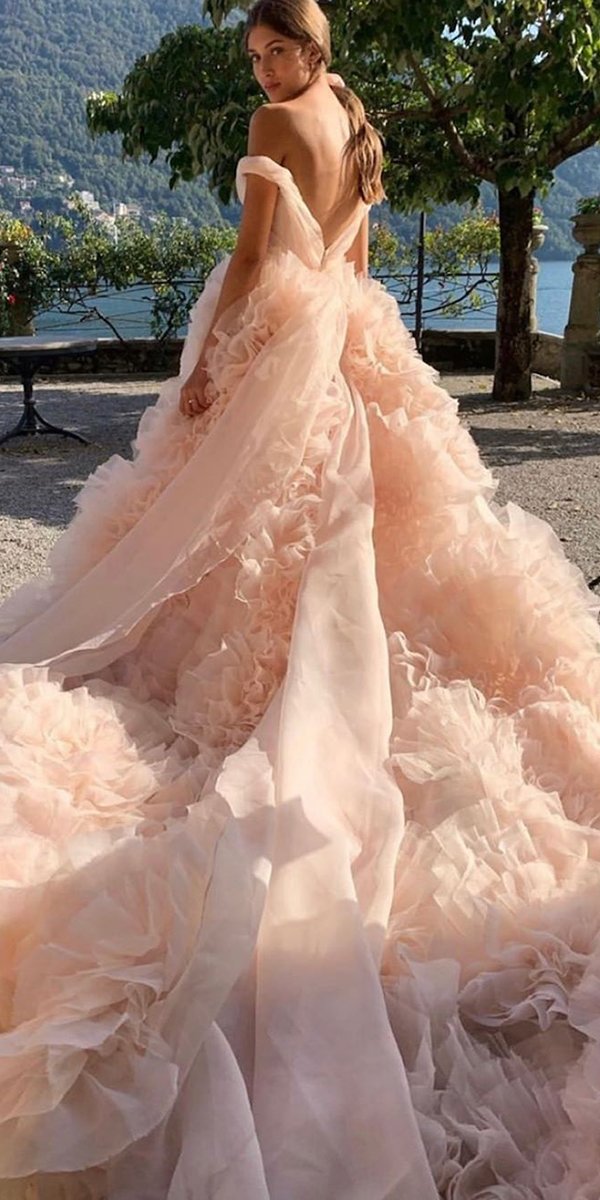 Ball Gown silhouette
For a great summer, the wedding is this whimsy and playful wedding gown in baby pink. Layers and layers of full tulle surrounding the bride in the beautiful pink, cloud. A great option for the bride more inclined to cherry blossom wedding dresses.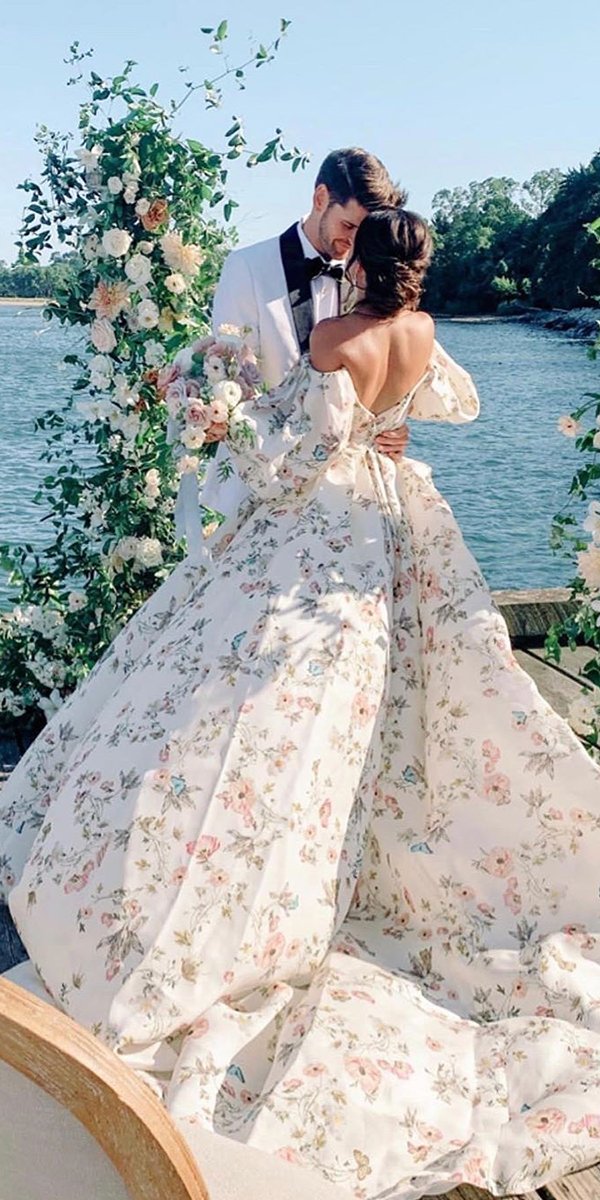 Floral style
For the bride who is looking for something unique and completely different from the traditional wedding dress, is this floral creation with open shoulder with long train.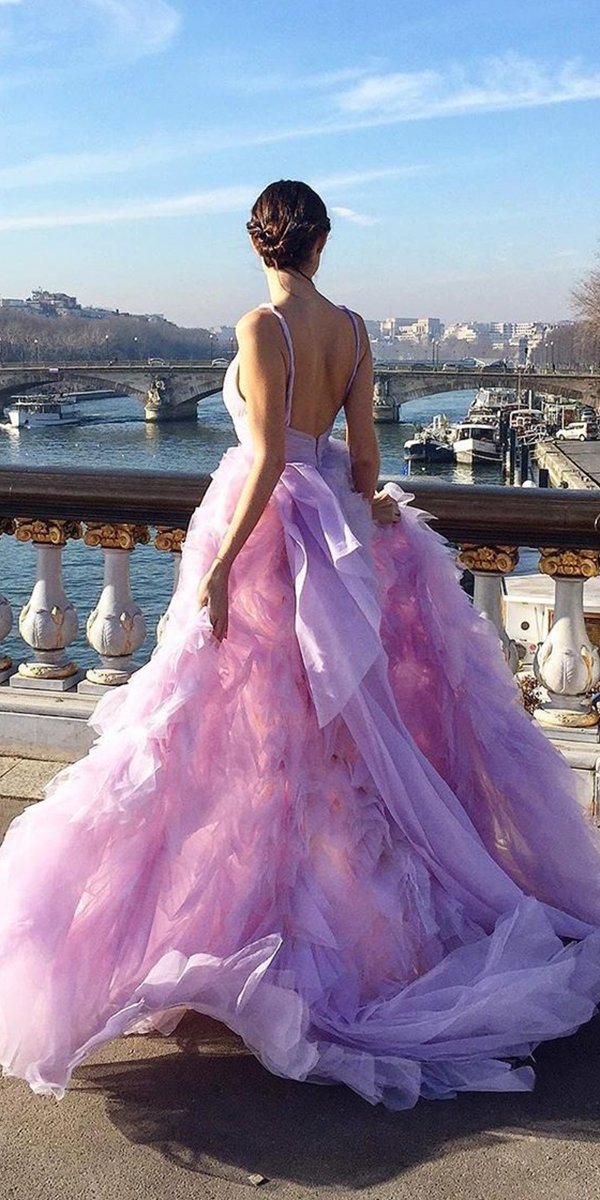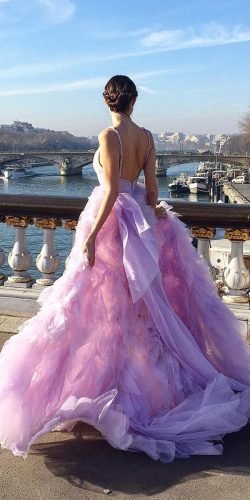 Princess dress
The purple hue of this wedding dress is one that will make sure you stand out in the room and feel absolutely beautiful at the same time.
Dazzling Details Gowns From Leah Da Gloria
One of Australia's premier couture designers, Leah Da Gloria designs express a unique understanding of the female form, creating wedding dresses of opulent detailing and European fabrications with an appreciation for sinuous design lines, which attract a large number of clients the world over. A bridal fashion expertise that leaves the Australian bridal landscape forever changed.
Source: Leah Da Gloria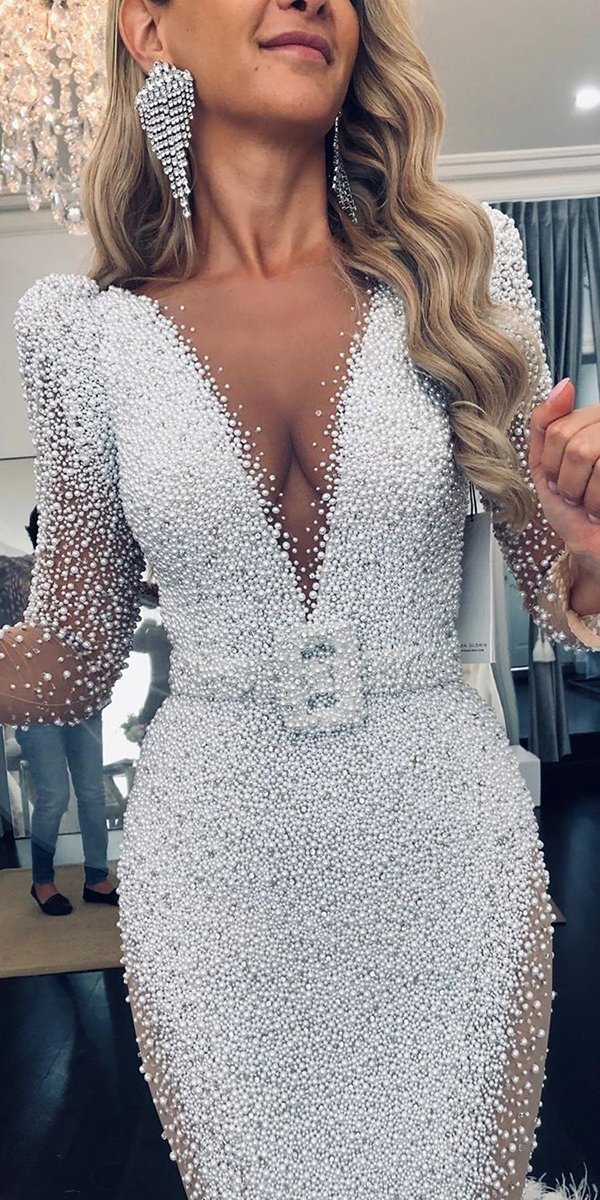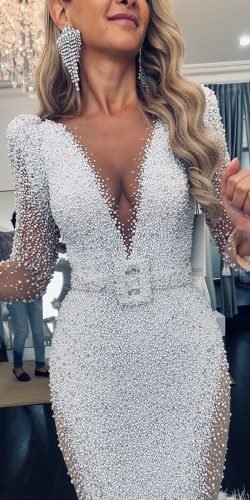 Long Sleeve dress
Make a grand entrance with this fabulous dress that gives off hints of a retro/vintage vibe. Form-fitting beaded creation, covered in pearls, with a plunging, sheer neckline, beautifully designed long sleeves, a beaded buckle belt and a slender skirt with a long tail.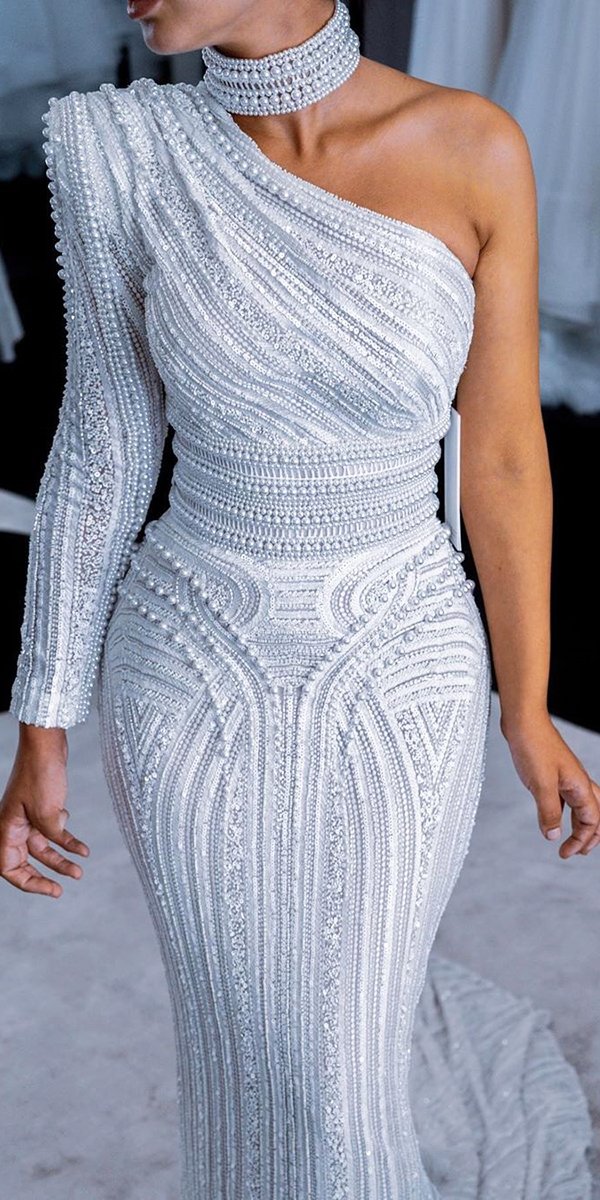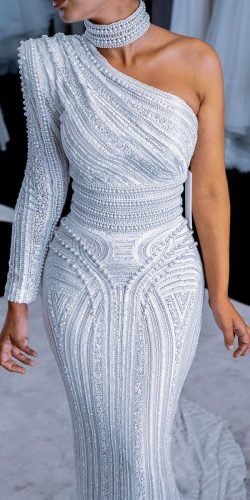 Vintage style
A design for the bride of opulence and sex appeal. This body-hugging number is a wedding dress that will leave your wedding guests gobsmacked for the entire duration of your special day. A custom silver dress, hand-beaded with pearls, right from its one-hand design, throughout the dress, the single long sleeve, fitted bodice, waist and down the form-fitting skirt, to the tail.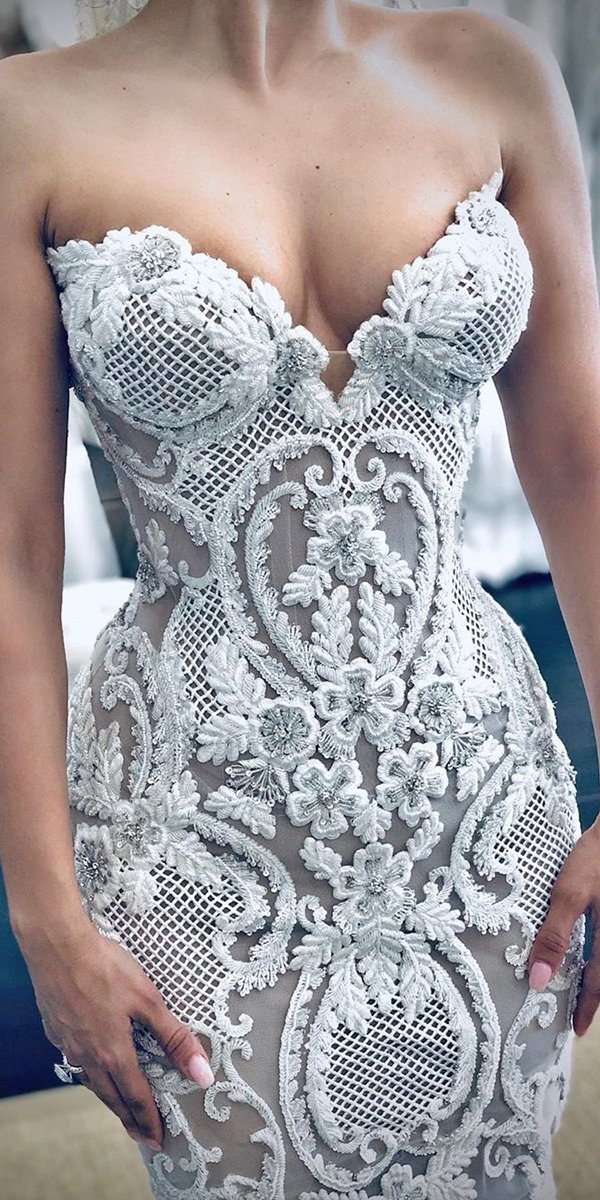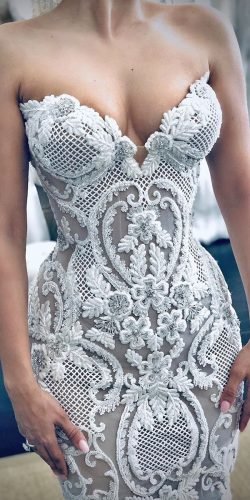 Lace gown
Make a statement with this delicate, sleeveless wedding dress of large flowery lace. The fitted bodice embraces the body and continues in the same way to the form-fitting skirt in a gorgeous finish.
Elegant Wedding Dresses By Rosa Clara
With its first store opened in Spain over 20 years ago, the Rosa Clará offers modern designs made from the highest quality fabric and made for brides who do not see themselves represented in the market. The brand currently owns stores around the world and is fast becoming one of the leading bridal fashion brands within and outside of Europe.
Source: Rosa Clara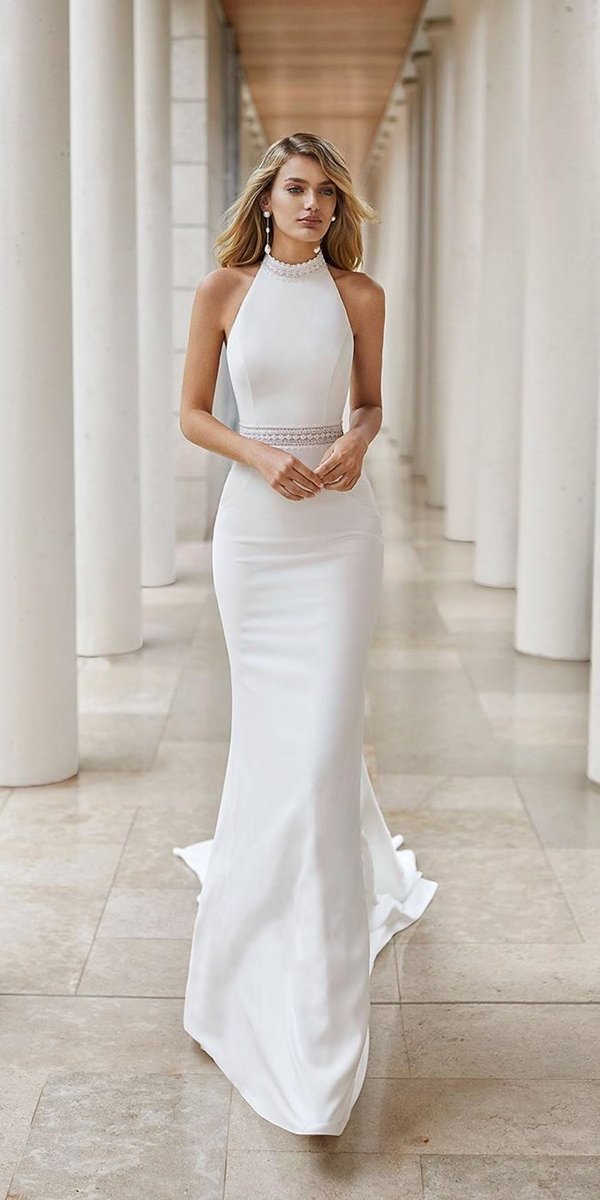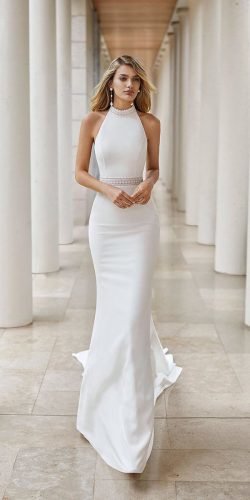 Straight cut style
A wedding dress for the modern bride, the Semilla dress is a lightweight creation of classic sophistication. It features an illusion back and straight cut style, which falls elegantly around the body, accentuating the figure and finishing with a long tail.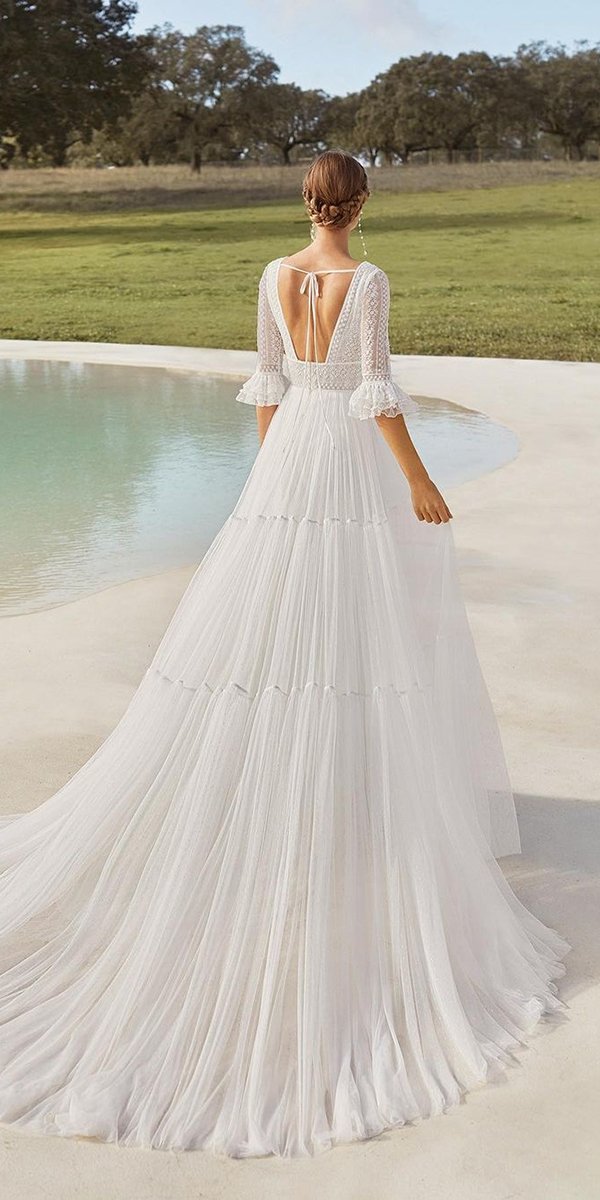 Bohemian dress
The Apolo is a real treat of a gown. Its full-length design will captivate the boho-chic bride, blending the romance of the lace bodice with the elegance of the straight cut.
The French sleeves add a touch of modesty, yet dazzle thanks to the pretty see-through tulle fabric and lace paneling. The sleeves end with soft lacy ruffles that add a flourish of personality.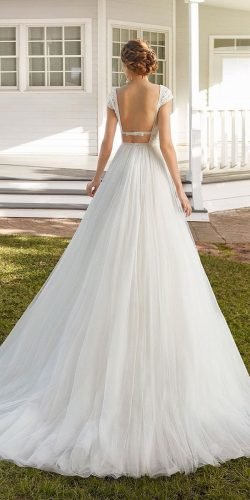 A-Line silhouette
The Corneli is a perfect dress for brides with narrow shoulders and who'd want to wear slender arms. The dress features a wide boat neckline, open back, short sleeves, a simple A-line cut and tight waistline, that give way to a skirt in layers and layers of tulle.
Chic Bridal Gowns From Lee Grebenau
One of Israel's most famous wedding dresses designer, Lee Petra Grebenau brand is popular for its luxurious evening gowns. Carried by exclusive bridal stores worldwide, its specific style lies in its exquisite hand-sewn embroideries and signature couture craftsmanship. In addition, with the use of the finest fabrics, it produces wedding gowns personalized and custom made for each and every client, from the one of a kind experience to the high standards of quality and fitting of the gowns.
Source: Lee Grebenau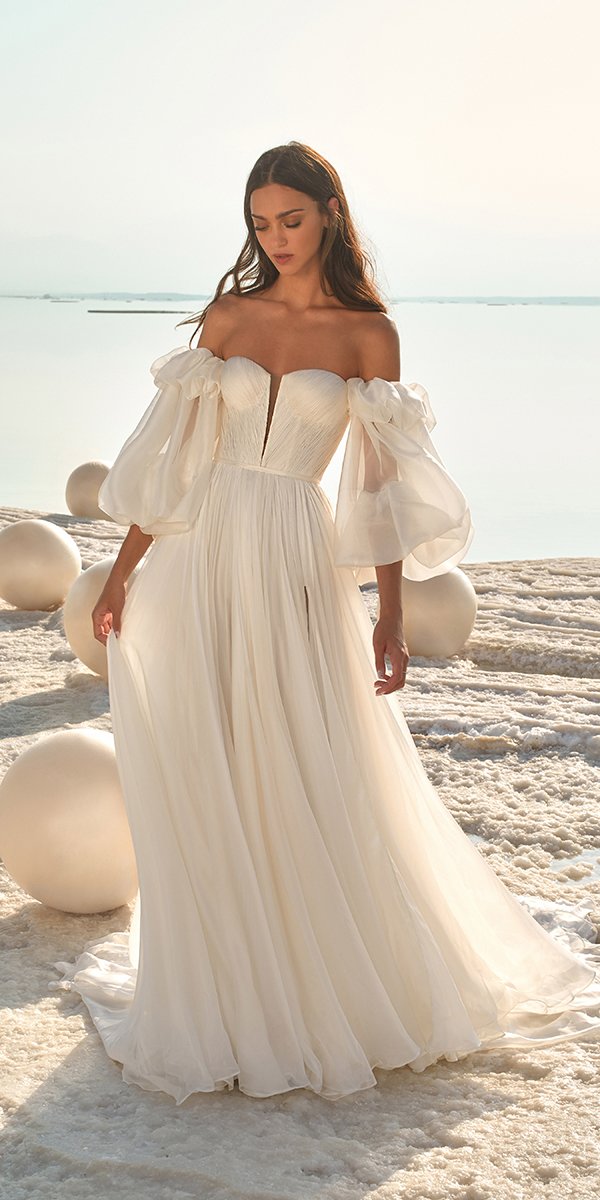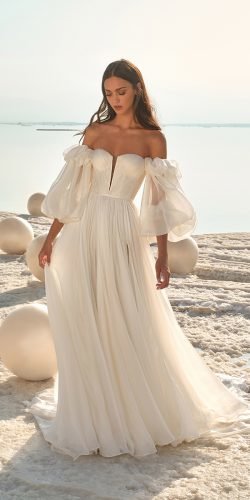 A-line dress
A perfect wedding dress for a bride in need of beach wedding dresses for a beach or destination wedding, this beautiful A-line silk and chiffon gown features a pleated bodice, blouson sleeves, and a long, full skirt.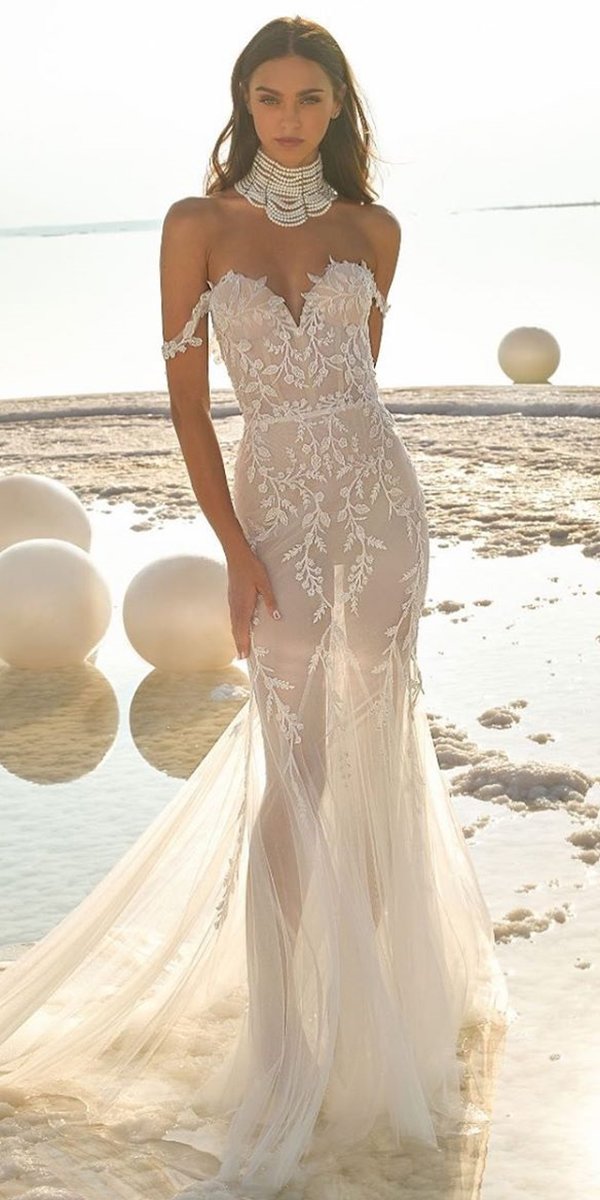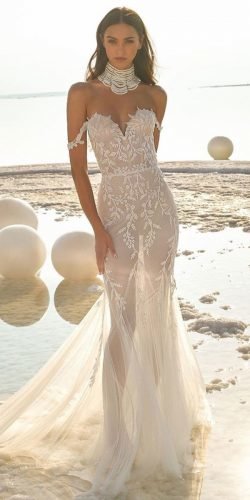 Mermaid gowns
If you are looking for something truly perfect then consider saying yes to this fabulous dress with off-the-shoulder silk tulle mermaid gown and beaded lace appliqué.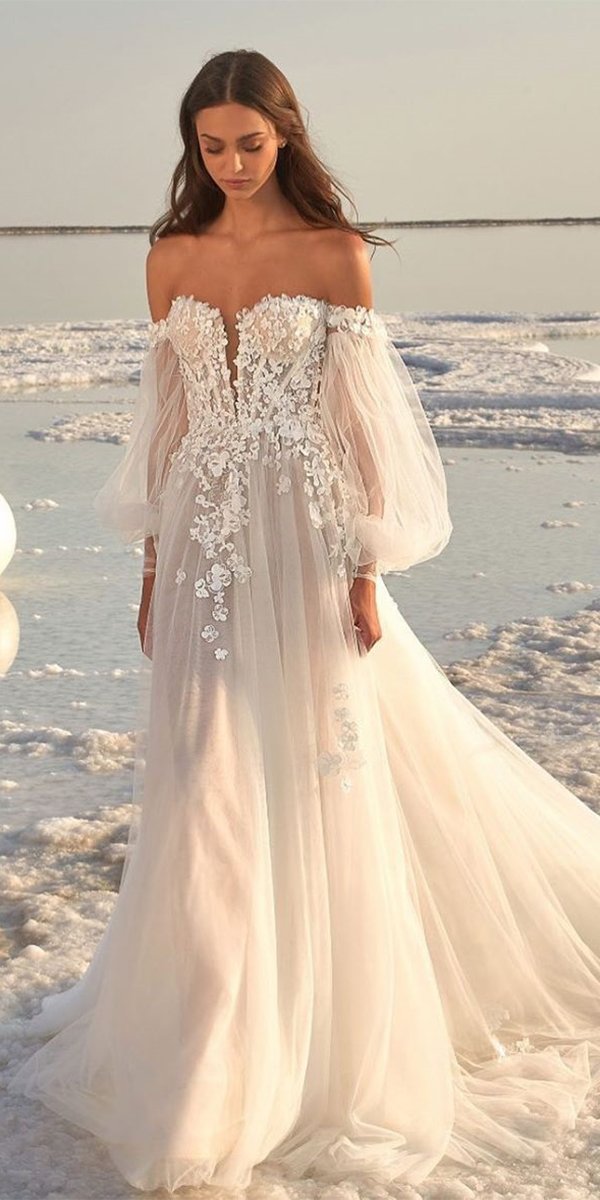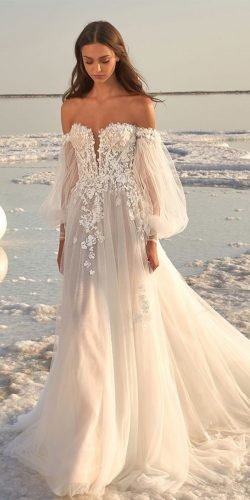 Beach wedding style
A-line silk tulle gown with floral appliqué and blouson sleeves the best choice for beach wedding party
Bohemian Wedding Dresses By Rue De Seine
Inspired by the free-spirited bohemian style of the Saint-Germain-des-Près residents in Paris years before, founder and designer of Rue de Seine, Michele Corty has continuously created marvelous garments that are ultimately masterpieces when you see them up close. Each dress requires consistency, and so is cut and constructed by the same seamstress from start to finish. This style of dedication results in the creation of the artwork that is the beautifully crafted Rue gown.
Source: Rue De Seine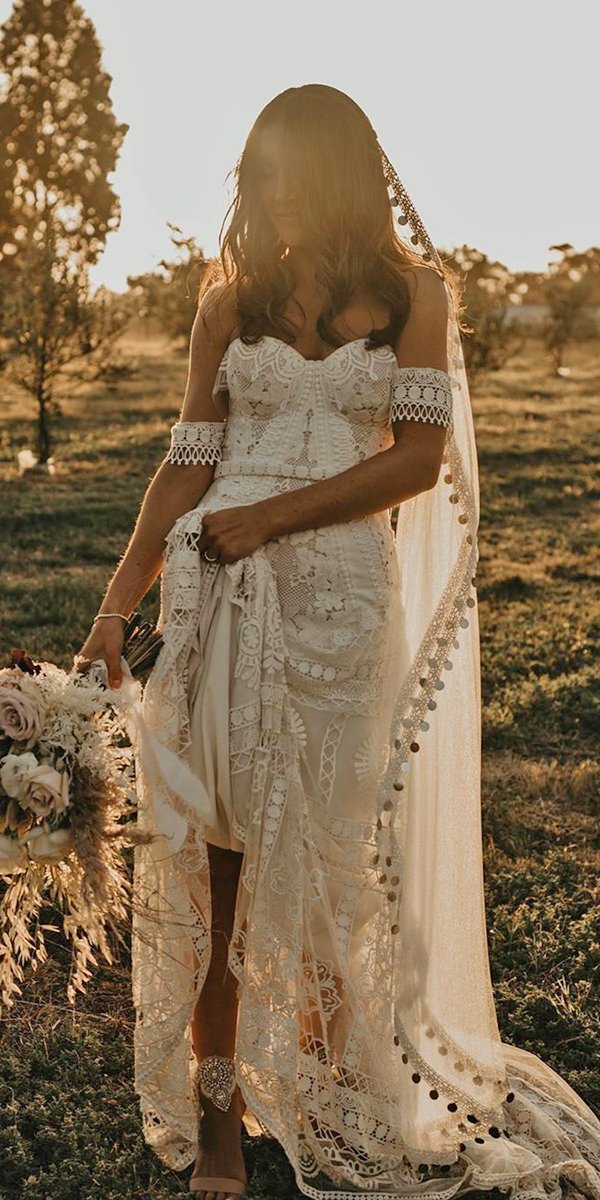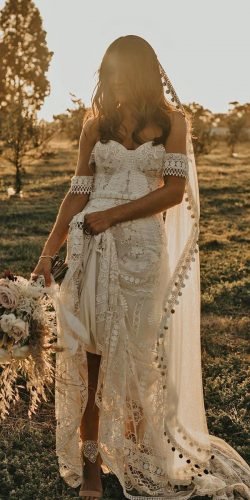 Bohemian style
Crafted from multiple contrasting and complementing laces, the Clara wedding dress is a true bohemian design, featuring a fitted but not clingy bustier, with boned cups for added support. The skirt if a slender textured wonder of curved placement panels, draping down from the hip, finishing in a lengthy, beautiful train.
A-line silhouette
If you're dreaming of a fairy tale wedding gown with a signature Rue flair, look no further than the Sedona Gown. Lace panels are used throughout the bodice to create a sculpted fit, and the most flattering neckline. Fitted at the waist, Sedona accentuates the figure, where a full tulle and lace skirt fall romantically from the waist creating a full skirt without adding width. A subtle train and V back neckline add a touch of elegance.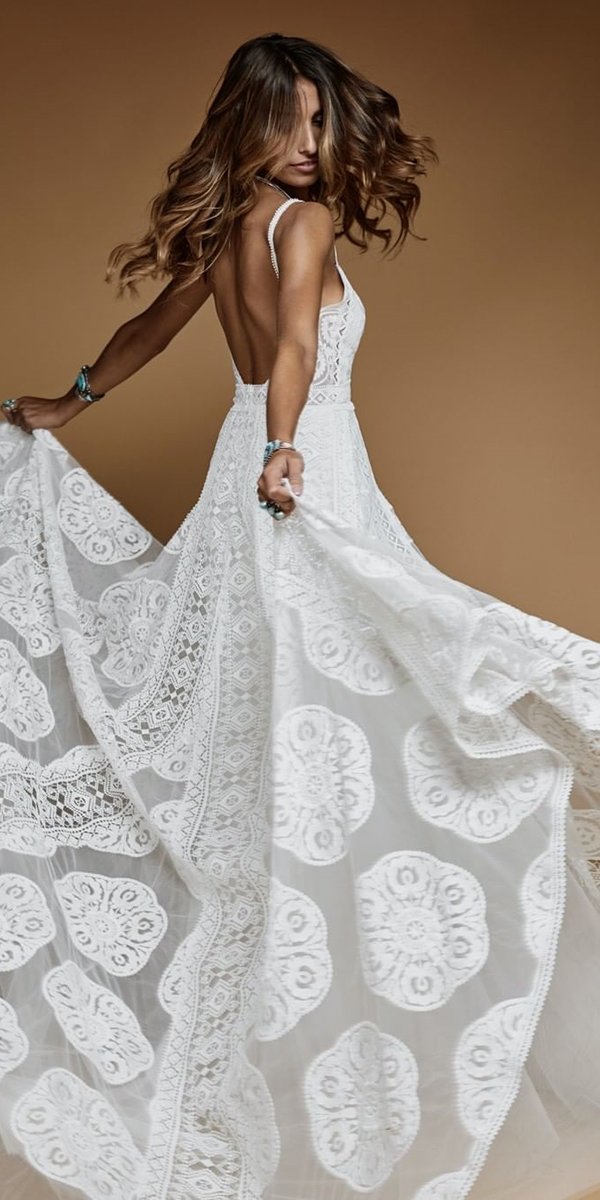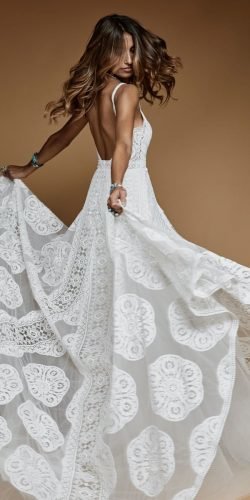 Beach style dress
If you're dreaming of a fairy tale wedding gown with a signature Rue flair, look no further than the Sedona Gown. Lace panels are used throughout the bodice to create a sculpted fit, and the most flattering neckline. Fitted at the waist, Sedona accentuates the figure, where a full tulle and lace skirt fall romantically from the waist creating a full skirt without adding width. A subtle train and V back neckline add a touch of elegan
Stephanie Allin Bridal Dresses You'll Admire
Inspired by travel, art, and literature, the Stephanie Allin collections are made up of some of the most fashionable and beautiful wedding dresses. Creating magnificent dresses, which have brought the brand all the way to the world stage.
Source: Stephanie Allin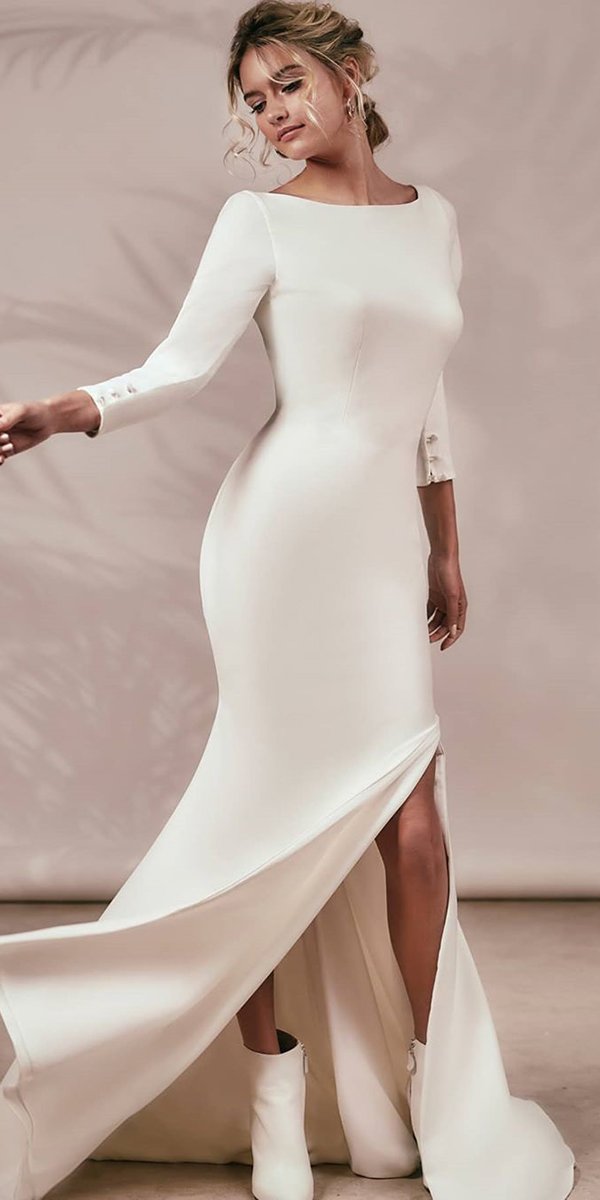 Simple bridal style
Created from the finest Italian silk crepe, the dress is a stunning and well-sculpted dress, which features a side slit with trendy detailing. Clean classic cuts with the finest of fabrics for modern and stylish brides.⁠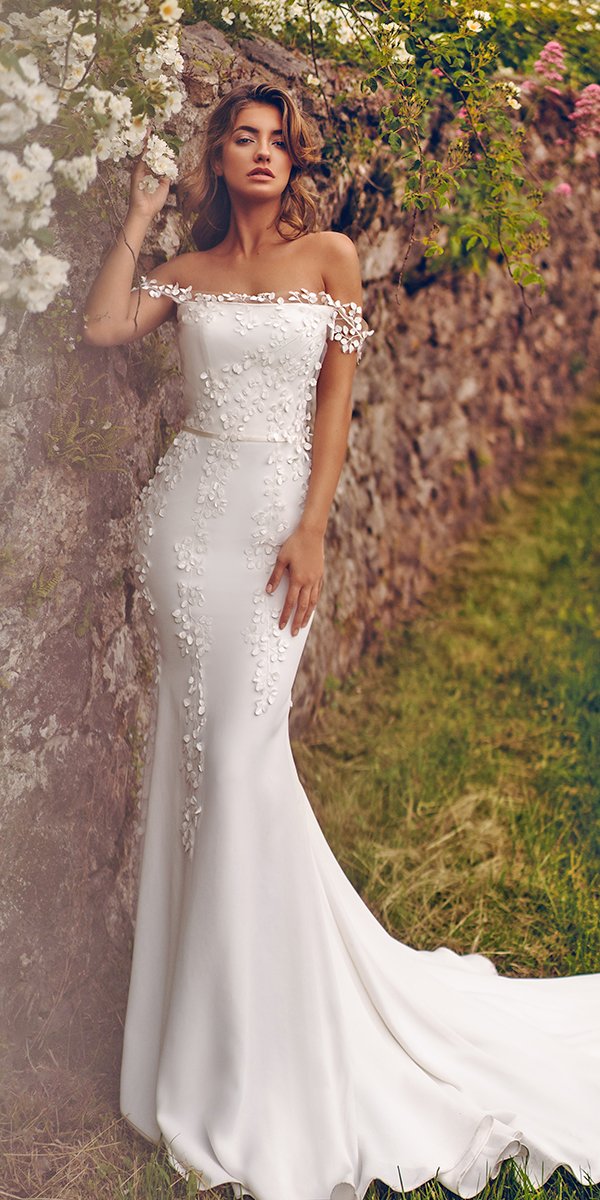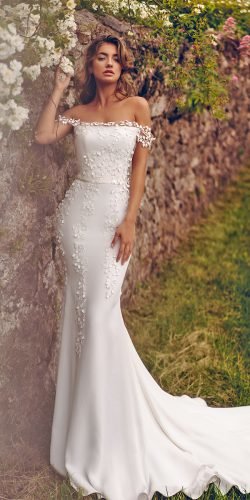 Trumpet silhouette
A dress that has been labeled a show stopper, the Monroe dress is one of soft crepe fabric, and an incredible silhouette. It features a straight across design, petal neckline which enhances its femininity, and a memorable train.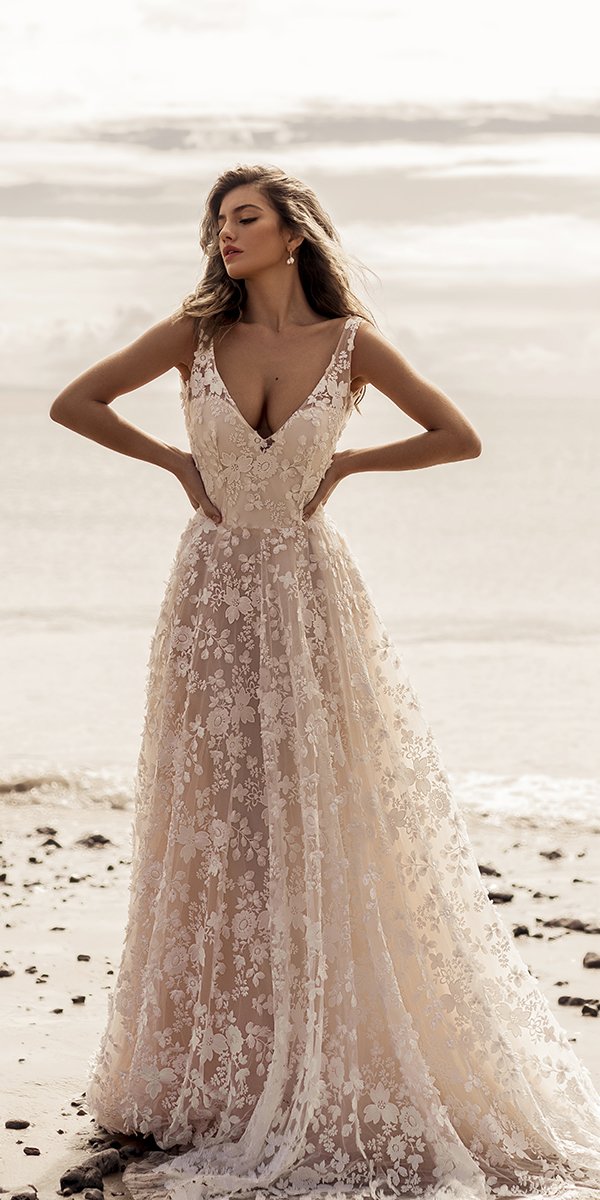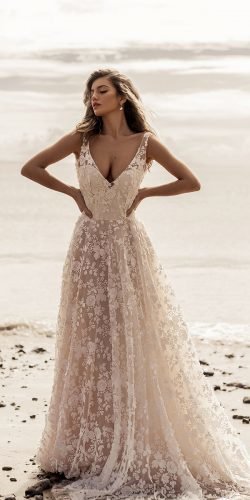 A-line dress
The Raven wedding dress is a dress of overlaid blush silk, overlaid with a light laser cut three-dimensional lace. It is available in blush and ivory.
The current trends observed for 2020 and 2021 hold some of the best wedding dresses created yet. Whether you're looking for summer wedding dresses or even Hawaiian beach wedding dresses for a destination wedding, these trends will not let you down.
How much is the average wedding dress?
Typically, the price of wedding dresses ranges from $300 to $1,700. The average cost is about $1,000. However, there is a wide variety of wedding dresses available and you can easily find a number of cheap wedding dresses below, and others well above these prices.