The most successful wedding photo albums feature an abundance of balloons photography. With balloons being so versatile, it's no surprise. If you've been wondering how to stage an epic wedding photoshoot or how to take your party decor to the next level, balloons are your answer. Keep clicking and swiping to find balloon decorating ideas that are sure to inspire your celebrations.
Nice Day For A White Wedding
Source: maxandfriends, lina_hayes, pippamackenzie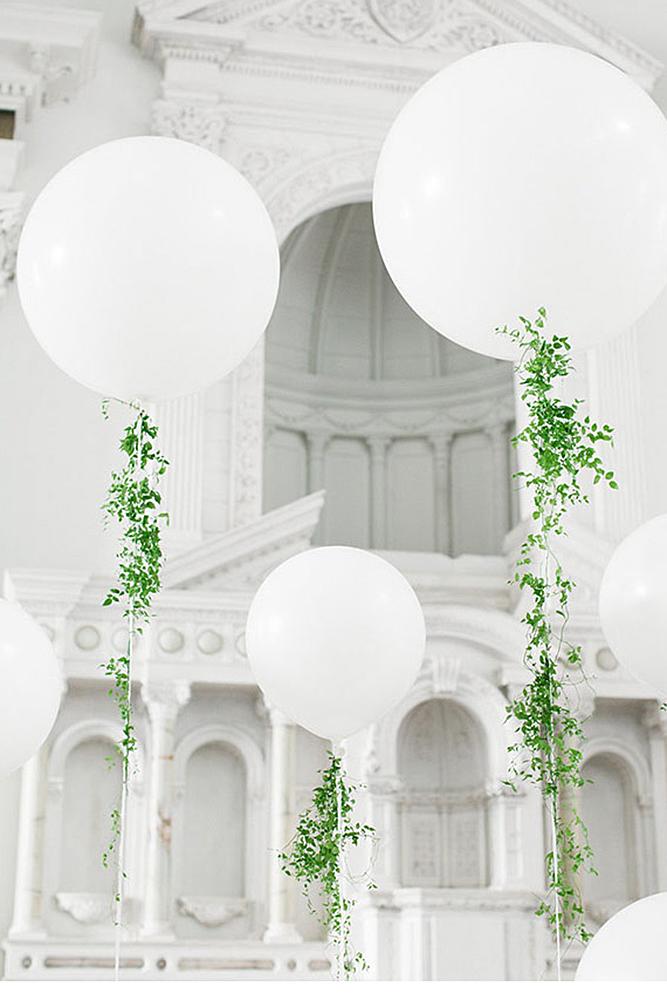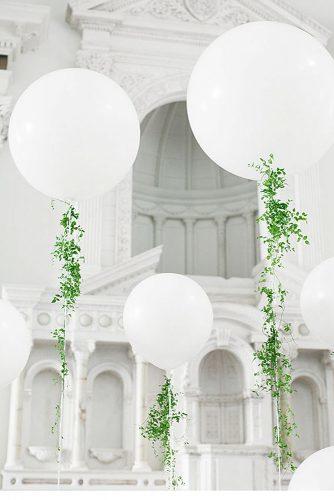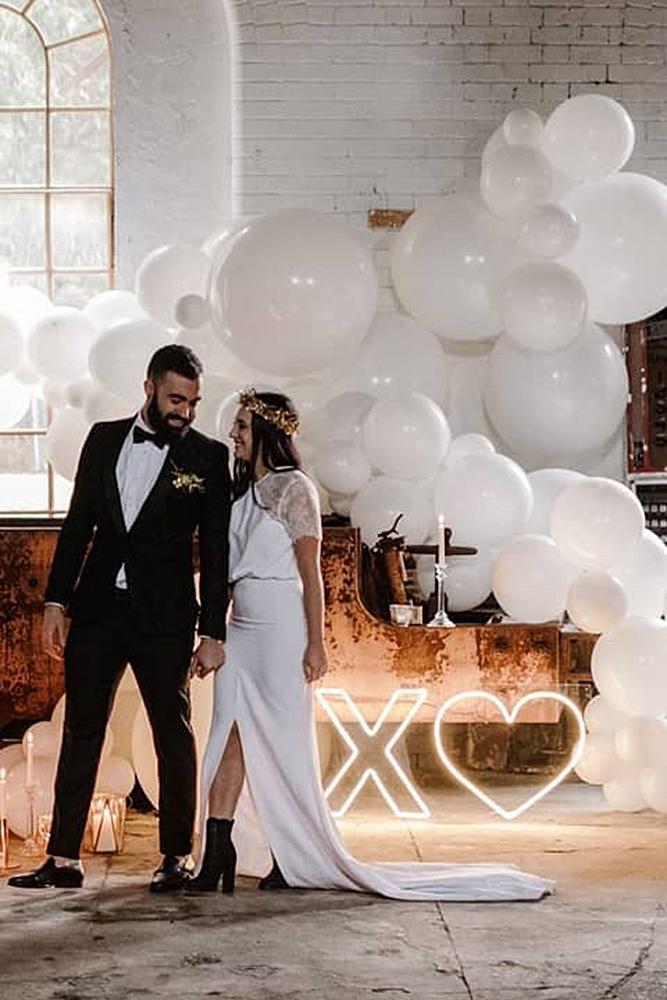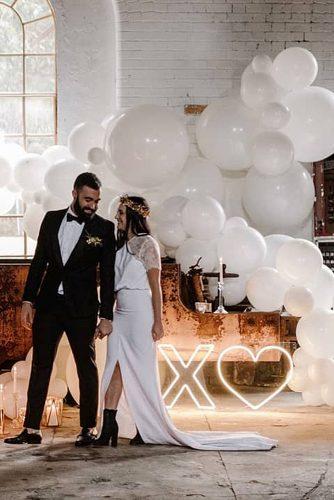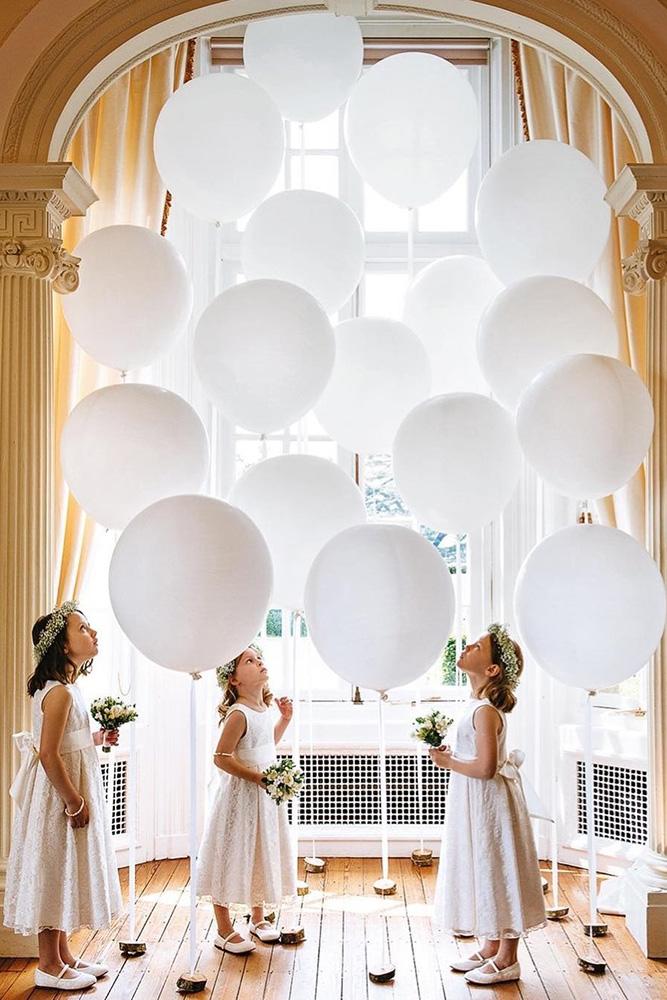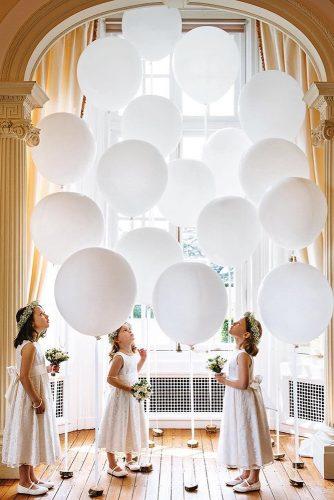 Balloons are an inexpensive way to evoke a childlike sense of wonder. Even a classic or traditional theme will enjoy a little pick-me-up with some strategically placed white balloon decorations. This works especially well in a church or banquet hall with tall ceilings. The lovely theme-fitting balloons draw the eyes up and truly let you appreciate the space you're in.
Meet The Happy Couple
Source: Maurajanesphoto, Asterandolive, OutOfMyBubble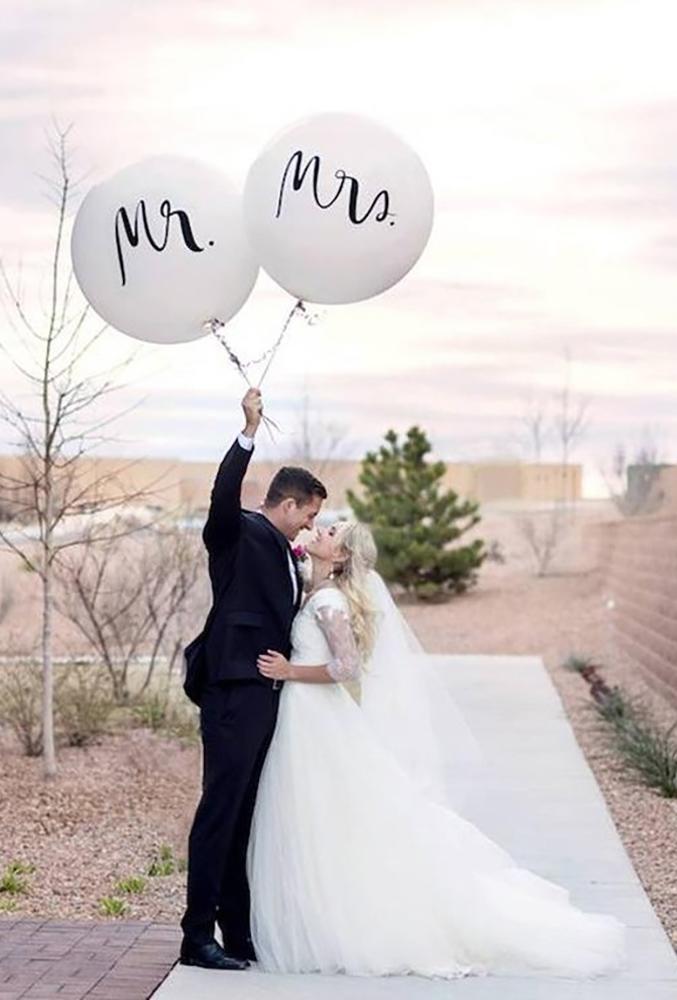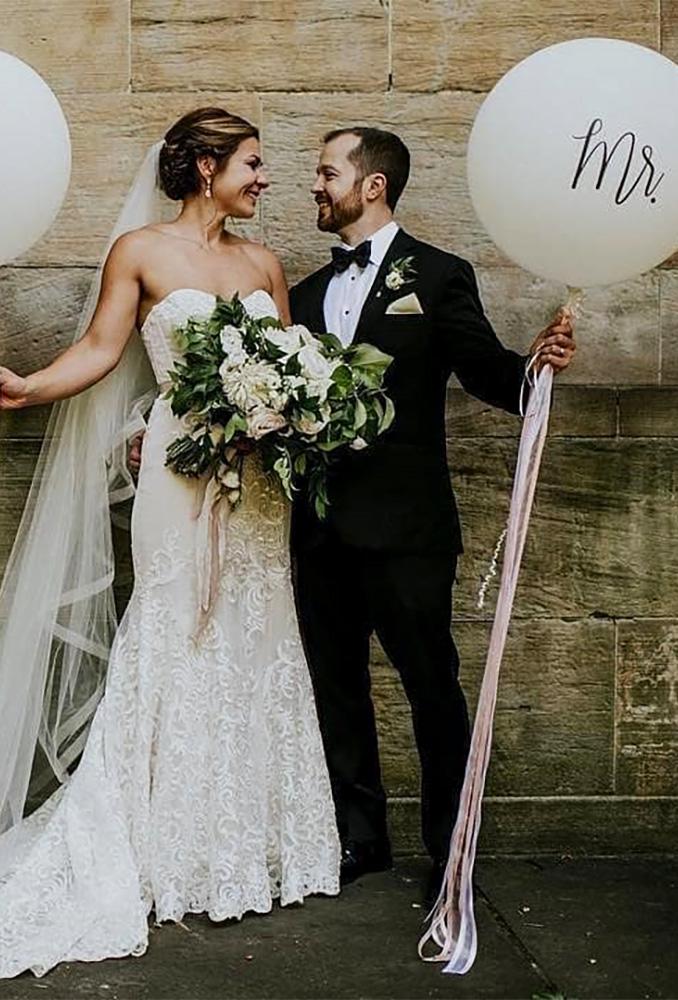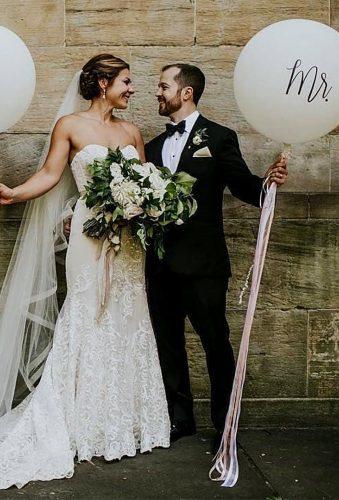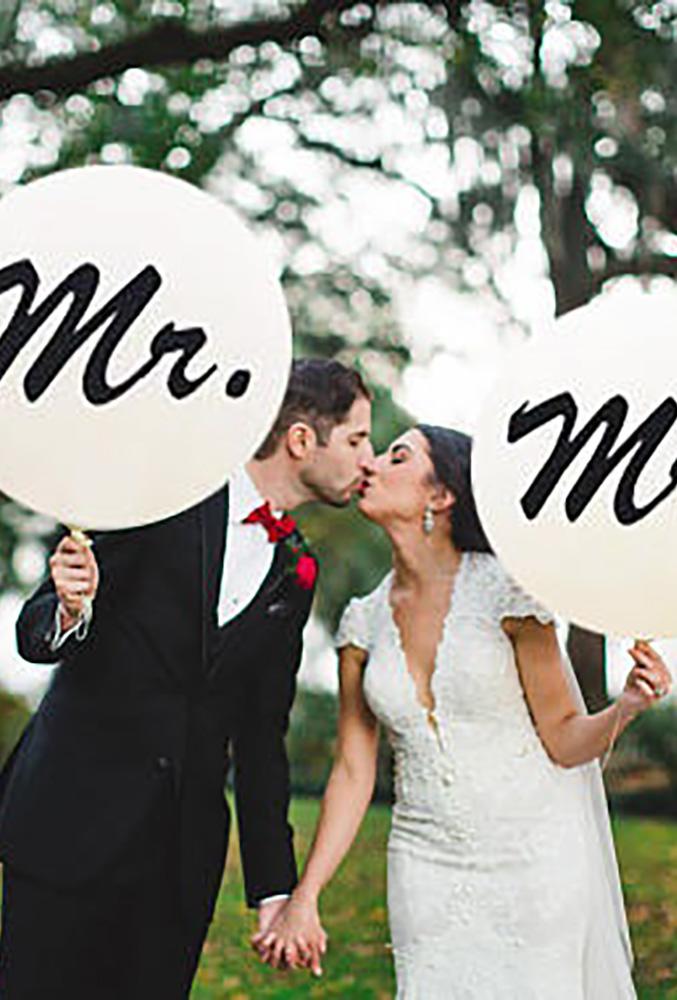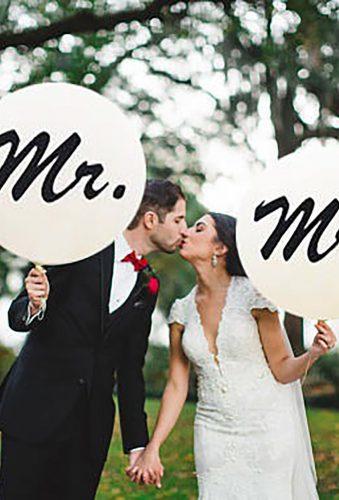 It's not difficult to come up with dozens of fun balloon ideas. This can be as simple as a Mr. and Mrs. balloon to identify the newlyweds table at the reception. Or, it can be a ridiculously ornate wedding balloon arch embellished with ribbons and flowers. If any of your decor feels a little sub-par, balloons are a great way to dress it up.
Make It Interactive
Source: partycus, chrisandruth, kristenmouxevents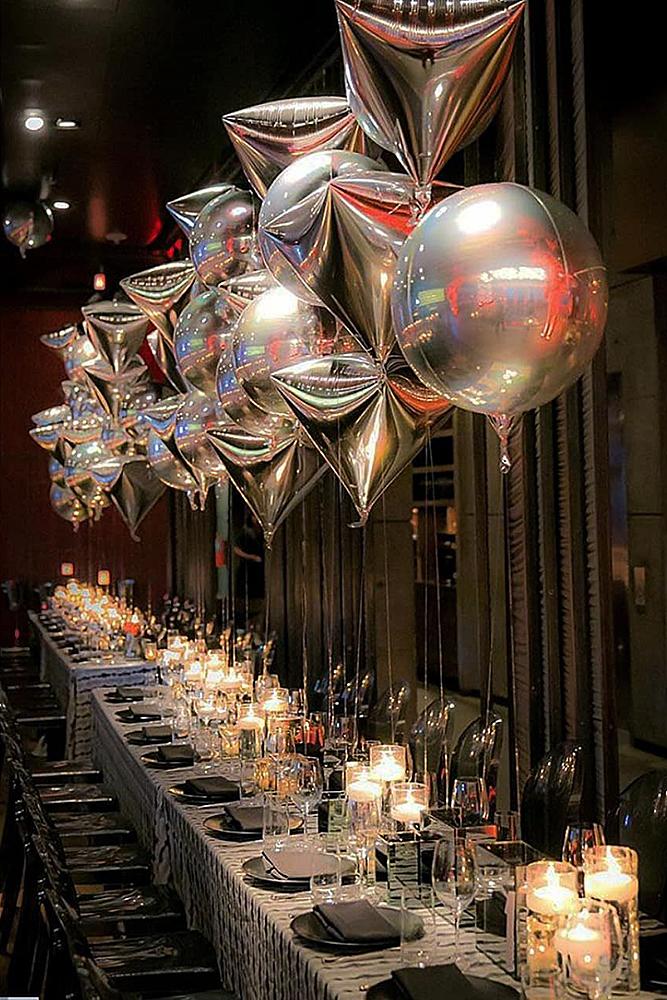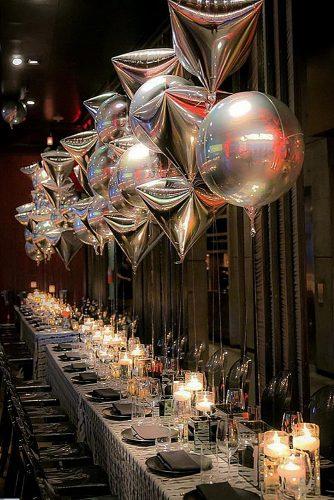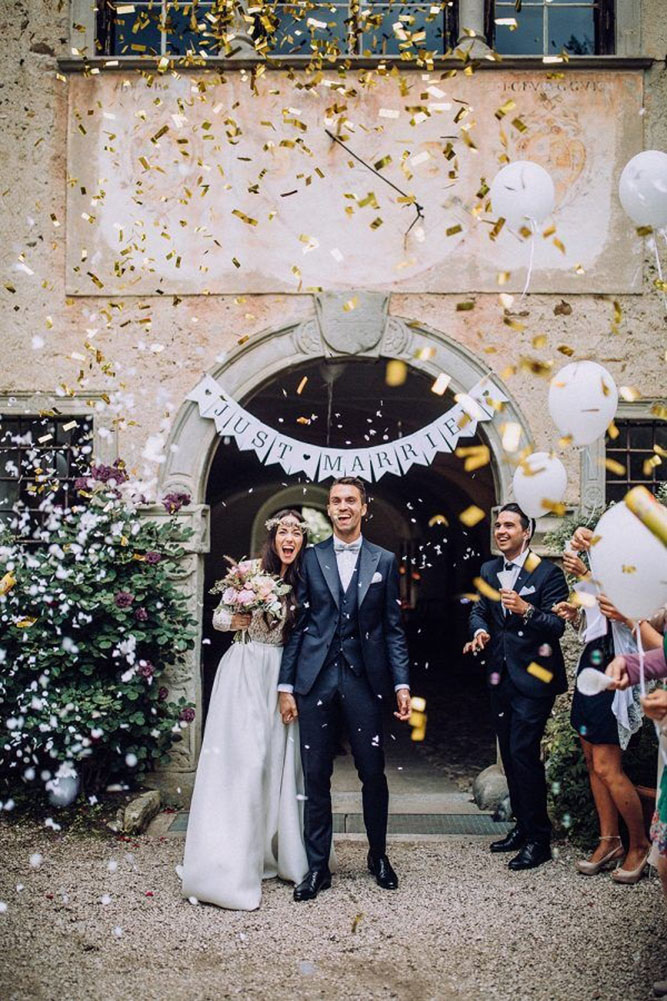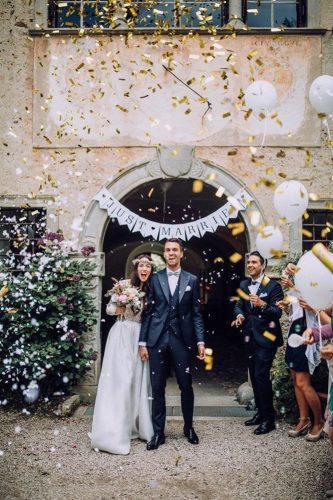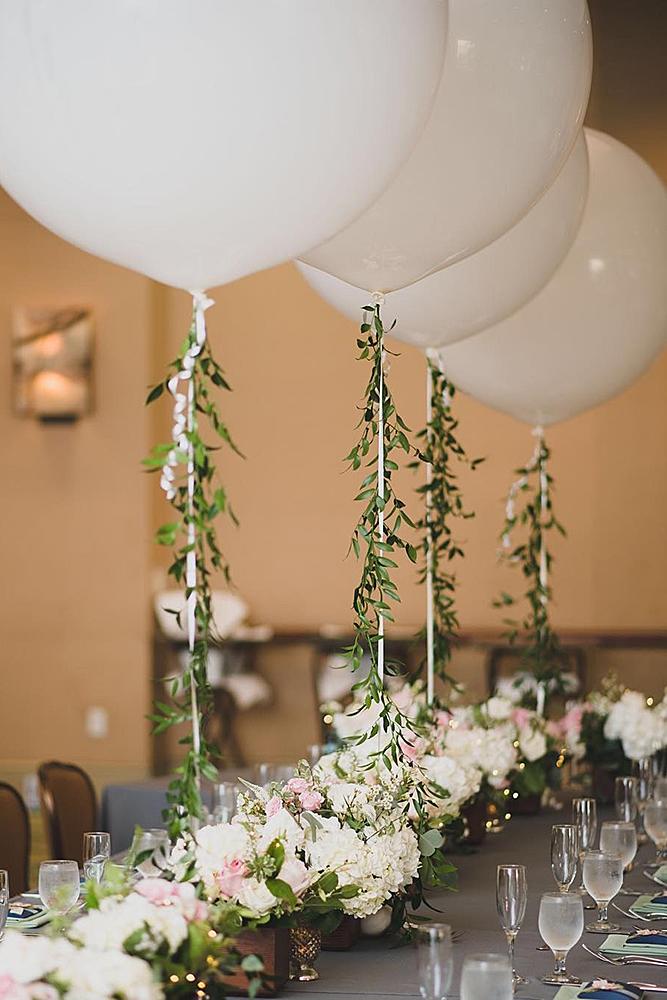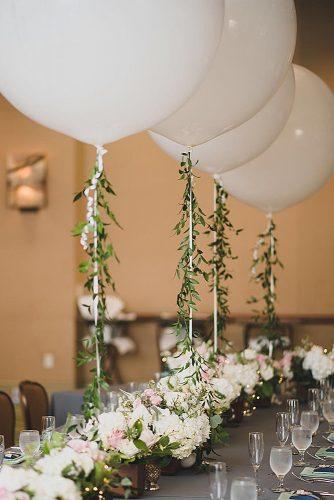 Party balloon pictures stuffed with confetti are a blast! Use these wedding balloon ideas as a table centerpiece or stuffed into your photo booth for an extra pop of color and something that forces smiles. If there will be kids at your party – and you're up for the cleanup – invite them to burst the balloons at the end of the night for a round of confetti dancing.
Play Up Your Theme
Source: josephcarr, cleanplatepictures, samanthaongphoto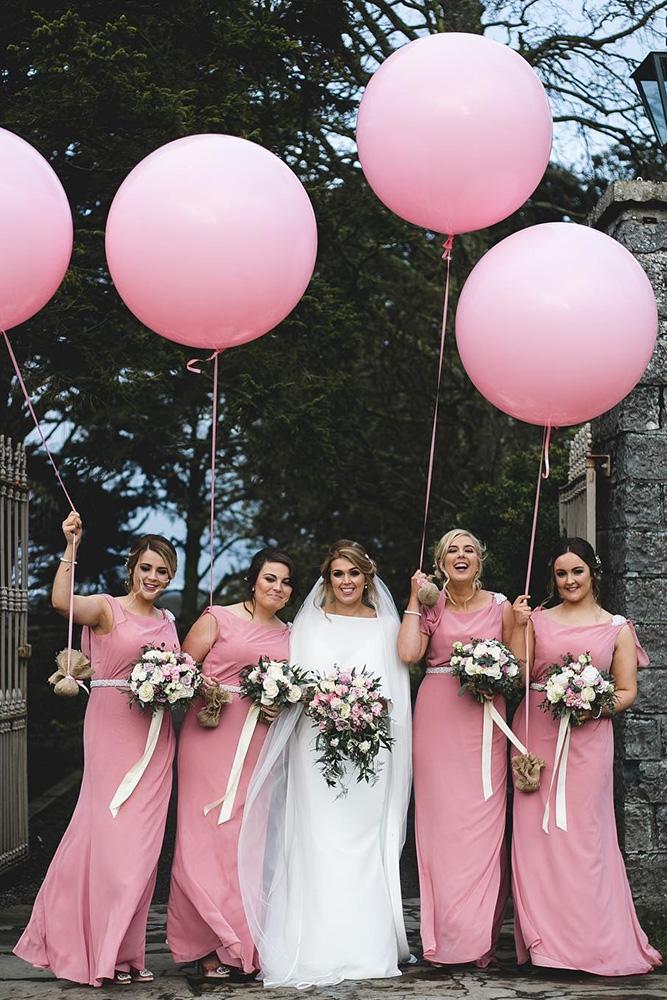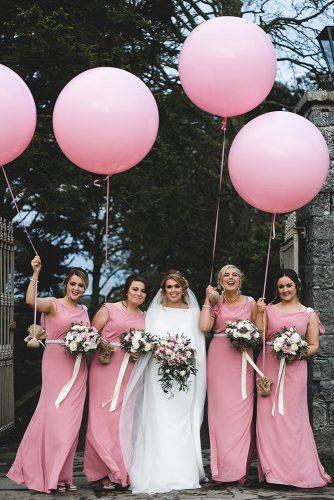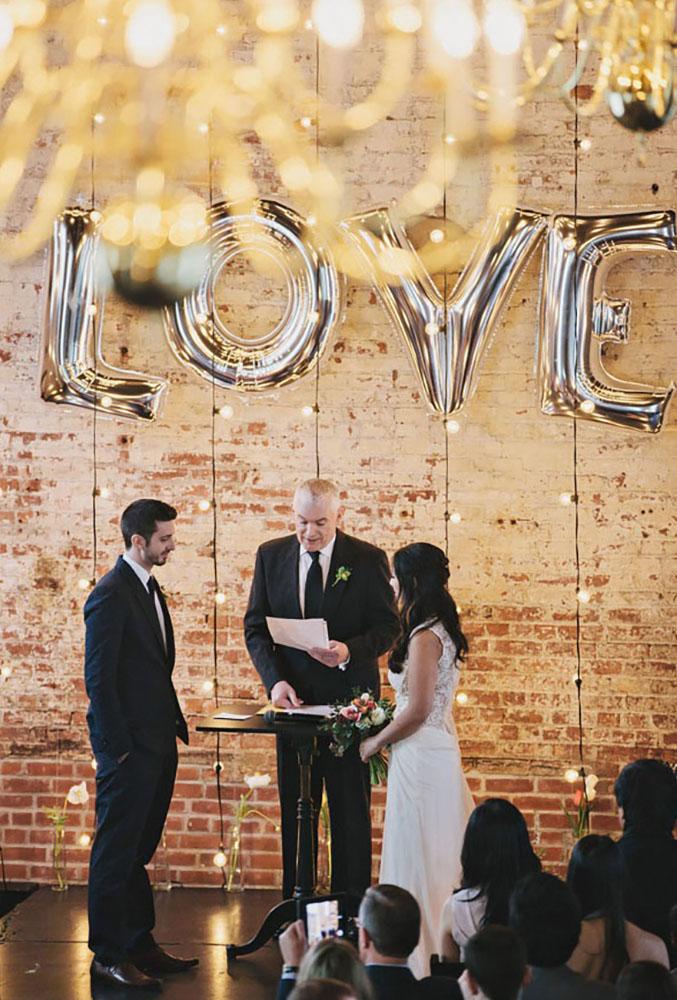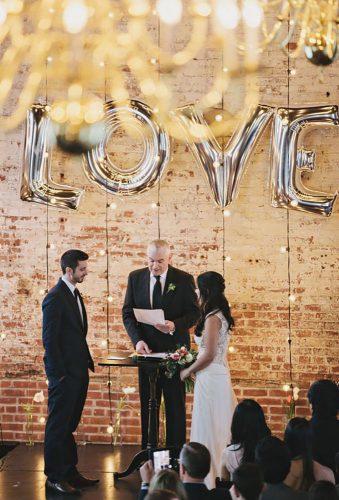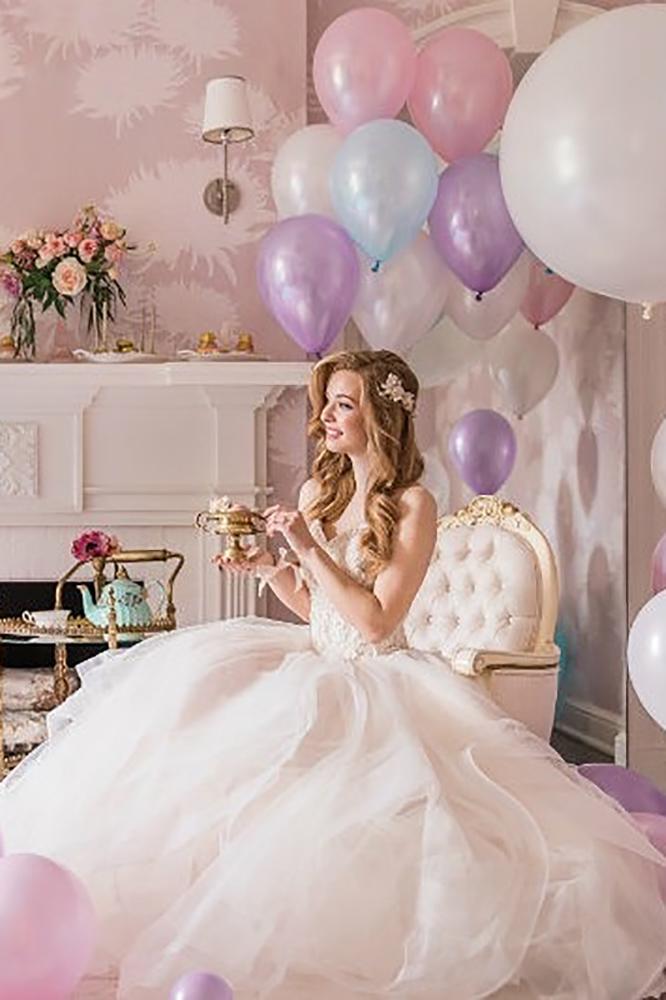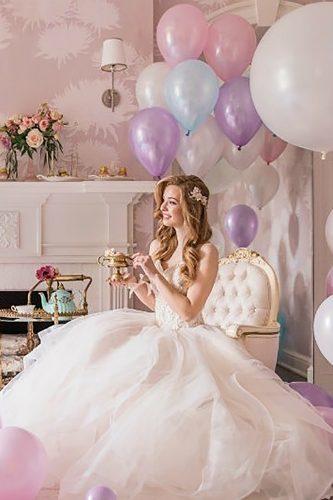 Next up on our balloon ideas for wedding reception is a color theme. Many couples forgo that standard theme choices – rustic, era, boho, etc. – and choose a seasonal color scheme as their theme. Peach colored balloons are perfect for a Spring ceremony while you may want to choose a light blue for a winter wonderland theme.
Highlight The Dance Floor With Balloons
Source: liselorestap, party.nook_, rutheileenphoto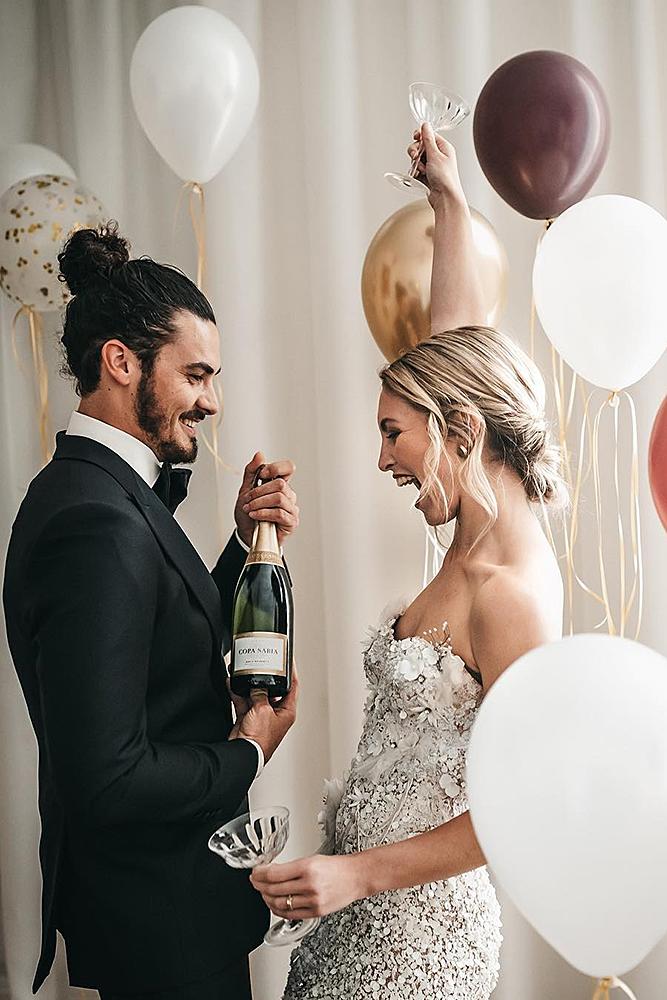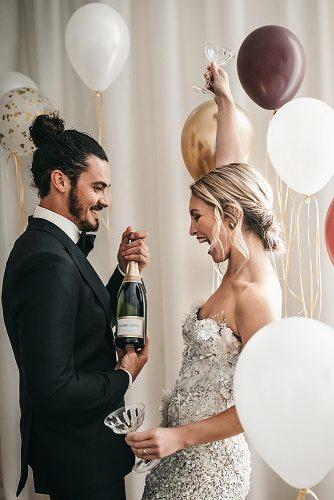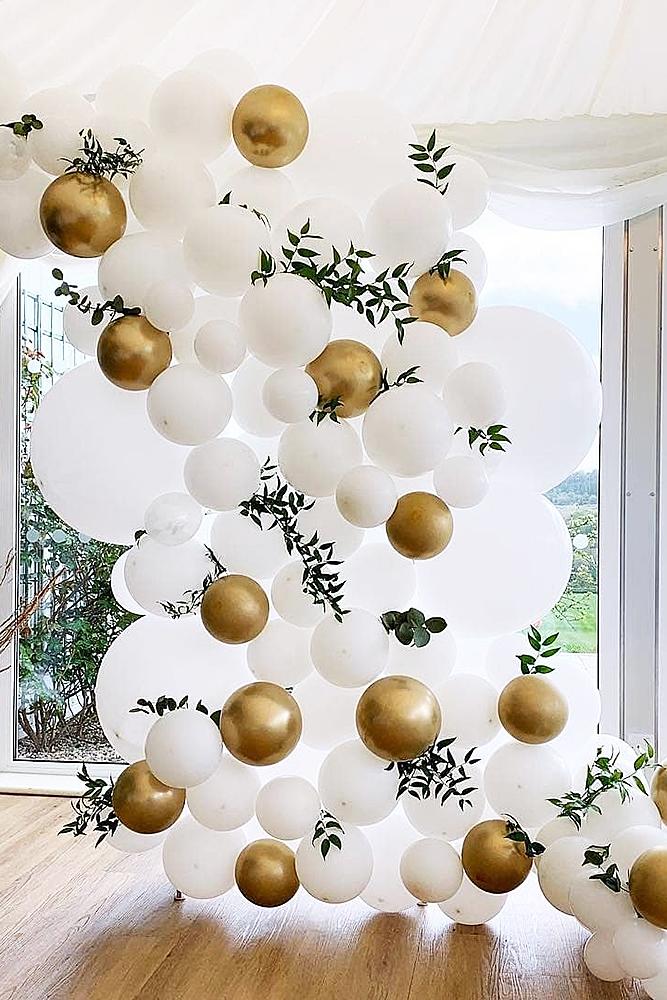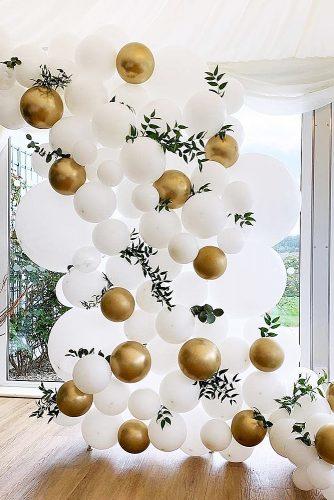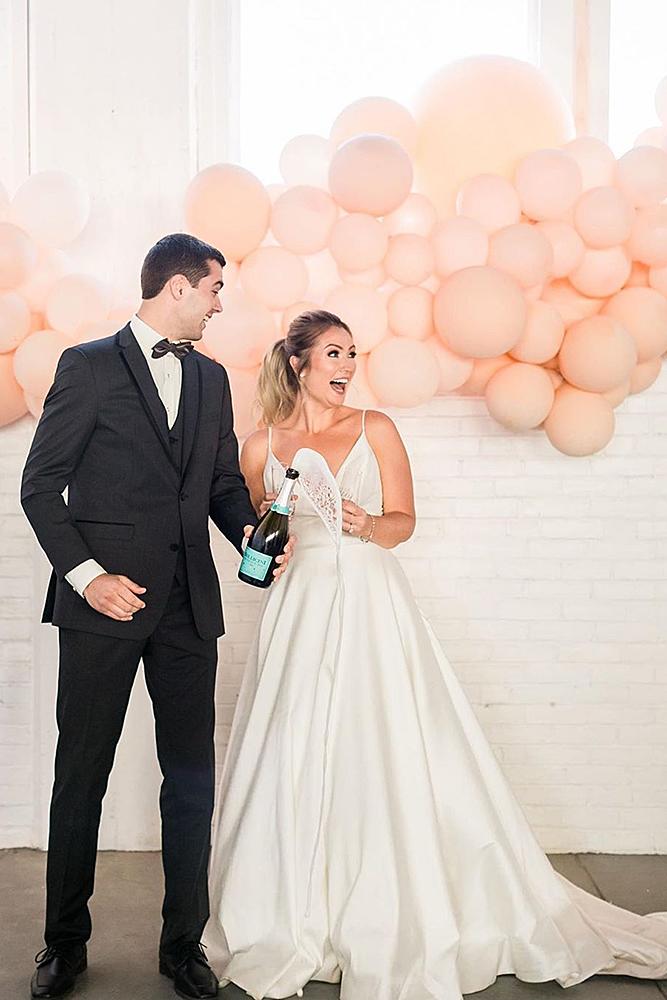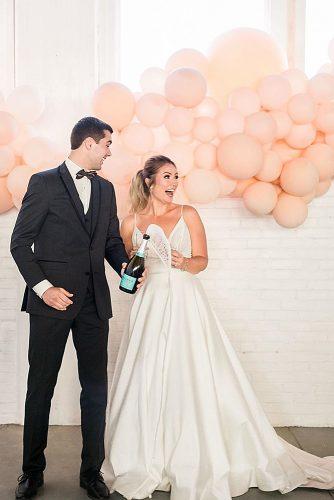 Fill a bunch of on-trend balloons with helium so that when your guests check out the dance floor they'll see nothing but on-trend balloons. This works especially well when you choose balloon colors that match the rest of your theme. Weddings balloons decorations are a simple way to transform a standard wedding into the party of a lifetime.
Balloon Wall For Guestbook
Source: redfloral, junibelinc, indywedding2nd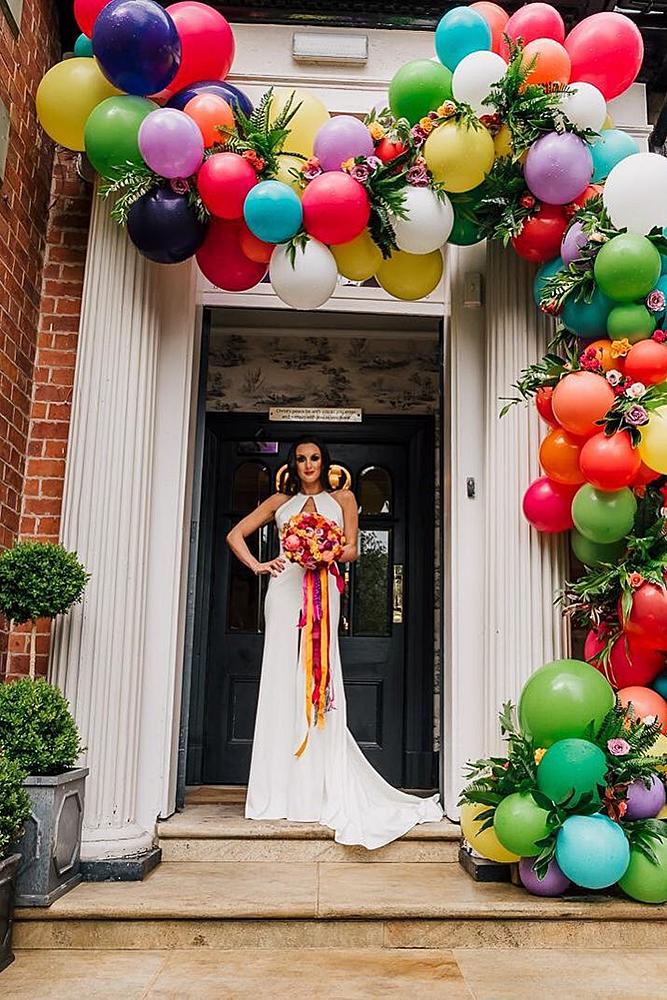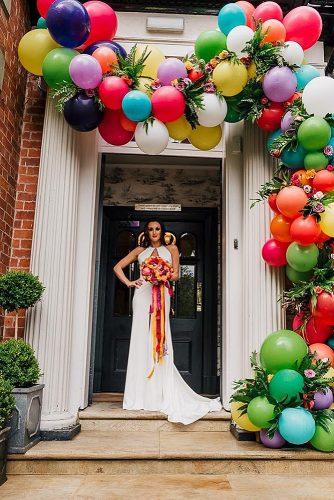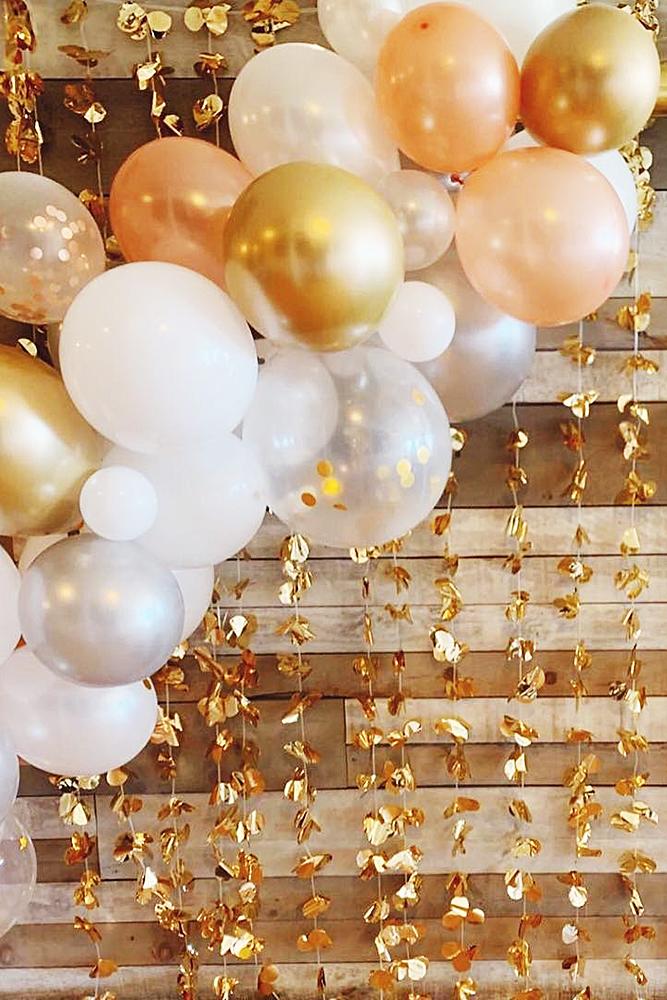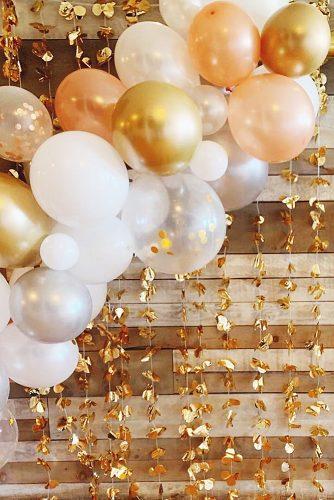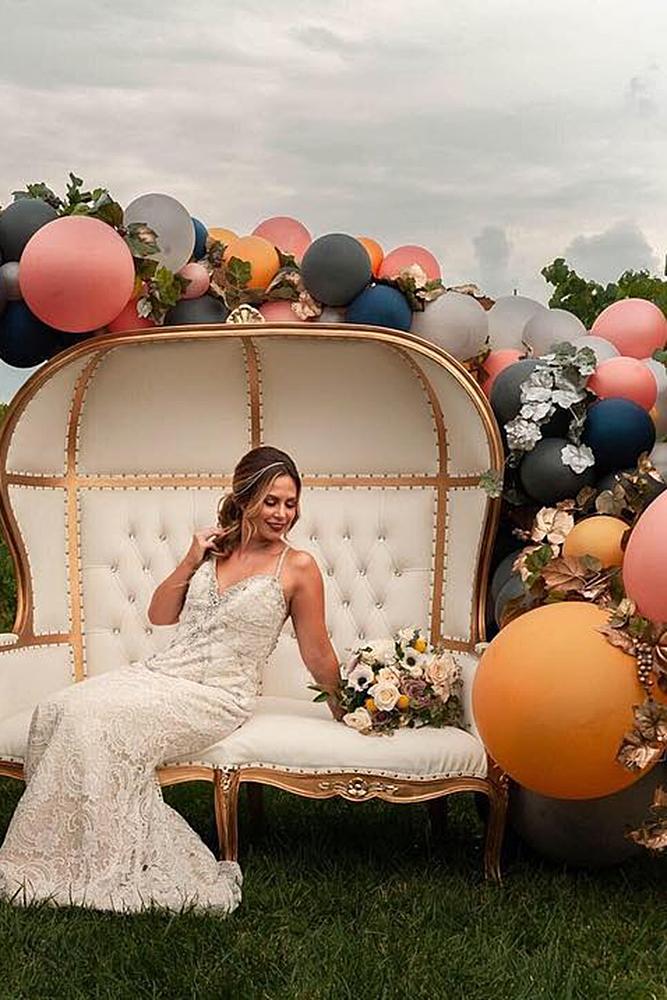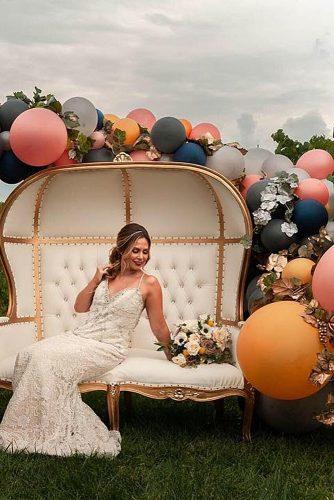 Many couples choose to present a book for their guests to sign. Move your guestbook into the 21st century by making it digital. Set up a wall of balloons as a backdrop to your photo-guestbook, and share it using your specialty wedding hashtag. The colors and way that light bounces off of balloons are really successful at enhancing photos. You can even opt for balloons shaped the initials of the bride and groom.
Balloon Seating Assignments
Source: aprilyentas, aliciacampbellphoto, kerrweddingsandevents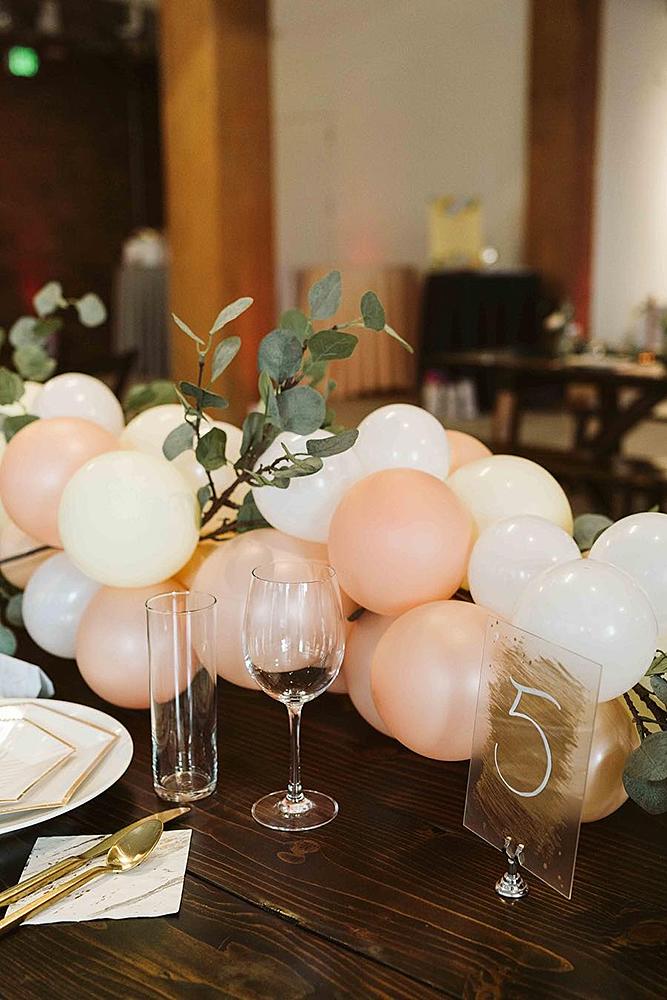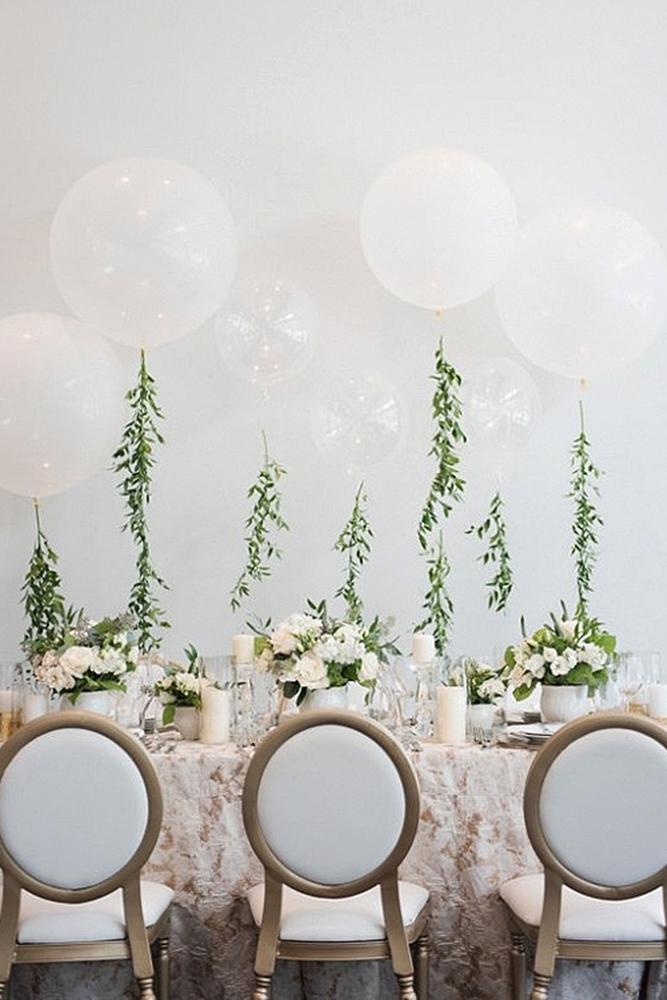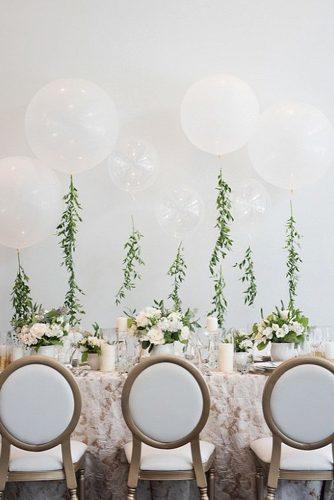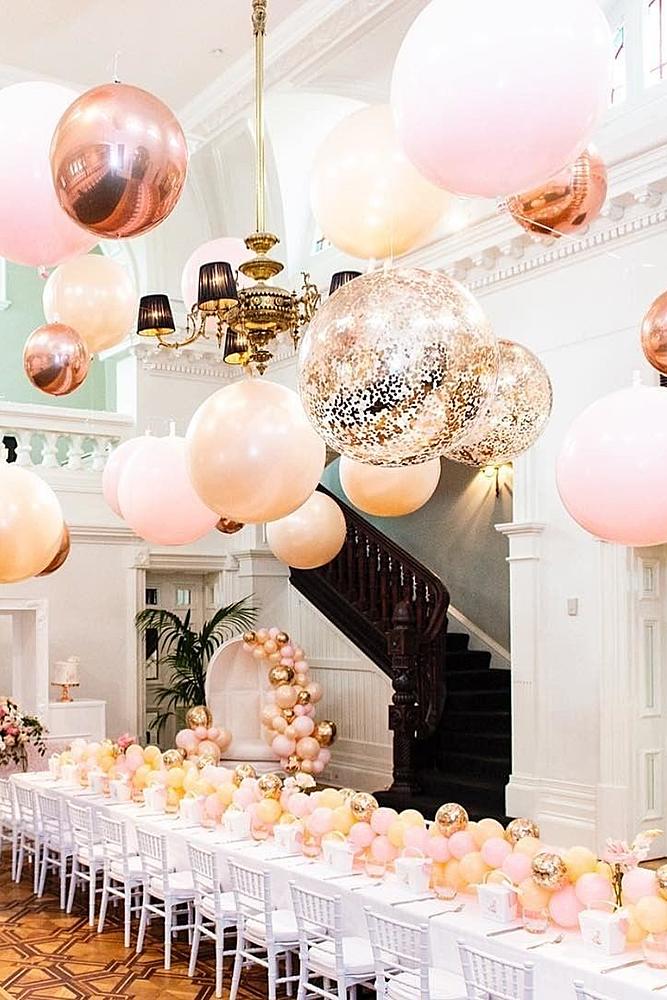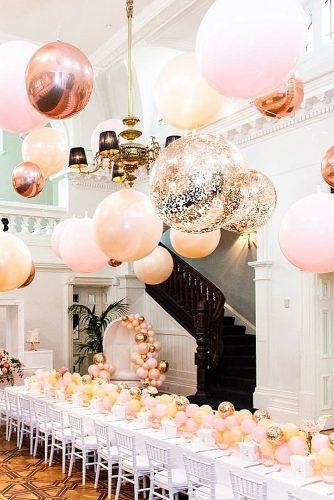 Presenting a creative wedding seating chart is always a challenge for soon-to-be-brides. Solve this problem by hanging your guests' names from floating wonders. Come up with your own color combinations and layouts for your balloon backdrop ideas and great your guests with smiles the second they walk through the reception doors.
Balloons Centerpiece
Source: badassballoonco, loveofcharacter, erikamorgera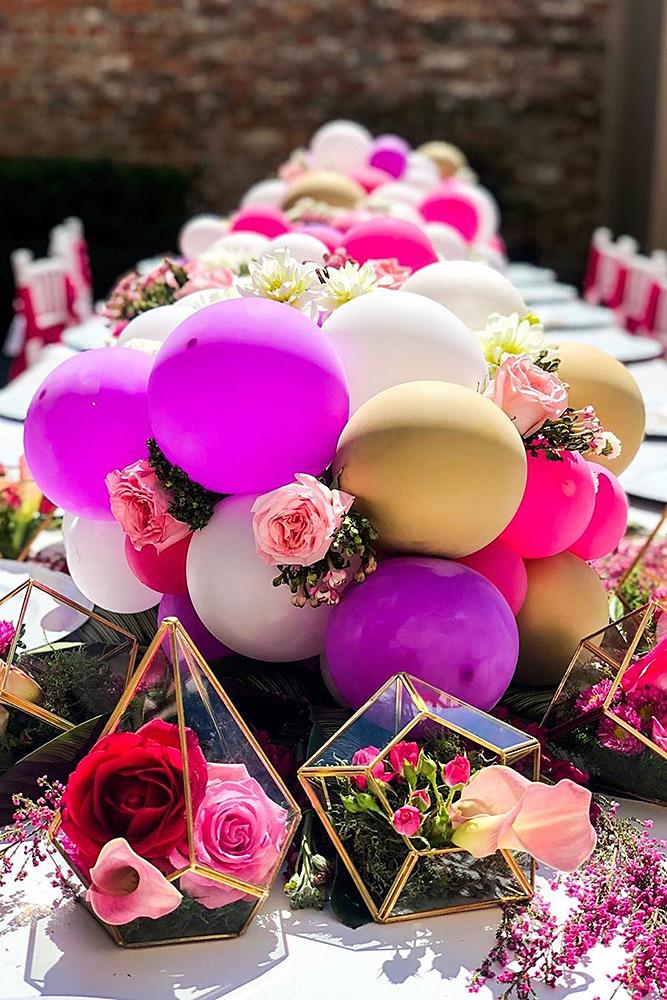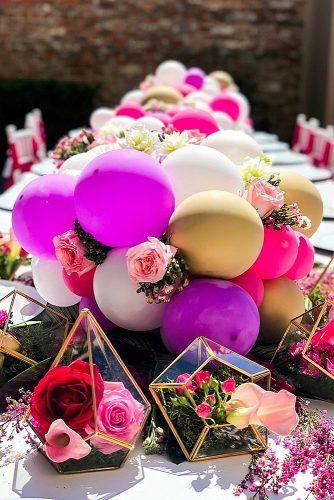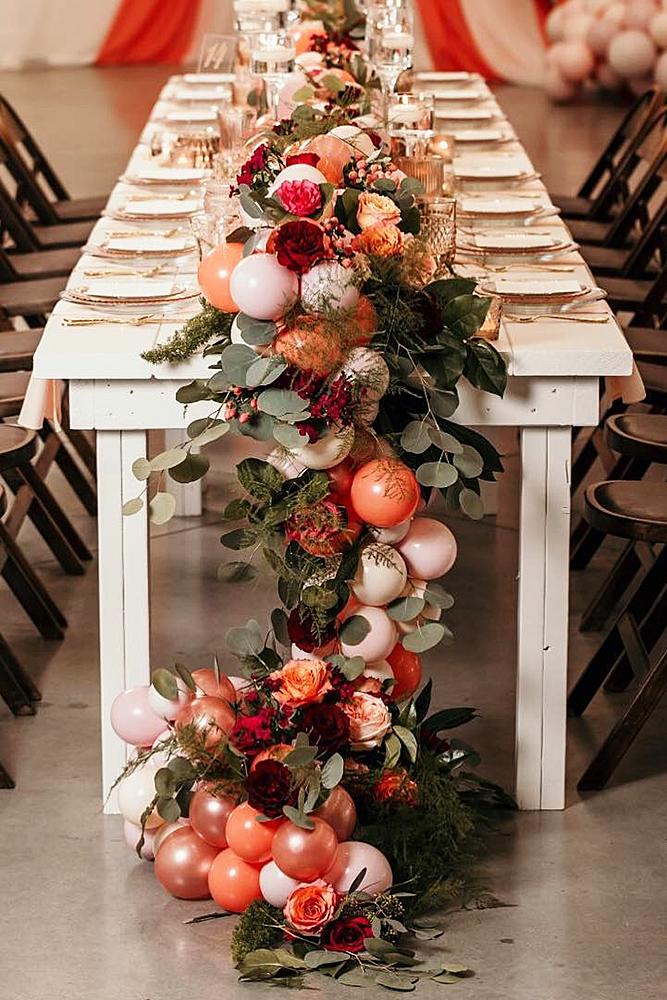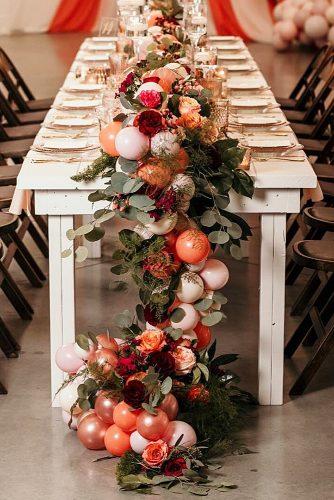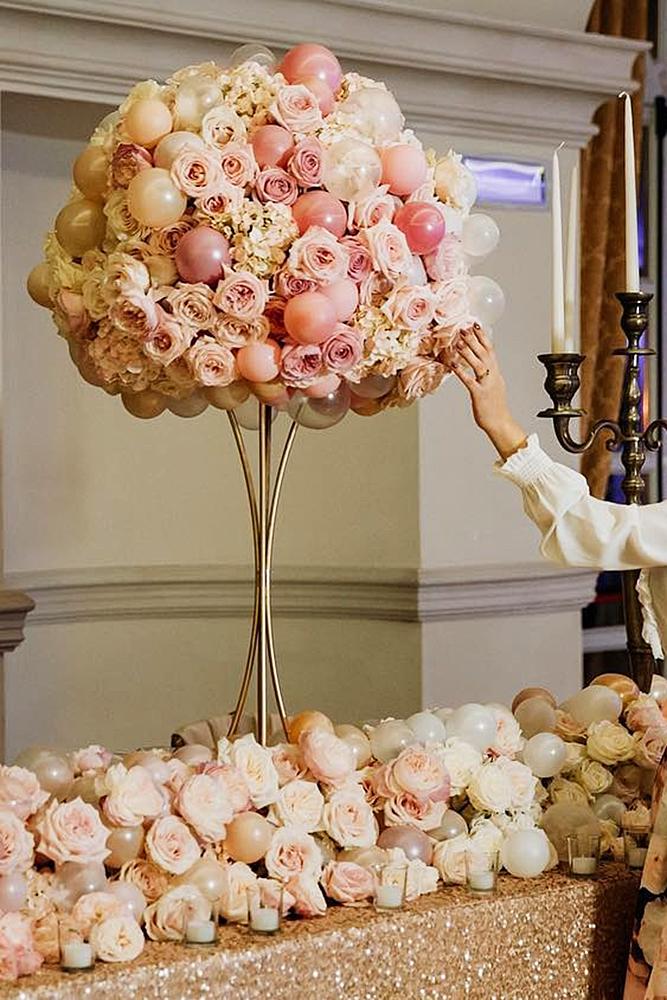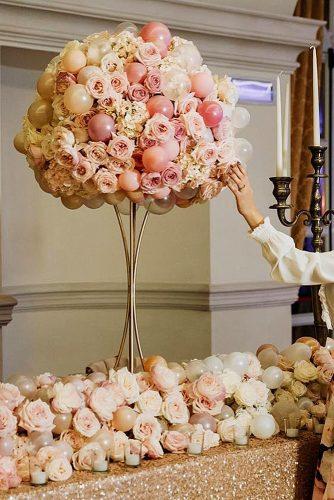 Instead of floating a massive bunch of balloons in one place, create beautiful balloon wedding centerpieces. A single balloon floating at the center of each table can be a centerpiece by itself, but consider adding a few florals to create stunning balloon flower centerpieces.
Baloon Bouquet Ideas
Source: chinahao, Lolas Confetti Shop, chinahao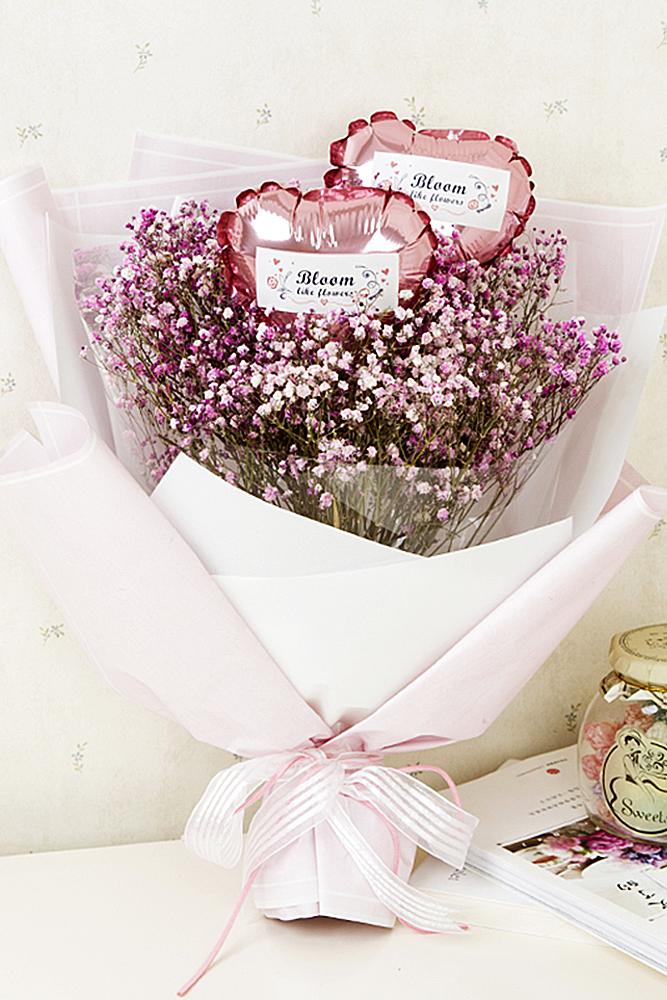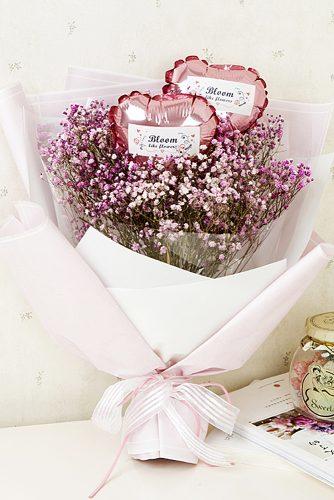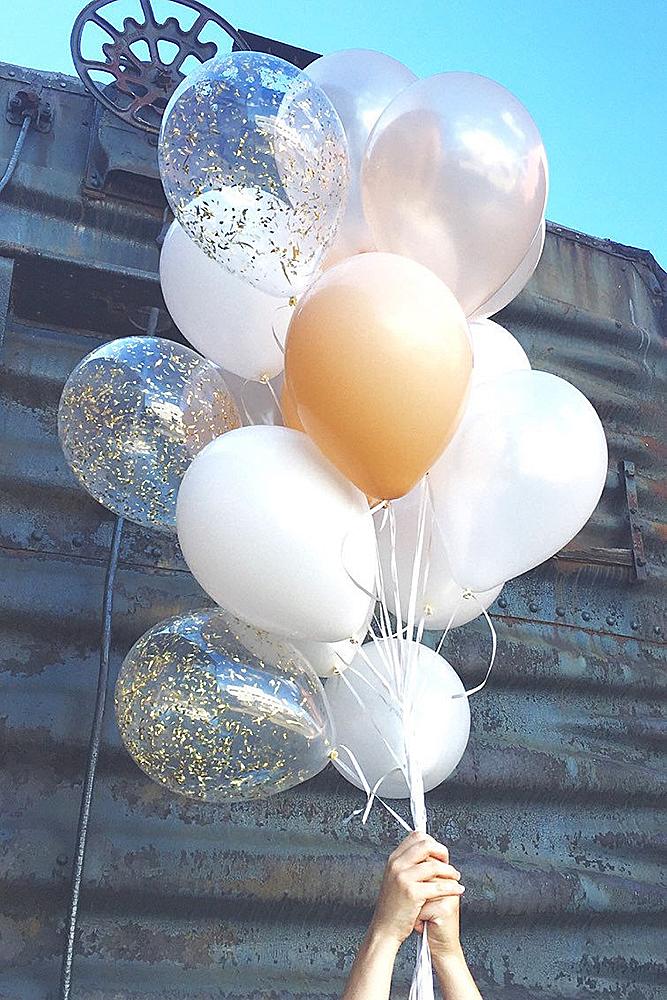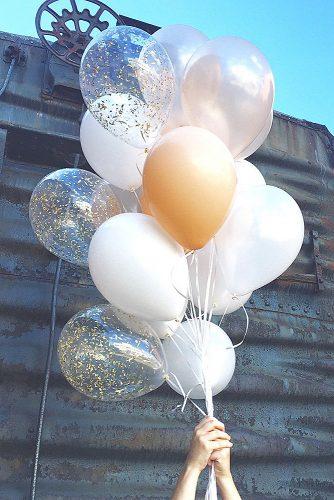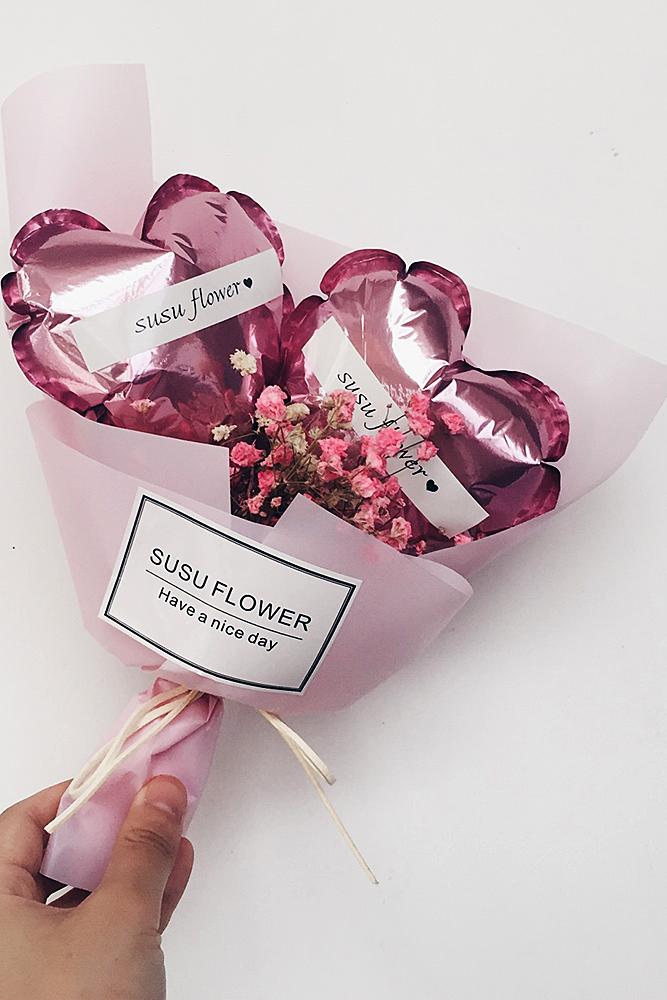 The flower girl and bridal bouquet are unquestionably adorable. But, the whole bouquet of flowers routine may feel a little stale for some couples. Take a fresh approach by swapping the bouquet for a small bunch or an oversized balloon the flutters down the aisle.
Cake Topper
Source: misshavishamscakes, cakeitbyhanna, lilian_kuster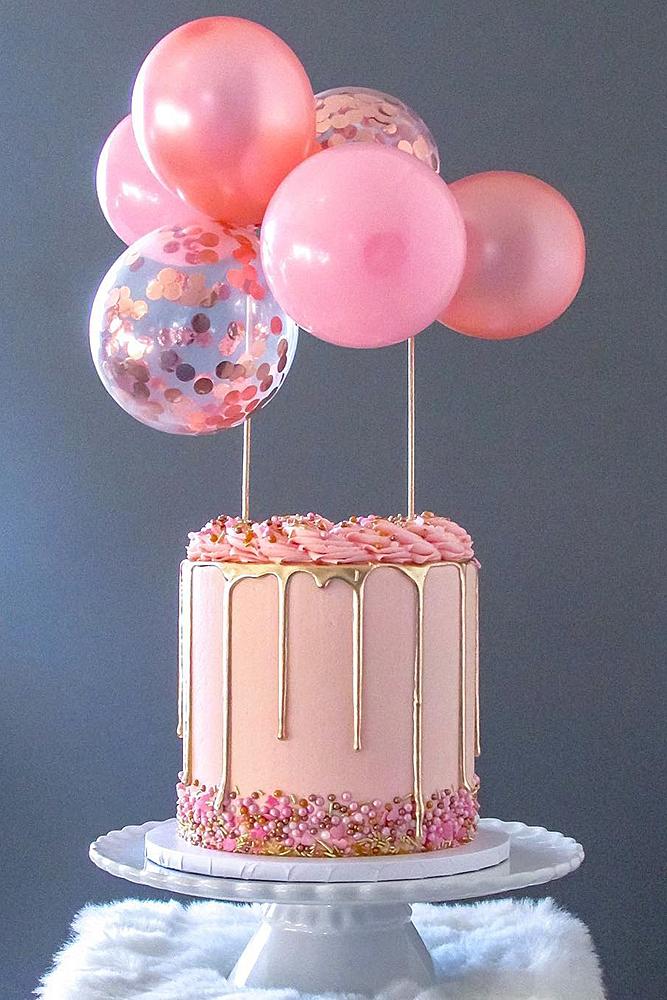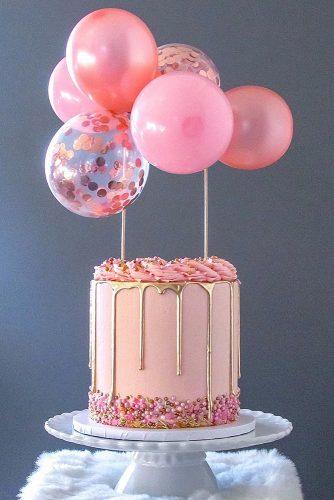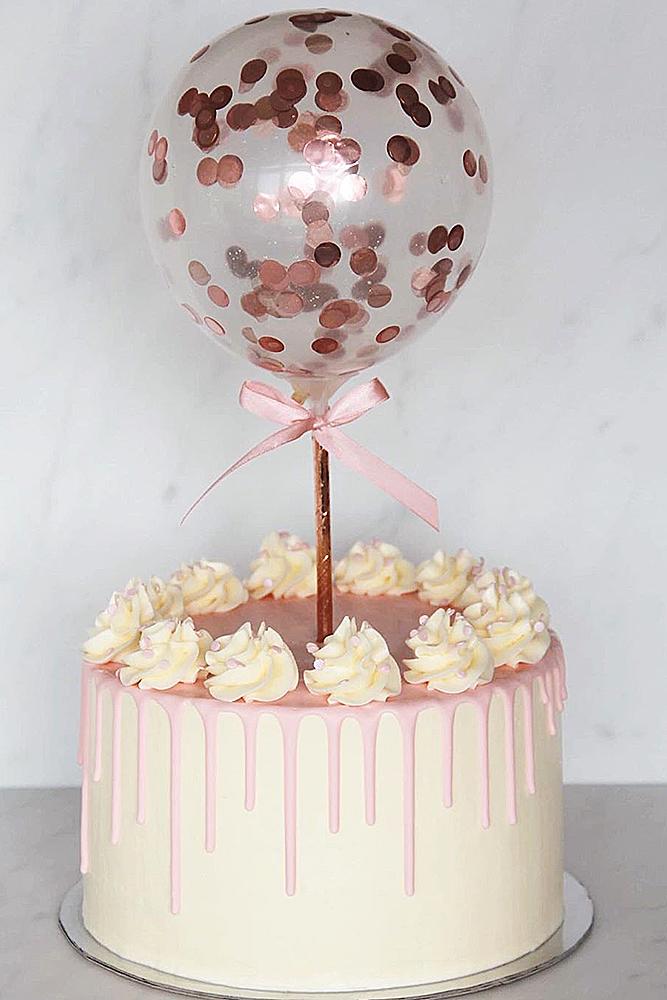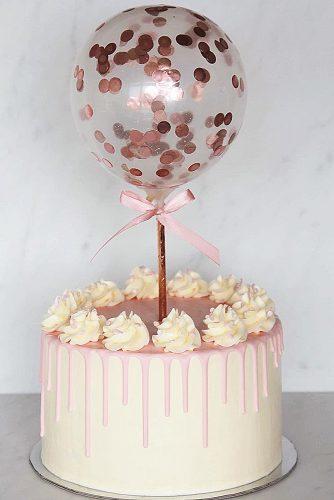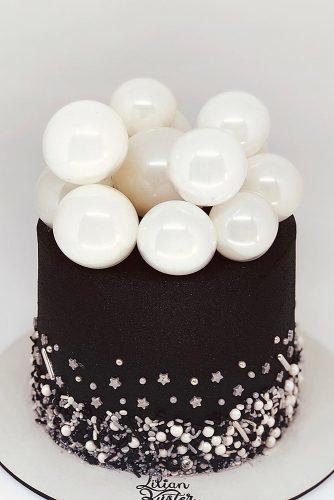 When it comes to balloon cake ideas, toppers are where it's at. Whether you attach a few small balloons directly to the cake or create an unmissable environment for your 3 tiers, your guests are sure to bring the memory home with them and tell all their friends how great the decorations were. The cake table is meant to pop with color, enhance your already-beautiful decor with complimentary colored balloons.
Mini Hot Air Balloon
Source: mineforeverapp, jenellekappephoto, andersruff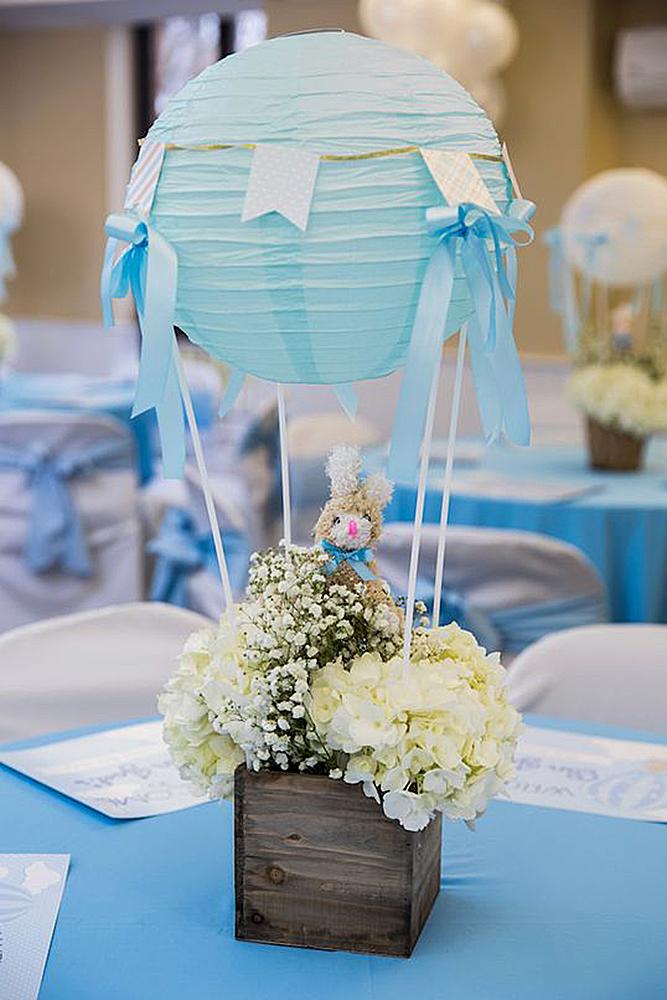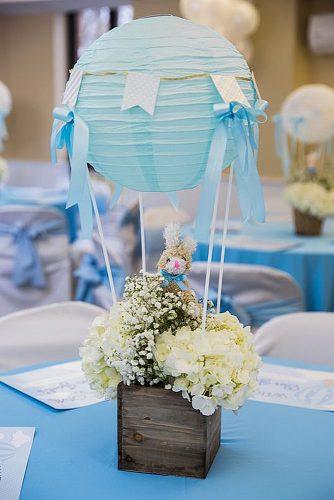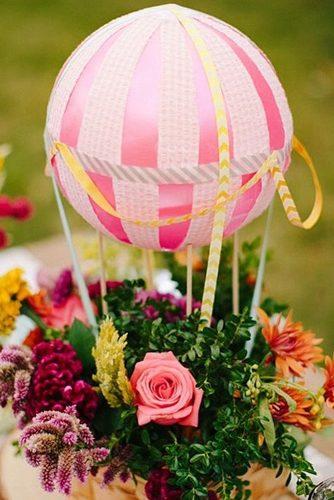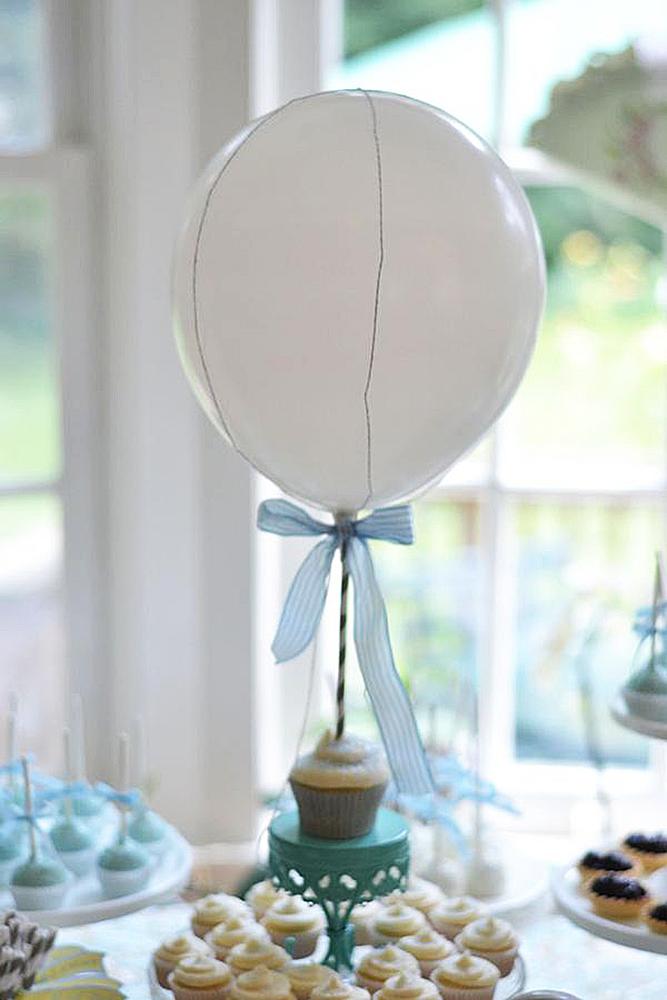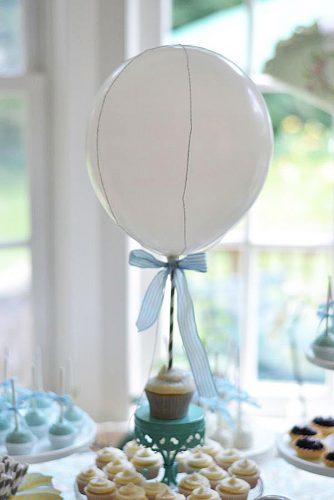 Weddings do particularly well with inspiring photoshoot with balloons. Since you have the space, find some oversized giant balloons weddings or choose a little air balloons. You can use them on the table to create a gorgeous centerpiece.
Grand Entrance
Source: bubblegumballoons, shadesofbloom, lumieventdesign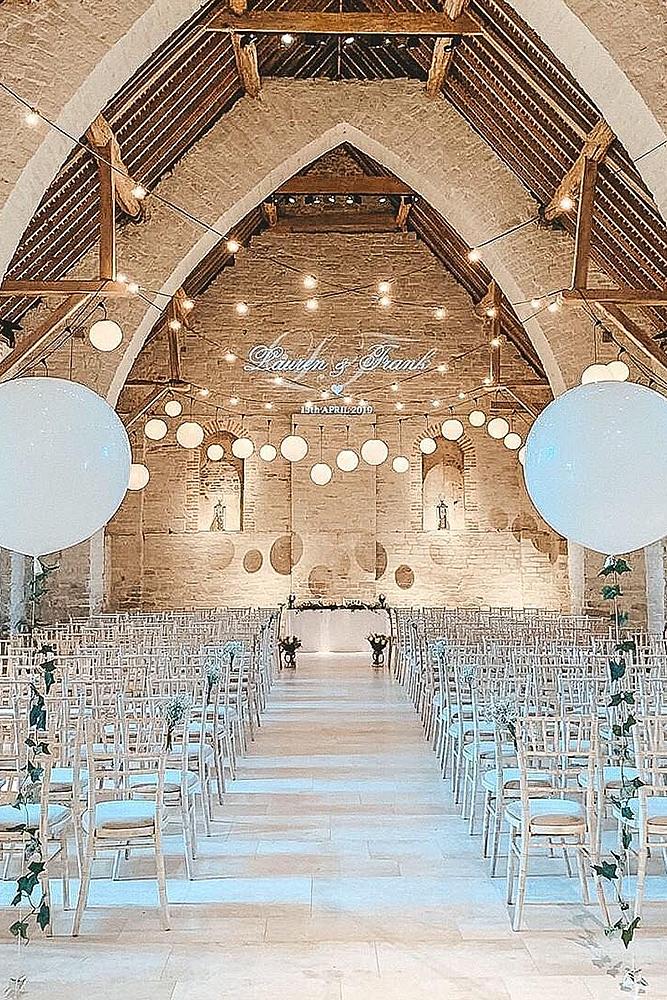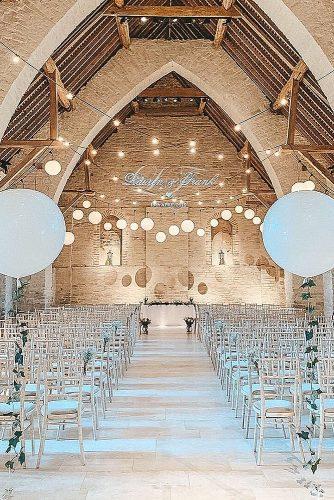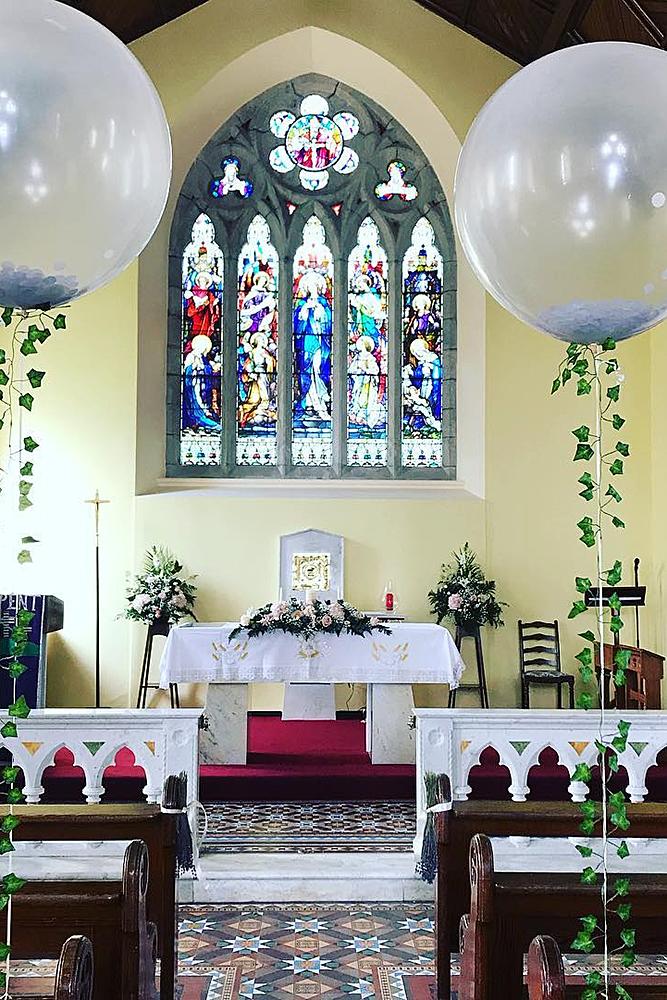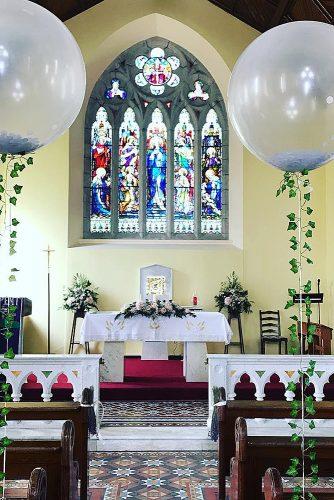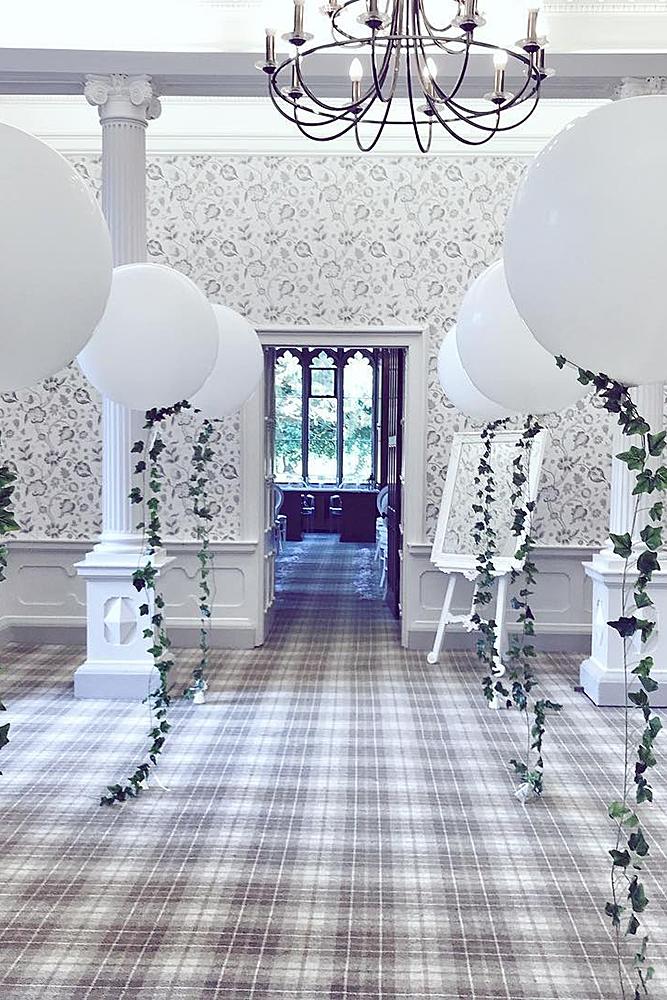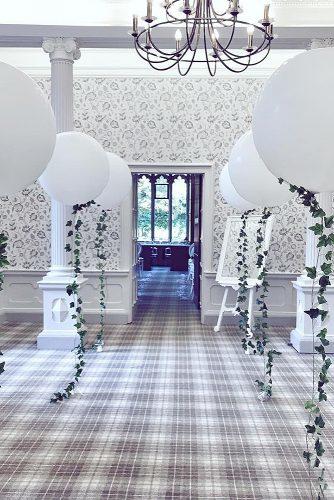 Let your guests know that they've arrived by drenching the doorframe of your ceremony or reception entrance with a mix of balloons for the majority of your themes. Or, ascend a pair of classy balloons on each side of the entrance to match your traditional theme.
Favor ID
Source: feliciathephotog, yaybyraz_, decorazonobjetos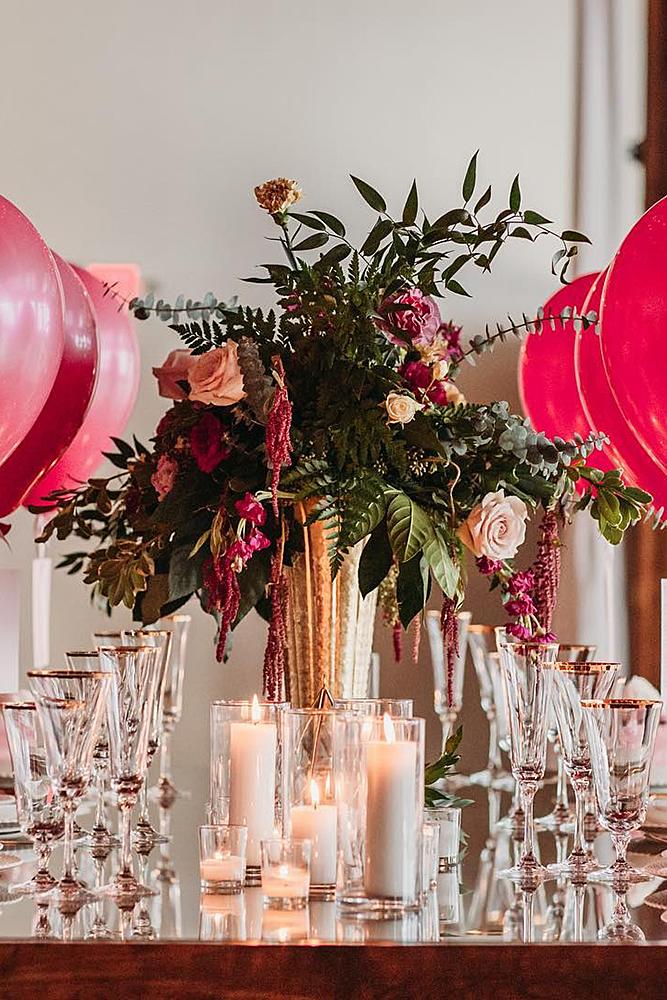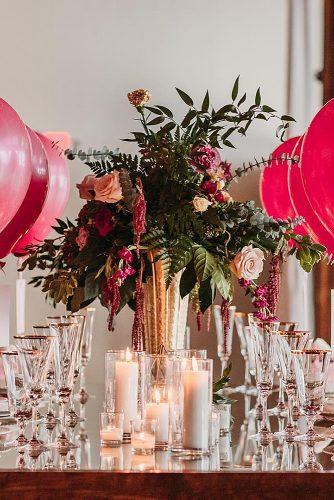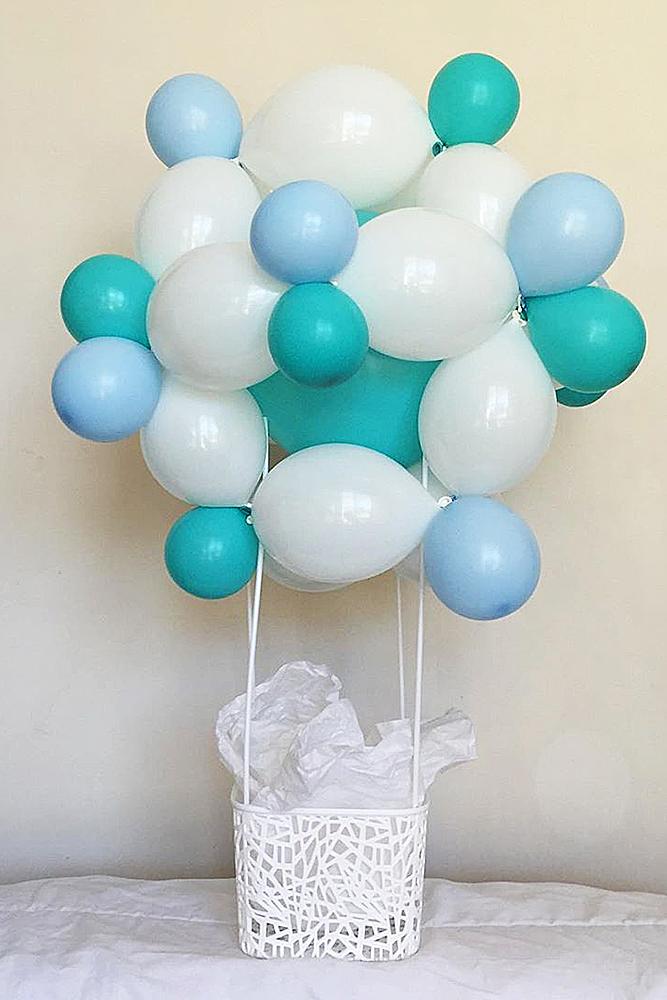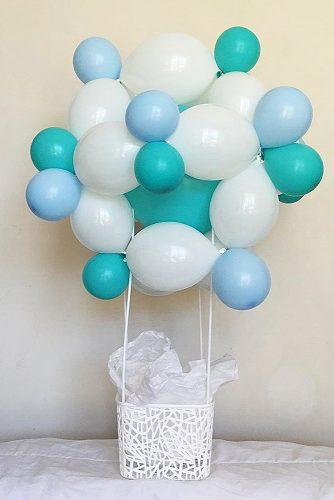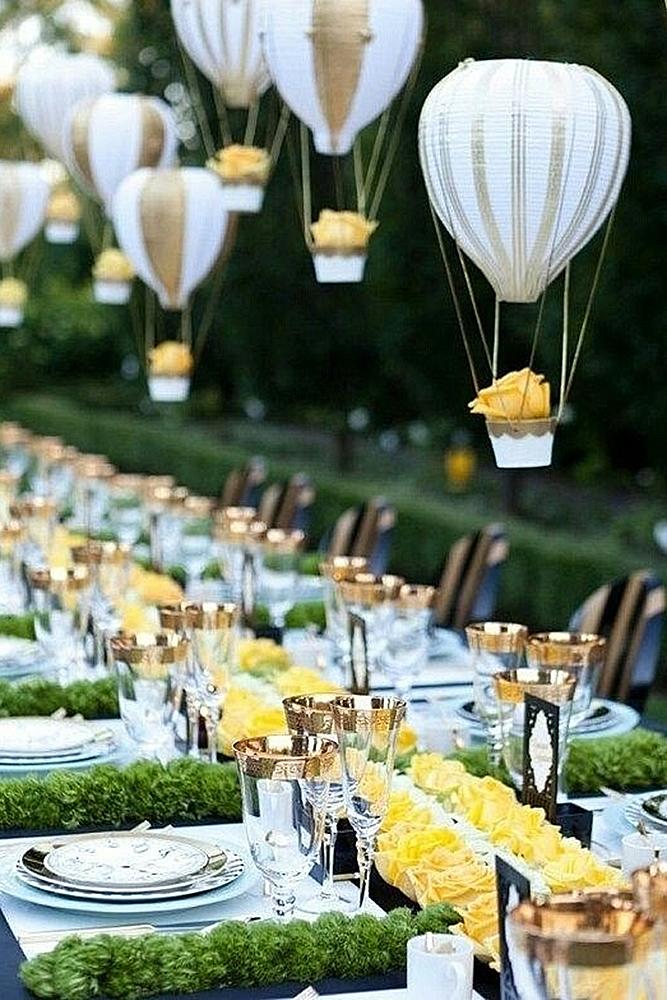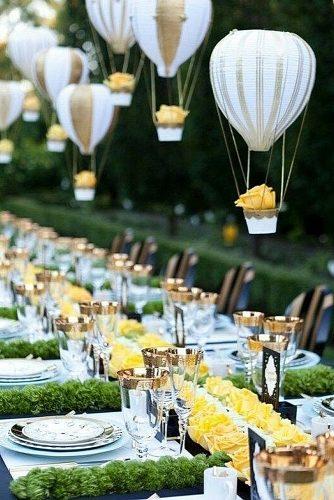 The table where your wedding favors sit always receive a fair share of glances and curiosity. Drive them absolutely crazy by stringing a simple balloon from each gift. A single favor and balloon is enough to draw attention, but just imagine how dozens of them all together will look! Use these floating works of art to create the intrigue your reception deserves.
Ceremony Frame
Source: marycostaweddings, delongstudios, lauralacole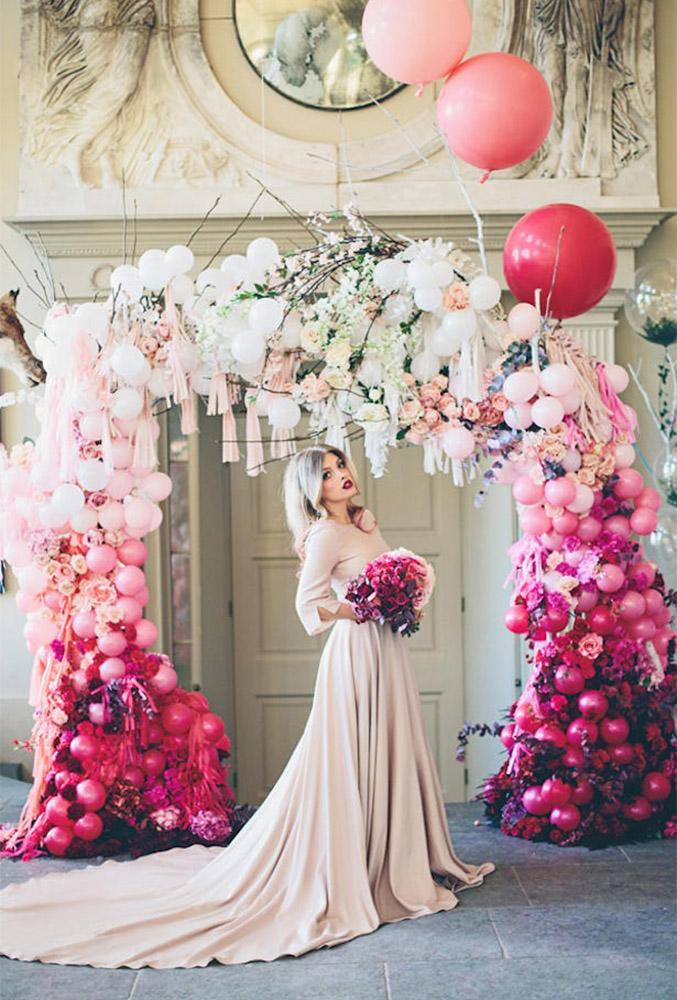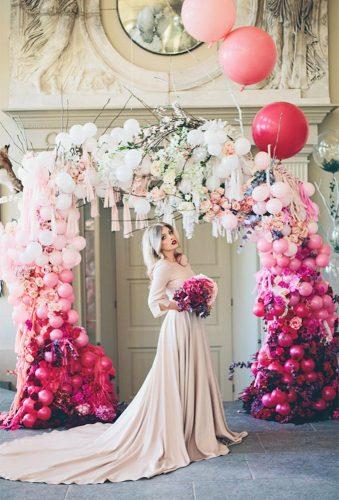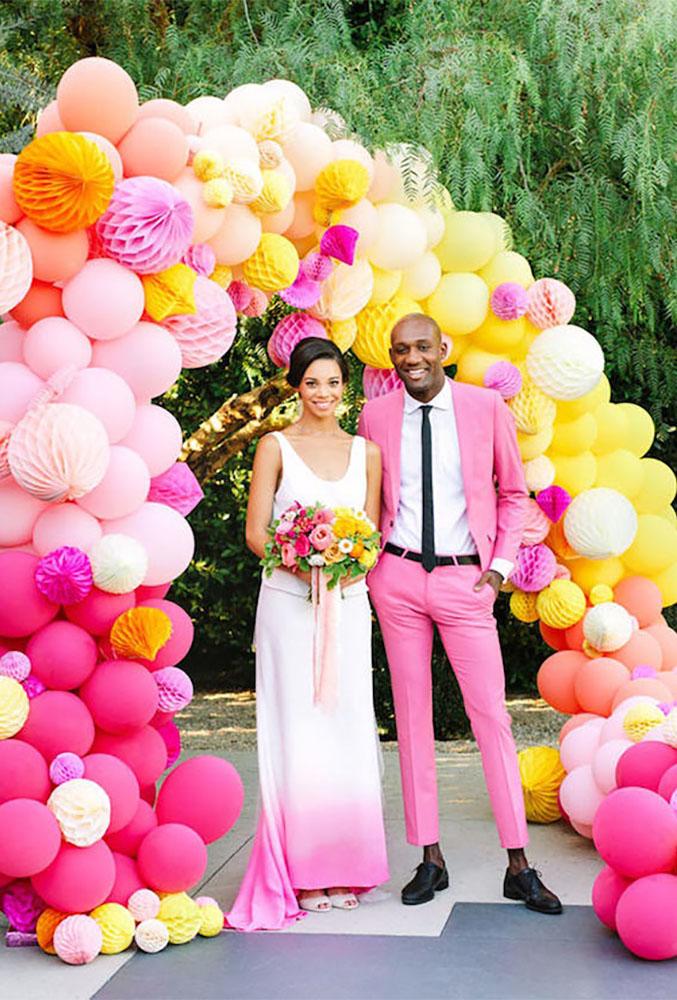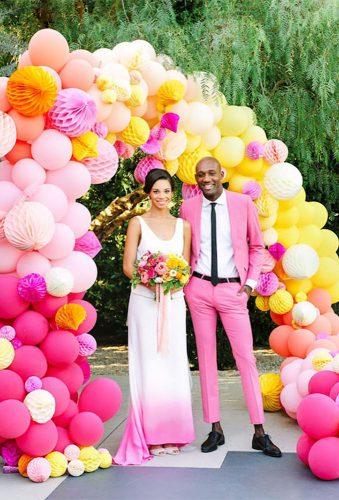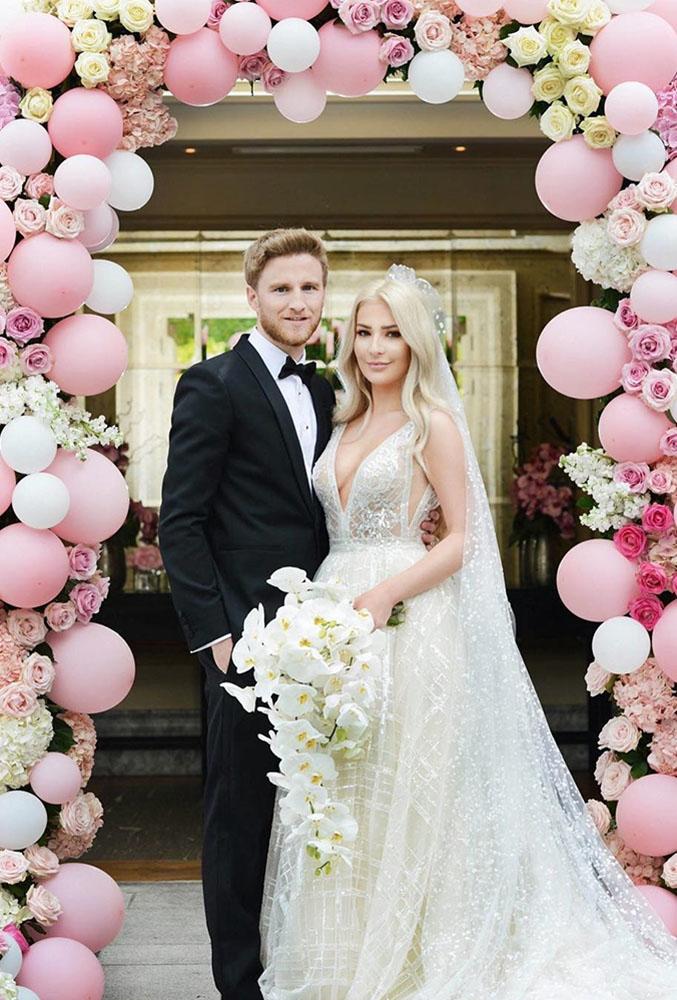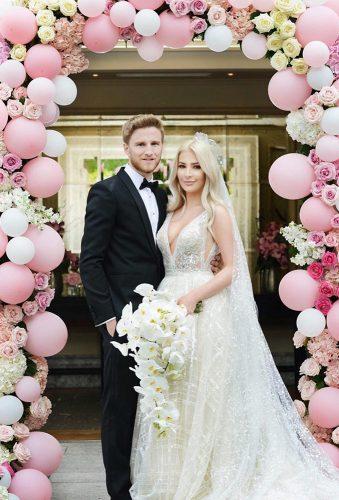 Many ceremonies and receptions features areas that are cordoned off for one reason or another. Define your space with a border of balloons. Instead of an abrasive rope, awkward color, or other items that just don't seem to blend in, let you guests know they've reached the game area by passing through a border of balloons.
Send Off
Source: Moments Captured Photography, Jessicareeve photography, Studio Impressions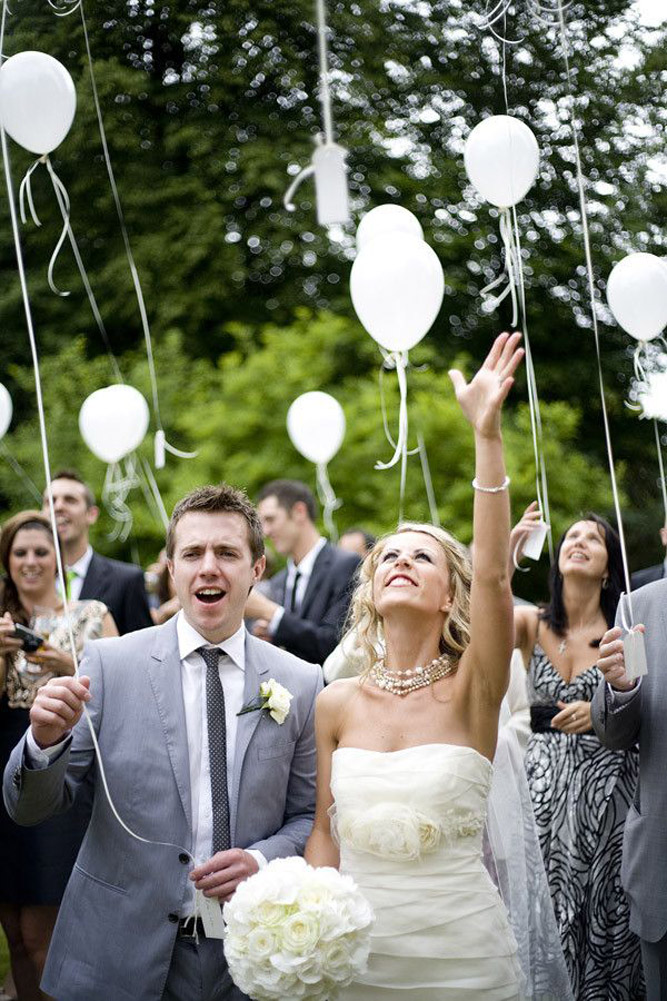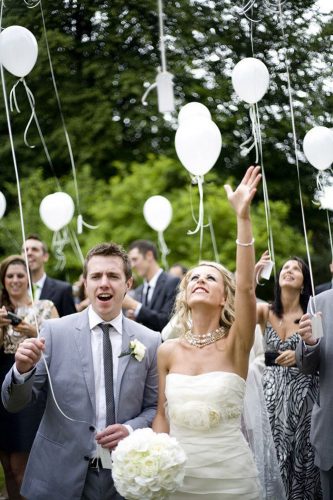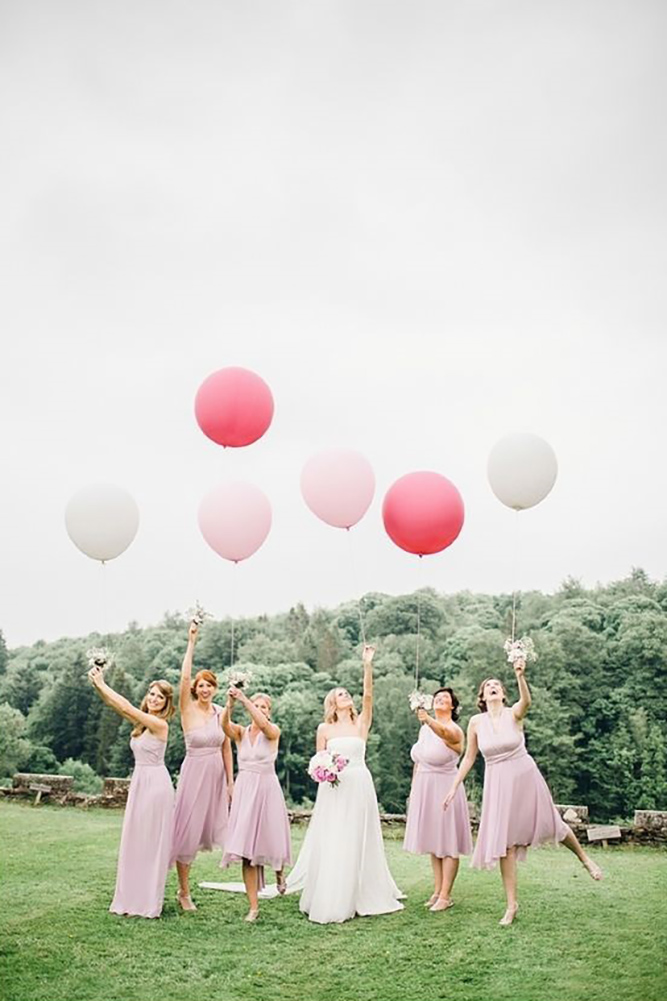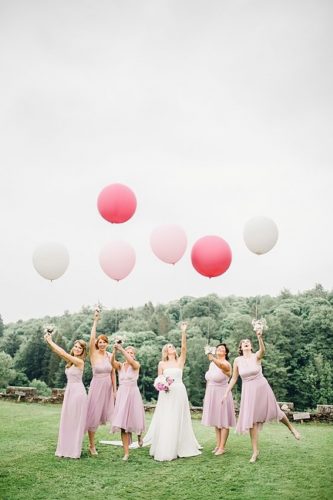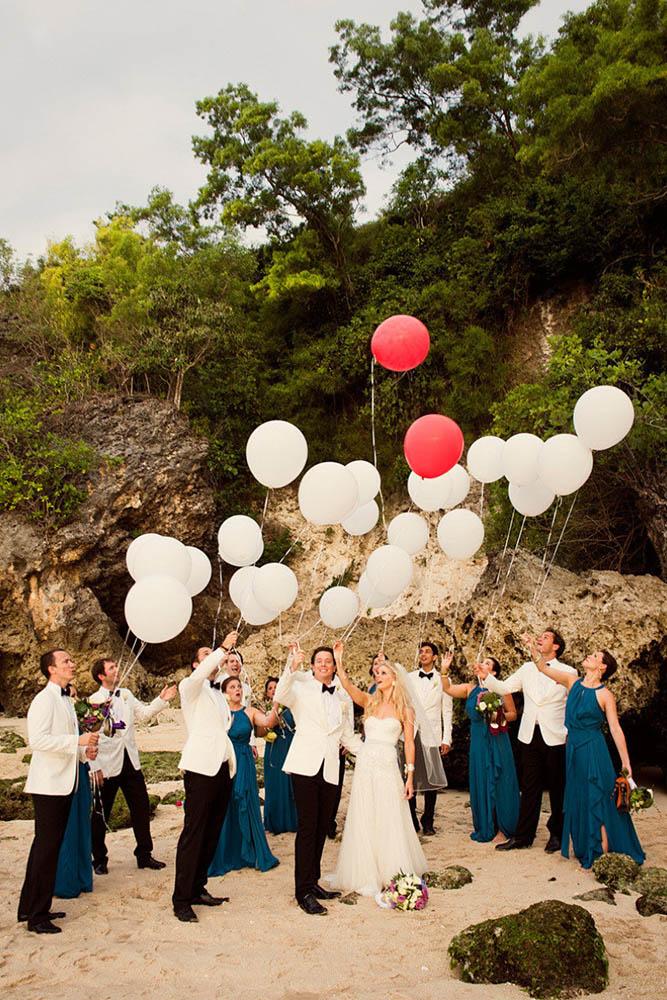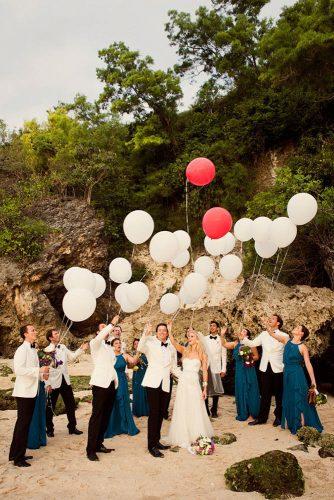 Balloons aren't just for decoration. They can be fun and engaging, interactive items. If you're planning for an outdoor wedding, time the "I Do" with a massive balloon release to commemorate the instance. As an alternative, replace the tossing of rice with the release of balloons. Not only is this less messy, it makes for a great balloons photography.
As you can see, balloons photography is a fantastic addition to both the wedding ceremony and reception. Use these examples to inspire your wedding venue decor, or feel free to 'borrow' some designs you've seen today. Happy Planning!