Having a wedding in the winter festive season? Then you've got lots of Christmas wedding ideas at your disposal. It doesn't always have to be the conventional Christmas set up. There are a couple of ways you can transform your venue into a magical setup. This involves incorporating non-seasonal items and putting a twist to the regular. From Christmas wedding favors ideas to decor, and centerpieces, we'll show you how to incorporate the season into your wedding.
1. Christmas Wedding Invitations Ideas
Thinking of the perfect wedding ideas for your guest's invites? We've got gorgeous Christmas wedding invitations ideas with meaning below.
Holiday festive wedding invites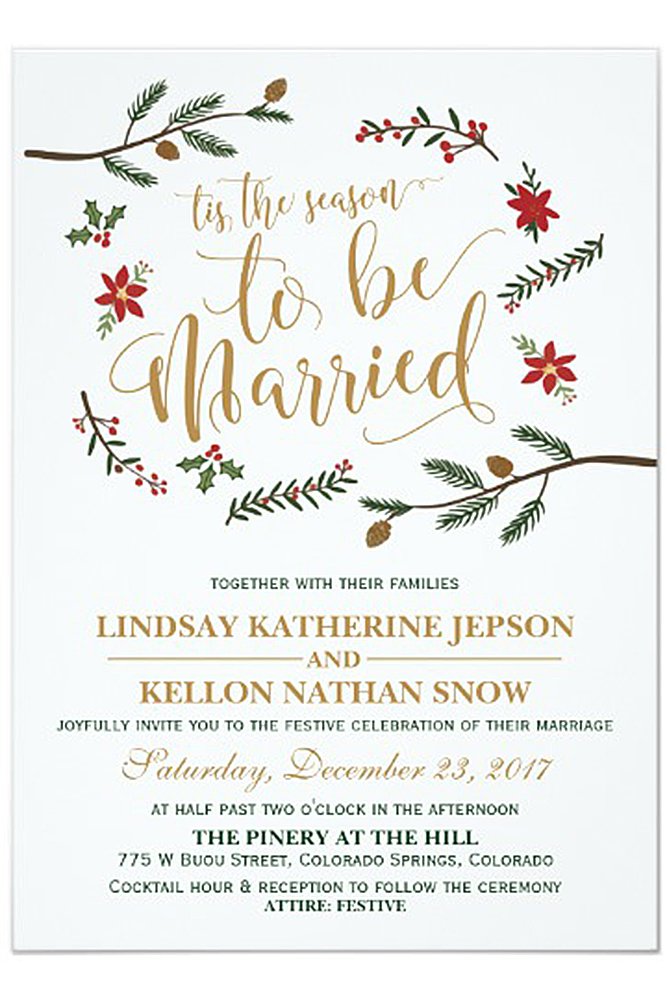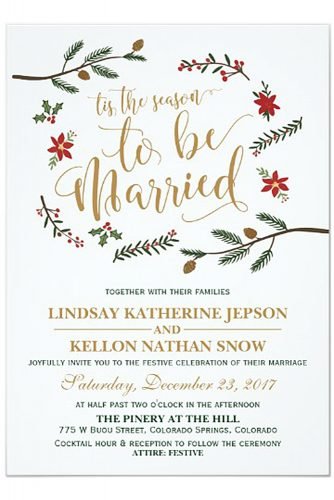 Source: zazzle
This is a cheery and romantic Christmas wedding invitation idea perfect for the holidays. It's simple, has cute cursive fonts and calming colors, which gives off a mystical Scandinavian vibe. They all combine to make it the ultimate Christmas wedding invite inspiration. This is a grand invite collection from Zazzle.
Snow themed winter wedding invites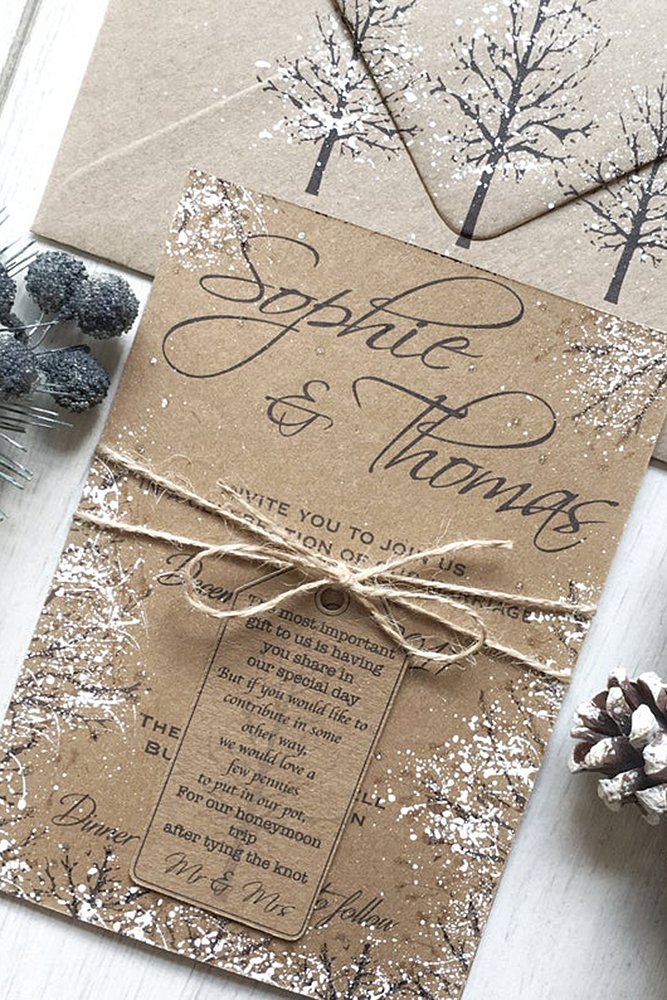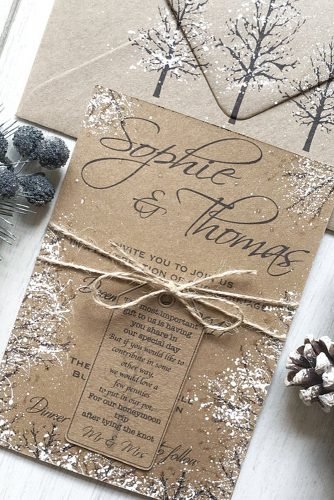 Source: wedding invites
For the love of rustic wedding stationery, check out this snow winter wedding invites. It's a gorgeous snow-filled handmade Kraft card, made with white paint, twine and silver glitter. These are perfect for whimsical romance. These wedding invitations are perfectly paired with matching envelopes. Check them up on QuaintlyKate.
Winter trees inspired wedding invitations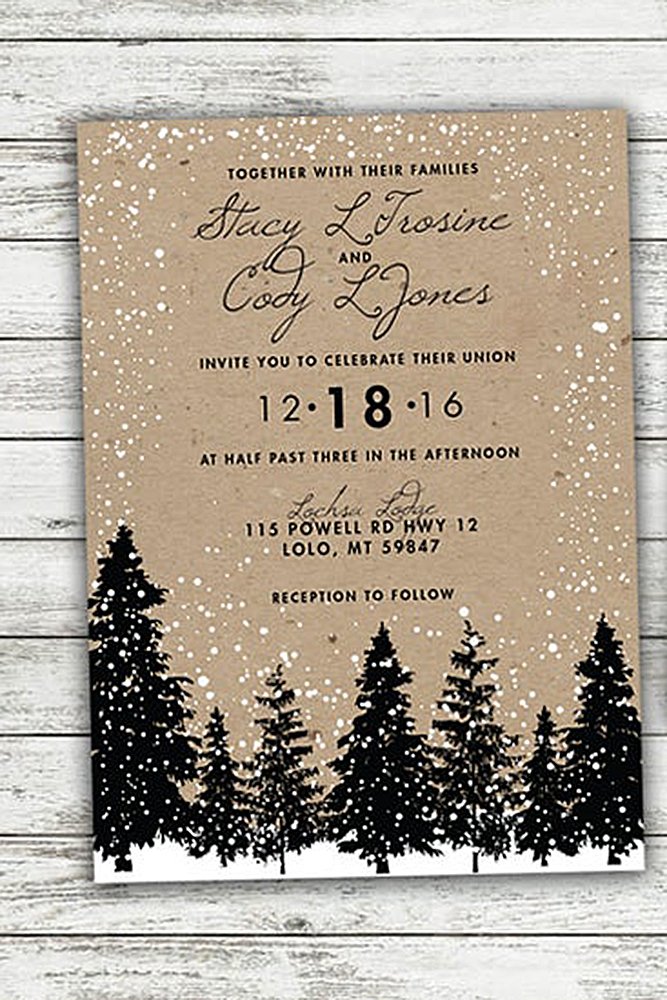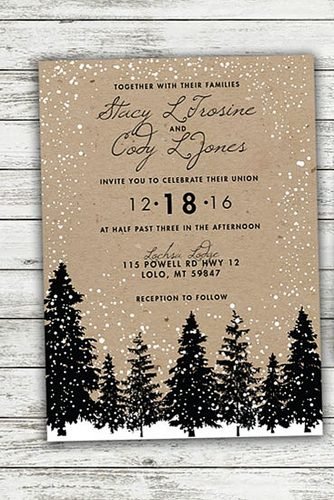 Source: Level33Graphics
Call it a rustic frosted winter wonderland invite or a Christmas themed wedding invite. This invitation sample works for both. This glorious tan RSVP and invite suite are well made to mimic the burlap and foliage look. Hence, you can incorporate them seamlessly through your wedding. Find this invite at Level33Graphics.
2. Christmas Wedding Decorations Ideas
Pull out all the stops and get creative for your Christmas decor. See some refreshing Christmas wedding decorations ideas here.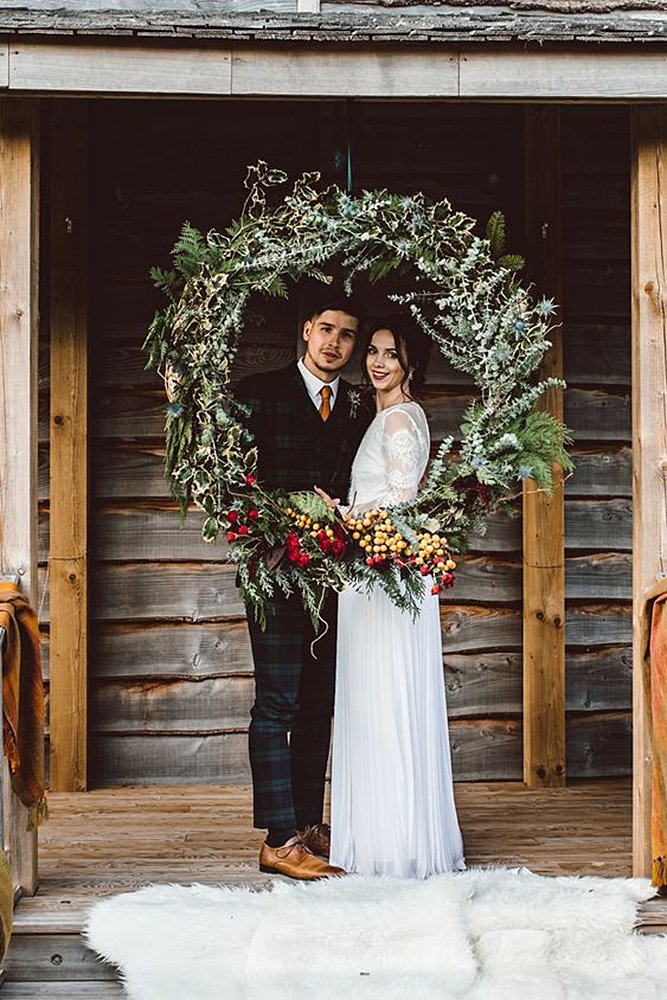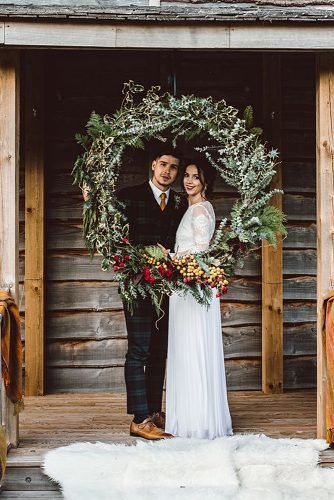 Source: dhwphotography
Place a wreath at the door or entrance to your wedding venue. This gives guests a holiday welcome feel. DIY wreaths using flowers, foliage and embossed ornaments for the beautiful getaway car. Make a wreath with red plaid bows and a mini sign for the perfect newlywed's chair decor.
Lights décor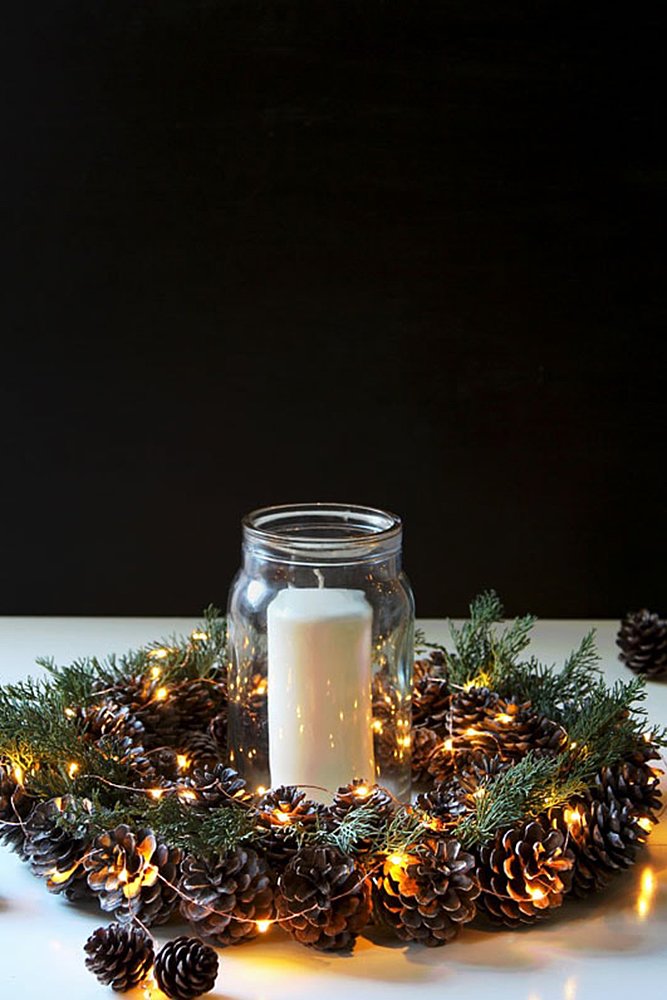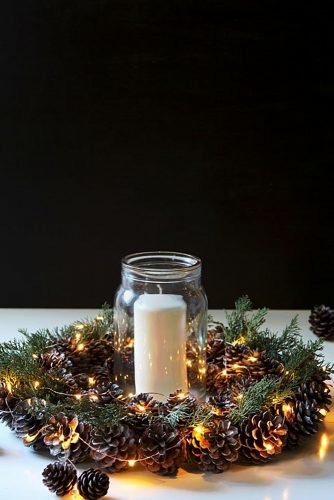 Source: apieceofrainbow
Join up paper lanterns with strands of small Christmas lights to create a magical dance floor glow. Weave white lights through organza ribbons and then around the dessert table to light it up. DIY cute centerpieces out of mercury glass vases, holly springs, and pine cones. Surround with string lights.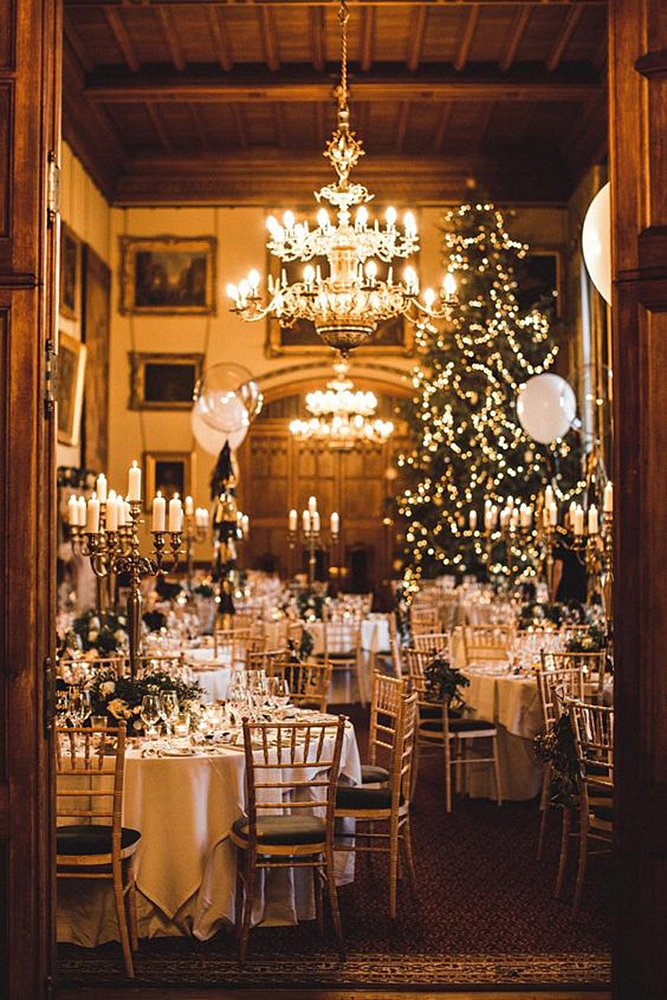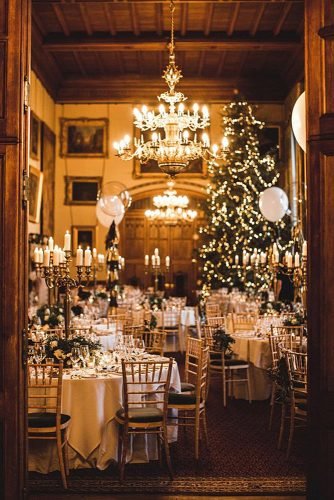 Source: rockmywedding
Pair lush velvet ribbons with simple name cards and tie them up to Christmas trees for festive escort cards display. Creatively swap the conventional centerpieces for mini Christmas to trees at your reception. Give a dramatic ceremony festive backdrop by placing a few Christmas trees at the end of the aisle.
3. Christmas Wedding Centerpieces Ideas
Centerpieces bring added beauty to the table at your wedding reception. We've put down some stunning Christmas wedding centerpieces ideas.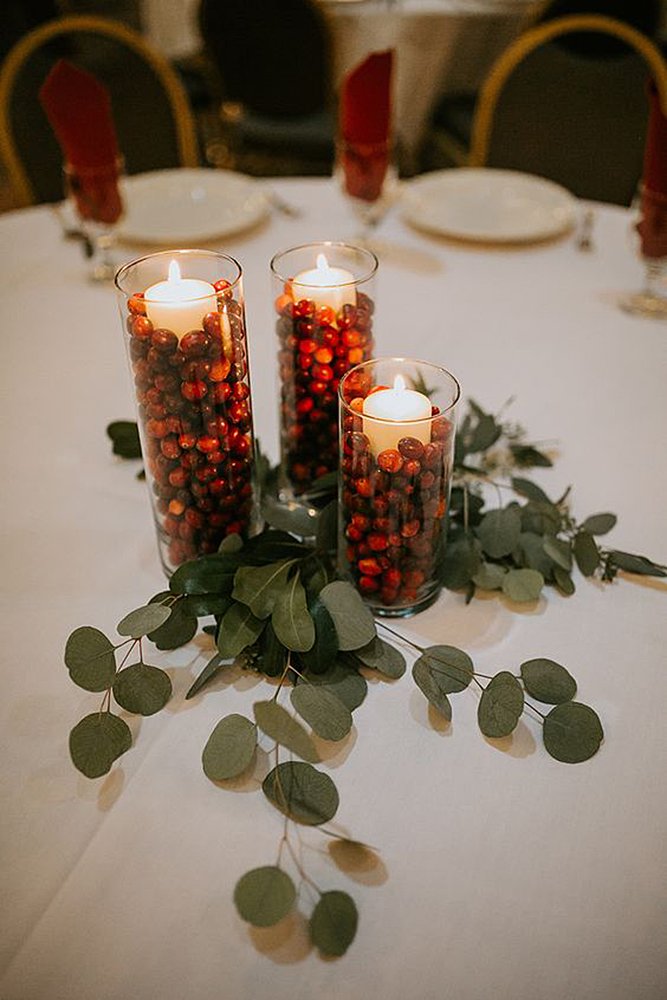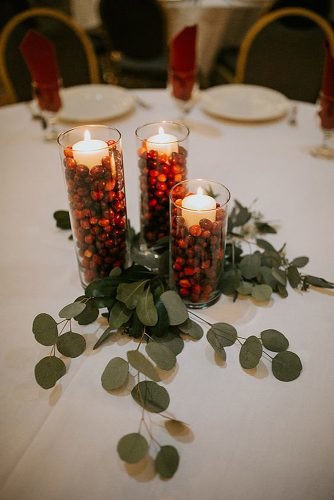 Source: racheltraxler
This wedding centerpiece idea is rustic. Fill up a glass jar with berries and place there a candle. You can also tie up pine cones around lighted candle holders for the glowing centerpiece. Make centerpieces out of fine cut tree barks and pinecone for a woodsy feel.
Christmas balls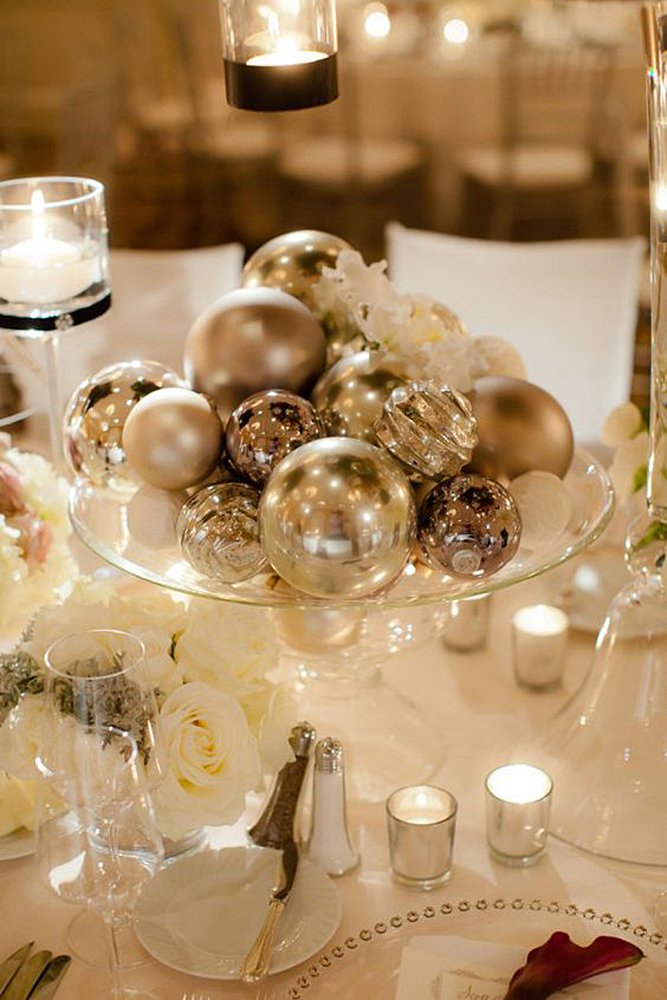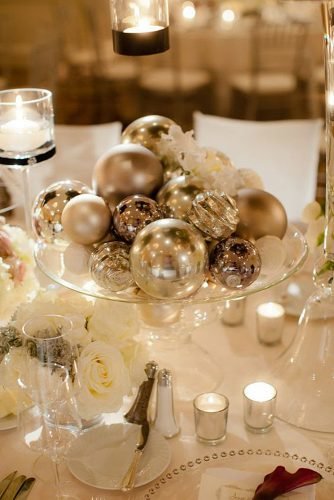 Source: theyoungrens
Who knew they made perfect Christmas wedding reception ideas? Fill a white bowl with pinecones, evergreens and Christmas balls to suit the wedding theme. Also, you can fill a glass vase with Christmas balls placed on fir branches. Or fill a silver tray with silver Christmas balls.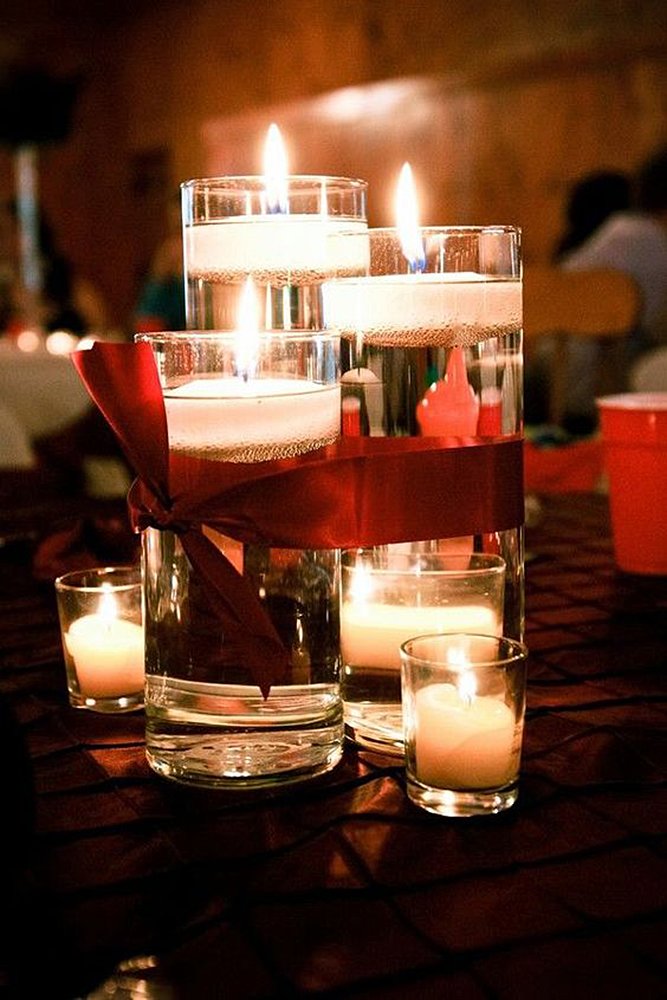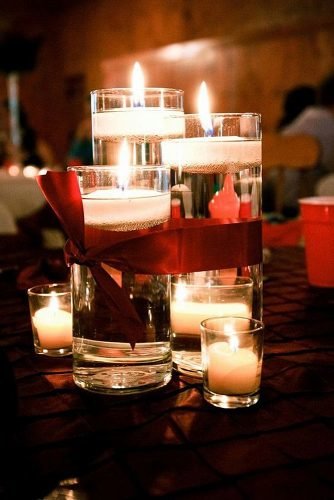 Source: ldgphotos
Display clear glass jars with lighted candles fringed with dark moss for that warm Christmas glowy ambiance. Add some colors to your wedding by wrapping candles in bows for a holiday feel. And bask in the rustic woodsy love, wear your candle holders in burlap and decorate with fringes of greenery.
4. Christmas Wedding Ideas On A Budget
Trying to save up some cash? See some Christmas wedding ideas on a budget below. They are unique DIY ideas.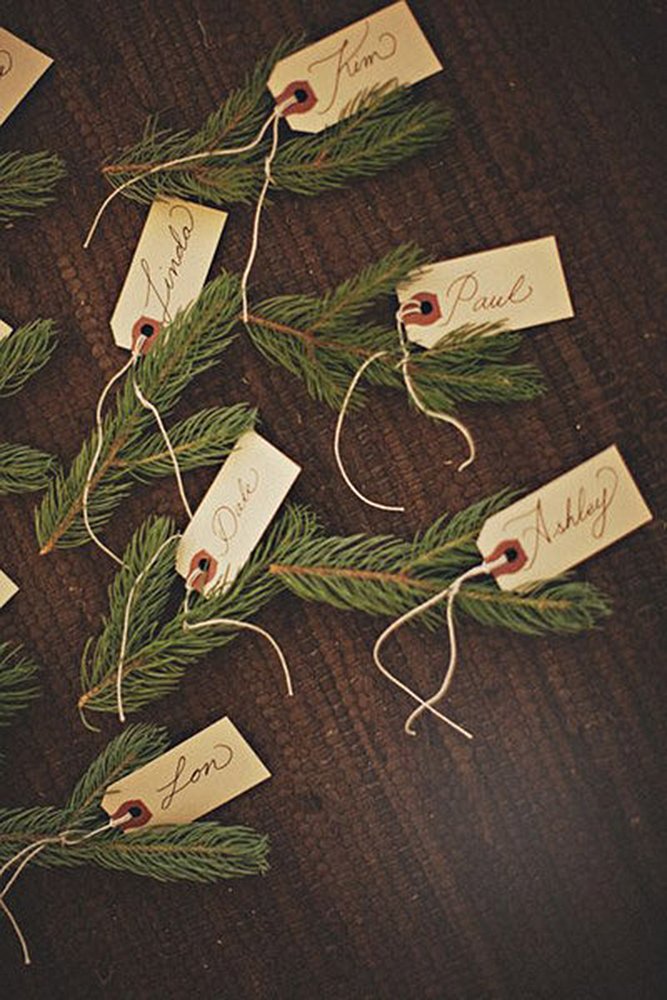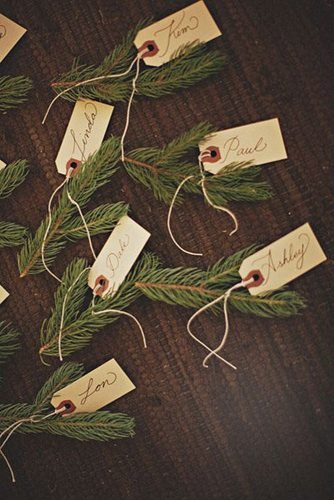 Source: sean flanigan
Take fir branches and tie to them cards calligraphy with your guests' names. Also, using alphabet stamps, tea lights or led candles and paper sacs, you can make paper bag luminarias for every guest.
Red bows decor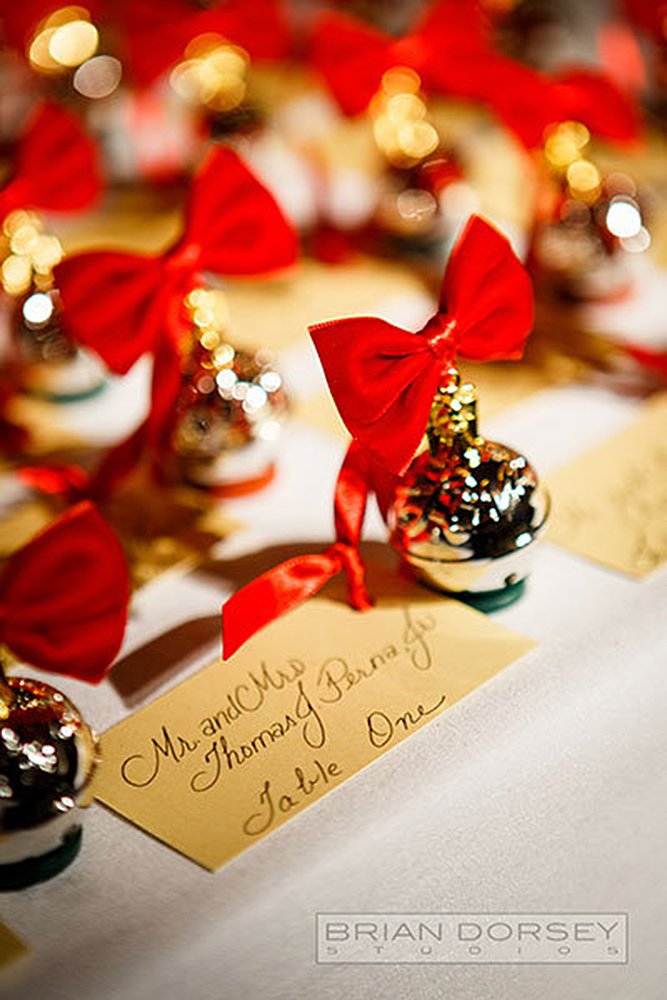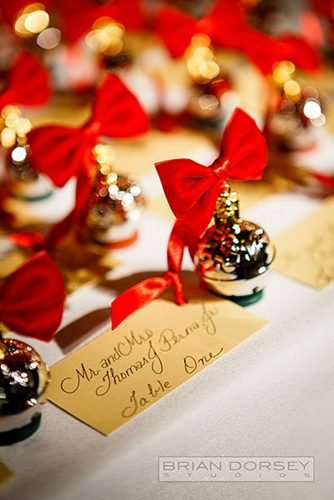 Source: briandorseystudios
Adopt the minimalist idea of tying a red bow around Christmas bowls. Give guests a holiday welcome by placed bowls with guests' names. at the venue entrance. And for Christmas tree, DIY a red bow ornament with paper roll and ribbon.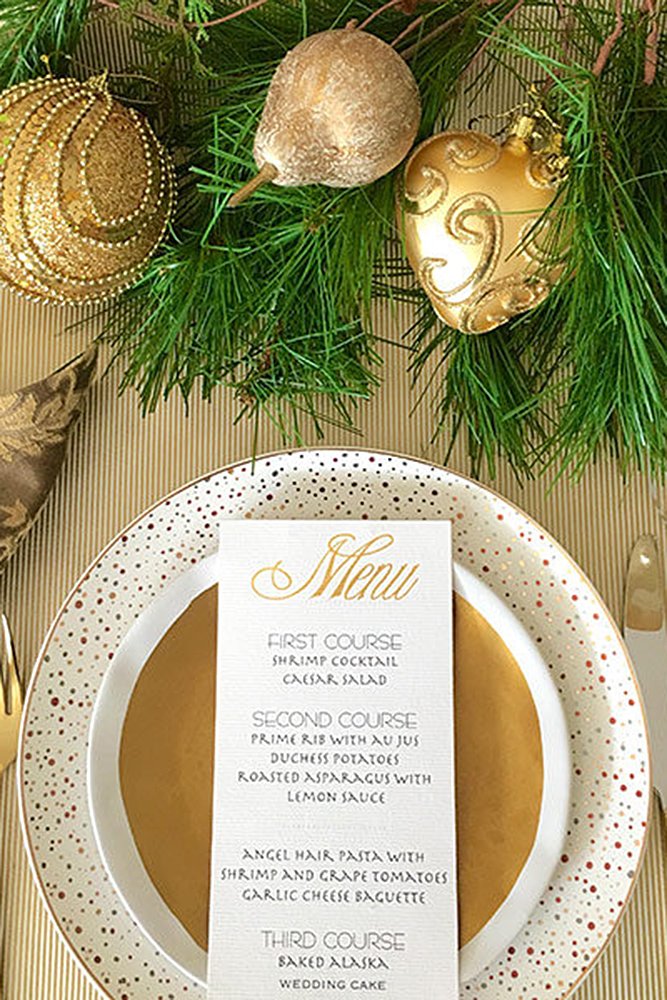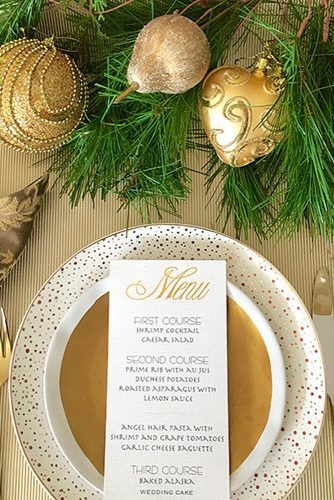 Source: mystyandbelladesigns
Bring the holiday season to your table decor with some of the best rustic Christmas wedding ideas. Improvise with garlands as the perfect table runners. Create a woodsy vibe by using tree barks and deer antlers for place cards. Maximize blooms and wild stems for cheap cute centerpieces.
5. Christmas Wedding Cake Ideas
Christmas wedding cakes ideas are endless. Simply bask in the Christmas spirit which comes with great inspirations for stunning cakes.
Rustic country Christmas cake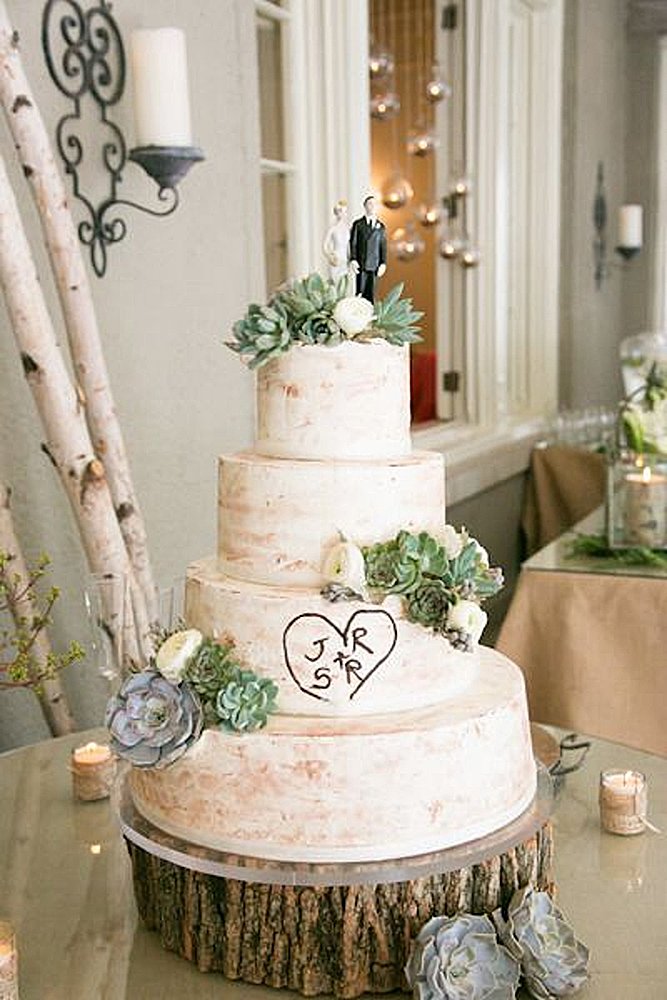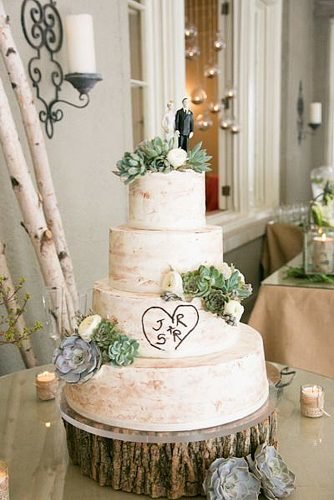 Source: allegrophotography
With a wedding in winter, there's the country feel. So choose a four-tiered rustic wedding cake adorned with green succulents and a tree-inspired carving.
Snowflake winter Christmas cake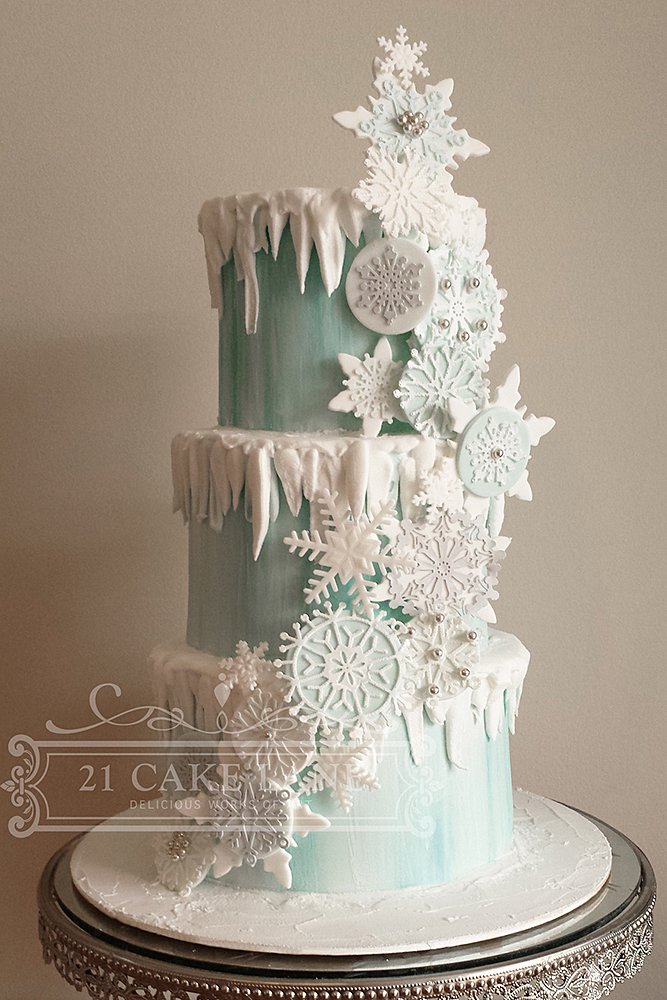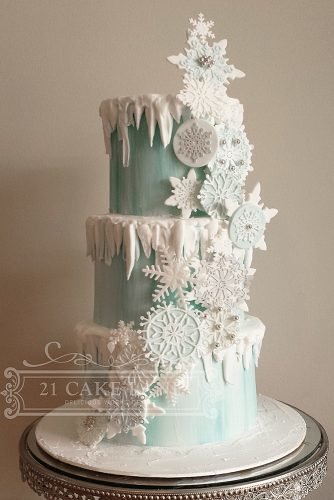 Source: 21cakelane
This Christmas wedding cake idea is of blue, silver and white colors plus buttercream flourishes to give winter wonderland vibes. Each tier of the cake has a collection of glittered snowflakes on top.

Christmas Rustic wedding cake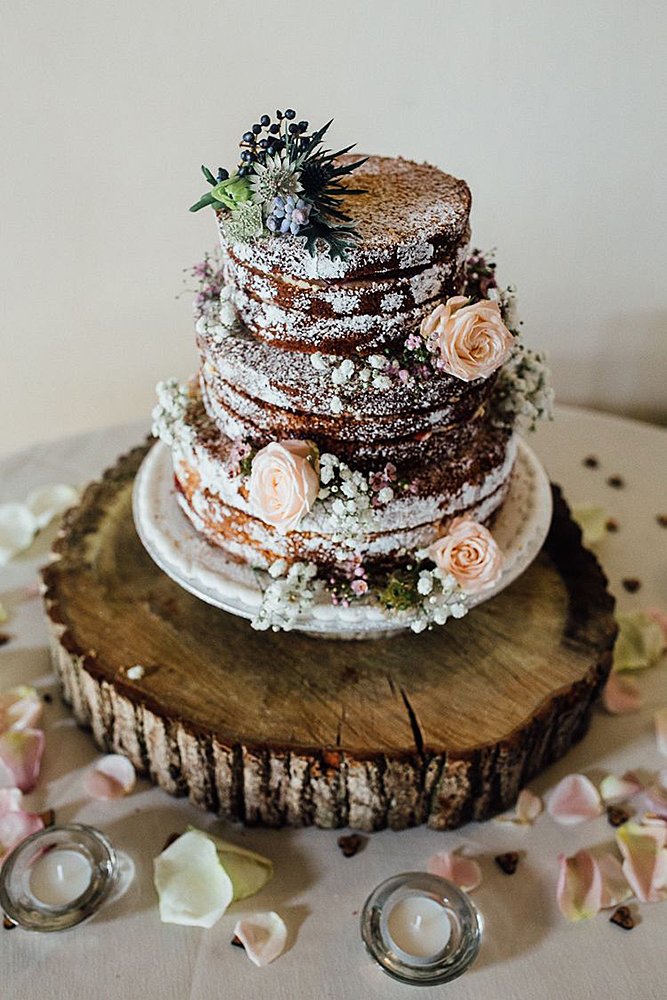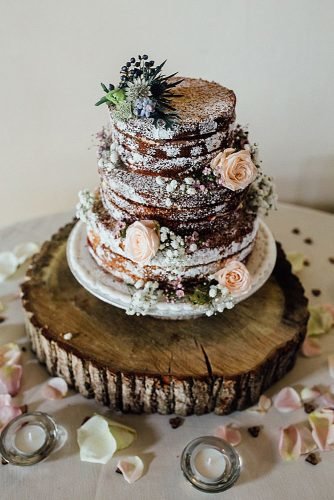 Source: struthphotography
For couples who love the rustic wedding themes, go with a rustic wedding cake for the day. Bake a naked cake and dust it up with powdered sugar. It gives the illusion of snow dust on the ground. Top with herbs and add few flowers for perfect finishing.
6. Christmas Wedding Favors Ideas
If you're planning a wedding for Christmas, festive favors are essentials. See three unique and meaningful Christmas wedding favors ideas.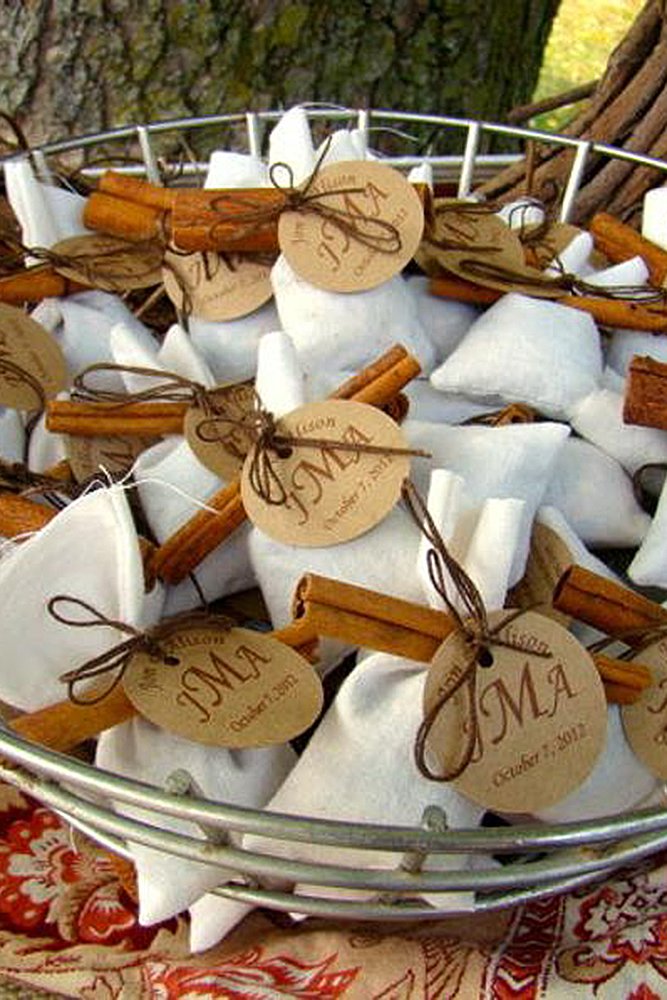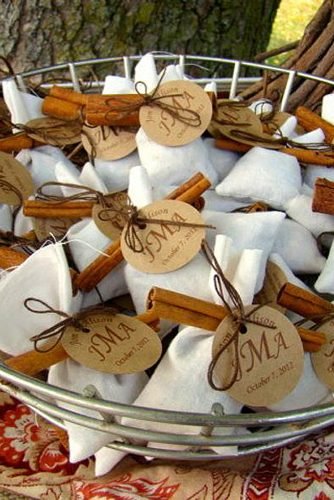 Source: mavora
Guide your guests into the spirit of Christmas with this celebratory wedding favor idea. Gather up mulled wine spices and sew them up in burlap clothes. This impresses the rustic charm. Roll up other spices in ribbons, creating the feeling of winter, Christmas and your wedding. An all-in-one celebration's galore.
Chocolate mix jars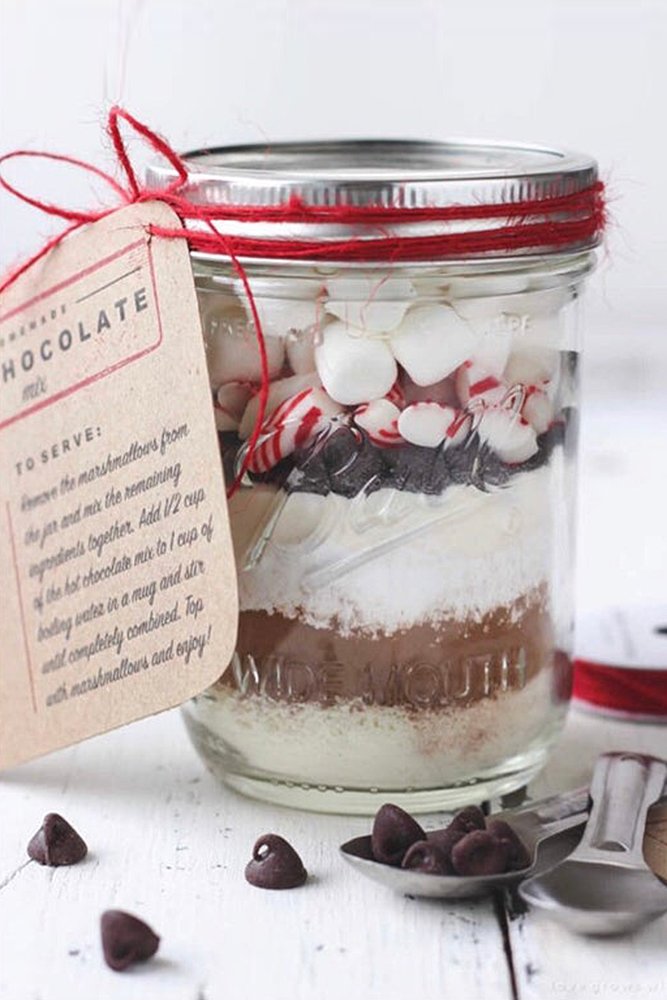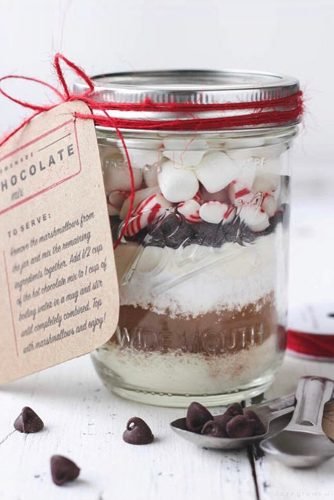 Source: natural honey bee
For Christmas wedding favors ideas, this remains a hit. The winter is a cold one, and your guests will appreciate the thought of keeping them warm. Fill mason jars with chocolate and every other ingredient they need to make hot chocolate. Don't forget to include the marshmallows and a thank-you.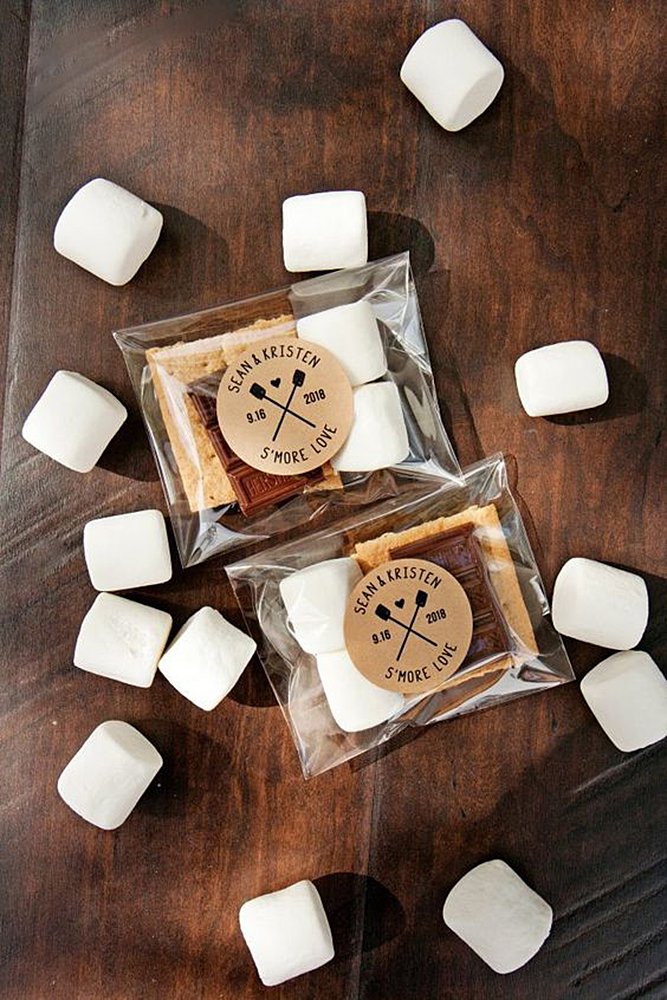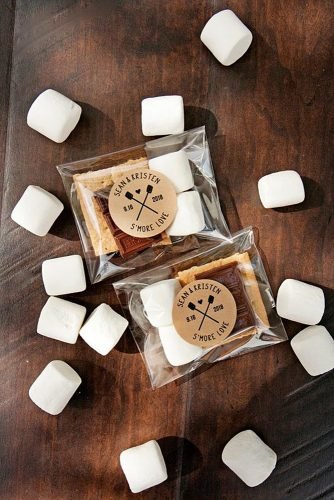 Source: paisley handmade
For wedding favors in trend, think of S'mores! And no better time to excite guests with them than at a winter wedding. You can create a S'more bar at your wedding for guests to enjoy at will. If that's too much work, package these treats into cellophane bags for guests.
Christmas weddings are magical and enchanting, and we've put down a list of the best Christmas wedding ideas for you. While some are quirky, others are romantic, magical, classic, and downright elegant. And if you're on a budget, we've listed unique ideas to help you get your dream wedding without declaring bankruptcy. All is good, all is new, and all are timeless to help you transform your venue into a winter wonderland. Look through the post and stay inspired.