Wherever you're headed on your honeymoon, you should always remember to pack the essentials. Some of these things can be found at your destination, and some can't. Some of them you'll be completely lost without. If you forget some of these things, it could greatly impact your enjoyment of your honeymoon, so make a list and check each item off, if you have to.
Here are some honeymoon essentials you should be sure not to forget.
1. Trip Tickets, Passports & Money
Whether you're heading off on a fabulous cruise or flying away to an exotic locale, you've got to have the tickets for going on your trip. If you're traveling out of the country, you'll need your passport, too. You're going to need some way to pay for all of the incidentals on your honeymoon, so one of the most indispensable honeymoon essentials is a credit card or two, some traveler's checks or other methods of payment. It is not recommended that you travel with cash as it can be easily lost or stolen and is irreplaceable.
2. Regular Medications (Especially Birth Control)
Make sure you've got all of your medications in adequate amounts to carry you through your trip, and perhaps a few days beyond. This includes daily medications like beta blockers, as well as your preferred method of birth control. If you're on the pill, make sure you take them with you. If you practice a barrier method of birth control (condoms, diaphragm, etc.), make sure you have them with you. Do not pack these honeymoon essentials in checked baggage; it's important that you have your medications, even if your luggage gets lost.
3. Antibiotics (Just In Case)
It's an unfortunate fact that some women succumb to urinary tract infections while they're on their honeymoon, but it can be remedied easily with a course of antibiotics. If you are prone to urinary tract infections, it might be a good idea to talk to your doctor about getting an antibiotic prescription prior to your honeymoon as a "just in case" precaution.
4. Protection From The Sun
No matter if you're going to a tropical isle or a snowy mountain resort, make sure you're packing one of the most useful honeymoon essentials, sunscreen, and other sun protection gear. You can get too much sun wherever you are, and finding sunscreen while away from home can be tricky (and expensive). Don't forget your sunscreen and sunglasses, even if you think you won't need them.
5. Phone & Tablet Accessories
Your phone is going to be your lifeline while you're traveling, so having your phone charger and other relevant accessories is very important. You might be able to find a compatible charger at your destination, but why waste your honeymoon in electronics stores? If you're going to be using your charger up until it's time to leave, put a note to yourself on your luggage, reminding you to grab it before you go.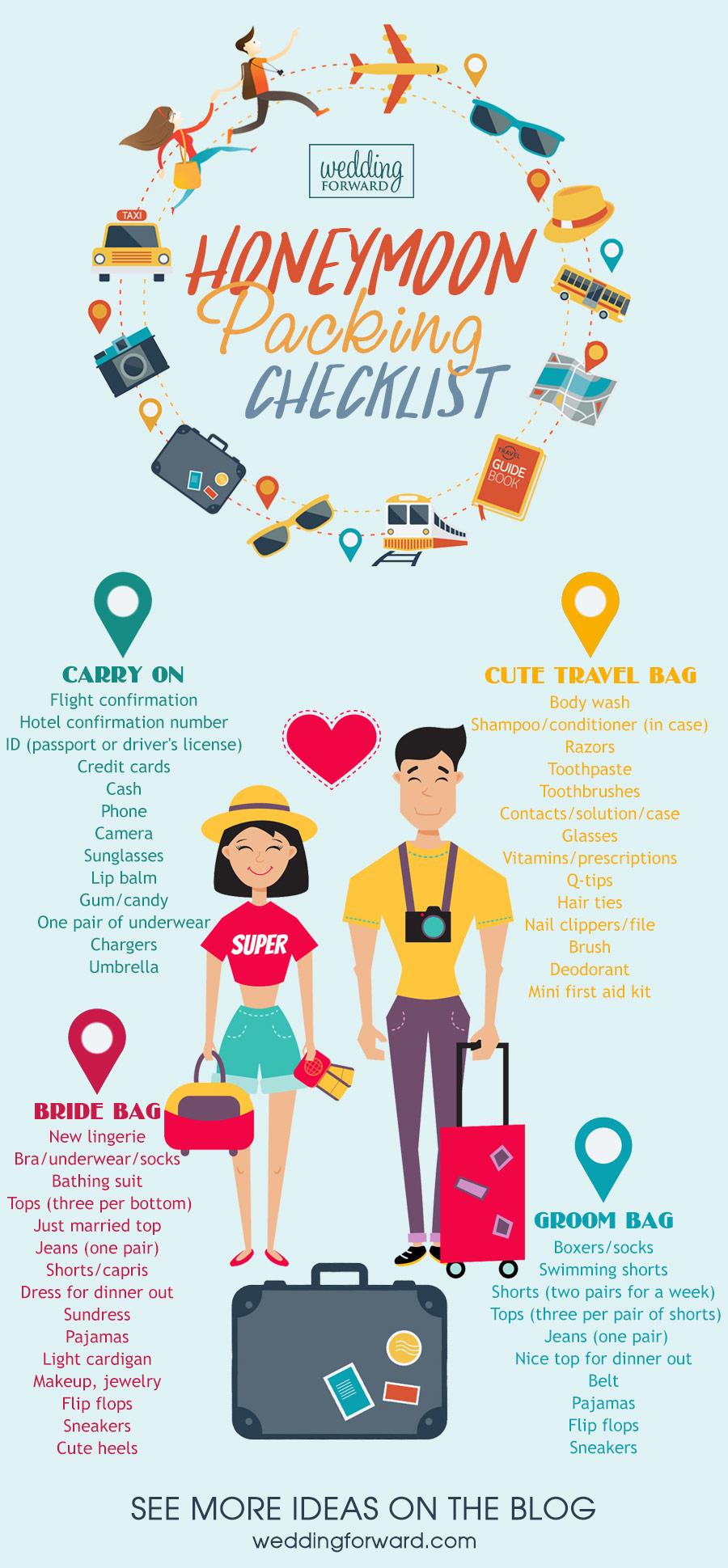 Need more checklists? Read our Checklist For Changing Your Name After Marriage to keep you on top of things.